Southeast Asian restaurants in the metro
---
The Southeast Asian food scene is bursting with a harmonious variety of flavors – from complex mixes of Thai and Vietnamese flavors, spicy nasi goreng in Indonesia, to Singapore's juicy chicken rice. No wonder Anthony Bourdain himself fell in love with the region's cuisine. 
If you're feeling like taking a food trip a la the beloved chef, but cannot roam around Southeast Asia for now, we've got you covered. Here are 10 Southeast Asian restaurants – Thai, Vietnamese, Singaporean, Malaysian, and Indonesian – around Metro Manila to satisfy your cravings.
---
– Thai restaurants –
---
1. BASIL – traditional Thai architecture and authentic cuisines
---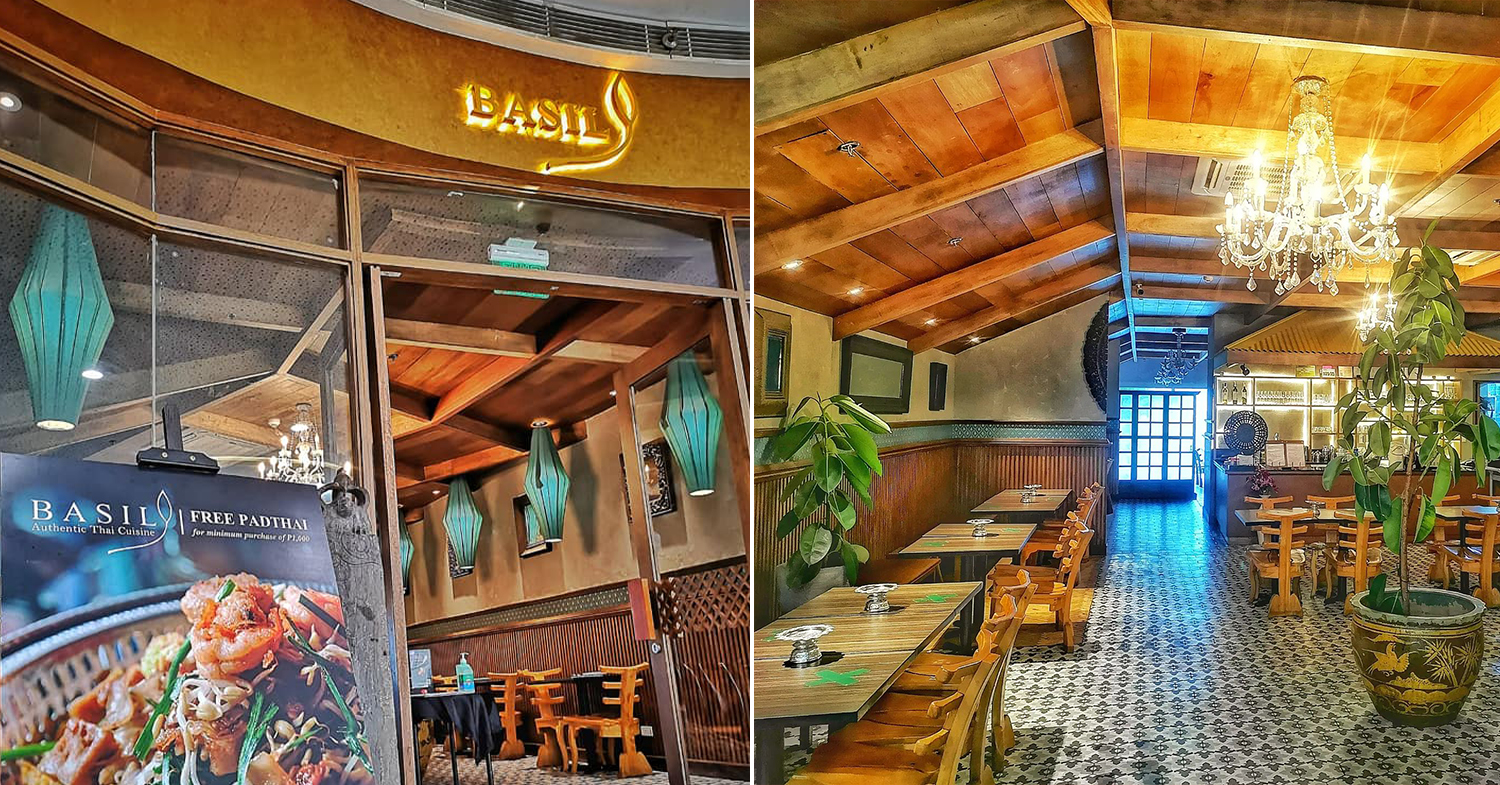 Image credit: BASIL 
Whenever you're craving a traditional Thai experience, you may want to reserve a seat at BASIL restaurant. The restaurant resembles traditional Thai architecture, built with a steep, sloped roof while grounded in wooden architecture and alive with greens and lovely ornaments.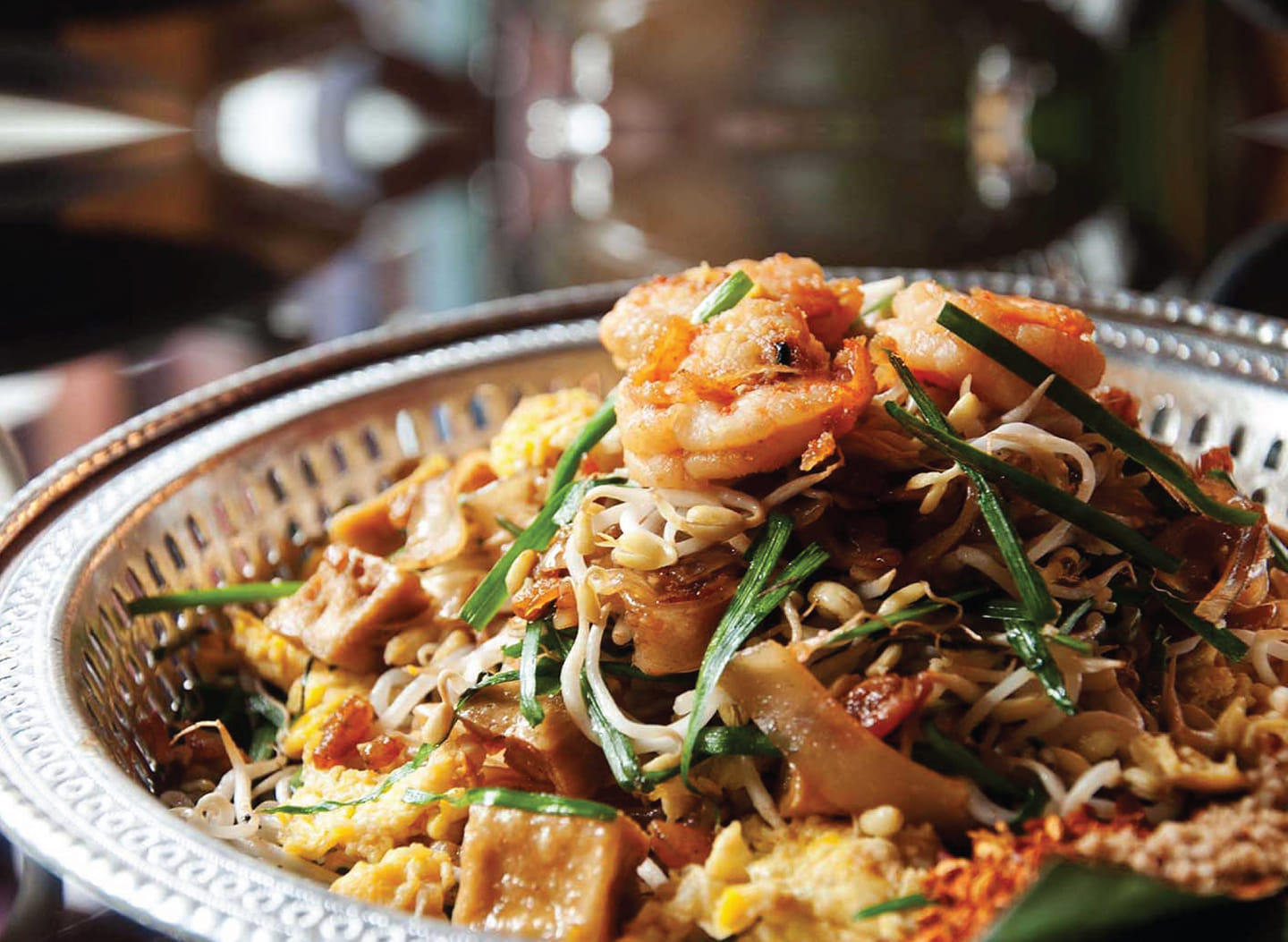 Pad Thai
Image credit: BASIL 
Basil's meticulous attention to details is also representative of Thai cuisine, known for its layers of contrasting flavors, color, and textures. Its Pad Thai (P385, ~USD7.48) noodles are mixed with crushed peanuts, spicy chili flakes, and sour lemon wedges.
Basil Philippines' website
---
2. Crying Tiger Street Kitchen – for your Thai street food cravings
---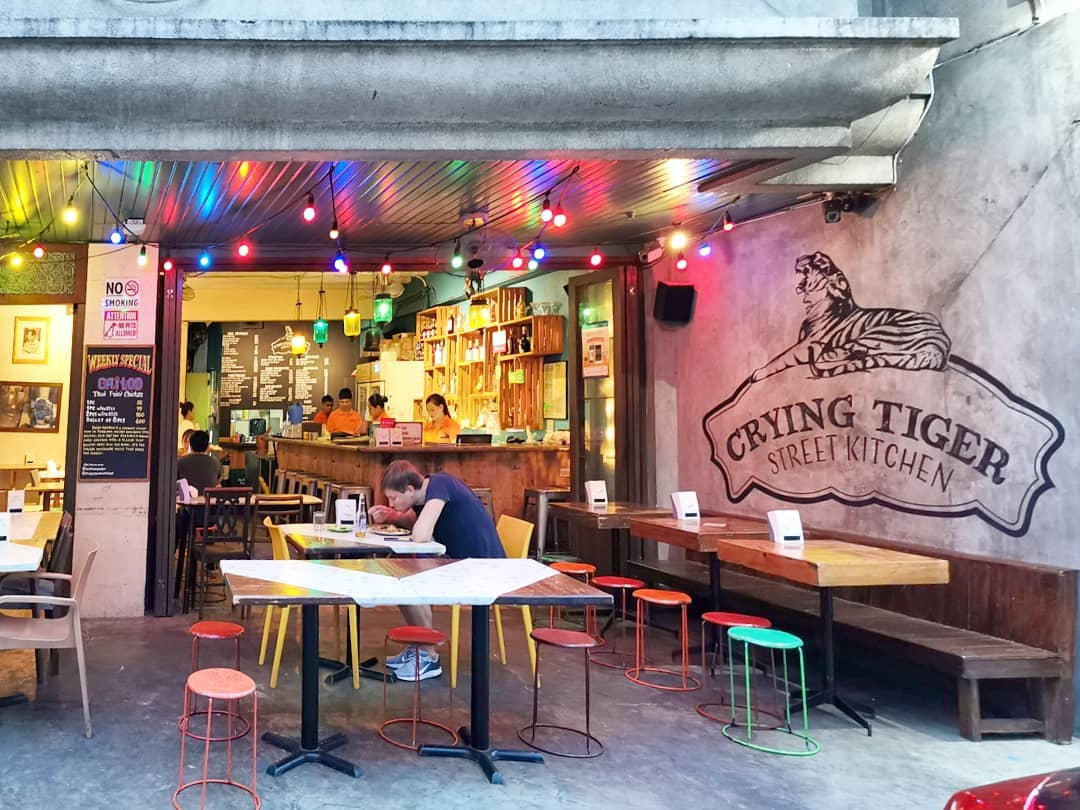 Image credit: @romester_ph   
As if to transport you to the streets of Bangkok, Crying Tiger Street Kitchen offers a convivial yet casual Thai dining experience that tourists love seeking out in Thailand. With a space for al fresco dining, it's adorned with lively palettes, and opens late in the afternoon until midnight, just like the Bangkok street food scene.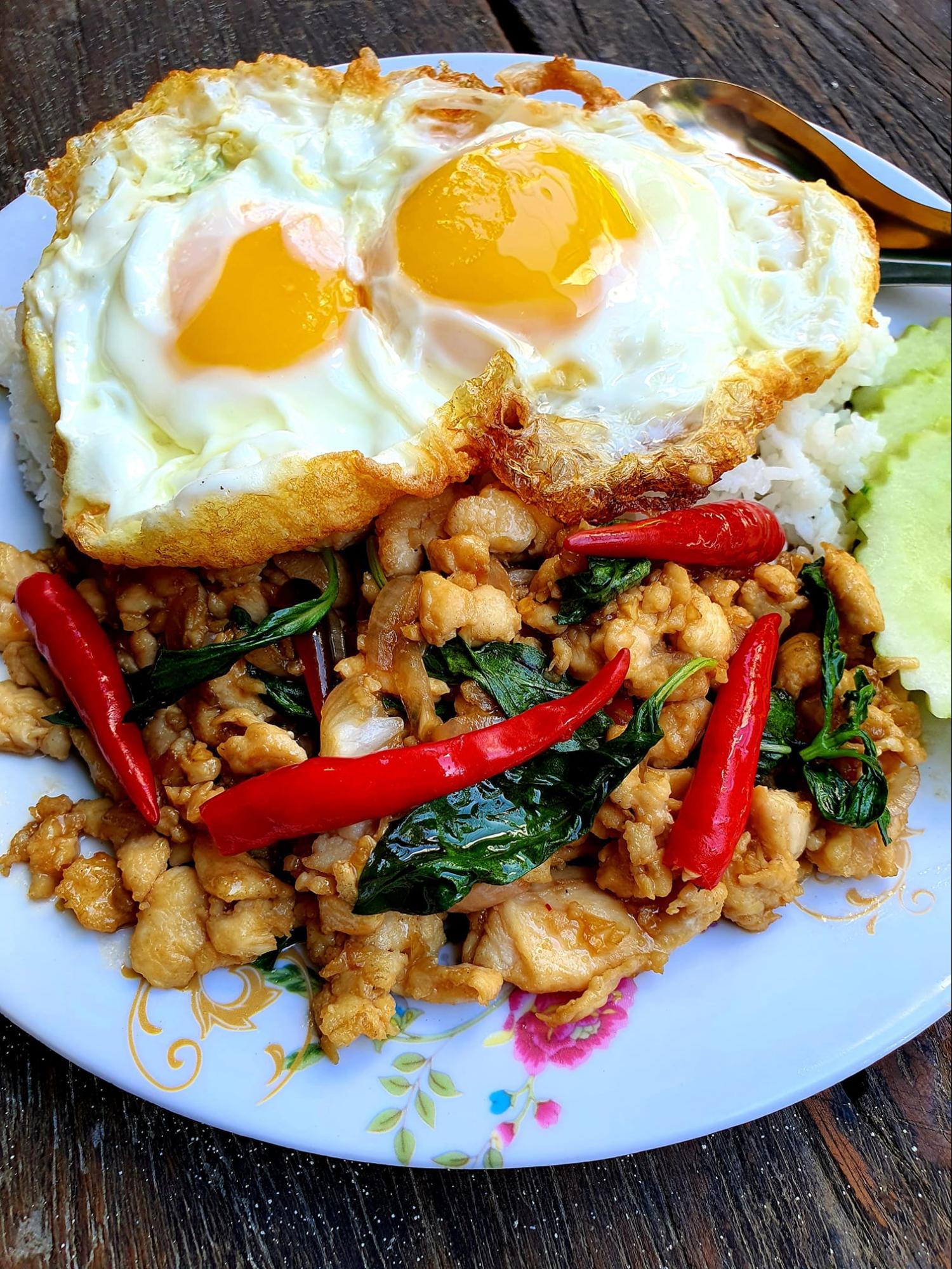 Pad Kra Pao
Image credit: Crying Tiger Street Kitchen 
While it's located in the backpacker district of Poblacion, the food is affordable. One of their newest offerings to their 'kra pao' family of recipes, for example, the Pad Kra Pao Hoi Malangphu (P240, ~USD4.67). It's a combination of rice and spicy mussels, stir-fried holy basil, garlic, fish sauce and bird's eye chili – similar to the first meal that the rescued survivors of the Tham Luang cave incident asked for after being trapped for two weeks. 
Crying Tiger is a good spot for your night out with friends as well as it opens late, so don't forget to pair your Thai dishes with bottles of Chang (P125, ~USD2.43). 
Address: 4986 Guanzon Street, Poblacion, Makati City 1210, Metro Manila
Opening hours: 11AM-9.30PM, Daily
Telephone:  894 1769
Facebook | Instagram
---
3. Siam Thai BBQ and Sports Bar – Moo Kata dish for casual nights out
---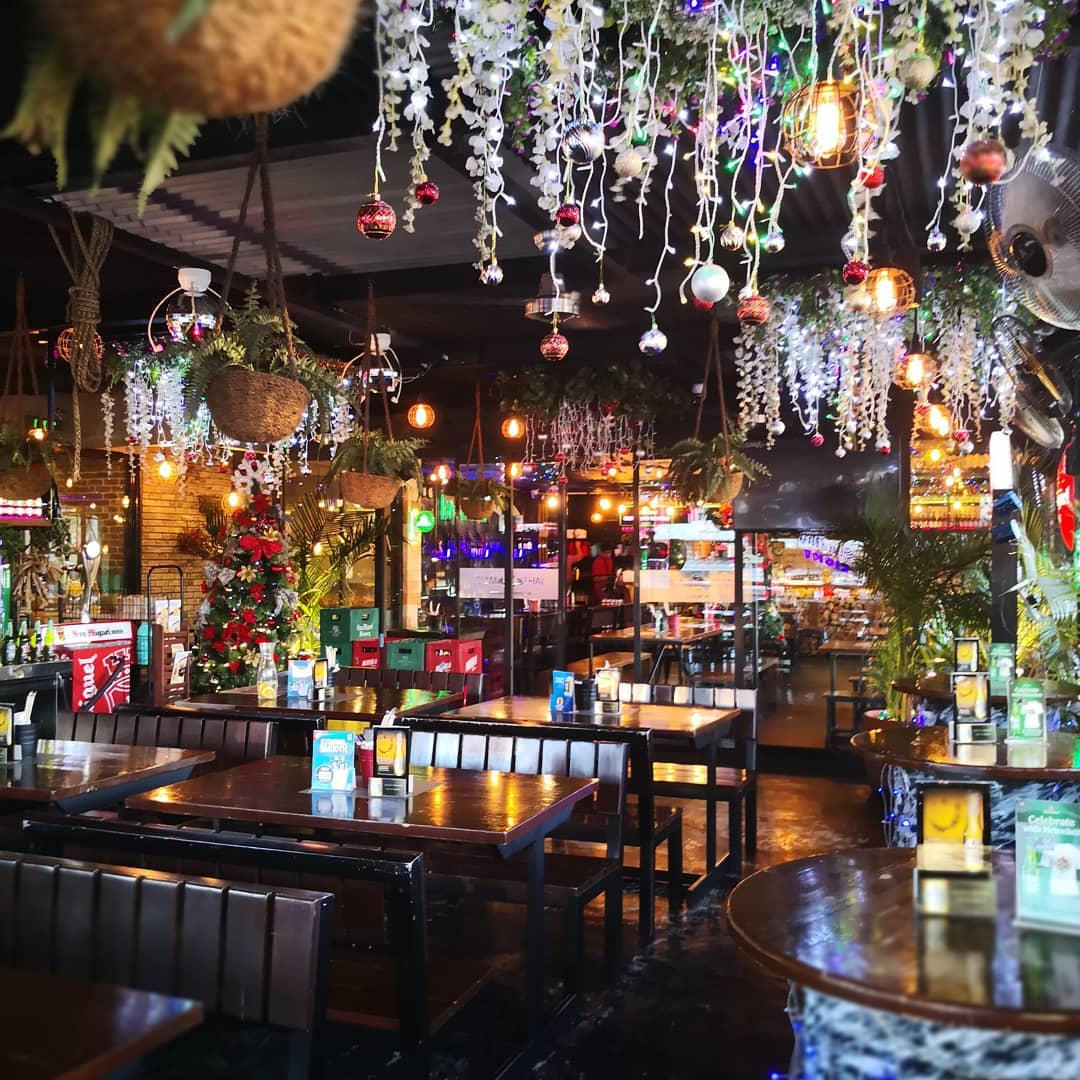 Image credit: @siamthaibbq
Siam Thai BBQ and Sports Bar makes Kapitolyo's night scene more vibrant with its edgy rendition of a Thai restaurant. The sports bar is known for its Moo Kata – Thailand's answer to Korean barbeques and Chinese hotpot.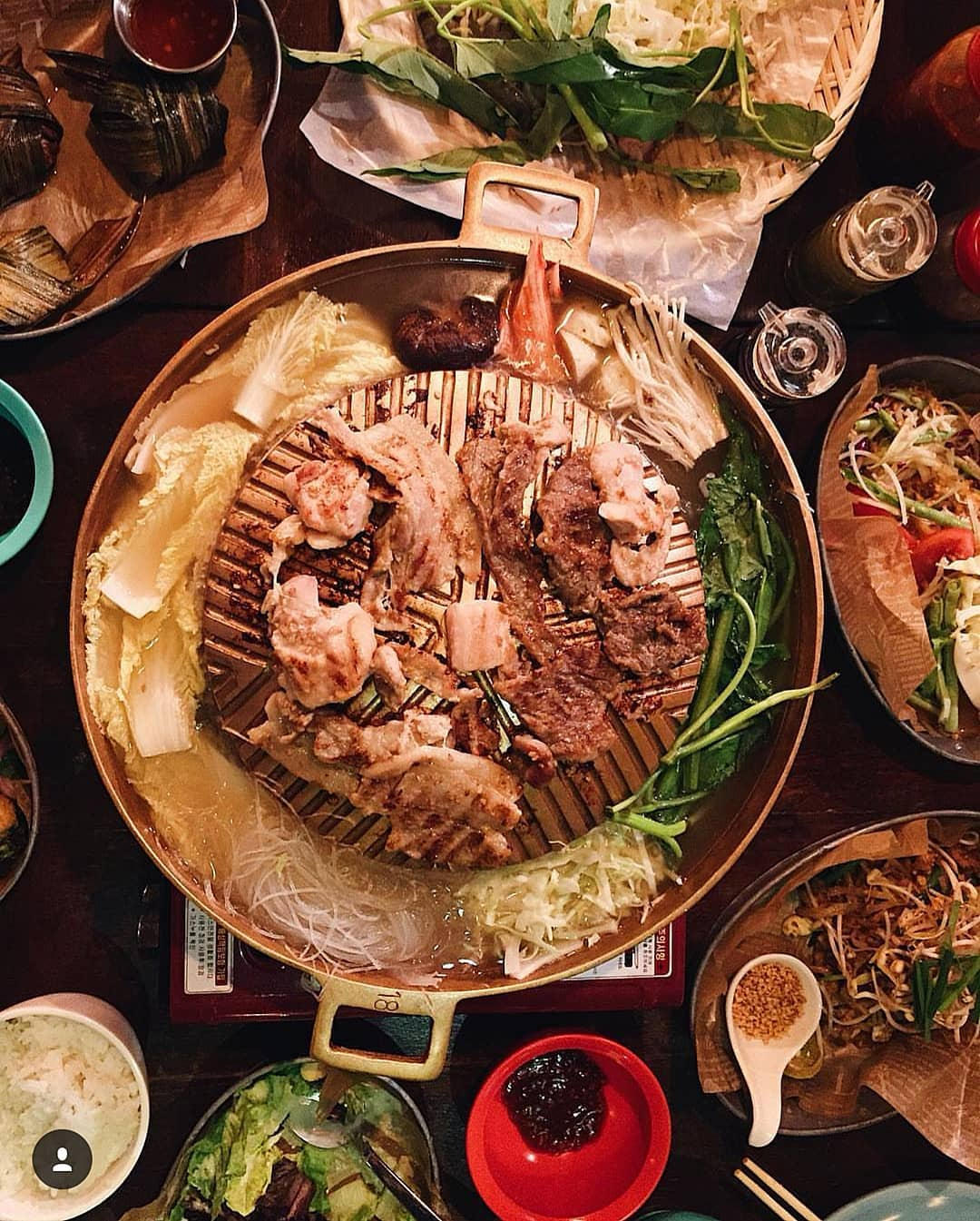 Moo Kata
Image credit: @siamthaibbq
To savor a Moo Kata (price upon request), meats are cooked on a raised grill, while ingredients such as vegetables and noodles are cooked in the surrounding area underneath the grill. 
Address: Pioneer Center, Pioneer St., Pasig City 1603, Metro Manila
Opening hours: Sun – Thurs, 10AM-11PM | Fri – Sat, 10AM-12AM
Telephone: 0961 408 5351
Siam Thai BBQ and Sports Bar's Facebook
---
– Vietnamese restaurants –
---
4. Nha Em Vietnamese Cuisine – home-inspired cooking
---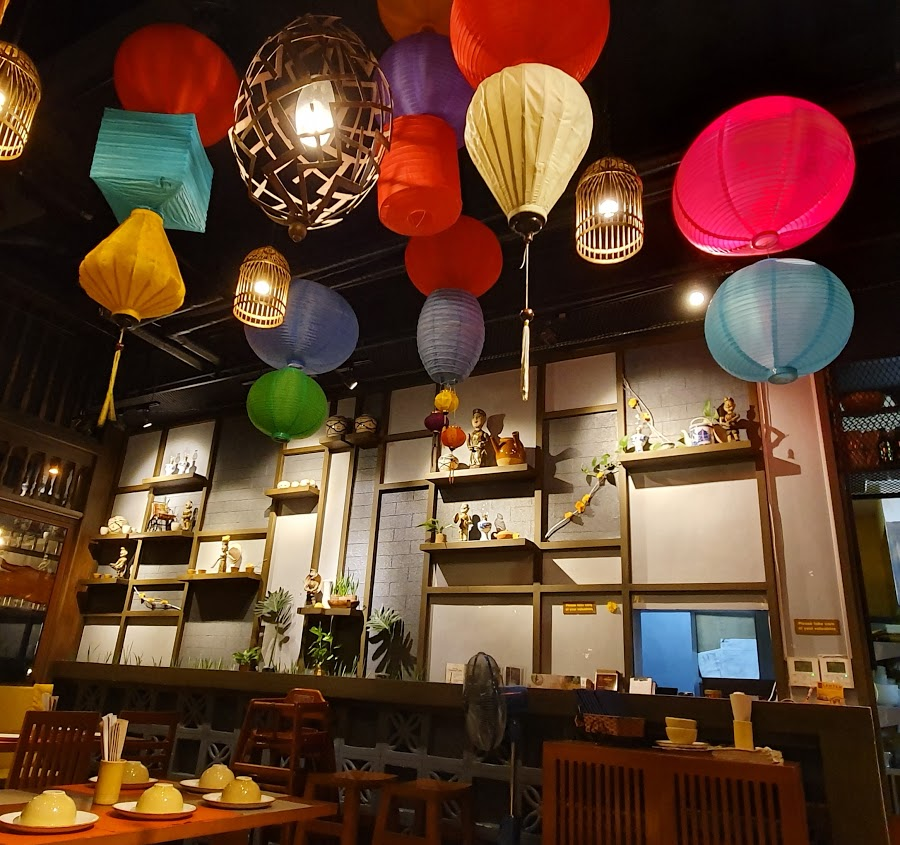 Image credit: Karlo Ibarra
Nha Em is all about the warmth of Vietnamese home cooking. It literally translates to "My Home," serving fresh spring rolls, pho noodle soup, salads, and baguettes.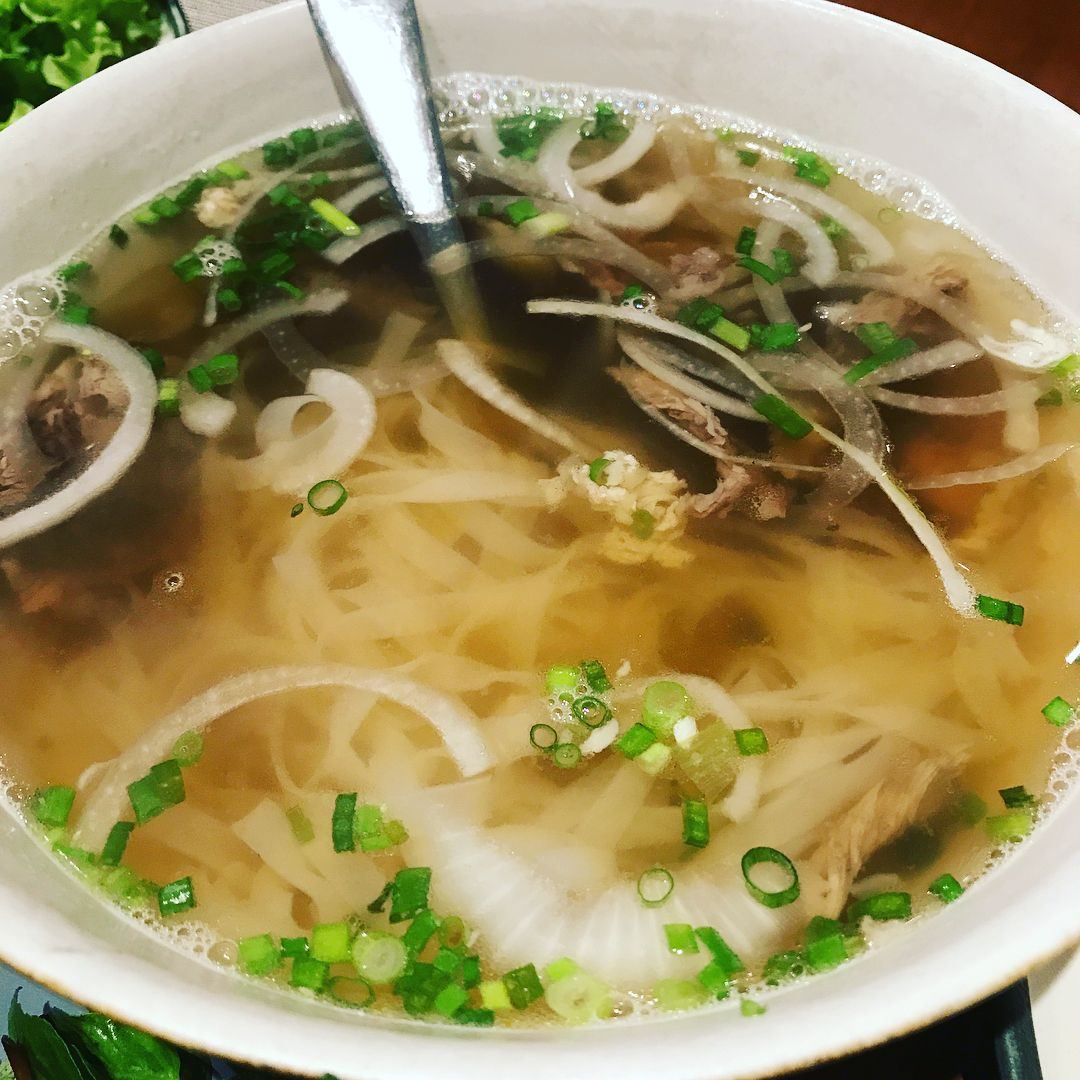 Pho Bo
Image credit: @beweri.eats
Dining at the restaurant wouldn't be complete without trying out Nha Em's Pho Bo (P290, ~USD5.63) – or Vietnam's staple beef noodle soup. It's a gastronomic delight, filled with slices of tender beef and meatballs along with the warmth of rice noodles and beef broth. Basil, beansprouts, and a spray of lime add a layer of toppings to complete the classic dish representing the Vietnamese cuisine philosophy of contrasting earthy flavors. 
Address: 5F SM Aura Sky Park, Taguig City 1634, Metro Manila
Opening hours: 11AM-9PM, Daily
Telephone: 541 5436
Nha Em Vietnamese Cuisine's Facebook 
---
5. Propaganda Vietnamese Bistro – bistro from Saigon with propaganda-style art
---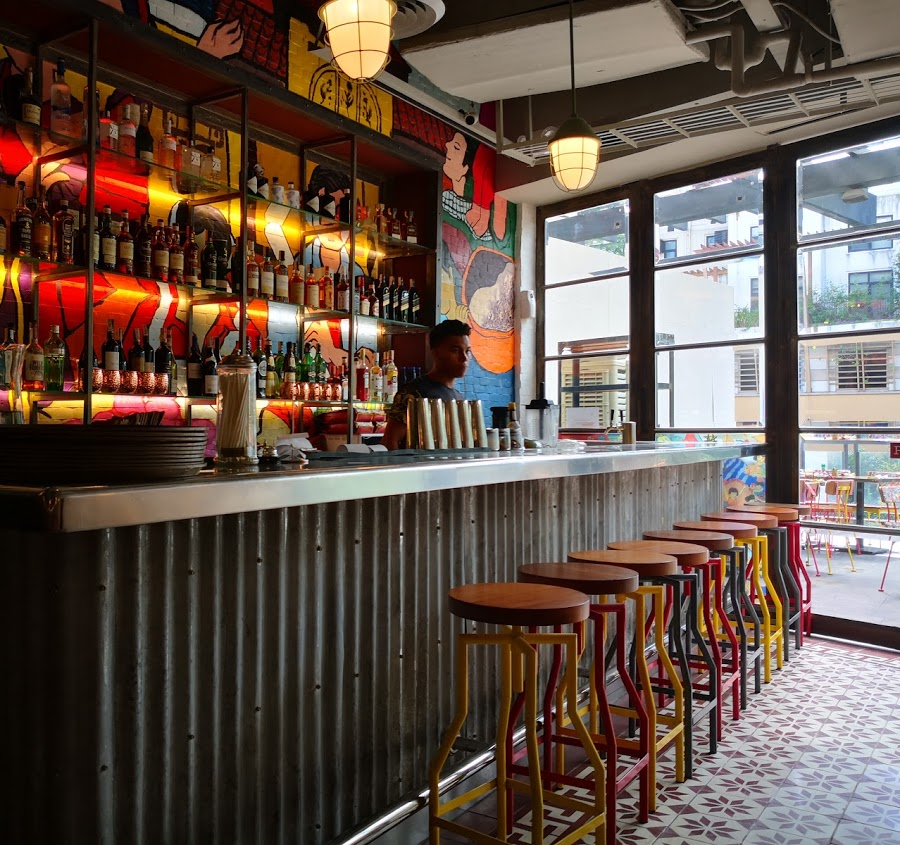 Image credit: David Kim 
As unique as its restaurant's concept of spreading good propaganda, the menu of the Propaganda Vietnamese Bistro franchise, straight from Saigon, is a Vietnamese cuisine with a twist. While it has the usual Vietnamese favorites such as pho noodle soup, banh mi, and spring rolls, it's unique with a recipe of its own you cannot find in other Vietnamese and Southeast Asian restaurants in the metro.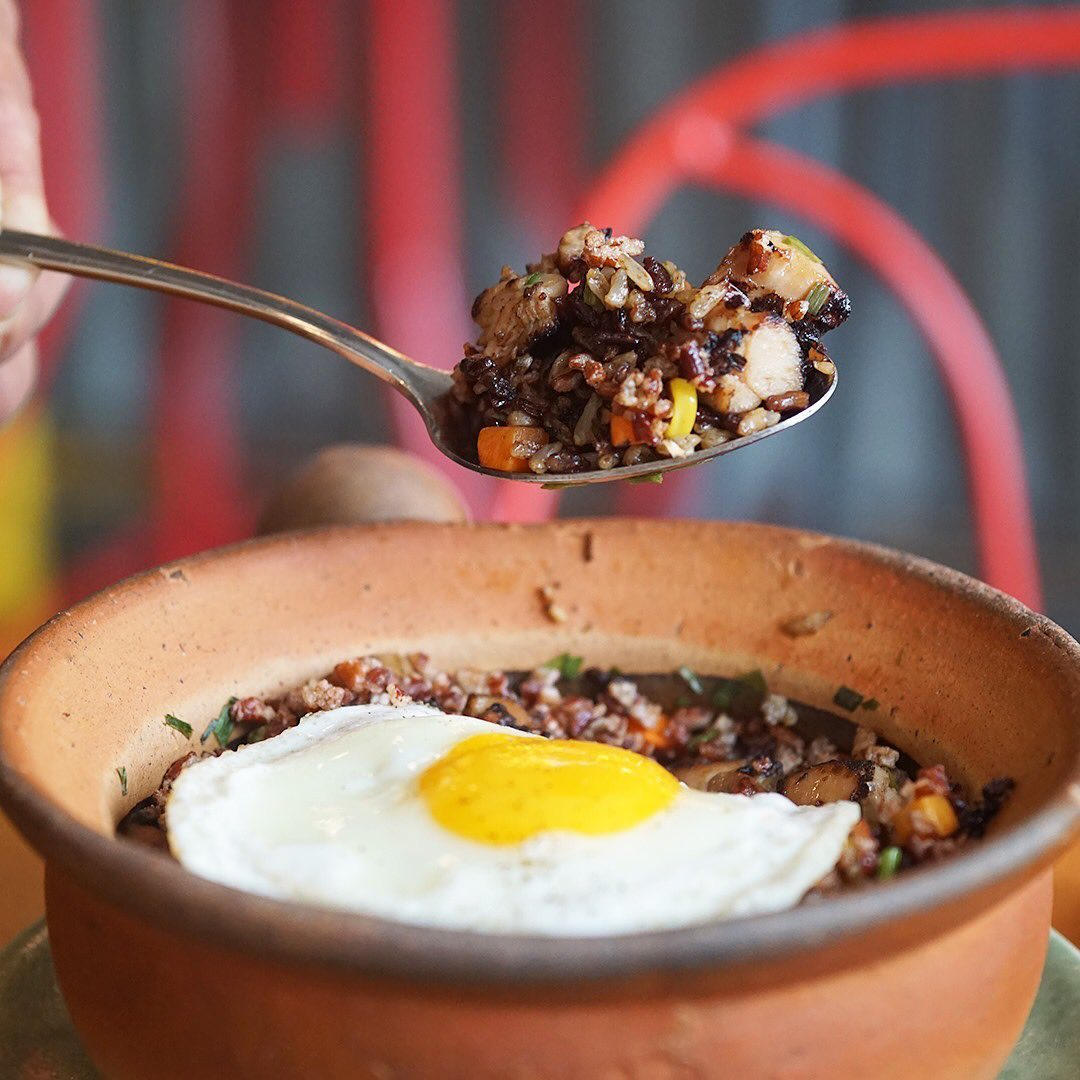 Crunchy Tri-Colored Rice Bowl
Image credit: @propagandabistroph
The Crunchy Tri-Colored Rice Bowls are the Bistro's signature dishes, maintaining the usual combinations of vegetables and meat from Vietnamese dishes but with a unique play on texture. The Crunchy Tri-Colored Rice Bowl with barbeque chicken, vegetables, and fried egg (P350, ~USD6.81) is one of them, and while it's essentially Vietnamese, it's also familiar to the Filipino palate due to the addition of a fried egg to complement the rice.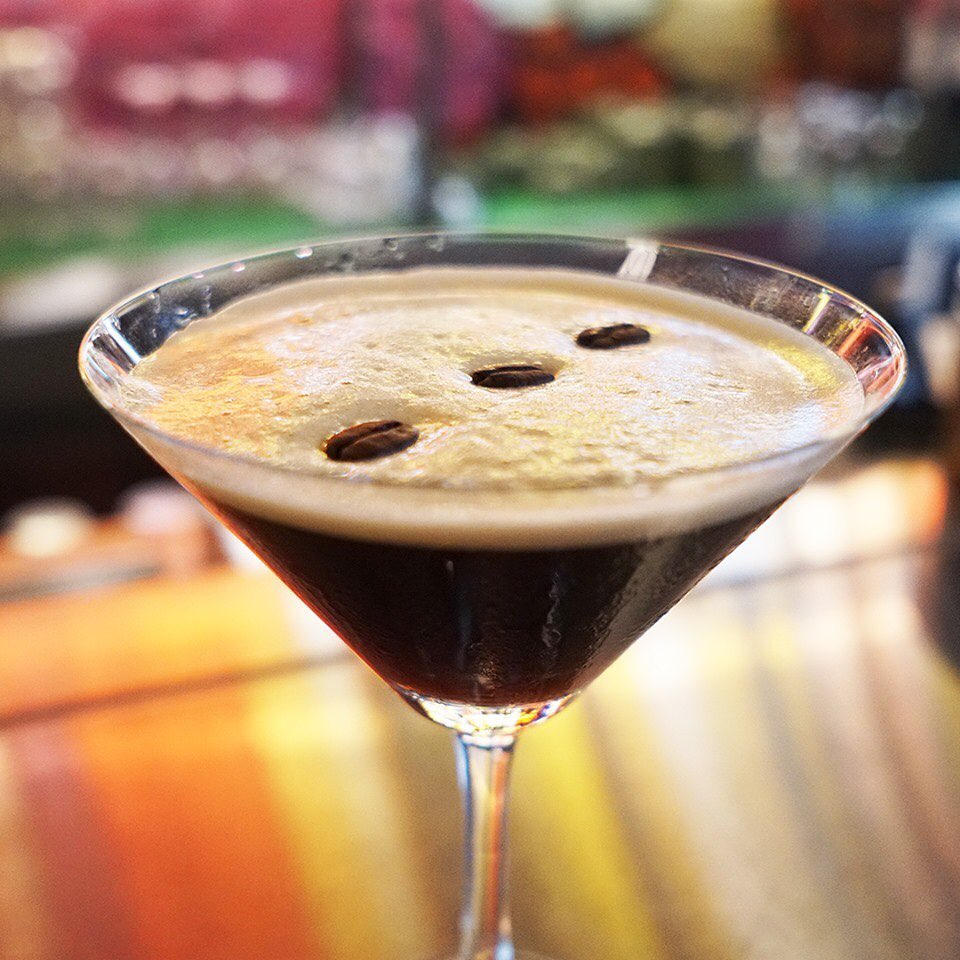 Ca Phe Martini
Image credit: @propagandabistroph
Don't forget to pair your rice bowl with one of their signature cocktails – the Ca Phe Martini (P300, ~USD5.84) with its mixture of Vietnamese coffee with Smirnoff vodka, Kahlua, Frangelico, and sugar syrup.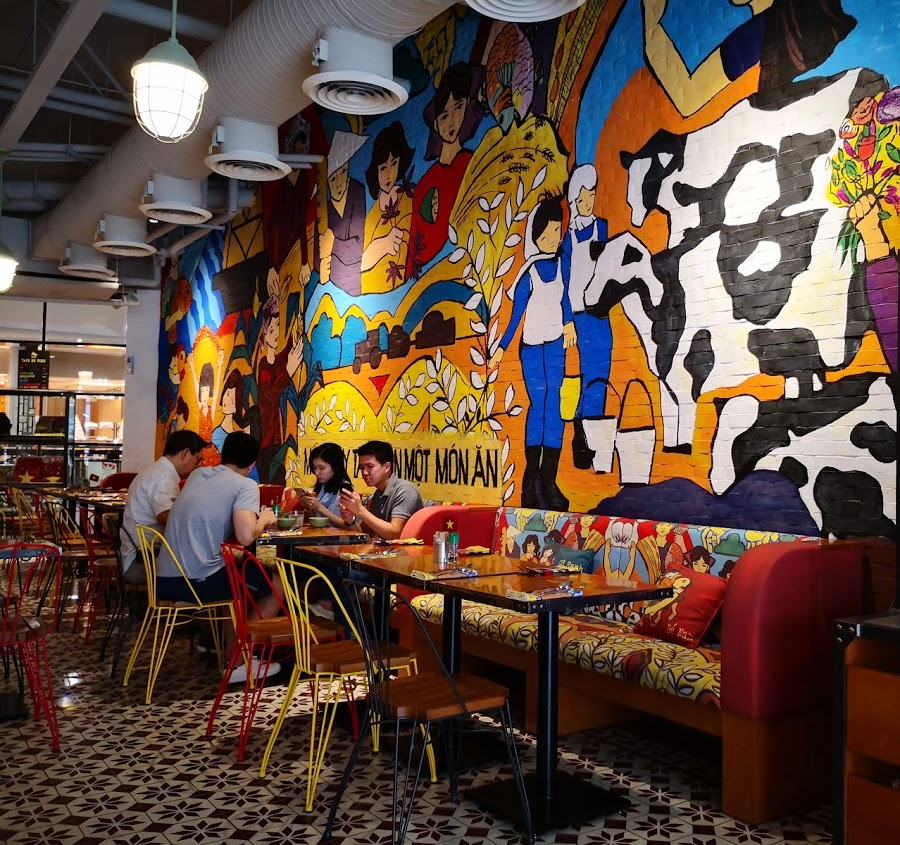 Image credit: David Kim 
Address: 2F, Greenbelt 5, Ayala Center, Makati City 1229, Metro Manila
Opening hours: 11AM-9PM, Daily
Telephone: 576 1908
Propaganda Vietnamese Bistro's Facebook 
---
– Singaporean restaurants –
---
6. Wee Nam Kee – former President Joseph Estrada's favorite chicken rice
---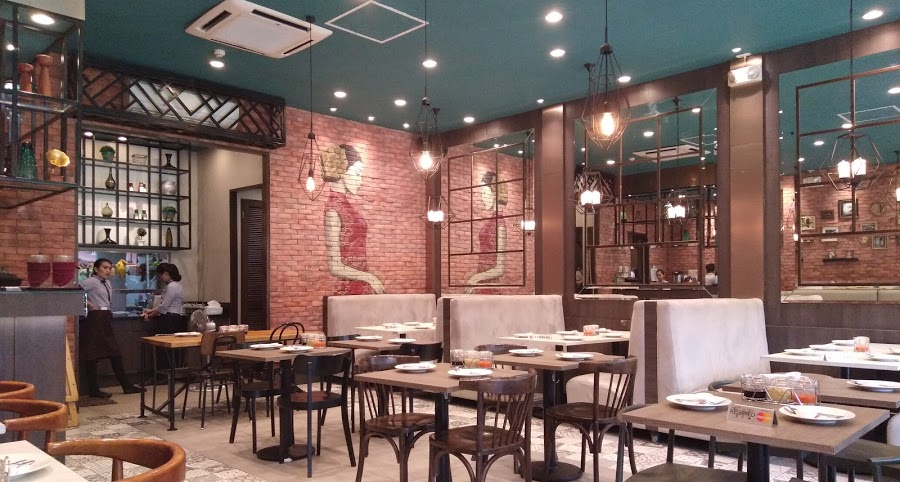 Image credit: Earl Patrick Penabella 
The beloved Wee Nam Kee Chicken Rice, established in Singapore by Mr. Wee Toon Ouut in 1989, has been on Philippine shores for 9 years now.
They first expanded in the Philippines before doing so in other countries in Asia and we understand why – we Filipinos love our chicken so much that chicken rice easily woos our palates, and even former President Joseph Estrada wasn't an exception.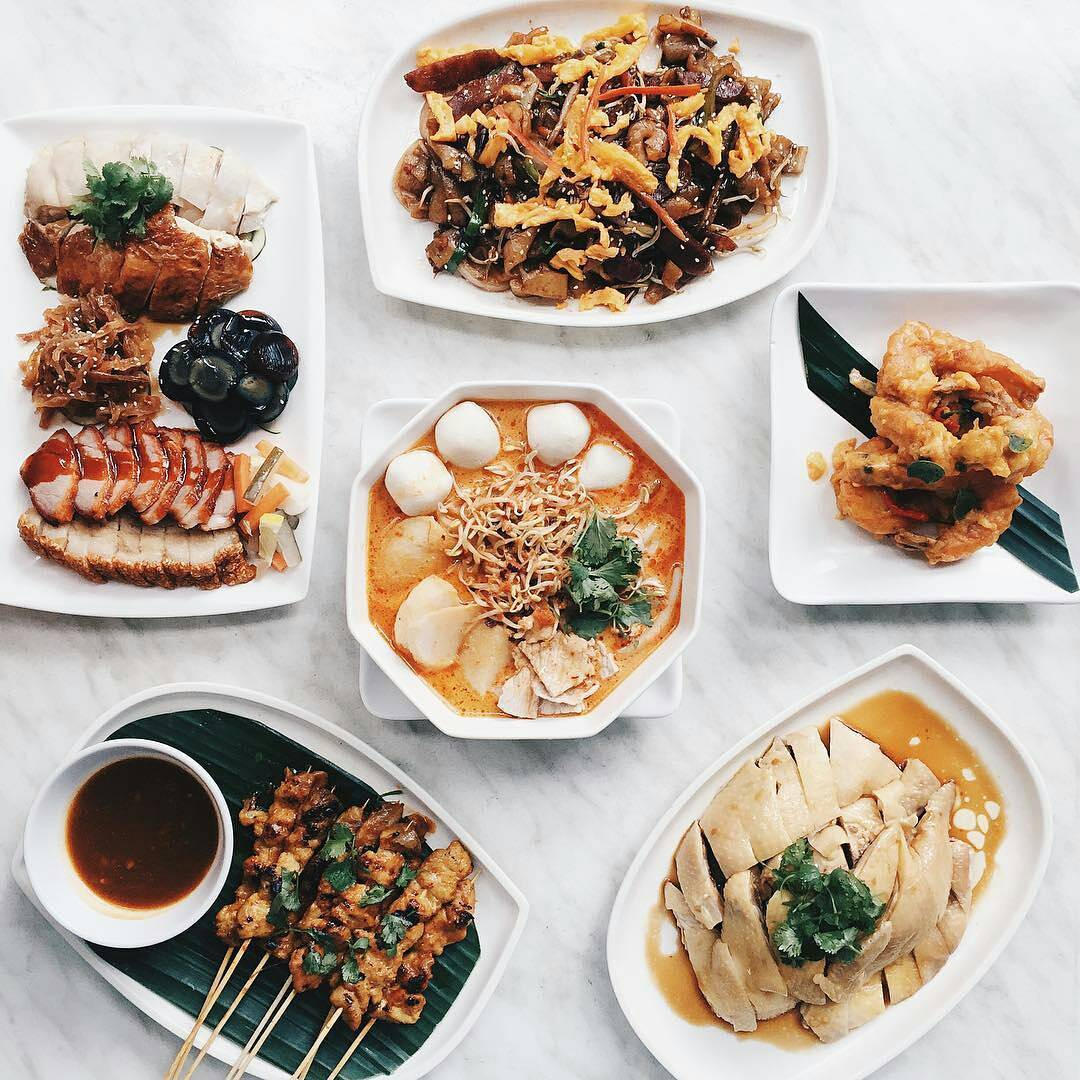 From left, clockwise: Char Kway Teow, Salted Egg Prawns, Yellow Chicken, Barbeque Satay Platter, Family Platter
Centre: Classic laksa
Image credit: @weenamkeeph
One of their bestsellers is the Classic Laksa (P365, ~USD7.09), comprising Hofan noodles brimming with creamy coconut broth and generous servings of squid balls and squid.  They even have more items in their menu than their Singaporean counterpart usually does to spoil our palates – Char Kway Teow (P370, ~USD7.19) and the Barbeque Satay Platter (P350, ~USD6.80), for example, are not in their typical menu in the Lion City. 
For a list of branches, click here.
Wee Nam Kee Philippines's Facebook
---
7. Hawker Chan – serves the world's cheapest Michelin-starred meal
---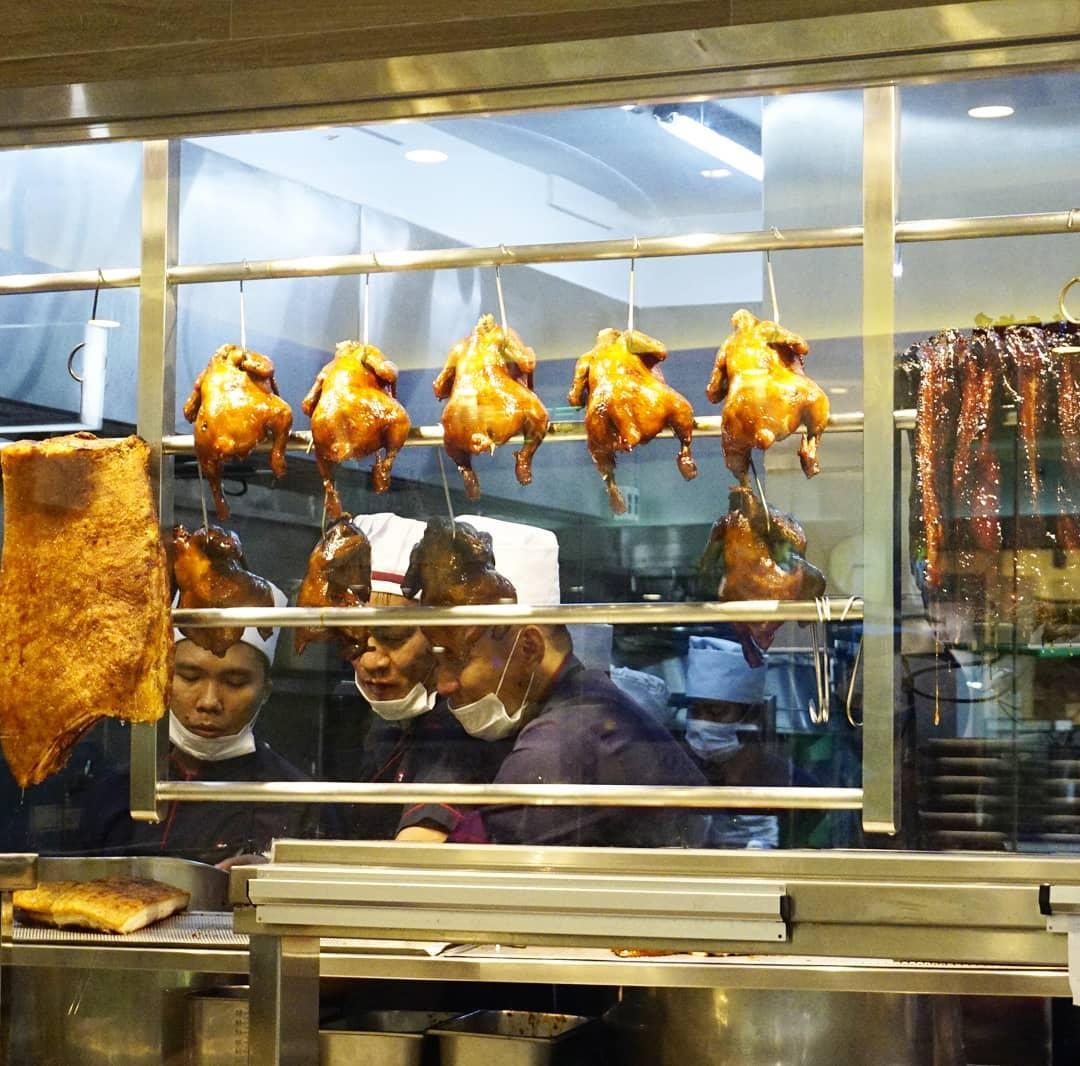 Image credit: @hawkerchanphilippines  
We still can't wrap our minds around the existence of the world's cheapest Michelin-starred meal. Hawker Chan's Soya Sauce Chicken Rice from a humble hawker stall in Singapore's Chinatown is priced only at P148 (~USD2.87) – only a few pesos higher than your usual chicken at a fast-food chain – but don't be fooled into thinking the taste is meh due to its affordability.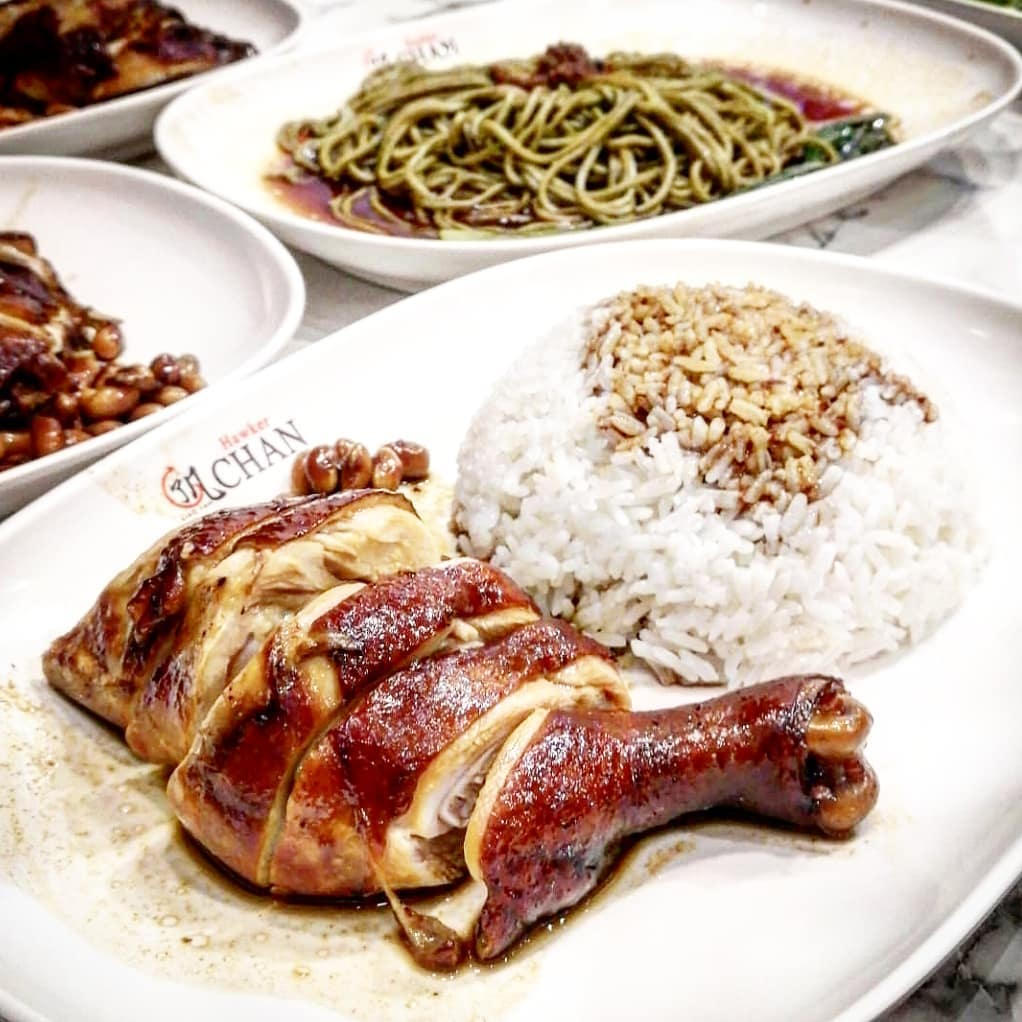 Soya Sauce Chicken
Image credit: @hawkerchanphilippines
If there's a way to describe Hawker Chan's chicken, it's like a chicken marshmallow, if you will, with its soya sauce bathing the chicken in a subtle layer of sweetness and savoriness.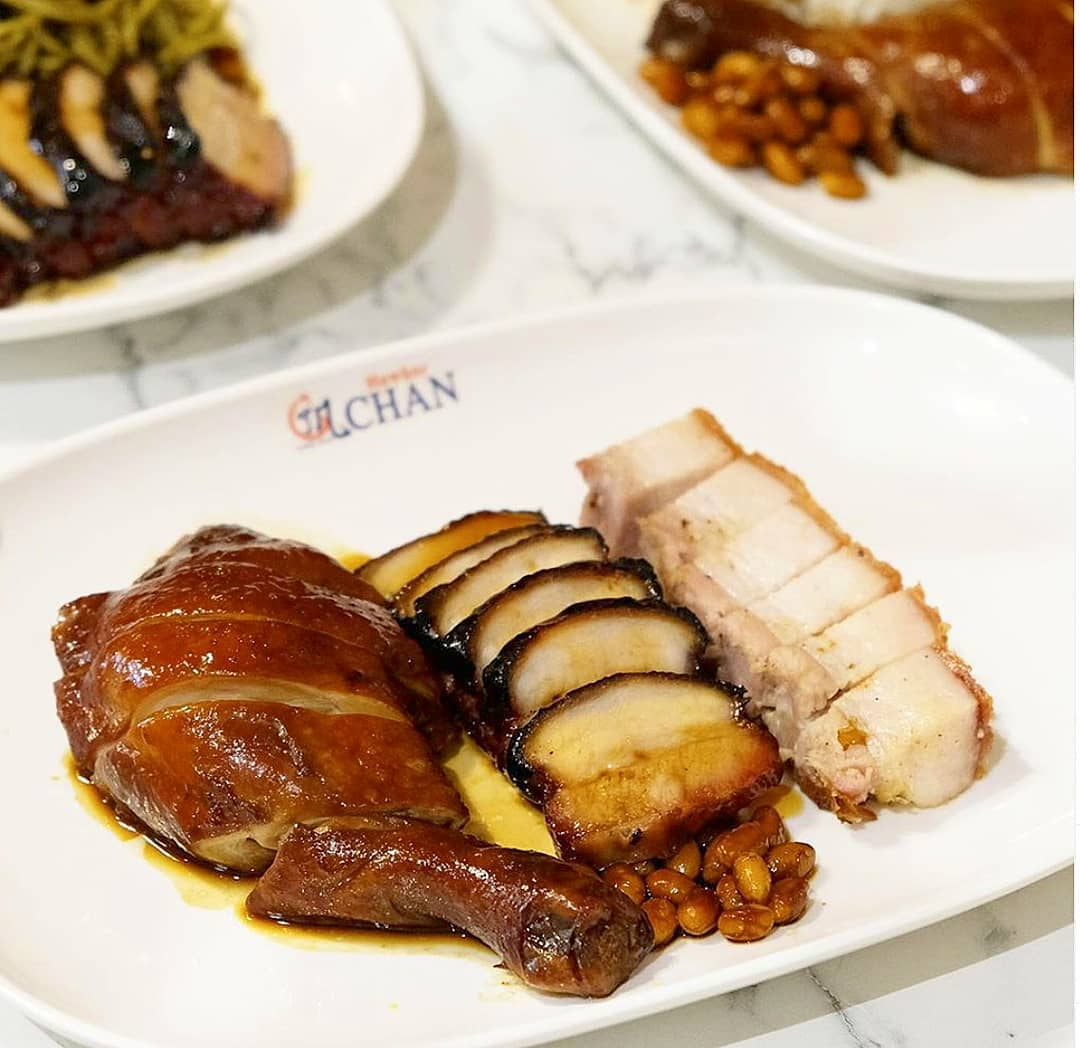 3-Meat Platter
Image credit: @hawkerchanphilippines
And because one cannot have a piece of a Michelin-starred chicken without other meaty Hawker Chan offerings, you have to order their 3 Meat Platter (P313, ~USD6.08) as well, consisting of their Roasted Pork and Char Siew aside from their famous chicken. 
For a list of branches, click here.
Hawker Chan Philippines' Facebook
---
– Indonesian restaurant –
---
8. Warung Kapitolyo – for your nasi goreng cravings with the titas or titos
---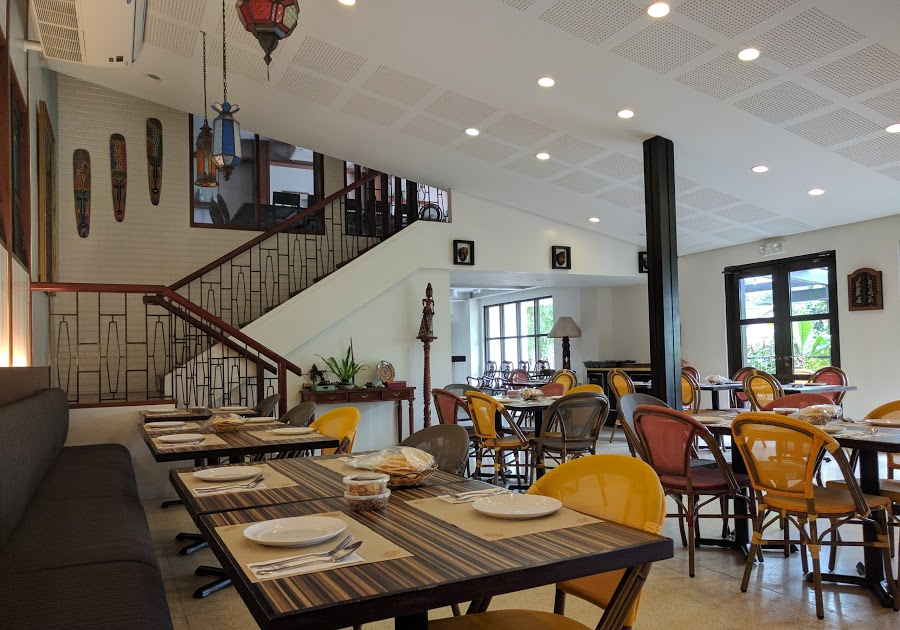 Image credit: Joe Ramir Ramirez 
From its humble stall in Makati's Legazpi Sunday Market, Warung Warung has grown into a spacious, cozy home in Pasig where your fellow titos or titas would love to dine when they need their Indonesian cuisine fix. They are one of the few Indonesian restaurants in the metro cooking authentic dishes, so it's no wonder that it's packed with Indonesian nationals most of the time.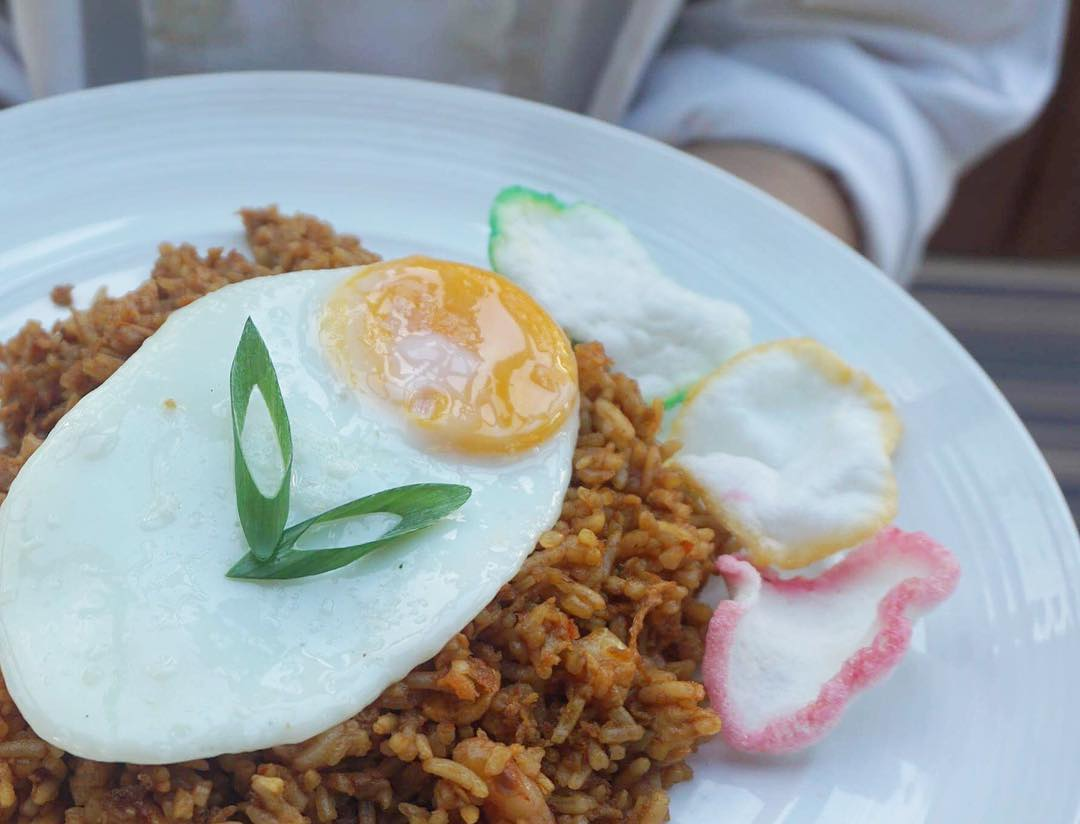 Image credit: @warungwarungph
Their Nasi Goreng (P215, ~USD4.18) is lauded for its authenticity, filled with minced Quorn grounds and topped with egg. This is the version of our local sinangag on steroids – it's a strong combination of sweet and spicy flavors, just how nasi goreng should be.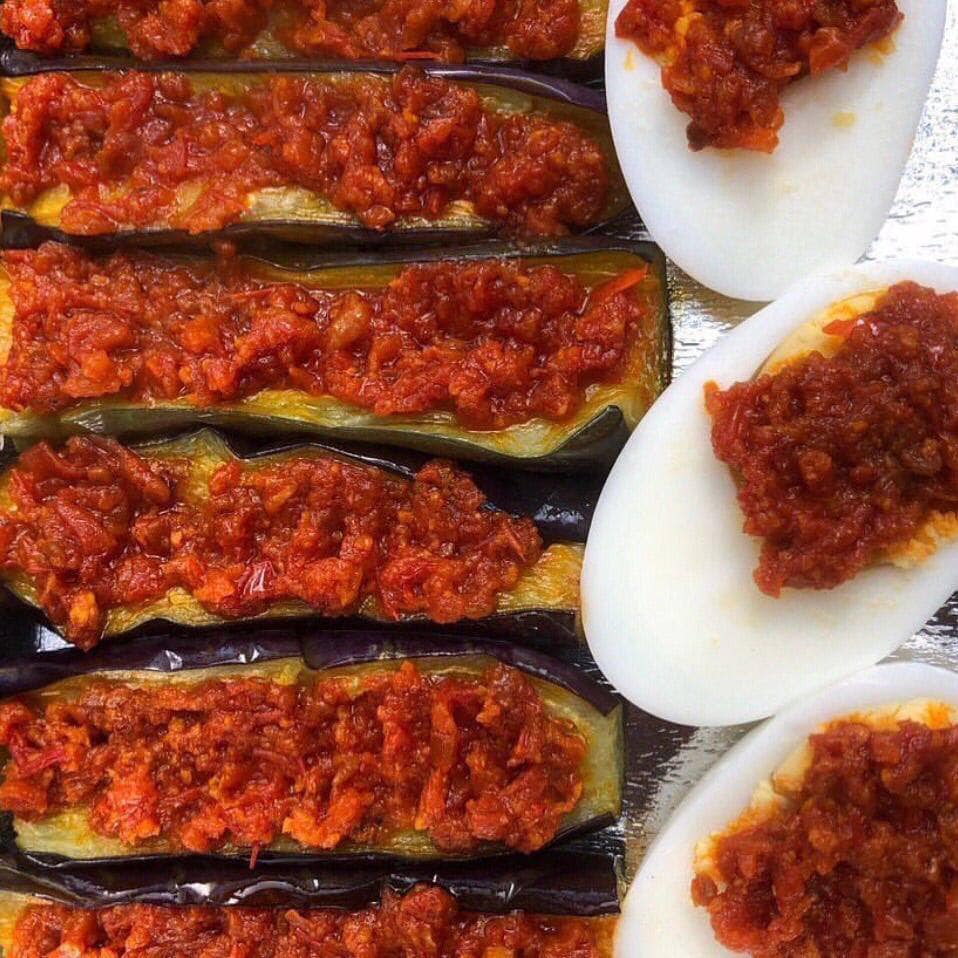 Terong Telur
Image credit: Warung Warung PH
If you can't get enough of Indonesia's spicy dishes, you may also want to try the Terong Telur as a side dish. It comprises eggplant and egg sprinkled with tomato chili paste. 
Address: 83 East Capitol Drive, Brgy. Kapitolyo, Pasig 1603, Metro Manila
Opening hours: 11AM-5PM, Daily
Mobile: 0917 800 9158
Warung Warung PH's Facebook
---
Southeast Asian restaurants in the metro
---
The rich cultures of Southeast Asia are reflected in these Metro Manila restaurants, with cuisine for every kind of palate. 
From spicy to salty, meaty to full of vegetables, you have a variety of Southeast Asian restaurants to choose from for your next Southeast Asian food trip around Metro Manila.
Also check out:
---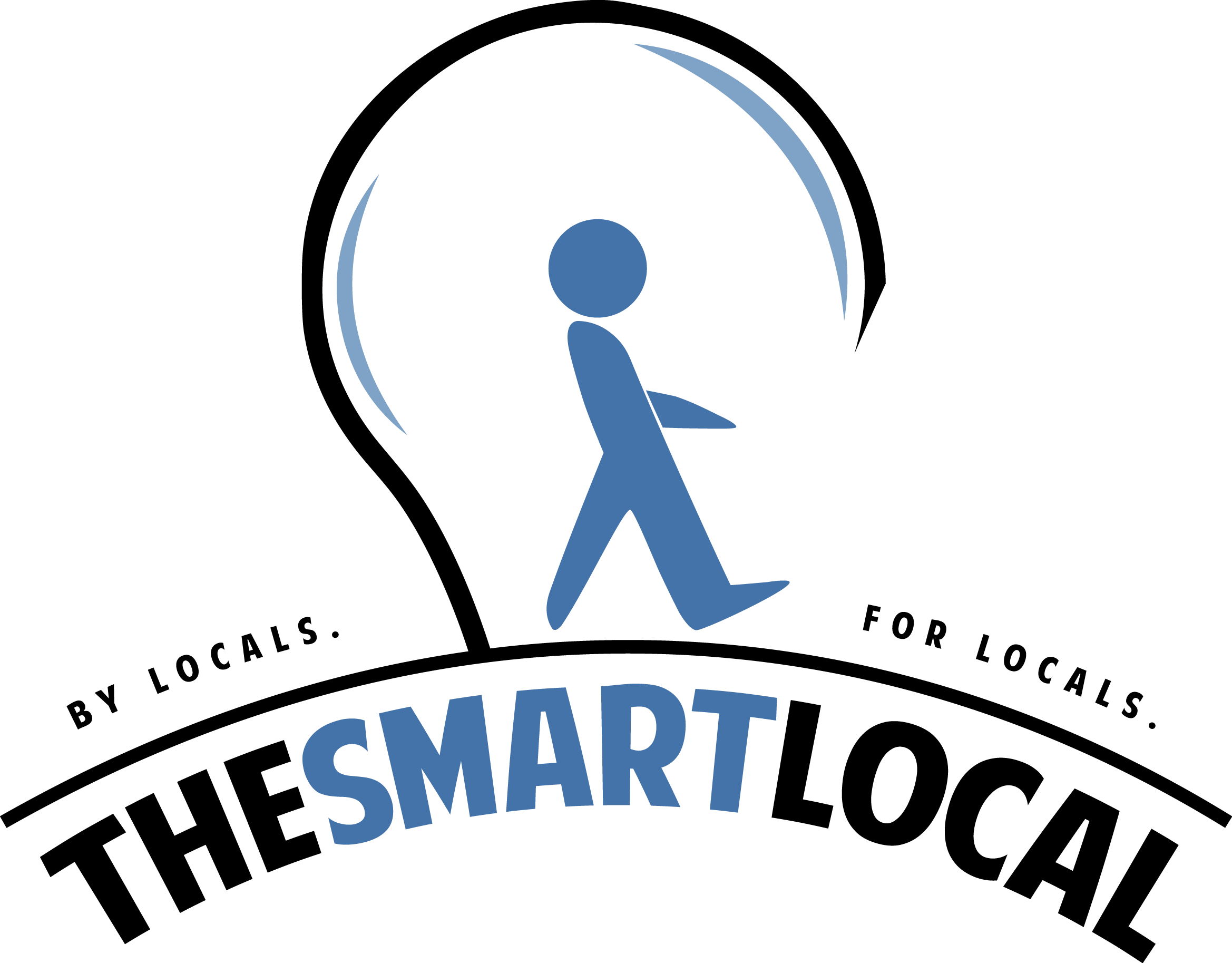 Drop us your email so you won't miss the latest news.