Pastel nail houses in the metro
---
Picture the color schemes of a Disney princess film: pastel on ballgown after ballgown. Creamy pastel hues have always been associated with classic, regal feminine ideals, because these colors feel so dreamy and romantic to look at. 
Perhaps that's why some nail houses deck their interiors in beautiful pastel colors. If your next makeover sesh with the girls is fast approaching, why not plan the party in an establishment that is not just well-reviewed, but also pastel-themed to unleash the girls' inner princesses?
Here's a list of 10 pastel-themed salons around Metro Manila that your squad can choose from. 
---
1. Nail & Co – spa party packages for your bachelorette makeover
---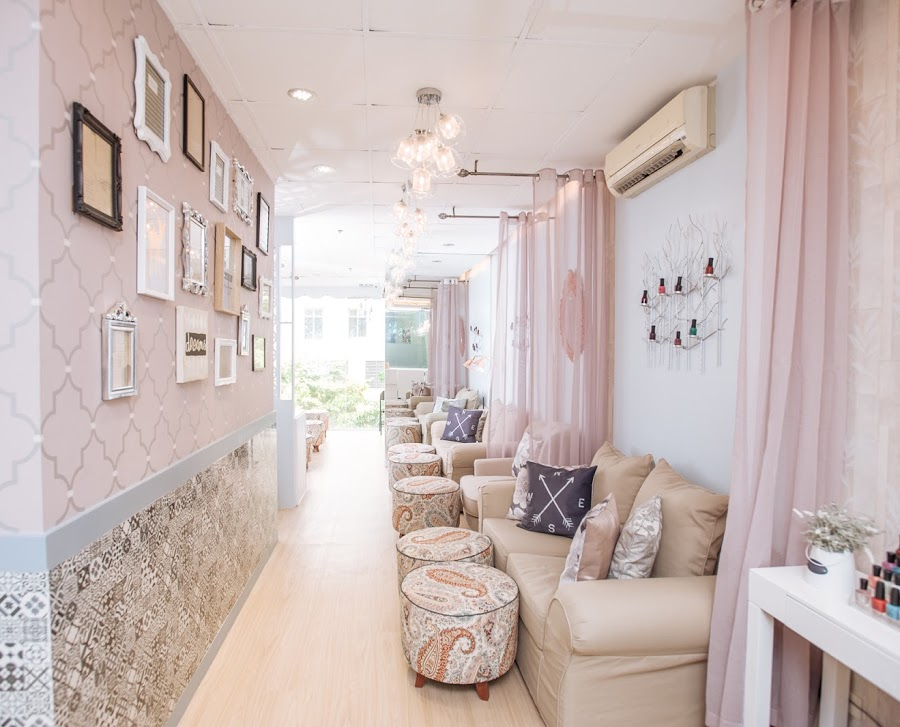 Image credit: Nail & Co 
With all the ways it inspires us to indulge our inner princess — from its curtains to its elegant wall frames – Nail & Co is our happy pill in Kensington Place in Bonifacio Global City.

We're all eyes on their Spa Party Packages that just know what we need for an ultimate bachelorette makeover. The Package A (P5,322) is good for 8 persons and includes everything that will make the girls happy: Speedy Chic Hands and Feet (manicure and pedicure), free use of the salon for 3 hours, complimentary drinks, chips and cookies, and a gel manicure for the bride!
Address: 2/F Kensington Place, 1st Avenue Corner 29th Street, Burgos Circle, Bonifacio Global City, Taguig
Opening hours: Mon – Sat, 8AM-8PM
Telephone: 08 551-6508
Website
---
2. French Tips – eco-friendly nail polishes
---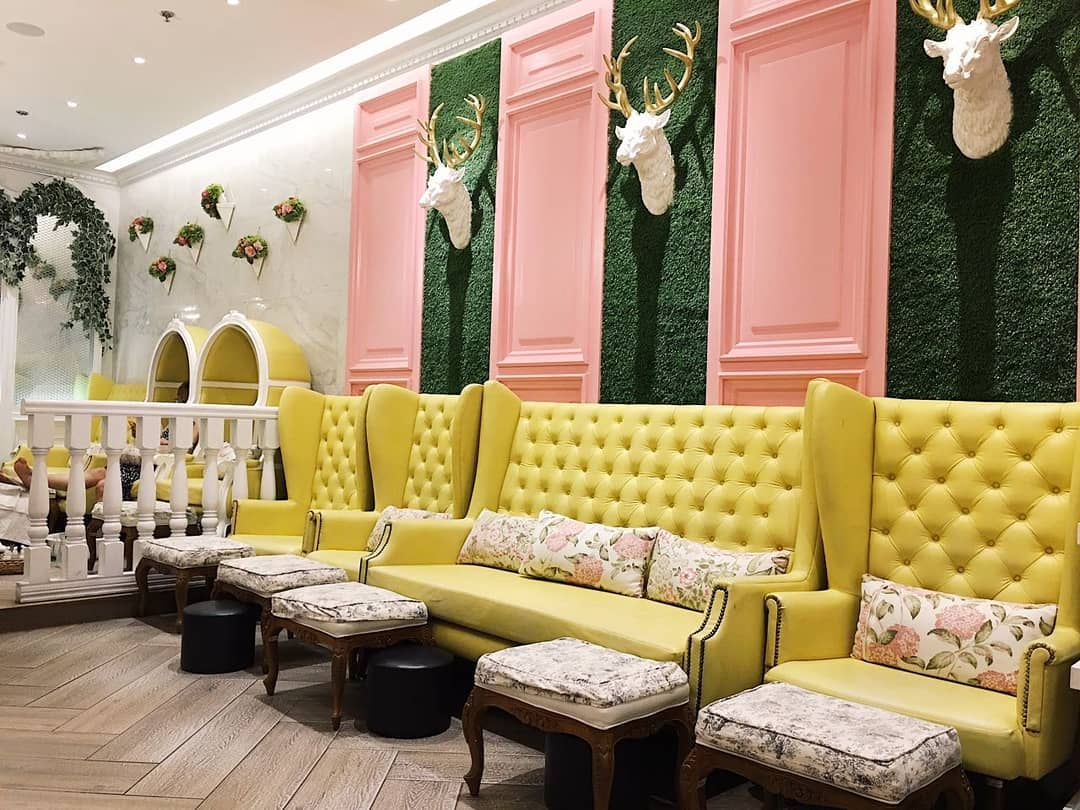 Image credit: French Tips Organic Nail Lounge
This pastel nail house caught our eyes with its creamy yellow and pink interiors inspired by the villages of the South of France. They are also committed to providing an environmentally-conscious pampering experience with their Vegan (P90) and Guilt-Free (P90) nail lacquer add-ons. So it's great news for people who are sensitive to regular nail polish, because French Tips says that its nail services are free of harmful fumes and toxins.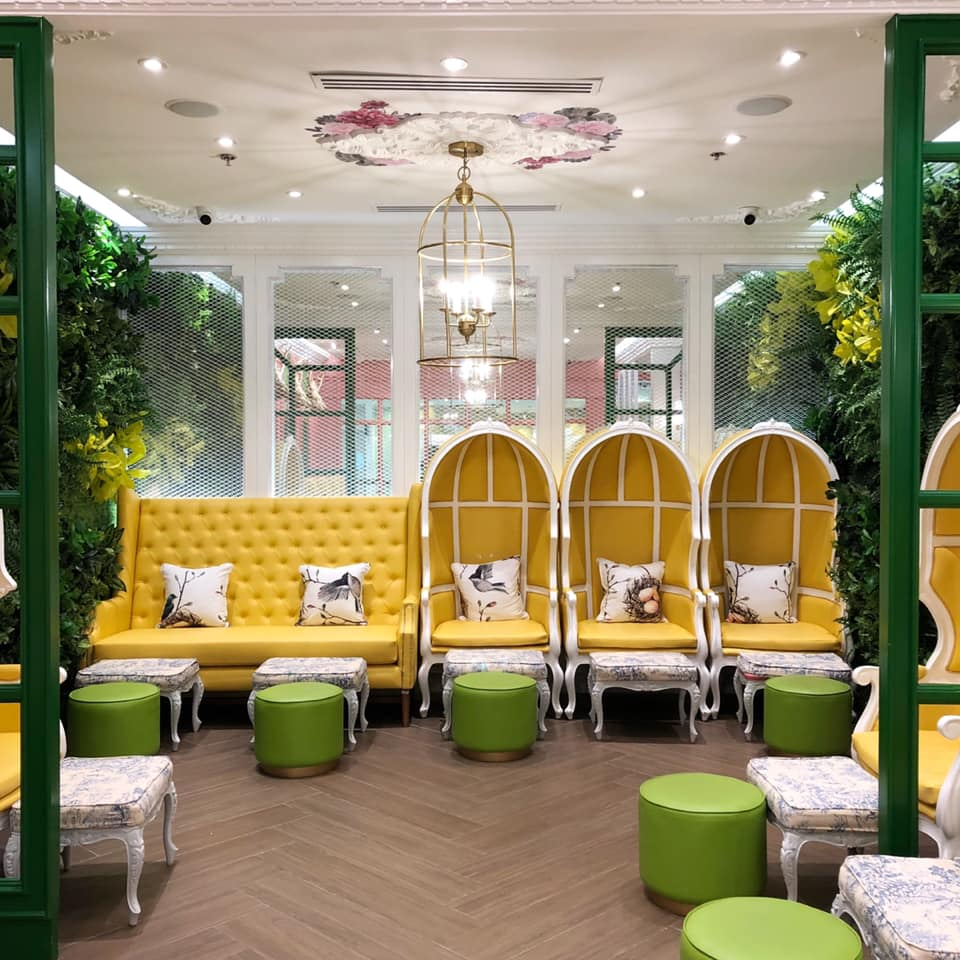 Image credit: French Tips Organic Nail Lounge 
Their prices are also attractive for such a posh-looking salon, with manicure services starting at only P185 and pedicures at P220. 
For a list of outlets, click here.
---
3. Pink Peony Nail Salon – apricot-seed infused treatment for college girls of UP and Katip
---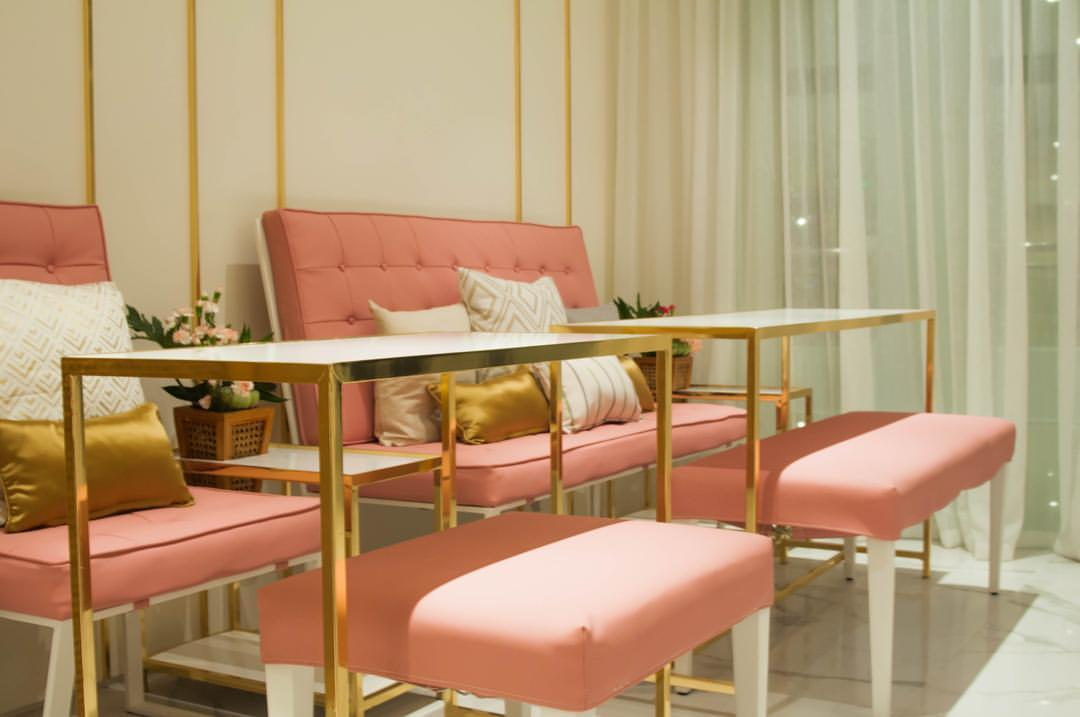 Image credit: Polygon: Human-Centered Space Design 
College kikay girls of University of the Philippines and 'Katip' will love this pastel haven situated in UP Town Center with its creamy white interiors accented with rims of gold and dainty pinks and greys. 
Pink Peony Nail Salon's signature service, the Pink Peony Signature Treatment (P600/hands; P870/feet), even matches the feel of their color scheme. It features a soak, scrub, nail cleaning, a 30-minute massage – and an apricot seed-infused Pink Peony scrub with Pink Peony lotion, so your nails will smell and feel like the juicy, soft apricot fruit.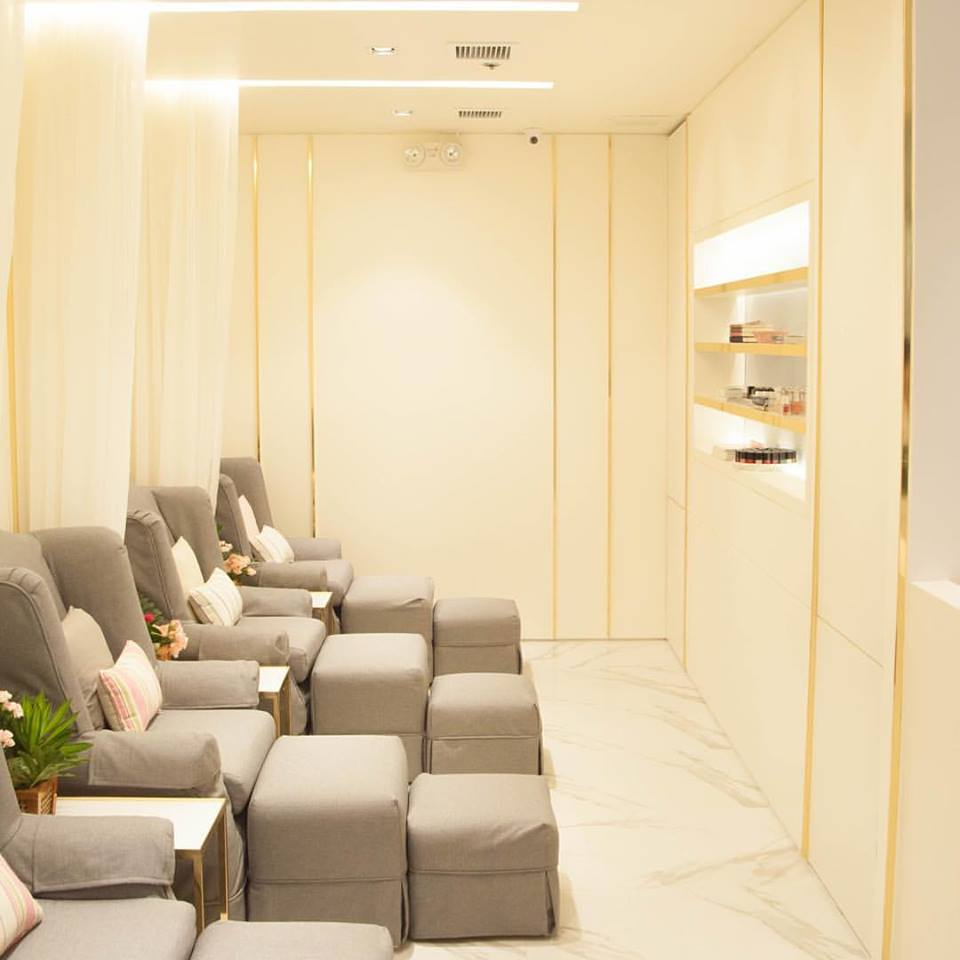 Image credit: Polygon: Human-Centered Space Design 
Address: 2/F UP Town Center Phase 2B, Katipunan Avenue, Quezon City
Opening hours: Mon – Fri: 8AM-8PM | Sat – Sun: 10AM-10PM
Telephone: 796-04358
Instagram
---
4. KathNails by KCMB – nail fix like a teen queen 
---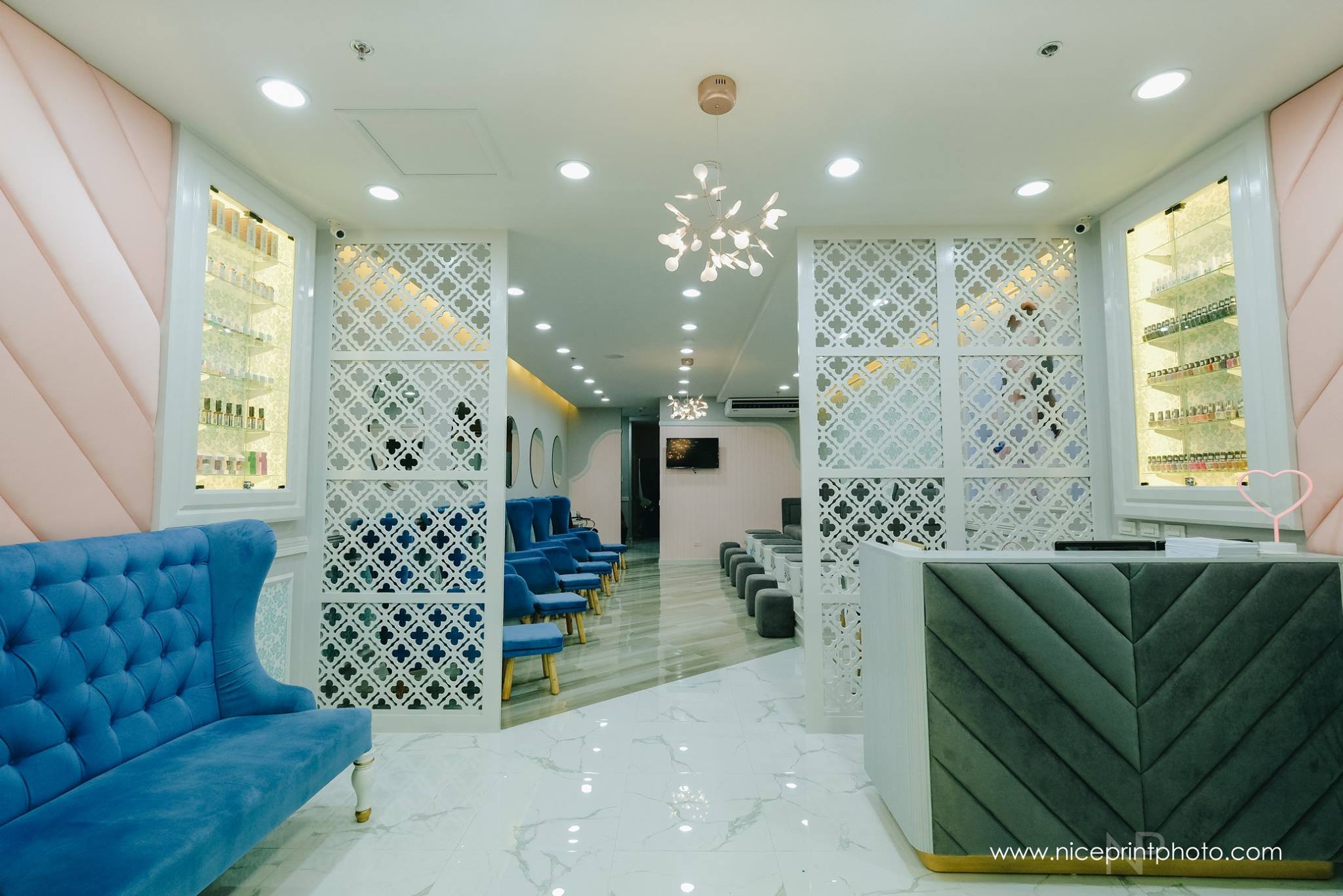 Image credit: KathNails 
KathNails by KCMB is definitely how Philippine teen idol Kathryn Bernardo's nail salon should look like – pastel with a touch of regal in its choice of fixtures. The salon is a product of Bernardo's fondness for nail polish, and the name KathNails is inspired by the word 'KathNiel', a portmanteau of her love team with Daniel Padilla.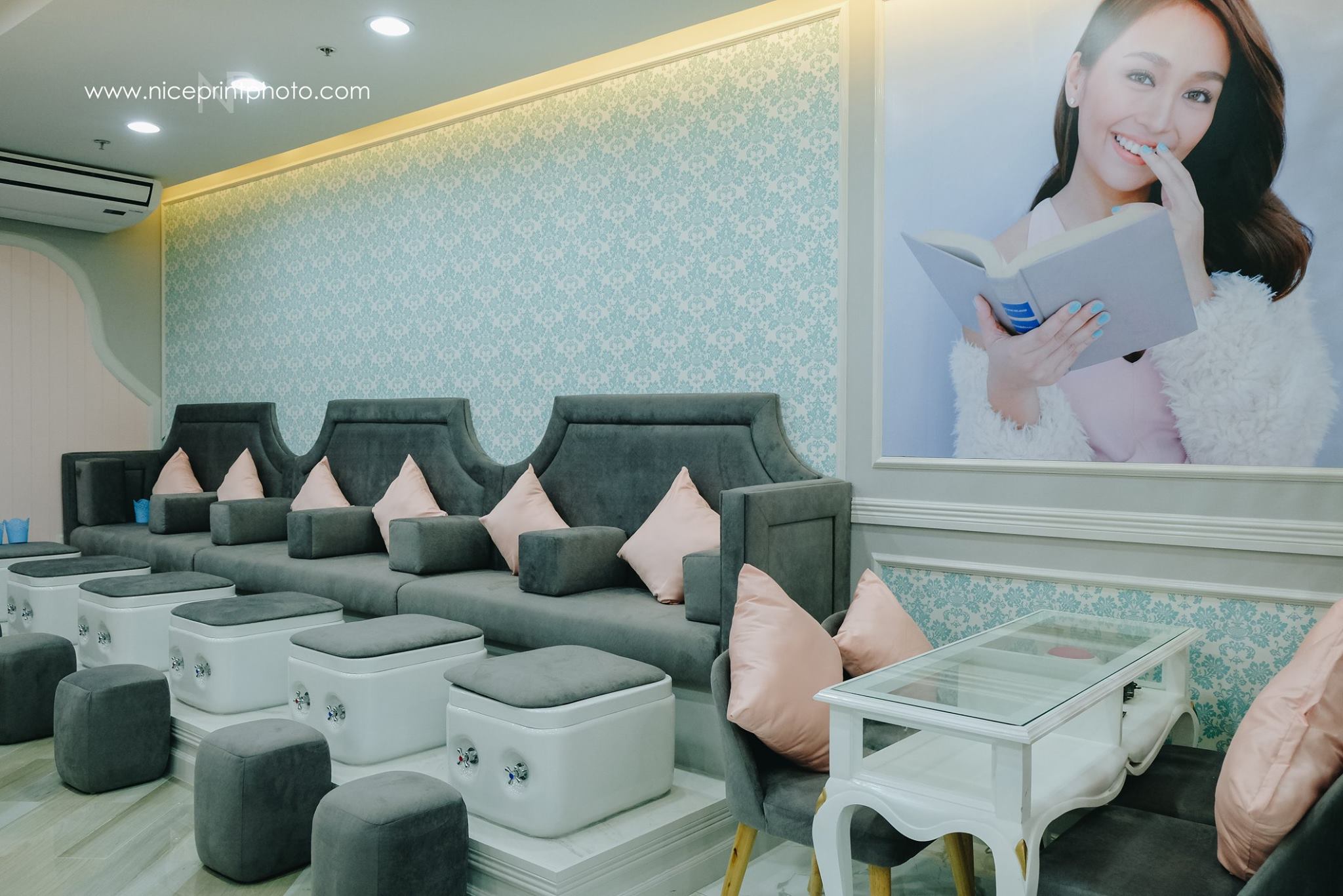 Image credit: KathNails 
Paint your nails in pastel hues with the Teen Queen's Favorite treatment that includes Gel Manicure (P800), Gel Pedicure (P900), and Gel Manicure + Pedicure (P1,600). Because like Kathryn, your girls have been busy being the girl bosses whom they are and deserve some TLC time for their nails.
For a list of outlets, click here.
---
5. POSH Nails Hand and Foot Spa – party packages for the squad
---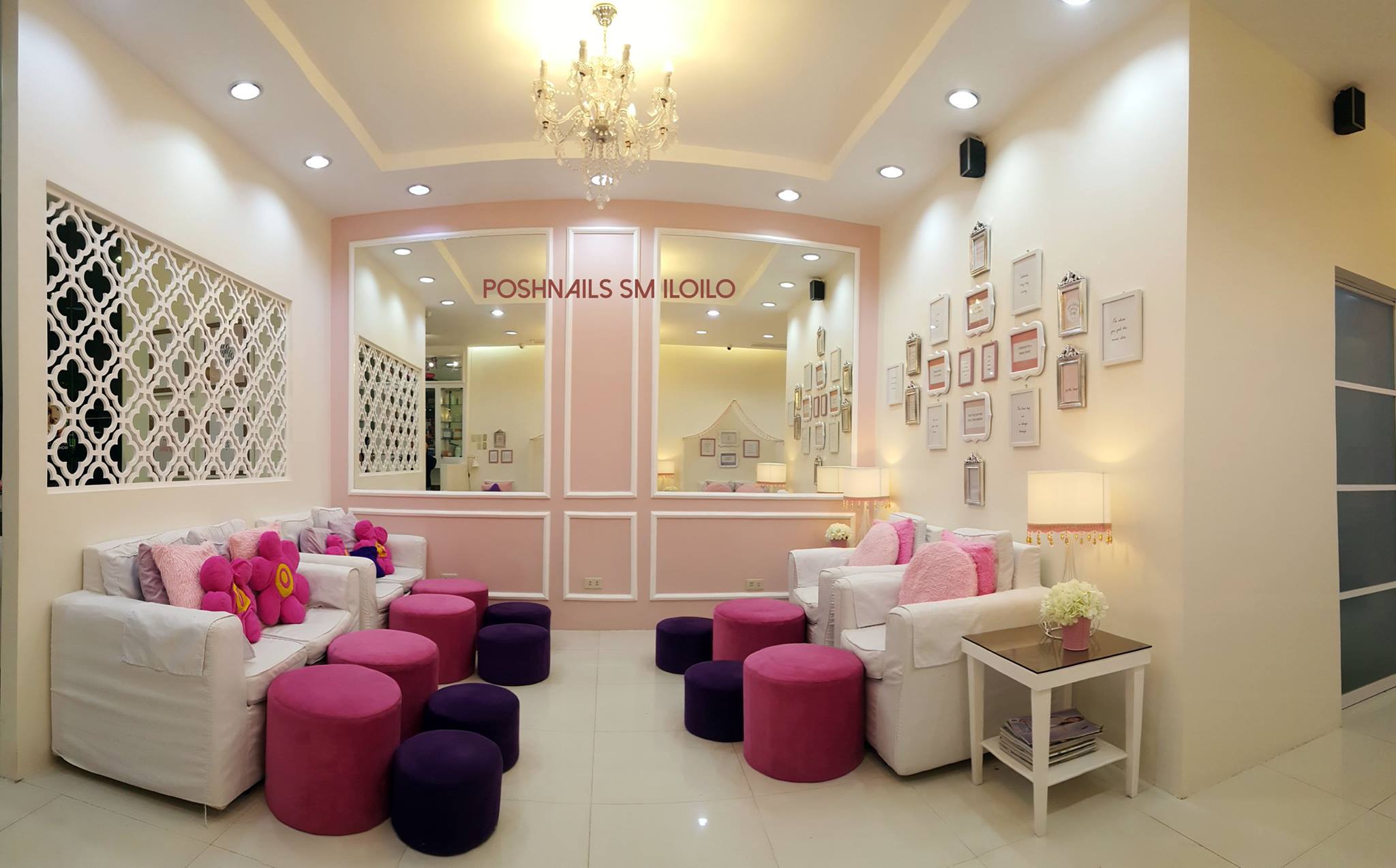 Image credit: POSH NAILS Hand and Foot Spa 
Said to be one of the pioneers in the nail care industry as it's been around since 2002, Posh Nails Hand and Foot Spa understands every girl's obsession with shades of pinks and lilacs.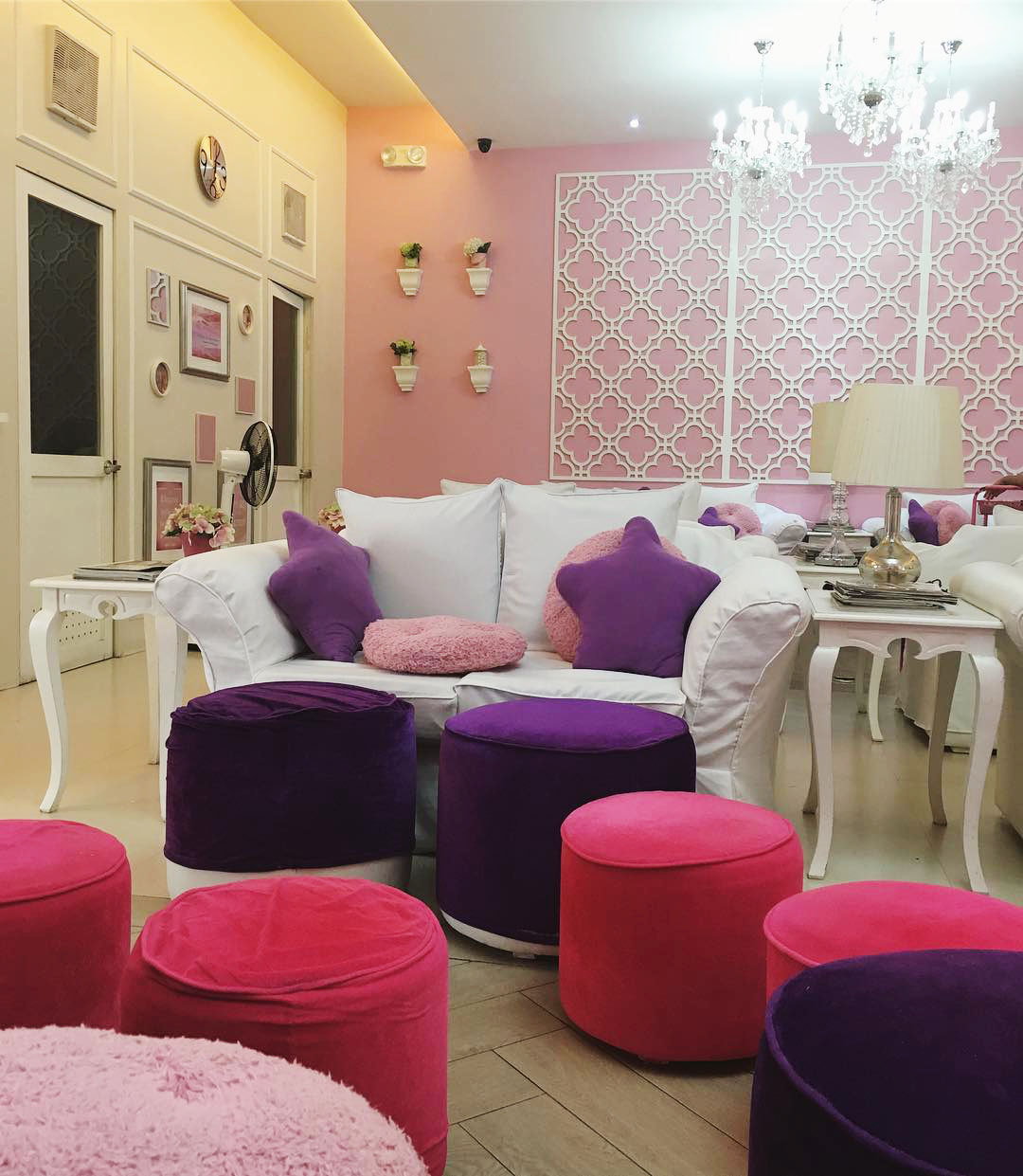 Image adapted from: @perkyprettyflorence 
For instance, they have plenty of options for a bachelorette makeover, and we love their Party Package Themed Service (P4,000). This package can be enjoyed by a maximum of 12 persons for 3 hours, and even includes free hand and foot paraffin for the celebrant. Themed manicures and pedicures are named according to your favorite desserts and beverages such as Green Tea, Coffee, Chocolate Lovers, Margarita, Cremee Brulee, and Citrus. 
Stay updated with their social media or website though, as their services differ each month to keep you excited for pampering sessions. Going along with the themed service, Posh Nails offers cocktail drinks, coffee, tea, and hot cocoa, to make you feel as if you're actually inside a palace practicing your table etiquette. 
For a list of outlets, click here.
---
6. Pantone Beauty Lounge – pastel-themed packages such as Lemon Chiffon and Peach Puff
---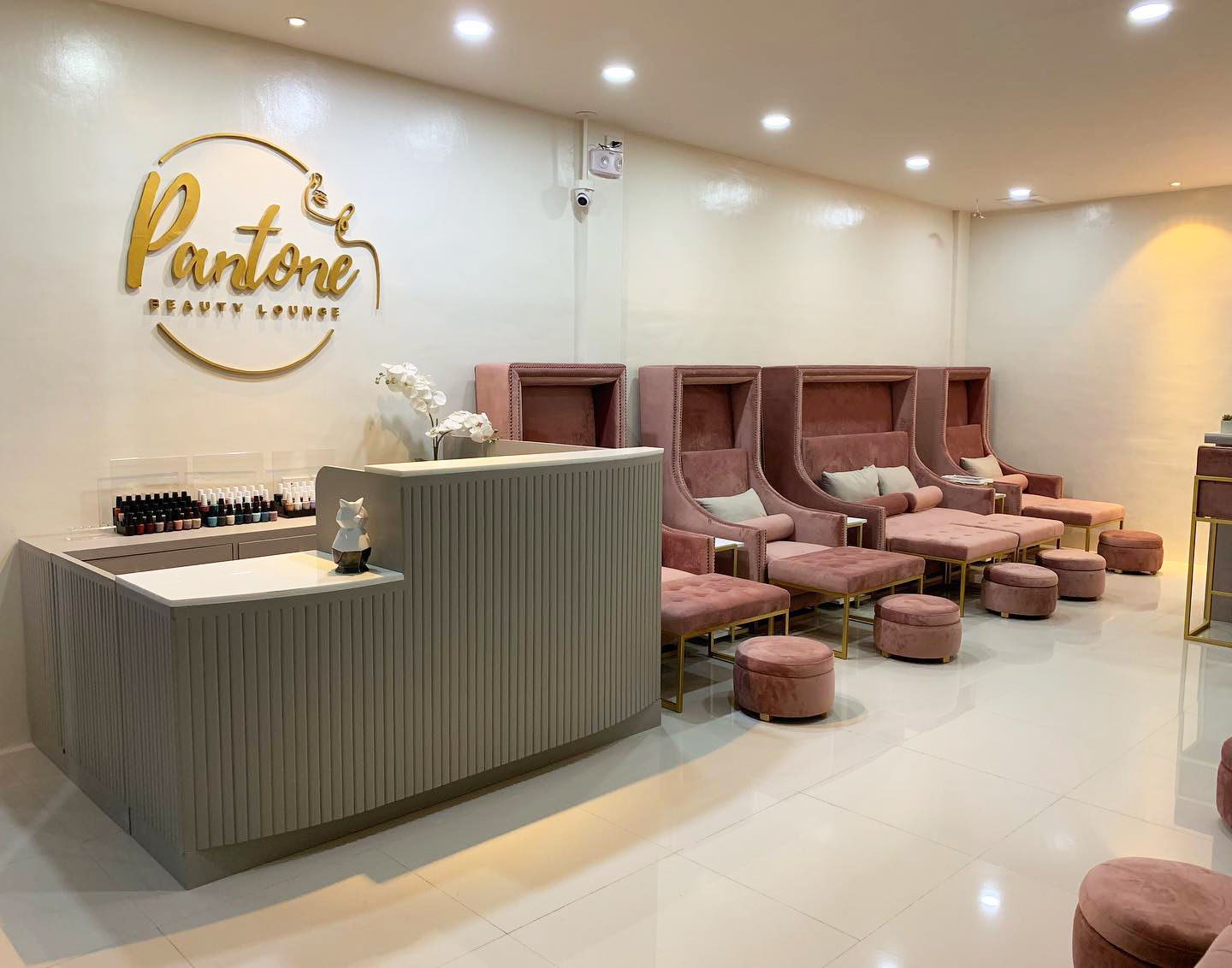 Image adapted from: Pantone Beauty Lounge 
The newest nail salon in Antipolo, which has just opened in October 2019, is inspired by Pantone, with their services named according to the colors of the design institute. Some of these services, for example, are named after the Pantone color Lemon Chiffon, a pale gold, and Peach Puff, a light shade of orange. 
Their interiors also look fresh out of a Pantone guide, with velvety rose lounge chairs giving off a strong accent to the salon's creamy white interiors.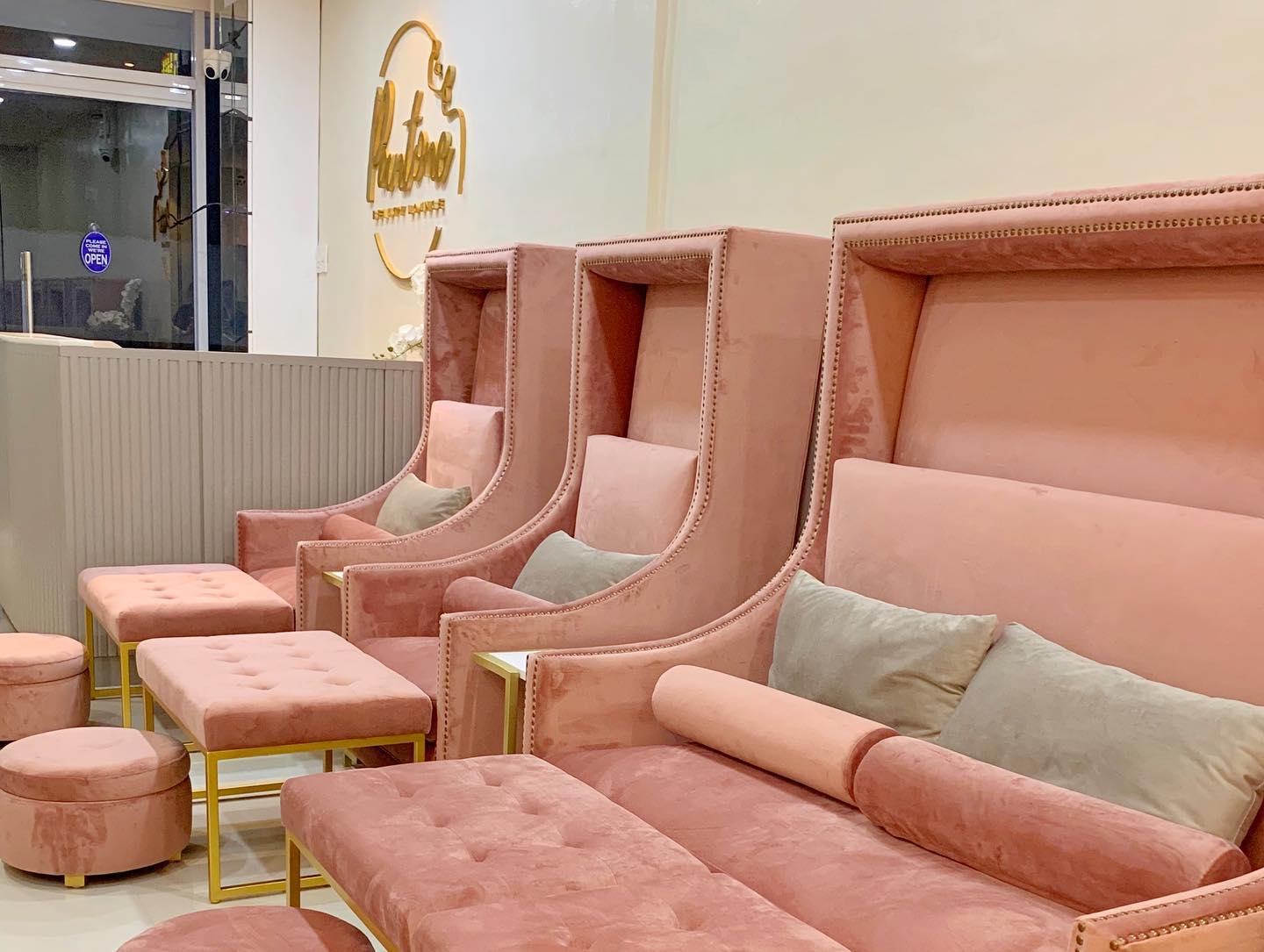 Image credit: Pantone Beauty Lounge 
Try their pastel-themed packages, which start from Pale Peach (classic manicure and pedicure) for P180. If you and your girlfriends feel like indulging in a little extra pampering, the Mint Cream at P1,080 (gel manicure + pedicure, basic facial, underarm waxing) is your go-to package. 
Address: Unit 202 Decoro Building, Circumferential Road, Antipolo CIty
Opening hours: 10AM – 7PM, Daily
Contact: 0919 001 2234
Website
---
7. I Do Nails Prima – neighborhood salon in Pasig offering a calcium shield for your nails
---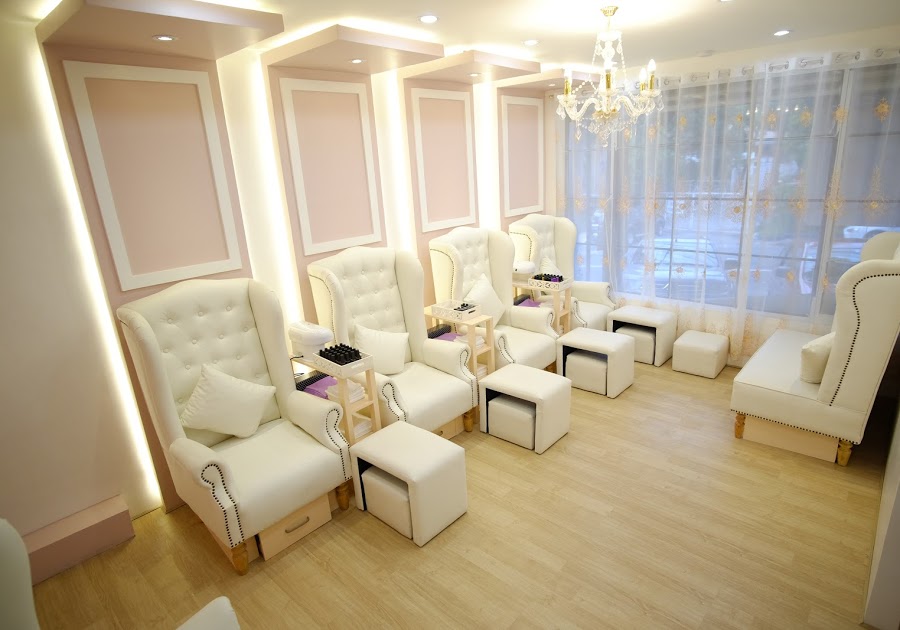 Image credit: I Do Nails Prima 
This neighborhood salon tucked amidst the busy district of Pasig is seriously giving us a hidden doll-house-in-the-city-we-didn't-know-existed vibe. I Do Nails Prima is splashed in a pale pink and creamy white color scheme that can soothe us to sleep while we get our nails pampered. 
We recommend their Natural package (from P400 – 800) service that helps strengthen nails and deliver a healthy dose of nutrients to your tips. The service includes soaking, shaping, nail whitening, calcium shield, and regular polish that will make sure your nails feel beautiful both inside and out!
Address: 136 West Capitol Drive, Barangay Kapitolyo, Pasig City
Opening hours: Sun – Thurs 1AM-10PM | Fri – Sat 11AM-11PM
Website
---
8. Lemon Nail Salon – affordable Orly gel services
---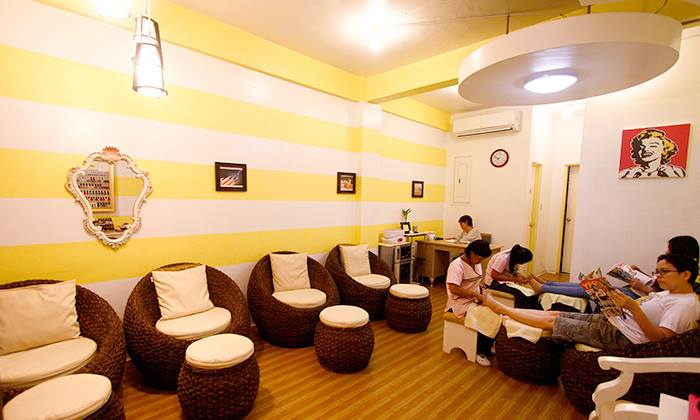 Image credit: Lemon Nail Salon 
This cozy, citrusy nail salon in Parañaque is a local favorite for a reason – it provides affordable gel services along with their high-end nail polish brands.

The gel polishes of Orly Dreamscape collection, the newest from the cult-favorite brand, is now at Lemon Nail and offered at attractive price points too – we don't know where else to get a gel manicure and pedicure for only P350 each. Our favourite colour in the gel collection, is the Orly's Ethereal Plane and Free Fall, a soft pink and lilac variation that we wanted on our nails as soon as we laid our eyes on it. 
Address: 161 Regina Bldg., Dona Soledad Avenue, Betterliving, Parañaque
Opening hours: 10AM – 9PM, Daily
Telephone: (02) 8518-3743
Website
---
9. Mi & Me Luxury Nails – gel art with Swarovski crystals for special occasions
---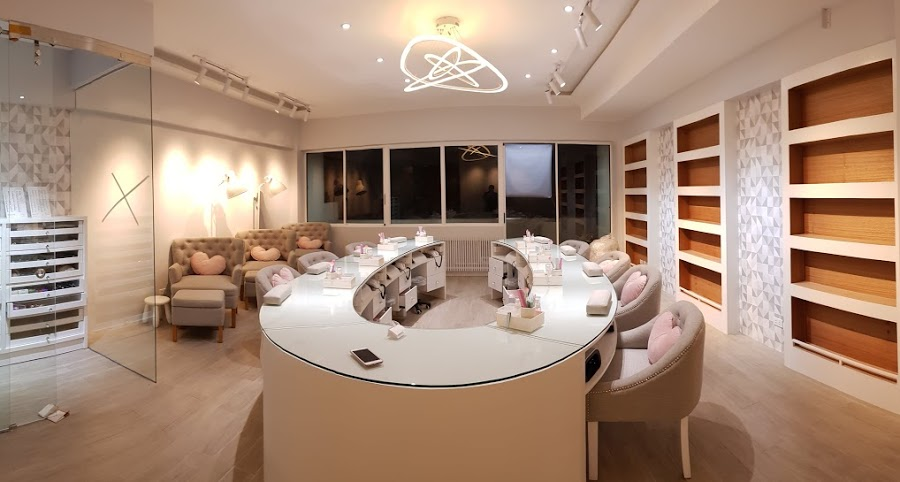 Image credit: Mimi Luxury Nails
To give your nails a celebrity treatment, visit Mi & Me Luxury Nails. It's run by Mimi Qui Reyes, a nail care professional whose clients include Miss Universe 2018 Catriona Gray and Anne Curtis.

Upon entering the Mi & Me Luxury Nails branch in front of ABS-CBN, for instance, you'd feel as if you've entered a cute laboratory for all things nails with its main circular fixture and dashes of soft pinks and greys. You'd also know just how they take nails seriously, with their shelves filled with nail magazines Mimi has sourced from her trips around Asia.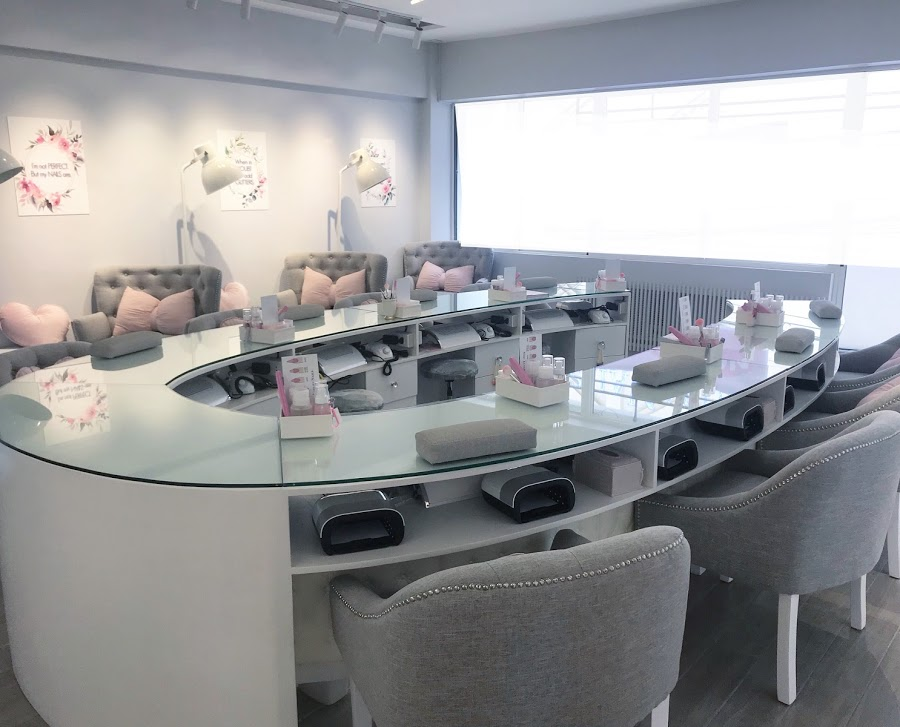 Image credit: Mimi Luxury Nails
For a setting such as Mi & Me, its regular manicure (P250) and pedicure (P350) services are surprisingly easy on the wallet. If you have a wedding or major event coming up and want the premium version of a manicure, their Luxury Gel Nail Art with Rhinestone (P1,800 – 3,000) is worth the splurge for gel nail art with Swarovski crystals.

Address: Unit 10 Bellagio Square, J.Bocobo Street, Malate, Manila
Opening hours: Mon – Sat, 12PM-9.30PM
Telephone: 0977 390 9219

Address: ABS-CBN, 28 Eugenio Lopez, 2/F Timog Building, Quezon City
Opening hours: Mon – Sat, 12PM-9.30PM
Telephone: 0966 718 2008
Website
---
10. Nailcessity Spa – paraffin treatments to relax your muscles
---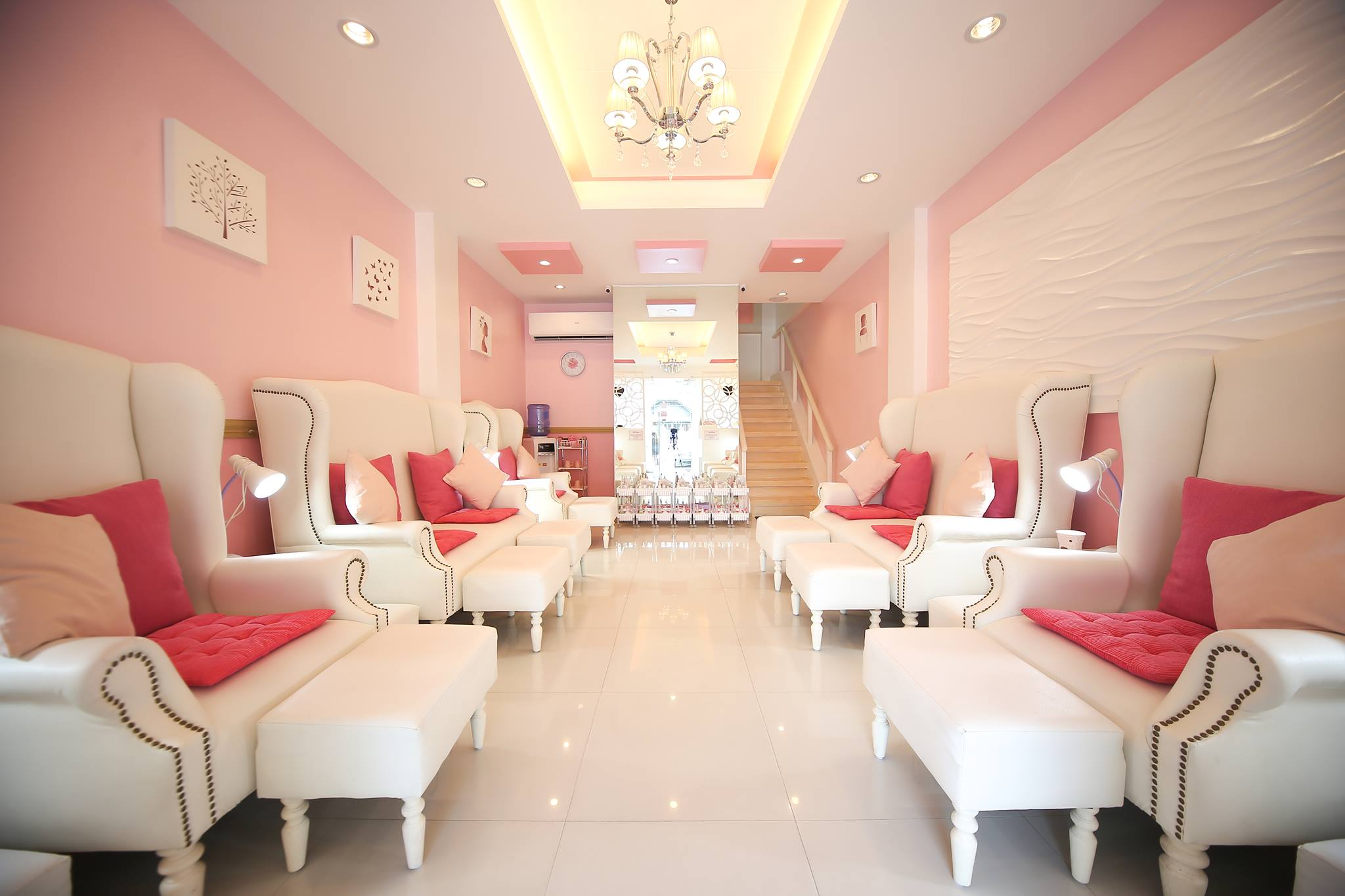 Image credit: Nailcessity Spa  
Nailcessity Spa is our cloud nine in Matalino Street and Katipunan, decked with spacious, elegant white lounge chairs and accentuated with pink cushions. As we will definitely want to stay as long as possible in this salon, we recommend pairing your nail pampering session with their paraffin treatment. A manicure with paraffin is at P350, while pedicure with the treatment is at P450. 
Address: 37 Matalino Street, Diliman, Quezon City
Opening hours: 10AM – 10PM, Daily
Telephone: (02) 668-4020

Address: 138 Katipunan Rd., St. Ignatius Village, Quezon City
Opening hours: 10AM – 10PM, Daily
Telephone: (02) 782-0053
Website
---
Turn your next nail makeover with the squad into a pastel haven

---
We know just how pastel colors make your nail-lover girlfriends happy, so why not bring the squad to a pastel-themed nail house for their next makeover? These nail houses get how dreamy, soft tones can leave our inner girl blushing. 
Check out our other articles:
---
Cover image adapted from (clockwise from top left): French Tips Organic Nail Lounge, I Do Nails Prima, Polygon: Human-Centered Space Design, and KathNails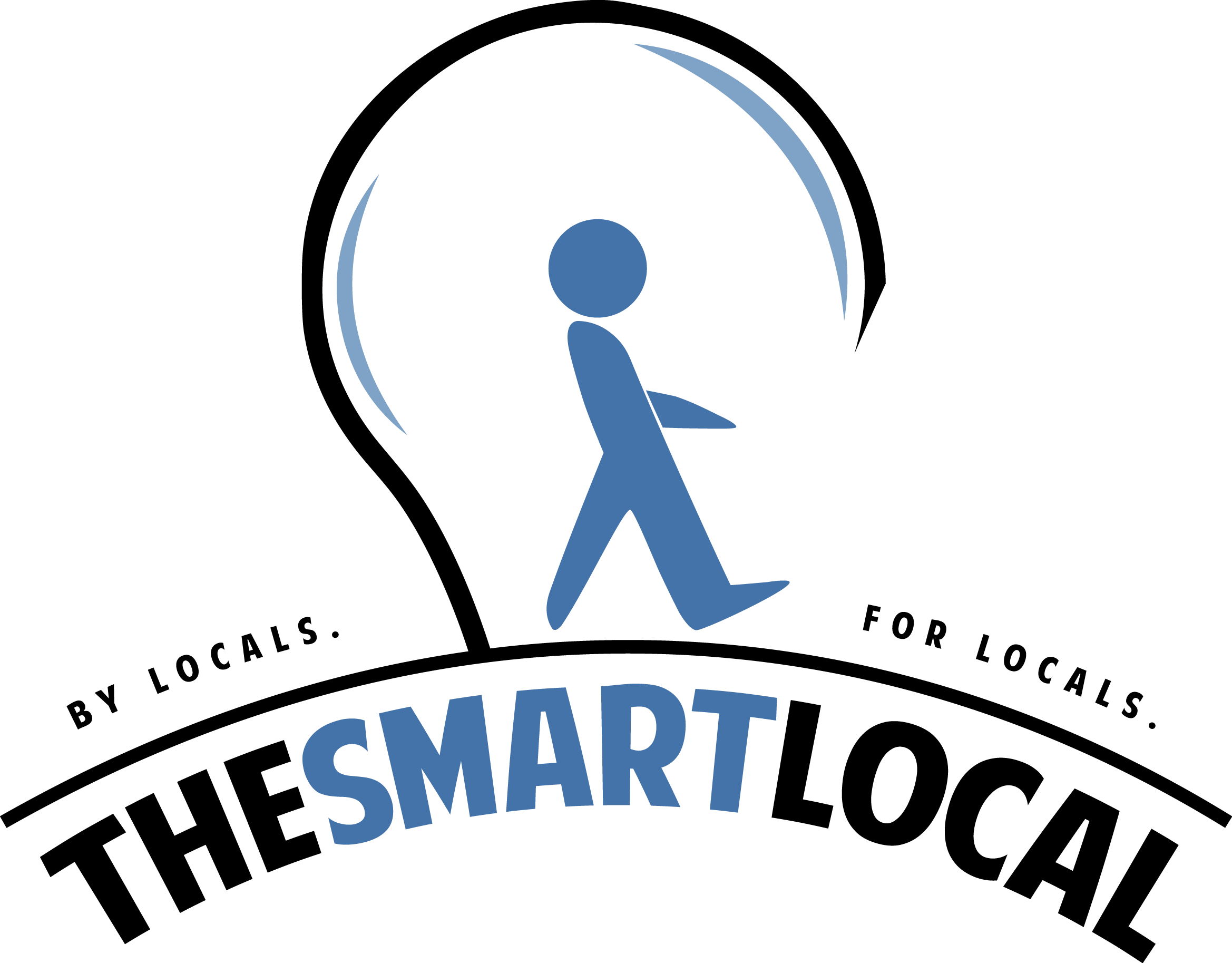 Drop us your email so you won't miss the latest news.