Childhood millennial things in the Philippines
---
While the gadgets such as smartphones that we have today have exciting features, no technological invention can replace the fun we millennials had in the good ol' days.
While there's no going back to the days before social media dominated our lives, we've rounded up 20 childhood things that Filipino millennials owned, from playing teks or flexing our yo-yo moves with our kapitbahay – for a good reminiscing sesh about the good old days far behind. 

---
– School supplies –
---
---
1. Abakada booklet – classic booklet that helped us learn our first Tagalog words
---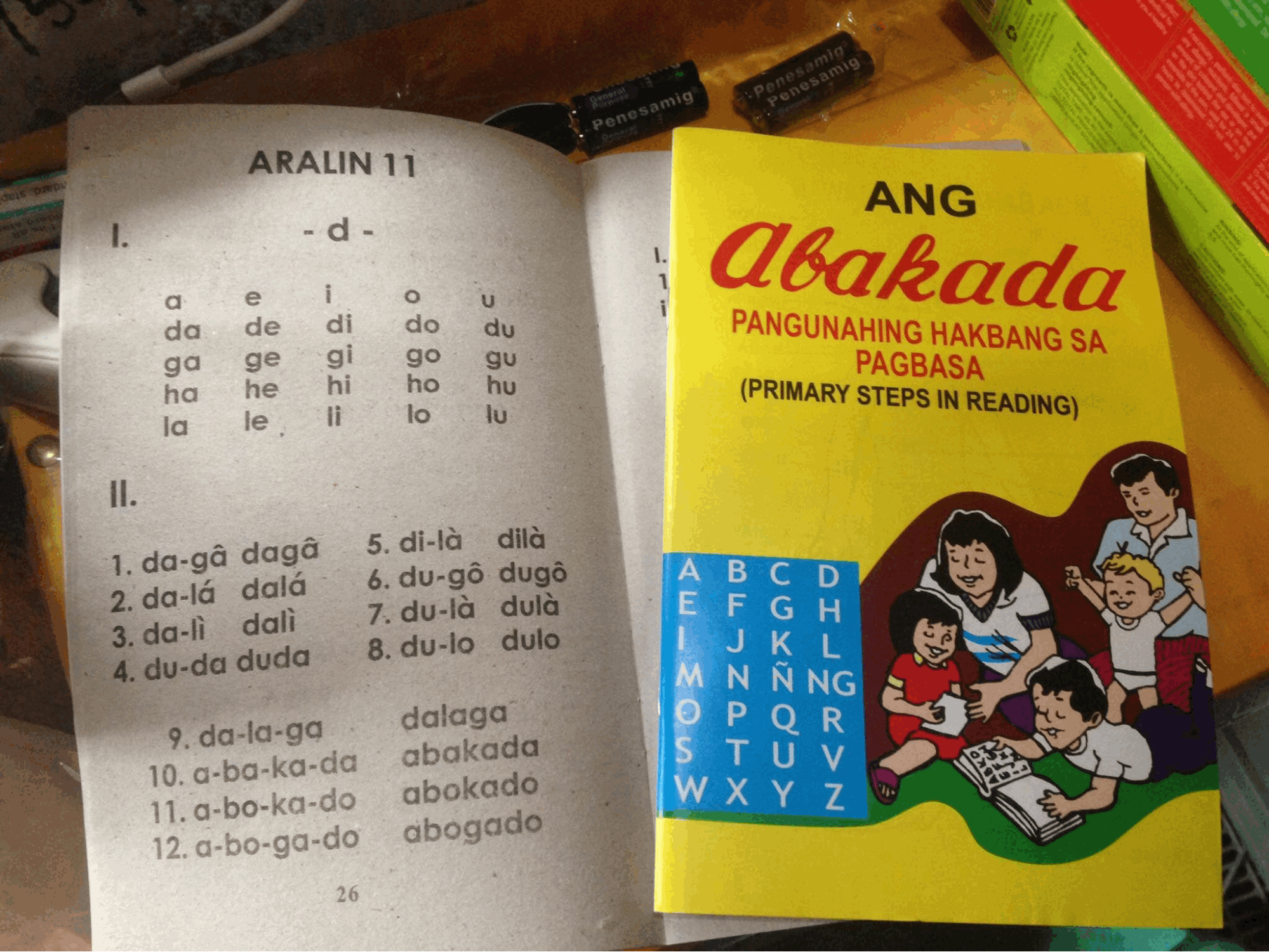 Image credit: Cheap shopping 
Abakada, with its plain yellow cover featuring a mother teaching her children how to read, was the classic booklet that helped us learn our first Tagalog words. Showing how words can be formed by combining letters or syllables, the classic booklet was considered an effective teaching material for batang '90s and even kids from previous generations. 
Used to be called Mga Unang Hakbang sa Pagbasa (First Steps in Reading), it was first printed during the '60s by the Cacho Hermanos printing company. Today, it's still in print and parents can still find the classic booklet on sale in bookstores and even online. The latest editions aren't as cheap as the old Abakadas were before, because the first editions of Abakada was only sold for only a few centavos. 
---
2. Slam books – notebook that contained our friends' basic info
---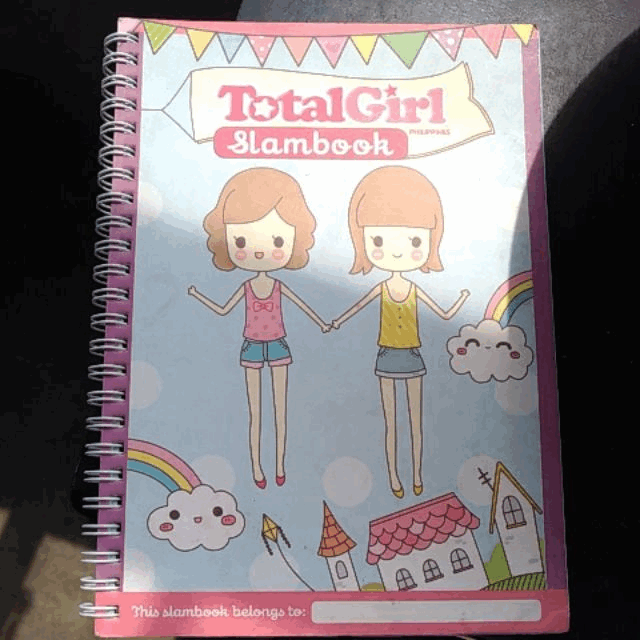 Image credit: kataholic
Before social media, autograph or slam books helped us know each of our friends better. Usually passed around classrooms, the notebooks contained sheets where each person asked to sign filled out their info such as names, hobbies, and favorite things. 
Aside from a way to get to know our friends' basic deets, asking friends to sign our slam books was also our way to know their secrets such as their crushes. But some chose to leave a portion of the slam book asking info about secret love or crushes blank when they didn't want to spill the beans. At the end, there was usually also a dedication page where friends could also compose a short message dedicated to the owner of the notebook.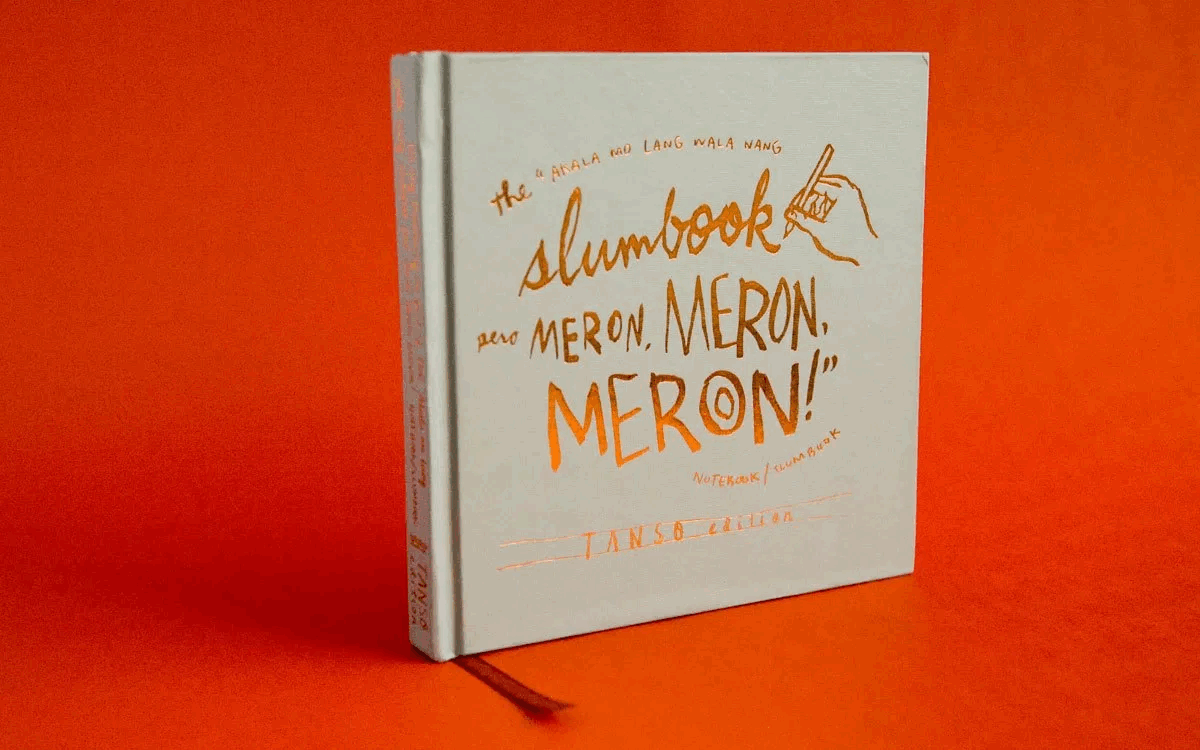 A modern take on a slam book by Karl Castro
Image credit: Karl Castro
Today, while these items aren't around so much anymore, modern versions slam books exist, such as designer Karl Castro's "Akala Mo Lang Wala Nang Slumbook Pero Meron, Meron, Meron!" slumbook which contains more playful questions. And of course, we also still ask our friends old-school slam book questions by tagging them with Instagram story stickers.
---
3. Magic Pencil – pencils with colorful plastic tubes that didn't need sharpening
---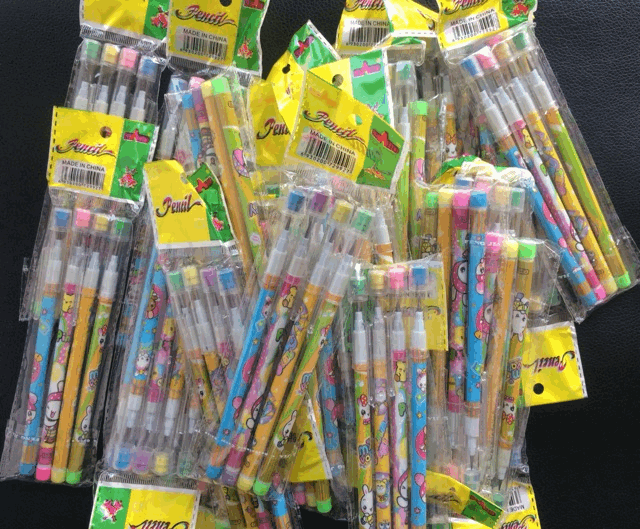 Image credit: @blurentz_flintshop
While our conventional wooden Mongol pencils always came in handy during our preschool to grade school days, we always heaved a sigh of relief whenever we found a couple of stacking point pencils or magic pencils in our pencil cases.
Because unlike our basic Mongol pencils, the magic pencils, usually made of interconnected and individually detachable pencil tips with images of our favorite anime or cartoon characters, didn't need sharpening. So we happily replaced each blunt pencil tip with a sharp one without the hassles of messy sharpening, while also careful not to lose any single tip to keep each pencil intact.
---
4. Coloring art set – complete with coloring materials from crayons to watercolors
---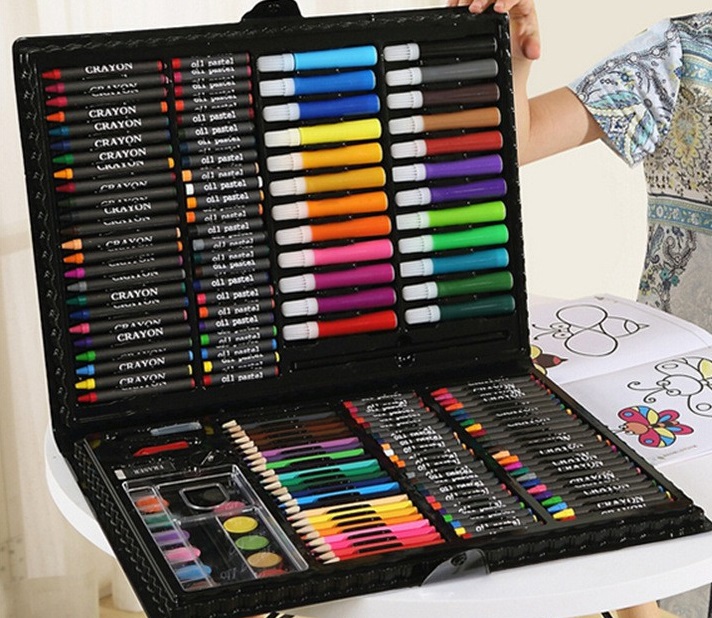 Image adapted from: GenFashion
Aside from collecting crayons, we also took pride in having the biggest collections of coloring materials that we could possibly get. We asked our parents to buy us coloring art sets in thick black plastic holders, designed with prints of our favorite cartoon characters. 
The coloring art set had everything we needed – from crayons to colored pencils to watercolor to markers – to ace our art classes with the fanciest of materials.
---
5. Artista notebooks – designed with bright colors, flashy fonts, and clip art
---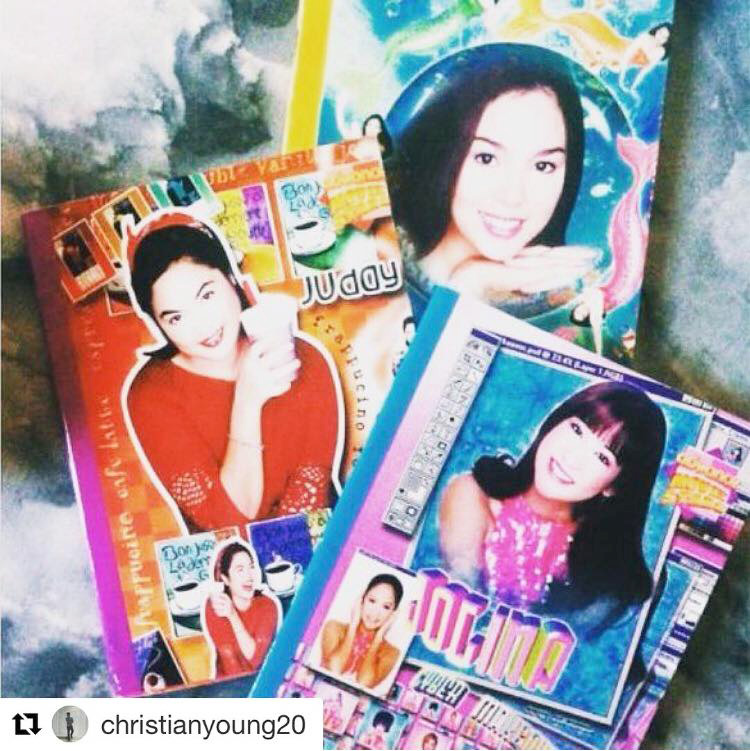 Image adapted from: Advance Paper
To support our favorite celebrities such as Judy Ann Santos and Jolina Magdangal back in the 90s or early 2000s, we bought artista notebooks printed with their faces. 
The notebooks reflected the time where digital editing software was beginning to be used, and were characterized by bright colors, flashy fonts, and clip art.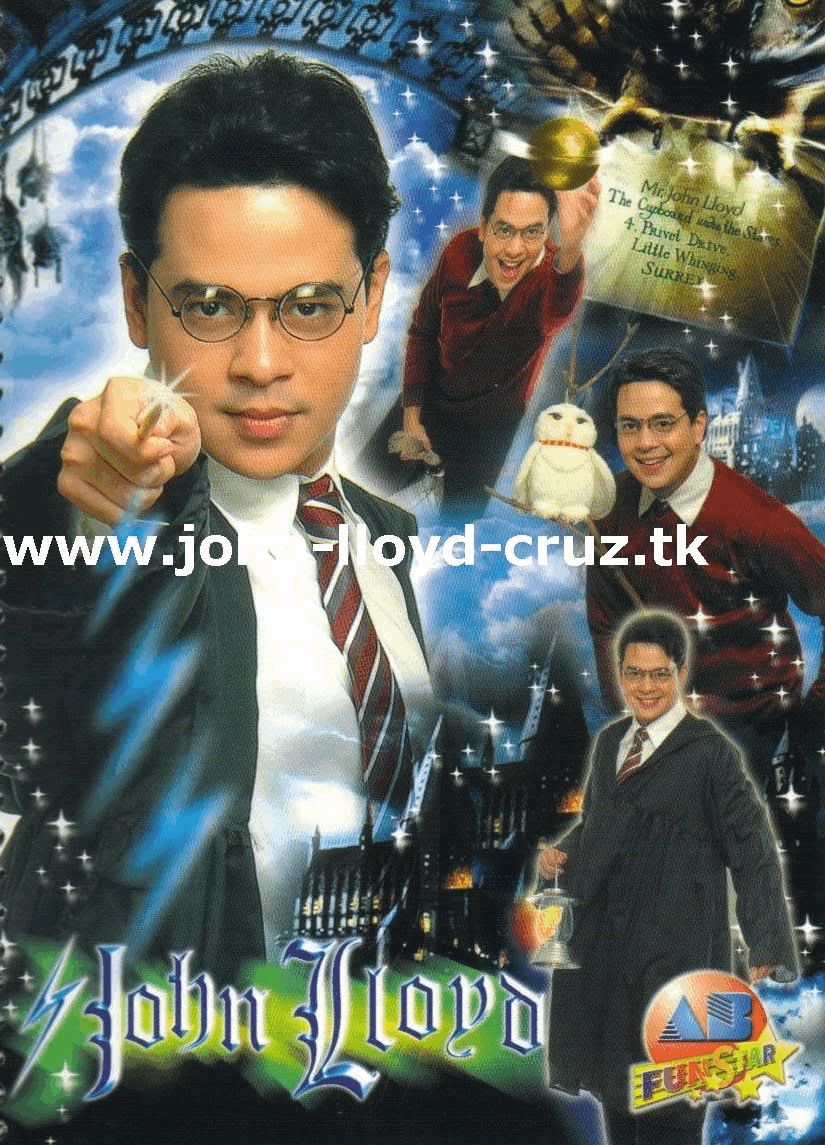 A notebook cover in tribute to actor John Lloyd Cruz
Image credit: nmaryuu
Their designs could sometimes get over the top, as there were covers that even showed John Lloyd Cruz as Harry Potter – what we'd probably call a funny meme today. 
Today these types of notebooks are actually still around, although they have been printed with the faces of zoomer-era celebrities and love teams such as MayWard and LizQuen.
---
– Toys –
---
---
6. Jollibee Kiddie Meal toys – collectible toys of Jollibee and his friends
---
Clockwise from top left: Hetty, Mico Milkshake, Lady Moo, Popo, Champ, Miss Chickee, Jollibee, Twirlie, and Mr. Yum
Image credit: Jollibee Character Toys, Memorabilias and other Collectibles
Millennials were the OG generation who enjoyed collecting Jollibee Kiddie Meal toys of Jollibee and his friends. We would ask our parents to buy our meals in a nearby Jollibee store, only because we also wanted them to get us the newest toys on offer. These included figurines, walkie-talkies, and stamps, to name a few. 
Collectible toys have become a staple Jollibee product, but some of Jollibee's friends aren't around anymore or have gotten revamped into new personas. Mr. Yum, for example, had been around until 2008 when his character was transformed into Yum, a young boy wearing t-shirts and funky shades instead of Mr. Yum's serious business suits.
---
7. Teks – small cards that featured anime characters
---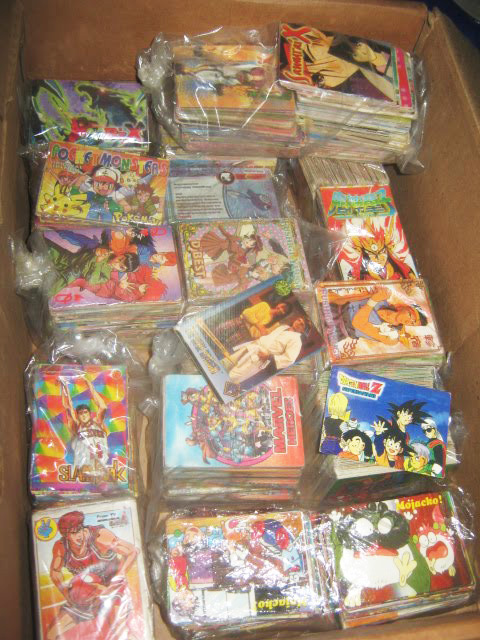 Image adapted from: Retro Pilipinas
When online games weren't a thing yet, we were often in the streets playing our teks cards with friends. The cards, usually depicting characters from our favorite anime such as Slam Dunk, Dragonball, and Ghost Fighter, were played by betting which among their two sides would come up. The results were decided by flicking the cards in the air, and whoever won would be given a new set of cards by the losing side.
Before and after the game, we would also count our teks by saying "I-sa! Dala-wa!, Tat-lo! A-pat! Li-ma!." When not betting, we usually traded our cards with friends.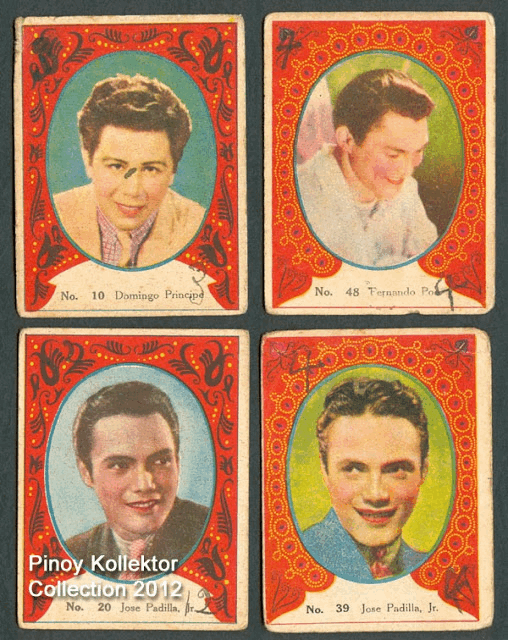 1930s teks cards featuring Filipino actors
Image credit: Pinoy Kollektor
What's unknown to many younger folks today is that teks cards were actually already around as early as the 1930s. These cards were bigger than the ones we played with and showcased pre-war Filipino actors such as Domingo Principe, Fernando Poe Sr., and Jose Padilla, Jr.
---
8. Paper dolls – prints of girls and fashion accessories we cut out of paper
---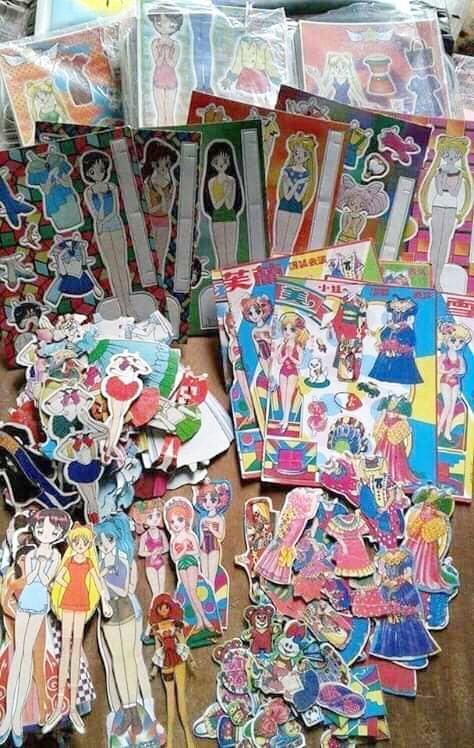 Image adapted from: Vilma Yolanda Literato-Alcantara
Aside from Barbie dolls, millennial Pinays also loved to indulge their sense of fashion when they were young with paper dolls. The paper dolls were more affordable and were easy to get, as the dolls could be purchased from any nearby sari-sari store. 
Each of the paper dolls came with a colored print of a character, usually from favorite anime such as Sailor Moon, that girls could dress up with paper accessories from tops to dresses to shoes.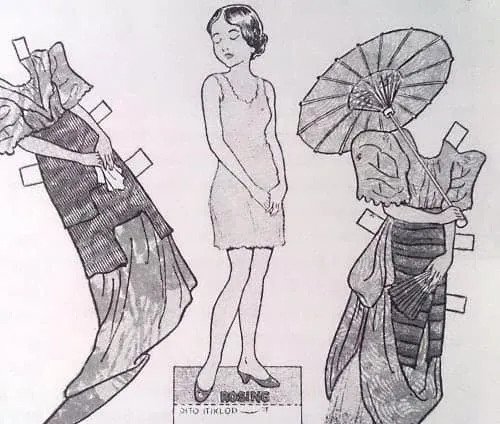 An early paper doll with a character named Rosing
Image credit: The Governor-General's Kitchen: Philippine Culinary Vignettes and Period Recipes 1521-1935
But before the paper dolls most of us grew up with, there had been paper dolls designed in more localized fashion during the time of our lolas. A character called Rosing, for example, was from a paper doll that appeared in the earliest editions of Liwayway magazine and came with Filipiniana attire.
---
9. Plastic Balloon – plastic tubes with sticky substance formed as balloons
---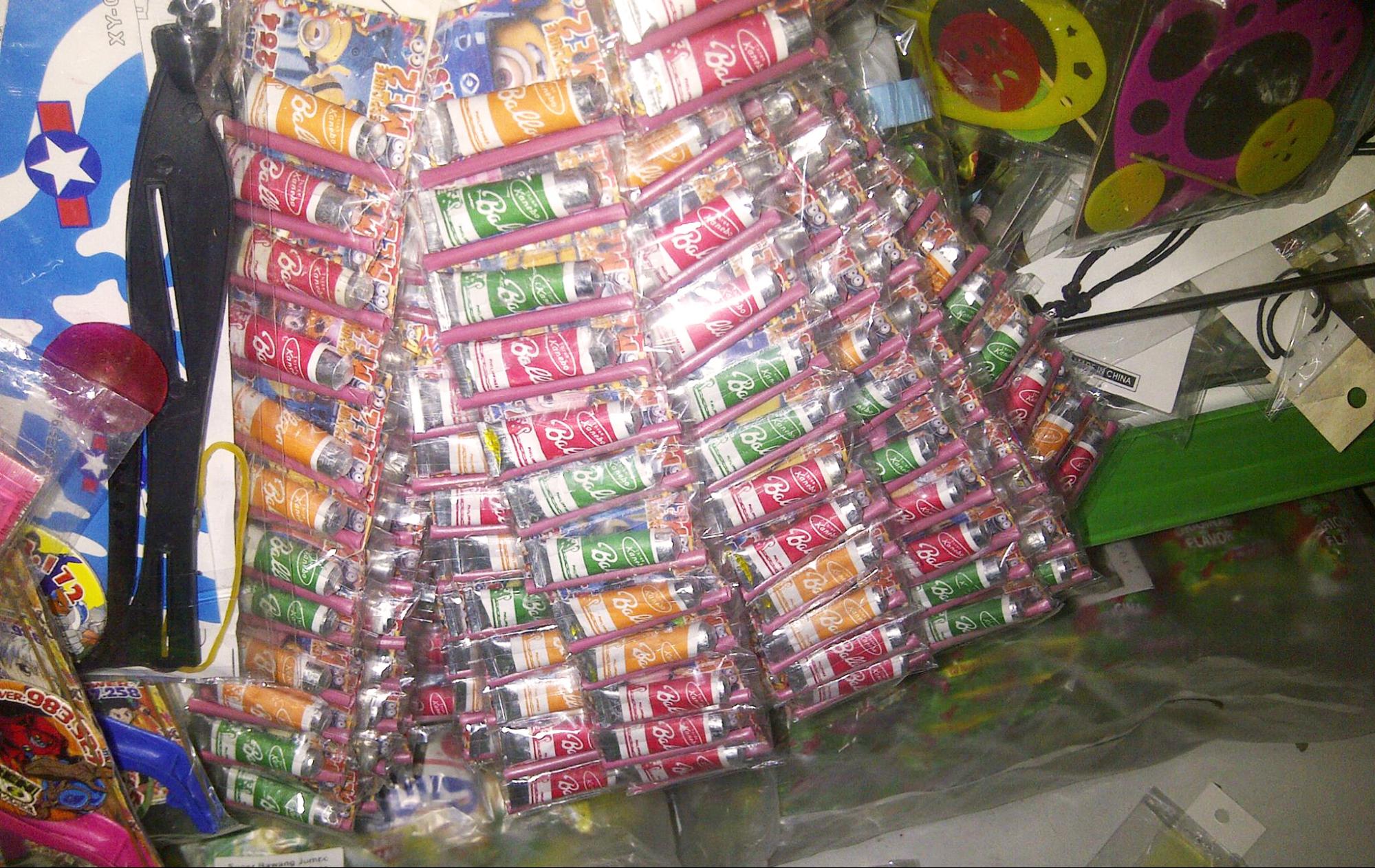 Image adapted from: Michelle Cabuyaon Cancio 
While it smelled like thinner, the tiny plastic balloon composed of a plastic tube holding a sticky substance was one of our staple toys in the streets aside from teks. It was easy to play – we only squeezed the plastic tube to get the sticky, resin-like substance that we put on the tip of a straw and blew until a transparent balloon was produced. 
Forming the perfect balloon required some practice though, as we had to ensure the right amount of air was blown through the straw while using the right amount of lung strength.
---
10. Yo-yo – two circular discs with a string
---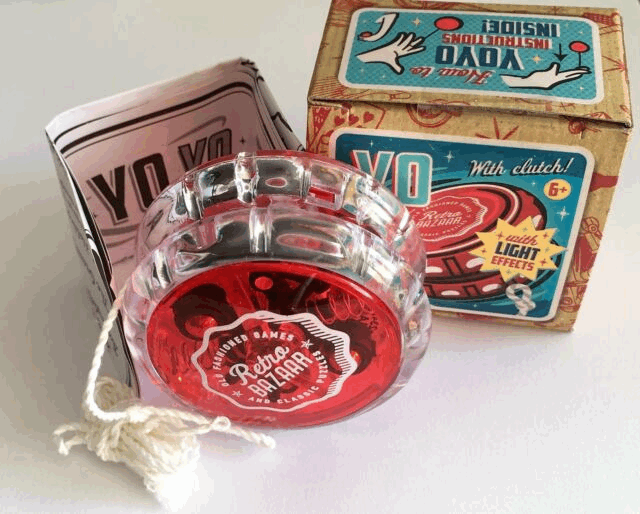 Image credit: Ebay
Yo-yos, composed of a string inside two, connected circular discs, became popular in the Philippines when local businessman Pedro Flores introduced them to our shores in the 1930s. 
These were still popular in the early 2000s, when we would play with these tiny toys, usually printed with anime characters, with our friends to showcase our moves. We would perform moves such as Loop the Loop, tossing the yo-yo forward and letting it swing continuously, or Around the World, where we'd spin the yo-yo to form a full circle. 
The toy is said to have been around since 440 BC, when Greek vase paintings from the era depicted boys playing with the toy known then as bandalore.
---
11. Slinky – cylindrical toy with compressed, colorful rings
---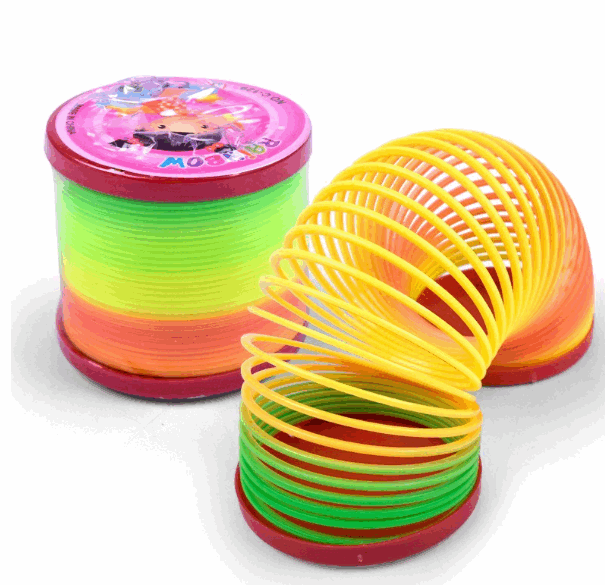 Image credit: babyworld.ph
A classic toy that originated from the United States, a slinky is a long cylindrical spring toy made up of compressed rings.  Most of our childhood slinky toys were made with colorful and affordable plastic rings that we loved tossing between our hands because of the way each ring successively moved one after the other. 
When we're lucky, we also managed to let these colorful rings descend on their own down our stairs at home. 
---
– Apparel –
---
---
12. Denim overalls – favorite pang-alis
---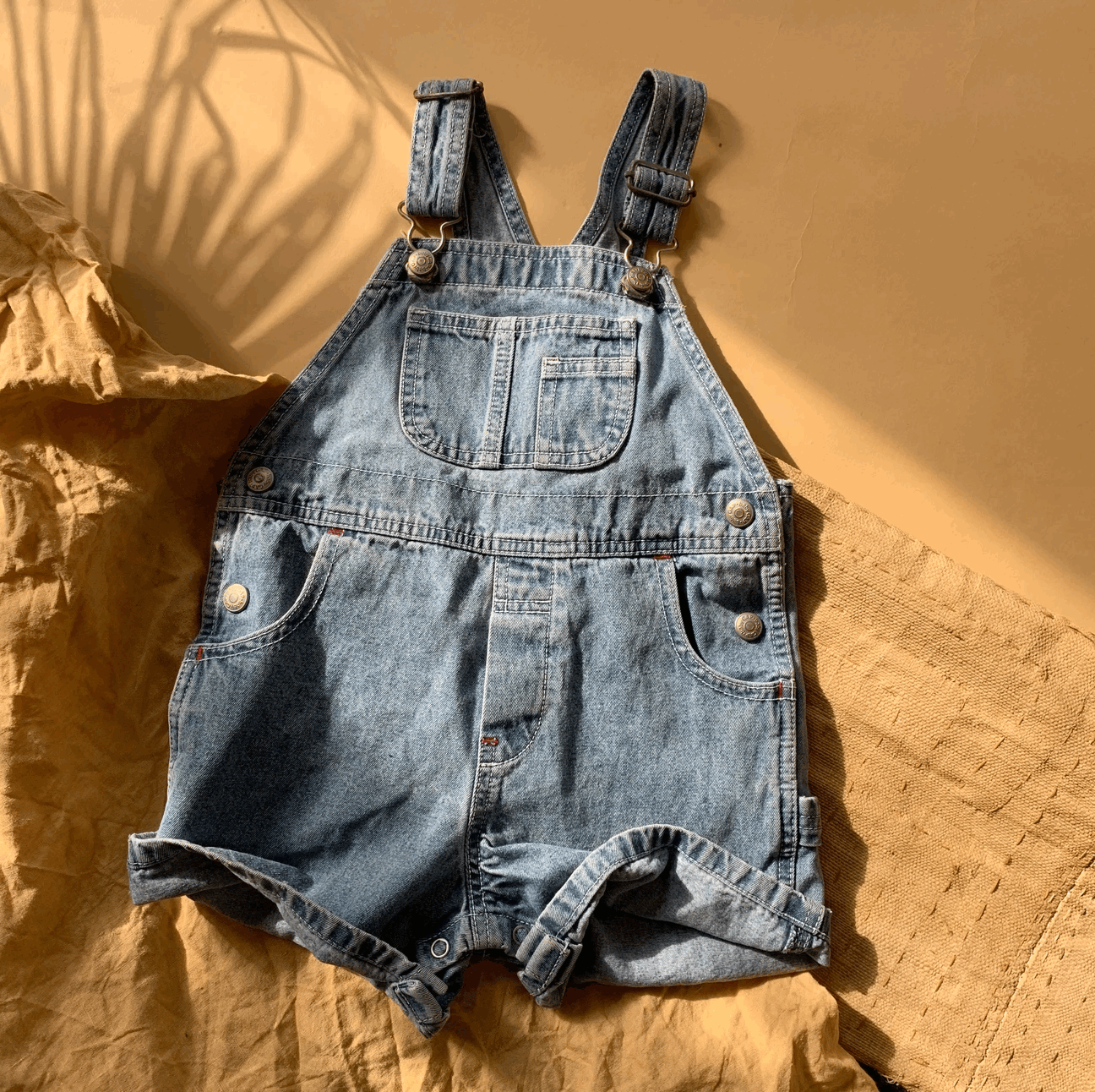 Image credit: Reborn Vintage
Even batang 90s weren't exempted from the denim trend, as a go-to look back then were denim overalls that were not only durable, but were also easy to pair with tops. 
Sometimes, we would also have one strap undone to make our appearance more casual.
---
13. Rambbo slippers – used when playing Tumbang Preso
---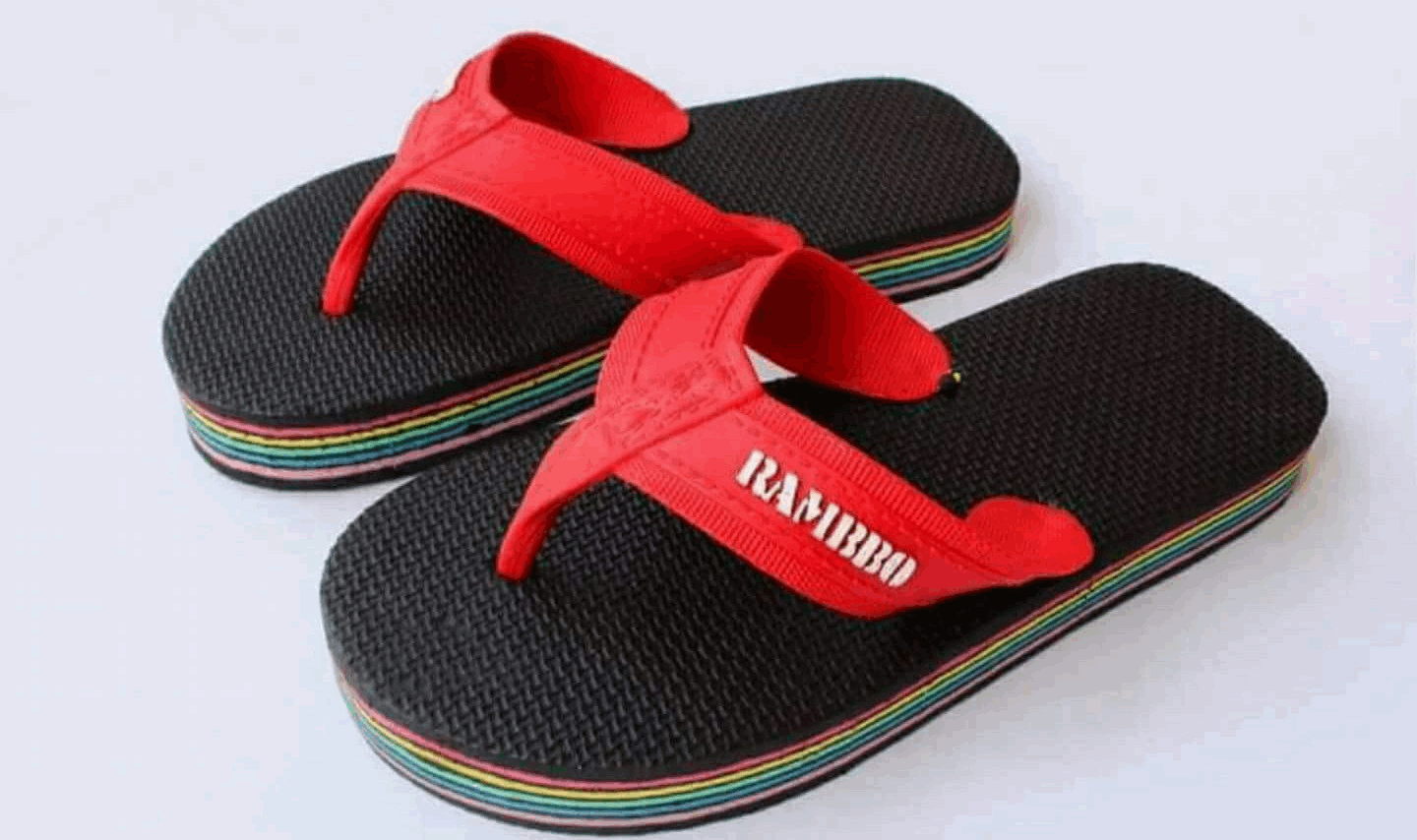 Image credit: Batang Pinoy – Ngayon at Noon
Before pricey slippers such as Havaianas and Ipanema were a thing, there was a time when we were contented with a pair of Rambbo slippers, if only because we could use them as pamato to win in Tumbang Preso, a Filipino street game that involves hitting a can using an object or pamato. 
Aside from using it in the streets, we grew up with the slippers because of their durability and affordability. With the slippers' vivid red straps and insole edges that featured rainbow colors, Rambo slippers were also considered fashionable to wear. 
Nowadays, these slippers can't be found in most palengkes anymore, but you can sometimes score a pair online. 
---
14. Roller shoes – pair of shoes built with tiny wheels
---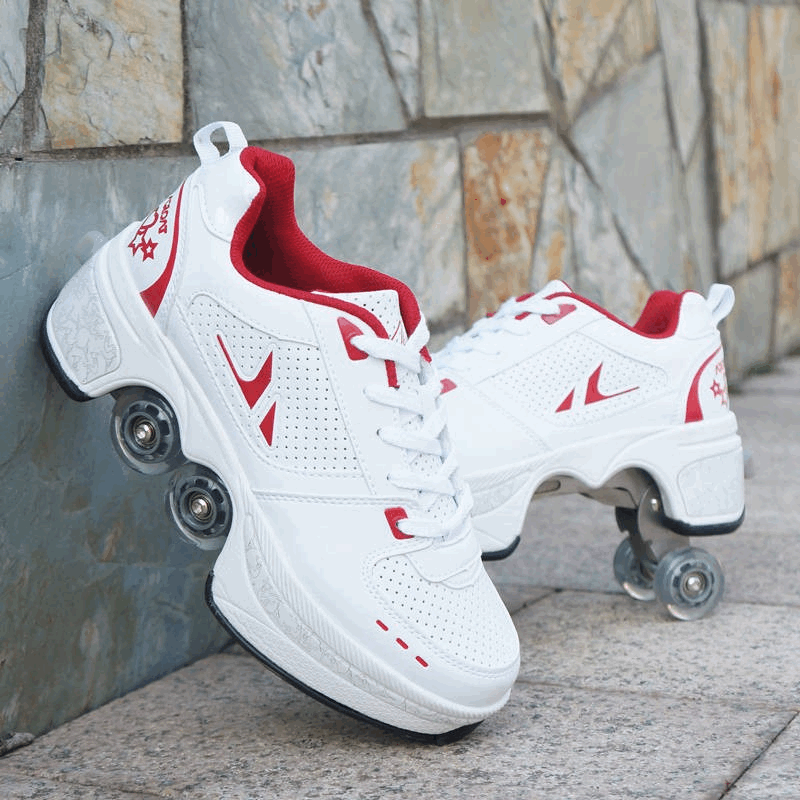 Image adapted from: Shopee
Being trendy often means having the most funky shoes or sneakers possible, and back in the day, we'd spring for roller shoes which looked like a usual pair of rubber shoes, but with tiny wheels built into their heels. 
They produced noise when we walked in them, but we would often exchange comfort for these shoes so we could also explore the streets in them with our friends. We proudly kept going in these shoes to master how to wear them without losing our balance or falling on the road and scraping a knee.
---
15. Butterfly clips – colorful clips shaped like butterflies
---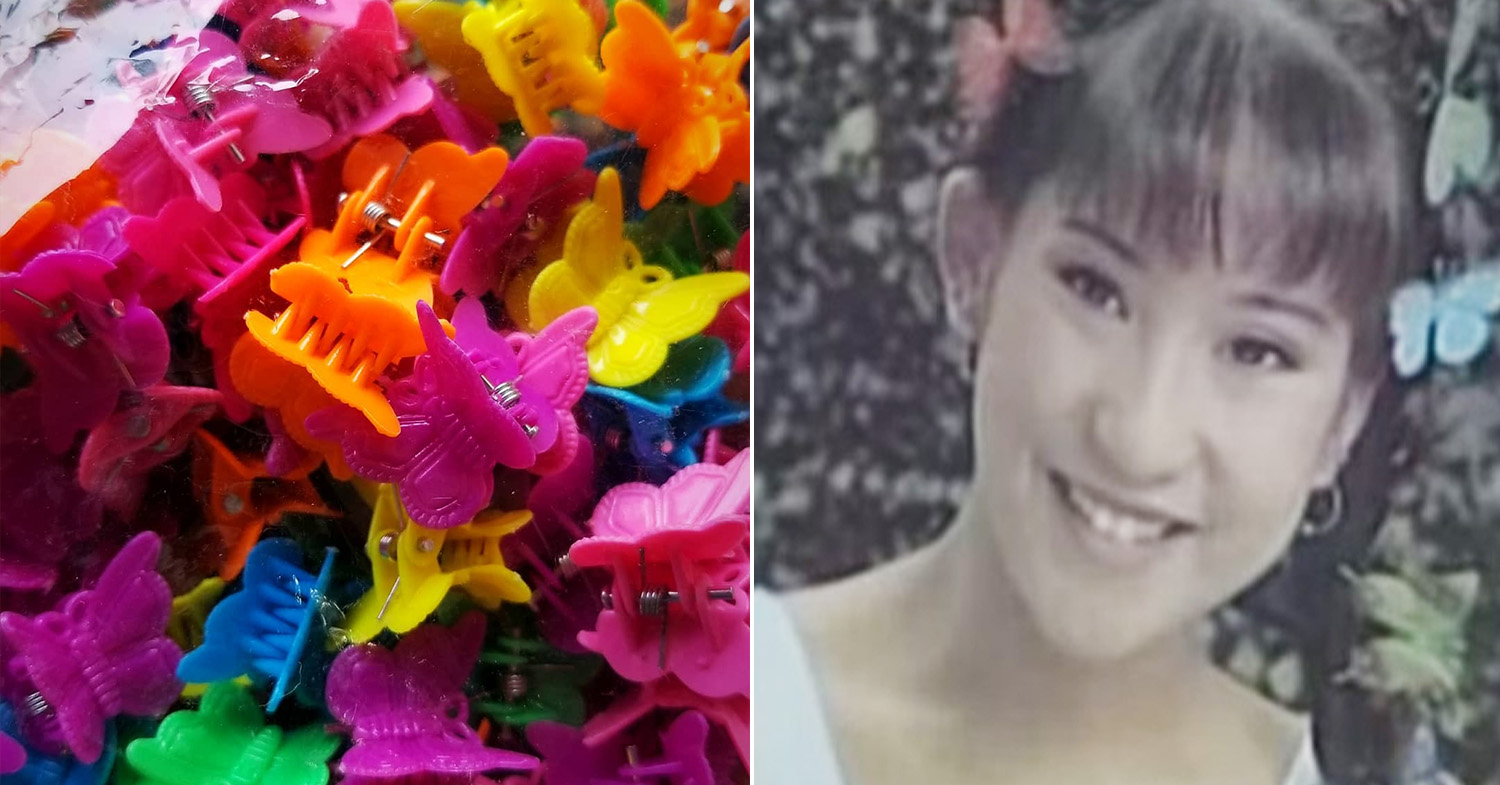 Jolina Magdangal wearing butterfly clips
Image credit: The Treehouse Salon, PEP

Decorating your hair with colorful butterfly clips is not fashionable these days, but it sure was from the 90s to the early 2000s. The butterfly clips, which came in various colors from pink to blue to yellow, were accessories we bought in bulk, so we could put them all over our heads to pull back portions of our hair away from our eyes.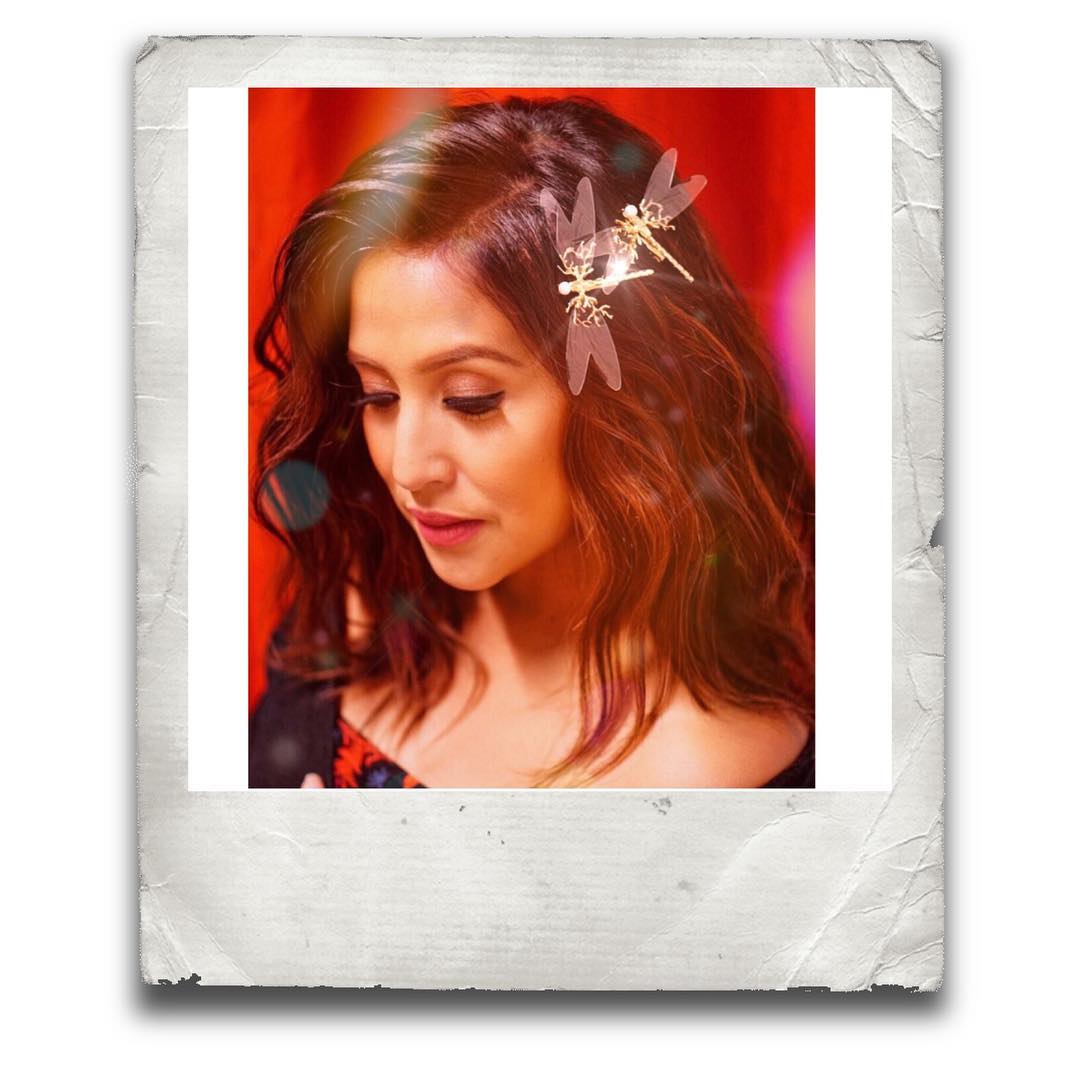 Image credit: @mariajolina_ig
Local celebrities such as Jolina Magdangal made this trend even more popular. Recently, she even recalled wearing these butterfly clips on an Instagram post with a recent picture that shows her wearing not multiple clips this time, but a pair of gold dragonfly clips.
---
– Gadgets –
---
---
16. Brick games – featured simple games such as Tetris
---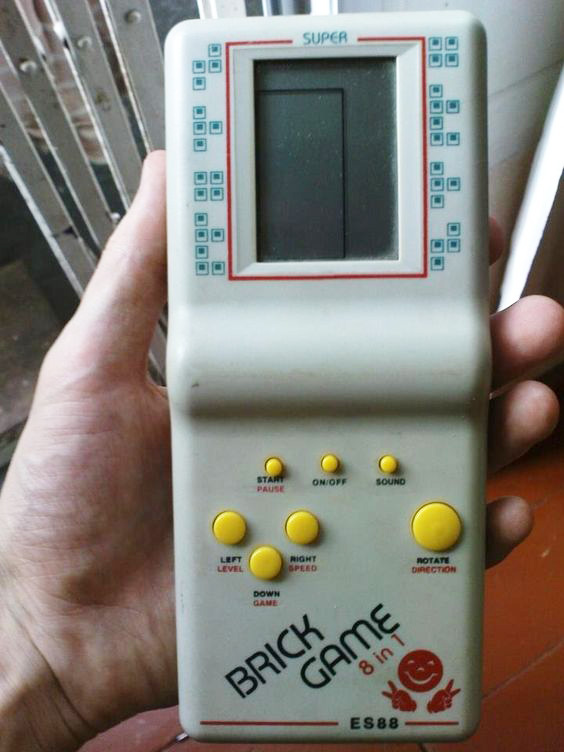 Image adapted from: Play Free Online 32
Assembled inside a rectangular plastic that usually came in grey and was powered by batteries, the brick game was our affordable handheld gaming device back then. It wasn't as fancy as the early Gameboys, but the user-friendly device, introduced in the mid-1980s in China, featured simple but addictive games, the most popular being Tetris.
Strategizing over our tiles' angles and positions and rotating and moving them to form straight lines as they fell from the top of the LCD screens was something we took pleasure in for hours. '90s kids who had to fight with siblings over this game back in the day will be glad to know you can still buy one all for yourself online.
---
17. Gameboy – one of the first handheld game consoles from Nintendo
---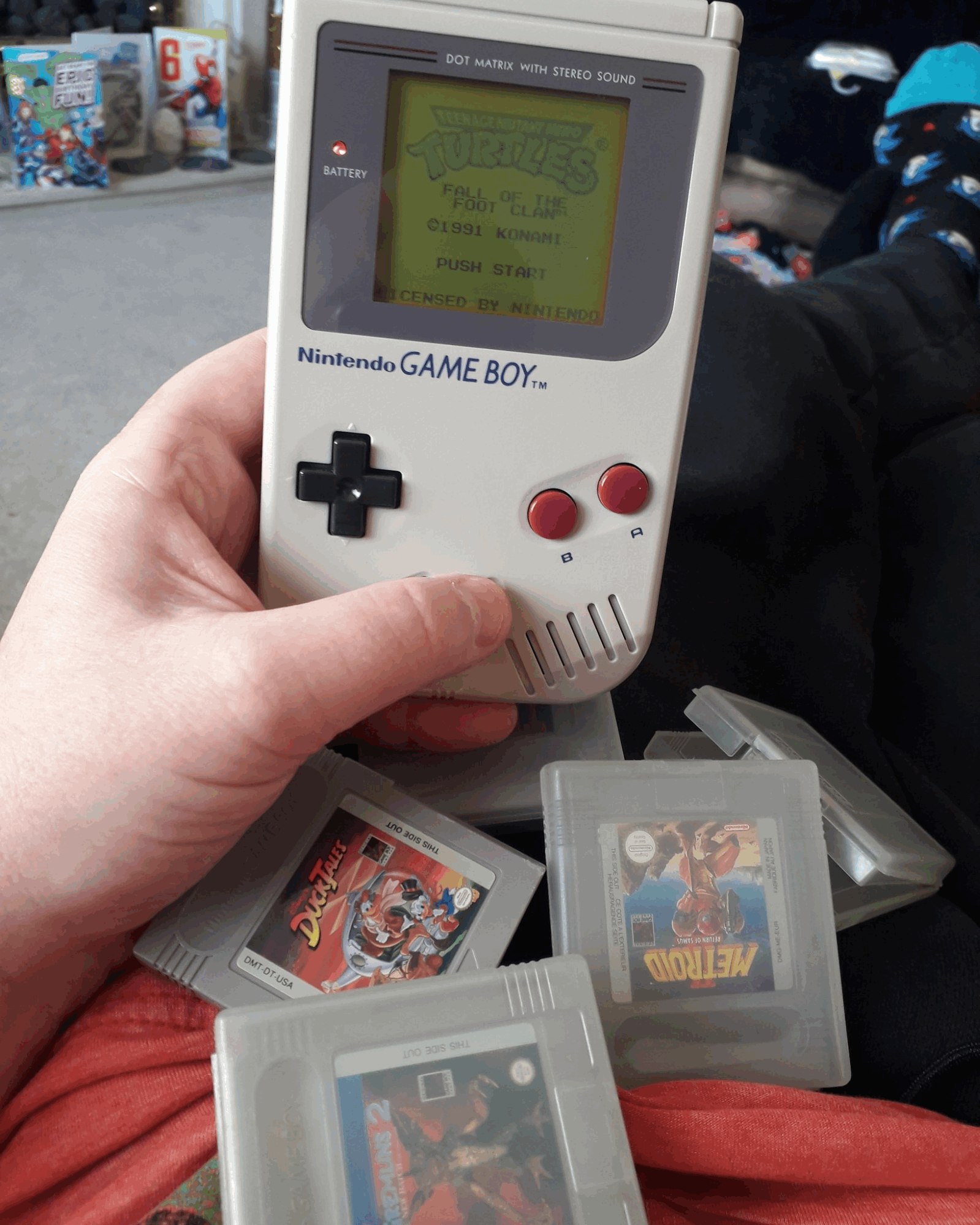 Image credit: @AdrianM35628401
Most 90's dudes were at one point wide-eyed over Nintendo's Game Boy. Introduced in Japan in 1989, the device, which is one of the first handheld game consoles from Nintendo, became a craze among young Filipinos because it could be used to play multiple games by inserting different bala or cartridges. The device could last up to 15 hours with four AA batteries. 
The Game Boy was discontinued in 2003. But its popularity started our hobby of anticipating the subsequent Game Boy devices, such as Game Boy Color and Game Boy Advance, that we wanted to get first before our friends did.
---
18. Nintendo's NES or Family Computer – introduced us to a variety of games from Super Mario to Circus Charlie
---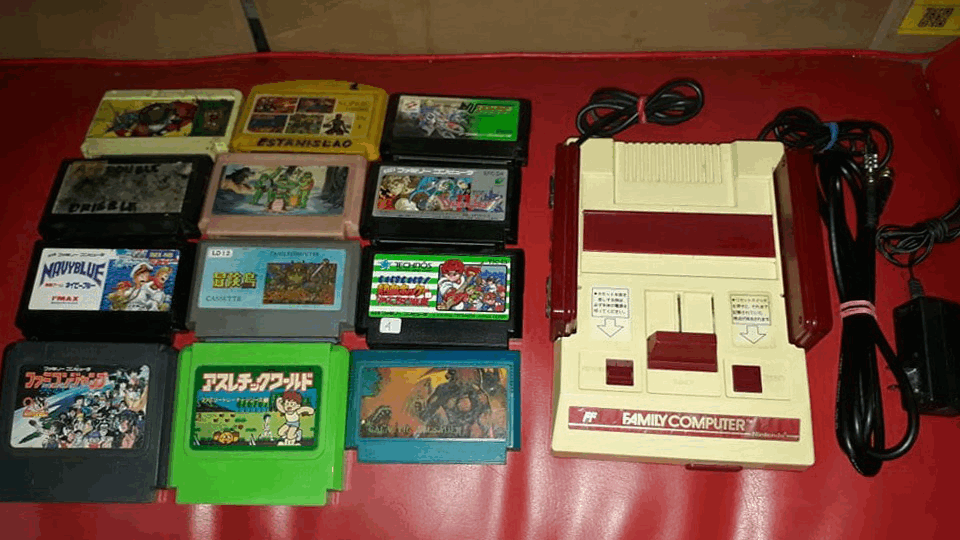 Image adapted from: retrogamerphstore
Aside from Game Boy, growing up in the 90s or early 2000s was exciting because of Nintendo's family computer or Nintendo Entertainment System (NES). It was introduced in Japan in 1983 but also found popularity among Filipinos. 
The red-and-white console had two controllers, and we would only connect the console to our TV screens to be able to play the games on screen without needing an Internet connection. It introduced us to an expansive selection of games, because game bala that could be inserted into it were aplenty, from Super Mario to Battle City to Contra to Circus Charlie.
---
19. Nokia phones – the OG phones that introduced us to group messaging
---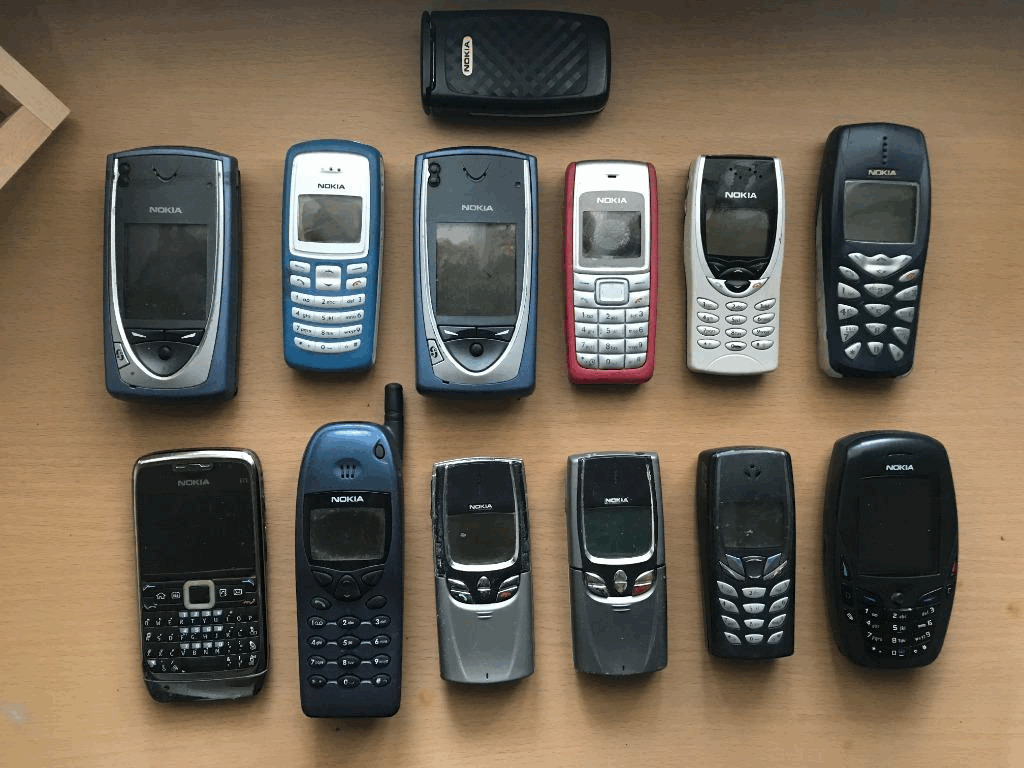 Image credit: raymondmoya
Before our sleek, touchscreen smartphones came the OG Nokia phones, which came with thick plastic casing and tactile keypads. 
While it's hard to imagine that these clunky phones were once hyped, they introduced us to the age of texting and group messages. We would send these GMs to our group of friends, and during holidays, greeting our friends meant we would painstakingly create messages that consisted of letters and symbols to form a picture.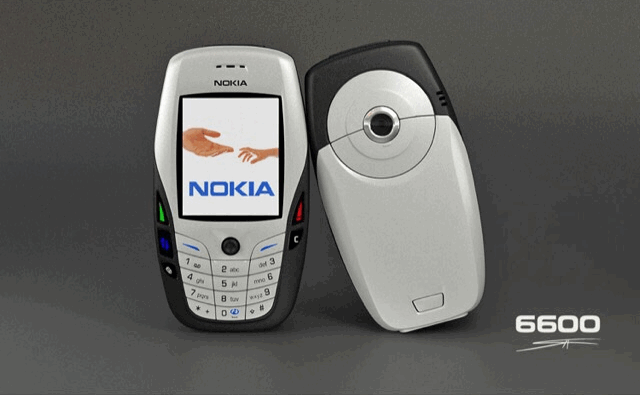 The Nokia 6600 can still be purchased today
Image adapted from: Shopee 
The earliest Nokia models we had were the Nokia 3210 or 3310, and the Nokia 6600, released in 2003, became one of the most popular Nokia models in the Philippines. It pioneered several features such as a VGA rear camera, considered high-end during the time.
---
20. Tamagotchi – egg-shaped devices with virtual pets
---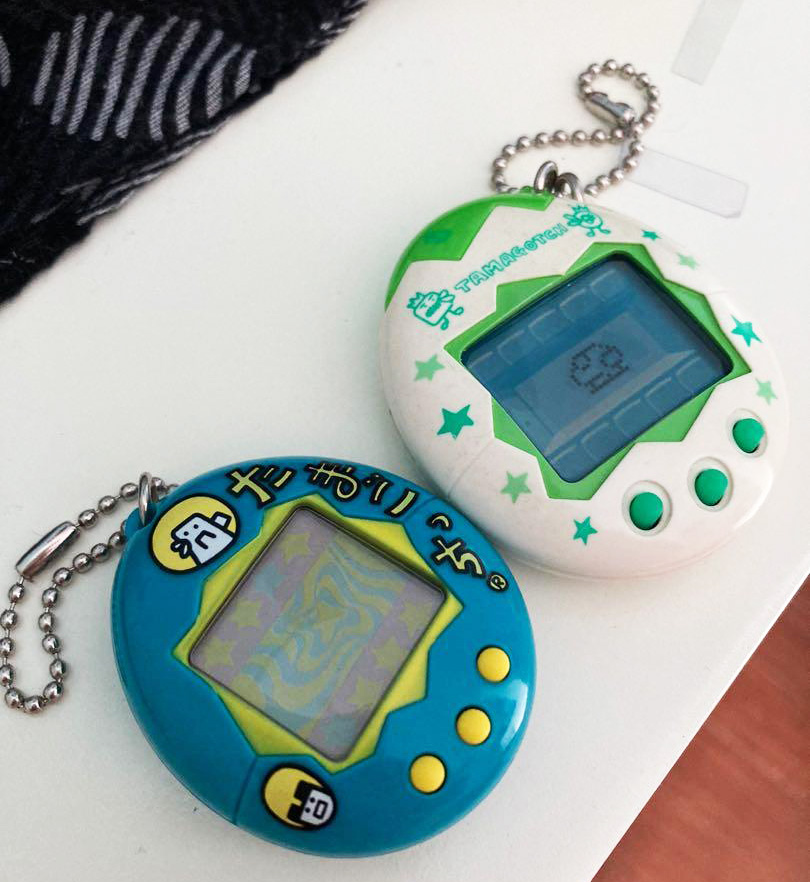 Image adapted from: Carousell
Shaped like an egg, a tamagotchi was a small handheld device that featured virtual pets we had to take care of. To keep them happy or ensure that they wouldn't die, we would watch over them as if they were our real pets by feeding them regularly or giving them medicine when they were sick.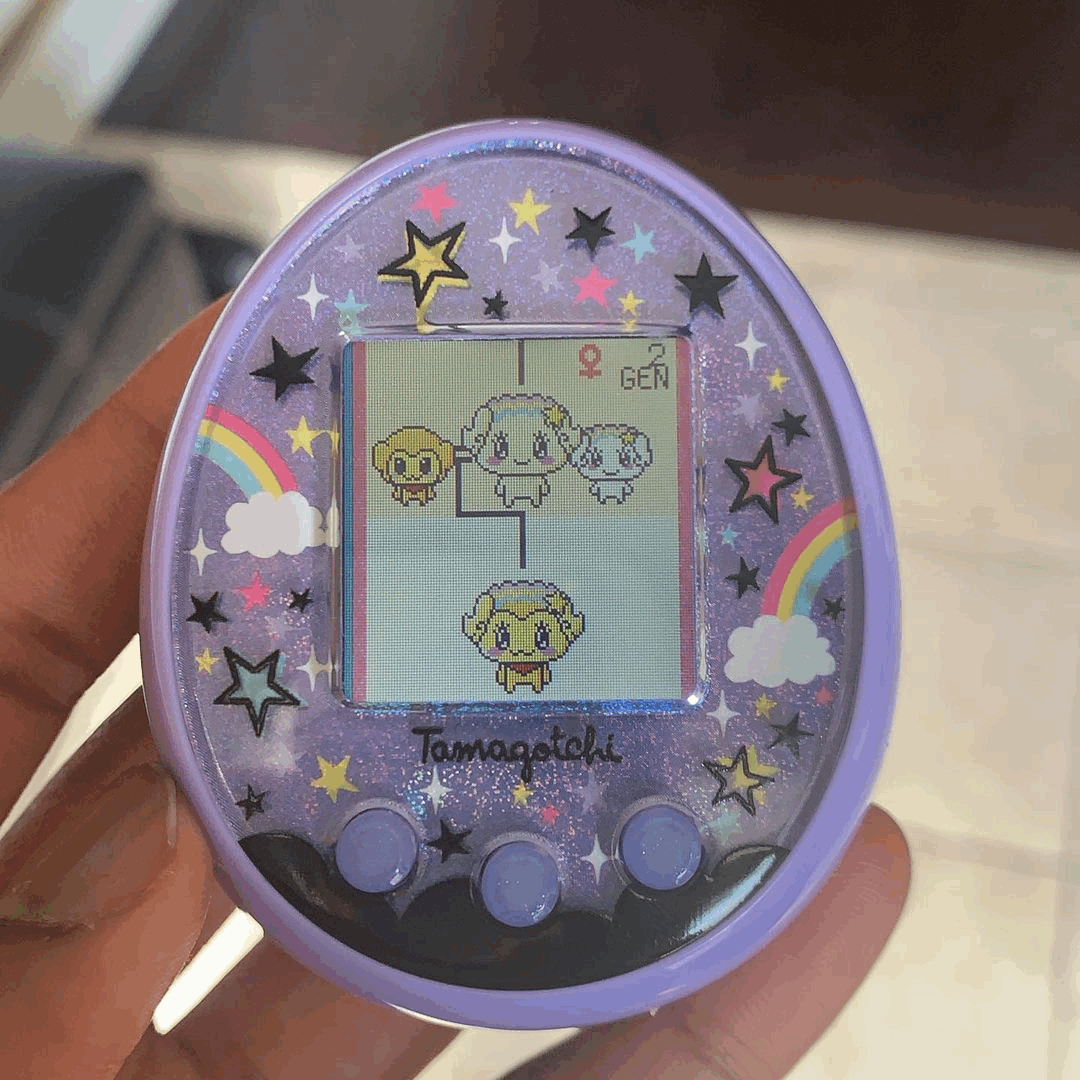 Tamagotchi On
Image credit: @tamagotchi_hotspot
Today, the latest version of the 1996 toy is called Tamagotchi On, released in Japan in 2018. The new device can connect to mobile phones via its built-in app and comes with a colored screen, among other new features.
---
Childhood things Filipino millennials owned
---
From school supplies to gadgets, these childhood millennial things indeed made our childhood days more special. And while some of the items can still be bought online or have been released again, there's no going back to the good ol' days we spent with them while we were growing up.

But through this list, we can have a good laugh and reminisce with our friends the things that used to matter so much to us in the past. 
Also check out:
---
Cover image adapted from: Advance Paper, Jollibee Character Toys, Memorabilias and other Collectibles, @AdrianM35628401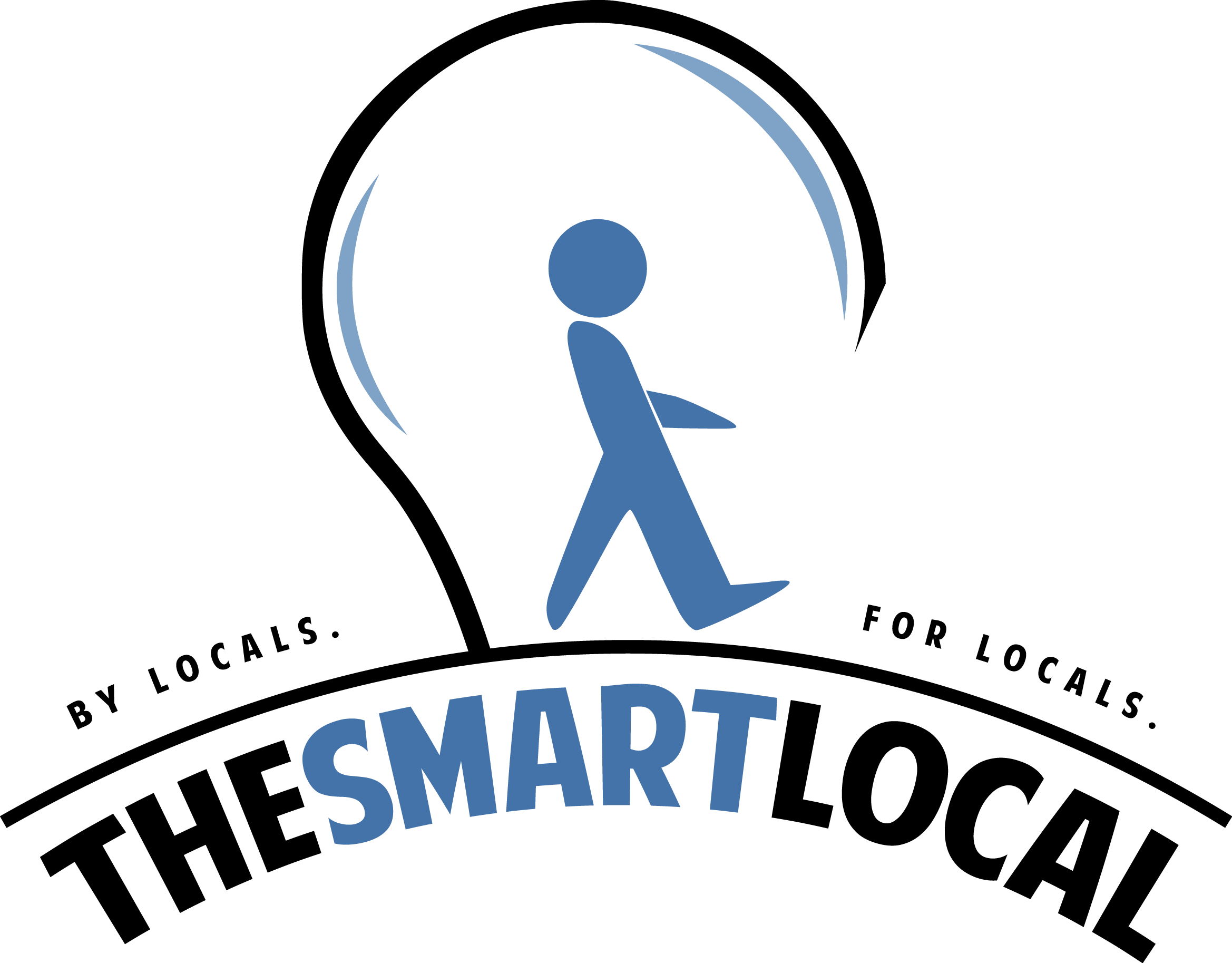 Drop us your email so you won't miss the latest news.