Bottled latte & tea bundles for delivery
---
To many, coffee is a necessity to get through the day. But going out for one every morning might be time-consuming and even risky while getting coffee-making equipment and ingredients to make your own drinks may be costly and doesn't give you much variety.
If you're too busy to go out daily to grab a coffee or make your own cup at home, Cafe Seventy Six delivers 250ml bottles of coffee, teas, and juices solo or in bundles of 6 so you can fill your fridge with cafe-quality drinks at home.
---
Coffee & tea flavors
---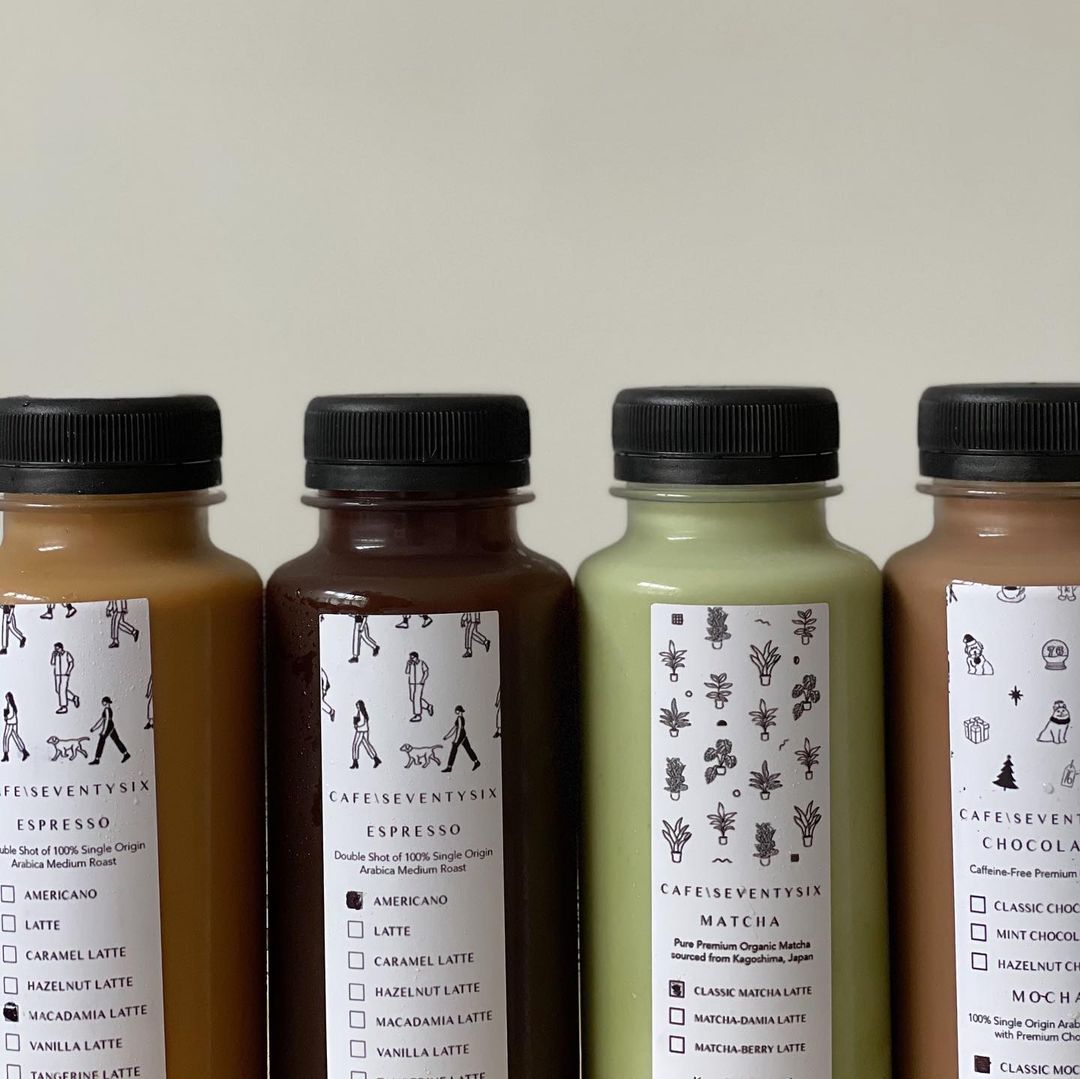 Espresso bundle
Image credit: @cafeseventysix
Cafe Seventy Six offers a variety of beverages that will brighten your WFH days.
Aside from the staple Americano, they have 9 flavors of lattes. These include classic, macadamia, ube (purple yam), Spanish, Cubano, and no-added-sugar monk fruit. You can get these in whole milk, soy milk, or almond milk versions.
For an alternative source of caffeine, they also have matcha-based drinks such as matchadamia, matchaberry, and matcha espresso lattes. The cafe also offers bottled mocha, chocolate, fruit teas, and chia-infused fruit juice so you get a wide range of cafe beverage options delivered to your door.
Solo bottles start at P75 (~USD1.47) while bundles start at P390 (~USD7.67).
---
Ingredients to make your drinks from scratch
---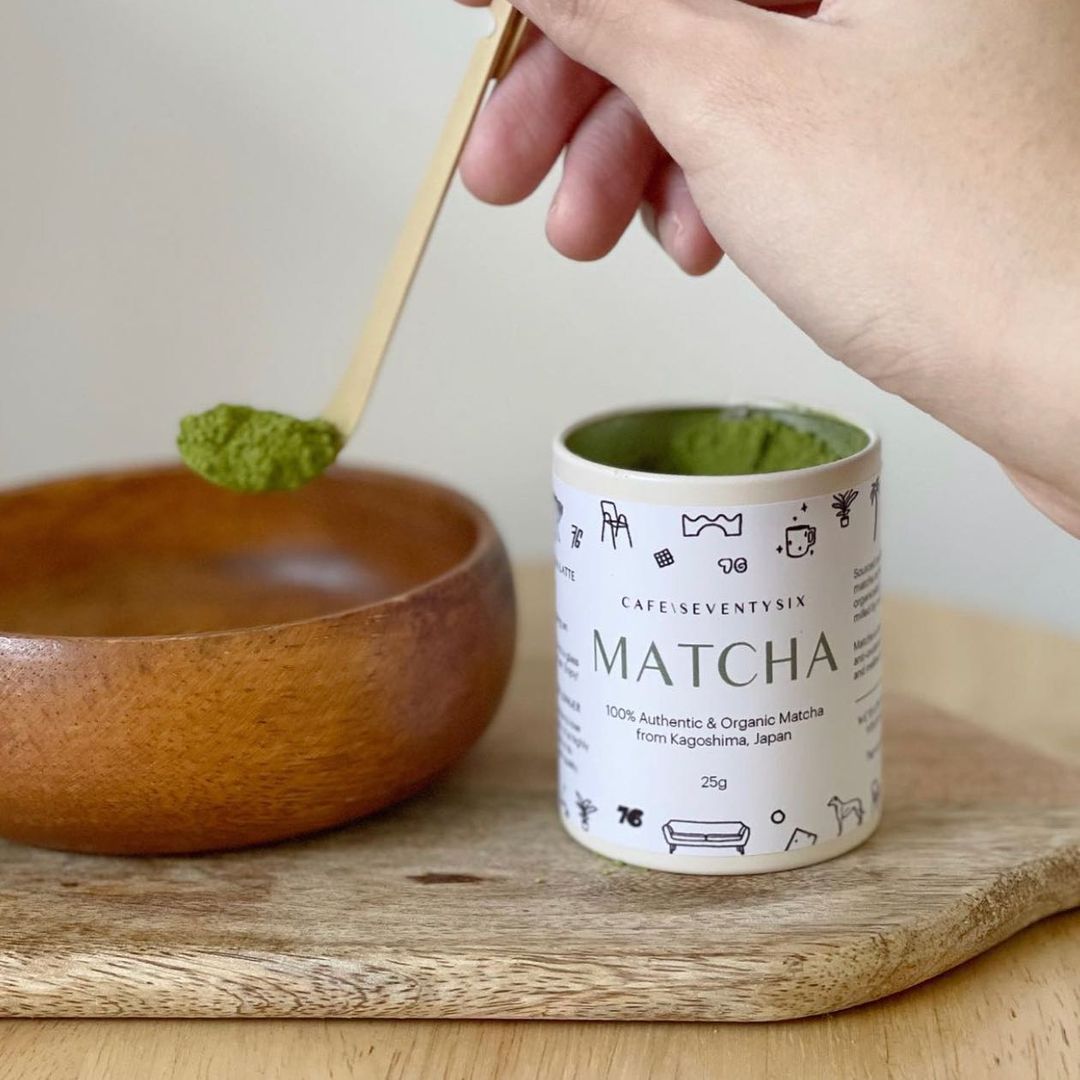 Matcha powder from Cafe Seventy Six
Image credit: @cafeseventysix
If you prefer creating your own drinks from scratch, Cafe Seventy Six also delivers coffee beans and matcha powder.
In particular, they sell medium-roast, 100% single-origin Arabica beans. These come in whole coffee beans and in different grinds to suit your coffee-making equipment. There's espresso, French press, Aeropress, coffee maker, cold brew, and pour-over. Each of these costs P390 (~USD7.67).
As for matcha, they only provide their customers with high-quality, organic matcha powder sourced from Kagoshima, Japan which costs P450 (~USD8.85) per pack.
---
Merch for coffee addicts
---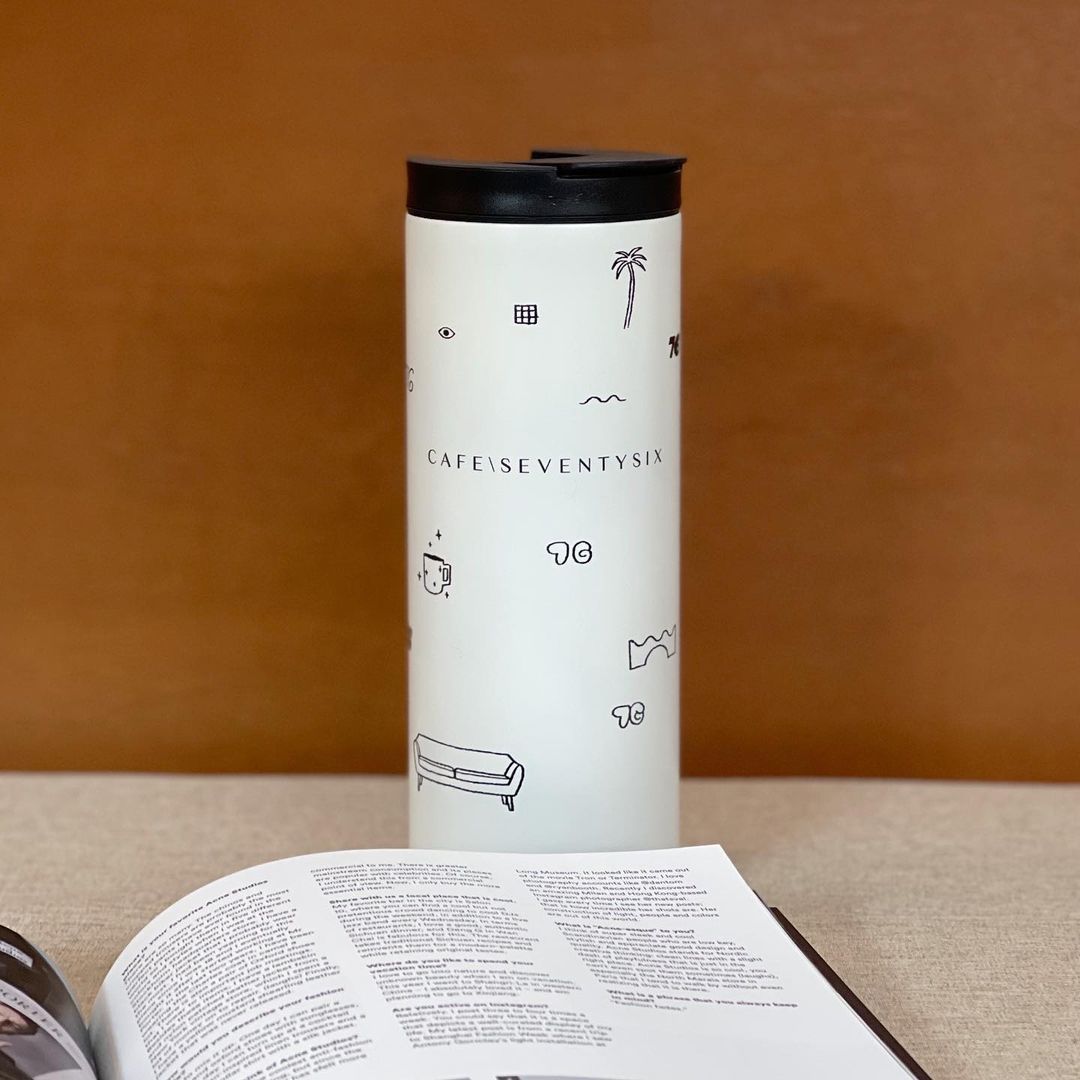 The Everyday Things tumbler
Image credit: @cafeseventysix
Besides bottled and powdered drinks, the cafe also sells merch that can be handy for caffeine addicts, such as tumblers and tote bags.
Their limited edition tumbler is a 350ml vacuum flask made with stainless steel that can keep your drinks hot for 3 hours and cold for 9.
Meanwhile, their canvas tote bag comes in 3 prints and is locally made. It can fit your essentials, a book, and a bottle of coffee perfect for your next adventure.
---
How to order from Cafe Seventy Six
---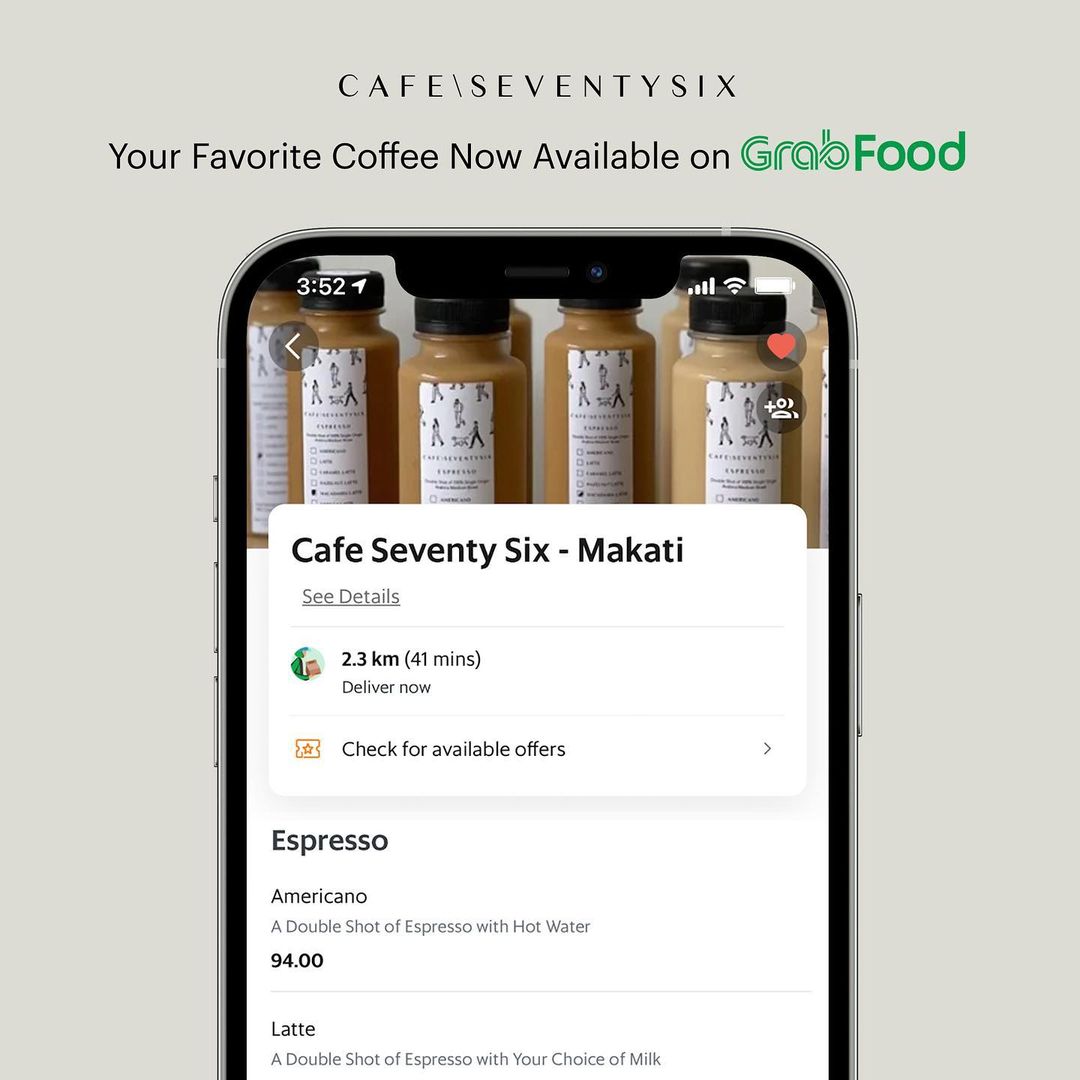 You can order Cafe Seventy Six's offerings from GrabFood
Image credit: @cafeseventysix
Cafe Seventy Six is open from Mondays to Saturdays from 8AM to 4PM. They take orders through their website or GrabFood.
They offer same-day, in-house delivery to Makati, BGC, and Mandaluyong. They also deliver to select areas in Pasig, Quezon City, and San Juan. You can check their website to see if they can deliver to your area.
If you're not from any of these places, you can also personally pick up your orders or opt to book your preferred courier service. For this, you can get the instructions on Cafe Seventy Six's FAQs page.
The cafe employs a completely cashless payment system. They accept payments through bank transfer, GCash, and GrabPay.
---
Get your weekly coffee fix from Cafe Seventy Six
---
Cafes that offer delivery services are a blessing for people who can't start their day without coffee especially during these times. They eliminate the need to go out and potentially put yourself at risk of the virus.
With Cafe Seventy Six, you'll even save up on daily shipping fees with bundles that can last you up to six days, depending on your consumption.
Address: 470 Gen. P. Santos Street, Barangay Bangkal, Makati City, Metro Manila
Opening hours: Mon–Sat 8AM-4PM
Telephone: 0917-1897676
Also check out:
---
Cover image adapted from: @cafeseventysix and @cafeseventysix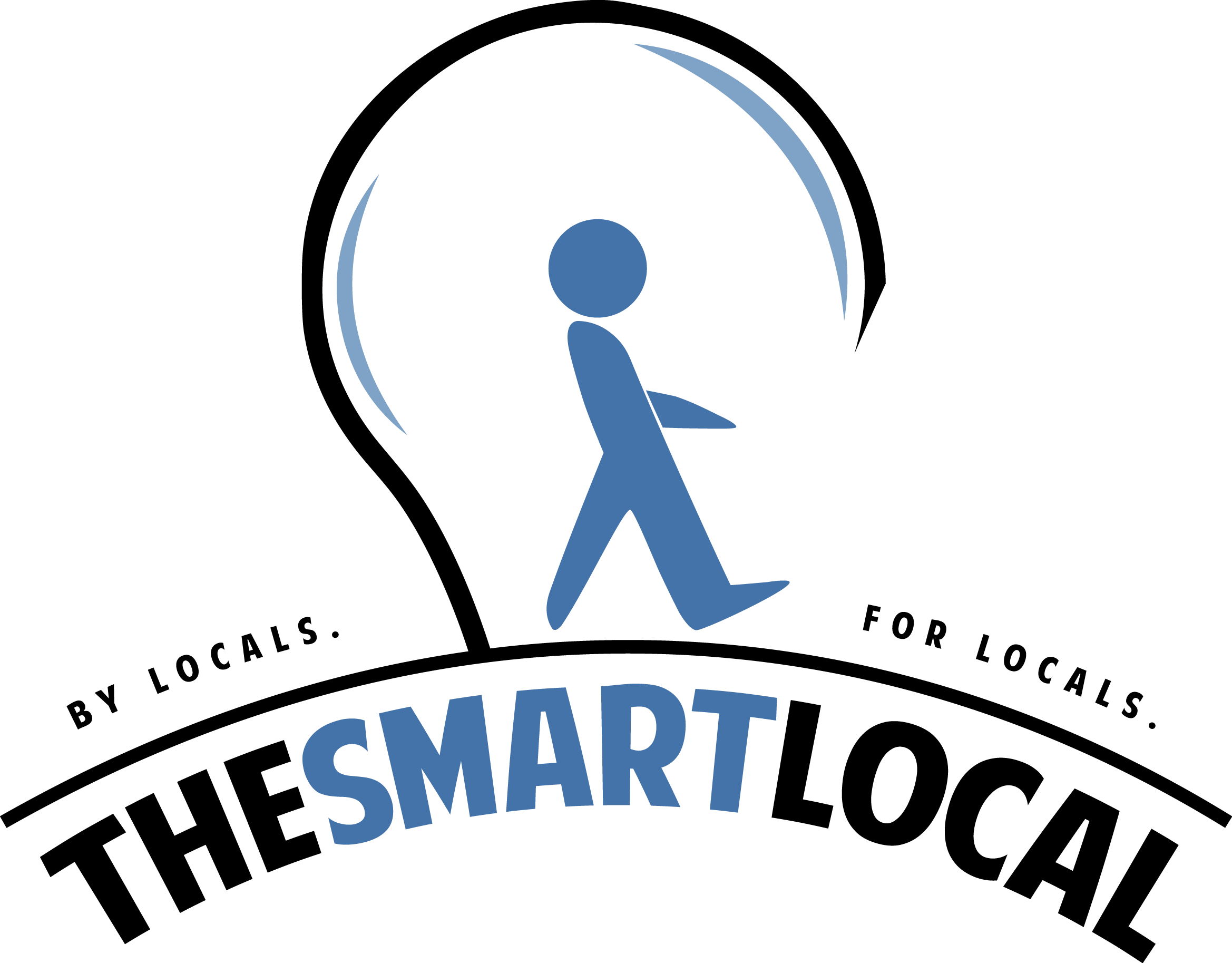 Drop us your email so you won't miss the latest news.