Bicycles you can buy for a healthier body and finances
---
Cycling to get around the metro is no longer new to many Filipinos. Since the pandemic started, people have realized that getting on bicycles boosts your mood, helps you shed the pandemic weight, and becomes an opportunity to have fun with other cycling enthusiasts.
And now, as gas prices skyrocket, getting a gasless ride seems like a great option. So to help you out, we compiled a couple of bicycles you can buy in the Philippines to start your #cyclinglife.
---
– Mountain bikes in Manila for commuting and trail adventures –
---
1. Rockrider Mountain Bike ST – starter bike for beginners
---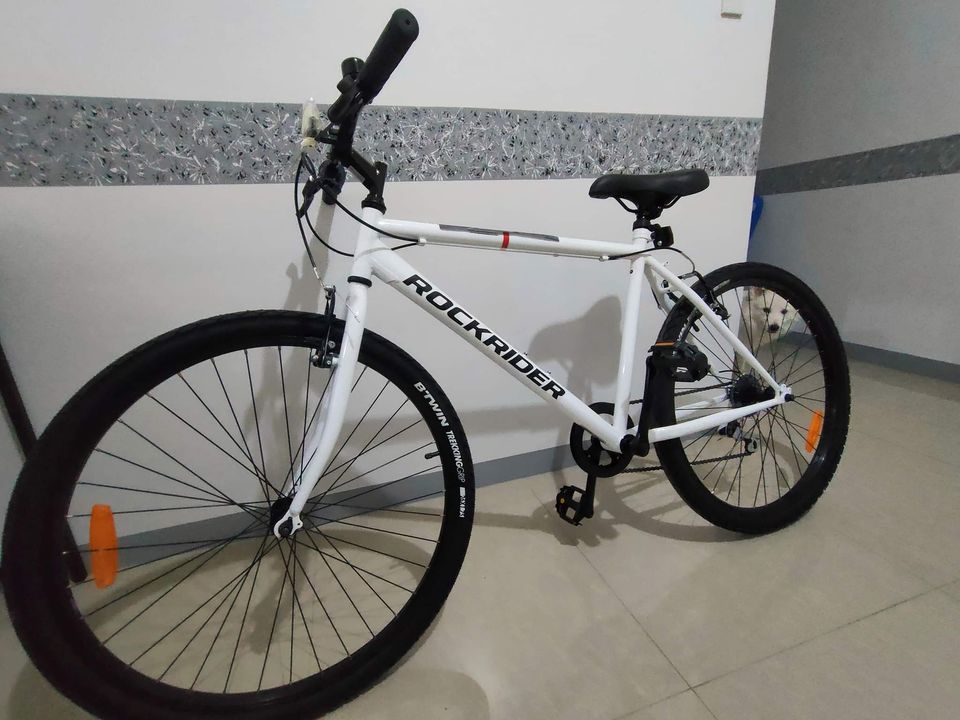 The Rockrider ST 30
Image credit: Jason Parohinog
We understand that not everyone is used to riding a bicycle; some even never had the chance to learn. However, being a beginner shouldn't be an issue when using the Rockrider Mountain Bike ST (P7,200, ~USD138.14) because it is precisely for new riders.
It has a durable steel frame which makes it slightly heavier than alloy-framed bicycles, but that weight helps a beginner feel more grounded. The Rockrider MTB also has raised handlebars and mid-height 26″ wheels for a comfortable riding position where you can easily put your feet on the ground to regain balance.
Get the Rockrider Mountain Bike ST here.
---
2. Trinx M100 Elite – inexpensive alloy mountain bike
---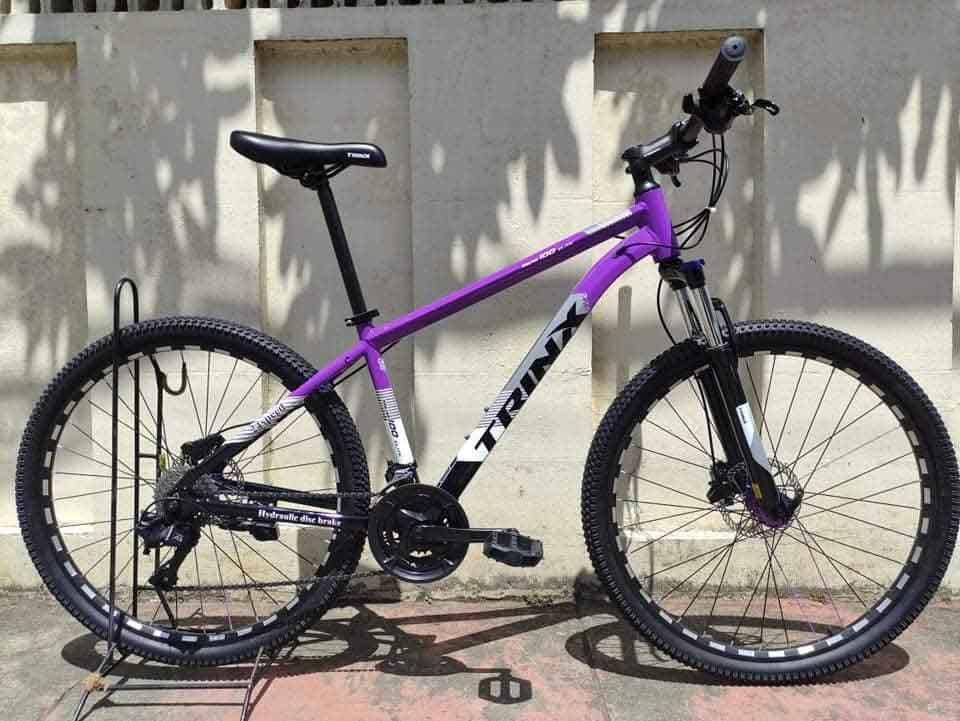 Trinx M100
Image credit: Srv cycle bike shop
The alloy frame of the Trinx M100 Elite (P8,999, ~USD172.65) is sturdy but remains lightweight, so it's easier for you to accelerate and climb steep roads.
Hydraulic disc brakes and internal cabling makes it easier for you to maintain the bike because it's less susceptible to wear and tear while biking on the road or dirt. It also has a proprietary Trinx suspension fork that helps absorb vibrations when you go over humps and potholes.
Get the Trinx M100 Elite Hydraulic here.
---
3. Sagmit Miami 5 – 29er MTB for taller bikers
---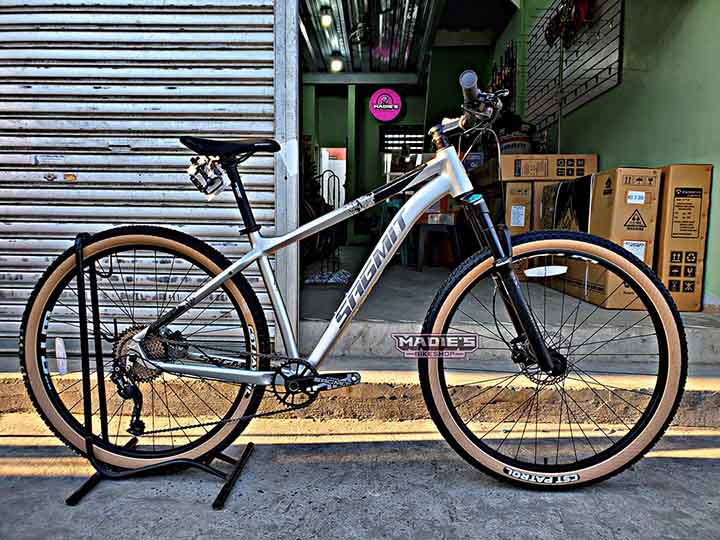 Sagmit Miami 5
Image credit: Maddie's Bike shop
Taller people now have an option for an ergonomic mountain bike that won't break the bank with the Sagmit Miami 5 (P19,900, ~USD381.80). It has 29″ wheels and a seat post that wouldn't feel awkwardly low for long-legged people.
This Sagmit mountain bike also has air forks with 100mm of travel that can handle deeper potholes and higher road bumps, grippy disc breaks, and lightweight alloy rims.
Get the Sagmit Miami 5 here.
---
4. Giant Talon 1 – ultra-lightweight mountain bike
---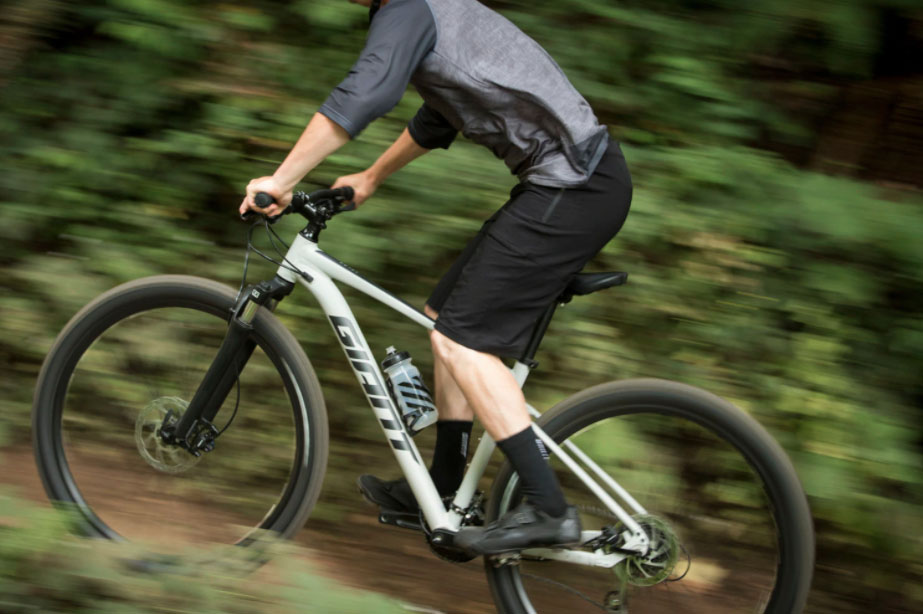 Giant Talon 1
Image credit: Lifecycle Bike shop
The weight of a bicycle affects the amount of effort a cyclist will need to exert when accelerating and climbing hills; this is why the Giant Talon 1 (P30,000, ~USD575.58) comes with an ultra-lightweight Aluxx aluminum frame that still doesn't compromise on durability.
Mountain bikes are literally for off-road cycling, but the adjustable RockShox Judy TK coil spring fork of the Talon 1 is also perfect for absorbing the vibrations of going over rocky terrain in nature and pothole-ridden city roads.
Get the Giant Talon 1 here.
---
– Road bikes for cycling on city roads –
---
5. Keysto Evolution M500 – dynamic design for faster acceleration
---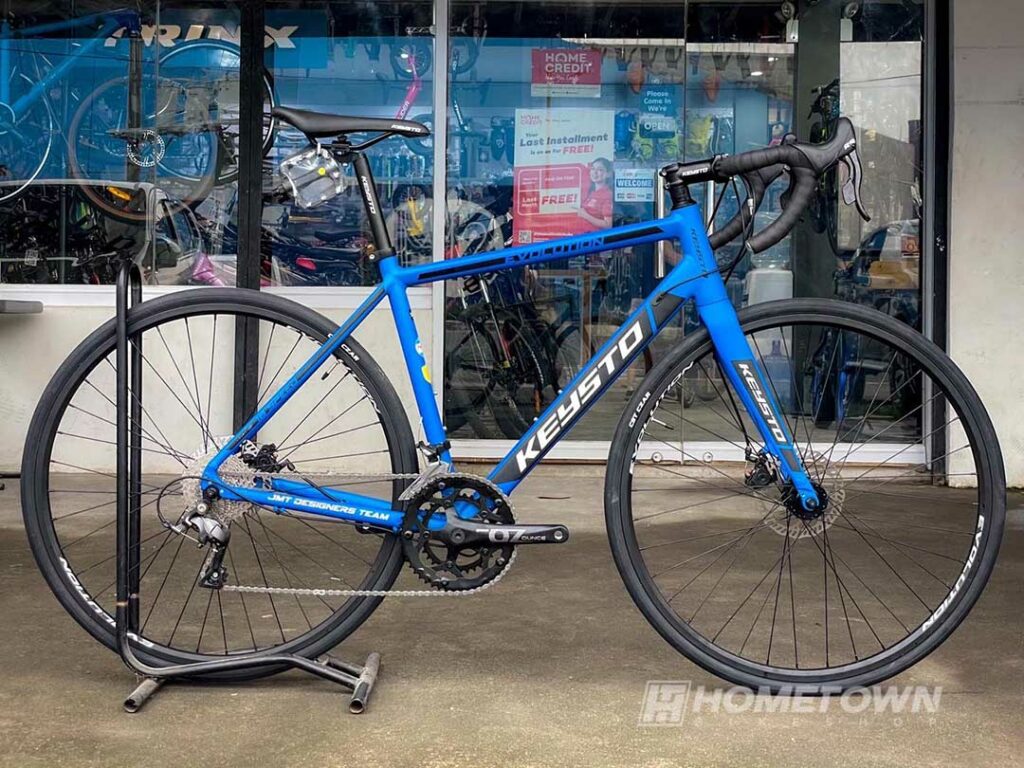 Keysto Evolution M500
Image credit: Hometown Sales Center
If you're primarily biking within the city, consider getting the Keysto Evolution M500 (P16,300, ~USD312.74) because you can reach faster speeds due to its road bike design.
The frame, handlebars, seat post, and fork of the Evolution M500 are all made from alloys bringing down the bike's total weight so the rider can reach faster speeds.
Get the Keysto Evolution M500 here.
---
6. Mountainpeak Rexton 8000 – feather-light road bike
---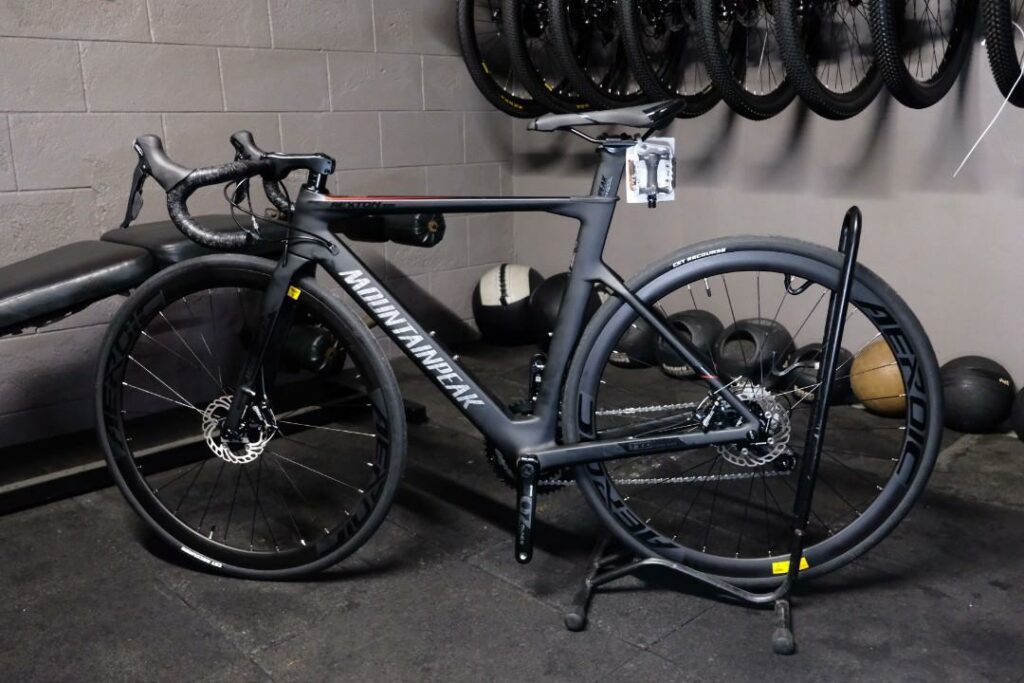 Mountainpeak Rexton
Image credit: Chongkee the Frenchie
Carbon frame and front support have a unique design that allows bicycles to be rigid and flexible in the right spots, which means that with the Mountainpeak Rexton (P37,999, ~USD729), you can comfortably go over bumps while maintaining your speed while pedaling.
That's why if you're really into cycling, this bike is a total treat when on the road. It weighs only 8.5kg (18.74lbs), maximizing the advantage of using carbon for the body and fork so you can reach top speeds without compromising on durability.
Get the Mountainpeak Rexton 800 here.
---
– Folding bicycles for a portable ride –
---
7. Trinx Dolphin 2.0 – portable commuter bike
---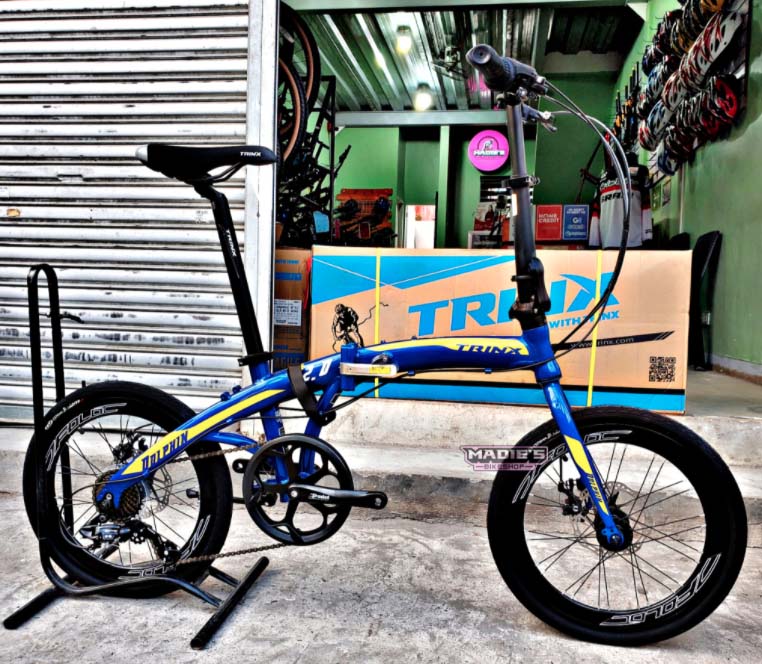 Trinx Dolphin 2.0
Image credit: Maddie's Bike shop
The portable Trinx Dolphin 2.0 (P11,990, ~USD230) is perfect for combining public transportation and cycling since you'll be able to fold and carry it inside the LRT or bus without looking like you're struggling.
It has an alloy frame and disc brake with an adjustable Trinx saddle and seat post, so you can easily modify the riding position to your liking.
Get the Trinx Dolphin 2.0 here.
---
8. Crius Master D – lightweight folding bike
---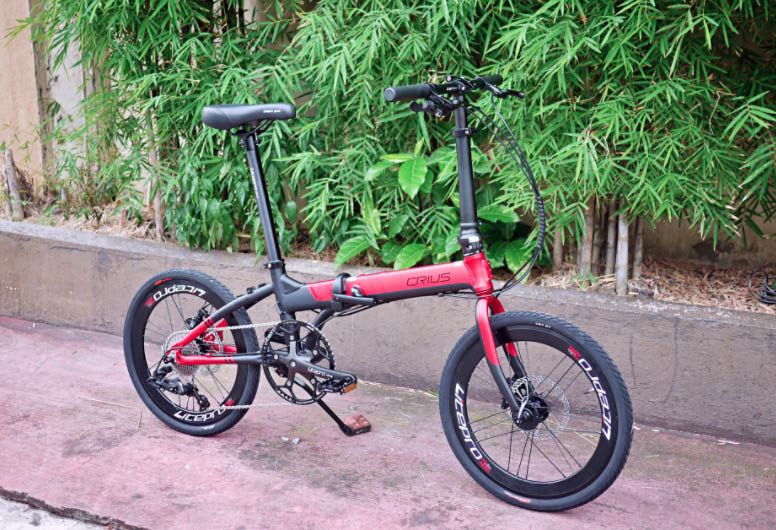 Crius Master D 2022
Image credit: Lite Pro Cyclery
One main selling point of all folding bicycles is their portability, and this is why the Crius Master D (P27,800, ~USD533.38) weighs below 11kg (24.25lbs), so it's easier for bikers to transport it.
The Master D has mechanical disc brakes, a Litepro crankset, and Shimano shifters which means it has reliable components that are tried and tested in the cycling community.
Get the Crius Master D 2022 here.
---
Start cycling on a mountain bike, road bike, or folding bike
---
Besides the health benefits, biking instead of driving everywhere can help lower your expenses—because the less you drive, the less gas you'll have to buy.
Also check out our other biking stories:
---
Cover image adapted from: David Paul Puti-an Ansing and  AJ's Bike shop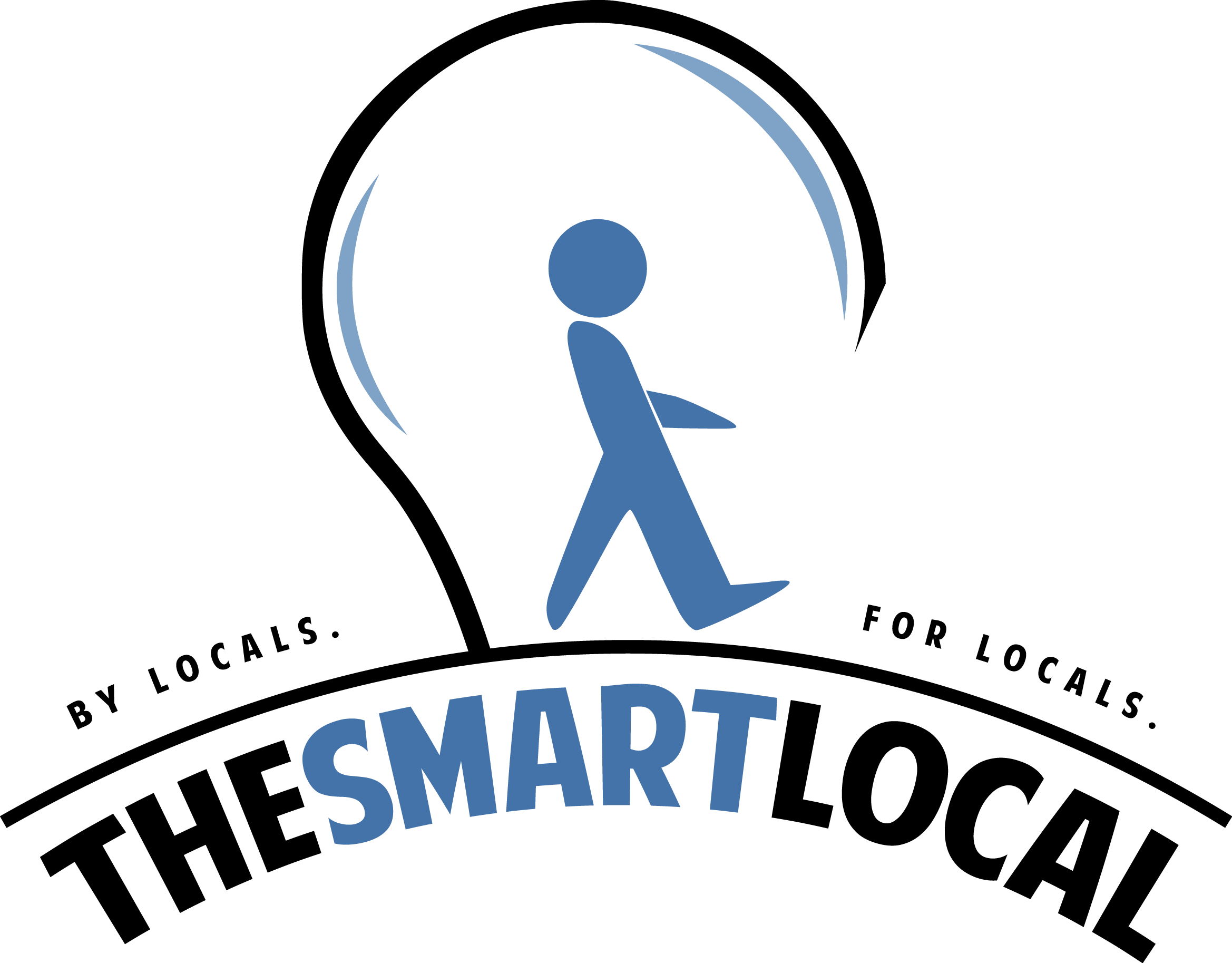 Drop us your email so you won't miss the latest news.