Bad Cafe, Legazpi Village, Makati
---
One of the perks of remote work is getting to work anywhere you want. All you really need are a speedy Wi-Fi connection and a hearty meal, with snacks in between.
Even though our homes offer that, sometimes we want to take a break from being cooped inside our houses.
Good thing Bad Cafe is an ally of remote workers in Makati – making working outside worth your while with yummy food and drinks, Wi-Fi, and more.
---
Work-friendly cafe with Wi-Fi and sockets
---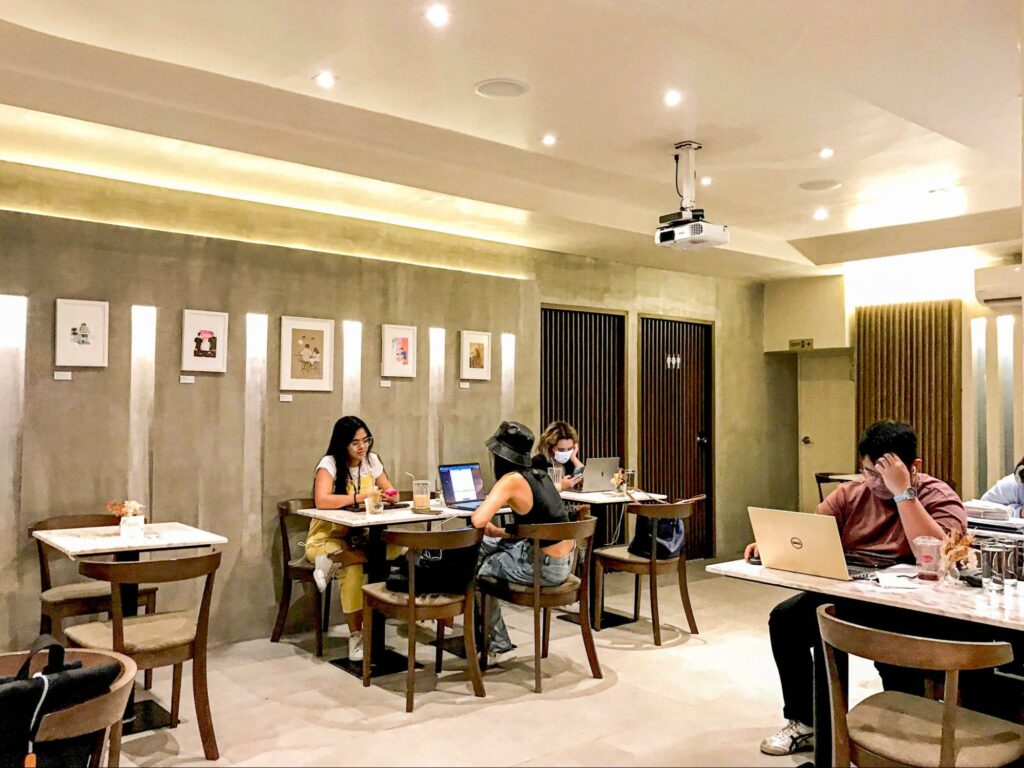 Remote working situation on a Thursday afternoon.
Bad Cafe has a well-lit and spacious interior with a chill atmosphere – an ideal place to work. The Wi-Fi is free and the cafe offers plenty of sockets to charge your phone or laptop for those long-haul online work you need to finish.

Seat with a view.
If you're a brooding novelist writing your first novel or an artist sketching your new collection and you find more inspiration from people- and car-watching, the seat by the window will be the perfect spot for you.
---
Get your Calamansi dessert fix here
---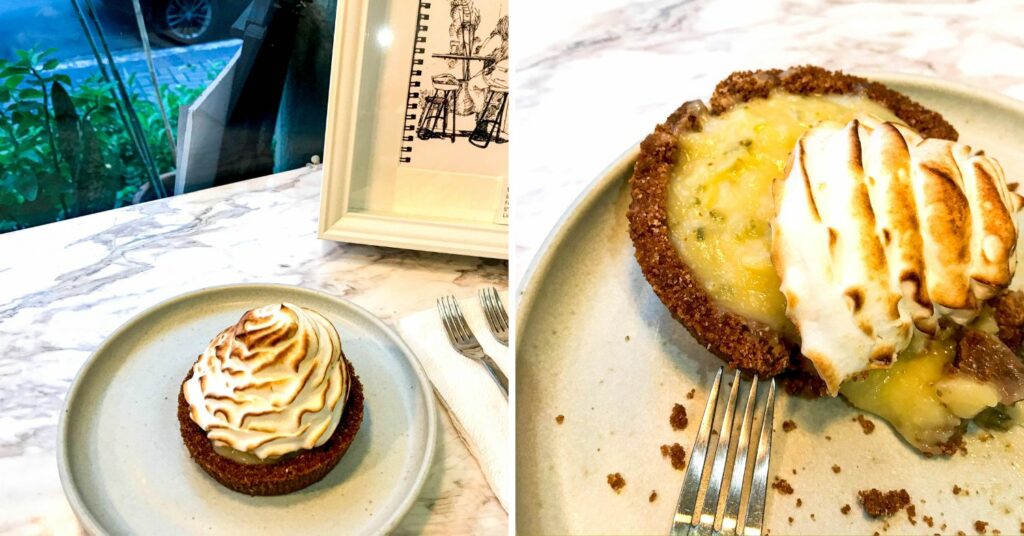 Their best-selling Calamansi Pie.
Calamansi is a Filipino condiment staple, so it's refreshing when restaurants and cafes put their unique twist on it.
Since we can't always go to Boracay when we're craving their famous Calamansi muffin, Bad Cafe's Calamansi Pie, which oozes with filling, is certain to satisfy your need for a calamansi dessert fix. For P200 (~USD3.60), you don't even have to fly out of the metro for them.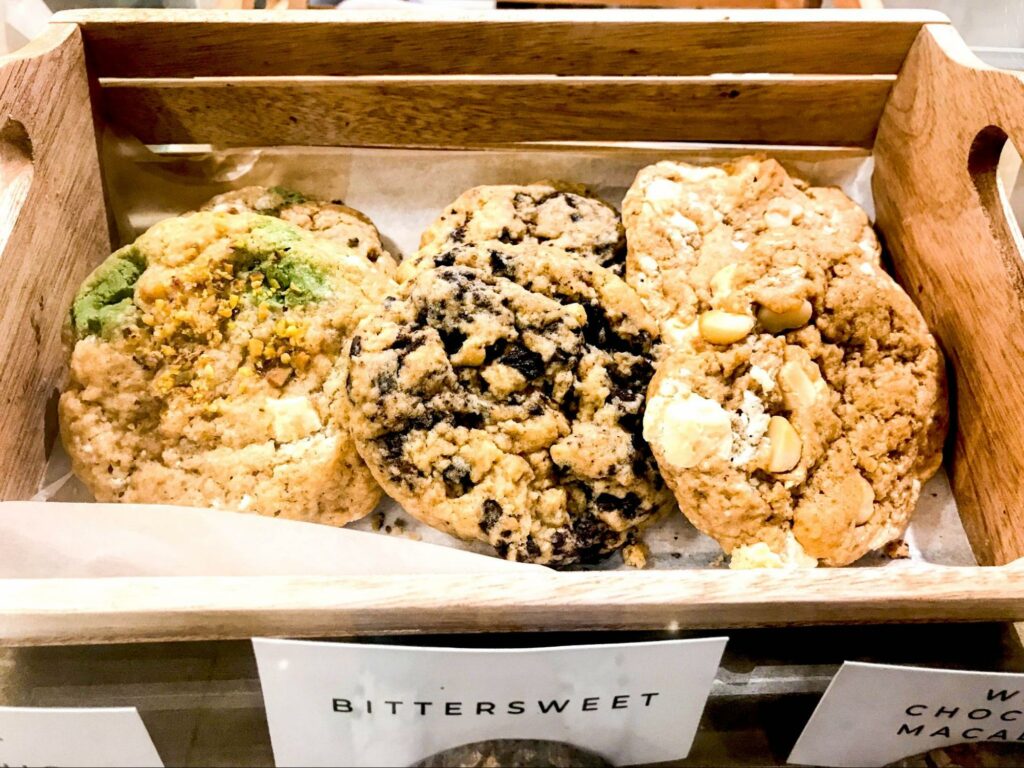 Cookies in three flavors.
They also make cookies in up to three different flavors. On the day we visited, Matcha, Bittersweet, and White Chocolate Macadamia were the flavors available. Each cookie is P90 (~USD1.61).
---
Horchata and Homemade Cola to quench your thirst
---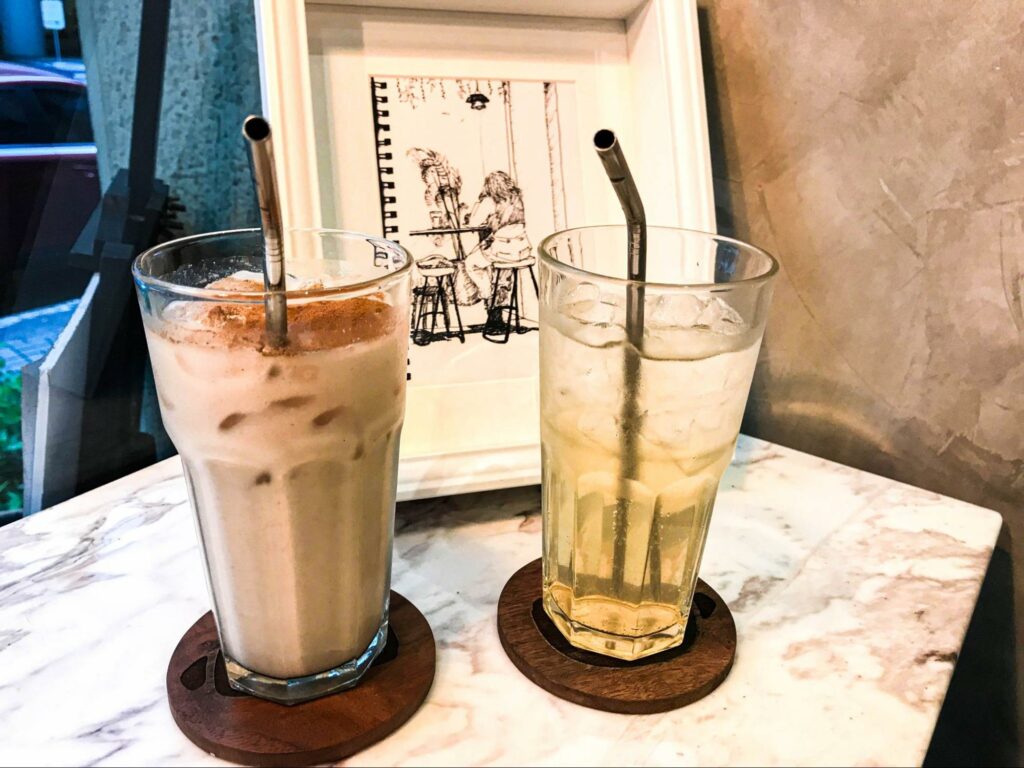 Horchata and Homemade Cola.
To complement the tartness of your Calamansi Pie, you can try their best-selling drinks, the Horchata at P180 (~USD3.23) and the Homemade Cola at P190 (~USD3.41). The Horchata has the right amount of sweetness, which doesn't overpower the flavors of rice and cinnamon.
We haven't come across a cafe in Manila that makes its own soda. It intrigued us, so we had to order and see. The drink is light and tastes like a healthy version of cola – in a good way! It's definitely worth a try.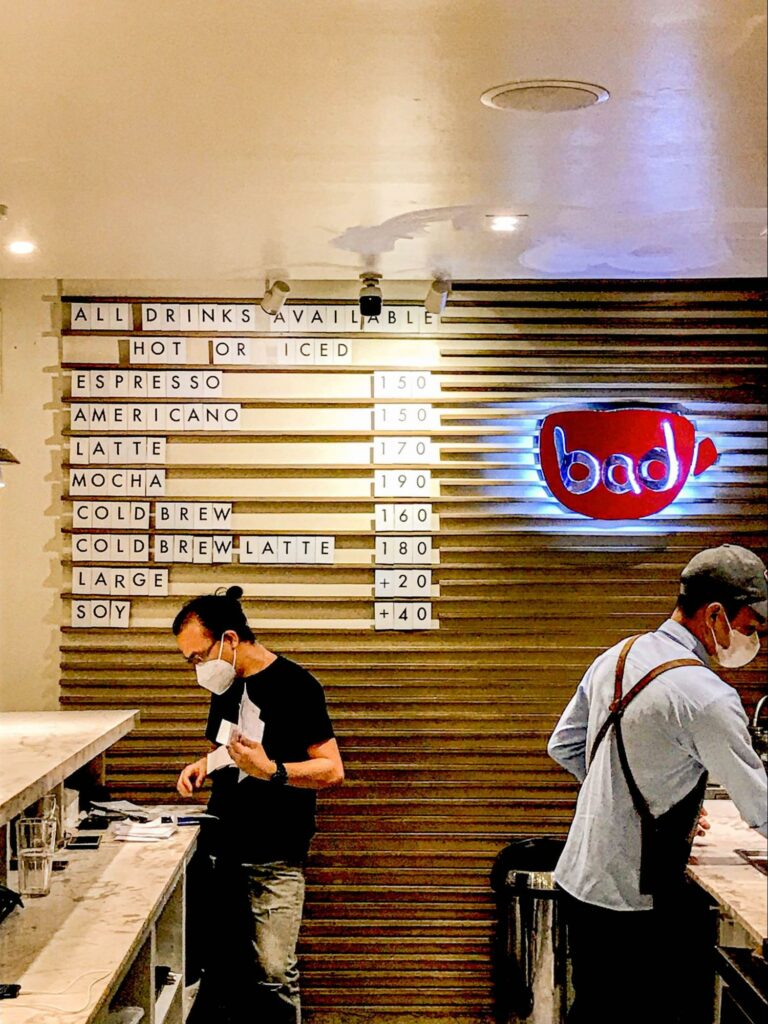 The drinks menu at the counter.
You can also try their coffee, made in specialty grade beans from local roasters. They also offer teas and cocktails. Yes, they have happy hour. You can straight-up unwind with a cocktail or two immediately after work.
---
Artwork and postcards available for sale
---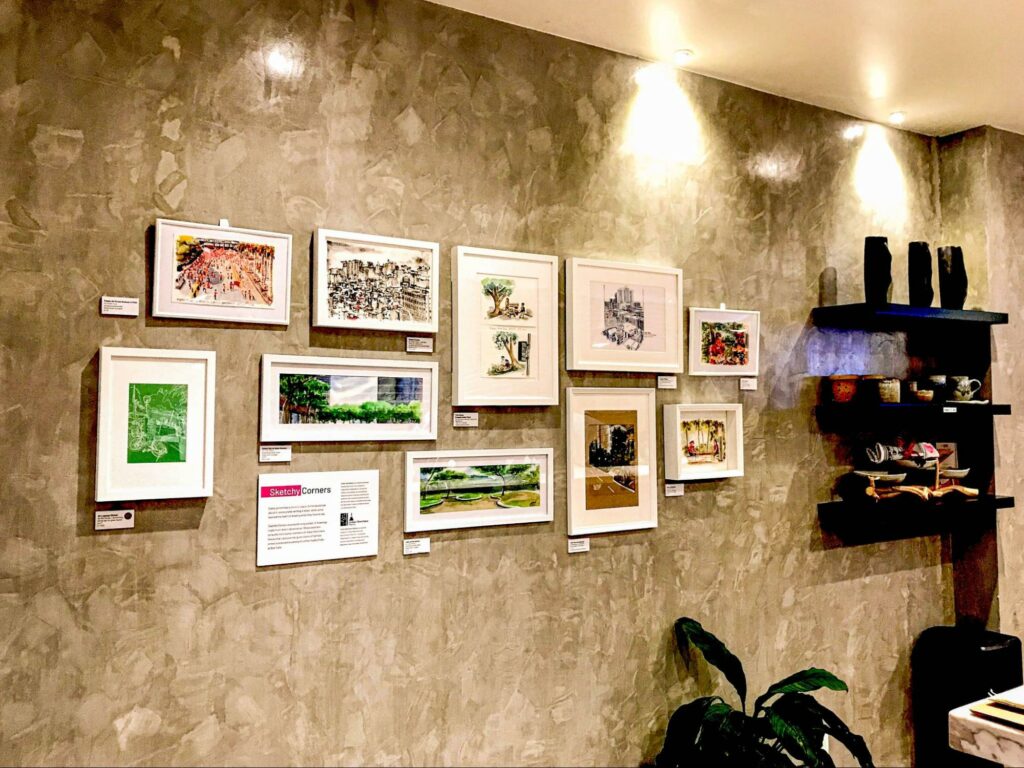 Sketchy Corner exhibit.
Bad Cafe supports creative expressions and local artists. You'll see a lot of artwork and postcards decorating the walls, some tables, and the counter.
Currently, there is an exhibition from Urban Sketchers of Manila, titled Sketchy Corners. The drawings and paintings feature the mundane and quiet charm of Makati City.
What's great about it is if you find something you like, you can also buy them. You'll see the price of each artwork along with the art piece's details. One painting is called Sunny Day at Ayala Avenue and you can buy it at P2,400 (~USD43.15), while the postcards go for P50 (~USD0.89) a piece.
---
Bad Cafe – a chill cafe in Legazpi Village, Makati
---
If you're always looking for places that offer something new and will help you get through another work day, Bad Cafe is a place to go.
Head to Legazpi Village and try the cafe's unique food and drinks while you work in a relaxed and supportive atmosphere.
Address: 163 Windsor Tower, Legazpi Street, Legazpi Village, Makati City
Opening hours: 8am-9pm Sun-Thu, 8am-10pm Fri-Sat
Contact: (02) 8 353 2123
Bad Cafe's website | Facebook | Instagram
Check out more cafes in Makati here:
---
Photography by Gly Parañal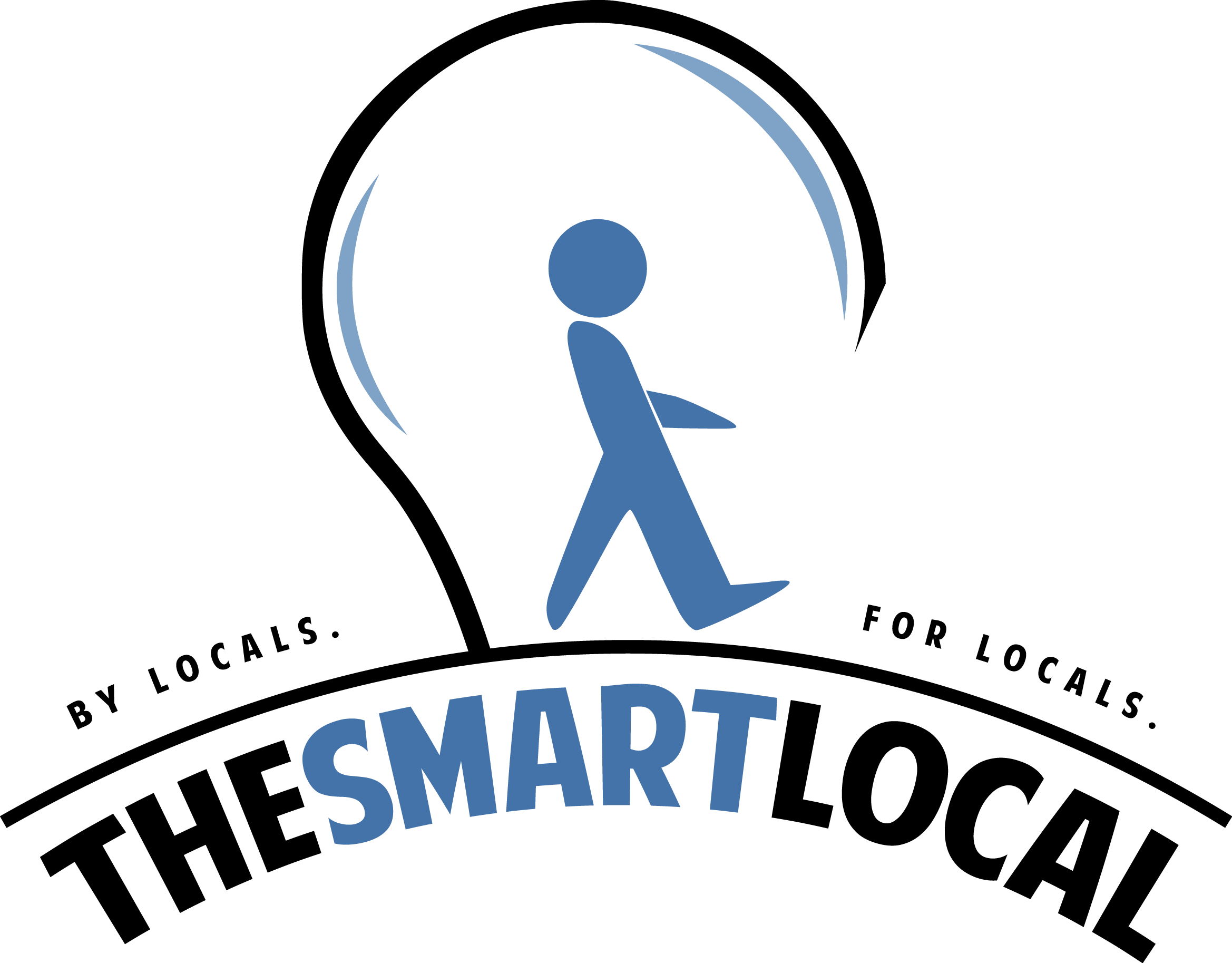 Drop us your email so you won't miss the latest news.