Aling Lucing Sisig in Pampanga
---
Pampanga is known as the culinary capital of the Philippines. It's home to several restaurants that define Filipino food—one of which is Aling Lucing Sisig.
Just a short drive from the metro via expressway, this iconic food spot is a must-visit if you want to try sisig from the place it originated from more than 40 years ago.
---
The original sisig
---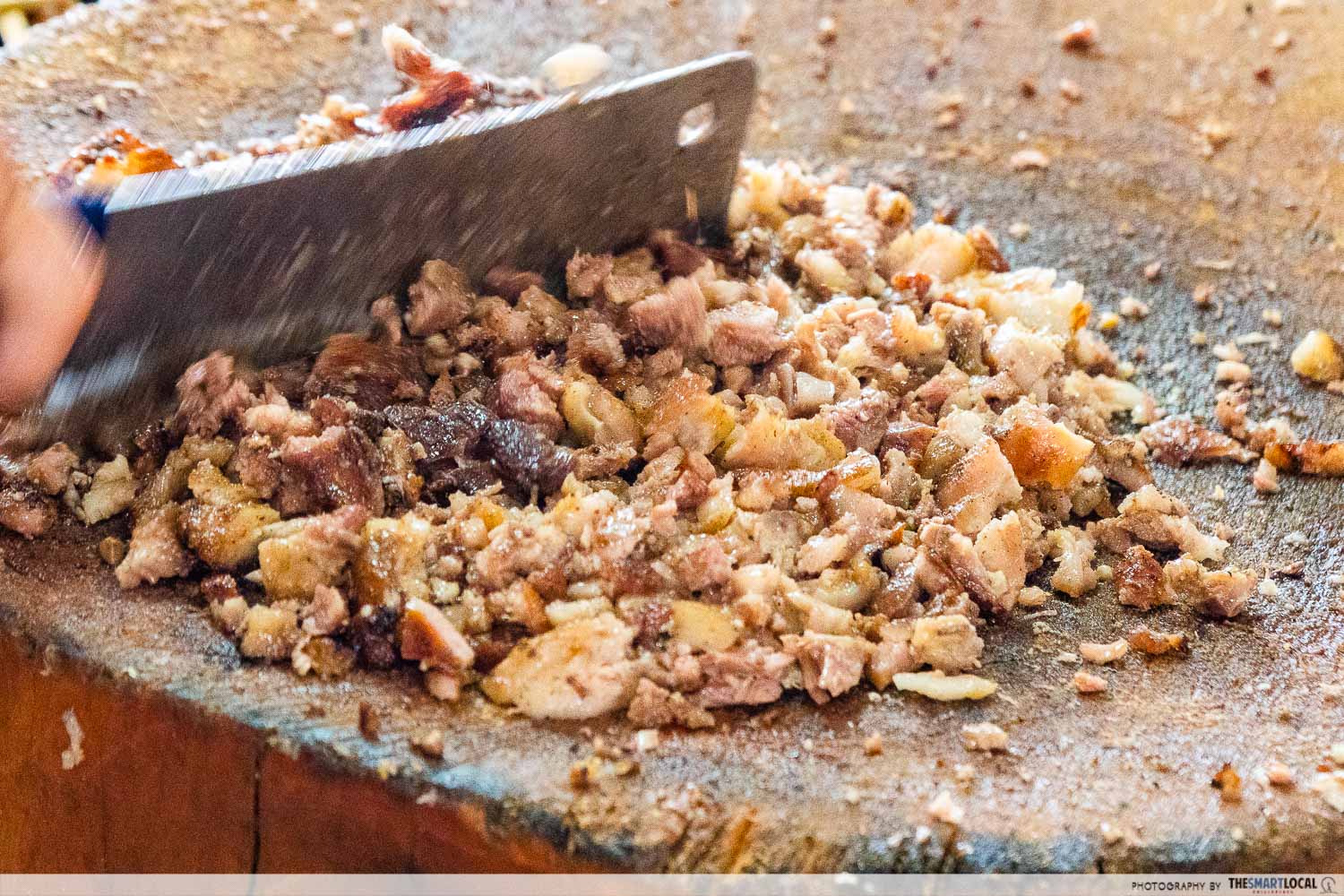 Freshly chopped grilled pork for sisig.
Before you saw it in bars in Manila, sisig was already a staple roadside meal for people in Pampanga. The late Lucia Cunanan, famously known as Aling Lucing, first created the dish from charred pig ears and cheeks. She then mixed it with plenty of onions, salt, pepper, and a dash of vinegar.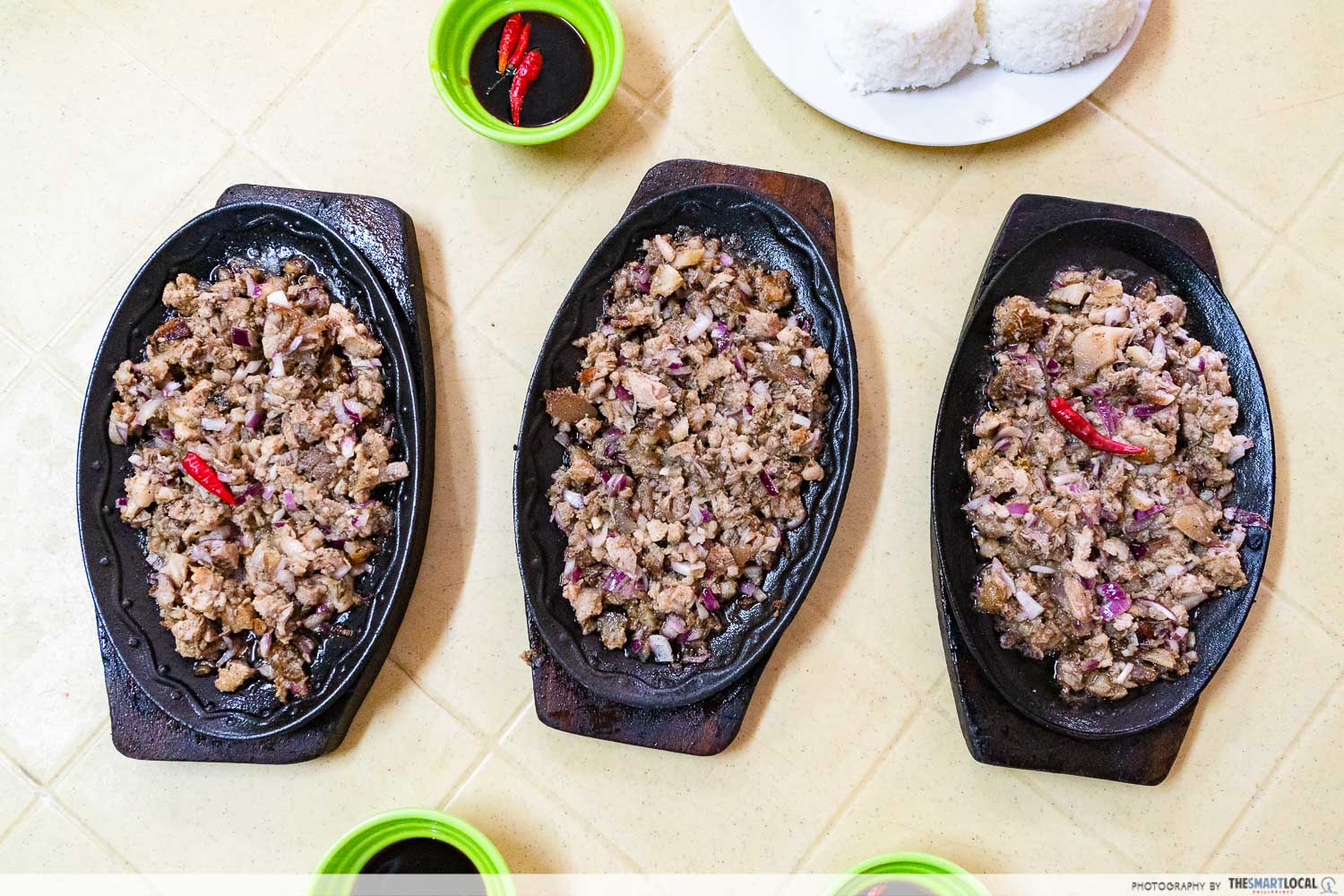 Aling Lucing sisig served on sizzling plates. 
Fast forward to today, Aling Lucing Sisig maintains a humble carinderia (roadside food stall) setup with a loyal following. They grill the pork meat outside over coals, just like the old days. They then chop up the meat, put onion, chilis, and seasoning and serve it sizzling at your table.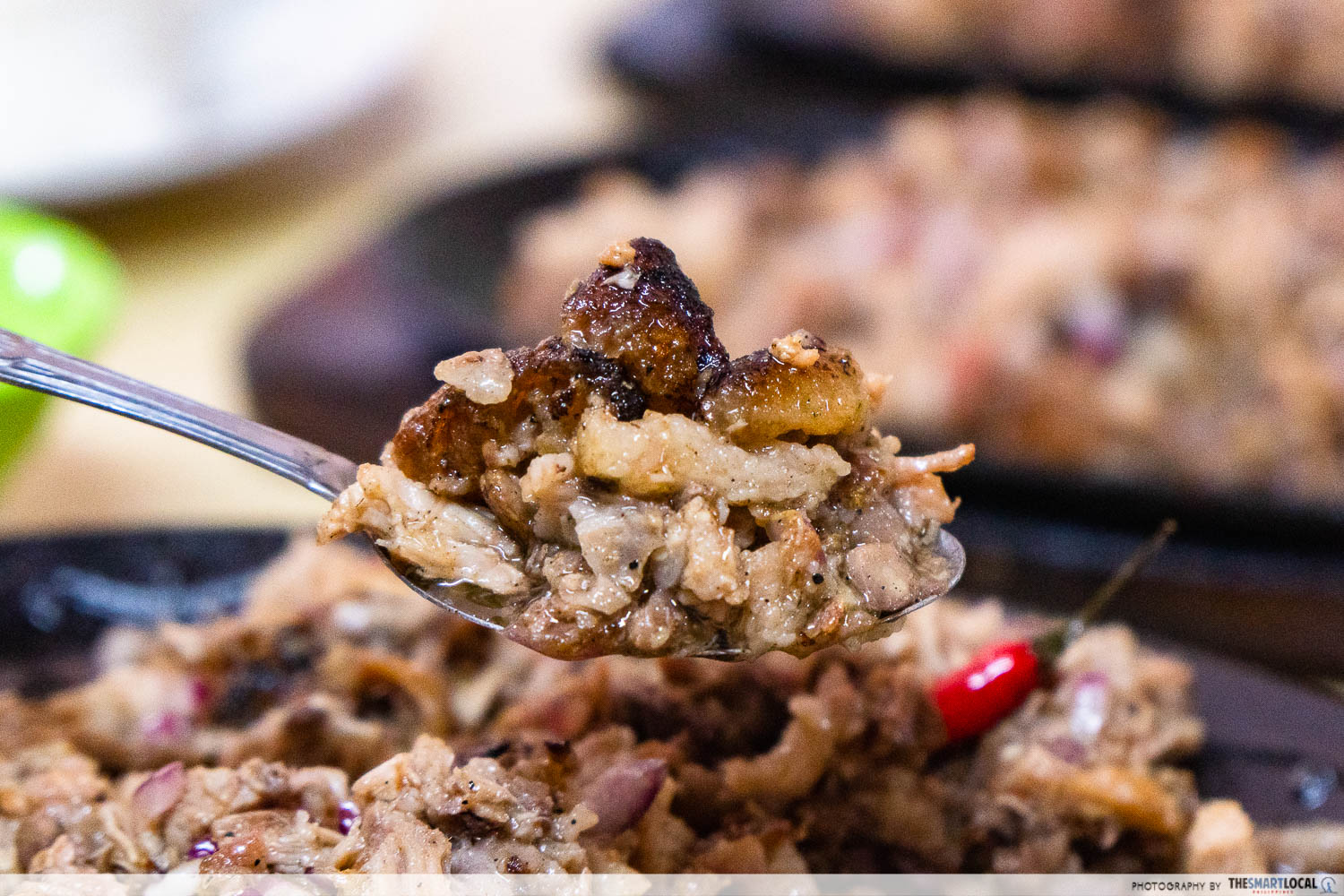 A spoonful of the original sisig from Pampanga.
The original sisig (P220, ~USD4.16) has a distinct smoky flavor from the charred pork bits. It's also creamy and savory without using mayonnaise like the city version. In fact, some Kapampangans (people from Pampanga) would even argue that mayo on the dish is a culinary travesty.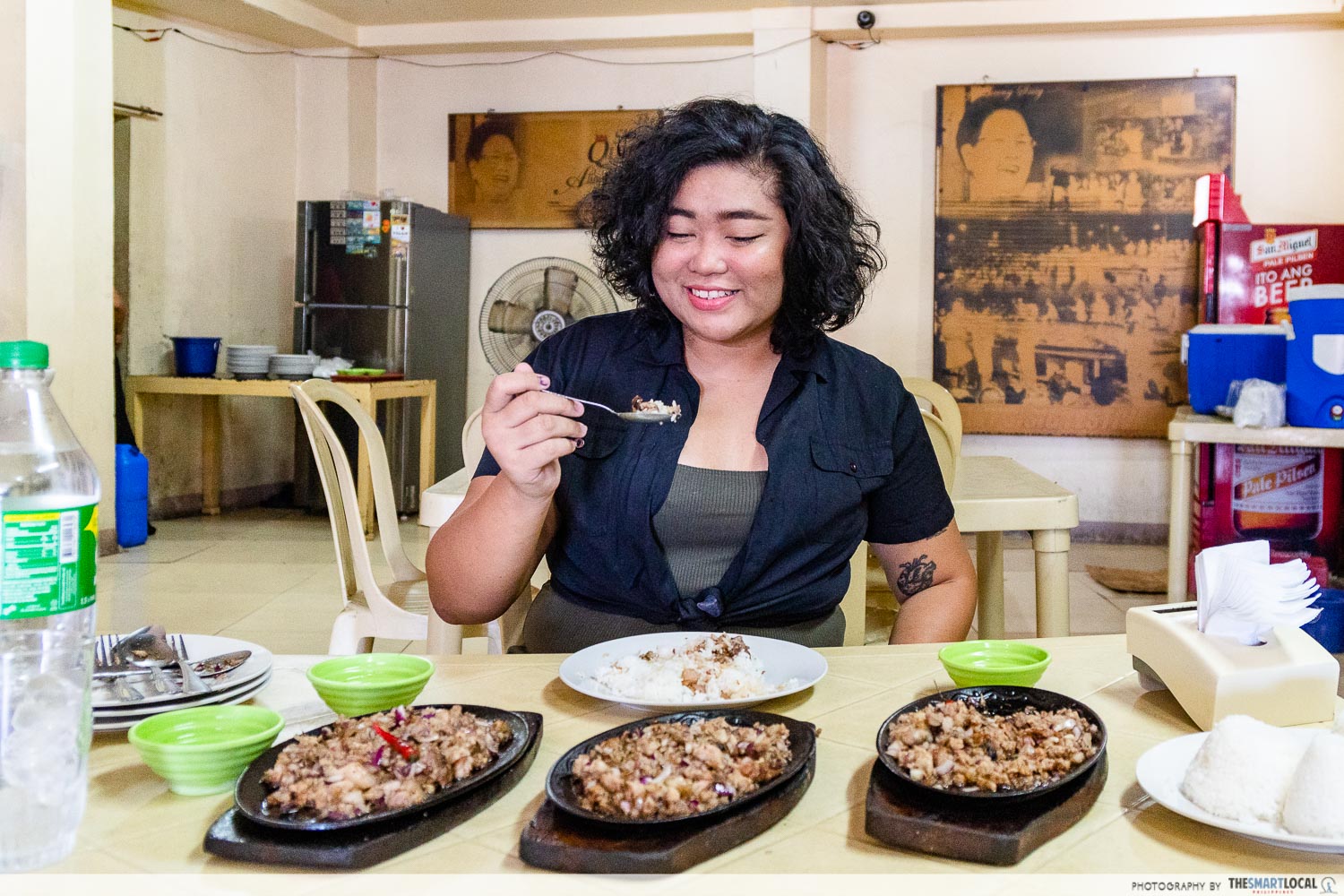 Appreciating Aling Lucing's sizzling sisig with rice. 
But like any other sisig iteration, Aling Lucing's original recipe is also best enjoyed with steaming white rice or an ice-cold beer.
---
Filipino barbecue in Pampanga
---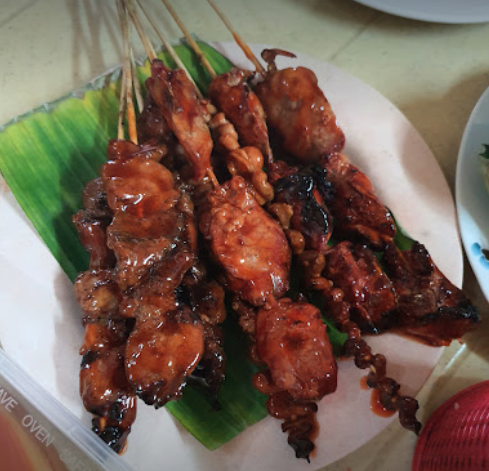 Filipino pork bbq skewers. 
Image Credit: Rafael Ricarde
Before Aling Lucing came up with the sisig, they were originally a Filipino barbecue stand. They still serve inihaw na liempo (grilled pork belly) (P220, ~USD4.16), pork bbq skewers (P40, ~USD0.76), and grilled seafood, including catfish (P180, ~USD3.41).
They also offer grilled innards such as isaw (chicken intestine)(P30, ~USD0.57), chicken liver , and gizzard (P50, ~USD0.95); all of which are Filipino favorites for pulutan (dishes paired with beer).
---
Aling Lucing's frozen goods
---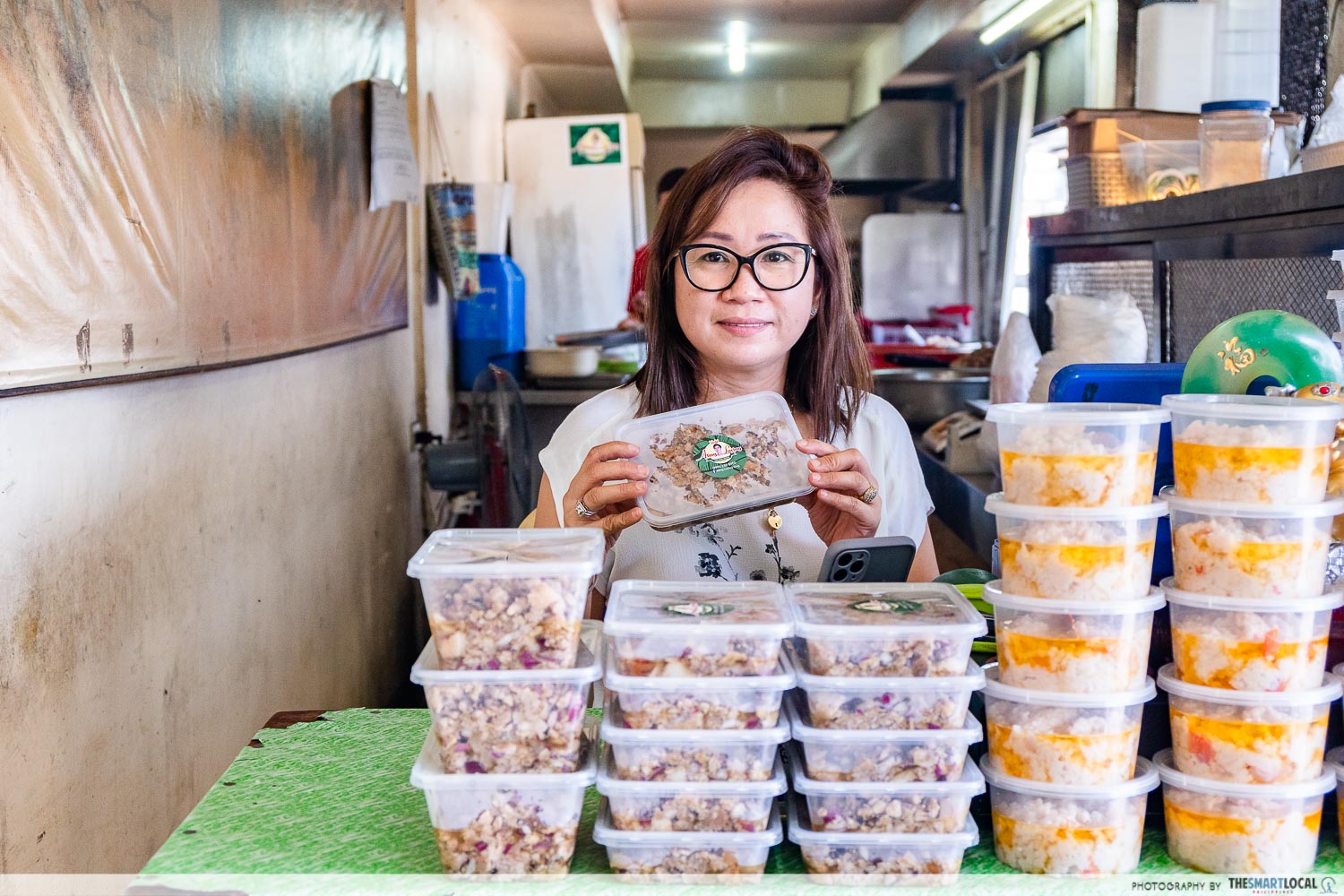 Aling Lucing's sisig for takeout.

Since the demand for Aling Lucing's sisig is pretty consistent even outside of Pampanga, they now offer bulk orders in frozen vacuum-sealed packs. These range from 280g for P230 (~USD5.30) up to 4kg for P2,300 (~USD43.51).
Having the option to buy either their freshly cooked sisig or a frozen one allows you to take a piece of culinary history wherever you go.
---
Authentic sisig in Pampanga since 1974
---
Sisig has already reached international recognition, from being featured by the famous Chef Anthony Bourdain to having different iterations that include being used for tacos and pizza.
However, the original dish definitely holds its ground as one of the tastiest Filipino dishes. So, when you find yourself up north, don't forget to drop by Aling Lucing Sisig in Angeles, Pampanga.
Address: Glaciano Valdez St, Angeles, Pampanga
Opening hours: Open Everyday 7 AM–12 AM
Visit other food spots around Pampanga, Philippines:
---
Photography by John Lery Villanueva.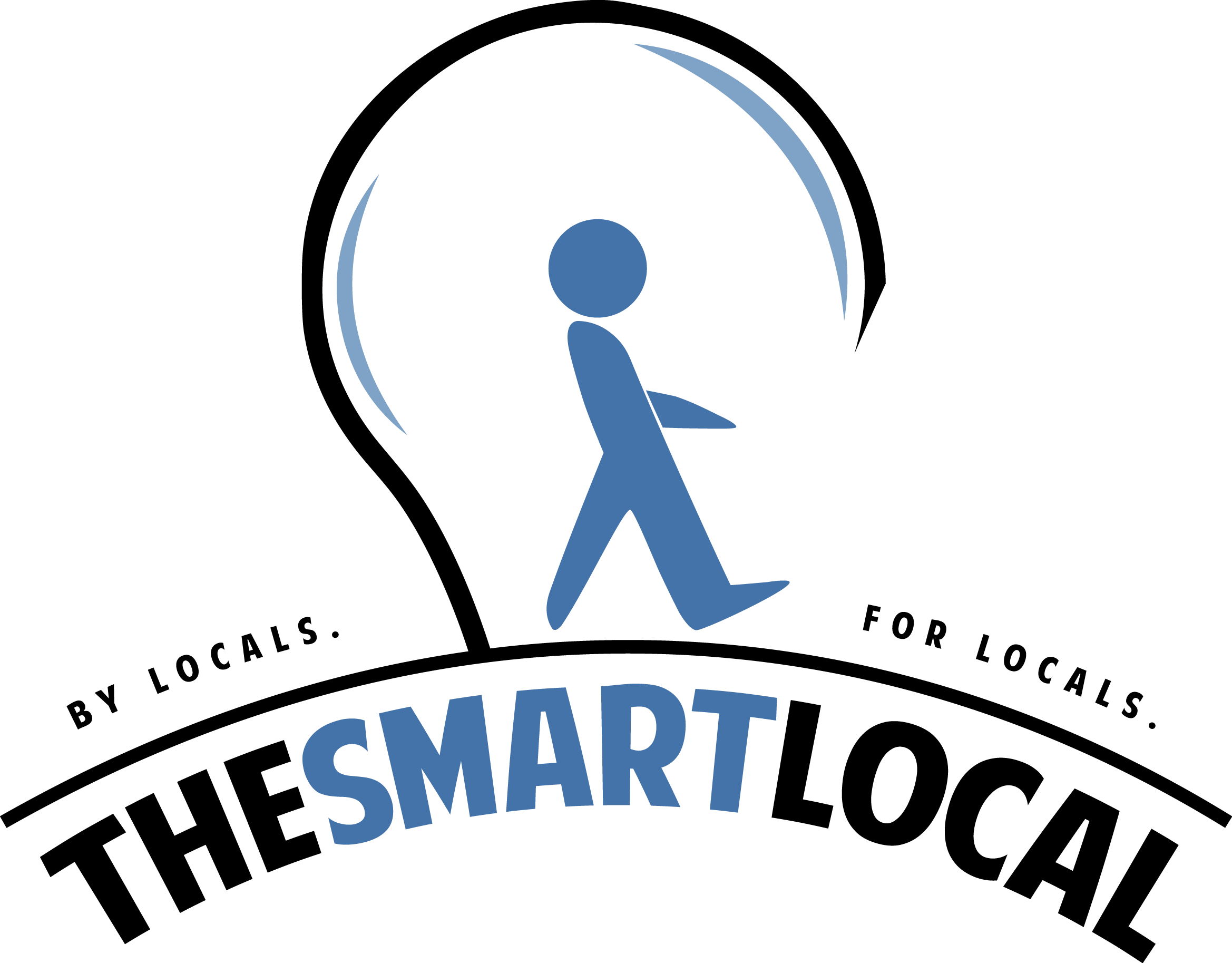 Drop us your email so you won't miss the latest news.