Online grocery websites in Metro Manila
---
With the COVID-19 fear making its rounds around the country, it's vital that we do our part by staying indoors to avoid potential exposure to the virus. Still, there are mouths to feed and necessities to buy, and though a few establishments remain open, many shops in Metro Manila have shut down. 
Stay put – these online grocery websites in Metro Manila that have remained open despite the enhanced lockdown can deliver what you need to you.
---
– Groceries such as home necessities, toiletries, and instant food –
---
1. Lazmart – cleaning supplies, instant food, home necessities
---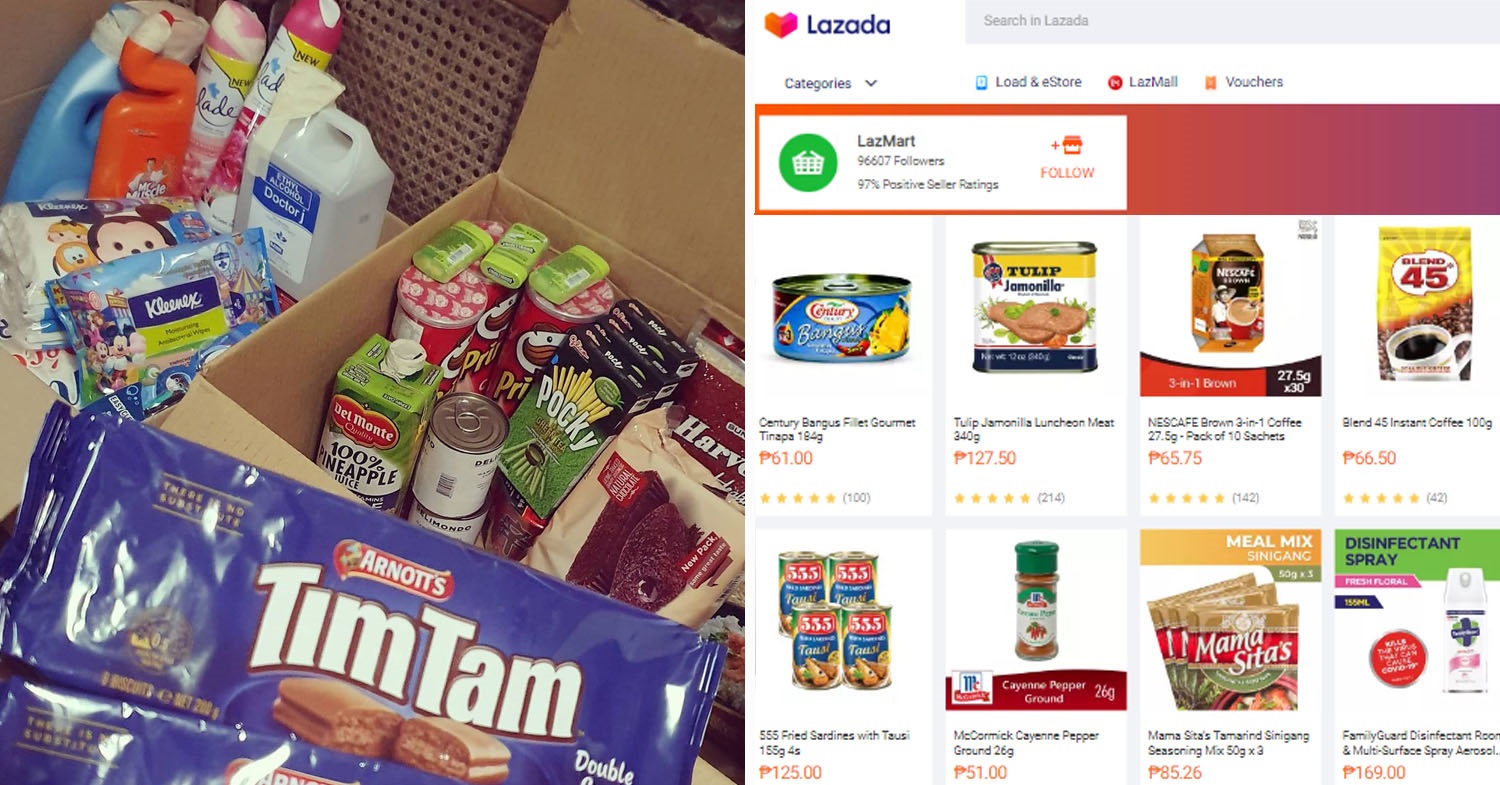 A Lazmall delivery and the online website
Image adapted from: Lazada and @jonastarr
Keeping the house clean and the family fed are essential during this period of time. So although Lazada may be suspending deliveries for your clothes, electronics, and random trinkets, LazMart remains up and running, providing basic groceries and essentials.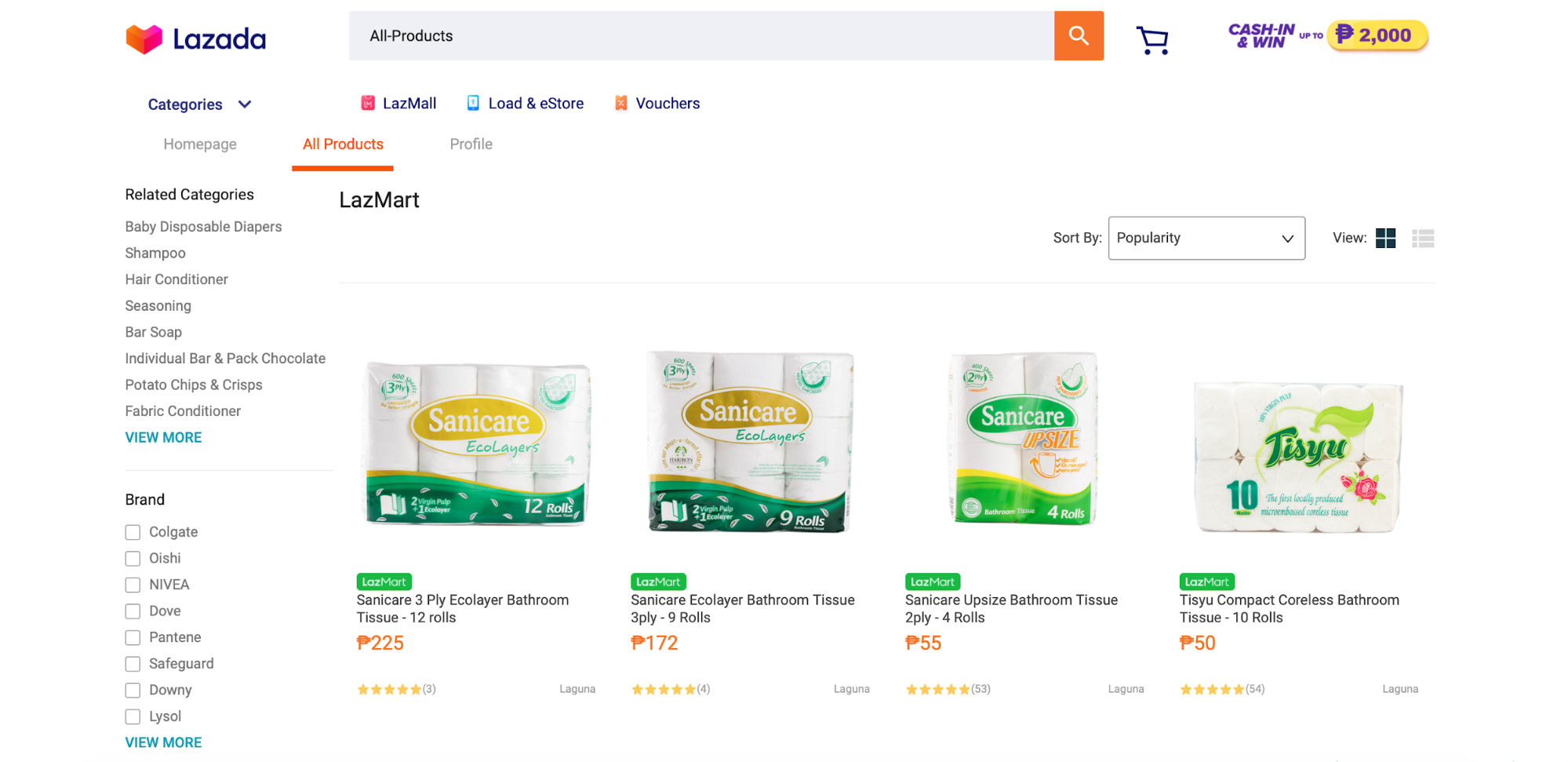 Image credit: Lazada
With over 18,800 items available on their online grocery website and app, Lazmart sells instant food, cleaning supplies, bottled water, and toiletries that all households need. Prices are affordable too, from P4.75 (~USD0.09) for small items such as shampoo sachets.

---
2. Landers – discounts and 1-for-1 promos on purchases
---

A typical Landers haul and the online website
Image adapted from: @iam.ady and @landersph 
Savvy shoppers are always on the lookout for discounts while prowling the aisles of physical grocery stores such as Landers, but even though you can now only shop on their online grocery website, you can still save a buck. With discounts of up to 50% off necessities to battle the virus, such as bleach, disinfectant sprays, and vitamins, prices are slashed down to at least P39.75 (~USD0.77). There are also buy-1-take-1 promos on items such as toiletries and biscuits.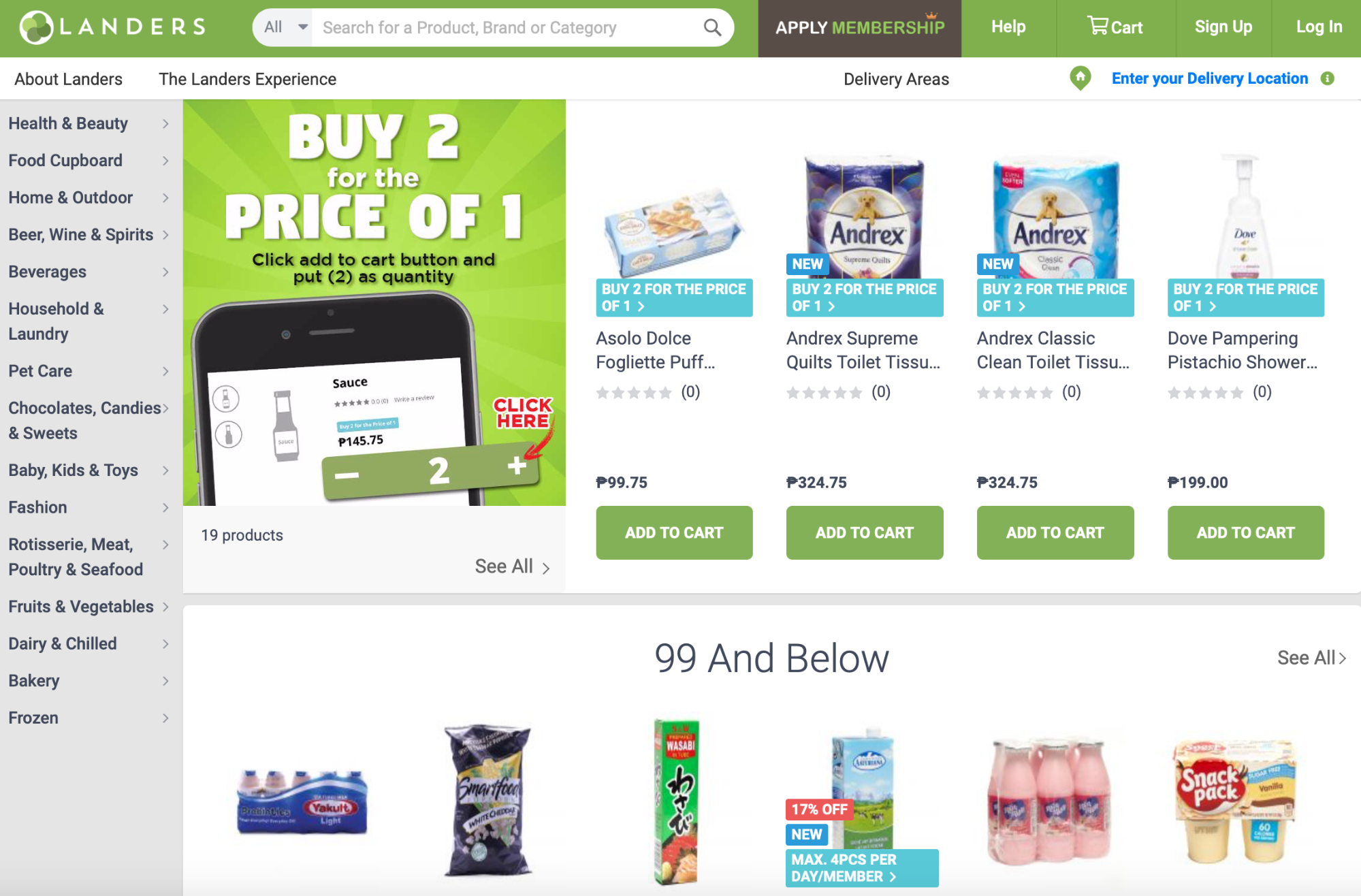 Image credit: Landers
Landers offers most of the items you would find along your physical grocery store aisles, from beverages to fresh and frozen produce to toiletries. Despite the many categories, the website makes it easy to find what you need, with sections such as "Stop The Spread Of Germs", and "Disinfect To Protect".
---
3. Metromart – partnered with big grocery stores & non-grocery establishments
---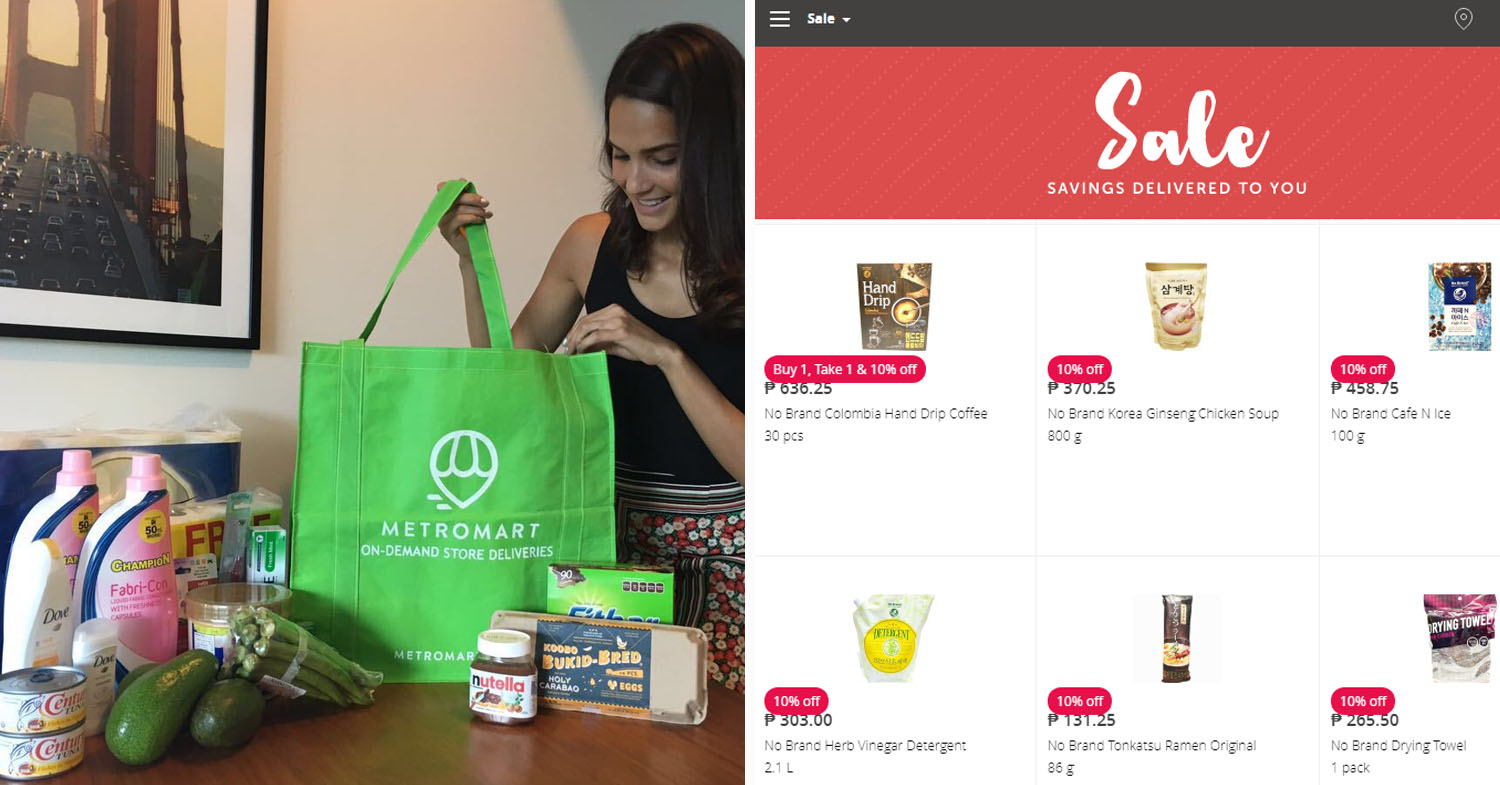 Image adapted from Metromart and Metromart

Rather than have your designated household representative travel to multiple stores to buy all you need, shop on the MetroMart app or website instead. You'll be able to shop from several grocery stores on just one website. These include grocery items from S&R and Rustan's, medicine from pharmacies such as Watsons and Generika Drugstore, pet care from Dogs and the City, and baby products from Chicco.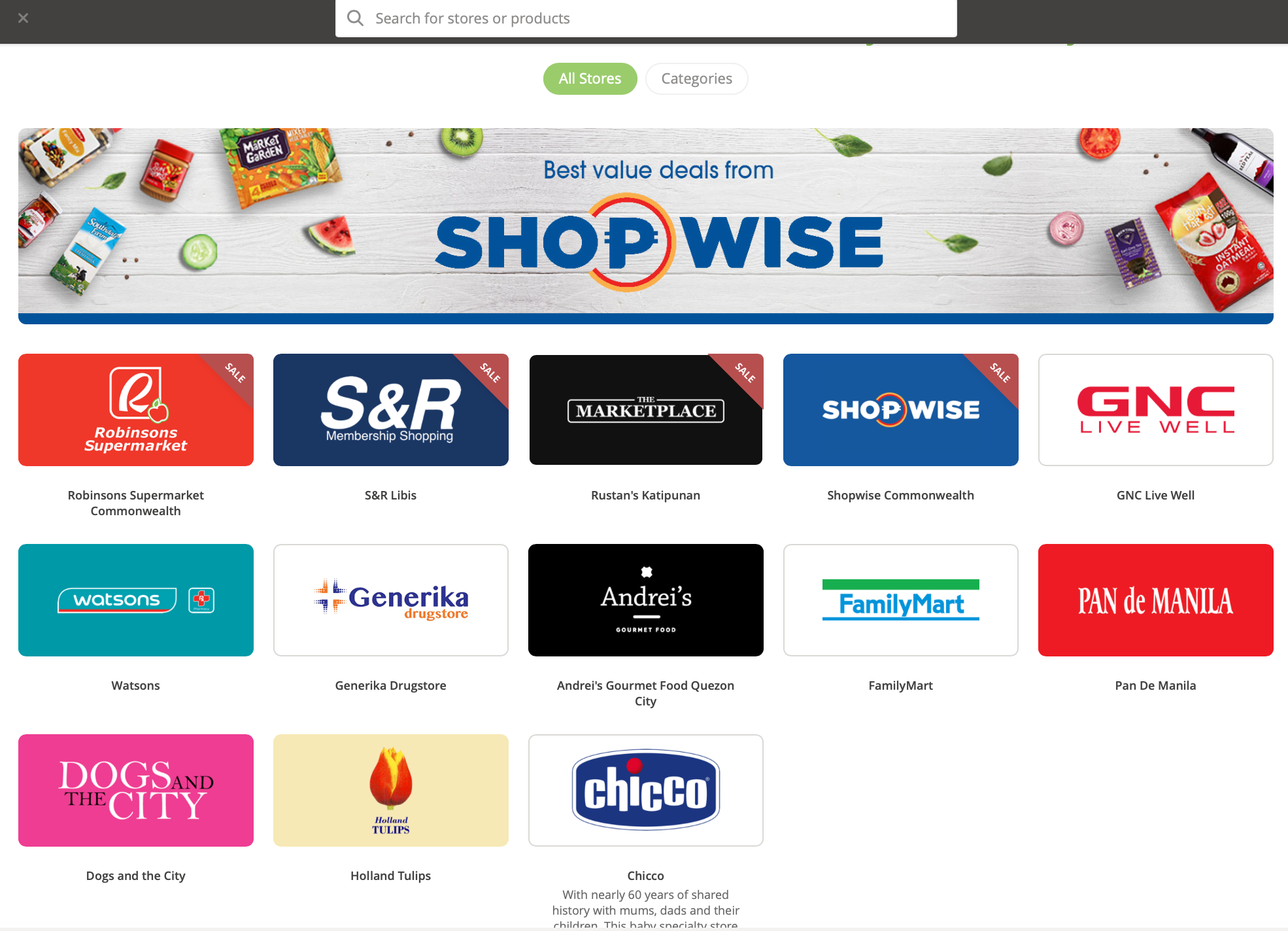 Image credit: MetroMart
However, because of high demand on their app and website, they can't guarantee their usual 2-hour delivery period – but you will still save your family a lot of travel time and hassle. 
---
4. WalterMart Supermarket – pick up all your basic necessities in person
---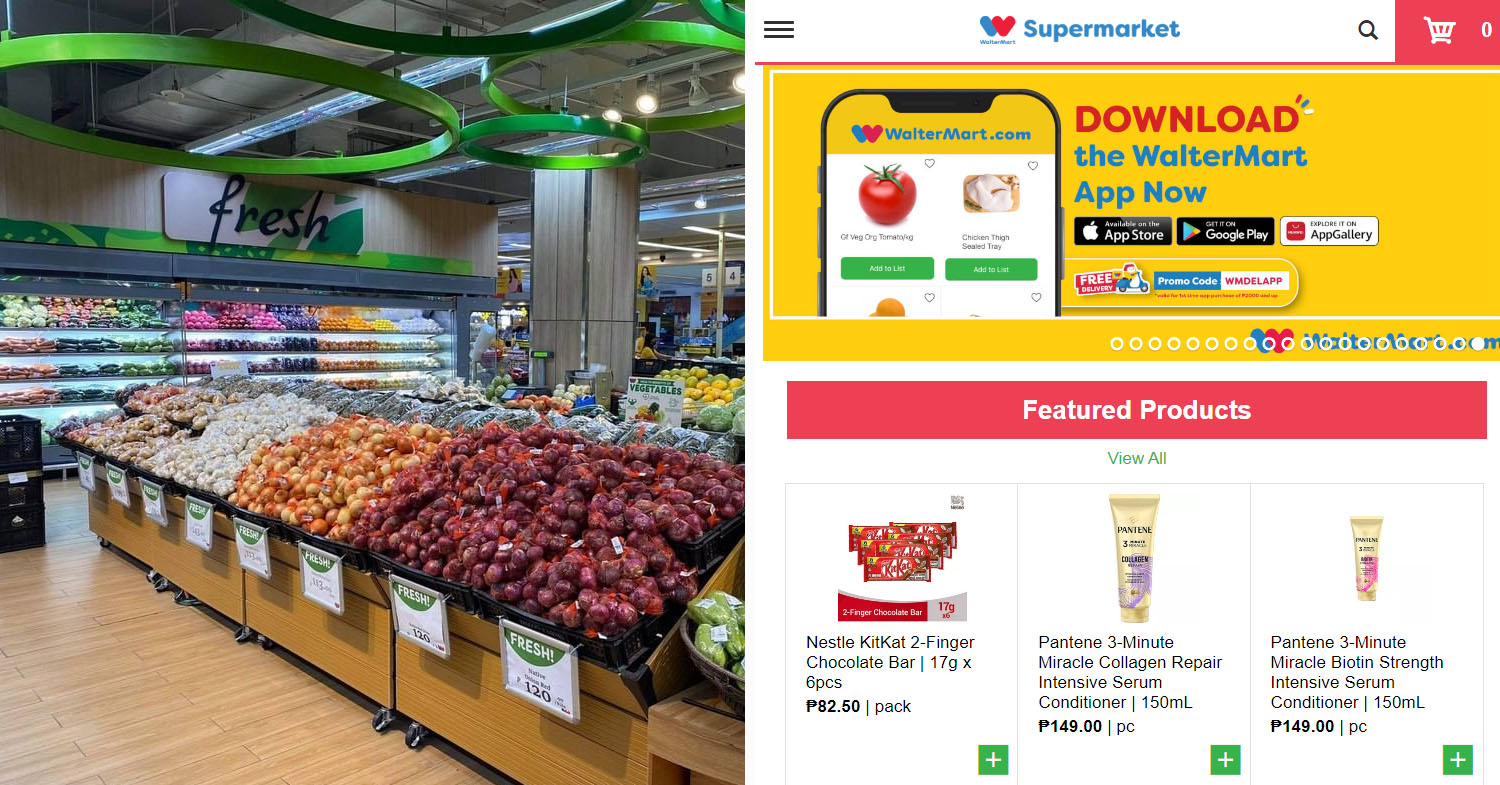 Image adapted from @freshbuysph and Waltermart
Some shoppers still prefer buying in person, but spending too much time walking about a store can potentially expose you to others. Instead, order on WalterMart Supermarket to get your groceries delivered to your doorstep, or arrange for an in-person pickup at any of their 6 branches.
The 6 branches where pickup is available are Makati, Pasay, North EDSA, Sucat, Taytay, and Dasmariñas. However due to high demand, delivery and pick up slots are full until 26th March. Stay posted on their Facebook page – new slots will be opening up in the following days.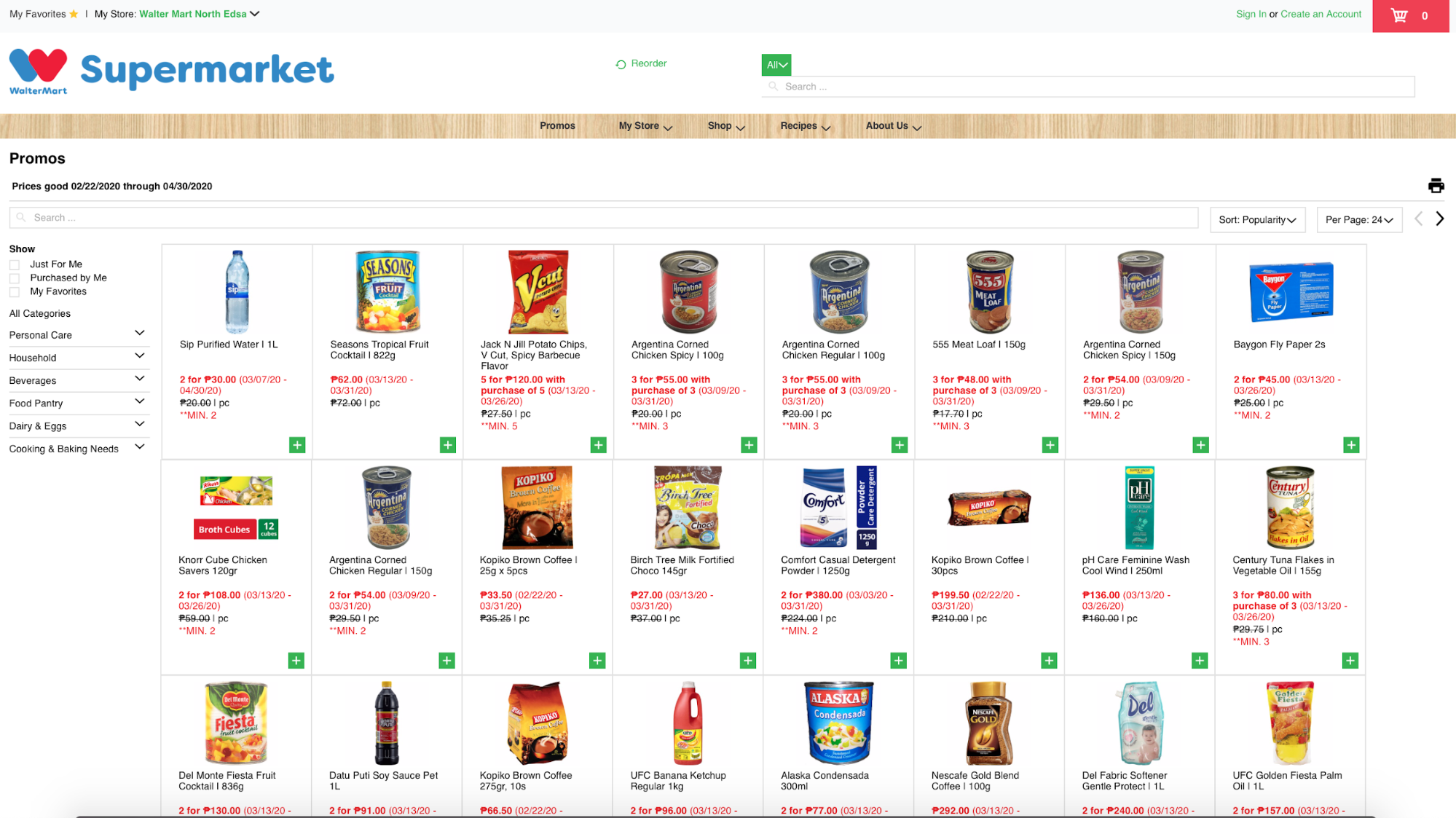 Image credit: WalterMart Supermarket
You can use this time to gradually fill your cart. There's plenty to shop for at WalterMart – you'll find fresh produce, biscuits and chocolates, toiletries, and baby essentials such as milk and diapers, from P3.50 (~USD0.07) for small snacks.
---
– Fresh fruits and vegetables –
---
5. Bukid Fresh – fair prices set by local farmers, with bayong baskets
---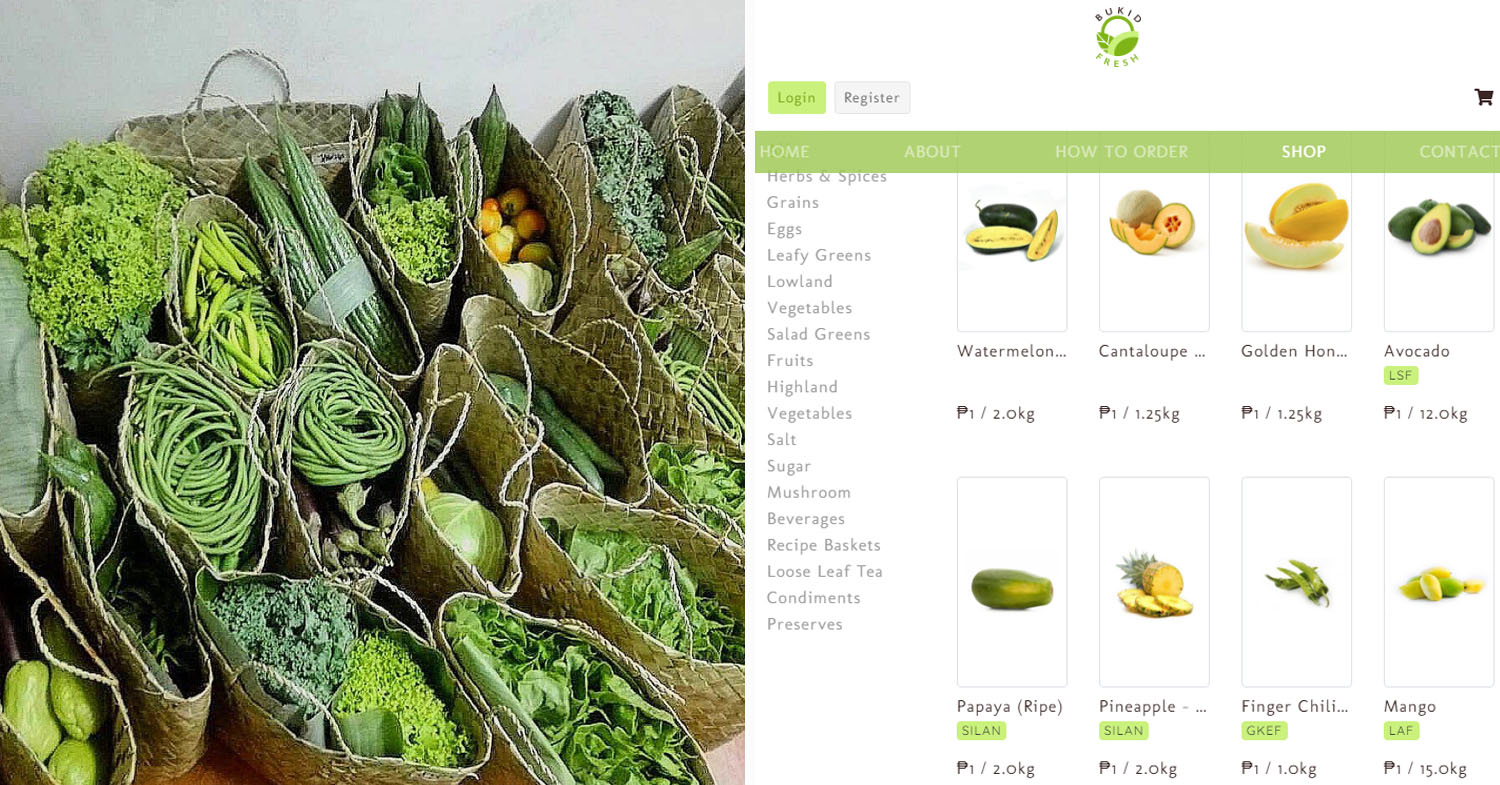 Image adapted from: @trylocalph and Bukid Fresh
When stocking up for a few weeks' worth of meals in your house, it's tempting to default to only canned food and sundries when you're shopping on online grocery websites, but you shouldn't forget your fresh greens as well. Bukid Fresh's fruits and vegetables come straight from local farmers, and are then delivered right to your doorstep. Ingredients are separated into different bayongs, or vegetable baskets, for different dishes – helpful for newbie chefs who are unsure what goes into what dish.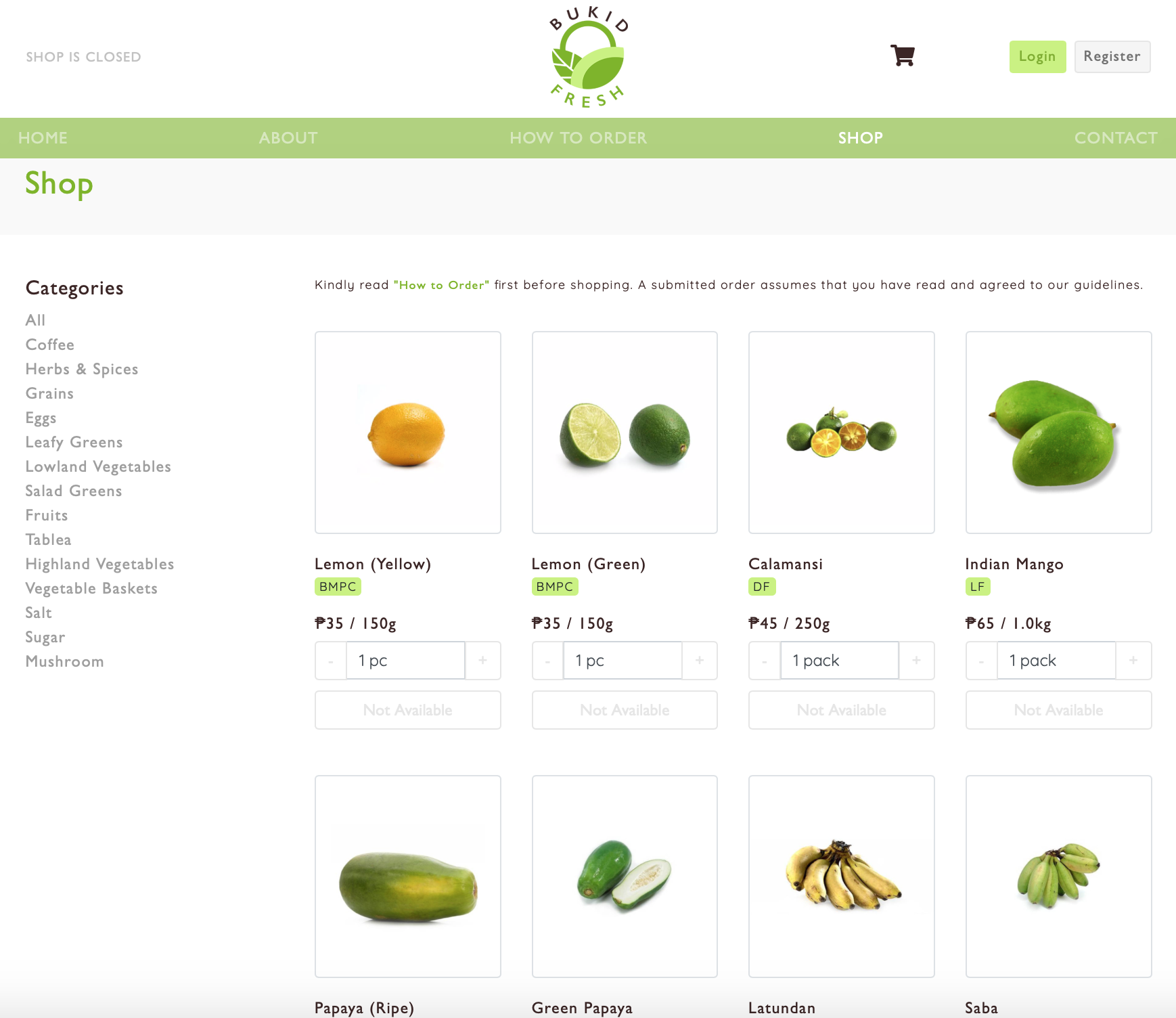 Image credit: Bukid Fresh
To name a few, they have bayongs for the vegetables that go into bulalo (boiled beef soup with beef shank and bone marrow, vegetables, and fish sauce), pancit (fried noodles with meat and veggies), and nilaga (boiled beef in broth) from P200 (~USD3.91).
You can also shop for individual ingredients, from P25 (~USD0.49) for fresh fruits, vegetables, and eggs, and packs of coffee, sugar, and salt. Under the current quarantine period's guidelines, you can have your purchases delivered on Wednesdays and Saturdays.
---
6. Limon Farms – organic pork, chicken, and eggs
---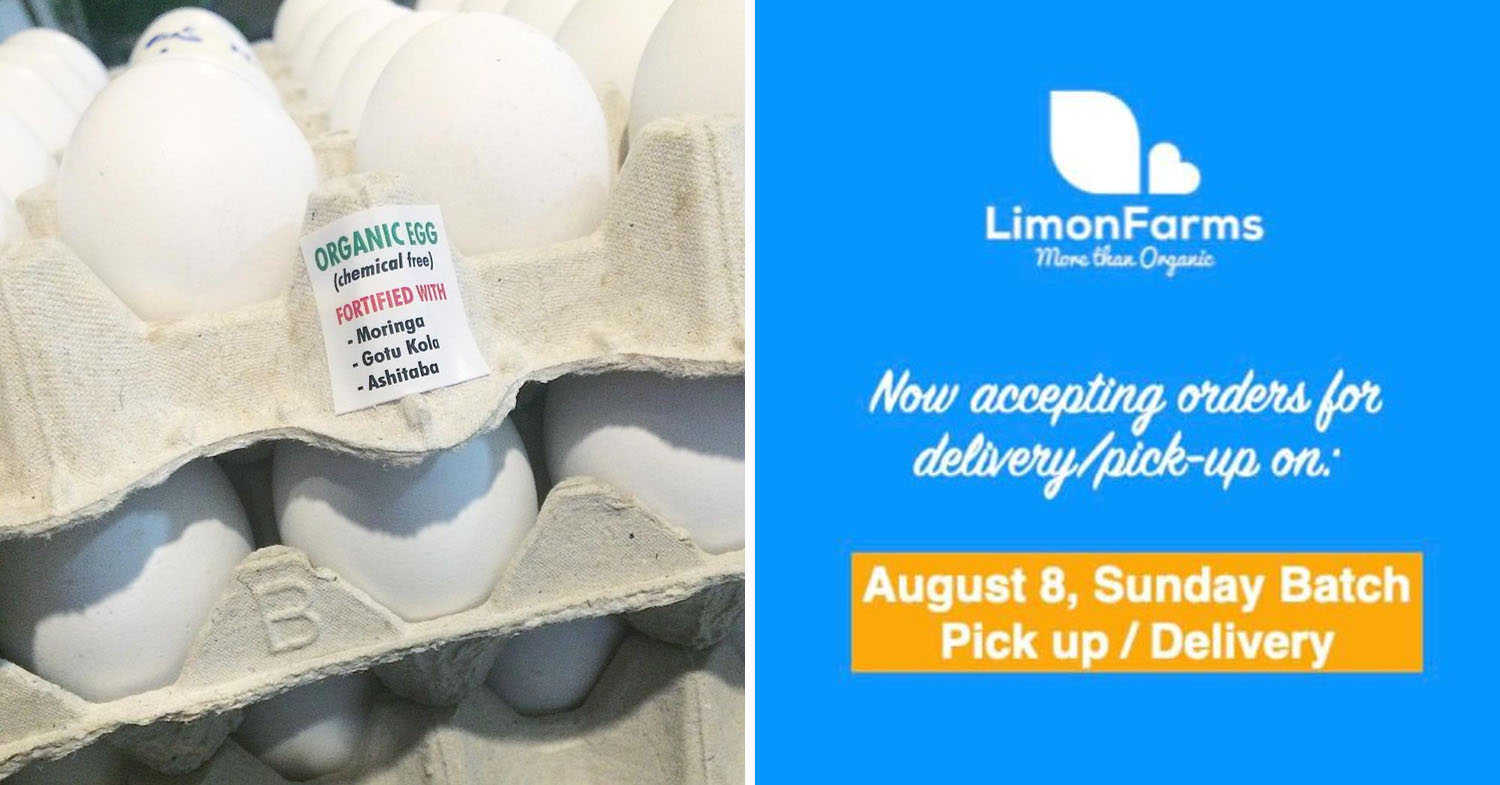 Image adapted from @limonfarms and Limon Farms
Not only are there health benefits to fresh fruits and veggies, but organic meat and eggs fresh from the farm are also more nutritious. Straight from their local farm in Rosario, Batangas, Limon Farms offers organic pork, chicken, and eggs from P125 (~USD2.44). To ensure the freshness of their products, they'll only be opening slots for delivery or pick-up on certain dates, such as 28th March, 4th April, and 14th April so far, but you can drop your orders in their inbox ahead of time.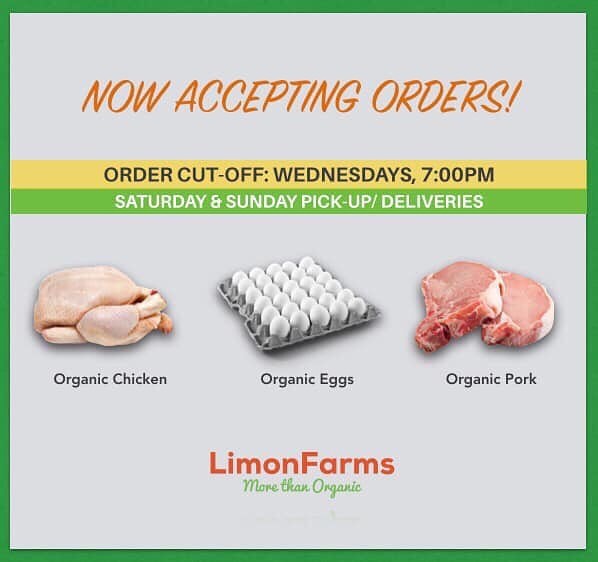 Image credit: @limonfarms
They deliver to Quezon City and Bonifacio Global City, with free delivery to Saint Ignatius, White Plains, Corinthian Gardens, Greenmeadows, Alta Vista, and Blue Ridge, and do pick-ups in Quezon City. For those who live in other areas, you can arrange for a Grab or Lalamove rider to pick up your order.

---
7. FreshProduce – next-day delivery of fresh produce
---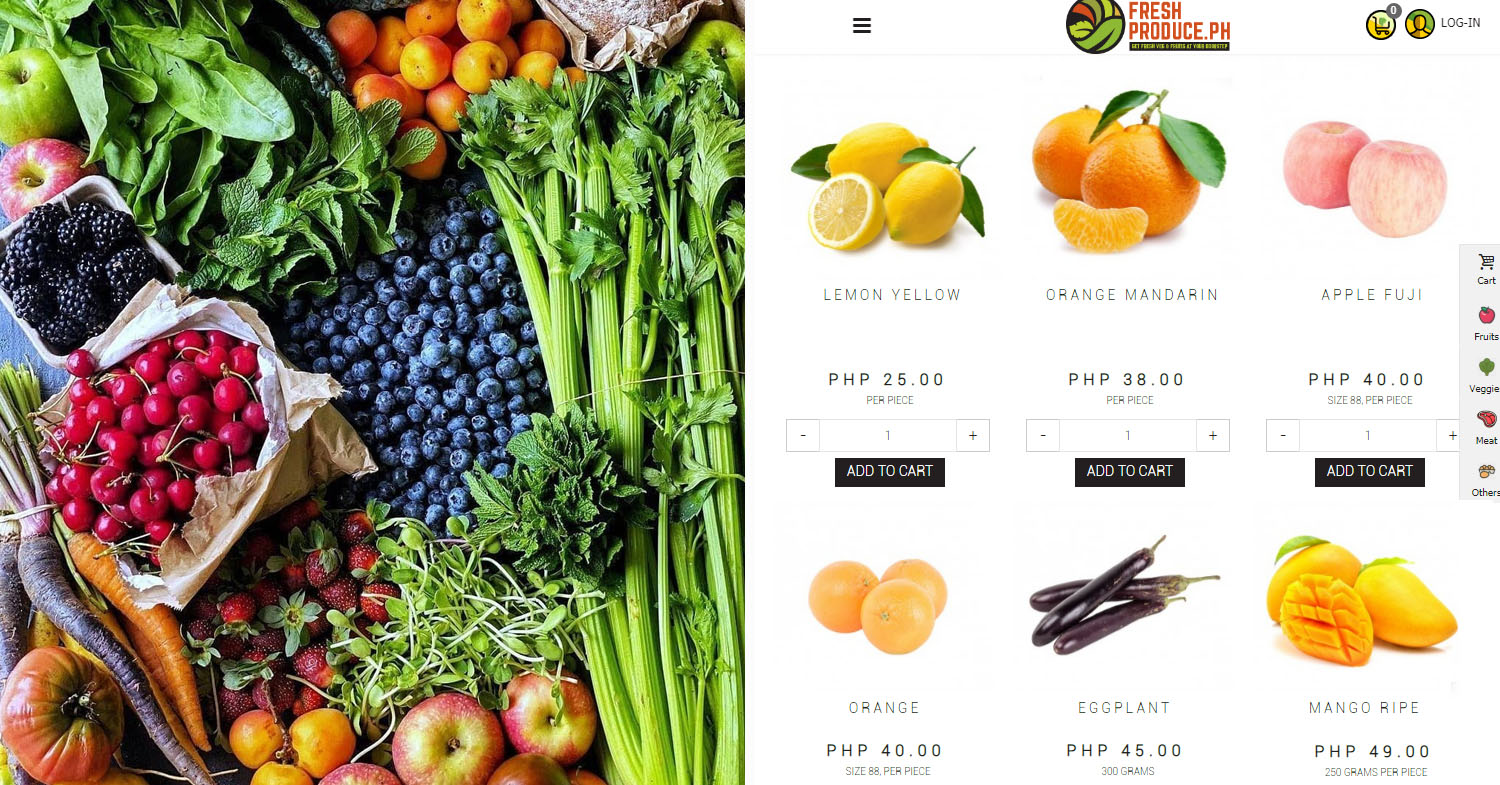 Image credit: @freshproduce.ph and FreshProduce
Fresh fruits and vegetables will give you the nutrients you need to battle any virus and sickness or simply build your immune system – and with FreshProduce PH's next-day delivery service, you'll get them as soon as possible.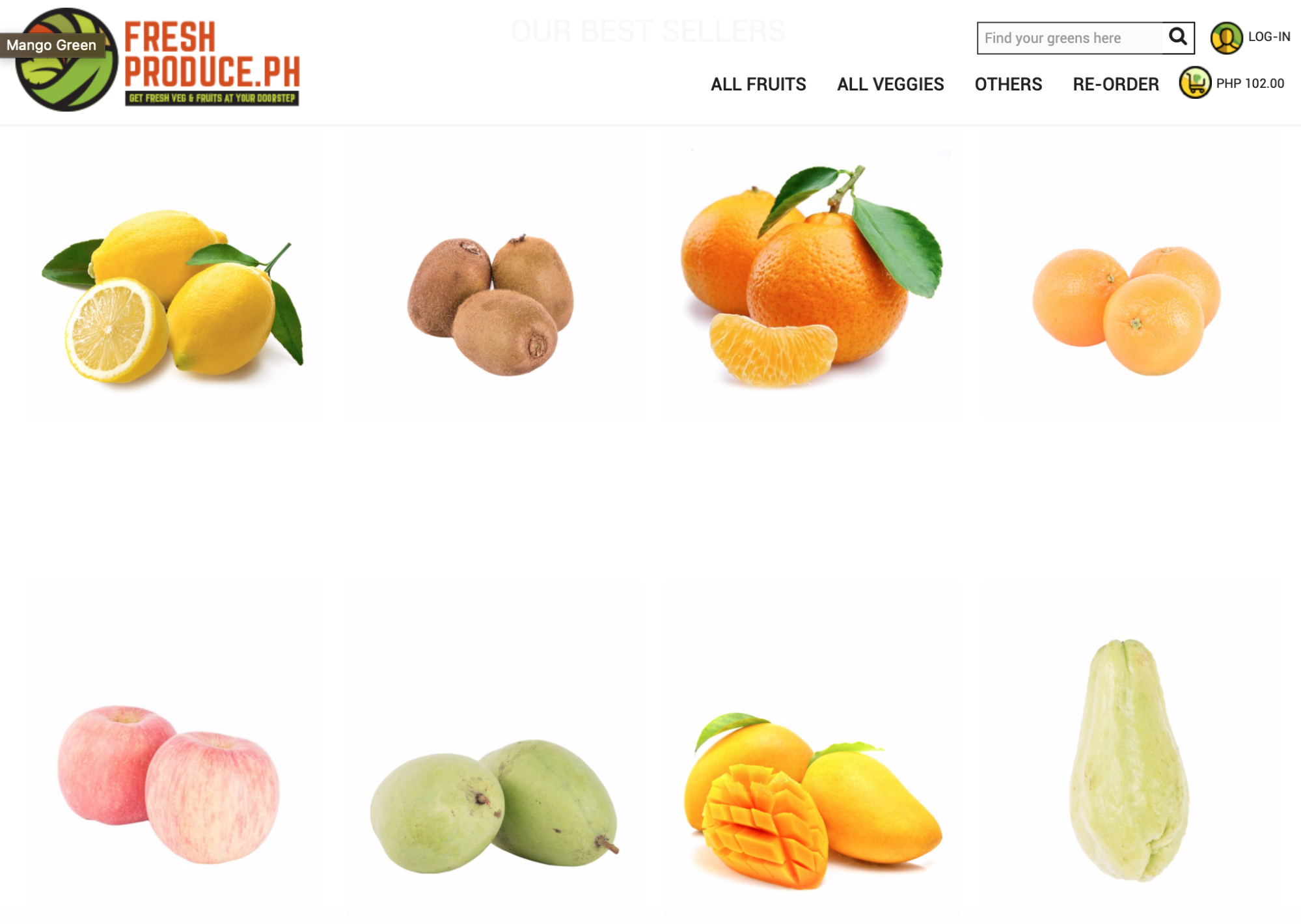 Image credit: Fresh Produce
FreshProduce provides produce harvested at the peak of their freshness, and uses refrigerated delivery vans to ensure such freshness even upon delivery. You can purchase their fruits from P30 (~USD0.59) a piece, and vegetables from P70 (~USD1.37) per 300 grams.
---
8. Zagana – flat delivery fee
---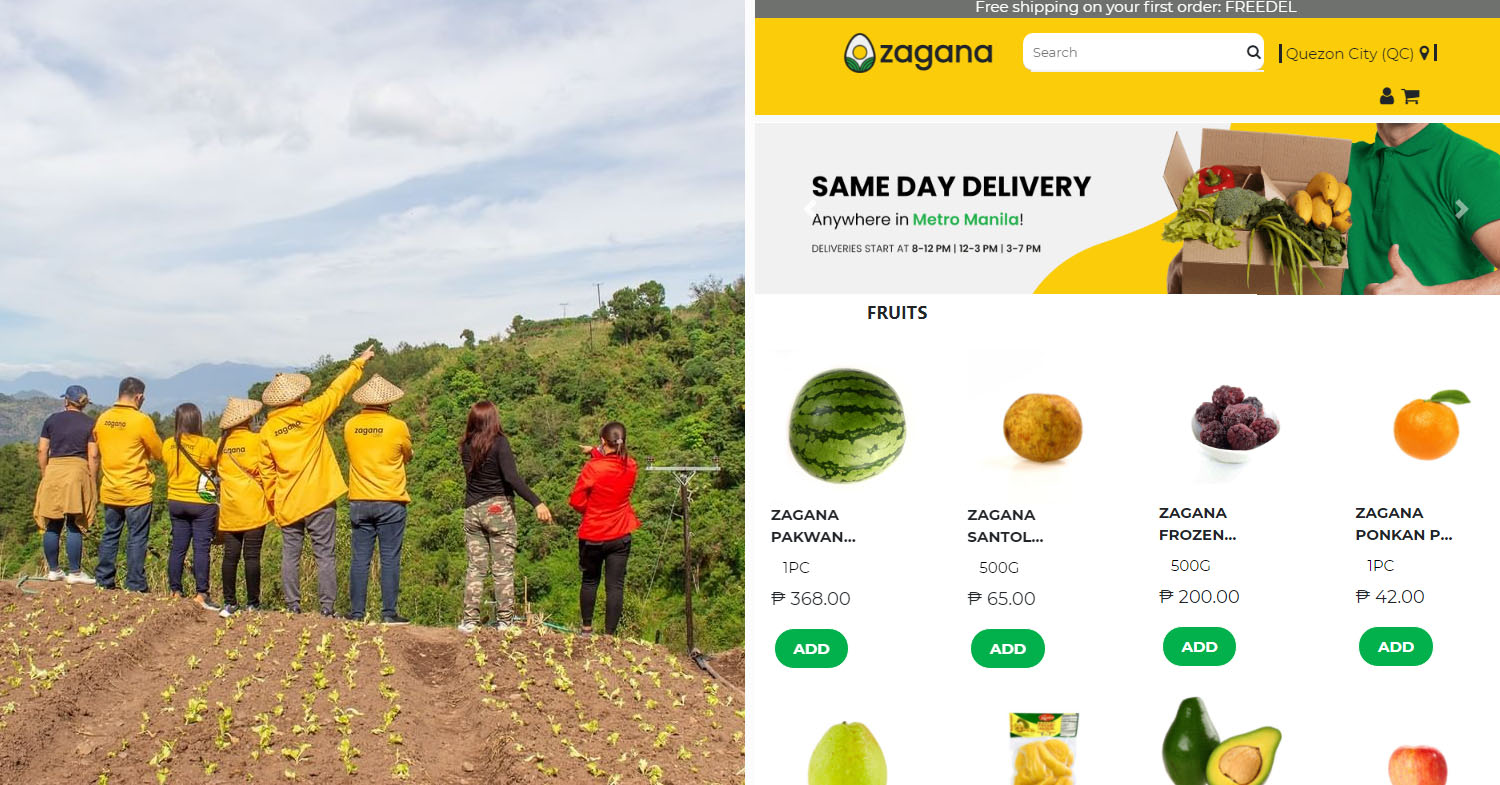 From farm to your doorstep
Image adapted from: @zagana.com.ph and Zagana – Farm to Kitchen
For just a P99 (~USD1.93) delivery fee to most parts of Metro Manila, from Quezon City until Caloocan, you can get your fresh fruits, vegetables, dairy, and meat delivered to your doorstep.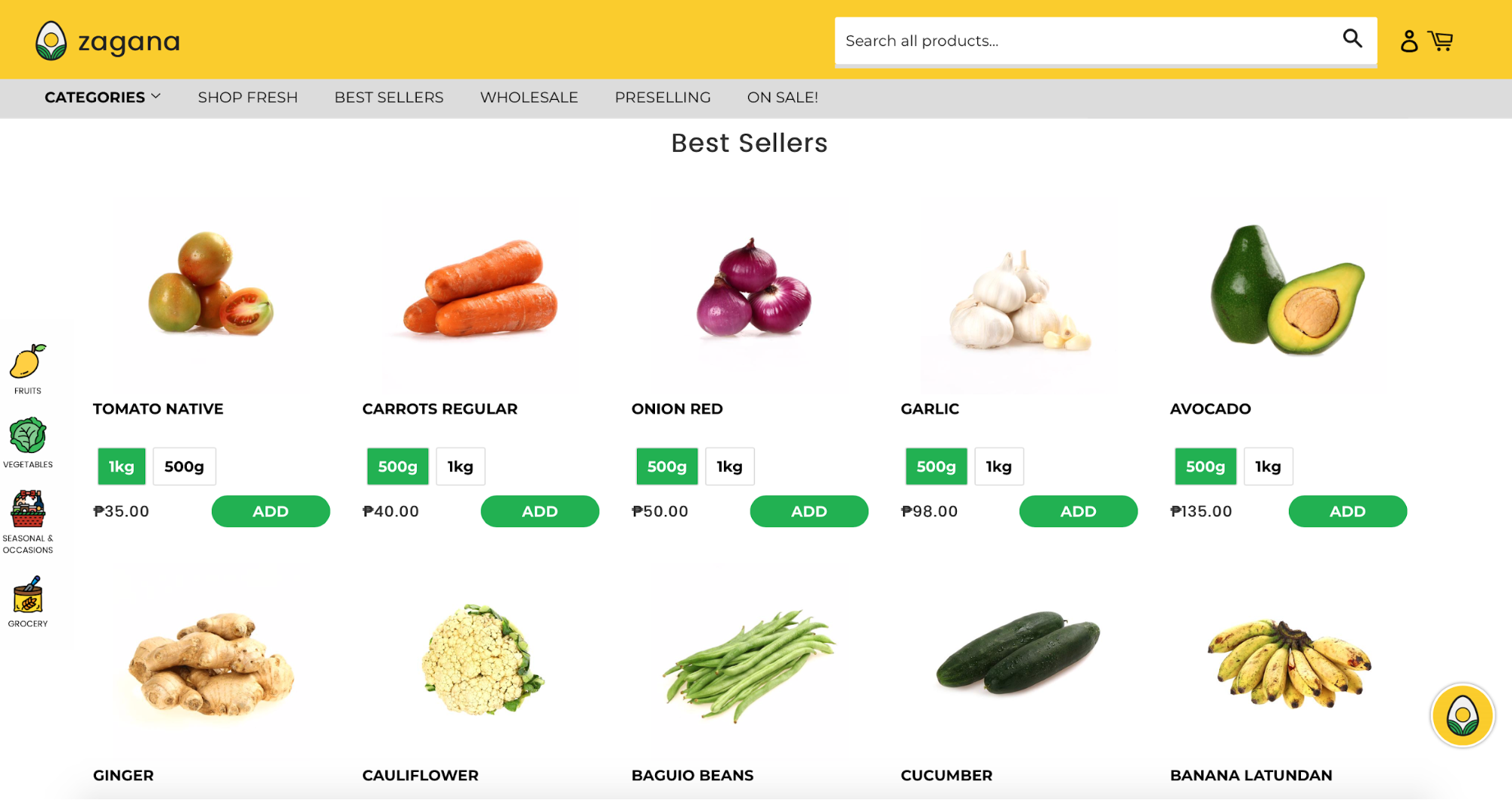 Image credit: Zagana
Delivered directly from the source, you can get your produce such as brown and adlai rice, packed vegetable mixes for chopsuey, pancit, ginisang ampalaya (sautéd bitter gourd), and eggs, from P20 (~USD0.39). You can even grow your own herbs such as arugula and basil with their grow kits for P150 (~USD2.93).
---
9. Session Groceries – fresh produce from Benguet serving the south of Manila
---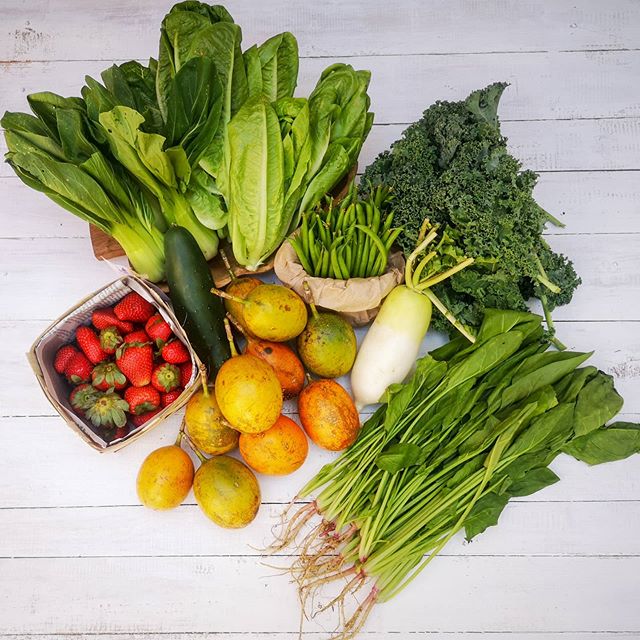 Image credit: @gel.anne.gee
If you're from the South and you're having trouble looking for online grocery websites that deliver to your area, download the Session Groceries app, or shop on their Facebook page.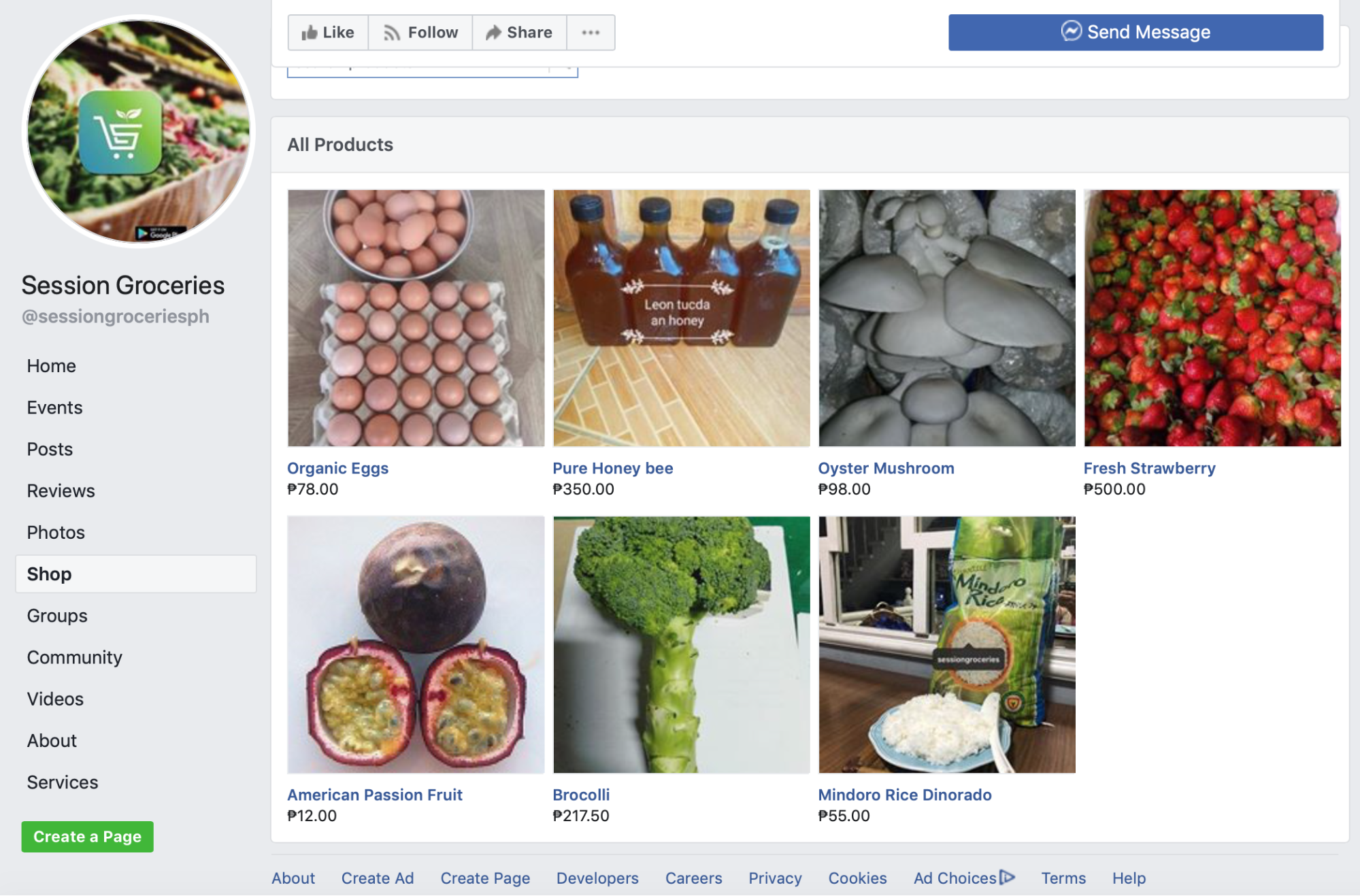 Image credit: Session Groceries
They're one of the few online groceries that deliver to areas in the south of the metro, such as Parañaque, Muntinlupa, and Cavite. You can get produce straight from local farmers such as Mindoro rice, fresh Benguet strawberries, pure honey bee, and oyster mushrooms, from P12 (~USD0.23).
---
10. Always Fresh PH – exotic fruits
---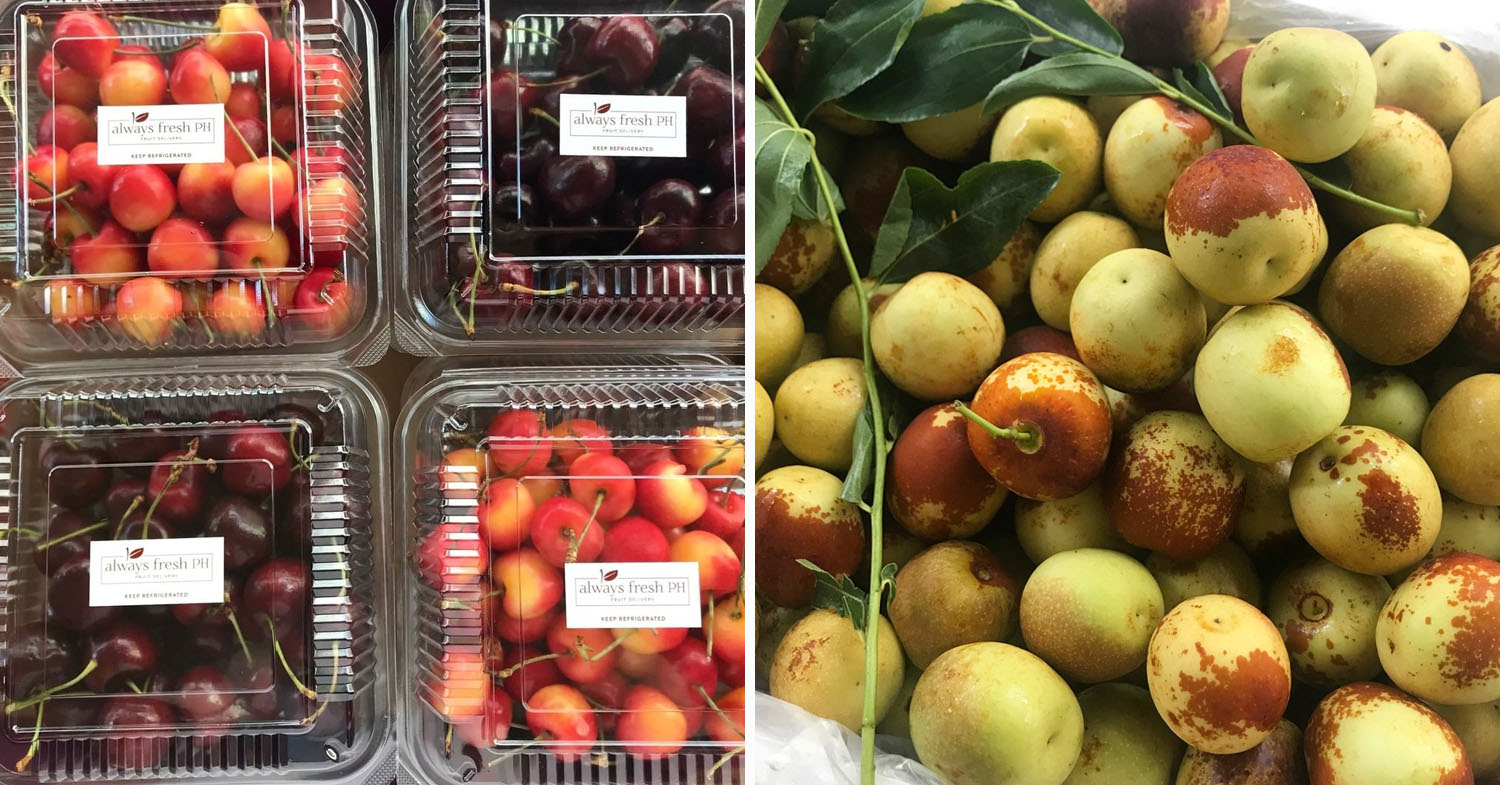 Image adapted from: @alwaysfreshph and Always Fresh PH
For unique fresh fruits that pack just as much vitamins and nutrients as your usual apples and oranges, Always Fresh PH can provide them for you. Aside from the usual local fruits, they offer South African figs, pomegranates, and red guavas from P100 (~USD1.95).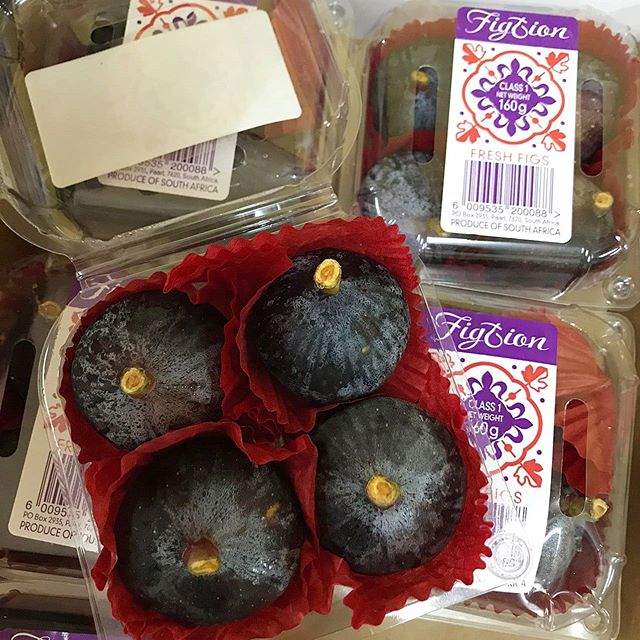 Image credit: @alwaysfreshph
Because of the lockdown, they can't arrange for deliveries themselves, so you need to book your own rider via Grab or Lalamove. However, you can still place your orders via Facebook Messenger.

---
11. Future Fresh – leafy vegetables
---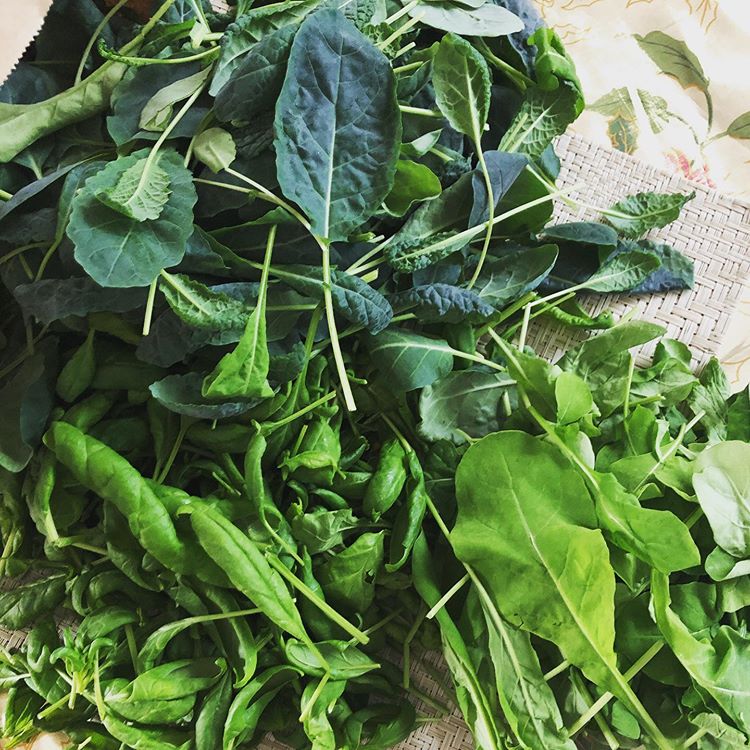 Image credit: @isipanini
Leafy vegetables may not keep long and can run out fast, but they are essential to health. If you're in need of some, try out Future Fresh. Besides the usual lettuce and cabbage, they also have unique leafy vegetables, such as baby swiss chard, coriander, and kale from P150 (~USD2.93).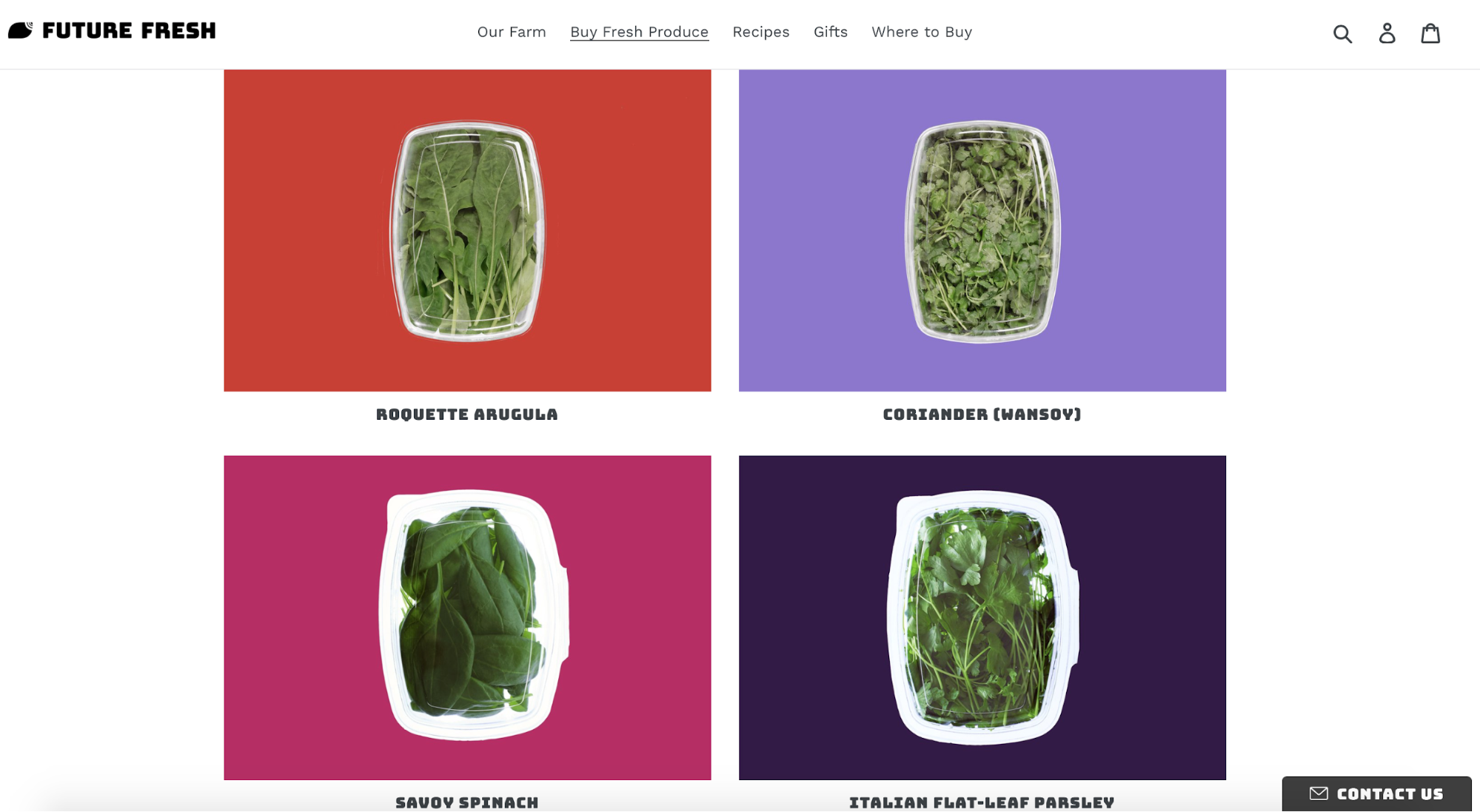 Image credit: Future Fresh
You won't be in danger of overbuying veggies and having them rot in the fridge because you don't have enough mouths to eat them. The website makes it easier to estimate how much you'll need, since they suggest how much is good for one person, two, or more people. If you're in a rush, don't forget to order in advance, since deliveries are made the day after you place your order.

---
– Seafood and meat –
---
12. Rare Food Shop – quality, vacuum-sealed meat and seafood
---

Image adapted from @flipperds and Rare Food Shop
Rare Food Shop delivers high quality meat and seafood to cities around Metro Manila. To ensure the same freshness and sanitation of meat from your local butcher shop, products are vacuum-sealed upon delivery.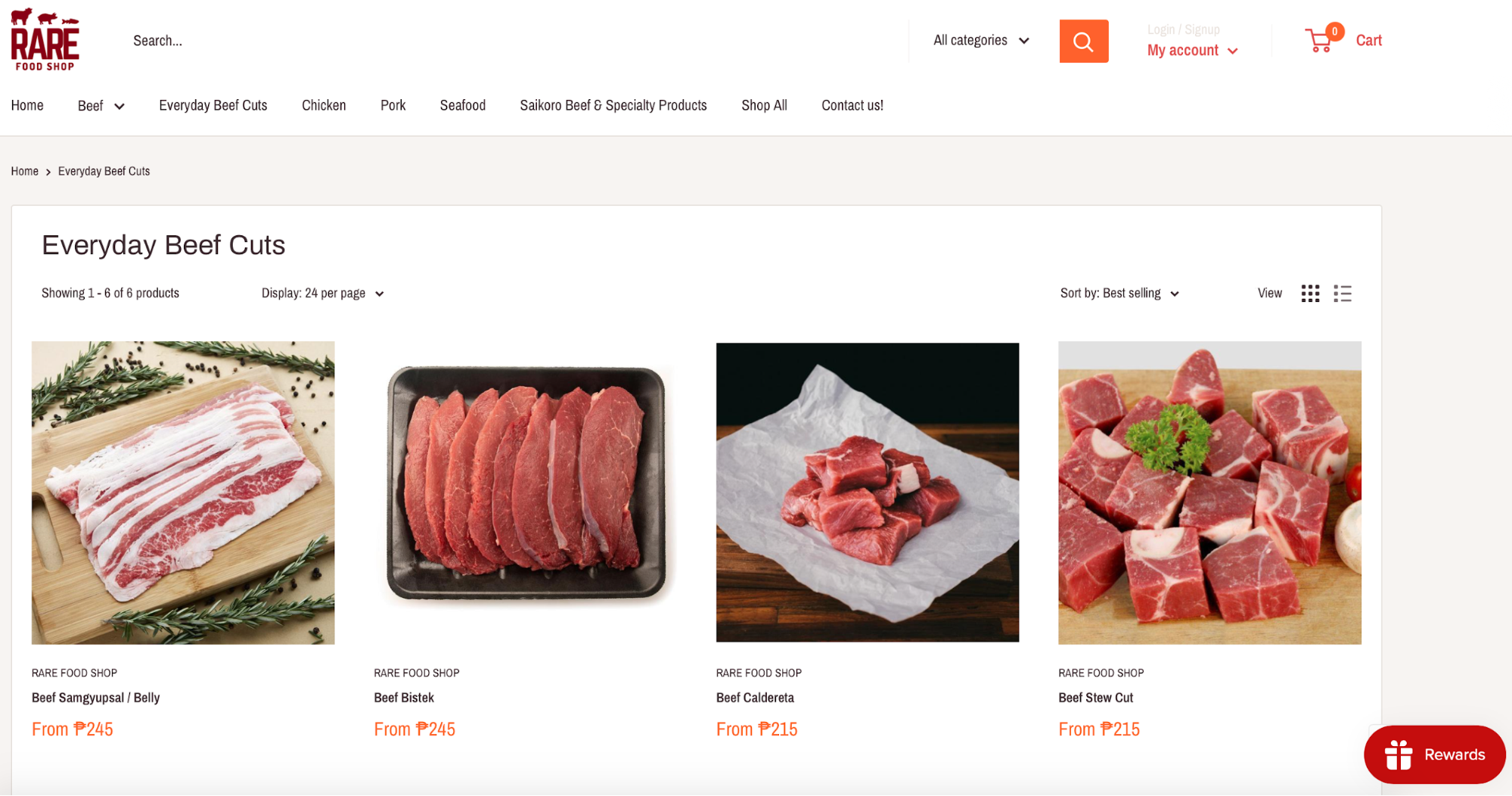 Image credit: Rare Food Shop
They have meats for whatever dish you want to make at home, so your family can have a feast even when you have nowhere to go. Choose from salpicao (beef sirloin cubes), caldereta (beef stew), sashimi, and even samgyupsal for KBBQ – from P620 (~USD12.11) for chicken, P565 (~USD11.04) for beef, P170 (~USD3.32) for pork, and P500 (~USD9.77) onwards for seafood. You can also get premium cuts of wagyu and angus steak here.

---
13. Pacific Bay Seafood – filleted fish and shellfish
---
Image adapted from: @pacificbayph and Pacific Bay Seafood

For an occasional change from pork, beef, and chicken, Pacific Bay provides a variety of seafood, from fish such as cream dory and salmon for P115 (~USD2.25), to different types of shellfish, from clams and scallops for P379 (~USD7.40) to shrimps and squid for P325 (~USD6.35).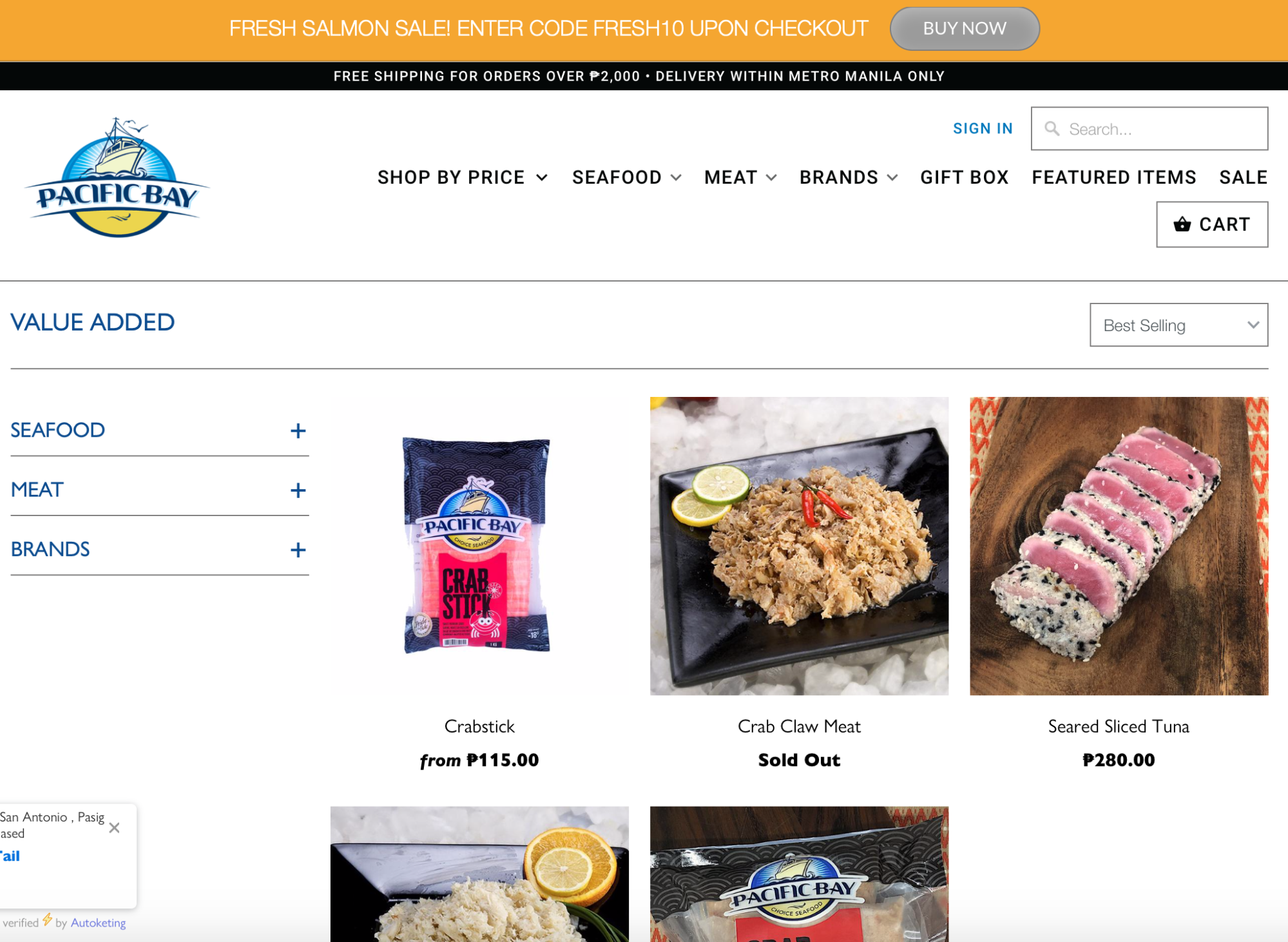 Image credit: Pacific Bay Seafood
Because of the influx of orders, they can no longer guarantee same-day delivery, but you can still place your orders – just expect a little more waiting time than usual.
---
14. Mister Delicious – frozen ulam (viands)
---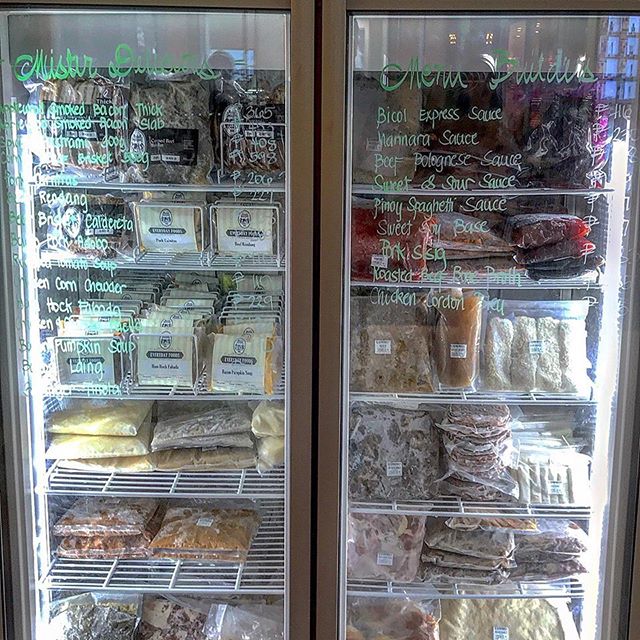 Image credit: @mrdeliciousph
If you're stuck in your apartment alone and you haven't cooked a single meal in your life, Mister Delicious's microwavable meals will make your life easier.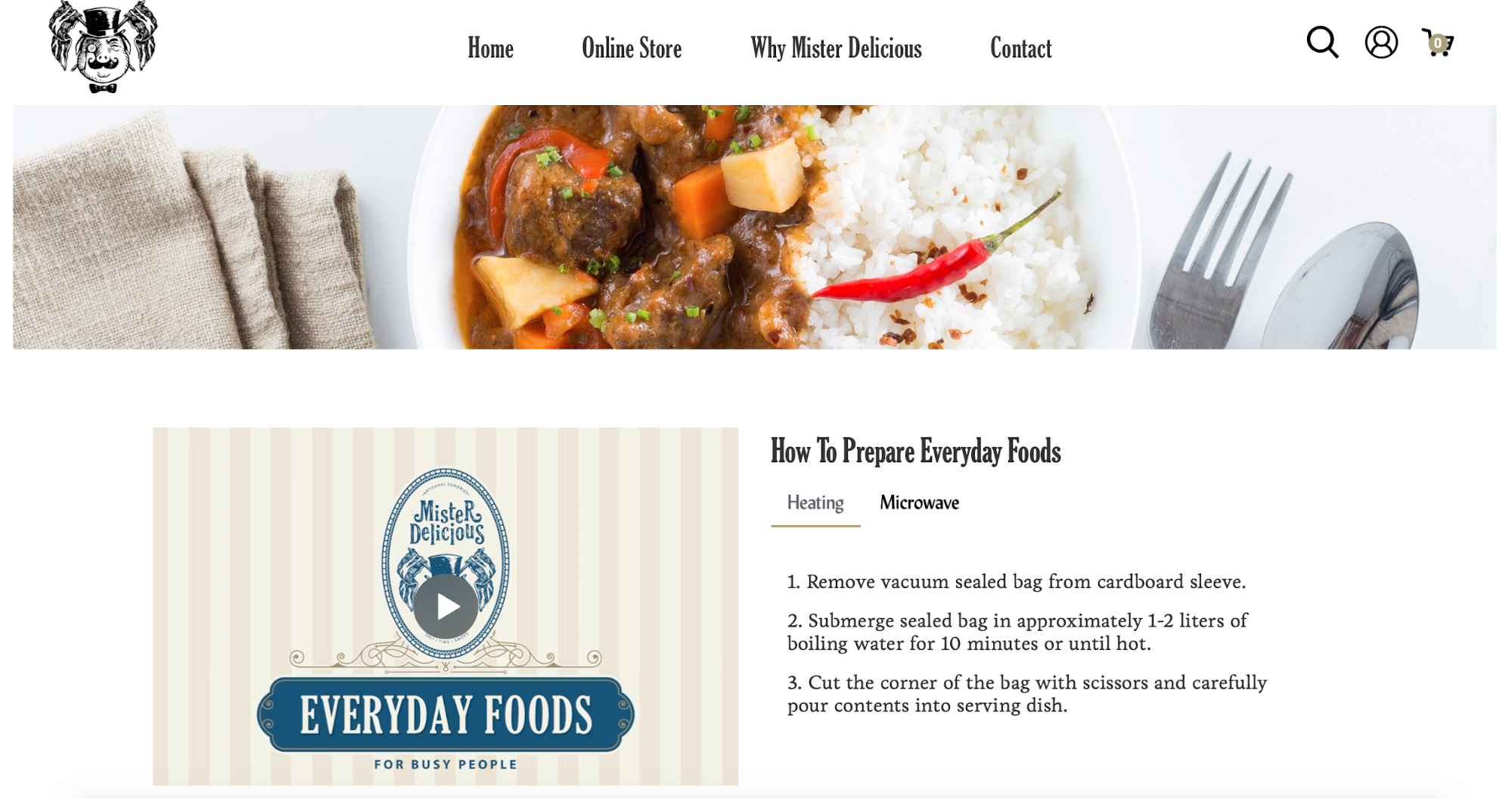 Image credit: Mister Delicious
Slow cooked, vacuum-sealed, and put into a blast freezer to ensure freshness, these packs of meals just need to be submerged into boiling water for 10 minutes, and you've got yourself a meal. Ulam dishes include tinola (soup), sisig (pig head and chicken liver), and caldereta (beef stew) from P120 (~USD2.34). Cured and smoked meats are also available from P180 (~USD3.52).
---
15. Wild Caught – wild-caught quality seafood
---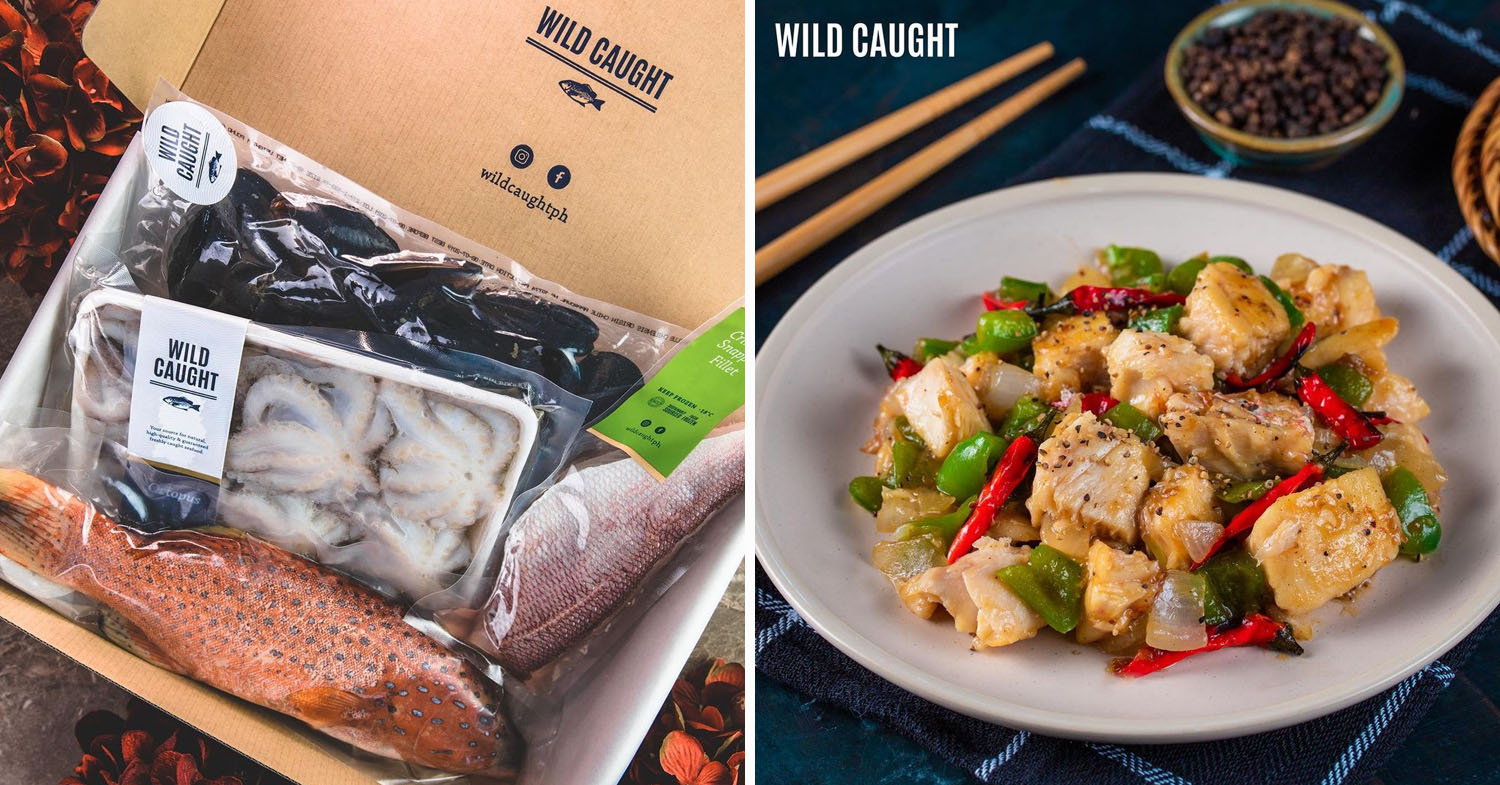 Image adapted from: @wildcaughtph and @wildcaughtph
During Lenten season when many of us abstain from most meats, Wild Caught can provide you with fresh, farm-free seafood.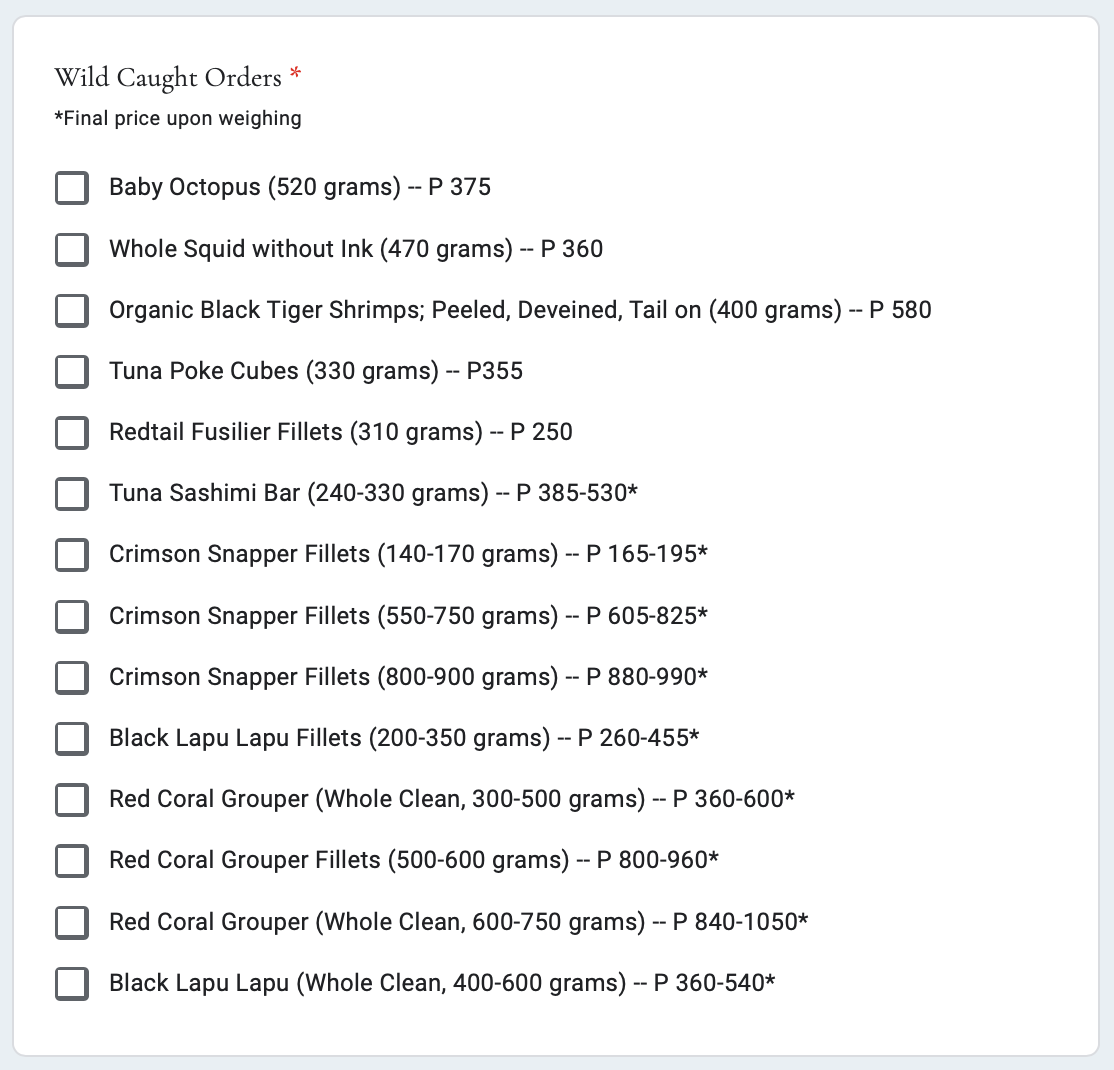 Image credit: Wild Caught order form
You can switch up your Lenten meals between their various seafood offers, from fish such as lapu-lapu and tuna poke cubes, invertebrates like octopus and squid, and shellfish like shrimp from P165 (~USD3.23).

---
– For specific diets –
---
16. The Green Grocer – organic meal kits
---

Image credit: @nikkibharwani
The Green Grocer provides organic Chef at Home meal kits for those who don't want the hassle of purchasing ingredients individually. Dishes for these meal kits include Cubano Marinated Pork, Salmon Steak, Tandoori Chicken, and even keto chocolate mug cakes, from P370 (~USD7.23).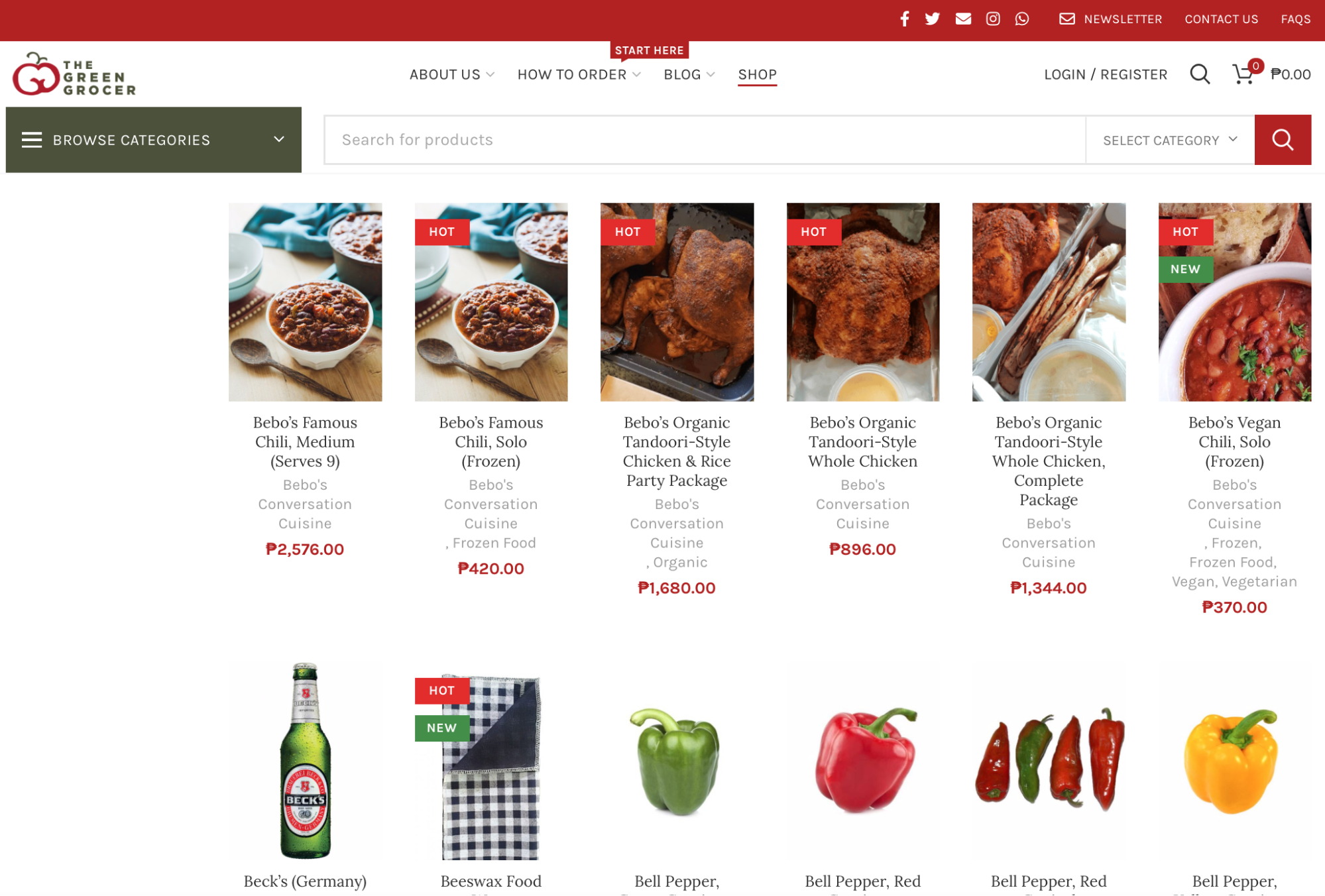 Image credit: The Green Grocer
If they don't have a meal kit for what you're planning to make, you can opt to shop for fresh produce and meat. They also offer eco-friendly products such as bamboo toothbrushes, packageless soaps, and deodorant bars from P28 (~USD0.55) so that you don't have to give up your sustainable lifestyle because of the quarantine.

---
17. The Healthy Grocery – superfoods to add to your salads or desserts
---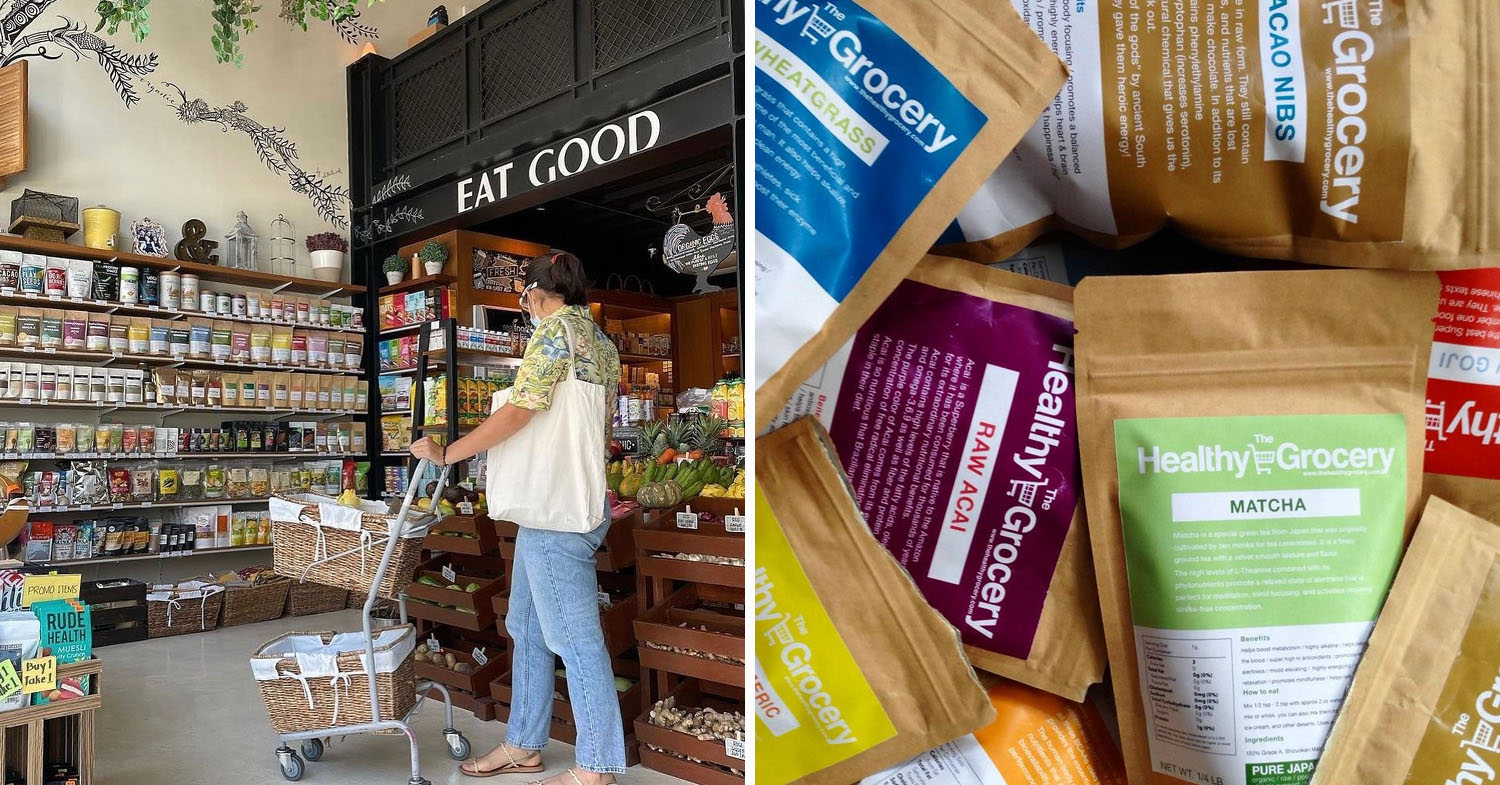 Some of Healthy Grocery's products are also available at Real Food outlets (left)
Image adapted from: @thehealthygrocery and @thehealthygrocery
Health junkies don't need to compromise on their diets while sticking at home either. The Healthy Grocery provides superfoods such as chia seeds, acai, cacao nibs, and goji berries from P299 (~USD5.84) per pack.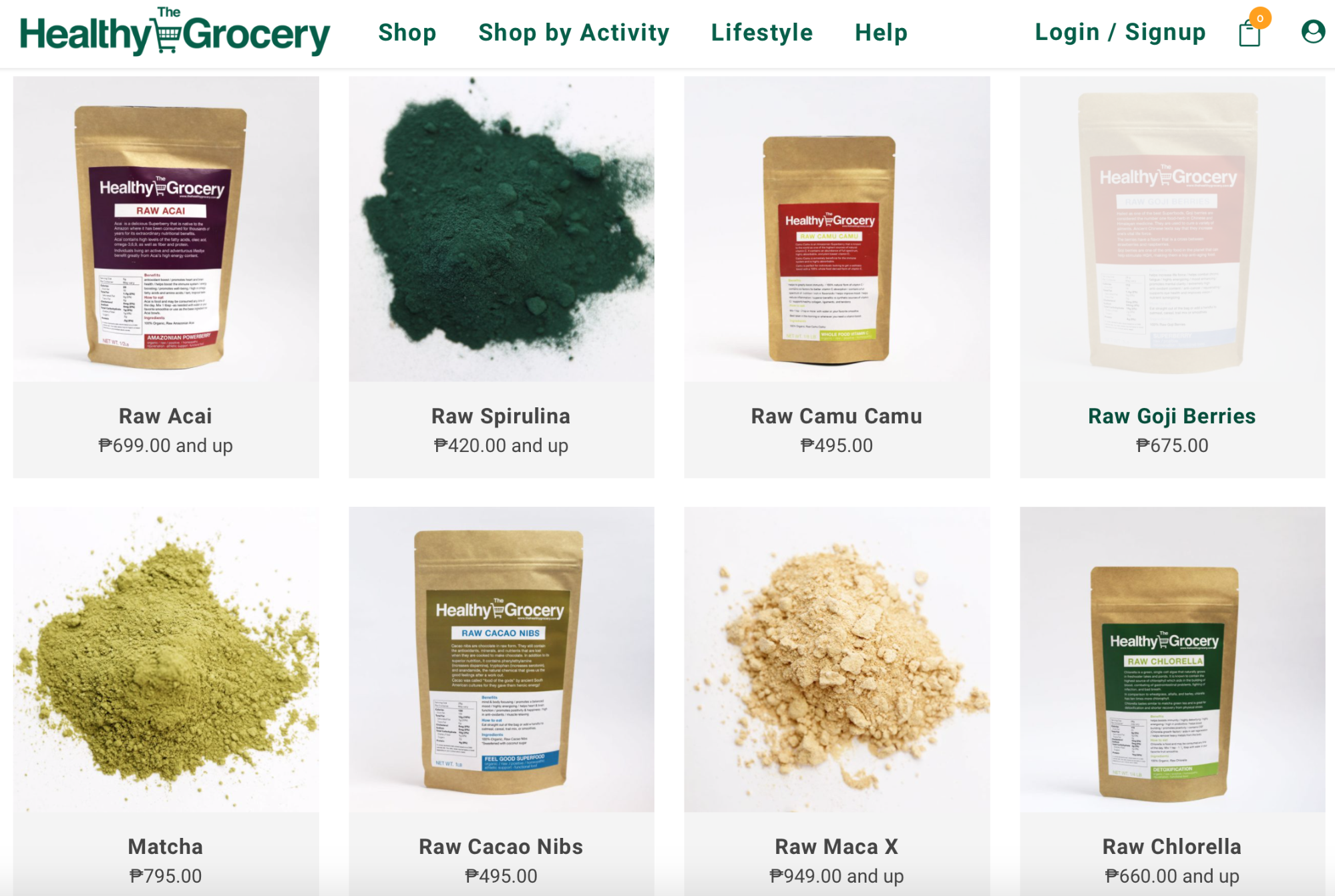 Image credit: The Healthy Grocery
They also make healthy snacks available, such as kale chips and salad snackers to serve as alternatives to deep-fried and greasy potato chips for P220 (~USD4.30) a bag.
---
18. Gerald PH – gluten-free, vegan, keto- & diabetic-friendly foods
---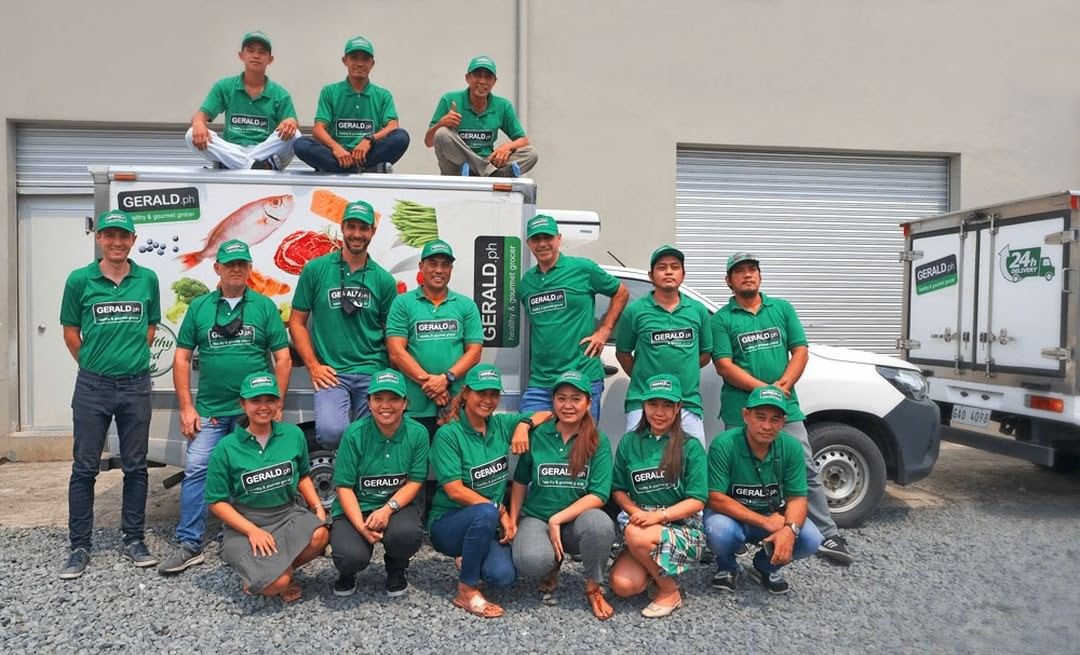 Image credit: @geraldph
As more and more of our families and friends adopt special diets, having a grocery store that caters to them takes a lot of stress out of shopping. Gerald PH offers more than just fruits and vegetables for those with specific diets, so they can enjoy variety in their meals.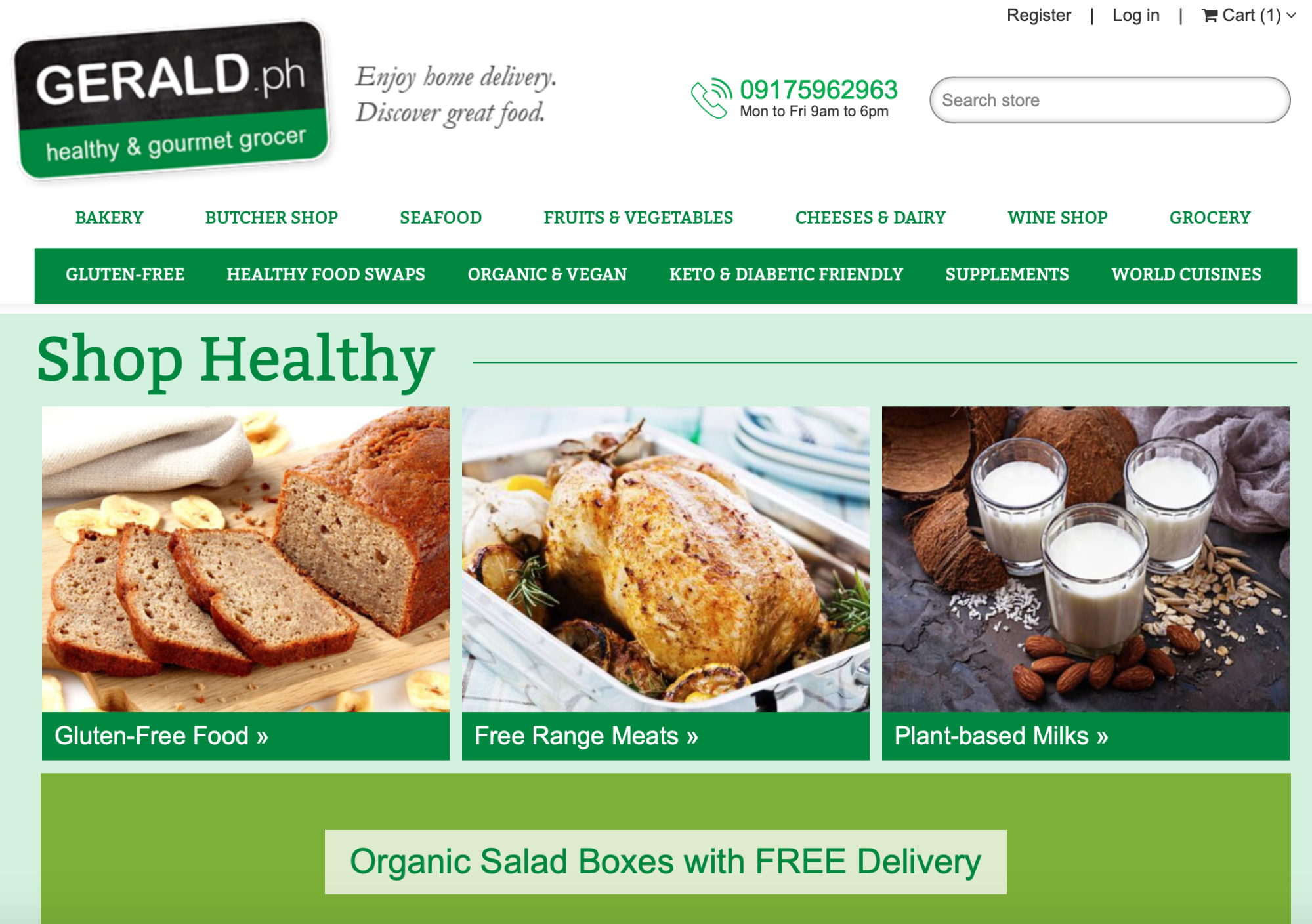 Image credit: Gerald PH
They have gluten-free food such as pastas and butter spreads from P75 (~USD1.47), keto & diabetic-friendly food such as cookies and cheese from P125 (~USD2.44), and organic and vegan food such as rice and canned goods from P90 (~USD1.76).
There's also fresh produce and healthy, gourmet ingredients such as tom yum soup paste, tikka masala spice paste, and seafood paella flavoring packets from P49 (~USD0.96) to help you make different international dishes.

---
19. The Vegan Grocer – imitation meats for vegan meals
---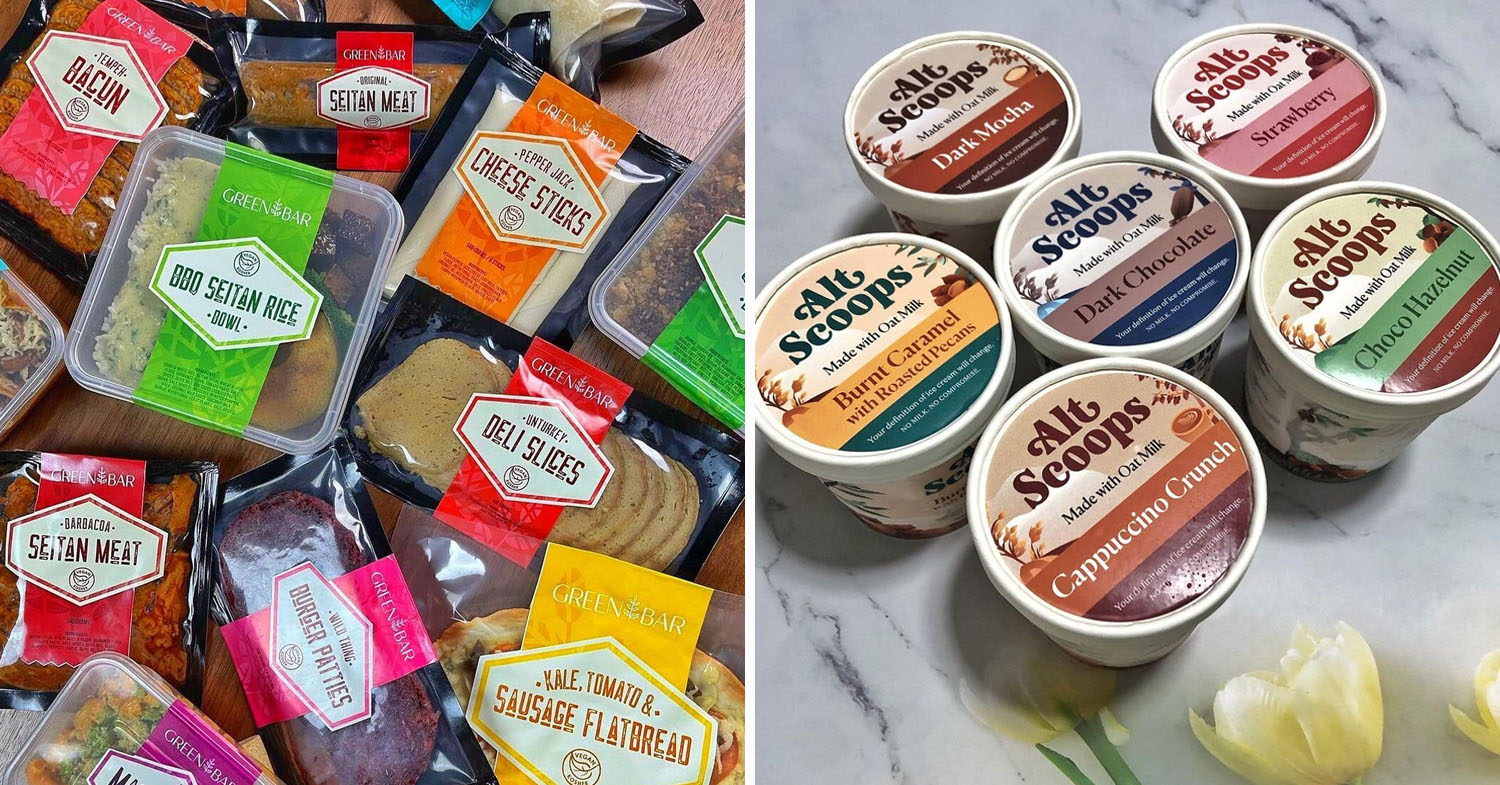 Image adapted from: @thevegangrocerph and @thevegangrocerph
Imitation meats aren't just for vegans, but also add something new to anybody's meal so you won't have to stick to just animal meats during the quarantine. Get them and other vegan groceries delivered from The Vegan Grocer.

Image credit: @thevegangrocerph
Aside from the usual vegan ingredients such as cacao nibs and chia seeds, they have imitation meats such as crispy pata (pork leg), spareribs, burgers, and salted chicken from P100 (~USD1.95). You can send your orders through their Facebook or Instagram pages.
---
20. Real Food – sustainable household products
---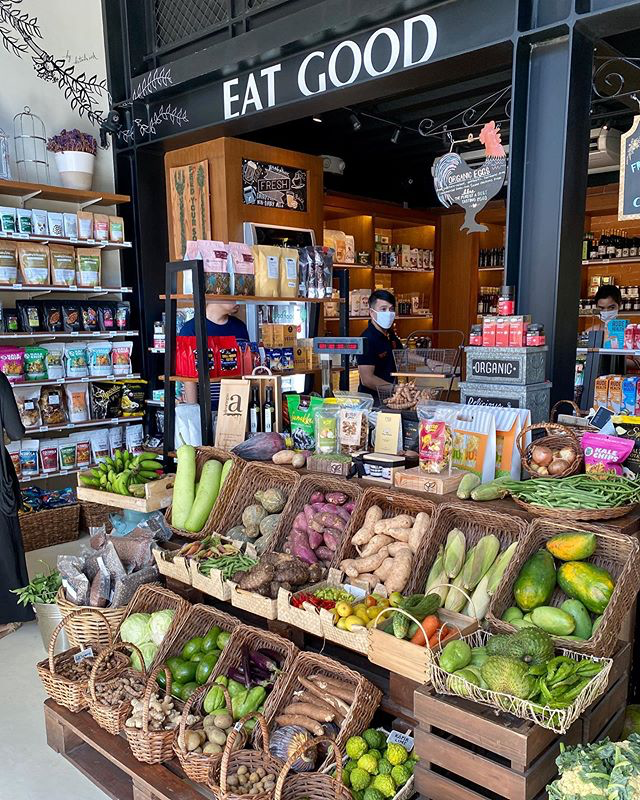 Image credit: @realfoodph
Many cleaning and personal hygiene products such as wet wipes and face masks, for sanitary reasons, have to be thrown away after just one use. But you can still do your part to cut down on waste with sustainable products during these trying times.
Real Food offers fresh produce grown without harmful chemicals, and zero-waste products such as reusable paper towels, bamboo cutlery, and produce bags from P40 (~USD0.78).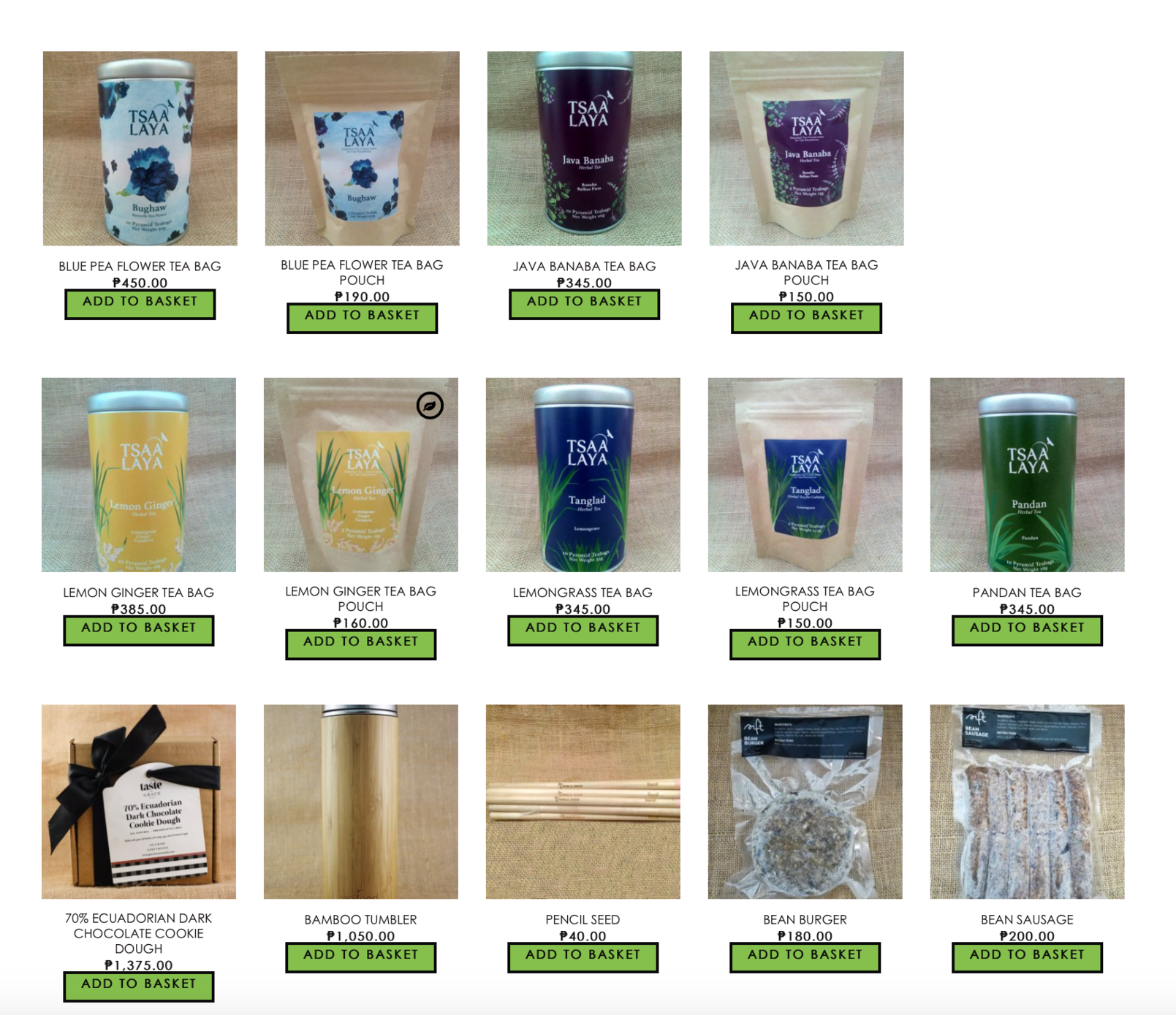 Image credit: Real Food
They also cater to vegan, vegetarian, gluten-free, and keto-friendly diets with foods such as bean-made imitation meats, vegan and keto pancake mixes, and fruit and veggie gummies from P85 (~USD1.66).
---
– Beverages –
---
21. Boozy – alcohol delivered to your door
---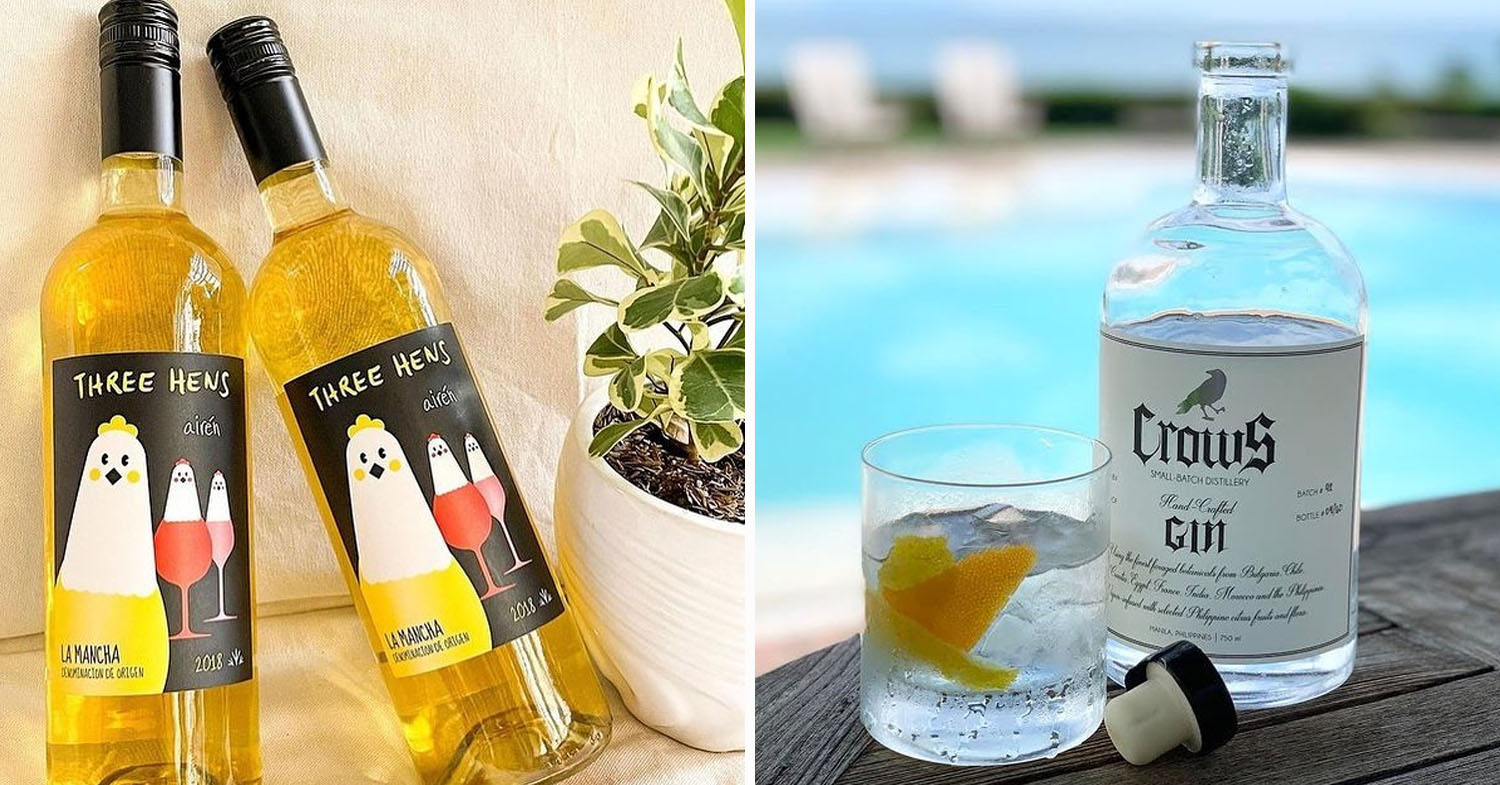 Three Hens white wine (left) and Crow's Gin (right), a blend of 23 botanical ingredients
Image adapted from: @boozyph and @boozyph
Those you need an extensive list of booze because being in quarantine doesn't stop some of you from inuman sessions, check out Boozy. They've got everything from whisky, beer, wine, gin, rum, tequila, and cognac, from at least P47 (~USD0.92) a bottle.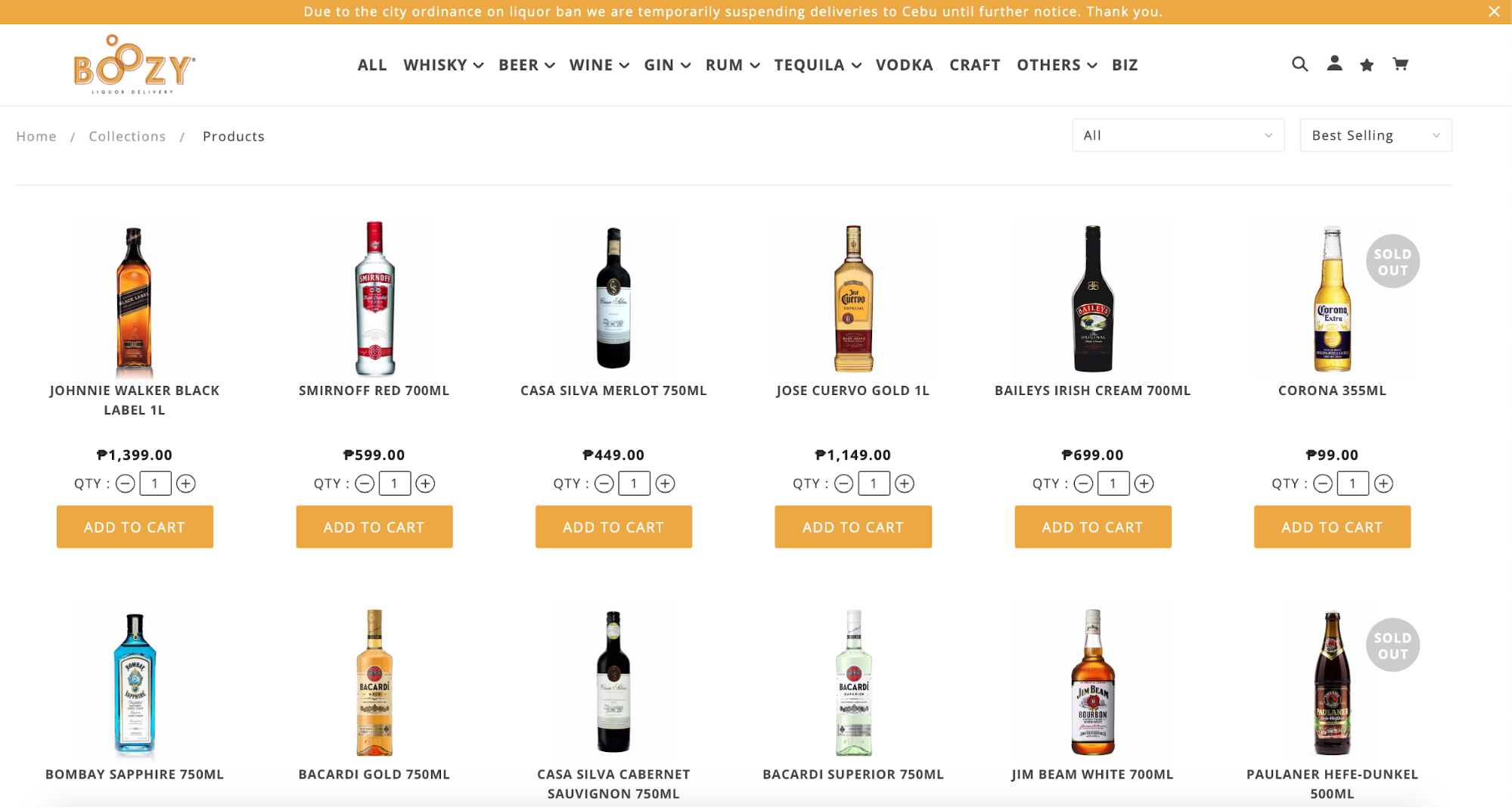 Image credit: Boozy
Deliveries are limited to Makati, Taguig, Mandaluyong, Manila, Pasay, and Pateros for the time being, but they're working on delivering to more areas soon.
---
22. Coca Cola – beverages to accompany your karaoke sesh
---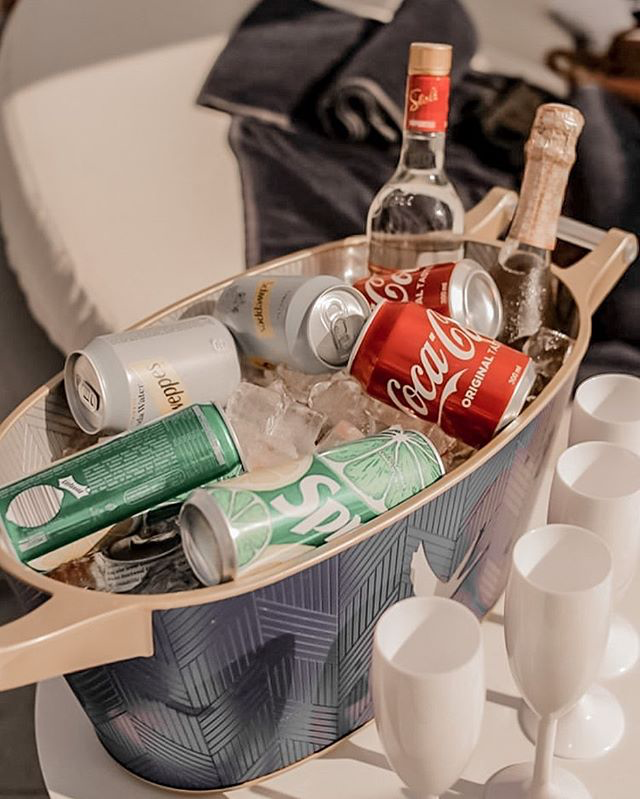 Image credit: @jayveeridual
Coca Cola might be popular for its soda, but many don't know that they'll also deliver their drinks to your doorstep for your karaoke sesh too.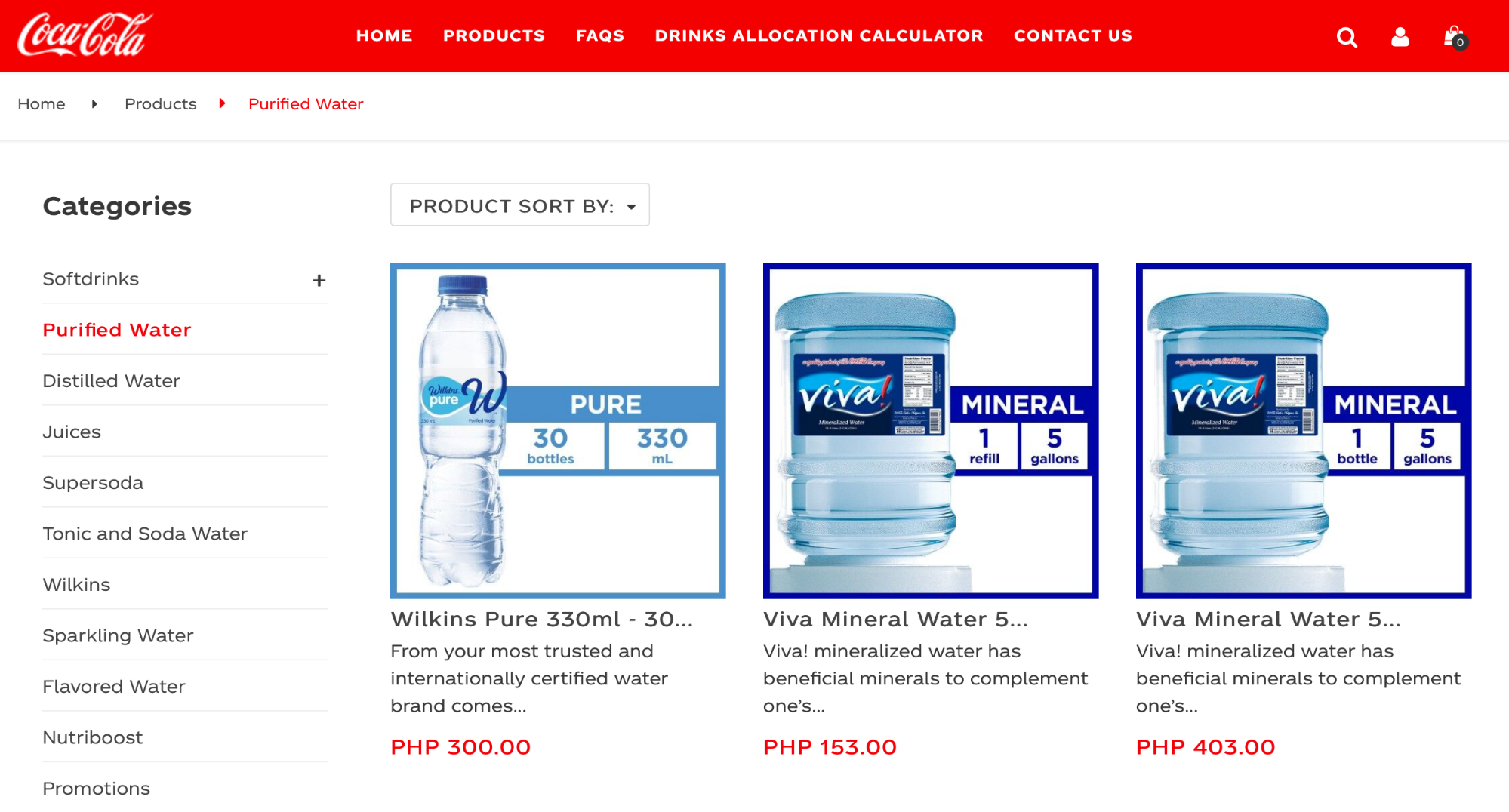 Image credit: Coca Cola
They also provide essentials such as mineral and distilled water in small to huge containers, and other beverages such as juices and chocolate drinks, from P80 (~USD1.56).

---
23. Winery – curated wine list
---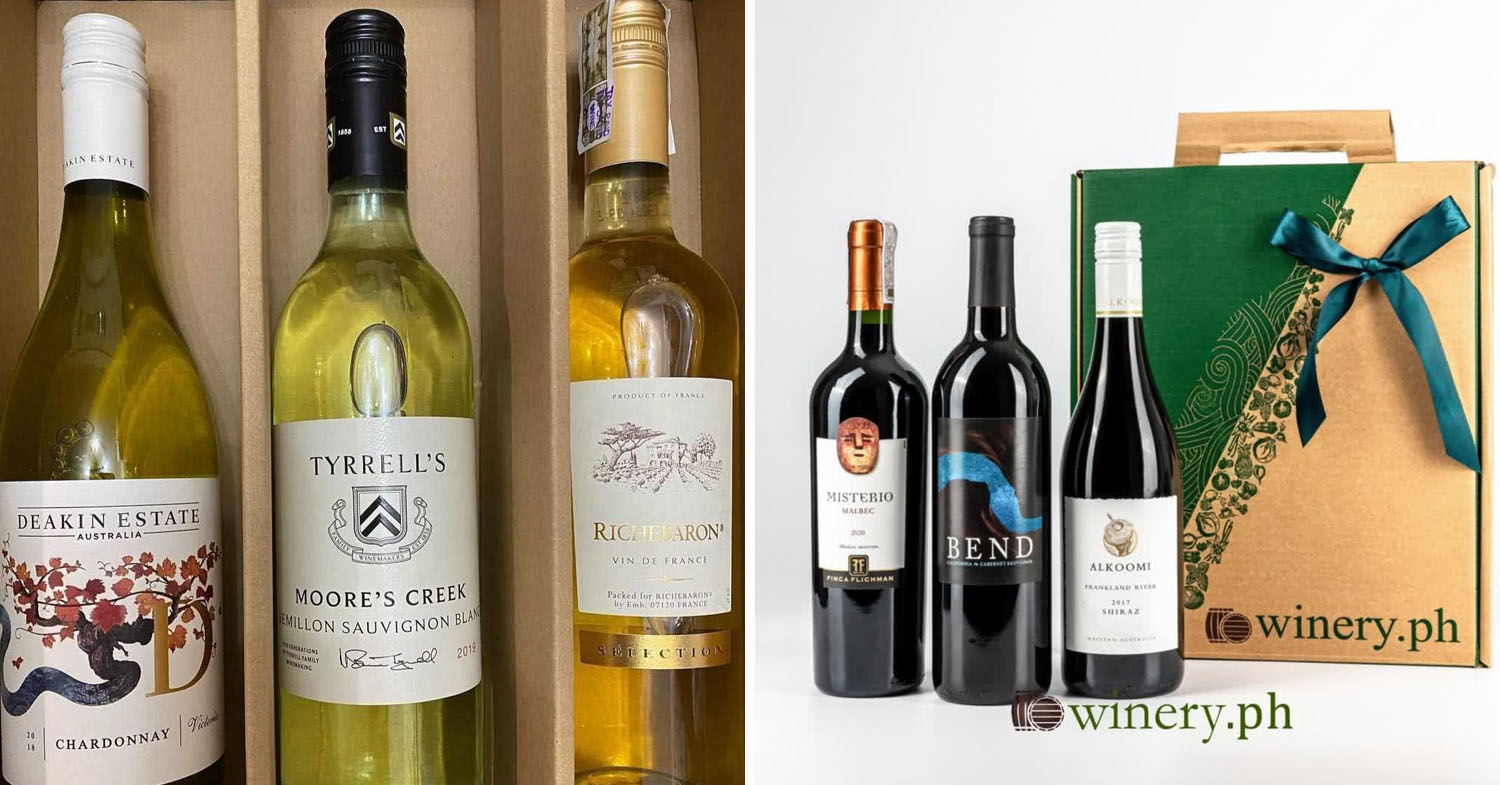 Conveniently packaged wine gift sets
Image adapted from: @wineryph and @wineryph
Just in case you're running low on wine, you can still get yours delivered from Winery now. They only sell wines that the curators have personally enjoyed, from P441 (~USD8.62) a bottle.
For people who prefer beer to wine, though, they also offer craft beers from P240 (~USD4.69).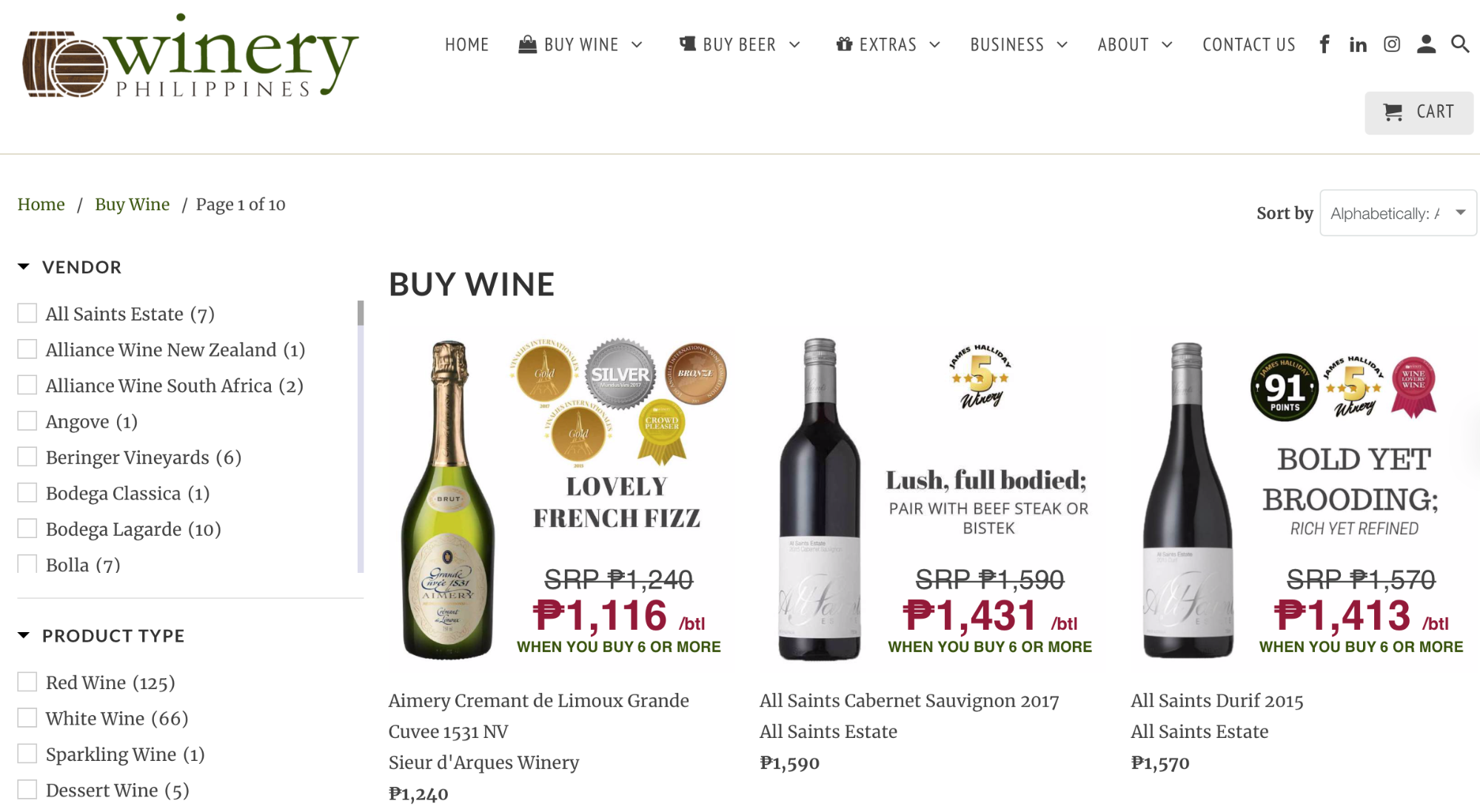 Image credit: Winery
Due to the influx of orders, though, you have to reach a minimum order of P5,000 (~USD97.68) to qualify for delivery. But since wine can be kept for a long time, you won't have to worry about bottles of the good stuff expiring.

---
– For your pets –
---
24. Pet Warehouse – pet care products
---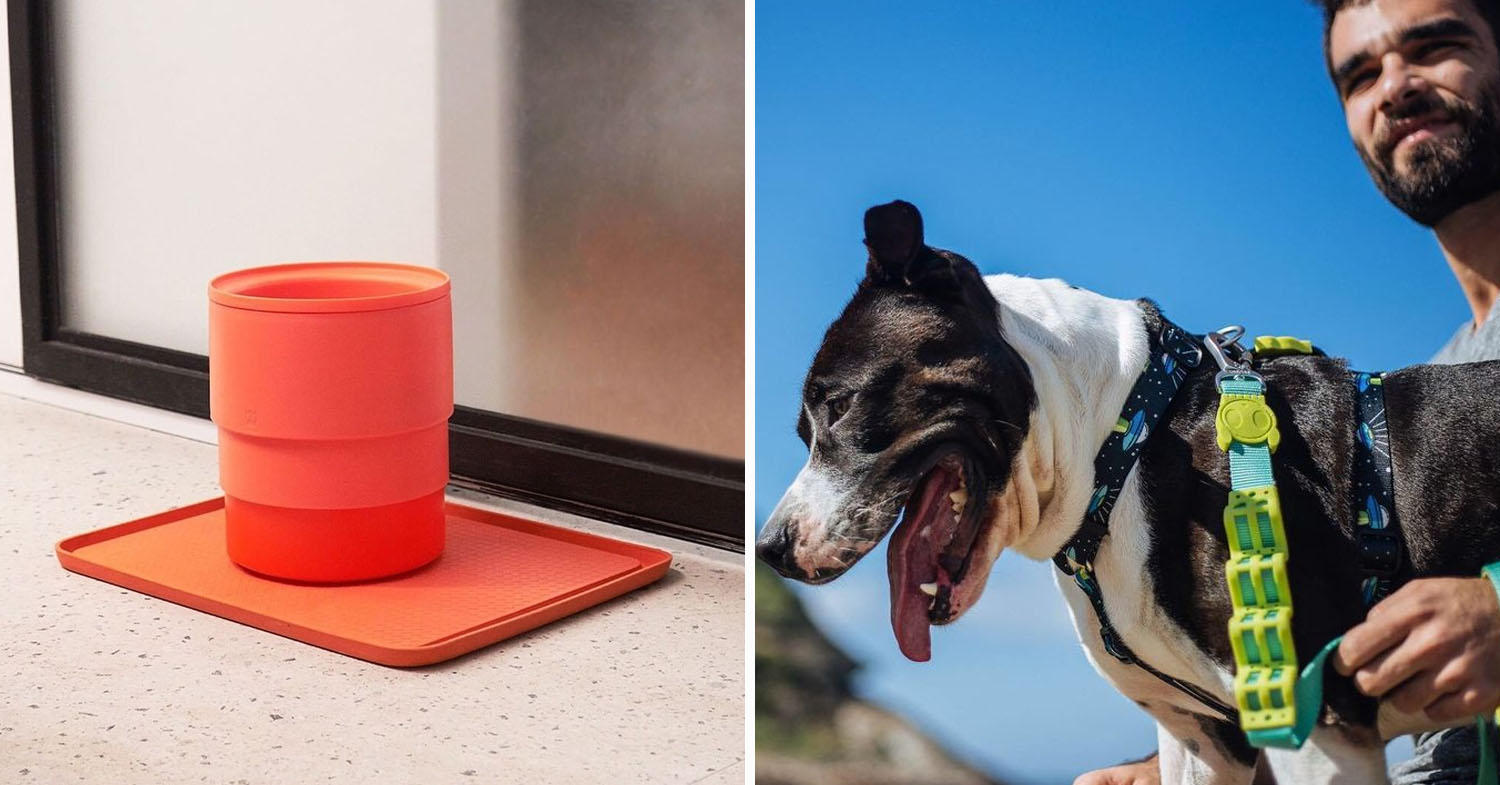 A Zee.Mat for doggos to eat easily and which protects food from ants (left) and a Zee.Dog harness (right)
Image adapted from: @petwarehouseph and @petwarehouseph
Our fur babies still need to be looked after during the lockdown, and you can get everything they need delivered from Pet Warehouse. There are shelters, food and treats, hygiene products, and toys for any type of pet, from P95 (~USD1.86).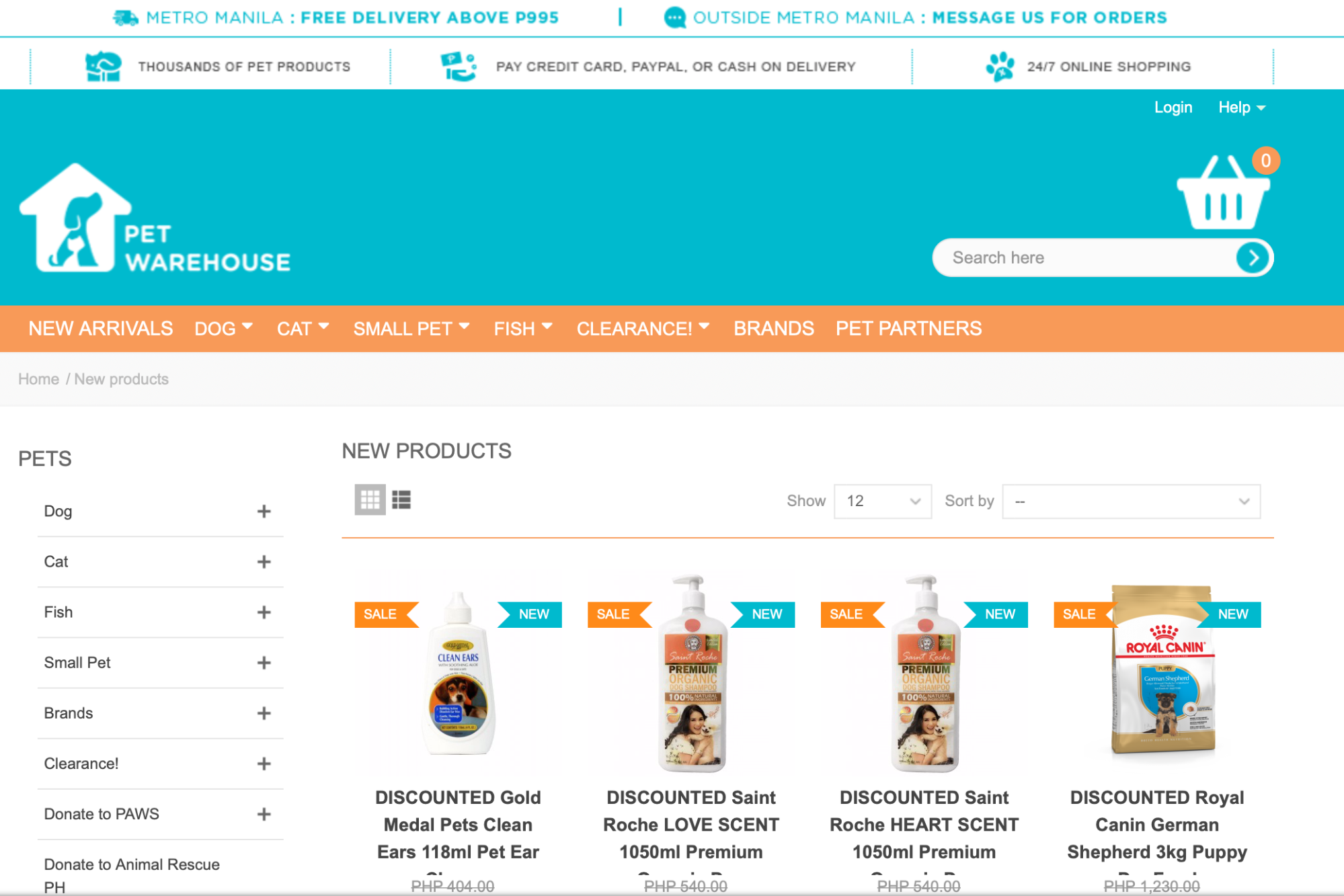 Image credit: Pet Warehouse
The website's tabs are separated into types of animals for an easier search, catering to cats, dogs, fish, and small pets such as guinea pigs, hamsters, and rabbits. However, due to the amount of orders they're receiving, it might take them up to 7 days to get your orders delivered.
---
Online grocery websites that still deliver around Metro Manila
---
If you missed out on an item or two during your last grocery trip, or need to stock up on some necessities, these online grocery websites can deliver what you need so that you can do your part and stay indoors.
Do keep in mind that these workers are probably drowning in orders from the 12 million population of Metro Manila, so please be patient and your order will arrive slowly but surely. If you can, opt for card payments rather than cash on demand to avoid contact, disinfect your goods, and thank your rider!
Also check out:
---
Cover image adapted from: @gel.anne.gee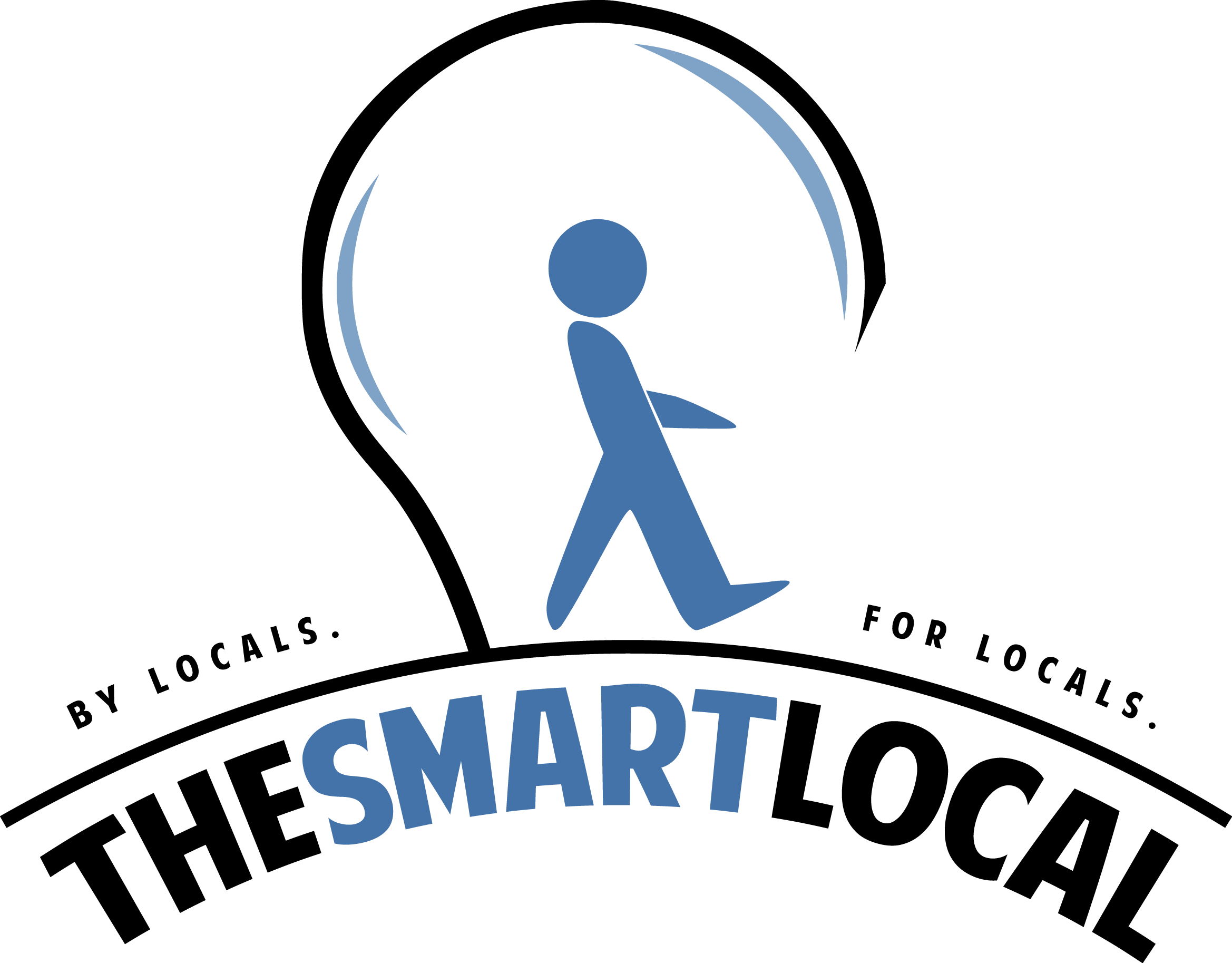 Drop us your email so you won't miss the latest news.