Netizen reached out to Dole PH, not the Department of Labor & Employment
---
Most of us have been facing financial difficulties because of the COVID-19 pandemic. With a lot of Filipino employees taking pay cuts, working from home, or in the worst case scenario, getting retrenched, personal budgets have needed some serious streamlining.
We love to take to social media to talk about our troubles. Many tweets and Facebook posts have talked about financial struggles resulting from the pandemic. Some people have even gone as far as to message government offices such as the Department of Labor and Employment (DOLE) on Facebook.
A Filipino netizen messaged the wrong Facebook page, only to come out of the situation with P5,000 (~USD99) worth of fruit products.
---
Mistook Dole Food Company for the Department of Labor and Employment
---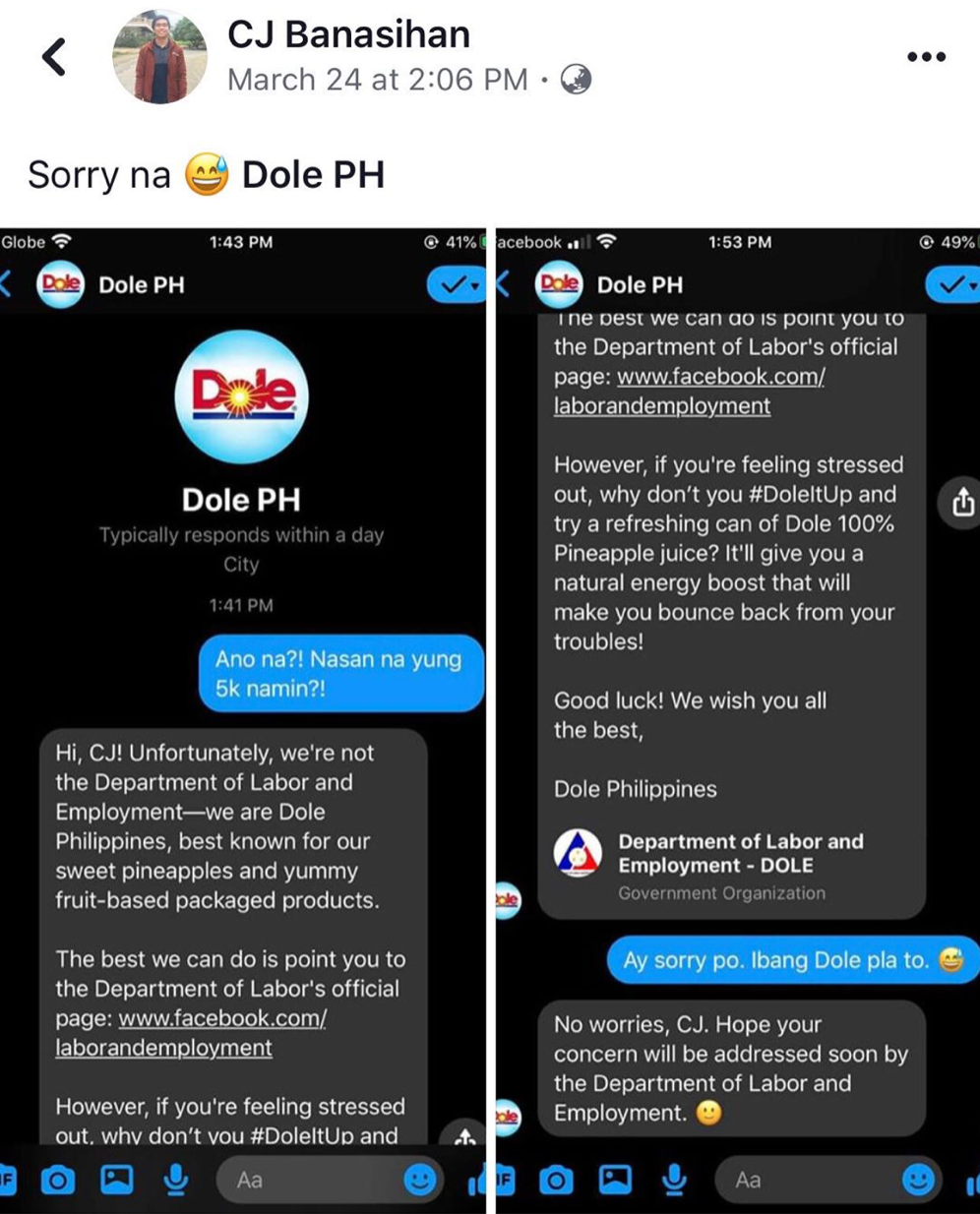 Image credit: Philippine Star
On 24th March, CJ Banasihan had yet to receive the P5,000 subsidy promised by the Department of Labor and Employment (DOLE) to Filipino workers whose jobs were affected by the lockdown. 
In frustration, Banasihan messaged Dole PH on Messenger, thinking it was DOLE, saying "Ano na? Nasan na yung 5k namin?!" (Hey, where's our P5,000?!"). 
To be fair, Dole PH and DOLE are spelled almost the same way, so it's an easy mistake to make.
---
Dole Food Company handled the situation in the best way
---

Image credit: CJ Banasihan
Instead of receiving a defensive message or an automated reply, Banasihan was met with a cheerful message directing him to the correct DOLE government website. Dole PH also wished him the best.
Shortly after, Banasihan received another message from Dole PH, saying a delivery for him had been scheduled. As the message was sent on 1st April, he thought the message was a joke, but Dole PH came through – 2 weeks after their initial conversation, Banasihan received more than P5,000 worth of Dole PH products.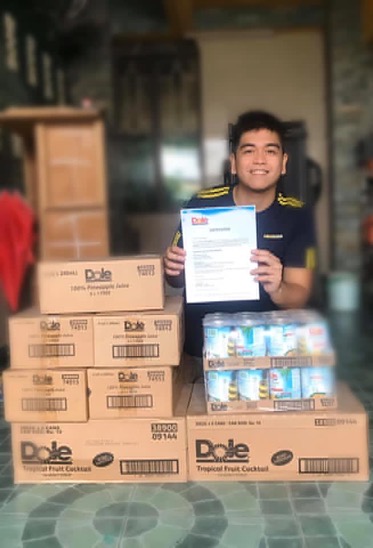 Image credit: CJ Banasihan
The best part is that Dole is a fruit company, so not only did Banasihan get a ton of fruits to eat and ingredients to cook with, but he could also binge on these healthy products and get extra vitamins.
---
Update on the DOLE subsidies
---
DOLE has already distributed P441.9 million to 88,388 workers whose jobs were affected because of the enhanced community quarantine. However, as of 8th April, Banasihan has yet to receive his own subsidy from DOLE. Hopefully, the help from Dole PH tides him over until he does.
---
Cover image adapted from: CJ Banasihan
Get more stories like this!
Drop us your email so you won't miss the latest news.