Filipinos wear costumes to fight COVID-19
---
Filipinos have always been known to be resilient people. But in times of crisis, if there's one other thing to be said about Filipinos, is that we're also resourceful in a creative and often wacky way. 
This trait is apparent in most public markets these days, where instead of wearing standard protective gear such as face masks, some Filipino shoppers taking things to the next level have been seen protecting themselves from contracting the virus by sporting their favorite characters' costumes.
---
Black Ranger in a supermarket
---
For instance, Paolo Belleza even jokingly inquired what a PPE was on 3rd April when he posted photos of himself on Facebook wearing a Black Ranger costume while buying goods in a supermarket.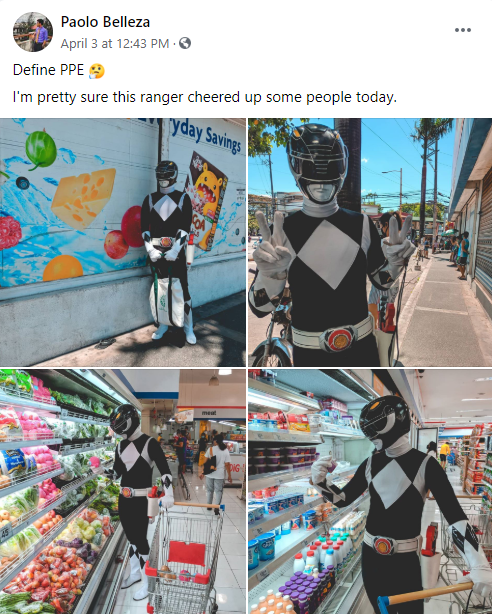 Image credit: Paolo Belleza 
"Define PPE. I'm pretty sure this ranger cheered up some people today," Belleza said humorously.
As if to be more in character, he was also keen on helping our frontliners screen temperatures as he was seen with a thermal scanner tucked into his white belt holster in another photo as well. While it resembled a Power Ranger gun, he clarified in the comments that it was actually a thermal scanner.


Image credit: Paolo Belleza 
---
Peter Parker spotted on the streets of Sampaloc
---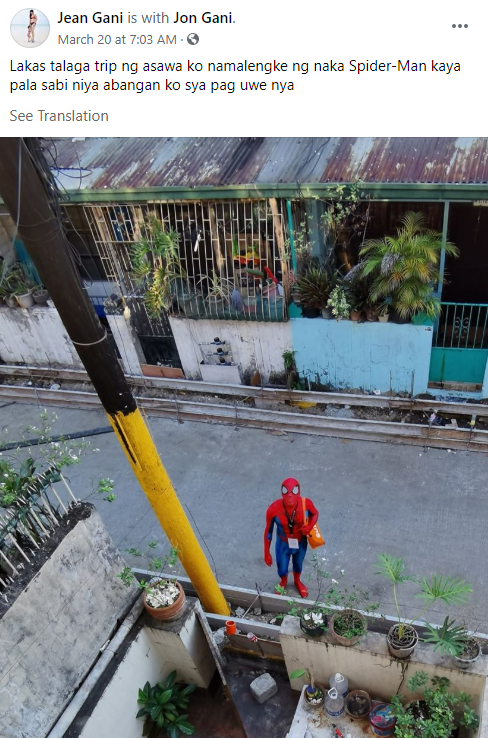 Image credit: Jean Gani 
If you live in Sampaloc, don't be surprised if you find Spider-Man loitering around your neighborhood. Local resident Jon Gani decided that there was a room for his cosplaying skills in these uncertain times when he wore a Spider-Man costume as protective gear while out and about in his city's market. 
According to his wife, Jean Gani, Jon decided to shop in full Spider-Man mode for fun since he also happened to be a cosplayer. 

Image credit: Jean Gani 
He thanked the netizens who shared and reacted to his photos, saying that his wife and him were glad that they made people happy during these times. 
---
Money Heist lands in Angono
---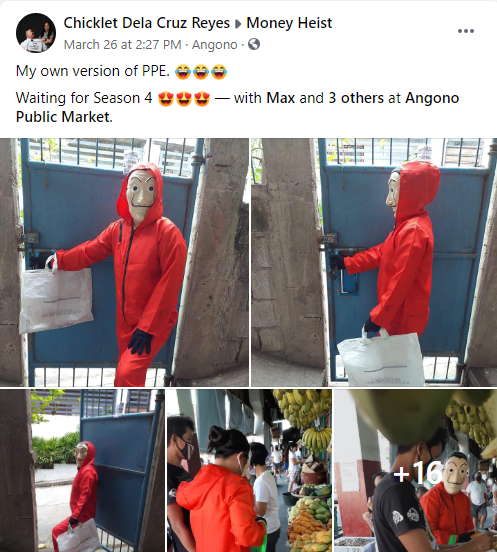 Image credit: Chicklet Dela Cruz Reyes 
Another Facebook user Chicklet Dela Cruz Reyes expressed his love for the Spanish Netflix show Money Heist by being in character and in costume while out and about in the public market of Angono.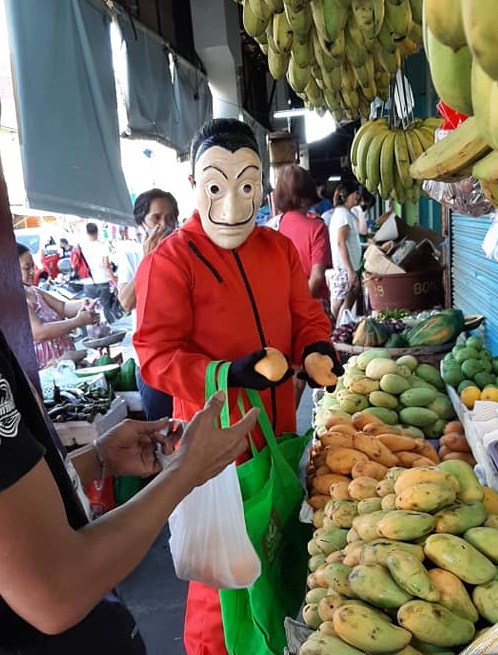 Image credit: Chicklet Dela Cruz Reyes 
Because you don't see someone hiding behind a moustached mask while wearing red overalls everyday, the vendors of the public market in Angono were initially reluctant to sell their goods to Reyes – until she shared that the costume was actually her creative way to fight COVID-19. 
---
Fighting COVID-19 in character
---
While we have to be serious in tackling this outbreak, these Filipinos show that there can be room for some wacky and wholesome fun while still observing community protocols. 
Also check out:

---
Cover image adapted from: Chicklet Dela Cruz Reyes, Paolo Belleza
Get more stories like this!
Drop us your email so you won't miss the latest news.