Metro Manila markets to hit up
---
Malls are aplenty in the metro if you ever need to shop, but to truly experience life like locals, we suggest hitting up Metro Manila markets that often stay open till late for your shopping and street food fix.
Not all of them are your typical tent-and-BBQ setup either – you'll find full-sized food halls, gourmet food from Europe and the Middle East, and even massages in some of our picks below.
---
1. Mercato Centrale – many locations metro-wide
---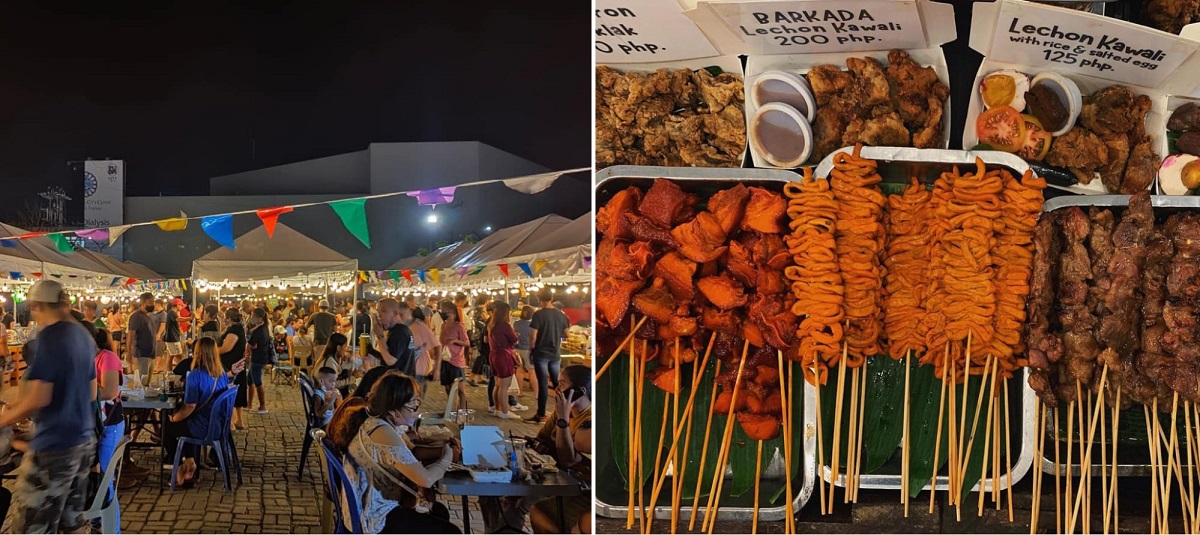 The SM Taytay venue (left) and street food on sale (right).
Image adapted from: Mercato Centrale and Mercato Centrale/@eatsbyden
One of the most established food and lifestyle markets in the metro, Mercato Centrale has several locations, so perhaps one will be easily accessible to you. You'll be able to sample new and unique food items here because the market also happens to welcome new vendors with innovative culinary ideas.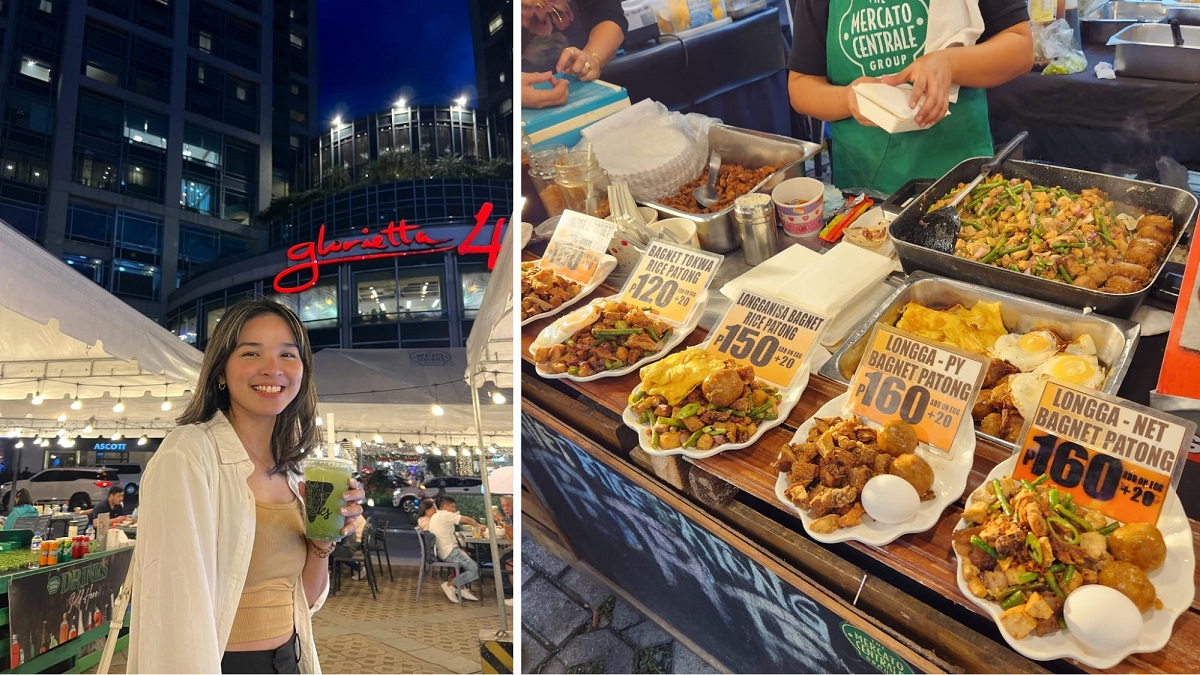 The Glorietta 4 venue (left) and the Market! Market! venue (right)
Image adapted from Mercato Centrale and Ayala Malls (Market Market)
Fun fact: food businesses we know and love such as Manang's Chicken, Theo and Philo Artisan Chocolates, Bayani Brew, and Gino's Brick Oven Pizza have made a name for themselves thanks to Mercato.
Addresses:
Mall of Asia MAAX Park, Mall of Asia Complex, Pasay, 1300 Metro Manila
Opening hours: Thu-Sun 3pm-10pm
Venice Piazza McKinley Hill, McKinley Hill Drive, Taguig City 1630 Metro Manila
Opening hours: Fri-Sun 3pm-10pm
Robinsons Townville in BF Homes, Paranaque City
Opening hours: Thu-Sun 2pm-11pm
Other locations include BC Central Garden, C6 Lower Bicutan, Eastwood City, SM City Taytay, Robinson's Antipolo,
and Market! Market! from Fri-Sun, 3pm-10pm and additional hours at selected venues.
Contact: 917 160 5635 | Mercato Centrale's Facebook page

---
2. Greenfield Weekend Market, Mandaluyong City – near 2 malls, with closing-hour deals
---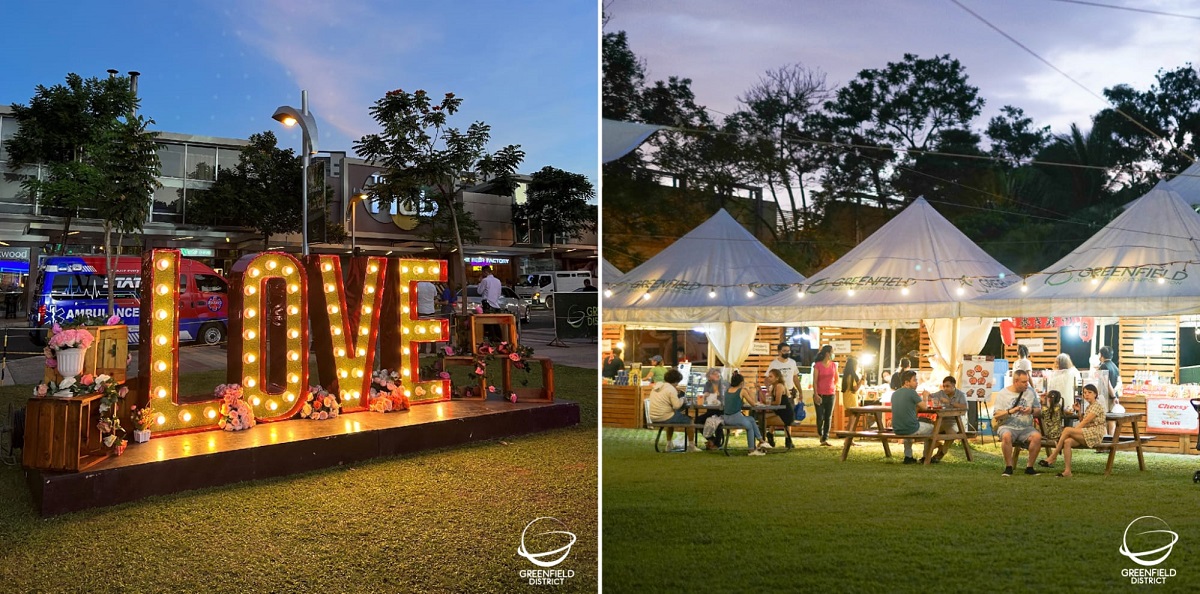 Image credit: Greenfield Weekend Market and Greenfield Weekend Market
Greenfield Weekend Market isn't just for shopping, though it's full of artisan food, plants, handicrafts, pet supplies, and gift items. You can also join a yoga class, art and craft lessons, and even get a tarot reading or have your portrait drawn at the 9-year-old event.
Festival-themed displays and live music can also be spotted here from time to time. these activities are ad-hoc, so check the market's socials for announcements.
Kids and your furry friends can also roam in the grassy field by the tents and you can sit at the wooden picnic benches to feast on fresh seafood, sushi, baked goods, homestyle drinks and more with friends.
You'll be near Greenfield District and Greenfield District Pavilion malls if you'd like to get some regular shopping done, but come back to the market just before midnight when vendors may just decide to lower their prices to clear stock, according to a Google reviewer.
Address: Greenfield District Central Park, Mayflower St., Mandaluyong
Opening hours: Sat-Sun 4pm-12am
Contact: [email protected] | Greenfield Weekend Market's website | Facebook page | Instagram 
---
3. Tutuban Night Market, Manila City – budget clothes and accessory shopping, with a food hall
---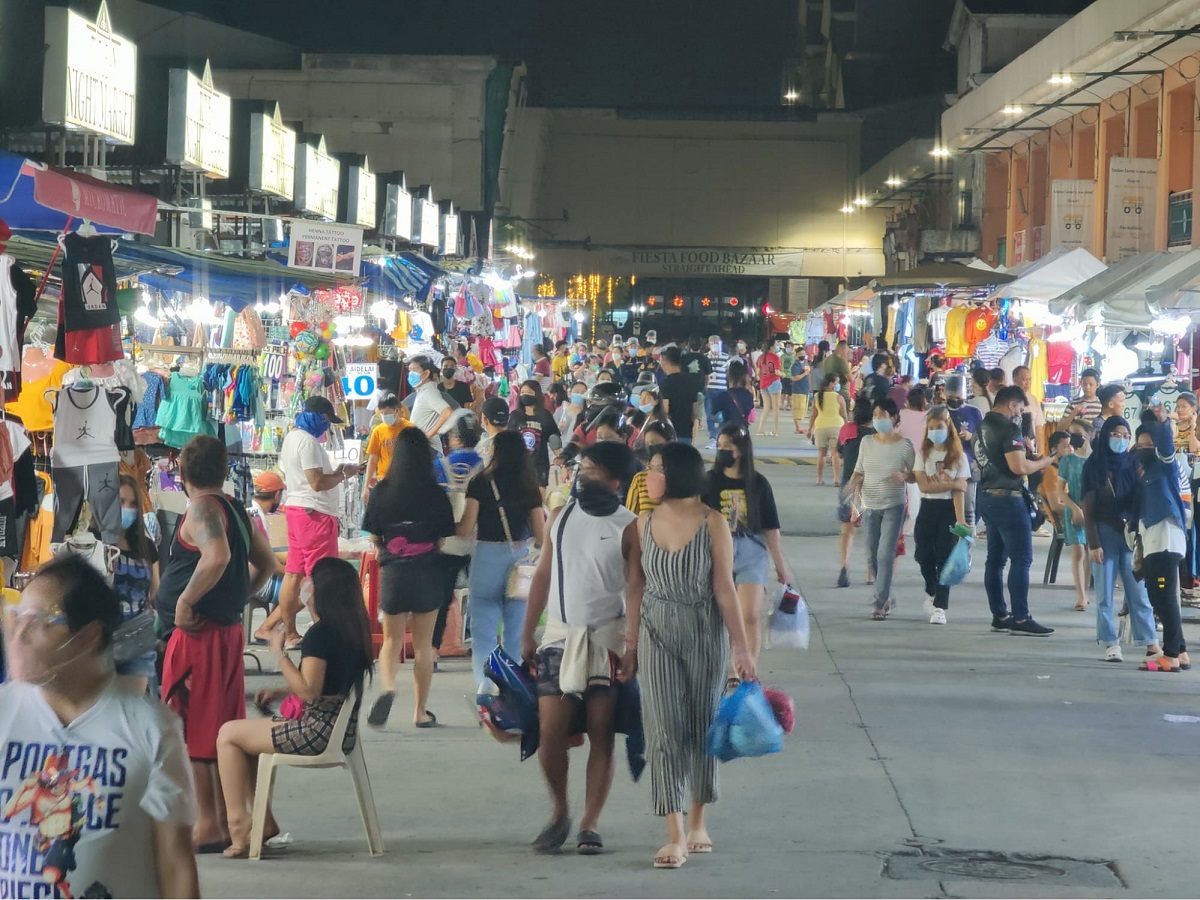 Image credit: Tutuban Night Market
Cheap items aplenty – including clothes, shoes, phone accessories, grilled street food, and K-pop merch are what draw folks to the well-organized Tutuban Night Market. There's even a modern 2-story food hall-style sheltered area where you can snack at tables and stools, with a variety of cuisines and live music.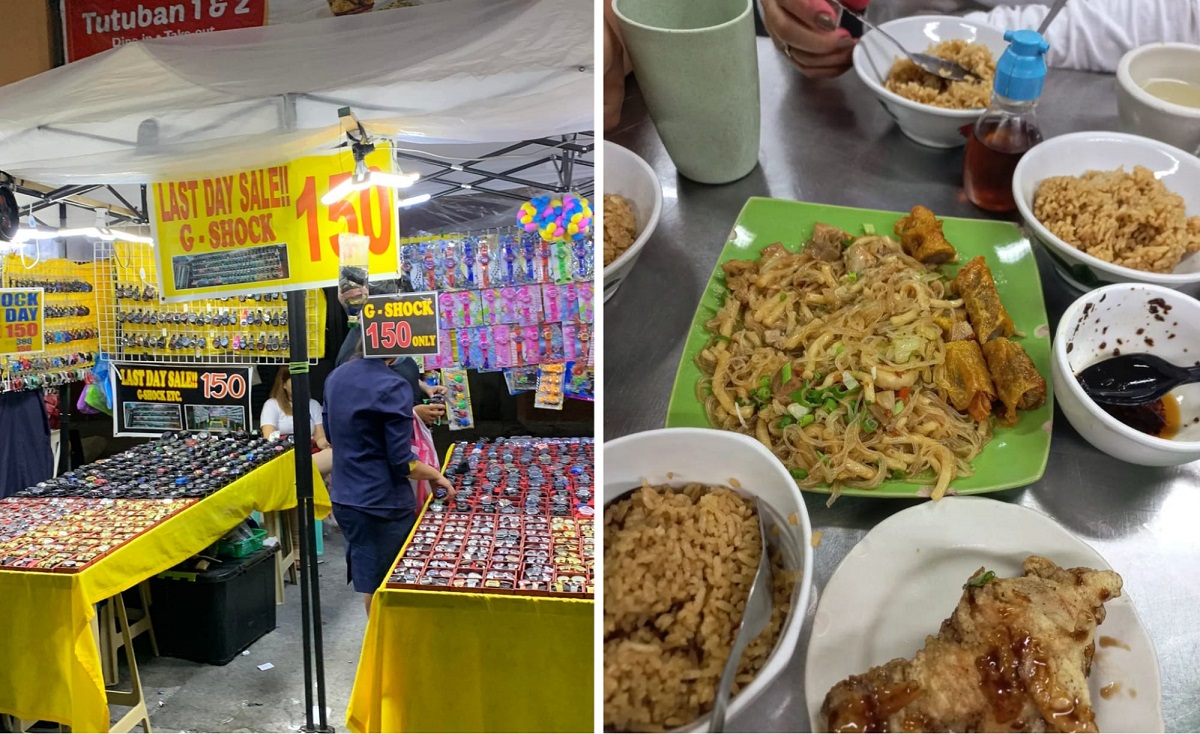 Watches (left) and food hall eats (right).
Image adapted from: Hazel Jumawan Kingswick and @nars.0113
You'll be doing a lot of walking here, so the massage area where back massages start at P150 and back and foot massages from P250 might be worth a try to relieve those muscles and joints.
Of course, the market is conveniently near Tutuban Shopping Mall and Tutuban Center, and of course, Divisoria's hordes of wholesale shopping options.
Address: Mayhaligue St, Tondo, Manila
Opening hours: 4pm-12am, Daily
Contact: Tutuban Night Market's Facebook page
---
4. Dangwa Flower Market, Sampaloc – flower central
---

Image credit: Dangwa Flower Market
If you prefer to pick your blooms in person rather than shopping online for flowers in Metro Manila, you can't go wrong at Dangwa Flower Market. Here, you'll find a huge variety of local and imported flowers, including potted plants and flowers.
No shame if you don't have green thumbs and need to spruce up your space – they have faux flowers and succulents too.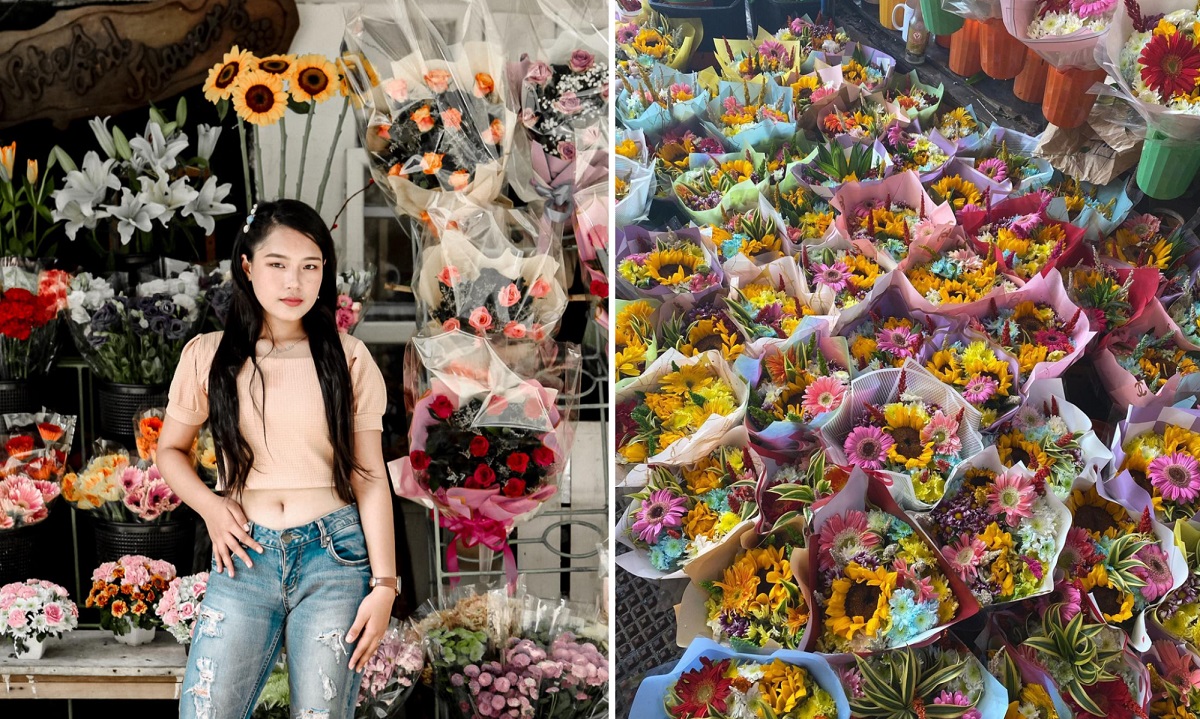 Image adapted from Justine Mae Eubra and @hns_brns
Dangwa is open 24/7, so come by any time for arrangements for any occasion – from festive to funeral – or even for a photoshoot with a background that'll scream Manila. If you're shopping in high quantities and coming by car, plan to arrive late at night when it's cooler and you won't have to fight as hard for parking spaces.
Address: 1633 Dimasalang Rd, Santa Cruz, Sta. Cruz, 1008 Metro Manila
Opening hours: 24 hours, Daily
Contact: Dangwa Flower Market's Facebook page 
---
5. Dampa Seaside Market – fresh seafood cooked for you
---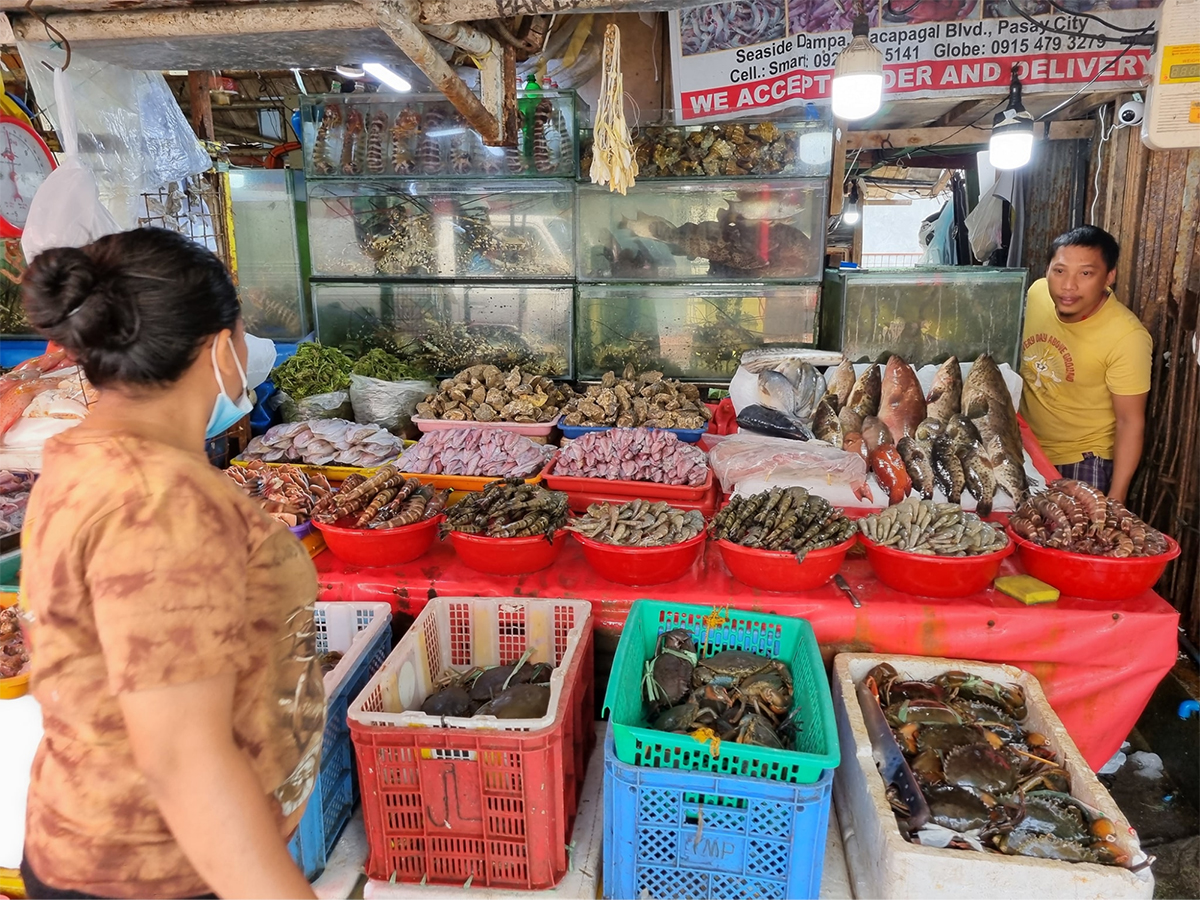 Image credit: Grant Teeboon
Visiting Dampa Seaside Market, a seafood-focused market, is a two-part affair: first, pick your own fresh seafood at the market, from scallops to oysters to crab to fish, and then go to your preferred restaurant and pay them to grill it for you to eat on the spot. You can select your preferred cooking style, sauces, or toppings.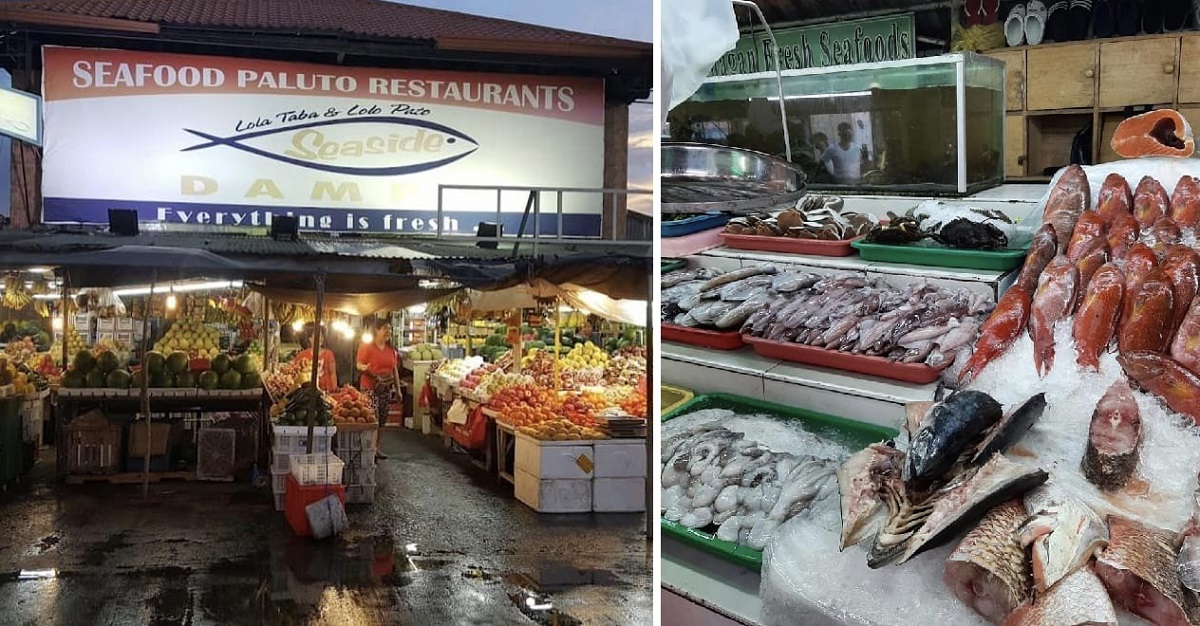 Image adapted from Neilson Yen Chinese Taigi and Neilson Yen Chinese Taigi
We recommend coming with a friend familiar with the market who can sniff out good prices, and wearing rubber shoes or slippers as the floor is wet. The market is more about the whole experience of haggling for a good deal and having someone cook for you as it pales a little in the looks department.
Don't miss the fruit and veggie stalls here too that you can buy from on your way home.
Address: Diosdado Macapagal Blvd, Pasay, Metro Manila
Opening hours: 10am-10.30pm, Daily
Contact: 995 066 8280
---
6. My Street High Street at Bonifacio Global City – lots of homegrown creators' wares
---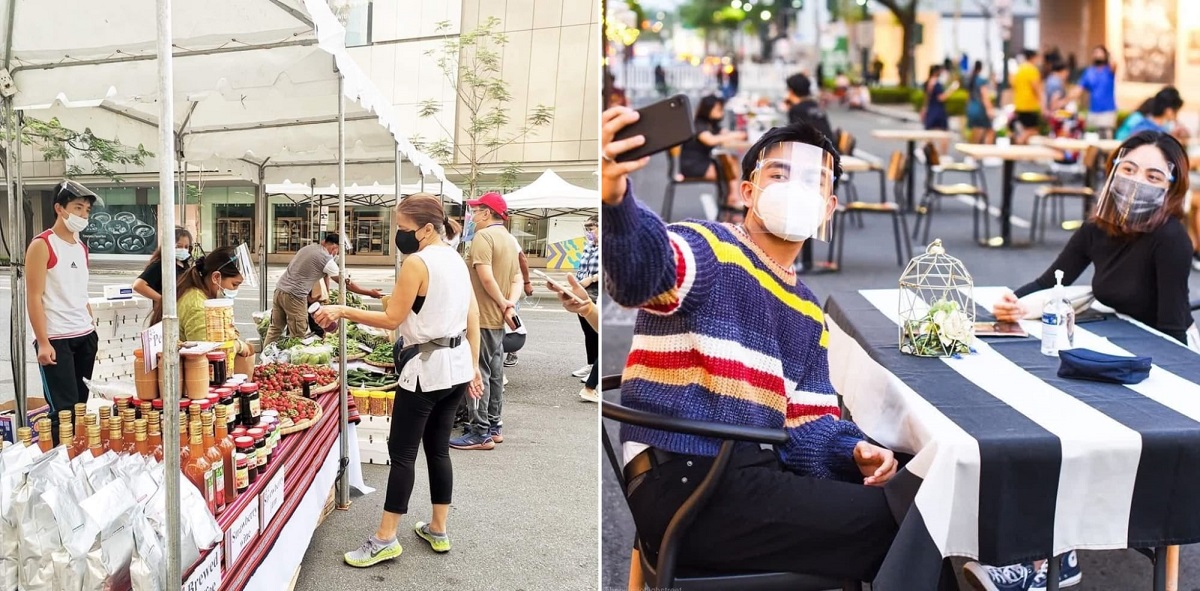 Image adapted from @selaya_ph
Every Saturday and Sunday, My Street High Street's vendors line Bonifacio High Street, offering produce from much-coveted onions to tomatoes, woven handicrafts such as bags and masks, and natural products such as eco-friendly homemade soaps.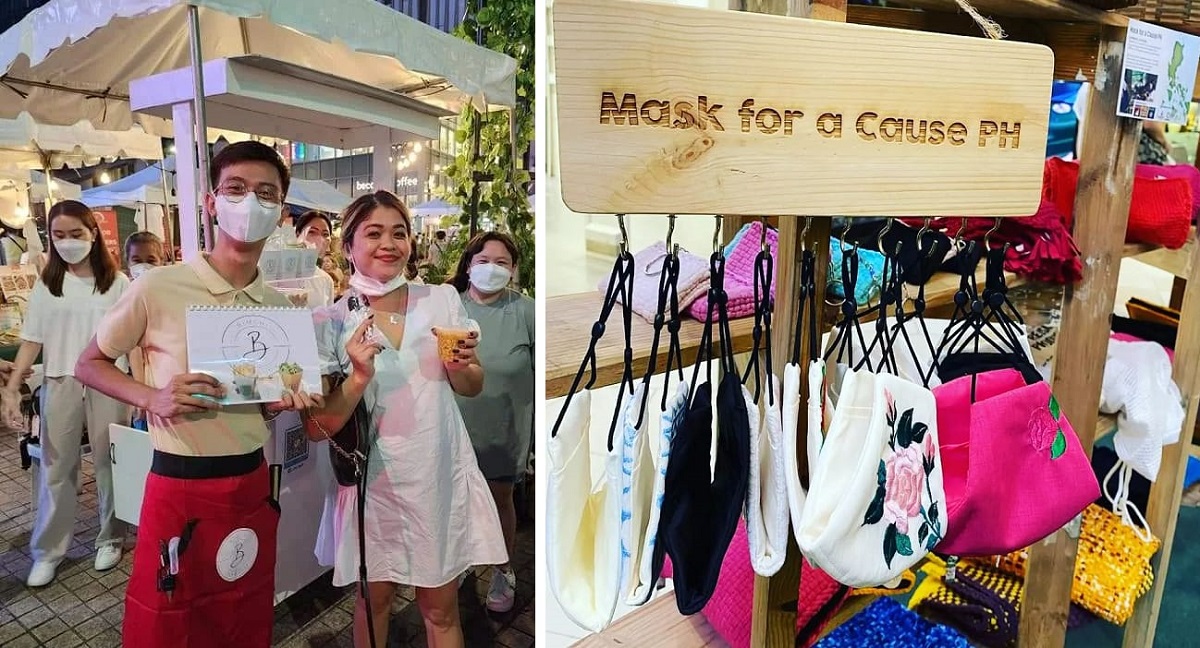 An indie canned snowcone stall Bimchi Top Blendz (left), and indigenous communities' woven face masks and other fabric art from House of Habi (right).
Image adapted from @thebimchitopblendzz and House of Habi PH
Don't miss the taho vendor Bacoor Soy Producers and clothing from Abra Indigo Manila – small businesses that have tided through the challenges of the pandemic and are now sharing their passions through charming little stalls, just like the ones you might see at local markets.
Good news: Bonifacio High Street is a car-free zone on weekends as well, which means you can bring your entire family, furry friends, and even your kick-scooters for relaxed outdoor dining.
Address: Bonifacio High Street, Taguig, Metro Manila
Opening hours: Sat-Sun 9am-11pm
Contact: 288183601 | Bonifacio High Street's Facebook | Instagram
---
7. Legazpi Sunday Market – mix of different cuisines, accessible seating
---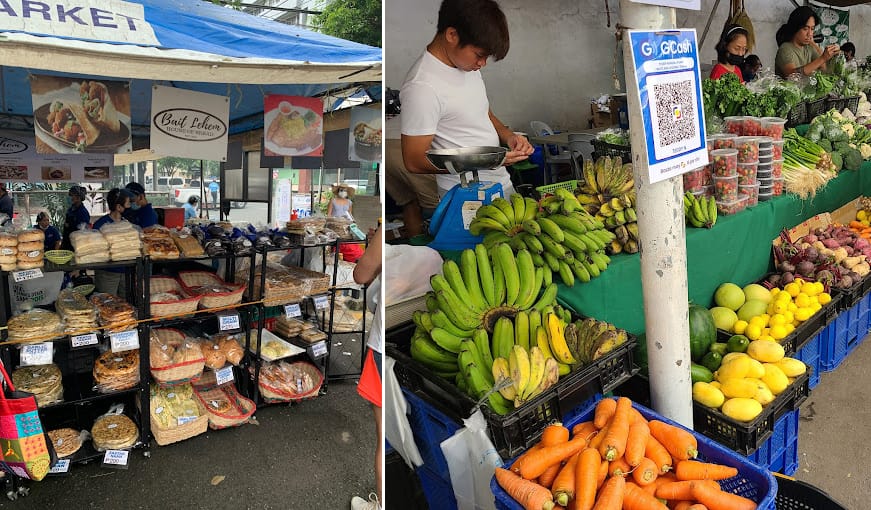 Image adapted from Kantapong Chonsawat and Anna Lim
Held every Sunday from 7.30am till 2pm, Legazpi Sunday Market is for early risers looking for something beyond the typical neighborhood bazaar. Post-lockdown, the market focuses on homestyle cooking from various cuisines, from Thai to Korean to US to Moroccan to European, besides Filipino food staples.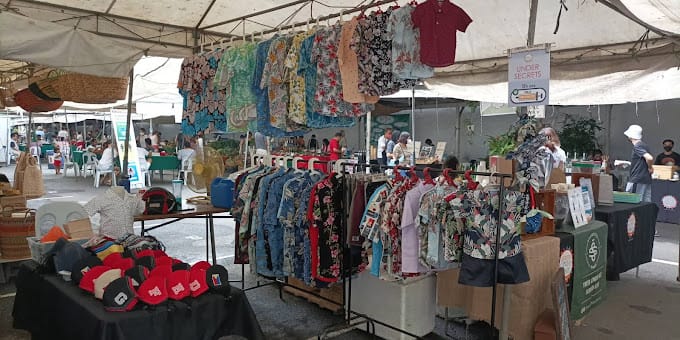 Image adapted from Rogie Sonza
Designated seating for people with disabilities and seniors in the dining space is available too, so your loved ones can also sample the world through their tastebuds with you. You can also bring your fam to Washington Sycip Park and Legazpi Active Park nearby, and swap books at the market's Little Library.
Address: Corinthian Carpark, Legazpi Village, Makati, Metro Manila
Opening hours: Sun 7.30am-2pm
Contact: 918 965 7825 | Legazpi Sunday Market's Facebook page | Instagram
---
8. Salcedo Community Market – digital payments welcome
---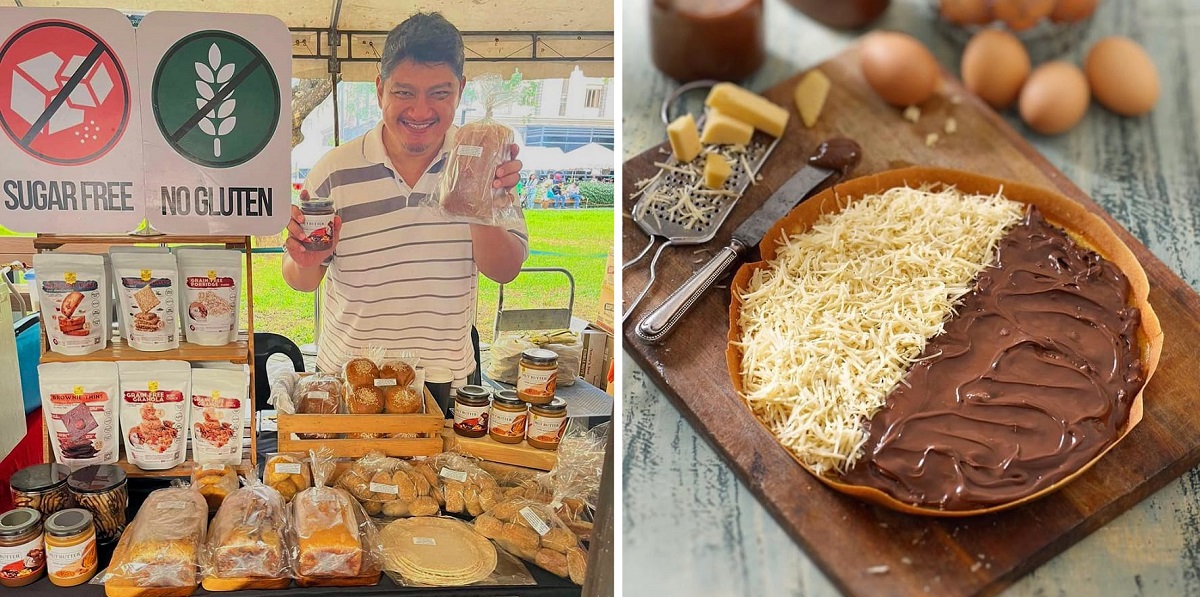 Sugar- and gluten-free baked goods (left) and Indonesian martabak on sale (right).
Image adapted from Salcedo Market and @lezzatmartabak
Only held on Saturday mornings, the Salcedo Community Market is worth rising early for as you can find local and international fare from Thai to Italian to Indonesian to Japanese, grilled meats, pastries including sugar-free bakes, a wet market with fruits and veggies, and safe, clean streets. Digital payments are accepted at many stalls, and prices are stated clearly.
Do note though that prices are slightly higher than in other markets and pets and live music are not allowed, so this is more for those looking for eclectic food finds rather than entertainment.
Address: Salcedo Village, Jaime C. Velasquez Park, Makati, Metro Manila
Opening hours: 7am-2pm
Contact: 288954011 | Salcedo Community Market's Facebook page | Instagram | Vendor Directory 
---
9. Ugbo Street Food Night Market, Tondo – a long row of street grills
---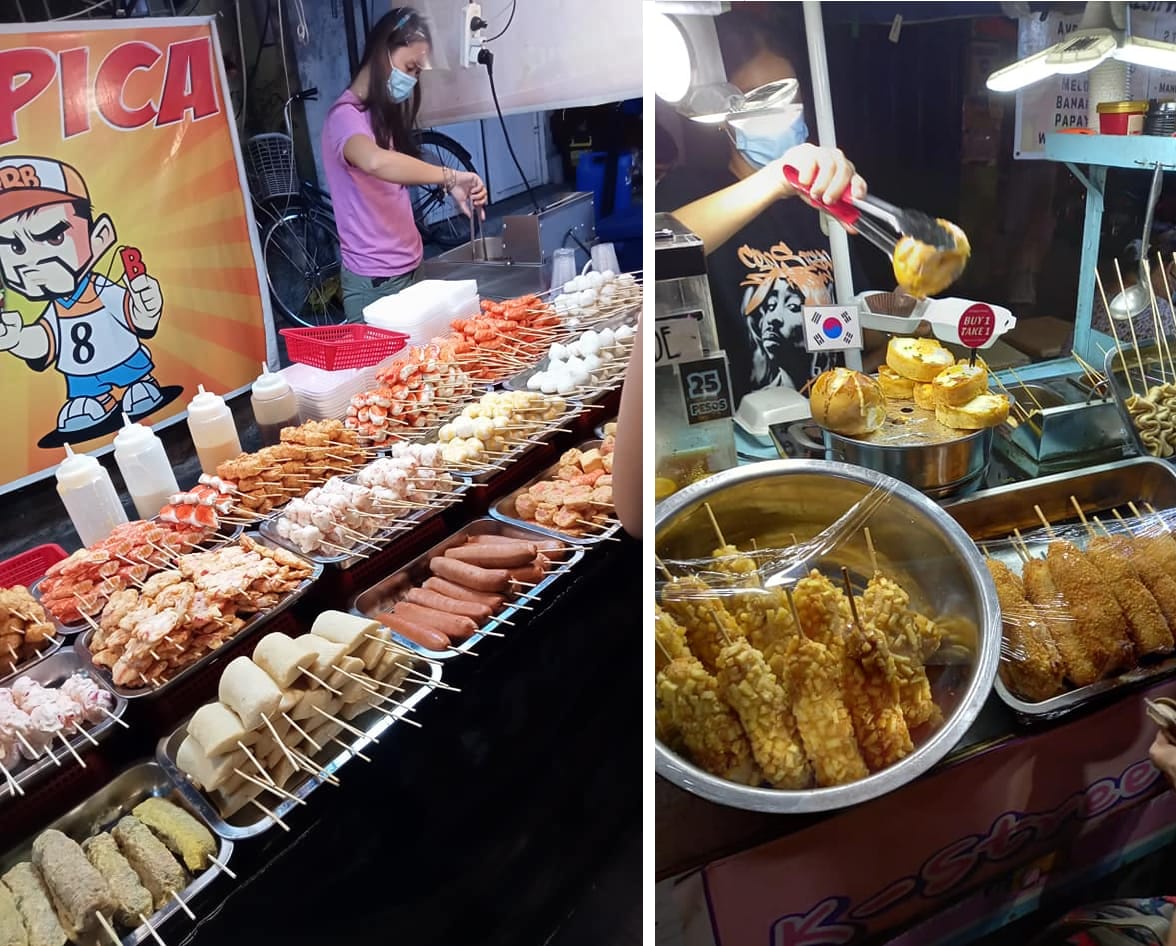 Image adapted from Quinn Zel and Deither Castro
We've covered Ugbo Street Food Night Market in a previous article, but it's worth mentioning it here as its draw is the down-to-earth atmosphere with BBQ grilling stations galore.
Seafood platters, skewers, and Korean party food such as tteokboki, deep-fried hotdogs, and eomuk (oden), pancakes, ice-cream, churros, taho, and more are aplenty. Or if you dare, try tumbong (pork rectum) soup that Tondo is famous for, and that even former Manila mayor Isko Moreno has tasted here.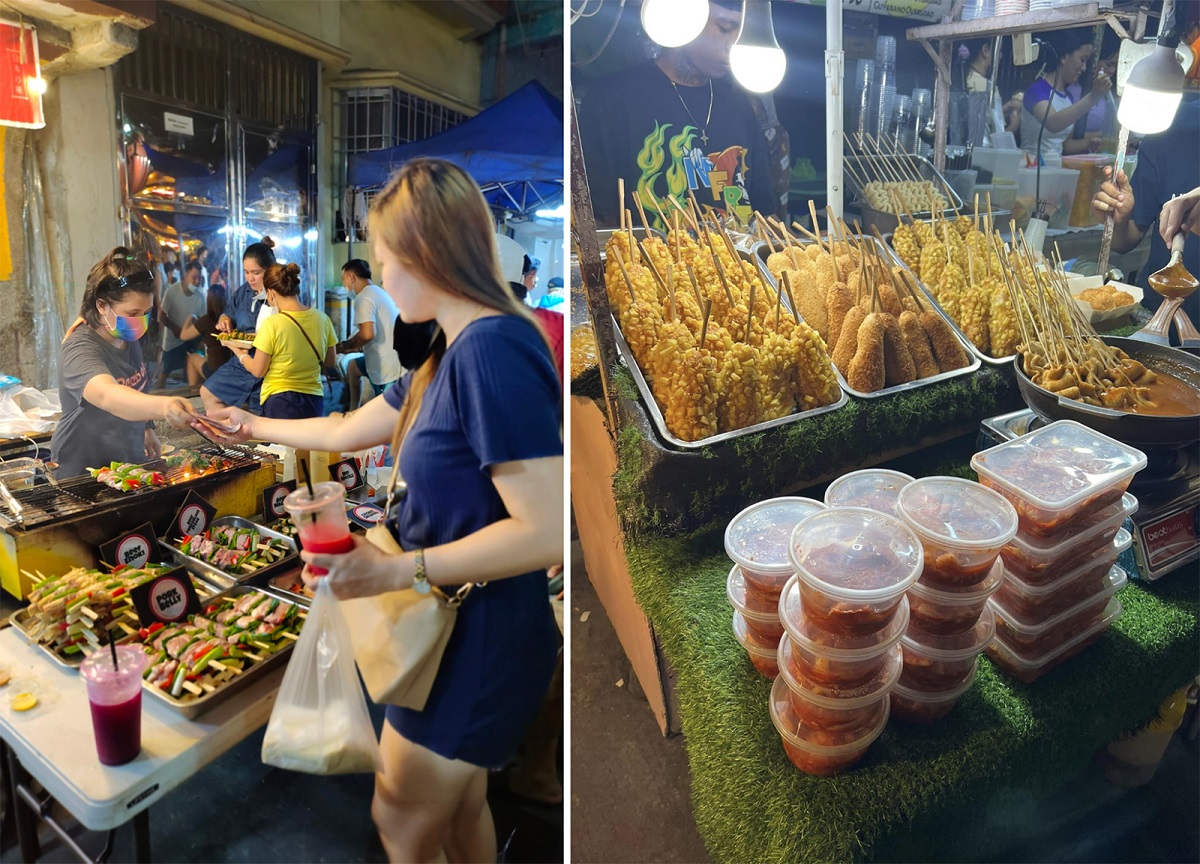 Image adapted from Shailene Demayo Escreza and Gerald de Guzman
There isn't much of an online presence or corporate organizer for this market, and be aware that there may be children asking you for food or cash here, so give at your own discretion.
Visit as early as possible when the streets are not as packed, and try to arrive via motorcycle (P20 per parking space) or jeepney as car parking spots are few and far between.
Address: Ugbo Street, Tondo, Manila
Opening hours: 4pm-10pm
---
Metro Manila markets to explore the city on a budget
---
If you only have a day or two to spend in the metro or are looking for an authentic experience to shop where local residents do, we recommend these markets where you'll come home with both gifts and a full stomach.
Just remember to travel light, arrive at night for cooler weather, and have cash prepared just in case something catches your eye at a vendor without e-payments set up yet. Here's to new finds at these Metro Manila markets!
While in the metro, also check out:
---
Cover image adapted from: Greenfield Weekend Market, Tutuban Night Market, Dangwa Flower Market, and Mercato Centrale
Eunisse Raymundo contributed to this article.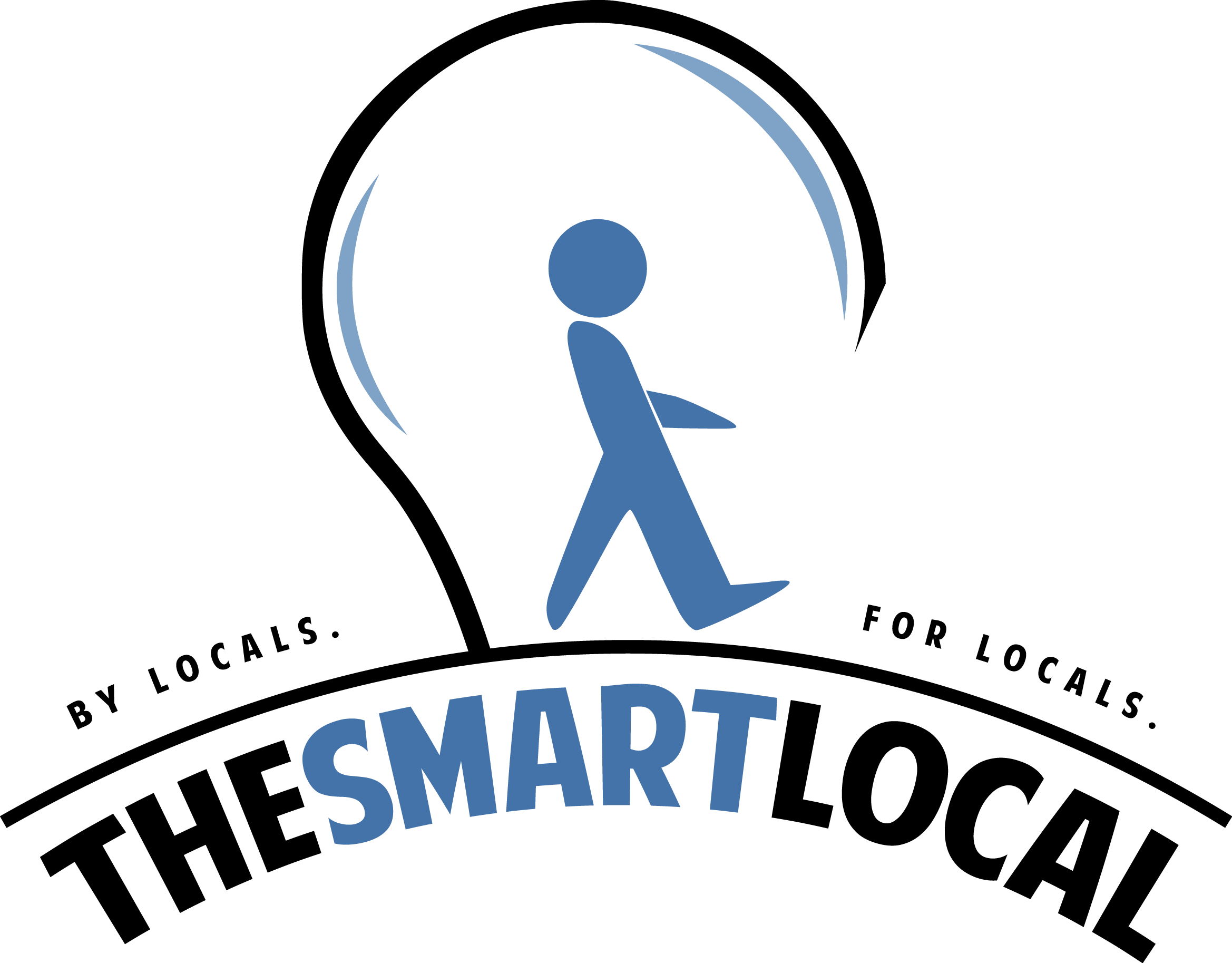 Drop us your email so you won't miss the latest news.