Speakeasies in Metro Manila
---
There are plenty of bars and clubs in the metro that even if you're an avid drinker, you may have not seen them all. If you want to try places that aren't your usual party spots, check out the hidden bars or speakeasies in Metro Manila.
Since they can be pretty well hidden, we've compiled this list of speakeasies in Metro Manila to help you find your new, semi-secret drinking spot with friends.
---
1. RM-16 – Latin-American-themed drinks and food
---

Image credit: RM-16
RM-16 is strategically hidden behind a faux, red vending machine at Tittos Latin BBQ & Brews in Kapitolyo, Pasig.
It offers the same food as Tittos, so you can enjoy your favorite Latin American comfort food, including tacos and chicharron, inside the bar.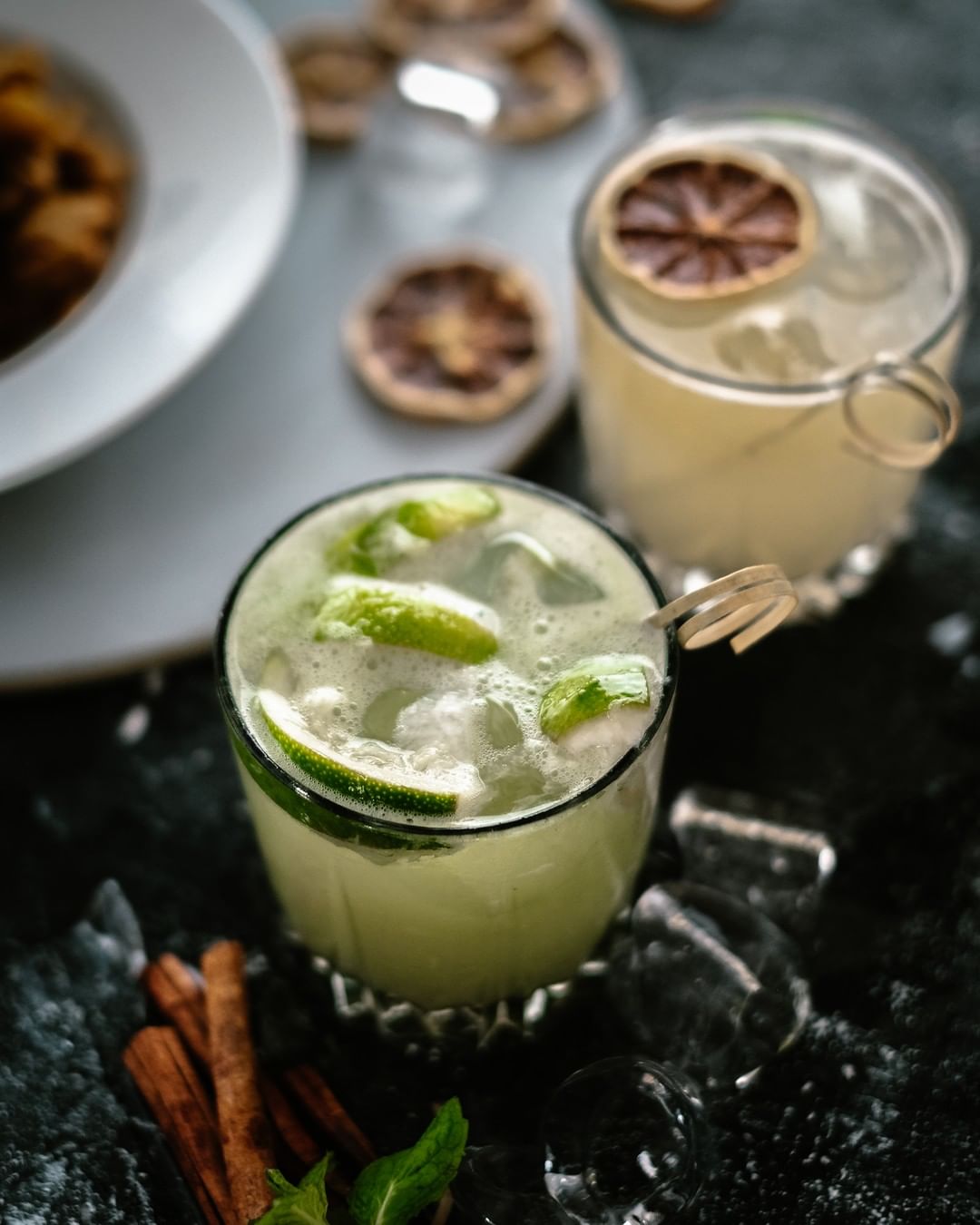 Latin American cocktails.
Image credit: @the_rm16
The speakeasy's vast selection of drinks also include Latin American cocktails (from P240, ~USD4.37) such as their michelada, a beer-based drink with lemon juice, sauces, and spices including chilies.
Address: 16 East Capitol Drive, Pasig City, Metro Manila
Opening hours: Wed-Thu 5pm-10pm | Fri-Sat 5pm-1am | Closed Mondays
Contact: 0917 812 2243
RM-16's Facebook | Instagram

---
2. The ODD Seoul – signature soju cocktails
---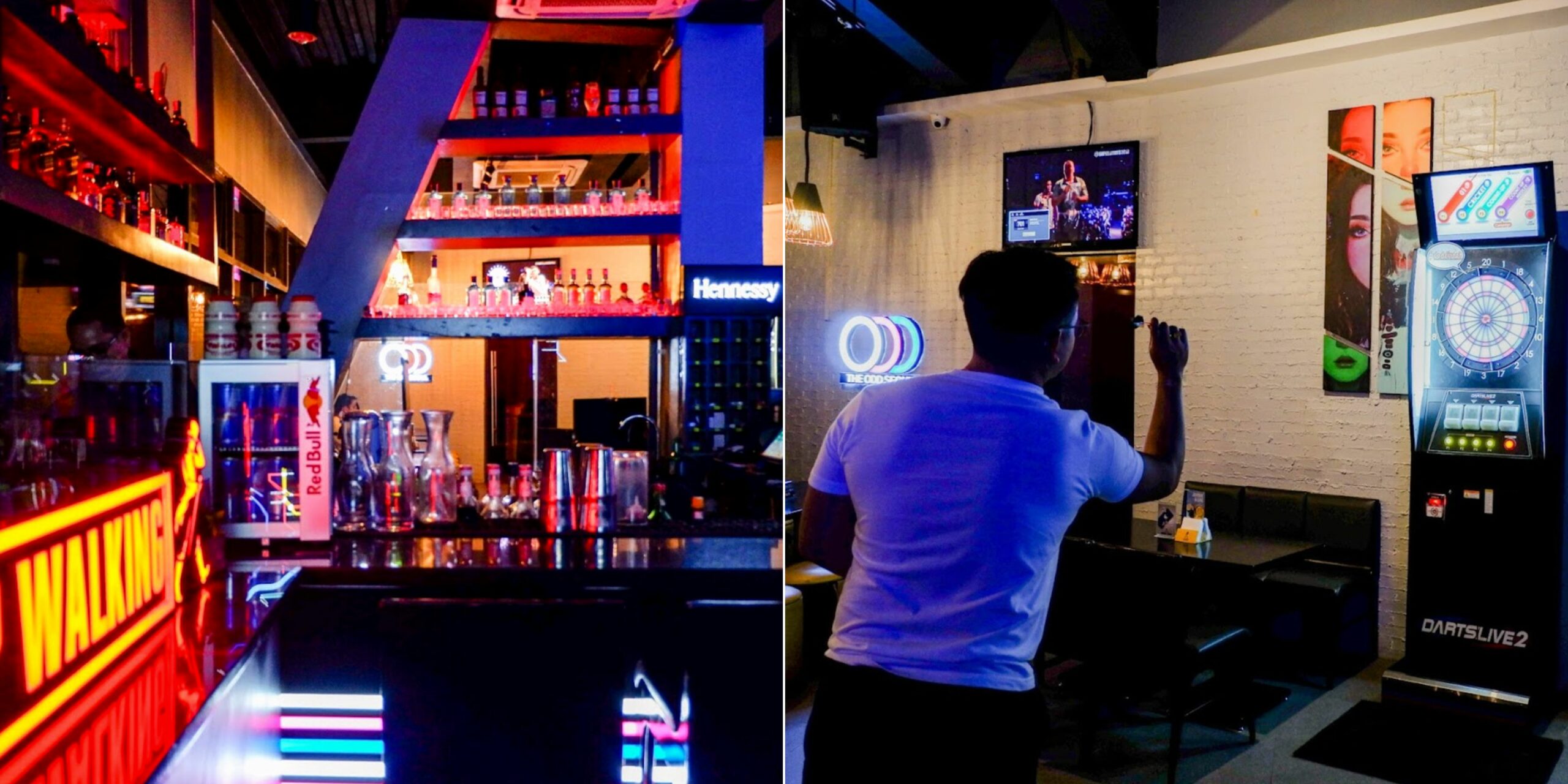 Image adapted from: Date For Two, Date For Two
Inside Gaja Korean Kitchen in Poblacion is The Odd Seoul, a speakeasy which claims to transport you to the famed nightlife spot that's Gangnam in Seoul, South Korea.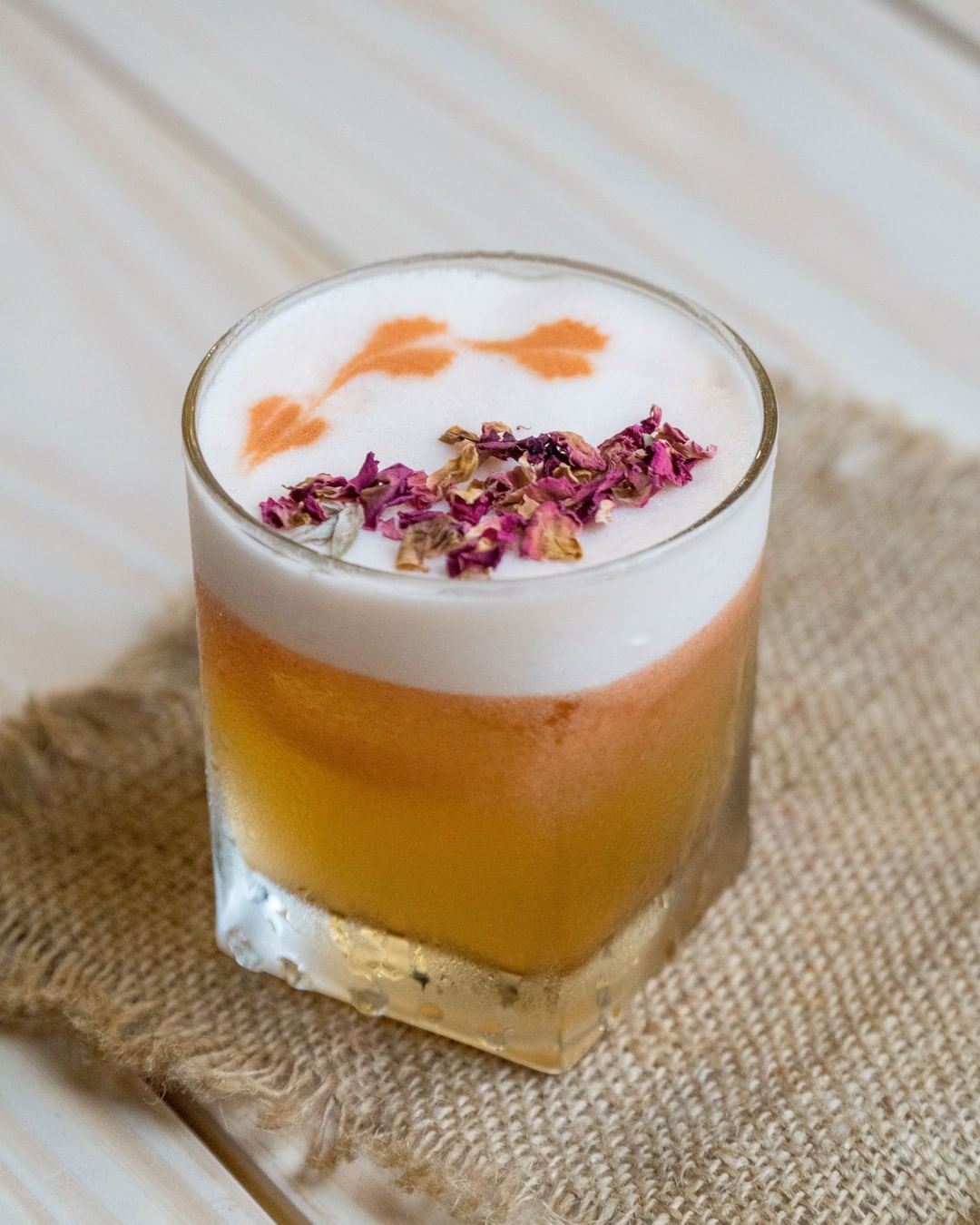 Kimchi Sour.
Image credit: @theoddseoul
Avid soju drinkers will surely love their signature cocktails (from P325, ~USD5.91), including the pleasantly surprising Kimchi Sour and the K-drama-inspired My Sassy Girl. For a true Korean drinking experience, enjoy your drinks with Korean fried chicken and pajeon (scallion pancakes).
The bar plays tunes from the 90s to 2010s, including K-pop hits, making it a perfect drinking spot for Korean pop culture fans.
Address: Gaja Korean Kitchen. 2nd Floor, Zentro Building, Kalayaan Avenue, Makati, Metro Manila
Opening hours: Sun-Thu 4pm-2am | Fri-Sat 4pm-3am
Contact: 0906 493 0799
The ODD Seoul's Facebook | Instagram

---
3. The Spirits Library – interior with magical vibes
---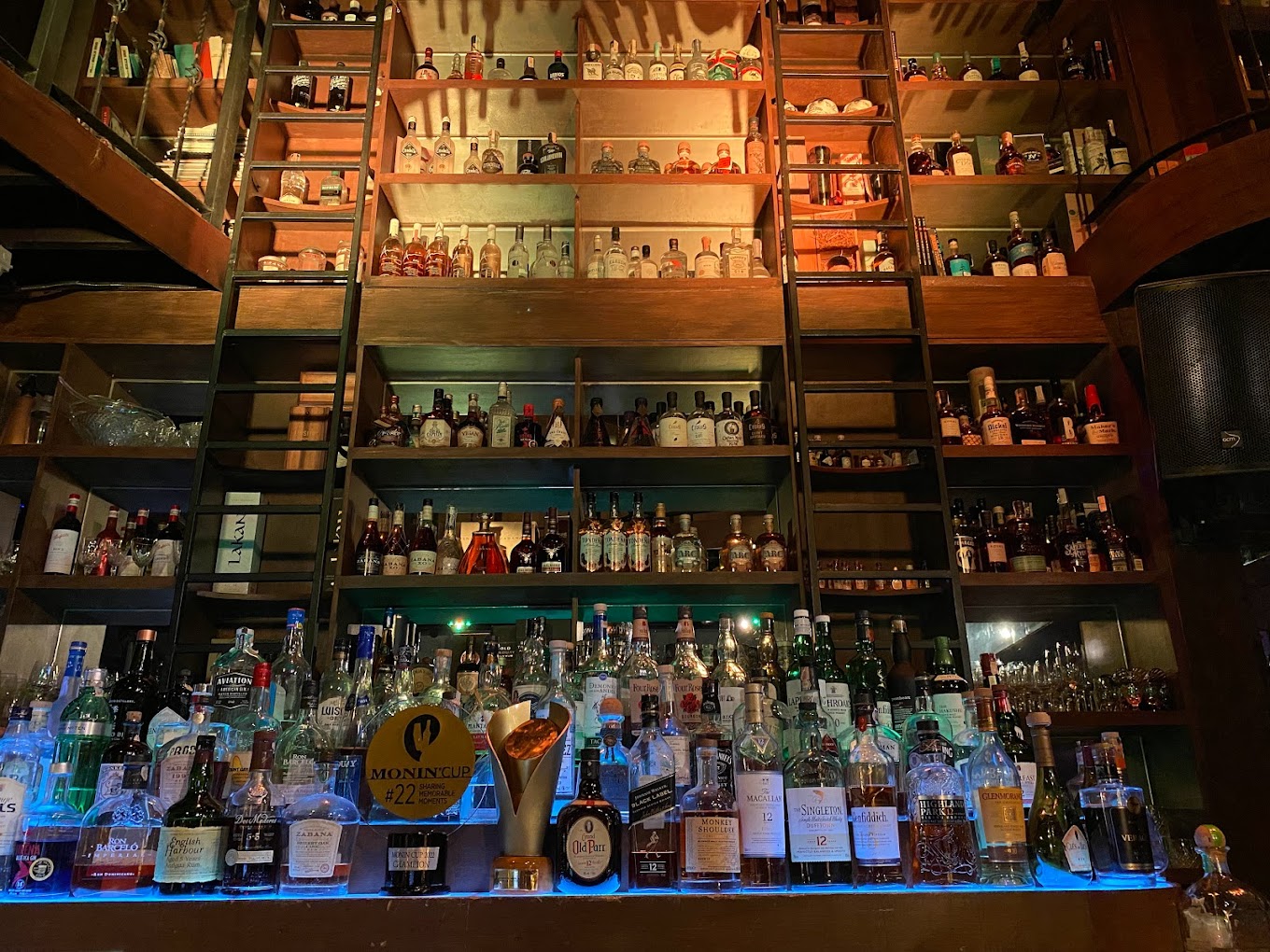 Image credit: Migs Bassig
Entering The Spirits Library will make you feel as if you're being whisked away into a magical library from the Harry Potter books. But instead of rows and rows of tomes, they have drink shelves spanning two floors that are accessed through ladders, which add to the whimsical feel of the bar.

You can ask their mixologist to whip up anything.
Image credit: @thespiritslibrary
They may seem to have a limited menu of cocktails (from P320, ~USD5.82) on paper, but their mixologist is a wizard who can make any drink you want.
However, this mystical drinking spot doesn't have a lot of food options, so make sure to drop by one of the many excellent restaurants in Poblacion before you go.
Address: 4963 Guerrero, Makati City, Metro Manila
Opening hours: 6pm-3am, Daily
Contact: 09171601162
The Spirits Library's Facebook | Instagram

---
4. Alibi Lounge – mystery-themed speakeasy
---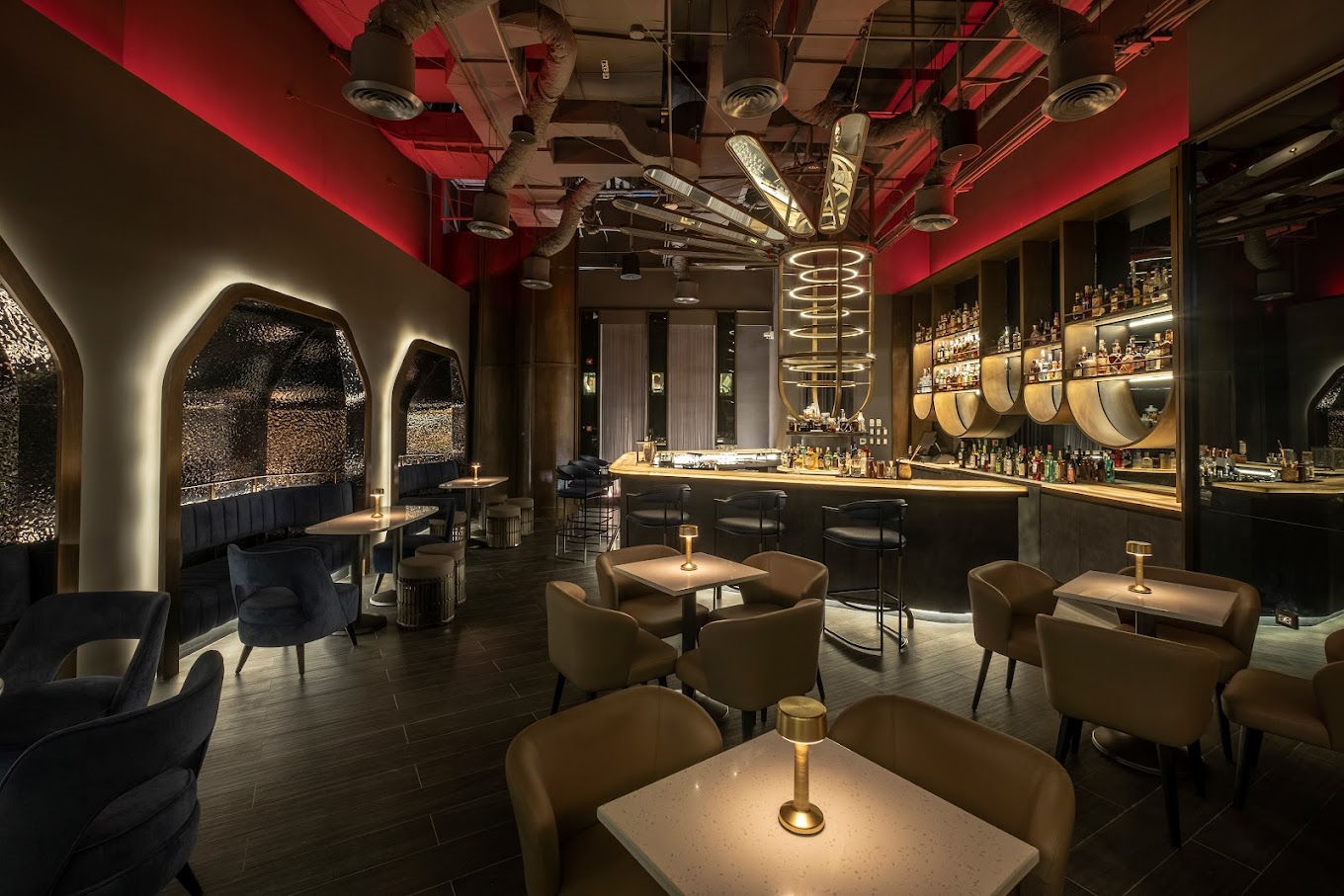 Image credit: Alibi Lounge • Bar
Those who live in the south can check out Alibi Lounge in Alabang, a speakeasy with a subtle mystery theme. You'll need a password to enter the bar so you'll definitely feel as if you're in a mystery novel.
Inside, it has posh interiors for a luxurious drinking experience.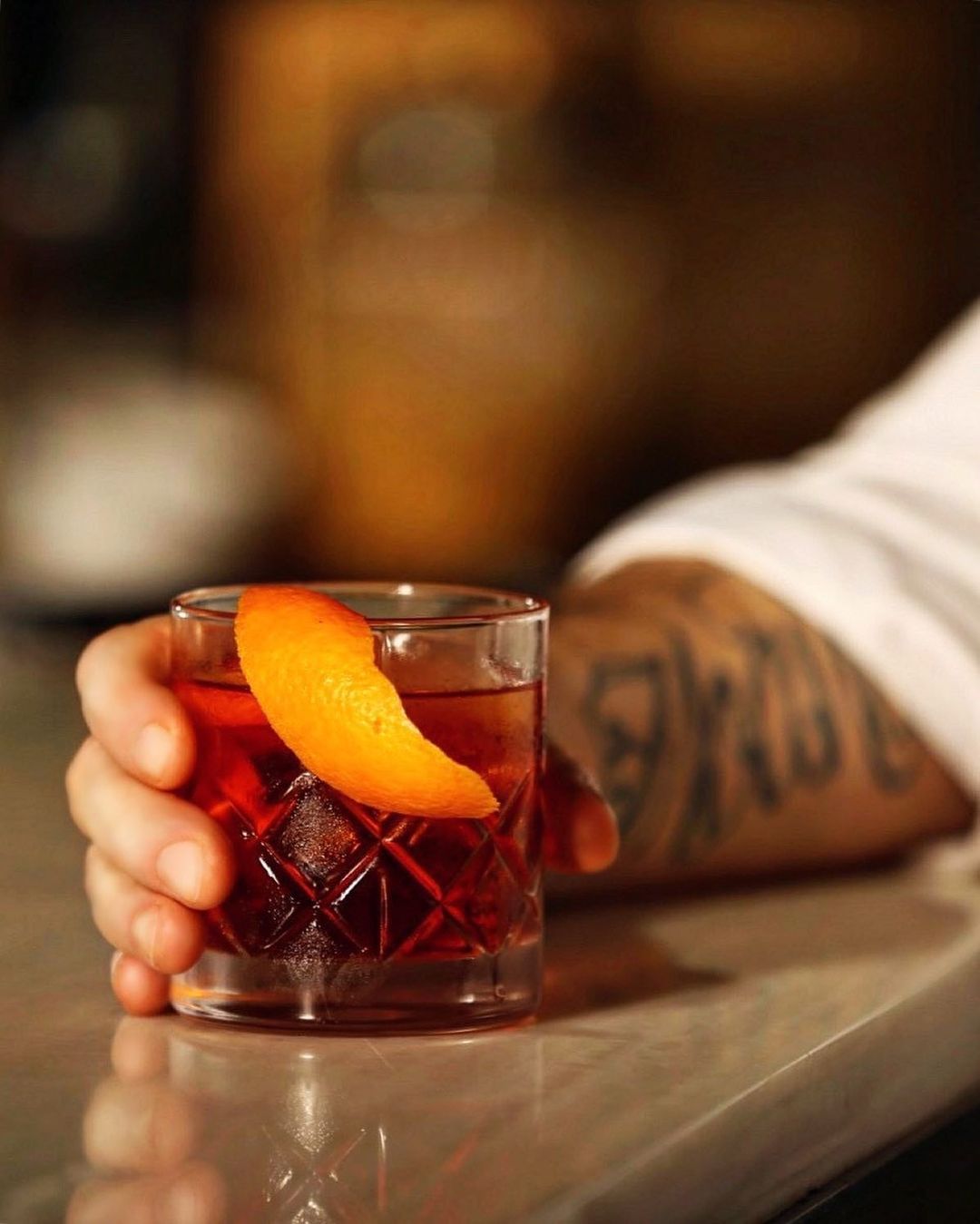 Image credit: @alibiloungemla
Alibi Lounge has an extensive selection of drinks but go for their signature cocktails (starts at P350, ~USD6.36). Sunset Strip, Whisper Sister, and Peet, Meet, and Greet are just some of their patrons' favorites. You can enjoy these with assorted cold cuts and cheeses.
Address: Entrata Urban Complex, Civic Drive, Filinvest City, Alabang, Muntinlupa City, Metro Manila
Opening hours: Mon-Sat 5pm-1am | Closed Sundays
Contact: 0998 595 3770
Alibi Lounge's Facebook | Instagram

---
5. Bank Bar – bank-themed bar behind a 7-Eleven
---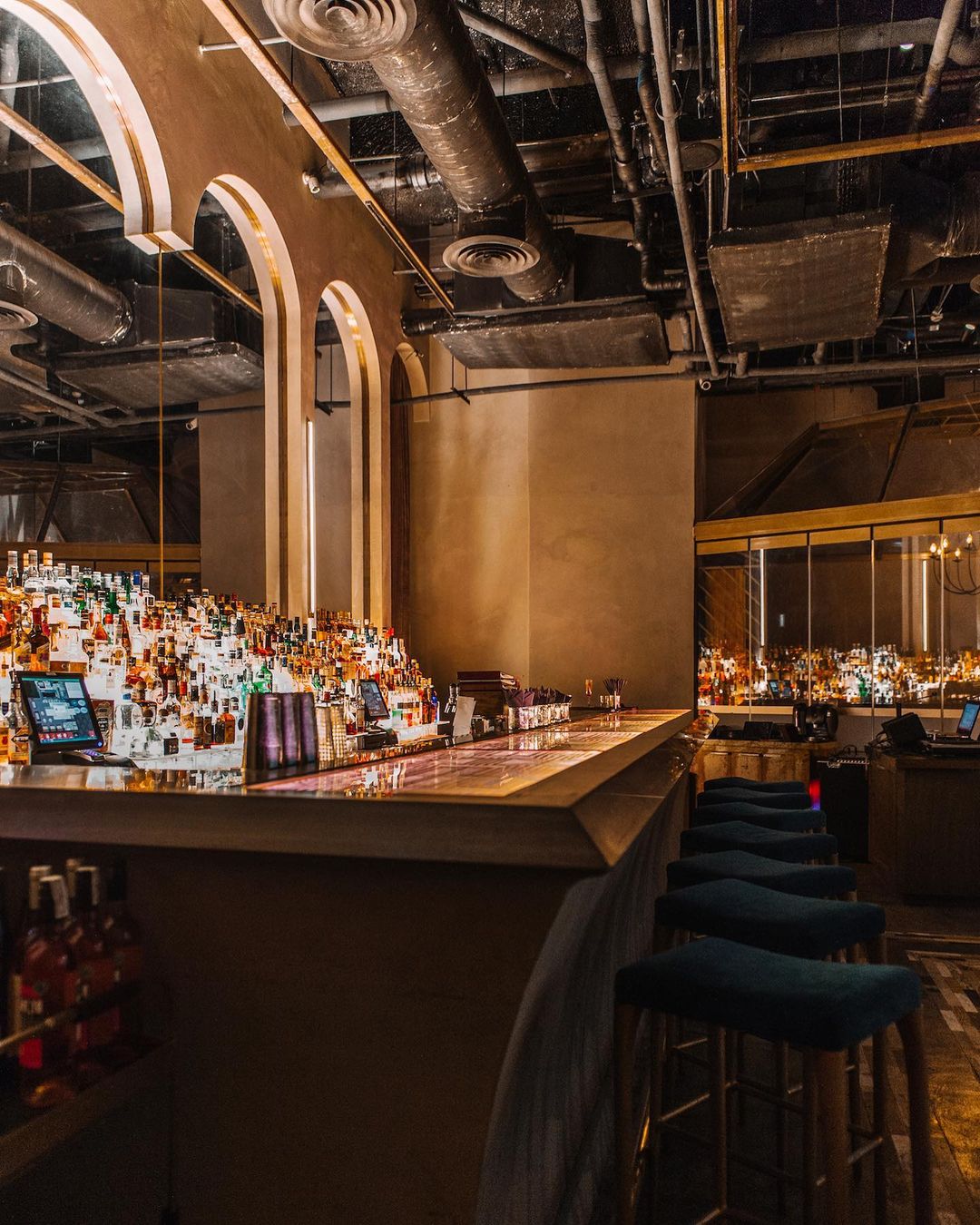 Image credit: @bank.bar
Bank Bar in BGC is accessed through a door inside a 7-Eleven. But while its front is unassuming, it has a luxurious interior that's similar to a bank, since the speakeasy also shares the building with a bank HQ.
They have an impressive selection of drinks, which you'll get a hint of when you see their elegant drinks display at the bar area. You can even customize your gin and tonic.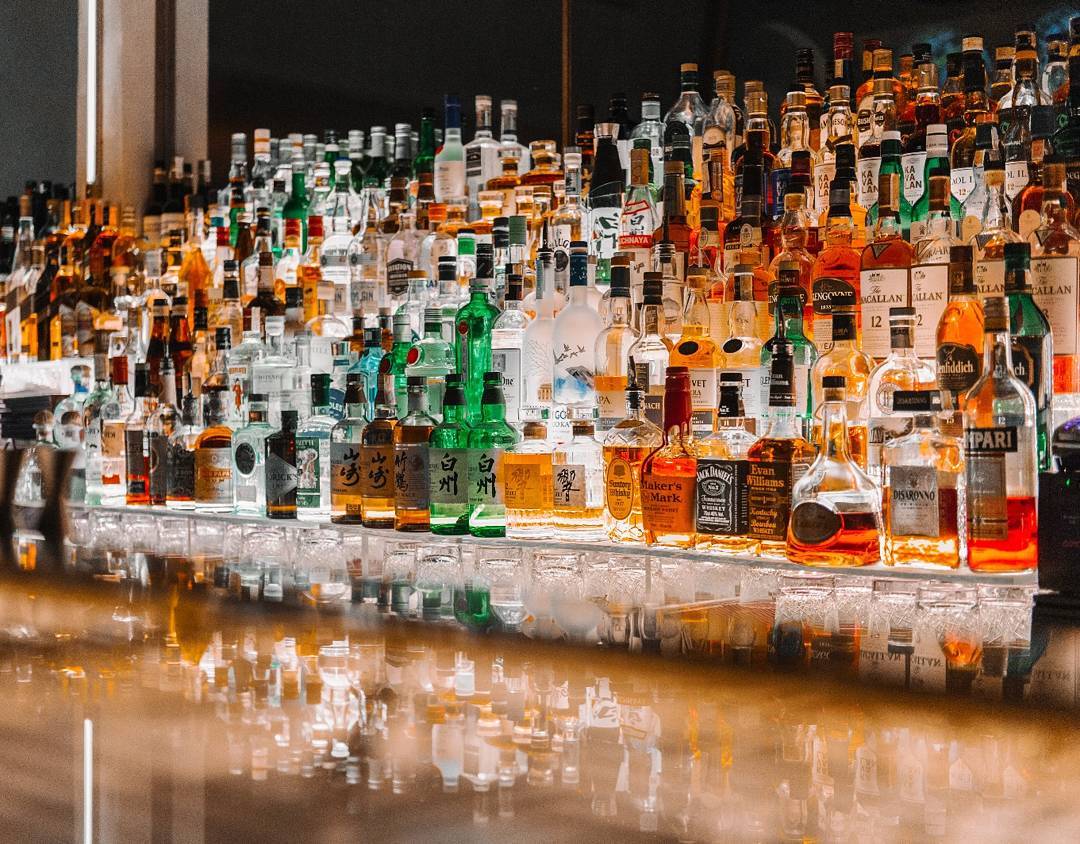 Impressive array of drinks.
Image credit: @bank.bar
Drinks start at P425 (~USD7.74) but you can get them at a more wallet-friendly price when you go during Happy Hour on weekdays at 5pm to 8pm.
Bank Bar also offers a wide variety of food, including the famous onion rings from the local burger chain 8Cuts.
Address: G/F, RCBC Savings Bank Corporate Center, 26th and 25th Street, Taguig City, Metro Manila
Opening hours: Tue-Sat 5pm-1am | Closed Sundays & Mondays
Contact: 0919 073 3304
Bank Bar's website | Facebook | Instagram

---
6. INT.Bar / EXT.Cafe – cocktails inspired by movies
---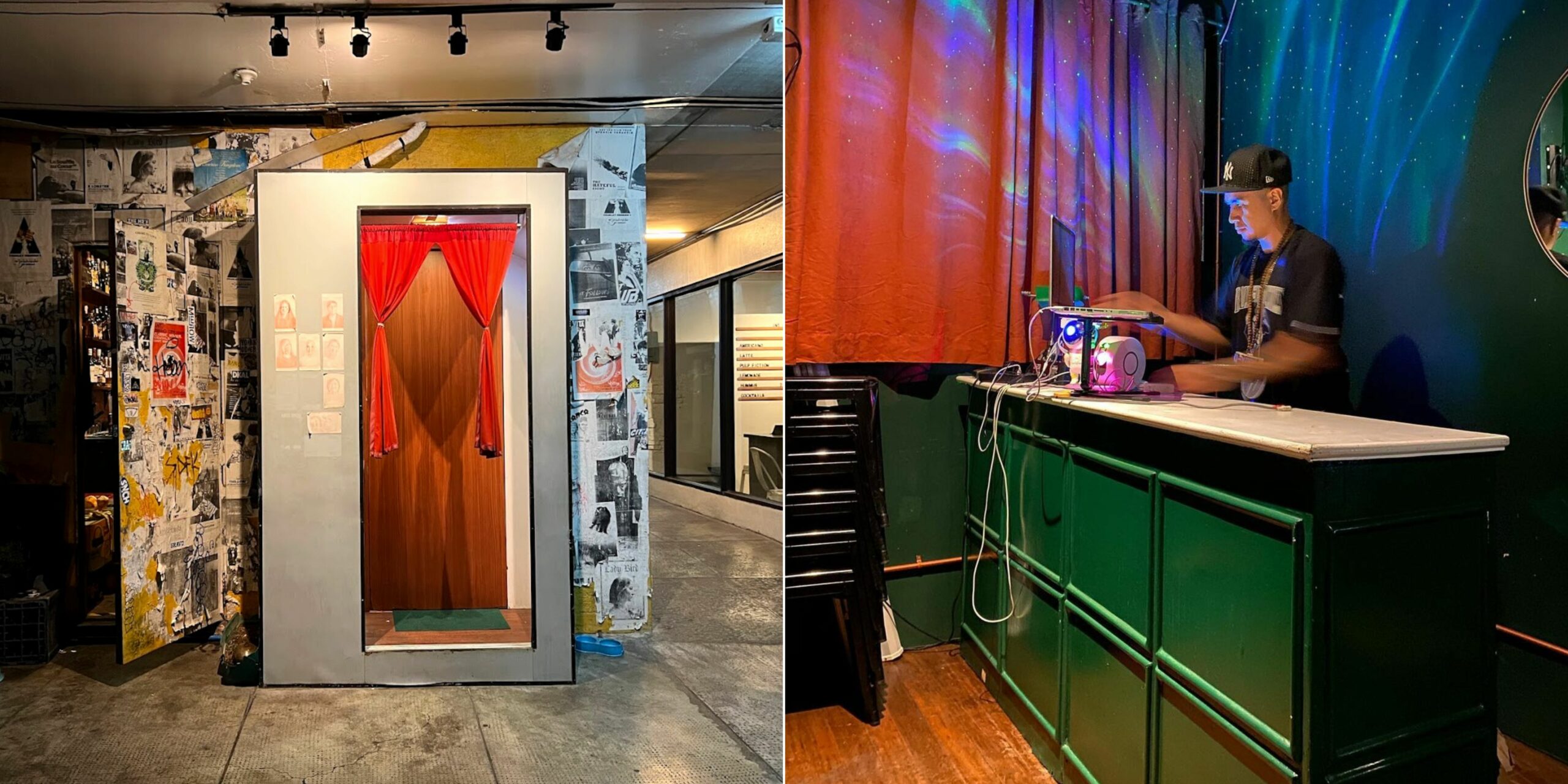 Image adapted from: Banananaa Anchel, @jtgarcia23
Cinephiles will love INT.Bar / EXT.Cafe in Cubao Expo. It's a movie-inspired bar that's just as its name suggests – it's hidden inside a cafe.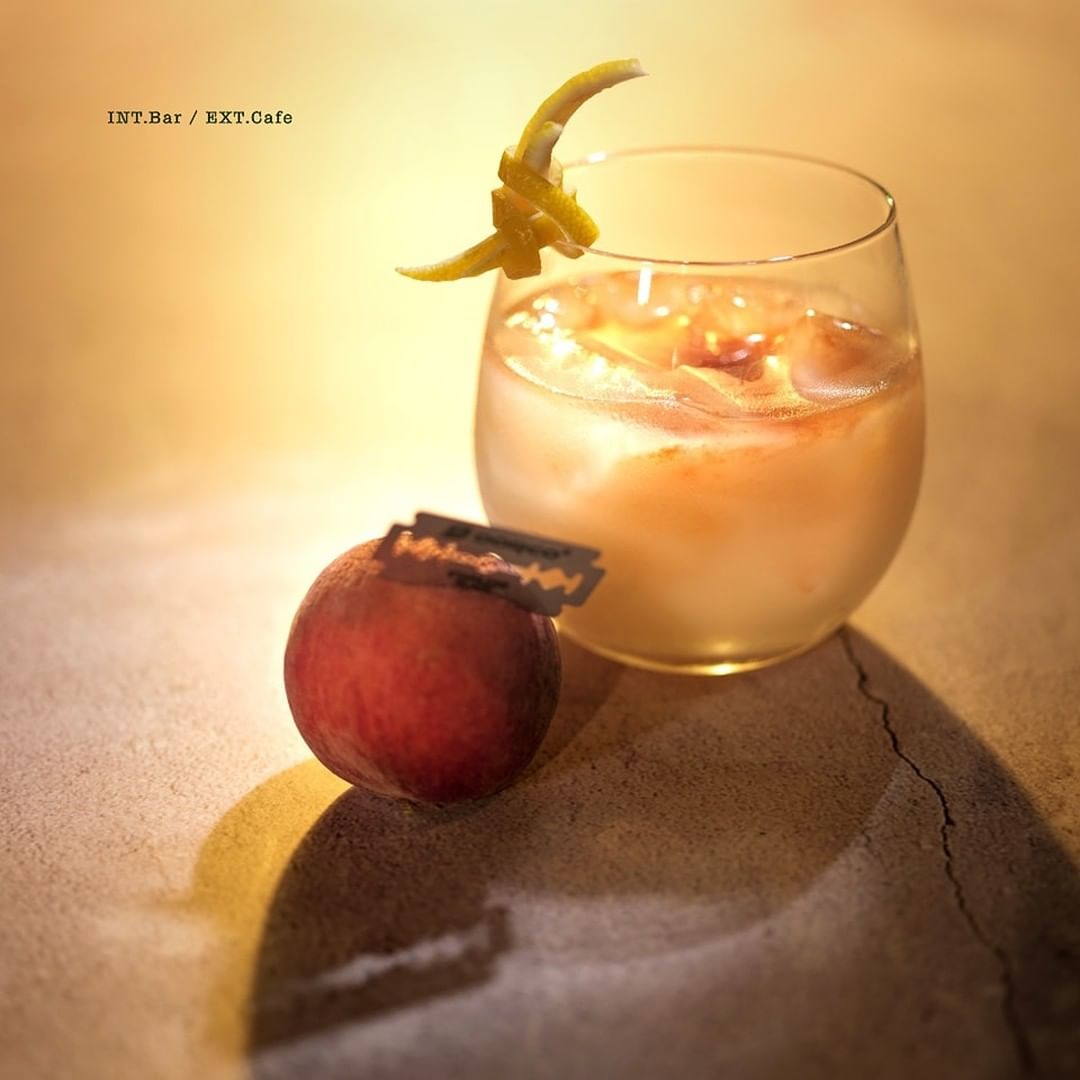 Parasite cocktail.
Image credit: @intbar.extcafe
The bar serves cocktails (from P250, ~USD4.55) named after iconic movies such as Parasite, which has peach soju as a nod to the movie. You can get chicken poppers, nachos, and sausages as bar chow, but there's also free popcorn to complete the movie feel.
If you love discovering new music, INT.Bar / EXT.Cafe also features different live DJs daily.
Address: Cubao Expo, Gen. Romulo Avenue, Cubao, Quezon City, Metro Manila
Opening hours: 5pm-12am, Daily
Contact: 0917 853 3726
INT.Bar / EXT.Cafe's Facebook | Instagram

---
7. Thirsty Barber – drinking spot inside a barbershop
---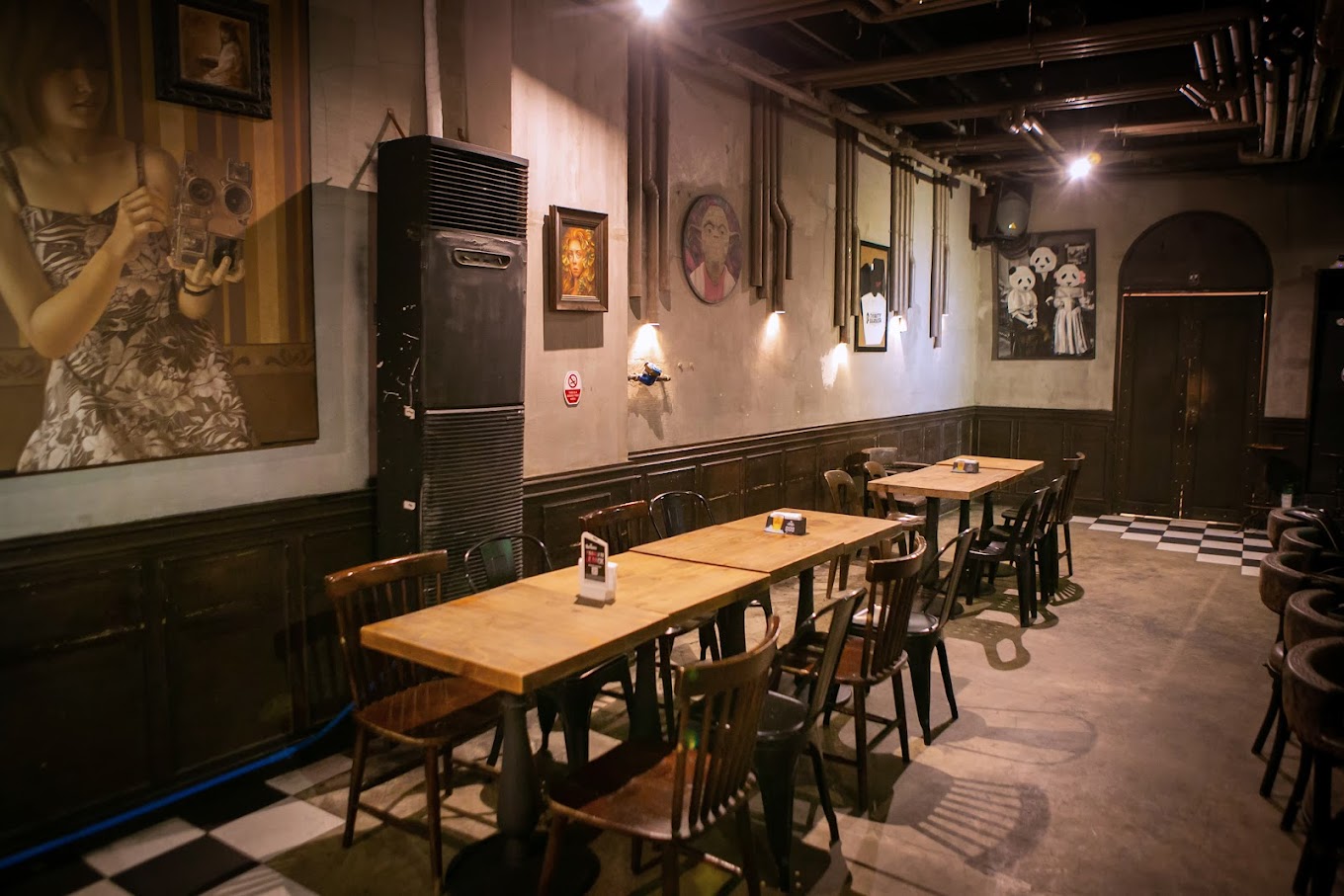 Image credit: jet lamosa
Thirsty Barber is located behind a bookcase in a barbershop in San Juan City, so you can get a slick haircut before you go meet your friends for drinks. Inside, it has grungey, industrial interiors that'll make you think you're in a mafia den.
They serve classic and barbershop-themed cocktails (from P190, ~USD3.45) such as Blunt Scissors, The Undercut, and Asian Mullet.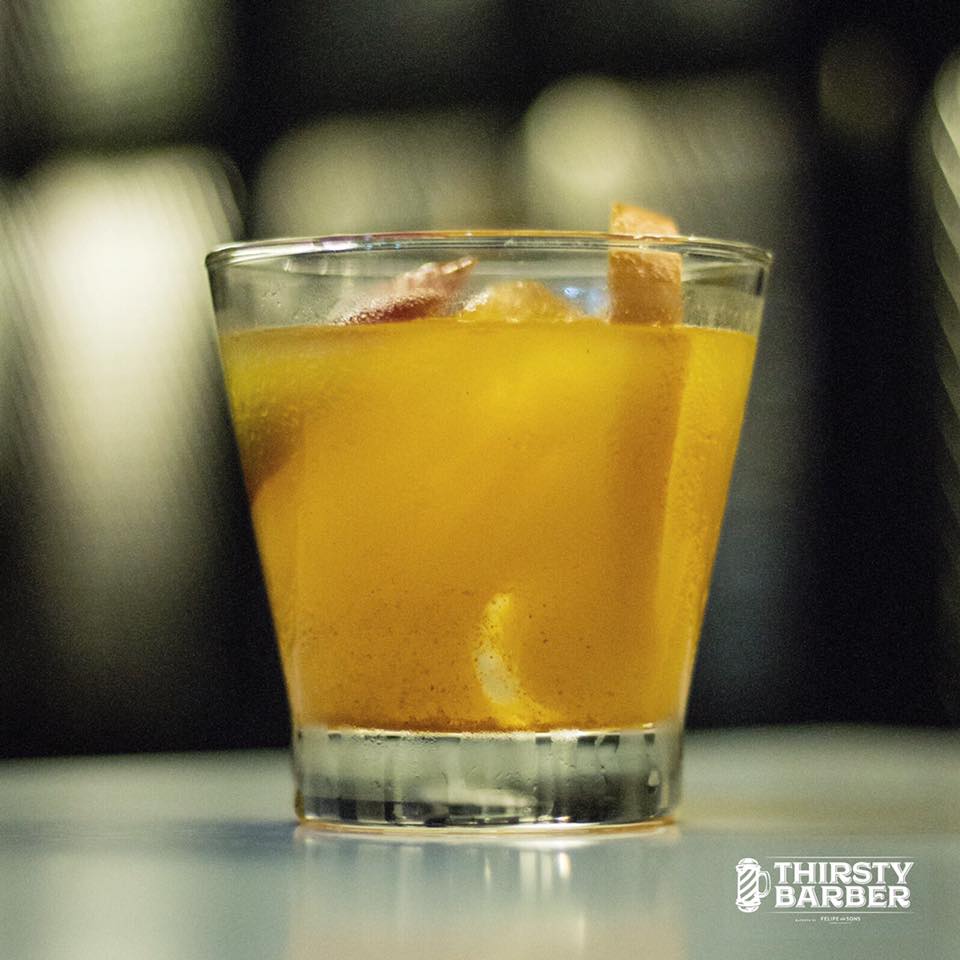 The Undercut.
Image credit: Thirsty Barber
Besides cocktails, there's also a wide variety of alcoholic drinks and bar chow, including Filipino pulutan favorites such as chicharong bulaklak (deep-fried pork intestine) and tokwa't baboy (tofu and pig face).
Address: G/F Promenade Building, Wilson corner P. Guevarra Street, Addition Hills, San Juan City, Metro Manila
Opening hours: Tue-Sun 5pm-2pm | Closed Mondays
Contact: 0977 360 8130
Thirsty Barber's Facebook | Instagram
---
Discover speakeasies in Metro Manila
---
Switch up your drinking spots once in a while and indulge in the feeling of exclusivity that these speakeasies in Metro Manila provide.
With amazing themes and delicious drinks and food, you're guaranteed a fun time with friends at these speakeasies!
Also check out:
---
Cover image adapted from: Alibi Lounge • Bar, @the_rm16, Migs Bassig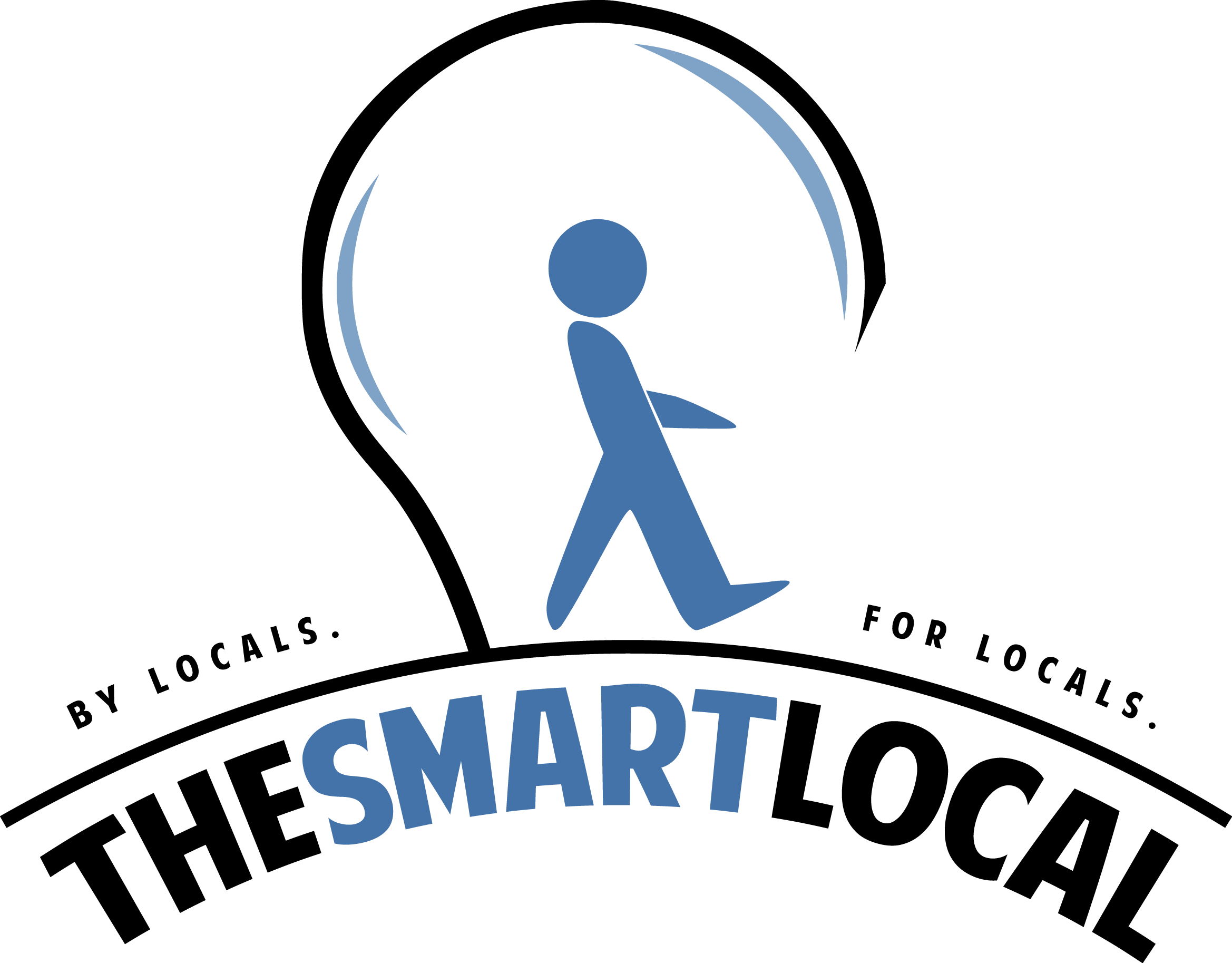 Drop us your email so you won't miss the latest news.