Mango recipes besides mango graham float
---
The drop in mango prices each summer due to a surplus of the fruit often has us hoarding mangos. Many times, we overestimate our liking of the fruit and we get tired of eating them as they are. Our go-to, easy mango recipes, such as mango graham float and mango shake, may not even be cutting it anymore.
In case you find a lot of mangos in your hands but don't know how to use all of them before they spoil, try these mango recipes below and discover new ways to enjoy the fruit.
---
1. Mango Salsa – sweet and spicy sauce you can add to a variety of dishes
---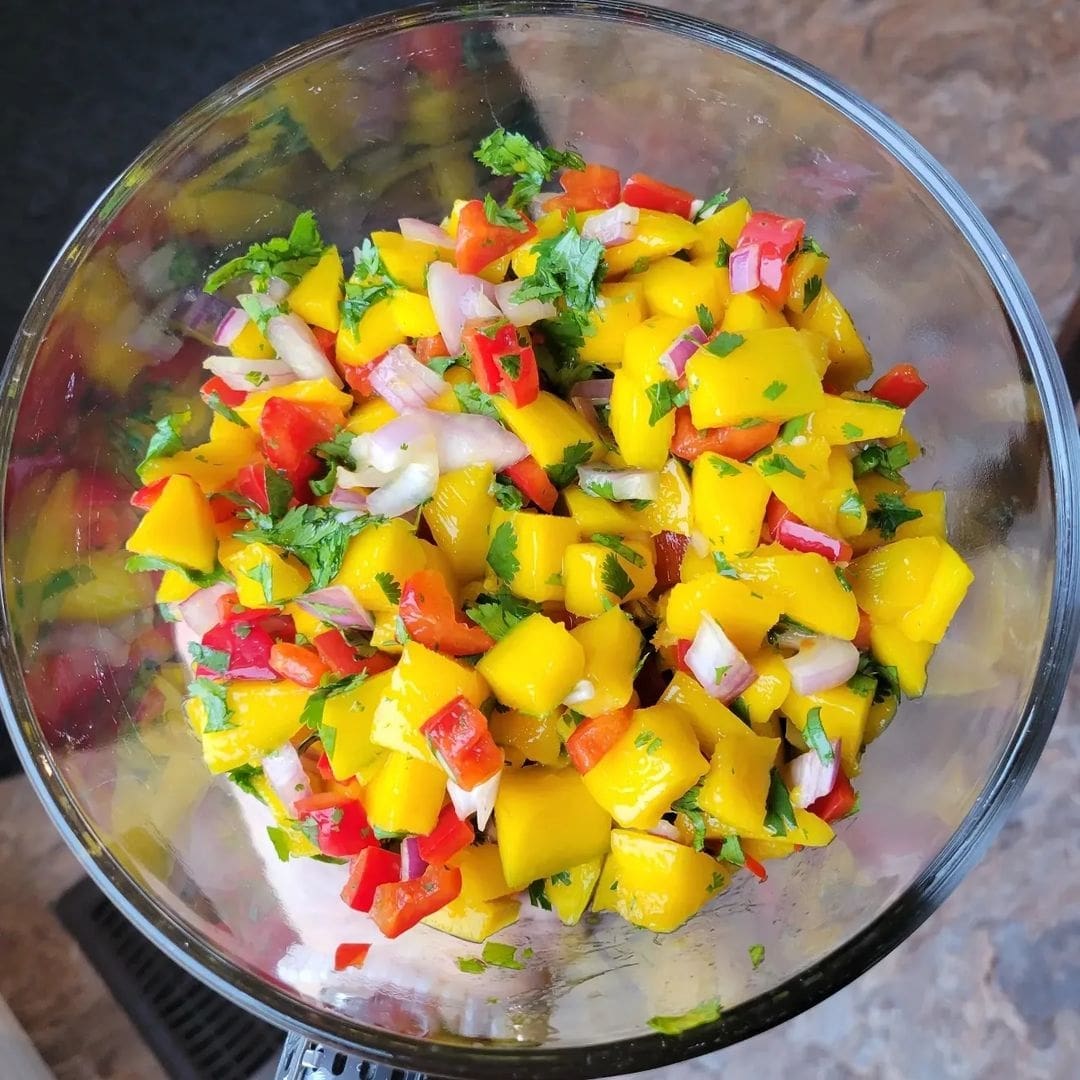 Image credit: @sashaleighhh
Filipinos already have burong mangga or pickled unripe native mangoes which we love to eat with grilled pork or fried fish. However, you can still use ripe mangoes to go with your favorite ulam (viand).
Mango salsa is a sweet-spicy sauce that can be used to complement your pan-fried, grilled, or roasted ulam. You can also add this to your homemade tacos or use it as nacho dip.
Compared to other mango recipes, it's an easy way to enjoy mango without having to cook, bake, or wait for a long time to freeze.
Ingredients:
1/2 red onion, chopped
1 medium bell pepper, chopped
1/2 cup cilantro leaves, chopped
1 jalapeño, seeded and minced
3 ripe mangoes, diced
1/2 cup lime juice
salt to taste
Steps:
1. Put the red onion, bell pepper, cilantro, jalapeño, and mangoes together in a bowl. Add lime juice.
2. Mix the ingredients with a large spoon until all are coated with lime juice. Throw in some salt to taste. Serve.
Recipe credit: Cookie and Kate
---
2. Peach Mango Pie – a homemade version of the Jollibee favorite
---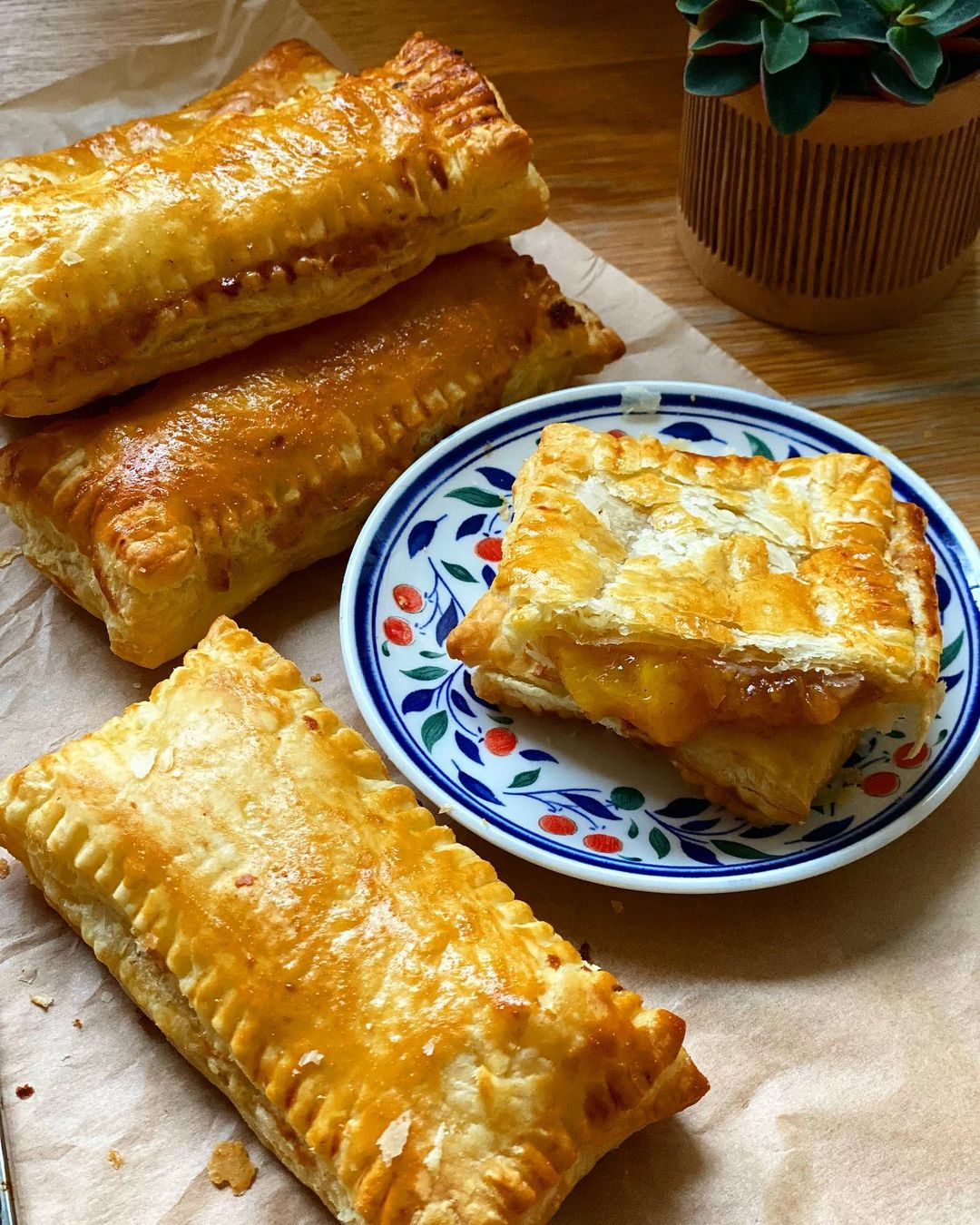 Image credit: @eatwithchantal
Good news for those who love Jollibee's peach mango pie – you can create the fast-food favorite at home, wherever you are in the world.
During mango's off-season, you can use the crust recipe to make any other Jollibee pocket pie, such as ube-cheese (purple yam), strawberry-cheese, or choco-mallow, or go wild and make any filling you'd like.
To make the cooking process faster and easier, you can also use a grocery store puff pastry.
Ingredients:
Filling
1 cup ripe mango, cubed
1 cup peach, cubed
2 tbsp peach syrup or water
3 tbsp white sugar
a pinch of salt
1 tsp cinnamon powder
2 tsp cornstarch
1 tbsp water
Crust
2 1/2 cups flour
2 tbsp white sugar
1/2 tsp salt
1/4 cup cold butter, cubed
1/2 cup warm milk (regular or soy)
1 egg yolk
1 egg white
1/2 tsp cornstarch
1 tbsp water
Cooking oil for deep-frying
Steps:
1. Make the crust by mixing flour, sugar, and salt in a large bowl. Add butter and mix until it reaches a sandy texture.
2. Combine warm milk and egg yolk in a bowl and gradually pour this into the flour mixture, mixing until you get a dough.
3. Knead the dough on a clean, lightly floured flat surface for five minutes or until smooth. Cover the dough with a plastic wrap and refrigerate for at least an hour. You can also leave it in the fridge overnight.
4. To make the filling, cook peach, mango, peach syrup or water, and sugar in a pan over medium heat. Simmer until the sugar is completely dissolved. Add salt and cinnamon.
5. Dissolve two teaspoons of cornstarch into one tablespoon of water and pour the cornstarch mixture into the pan. Stir until the sauce thickens. Set aside to cool.
6. Take the dough out of the refrigerator and divide it into two. Flatten each portion with a rolling pin without making it too thin. Cut each portion into a large square before dividing it into four equal parts.
7. Brush a square of dough with egg white. Put two to three tablespoonfuls of peach-mango filling in the middle of the dough. Fold the dough in half and seal the edges using a fork. Mix two teaspoons of cornstarch into one tablespoon of water and use this to glaze each pie.
9. Deep-fry the pies for two to three minutes on each side until they turn golden brown. Take the peach-mango pies from the pan and cool them on a rack for 10 minutes before serving.
Recipe credit: Pagkaing Pinoy TV
---
3. Mango Graham Ice Cream Sandwich – a different way to enjoy mango grahams
---
Video credit: Kusina chef
Now, we promised mango recipes besides mango graham float, but this is a different take on the classic mango dessert. Mango graham ice cream sandwiches are great if you want mango graham with more mangos and cream than crackers.
This ice cream sandwich recipe is also versatile. You can replace mango with another fruit when it's not in season. You can also add a second ingredient to the cream filling such as cheese or chocolate.
As this recipe is difficult to mess up, you can make endless tweaks to it. You can even change your base into a different cracker or use cookies, wafers, or even brownies.
Ingredients:
740 ml all-purpose cream, chilled overnight
300 ml condensed milk, chilled overnight
250 g pack graham crackers
2 1/2 cups mangos, cubed
Steps:
1. In a large bowl, whip all-purpose cream on high speed for 10 minutes until it doubles in size. Add condensed milk. Mix well.
2. Cover the surface of a square or rectangular container with parchment paper. Line it with graham crackers. Spread the whipped cream mixture evenly on top of the graham crackers until it achieves your desired thickness.
3. Add diced mangos on top of the whipped cream mixture, spreading them evenly. Press the mangoes into the whipped cream. Then, put the second and final layer of graham crackers.
4. Freeze the container for 24 hours or until the ice cream sandwich solidifies completely. Take the ice cream sandwich out of the freezer and use the parchment paper to carefully pull it out of the container. Remove excess cream from the sides. Cut into your desired size and number of pieces and serve.
Recipe credit: Kusina chef
---
4. Mango Popsicles

 

– easy-to-make dessert to keep you cool in the summer
---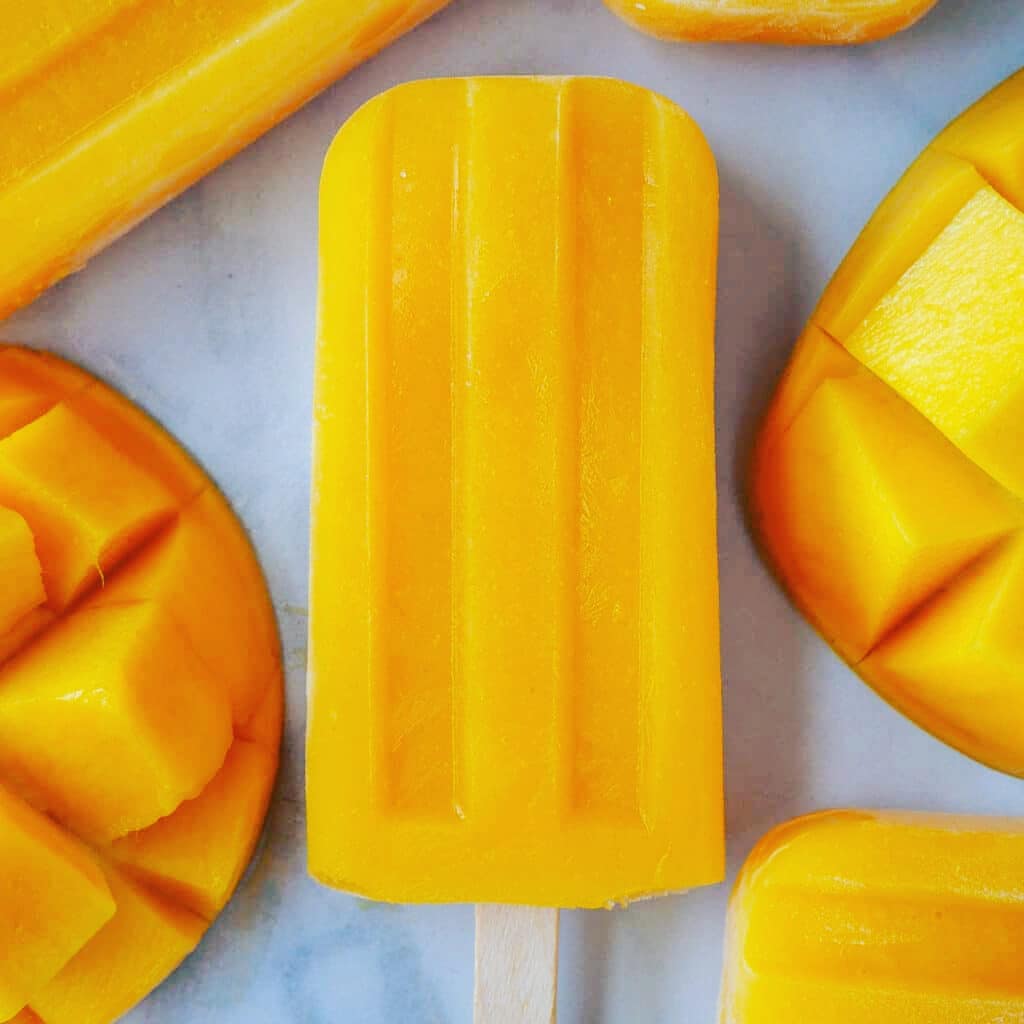 Image credit: @keep_calm_and_eat_icecream
To beat the heat during the summer, you can make mango popsicles. It's a simple dessert both kids and adults will enjoy.
Among other mango recipes, mango popsicles are convenient to make. It only requires you to blend the ingredients together and freeze them.
Moreover, this mango dessert is also convenient to serve as you won't need to worry about doing a lot of dishes, unlike with other mango recipes.

Ingredients:
4 cups mango
1/2 cup Greek yogurt
1 tbsp lemon juice
2-4 tbsp honey, optional
water as needed
Steps:
1. Put mango, yogurt, and lemon juice into a blender. Blend until smooth. You can add honey or skip the ingredient if you're cutting back on sugar. Add water to the blender if needed.
2. Pour the mixture into popsicle molds and put popsicle sticks. Freeze this for four to six hours or until completely frozen.
3. Remove the mango popsicles from the molds. To make it easier to loosen the popsicles, you can run warm water on the exterior of popsicle molds. Serve immediately. Makes 10.
Recipe credit: Rainbow Delicious
---
5. Mango-Pineapple Smoothie Bowl – healthy breakfast made with tropical fruits
---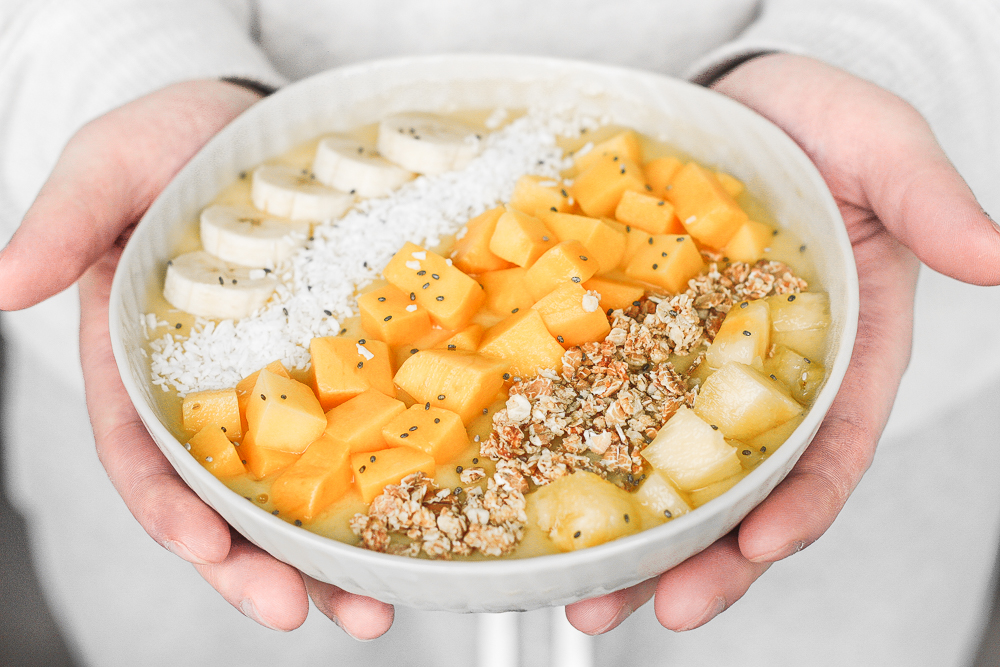 Image credit: Ahead of Thyme
Filipinos looking to switch to eating healthy may find some ingredients inaccessible or expensive in the country.
To make the switch easier, you can make healthy breakfast food such as mango-pineapple smoothie bowls using tropical fruits from the local market instead of the usual blueberries and raspberries.
This proves that you can have a delicious, fiber-rich meal without burning a hole through your pockets.
Ingredients:

1 cup mango, frozen
1 cup pineapple, frozen
1 banana
1/4 cup milk of choice
1/2 cup mango, diced
1/2 cup pineapple, diced
1 banana, sliced
1/4 cup granola
Coconut, shredded
Chia seeds

Steps:

1. In a blender, combine frozen mango, frozen pineapple, half a banana, and milk. Blend until smooth. The mixture should be very thick.
2. Pour the mixture into a bowl. Top with diced mango and pineapple, sliced banana, granola, coconut, and chia seeds. Serve immediately. Makes two.
Recipe credit: Ahead of Thyme
---
6. Mango Sans Rival – Filipino meringue dessert
---

Image credit: @mel.ladz
Sans rival is a French-inspired, Filipino layer cake made with crunchy and chewy meringue with a nutty flavor from cashews and light, airy French buttercream. It's made even more Filipino with this mango sans rival recipe.
While this dessert is more difficult to make than your usual mango recipes, it'll surely be worth all your efforts with its complex textures and refined flavors.
You can cut the mangoes into thin slivers to make a fancy topping for celebrations. Or you can also simply cube them for an everyday sweet treat.
Ingredients:
Meringue
2 cups raw cashews
2 cups powdered sugar, packed
6 large eggs, separated
1/2 cup granulated sugar
1/2 tsp meringue powder (optional)
1/8 tsp salt
Assembly
3 large mangoes
2 tbsp fresh lemon juice
3/4 cup and 2 tbsp granulated sugar
2 1/2 cups unsalted butter, room temperature
Steps:
1. Toast a cup of cashews in a 177°C oven for 10 to 13 minutes until golden brown, tossing halfway through. Allow the cashews to cool before chopping them into smaller pieces. Set aside.
2. Turn down heat to 150°C. Cut two pieces of parchment paper the size of your baking sheet. Trace three 7×3 1/2-inch rectangles on each. Turn the parchment paper over and place it on a baking sheet.
3. Pulse powdered sugar and the remaining cashews in a food processor until the mixture reaches coarse sand consistency. Transfer to a large bowl.
4. Whisk egg whites for about two minutes on medium speed until frothy. Gradually add granulated sugar, meringue powder, and salt as you continue to mix the egg whites. Turn up the speed to medium-high for about seven minutes until the meringue is glossy and can make stiff peaks.
5. Fold the meringue into the cashew and powdered sugar mixture, putting a third of the meringue at a time until combined.
6. With a piping bag or spatula, fill the rectangles on the parchment papers with meringue.
7. Bake the meringues for 40 to 50 minutes until they turn light golden brown, firm, and dry to the touch, rotating the baking sheet halfway. For 20 minutes, let the meringues sit inside the shut-off oven with the door open. Remove the meringues from the oven and peel off the parchment paper while they're still warm. Let cool.
8. Purée mangos in a blender until smooth. Transfer the mango puree to a saucepan then add lemon juice. Cook over low heat for 10 to 15 minutes until it reaches a slightly thick consistency. Take it off the heat and let it cool slightly.
8. Beat egg yolks with a mixer on medium-high for about eight minutes until it's pale and doubles in volume.
9. Put granulated sugar and six tablespoons of water in another saucepan without stirring. Attach a clip-on thermometer to the saucepan and cook on low heat for about eight minutes until it reaches 240°C.
10. Carefully stream hot sugar into the whipped egg yolk mixture with the mixer on high speed. Avoid pouring hot sugar on the whisk and the sides of the bowl. Beat for about four minutes until the bottom of the mixing bowl becomes slightly cooler to the touch. You should get a smooth, glossy, and very pale mixture that makes soft peaks.
11. With the mixer shut off, add warm mango purée to the mixture. Whisk on medium-high speed just until combined. Turn down to medium speed and add butter one tablespoon at a time.
12. Dot some buttercream at the bottom of a meringue and place it on a baking sheet with parchment paper. Spread 3/4 cup of buttercream over the meringue. Top with another meringue and spread another layer of buttercream. Do this until all meringues are stacked. To keep the layers even, press down the meringue each time you add one.
13. With a spatula, spread buttercream on the sides and top of the stacked meringues. Put some of the reserved roasted cashews onto the sides. If your buttercream is too soft, you can chill the cake for 10 minutes before adding the cashews. Freeze the sans rival for at least two hours.
14. Slice the remaining mango and use this to decorate the top of the sans rival. Add the remaining cashews. Serve.
Recipe adapted from: Bon Appetit
---
7. Thai Mango Salad – refreshing salad that can be made with ripe or unripe mangos
---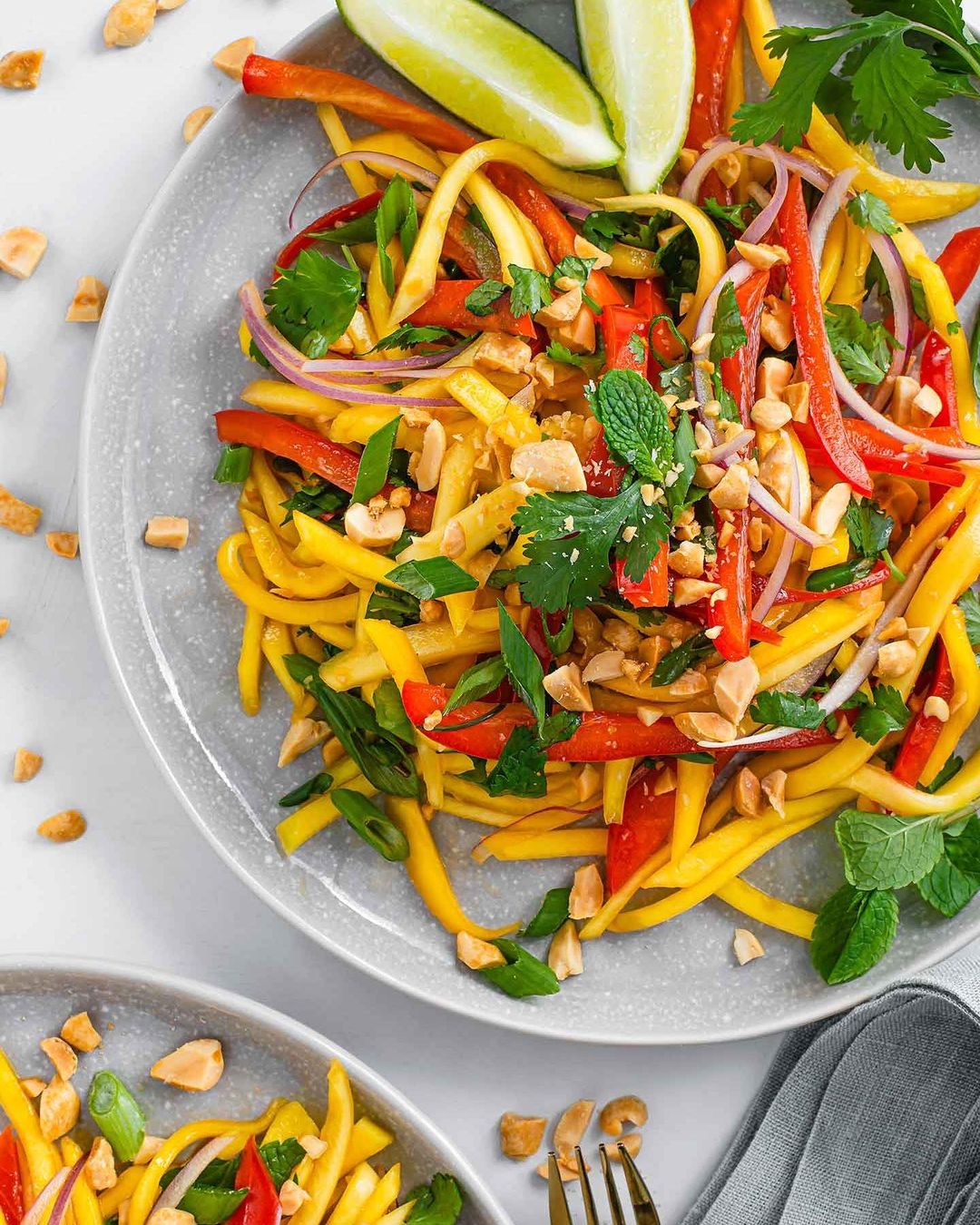 Image credit: @tastythriftytimely
Besides mango salsa, Thai mango salad makes another refreshing complement to Filipino ulams.
This mango recipe can be made with unripe mangoes if you're tired of having ripe mangoes. You can also stick to ripe mangos if you want your salad to be on the sweet side.
The recipe uses half a Thai chili or siling labuyo, but it can be made spicier by adding more.
Ingredients:
2 mangoes, sliced into thin strips
1/2 large red onion, finely sliced
1/2 red pepper, sliced into thin strips
1/2 cup fresh cilantro leaves, chopped
1/2 cup Thai basil leaves, chopped
1/4 cup roasted peanuts
3 tbsp fresh lime juice
1 1/2 tbsp light soy sauce
1 tbsp avocado oil (or any neutral oil)
1 tbsp honey
1/2 red Thai chili
Steps:
1. Combine mango, onion, red pepper, cilantro, basil, and peanuts in a bowl. Set aside.
2. Chop the Thai chili and put it in a cup. Add lime juice, soy sauce, avocado oil, and honey. Mix.
3. Add the dressing to the mango salad.
4. Garnish with more cilantro, basil, and peanuts.
Recipe credit: Choosing Chia
---
8. Mango Curry – puts a twist on your ulam
---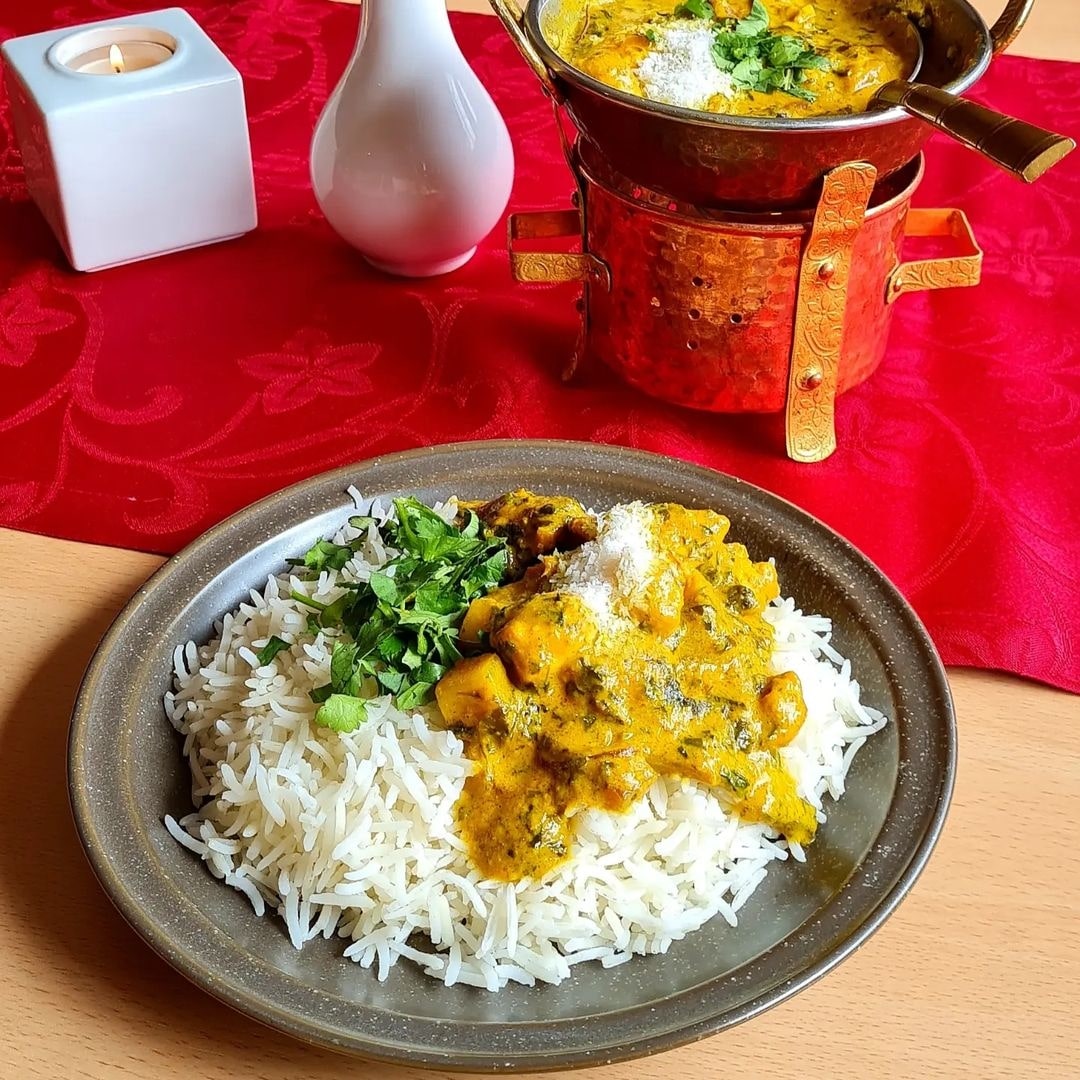 Image credit: @debis.sha
While curry and fruit are a combination that's unheard of in the Philippines, those who love rice and mangos can try making this slightly sweet mango curry to eat with rice.
This mango recipe uses simple ingredients and takes only 30 minutes to make.
You can still make this unique dish even when you have no time to prepare meals on weekdays, too. It tastes good even when reheated, perfect for busy individuals who need to meal prep.
Ingredients:
1 tbsp coconut oil
1 medium onion, chopped
4 cloves garlic, smashed
4 tbsp ginger, chopped
2 tbsp curry powder
1 tsp salt
1 tsp pepper
3 mangos, peeled, chopped, and divided
14 oz coconut milk
1/2 kg boneless chicken thighs or breasts, chopped
Minced cilantro for garnish
Steps:
1. In a large frying pan, heat coconut oil over medium heat. Add onion, garlic, and ginger. Saute until the onion becomes translucent.
2. Put the mixture in a blender. Add curry powder, salt, pepper, a cup of mangoes, and coconut milk. Blend on high speed until it achieves a smooth texture.
3. Put the mixture back into the frying pan. Add the chicken and a half cup of water and stir. Cover the pan and cook for 15 minutes, stirring occasionally. Turn down the heat if the sauce starts to stick to the bottom of the pan.
4. Once the chicken is fully cooked, add the remaining 2 cups of mangos to the pan. Remove from heat, garnish with cilantro, and serve.
Recipe credit: The Endless Meal
---
9. Mangonada – alcoholic frozen mango drink with a burst of flavors
---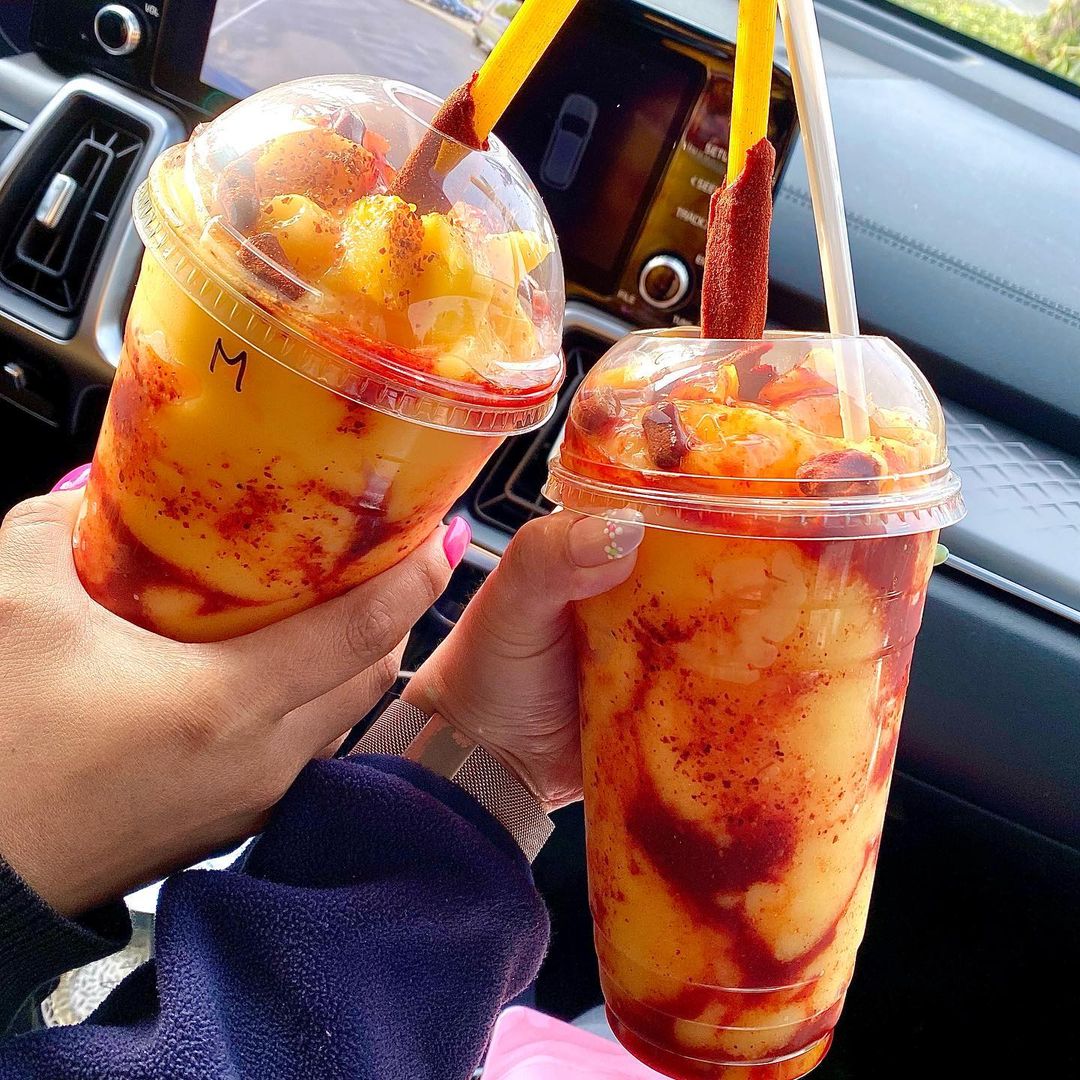 Image credit: @bringmefoodthx
Mangonada, also known as chamango, is a Mexican frozen drink with mango, lime, chamoy, and Tajín that give it sweet, salty, tangy, and spicy flavors.
Chamoy is a sweet and sour condiment while Tajin is a brand of chili, lime, and salt seasoning. Both are from Mexico but are now becoming popular in the Philippines because of chamoy- and Tajín-coated gummy candies sold online.
While this recipe contains alcohol, you can omit it from the recipe so even kids, pregnant women, and nursing moms can enjoy this summer drink.
Ingredients:
8 cups mangoes, cut into half-inch pieces
Sugar, as needed
1/4 cup fresh lime juice
Cold water
3/4 cup silver tequila or rum
Chamoy
Tajín, to taste
Steps:
1. Put five cups of mango in a blender. Refrigerate the remaining three cups. Blend with sugar, lime juice, and 3/4 cups of cold water until it becomes a puree. Mix in the tequila or rum. Add more water until the mango mixture reaches your desired consistency.
2. Put the mango mixture in a container and freeze until it achieves the consistency of a slushie.
3. In a 16-ounce glass, put 1/2 cup of the mango mixture, 1/3 cup of the reserved mango and 1 1/2 to 2 tablespoons of chamoy. Generously sprinkle with Tajín.
4. Add more mango mixture, mango pieces, and chamoy before giving it a final sprinkle of Tajín. Serve immediately with a straw and spoon. Makes four.
Recipe credit: NYT Cooking
---
Sweet and savory mango recipes
---
These mango recipes are great to try whether want to take advantage of the low price of mangos or you just happen to have a surplus of them that you don't want to go to waste. There are even simple recipes in this list that beginners can easily make at home.
With this selection of sweet and savory mango recipes, you'll never get tired of eating mangos again!
Also check out:
---
Cover image adapted from: @eatwithchantal and @debis.sha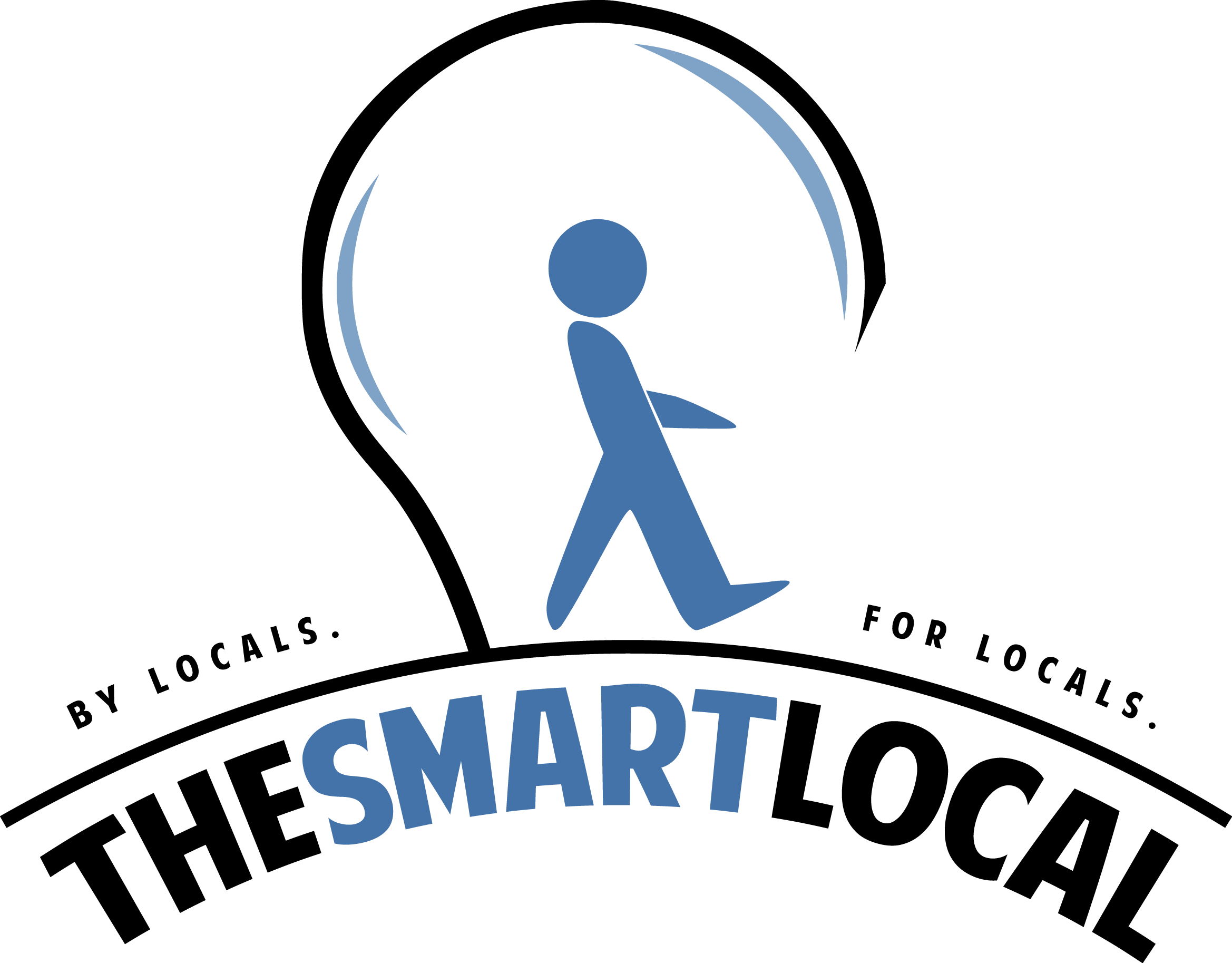 Drop us your email so you won't miss the latest news.