Korean-style egg sandwiches served from a food truck
---
These days, Korean-style egg sandwiches are all the rage in South Korea. Perhaps you've seen them on your favorite Korean celebrity's social media feed and wondered how the filling snack tastes.
Now, if you're in Baguio, you're just in luck. Yolk Korean Egg Sandwiches in Burnham Park sells this trendy food from a pastel blue mini food truck, from which you can borrow a basket and a blanket so you can have a picnic at the park. 
---
Variety of sandwiches
---

Jagpum and dan sandwiches
Image adapted from: @aeramn
Yolk Korean Egg Sandwiches' products are vastly different from what the egg sandwiches Filipinos are familiar with. The food truck's offerings start with the basic creamy, melt-in-your-mouth scrambled eggs, cheese, and sriracha aioli on toast. This classic Korean egg sandwich they call gibon is priced at P75 (~USD1.51).
The food truck also offers other egg sandwich variants. Dwaeji has ham on top of the classic stuffing and retails for P85 (~USD1.71). If you want an egg sandwich with "the works", get jagpum. It has bacon, lettuce, tomatoes, scrambled eggs, cheese, and sriracha aioli, and costs P95 (~USD1.91).
As for a non-egg sandwich offering, they have dan or peanut butter and jelly on toast which costs P70 (~USD1.41). You can also get a Korean egg pancake with carrots, cabbage, and onions for P25 (~USD0.50).
---
Local and Korean drinks

---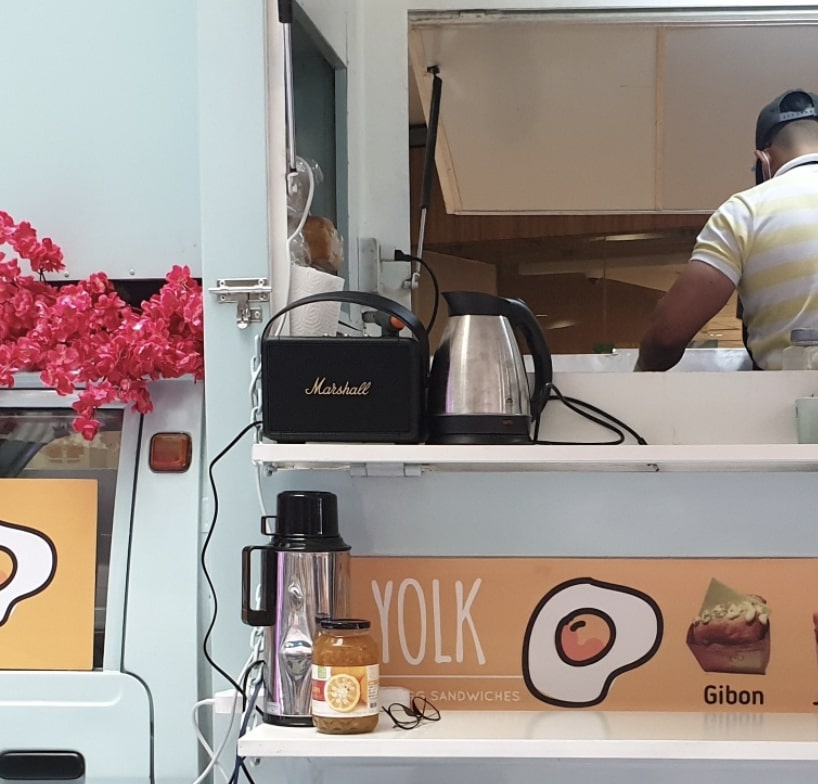 Yolk Korean Egg Sandwiches' self-service coffee and tea corner
Photo adapted from: Yolk Korean Egg Sandwiches
To keep you warm despite the chilly Baguio climate, Yolk Korean Egg Sandwiches offers three hot beverage options.
Sagada Arabica medium roast and Benguet Blend Arabica dark roast coffee will ward off any cold-induced sleepiness. For non-coffee drinkers, there's also the Honey Citron Tea, a health drink we often see on K-drama and K-variety shows. Both are priced at P40 (~USD0.80). 
---
Locations in Baguio City
---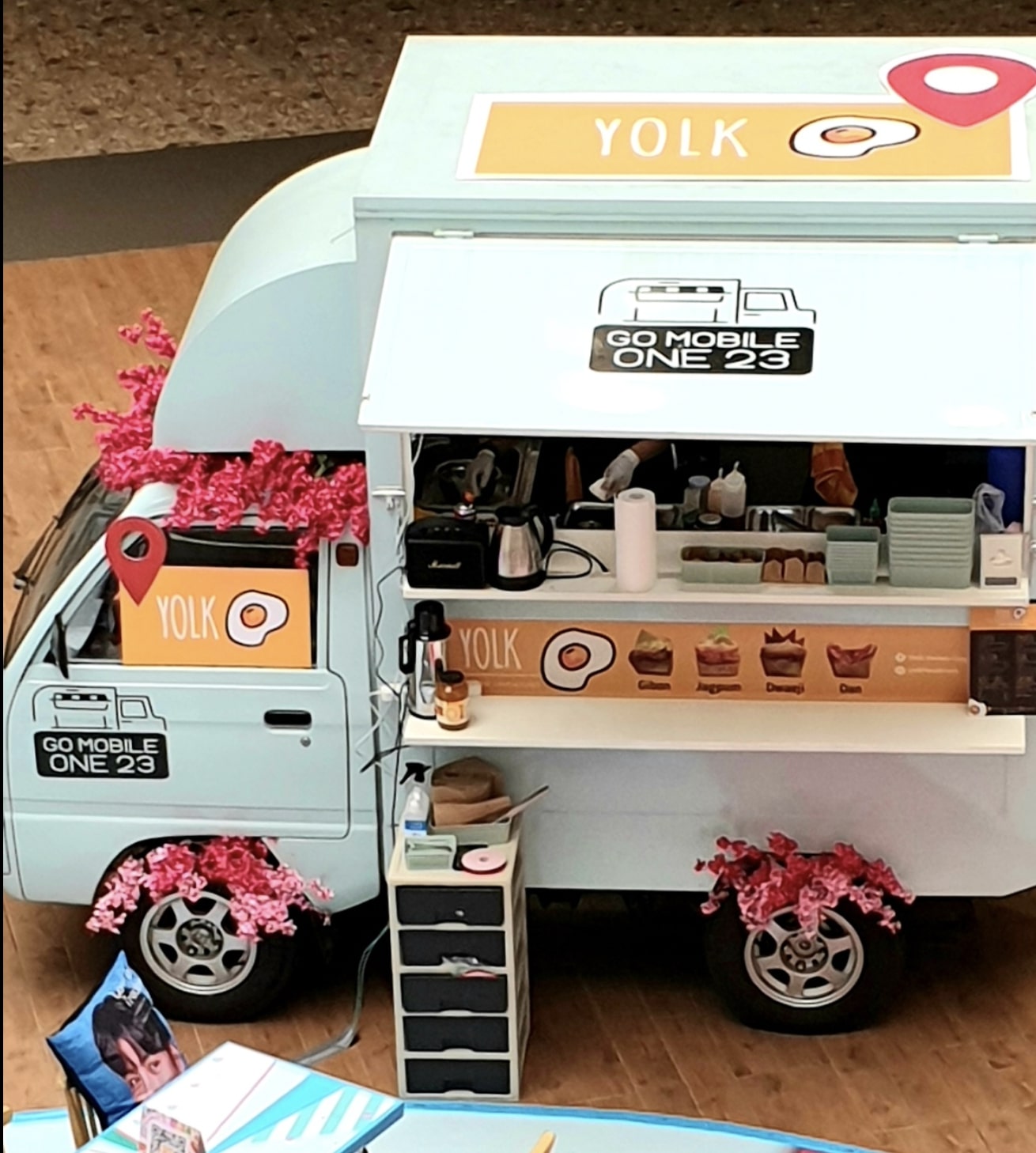 Yolk Korean Egg Sandwiches' pop-up food truck in SM Baguio
Image adapted from: Yolk Korean Egg Sandwiches
You may find  the food truck near the biking area at Burnham Park on the regular. In the park, you can also grab a book from a nearby Dibshi Jen Dibsho public book cabinet to complete your main character vibe.
The store will also have a pink, pop-up food truck in SM Baguio for the mall's Korean Festival until 23 July.
On some Sundays, you may also find Yolk Korean Egg Sandwiches on Session Road along with various local businesses in Baguio!
---
Yolk Korean Egg Sandwiches' popularity
---
The truck's popularity may have started from the Korean egg sandwich trend on social media. Its one-of-a-kind mini food truck set-up could also have caught people's attention.
However, this Baguio food place receives great reviews for their sandwich offerings' taste. The frequent long lines to the counter should also attest to this, so make sure to bring your patience. Don't forget to bring a face mask and follow social distancing protocols too!
Also check out:
---
Cover image adapted from: Masha Rostova and @edricdude
Get more stories like this!
Drop us your email so you won't miss the latest news.