Filipinotowns & Little Manilas around the world
---
Being everywhere, expat Filipinos are familiar with homesickness, but fortunately can head to several Filipino areas where they can come together as a community abroad – and these are often called Filipinotowns or "Little Manilas." While the Philippines is a group of islands clustered together in the Pacific, us Filipinos are actually scattered across the world. No matter which continent we find ourselves in, we are bound to encounter fellow folks who speak Tagalog, Bisaya, or Ilocano. 
Here is a list of 9 Filipinotowns around the world, from the US to Asia to the Middle East to Canada, that should come in handy whenever you're abroad and feel a pang of longing for the motherland. 
---
1. Daehangno Filipino Market, Seoul – sari-sari store items and street food
---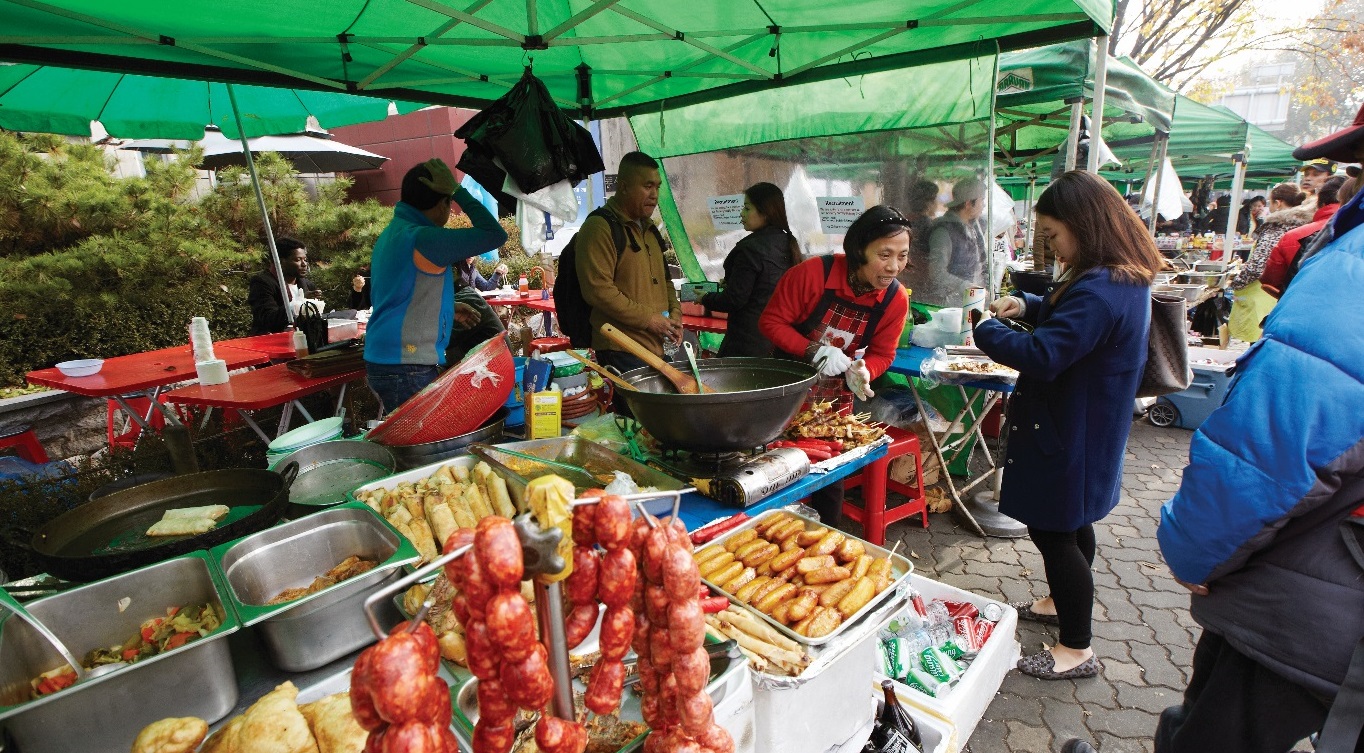 Image credit: Seoul Metropolitan Government
South Korea isn't the most popular destination for Filipino expats, but this lively market in the neighborhood of Hyehwa-dong, Seoul selling various Filipino snacks and street food actually exists. On Sundays, after attending mass at the Hyehwa-dong Catholic Church, Filipinos living in Seoul flock to this nearby market with its trademark green tents.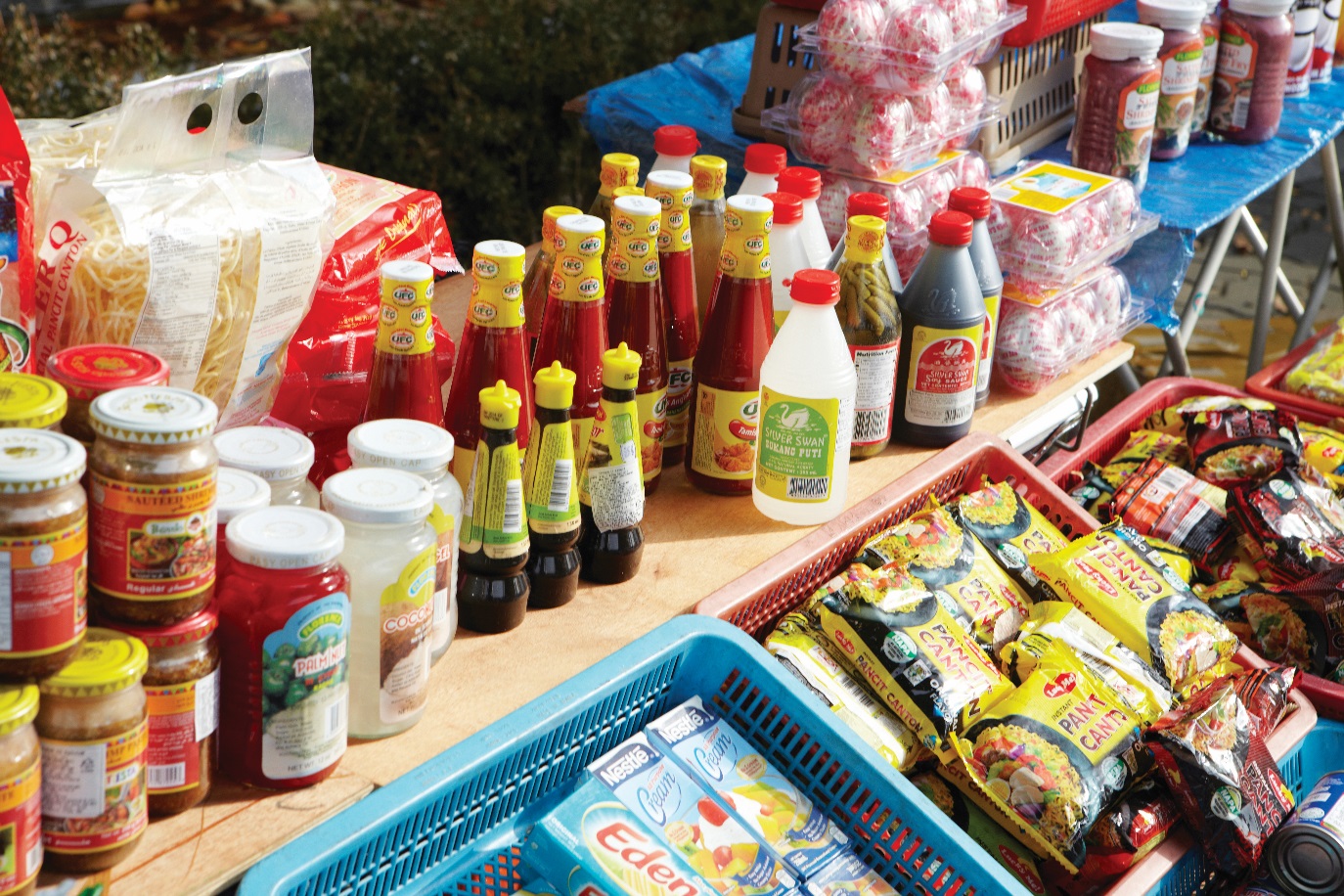 Image credit: Seoul Metropolitan Government
Daehangno Filipino Market is like a sari-sari store and a street food area merged into one open-air space. Vendors sell products you would most likely find at a store back home, such as canned goods, noodles, and junk food. But you can also have some barbeque, banana cue, and pancit reminiscent of cooked food stalls at corner streets in the Philippines.
It's unknown exactly when this Sunday market started becoming a thing in this little neighborhood in Seoul, but it's believed that the bazaar has been held for over 20 years already. 
Address: Hyehwa-dong, Jongno-gu, Seoul, South Korea (near Hyehwa-dong Catholic Church)
Opening hours: Sundays, 12PM-5PM
---
2. Lucky Plaza, Singapore – mall in Orchard Road with plenty of useful goods and services
---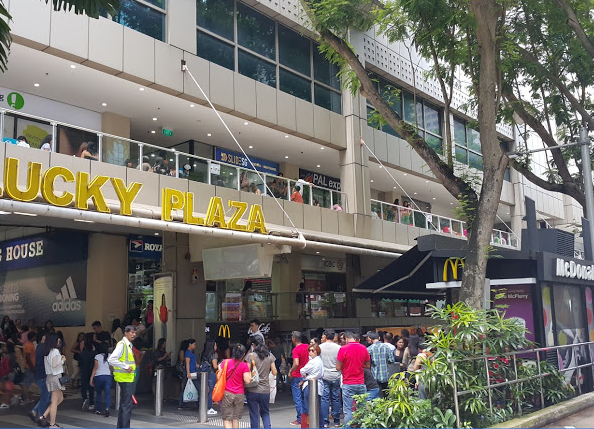 Image credit: ryan mahartomo 
To Singaporeans, Lucky Plaza is known as that old mall in Orchard Road. To Filipinos, though, the mall is not only a place to shop and dine, but also a place to commune with fellow Filipinos. As expected, this is where most Filipino eateries in the Lion City can be found, such as Jollibee, Barrio Fiesta, and Kabayan Restaurant.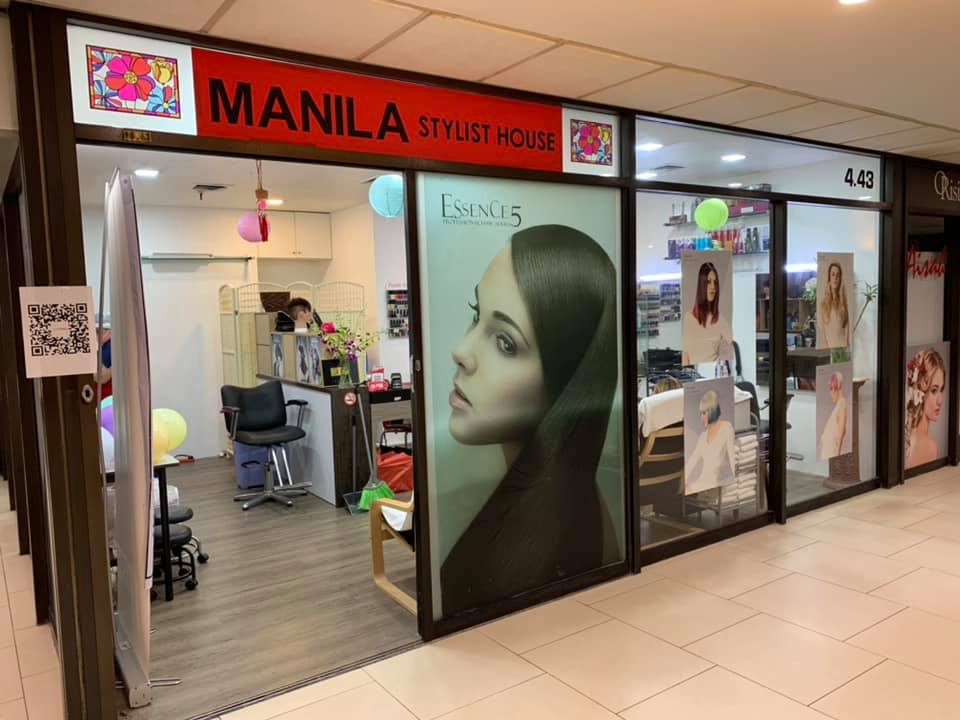 Image credit: Manila Stylist House 
There are shops as well that cater specifically to Filipinos and are named after Filipino places such as the Iloilo Salon, Manila Stylist House, and Baclaran Grocery Trading – as well as plenty of remittance services and balikbayan box shipping services competing with each other to offer OFWs the best rates. Check out our detailed guide to Lucky Plaza here. 
Address: 304 Orchard Rd, Singapore 238863
Opening hours: 10AM-10PM, Daily
---
3. Earl's Court, London – hub of the British-Filipino community
---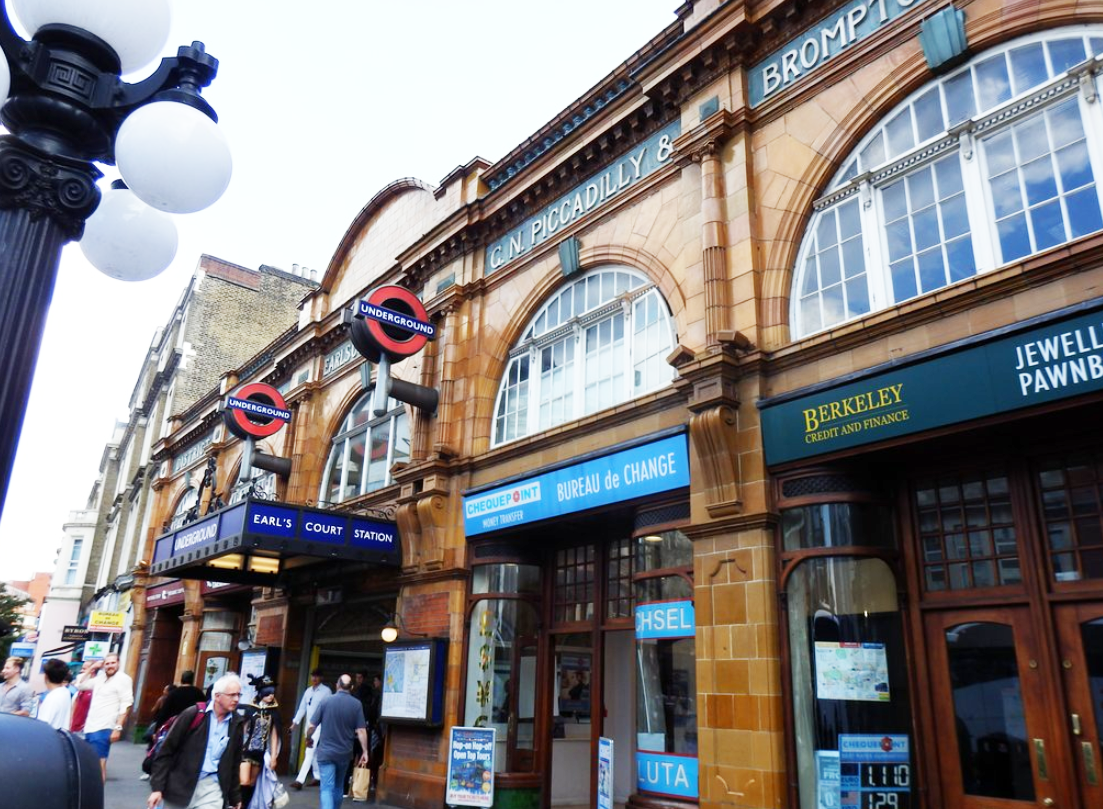 Image adapted from: isabel maria c
If you ever find yourself lost in the vibrant European city of London, just know that Earl's Court can offer some consolation for your homesickness. Earl's Court Road, Hogarth Road, and Kenway Road are the streets bordering the area known as the "Little Manila" of London, where British-Filipinos thrive. It's situated in the Royal Borough of Kensington and Chelsea.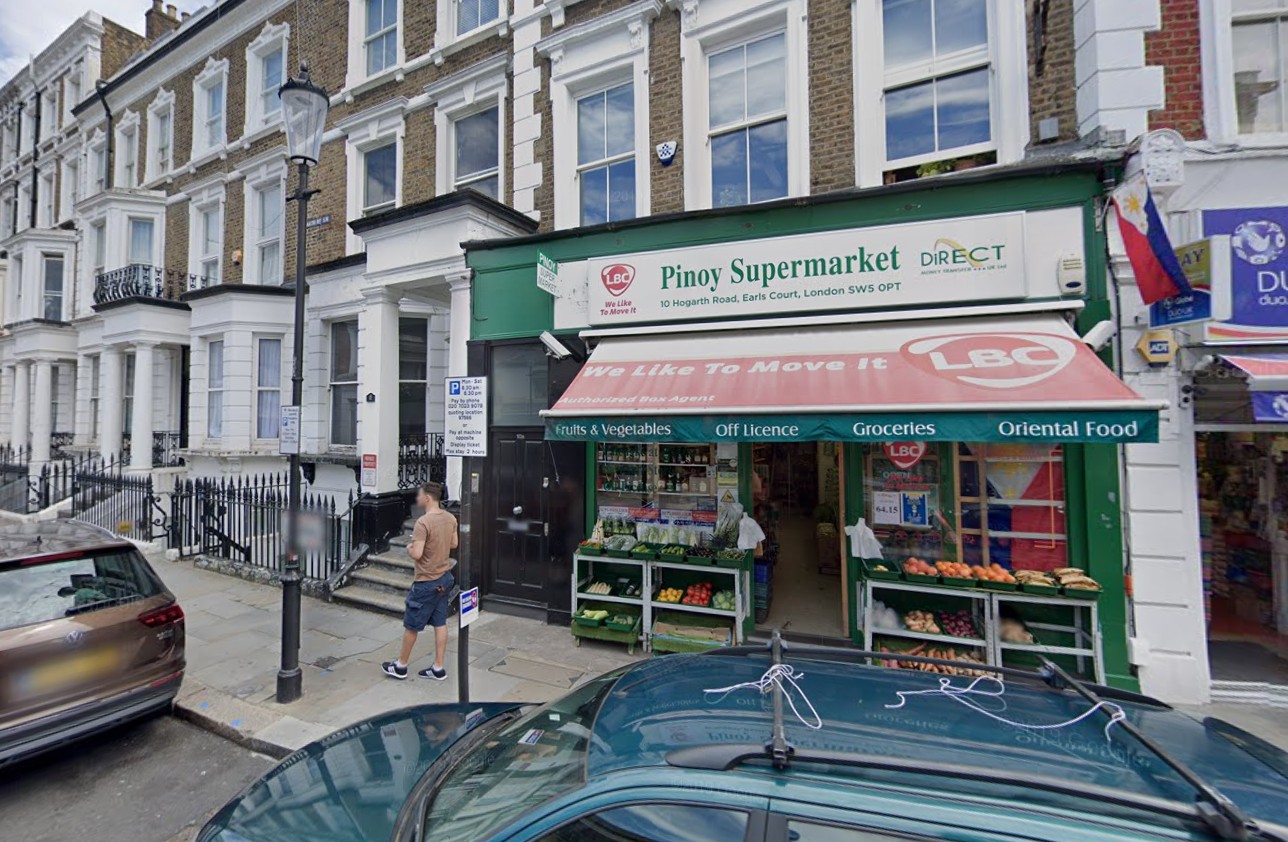 Image credit: Google
You can recognize a semblance of home in the various business establishments that dot this Little Manila, such as Hogarth Road's Pinoy Supermarket that sells grocery items you'd immediately recognize, and also offers logistics services.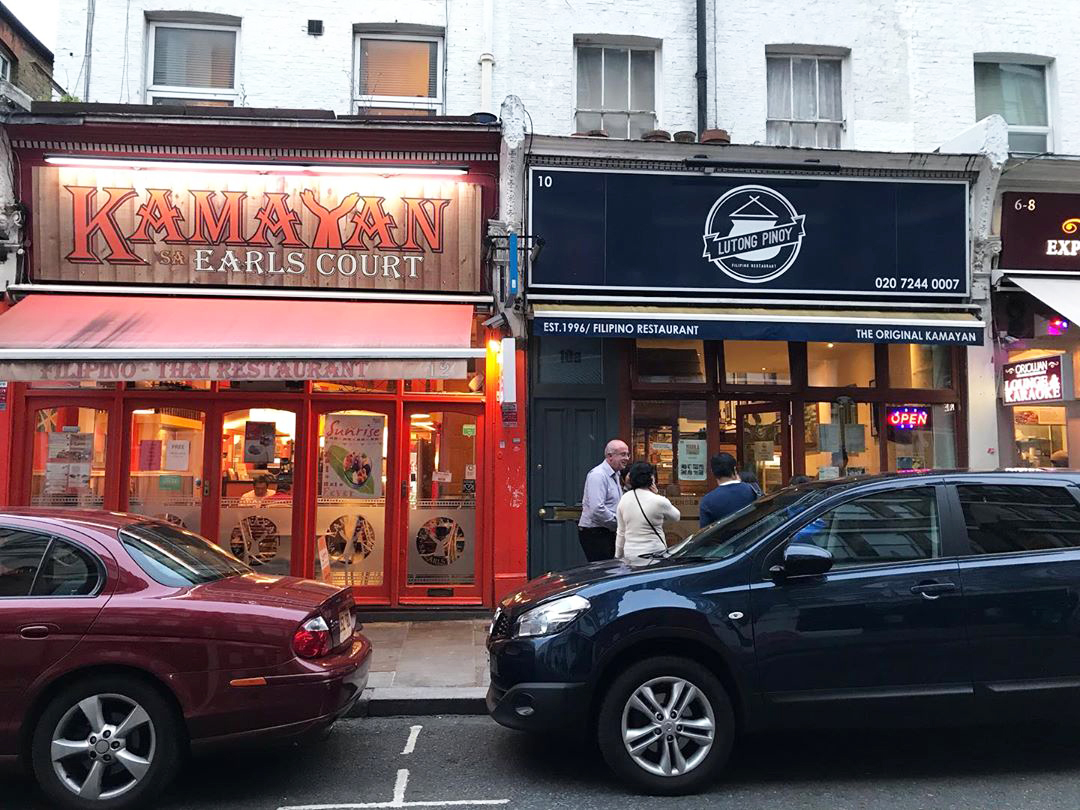 Image credit: @omppu_laamanen
Lutong Pinoy on Kenway Road is where you can eat traditional dishes such as lechon kawali and chicken inasal in the traditional kamayan way, also known as a boodle fight, on a green banana leaf. Right beside it is another Filipino restaurant, Kamayan, this time with a twist as the restaurant serves local Filipino food with Thai flavors.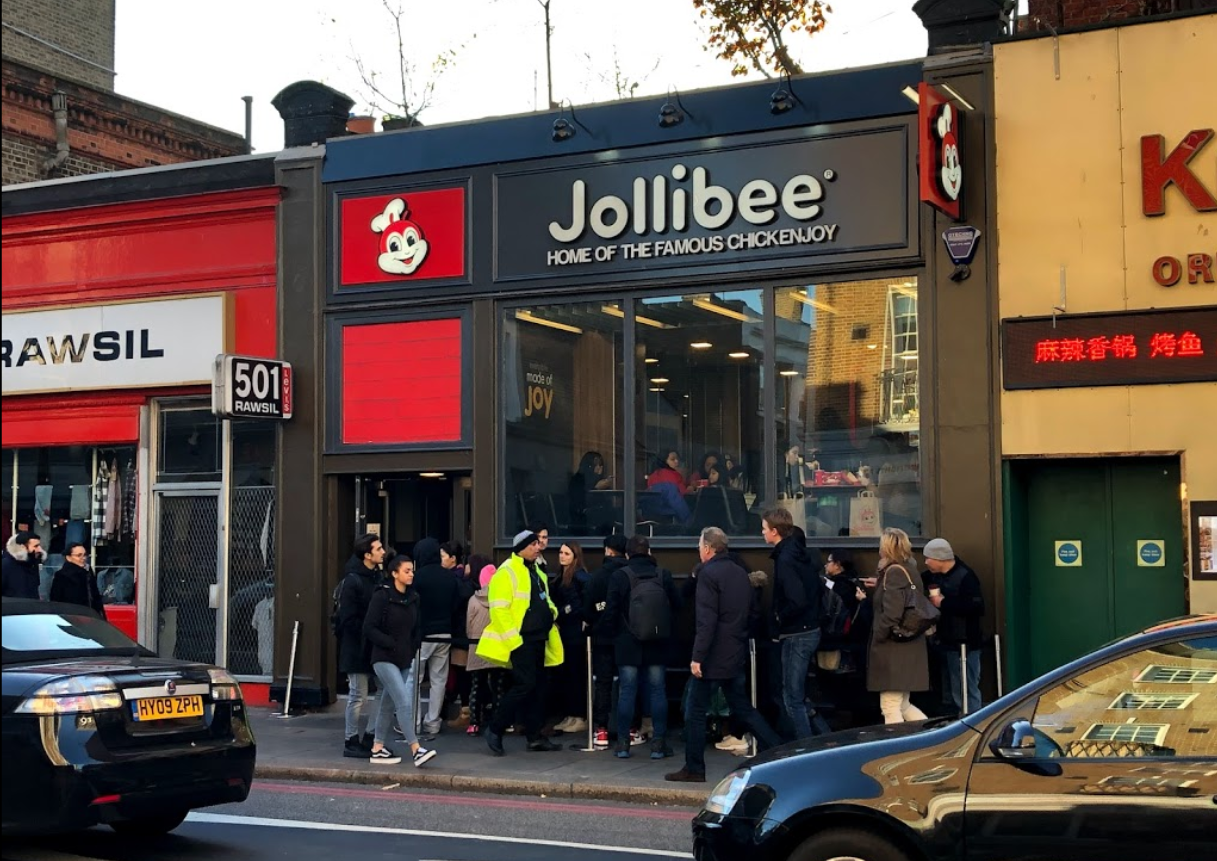 Image credit: Nelli M
The first Jollibee branch in the UK was opened in Earl's Court Road too. Filipinos aren't the only ones who frequent this branch of the popular fast-food chain – it has also attracted the palates of discerning Londoners. 
Address: Earl's Court district, London, United Kingdom
---
4. Al Ramaniyah Mall, Khobar, Saudi Arabia – Filipino fast-food chains and clothing outlets
---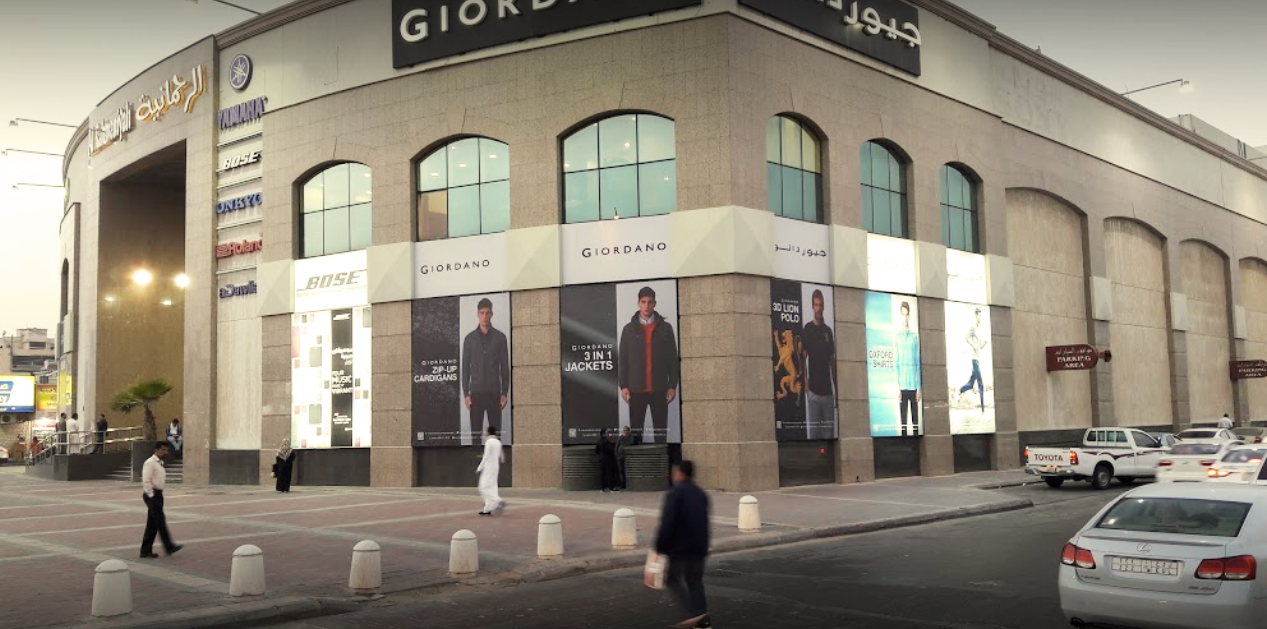 Image adapted from: Mohammed Omer
As most Filipinos can be found working in this Middle Eastern nation, you're bound to come across a shopping center here where most Filipino businesses thrive and locals meet up. The Al Ramaniyah Mall in Al Khobar, Saudi Arabia, is the Lucky Plaza of Saudi Arabia, also housing several Filipino fast food chains such as Jollibee and Chowking, and outlets of local clothing brands such as Bench.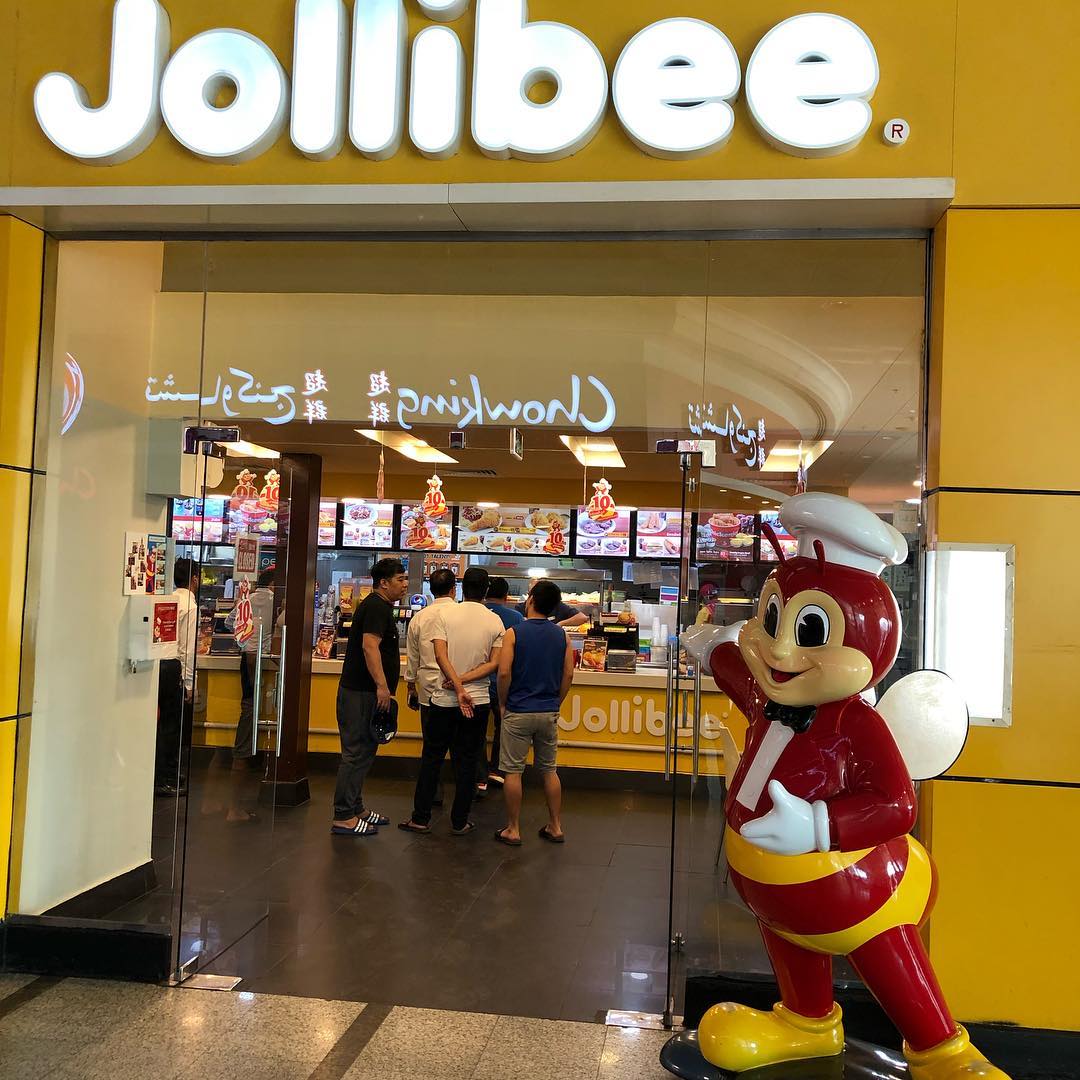 Image credit: @dondielovesjuan 
Even the design of the mall resembles what we have back here in the Philippines, with its gray and white color palette and the way its elevators and escalators are built. No wonder it is said that the majority of the shoppers in this mall are Filipinos.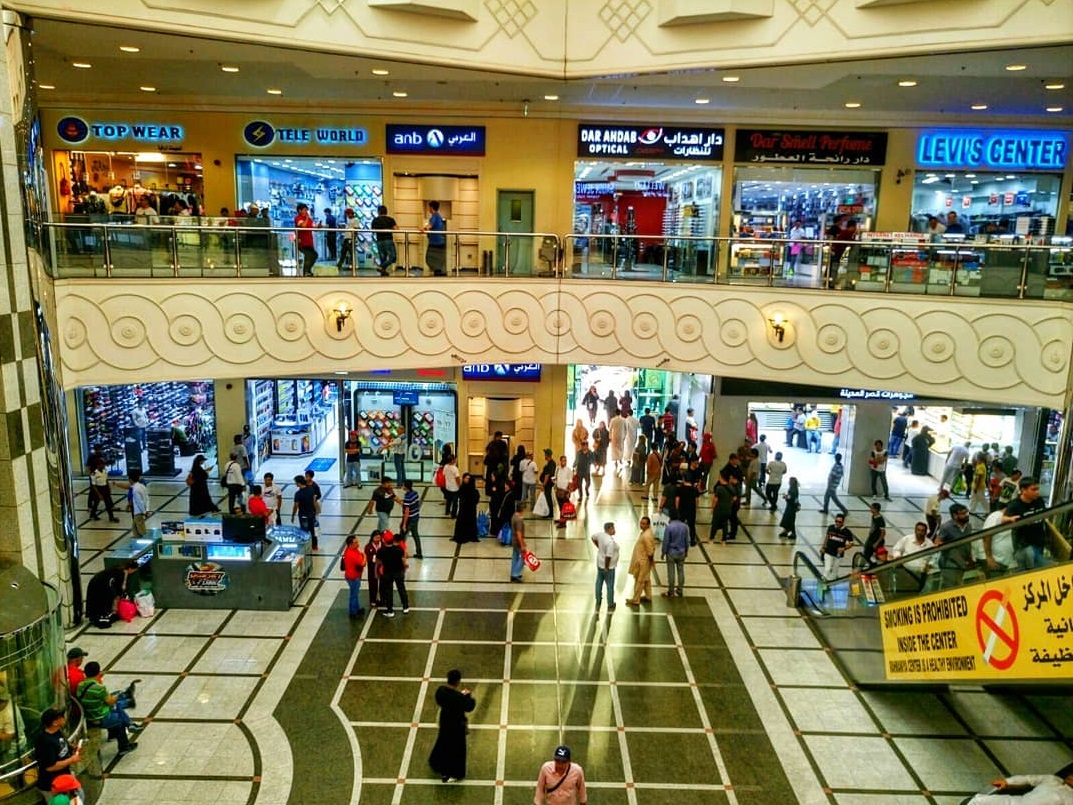 Image credit: @thewhole_of_themoon 
Address: Al Khobar, Saudi Arabia
---
5. Al Satwa, Dubai – imported Filipino grocery products galore
---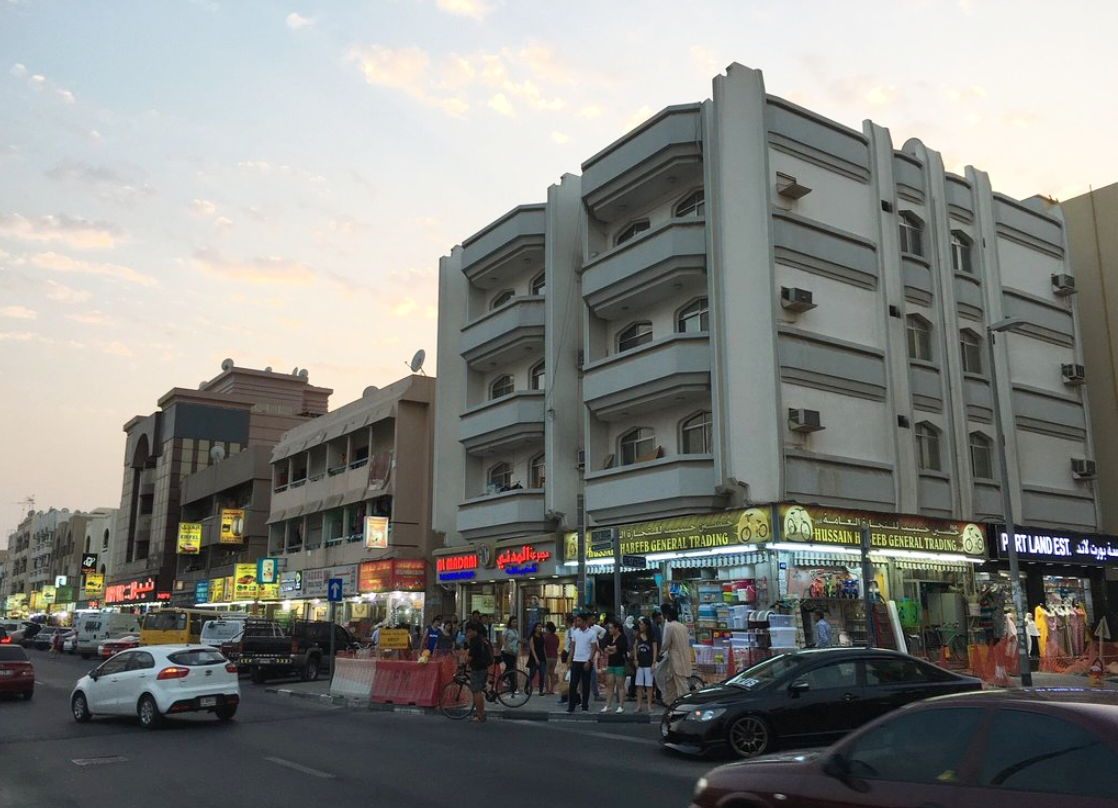 Image adapted from: Ashley A
Name a country in the Middle East that's populated with Filipinos and the UAE would most likely come first on your mind. And a place there where OFWs feel at home is Satwa, a small community in Dubai that's only about 2 square kilometers but filled with all things Filipino.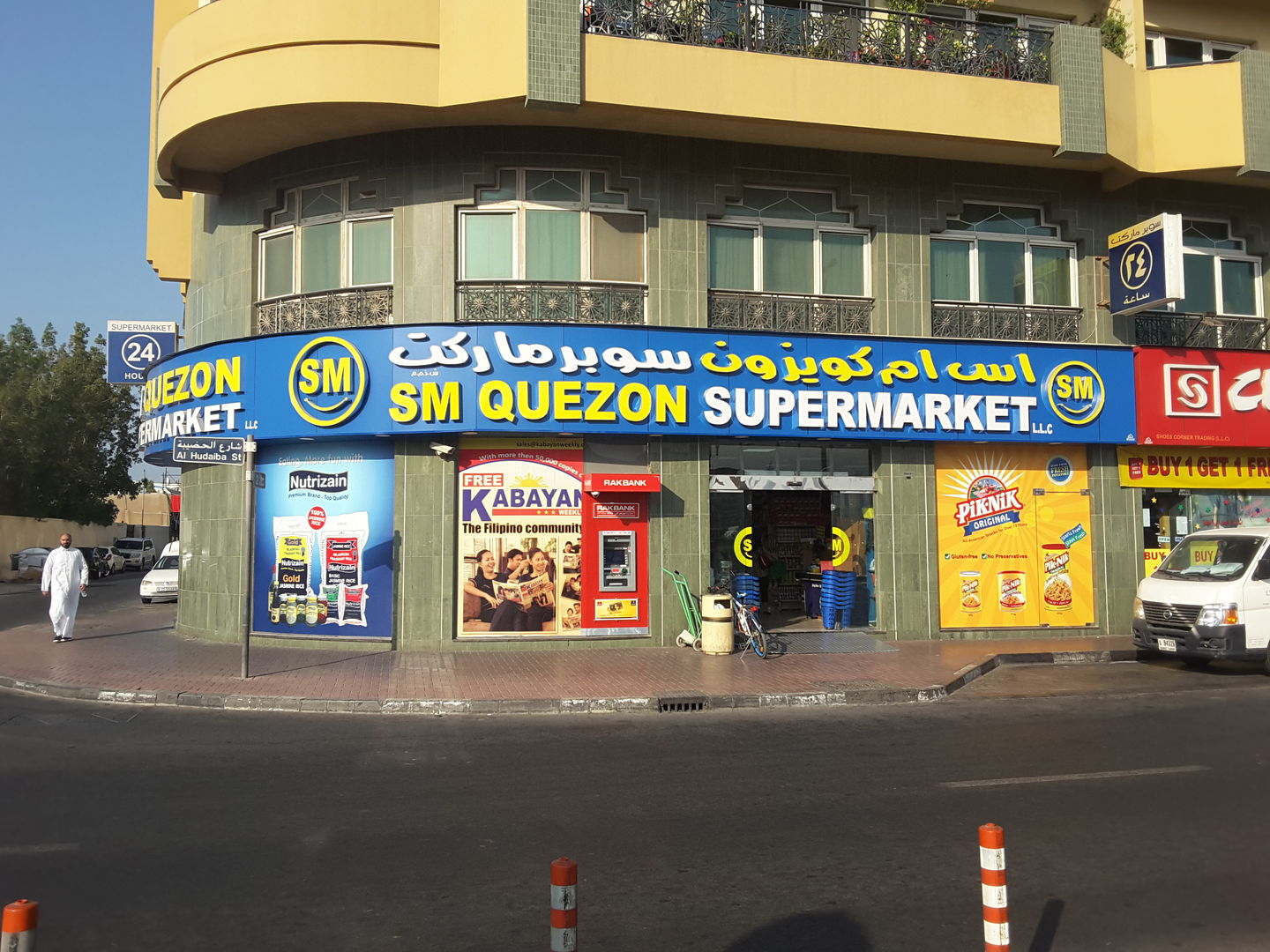 Image credit: HiDubai 
It's a favorite area of Filipinos working in Dubai because of its business establishments catering to our needs – such as a grocery store named SM Quezon Supermarket and the Manila Shopping Center. If you're looking to send money back home, remittance centers are also nearby.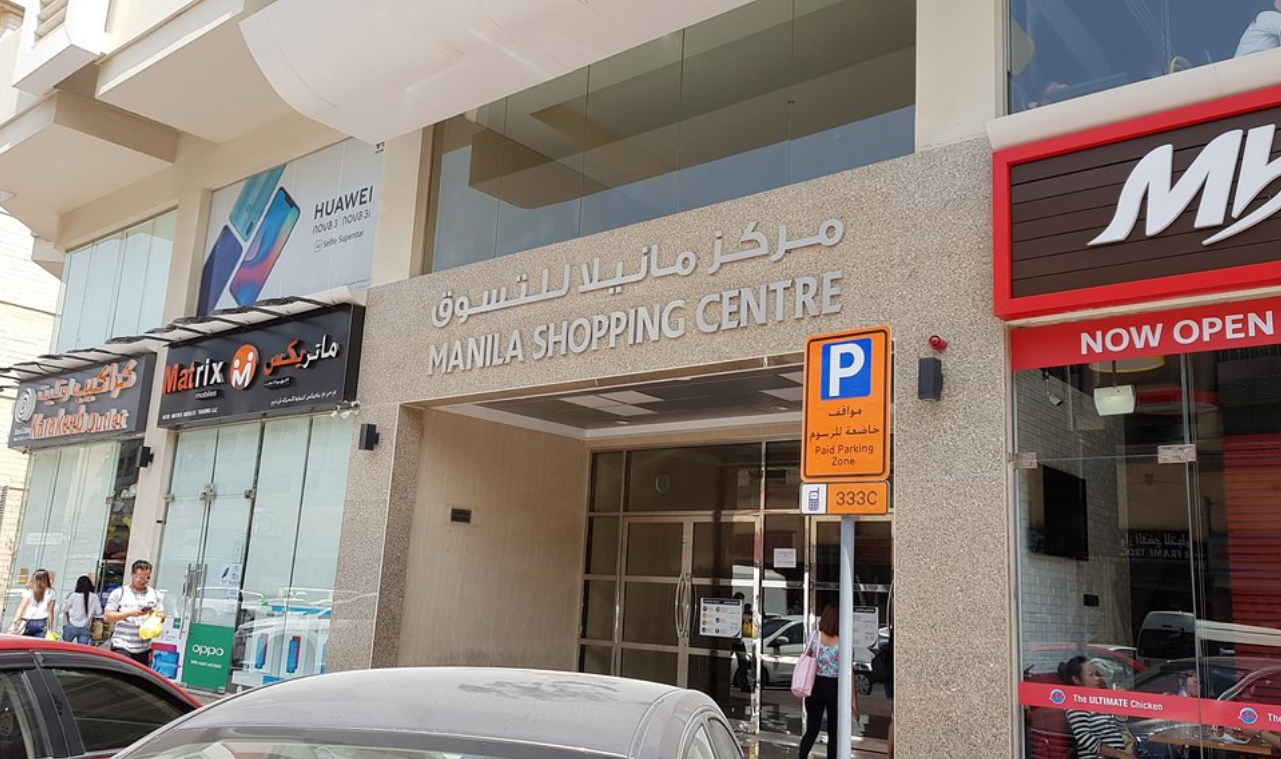 Image credit: ExoticTravelTom 
Address: Al Satwa, Dubai, United Arab Emirates
---
6. Roosevelt Avenue, Woodside, Queens – Filipino community in New York
---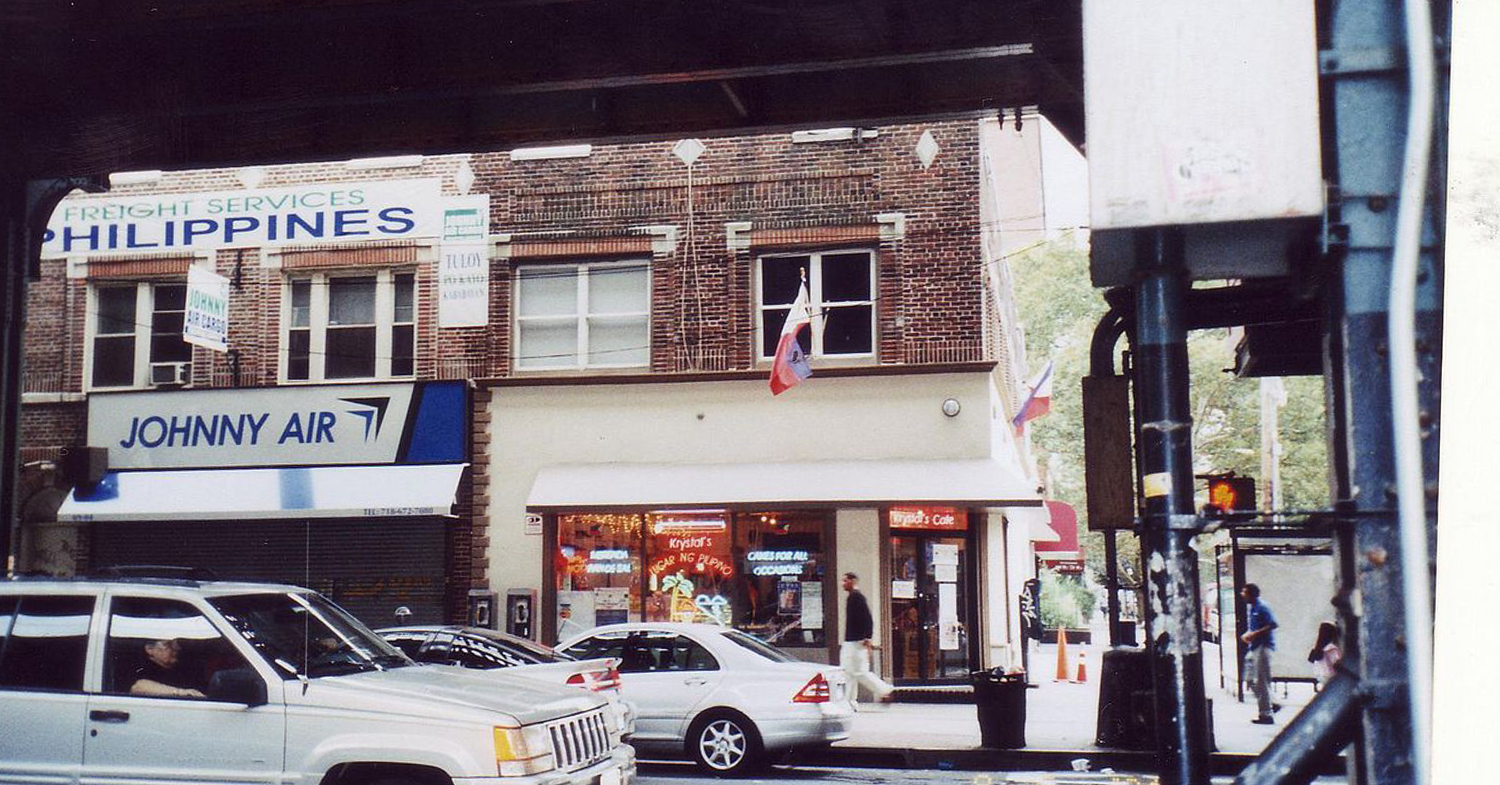 Image adapted from: Wikimedia Commons 
Far from the hustle and bustle of Times Square lies this quiet neighborhood in Roosevelt Avenue, Woodside where Filipinos have built a home away from home. Running along 61st to 70th Street, this is the "Little Manila" in New York for multi-generational and new immigrants alike, lined with various business establishments familiar with Filipinos everywhere.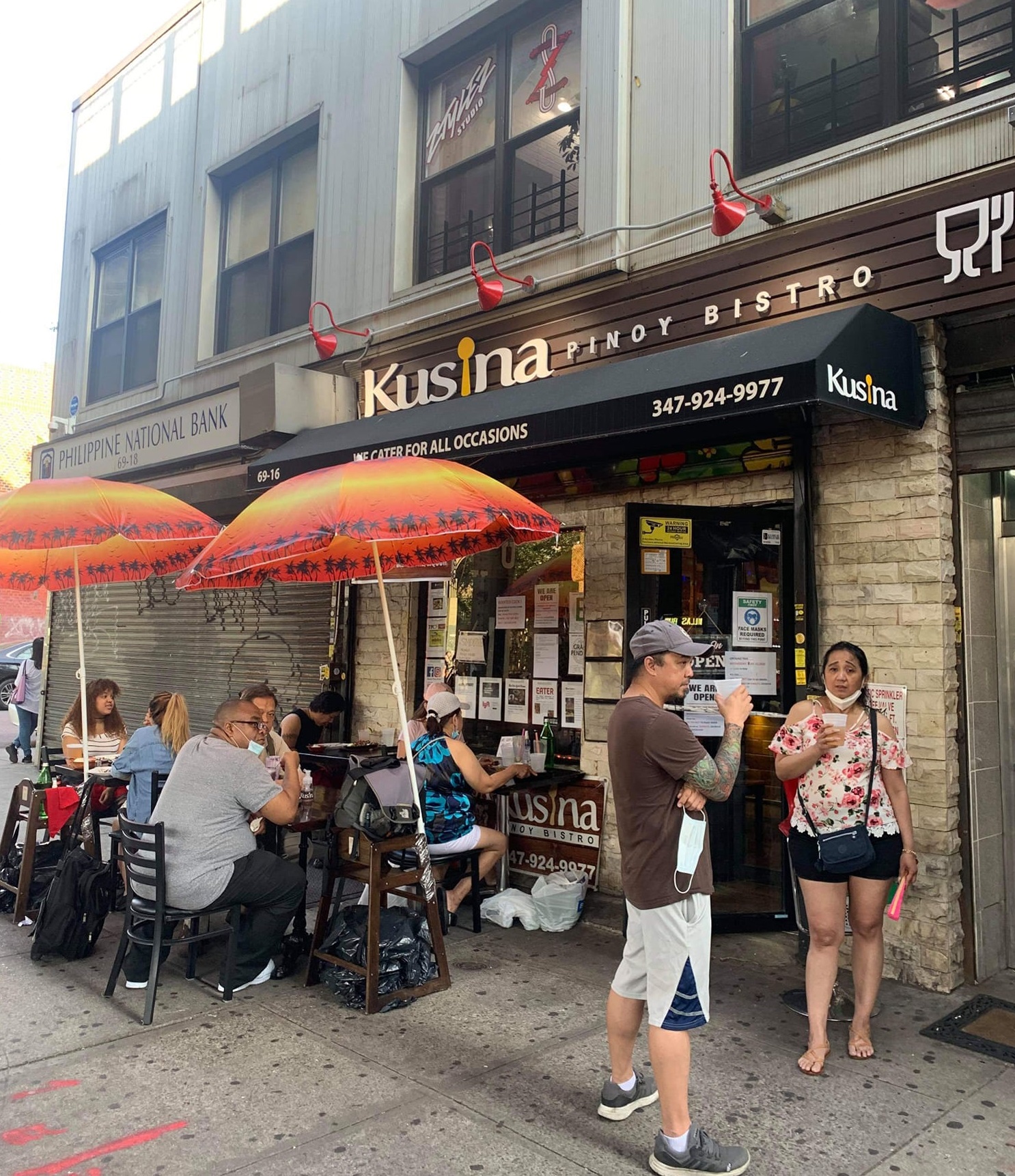 Image credit: Kusina Pinoy Bistro
For starters, this area wouldn't be a Filipinotown if not for the presence of popular chains Jollibee and Red Ribbon. The restaurants too – such as Ihawan and Kusina Pinoy Bistro – are recognizably Filipino and staple favorites in the area, with Ihawan known for its barbeques and the bistro known for its boodle fight-style dining.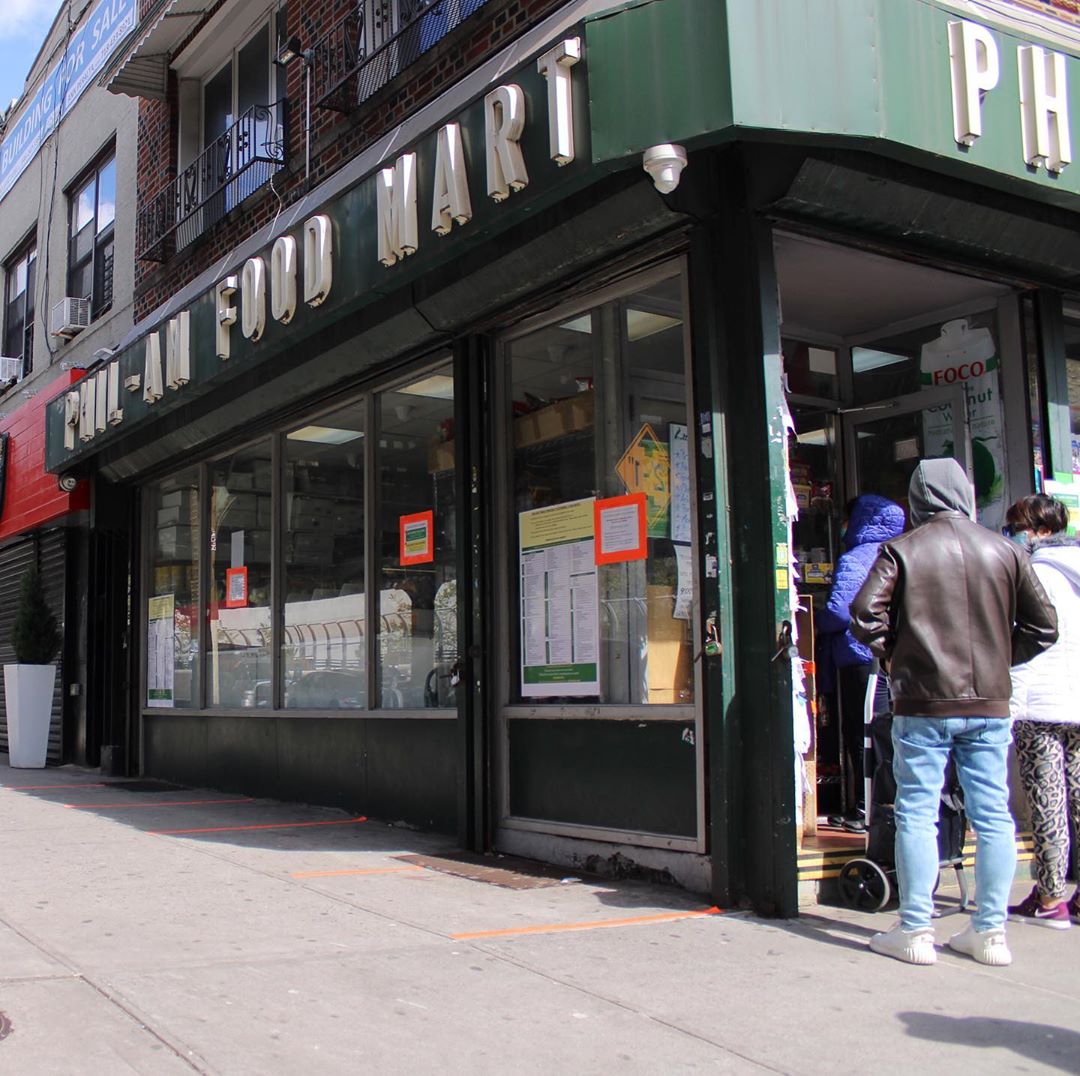 Image credit: @istillheartnewyork
Other services, while not big local brands, obviously have ties to the local community – just look at the facades of the lawyer's offices, shipping and remittance services, pharmacies, and grocery stores and you'd know they were obviously built with Filipinos in mind.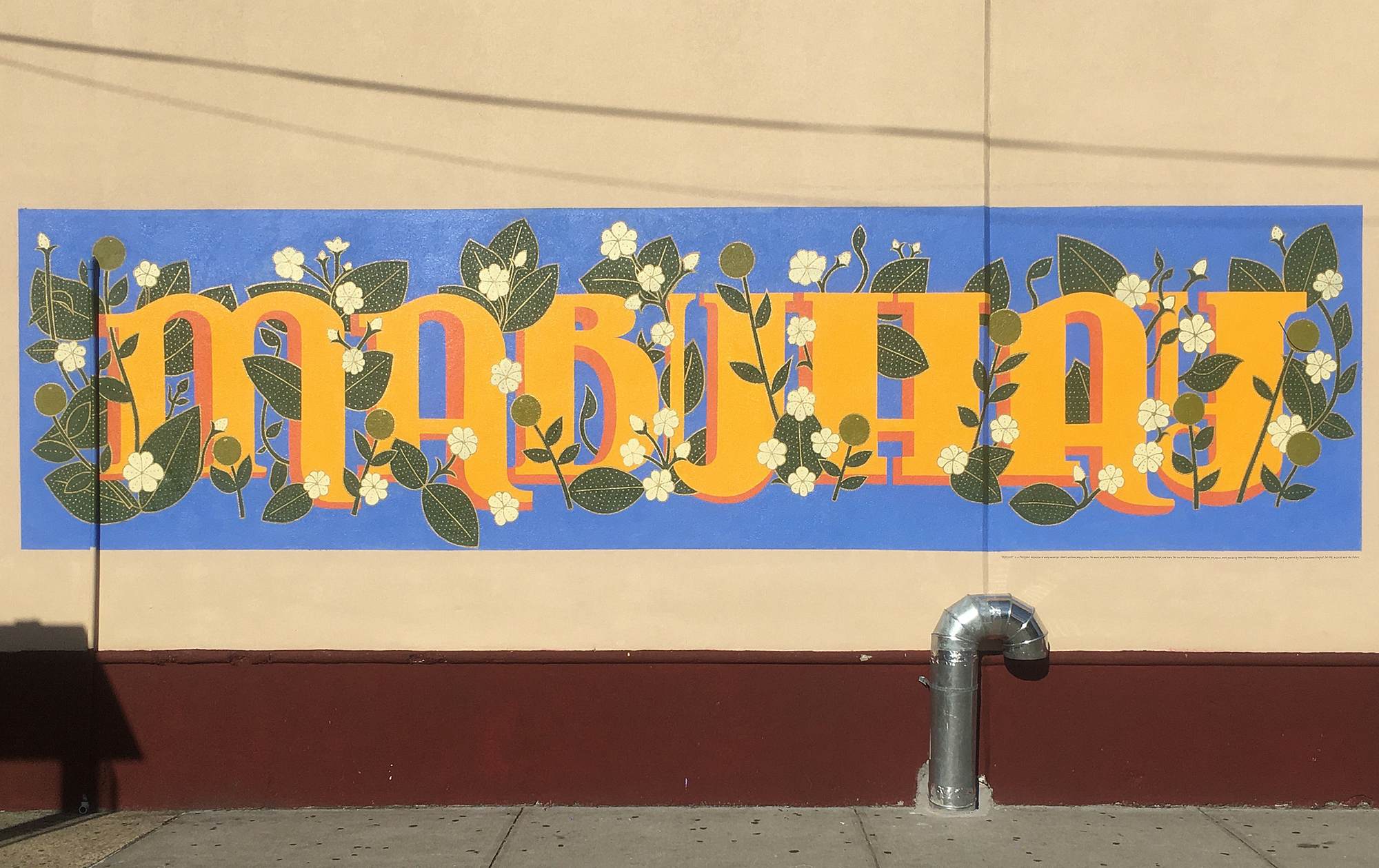 Image credit: Little Manila Queens Bayanihan Arts
This mural, located at the southeast corner of 69th street and Roosevelt Avenue, bearing the Tagalog phrase "Mabuhay," has actually just been unveiled to pay tribute to Filipino frontliners there leading the fight against COVID-19. 
In July 2020, an online petition by the Little Manila Street Co-Naming Initiative was set up to ask for a sign with the name "Little Manila Avenue" to be put up on Roosevelt Avenue, in order to pay tribute to the Philippine community's role in New York City today. Those interested in signing it can view the petition here.
Address: 61st to 70th Street, Roosevelt Avenue, Woodside, Queens, NY, USA
---
7. Salmiya, Kuwait – a hub with various Filipino businesses
---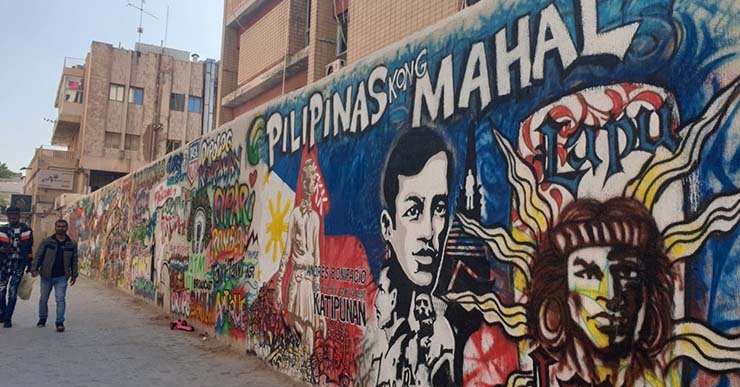 Image credit: Kuwait Times 
There's an area in the Kuwaiti city of Salmiya that feels like a big town with Filipino shopping malls – no wonder it's called the "Little Manila" of Filipinos in Kuwait. Everywhere you go, you're bound to sight a business establishment that feels familiar – the city is brimming with local restaurants, supermarkets, bakeries, salons, you name it. 
There's even a street called Makulay Street, where you can find a wall painted with graffiti of Filipino provinces, icons such as Jose Rizal, and the flag of the Philippines.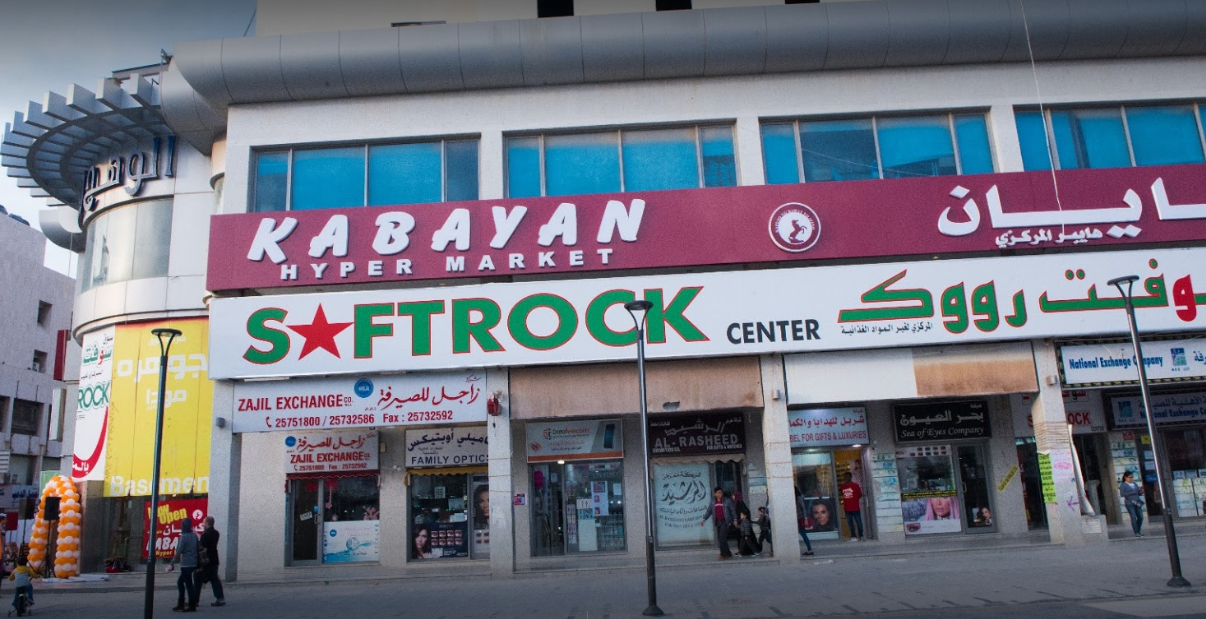 Image credit: Kabayan Hypermarket 
Address: Salem Al-Mubarak St. – Makulay St., Salmiya, Kuwait
---
8. North York, Toronto, Canada – local restaurants and bakeries
---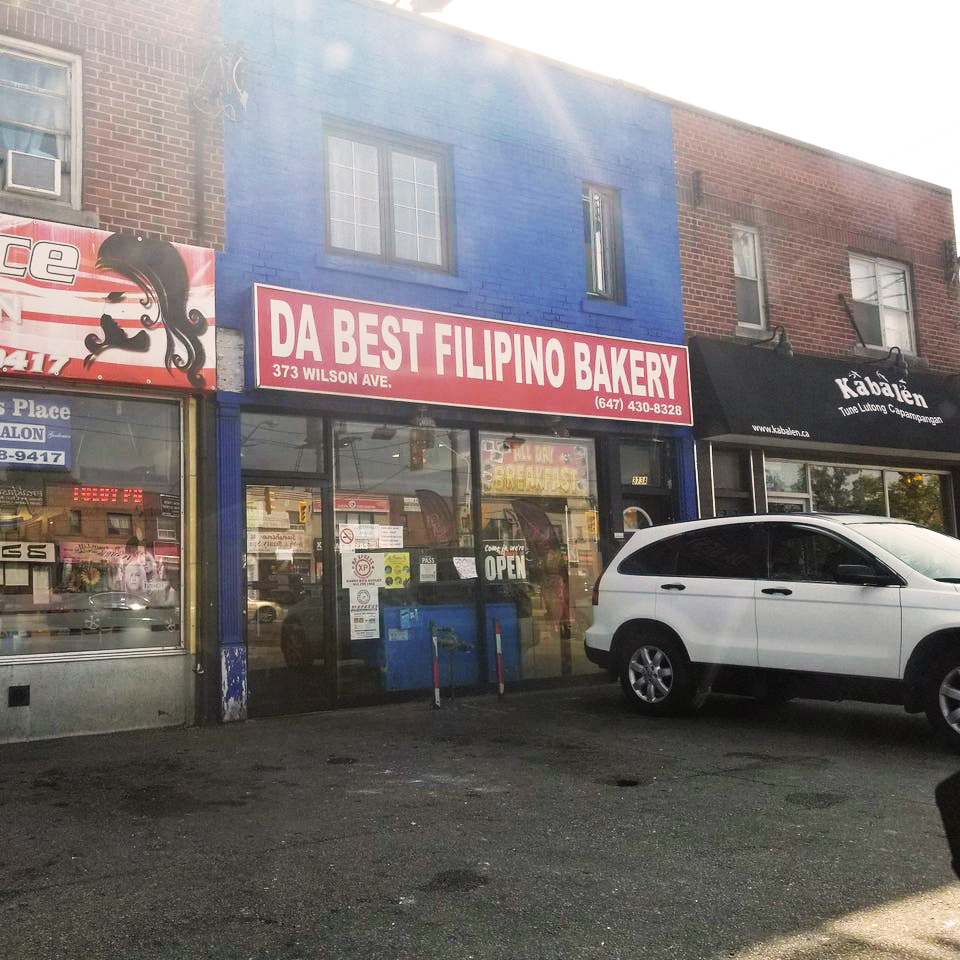 Image adapted from: u/delirous416 
Canada often ranks as the country with most Filipinos overseas, so it's no surprise that it has its own Little Manila too. In the intersection of Bathurst and Wilson streets in the North York neighborhood in Toronto, there's a scattered mix of Filipino-owned businesses, mostly bakeries selling pandesal and restaurants serving classic Filipino dishes.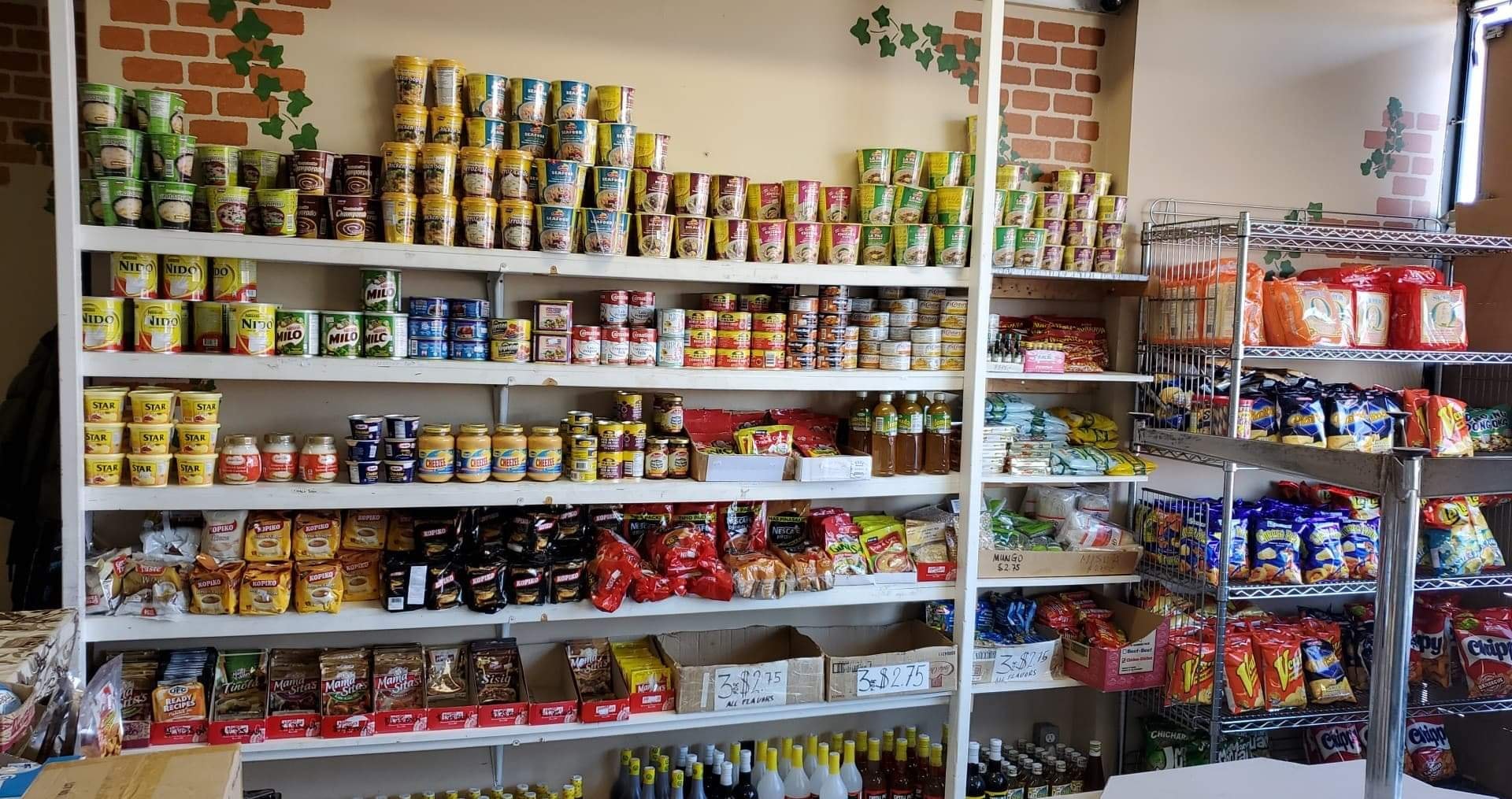 Image credit: Rose Caacbay Arellano Roasa 
Canada-based Filipinos who miss the taste of your typical Pinoy breakfast can head over to Da Best Filipino Bakery at Wilson Avenue. They sell every kind of tinapay you know back home – pandesal, Spanish bread, ensaymada, and so on. They also sell a variety of Filipino goods you can find at a sari-sari store.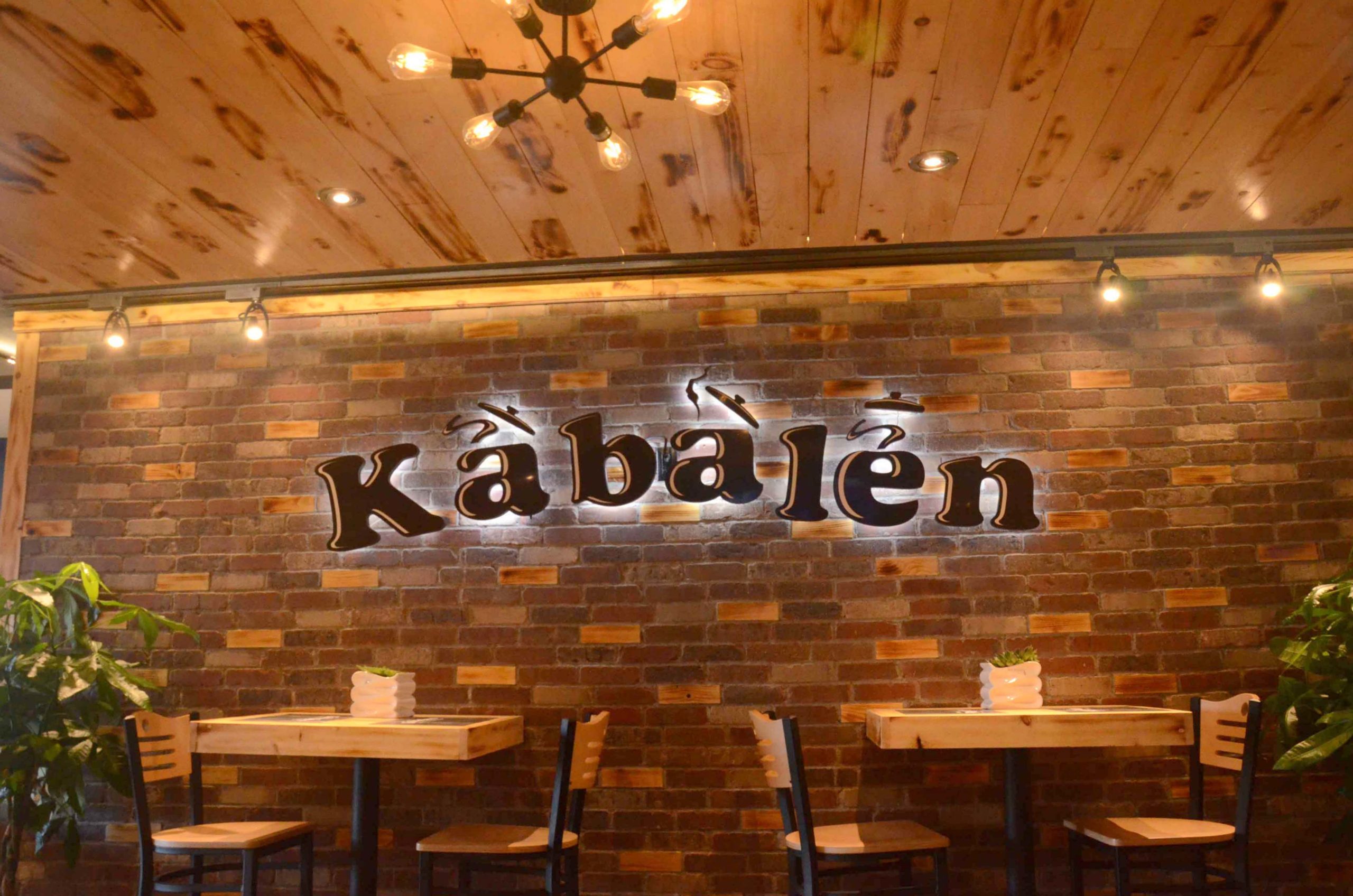 Image credit: Kabalen
Right beside it is Kabalen, a restaurant specializing in Kapampangan-style dishes.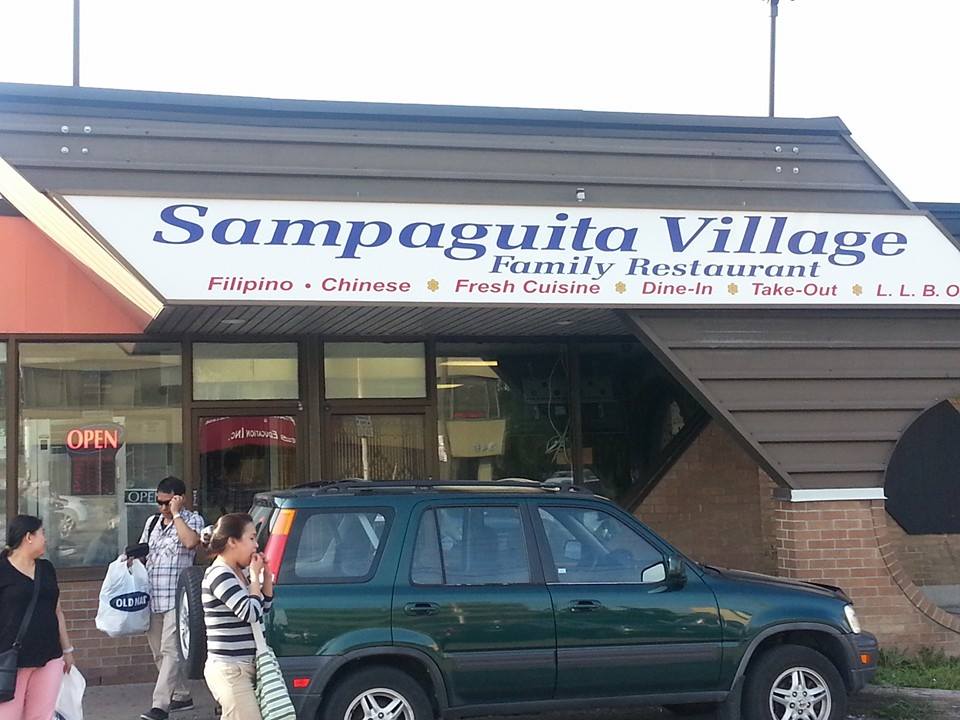 Image credit: Jun Asuncion
Further along, the Sampaguita Village has been a long-standing Filipino restaurant at Wilson Avenue, serving Filipino favorites such as lechon kawali and sinigang since 2005.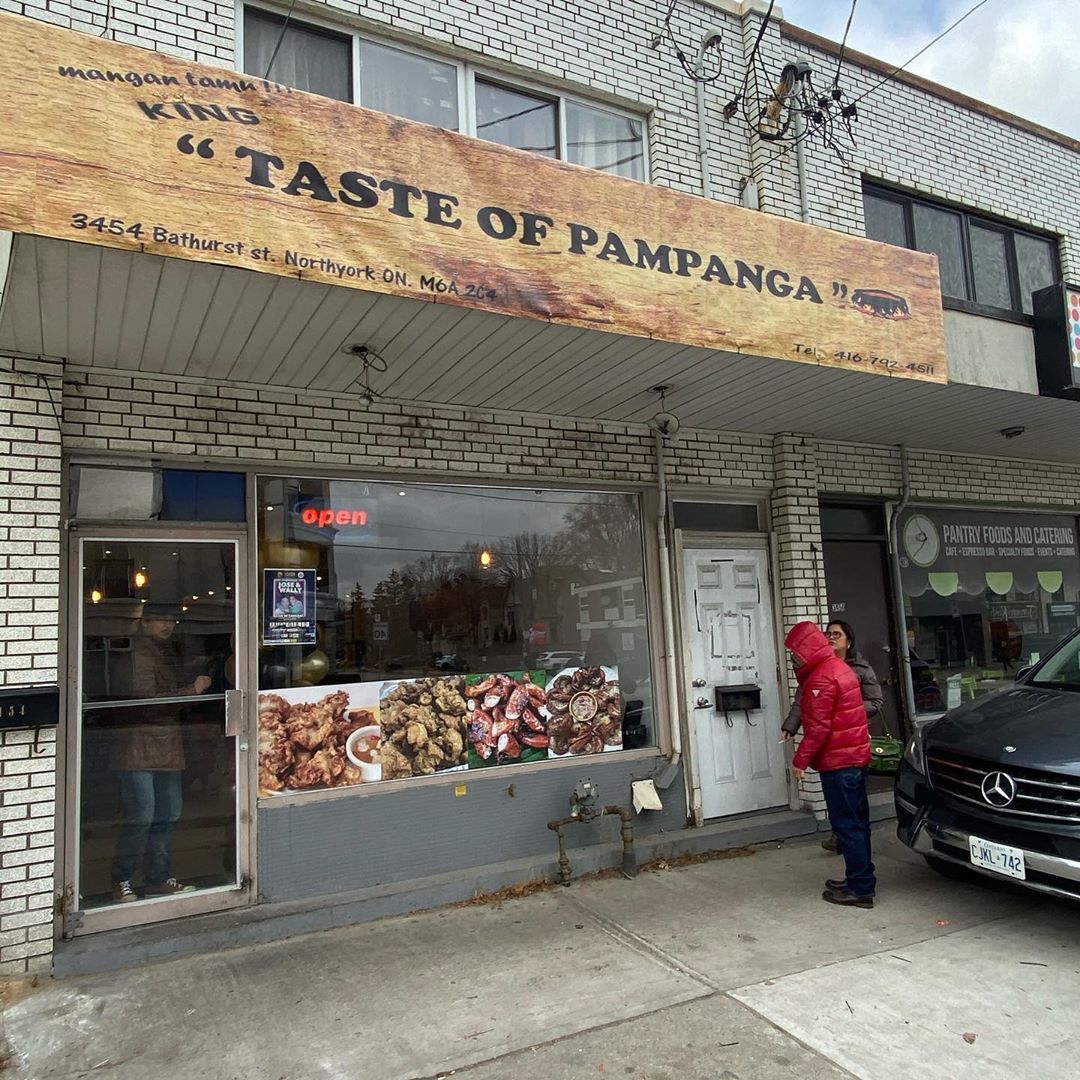 Image credit: @americaluigi 
At Bathurst, Taste of Pampanga has recently opened in December 2019, proudly serving chicharon made in the Kapampangan way. 
Address: Bathurst & Wilson streets, North York, Toronto, Ontario, Canada
---
9. Historic Filipinotown, LA – designated as a historic-cultural neighborhood by the local government
---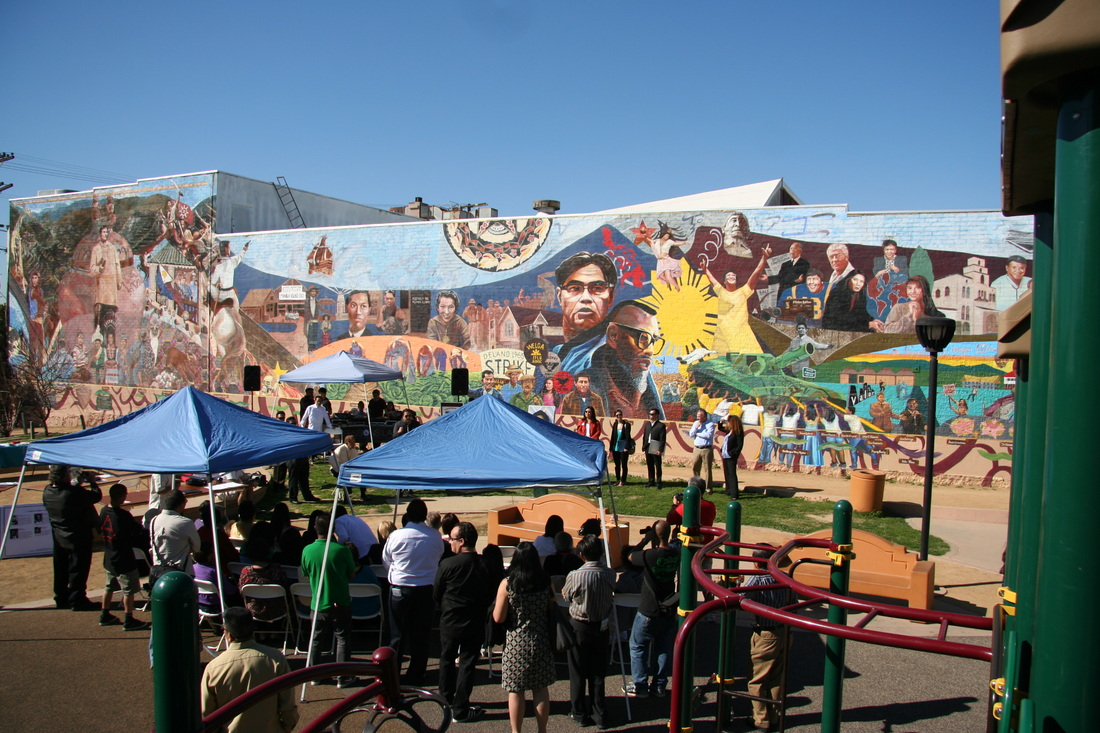 Image credit: Advisory Council on Historic Preservation
Perhaps the most quintessential Filipinotown in this list is the Historic Filipinotown in Los Angeles, California. This has long been a place where the Filipino-American community thrived, beginning with early 20th century immigrants who sought refuge in the area. Today, it's officially recognized by the city of LA which designated it as a historic-cultural neighborhood in 2002.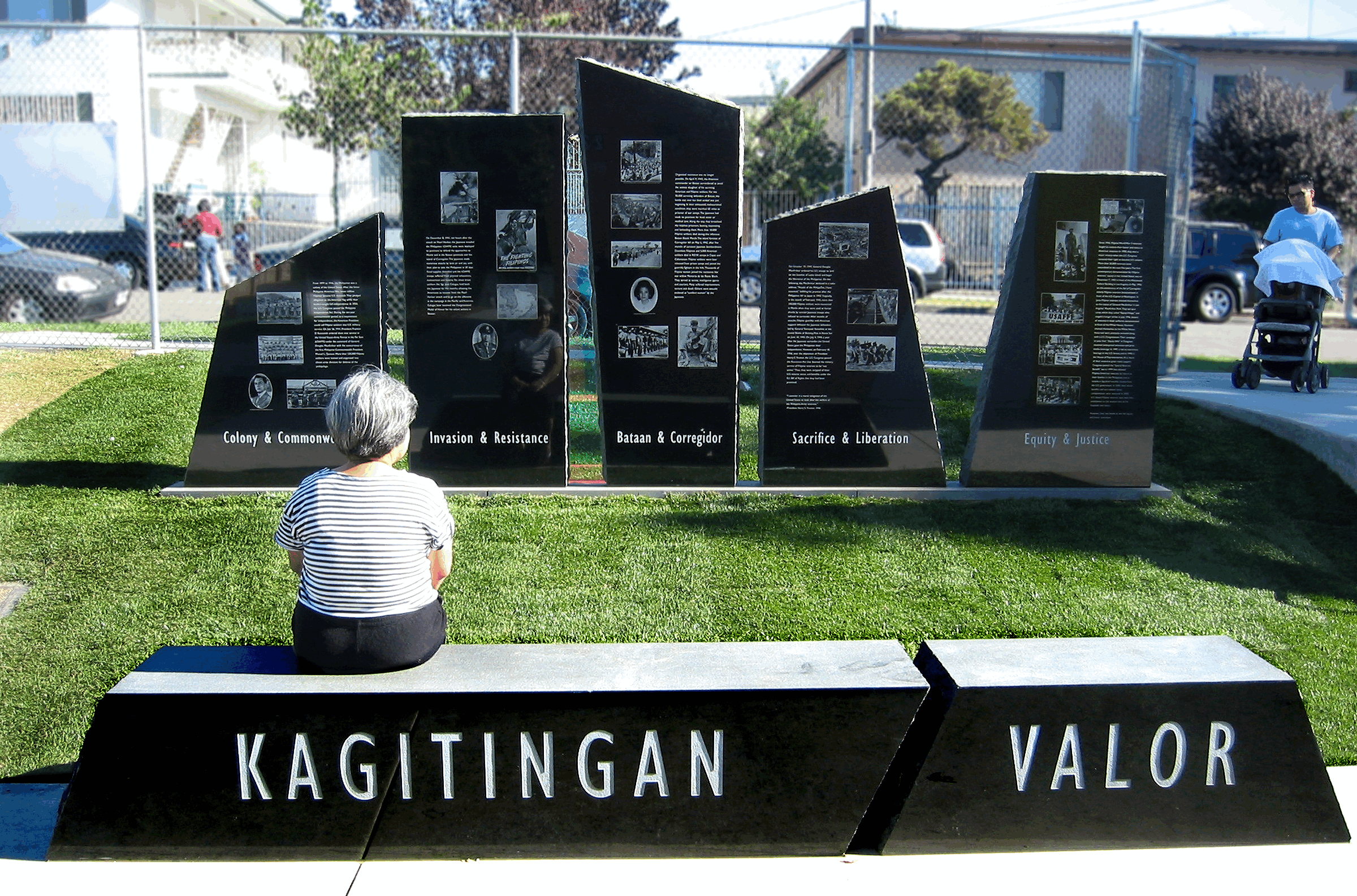 The Filipino American WWII Veterans Monument designed by Cheri Gaulke
Image credit: Historic Filipinotown
Signifying the community's history is a panoramic mural entitled Gintong Kasaysayan, Gintong Pamana (A Glorious History, A Golden Legacy) at the Unidad Park, depicting Filipino-American icons. There's also a Filipino American World War II Veterans Memorial at nearby Lake Street Park.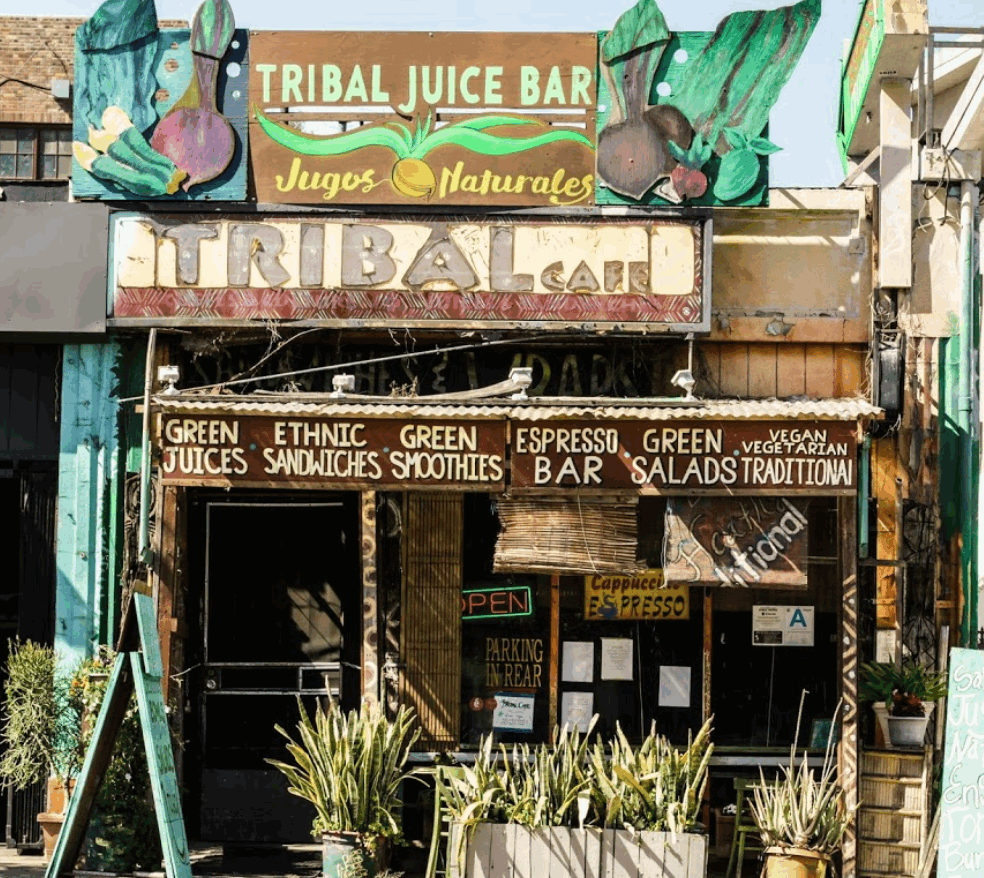 Image credit: Tribal Cafe
To have a taste of what this town can offer, tons of Filipino restaurants here can add to your options. The tropical-themed Tribal Cafe is a standout, offering comfort food that's also true to its roots – there's an Acai-Ube Acai (USD10.95 small, USD13.95 large) layered with Philippine ube sorbet and a green juice called Pacquiao Power Punch (USD5.95-11.95).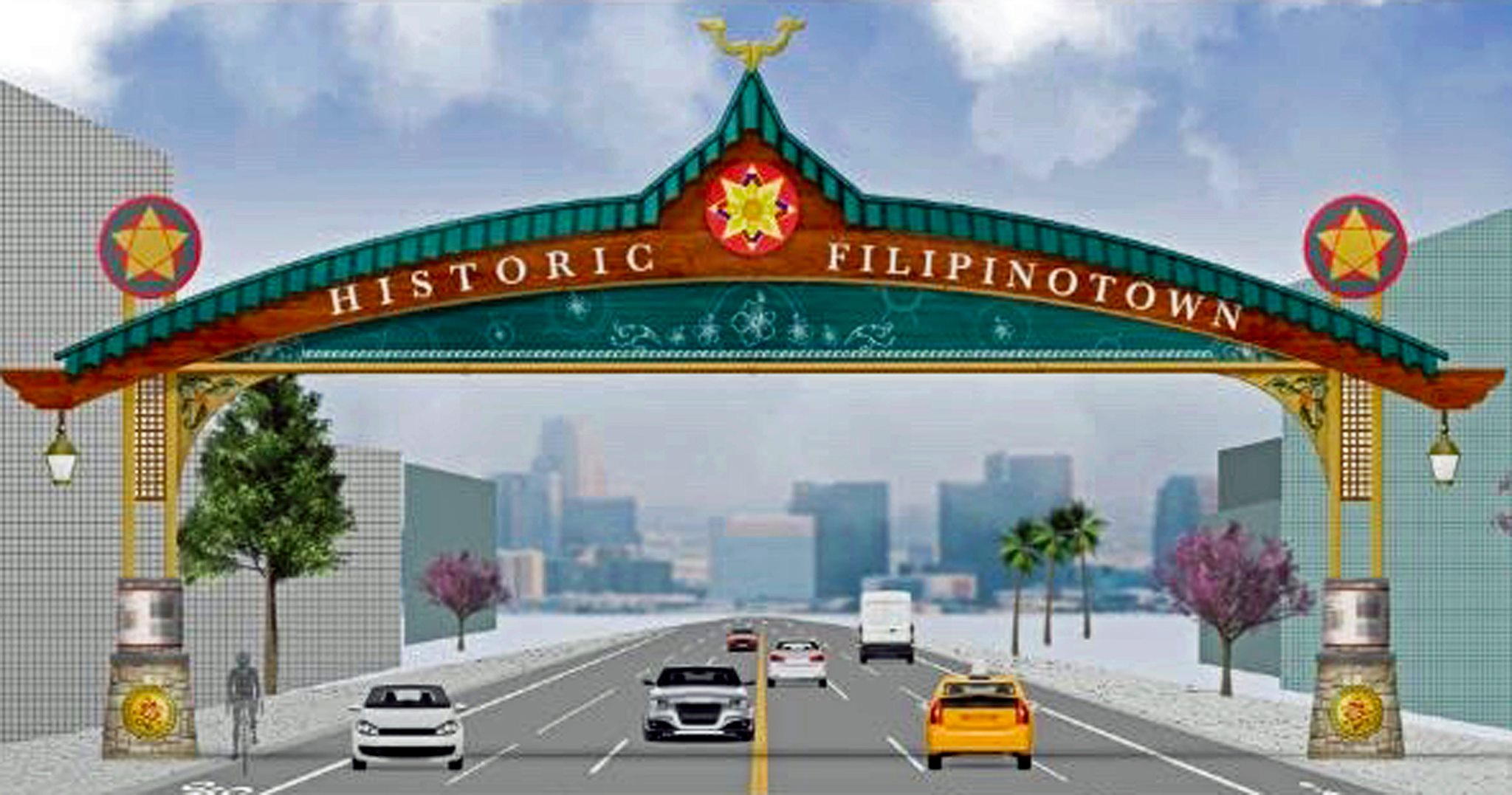 Image credit: Eliseo Art Silva Studios
This neighborhood in LA will soon have its own gateway too, named "Talang Gabay: Our Guiding Star," and will be erected on Beverly Boulevard. Fil-Am artist Eliseo Art Silva is the designer of this architectural feat bearing symbols of the parol, gumamela, and sarimanok.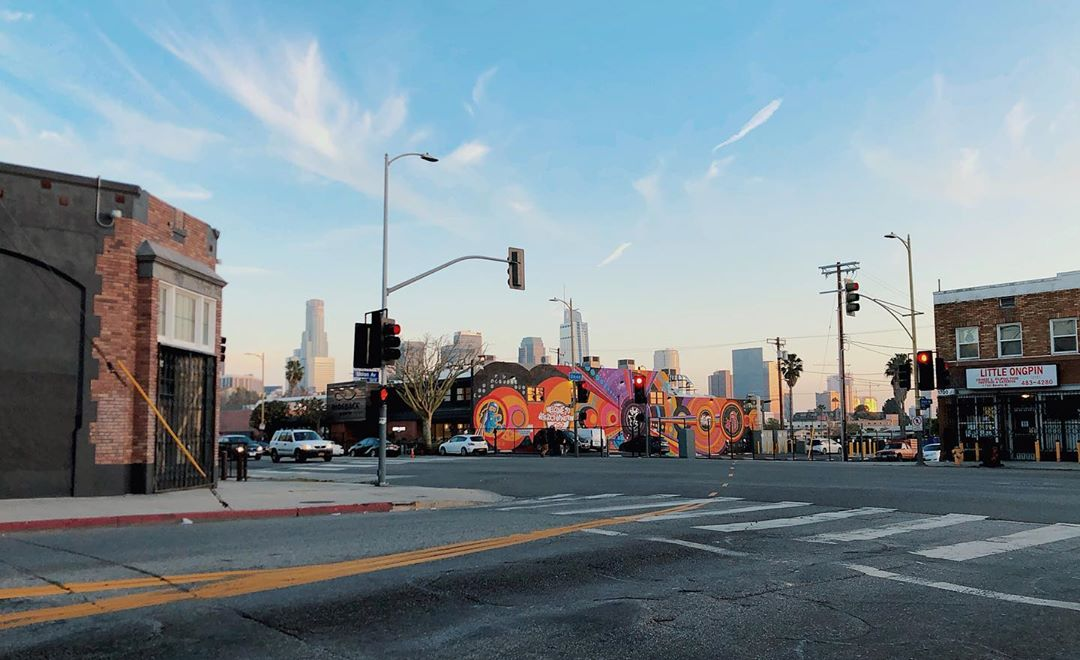 Image credit: @pinchecruz
Address: Historic Filipinotown, Los Angeles, California, USA
---
Filipinotowns abroad are a home away from home
---
We Filipinos are indeed all over the world, as proven by these Filipino areas with establishments showcasing our cultural heritage. But these communities we have built while away from our country are also reminders that no matter where we go, our motherland will always be in our hearts. 
Also check out:
---
Cover image adapted from (clockwise from top left): Advisory Council on Historic Preservation, Seoul Metropolitan Government, Kuwait Times, Google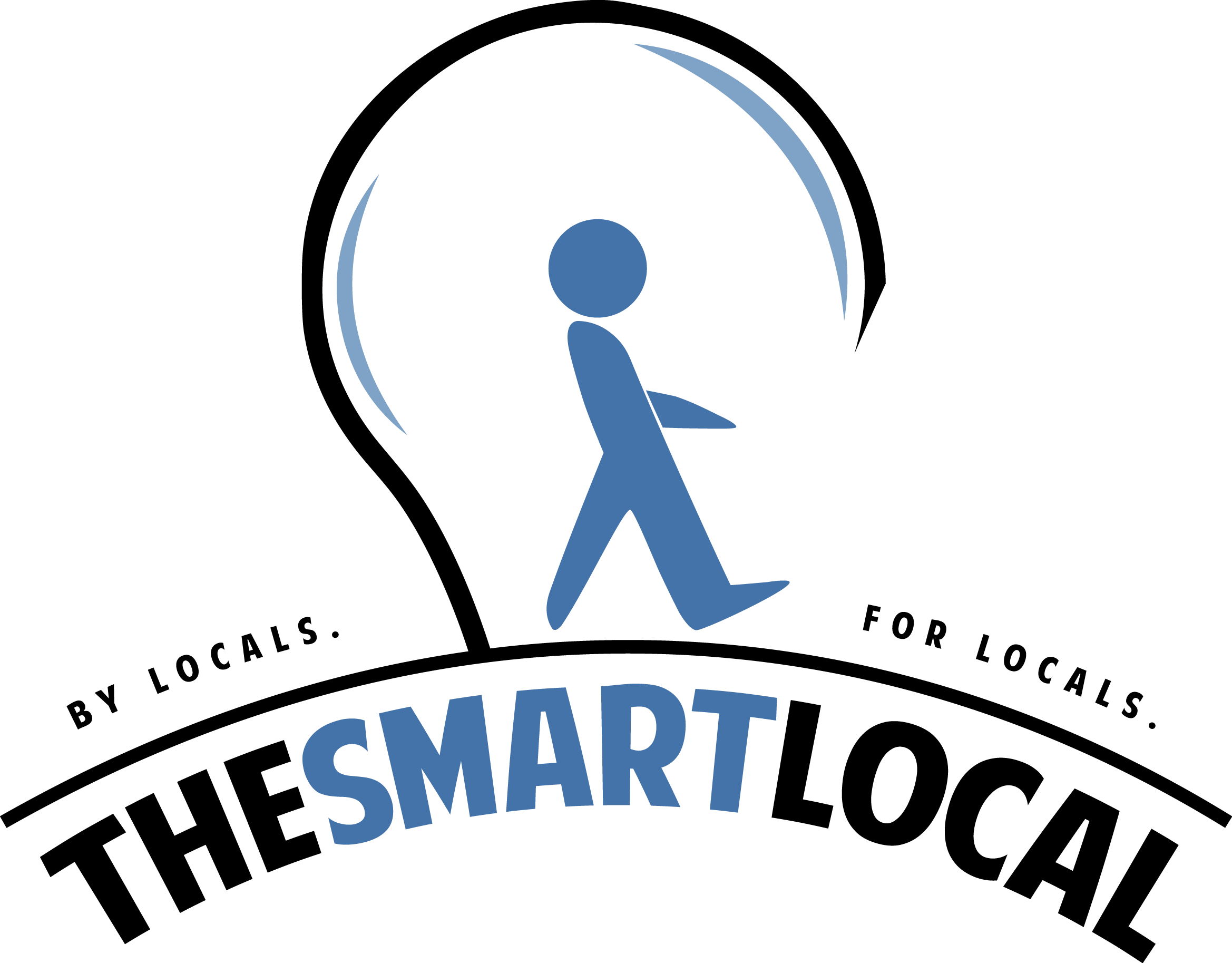 Drop us your email so you won't miss the latest news.