Love in the time of COVID-19
---
Social gatherings have to be postponed for now, as social distancing and staying at home are essential to ending the COVID-19 pandemic. However, as the months under quarantine drag on, it's getting harder to push back or cancel some important life events – one of them being weddings.
Which is why couples around the Philippines have opted to simplify the traditionally extravagant wedding celebrations. The ceremony of marriage has been stripped of all its bells and whistles, leaving only what's most important – two people who want to commit their lives to one another.
---
Have a wedding, but make it COVID-free
---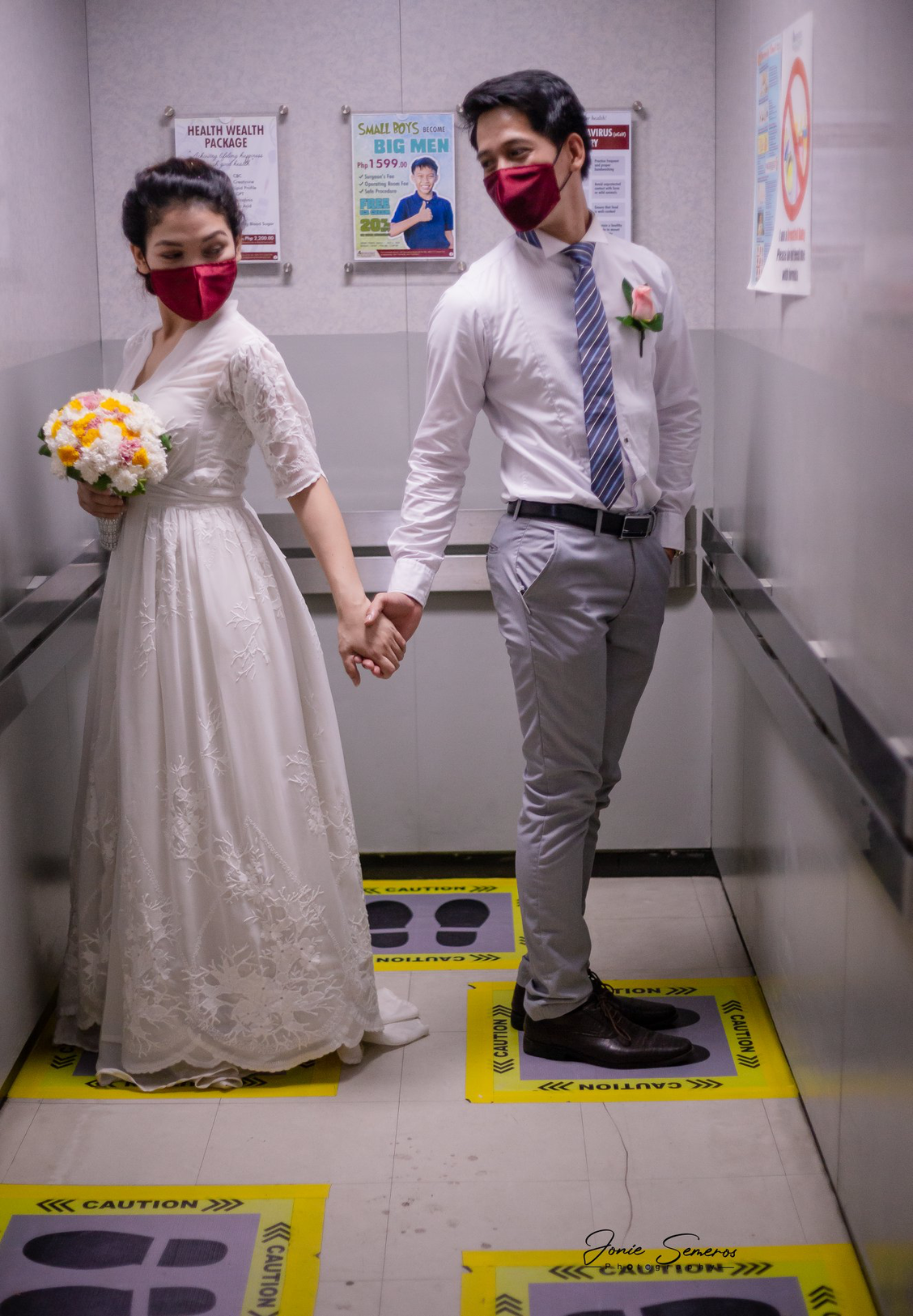 Image credit: Adventist Medical Center – Bacolod
Filipinos Jim and Jerahcel Gerona will have you retracting all the "walang forever"s you've said, and have you believing in LDR instead. After all, the couple survived a 9-year long-distance relationship, with Jerahcel working in Adventist Medical Center in Bacolod, while Jim was in Manila.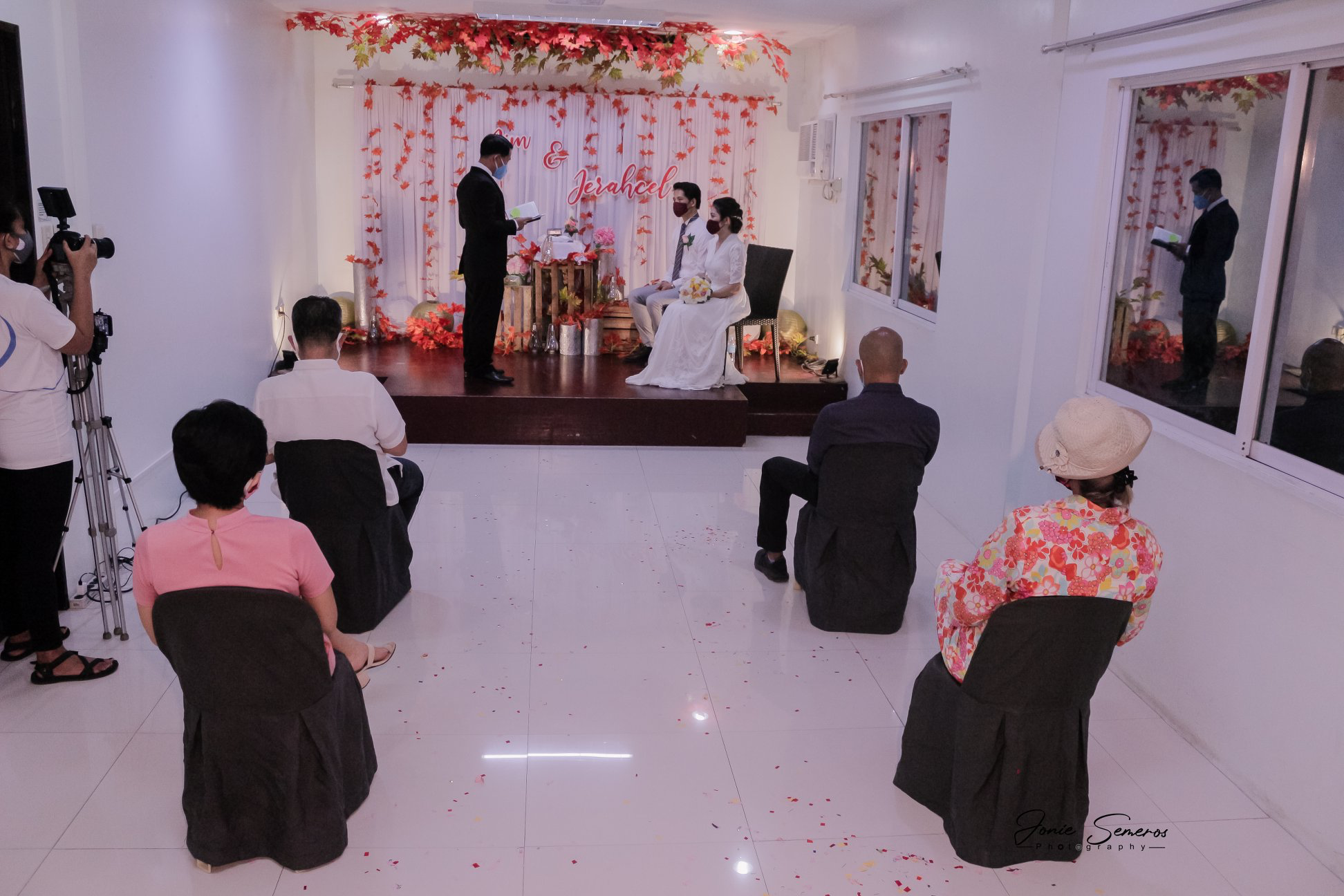 Image credit: Adventist Medical Center – Bacolod
When they figured it was high time to get married, life threw them a curveball in the form of the COVID-19 pandemic, which greatly affected their wedding plans. So instead of holding  the wedding as planned on 8th April, they got married in the hospital's conference room on 12th April, where they deemed it safer than having a wedding in a more public area. 
With Jim dressed up in a suit and Jerahcel in her wedding gown, the couple still observed COVID-19 protocol. They, along with the wedding presider and the guests, wore face masks, while the guests observed social distancing, sitting apart from one another.
---
In sickness and in health
---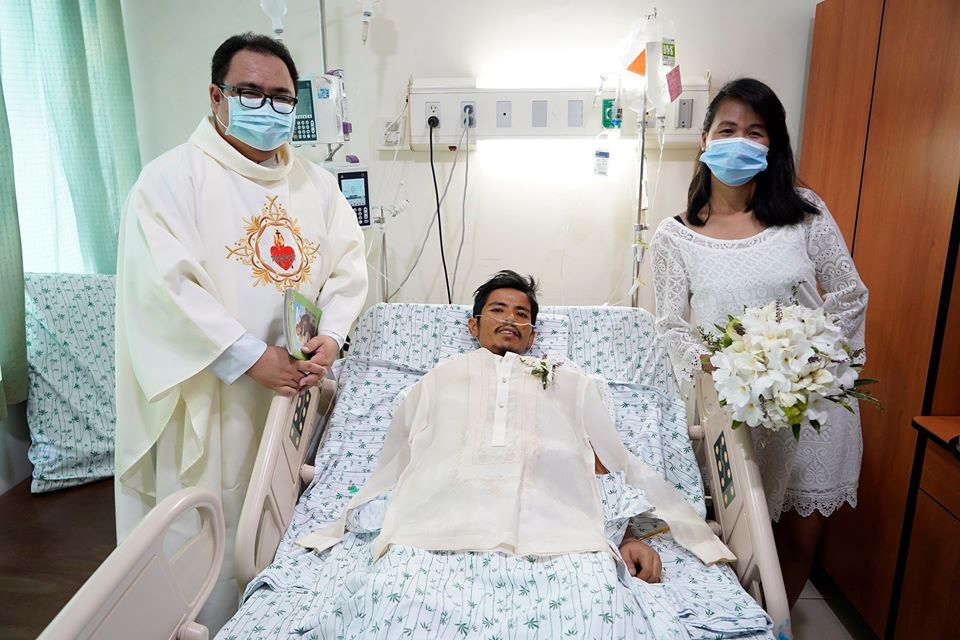 Image credit: Superbalita Cebu
Another couple, James and Evelyn Zapanta embodied the words in the traditional wedding vows, "In sickness and in health", to a T as they said their vows in a hospital ward. 
James, a former wedding photographer who was bedridden on 27th April because of liver cirrhosis, said his dying wish was to marry Evelyn, his live-in partner and mother to their 3 children.
His friends in the wedding industry along with his family pulled everything together to fulfil his dream. From the cake, to flowers, to outfits, everything was donated by friends and family to give the couple the perfect wedding.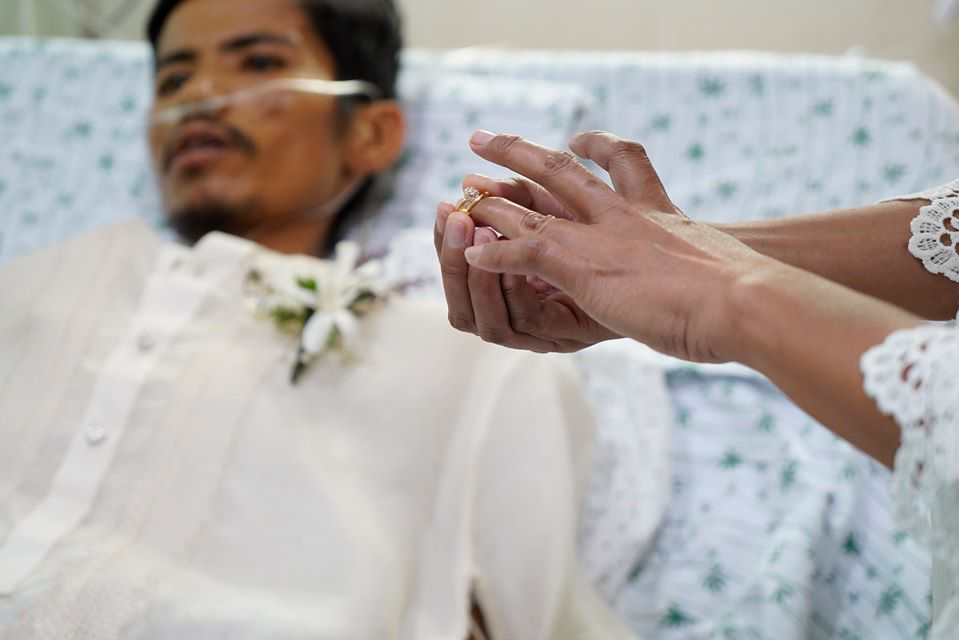 Image credit: Superbalita Cebu
The wedding pushed through on 3rd May in Chong Hua Hospital, where James was warded. Unfortunately, with his dying wish granted, he passed away the next day, 4th May, succumbing to his disease.
---
From suits and gowns to shirts and jeans
---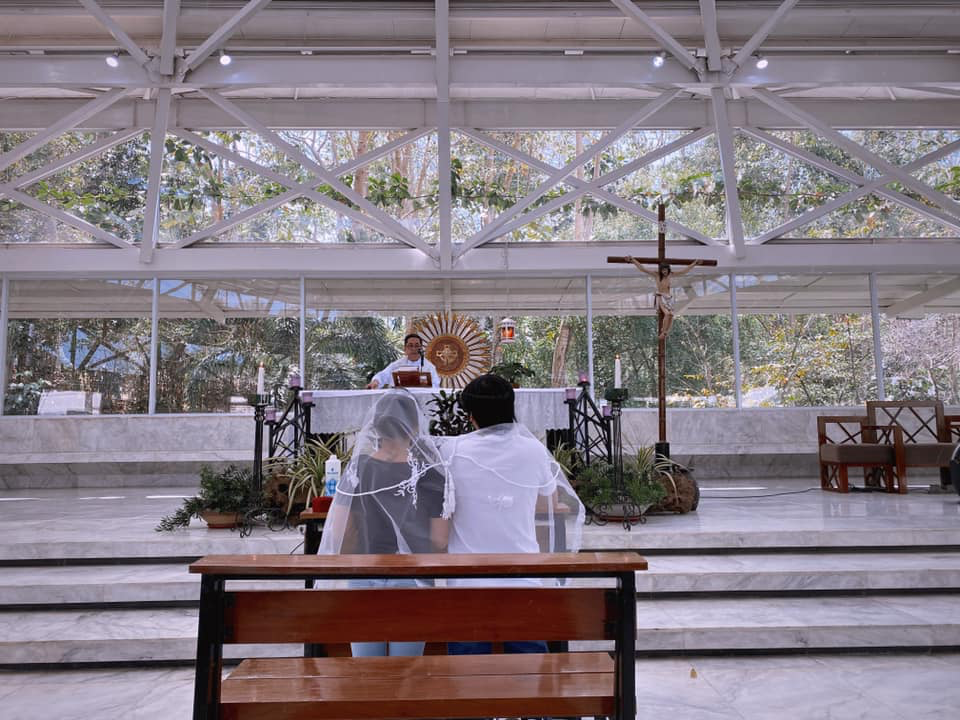 Image credit: April Rose Noora
For most brides, your wedding seems like the one and only time to go all out and dress yourself up in jewels and intricately designed dresses, and to surround yourself  with extravagant decorations and flowers. 
However, Filipinan April Rose Noora traded all of that for a simple marriage with the love of her life, Jed Cargullo.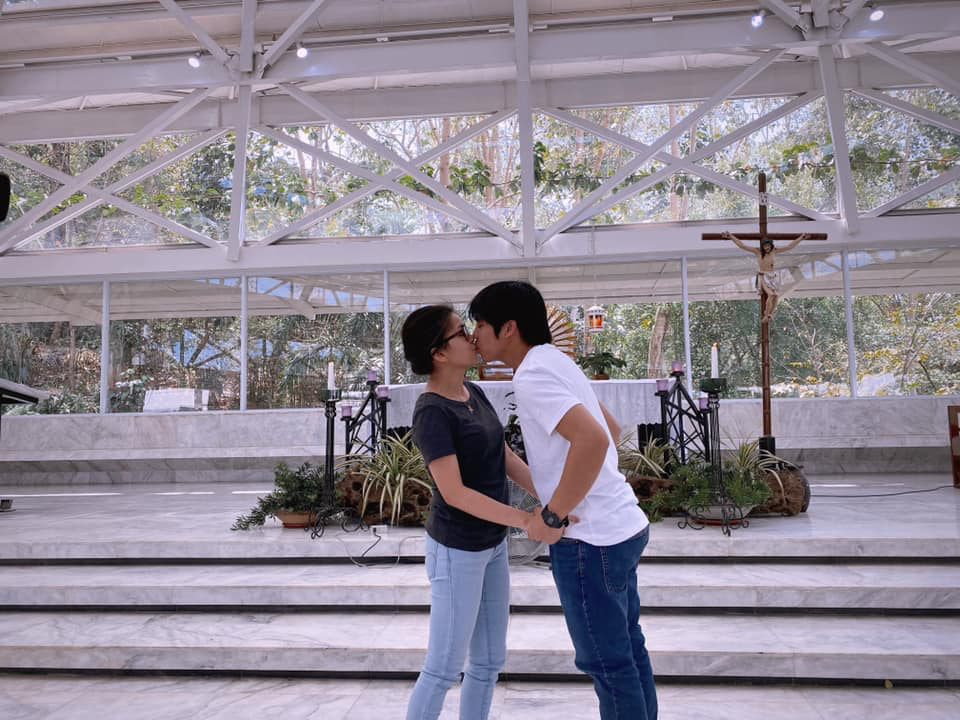 Image credit: April Rose Noora
The two are OFWs from New Zealand who came home to have their dream wedding surrounded by their family and friends. The said wedding had been in the planning stages for 2 years, and was supposed to be held on 27th March. But with the quarantine imposed in Metro Manila starting on 14th March, the wedding had to be canceled.
The couple visited their church the day before the lockdown to ask for advice on what to do, before deciding to just get married right then and there – jeans, shirts, sneakers, and all – at the Parish of the Immaculate Heart of Mary. The only witness was the priest who presided over their marriage ceremony, but the exchange of "I do"s and a lifetime commitment to each other was enough for them.
---
Getting married during COVID-19
---
The COVID-19 pandemic changes a lot of things, from daily routines to travel plans to events, but nothing can change the unconditional love these couples have for each other. They show us that we don't need to celebrate love in extravagant ways – a simple ceremony and an "I do" will, oftentimes, do.
They also remind us of the good in the world despite the pandemic – being surrounded by the people we love, whether virtually or while stuck at home. So take a moment to tell the people who've been getting you through these tough times that you love them.
Also check out:
---
Cover image adapted from: Adventist Medical Center – Bacolod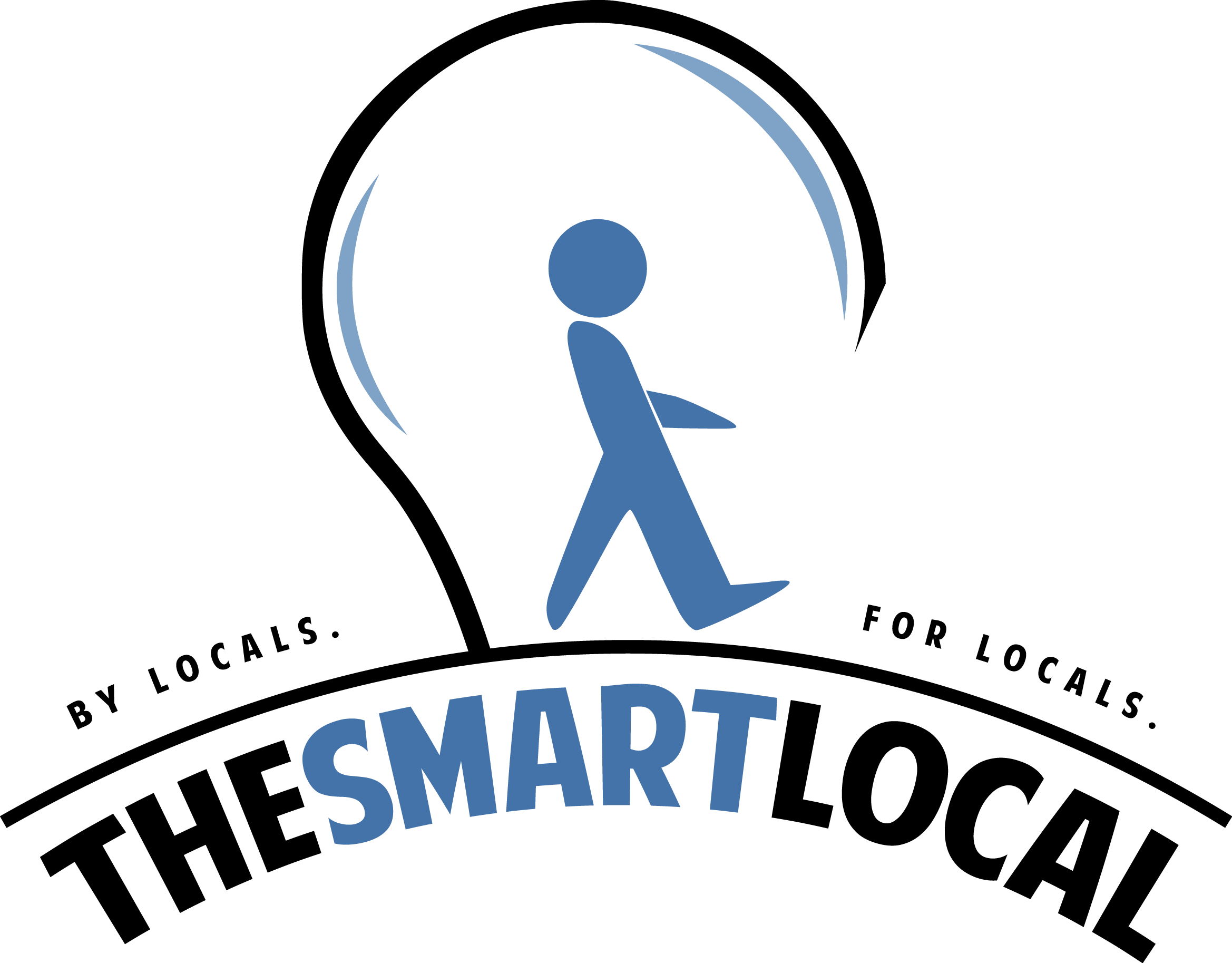 Drop us your email so you won't miss the latest news.