Discontinued fast food items from the Philippines
---
Fast food has always been a big part of our culture – fast food chains such as Jollibee and KFC have been flourishing since the time of our lolos and lolas. Not only do these restaurants provide affordable dishes, but they also gave us some of our favorite comfort snacks and meals through the years. 
While there are many items on fast food menus that we swear by today, there're some extinct Filipino fast food items that have been phased out, leaving us to recall them in our imaginations. Here are some of the most popular fast food items from Filipino fast food chains that have vanished forever and are sure to bring you back to the better days.
---
Fries
---
1. Jollibee's Jolly Cheezy Fries – a fries-and-nachos combination
---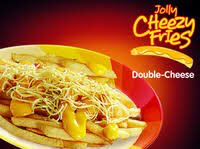 Image credit: DLSU Radio
For the many cheese lovers out there, the idea of putting cheese on just about anything easily includes fries. And though fries covered in powdered cheese are yummy, it's a cop-out compared to the real thing back in the day. Jollibee's Cheezy Fries were the real deal – french fries topped with lots of nacho cheese, and even more grated cheese on top.
It's a shame they took it off the menu, though many still stand by their plain and original Jollibee Crispy Fries.
---
2. Greenwich Pizza Fries – pizza-flavored fries
---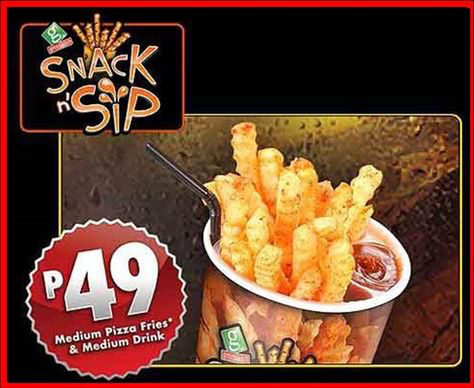 Image credit: This
Another Greenwich item that you shouldn't have missed was their Pizza Fries. If you love both fries and pizza, this was for you. 
The thick cut fries were dusted in a seasoning that we can only describe as pizza seasoning – a mix of tomato, cheese, and a little spicy kick. The snack even came in Greenwich's Snack n' Sip, which got you a medium-sized Pizza Fries, a ketchup dip, and a drink. These fries were easy to binge on if you wanted fries with a different flavor.
---
Pizza & Burgers
---
3. KFC's Chizza – pizza made of chicken
---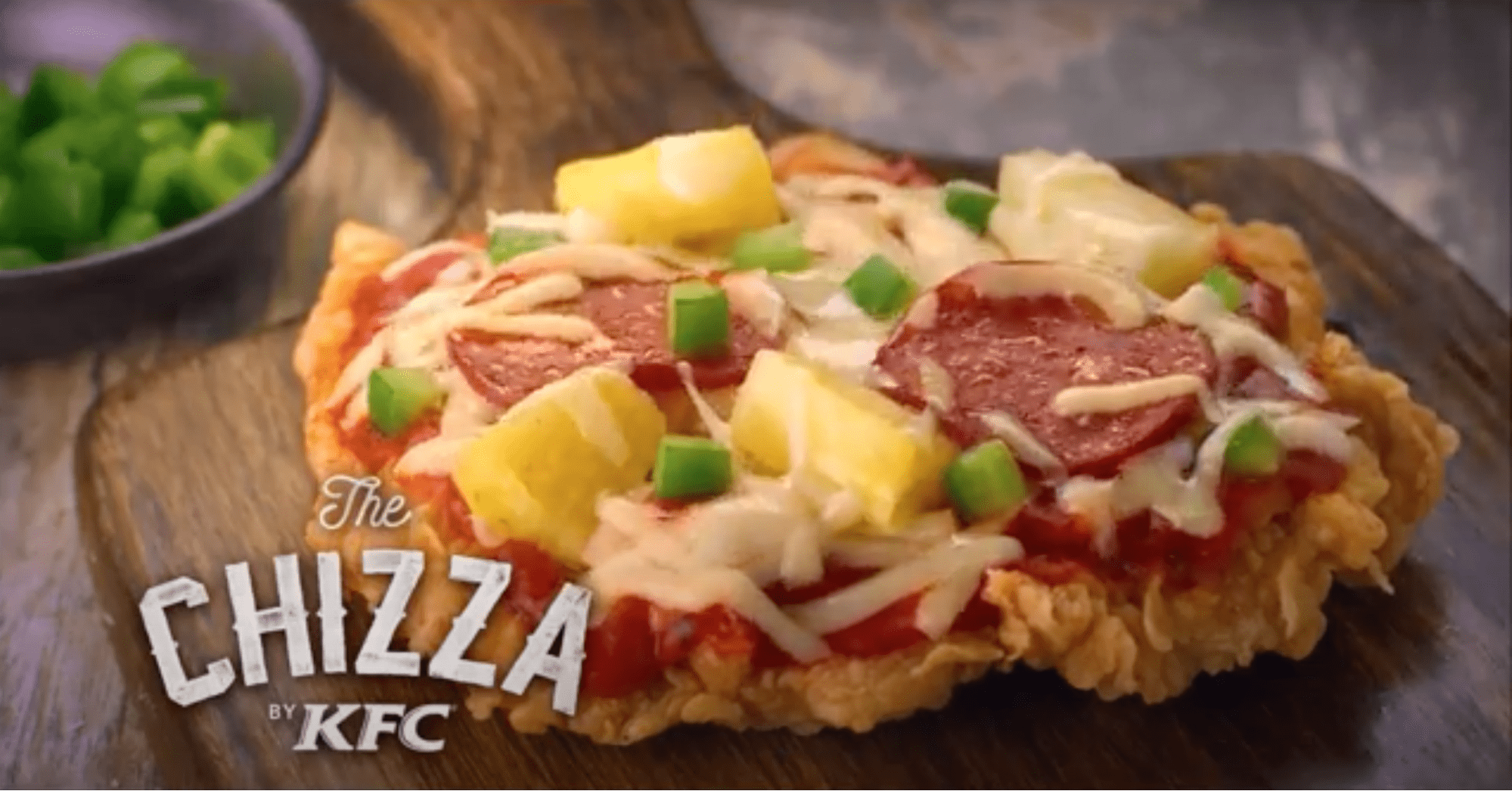 Image credit: Hshg766 Cantik455
There was no need to choose between fried chicken and pizza back in the day – KFC Chizza gave you both. Swapping out the pizza dough for a big slab of chicken fillet, the snack was the perfect greasy fast food treat.
The chicken "dough" was topped off with pizza ingredients such as ham, cheese, tomato sauce, and pineapples, which went well with the fillet. Unfortunately, now that the Chizza is an extinct Filipino fast food item, we have to go back to ordering pizza and chicken separately.
2nd June 2020 update: The Chizza is temporarily back for P145 (~USD2.89) in a limited number of stores.
---
4. Greenwich's Super Sisig Pizza – sisig-topped pizza
---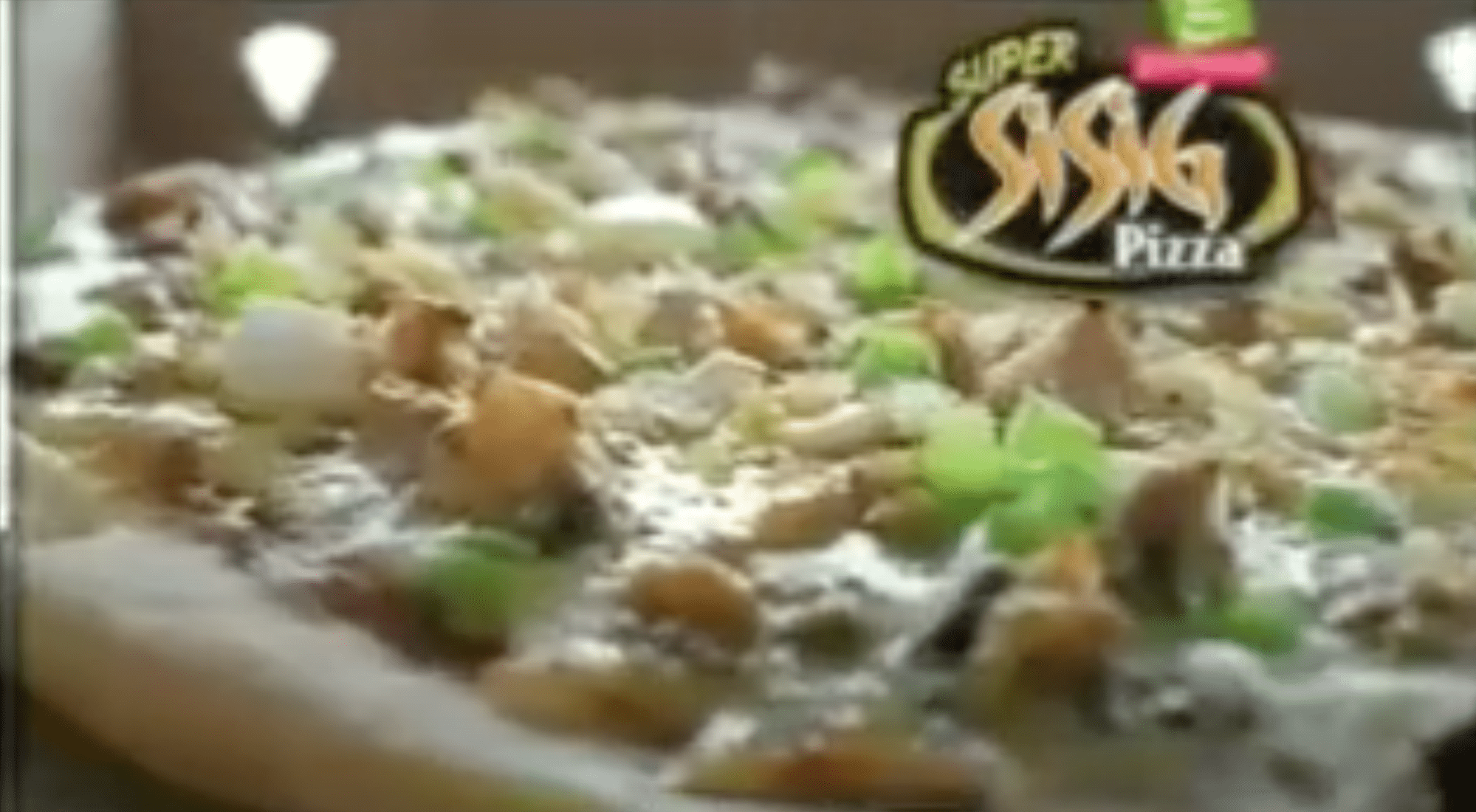 Image credit: Throwback World Millennials TVC
Sisig lovers, we sure hope you didn't miss out on this one. Greenwich's Super Sisig Pizza was a pizza that Filipinos fell in love with easily, as the toppings were inspired by a popular Filipino dish.
Sisig (pig head and chicken liver) topped the thick Greenwich pizza dough, along with a layer of stringy melted mozzarella. The cheese was a good counter to the sisig which usually had a touch of spice, and overall the dish was a win for pizza lovers and sisig lovers alike.
5. KFC's Double Down – chicken fillets as burger buns
---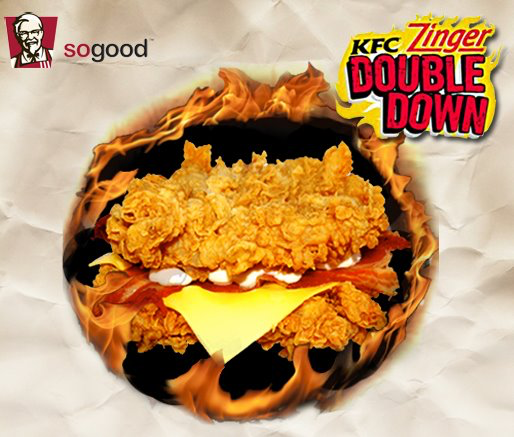 Image credit: KFC
KFC hit two birds with one stone once again – just like their pizza and chicken hybrid, the Chizza, they also created the Double Down. Instead of enjoying your usual KFC burger with two fresh buns, you could choose to enjoy it with two flavorful chicken fillets instead.
Sandwiched between the two fillets were bacon, cheese, and sauce that went well with the chicken. While bread is the norm because of how its plainness complements strong flavors, the KFC original chicken fillets added a whole level of flavor that many fell in love with.
---
6. Jollibee's Hash Brown Burger – hash browns instead of burger buns
---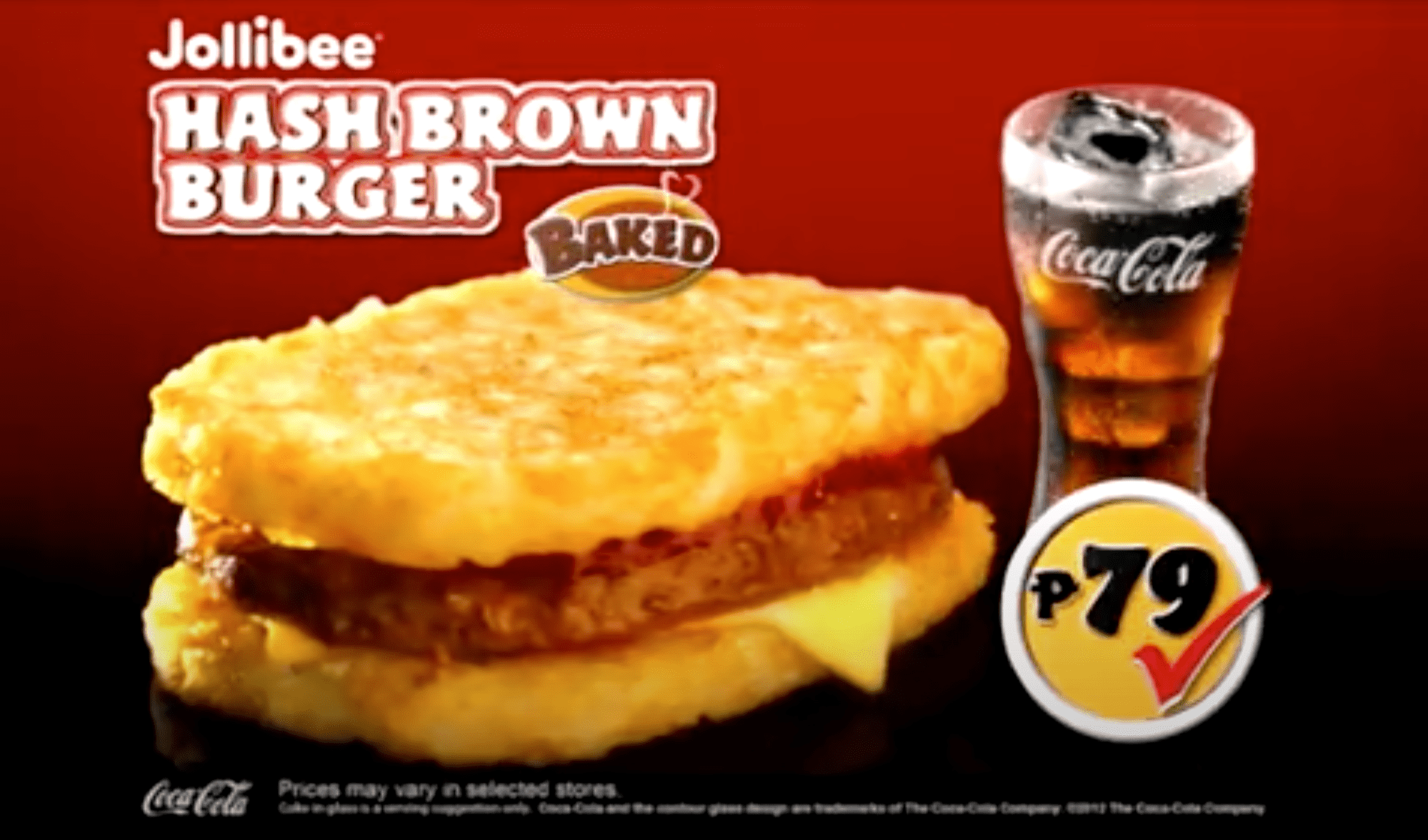 Image credit: Jollibee Studios
Speaking of fast food restaurants swapping out burger buns for a different food item, Jollibee's Hash Brown Burger joins the list. The mainstay contents of a Jollibee burger – a patty, cheese, and ketchup – were sandwiched between two hash browns, then fried 'til golden and crispy.
The burger may have had a short stint, but it remained memorable to potato lovers and those who enjoyed the combination of the two different food items.
---
7. McDo's McRice Burger – rice patties instead of burger buns
---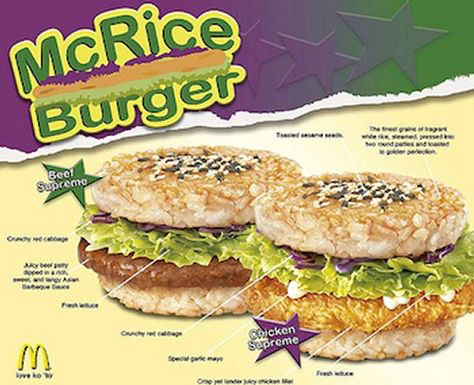 Image credit: Jen Hartnett
This is the last of them, we promise. Another fast food item that replaced the usual bread bun burger was McDonald's McRice Burger. Instead of burger buns, they used pressed rice patties, toasted to a golden brown, and topped with sesame seeds. 
Between the rice patties, you could choose between a chicken fillet or beef patty that went with lettuce, onions, and condiments. It was like having a rice meal ready-to-go, which made it a popular food item, aside from its uniqueness.
---
8. McDo's McRibs – barbecue ribs in a burger
---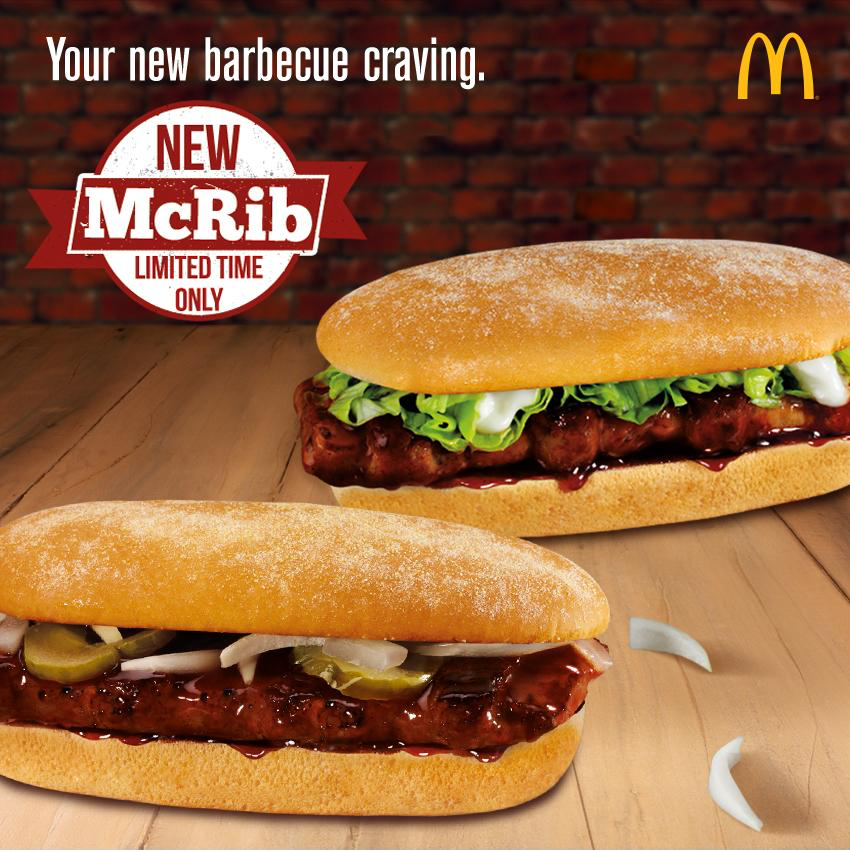 Image credit: @McDo_PH
McDonald's McRibs was the perfect meal for when you wanted to enjoy both a burger and ribs in a convenient package. Each bite is filled with pork patty slathered in barbecue sauce, topped with pickles, onions, and lettuce, held together with caramelized burger buns.
The offer was only available for a limited time, but fast food lovers fell for its juicy patty and unique bun, all for less than P100 (~USD1.98).
---
---
9. Jollibee's Aloha Burger – Hawaiian burger
---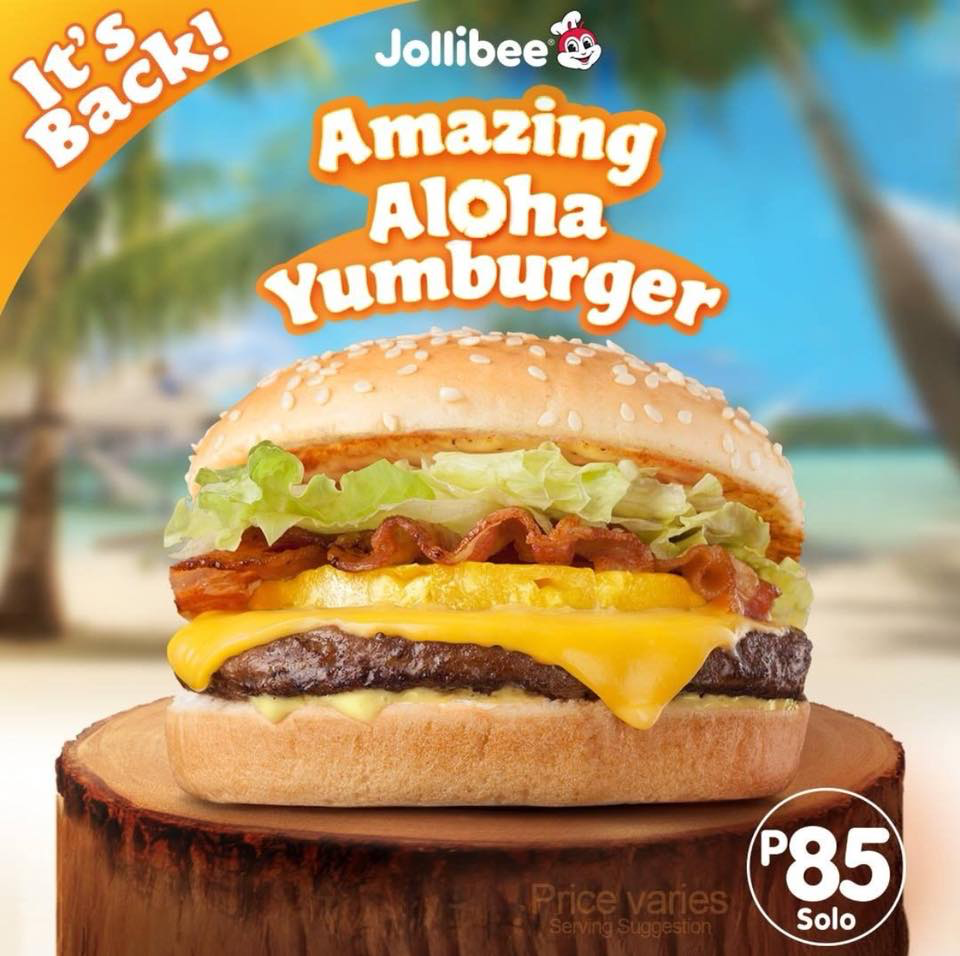 Image credit: Jollibee Waltermart Taytay
We all know how much of a following Hawaiian pizza has, which is also why Jollibee's Amazing Aloha Yumburger was a hit. The meal was a burger version of a Hawaiian pizza – with a beef patty, cheese, bacon, lettuce, and a slice of pineapple between burger buns.
Because of the seasonality of the fruit, the food item comes and goes. But as it's currently off the menu, Hawaiian food lovers will have to stick to pizza for the time being.
---
10. McDo's McGriddles – breakfast burger
---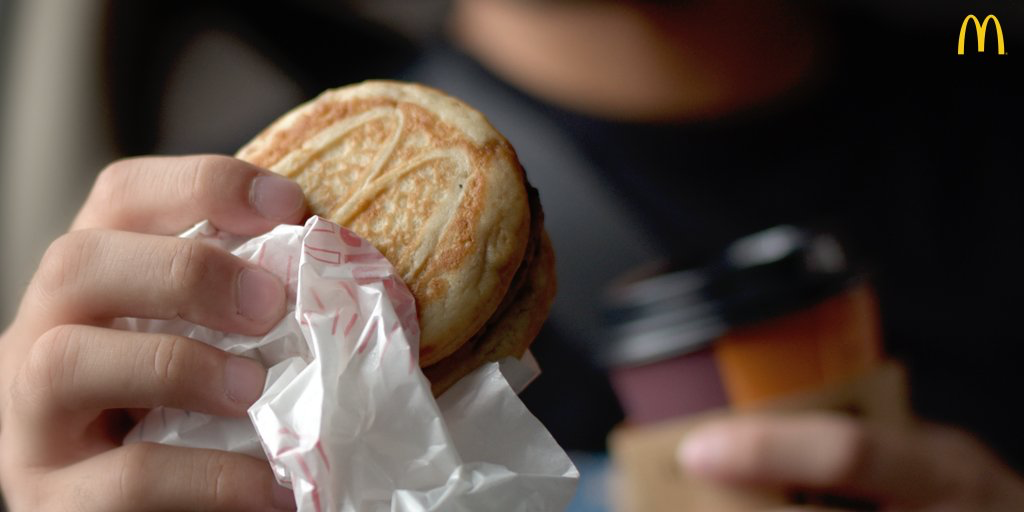 Image credit: @McDo_PH
McDonald's is one of the go-to fast food chains in the country when it comes to breakfast menus, and the famous but now-extinct Filipino fast food McGriddles was a testament to that. 
Two warm, maple-flavored griddle cakes enveloped the McDonald's sausage patty, or a ham, cheese, and omelette combination. These breakfast burgers were a great way to start the day, but it's a good thing their breakfast menu is still filled with other tasty breakfast options.
---
Meals
---
11. Greenwich's Chicken Ala King – chicken in white sauce
---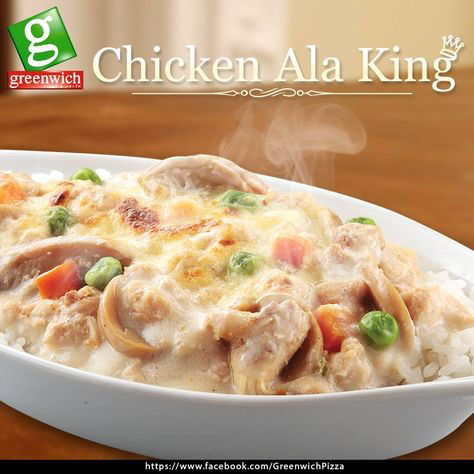 Image credit: SM City Manila SM Supermalls
Many have had a try at making the perfect chicken ala king, but not all have succeeded. Greenwich's Chicken ala King was one of the recipes that never failed to make your tastebuds sing – with chunks of chicken and vibrant vegetables in creamy white sauce on top of a bed of hot rice.
The dish was served in a hotplate to keep it heated, and though we've burnt our tongues once or twice during the first bite, the pain was worth it. We may have found new chicken ala king recipes to enjoy after the dish was taken off the Greenwich menu, but this will always have a special place in our hearts.
---
12. Jollibee's Chicken Barbecue – chicken inasal
---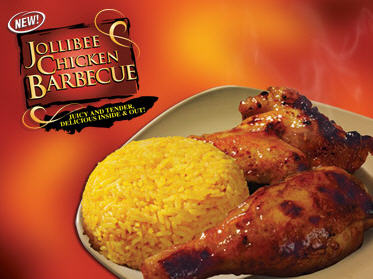 Image credit: Erick Pijoh
Before Jollibee Foods Corporation took Mang Inasal under its wing, Jollibee had its own take on the Filipino favorite. A generous piece of chicken inasal (roasted chicken) was served with a cup of java rice and barbecue sauce for dipping. You could even get atchara (pickled vegetables) on the side for an extra fee.
The chicken barbecue even came in buckets, just like their Jolly Fried Chicken. Since it's off the menu now, you can enjoy Mang Inasal's famous inasal and atsuete oil instead.
---
13. Chowking's Beef Brisket – braised beef rice bowl
---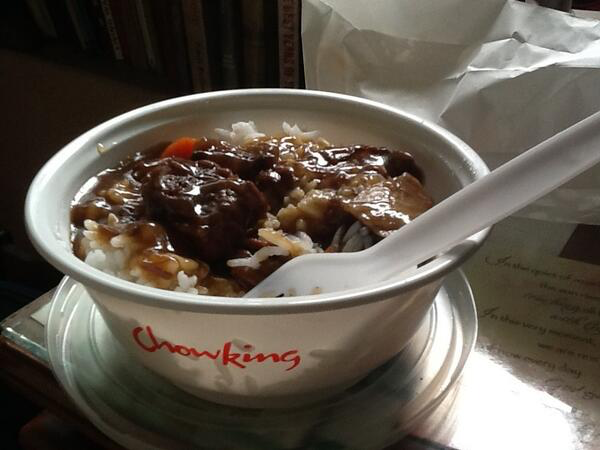 Image credit: Iyan Sommerset
Chowking is a go-to for affordable and yummy Chinese fast food, such as the popular Chowking Beef Brisket that has since vanished from their menu. This was a bowl of soft white rice topped with slices of beef brisket in a flavorful soybean-based sauce.
Its fame was because it was an affordable dish that could easily fill you up. With it off the menu, many have taken to trying out different Chowking-inspired beef brisket recipes at home, but nothing could replace the OG recipe.
---
14. Chowking's Crispy Noodles – fried noodles
---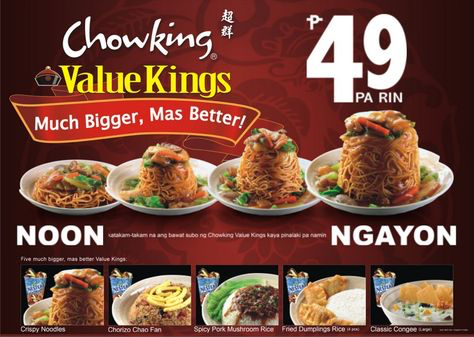 Image credit: Creig Paraino
Chowking's Pancit Canton can easily satisfy our cravings for Chinese style noodles, but once upon a time, this dish came with a twist. The Pancit Canton we know now used to come in crispy form, called Chowking Crispy Noodles.
The noodles were fried 'til crispy, and topped with chunks of vegetables, pork, and a sweet and savory sauce. Though the flavors were familiar to the original dish, the crispiness put a unique twist on it.
---
15. Jollibee's Ultimate Burger Steak – carb-loading heaven
---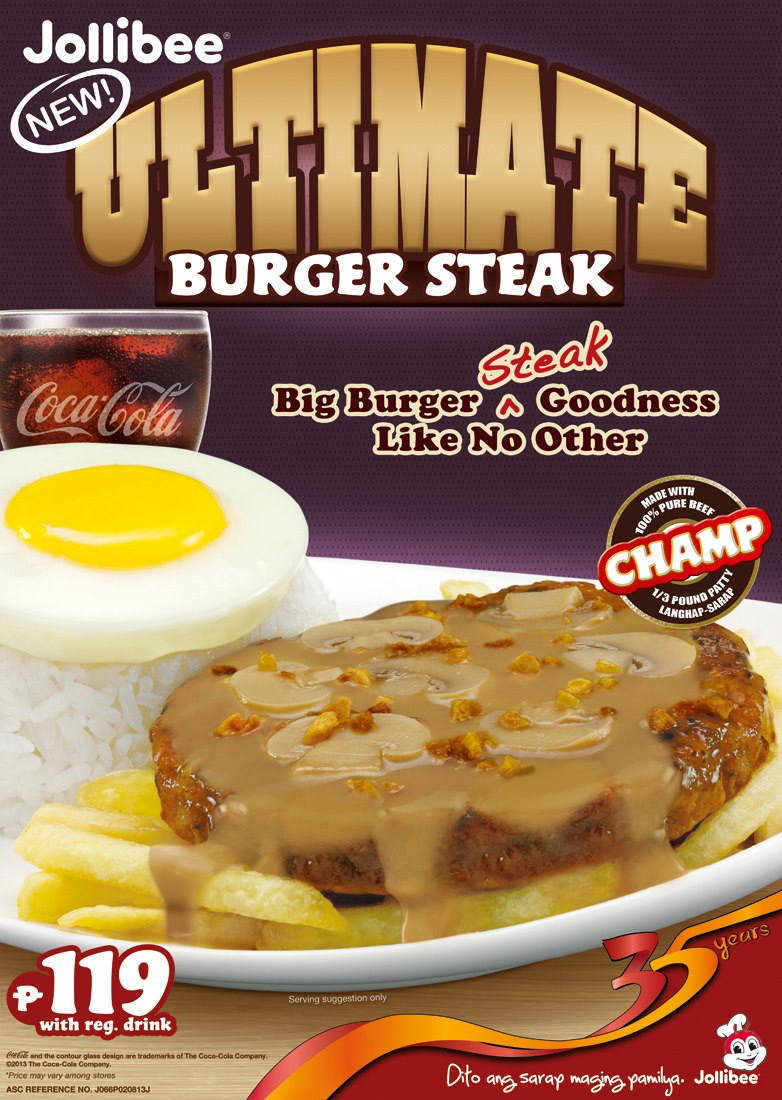 Image credit: Jollibee
One of the more recent food items on this list, Jollibee's Ultimate Burger Steak was only taken off the menu early this year, but its nationwide popularity makes it deserve a spot here.
This was one heck of a carb-loaded meal – a gravy-soaked burger steak on top of a bed of fries, served with a cup of rice and an option to add a sunny-side-up egg. Ideal for those who wanted a big meal, or were extra hungry, it's now unfortunately off the menu so the usual burger steak will have to suffice.
---
16. Chowking's Congee – Chinese porridge
---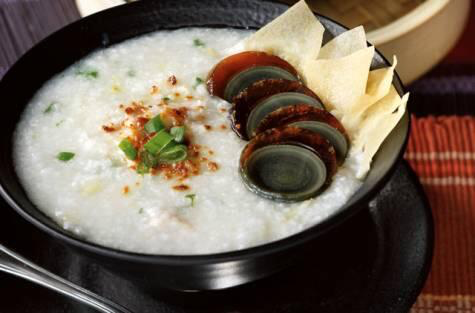 Image credit: @theyhan8
If you're a fan of congee, then you've probably tried Chowking's Congee back in the day. The bowl of rice was chock full of ingredients, depending on the type of congee you ordered. The Hongkong-Style Congee was popular for containing flavorful porridge, chunks of pork or chicken, fried wonton wrappers, and salted and century eggs.
The dish, costing only P39 (~USD0.77), was an affordable comfort food for many.
---
Desserts
---
17. Greenwich's Pearl Coolers – shakes with pearls
---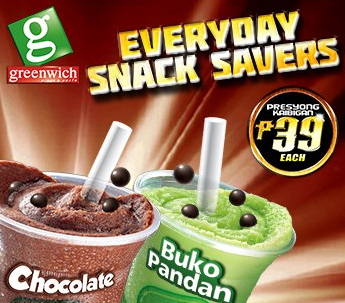 Image credit: Greenwich Barkada
Before there was milk tea, there was Greenwich's pearl coolers. These cups of icy goodness were filled to the brim with flavorful shakes and a helping of boba pearls at the bottom. The pearl coolers were available all year round, but they were best for hot summer days.
These came in mainly two flavors – chocolate and buko pandan – but limited edition flavors such as coffee and mango would occasionally make an appearance. No one knows why the drink has joined the list of extinct Filipino fast food, as it was loved by many, but good thing the milk tea craze picked up not long after.
---
18. Jollibee's Swirly Bitz – sundae with mix-ins
---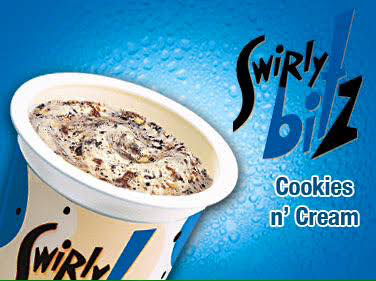 Image credit: Mga Kuwento ni Jollibee
Jollibee may have the classic chocolate and strawberry sundaes on their current menu, but for those who were around for the Swirly Bitz wave, nothing else could compare.
Each cup of Swirly Bitz came with rich vanilla ice cream with crushed cookies and chocolate mix-ins. The mix-ins added a crunchy texture and a sweetness to the usual soft serve sundae, which made it an easy favorite among kids and those with a sweet tooth.
---
19. Shakey's ice cream bars – unlimited ice cream
---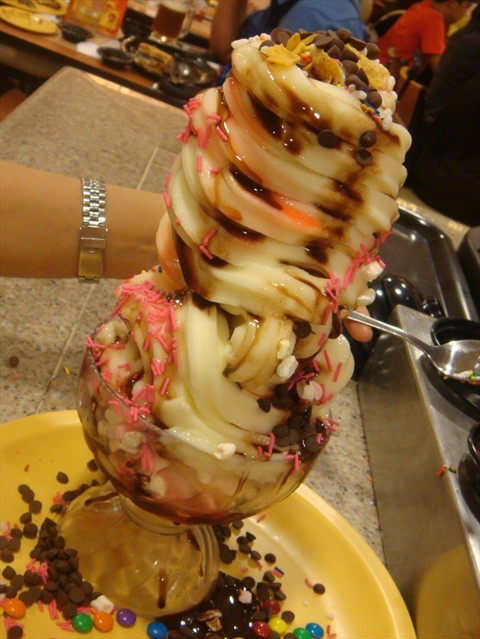 Just how many people were present at the table to finish off this giant?
Image credit: kaye.simon
Unlimited ice cream is a rare find in fast food restaurants, but Shakey's offered it for a while from their Ice Cream Bar. For under P200 (~USD3.96), you were given a bowl that you could fill up with ice cream to your heart's content. They even provided toppings such as sprinkles, chocolate chips, and candies to add to the ice cream.
To make the most of their money, many customers used to pile the ice cream on until they were high towers, which made for a fun delight for everyone at the table. The offer didn't last in the long run, but you can still get ice cream delights from Shakey's such as a la modes and banana splits.
---
20. Jollibee Ice Craze – different flavored shaved ice
---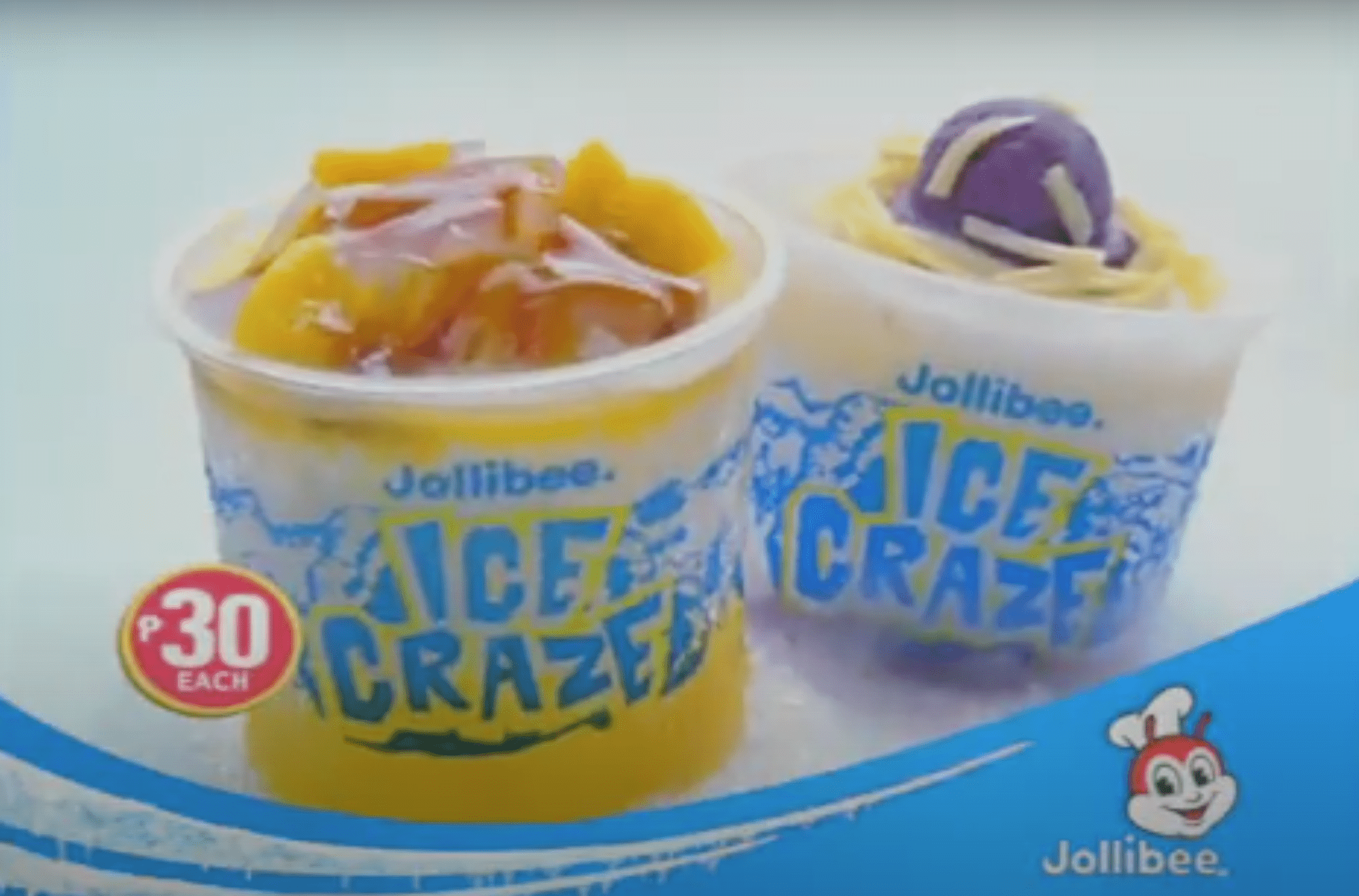 Image credit: HitProductionsInc
Alongside Jollibee's pies and sundaes, there were more desserts that are now just a part of our childhood memories. One of them was the Ice Craze, bowls of crushed ice that came with different ingredients.
Many flavors came out over the years, but the most popular ones were inspired by existing Filipino desserts, such as Ube Cheesy Magic and Mais Con Hielo. While there are many more Jollibee desserts that are still on the menu today, none of them did it quite like the Ice Craze did.
---
Extinct Filipino fast food
---
Food is such a big part of our childhoods, especially for Filipinos who love their food. Many of these extinct Filipino fast food items were a big part of our childhood and past in general. It's a shame that we can't have these dishes anymore, but they'll always be remembered. 
And who knows? Maybe someday we'll see these back on the menu. Fingers crossed!
Also check out:
---
Cover image adapted from: Erick Pijoh, Jen Hartnett, Greenwich Barkada, HitProductionsInc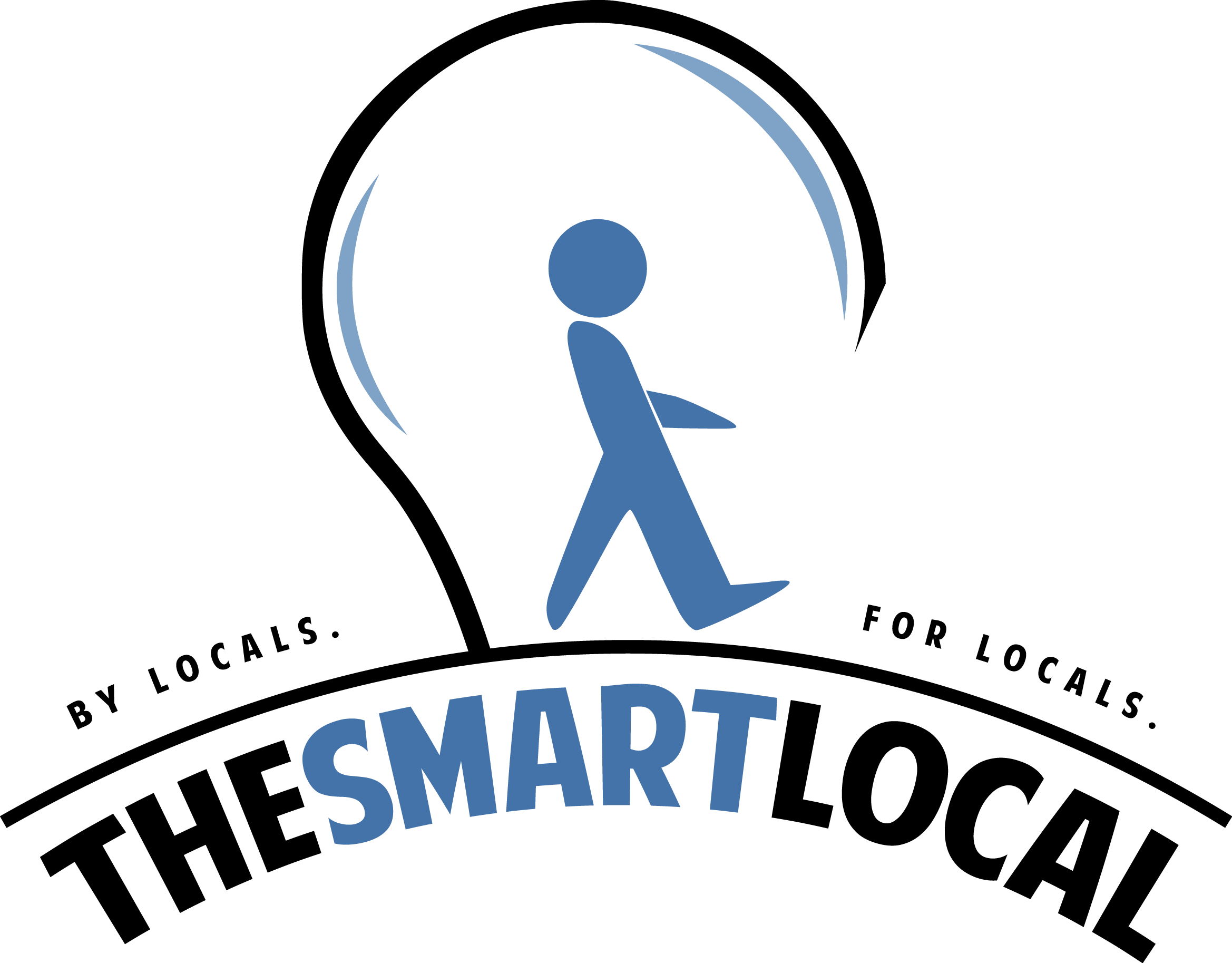 Drop us your email so you won't miss the latest news.