Customer's Chickenjoy appeared to be fried with a towel
---
Many of us love the Jollibee Chickenjoy – it's crispy, juicy, affordable, and enough to satiate our empty stomachs. But it's another story when it's seemingly fried with something you'd least imagine it's going to be mixed-up with, such as, err, a towel.
Sadly, this is what exactly happened to netizen Alique Perez's order from the Jollibee – Bonifacio Stop Over branch in Bonifacio Global City, Taguig. After she ordered 4 pieces of Chickenjoy and one piece of Chickenjoy with palabok via GrabFood on 1st June, one of the Chickenjoy pieces turned out to be seemingly fried with a towel. 
---
She initially found the chicken hard to slice
---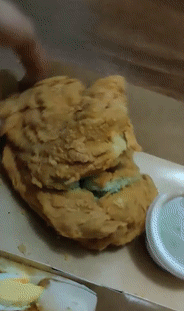 Video credit: Alique Perez 
Finding one of the chickens unusually hard to slice, Perez pulled open the Chickenjoy piece with her hands. To her surprise, she saw what appeared to be a deep-fried towel within.
"Just something that frustrated me this late. We had Jollibee delivered via [Grab]. Ordered chicken for my son, while I was trying to get him a bite, I found it super hard to even slice. Tried opening it up with my hands and to my surprise a [deep-fried] towel," Perez wrote on her Facebook post on 2nd June.
---
She is wondering how the towel got mixed up
---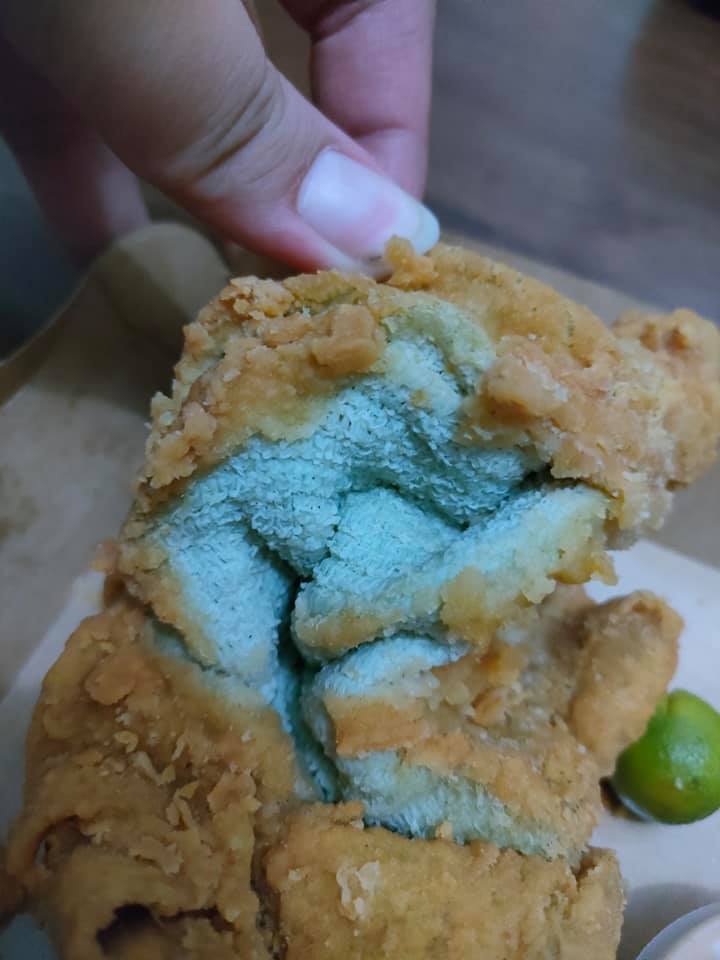 Image credit: Alique Perez
Like many of us, Perez is questioning how the towel ended up in a batter and fried with her chicken."This is really disturbing… How the hell do you get the towel in the batter and even fry it!?!? Yung totoo? (The truth?) I really thought that the post complaining about weird stuff in their orders were just all made up, now I know that it really happens!"
She also expressed disappointment that the mix-up happened at an upscale branch located in BGC. "So disgusting and embarrassing… to think that you're even branched in BGC. There's a first for everything. And this has been the worst first!"
---
Jollibee is now conducting an investigation
---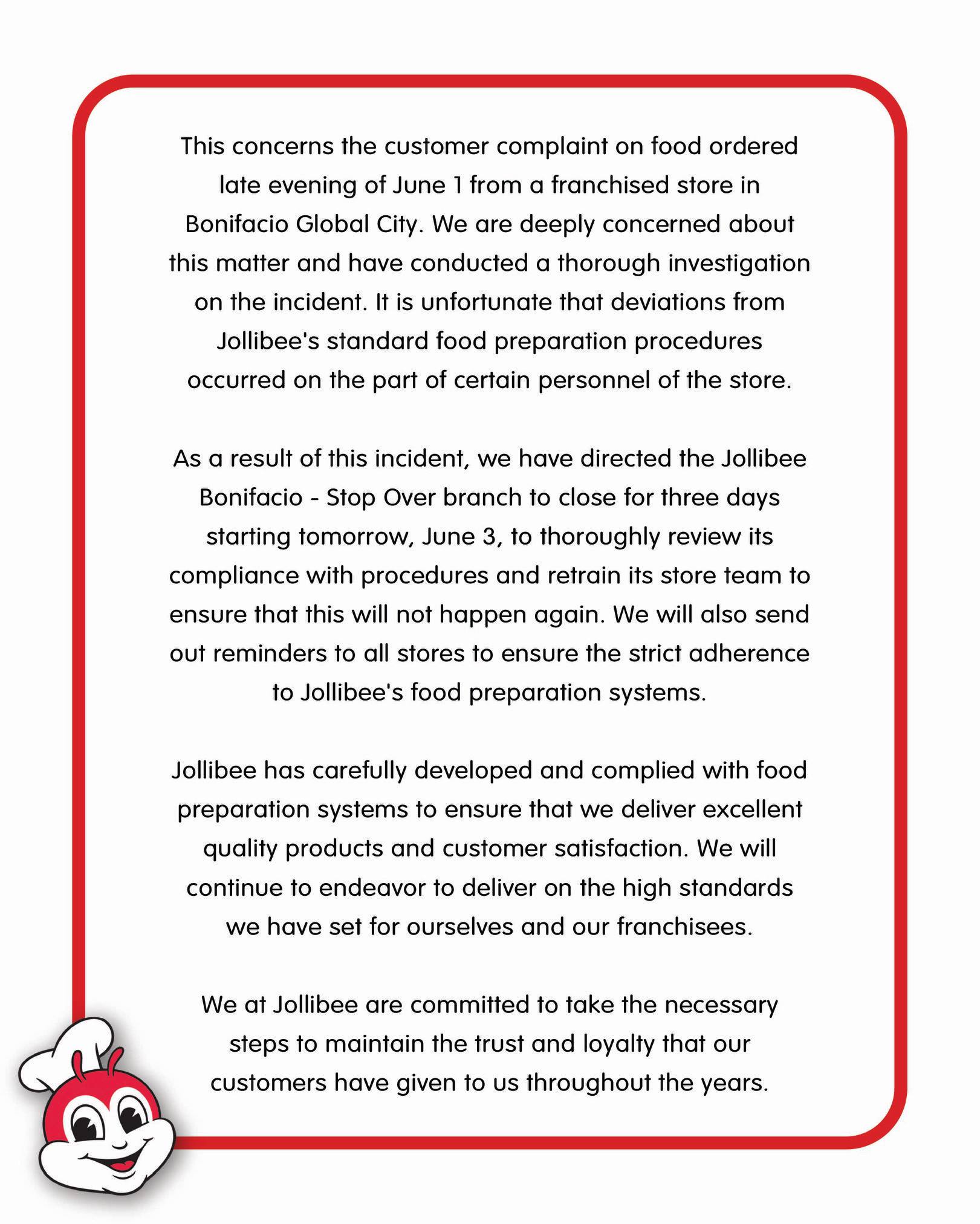 Image credit: Jollibee
Thankfully, Jollibee has already acknowledged the incident on their Facebook account. According to their statement released on 2nd June, they are deeply concerned about the matter and are already conducting an investigation.
The Jollibee Bonifacio – Stop Over branch will also be closed for 3 days, so they can review the branch's compliance with procedures. This certainly shouldn't happen again, and we're glad that Jollibee has immediately taken a serious stance about this incident.
---
Jollibee Chickenjoy order appeared to be fried with a towel
---
Sometimes, the ultra weird really does happen even though we least expect it.
We hope that this situation will lead to the tightening of Jollibee's food preparation systems, so that Chickenjoy fans can be rest assured of the chain's food quality.
Also check out:
---
Cover image adapted from: Alique Perez, Wayfair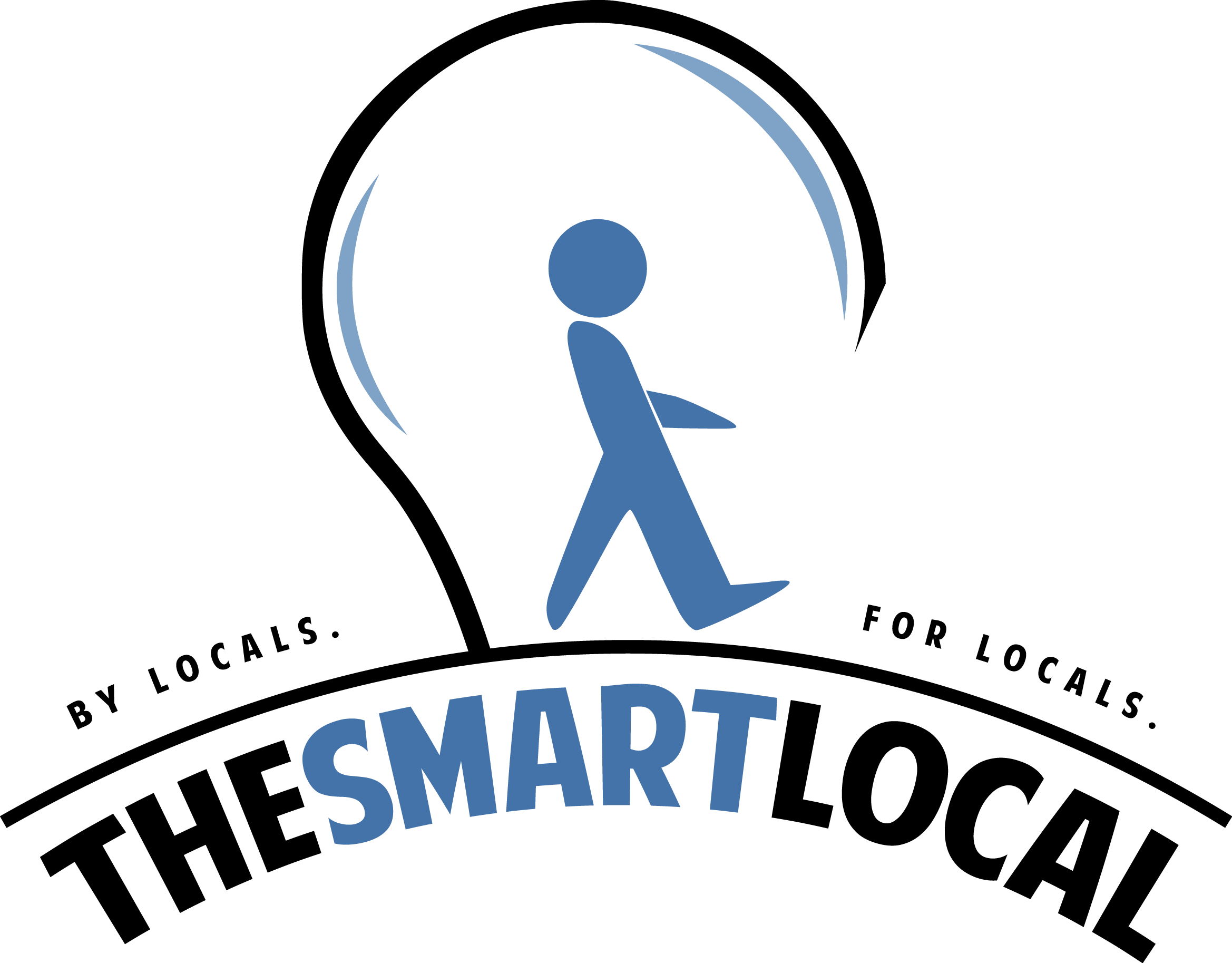 Drop us your email so you won't miss the latest news.