Jollibee meals under 350 calories
---
Ever since the pandemic, many of us have picked up doing regular home workout routines or cooking up healthy recipes in the kitchen. However, whether you're a fitness junkie or a pro at cooking vegetables, you're still due a cheat day every once in a while.
Fast food is one of our guilty pleasures that's why it's perfect to get on cheat days. For Filipinos, Jollibee tops most of our favorites list.
If you want to treat yourselves to some fast food goodness without botching up your diet too much, here are some Jollibee menu items under 350 calories that you can enjoy.
---
1. Palabok Solo – 305 calories
---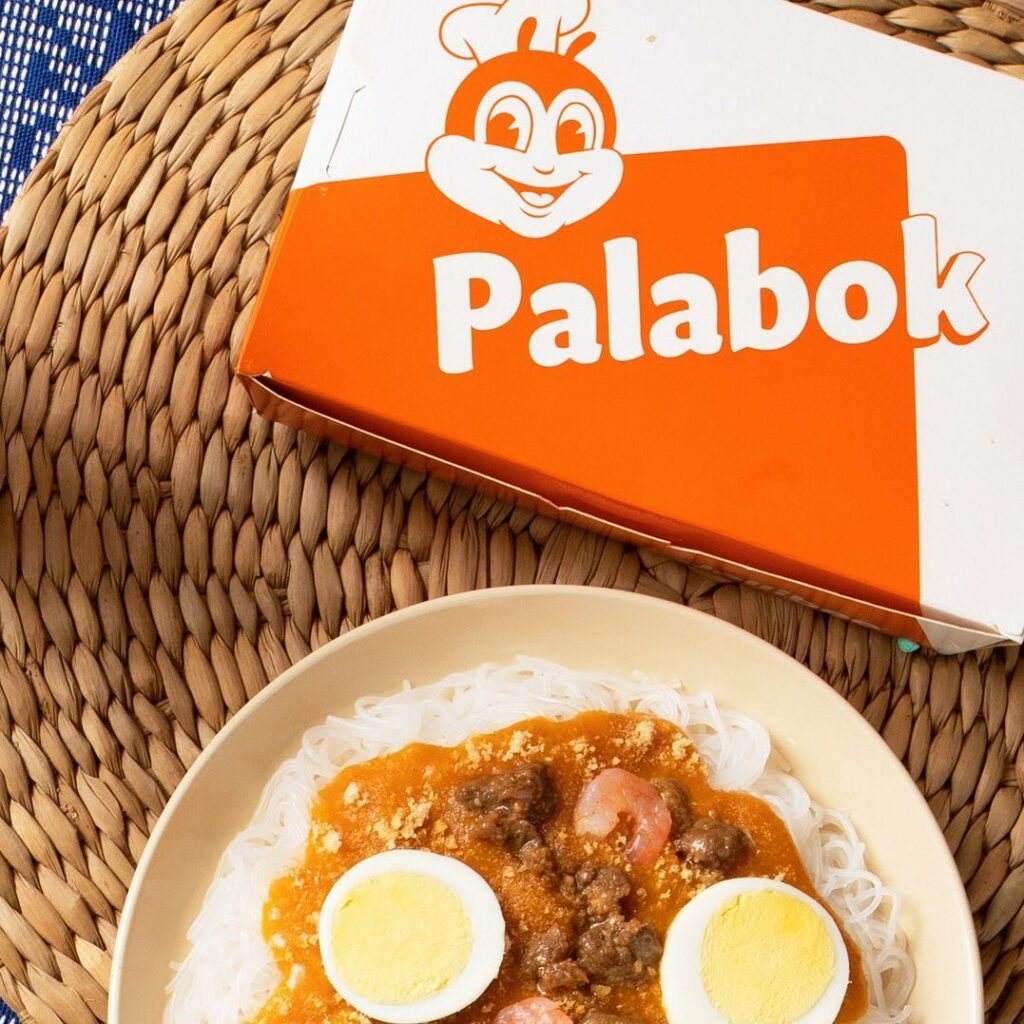 Image credit: @jollibee via Instagram

No Filipino handa is complete without pancit palabok to leave orange stains on the corners of your mouth. This pancit is a popular noodle option, with rice noodles, rich shrimp sauce, crispy chicharon, pork, and egg all in one dish.
However, you can also get palabok on an ordinary day. Jollibee's Palabok is one of the few palaboks you'll find at local fast-food restaurants. The solo serving is 305 calories worth of thin bihon noodles and their signature sauce for only P109 (~USD1.95).
---
2. Yumburger – 250 calories
---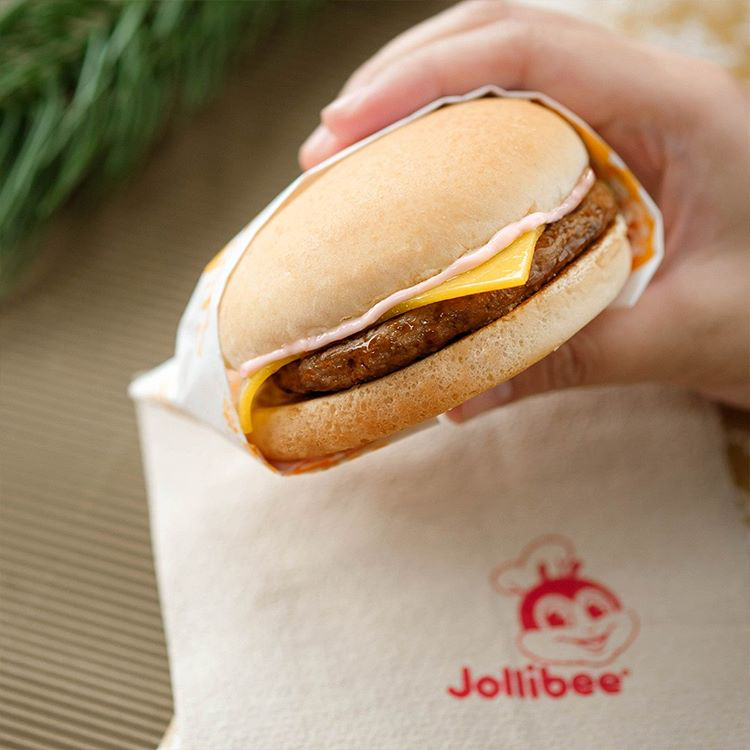 Image credit: @jollibee via Instagram

Less is more – that much is proven by Jollibee's Yumburger. Even though it only consists of a 100% beef patty, a special dressing, and buns, its simplicity is something that Filipinos have come to love. 
If you crave a light burger on your cheat day, the Yumburger is only 250 calories at P39 (~USD0.69). Light on both the diet and the wallet.
---
3. Tuna Pie – 200 calories
---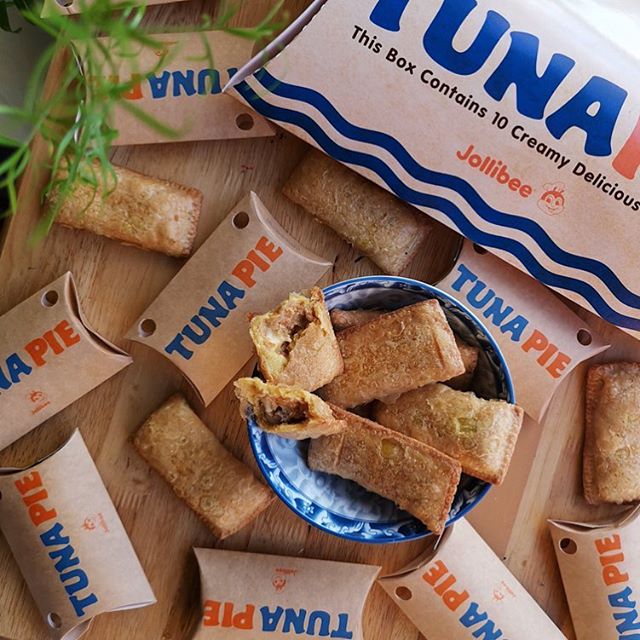 Image credit: @thefoodadvenchers via Instagram

You won't find a lot of pescatarian options on the Jollibee menu, which is why the Jollibee Tuna Pie is so popular. These pies were originally just a meat-free option for Lent, but they've become a common fixture on the Jollibee menu now because of how popular they are.
These pastries full of creamy tuna and vegetable filling are only 200 calories each, making them a perfect snack for pescatarians or if you're looking to lessen your chicken or pork intake. They also come in both original and spicy variants, both for P50 (~USD0.89).
---
4. Chickenjoy – 220 calories for drumsticks, 320 calories for chicken breast
---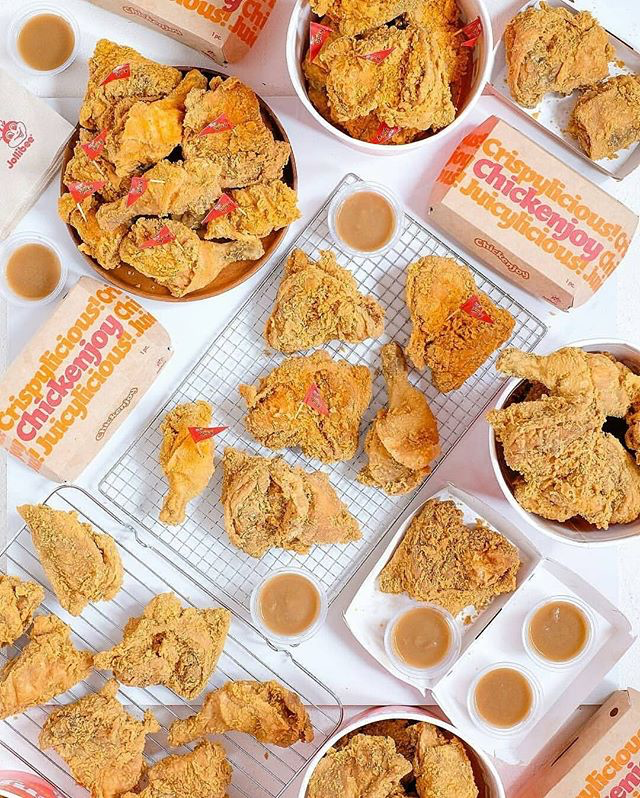 Image credit: @jollibee via Instagram

A Jollibee order isn't complete without an order of Chickenjoy. Their iconic fried chicken isn't just a local treat, but it has also become popular through Jollibee branches all over the world.
Fortunately, you can get your fill of Chickenjoy even if you're looking after your diet. The breast meat is only 320 calories, while a drumstick is 220 calories. If you order a bucket (from P399, ~USD7.15), make sure to look out for these parts rather than finishing it all in one sitting, of course.
---
5. 1pc. Burger Steak with rice – 305 calories
---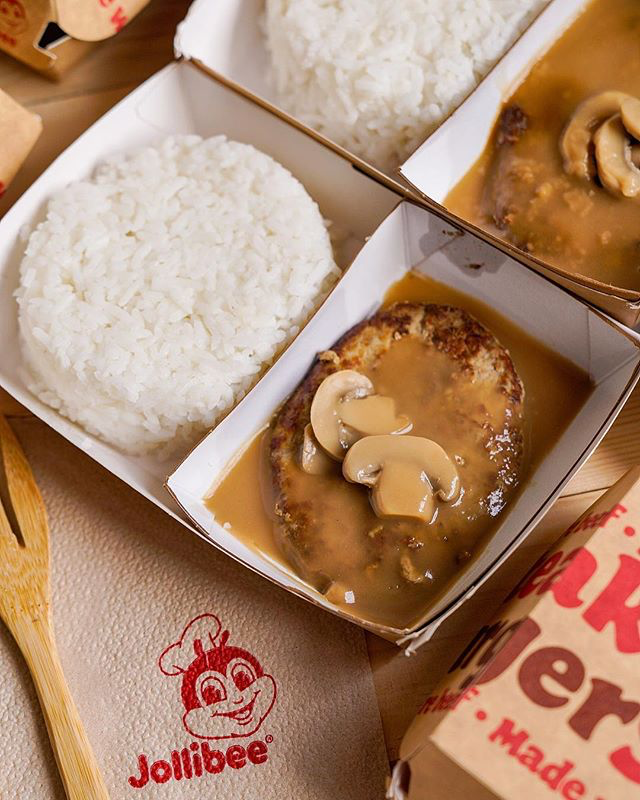 Image credit: @discovermnl via Instagram

Being on your cheat day doesn't mean you only have to eat empty calories, aka food that doesn't have any nutrients you can benefit from. Jollibee's Burger Steak consists of a 100% beef patty, mushroom gravy, and a cup of rice – a full meal that gives you lots of protein.
What makes it better is this full meal is just 305 calories, and only costs P55 (~USD0.99) – one of the cheapest meals on the menu.
---
6. Peach Mango Pie – 120 calories
---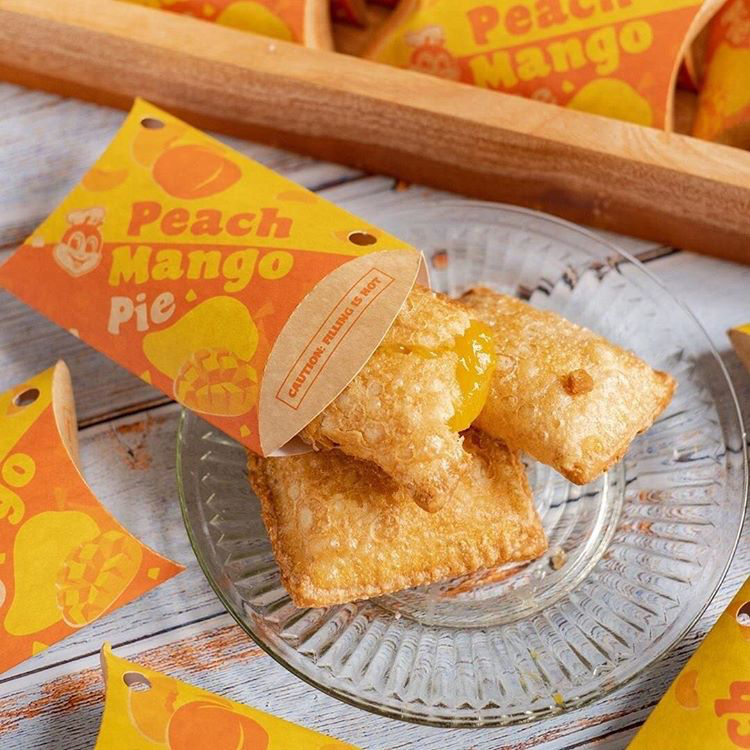 Image credit: @jollibee via Instagram

If you've been in the calorie-counting game for a while now, you'll know that it's very easy to go overboard on sweets and desserts. With sugar amounting to a lot of calories, we have to be careful with the amount of sweets we eat.
Jollibee's Peach Mango Pie, however, is something you can eat guiltlessly. At only 120 calories a piece, you can even eat two of these and they'll still be well under 300 calories. The pies are affordable too – at only P39 (~USD0.69) per piece.
---
7. Chocolate sundae – 270 calories
---

Image credit: @jollibee via Instagram

In a tropical country such as the Philippines, a cold treat is always welcome to beat the heat. Good thing Jollibee has a variety of ice creams, from soda floats to ice cream cones to their Chocolate Sundae.
Their sundaes are made with vanilla ice cream and a generous serving of thick chocolate syrup. Each cup cost P37 (~USD0.66) with 270 calories. So if you need to cool off during a hot day or after a good workout, this dessert is a yummy choice.
---
8. Pancake Sandwich – 271 calories
---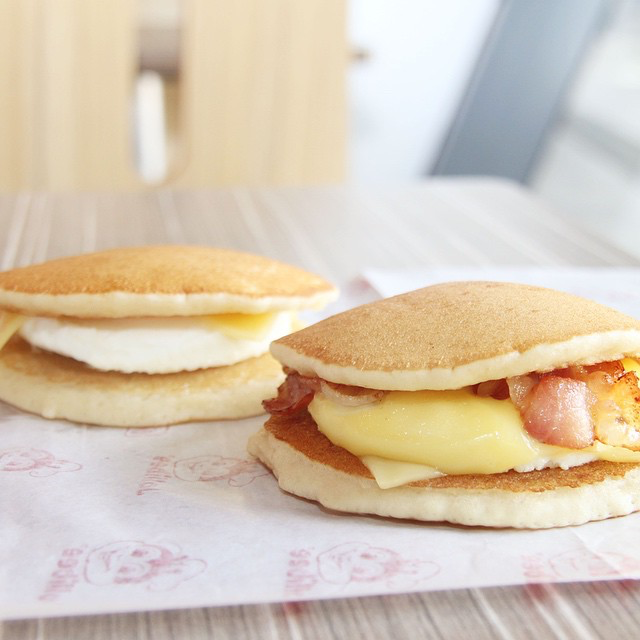 Image credit: @jollibee via Instagram

Considering that Jollibee's Pancake Sandwich is literally what it sounds like, food sandwiched between two pancakes – it's a shock that this even made it on the list. 
You'd think two pancakes, a sunny-side-up egg, bacon strips, and cheese would send this meal over 350 calories, but it's only 271 calories. This sandwich (P88, ~USD1.58) is a breakfast menu exclusive, so make sure to get that heavy breakfast in to start your day right.
---
9. Regular crispy fries – 340 calories
---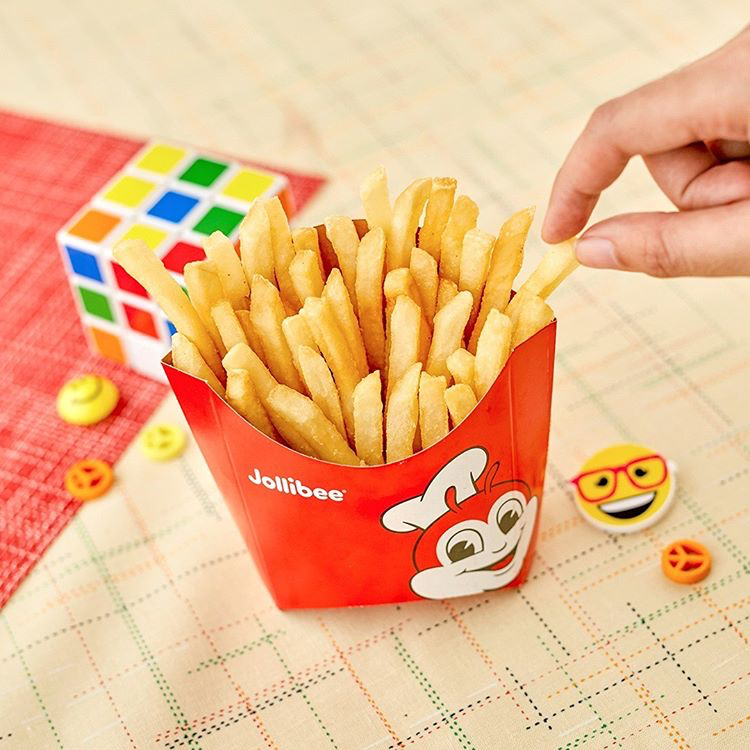 Image credit: @jollibee via Instagram

French fries are a classic favorite snack, and you'll find them at almost every restaurant or fast food chain menu. However, many Filipinos live by Jollibee's Crispy Fries.
With the different sizes these fries come in, you might be wondering which is perfect for self-consumption. The regular fries (P47, ~USD0.84) are 340 calories, but there are also bigger sizes if you want to treat yourself to more than 350 calories.
---
10. Creamy Macaroni Soup – 250 calories
---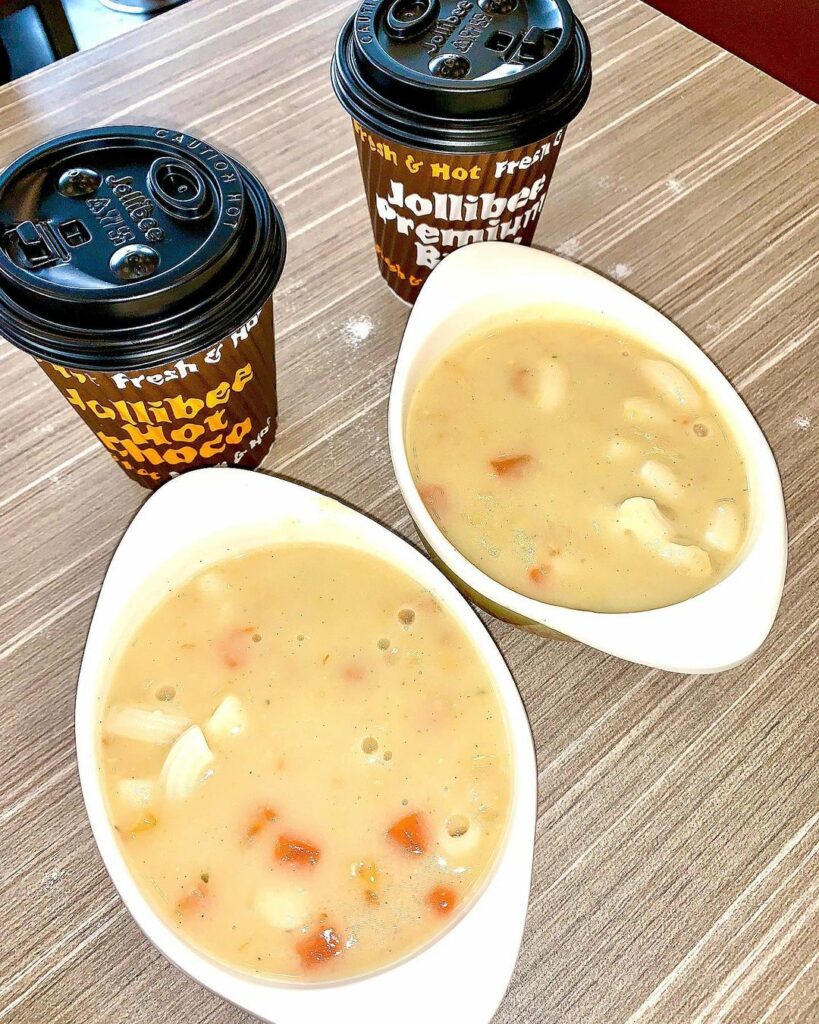 Image credit: @iam.ady via Instagram

Jollibee's Creamy Macaroni Soup is the only soup on their menu, but it makes up for it. This creamy, flavorful soup is a hearty dish perfect for people who wants the bold taste of Jollibee while on a diet.
For only P61 (~USD1.09), this soup brings a mix of Pinoy favorites such as elbow macaroni, chicken, ham, and vegetables – all in just 250 calories.
---
Treat yourself to a Jollibee meal under 350 calories
---
Eating right is the key to being healthy and having a good immune system, which we all need during these times. However, that doesn't mean you only have to eat leafy greens and sugarless food.
Those who want to reward themselves with Jollibee once in a while can look out for these meals under 350 calories. Hence, fitting into your cheat-day meal plan without going overboard.
See the prettiest Jollibee branches in and outside the Philippines, or read this if you're looking for quick and fuss-free recipes you can cook at home. While if you're planning on eating out with healthy options, here are vegetarian and vegan restaurants you can check out.
---
Cover image adapted from: @jollibee via Instagram
Article originally published on 28 September 2020 by Hazel Lumbre. Last updated by Gly Parañal on 23 May 2023.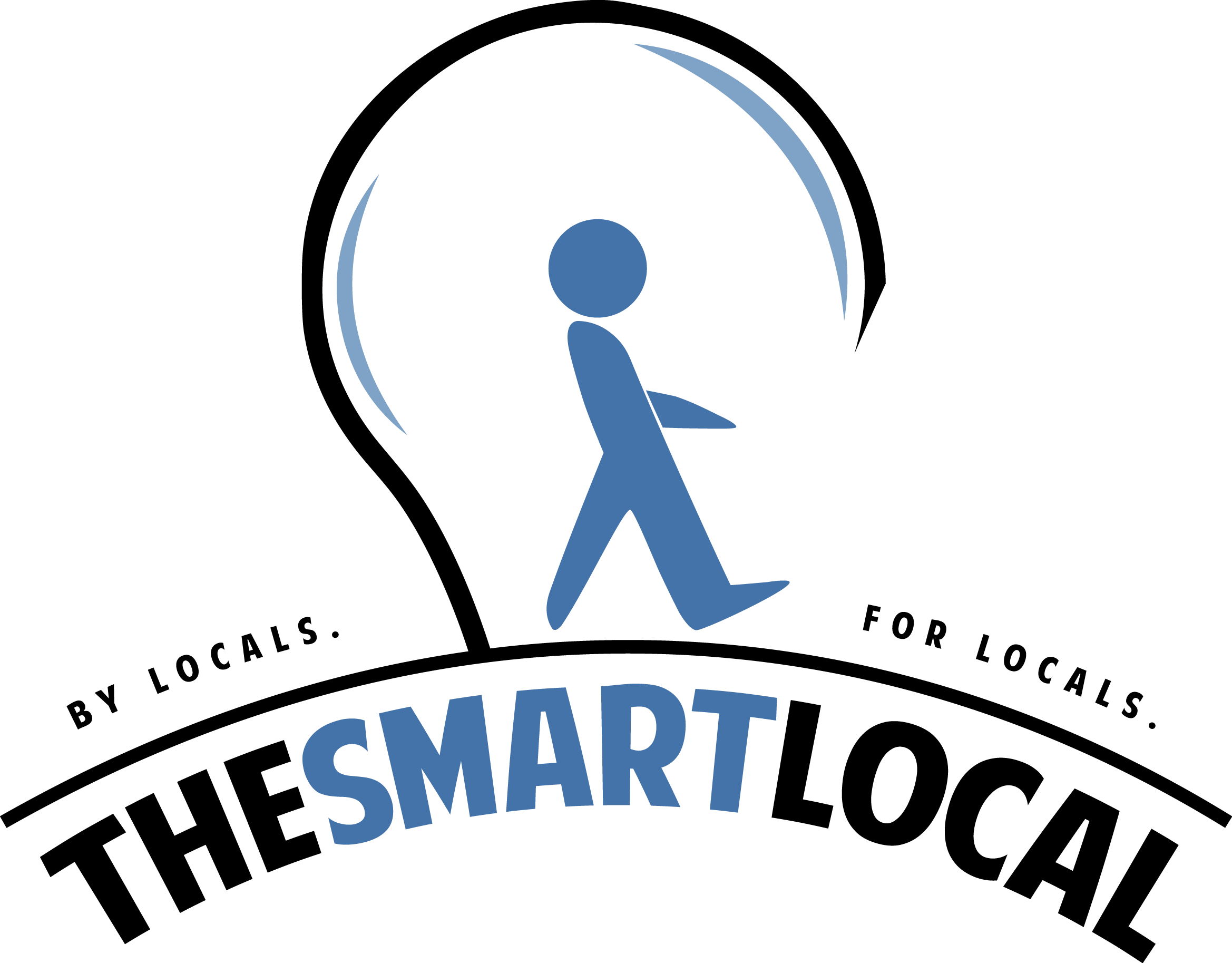 Drop us your email so you won't miss the latest news.