Analog camera and film shops and trading groups in the Philippines
---
Earlier trends seem to be making a comeback, from vinyl records to point-and-shoot analog cameras. From the grainy aesthetic of film to nostalgic value to the unpredictability of these cameras, there's a lot that Gen Zs love about old-fashioned cameras.
If you're getting into this hobby, here are 10 analog camera and film shops and trading groups in the Philippines you can look at to find a camera and type of film that suits your interests.
---
– Film developing shops –
---
Here are some physical stores that you can visit to have a look personally at some analog cameras and choose among the film available for sale.
---
1. Sunny16 Lab in Quezon City – offers mail-in, drop-off, or pick-up services
---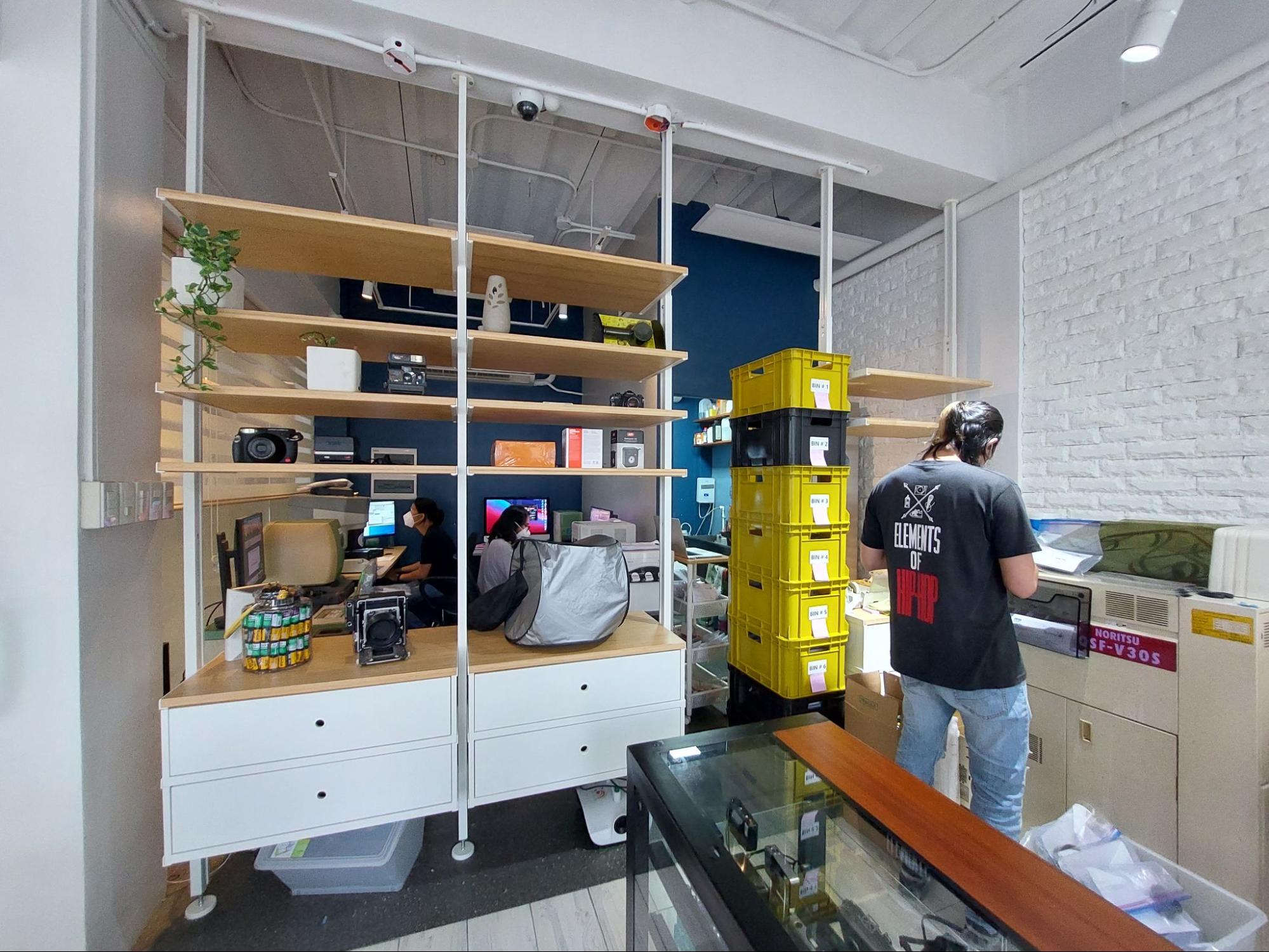 Inside Sunny16 Lab
Image credit: Paul Sugano
If you want to have your film developed without leaving your home, Sunny16 Lab is the place for you. You can mail-in, drop-off, or pick-up your film that can be developed from color to slide films without any hassle.
Alternatively, if you happen to be around Satchmi, a vinyl record shop and cafe, Sunny16 Lab's products from P150-P500 (~USD2.87-USD9.55) are available there as well that can help take a closer look at the films.
Address: 249-B Alley 1, Road 4 Project 6, Quezon City
Opening hours: Mon–Sat 9AM-6PM | Closed Sundays
Telephone: 285546792/282758542
Sunny16 Lab's website | Facebook page | Instagram
---
2. Fotofabrik in Quezon City – offers creative film processing services
---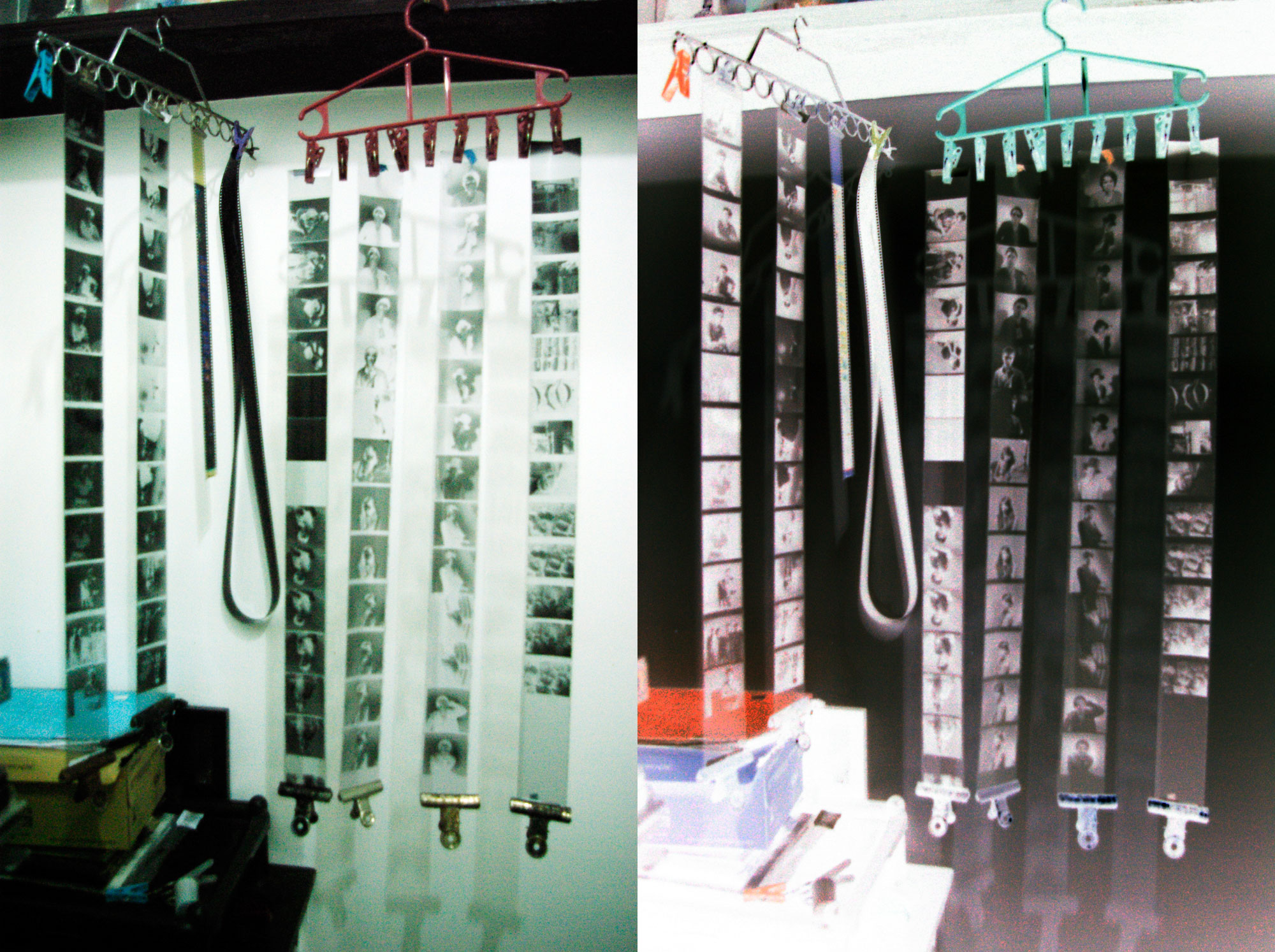 The film developing process at Fotofabrik
Image credit: Fotofabrik
At Fotofabrik, you can have your film developed through creative processes such as cross-processing, meaning to purposely process film with chemicals meant for different film types to create color shifts and contrasts, and color reversal, also known as slide film and that's a process of capturing an image's colors vividly and helping photos appear clearly and be unique-looking.
Depending on the film process of your choice, prices for developing film range from P150-P600 (~USD2.87-USD11.50) per roll.
Address: 25 Scout Tuazon Street, Diliman, Quezon City
Opening hours: Mon–Wed, Fri 11AM-6PM | Thu 9AM-6PM | Closed weekends
Telephone: 09670276327
Fotofabrik's Facebook page | Instagram
---
3. Shutter Master Pro by Aperture Trading in Quezon City – sells film developing equipment
---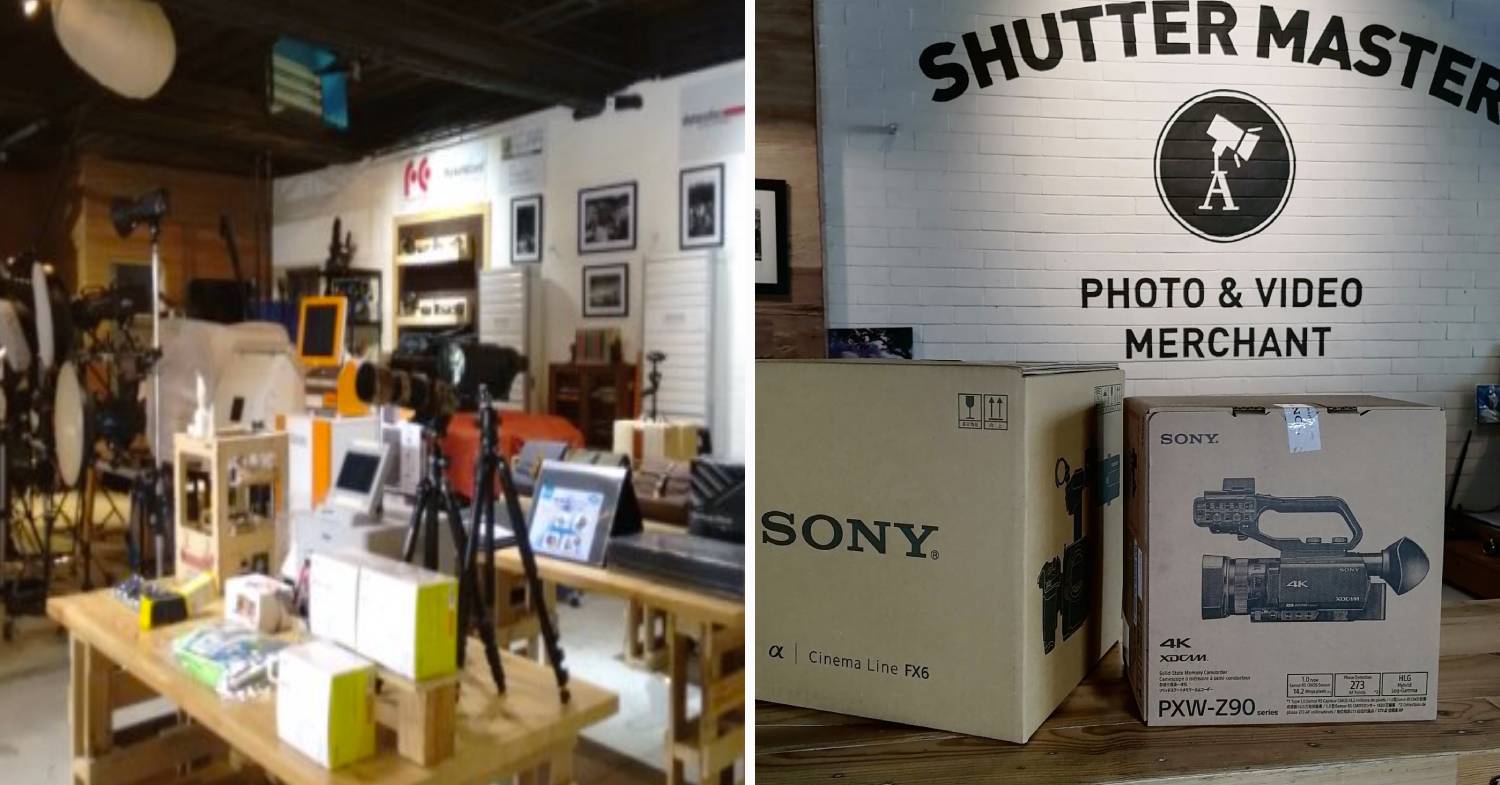 Inside Shutter Master Pro
Image credit: Shutter Master Pro/Google and Shutter Master Pro
If you're looking for equipment and accessories other than film and analog cameras, take a look at Shutter Master Pro in Quezon City and Makati. The store has printers and professional equipment for photographers such as studio lights and filters, so you could even potentially kick off your own small business with these items.
Additionally, dark room lab kits are available for you if you're interested in developing film on your own.
Address: 118 Sct. Dr. Lazcano, Quezon City
Opening hours: Mon–Fri 8AM-5:30PM | Closed weekends
Telephone: 09610587200
Shutter Master Pro's website | Facebook page
---
– Online stores –
---
Aside from the physical shops, you can check out these online stores so you can browse through gadgets conveniently and comfortably.
---
4. Film Folk – sells all types of film, even rare ones
---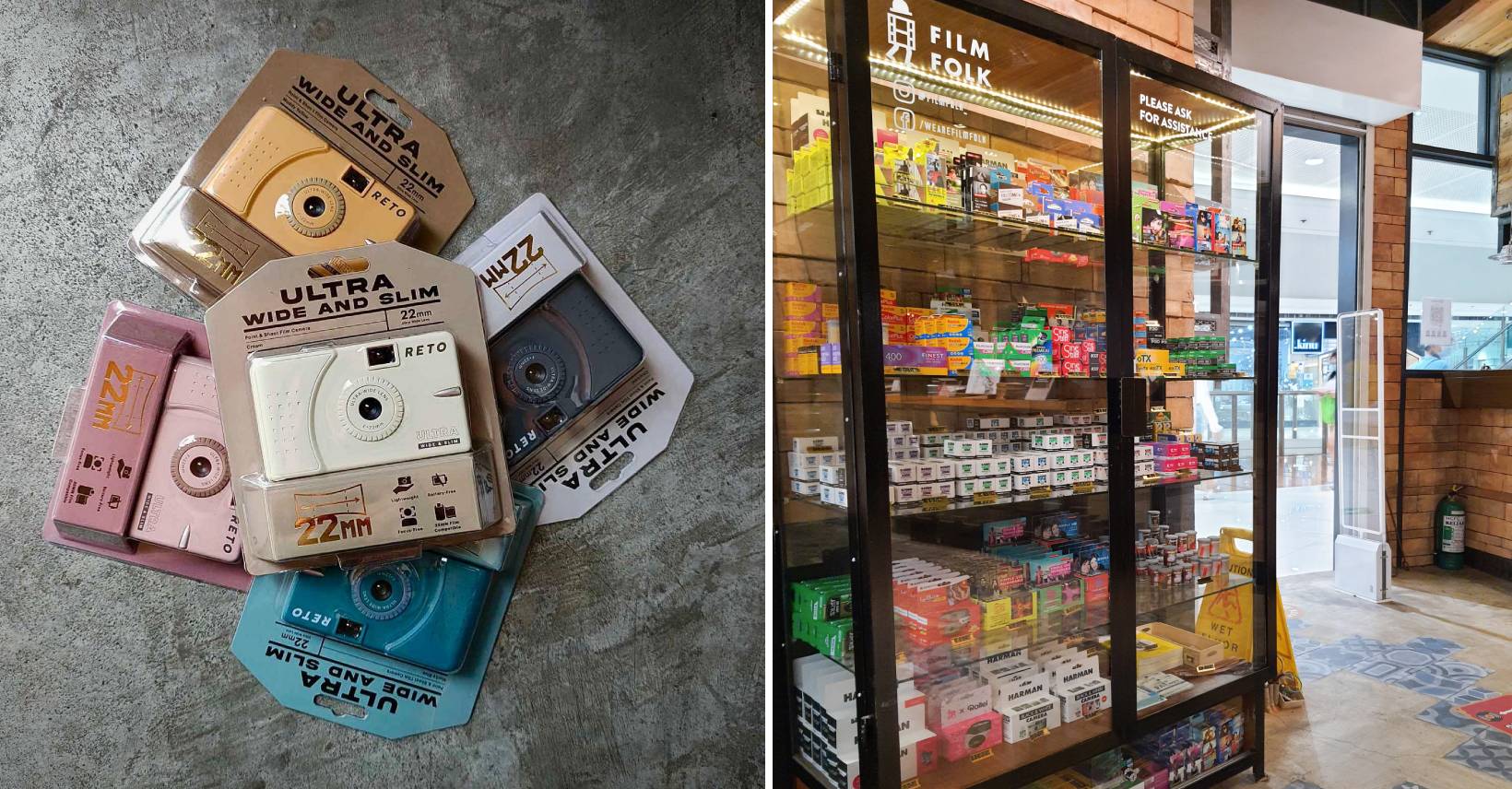 Film Folk at Satchmi store
Image adapted from Film Folk and Julie Anne Eslao
For those looking for a wide range of films, Film Folk sells from lomography films, where the film is developed into photos with creative color schemes, to Rollei film, one of the oldest and most famous film brands that's said to bring out a classic look for pictures, including black and white ones.
Along with that, they also have vintage cameras that are still in good condition for you to check out.
Film Folk's website | Facebook page | Instagram
---
5. The Online Warehouse – takes requests for films or cameras
---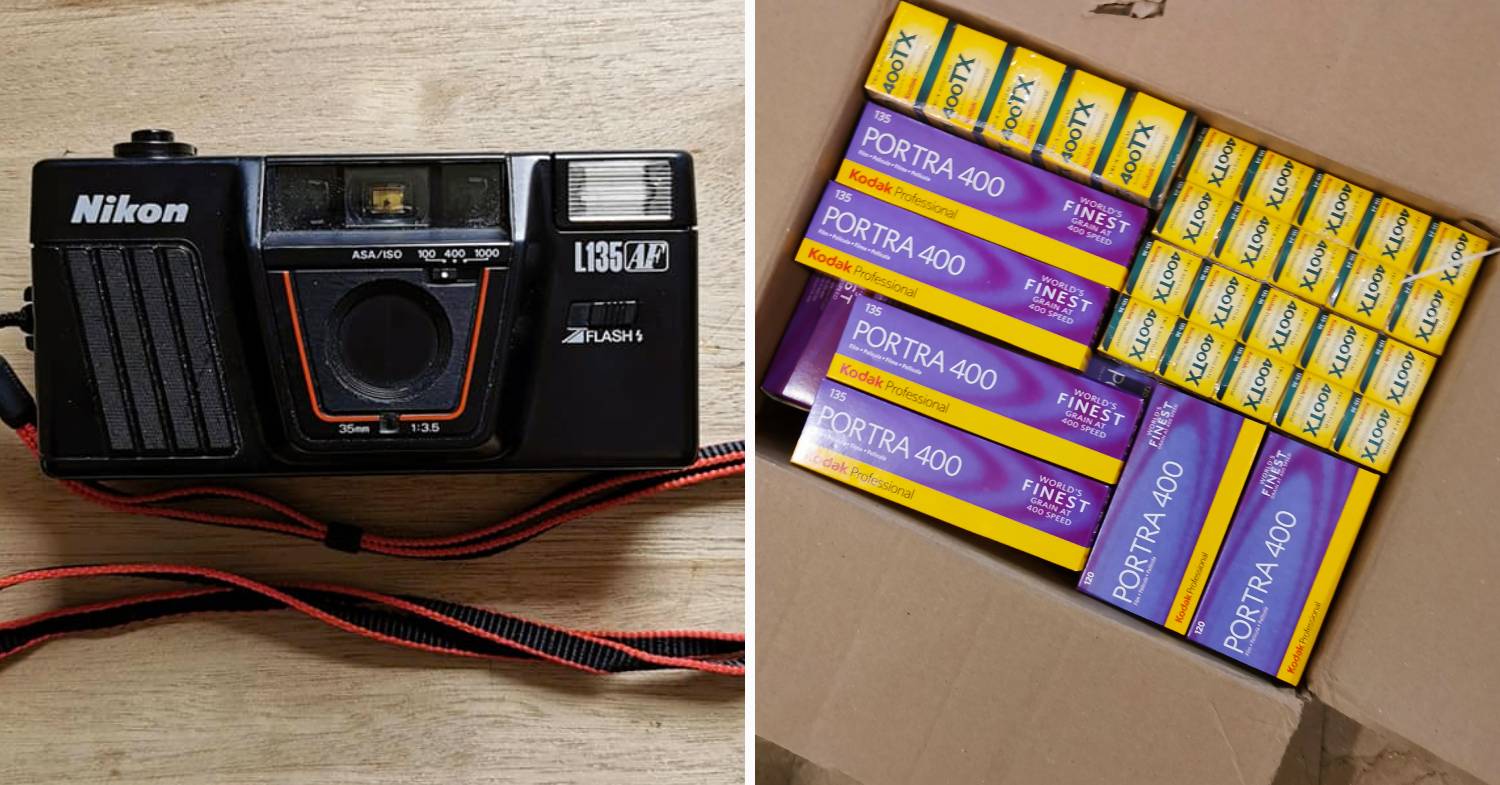 Image credit: The Online Warehouse and The Online Warehouse
Now, if you're looking for a specific brand of film or camera, The Online Warehouse will cater to that. They also offer delivery, meet-ups, or pick-ups according to your preference.
Aside from that, they also offer printing services, accessories for film and digital cameras such as batteries and film organizers sold at a lower price (from P100-P600, ~USD1.91-USD11.47), and various films from reversal to negative as opposed to physical stores where batteries start at P200 (~USD3.82).
Telephone: 09182136888
Email: [email protected]
The Online Warehouse's website | Facebook page
---
6. The.Classic_Boutique – freebies with every purchase
---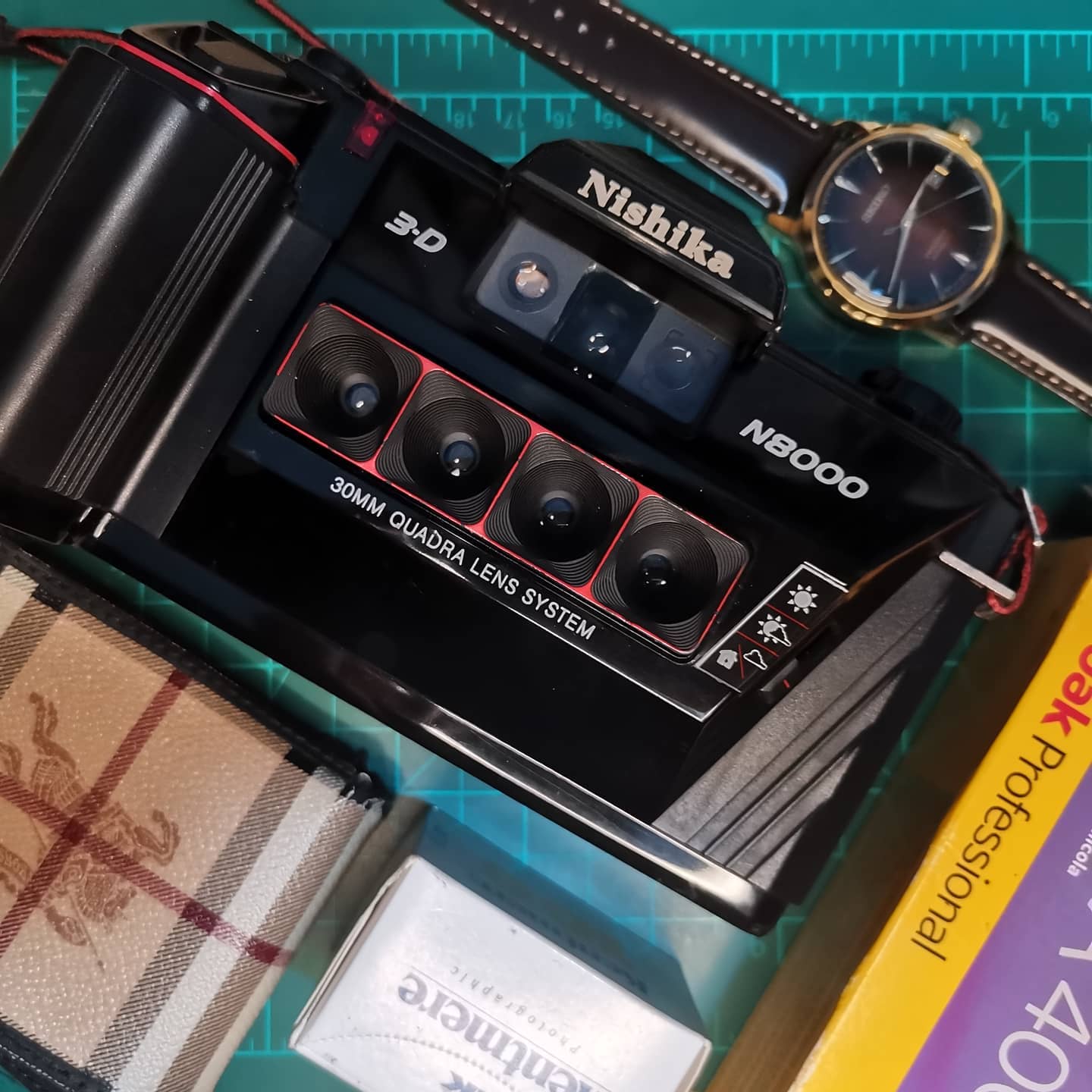 Image credit: The.Classic_Boutique
If you're just starting out on your film photography journey, especially if you're on a budget, you can have a look at The.Classic_Boutique. Depending on the camera that you buy, there are freebies included from camera cases to filters and adapters – so you can try something new and gain experience at the same time. Plus, they offer free shipping nationwide with your purchases.
What's more, if you want to learn about film photography, they hold workshops from time to time so that you can enhance your skills in taking pictures. If interested, you can check regularly on their Instagram page to know when workshops are available. A fee of P50 (~USD0.96) per attendee applies.
The.Classic_Boutique's Facebook page | Instagram
---
7. Soviet Camera Store – sells former Soviet Union legacy cameras and lenses
---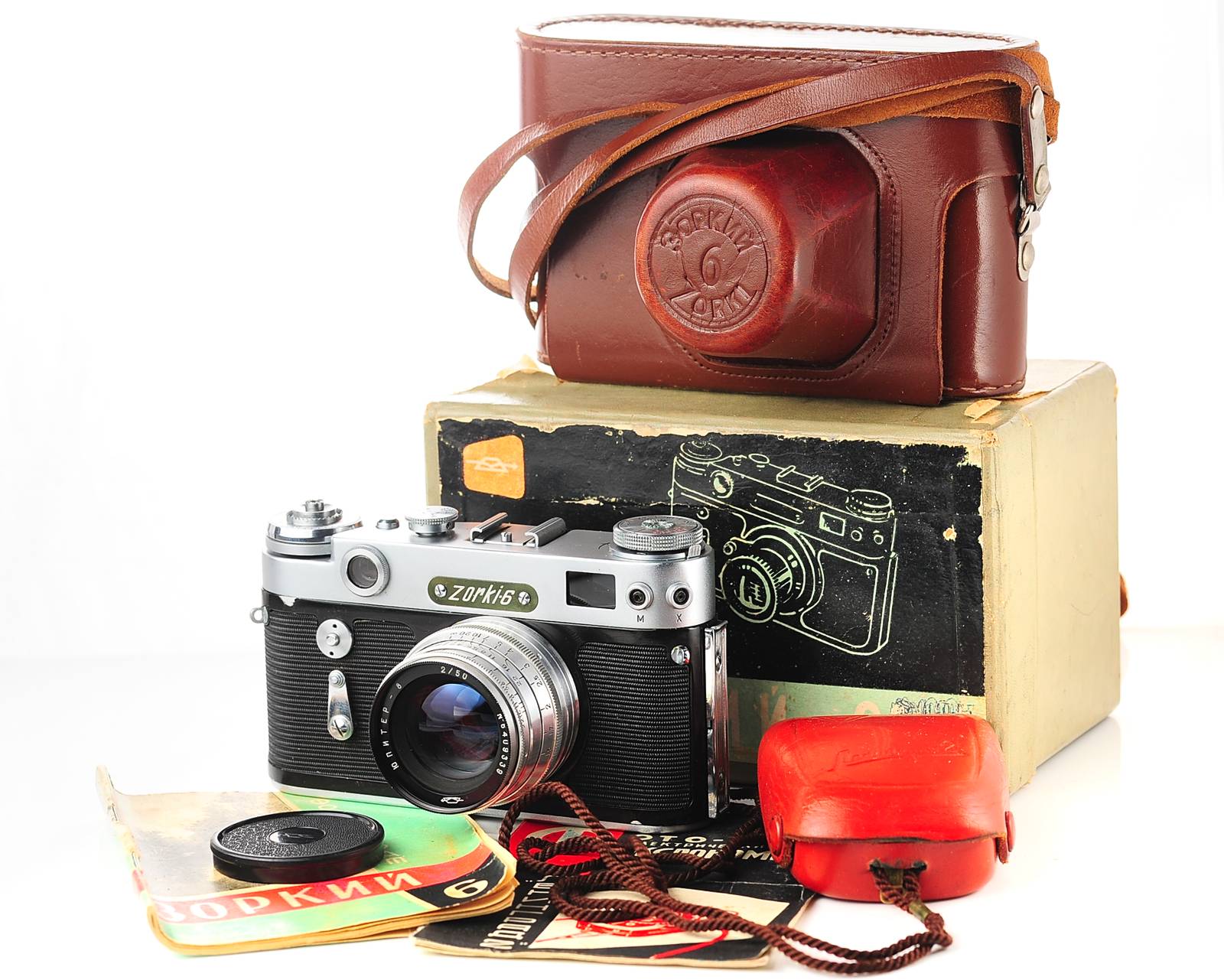 Image credit: Soviet Camera Store
As the name suggests, Soviet Camera Store sells preserved former Soviet Union legacy cameras and accessories such as camera lenses, original leather cases, and straps that are still in 100% working condition.
Soviet cameras are prized not just for their vintage aesthetic, but also because they were designed differently with every camera having its own odd feature, which makes them a collector's item and of more value due to their higher rarity.
Shipped from warehouses in Ukraine and in the Philippines, the cameras range from P1,750-P19,850 (~USD33.47-USD379.61).
Fun fact: Soviet Cameras could be considered as descendants of the famous Leica camera because the materials used to make them were inspired by those in German cameras as well.
Soviet Camera Store's website | Facebook page
---
– Facebook groups where you can buy or sell cameras and film –
---
Having a hobby is all the more fun when you have a community of people with the same passion. Here are three Facebook groups to look into to meet film photography enthusiasts, and buy, sell, or even swap items with them.
---
8. Film Photography Swap – affordable film photography materials
---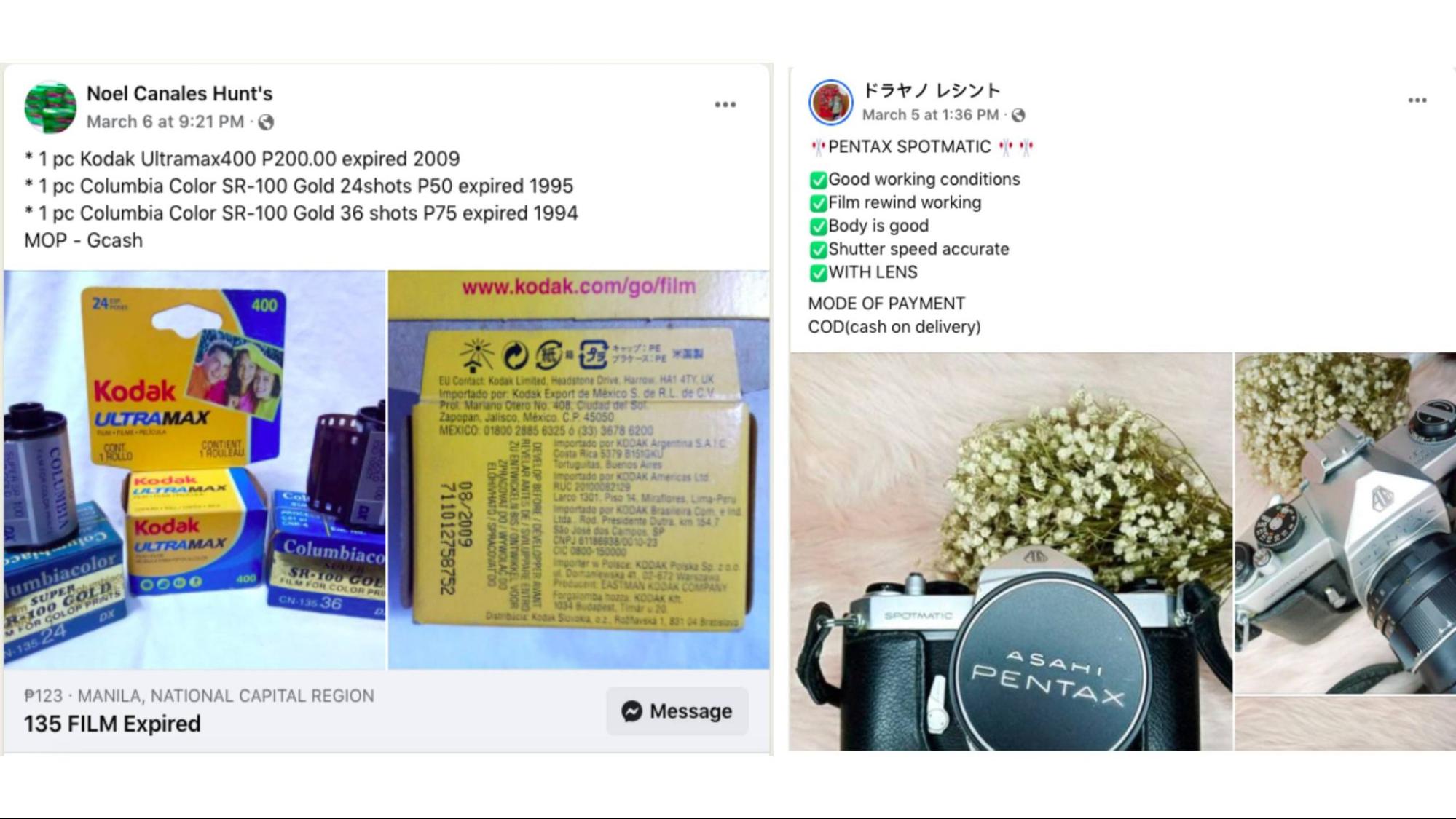 Members sell their film and cameras in the group, captioning them with the item names, prices, and specifications.
Image credit: Film Photography Swap and Film Photography Swap
In Film Photography Swap, members swap cameras and film amongst each other for more affordable prices. Here, you can buy films for as low as P130 (~USD2.49), cameras for P900 (~USD17.24), and disposable cameras for P500 (~USD9.58). This is in comparison to brick-and-mortar shops where these typically start at P380 (~USD7.27) and above – not to mention the hassle of commuting outdoors and the pandemic.
What's more, you can also buy and sell digital and Instax cameras if you prefer those instead of analog ones.
Film Photography Swap's Facebook page
---
9. Rangefinder Filipinas – advanced film photography
---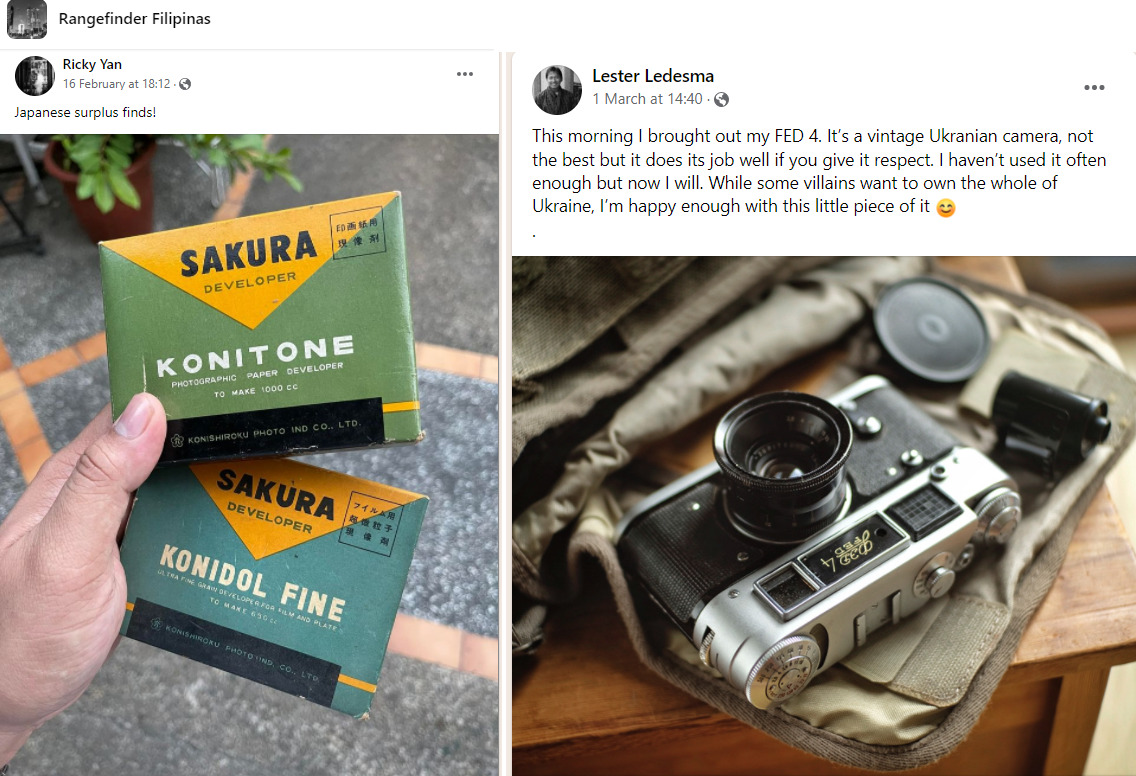 Members sharing info about their film and camera finds with the group
Image adapted from Rangefinder Filipinas and Rangefinder Filipinas
Rangefinder Filipinas, on the other hand, is for more advanced users who have been in film photography for quite some time. Members here have thorough discussions about anything related to film photography, and encourage each other to apply their skills in future shoots and share them in the group.
While most groups only trade in their products, this group has an academic flair to it. If you're eager to learn more about the history of film photography and share your knowledge and experiences, and know more about the traditional methods of photography, this might be the community for you.
Rangefinders Filipinas' Facebook page
---
10. Leica Philippines – low-priced Leica film cameras
---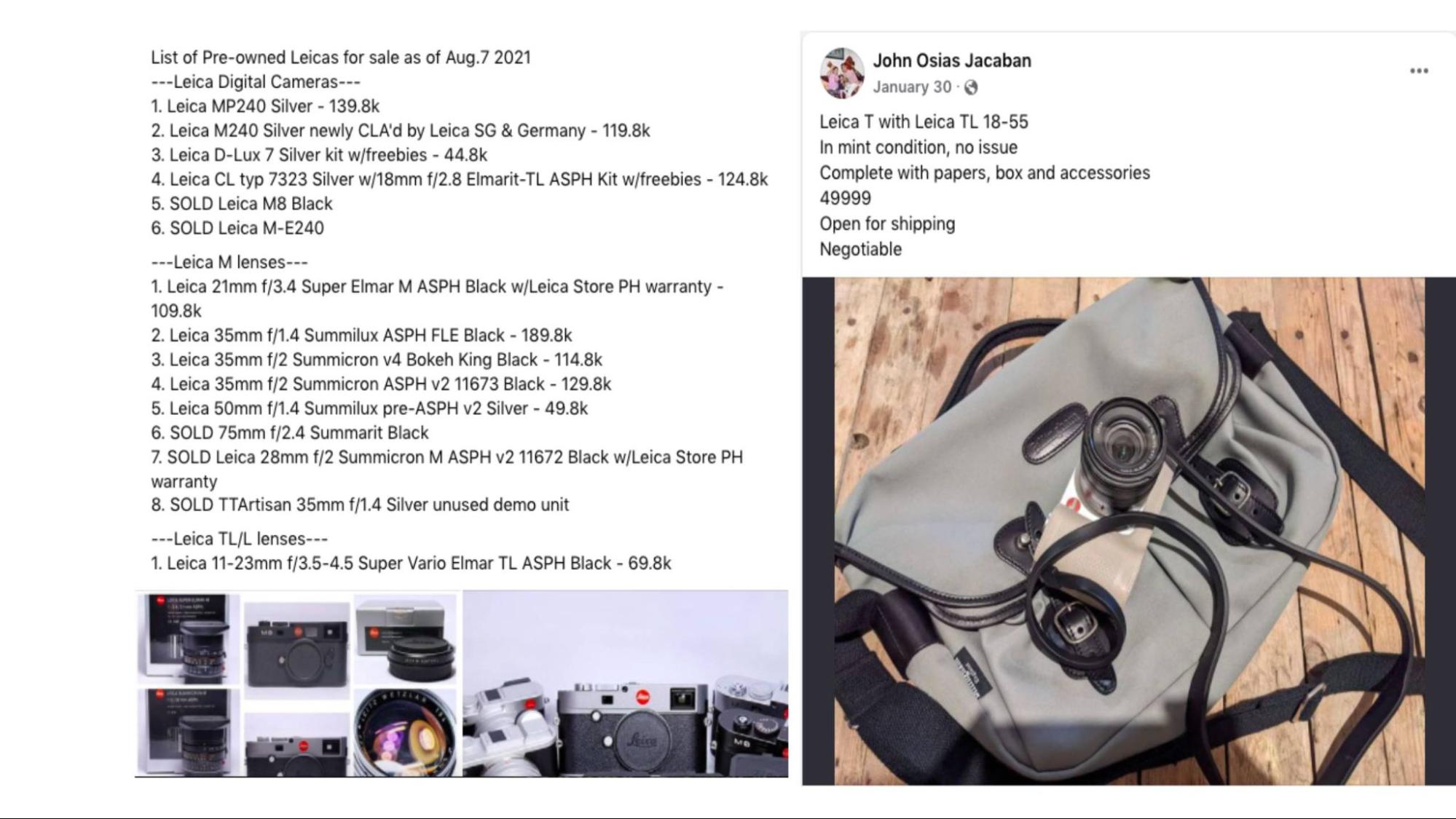 Pre-owned Leica cameras and lenses
Image credit: Leica Philippines and Leica Philippines
Generally, Leica cameras are massively expensive because of their quality (crafted in Germany) and they're made in small batches, so they are quite limited. Leica Philippines sells second-hand cameras still in good condition, helping you save money by testing them out for yourself before you invest in a first-hand camera.
According to iprice, the minimum cost of a Leica camera is P52,982.32 (~USD1,014.67) as of March 2022. Just equipment and accessories alone are already costly. From that to the cameras, they range from P4,000-P700,000 (~USD76.64-USD13,411.13).
As of 2021, members of this group have sold cameras and lenses ranging from a more affordable P7,500-P190,000 (~USD143.72-USD3,641.56). Furthermore, they also share pictures taken from their cameras and the specs of the cameras they used, so you can learn from their techniques as well.
Leica Philippines' Facebook page
---
Analog camera and film shops in the Philippines
---
Whether you're a beginner or an expert in handling analog cameras or film photography in general, you are bound to find what you're looking for in these places – be they physical stores, online shops, and Philippine photography communities).
Keep an open mind when purchasing second-hand items, ask plenty of questions, and manage your expectations as you explore the world of film photography.
Also check out:
---
Cover image adapted from Soviet Camera Store, Film Folk, and Fotofabrik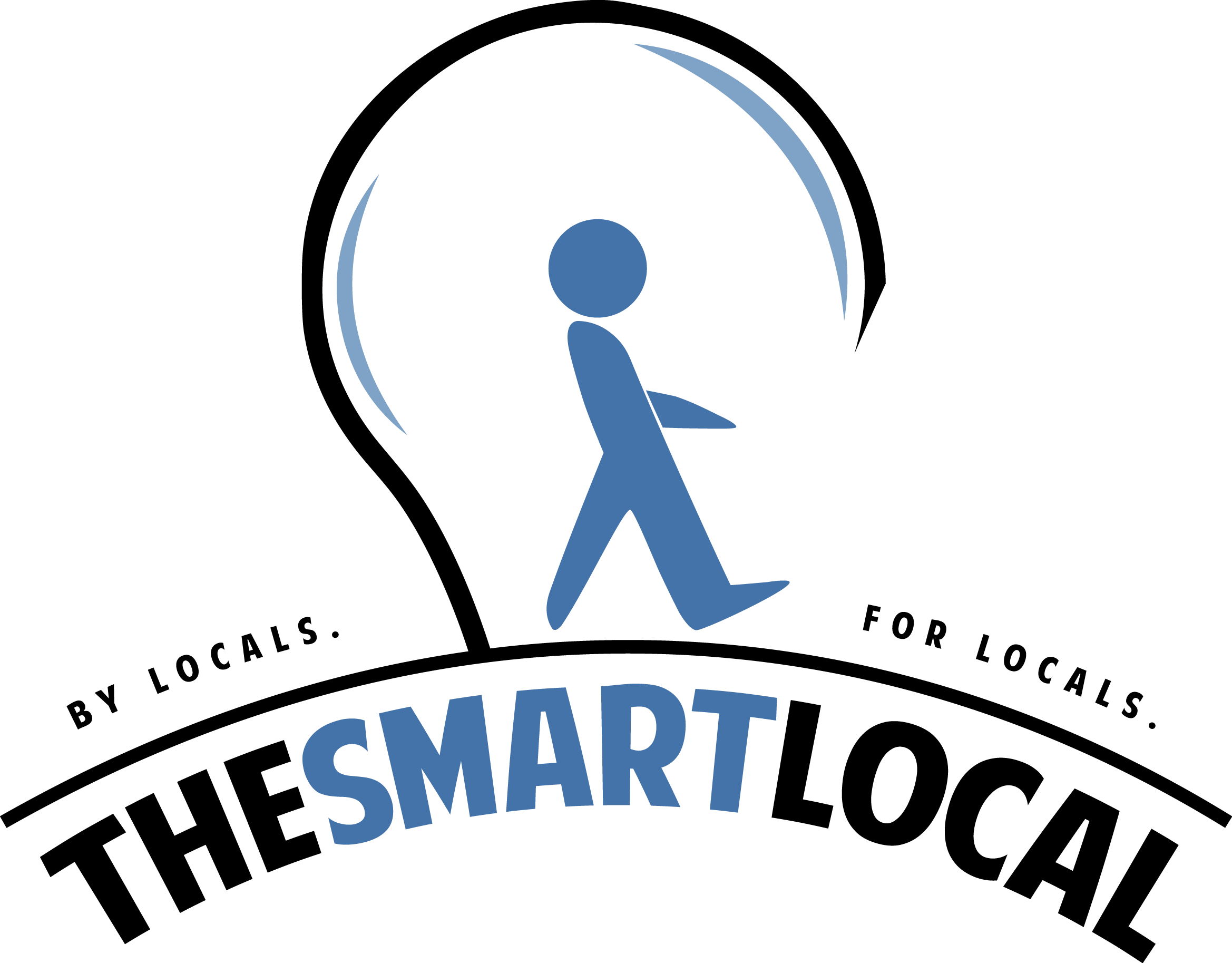 Drop us your email so you won't miss the latest news.