Things To Do in Aurora Province
---
Aurora Province is best known for its surfing destination in Baler. But there's more that the province can offer tourists, including swimming in beautiful, natural pools created by rock formations.
So if you want to switch up your summer plans and explore a new province in Luzon, check out these things to do in Aurora Province.
---
1. Ride the waves in Baler
---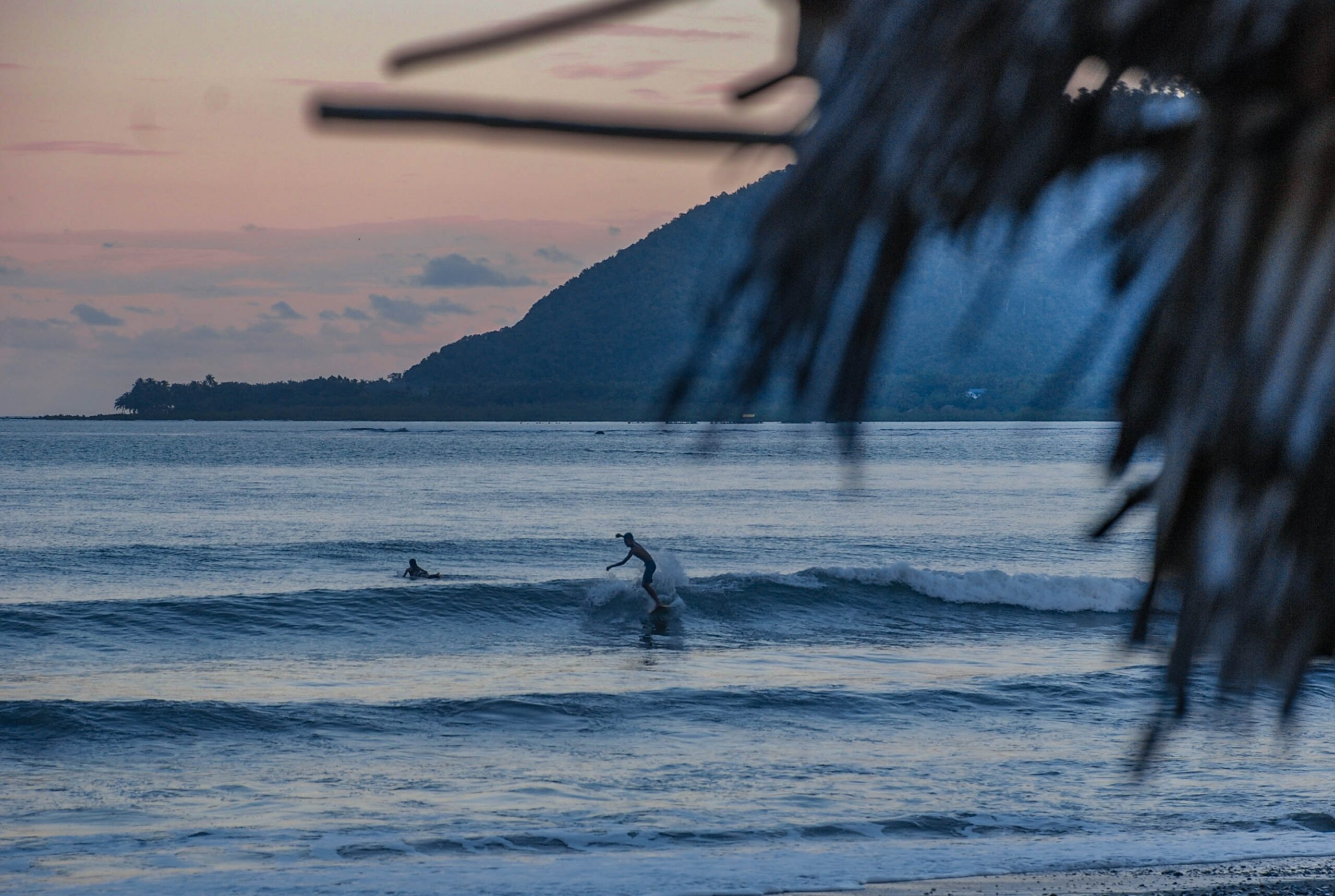 Surfing in Baler.
Image credit: Angela Meyer/Unsplash
Baler is among the popular surfing destinations in the Philippines alongside Siargao and La Union.
There are many spots in town where you can surf but beginners can check out Sabang Beach. It has a sandy beach and access to surfing schools and dining spots.
Meanwhile, pros can check out Cemento Reef which has rock formations that make for the best surf breaks. But be warned – surfboards have crashed here. Tread carefully if you don't want to leave with a broken surfboard.
Cemento Reef is also where the Cobra Master Surf Competition is held. This year, the surfing competition was held in early April with international surfers showing off their skills over big waves.
Sabang Beach
Address: Barangay Sabang, Baler, Aurora

Cemento Reef
Address: Barangay Cemento, Baler, Aurora

---
2. Swim within a cool rock formation at Tibu Tidal Pool
---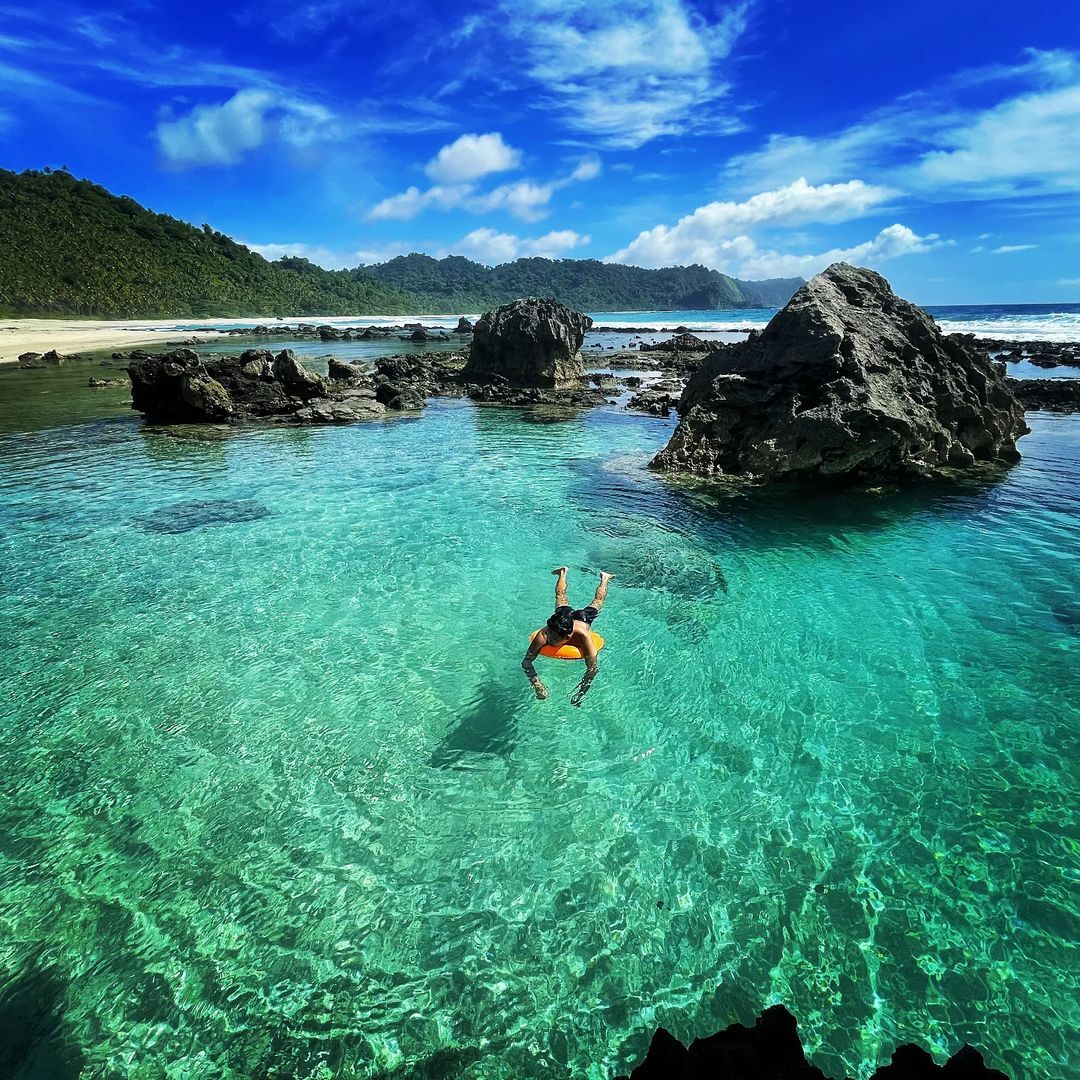 Tibu Tidal Pool.
Image credit: @enhinyeronggala
If you like to get that Instagrammable beach photos, you must check out Tibu Tidal Pool in Casiguran, Aurora.
Besides giving your photos more character, the rock formation forms a tide pool. This makes for a safe yet scenic place to take a dip, even for those who can't swim.
A bit farther from the beach, you can also snorkel to see the local marine biodiversity.
Address: Sitio Dalugan, Barangay Casiguran, Aurora

---
3. Try local eats such as Baler Longganisa and Suman de Baler
---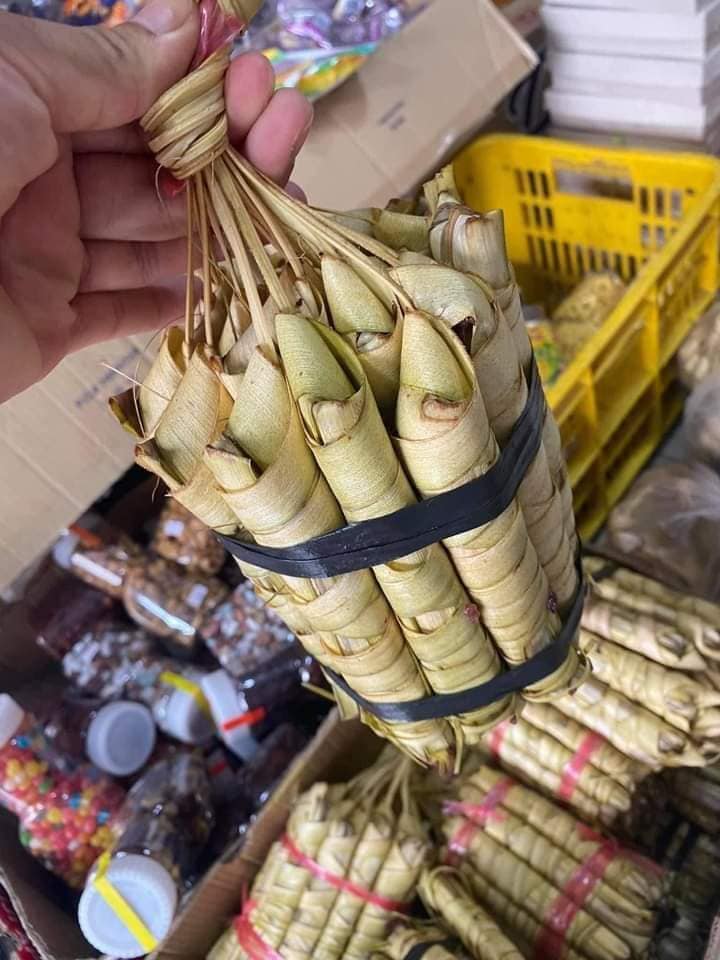 Suman de Baler.
Image credit: Karen Briones
In the Philippines, you'll find different iterations of food so sampling local eats wherever you go is a must. For example, longganisa is a Filipino sausage that has different versions in various provinces. But you can generally categorize them between hamonado (sweet) and de recado (savory).
Baler Longganisa is the best of both worlds – garlicky yet sweet. These are sold frozen at markets but you can order them ready-to-eat with rice at restaurants.
Meanwhile, for a snack or dessert, try Suman De Baler. It's a palm leaf-wrapped rice cake made with coconut milk and brown glutinous rice which gives it a purplish color.
For a pasalubong you can bring home anywhere without spoiling, get a jar or two of Nanay Pacing's Peanut Butter, which also comes in choco-butternut flavor.
You can get these and other local delicacies as well as souvenirs at public markets or pasalubong centers.
---
4. Face your fear of heights at the Zabali Hanging Bridge
---

Zabali Hanging Bridge.
Image credit: Kristoferssen Cruz
Zabali Hanging Bridge in Baler is a 100-meter hanging bridge over the Tibag-Sabang River.
Go here if you want to face your fear of heights. Besides being suspended by a steel rope over a long stretch of water, the river's flow gives the illusion that the bridge is moving more than it actually is.
The bridge is also a great place to take a photo with the mountains of Aurora Province in the background. To avoid the crowd of people trying to get their photos taken, visit this attraction in the morning.
Address: Sitio Zabali, Baler, Aurora

---
5. Take a refreshing dip at Ditumabo Mother Falls
---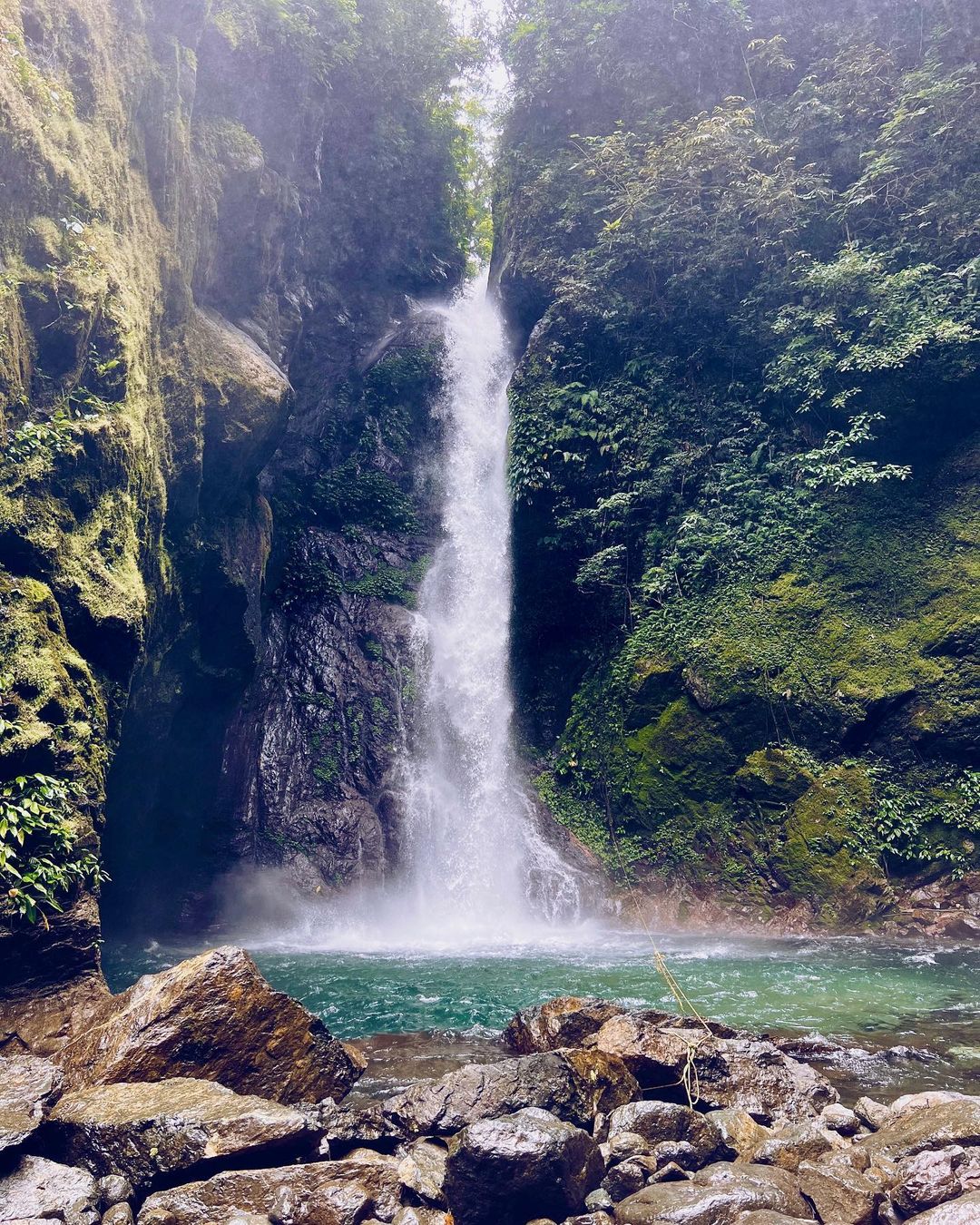 Ditumabo Mother Falls.
Image credit: @alexis_banga
Ditumabo Mother Falls is the tallest waterfall in Aurora Province. Despite its height, it drops to a shallow pool of cold water so you can take a refreshing dip even if you don't know how to swim.
Getting here requires a 35-minute trek that involves crossing a rocky river. You'll need to get a tour guide for P300 (~USD5.51) to help you get to the waterfall safely.
Besides the tour guide's fee, there's also a minimal entrance fee of P30 (~USD0.55) per person.
Address: Barangay Ditumabo, San Luis, Aurora

---
6. Learn about local history and art at Museo de Baler
---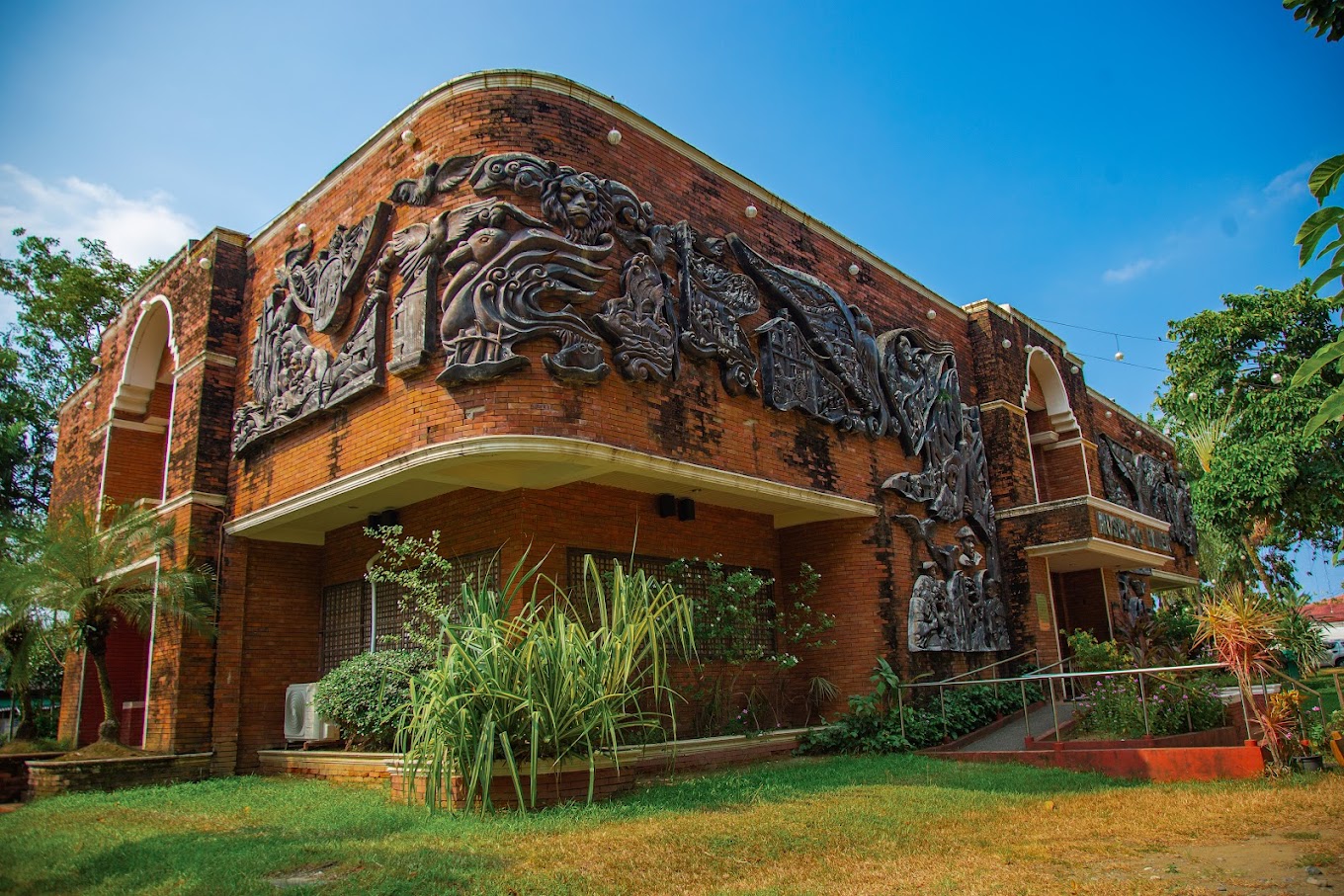 Museo de Baler.
Image credit: Tourism Philippines
A great way to immerse yourself fully in your travel destination is to learn about its history and culture. Museo de Baler has exhibits featuring artifacts from early settlements in the Aurora province as well as evidence of events that had transpired in Baler during the Spanish colonization.
Besides historical artifacts, the museum also showcases the works of local artists.
To enter the museum, there's a P100 (~USD1.84) entrance fee which also gives you access to the restored childhood home of Dona Aurora Quezon, wife of Manuel L. Quezon – the second president of the Philippines.
Address: Quezon Street, Poblacion, Baler, Aurora
Opening hours: 8am-5pm, Daily
Contact: 0921 123 4567

---
7. Enjoy the scenery at Dicasalarin Cove
---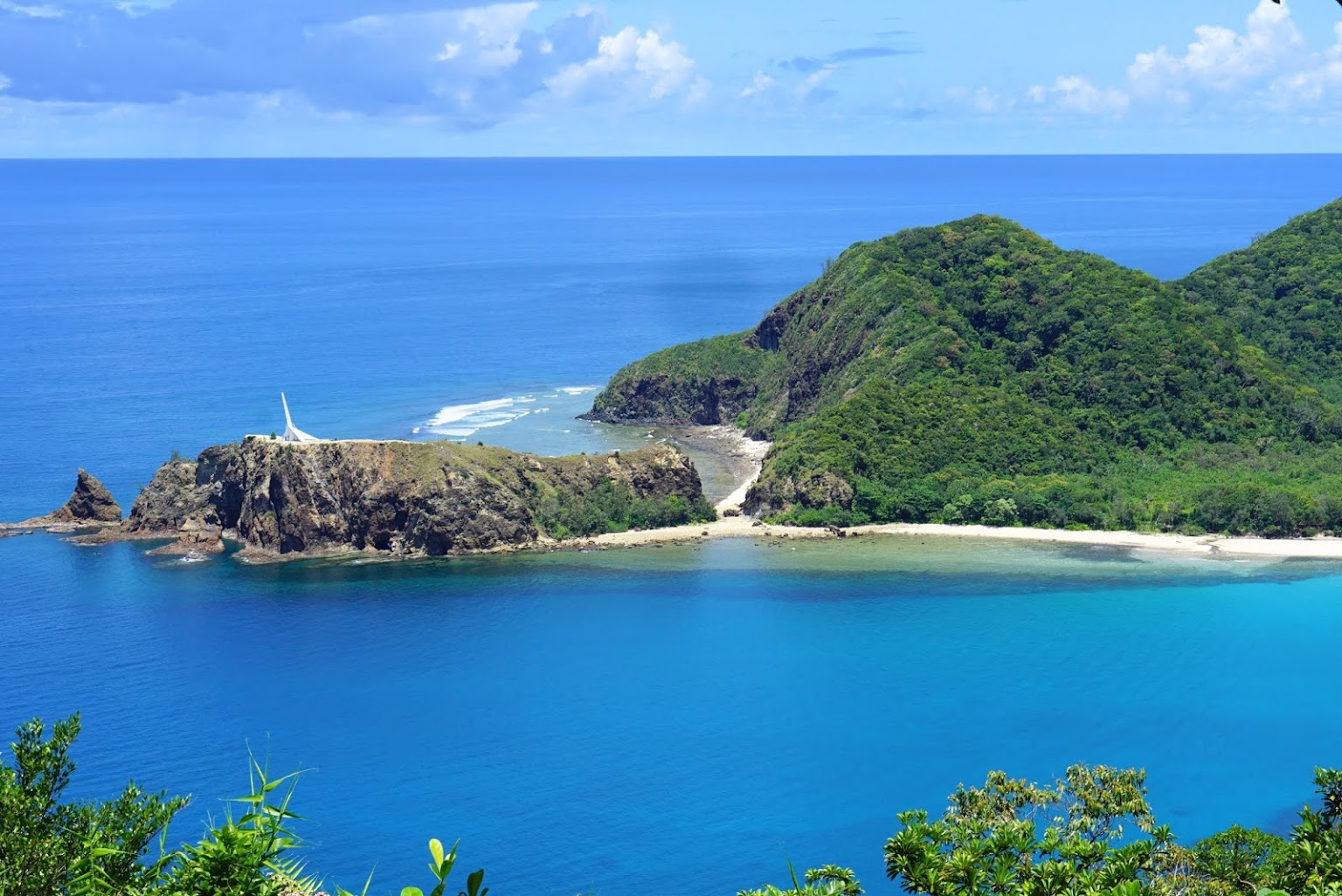 Dicasalarin Cove.
Image credit: Charmaine Rabaino
The scenic Dicasalarin Cove in Baler is in a privately owned beach. But you can get a pass to access it starting at P350/person (~USD6.43e) at Costa Pacifica Resort.
It's a long way from the tourist spots but the sights here are worth it. The place features a white sand beach, a cave, and a lighthouse on a hill which will give you the best view of the cove.
It's best to have your own vehicle if you wish to visit the cove as the commute can cost a lot. Using a 4×4 vehicle and having a skilled driver are also recommended as the road going there is steep and narrow.
Costa Pacifica Resort
Address: Costa Pacifica Resort, 80 Buton Street, Sito Labasin, Barangay Sabang, Baler, Aurora
Opening hours: Mon-Sat 8am-5pm | Sun 9am-1pm
Contact: 0917 844 8371
Costa Pacifica Resort's website | Facebook | Instagram
---
8. Take in the views at the Ontok Lighthouse
---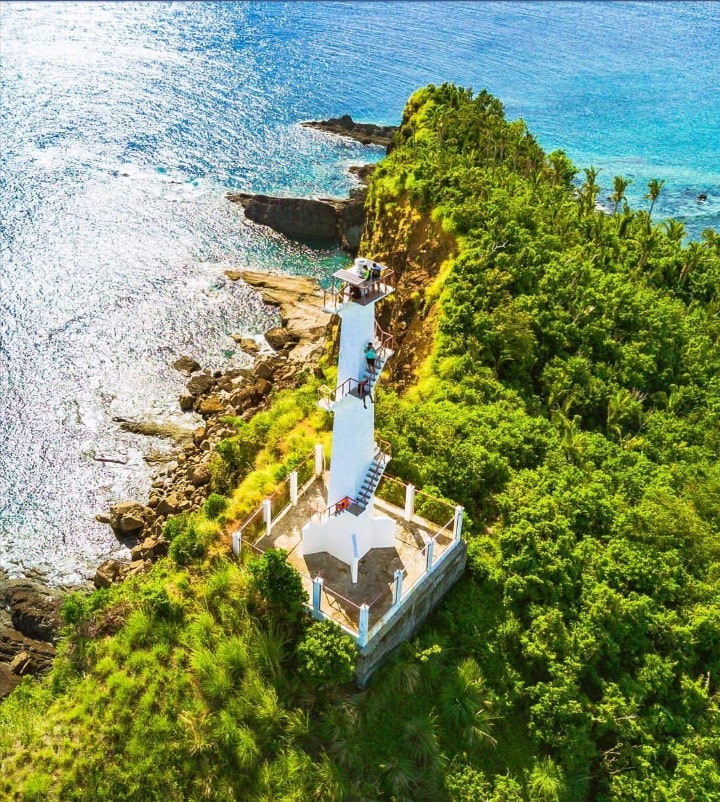 Ontok Lighthouse.
Image credit: Starr Survival Camping
If you want to get Batanes vibes without the expensive flights, check out Ontok Lighthouse in Casiguran, Aurora.
From here, you'll enjoy breathtaking views of the Pacific Ocean, the lush hills around it, and the overhanging cliffs. At the opposite side, you'll see the Sierra Madre – the longest mountain range in the Philippines that protects much of Northern Luzon from strong typhoons.
To enjoy these views, you only need to take a short 15-minute hike to the lighthouse.
Address: Cape San Ildefonso, Barangay San Ildefonso, Casiguran, Aurora
---
9. Go bar hopping in Baler
---

Dex's Crib Sports Resto Bar.
Image credit: Bro In Christ
Like most surf towns and popular beaches, you can find plenty of bars in Baler.
If you want an IG-worthy drinking spot, Dex's Crib Sports Resto Bar has an inviting and colourful interior. They also serve a wide variety of food and drink offerings, but the ribs and lobster are their must-try dishes.
For grilled food you can enjoy with either rice or drinks, check out Yellow Fin Bar & Grill.
Dex's Crib Sports Resto Bar
Address: 83 Recto Street, Barangay Poblacion II, Baler, Aurora
Opening hours: 9am-9pm, Daily
Contact: 0906 203 1380
Dex's Crib Sports Resto Bar's Facebook 
Yellow Fin Bar & Grill
Address: Buton Street, Sito Labasin, Barangay Sabang, Baler, Aurora
Opening hours: 11am-1am, Daily
Contact: 0999 843 6176
Yellow Fin Bar & Grill's Facebook | Instagram
---
Aurora Province attractions
---
This is one for the books. Next time you plan to go out of town, consider heading to Aurora Province.
With many breathtaking natural wonders, you'll never run out of places to go!
Also check out:
---
Cover image adapted from: Starr Survival Camping, @enhinyeronggala, Charmaine Rabaino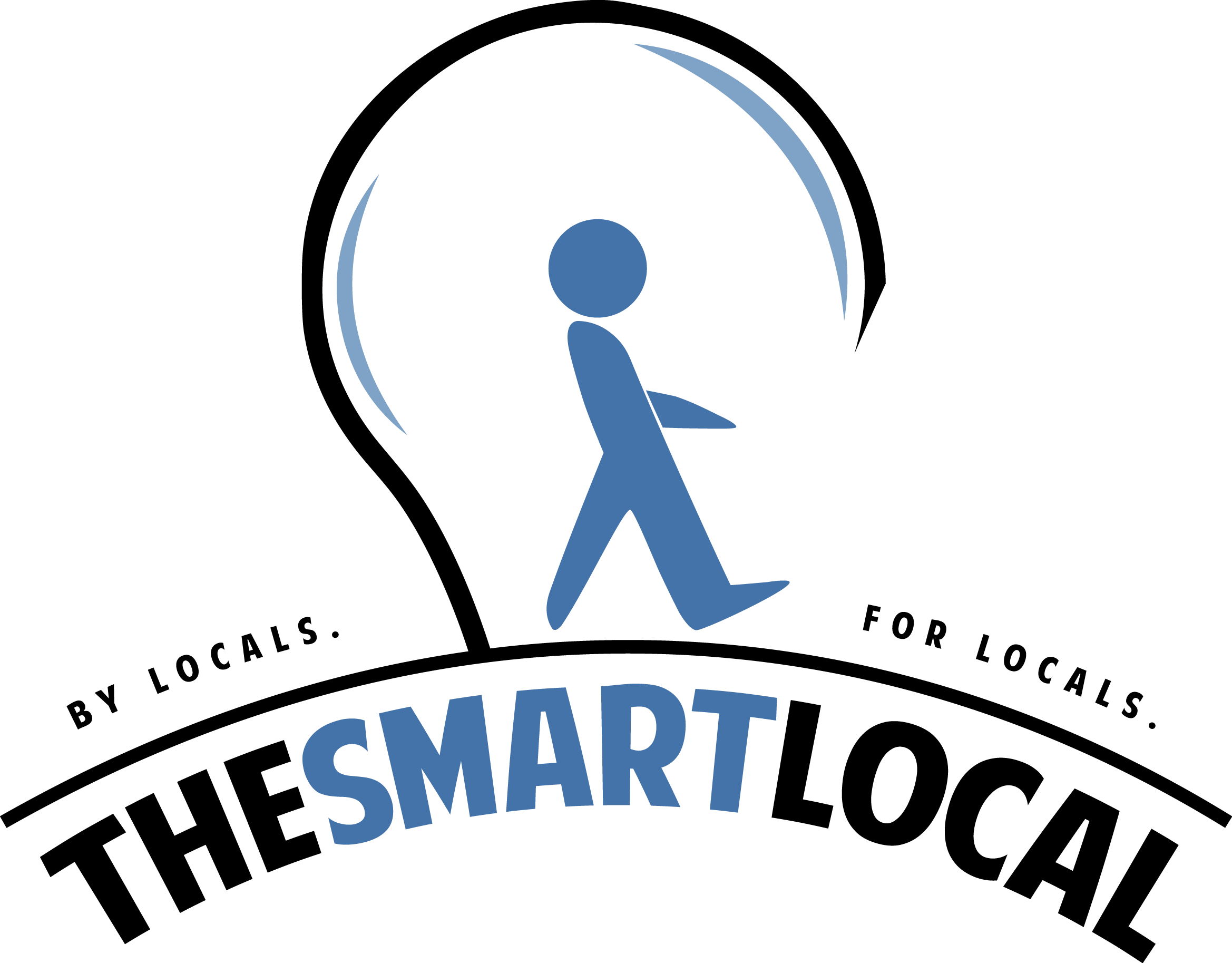 Drop us your email so you won't miss the latest news.