Relaxing Airbnbs in Batangas
---
If you feel a pressing need for a break from your routine, it's time to file that vacation leave and go on a staycation. For this, you'll want to book a place somewhere near the metro – such as Batangas – to avoid spending most of your vacation traveling.
To make finding a place to stay easier, we've made a list of Airbnbs in Batangas with scenic locations and various relaxing activities so you can recharge your batteries and enjoy new experiences at the same time.
---
1. Beach Front Bed and Breakfast – air-conditioned beach-front container van with a view deck
---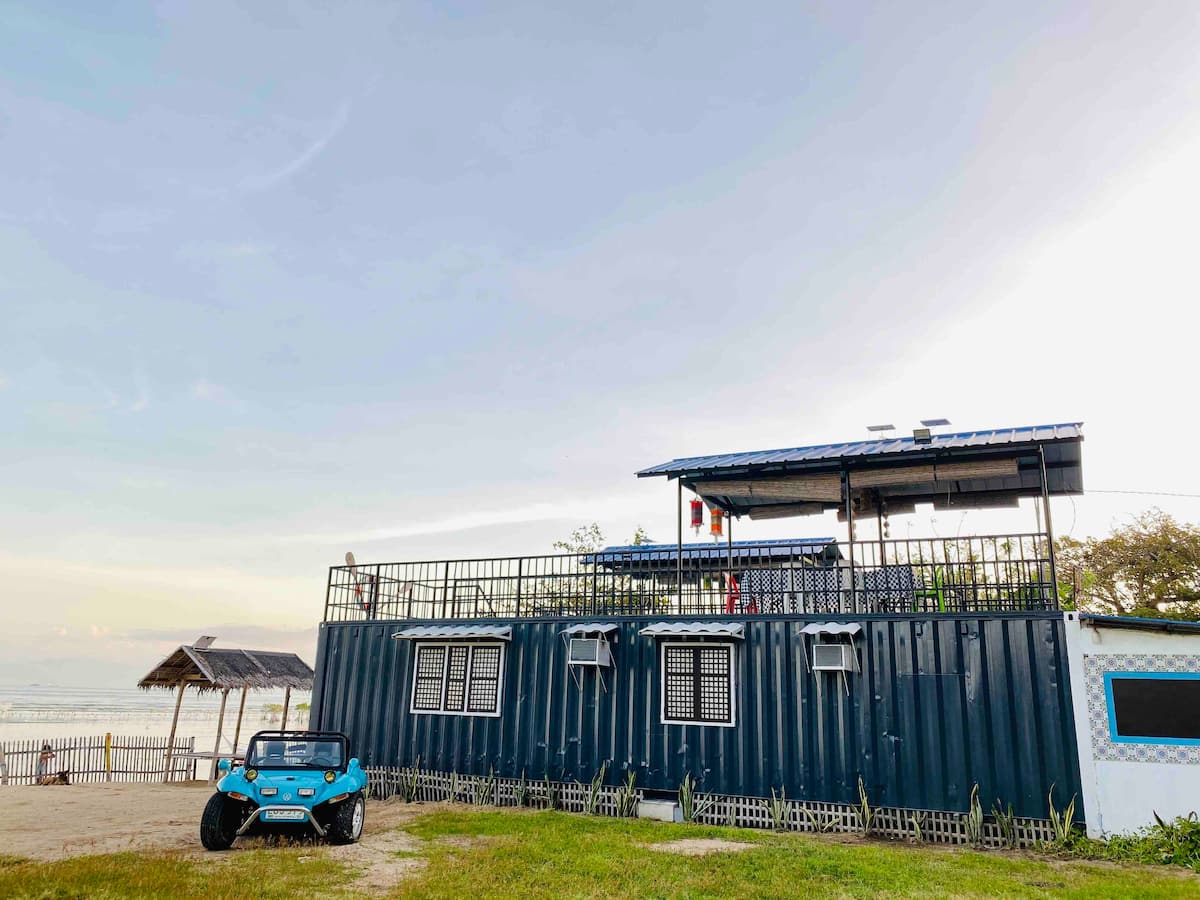 Image credit: Beach Front Bed and Breakfast
Beach Front Bed and Breakfast (P1,200, ~USD23.65 per person per night) is an air-conditioned container van homestay in Lian, Batangas. It has a shared viewing deck which doubles as a dining area where you can enjoy the B&B's probinsya-style breakfast of fried rice, tuyo (dried fish), longganisa (Filipino sausage), and kapeng barako (black coffee).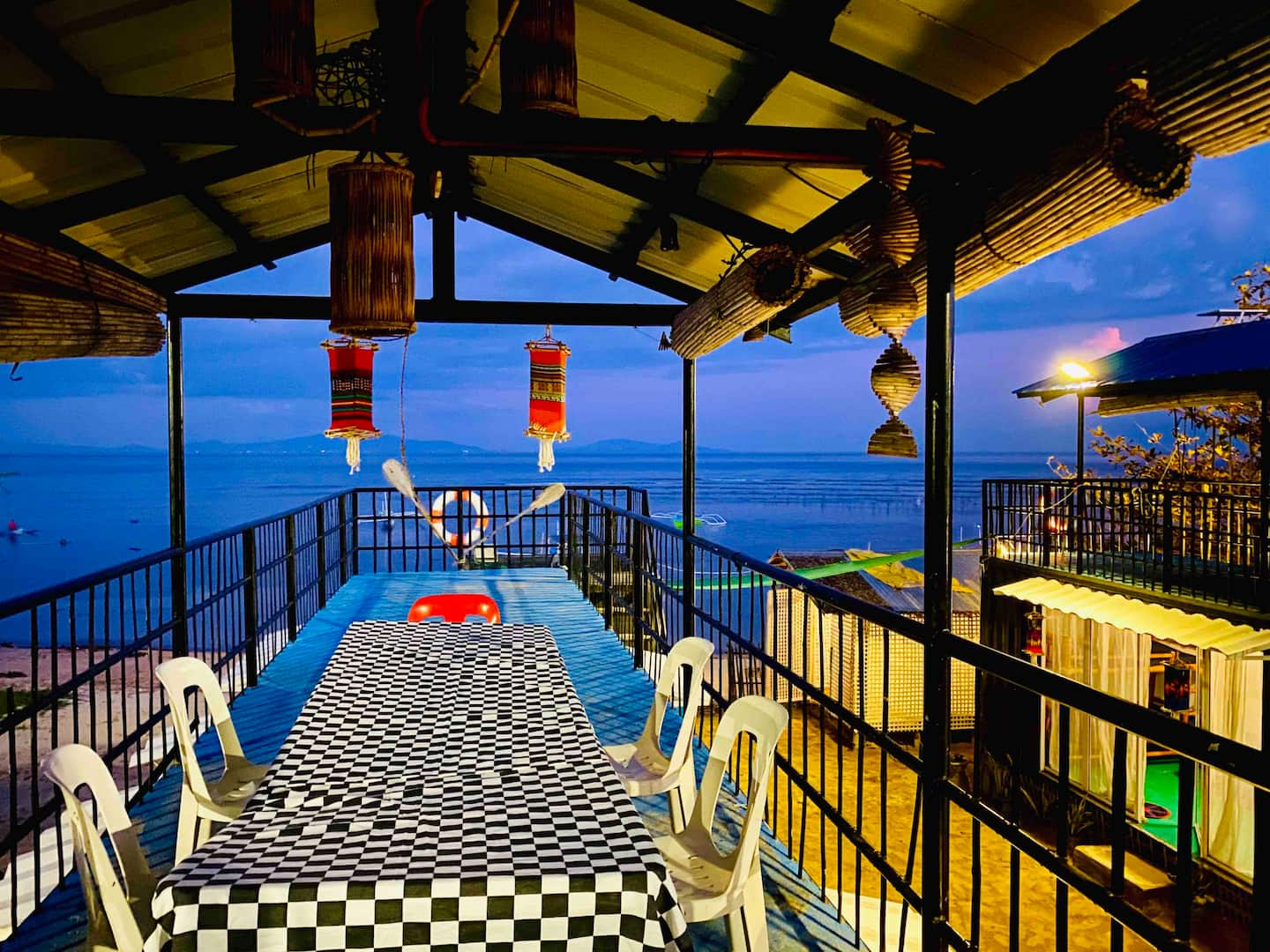 Beach Front Bed and Breakfast's view deck
Image credit: Beach Front Bed and Breakfast
The place has 3 rooms, each with different sizes to accommodate groups of different sizes. Each room has bamboo single and bunk beds cushioned with foam.
There are fishermen's boats in front of the B&B which gives you easy access to local fishermen's fresh catch but it's still only 2 minutes away from a good swimming area.
Unlike most Airbnbs in Batangas, this B&B is pet-friendly so your fur baby won't miss out on all the fun.
During the lockdowns, only guests aged 15 to 65 are allowed in the B&B. You're also required to bring a medical certificate which you can acquire at your barangay health office.
Book Beach Front Bed and Breakfast here.
---
2. VOHOFarms VIVA Inn- located at a peaceful, organic farm
---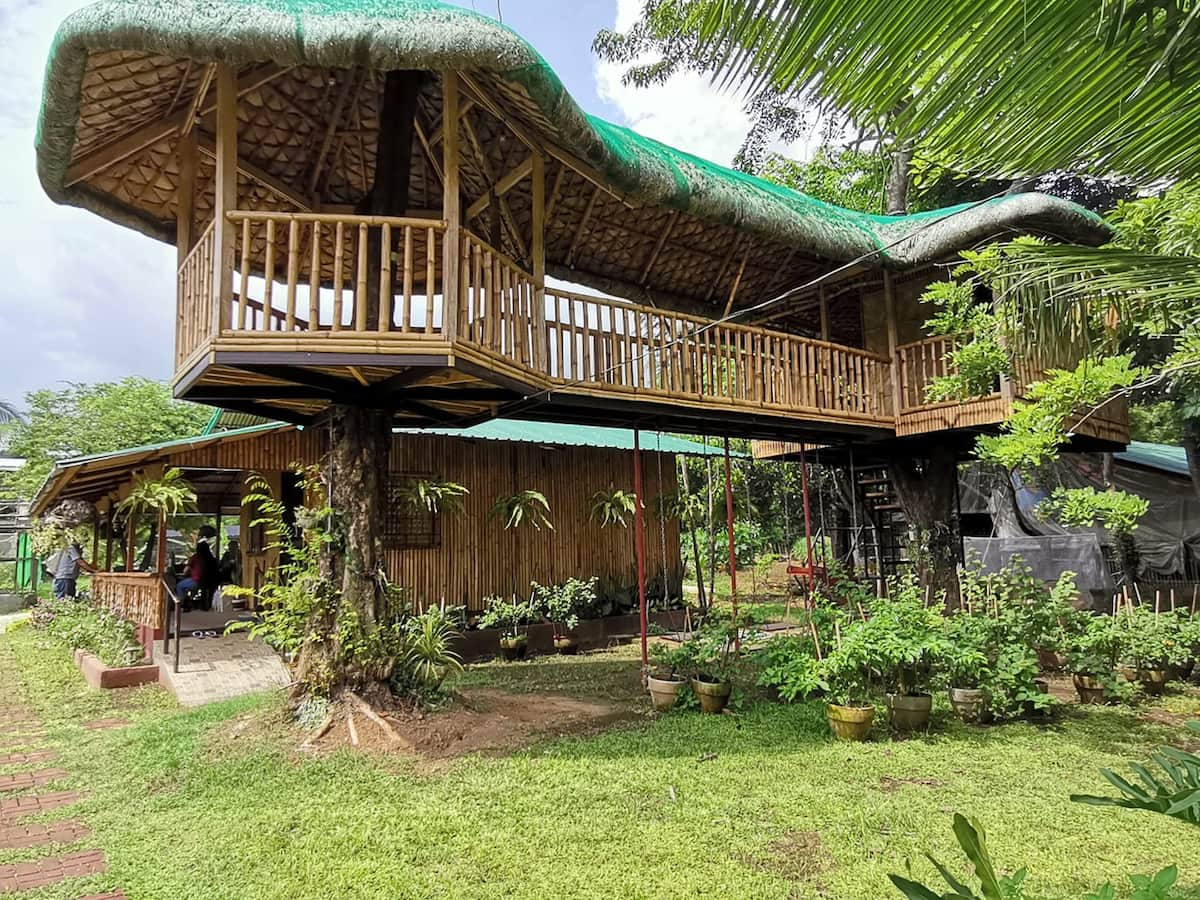 Treehouse at VOHO Farms
Image credit: Melecio Room VOHOFarms
The Melecio Room (P4,400, ~USD86.72 per night) is one of the 3 VIVA Inn rooms located at Villegas Organiks, also known as VOHO Farms, an eco-tourism farm in Malvar, Batangas. For every day you spend here, you will be treated to a free, healthy breakfast made with freshly picked vegetables from the farm.
VOHO Farms is a quiet place where you can take strolls or just enjoy the fresh air from the treehouse making it perfect if you like releasing your stress by being in nature. You can also go on the swings under the treehouse or take a dip at the pool to relax.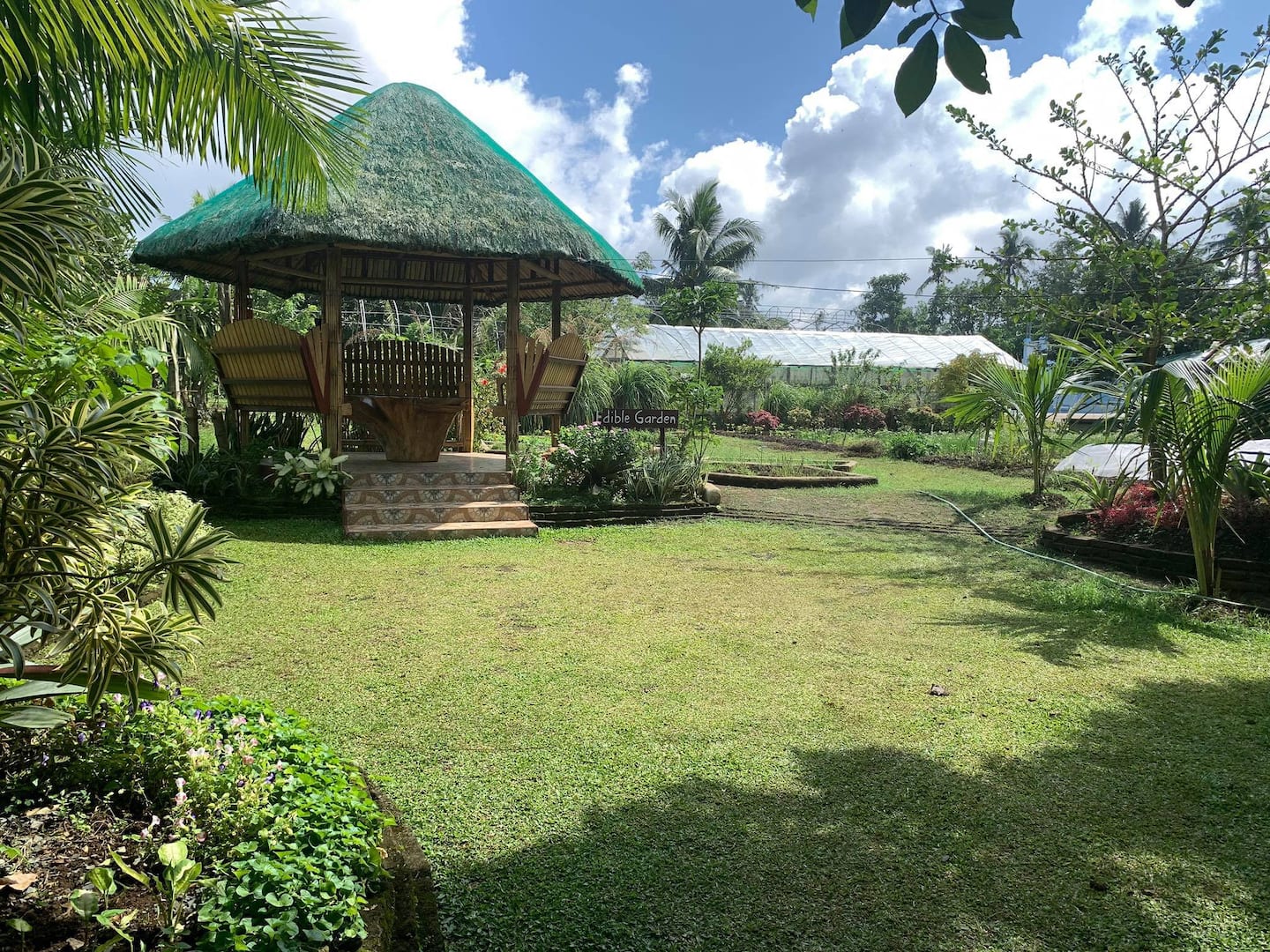 One of the views you will see at VOHO Farms
Image credit: Melecio Room VOHOFarms
The Melecio Room is an air-conditioned room that has one queen bed, one double bed, and a private bathroom and shower, so you still get the comfort of a home while staying at a farm.
The place allows long-term stays if you're thinking of getting away from the city's hustle and bustle for a couple of weeks. It also has plenty of spaces where you can WFH in peace, surrounded by nature.
Book VOHO Farms VIVA Inn here.
---
3. Ybonita Farm & Villas – quaint villas surrounded by nature
---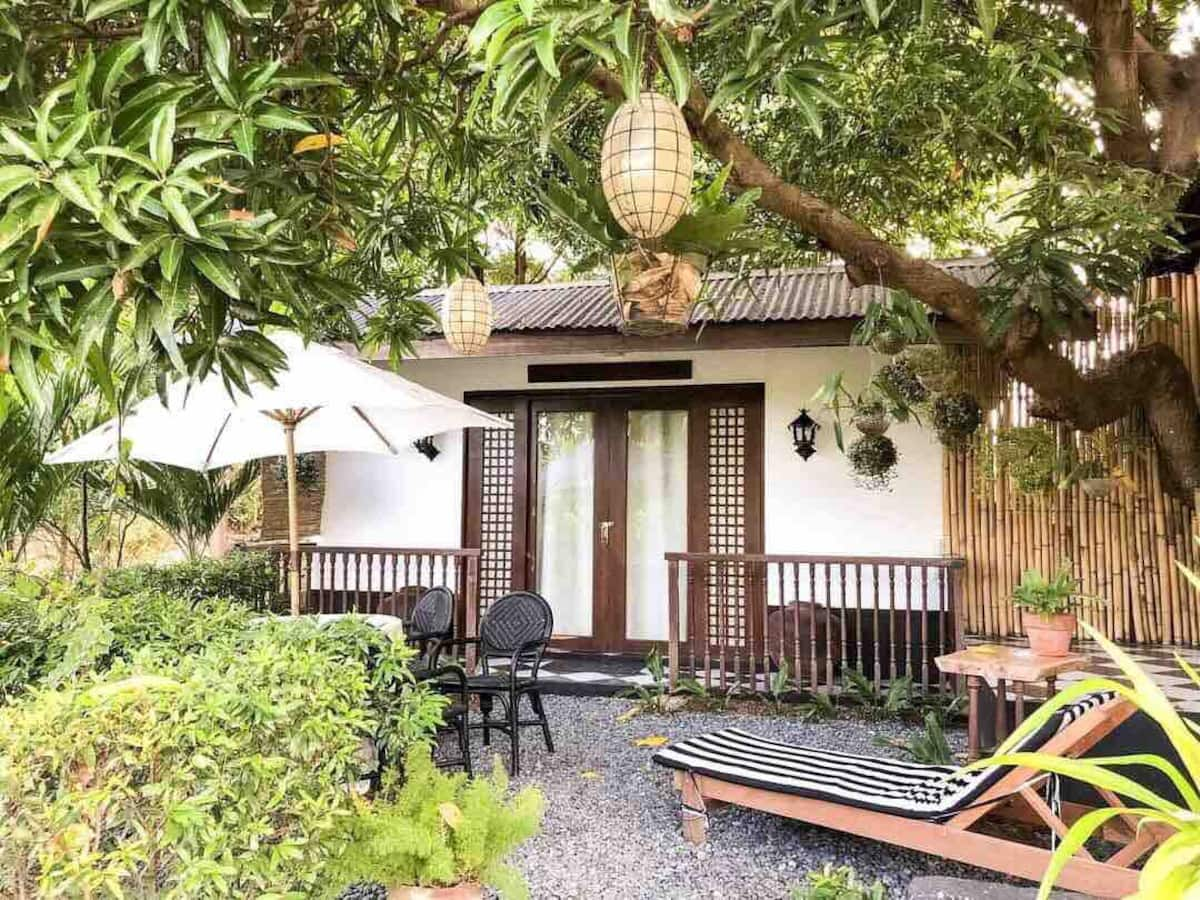 Image credit: Ybonita Farm & Villas Caceres Villa
You'll know you'll have a healing staycation the moment you arrive at Ybonita Farm & Villas in Calatagan, Batangas with a driveway lined with trees and quaint villas surrounded by greenery, almost hidden by thriving trees and plants.  
The Caceres Villa (P4,899, ~USD96.47 per night), one of the guesthouses, has an air-conditioned bedroom with two queen beds that can accommodate four guests altogether, and also has a private bathroom with a shower.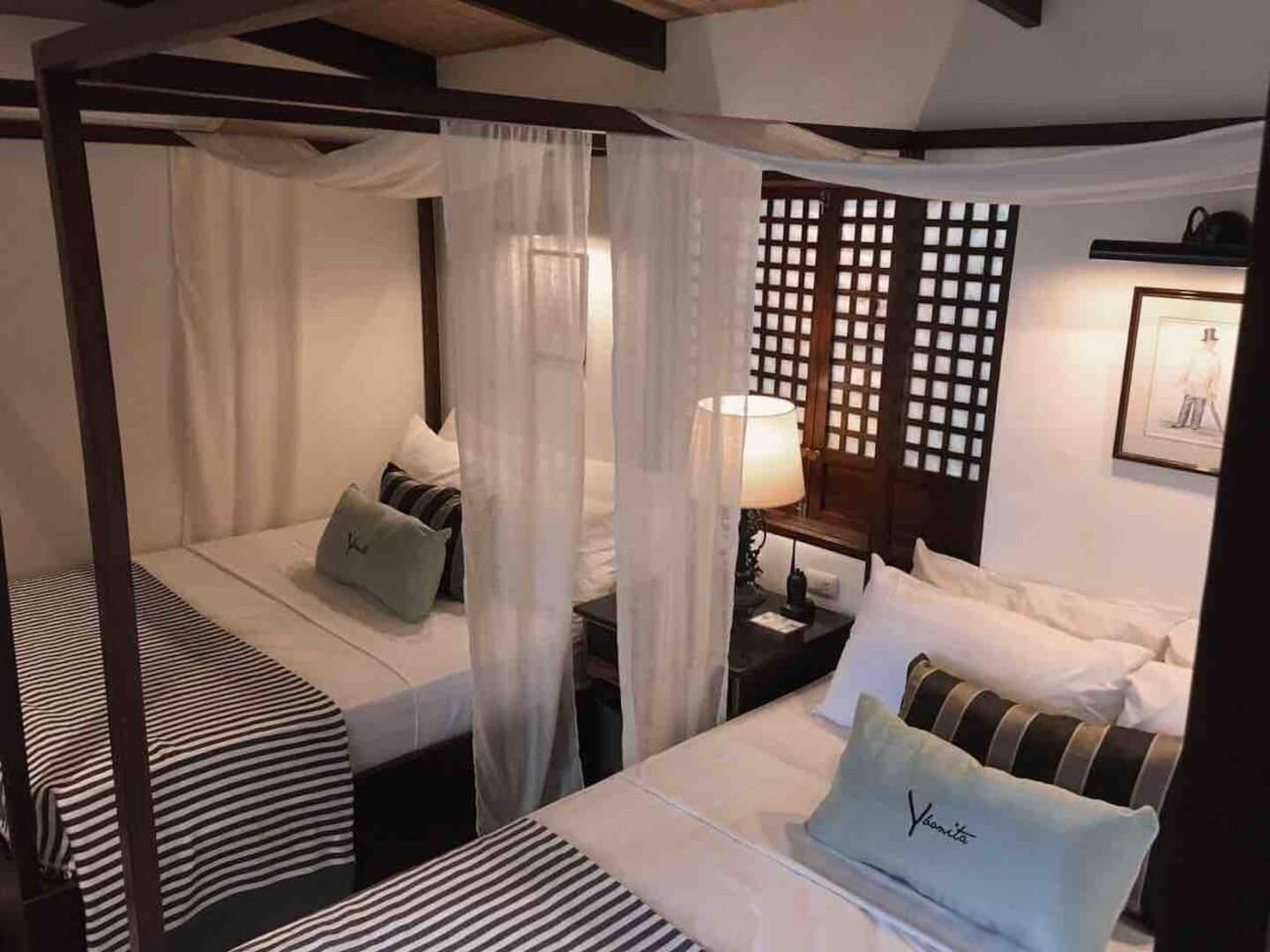 Inside the Caceres Villa 
Image credit: Ybonita Farm & Villas
You won't just be improving your mental and emotional wellbeing at this farmstay. Guests also get a complimentary breakfast of fresh produce, helping you refresh your system during your stay there.
There are also some activities you can do in the area that can enrich your stay such as animal feeding. Plus, the farm is only a five-minute drive away from the beach.
Book Ybonita Farm & Villas Caceres Villa here.
---
4. Club Punta Fuego – spacious studio room in an exclusive hotel
---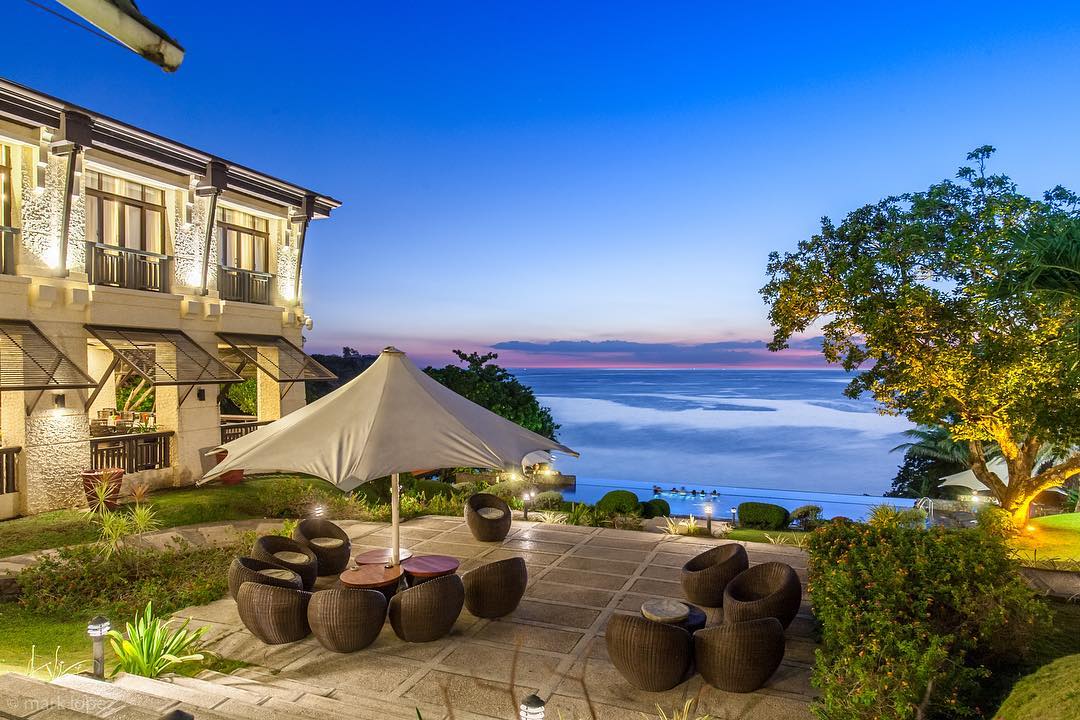 The view at Club Punta Fuego
Image credit: @markl17
Club Punta Fuego is an exclusive membership hotel located at a cove in Nasugbu, Batangas. While it's exclusive, they have room listings that non-members can book online.
The hotel has an impressive view of the sea which you can enjoy from their massive infinity pool. The property is also at a cove and is surrounded by lush greenery that's sure to make you feel like truly you're on vacation, far away from your day-to-day responsibilities.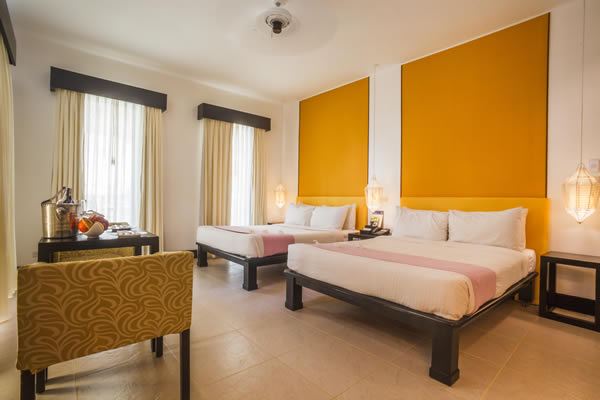 Club Punta Fuego's Standard Casita
Image credit: Club Punta Fuego
The hotel's Standard Casita (P5,000, ~USD98.46 per night) is a spacious studio room that has 2 beds and can fit 3 guests. The room also features a pocket garden where you can rest and relax after spending your day exploring the expanse of the property.
The hotel also provides a free breakfast but there are 3 in-house restaurants that serve Mediterranean cuisines, including Italian pizza and gnocchi.
Book Puntafuego Hotel Standard Casita here.
---
5. Anilao Beach House – offers a breathtaking view of the coast from anywhere in the house
---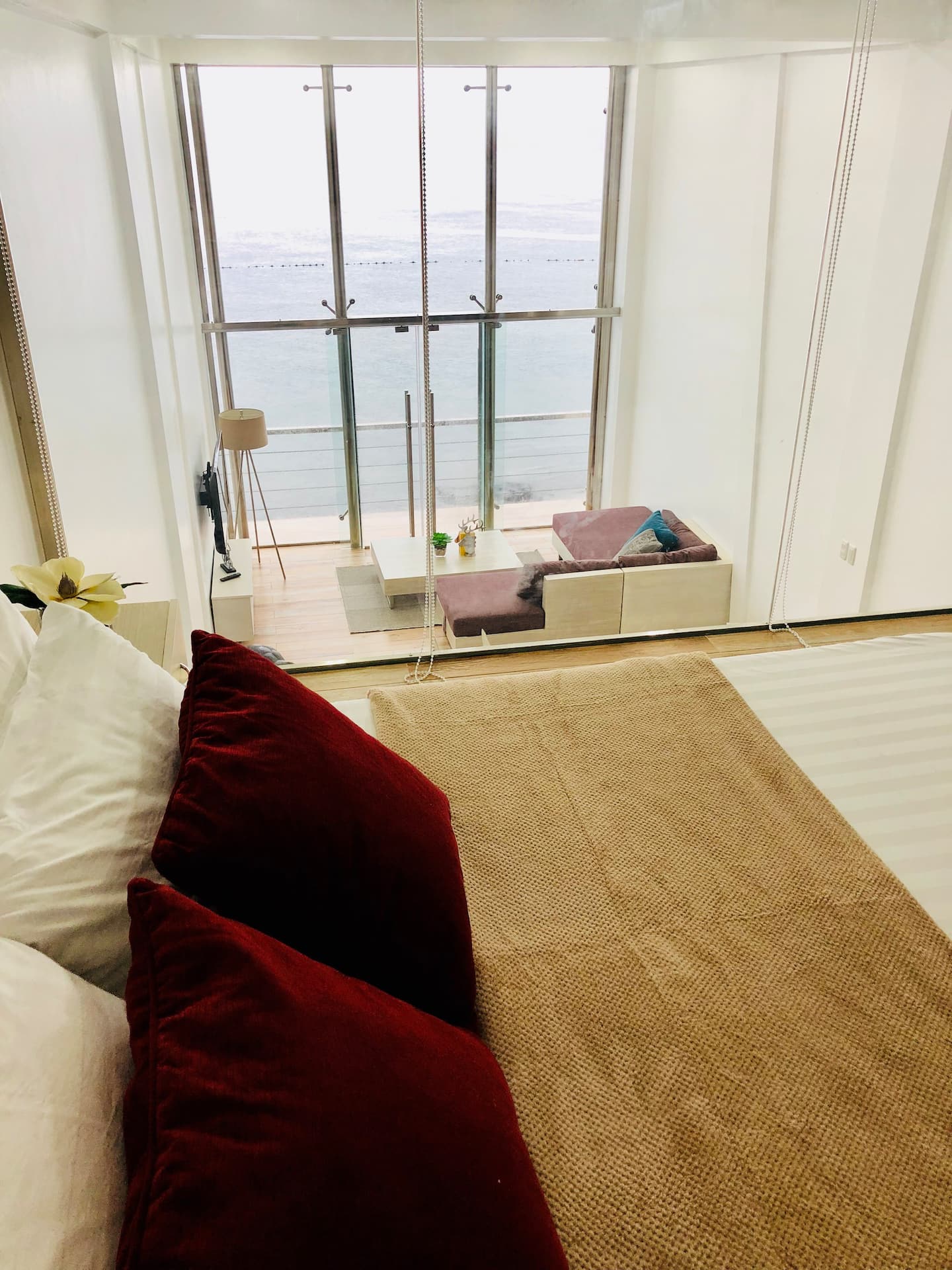 The view from the bedroom
Image credit: Anilao Beach House 1 
Anilao Beach House (P5,998, ~USD118.11 per night) in Mabini, Batangas faces the sea and has a floor-to-ceiling window, giving you a spectacular view of the coast. You get this view anywhere you are in the house – except for the bathroom – including its loft bedroom that has glass walls.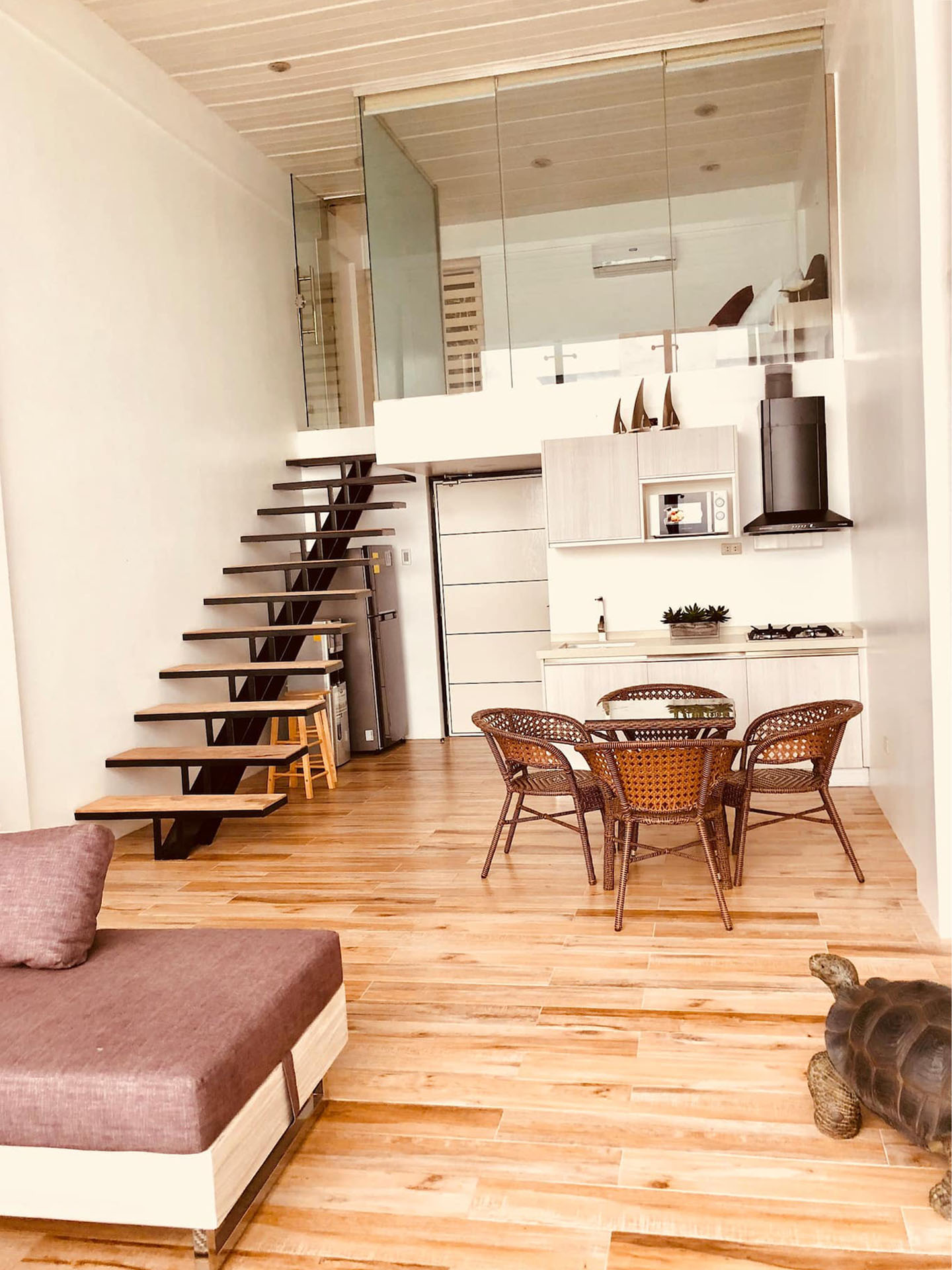 The loft beach house is fully equipped with all the appliances you may need
Image adapted from: Anilao Beach House 1
The beach house has posh, minimalist interiors but is fully equipped with a stove, microwave, refrigerator, shower, and flat-screen cable TV. Above, the loft bedroom also has a queen-sized bed that can comfortably fit two.
For your entertainment, there are plenty of ​​water activities to do in the proximity. You can rent jet skis, paddleboards, and surfing equipment nearby. Renting diving gear is recommended as there is a reef you can check out just in front of the beach house.
Book Anilao Beach House 1 here.
---
6. Batalang Bato Beach Cottage – fully equipped beachfront cottage surrounded by flora & fauna
---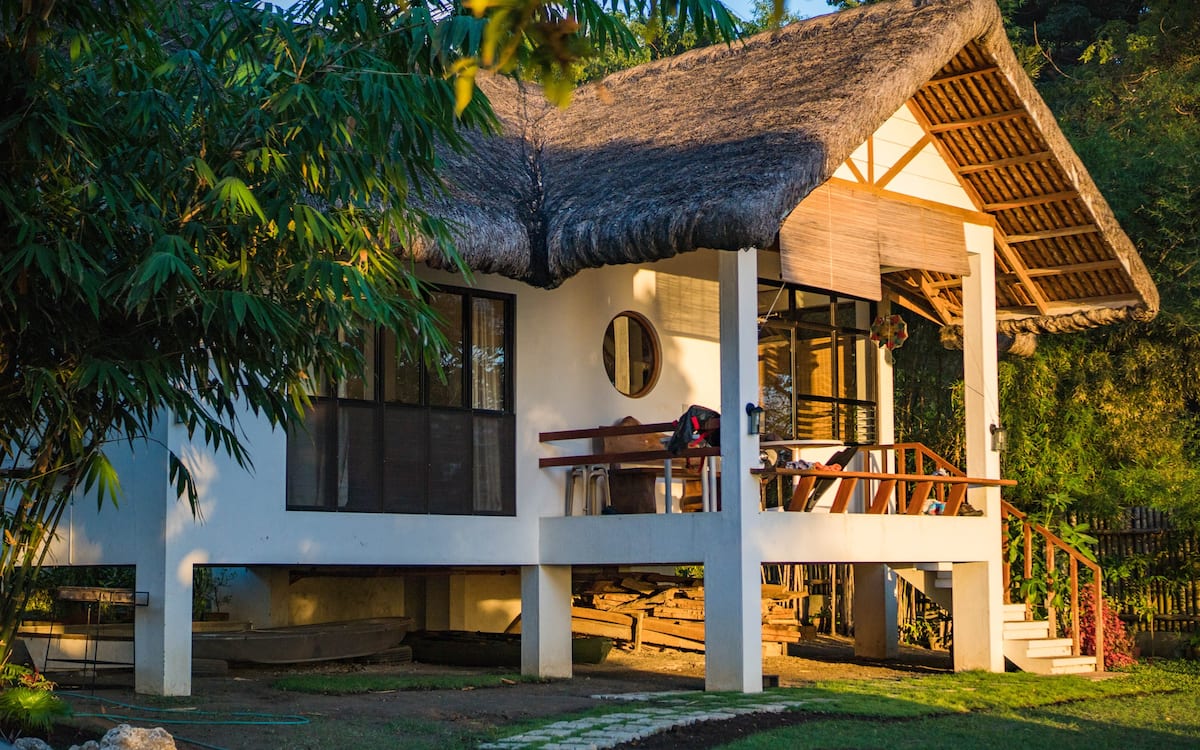 Image credit: Batalang Bato Beach Cottage
Located in a marine sanctuary in the midst of flora and fauna in Mabini, Batangas, Batalang Bato Beach Cottage (P8,000, ~USD157.53 per night) is for responsible guests willing to clean up after themselves. However, it's all worth it as the sights and experiences nature offers are unlike most Airbnbs in Batangas, such as fireflies you can watch from your cottage at night.
It's in front of a reef perfect for snorkeling or diving trips which you can arrange prior to your stay. You can also use the place's kayaks for free for extra-peaceful me-time at sea.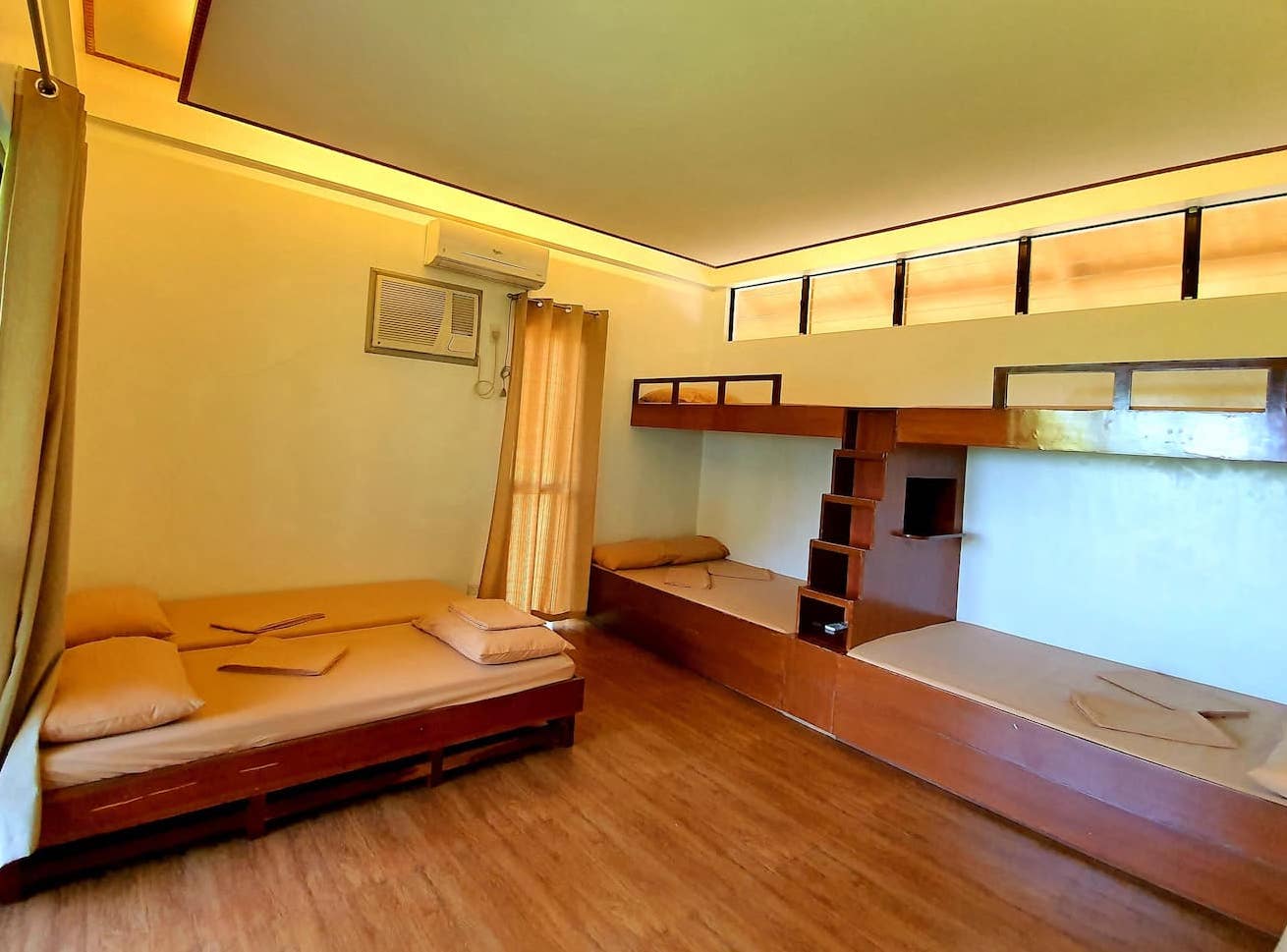 Batalang Bato Beach Cottage's bedroom
Image adapted from: Batalang Bato Beach Cottage
The beach cottage has one bedroom with six beds – two single beds and two bunk beds – and is equipped with wifi, air conditioning, and a bathroom with a shower. There's also a fully functioning kitchen with everything you could possibly need during your stay, from a stove and rice cooker to a bread toaster and coffee maker.
Book Batalang Bato Beach Cottage here.
---
7. Beautiful Lake House – for big families or a large group of friends
---

Image credit: Beautiful Lake House
Beautiful Lake House (P9,943, ~USD195.79 per night) in Talisay is the perfect Airbnb in Batangas for outings with large groups.
Located on the first floor of a private house, it has 2 bedrooms – each with a double bed and a bunk bed- that can fit eight guests and two bathrooms equipped with showers. You also have the option to rent just 1 room for half the price if there are only four people or fewer in your group.
There's a partly shaded, spacious roof deck for bonding with kids or chatting with friends as you gaze at the calming lake as well as a basketball court in its premises. You can take the free-to-use kayaks for a ride on the lake.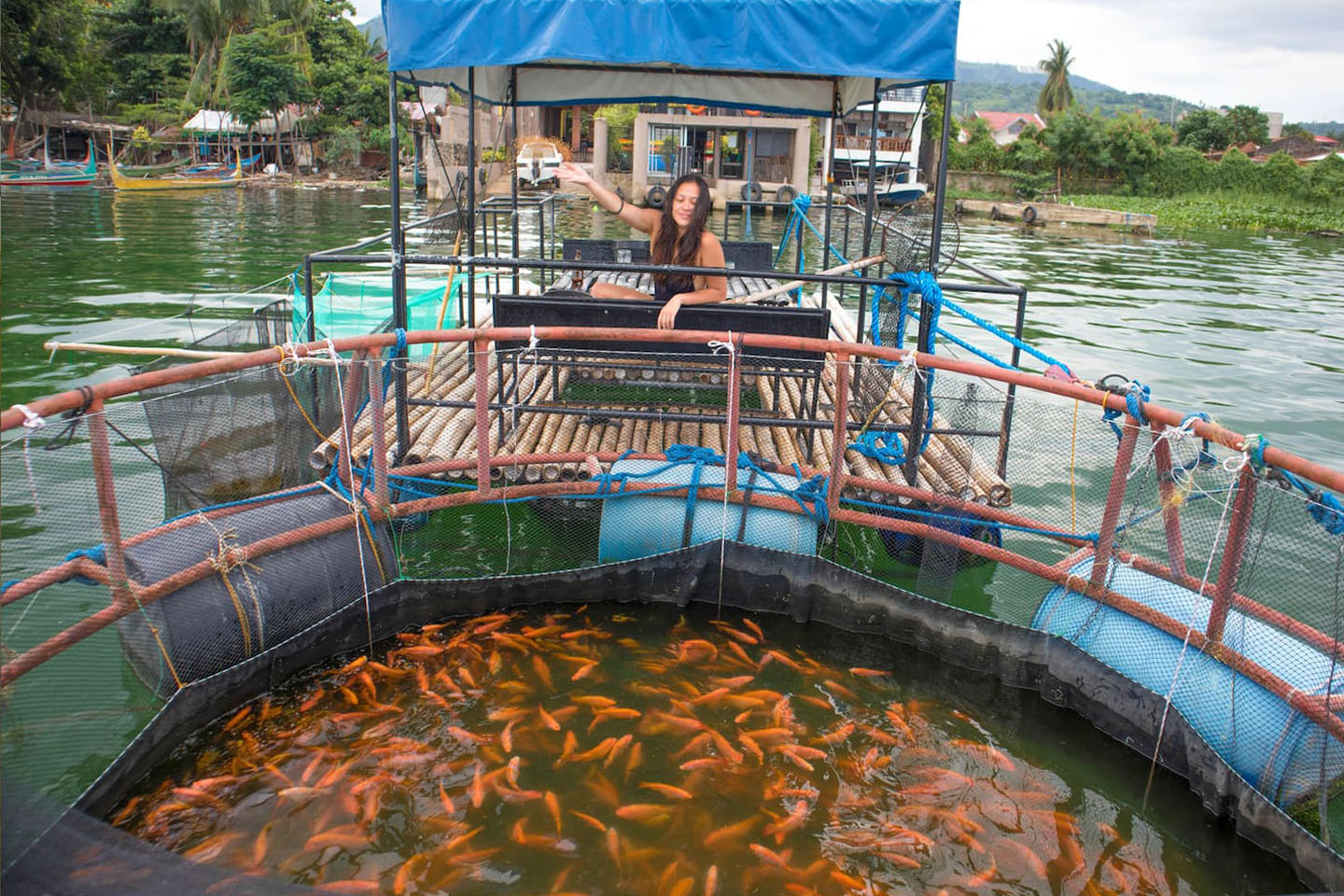 You can catch your own dinner at a fish farm near the lake house
Image adapted from: Beautiful Lake House
Aside from these activities, you can rent the place's portable pool and speedboat if you want to have a look around the lake. You can also rent a raft to their fish farm nearby so you can catch your own dinner.
Book Beautiful Lake House here.
---
8. Camper and Cabin – glass cabin with terrific mountain views a la Skypod
---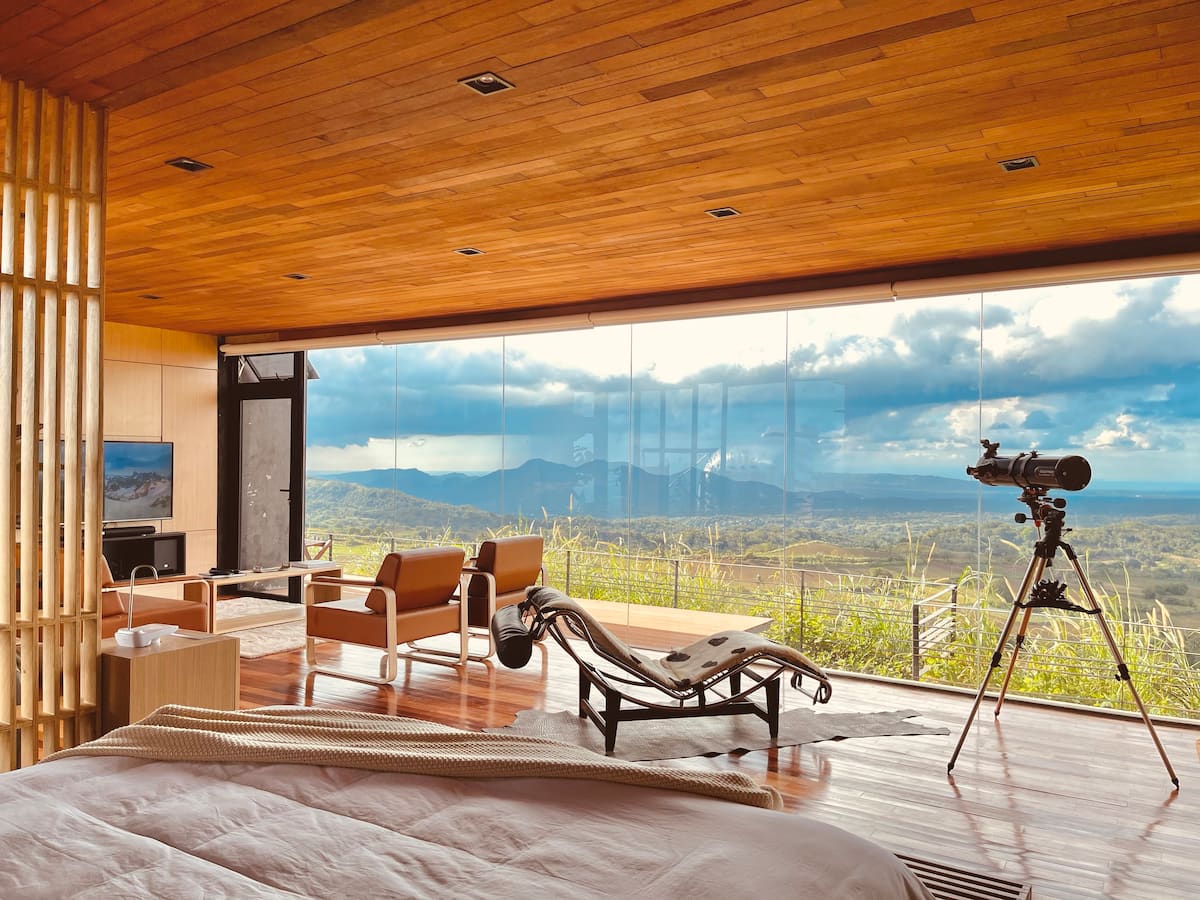 Image credit: Camper and Cabin – Cabin 2
If you ever wished to live at Slater and Kryz Young's Skypod, Camper and Cabin's Cabin 2 (P12,871, ~USD253.45 per night) in Calaca, Batangas is for you. Many areas in the cabin have floor-to-ceiling windows with a view of Mounts Talamitan and Pico de Loro.
It has wooden, modern interiors that give you the vibes of a K-drama bachelor's home and a king-sized bed that can fit two adults and two kids.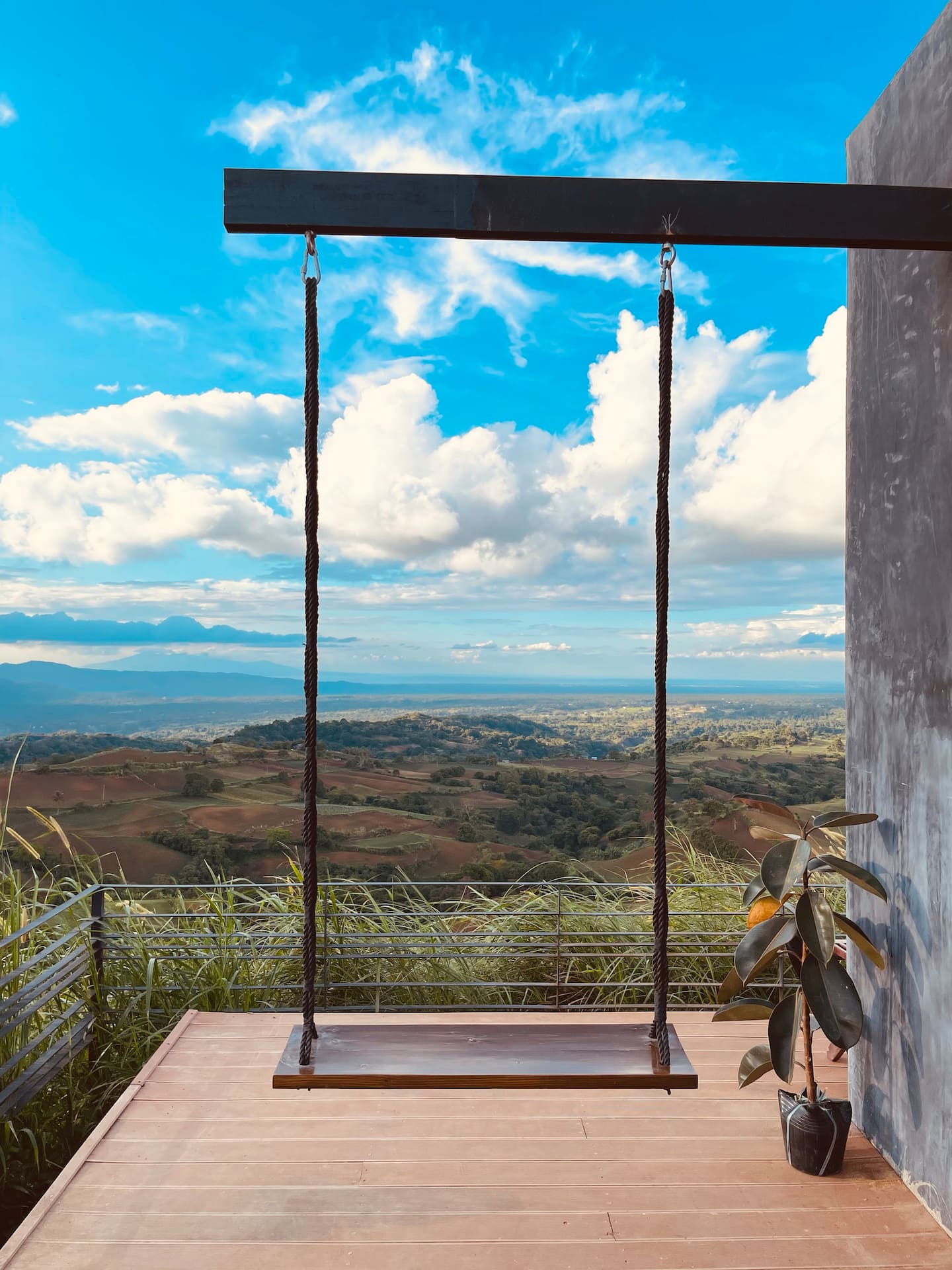 A swing with a view of the mountains at Camper and Cabin's Cabin 2
Image credit: Camper and Cabin – Cabin 2
It even offers many areas to lounge around, such as a hammock and a swing at the deck, an outdoor sitting area, and a reclining chair in front of the window overlooking the mountains.
During the pandemic, the place requires adult guests to take an antigen test onsite for P500 (~USD9.86) per person.
Book Camper and Cabin here.
---
Airbnbs in Batangas for your weekend getaway
---
If you reached the end of this article, you really need a breath of fresh air. Before accommodations get fully booked, it's best to secure one of these Airbnbs in Batangas now and start filing your leave.
Make sure to follow Covid-19 protocols during your travel, though, so you can keep yourself and your family safe. You should also double-check travel requirements with your chosen Airbnb to ensure that you have a stress-free staycation.
Also check out:
---
Cover image adapted from: @markl17 and Camper and Cabin – Cabin 2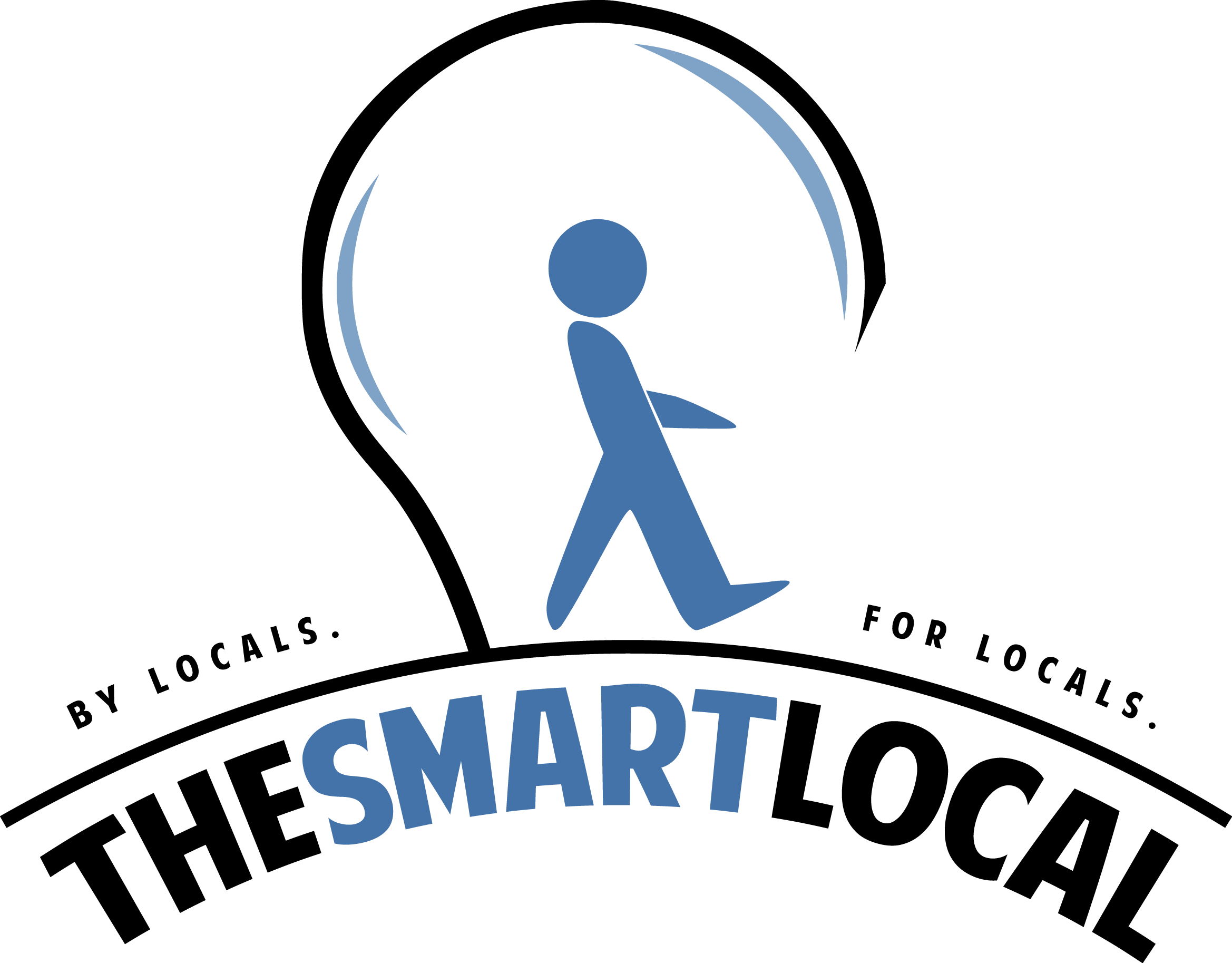 Drop us your email so you won't miss the latest news.