Wallflower Cafe is a pet-friendly cafe in Alabang Town Center
---
Our furry friends are our everyday companions, but often, we sadly have to leave them in our homes whenever we dine in public. Fortunately, there have been some pet-friendly establishments popping up here and there, such as the new Wallflower Cafe in Alabang Town Center, Muntinlupa.
Not only is this cafe serving meals nourishing to the stomach, but it also has in-house doggos Allie and Prince that will brighten up your mood and your pets'. 
---
Allie and Prince are the stars of the cafe
---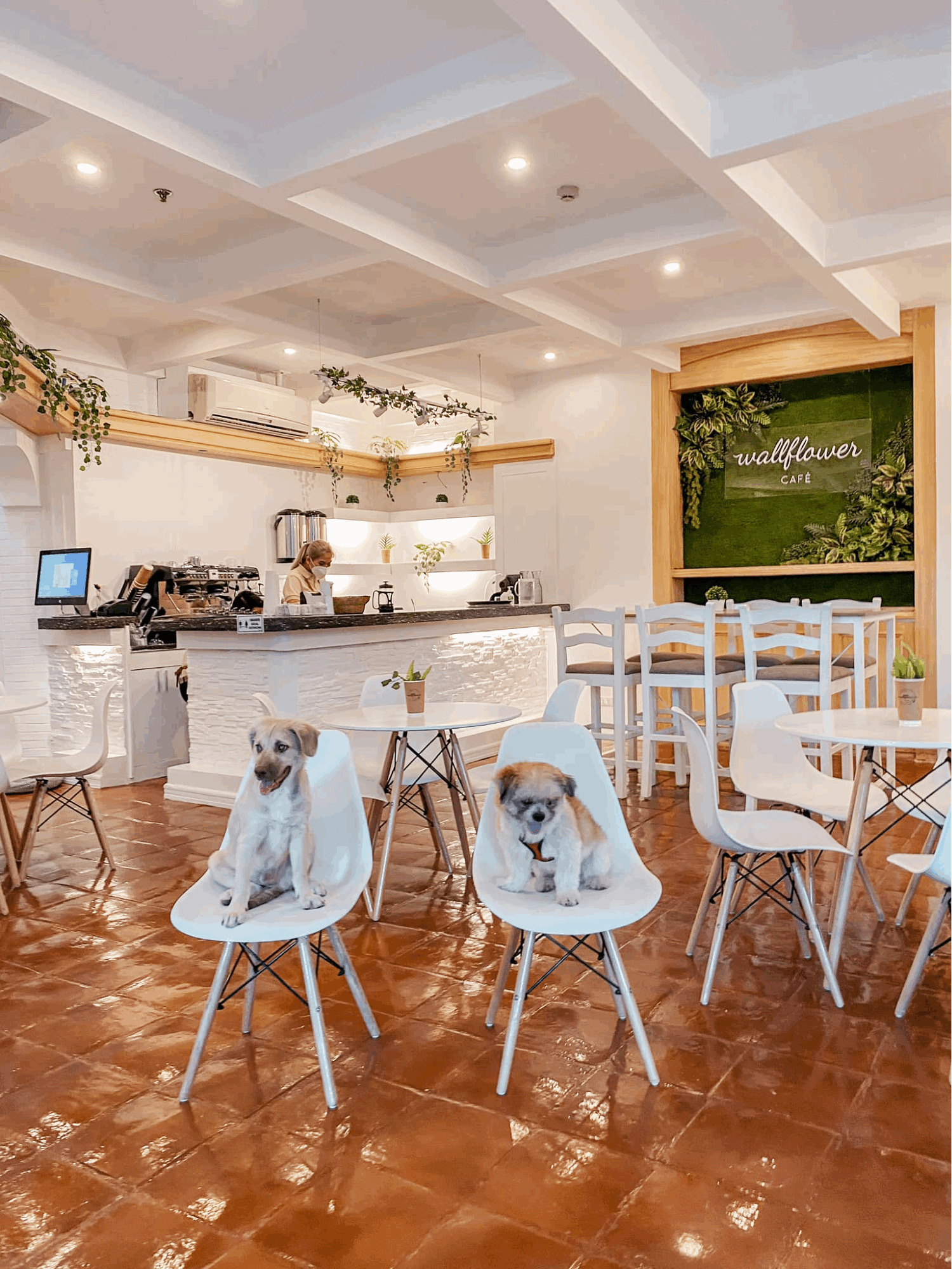 Allie (left) and Prince (right)
Image adapted from: The Wallflower Cafe 
Spend a date here with your furry best friend so you and your pet can play around with in-house doggos Allie and Prince.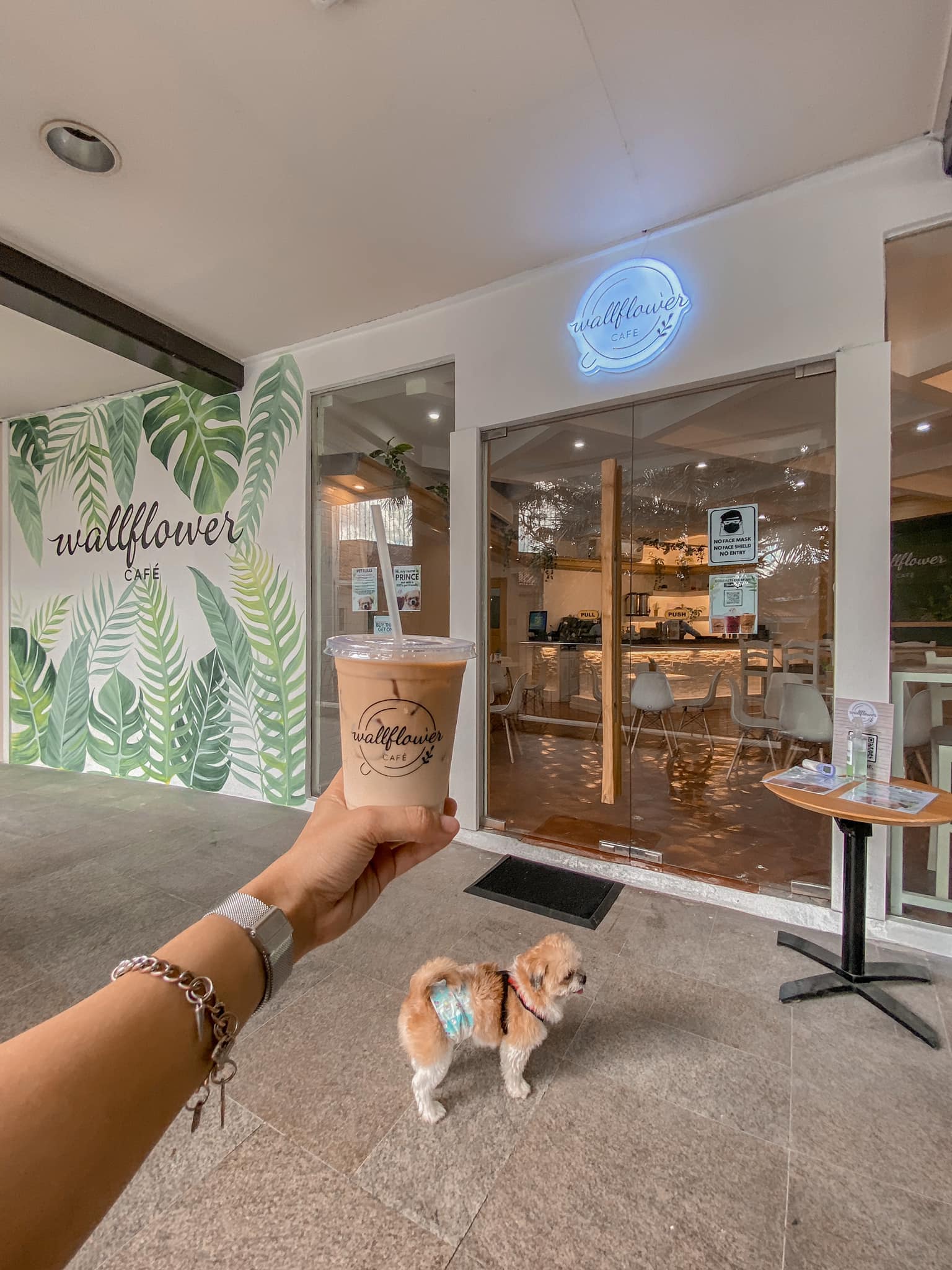 Image credit: The Wallflower Cafe 
Aside from playing around with hoomans in a house, your pet will also surely love the company of new friends of his own kind. 
---
The cafe offers a variety of food and drinks
---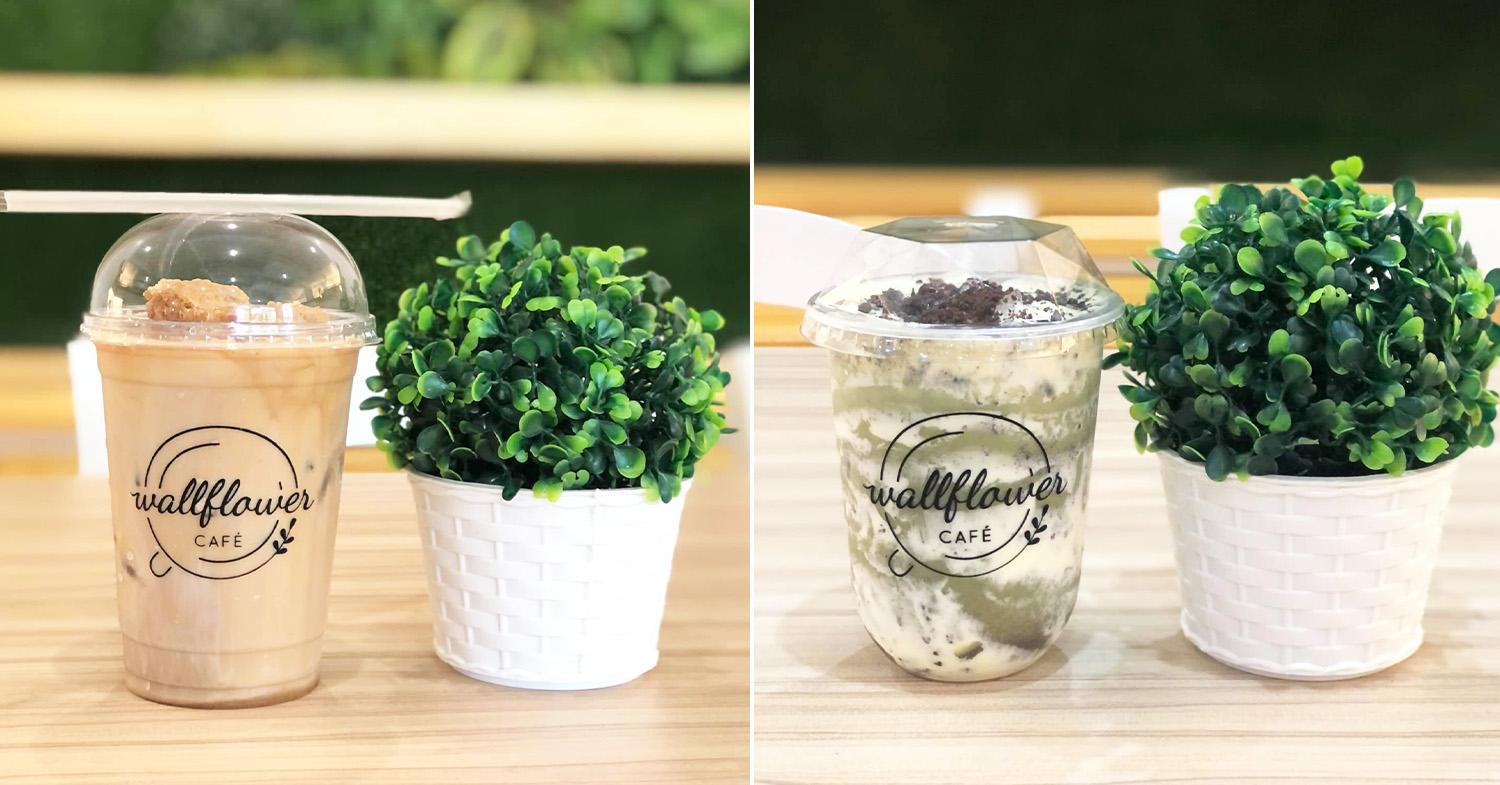 Dalgona coffee (left) and Oreo Matcha (right)
Image adapted from: The Wallflower Cafe, The Wallflower Cafe
After letting your pet play, you'll want to recharge with a well-deserved meal. The cafe has a variety of food and drinks, from coffee to rice bowls to desserts, on their menu to satisfy your palate.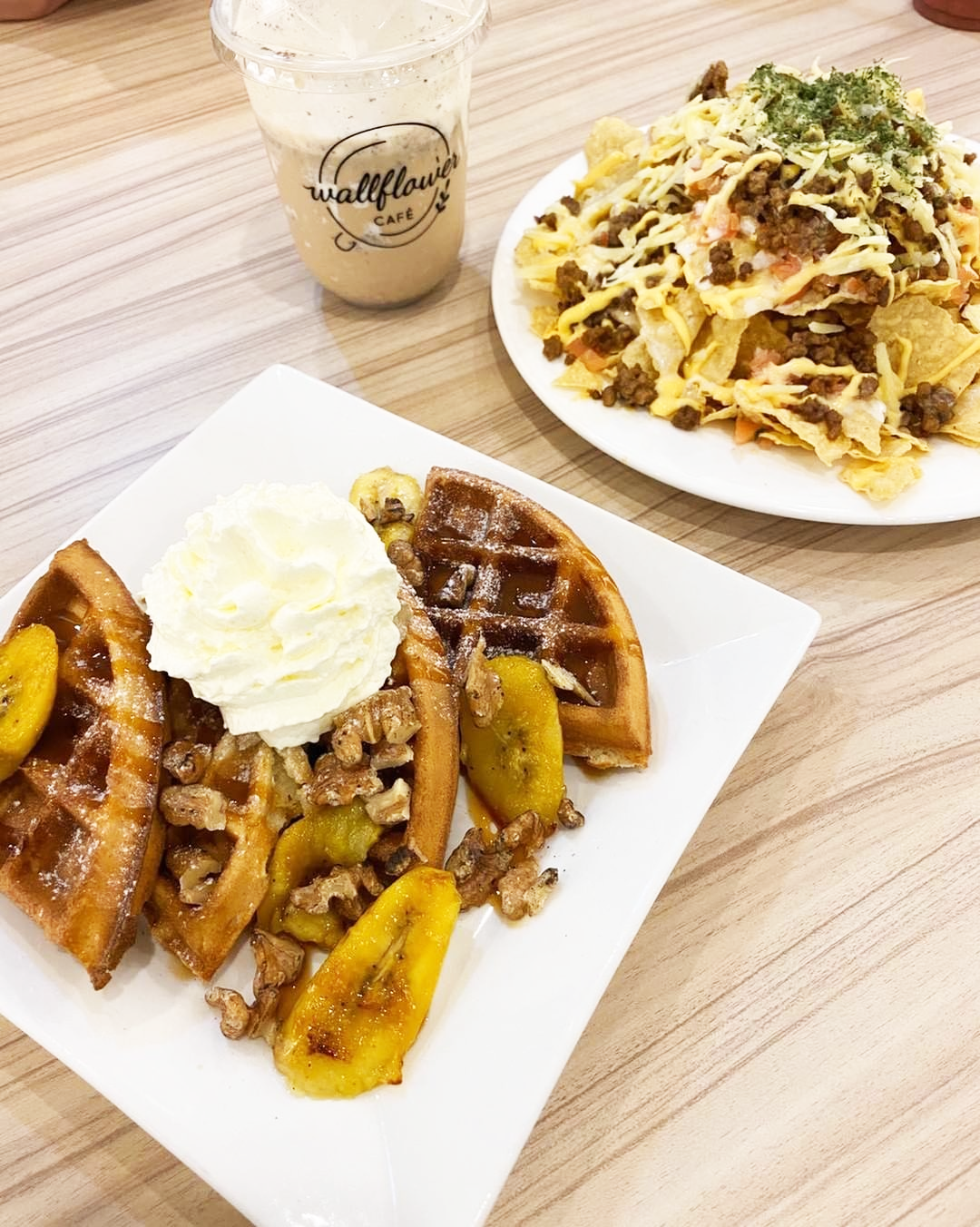 Banana Caramel Waffle (left) and Wallflower Nachos (right)
Image credit: @wallflowercafeph
You can find here drinks as trendy as dalgona coffee (P170, ~USD3.54), but you can also try unique salted cream drinks flavored with Oreo and matcha (P140, ~USD2.91 each). For light meals, the Wallflower nachos (P270, ~USD5.62) is an appetizer with tex-mex beef, pico de gallo, cheese, and cream that you can pair with their banana caramel waffle (P235, ~USD4.89), a delectable mix of caramelized banana, walnut, caramel syrup, and whipped cream. 
If you're feeling famished, you can check out their rice bowls which include a sisig rice bowl (P250, ~USD5.20), garlic parmesan fish (P280, ~USD5.83), and beef salpicao (P290, ~USD6.04). Aside from these, they have more meals on offer, such as soups, salads, pasta, and toasts.
---
There are house rules to keep in mind
---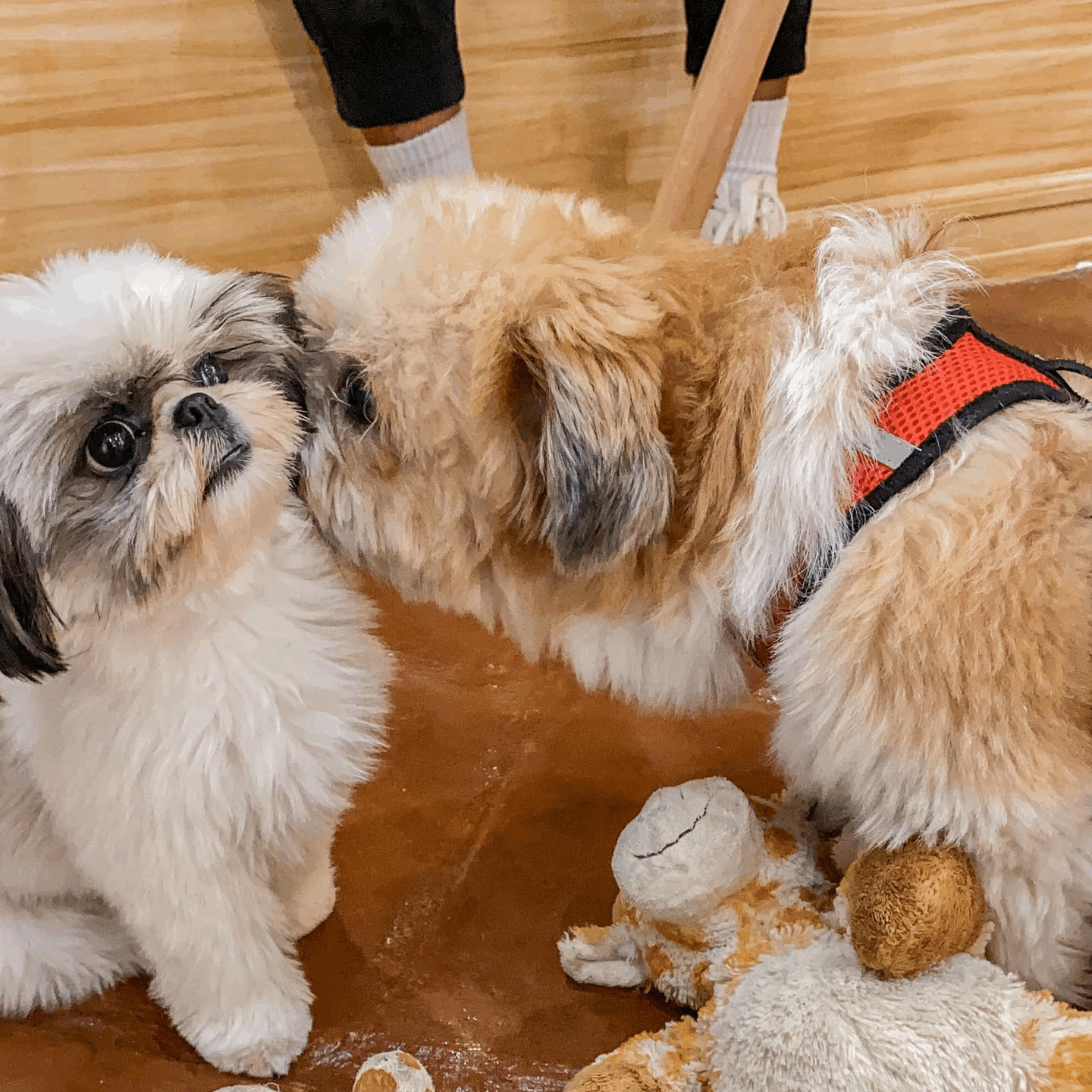 Image credit: The Wallflower Cafe 
Keep in mind though that you should have your pet leashed at all times, and he or she isn't allowed to eat at the cafe's tables.
You may also play with or feed other customers' pets with permission, but your pet can play with Allie or Prince once the two doggos approach him or her – just be careful not to touch their noses, necks, and bellies!
---
Pet-friendly cafe in Metro Manila
---
Quality time with pets doesn't have to be always in the privacy of our homes. Neither do you have to worry about where to take your pets out on a date anymore with a pet-friendly Wallflower Cafe that welcomes you and your furry friends whenever you're out and about.
Wallflower Cafe
Address: 2nd Floor, Corte de las Palmas, Alabang Town Center, Muntinlupa City, 1781 Metro Manila
Opening hours: Mon – Thu 11AM-8PM | Fri 11AM-9PM | Sat & Sun 10AM-9PM
Website
Also check out:
---
Cover image adapted from: The Wallflower Cafe, The Wallflower Cafe
Get more stories like this!
Drop us your email so you won't miss the latest news.