Makati City bars
---
Makati is well known for its bars – but if what you're after is unique cocktail experiences rather than just loud music and partying, there are hidden gems here worth sampling too.
Here are some bars with signature cocktails from Filipino ingredient-inspired drinks to a local version of the Singapore Sling – to cap off a busy week and impress your friends with.
---
1. Pura Vida – Costa Rican-inspired cocktails and meal platters
---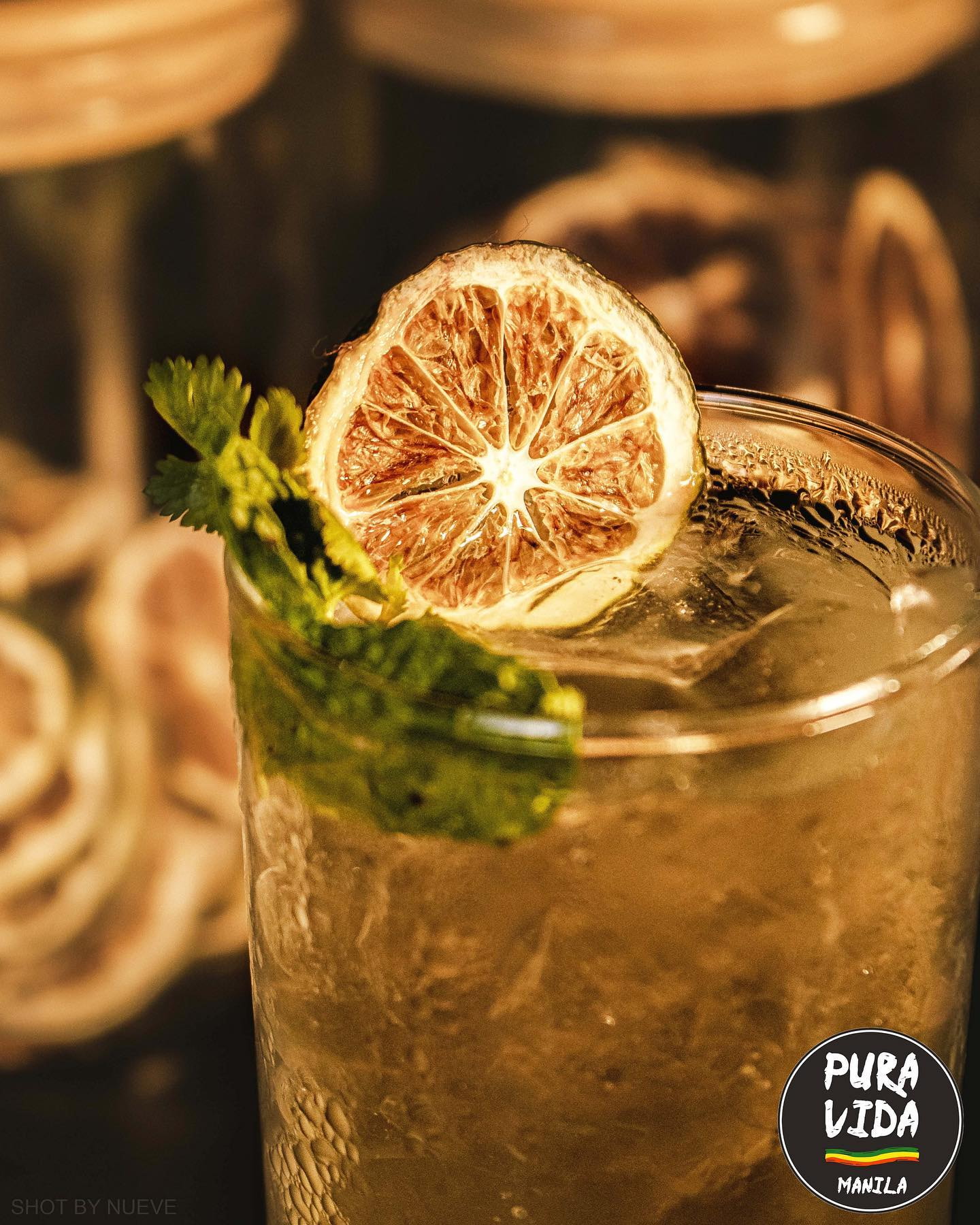 The Natural Mystic cocktail.
Image credit: Nueve and Pura Vida Manila
Pura Vida offers unique Costa Rica-inspired cocktails, reggae music, and a Jamaican music-inspired decor and poster wall to snap photos with. It's the place to drop by if you like your cocktails with live music, socializing and dancing.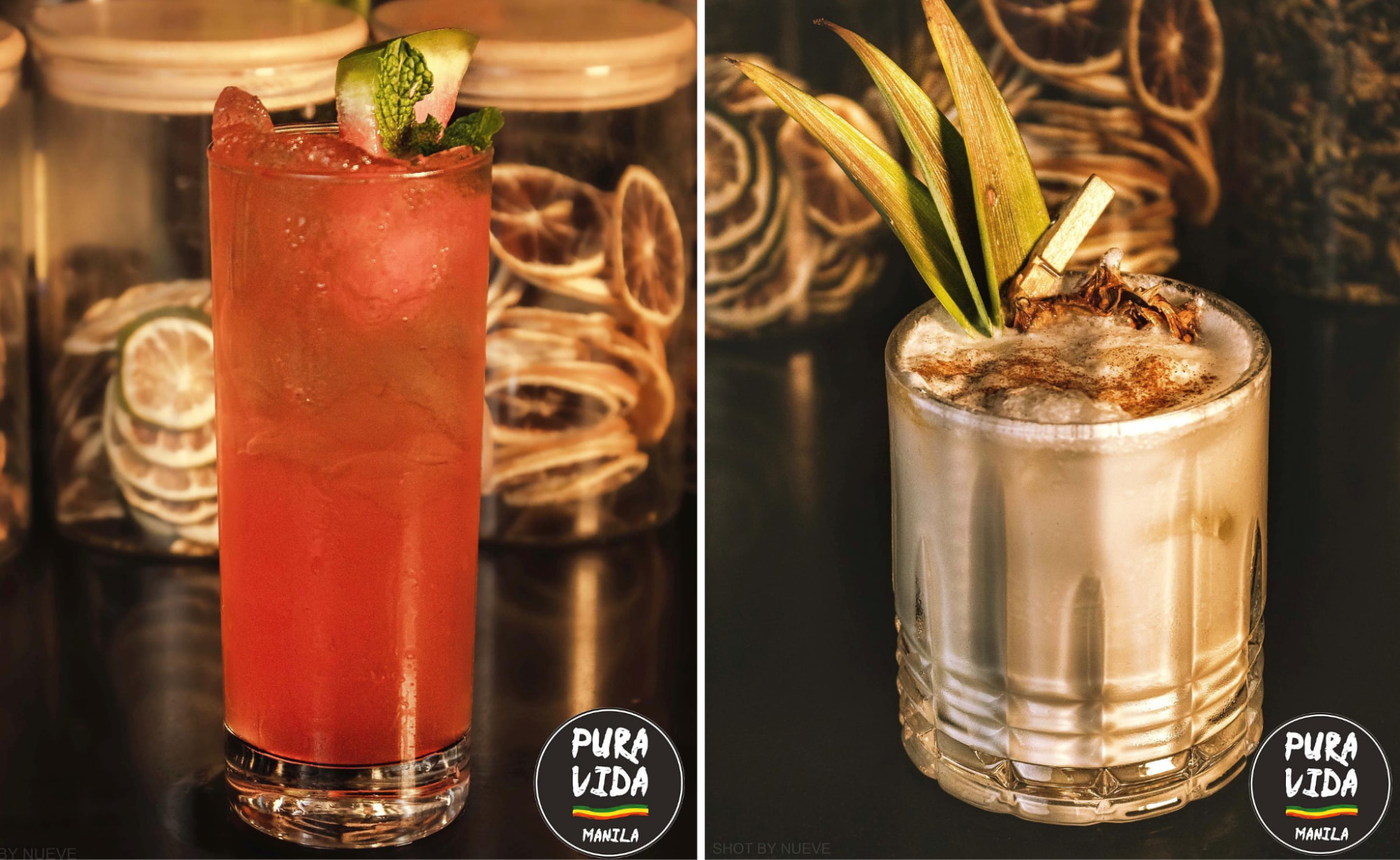 The Healthy Rasta (left) and the Ticolada (right)
Image adapted from Pura Vida Manila and Pura Vida Manila
One of them is the No Army that started off as a Valentine's drink, but is now available year-round with earthy and smokey notes, and garnished with a burning herb. It's a tribute to how Costa Rica has been without an army since 1948.
Or try the gin-based Healthy Rasta flavored with watermelon and peppermint to refresh yourself and cool down, or the rum-based Ticolada with coconut milk, pineapple, and cinnamon for a sweet and rich tropical concoction.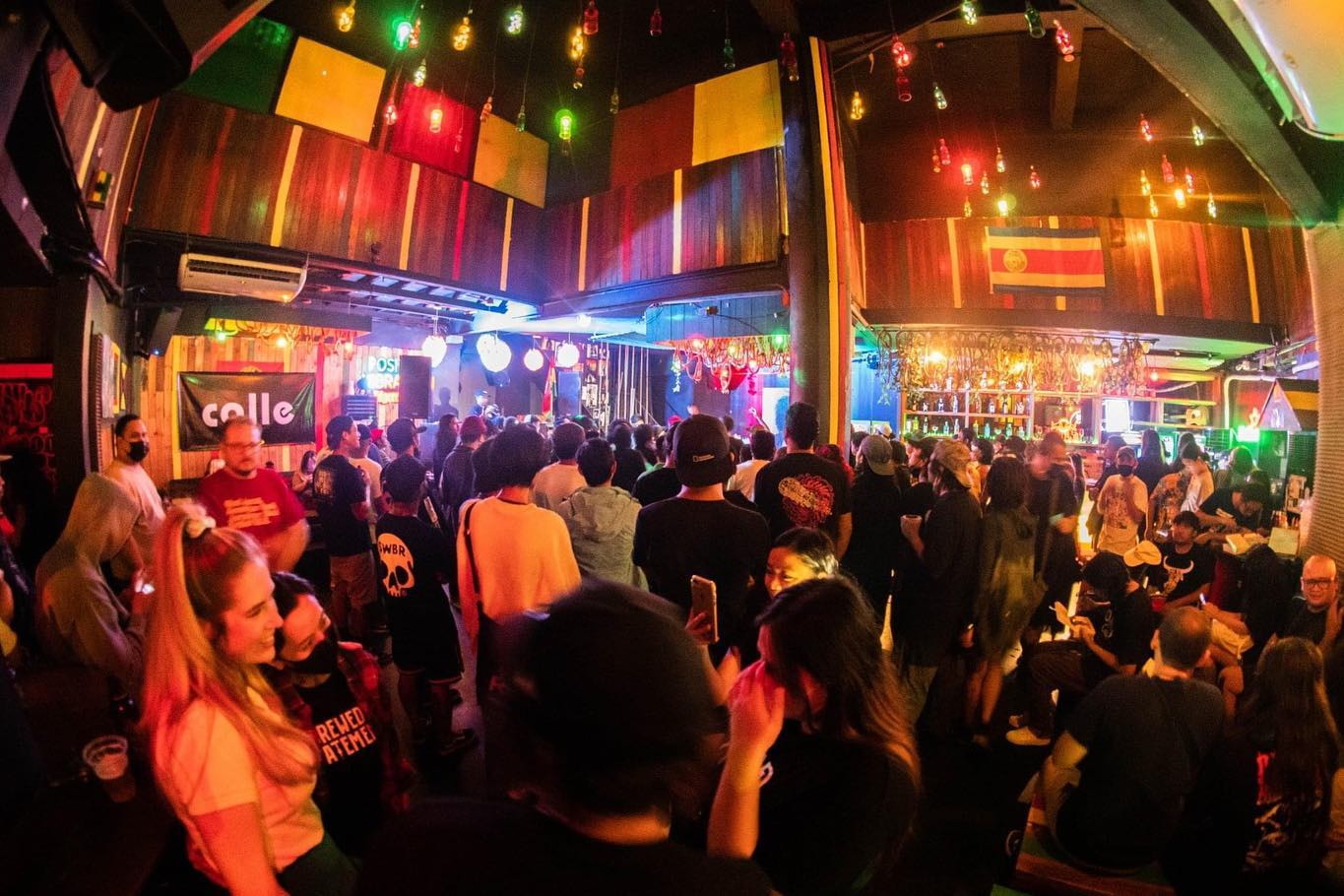 Image credit: Pura Vida Manila
The place is also known for its live music DJ nights and boisterous dance floor, but if you visit in the day or prefer some fresh air, you can head up to the 2nd floor balcony for the view.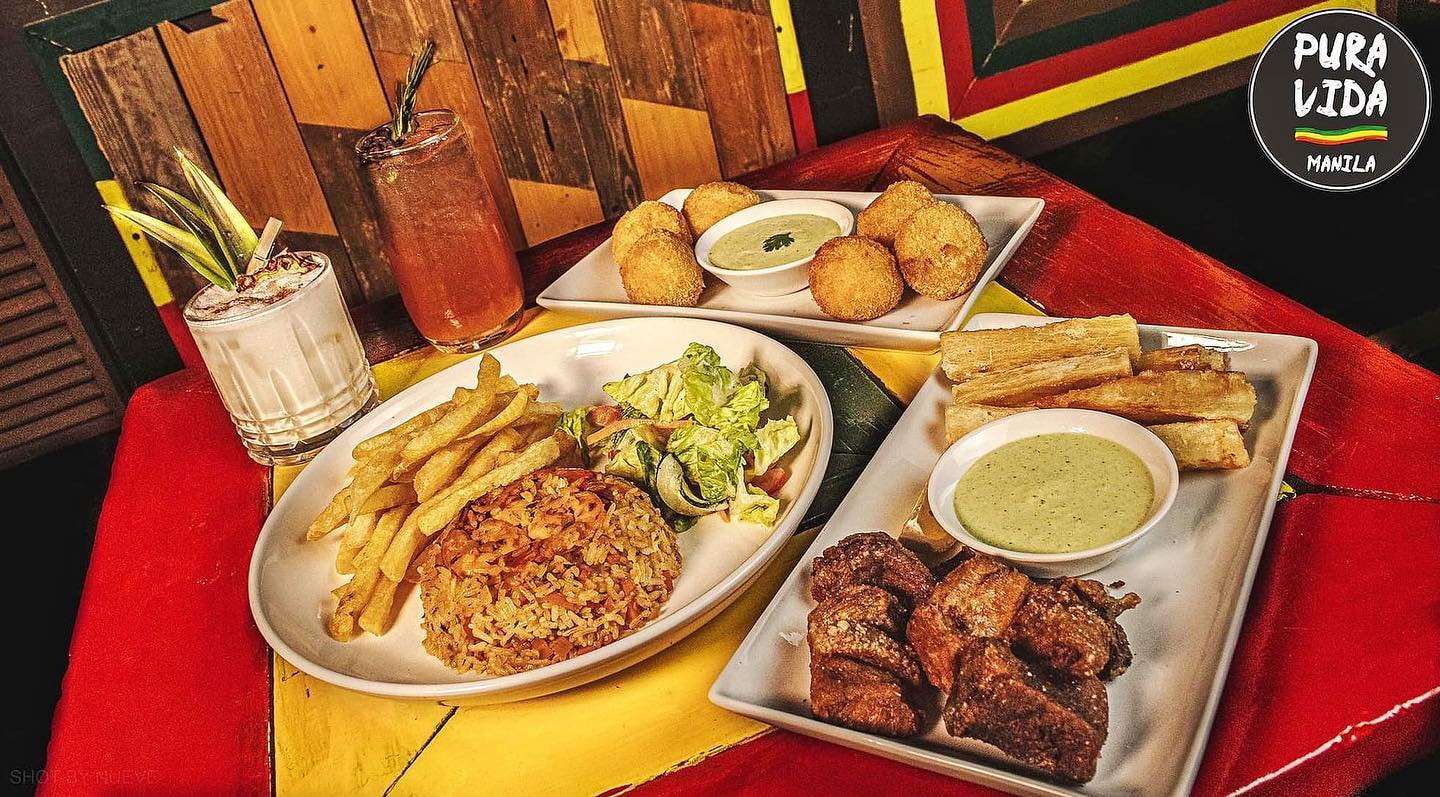 Chicharron con Yuca, Enyucados, Arroz con Camarones with No Army drink and Ticolada.
Image credit: Pura Vida Manila
Not just a cocktail place, Pura Vida also serves up platters of dishes that'll go along with your drink. Some are of course Costa Rican-inspired as well, such as the Arroz con Camarones or Shrimp Rice that's a coastal dish made with pan-fried shrimp and local spices.
Address: Don Pedro St. cor. Jacobo St., Makati City
Opening hours: 6PM-late (happy hour is 6PM-9PM), reservations recommended
Contact: 927 676 3736
Pura Vida's website | Facebook | Instagram 
---
2. Agimat at Ugat Foraging Bar and Kitchen – Filipino legend-inspired cocktails
---

Image credit: Agimat at Ugat Foraging Bar and Kitchen
Named after the term for a traditional amulet, Agimat at Ugat Foraging Bar and Kitchen's cocktail lineup includes Filipino-inspired drinks that contain local ingredients.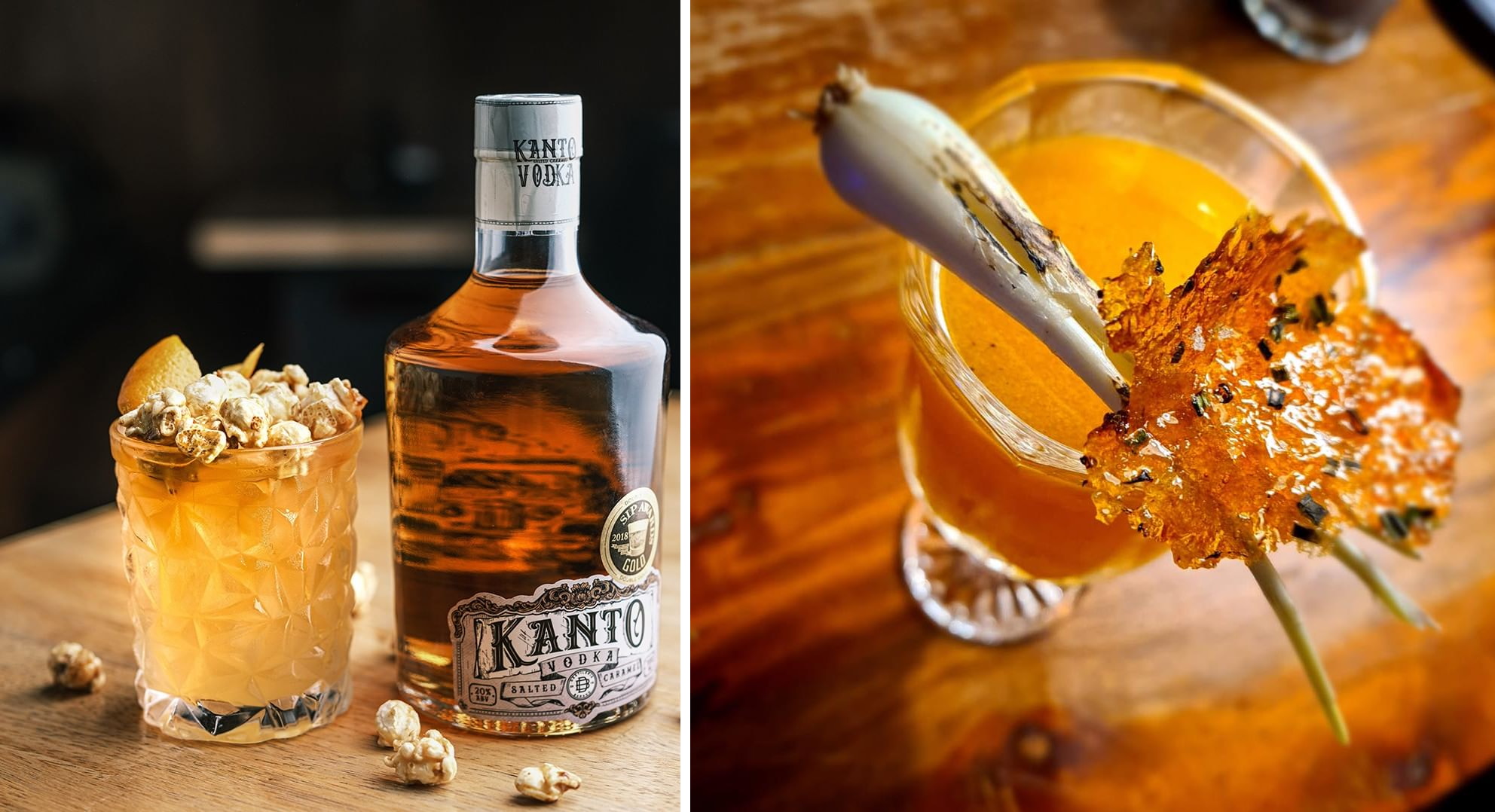 The Kanto Salted Caramel Vodka (left) used in the Mindanao Spiced Sour cocktail (right).
Image adapted from Agimat at Ugat Foraging Bar and Kitchen and @agimatbar
You can also try unique local bottled creations that can be incorporated into cocktails here, such as the Kanto Salted Caramel Vodka that features sugarcane vodka from Negros, and can even be mixed with coffee or milk.
The bar's Mindanao Spiced Sour cocktail is made with the vodka and white rum as its base, together with fresh Sakurab, oleo, saccahrum, two types of Palapa, dried with coconut and wet palapa chili, cold pressed turmeric, orange juice, and peras juice – inspired by the Maranao and Tausug tribes' cuisine.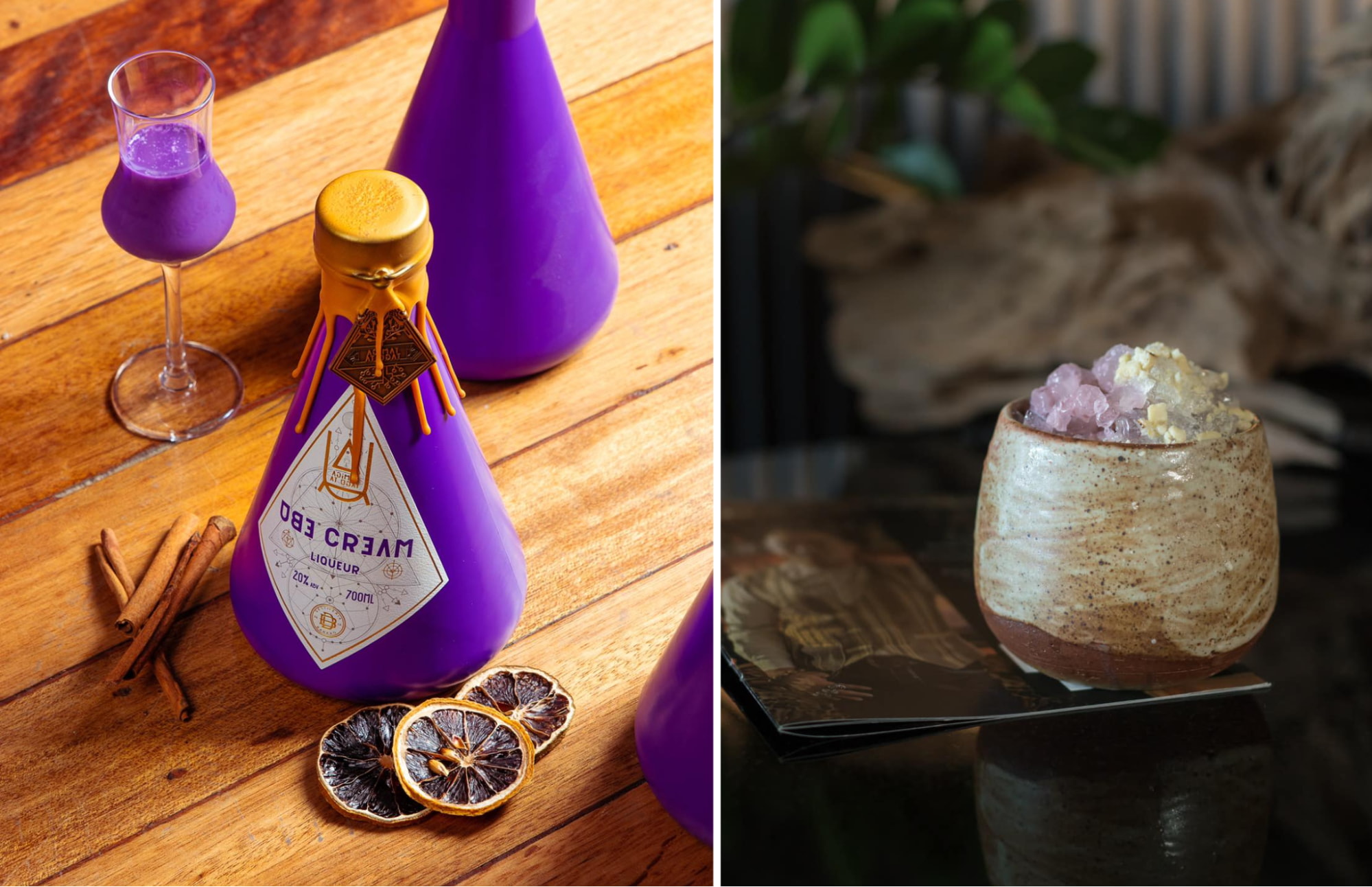 Image adapted from Agimat at Ugat Foraging Bar and Kitchen and Agimat at Ugat Foraging Bar and Kitchen
Or try the cheerfully purple Ube Cream Liqueur, best pre-chilled, or as a cocktail. It's versatile enough to be a shot or on the rocks, and is made with sugarcane vodka from Negros plus ube.
Agimat turns it into an Ube Cream mudslide, combining it with dark rhum, coconut milk, and muscovado, then garnished with toasted cashews from Palawan and toasted dessicated coconut.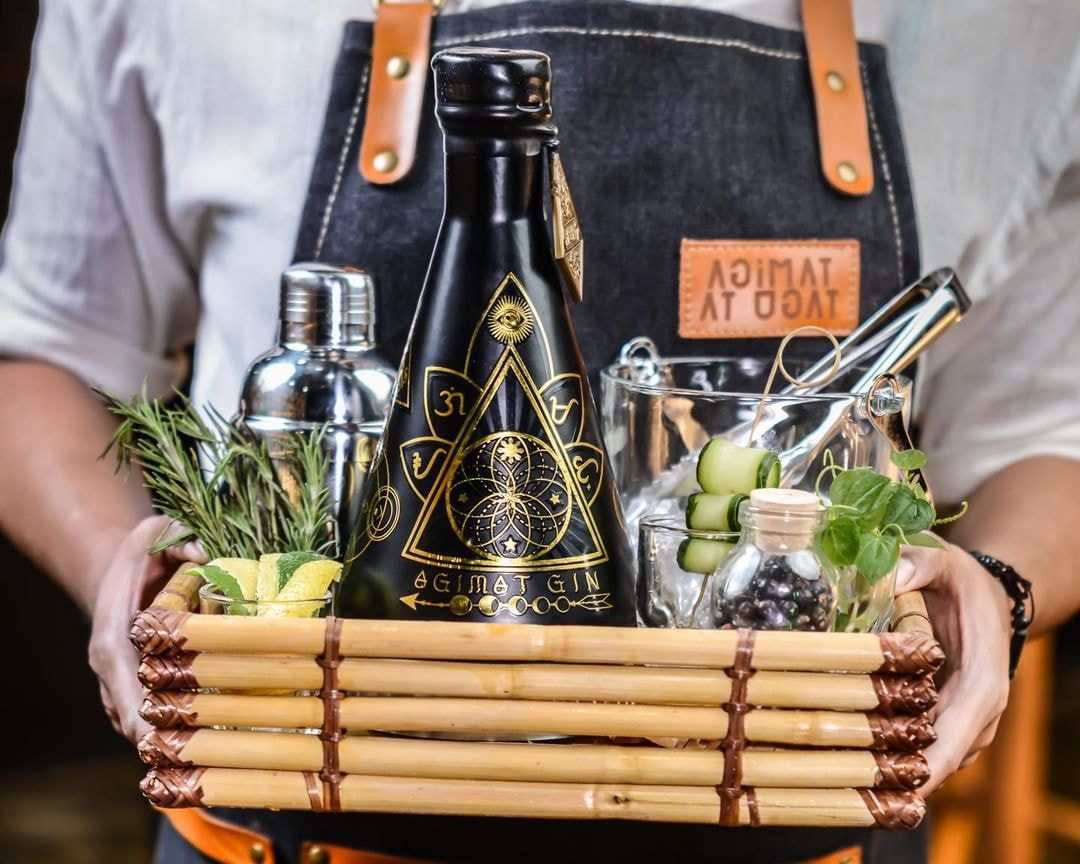 Image credit: @agimatbar
Address: 5972 Alfonso, cor Fermina, Makati City
Opening hours: Tue-Sun, 5pm-2am | Happy hour: 5pm-8pm | Closed Mondays
Contact: 09952943231
Agimat's Facebook page | Instagram | Ordering link
---
3. Run Rabbit Run – classy bunny-inspired drinks
---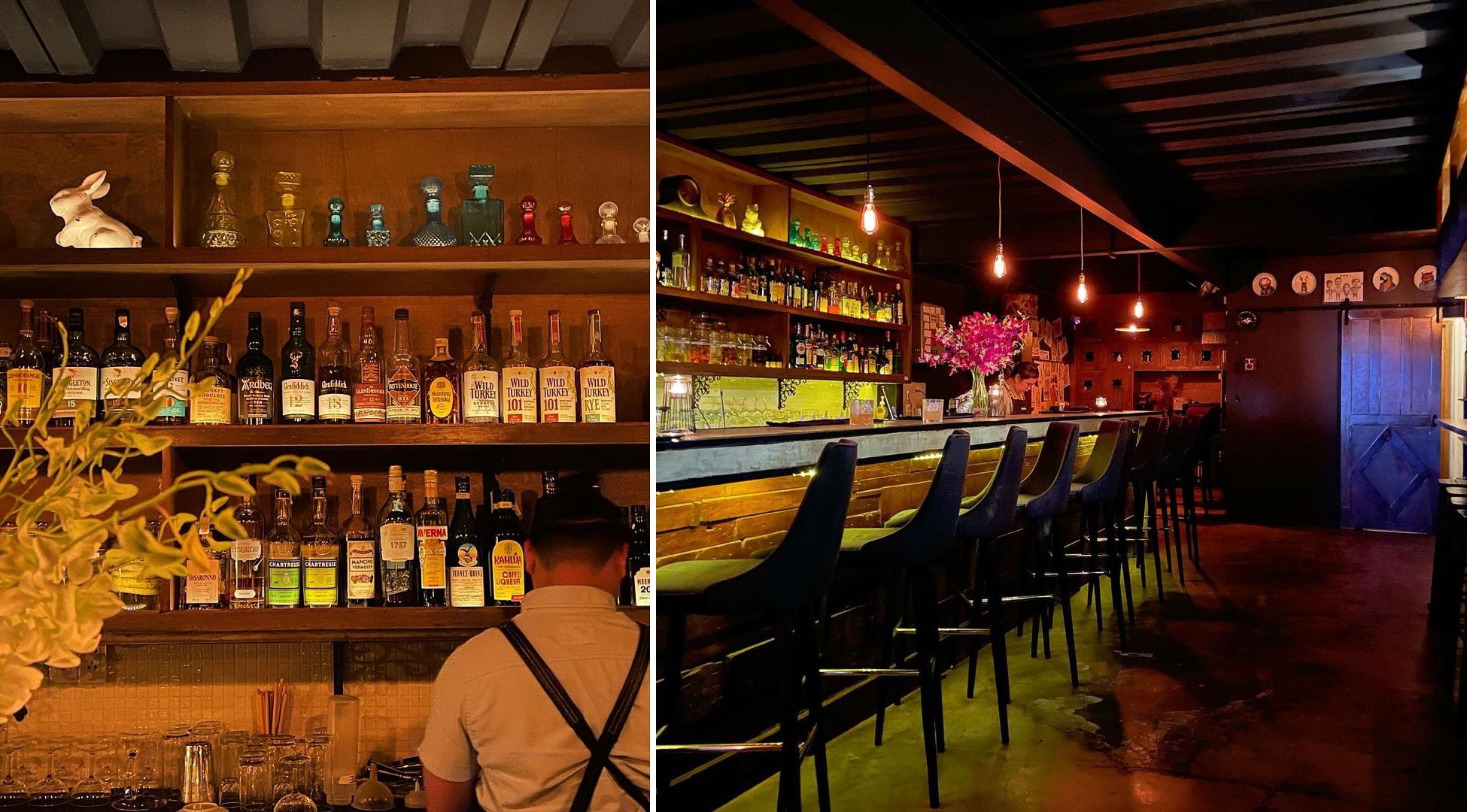 Image adapted from @runrabbitrun.ph and @runrabbitrun.ph
With its cozy, creatively lit interior, Run Rabbit Run is a former residential house-turned bar that offers a variety of spaces to bring friends and colleagues.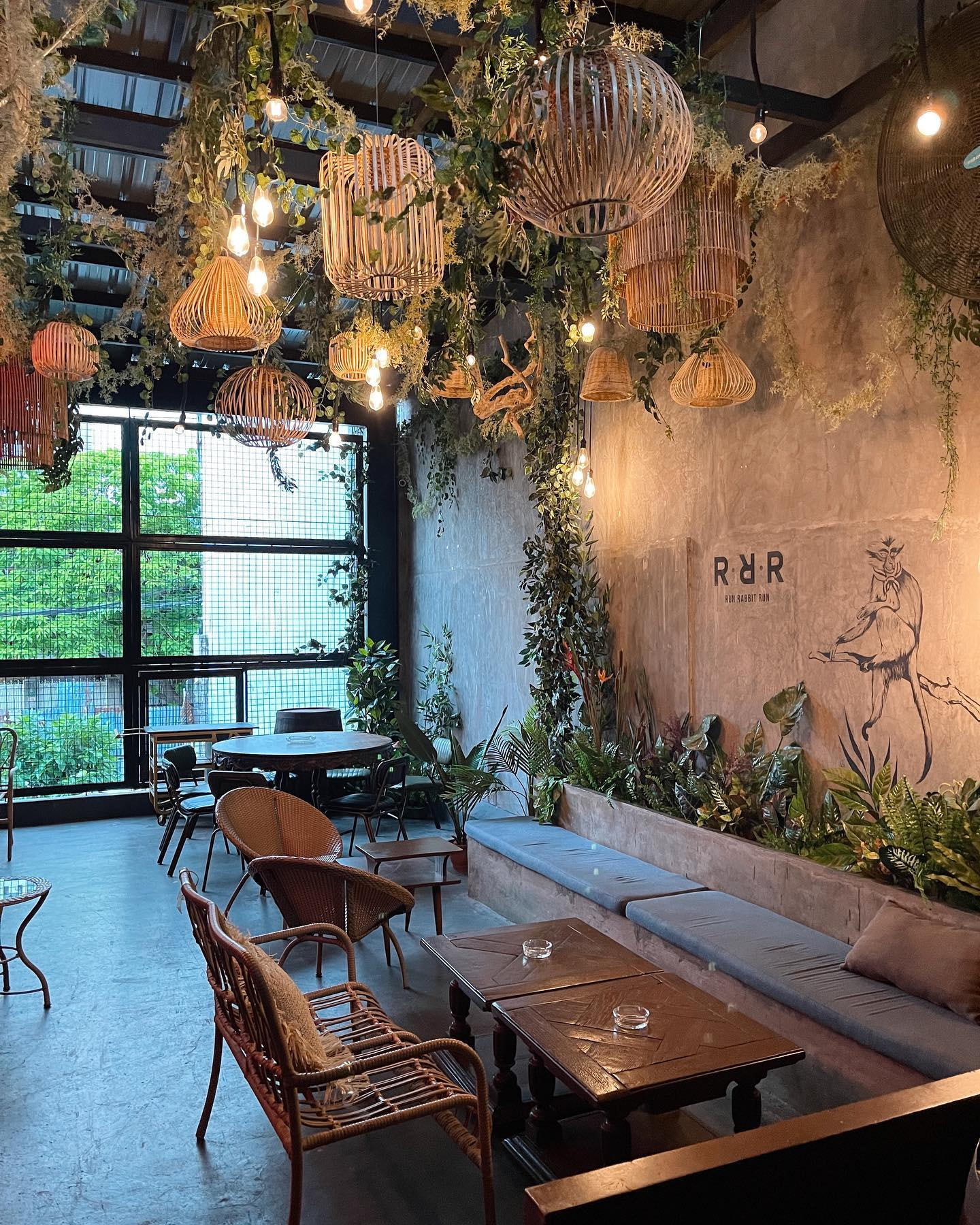 Image credit: Run Rabbit Run
Whether you're coming in a group of 2 to more than 10, you'll find a part of the bar that suits you, from roof decks to living room-style seating amidst greenery to a classic counter where you can watch bartenders mix your drinks.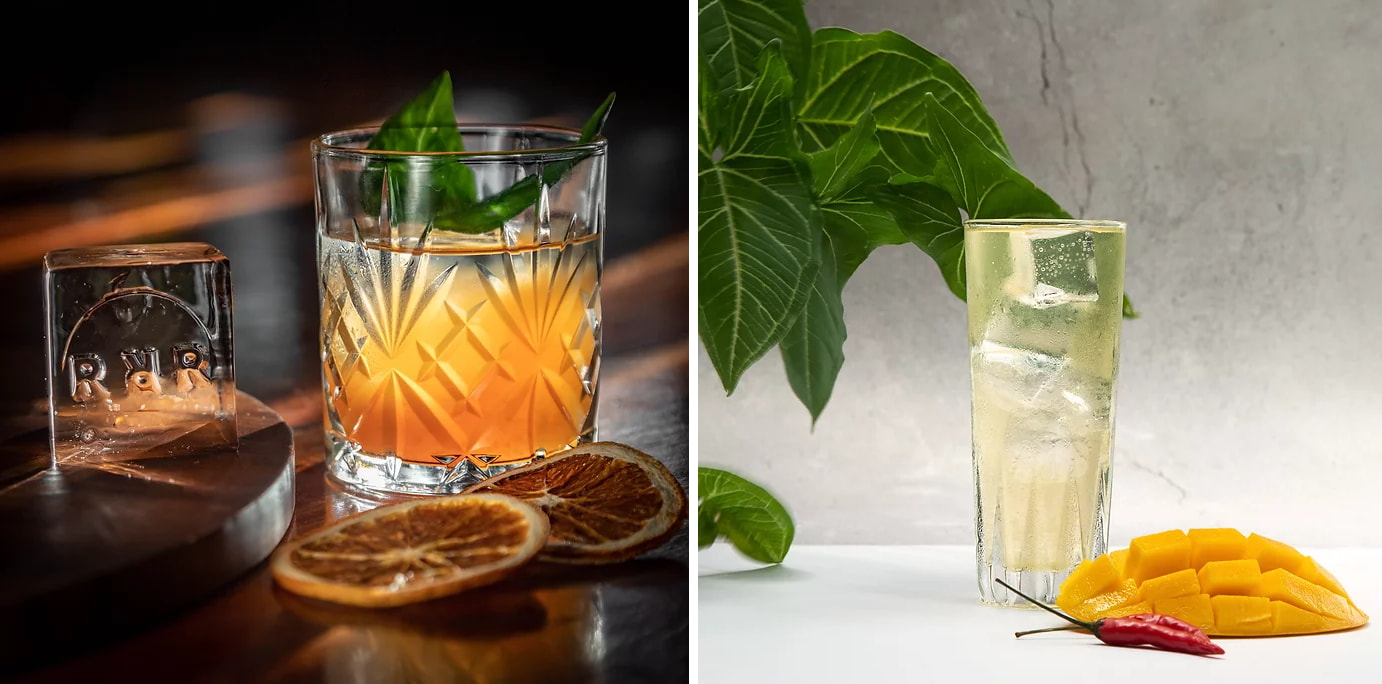 Floppy Ears cocktail (left) and Bunny's Hard Seltzer cocktail (right)
Image adapted from Run Rabbit Run and Run Rabbit Run
For those preferring to drink from home, giftable cocktail sets are available for delivery Wednesdays and Fridays from P1,000 (~USD17.79) for freshly made drinks or from P2,000 (~USD35.59) for gift boxes of bottled spirits. These sets include a 500ml bottled cocktail, a stainless steel jigger used to measure drinks, garnish, coasters, stickers, and more.
Those planning team events can also book a virtual home bartender class taught over Zoom – ideal for to bring your group closer over a remote team retreat or long-distance gathering.
Address: 4991 P. Guanzon St, Brgy. Poblacion, Makati, 1012 Metro Manila
Opening hours: Tue-Sat 6pm-2am (Closed Sundays & Mondays)
Contact: 926 986 8786
Run Rabbit Run's website | Facebook | Instagram
---
4. The Curator Coffee and Cocktails – strong rum- and liqueur-based drinks
---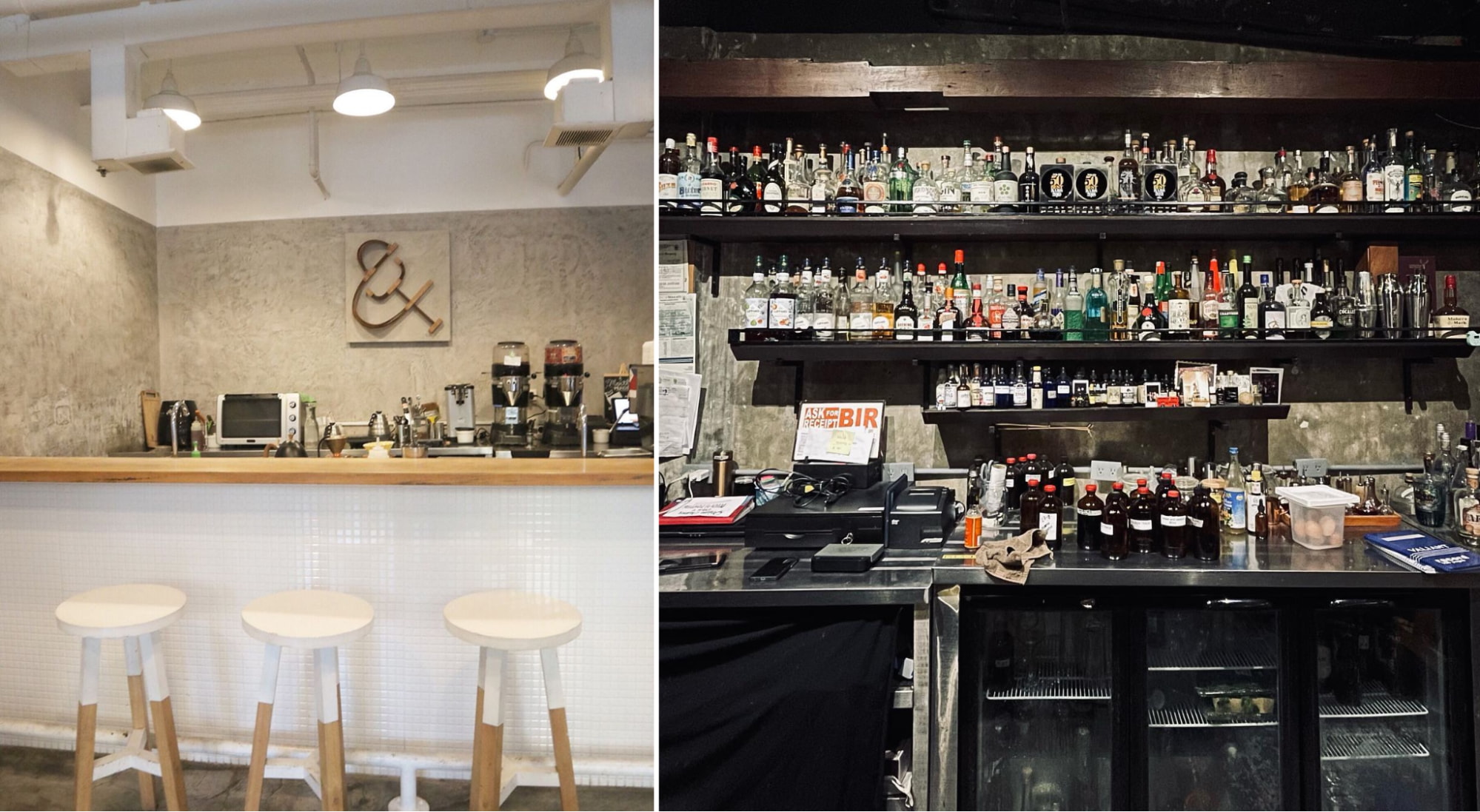 Cafe in the front, cocktail bar at the back.
Image adapted from: @ri_74284_ph and The Curator
With The Curator Coffee & Cocktails' #62 rank in the Asia's 50 Best Bars 2022 listing, you'll know that this isn't a fly-by-night joint.
Once housed in a wine shop, it's taken over the space to serve coffee at the front of house and cocktails at the back, with a constantly renewed selection of both alcoholic and non-alcoholic drinks.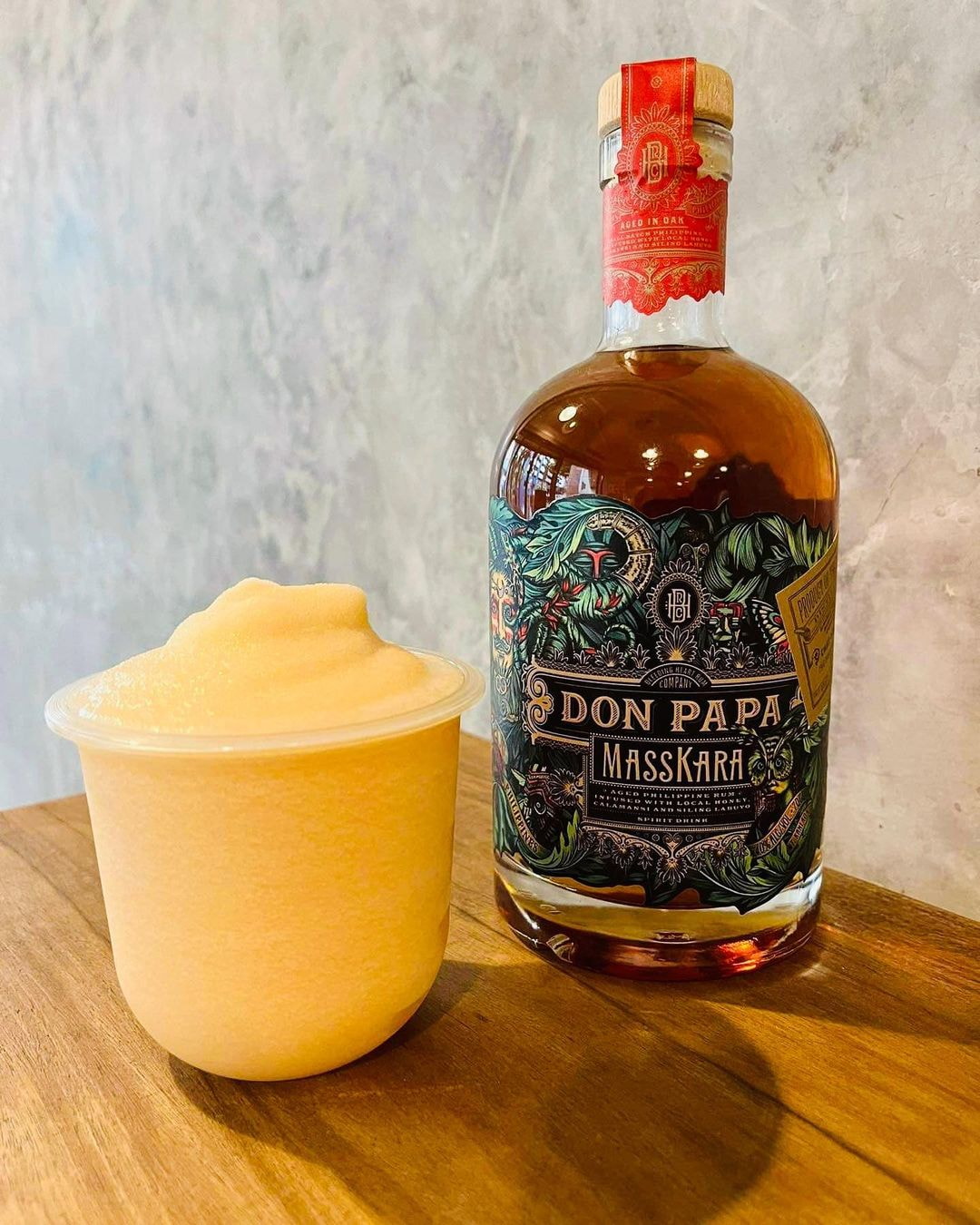 The Don Papa rum slushie.
Image credit: @thecurator_
The speakeasy-styled evening bar offers cocktails from P500 (~USD8.47), such as the Don Papa rum slushie with bitter Aperol liqueur, mango, pineapple, and coconut water. Or try the thick yet smooth Mexican and Spanish-inspired Galleon Trade cocktail with rum, tequila, horchata, and Frangelico liqueur with hazelnuts and herbs. Bespoke drinks can also be made on the spot to your taste.
As for the cafe, it's known for its variety of blends, bringing in limited-availability mixes with fruits, berries, and other experimental flavours. Coffee drinks start from P130 (~USD2.20) for an espresso or P180 (~USD3.05) for a cold brew, with soy, oat, and almond milk add-ons available. Non-coffee chocolate and fruit drinks, sandwiches and cookies, are also available for the peckish.
Cafe curbside pickup, take-out, and delivery are available too, as is an al fresco dining area if you prefer coffee in the open.
Address: 34 Legazpi Street, Legazpi Village, Makati, Metro Manila
Opening hours: Mon 7am-5pm | Tue-Sun 7am-1am
Contact: 916 355 4129
The Curator Coffee's website | Facebook | Instagram 
---
5. Long Bar, Raffles Makati – a tribute to Singapore's original Sling
---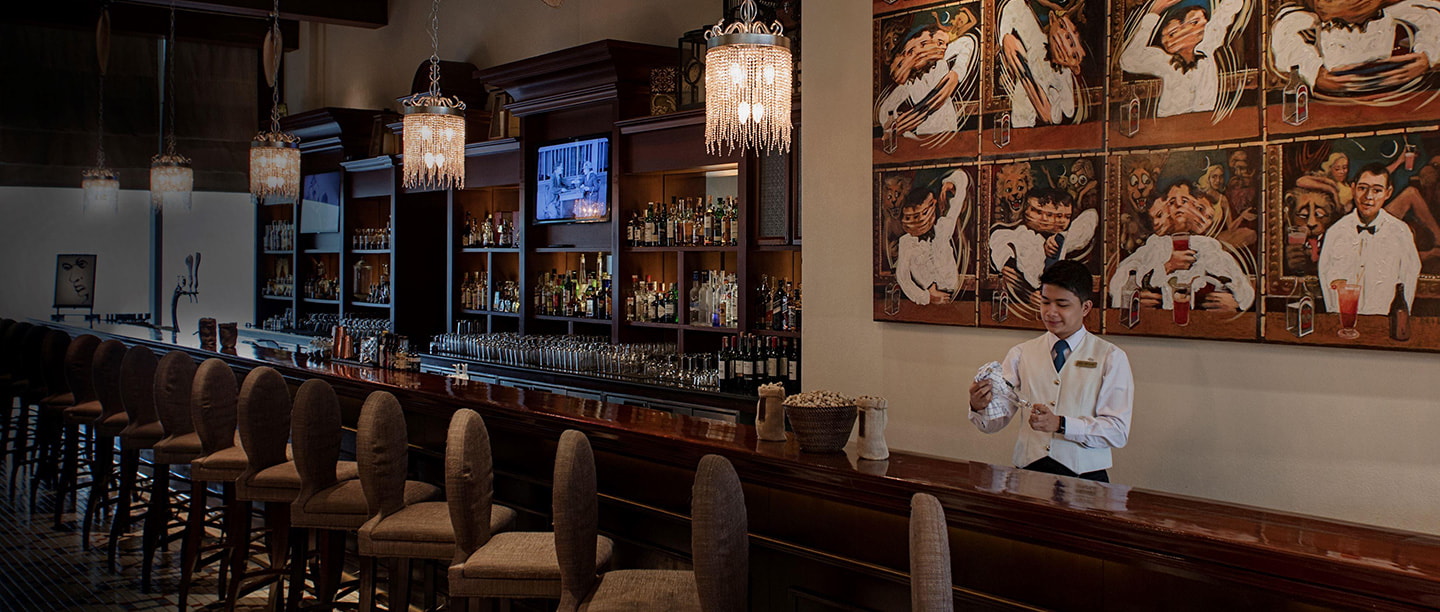 Image credit: Raffles Makati
While a Singapore Sling at the original Raffles Hotel may be a sea away, Raffles Makati's Long Bar gives you a Filipinized rendition of the same experience. The Makati Luxury Sling (P550, ~USD9.37 before tax) is topped with gold flakes, and features Tanqueray 10 gin, cherry blossoms instead of the original's cherry Heering liqueur, Grand Marnier Benedictine liqueur, lime and pineapple juice, and Angostura foam.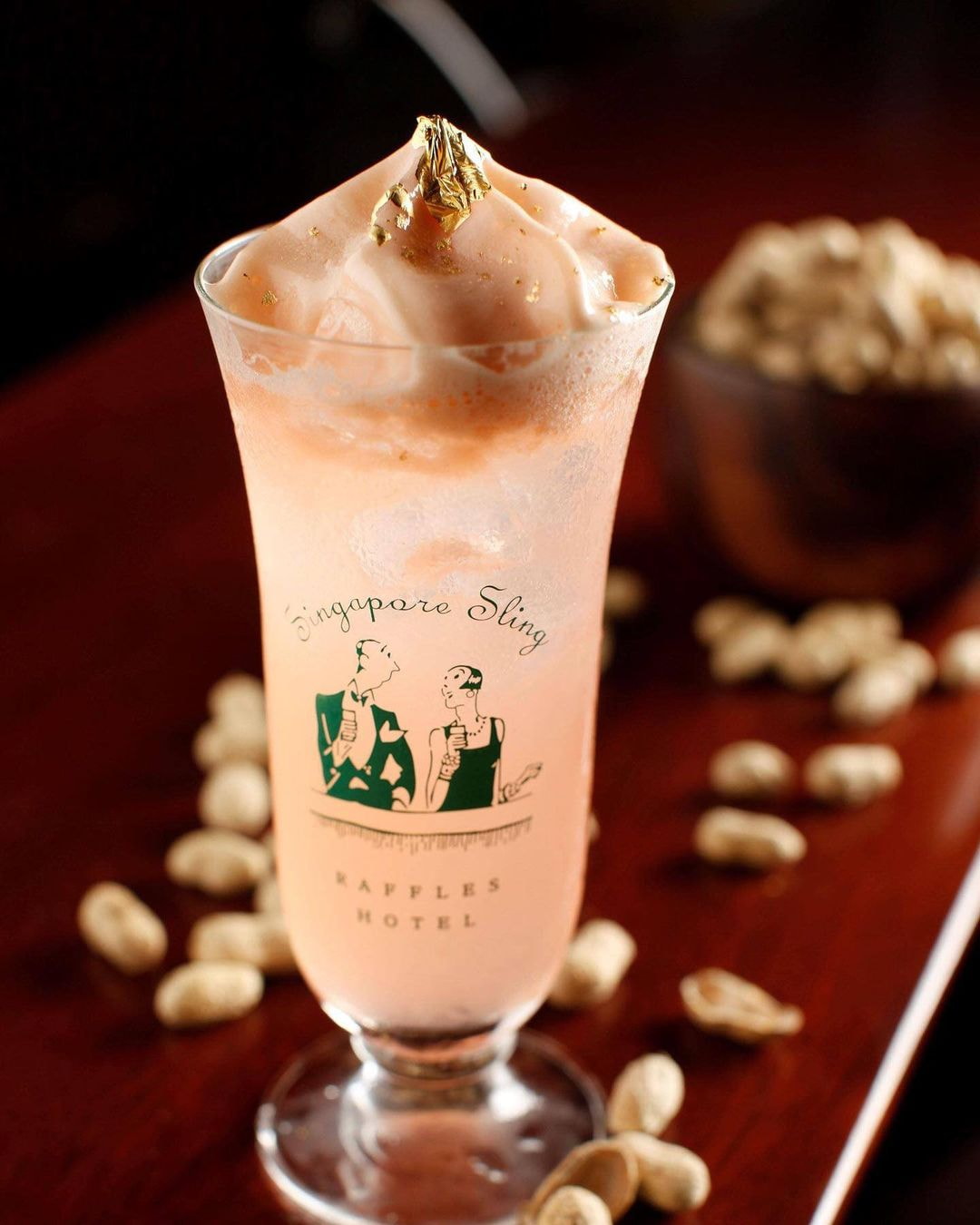 The Makati Luxury Sling, a localised version of the Singapore Sling.
Image credit: @longbarmakati
Of course, if you're wondering about what the original tastes, the Raffles Singapore Sling is also available here at the same price – as well as other slings named after various global cities where Raffles hotels are located.
A generous menu of cocktails, wines, whiskeys, and other spirits is also available.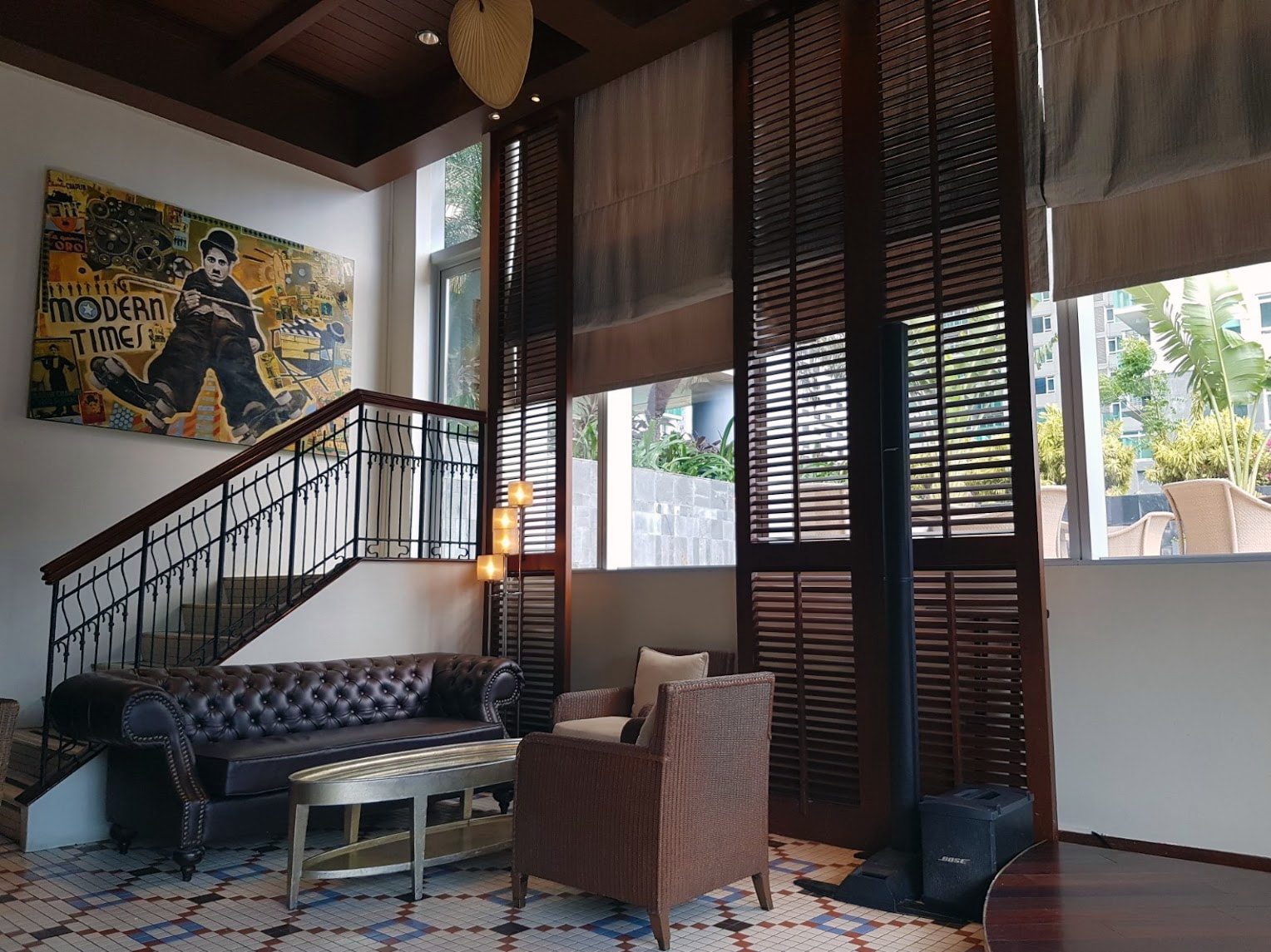 Image adapted from Joefree Semilla
The bar, featuring live evening musical performances, is designed in the same style as the original. With its throwback mosaic tiles, collage paintings, and a vintage wooden look that scream class, this is the place to take a date or business partner to get serious – either way.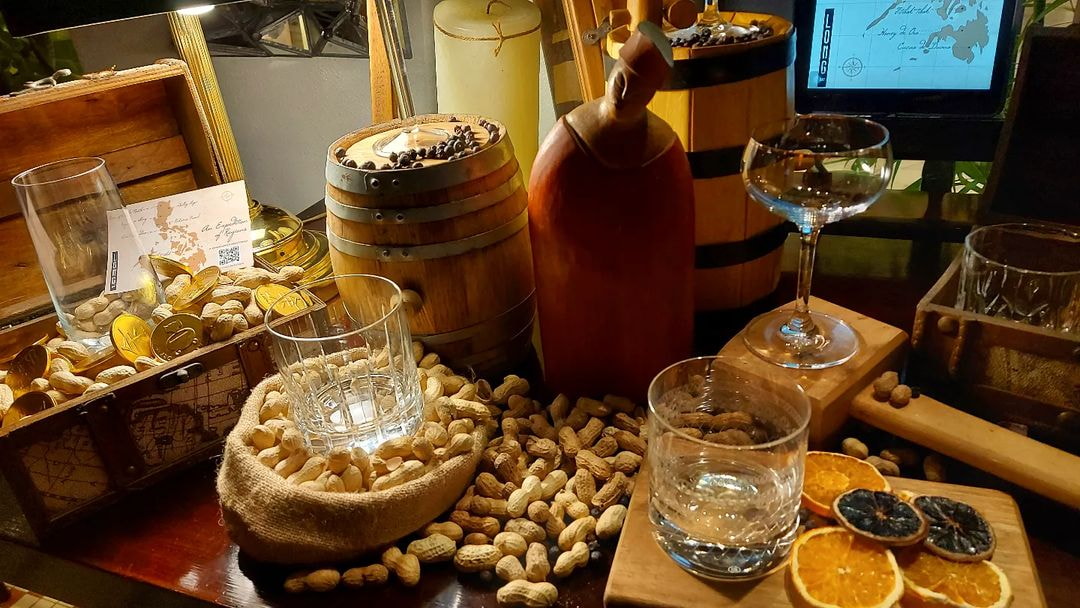 Throwing peanut shells on the floor is perfectly acceptable at the Long Bar.
Image credit: @longbarmakati
Address: Lobby, 1 Raffles Drive, Makati Avenue, Makati 1224
Opening hours: Sun-Thu 5pm-12pm | Fri & Sat 5am-1am
Contact: 2 7795 1840
Long Bar's website | Facebook | Instagram 
---
6. The Lounge, New World Makati Hotel – sweet, fruity dessert-like drinks
---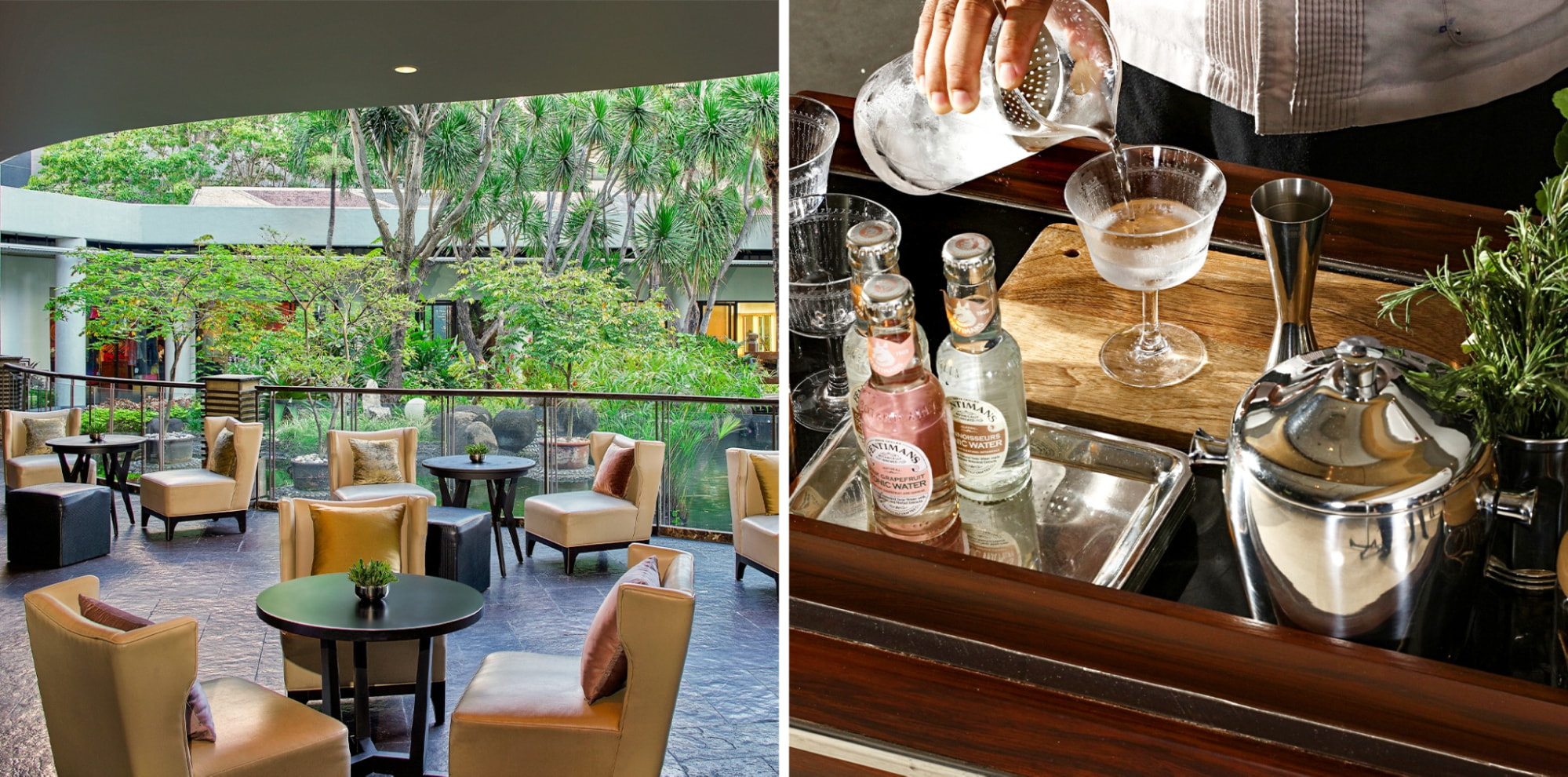 Image adapted from New World Makati Hotel and New World Makati Hotel
If drinking with friends no longer means partying to loud beats but rather doing so in classy, quiet surroundings, The Lounge at New World Makati Hotel should be your next stop. With semi al-fresco seating and a roving gin cart where your cocktails will be poured in front of you, this bar makes an ideal place to welcome guests to the city.

Lambanog Sling and Coco Old Fashioned drinks (left), Strawberry Lychee Mojito and Frozen Mango Strawberry Daiquiri (right, P495, ~USD8.51 each)
Image adapted from New World Makati Hotel and New World Makati Hotel
For a local take on liquid courage, try their lambanóg or coconut palm liquor sling or coconut-flavored Old Fashioned drink, or their strawberry lychee and mango cocktails.
Pair them with their all-day continental breakfast platters (from P645, ~USD11.08), sandwiches or burgers (from P545, ~USD9.36), or local lunches and dinners from Beefsteak Tagalog to chicken or pork adobo (from P595, ~USD10.22). The full menu has much more to fuel you up after a day out in town.
Address: Esperanza Street corner Makati Avenue, Ayala Center, Makati City 1228
Opening hours: 8am-9pm, Daily
Contact: 2 8811 6888
The Lounge's website | New World Makati's Facebook| Instagram
---
7. Kondwi PH – refreshing fruit cocktails in a gallery, theater, cafe, and retail space
---

Image credit: 藤田正樹
Poblacion's Kondwi is an art and retail space that just happens to also feature a cocktail bar. If larger art galleries seem intimidating or stuffy, or if you can't sit still at a bar and would rather walk around and look at interesting displays, this should be your next destination for an evening out.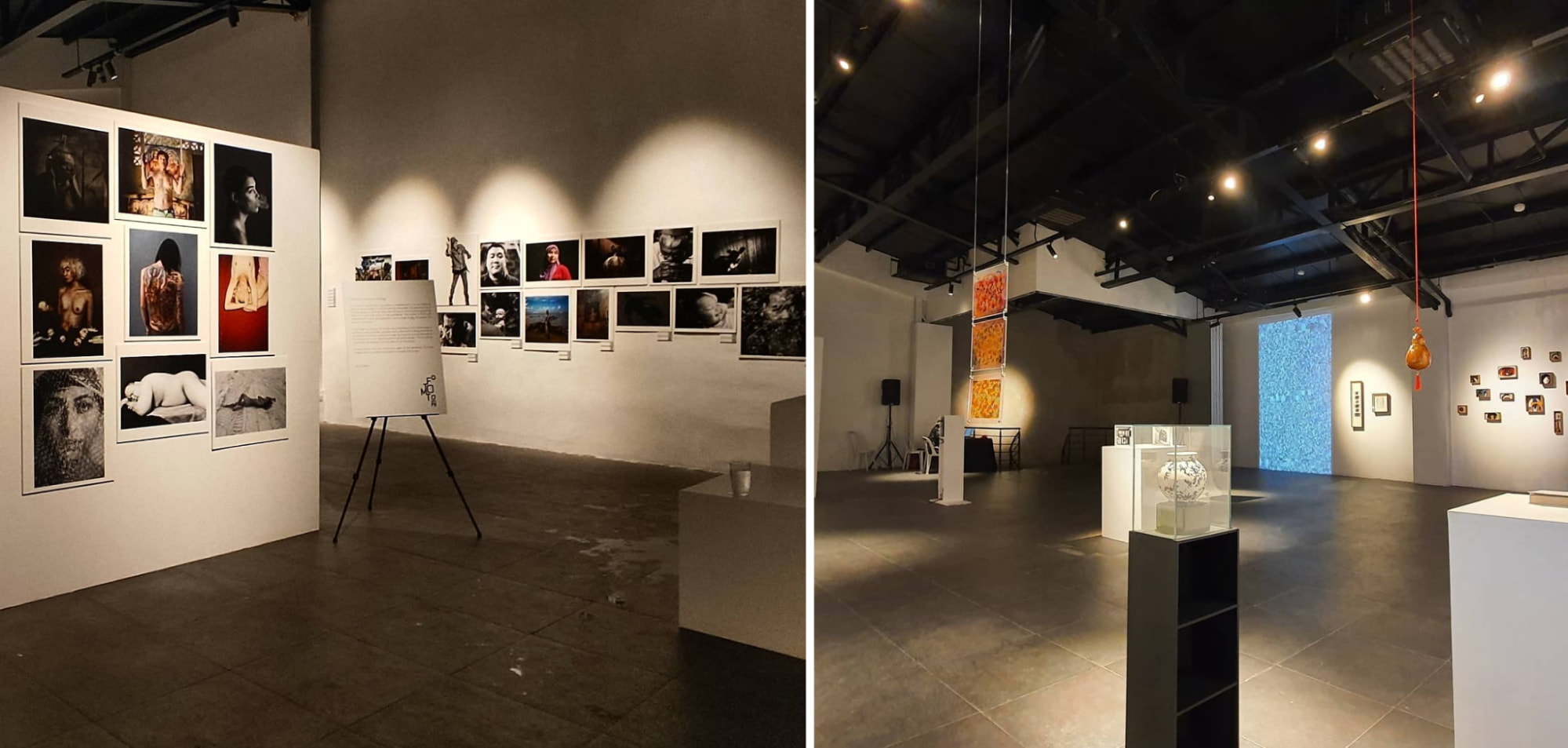 The chic gallery space. Exhibits may change from time to time.
Image adapted from Kondwi PH and Kondwi PH
The signature drinks here include refreshingly fruit- and even vegetable-based ones, from the Green Sky topped with cucumber to sour and citrusy mixes. More classic cocktails from Daiquiries to Manhattans start at P300 (~USD7.34), and non-drinkers can get a signature coffee or tea from Long Island Coffee inspired by the cocktail or a 3-in-1 with iced cappuccino, full cream milk, and sugar syrup at P250 (~USD4.28) each.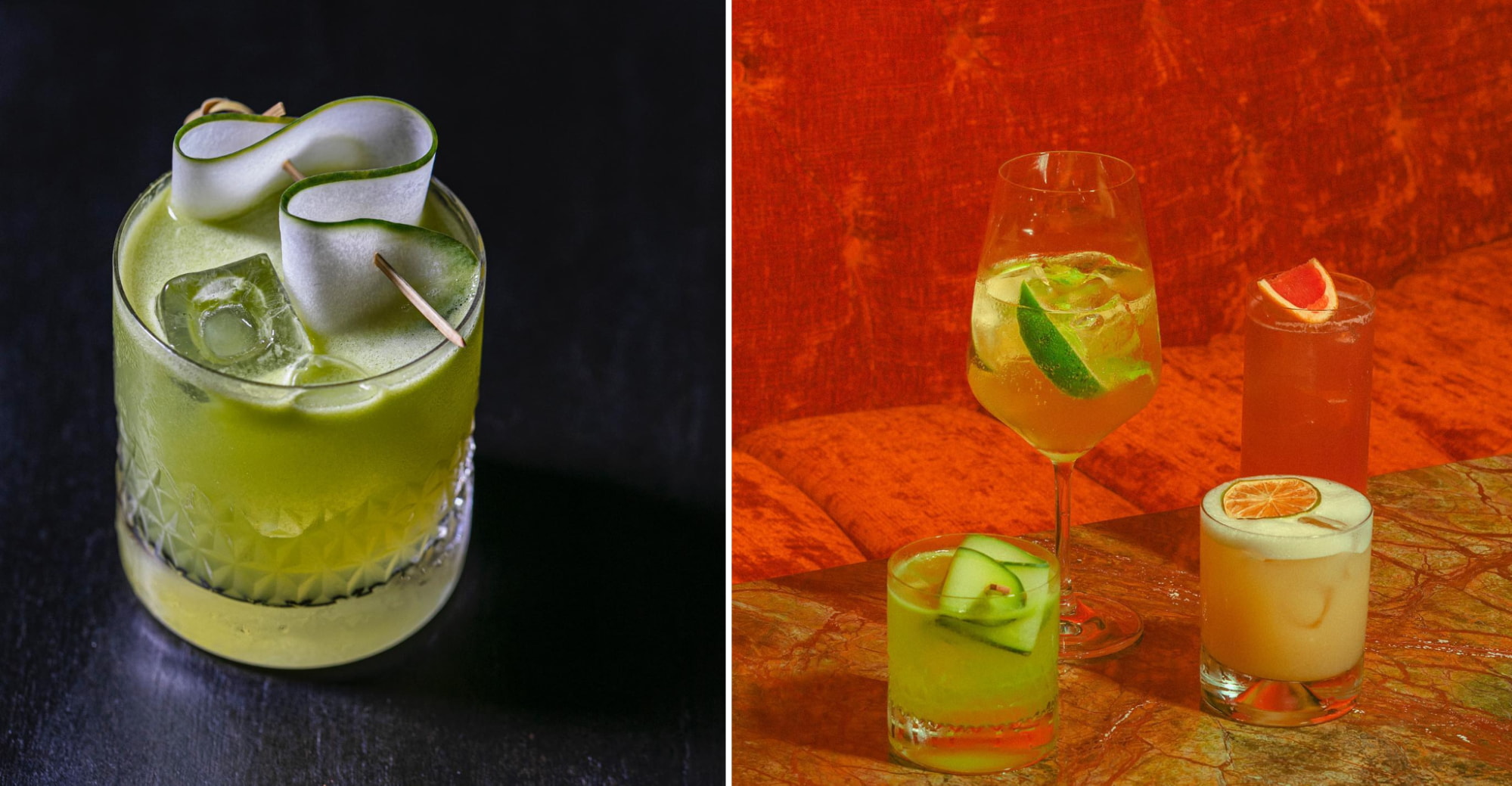 The cucumber-based Green Sky cocktail (left) and also pictured on the right with the refreshing Ugo Spritz, Kondwi Sour, and Viking Paloma cocktails.
Image adapted from Kondwi and Kondwi
You won't go hungry here if you rush down from work and have no time for dinner elsewhere, as full meals such as the grilled pork sinigang bowl with pork belly skewers, pancit spring rolls, kangkong, broth and bagoong rice (P348, ~USD5.91) and Indonesian-inspired rice (nasi) bowls from satay to beef rendang (P338 and P398, ~USD5.74 and ~USD6.76) are available on the menu.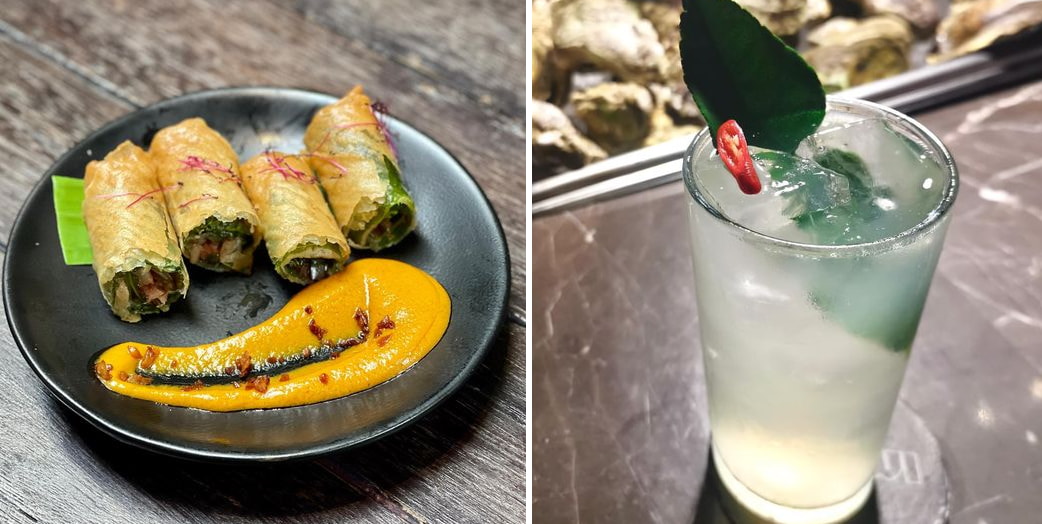 Pork binagoongan spring roll with kare-kare sauce (left) and a Tom Yum cocktail, made with lemongrass, vodka, lime, kaffir leaves, soda water, and galanggal syrup.
Image adapted from Kondwi and Kondwi
Enquire or check their socials for the latest art on display – bring a date so you'll definitely have that as a conversational topic to kick off your night.
Address: 6109 Albert St Poblacion, Makati, Metro Manila
Opening hours: Wed-Sat 6pm-1am | Sun 5pm-11pm | Closed Mon & Tue
Contact: 945 557 2471
Kondwi PH's Facebook | Instagram 
---
Bars in Makati
---
 Roll up to these bars to kick back after an evening exploring the city, or simply to catch up with friends after a long lockdown.
From relaxing indie bars to full-service hotel bars, their unique drinks will definitely provide a conversation starter.
Also check out:
---
Cover image adapted from: @thecurator_, Run Rabbit Run, and Agimat at Ugat Foraging Bar and Kitchen
Mintzy Flor contributed to this article.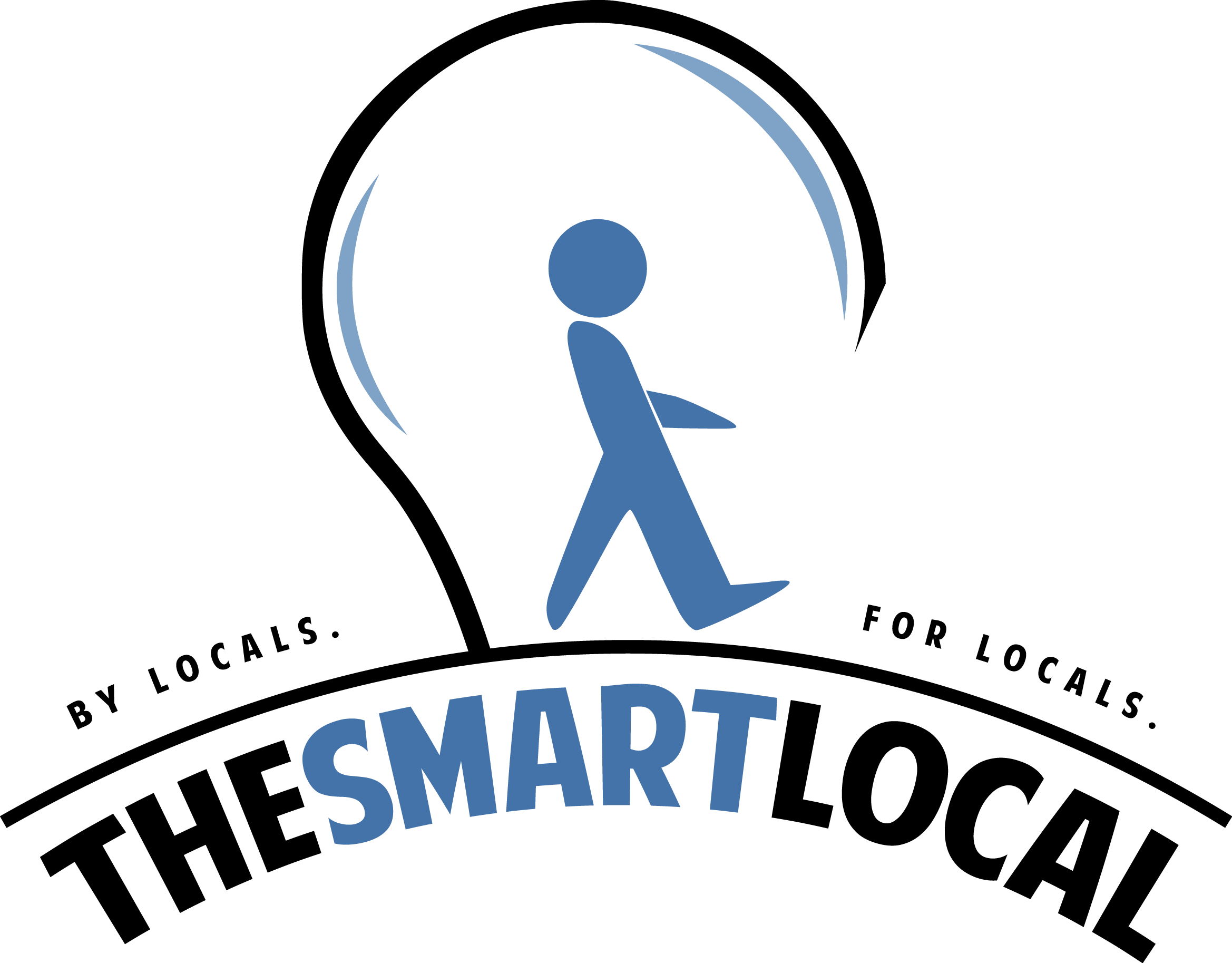 Drop us your email so you won't miss the latest news.