Miss Universe co-host Olivia Culpo's looks trend on Twitter
---
While we're all sad as our bet Rabiya Mateo didn't make it even to this year's Miss Universe Top 10, another beauty queen has captured local pageant fans.
Miss Universe 2012 Olivia Culpo, who co-hosted today's beauty pageant with Mario Lopez, is now a famous meme on Twitter. Fans likened the US fashionista's screenshots showing her straight face and frustrated looks while hosting the pageant to their overall vibe after being disappointed with Miss Universe's results, which had Mateo only included in the Top 21 and no higher.
---
Twitter user tweeted that Culpo is the "real representation of everyone"
---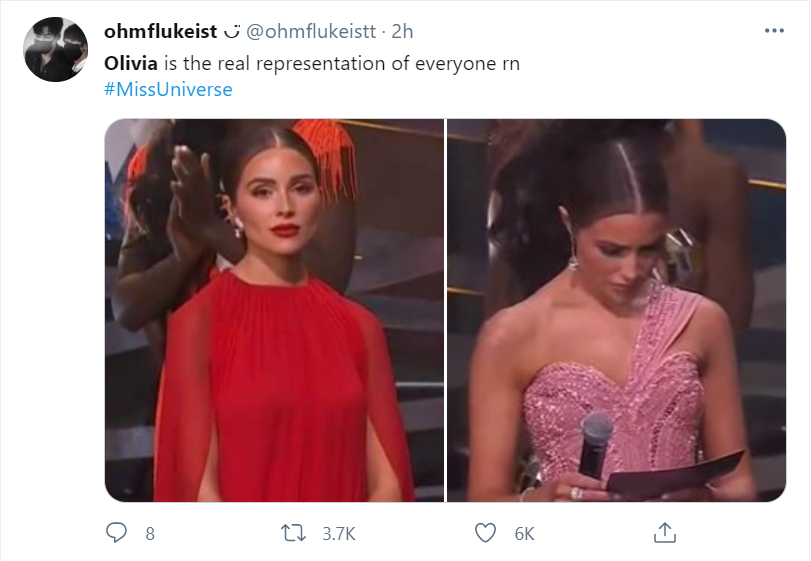 Image credit: @ohmflukeistt 
Culpo's screenshots showing her passive expression while in a stunning red gown and her frustrated look in her pink gown while reading the final pageant results were relatable to Filipino fans. Twitter user @ohmflukeistt, for instance, captioned their tweet showing these screenshots, captioning them "Olivia is the real representation of everyone [right now]."
---
Culpo's reactions "represented the viewers['] reactions"
---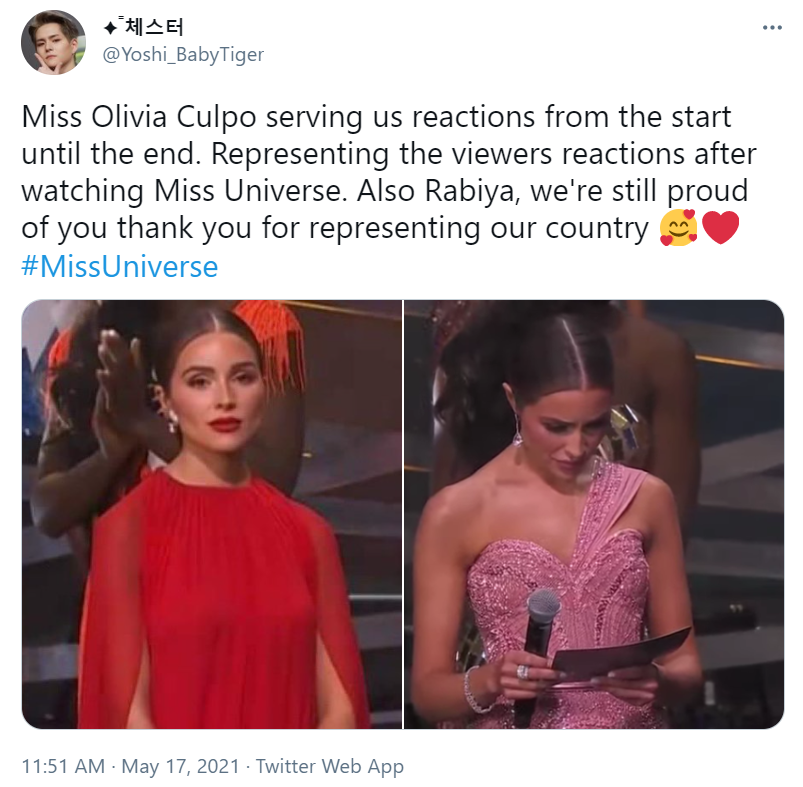 Image credit: @Yoshi_BabyTiger 
For @Yoshi_BabyTiger, Culpo's reactions incidentally represented local viewers' feelings after Miss Universe. Their tweet ended with an affirmation for Mateo, saying that "we're still proud of you."
---
Twitter user @_odetohaoo's energy "went [O]livia"
---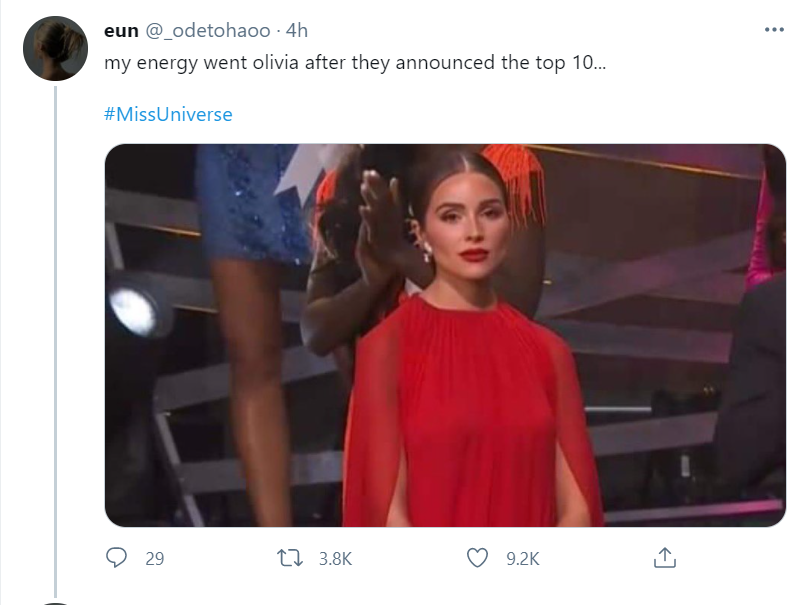 Image credit: @_odetohaoo
In a short tweet, @odeohaoo was able to express their dismay over Mateo's early exit. "My energy went [Olivia] after they announced the Top 10," they tweeted.
---
"A whole damn mood"
---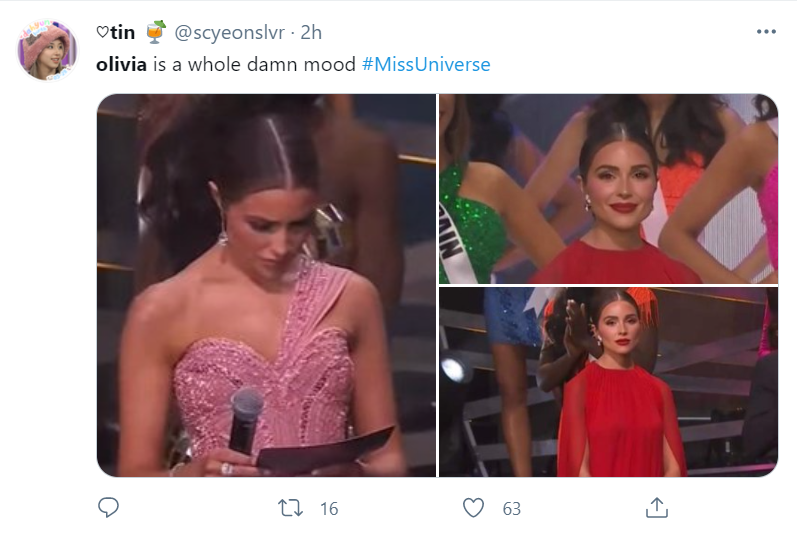 Image credit: @scyeonslvr 
Adding another screenshot of Culpo showing the former Miss Universe smiling with full red lips, Twitter user @scyeonslvr called Culpo's looks "a whole damn mood."
Culpo may have won the crown for the US back in 2012 against our very own Janine Tugonon, but today, we're all feeling her vibe indeed.
---
Miss Universe co-host Olivia Culpo's trending looks
---
Culpo's faces during the pageant will now be remembered as many Filipinos' overall sentiments after hearing the results of this year's pageant.
Though we'll always be behind Rabiya Mateo, it's hard for many to digest how we have lost the crown this year. But thankfully, Culpo's screenshots are here to accompany us in our post-pageant feels. 
Also check out:
---
Cover image adapted from: @scyeonslvr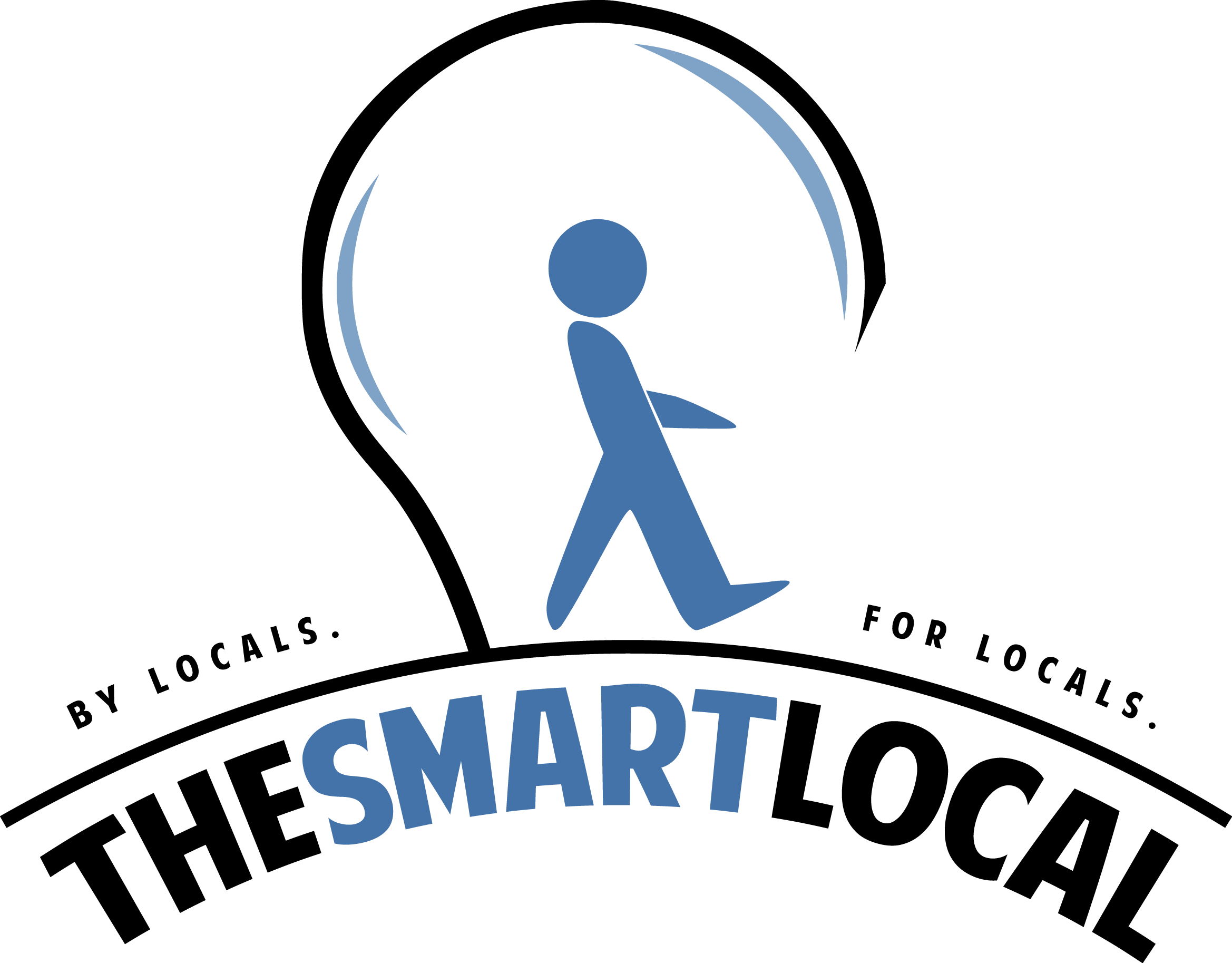 Drop us your email so you won't miss the latest news.