Metro Manila flower shops with delivery services
---
Whether to celebrate birthdays, congratulate someone, or remember anniversaries and loved ones, marking various occasions isn't complete without the presence of flowers. After all, there's nothing like a bunch of flowers that can't brighten up a day, and give us a colorful, living reminder of nature to add to our homes and places of worship.
To shop for the right type of flowers according to the occasion, here are the 11 best Metro Manila flower shops, from florists processing dried flowers to boutiques arranging unique large bouquets, that offer delivery services.
---
1. Flower Chimp Philippines – one-stop shop for all types of flower arrangements with free nationwide delivery
---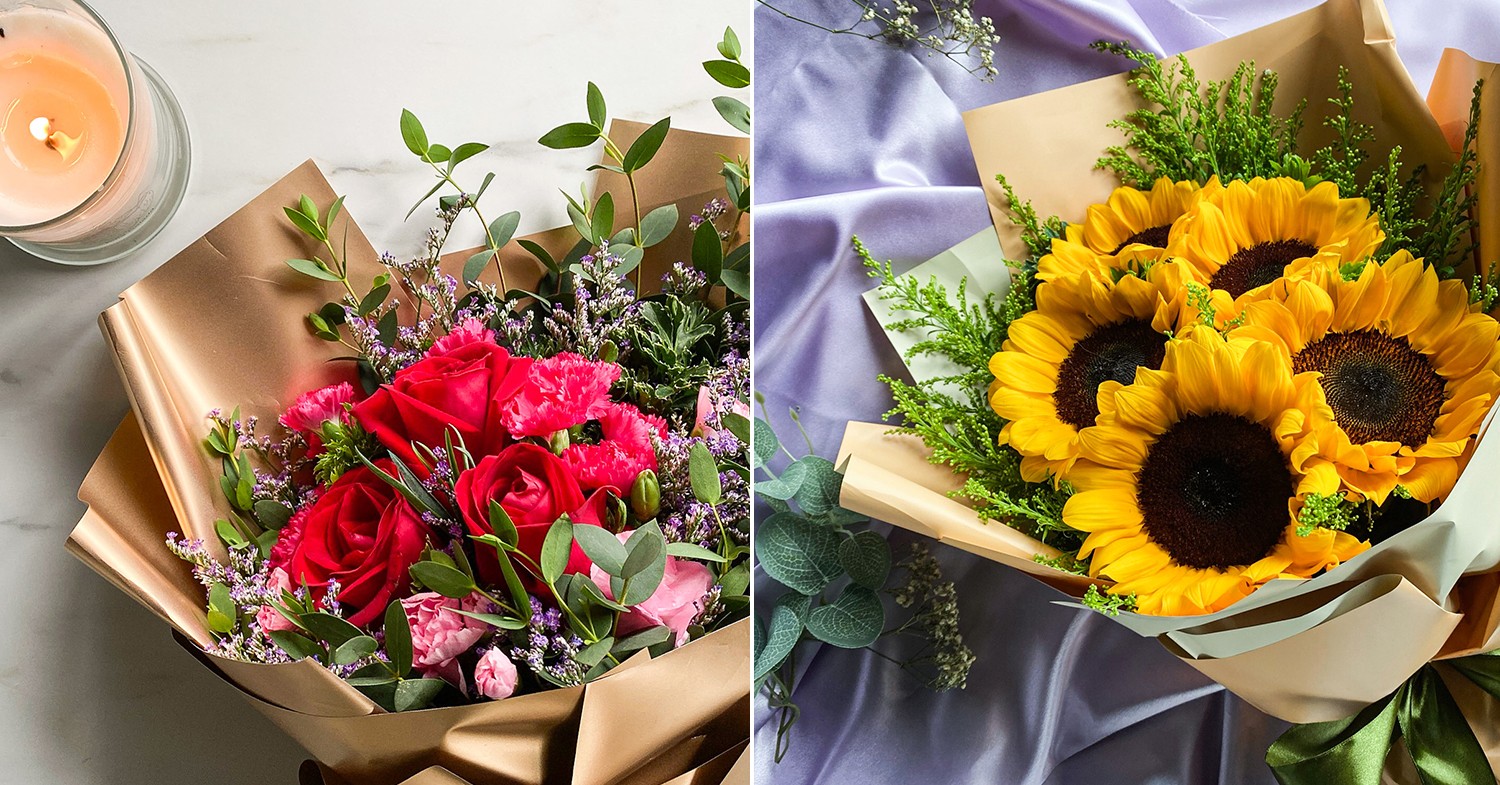 Image adapted from: Flower Chimp Philippines
If you don't know where to start when shopping for flowers online given the vast array of options, Flower Chimp Philippines helps you narrow down your choices. It's a one-stop shop for all your floral needs – be they birthday bouquets (from P1,199, ~USD21.87) or graduation bouquets (from P1,349, ~USD24.61), there are different types of arrangements catered to your taste and practical considerations.
For instance, aside from their gorgeous hand bouquets (from P1,199, ~USD21.87), they have boxed bouquets (from P1,199, ~USD21.87) that you can easily move around your house without the risk of glass shattering.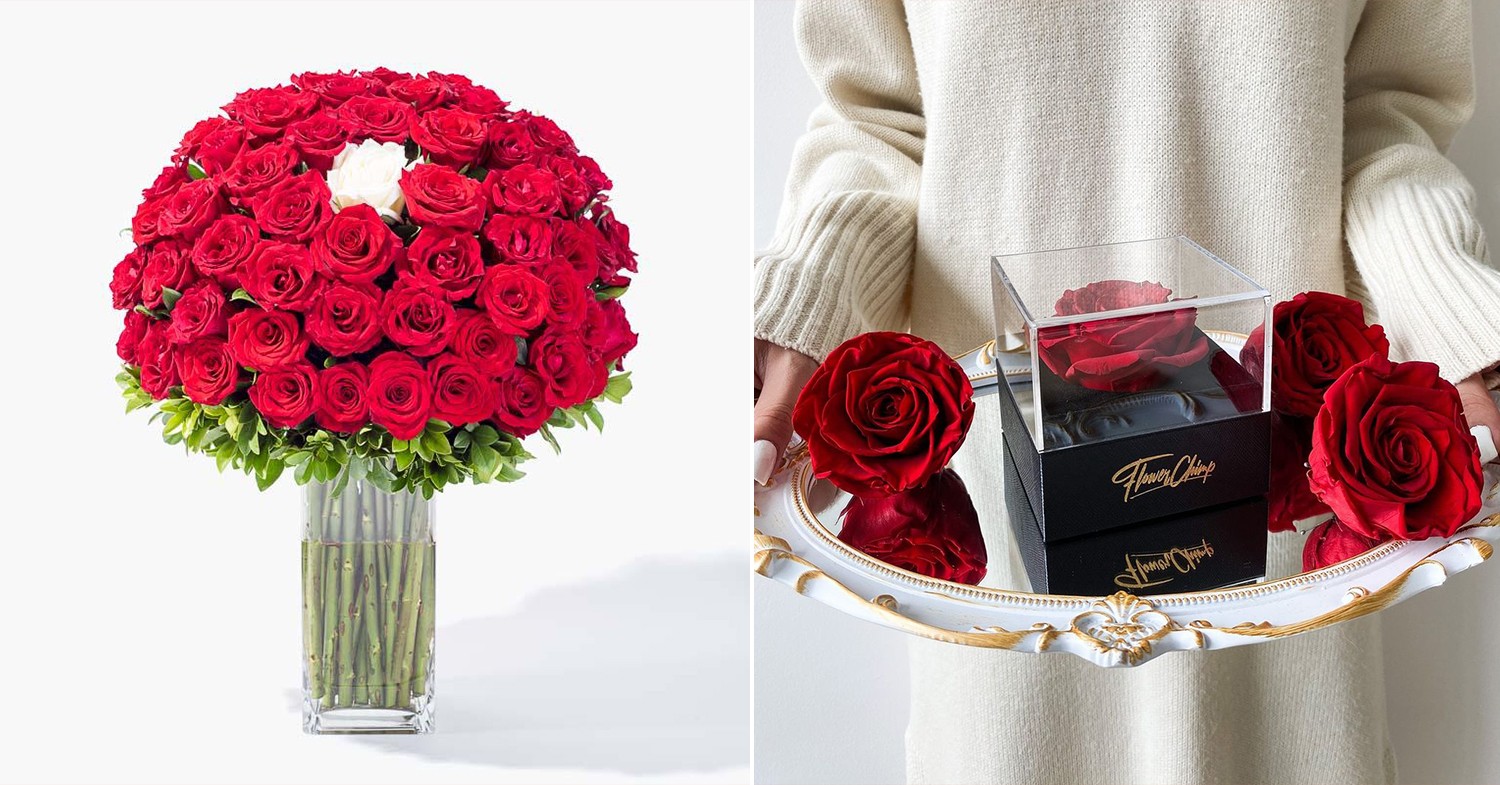 One in a Million (left) and Enchanted Rose (right)
Image credit: Flower Chimp Philippines, @flowerchimp.ph
Alternatively, as your table centerpiece at home, their flowers in a vase, such as One in a Million (P5,199, ~USD94.85), will make an elegant, bold statement in your living room. For those who don't want the hassle of changing flowers every now and then, their preserved flowers (from P1,199, ~USD21.87) arranged in transparent glass display containers, can last up to 3 years.

Image credit: Flower Chimp Philippines
Romantics will love the flower baskets that add a touch of nostalgia to any room. You can shop for these arrangements on Flower Chimp starting at P2,399 (~USD43.72).
Place your order before 2PM if you can – they guarantee same-day and free delivery in Metro Manila and nationwide for flowers purchased before the cut-off time.
Flower Chimp Philippines' website | Facebook | Instagram
---
2. FNP – one-stop solution for all your gifting needs
---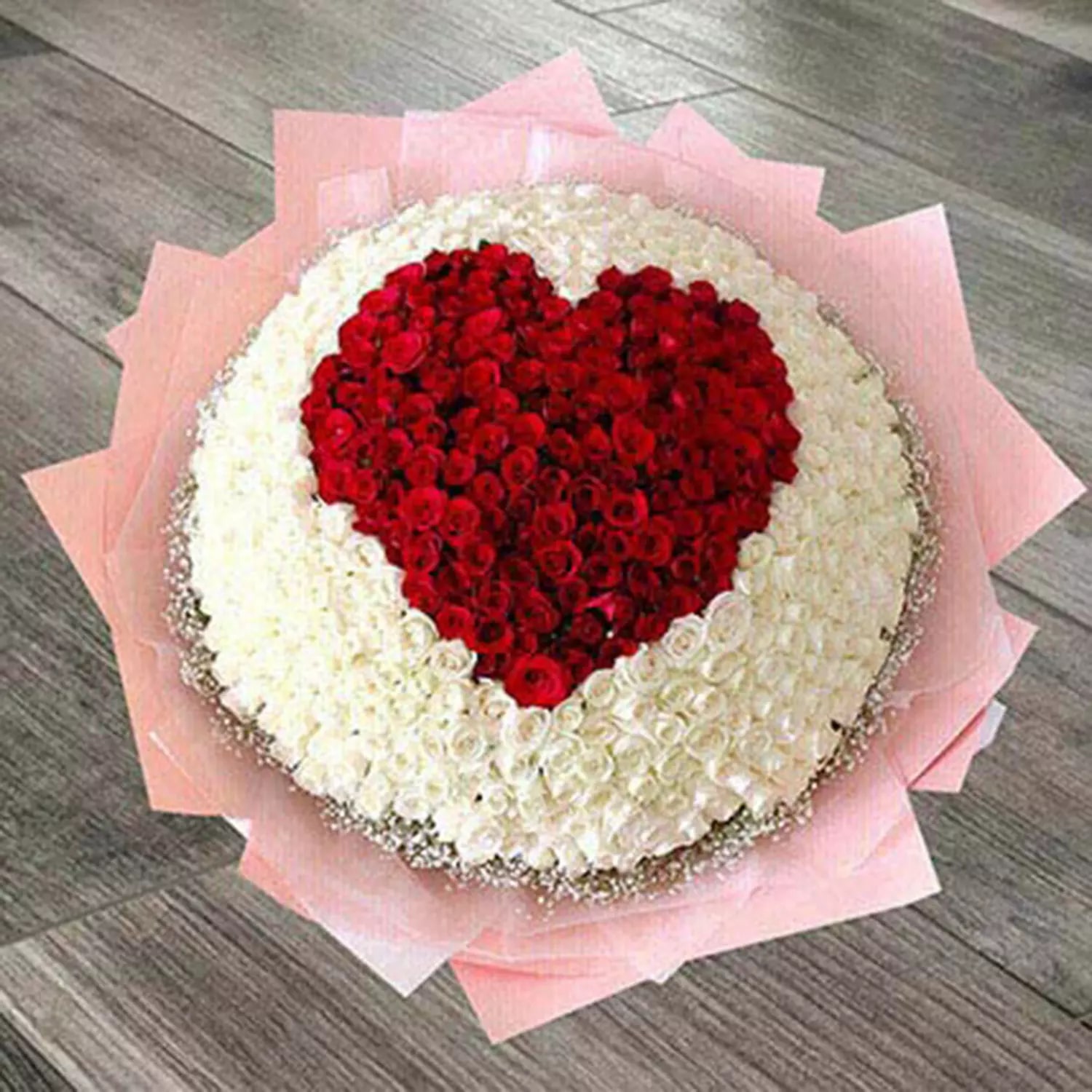 400 Heart Roses
Image credit: FNP
If your partner or loved one loves grand gestures, you can express your feelings for them with FNP's bouquets made with hundreds of roses.
The one-stop shop for flowers and bouquets offers a 400 Heart Roses Arrangement (P9,399, ~USD171.28), an impressive gift made with 100 red roses forming a heart, 300 white roses that serve as a backdrop, and gypsophyllia for its border.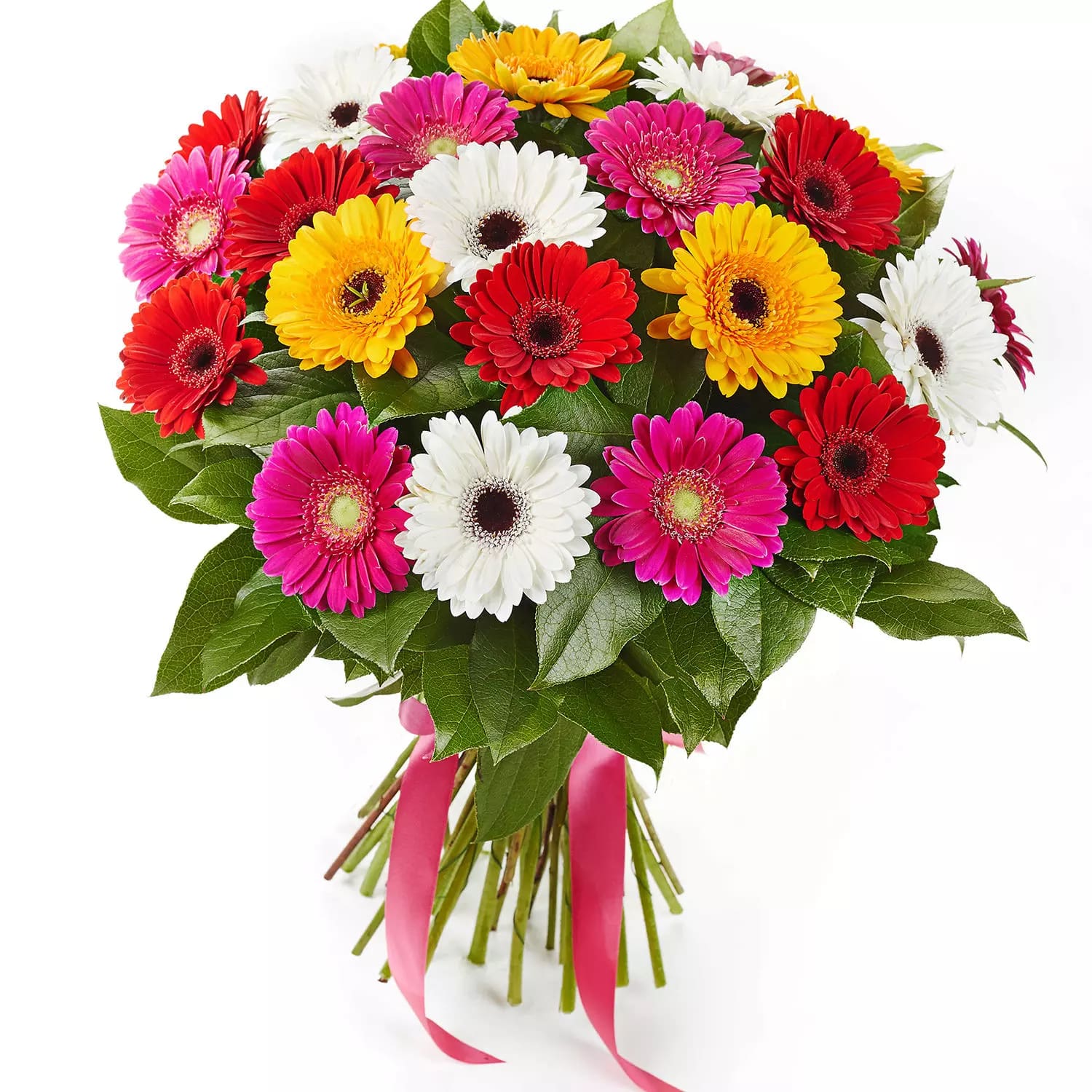 Summery Gerbera Blooming Bouquet
Image credit: FNP
For a bright, multicolored bouquet that'll make a great decor piece in the house later on, you can also get their Summery Gerbera Blooming Bouquet (starting at P2,318, ~USD42.24).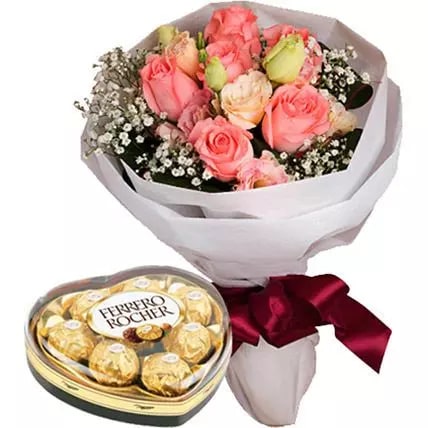 Hearts and Darts
Image credit: FNP
Besides their many flower choices, FNP also has gift combos that let you send a flower bouquet with a cake, stuffed toy, chocolates, and more, so the recipient can enjoy multiple gifts.
One of these is their Hearts and Darts Combo (P2,599, ~USD47.36), a bouquet of pink and peach roses with Ferrero Rocher chocolates in a heart-shaped container.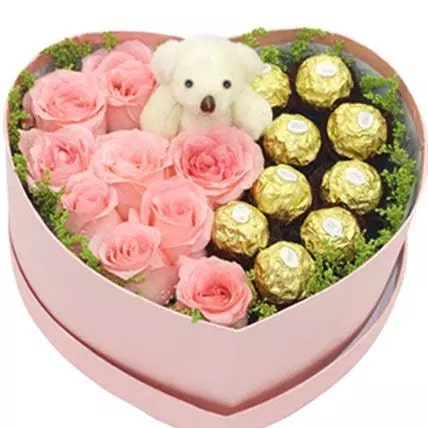 Love in Box
Image credit: FNP
For a more compact version of this gift combo, you can get their Love in Box (P2,549, ~USD46.45), a heart-shaped gift box with pink roses and Ferrero Rocher chocolates.
FNP lets you send a gift to your loved ones not just in the Philippines, but also abroad – with shipping to 150 countries in Asia and beyond, including the UAE, US, UK, Europe, Canada, South Africa, and Australia, fresh from their flower shops around the globe. 
In some countries, they even offer midnight delivery so you'll be the first to greet your loved one on their special day. Free delivery is also available for selected countries. For any last-minute questions, don't hesitate to contact them online for a fast reply.
Delivery options: same-day delivery, next-day delivery, standard delivery, and international delivery 
FNP's website | Facebook | Instagram
---
3. FlowerDeliveryPhilippines.Net – full-service shop with free same-day delivery
---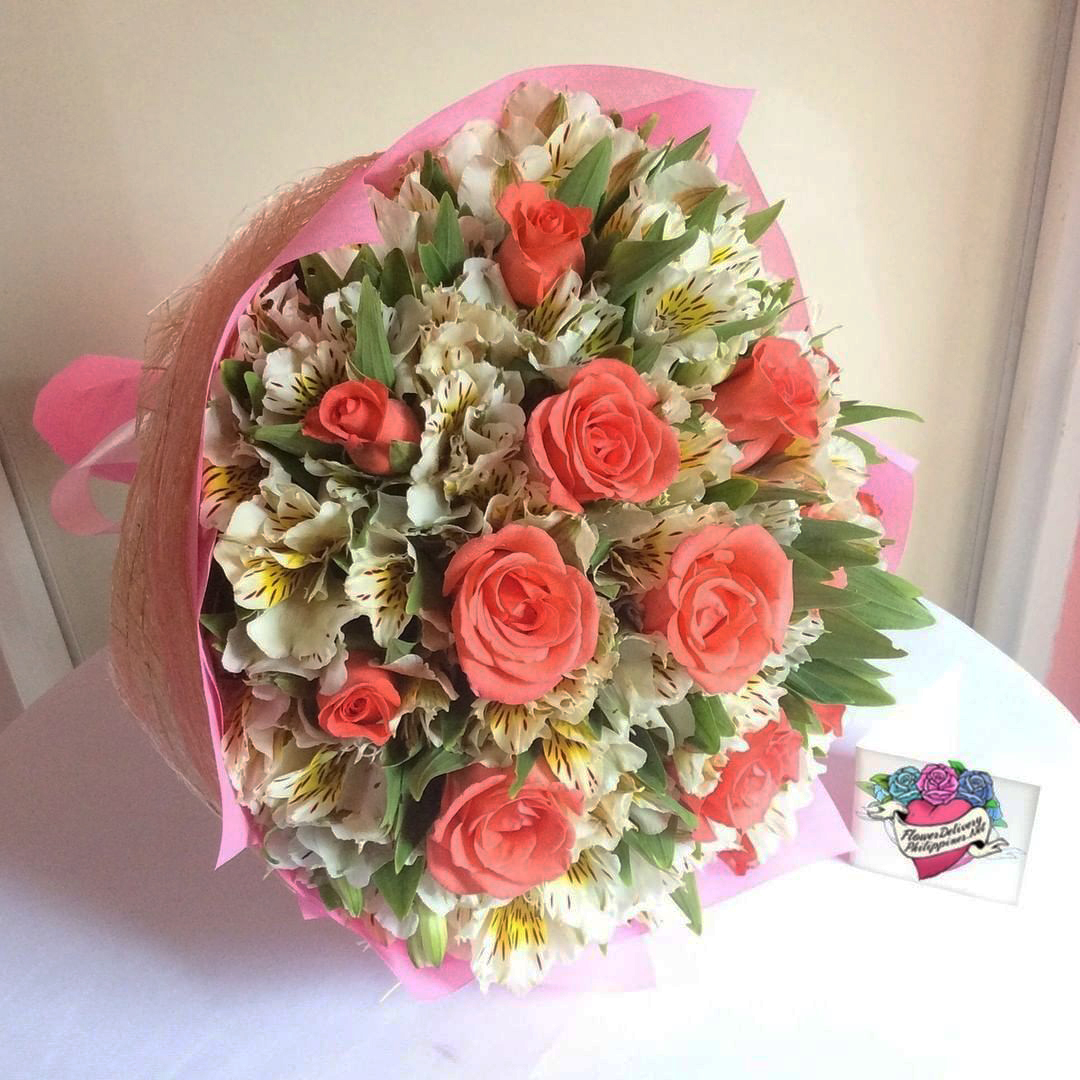 Pomelo Roses & Peruvian Lilies
Image adapted from: @flowerdeliveryphilippines 
Be it Valentine's Day or All Souls' Day, Flower Delivery Philippines has thoughtful gifts for you to pick from whatever the event is. They have bundles of fresh flowers from roses to gerbera to orchids to preserved flowers and assorted mixes, arranged according to your needs.

You can never go wrong, to begin with, in wishing your favorite lady a happy birthday or a happy Mother's Day with the 12 Pomelo Rose & Peruvian Lilies Bouquet (P2,500, ~USD45.62), a mix of lovely pastel florals.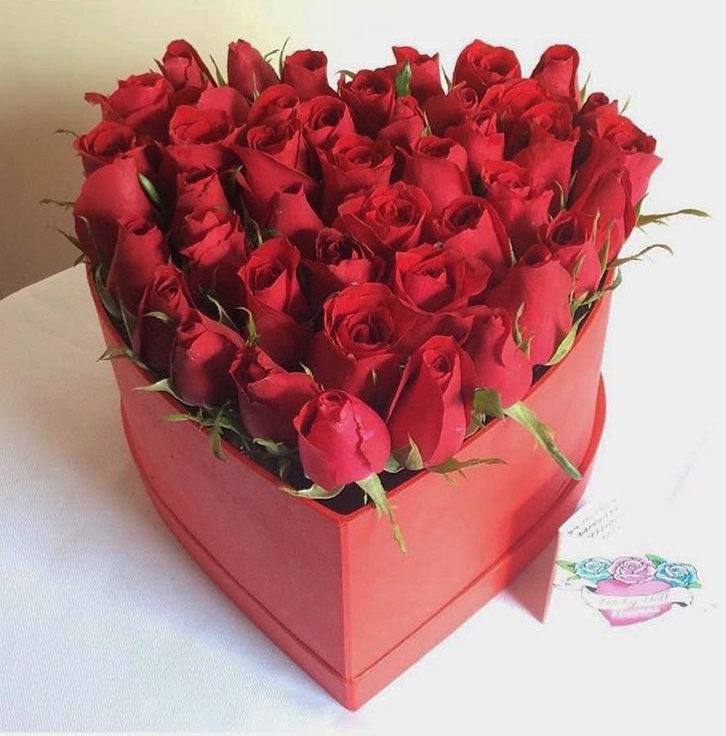 Roses Heart Box
Image adapted from: @flowerdeliveryphilippines 
To be extra during Valentine's Day, you can opt for this Roses Heart Box (starts at P2,995, ~USD54.65) with 24 roses. The roses are also available in other colors aside from red – you can choose orange, white, pink, pomelo, and blue to go along with the heart-shaped box.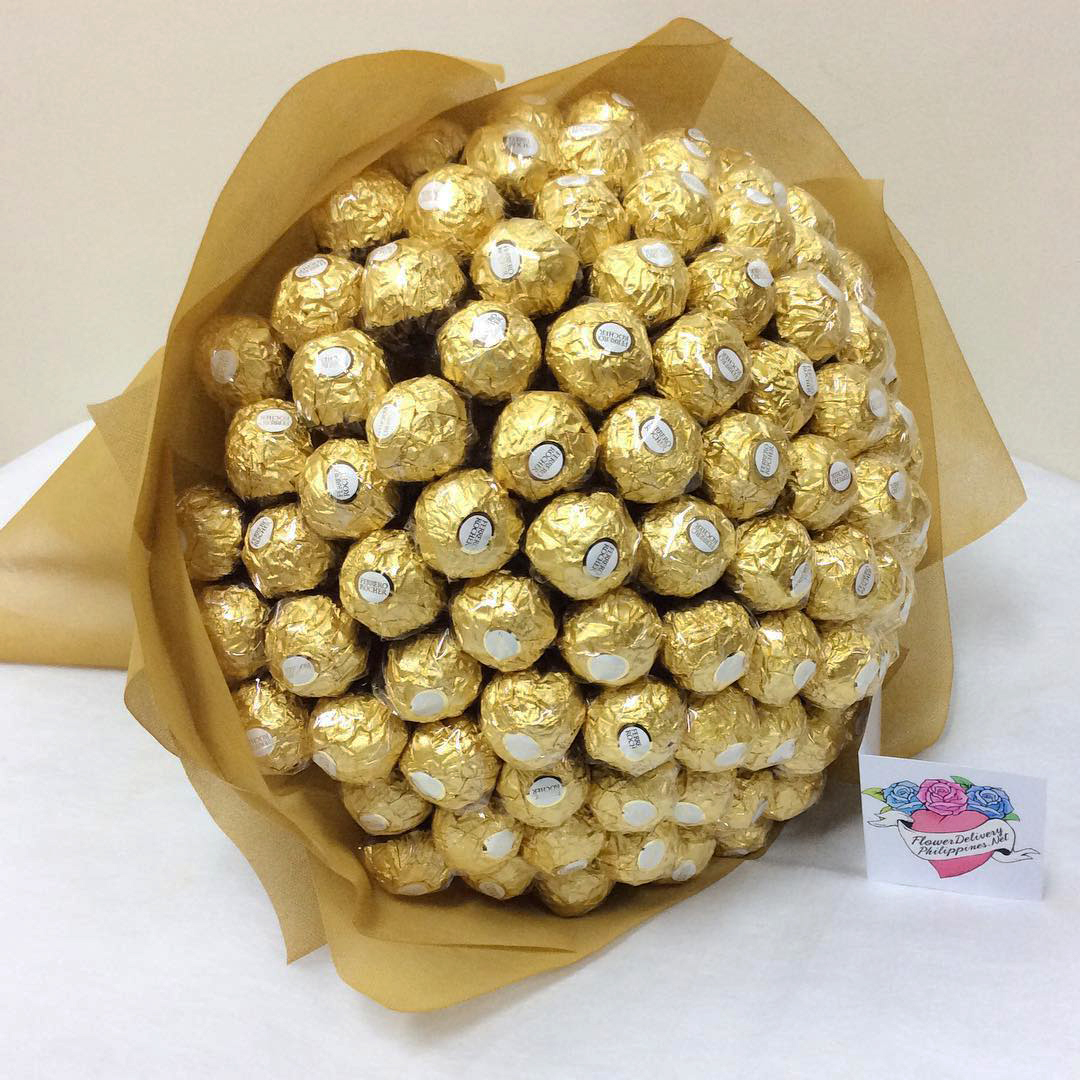 Giant 100 Ferrero Bouquet
Image adapted from: @flowerdeliveryphilippines  
If you want to catch a loved one by surprise, the Giant 100 Ferrero Bouquet (P6,995, ~USD127.64) is composed of 100 pieces of Ferrero Rocher chocolate with crunchy hazelnut, arranged to resemble a bouquet.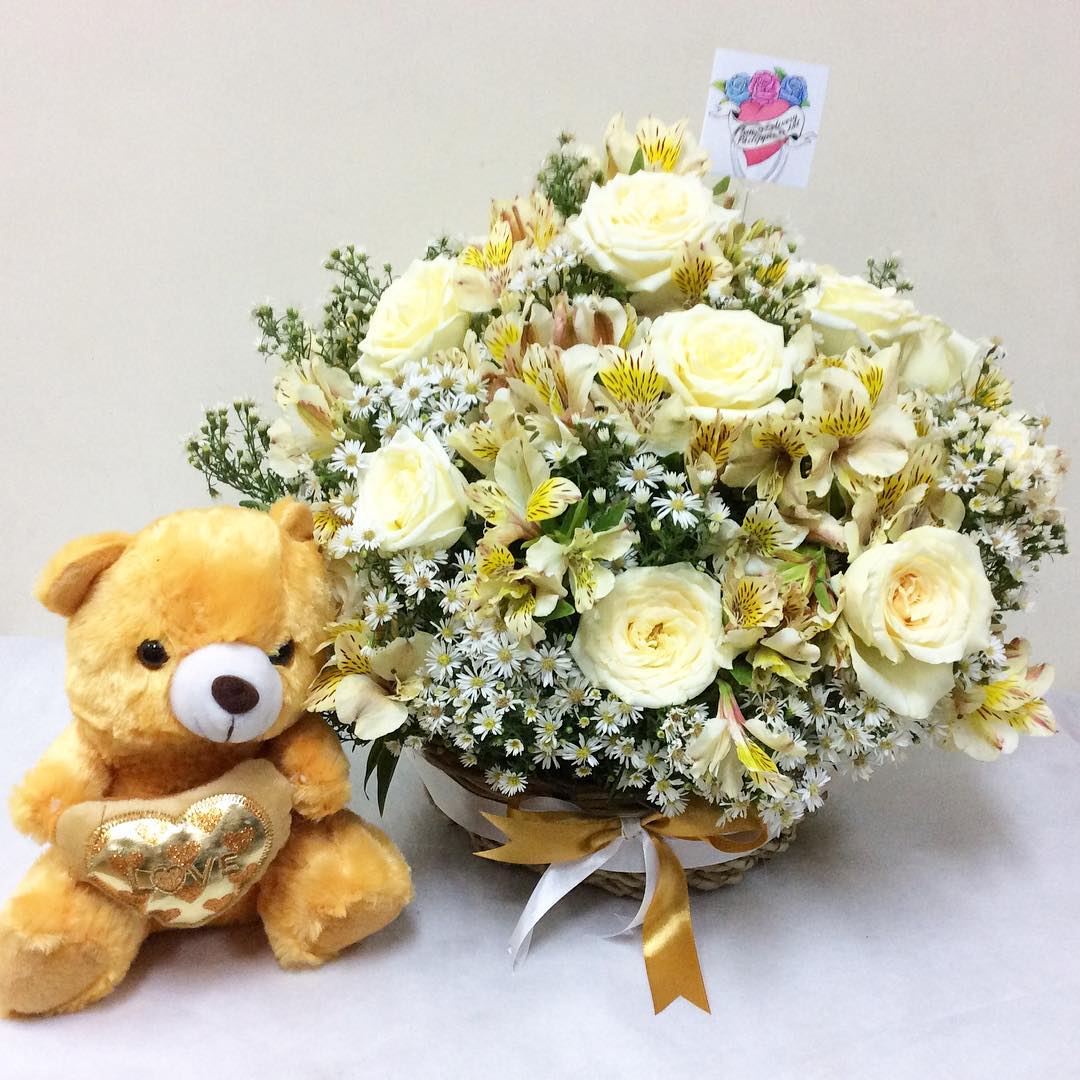 Image credit: @flowerdeliveryphilippines 
During All Saints' or All Souls' Day, offer respect to the departed through a basket of white roses. There are various arrangements available from the shop, starting at P2,900 (~USD52.89). 
Delivery options: same-day (free in Metro Manila, available in greater Metro Manila area), nationwide (for preserved flowers and gift items)
Website
---
4. Blooms by Agi – unique flower arrangements
---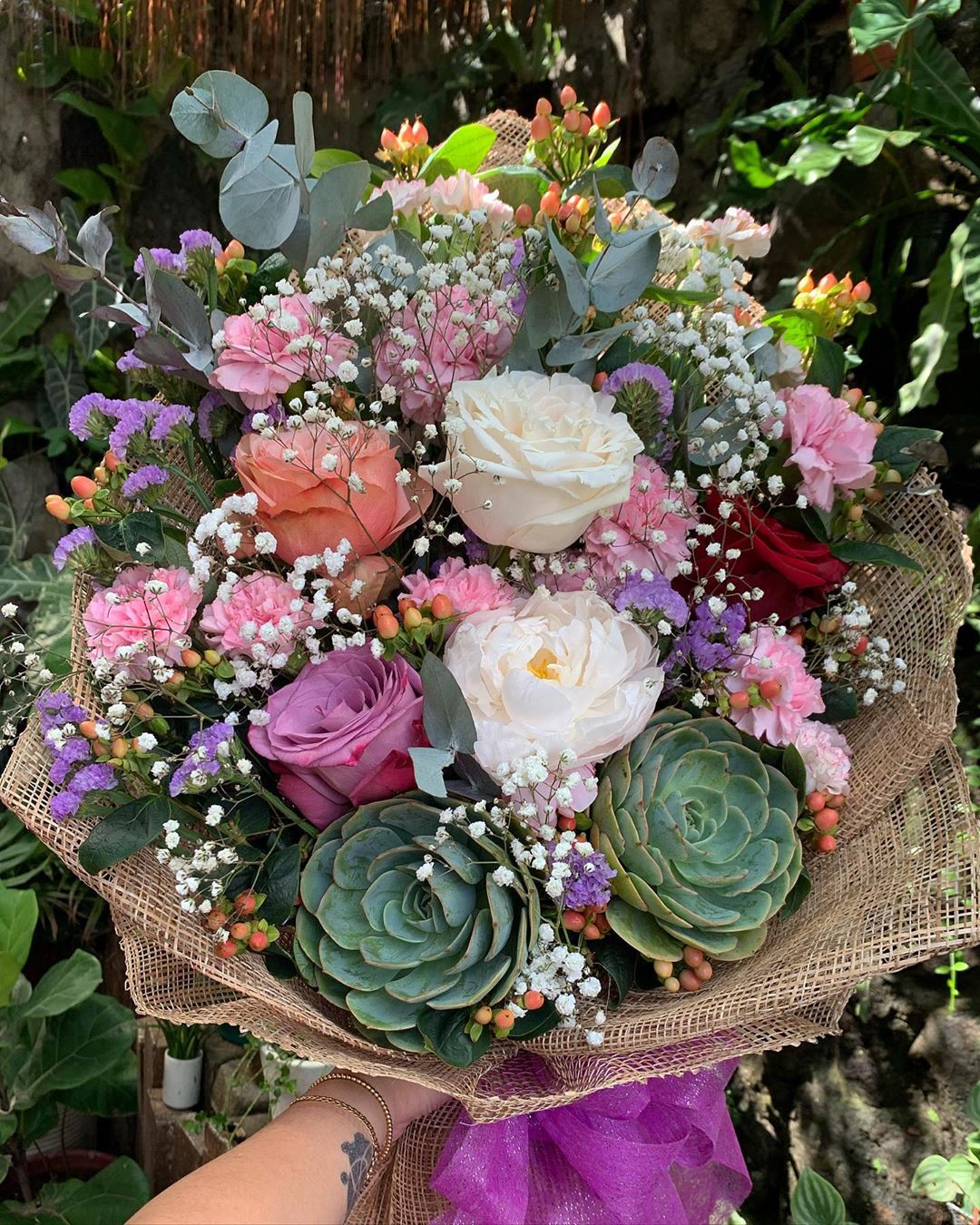 Flowers with succulents (Amanda)
Image credit: @bloomsbyagi
Your favorite plantito or plantita would surely appreciate a combination of greens and florals. In Blooms by Agi, you can order unique bouquets such as the Amanda (P4,800, ~USD87.60), an intricate arrangement of roses, peonies, carnations, and succulents layered with assorted fillers.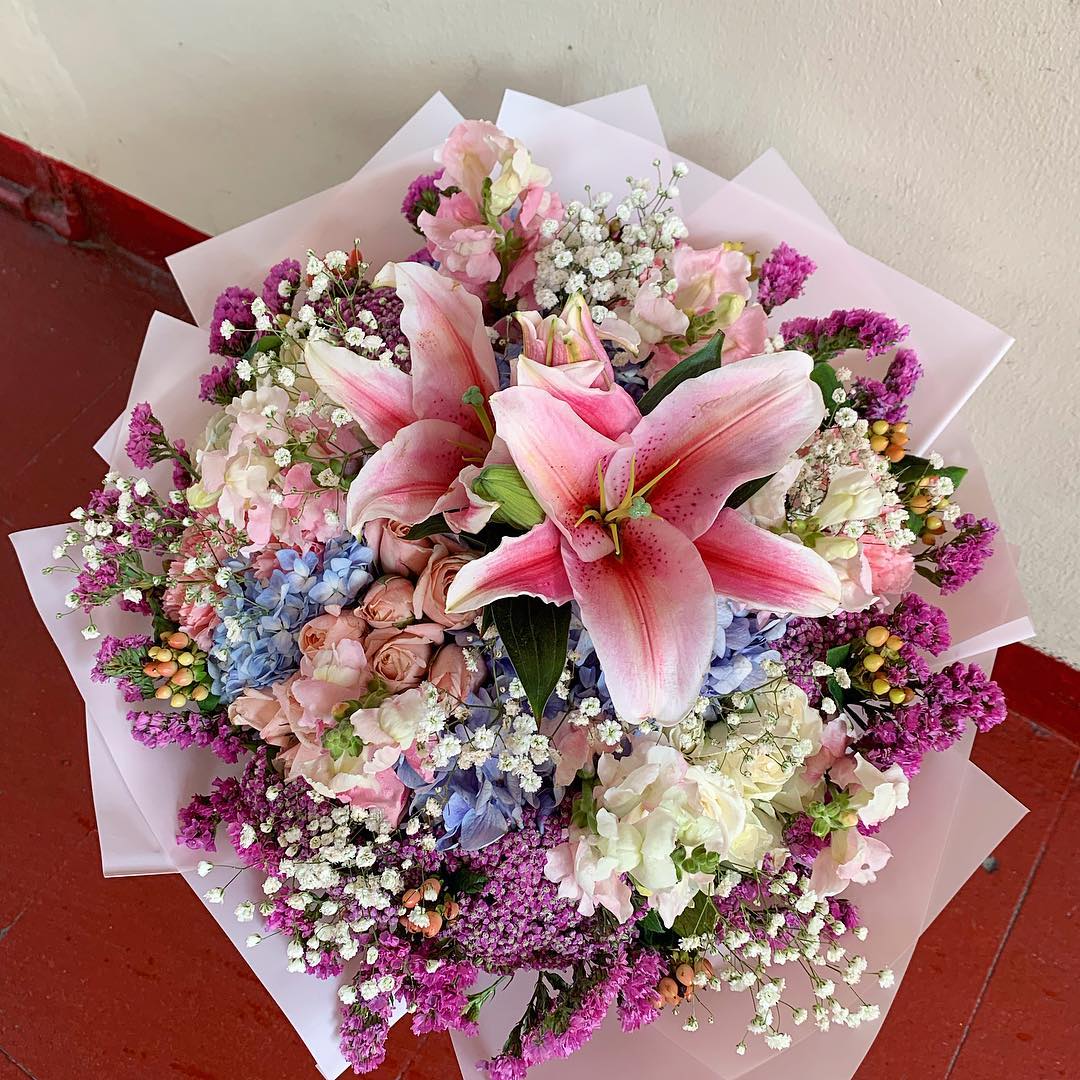 Image credit: @bloomsbyagi
The Lucy (P4,500, ~USD80.54) is also arranged in a more unconventional style – surrounding the pink stargazers are the tiny purple rice flowers and white gypsophilas to add sophisticated layers to the bouquet. 
Delivery time: 2-3 days after order date
Website
---
5. Bloomiere – preserved flowers in aroma diffusers
---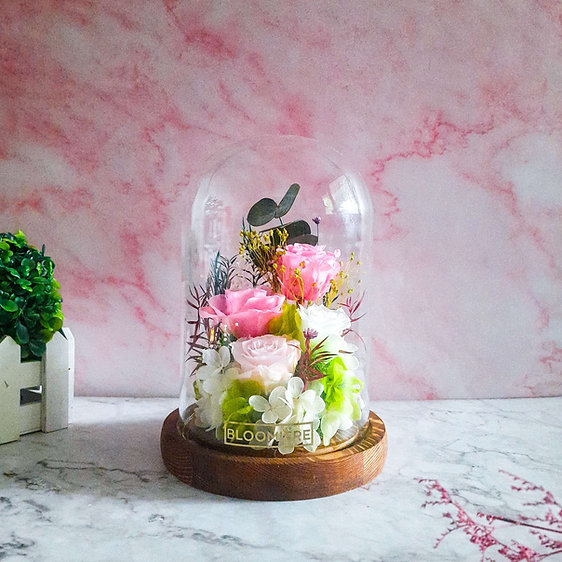 Preserved roses and hydrangeas (Secret Garden)
Image credit: Bloomiere
While dried flowers can last a long time, they don't exactly maintain the natural look of fresh flowers. This is where the preserved ones come in – preserved flowers in a water-glycerin solution can last for a maximum of one year and maintain their natural appearance. Bloomiere offers these preserved flowers, arranged in elegant glass domes and glass boxes. 
Any time you want to remind someone how special they are, Secret Garden (P3,899, ~USD71.19) comes with four preserved infinity roses, preserved hydrangeas, and accent flowers in an LED light-up base with a message card – making it double as a night light that will accompany your loved one at their bedside.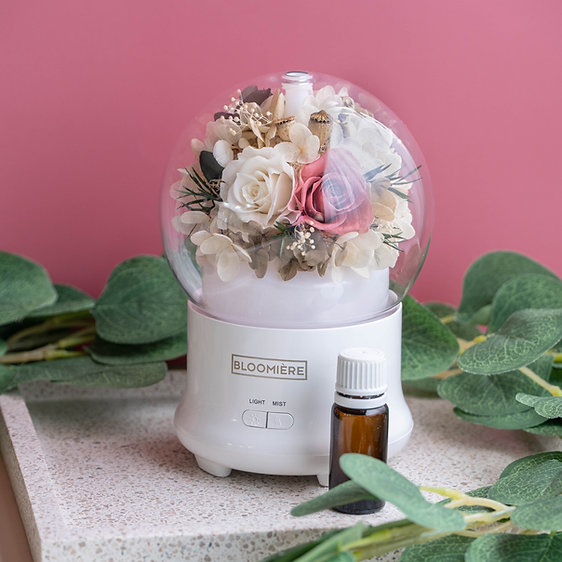 Preserved roses in aroma diffuser (Blushing Beauty)
Image credit: Bloomiere 
For a twist, the Blushing Beauty (P4,000, ~USD73.01), an aroma diffuser with red and white-pink preserved roses, makes a thoughtful gift or decoration to put in a room. And aside from their flower accessories, you can also ask them to arrange preserved flowers for weddings and funerals. 
Delivery options: Metro Manila, nationwide
Website
---
6. Dangwa Flower Shop – online store from Dangwa for affordable flowers
---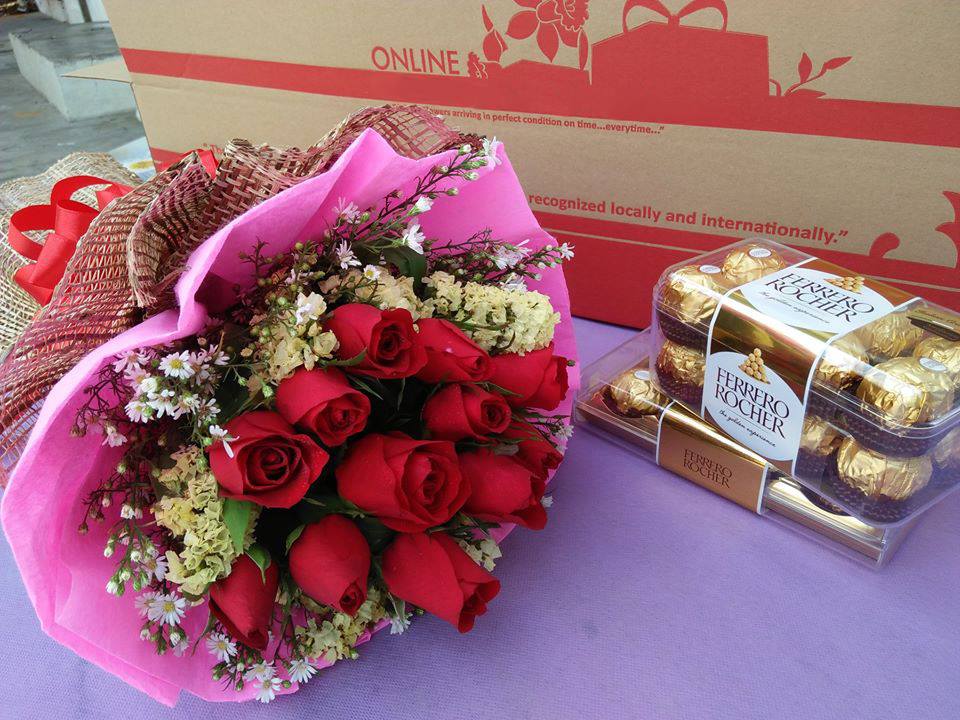 Image credit: Dangwa Flower Shop 
Getting bouquets doesn't always come cheap, but thanks to Dangwa, the divisoria of flowers, we can already make our loved ones feel special through affordable but lovely bouquets. And while it's harder to go out these days to do our shopping in the long lines at flower bazaars, the Dangwa Flower Shop online should come in handy.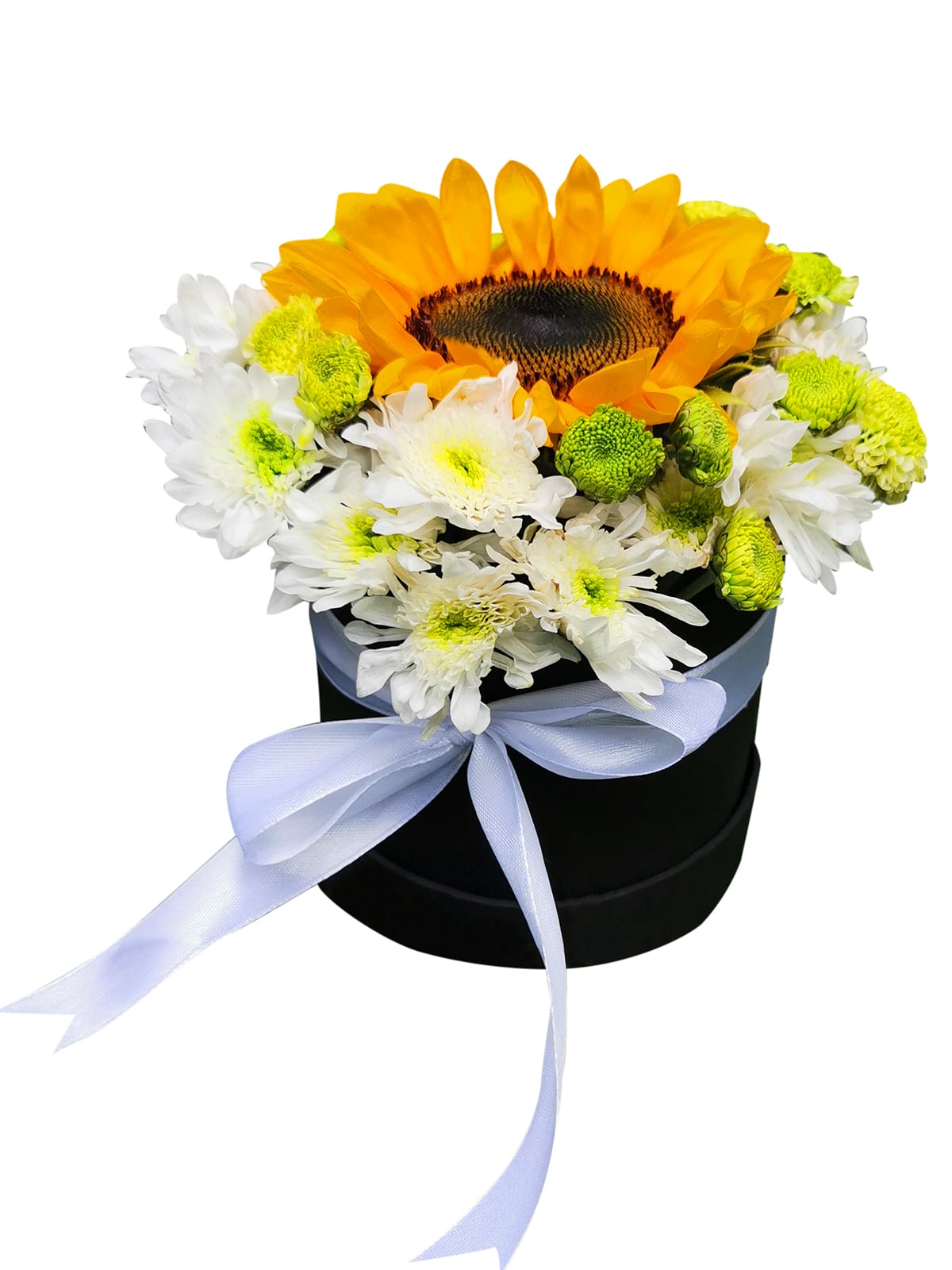 The Lira bouquet with sunflowers and white mums.
Image credit: Dangwa Flower Shop
They have a range of flowers available to suit every occasion. Aside from roses, they also arrange bouquets of harder-to-find flowers such as carnations, gerberas, and stargazers that would make meaningful gifts on Mother's Day. One of their most affordable bouquets is the Lira, a mixed bouquet of sunflowers with white mums, available at P1197.60 (~USD21.86.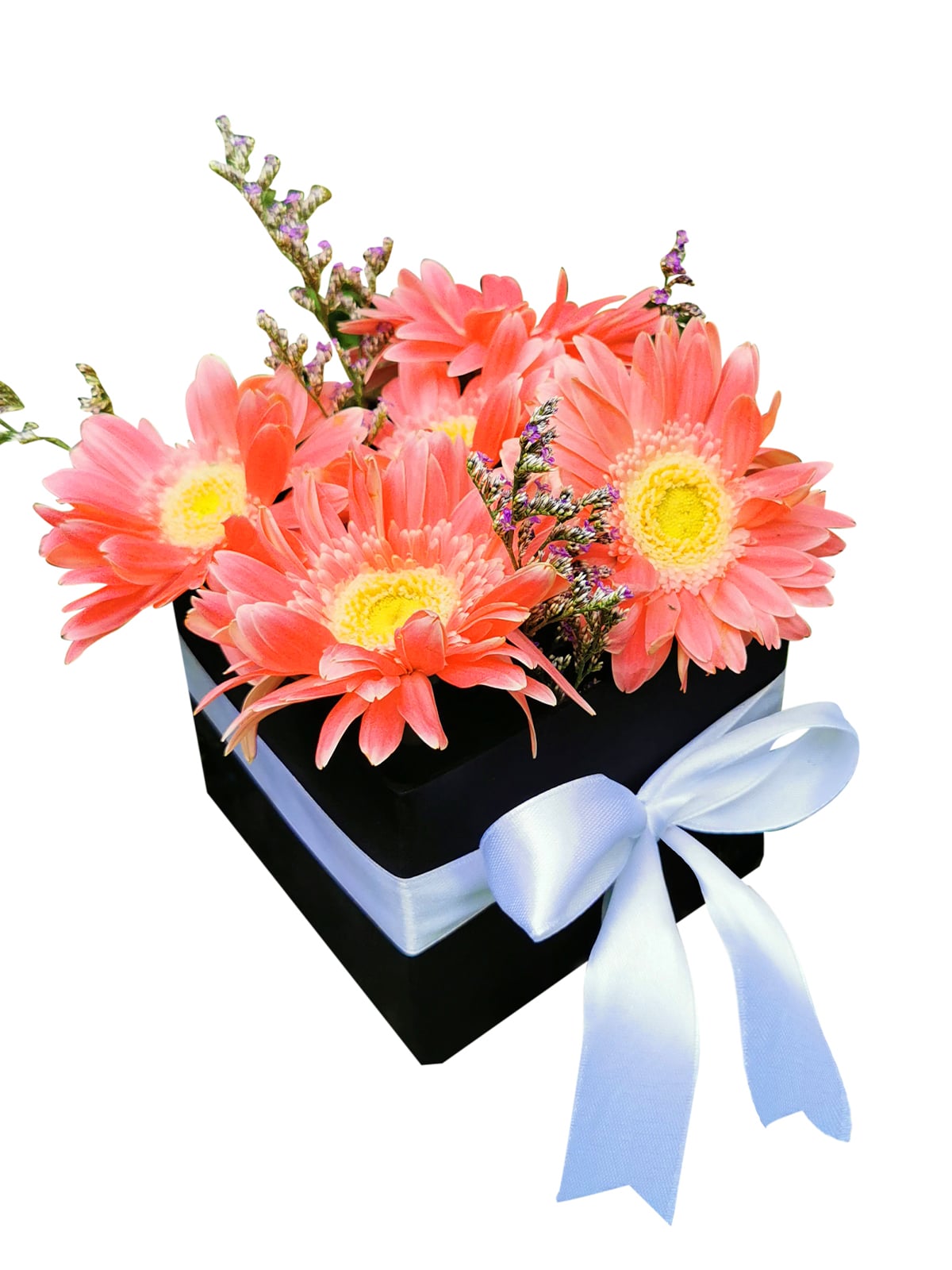 The Arabella, a Gerbera bouquet.
Image credit: Dangwa Flower Shop
This bouquet of gerberas, available in various colors and suitable for Valentine's Day, is P1198.80 (~USD21.88).
Delivery options: same-day (Metro Manila), next-day (provincial)
Website
---
7. Le Fleur Boutique – large bouquets
---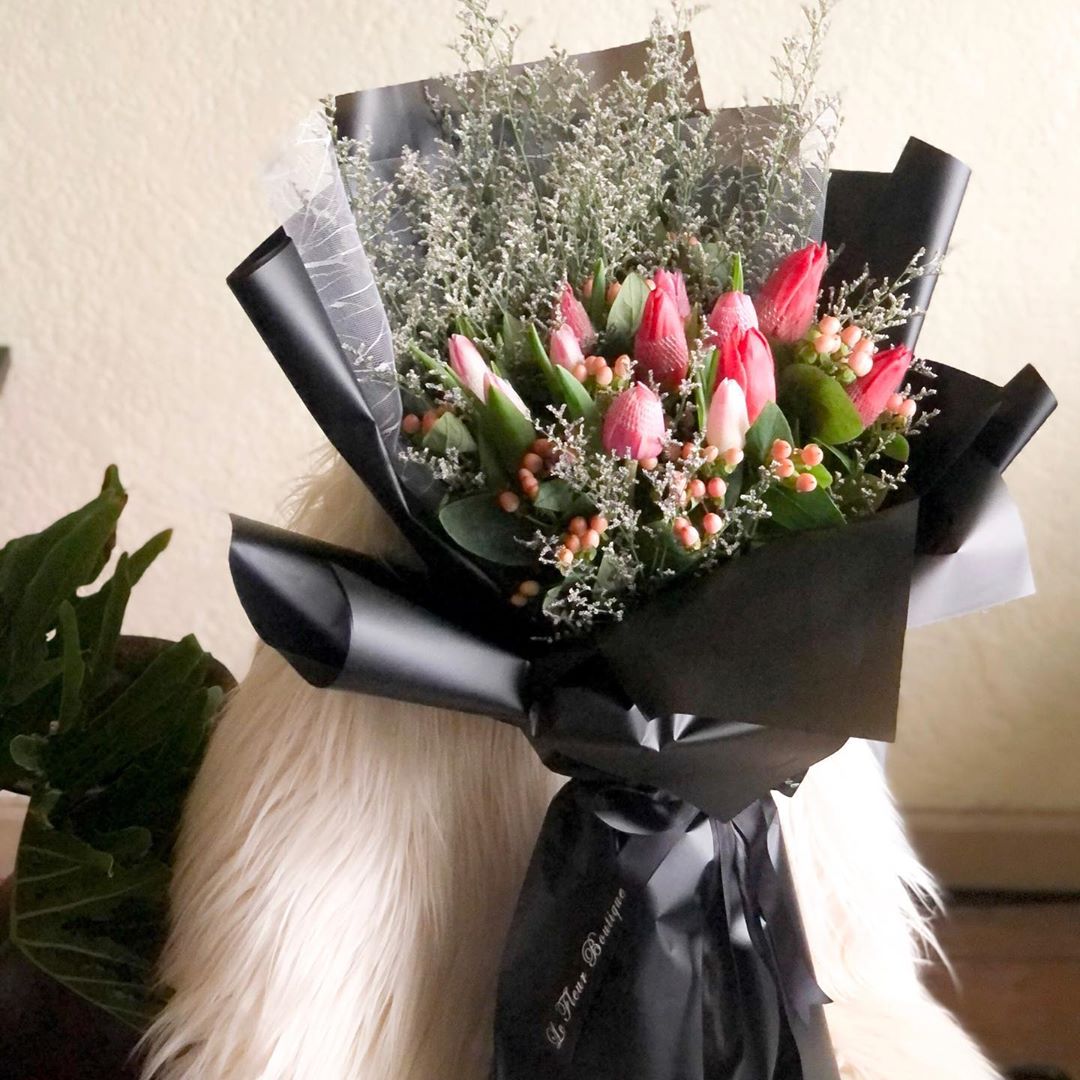 Tulips and berries (Agatha)
Image credit: @lefleurboutique_ph  
For once-in-a-lifetime occasions, splurging a bit more can get you larger mixes of florals wrapped in more detailed layers. Le Fleur Boutique specializes in this kind of arrangement with their selection of fresh flowers – from roses to tulips and statice.

The Agatha Bouquet (P5,508, ~USD100.53), for example, is a mix of tulips and berries in a black wrap you can give to someone to express your congratulations. You can customize the color of the wrapper and tulips as well according to the recipient's preference.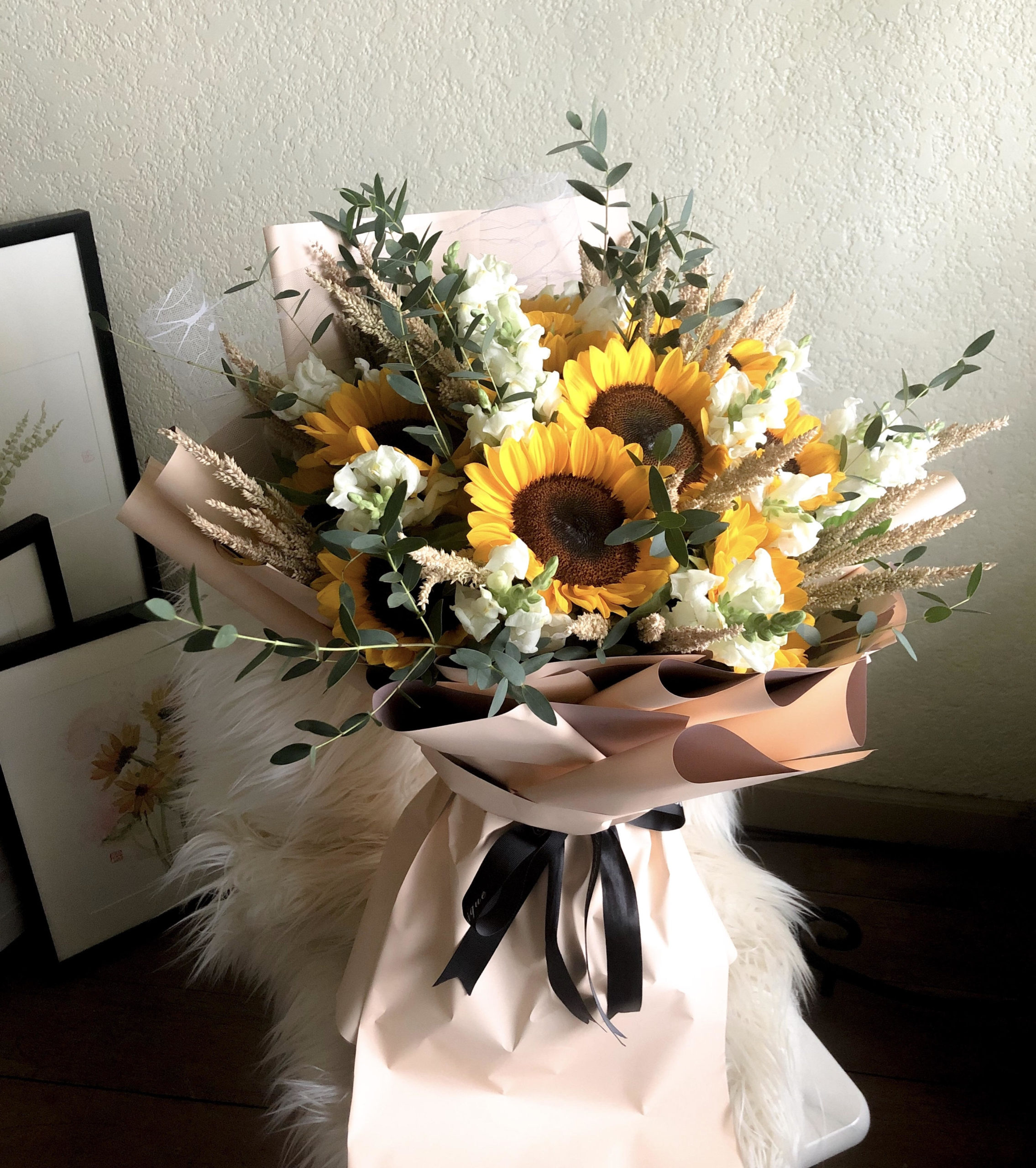 Sunflowers (Anabelle)
Image adapted from: Le Fleur Boutique 
In marking new beginnings during birthdays or anniversaries, sending a bouquet of sunflowers is always a good idea. The Anabelle (P7,020, ~USD128.14) is a mix of 12 sunflowers, arranged together in an elegant wrap. 
Aside from large bouquets, they also design boxed bouquets for any event, wedding bouquets, and preserved flowers you can keep at home as decor. 
Delivery options: rush, next-day, provincial
Website | Instagram
---
8. Fiora Manila – flowers in elegant buckets
---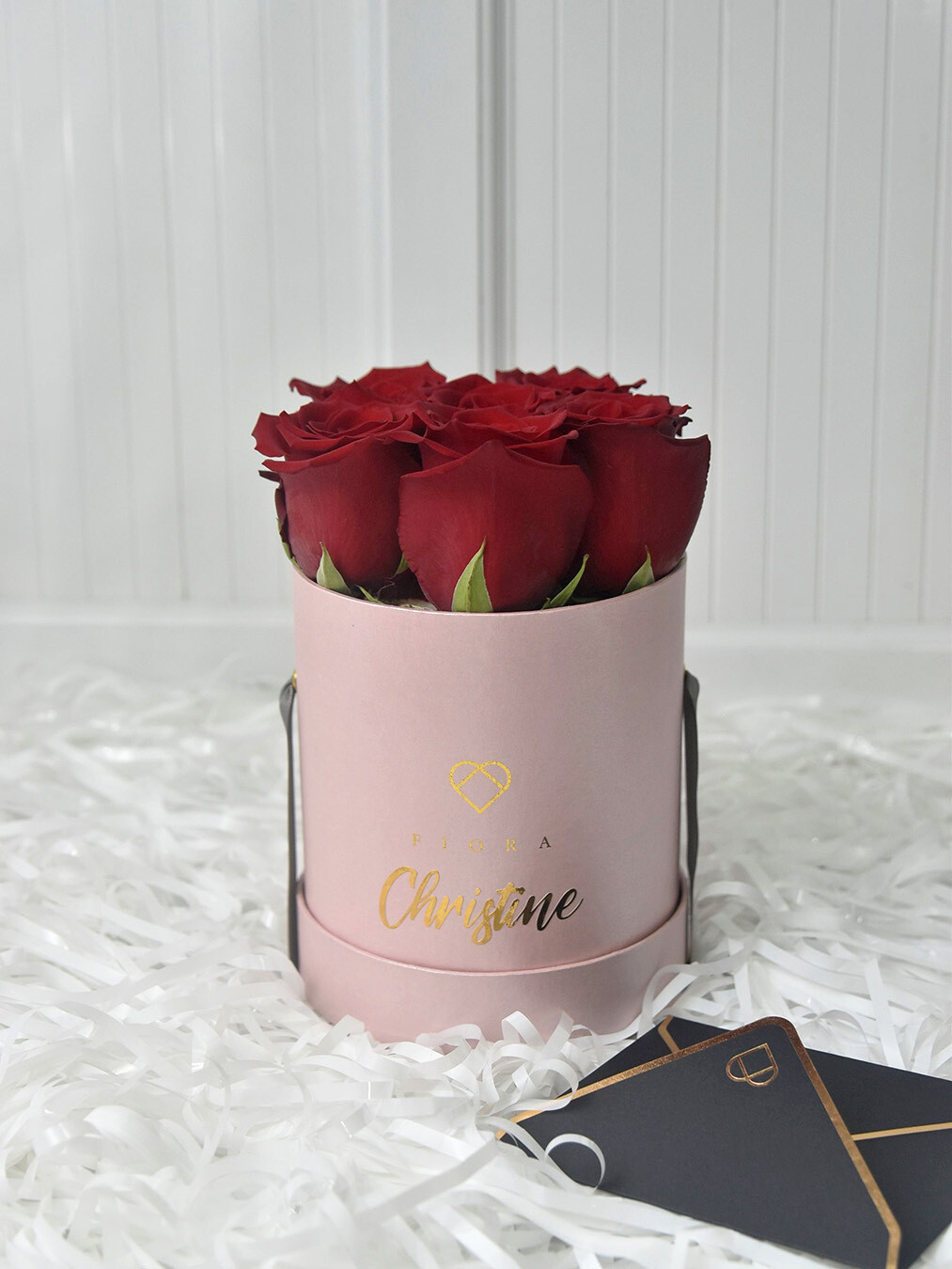 Roses in a small bucket.
Image credit: @fioramanila

Bouquets might break apart if not handled with the utmost care, so if you want to add a layer of protection to your flowers, you can consider the arrangements from Fiora Manila. 
Instead of wraps, they offer flowers put together in lovely, circular buckets that you can also customize with text. Their Ecuadorian roses in a small-sized round bucket (P3,799, ~USD69.34), available in red, peach, pink, or purple, should put a smile on your favorite lady's face whether it's Valentine's or Mother's Day.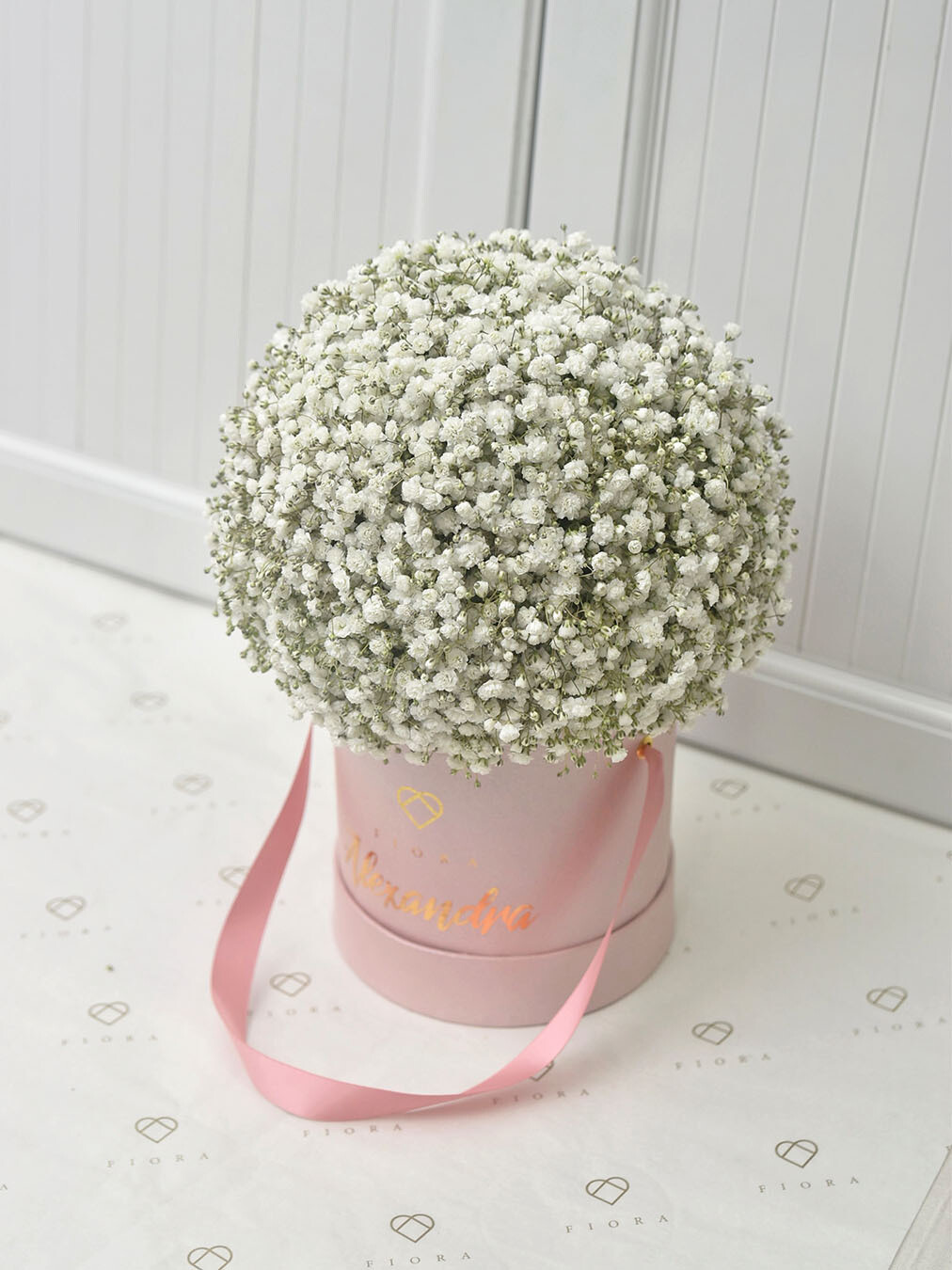 Gypsophilas in a small bucket
Image credit: Fiora Manila
Gypsophilas are more commonly used as fillers in mixed bouquets at most Metro Manila flower shops, but in Fiora Manila's Cotton Candy Dreams collection, they take centerstage. The white gypsophilas in a small round bucket (P3,499, ~USD63.86) are combined together in a neat, round cluster, reminding us of delectable candy. Aside from white, you can choose other colors of gypsophilas from baby pink to lilac. 
Delivery options: same-day, next-day
Website | Instagram
---
9. The Glass House Flowers – flowers in acrylic and mirror boxes
---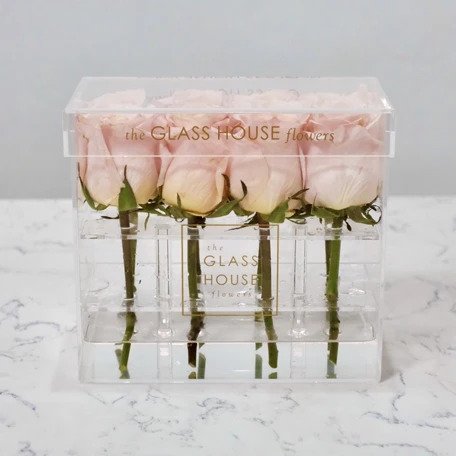 Ecuadorian roses from their signature collection (Premium Rectangulaire 8)
Image credit: The Glass House Flowers
For a modern look compared to classic Metro Manila flower shops' paper-wrapped bouquets, The Glass House Flowers stores flower arrangements in acrylic mirrored boxes that contrast with the flowers' curvy edges. An example from their signature acrylic collection includes the Premium Rectangulaire 8 (P4,900, ~USD89.44) with 8 fresh Ecuadorian roses in salmon pink that are also available in various colors.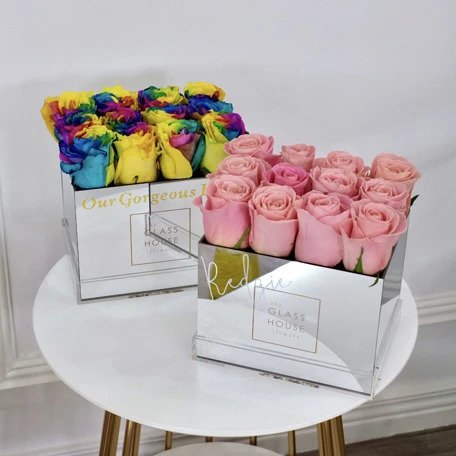 Image credit: The Glass House Flowers  
The Premium Silver Mirror (P6,500, ~USD118.64) includes 12 fresh Ecuadorian roses that are available in various colors as well, from salmon pink to rainbow. 
Their fresh flowers are available in other packaging choices: in velvet circular and rectangular boxes, tall amour boxes, and even marble. They've got you covered if you're looking for longevity, too – preserved flowers are in various packaging designs such as velvet suede circular minis. 
Delivery options: same-day, next-day, select areas outside Metro Manila
Website
---
10. Te Amo Floristeria – giant bouquets and flowers in vases
---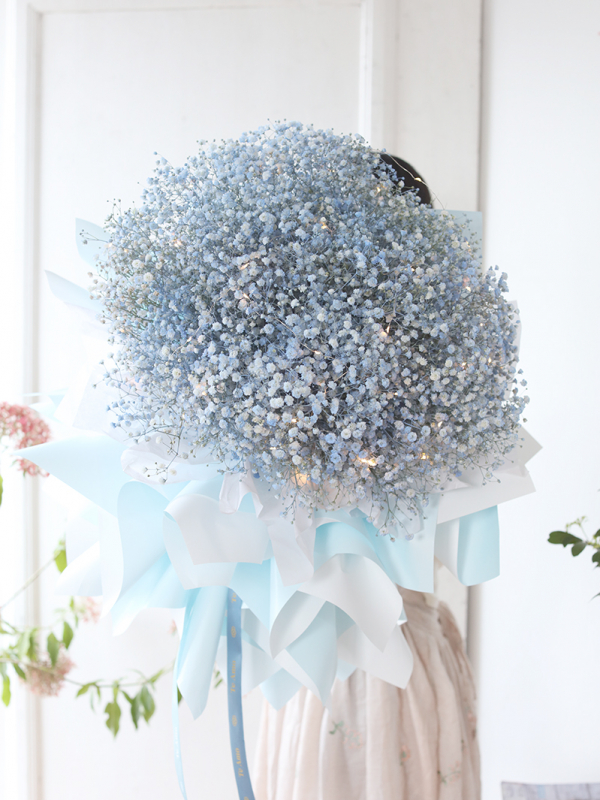 Giant bouquet of gypsophilas (Star Burst Blue).
Image credit: Te Amo Floristeria 
If you're thinking of kneeling down in front of your significant other soon, you can surprise them with a bouquet of flowers from Te Amo Floristeria, known for their lavish, dramatic mix of florals, colors, and layers. Their giant bouquets are an opulent combination of various flowers and fillers.
The Star Burst Blue, for example, is a mix of stargazers and roses almost the size of a human, selling at P8,500 (~USD155.14).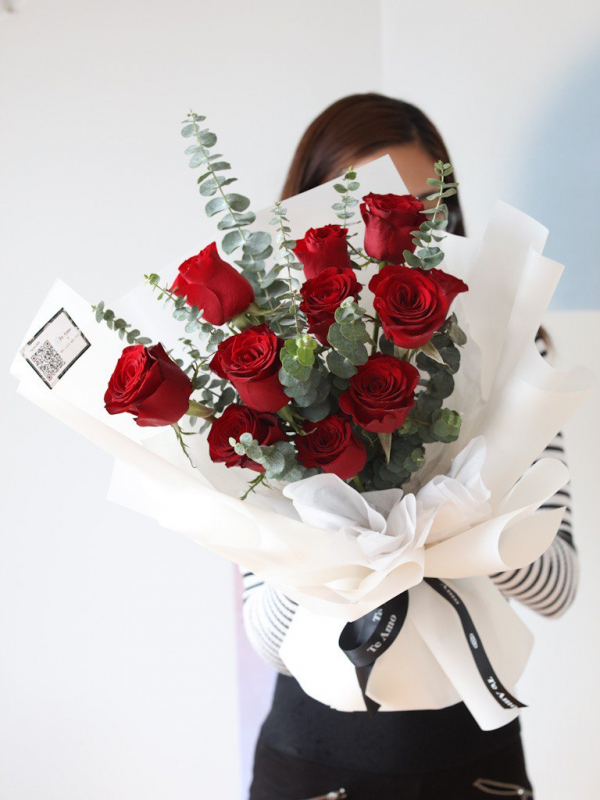 Image credit: Te Amo Floristeria
Among their large bouquets, the Sangriaa (P4,499, ~USD82.12) is a crowd favorite, consisting of China roses and eucalyptuses with many wrapper color and pattern choices.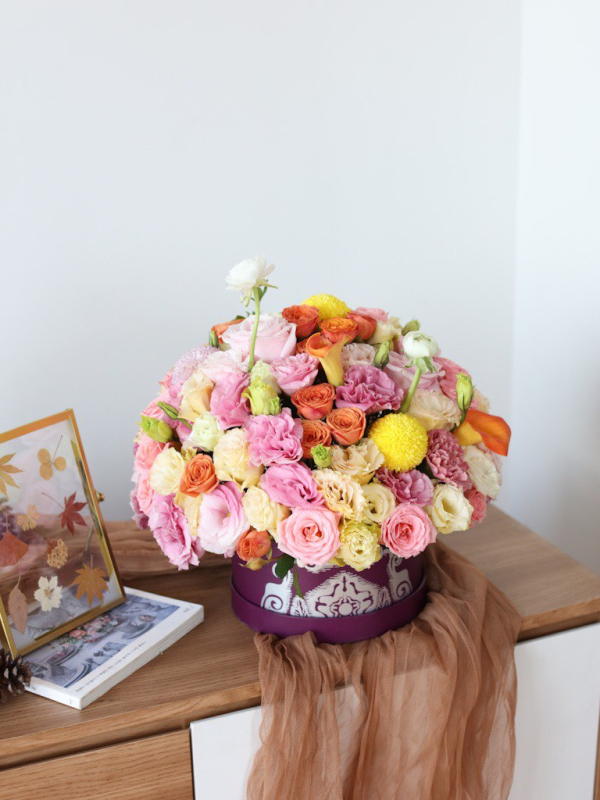 Image credit: Te Amo Floristeria
Homeowners who enjoy decorating their dining table with floral centerpieces would love their arrangements such as the Azure (P6,500, ~USD118.64).
Their peserved flowers come in domes and boxes, while other services include floral arrangements for weddings, bridal showers, photoshoots, and corporate events.

Delivery options: same-day (Metro Manila), nationwide & international (preserved)
Website
---
11. The Flower Farm – flowers in locally handcrafted baskets
---

Chrysanthemums in a bayong (The Amor)
Image credit: The Flower Farm 
Titas who prefer sustainable shopping would appreciate The Flower Farm's collection of fresh flowers in locally handcrafted baskets. One of their arrangements has chrysanthemums in a bayong (P2,500, ~USD45.63), giving off a Filipino aesthetic as well as being sustainable.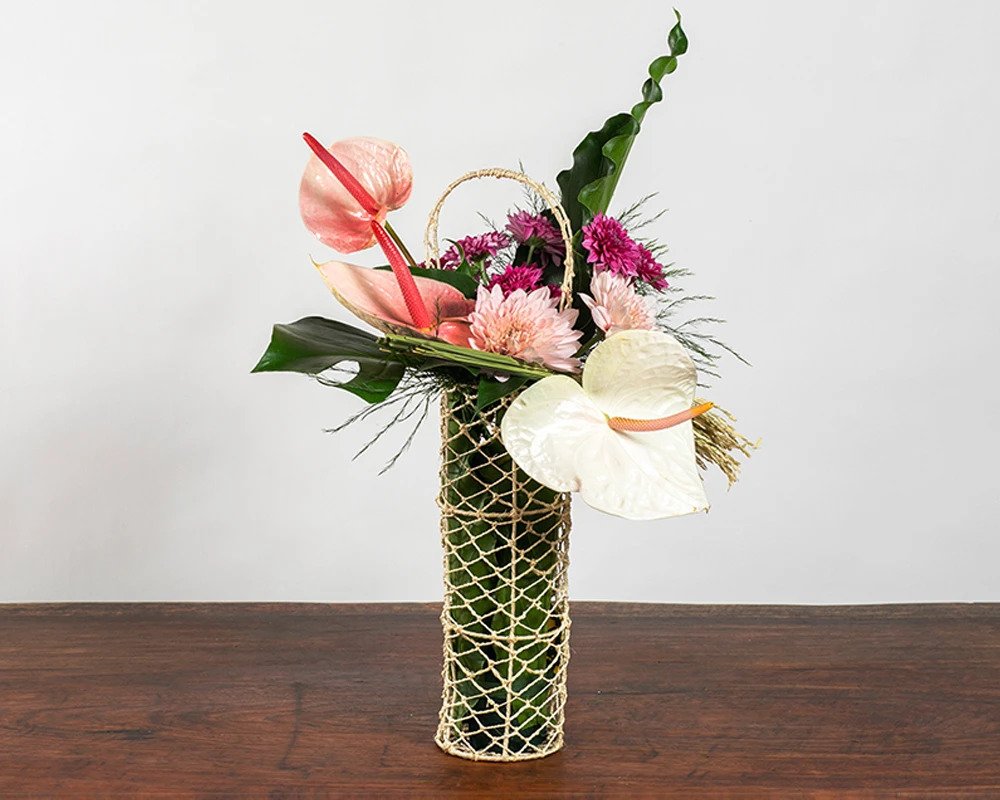 Anthuriums and chrysanthemums (Dalisay)
Image credit: The Flower Farm 
 The Dalisay (P1,500, ~USD27.38) is a unique arrangement of pink anthuriums and a variety of chrysanthemums you can offer to a departed loved one. It's put together in a wine basket floral for an elegant, elongated look. From locally handcrafted baskets, they also put fresh flowers in glass vases and design table centerpieces and sympathy flowers.

In the biz for almost 40 years, The Flower Farm prides itself on growing flowers in its 7-hectare nursery in Tagaytay that's catered flowers for birthdays, weddings, corporate events, and many other occasions.

Delivery options: scheduled 48 hours after payment (pick-ups in Makati and Alabang branches)
Website
---
Metro Manila flower shops with delivery services
---
It can be a chore to shop for flowers online, as the web is filled with various Metro Manila flower shops.
But you're bound to find something appropriate for your occasion from these Metro Manila flower shops with fancy packaging, flower arrangement colors, and sizes.
Also check out:
---
Cover image adapted from: Flowers by Namu, @flowerchimp.ph
This article was originally published on 10 October 2020 and updated on 18 August 2021, 20 May 2022, and 8 February 2023 by Addie Pobre, Kim Shelly Tan, and Xin Tian Koh respectively. The article contains partial sponsorship content but all opinions are the authors' own.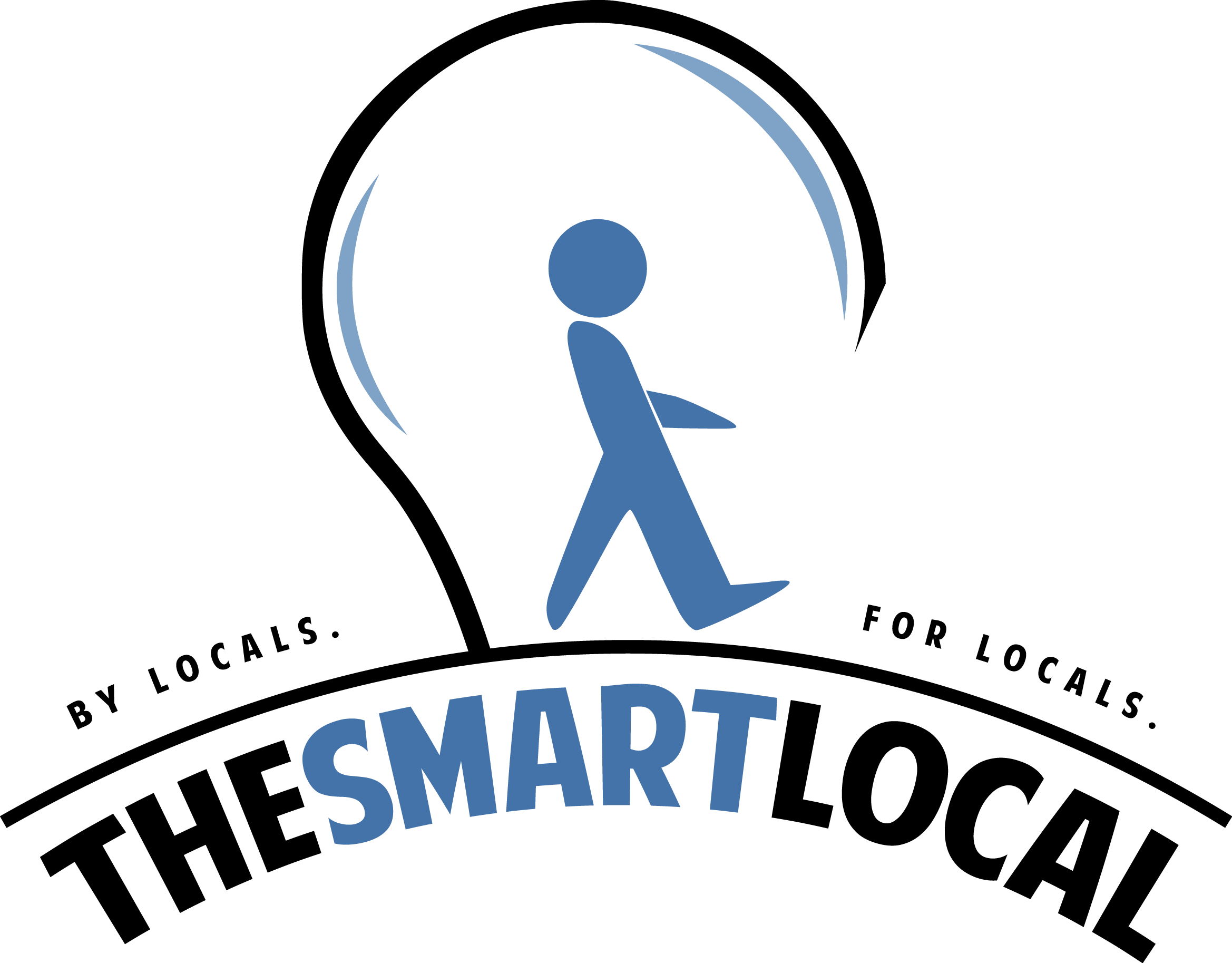 Drop us your email so you won't miss the latest news.