Themed Makati bars
---
Soon after the sun sets, Makati, from its daylight business persona, transforms itself into a vibrant, cosmopolitan nightlife hub. Yuppies, finally away from their keyboards, let loose after a hard day's work in their favorite bars – including these uniquely themed ones. 
For a relaxed after-hours vibe as well as a good drink, choose from these 10 Makati bars – from Gatsby to Alice in Wonderland-themed – to get your drink game on. 
---
1. Penthouse 8747 – Great Gatsby comes to the metro
---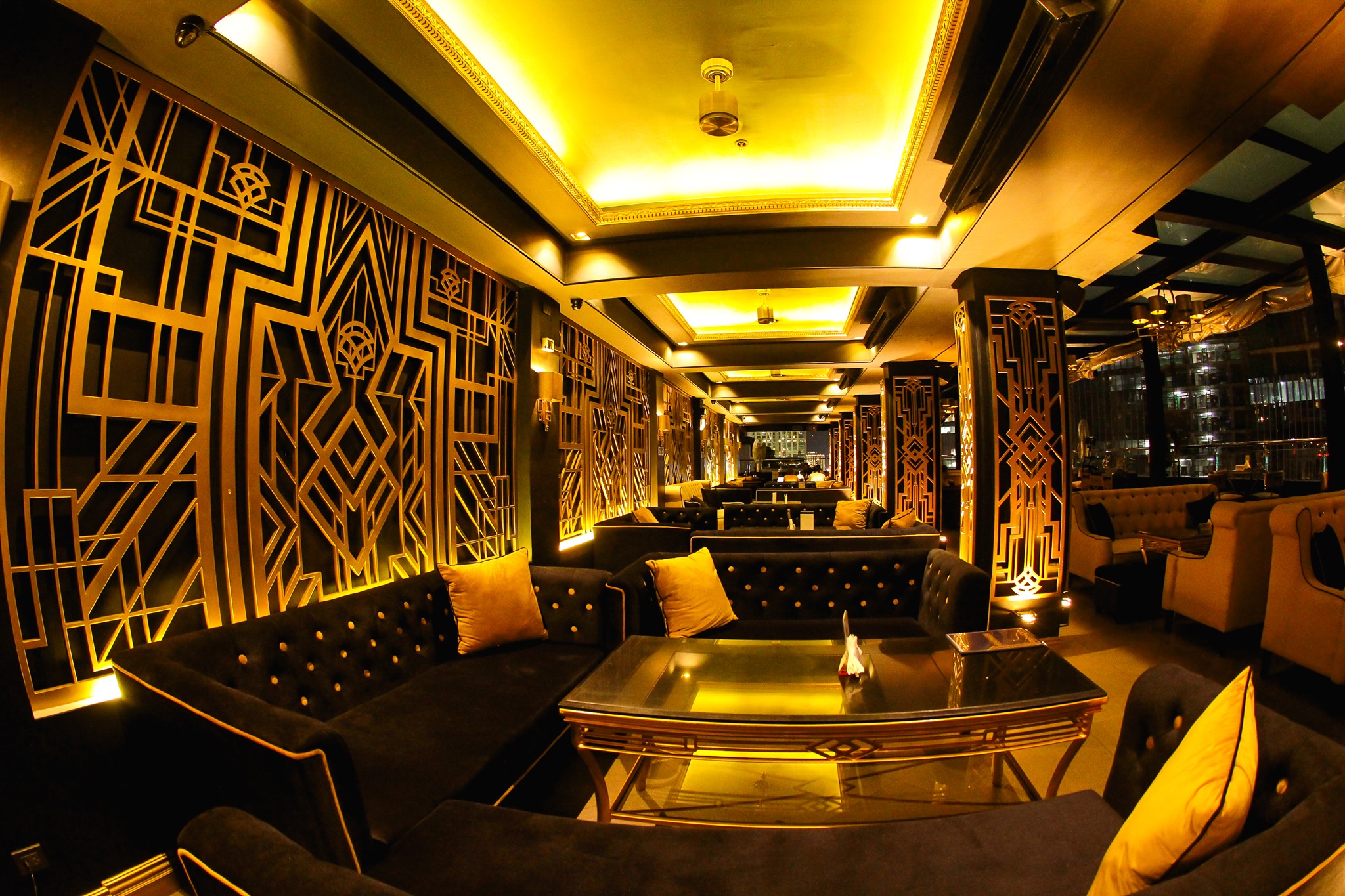 Image credit: The Penthouse 8747 
Glowing gold at night with walls and glasses accented with symmetrical, gleaming rims, Penthouse 8747 looks straight out of the roaring 20s aesthetic in the film The Great Gatsby.
Aside from its iconic theme, Penthouse is situated on the roof deck lounge of Lepanto Building so you can soak in the view of Makati's glistening skyline at night while downing your favorite cocktails.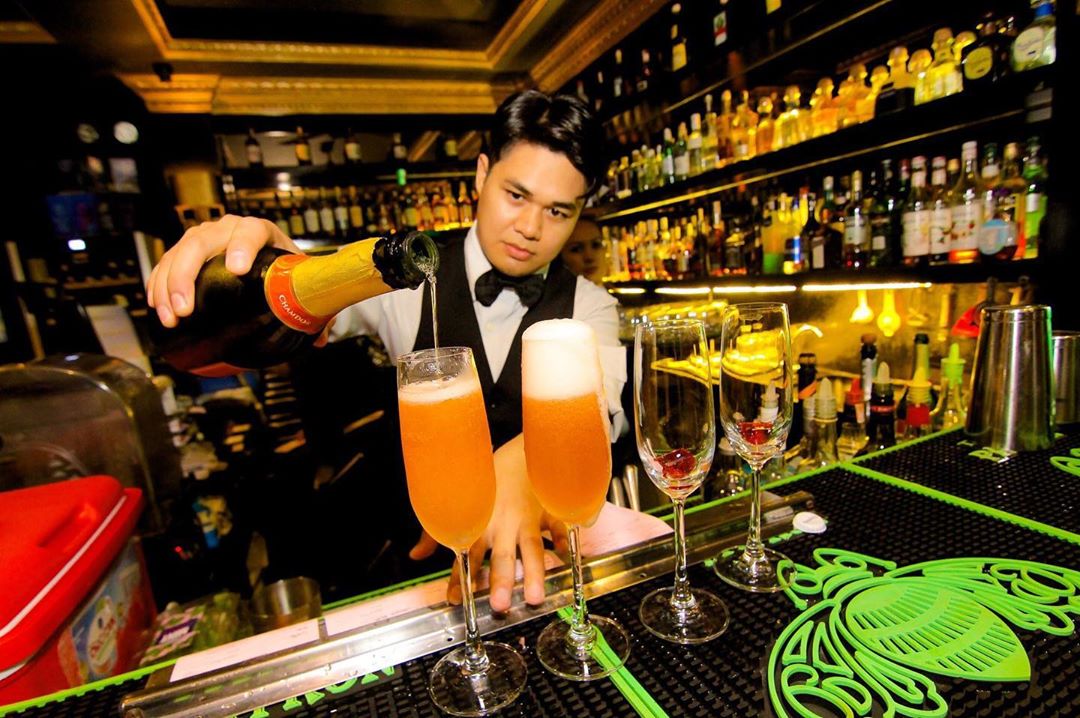 Image credit: @thepenthouse8747

They have a selection of their signature cocktail drinks, such as the Fitzgerald (P350, ~USD6.90), a mix of gin and fresh orange juice, inspired by the famous author of the Gatsby book. Sweet Daisy (P350, ~USD6.90), alluding to Daisy Buchanan's character, is concocted as a combination of vodka and fresh lemon juice. 
Other drinks include Decadence (P300, ~USD5.91), Night in the Plaza (P300, ~USD5.91), and Myrtle Wilson (P350, ~USD 6.90), playful names of cocktail flavors that pay tribute to the concoctions popular during the Prohibition era in the US. 
Address: BA Lepanto Building 8747, Paseo de Roxas St., Makati
Opening hours: Mon – Thurs 4PM-1AM | Fri – Sat 4PM-2AM
Mobile: 0917 801 0655
Website
---
2. Run Rabbit Run – whimsical-themed bar a la Alice's wonderland
---

Image credit: @runrabbitrun.ph 
Behind this unassuming facade marked by a red wooden door is Run Rabbit Run, a fantasy-inspired cocktail bar hideout. Previously a residential house, the cozy space with wooden elements, sofas, and lush greenery is accented by alcoholic spirits and music to capture the owners' love for Alice In Wonderland.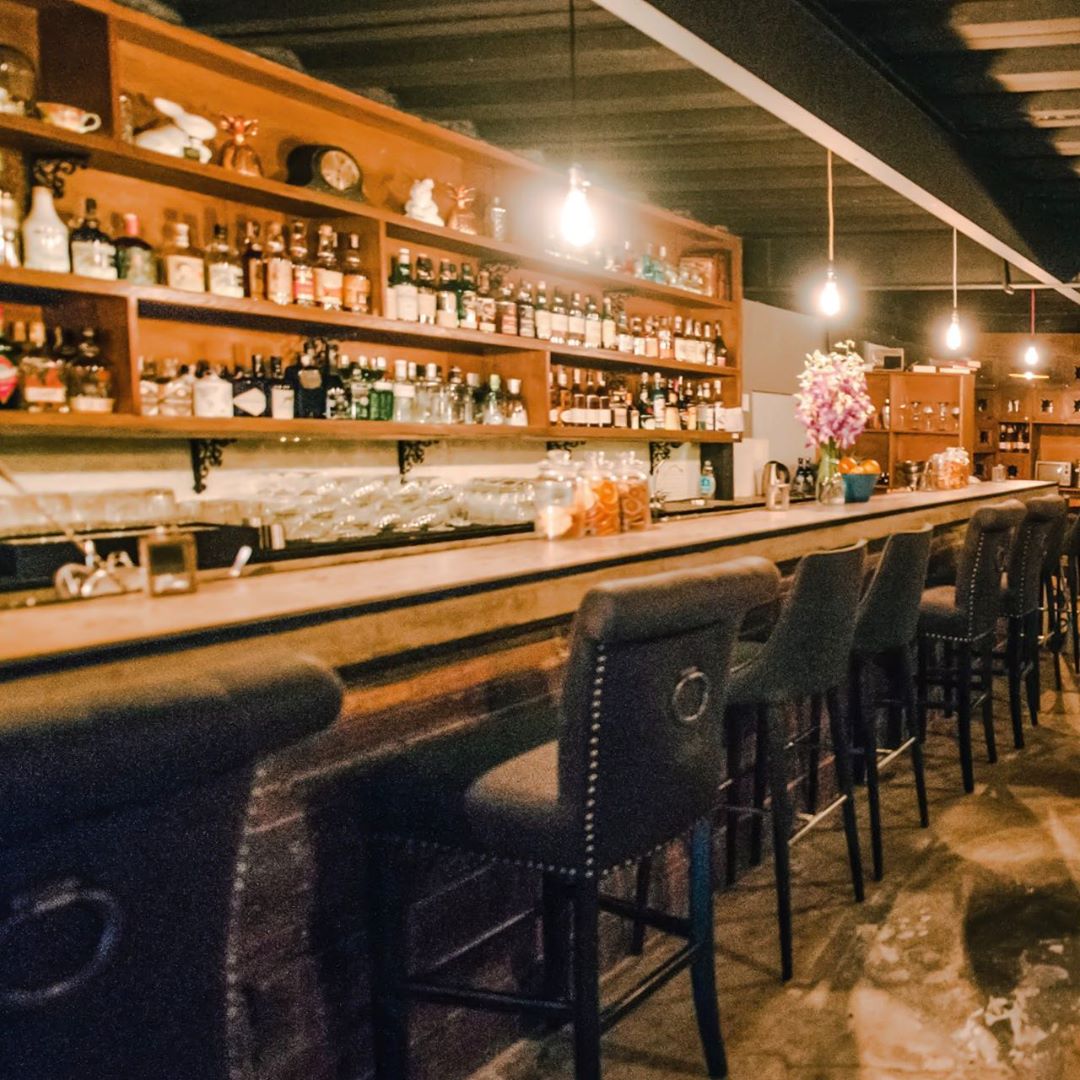 Image credit: @runrabbitrun.ph
Inside is a mishmash of intimate and wide-open spaces, where you can either enjoy a chill night out with friends in a tighter space or bask in the bar's spacious, garden-inspired area.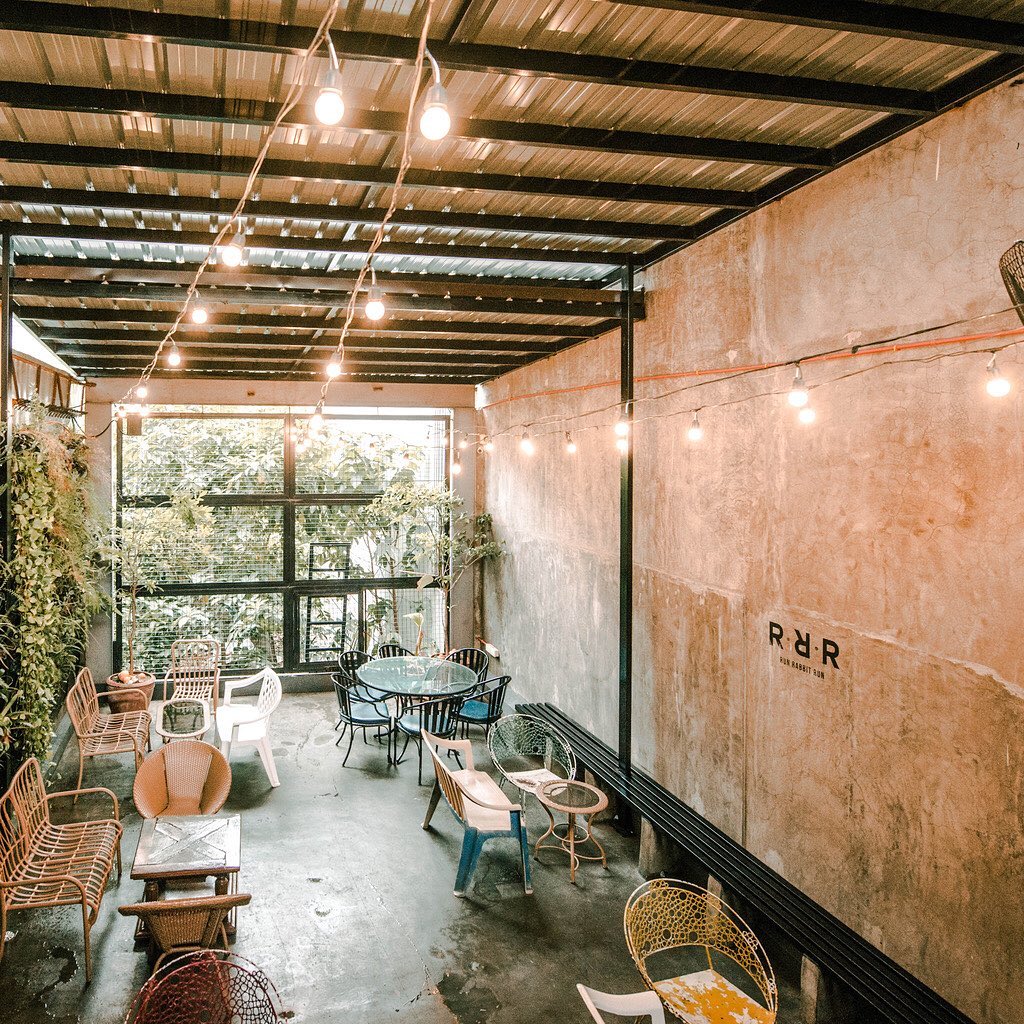 Image credit: @runrabbitrun.ph 
As for its selection of cocktails, the signature drinks are named after characters in the popular favorite children's novel: there's Jessica Rabbit (P400, ~USD7.88), for example, a strong and spicy mix of bourbon, lime, and lemon oleo saccharum, and rosso infused with cloves and star anise. For something lighter but still memorable, vanilla meets ginger bubbly in Rabbit Fizz (P400, ~USD7.88), composed of irish whiskey, vanille liqueur, ginger ale, and citrus. 
Address: 4991 P. Guanzon St., Brgy. Poblacion, Makati City
Opening hours: Tues – Wed 6PM-1AM | Thurs – Sat 6PM-3AM
Telephone: 889-70668
Website
---
3. Alamat Filipino Pub & Deli – locally inspired drinks and Filipino bar snacks
---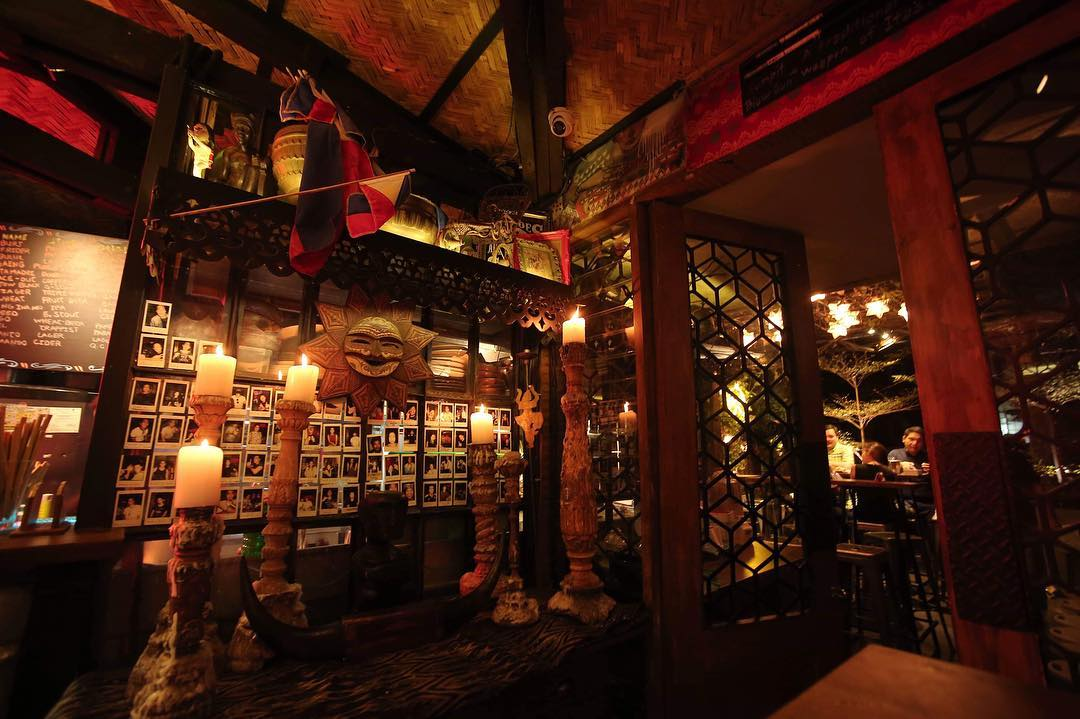 Image credit: @alamatfilipinopub 
For those of us missing the local vibe of pulutan nights, look for drinks with local ingredients matched with Filipino-style pulutan – or beer snacks- at Alamat Filipino Pub & Deli. Their selection of Pinoy cocktails is something familiar to our palates, such as Tahoooo (P250, ~USD4.93), an alcoholic mix inspired by our favorite silken tofu breakfast dessert composed of white rum, dark rum, pandan, panocha, arnibal, soya milk, and sago. 
Espacito (P270, ~USD5.33) might be their play on Despacito, and it's a mix of spirits and our favorite local sweets: white rum, tapuey rice wine, espasol, toasted heirloom rice, coconut milk, and cinnamon.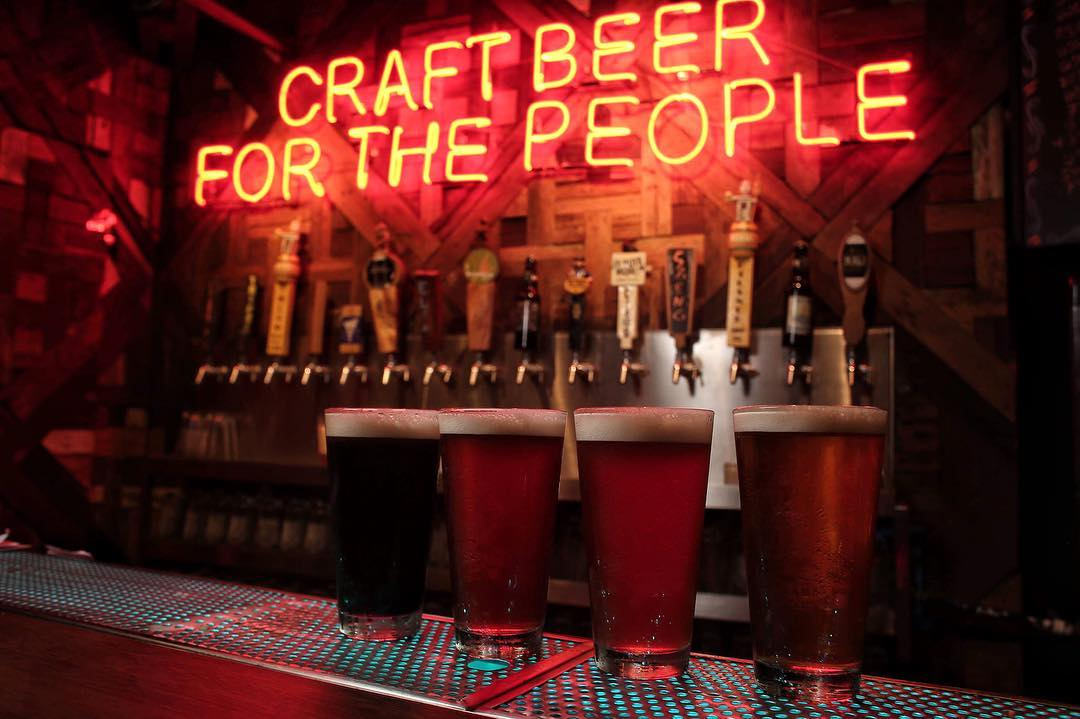 Image credit: @alamatfilipinopub 
Pair your drinks with their signature pulutan snacks, such as a crispy plate of salted egg chicken skin (P200, ~USD3.95) or sisig (P290, ~USD5.71), the classic Kapampangan dish of grilled pig ears, cheek, and brain. 
Address: 2F 5666 Don Pedro Street, Poblacion, Makati City
Opening hours: 6PM-2AM, Daily
Mobile: 0917 626 6866
Website
---
4. 78 – 45 – 33 – an audiophiles' haven with vinyl music and cocktails
---

Image credit: @nakedorneat 
Even just from the name, you would know that 78-45-33 is not your typical bar. You might not even notice it tucked underneath a barbershop in Salcedo Village if you aren't being observant. In one of the most hidden themed bars in Makati is a quiet haven for audiophiles seeking inner peace for a while amidst the company of good music and cocktails. 
Songs from vinyl records play in the room with dimmed lights, while a pair of JBL Hartsfield speakers from the '60s is on display. Soak in the music while sitting on their comfortable sofas with one of their signature drinks called In A Silent Way (P500, ~USD9.87), a sweet-tart orange liqueur with slices of apple.
Address: LPL Mansion, San Agustin Street, Salcedo Village, Makati City
Opening hours: 3:30PM-1AM, Daily
Mobile: 0920 927 6436
Website
---
5. Buddha Bar – an opulent, temple-inspired bar
---

Image credit: @buddhabarmnl 
A three-story bar adorned with fixtures of an Asian temple, Buddha Bar's Manila location is an unapologetic example of luxurious Asian interior elements. A huge Buddha sculpture sits on the mezzanine and rich mahogany furniture dots the dining area. 
As if these are not enough to tickle the senses, Buddha Bar doesn't shy away from playing ethnic-inspired electronica rhythms. Chill with one of their cocktails from the Buddha Bar Manila Signatures menu, specially concocted for Manila drinkers. Try The Ultimate (price upon request), a mix of secret rum, maraschino liqueur, cointreau, pineapple, passion fruit, and almond milk.
When you start to feel famished, you can never go wrong with Buddha Bar's menu, rich Thai Style Tiger Prawns (P890, ~USD17.54) to Nikkei Angus Ribeye Steak (P1,590~USD31.33). Pair your feast with their Unli Sangria for only P499 (~USD 9.83). 
Address: Picar Place, Kalayaan Ave., Makati
Opening hours: Sun – Mon 4PM-12AM | Tues – Thurs 4PM-1AM | Fri – Sat 4PM-2AM
Telephone: 8856-5738, 8856-6719
Website
---
6. Filling Station Bar & Cafe – a 24-hour American-style 50's diner
---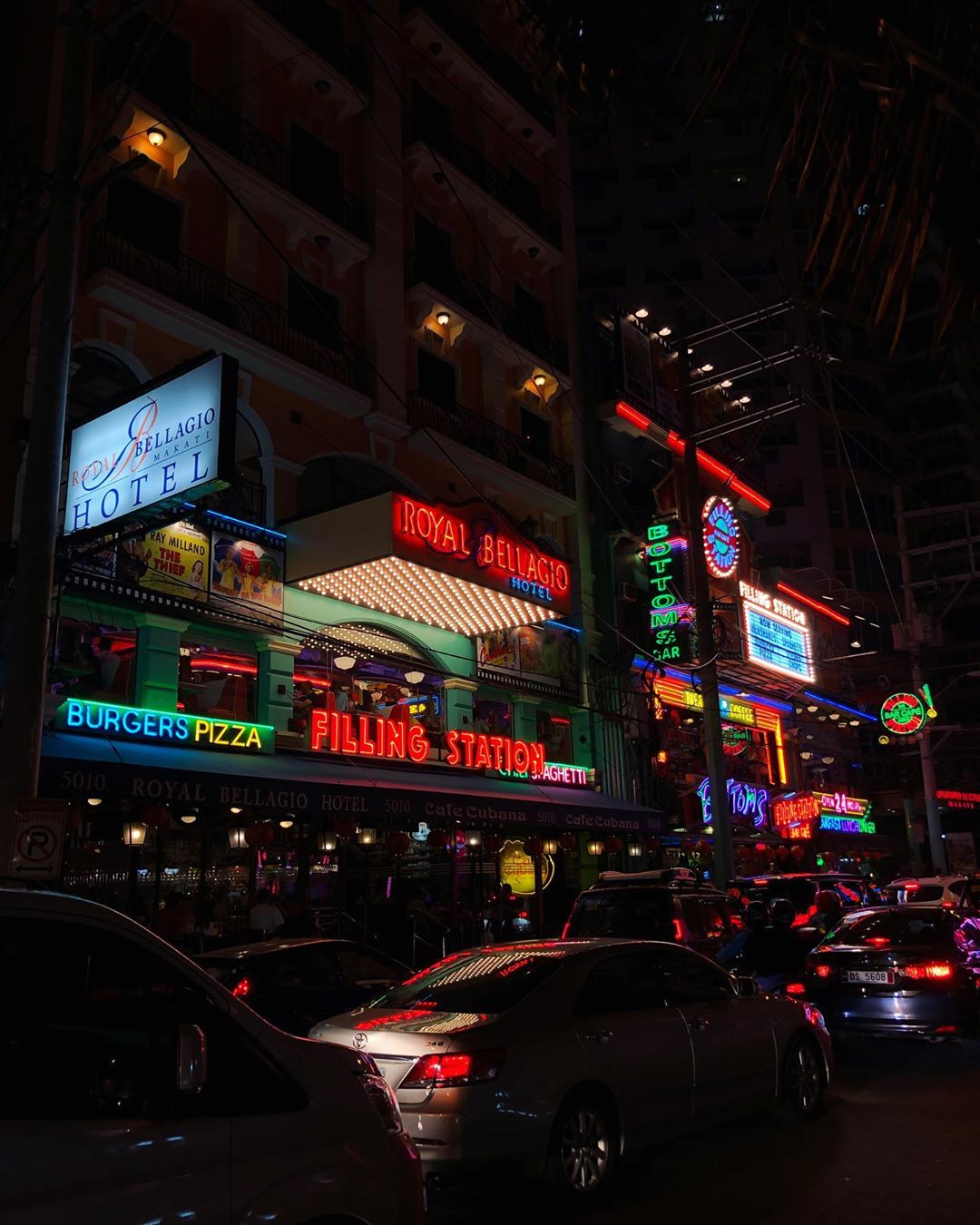 Image credit: @fillingstationbarcafe 
In 1950s America, long road trips were not complete without stop-overs at diners selling every comfort food from burgers to milkshakes. This is the culture that a former US navy chief cook brought to Manila when he established Filling Station Bar & Cafe, a remarkable neon-lit cafe and bar amidst the Poblacion nightlife scene.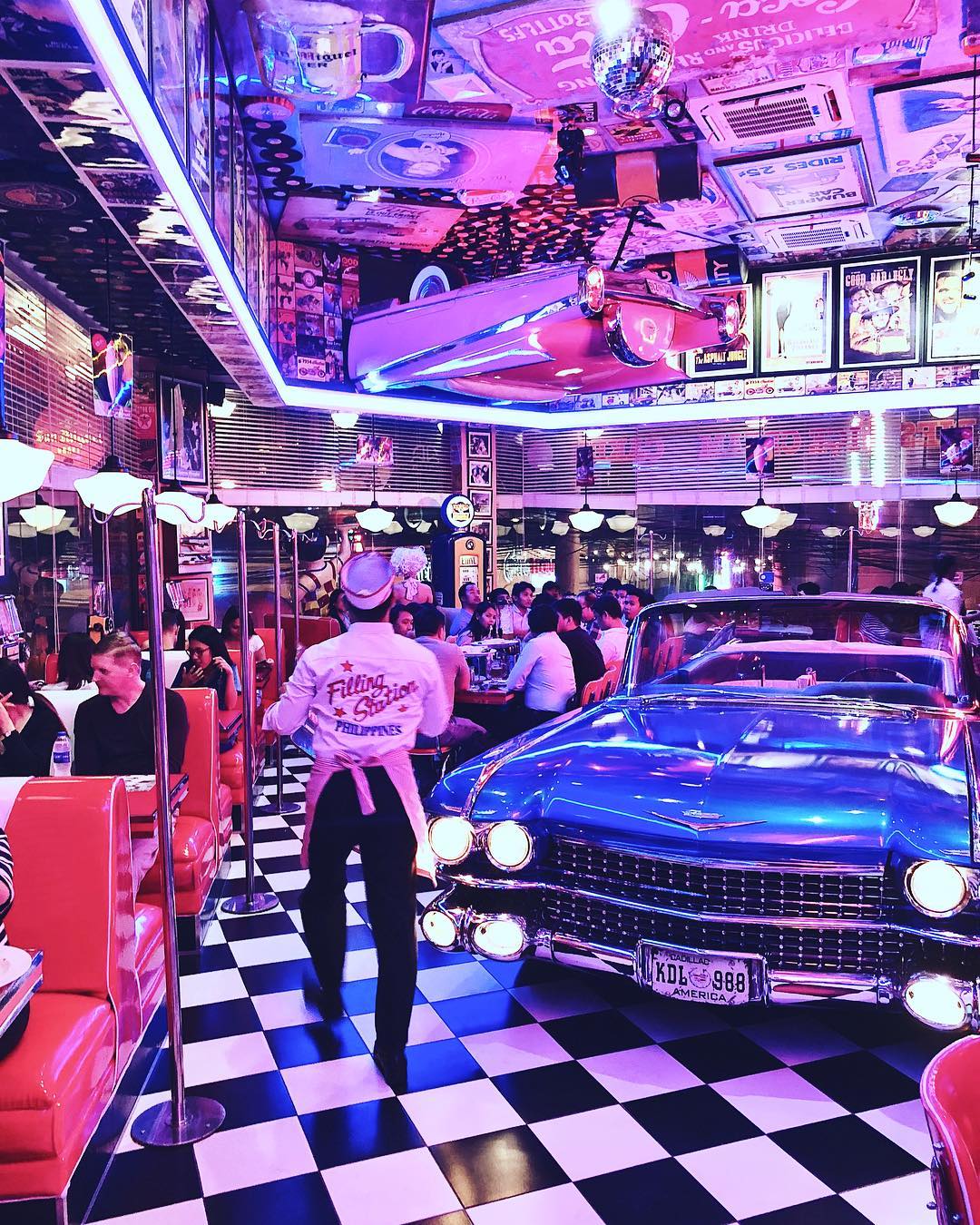 Image credit: @fillingstationbarcafe 
One of the most fun themed bars in Makati, this features a retro bubble of wall-to-ceiling vintage American memorabilia, such as old movie posters, rotary telephones, sculptures of celebrities such as Elvis Presley, and it even has a vintage Cadillac smack in the middle of the dining area. Top off your '50s American diner experience with a Shirley Temple (P223, ~USD4.41), a mocktail inspired by the Old Hollywood child actress, and bites of the All-American Burger (P463, ~USD9.15) featuring an imported US beef patty. 
Address: 5012 P. Burgos St., Makati City
Telephone: 897-2053
Website
---
7. Polilya – tropical space featuring local craft beer Engkanto
---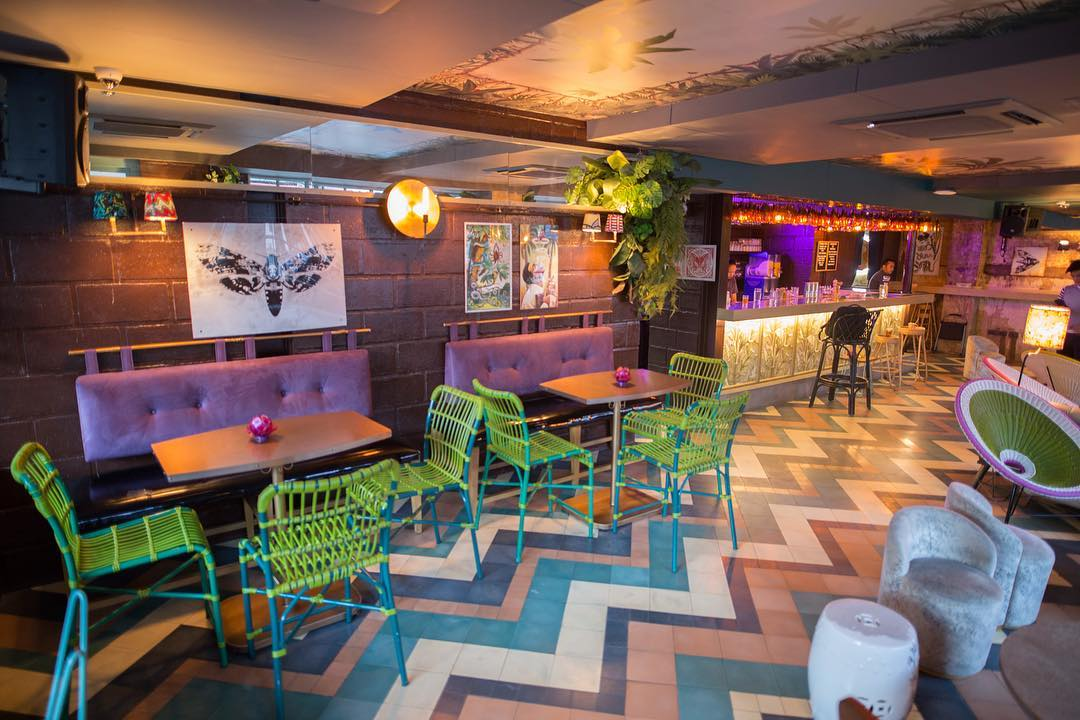 Image credit: @polilya.mnl 
Polilya is not your usual bar. It's dressed in playful hues of pastel and neon, and serves up all the variations of locally-crafted Engkanto beers. One of them is the Engkanto Lager (P140, ~USD2.76), a crisp, dry beer with a citrus aroma and flavor of tropical fruits. To enjoy the beer in its most intense form, give the Double IPA (P195, ~USD3.84) a shot; it's an explosion of citrus and passionfruit notes. 
The bar has a selection of cocktails called The Enchanted Eight, a mix of an Engkanto beer and their favorite cocktails, because sometimes customers can't decide which to drink between the two. Alternatively, Goldfinger (P360, ~USD7.09) combines turmeric-infused vodka with pressed ginger syrup, fresh lime, ginger beer, and double IPA dalandan foam for a pick-me-up. 
Address: 5658 Jacobo Street, Corner Don Pedro, Makati
Opening hours: Mon 5:30PM-2AM | Tues, Wed, Fri, Sat 6:30PM-2AM | Thurs 6:30PM-1:30AM
Mobile: 0917 500 1730
Website
---
8. Writer's Bar – bibliophiles' drawing room with evening drinks and afternoon tea
---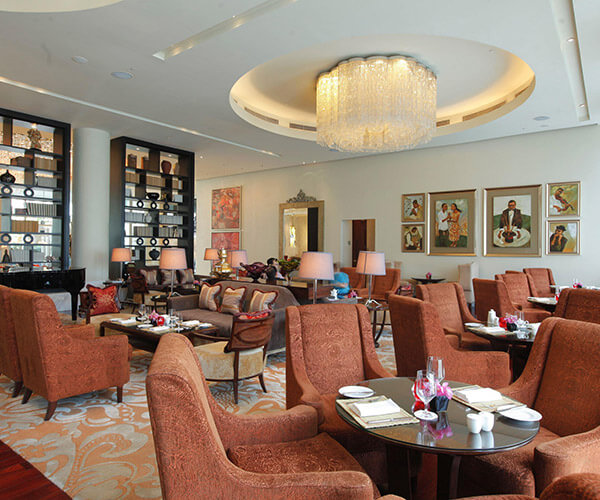 Image credit: Raffles Makati 
Dress in your pastel dress while wearing your white velvety gloves, if you will, while having an afternoon catch-up drinking tea at Raffles Makati's Writer's Bar. It's an elegant space with comfortable cushions on carpeted floors, emphasized by its towering bookshelves, as if you were in a British drawing-room. 
Try the signature cocktails, many of which come from the hotel's Singapore location – including the Panutsa Old Fashioned (P450, ~USD8.80) bourbon drink infused with palm sugar and orange bitter, or the Classic Singapore Sling (P450, ~USD8.80) featuring gin and Dom Benedictine with a dash of cherry, lime, and pineapple, plus grenadine that gives the drink its recognizable pink tint. 
For more sober days, we recommend the Afternoon Tea (P1,070, ~USD21.09) served from 2.30PM to 5.30PM – a set of finger food with baked pastries and a choice of tea or coffee. 
Address: 1 Raffles Drive, Makati Avenue
Opening hours: Breakfast 8AM-11AM | Afternoon Tea 2:30 PM-5:30PM | All day dining 11AM-12AM
Telephone: 8555 9840
Website
---
9. Mermaid Pool Bar – for the squad's pool party nights
---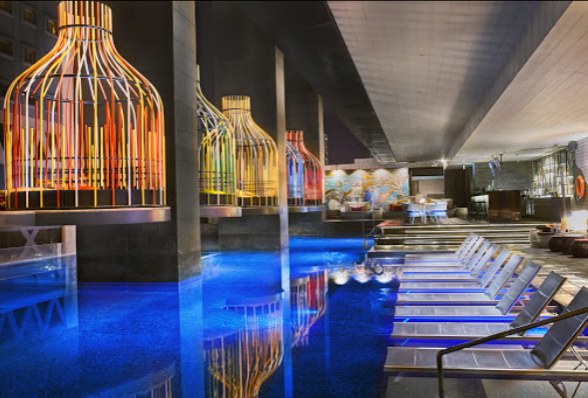 Image credit: Mermaid Pool Bar 
Mermaid Pool Bar on the second floor of the I'M Hotel is for those who want to dip their toes in the pool with your favorite cocktail. Or relax with your drink in front of the pool bar, inside the Instagrammable birdcages, or from the al fresco side of the bar. 
Their Groupie Cocktails menu features the Pap-Pineapple Action Party (P530, ~USD10.44) a zesty-sweet mix of tequila, coconut milk, pineapple juice, cucumber juice, and hazelnut syrup. 
Address: 2nd Floor, I'M Hotel, 7862 Makati Avenue corner, Kalayaan Ave, Makati
Opening hours: 11AM-11PM, Daily
Telephone: 7755 7888
Website
---
10. Salon de Ning – reminiscent of old Shanghai
---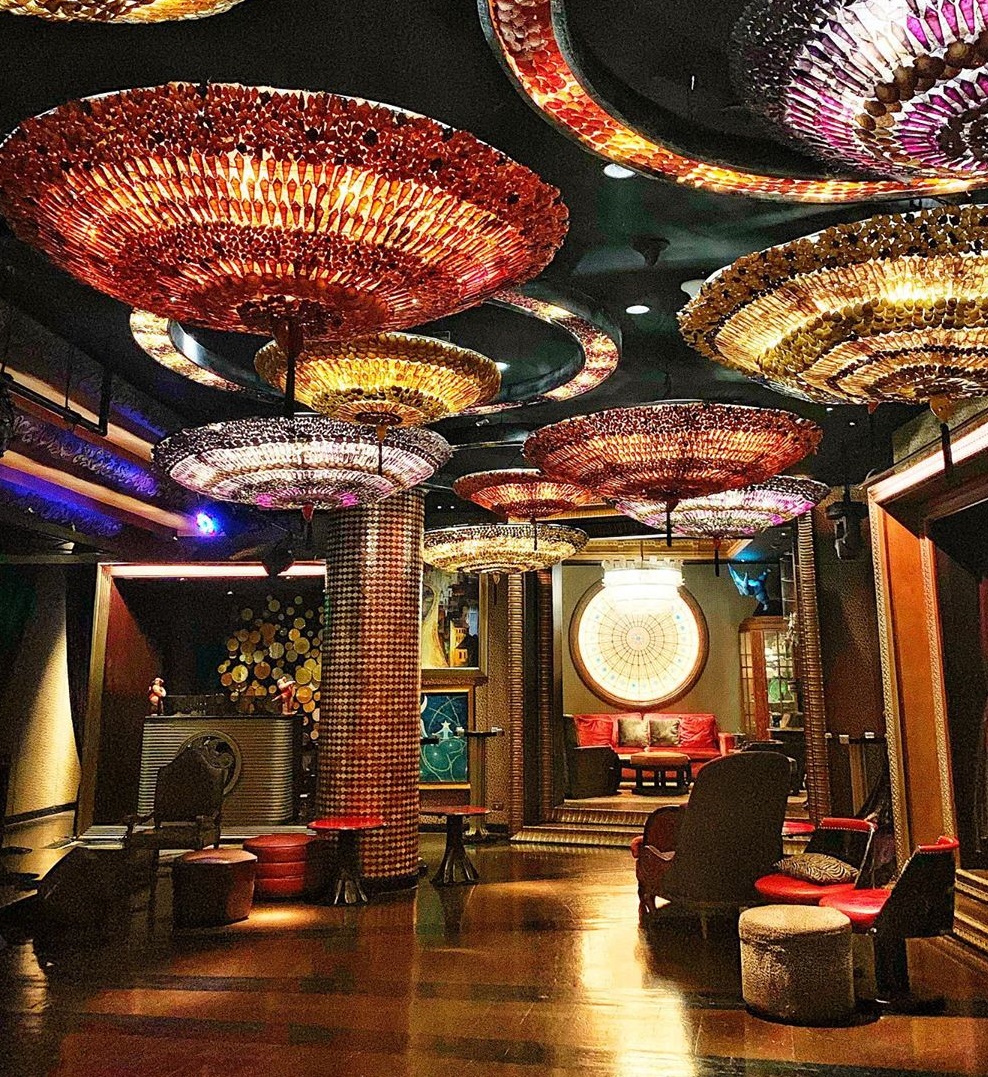 Image credit: @katmtan 
Stepping into Salon de Ning feels like being in a Chinese socialite's personal museum. One of the most unique themed bars in Makati, this is named after a fictional Shanghai social butterfly, Madame Ning – said to be beautiful, rich, feisty, and seductive. 
The bar is a feat of interior design, with front seating for those who would love to dance the night away, or four themed private rooms such as the Boxing Room and the aviation-inspired Zeppelin Room for private gatherings.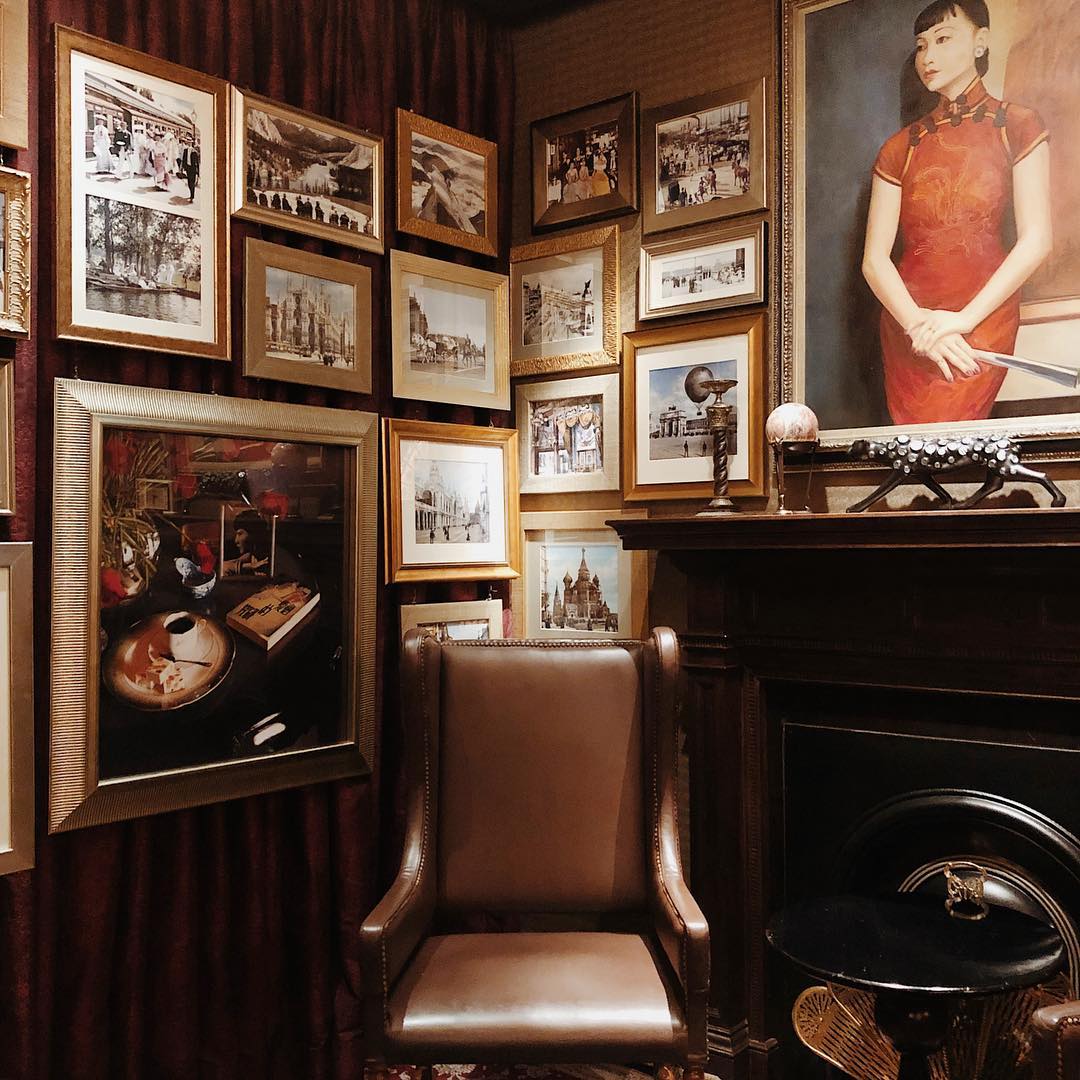 Image credit: @yanadelacruz 
The drinks are pricey, but even if you try just one, it's worth the price to see the old Shanghai opulence. Try the signature champagne, the Salon de Ning Rose, at P1,850 (~USD36.45) per glass. 
Address: G/F, Makati Tower
Opening hours: Tues – Sat, 7PM-2AM
Telephone: 8887-2888
Website
---
Next-level Makati bars
---
As Metro Manila's urban nightlife hub, Makati is the place to come down after work for a de-stressing drink or two – and with the themed decor and drinks many of its bars offer, you might forget that you're in the Philippines and not in a retro movie or fantasy world.
If you're looking for dinner before your drinks, check out: 
---
Cover image adapted from: @thepenthouse8747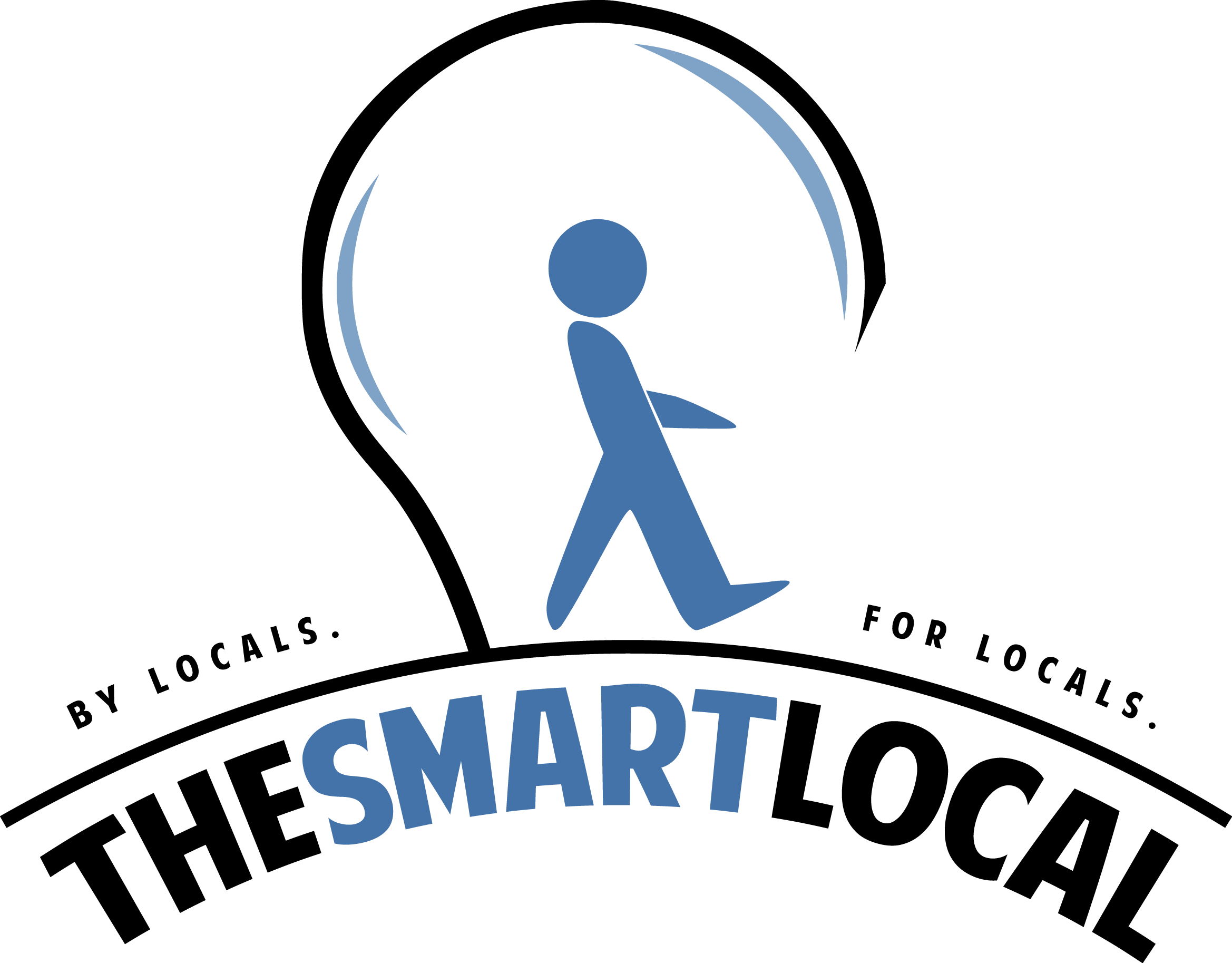 Drop us your email so you won't miss the latest news.