Volkswagen coffee station
---
Foodies from the south might have already seen photos of Kombi Coffee's Volkswagen coffee bar in Calamba, Laguna. The concept is so cute and aesthetically pleasing that it may have inspired you to use a vintage theme for an upcoming special event.
If so, we have some good news for you – Kombi Coffee also has a converted Volkswagen camper van that doubles as a coffee station you can hire for celebrations. It's most popular for weddings, but you can definitely hire the van for birthday parties too.
---
Vintage car rental
---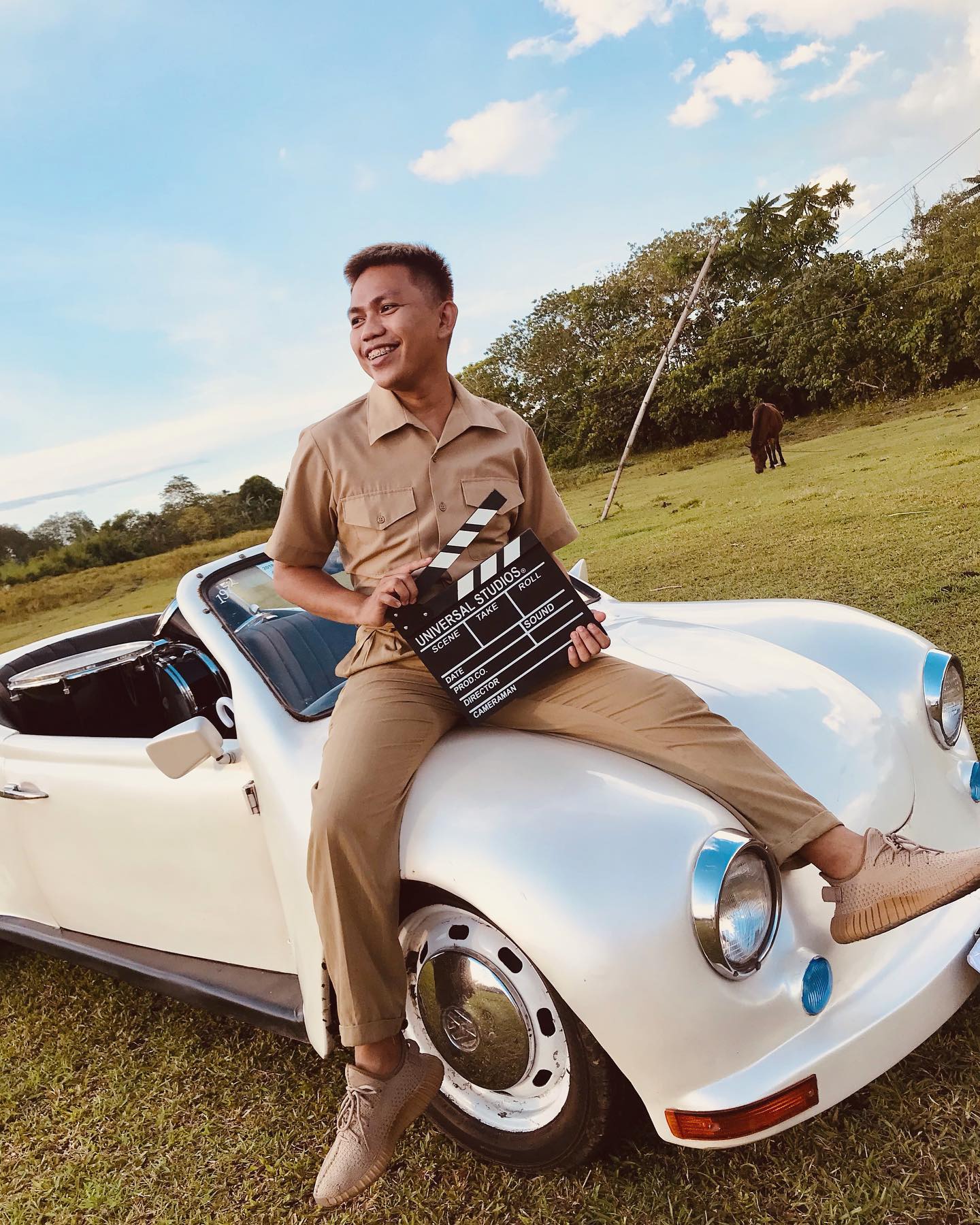 One of the top-down cars being used as a prop for a shoot
Image credit: Marc Lein Villaflor Torres
Their Volkswagen coffee bar isn't the only vintage car you can hire. Laguna LoveDub by Sherwin, which arranges the vintage car rentals for Kombi Coffee's Volkswagen camper van, also rents out three cars, two of which are top-down.
You can hire their Volkswagen camper van or any of the cars to serve as a bridal car for your wedding. Laguna LoveDub by Sherwin can also provide a driver for you.
Some also hire these vintage automobiles for prenuptial photo and video shoots, perfect for couples who want a vintage theme for their wedding.
---
Stationary coffee shop
---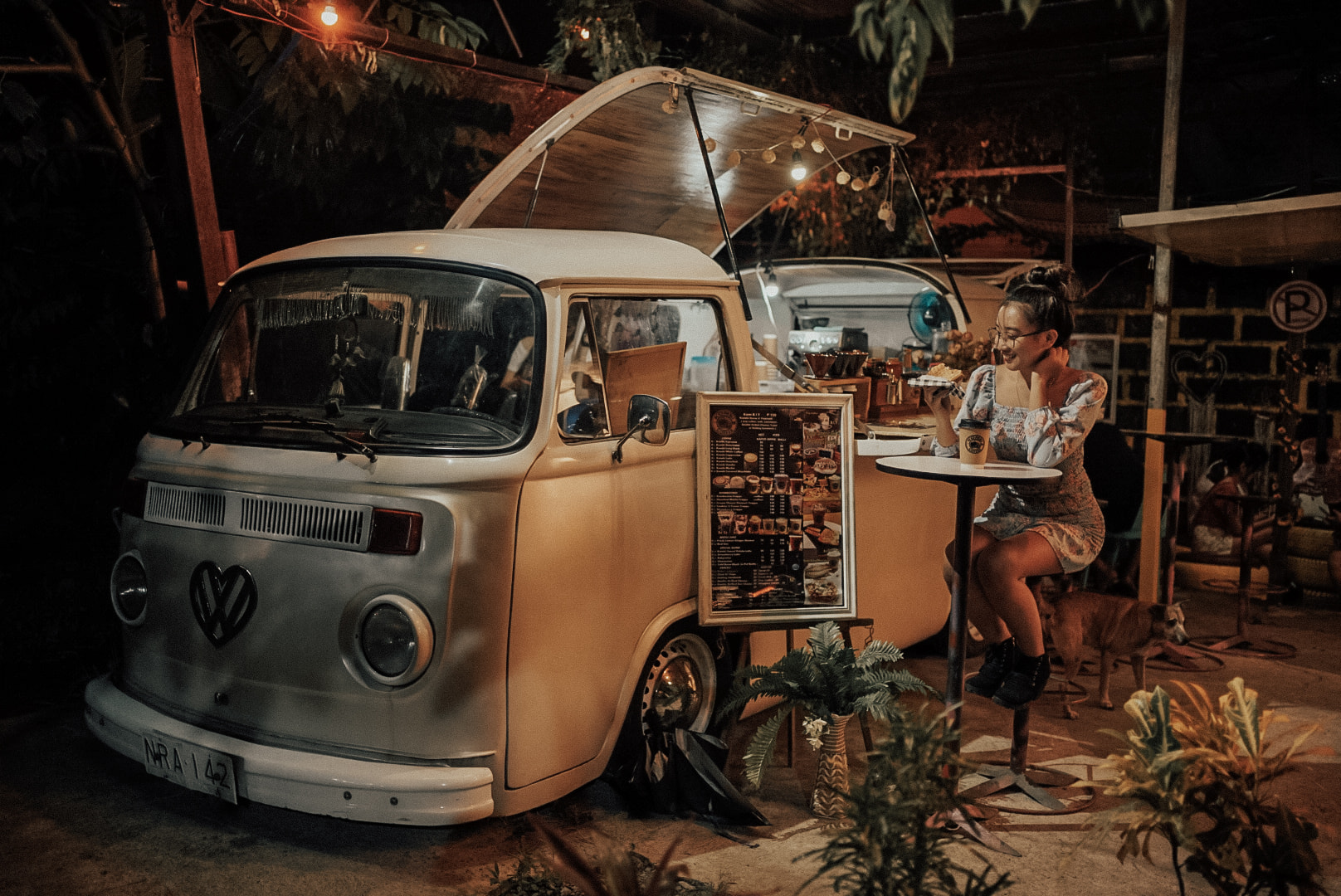 Kombi Coffee is a stationary coffee shop on most days
Image credit: Kamil_wanders
When the Volkswagen coffee bar isn't out at an event, it is usually parked at a Total gas station in Barangay Paciano Rizal, Calamba, Laguna. It is open from 5PM to 1AM on most days to provide caffeine to night owls.
Being a stationary coffee shop, the bar makes enjoying the vintage car accessible to more people.
---
Wide selection of drinks
---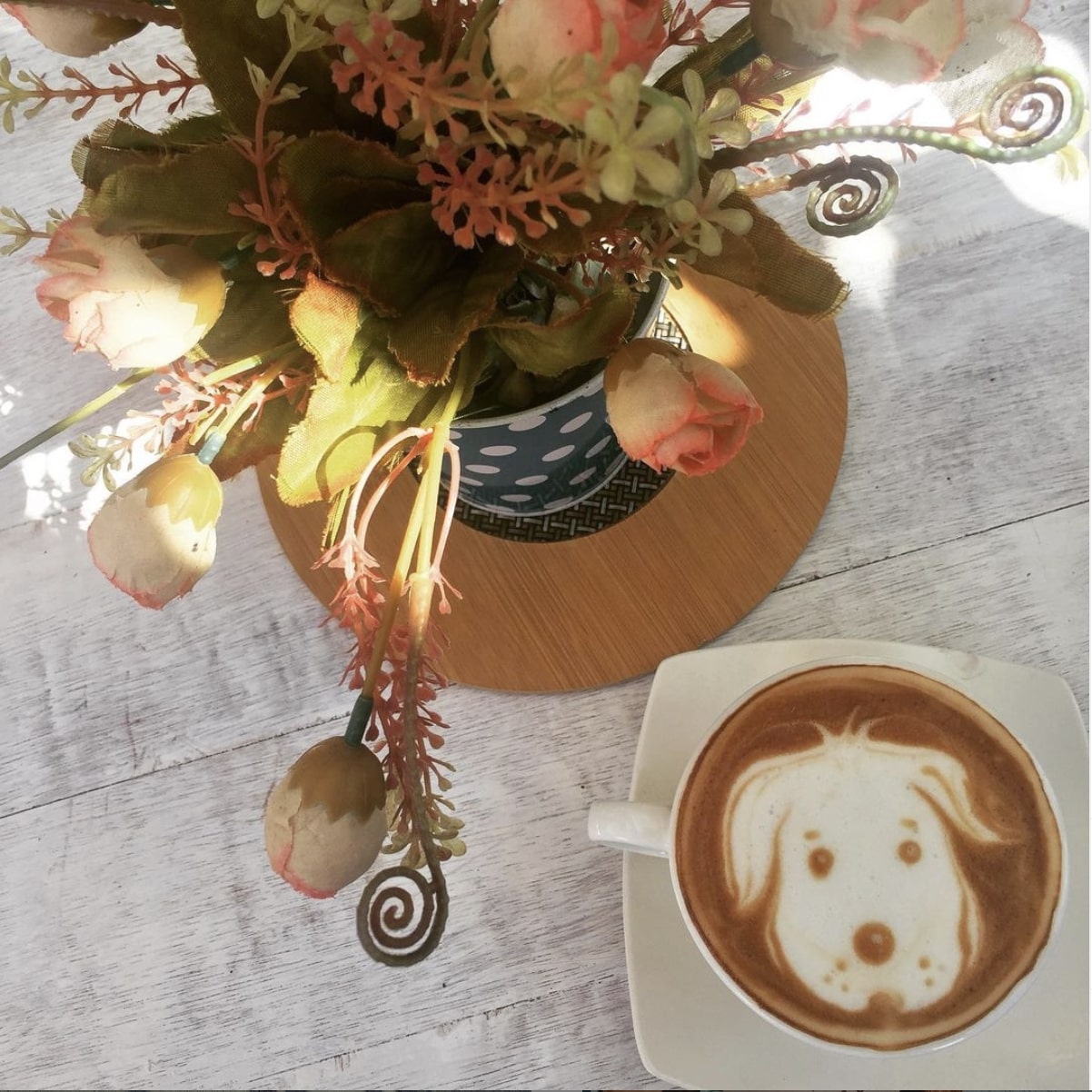 The cafe's latte with dog latte art
Image credit: @kombicoffee.ph
The cafe's unique theme isn't the only thing that makes it worth visiting. Kombi Coffee also offers a wide selection of affordable drinks and food.
Classic coffee options such as espressos and Americanos start at P50 (~USD0.99) and P70 (~USD1.39), respectively. They also have frappes for the sweet-toothed starting at P140 (~USD2.78).
A must-try is their Kombi sweet potato latte, the cafe's special blend, which starts at P90 (~USD1.79).
---
Food options at Kombi Coffee
---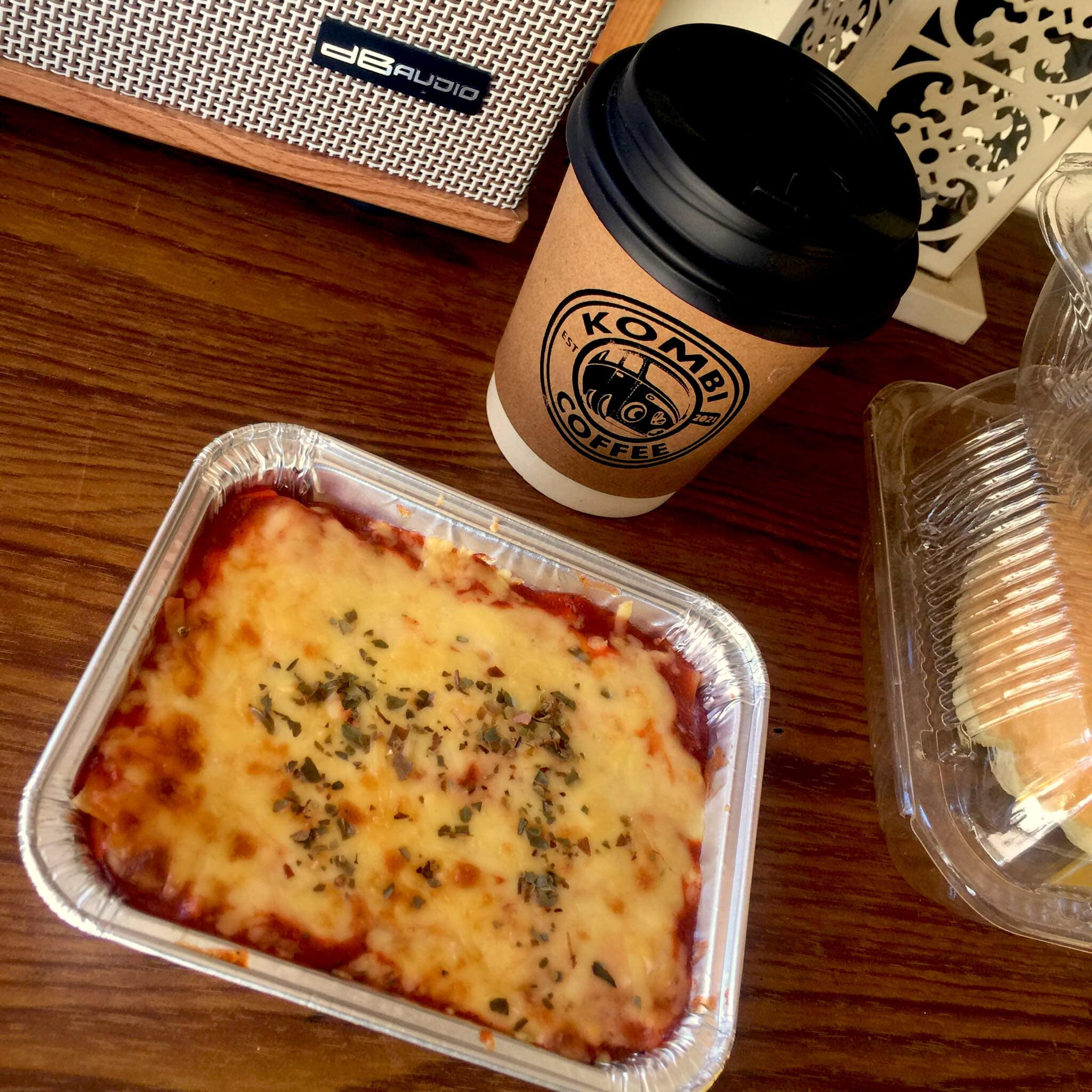 The cafe offers a generous serving of lasagna
Image credit: Kombi Coffee
Kombi Coffee also has a variety of food to go with their drinks.
A generous serving of their meaty lasagna costs P110 (~USD2.19). Trendy Korean garlic bread is also sold at the cafe for P45 (~USD0.90) apiece. There are also more chips, sandwiches, pasta, and pastries to choose from.
To top these all off, you can enjoy Kombi Coffee's food and drink selections safely during the pandemic with the cafe's outdoor seating.
---
Kombi Coffee's Volkswagen coffee bar
---
A vintage-themed wedding should now be easier to achieve for south residents, thanks to Kombi Coffee and Laguna LoveDub by Sherwin. You can rent a bridal car with a driver, a prenuptial shoot design, and a coffee station for the reception all in one place.
For more information on how to book their vintage vehicles, you can message Kombi Coffee or Laguna LoveDub by Sherwin on Facebook.
Kombi Coffee
Address: Total Gas Station, Barangay Paciano Rizal, Calamba City, Laguna
Telephone: 0908 234 1847
Laguna LoveDub by Sherwin
Telephone: 0908 497 7434; 0997 396 9077; 0968 269 0212
Also check out:
---
Cover image adapted from: Pauline Cube-Cahende and Pauline Cube-Cahende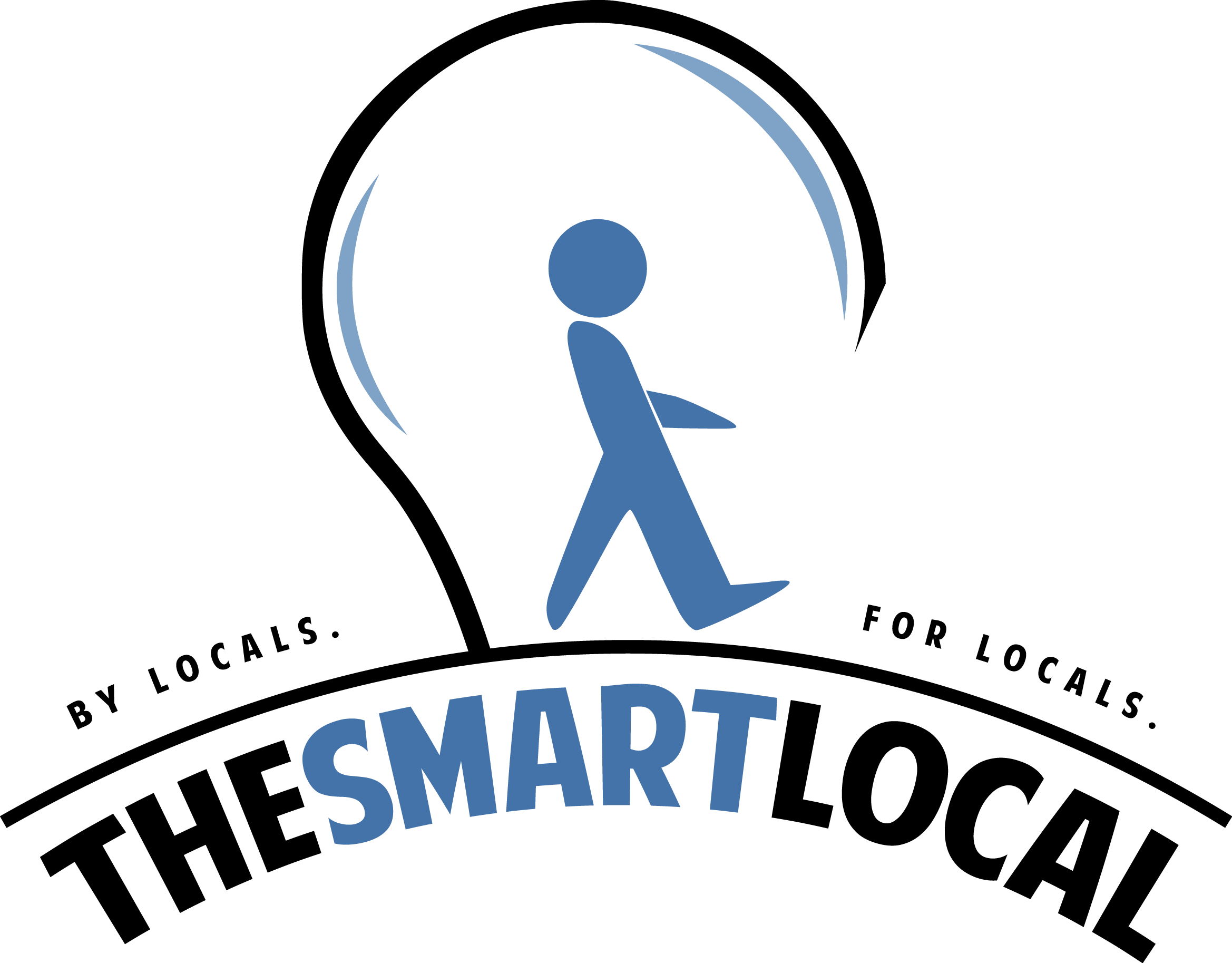 Drop us your email so you won't miss the latest news.