Your street-style personality with the INSPI Bear collection
---
Rooted in urban culture with the raw energy of hip-hop, skateboarding, and art, streetwear has become the ultimate form of self-expression. As practical shoppers, we Filipinos demand comfort without compromising style, making streetwear our ultimate fashion style.
Enter INSPI, a rising fashion sensation on a mission to inspire people through their wardrobe choices. They recently launched their INSPI Bear collection and we're here for it! Imagine oversized shirts with the mighty bear figure, symbolizing strength, leadership, and confidence.
From urban-wear enthusiasts to grunge lovers, there's an INSPI Bear outfit for everyone – and the best part is, it's surprisingly affordable! See which one matches your street style and learn what that says about you.
---
1. Urban-wear – hip hop swagger royalty
---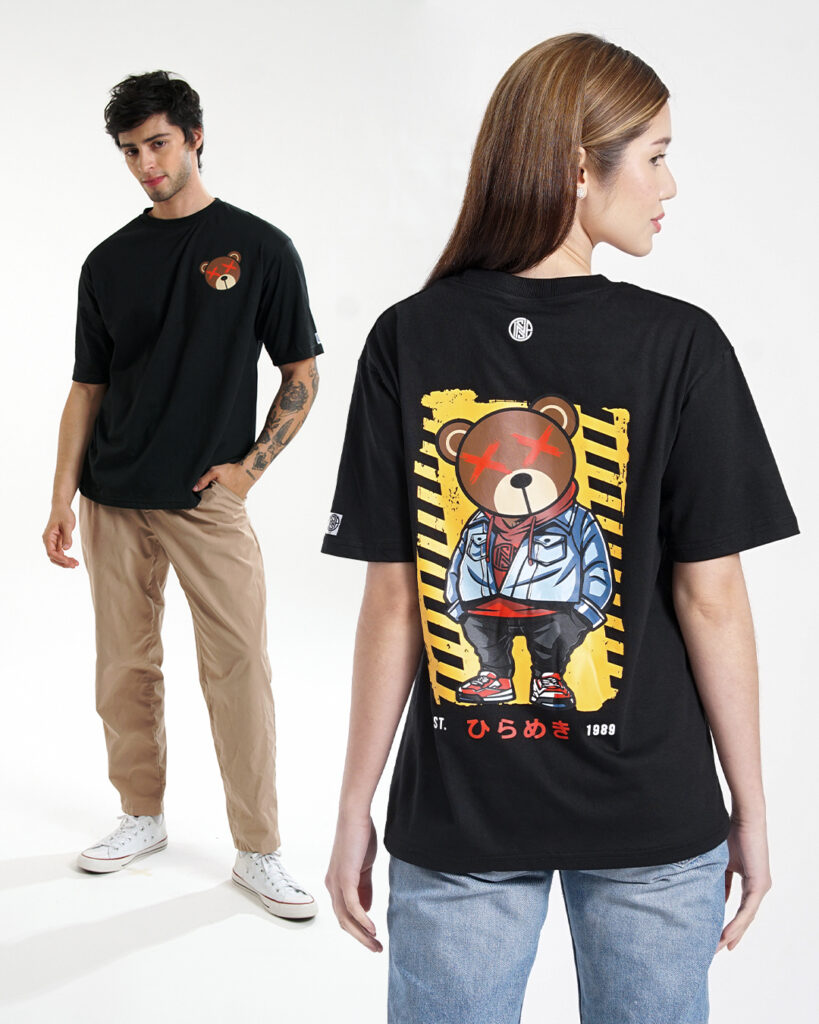 What they're wearing: INSPI Bear 'Dope Fashion' oversized shirts at P279 (~USD5.13) each.
Urban streetwear is a dynamic fusion of hip-hop, art, and skateboarding vibes. Think oversized cargo pants, daring textures, playful bra tops, and fresh kicks – making bold statements through edgy and powerful fashion choices. This style empowers you to express your personality unapologetically through edgy but comfortable clothing.
Bring the urban vibe like a boss with INSPI's oversized tees. This makes for an urban style so on point, you'd get extra street cred for it.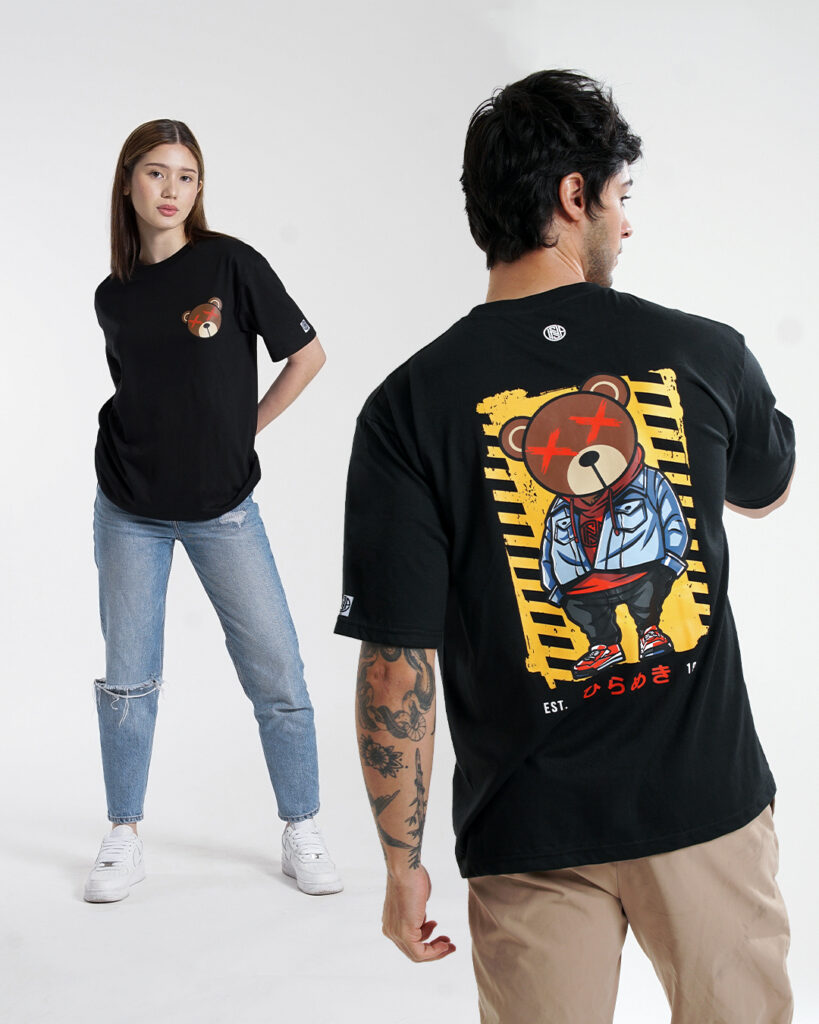 What this style says about you:
Your personality exudes confidence, individuality, and a passion for self-expression. You walk your own path and you are not afraid to say what you think. Never a follower, you're a trendsetter in your own right, and people can't help but be inspired by your confident style.
---
2. Casual – the effortlessly chill homie
---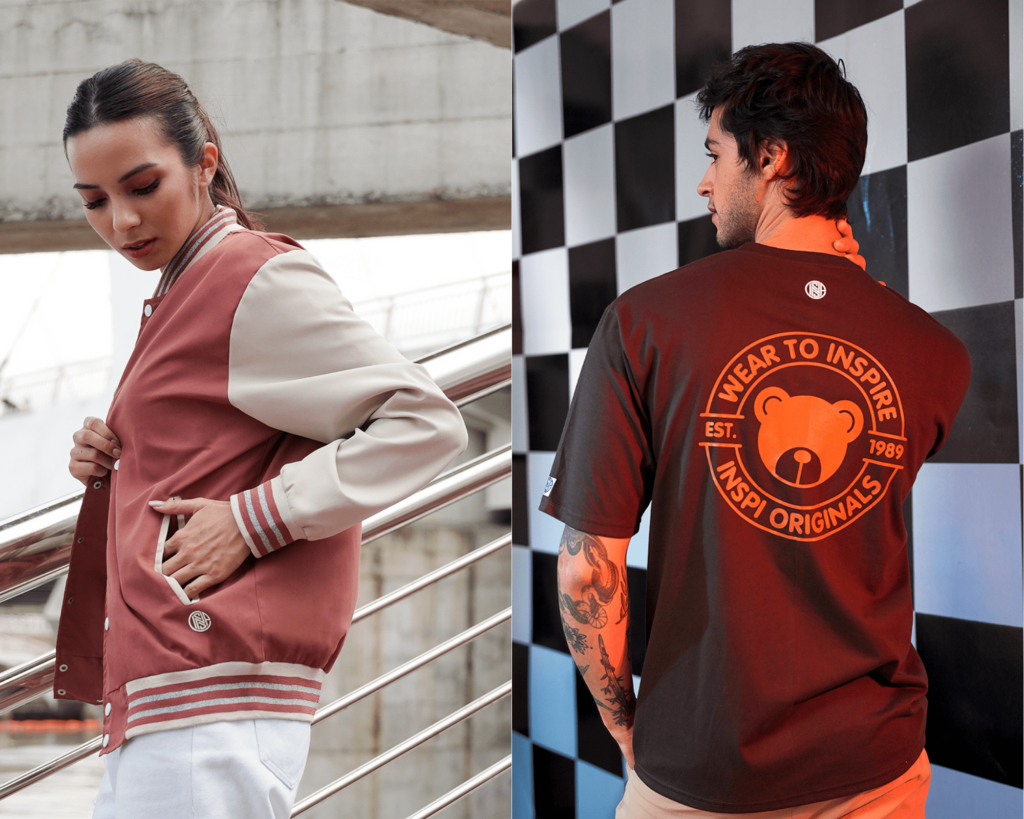 What they're wearing: INSPI old rose varsity jacket at P499 (~USD8.26), INSPI Bear 'Badge' oversized shirt at P279 (~USD5.13).
Casual street style is a fashion approach that combines comfort and individuality. It's all about comfort, looking effortless, while still looking good. When you opt for casual street style, you're exuding that laid-back vibe – effortlessly cool and unbothered.
Rock an oversized INSPI Bear graphic shirt paired with your favorite pair of pants and you're good to go. Alternatively, for the girlies, you can also wear a crop top with your trusty ripped denim jeans, topping it off with an INSPI varsity jacket that's a size bigger than your usual size.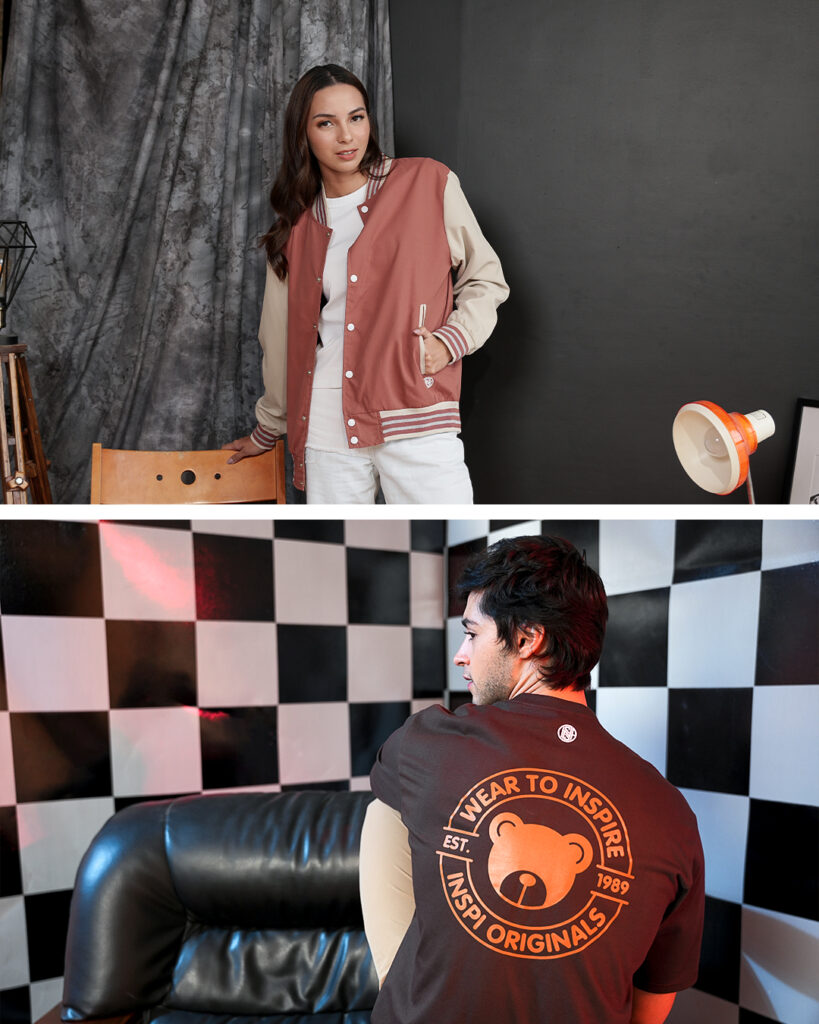 What this style says about you:
Your personality oozes relaxation, approachability, and a down-to-earth charm. People are drawn to your warm and friendly nature, and you're easily the wisest person in the room. Your ability to make people comfortable makes you the easy conversationalist of any social gathering.
---
3. Genderless – the androgynous pro at breaking stereotypes
---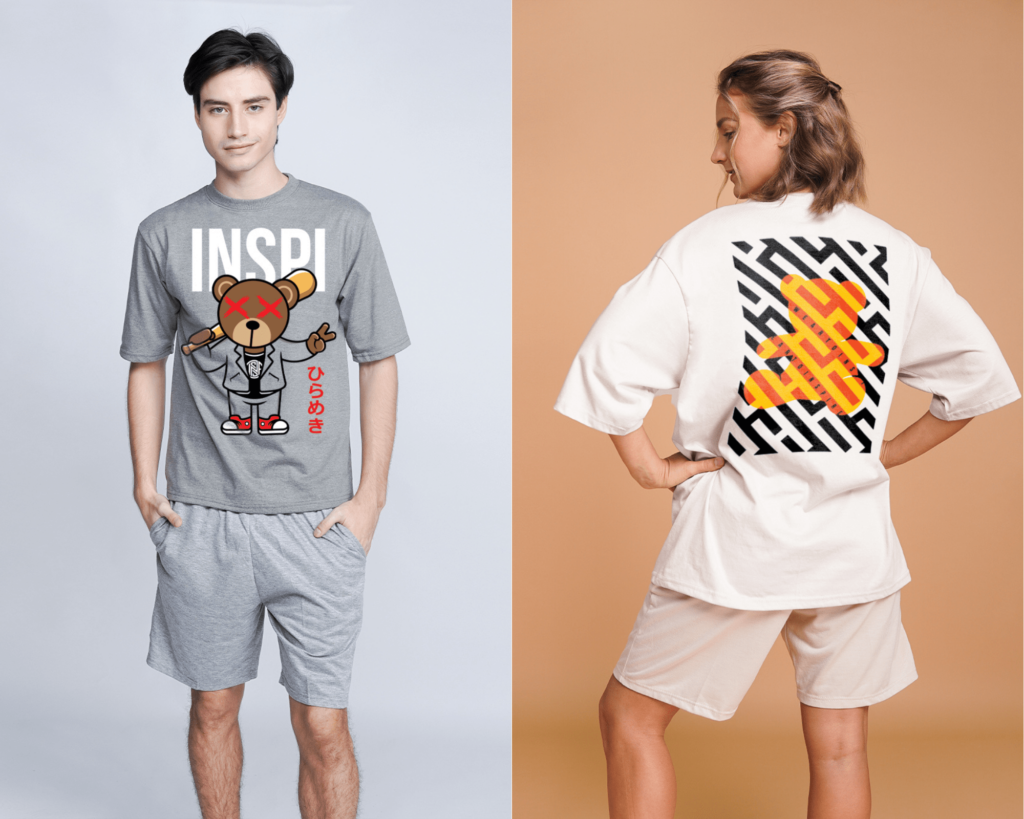 What they're wearing: INSPI Bear 'Geometric' and 'Peace' oversized shirts at P279 (~USD5.13) each, INSPI gray and khaki walking shorts at P119 (~USD2.19) each.
When you dare to be different, you embrace genderless fashion and show the world you're all about breaking those conventional style barriers. Genderless street style doesn't care about traditional gendered design – it's all about clothing that you'll look good in, no matter where in the gender spectrum you are.
Your aesthetic is made up of clean lines, neutral colors, and airy pieces that blur the lines between masculine and feminine. With an INSPI Bear t-shirt and drawstring walking shorts, you take that bold stance of inclusivity and open-mindedness.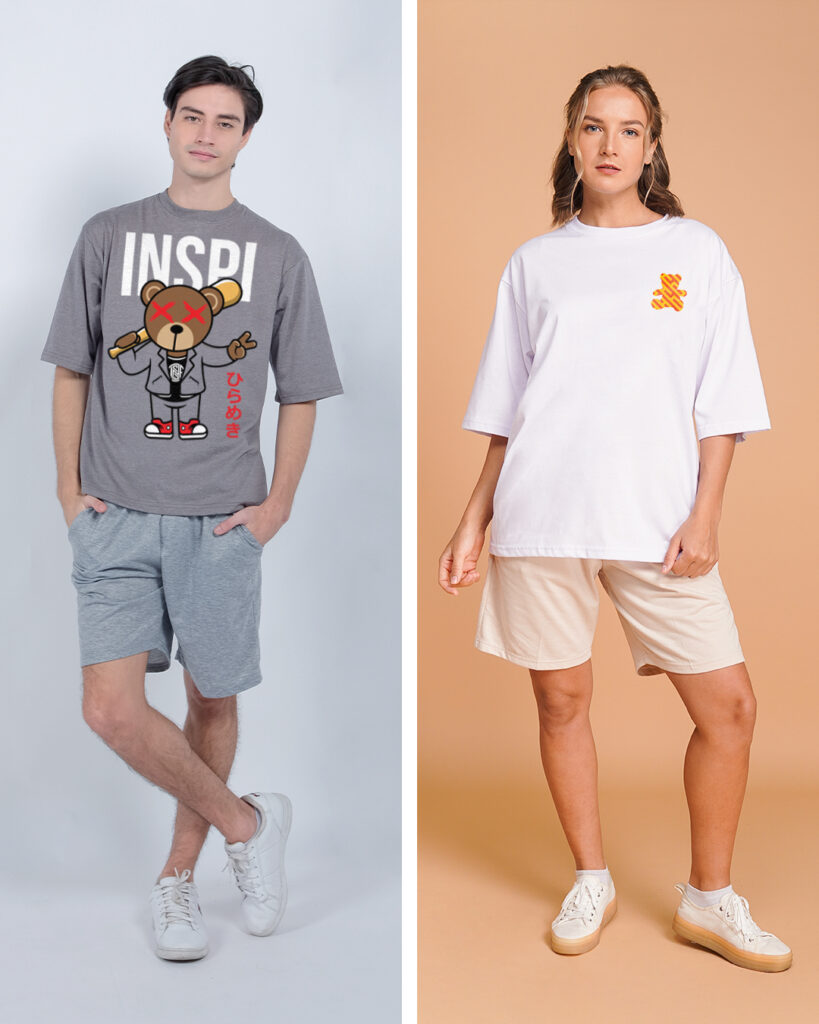 What this style says about you:
Your personality embodies courage, progressive thinking, and a trailblazer spirit. You're the type of person who shops at both the men's and women's sections without a fuss. People are drawn to your androgynous character and your fashion-forward choices not only inspire others but also redefine what it means to be true to oneself.
---
4. Athleisure – the sporty on-the-go fashionista
---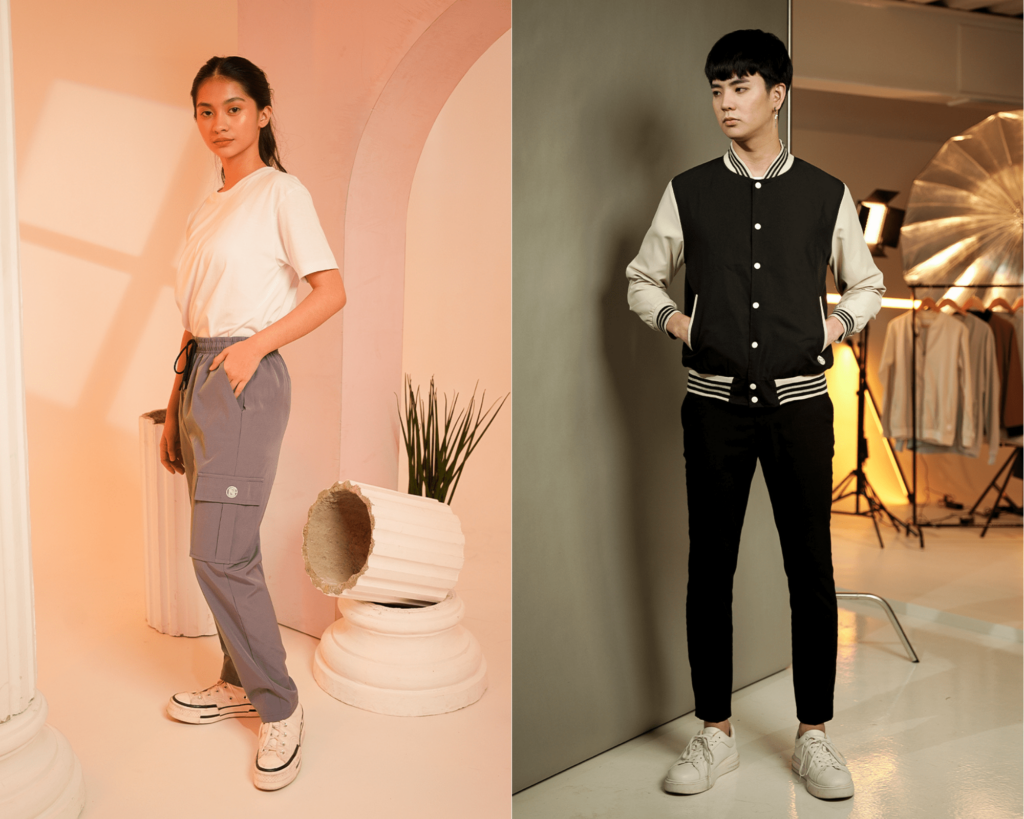 What they're wearing: INSPI light gray cargo pants at P259 (~USD4.76), INSPI black varsity jacket at P499 (~USD8.26).
Athleisure wear is all about the active lifestyle, combining sporty comfort with style. If athleisure is your game, then you're the epitome of active fashion. A pair of cargo pants or yoga pants, hoodies, and sleek sneakers – your wardrobe is all about versatility and functionality.
The INSPI Bear oversized tee, a pair of cargo pants, and the INSPI varsity jacket will add a touch of whimsy to your athleisure look. Wear that go-getter attitude and determination.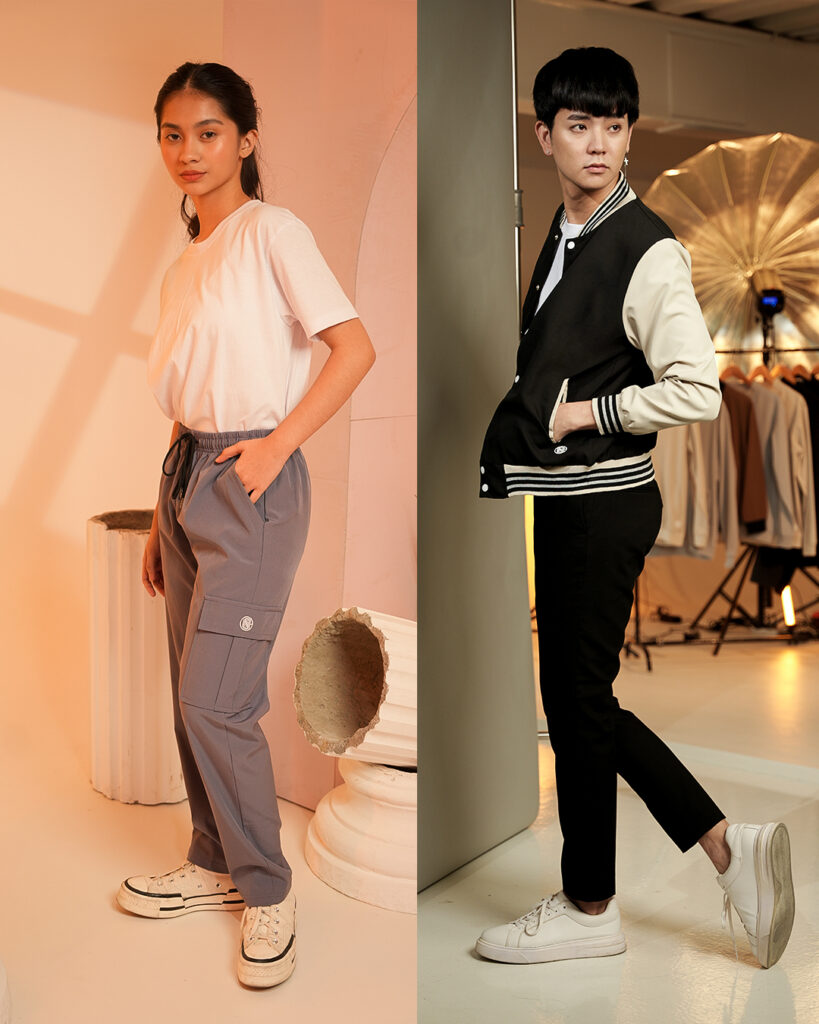 What this style says about you:
People see you as disciplined, health-conscious, and driven – but nevertheless, chic. People sometimes can't keep up with you and every day is an adventure. Your ball of energy is what pushes people to follow you. Keep those sneakers laced up as you conquer both the streets and the gym with your contagious energy!
---
5. Y2K street – the nostalgic dreamer bitten by the retro bug
---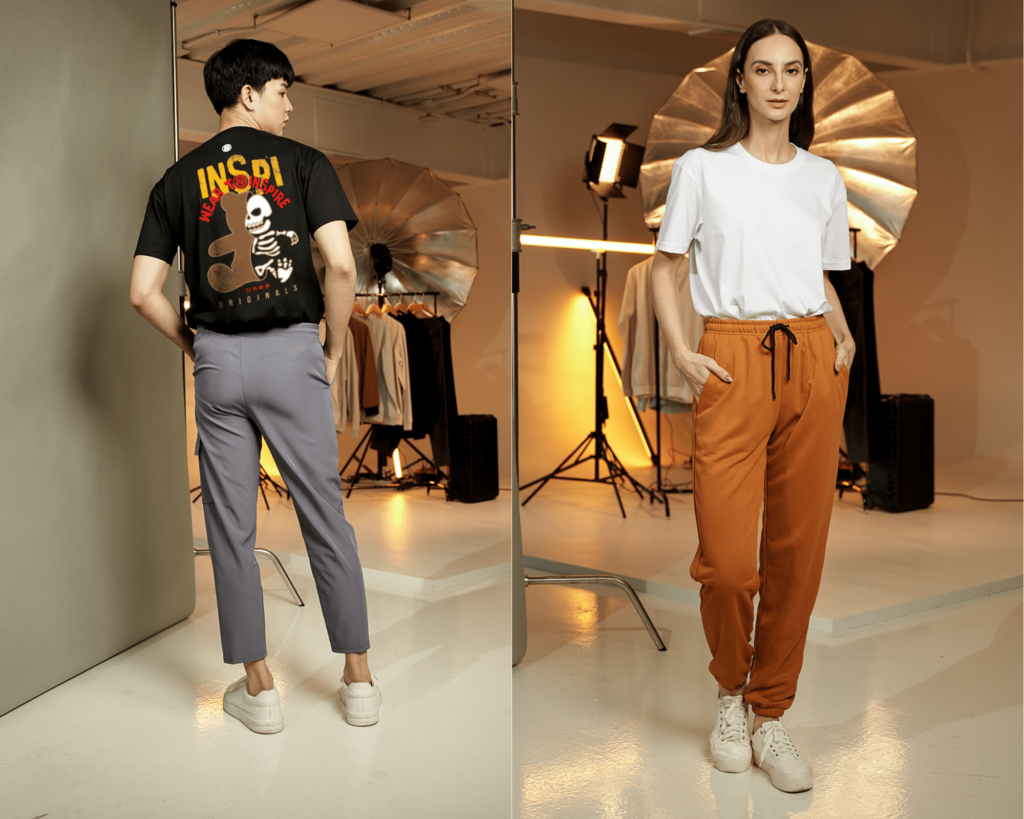 What they're wearing: INSPI Bear 'What's Inside?' oversized shirt at P279 (~USD5.13), INSPI rosewood jogger sweatpants at P199 (~USD3.66).
Y2K street style is a blast from the past fashion trend that goes big on colors, playful accessories, and a dynamic mix of retro and futuristic elements.
Think crop tops, cargo pants, or a pair of INSPI joggers, complete with sunglasses. Any of these pairs easily with a baggy INSPI shirt – a symbol of originality and determination to forge your own unique path.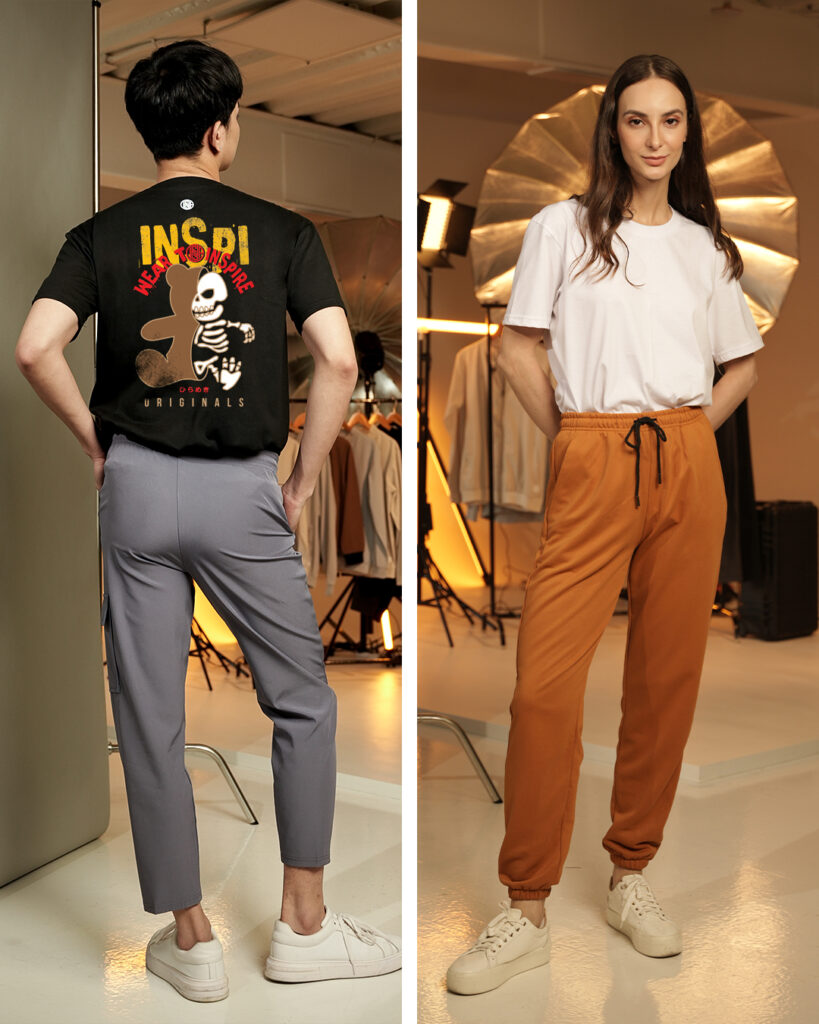 What this style says about you:
If you're all about retro aesthetics, you're a nostalgic dreamer, reminiscing about the good old days. Your personality is a magnetic blend of creativity, optimism, and a desire to stand out from the crowd. People are magnetized by your colorful energy. Embrace that Y2K charm, and let it transport you and others to a simpler, hippier era.
---
6. Preppy – the charming classic bestie
---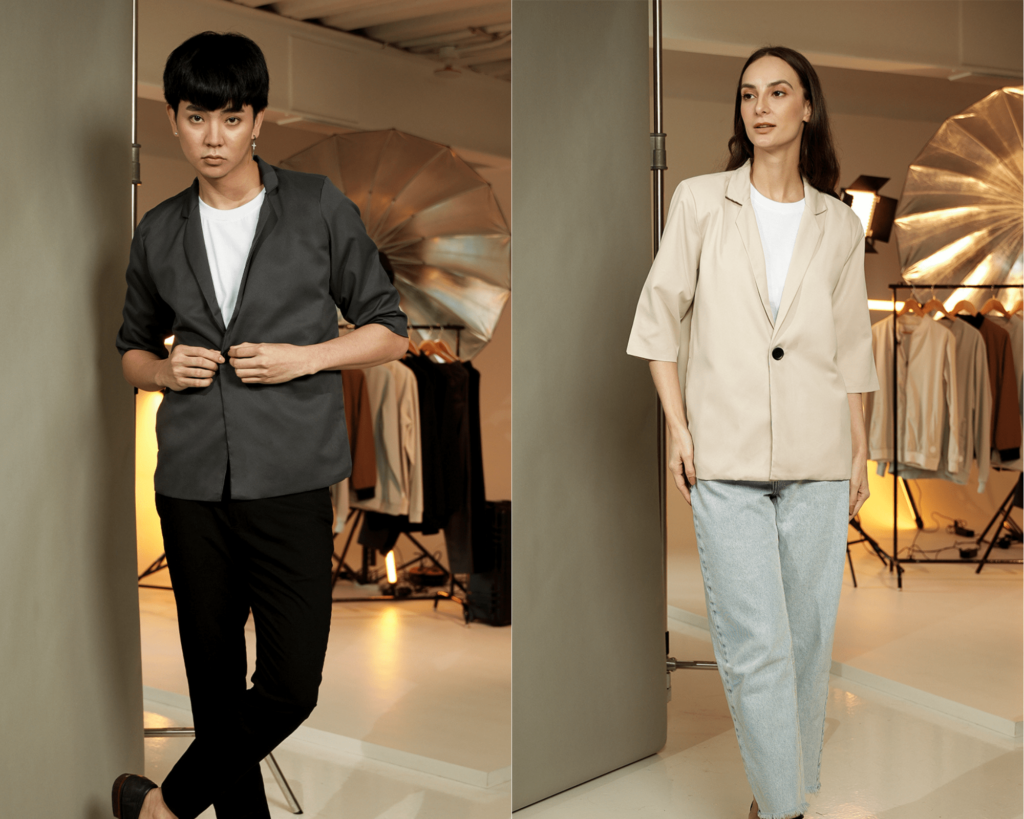 What they're wearing: INSPI dark gray and light khaki blazer at P349 (~USD6.41) each.
Polo shirts, pleated skirts, and boat shoes are your go-to fashion items. The preppy style is the girl and boy next door look – sweet and sophisticated.
Whether you're still in school or you're into academia aesthetics, donning an INSPI tucked-in tee or the INSPI blazer will give a twist to your preppy style, showcasing your leadership skills and ability to navigate any social setting with ease.
What this style says about you:
Your personality is a delightful blend of confidence, sophistication, and approachability. People are drawn to your timeless charm and that aura of grace. You're the trusted friend in your group, the one everyone counts on. Keep flaunting that preppy pride, and let your classic flair inspire everyone around you.
---
7. Minimalist – less-is-more practical queen & king
---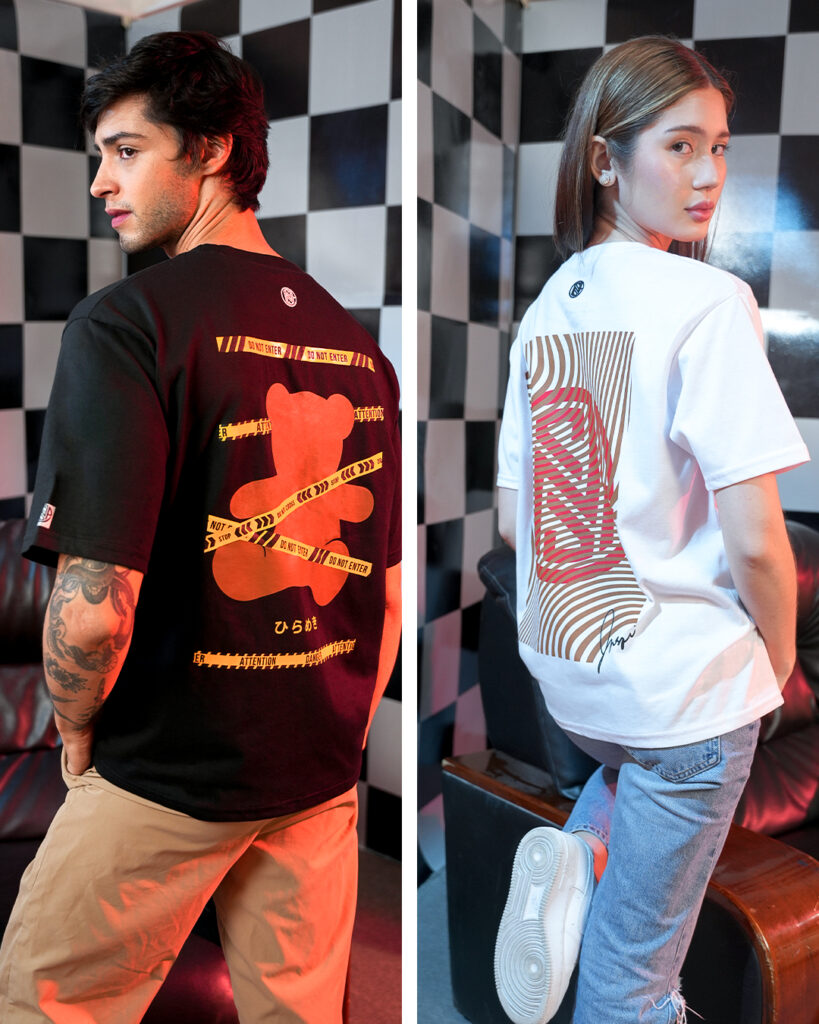 What they're wearing: INSPI Bear 'Warning' and 'Swirls' oversized shirts at P279 (~USD5.13) each.
If your fashion mantra is "less is more," you're all about the perfect mix of beauty and utility – functional beauty as they call it. Simplicity and practicality are the tenets of minimalist fashion. You might've heard of Marie Kondo and the question, "What sparks joy?"
The simplicity of an INSPI Bear top can enhance your minimalist style, highlighting your unwavering focus and confidence in your true practical self.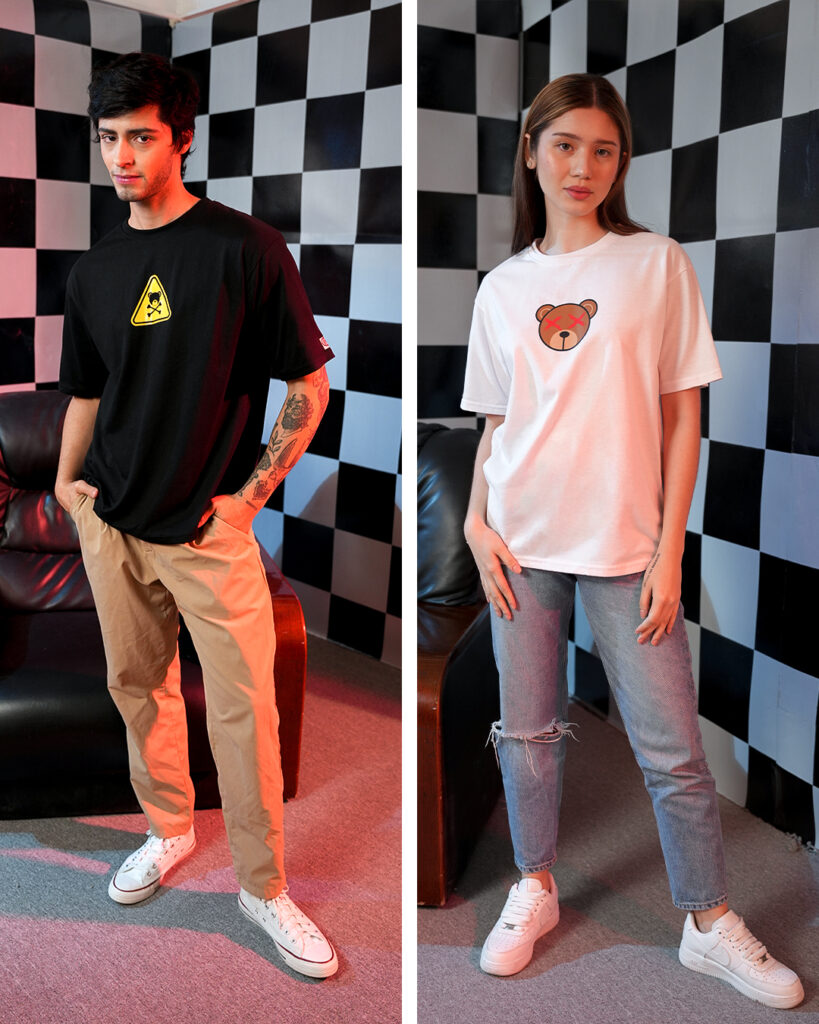 What this style says about you:
Your personality exudes organization and a zen-like calmness. You are refined without being too bombastic. Your silence speaks louder than any noise. People admire your ability to make a statement even with the simplest piece. Embrace that minimalist power and let your authentic self shine through your sleek wardrobe!
---
8. Grunge – a rebel with a fashion cause
---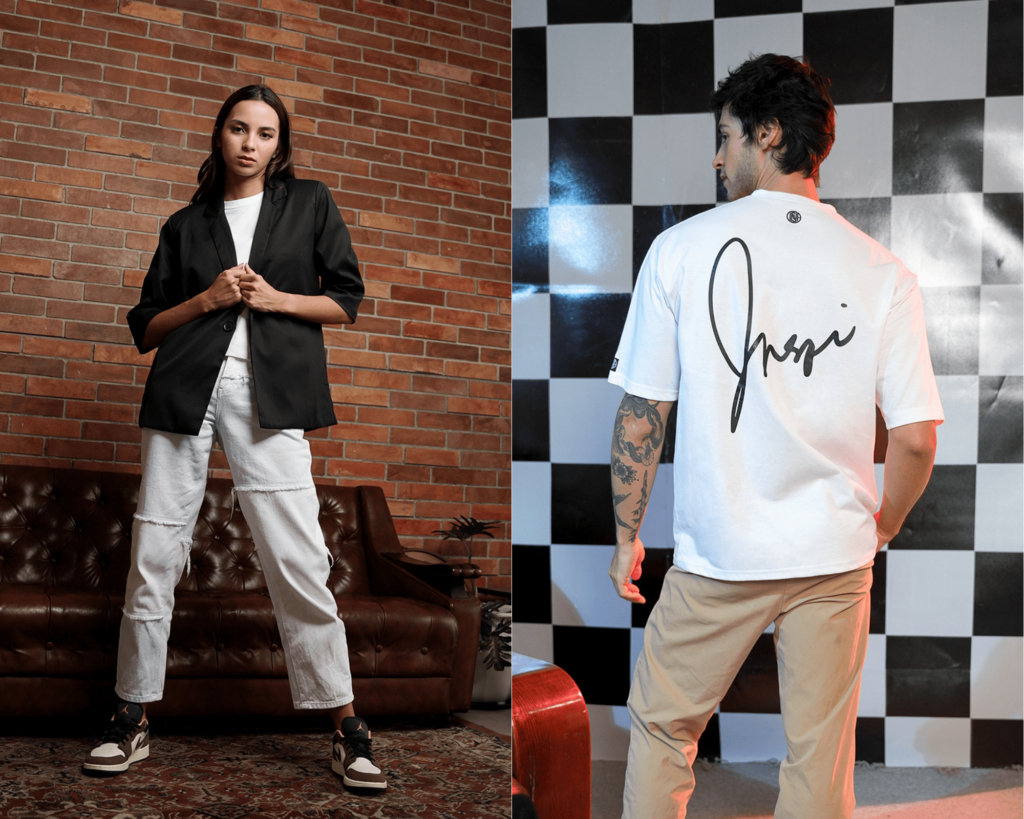 What they're wearing: INSPI black coat blazer at P349 (~USD6.41), INSPI Bear 'Signature' oversized shirt at P279 (~USD5.13).
Grunge fashion came to the scene in the 90s…and it hasn't left since. A symbol of rebellion, this style represents its cause for nonconformity in its loud but dark signature pieces. Distressed jeans, flannels, and chunky boots are its weapons of choice.
Rocking a graphic INSPI t-shirt or a black coat can add an edgy touch to your grunge look, letting your inner strength and resilience shine through.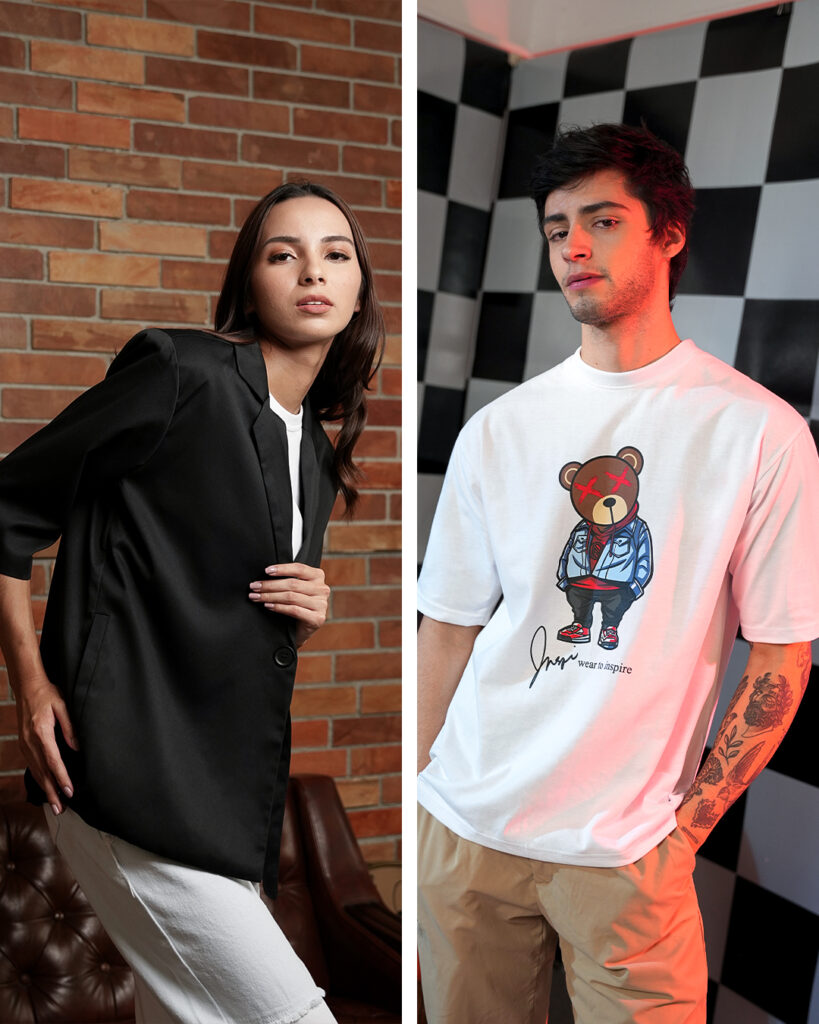 What this style says about you:
Your personality is a fusion of independence, authenticity, and a dash of rebelliousness. You attract like-minded souls who yearn for freedom of expression. You don't just follow the crowd, you question the path. Your single-mindedness attracts followers and supporters alike. Stun in grunge glam and make a statement with your unmistakable presence.
---
Find your street style with the INSPI Bear collection
---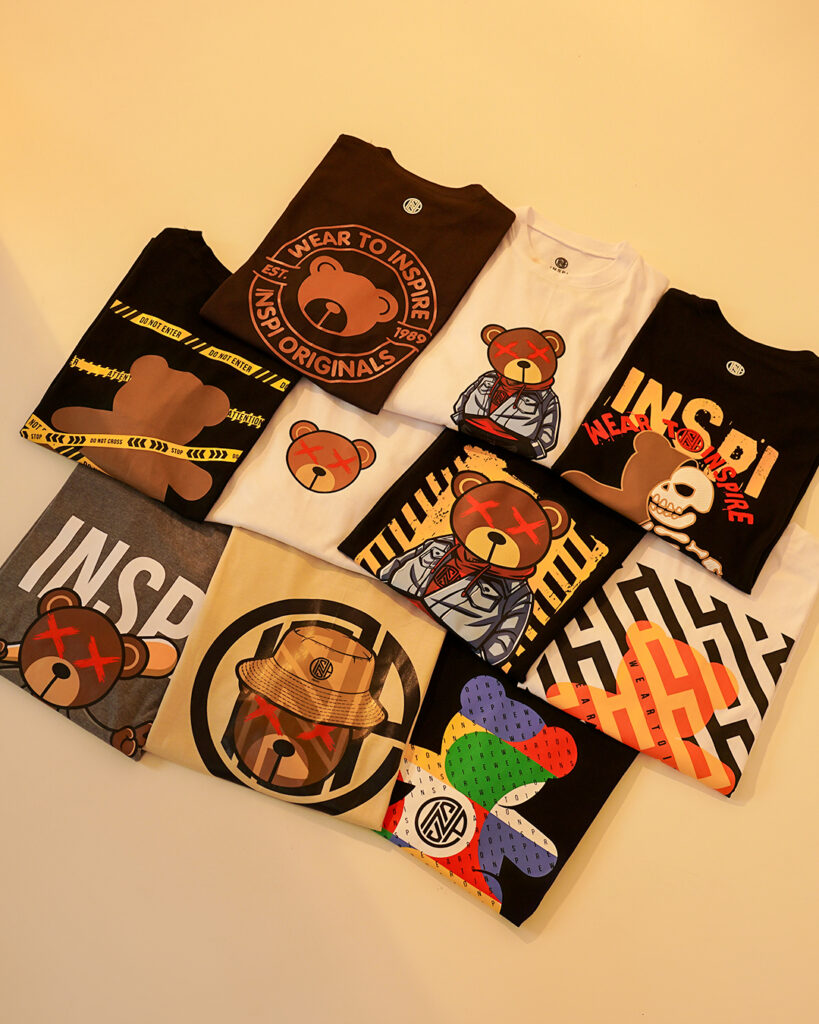 Fashion in the Philippines is more than just a way of dressing; it's a reflection of the vibrant spirit that defines the archipelago. With a focus on streetwear, INSPI offers a range of fashionable and affordable pieces that cater to various styles and aesthetics, making it a go-to brand for de facto fashionistas, streetwear enthusiasts, and anyone looking for stylish wear. There's an INSPI piece for every style!
Remember that fashion is your canvas to express your unique personality. So, pick your style, own those streets, and let the INSPI Bear within you roar and inspire others.
Find out our streetwear personality with the INSPI Bear Collection here
For style inspo, check out INSPI's website | Facebook | Instagram | TikTok
Get that INSPI-OOTD shot in style: check out Assembly Hall in Makati for an aesthetic cafe, or dine at Señorita Sunae in BGC for a festive Asian backdrop.
---
All images from: INSPI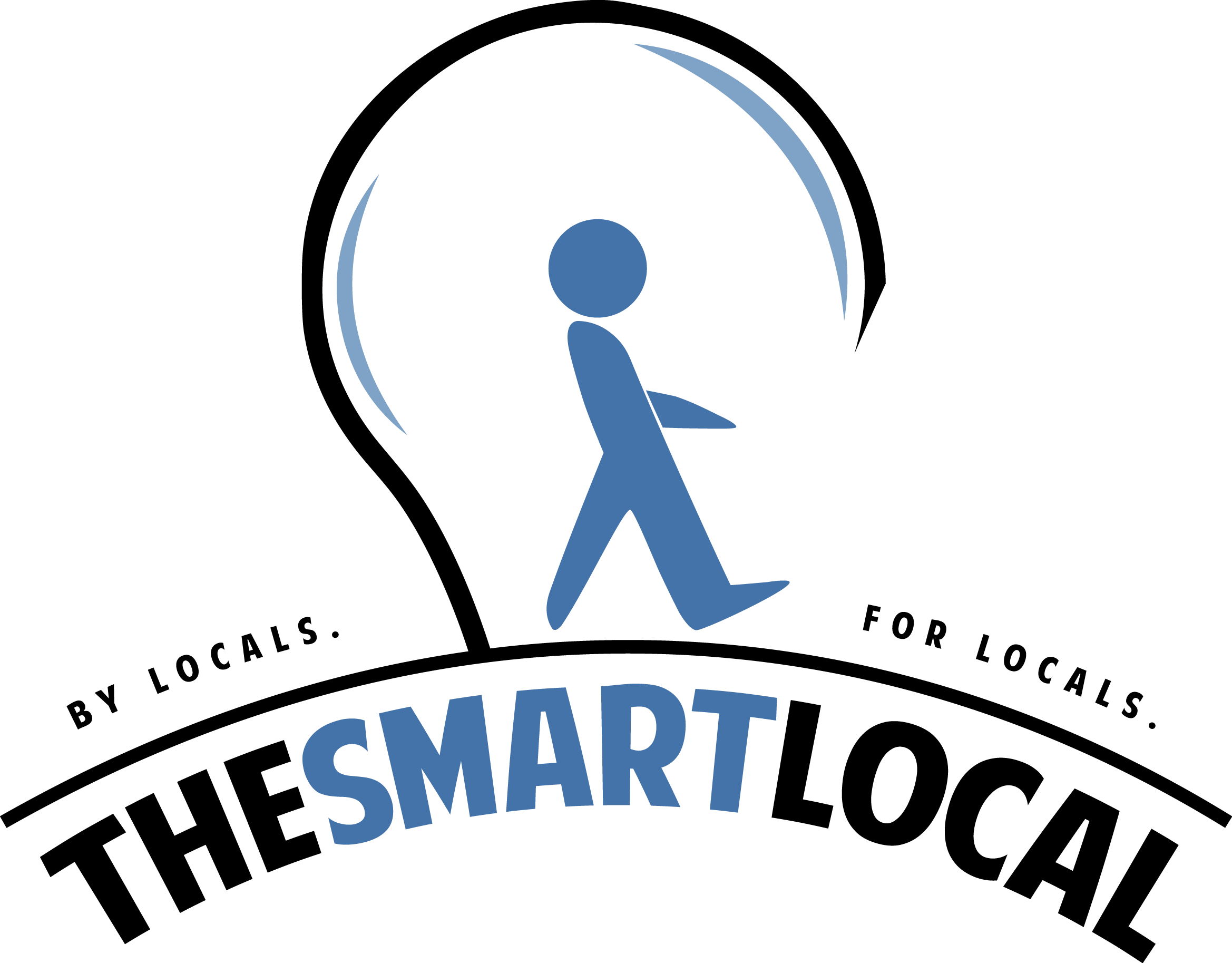 Drop us your email so you won't miss the latest news.