Quick and fuss-free dishes to serve your titos and titas
---
Titos and titas in the family are almost always food connoisseurs and enthusiasts when visiting our homes at gatherings – it's always crucial to please their appetites.
So if you want to make a good impression, here are 7 quick and fuss-free dinner recipes you can follow that will satisfy your most picky tito or tita.
---
1. Pininyahang Manok – chicken dish with a tangy twist
---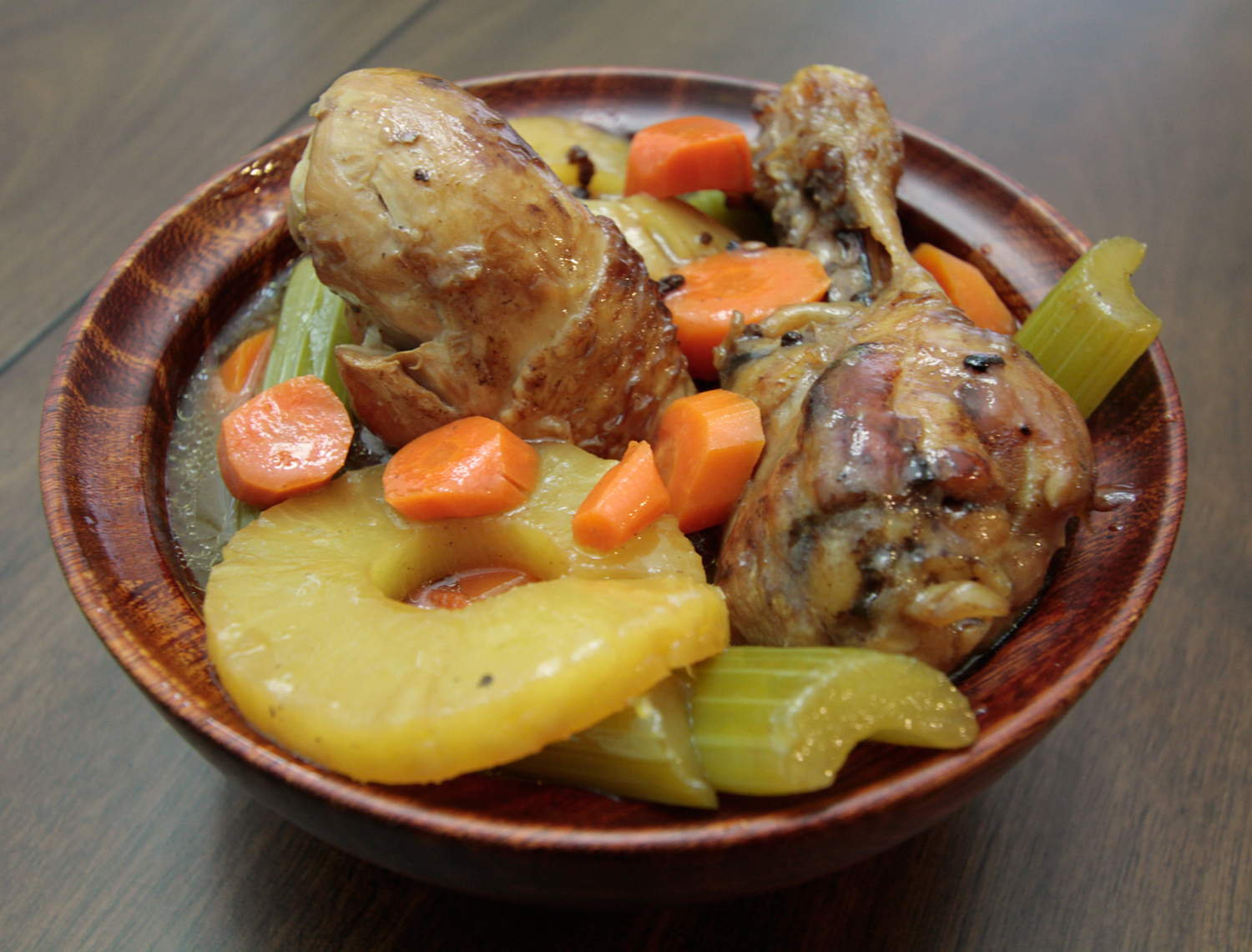 Image credit: pulaw/Wikipedia 
Pininyahang Manok, literally translating to "pineapple chicken", is a great dish to serve to titos and titas who love dishes with a sour taste – and it takes just under an hour to prep.
Made with chicken braised in either fresh or coconut milk, or sometimes chicken stock, the dish is stirred together with pineapples and vegetables such as carrots, bell peppers, and celery. It's up to you to add in other vegetables such as potatoes or chayote (sayote).
Ingredients:
12 ounces of canned pineapple chunks
900g of chicken, cut into parts or into bite-sized pieces
2 tablespoons of cooking oil
2 tablespoons of minced garlic
1 onion, sliced
2 tomatoes, chopped
½ cup of fresh milk
1 carrot, wedged
1 cup of bell peppers, cut into thick strips
2 ½ tablespoons of fish sauce (patis)
Steps:
Pour the juice from the canned pineapple chunks into a bowl.
Add the chicken to marinate for 20 minutes.
Heat up a pot with the cooking oil.
Add in the garlic, onion, and tomatoes, and saute.
Add in the marinated chicken and cook until it's light brown.
Pour in fresh milk, and boil.
Add in the pineapple chunks and let it simmer for 20 minutes or so until the chicken is thoroughly cooked and tender, and half of the liquid has evaporated.
Add in the carrots and let mixture simmer for five minutes. Add the bell peppers and fish sauce, then simmer for 3 more minutes.
Serve while hot.
Recipe credit: Panlasang Pinoy
---
2. Pinaputok na Tilapia – freshly grilled fish for a rural experience
---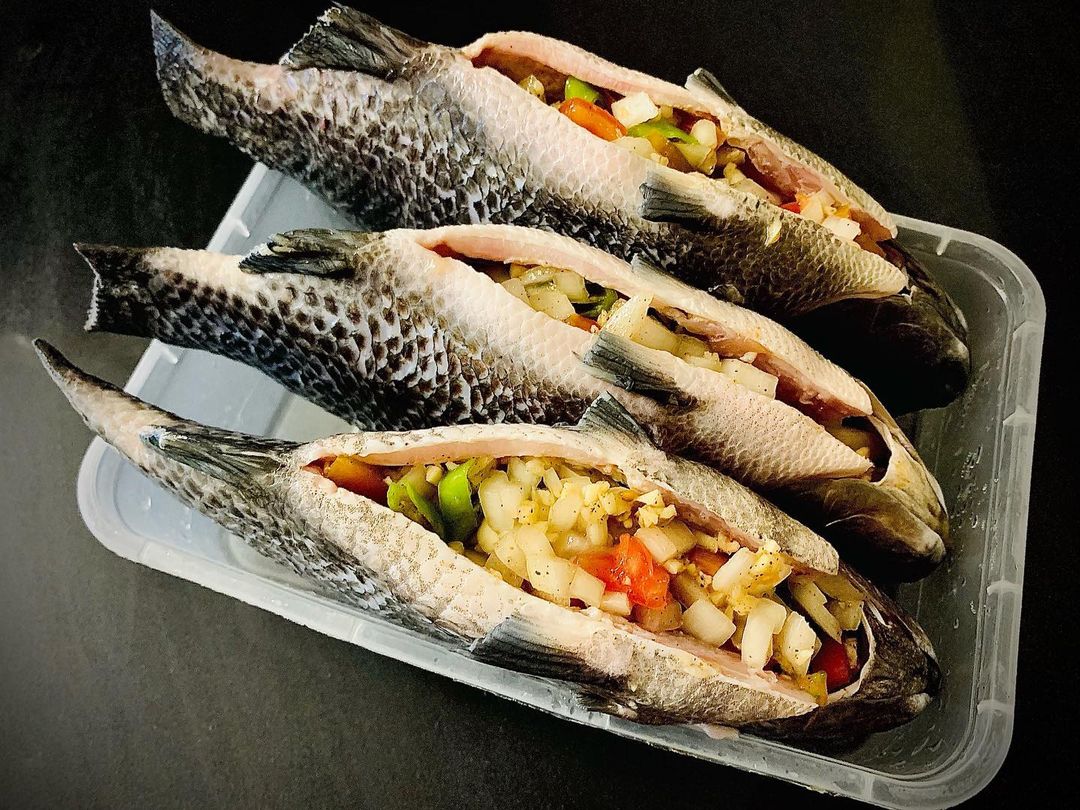 Image credit: @carlo_villarama

Pinaputok na Tilapia is a dish where a tilapia is stuffed with chopped tomatoes and onion, then wrapped in foil before being steamed on a stove or grill, or broiled in an oven. "Pinaputok" means "to allow to explode or burst", like how the fish are stuffed to the max – hence the dish's name!
It's a perfect dish to share with titos and titas who love to grill and eat outdoors, as it'll remind you of eating out in a rural setting, and only takes less than an hour to prepare.
This dish is best paired with steamed white rice along with side dishes such as fried eggplant, salted egg, or lettuce leaves. You can also make a dipping sauce for the fish – soy sauce with a squeeze of calamansi juice.
Ingredients:
1 tilapia fish, cleaned, descaled, and gutted
2 teaspoons of salt, plus more to taste
1 tomato, diced
1 onion, diced
Pepper, to taste
1 teaspoon of freshly minced ginger
1 tablespoon of freshly squeezed lemon juice
2 teaspoons of vegetable oil
Steps:
Preheat the oven to 370ºF or 188ºC.
On each side of the tilapia, make 3 deep cuts with a kitchen knife.
Rub in one teaspoon of salt on both sides of the fish and let it rest for 15 minutes.
Mix the salt, tomato, onion, pepper, ginger, and lemon juice together in a bowl and set aside.
Stuff the gutted fish's belly with the tomato and onion mixture – the more stuffing, the better.
Using aluminum foil, wrap the fish and seal.
Place the wrapped fish on the middle rack of the preheated oven and bake for 20 minutes.
Take the fish out of the oven and unwrap one side. Set the oven to broil at approximately 500ºF or 260ºC.
Brush the upward-facing surface of the fish with the vegetable oil, put the fish back in the oven and broil for 15 minutes.
Serve with a side dish of your choice and a toyomansi (soy sauce and calamansi combination) sauce.
Recipe credit: Wandering Wagars
---
3. Mushroom Adobo – vegetarian alternative to the classic adobo
---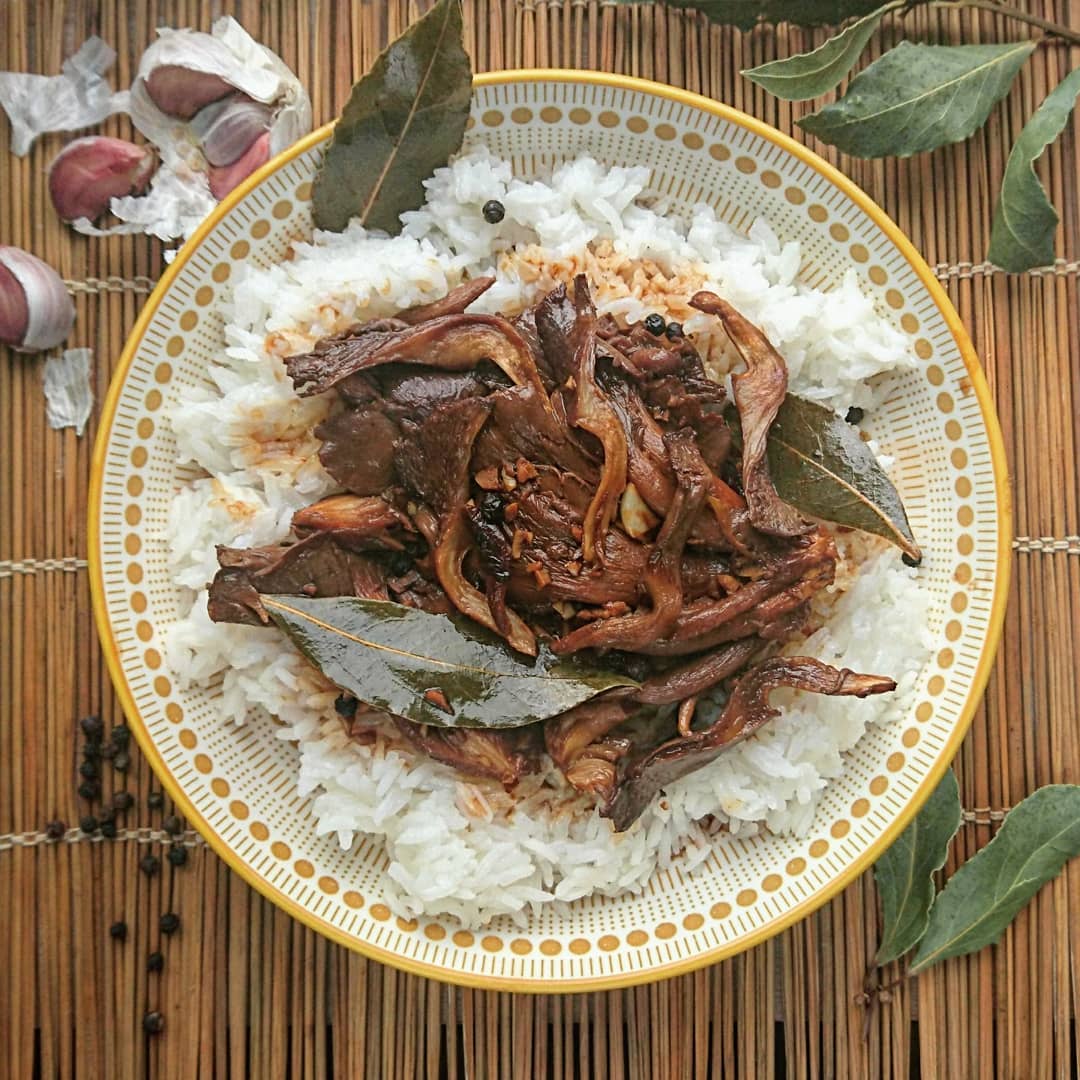 Image adapted from: @cooking.master.boy
For your titos and titas looking for a healthier alternative, you can make Mushroom Adobo, a vegetarian take on the Filipino classic adobo that's usually made with chicken or pork.
It still follows the recipe of a classic chicken or pork adobo, only that you're substituting meat with button mushrooms or mushrooms of your choice.
You can still enjoy the adobo taste along with the meat-like texture of the mushrooms. This dish only takes 40 minutes to prepare.
Ingredients:
680g of whole button or any other kind of mushrooms
2 tablespoons of olive oil
4 cloves of peeled and smashed garlic
Salt and ground pepper, to taste
3 tablespoons of soy sauce
3 tablespoons of white vinegar
1 bay leaf (laurel)
1 teaspoon of sugar
Steps:
Rinse the mushrooms and pat dry with a paper towel. Set aside.
Set the stove to medium-high heat. Add in the olive oil to a cooking pan and coat it evenly by rotating the pan on the stove.
Add in the mushrooms and garlic, and pan-fry for about two minutes until the mushrooms are brown. Season with salt and pepper.
Add in the soy sauce, white vinegar, and bay leaf. Bring mixture to a boil, reduce heat, and cover with a lid. Let it simmer for 10 minutes until the mushrooms become tender. Add in sugar and mix.
Serve with steamed rice.
Recipe credit: Salu Salo Recipes
---
4. Carbonara – quick and easy pasta dish for a quiet night in with the family
---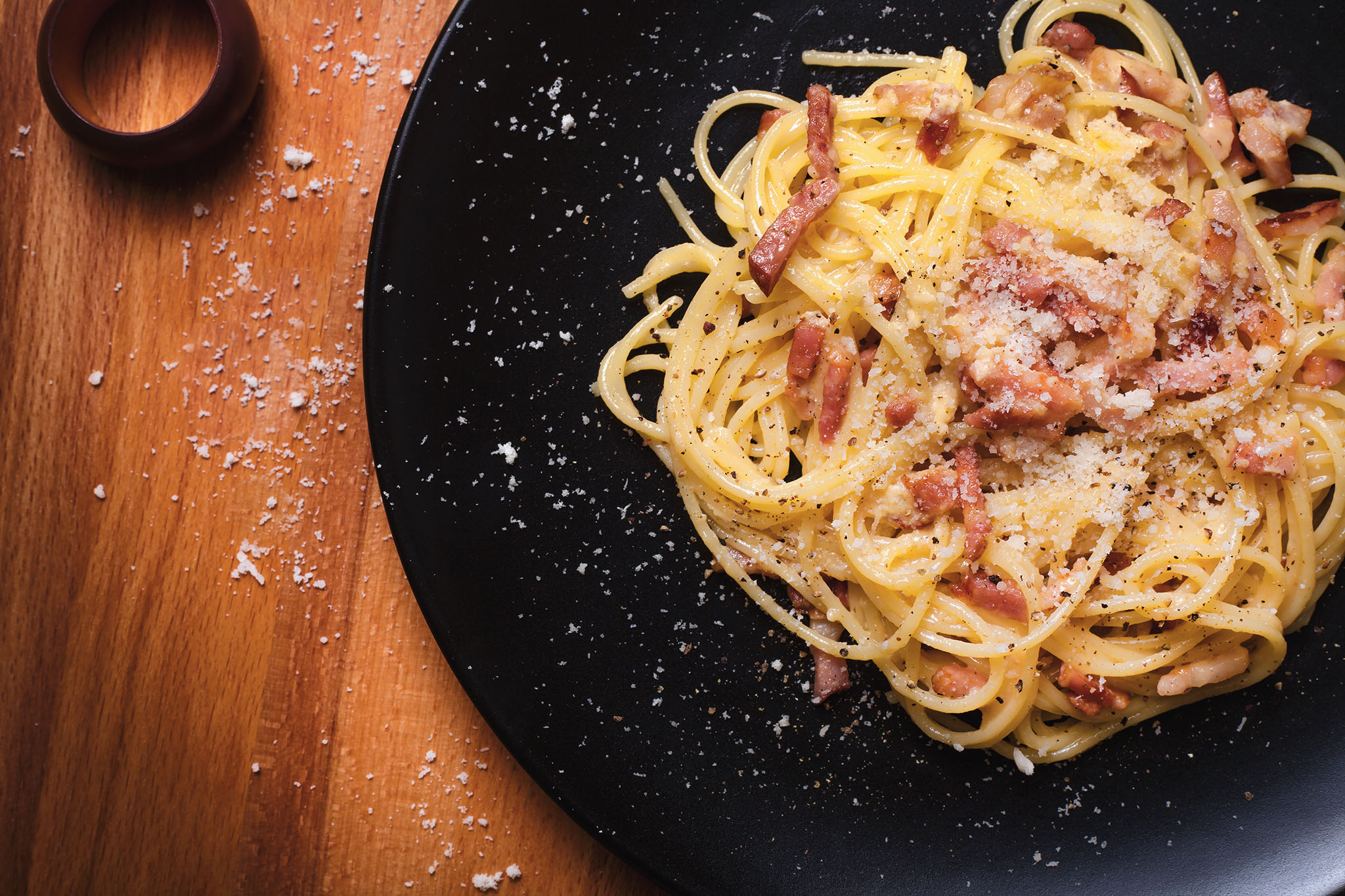 Image credit: Javier Somoza/Wikipedia
Aside from dishes you can pair with rice, you can also follow a quick pasta recipe such as Carbonara that's simple yet delicious, and will be tito or tita-approved.
It's also a great option for those surprise visits that you get from family, as it only needs a few ingredients and takes under 30 minutes to prepare.
Ingredients:
8 ounces of spaghetti
2 eggs
1/2 cup of freshly grated parmesan
4 slices of bacon, diced
4 cloves of garlic, minced
Salt and freshly ground black pepper, to taste
2 tablespoons of chopped fresh parsley
Steps:
Cook the spaghetti in a pot of boiling water with a pinch of salt until al dente. Keep half a cup of pasta water for later. Drain pasta once it's done.
Whisk the eggs and grated parmesan together in a bowl and set aside.
Set a cooking pan over medium-high heat. Add the bacon and cook for 6 minutes until it's brown and crispy. Pour the excess fat into a bowl and set aside.
Add the garlic into the pan and cook for a minute. Lower heat.
Add in the cooked pasta and the egg-and-cheese mixture. Toss together slowly, and season with salt and pepper. Add the leftover pasta water slowly until the pasta sauce reaches your preferred consistency.
Garnish with parsley and serve.
Recipe credit: Damn Delicious
---
5. Tilapia with roasted corn – light pescatarian dish for titos and titas on a diet
---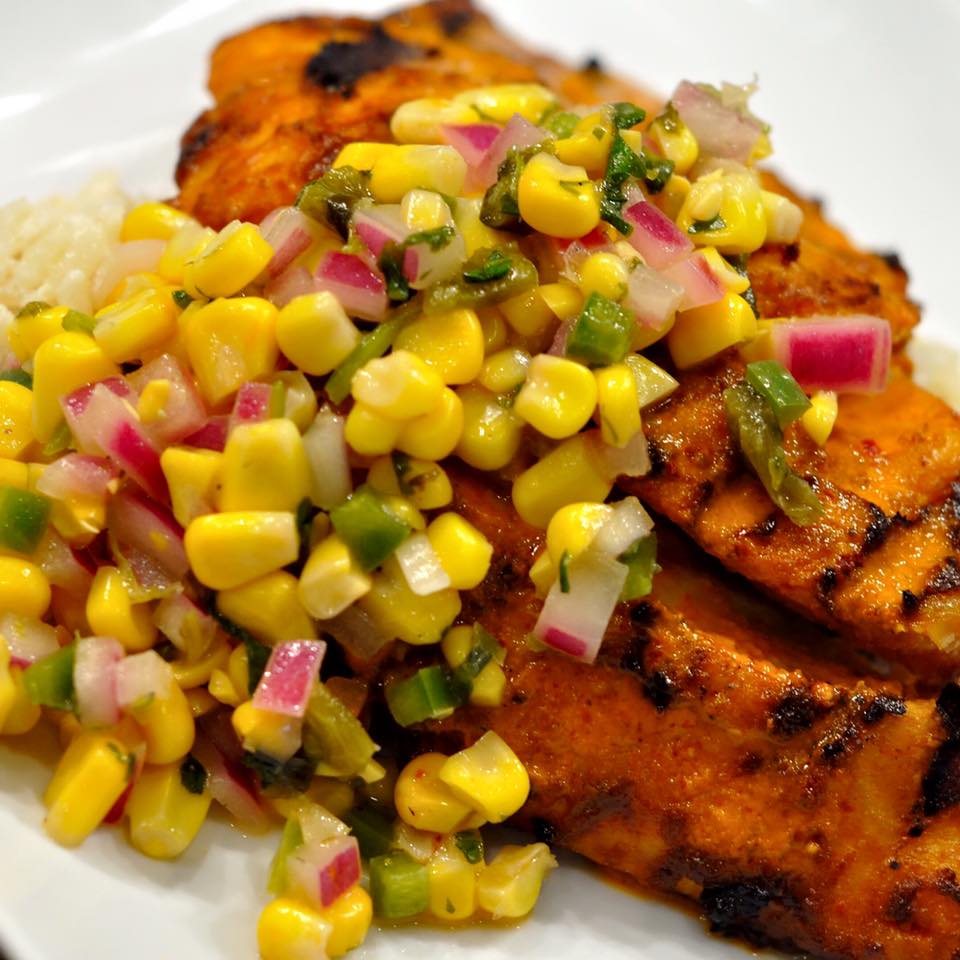 Image credit: Sly Seafood Catering Company
Tilapia with roasted corn is another quick dish that you can whip up in 20 minutes. For a lighter meal or even for Lent, enjoy freshly cooked tilapia with corn and a simple mayo-and-chili powder sauce for an added kick.
You can serve it as is with the corn as a substitute for the rice. Alternatively, put in other vegetables such as red onion or bell peppers for color and flavor. This simple and healthy dish will still fill your stomach.
Ingredients:
1/4 cup of mayonnaise
1-2 teaspoons of chili powder
1/4 teaspoon of salt
4 tilapia loins or filets
1 1/2 cups of fresh or frozen corn (thawed to room temperature)
Lime wedges
Steps:
Preheat the oven broiler to high.
Mix the mayonnaise, chili powder, and salt together in a bowl. Using a spoon or spatula, spread a thin, even layer of the mixture on the bottom of a baking dish that fits 4 pieces of fish.
Place the fish in the dish, spread the remaining sauce evenly over the fish, and top the fish with corn.
Place the entire dish in the oven, and broil for 10 minutes until the corn is slightly charred and the fish is thoroughly cooked.
Serve the dish with the lime wedges on the side.
Recipe credit: taste & tell
---
6. Filipino-style picadillo with potatoes – quick beef stew for the cold weather
---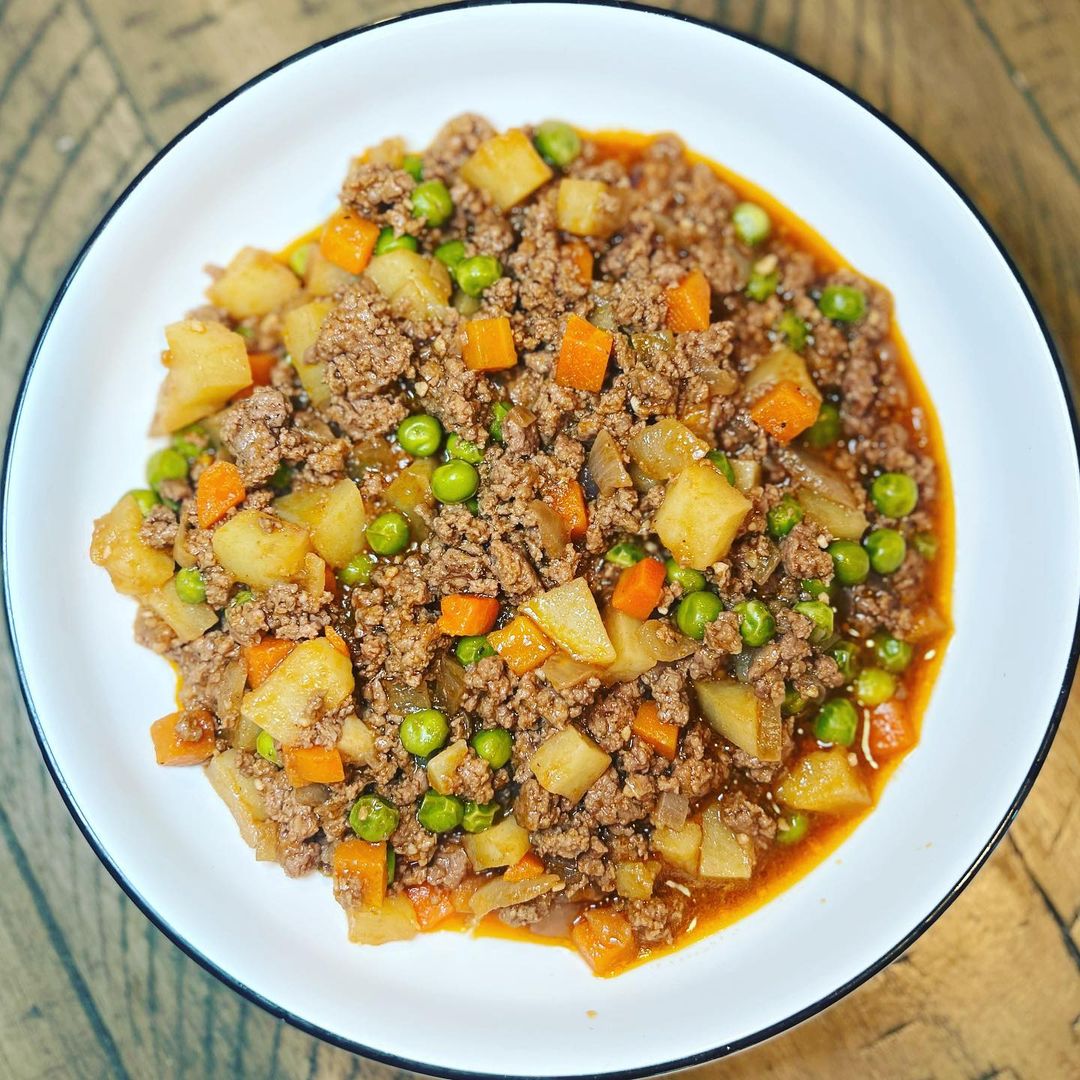 Image credit: @cathshomecookedmeals
Filipino-style picadillo with potatoes is another classic dish that you can serve with rice to enjoy a hefty meal with titos and titas.
While you can make a soup version of the dish, the stew version is what's commonly cooked and served in most Filipino households as well as restaurants. It only takes 30 minutes to prepare.
Ingredients:
1 tablespoon of canola oil
1 onion, peeled and chopped
2 cloves of garlic, peeled and minced
1 1/2 pounds of ground beef
1 tablespoon of fish sauce
1 cup of tomato sauce
1/2 cup of crushed tomatoes
1/2 cup of water or beef broth
2 potatoes, peeled and cubed
2 carrots, peeled and cubed
2 tablespoons of raisins
1/2 cup of frozen green peas, thawed
1/4 cup of green olives, pitted
Salt and pepper, to taste
Steps:
Pour the canola oil into a cooking pan placed over medium heat. Once hot enough (hold your palm above the pan to feel the temperature), add the onions and garlic, and saute.
Add in the ground beef and gently break the meat into pieces with a cooking spatula. Cook until lightly browned and drain excess fat.
Add the fish sauce and cook for 1 minute.
Add the tomato sauce and crushed tomatoes.
Add the water or beef broth and bring to a boil. After lowering the heat, cover with a lid and let the mixture cook for about 10 minutes or until the beef is cooked through.
Add in the potatoes, carrots, and raisins. Cover once more with a lid and let it simmer for about 5 minutes or until tender.
Add the green peas and olives.
Keep stirring until the liquid becomes thick. Season with salt and pepper and serve.
Recipe credit: Kawaling Pinoy
---
7. Pork adobo – a classic dish everyone in the family can enjoy
---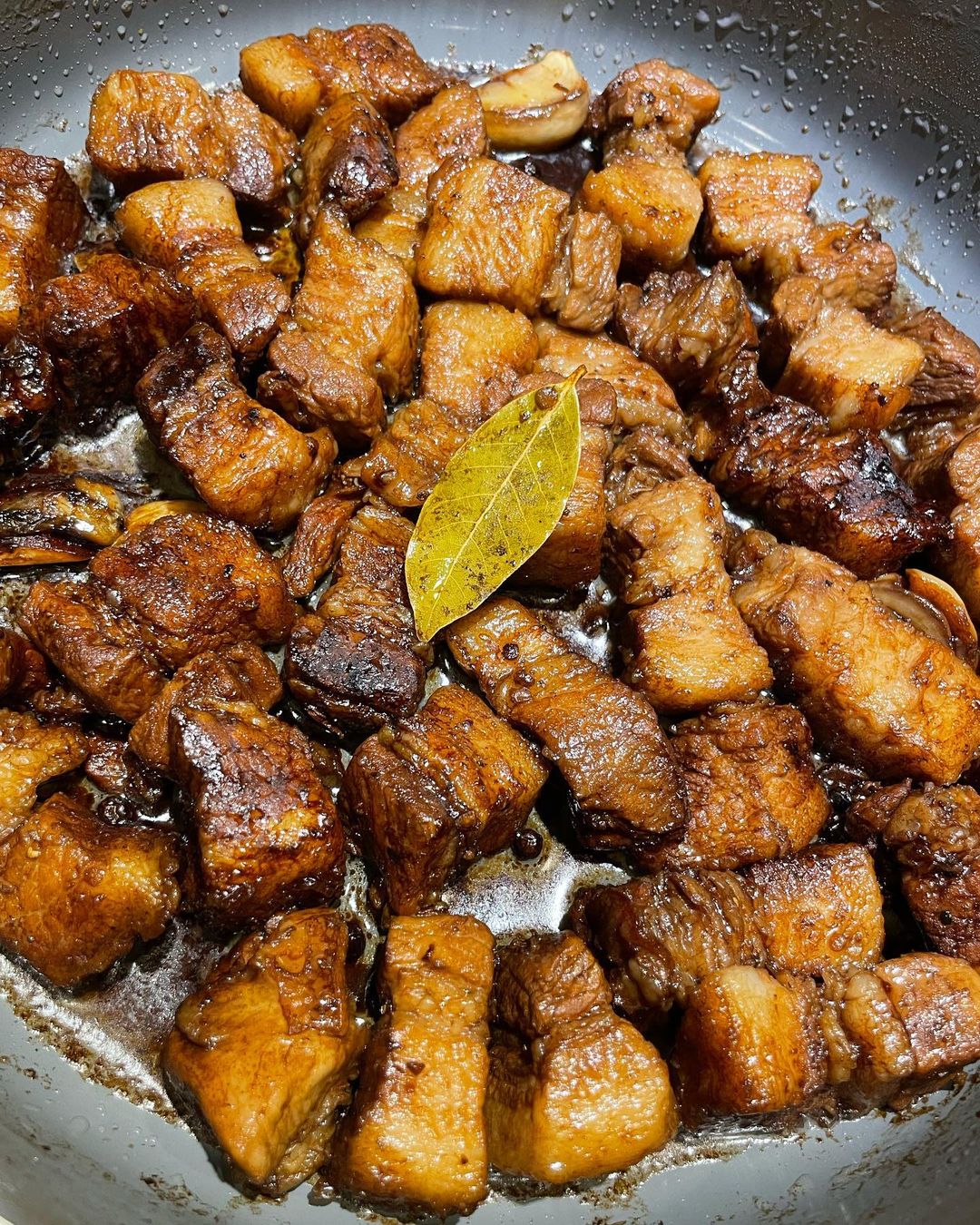 Image credit: @_beansnleaves_
Of course, if all else fails when cooking food for your titos and titas, pork adobo is always a classic dish everyone loves to eat. You can cook it according to your style in your own way like how many families do, so feel free to tweak this recipe.
Though your dinner might easily turn into a fun debate with passionate relatives about how everyone prefers to cook the dish, adobo is a great dish to serve among friends and family and you'll only need an hour overall.
Ingredients:
2 tablespoons of vegetable oil
2 pounds of pork shoulder belly, cut into bite-sized pieces
3 cloves of garlic, chopped
1/3 cup of soy sauce
1/3 cup of white vinegar
1 bay leaf
½ teaspoon of freshly ground pepper
1 cup of water, or as needed
1 tablespoon of honey or brown sugar
Steps:
Pour the vegetable oil onto a skillet over low to medium heat and coat it evenly. Add the pork pieces and cook until the meat is brown.
Add in the garlic and saute for a minute. Add the soy sauce, white vinegar, bay leaf, pepper and one cup of water.
After bringing to a boil, reduce the heat and simmer for 45 minutes until the meat is tender but not dry. Add half a cup of water very slowly until the meat becomes tender and the preferred sauce consistency is achieved.
Start adding in honey or brown sugar while stirring.
Transfer to a bowl and serve with steamed rice.
Recipe credit: Salu Salo Recipes
---
Get your dinner recipe essentials in 15 minutes with the new Supah app
---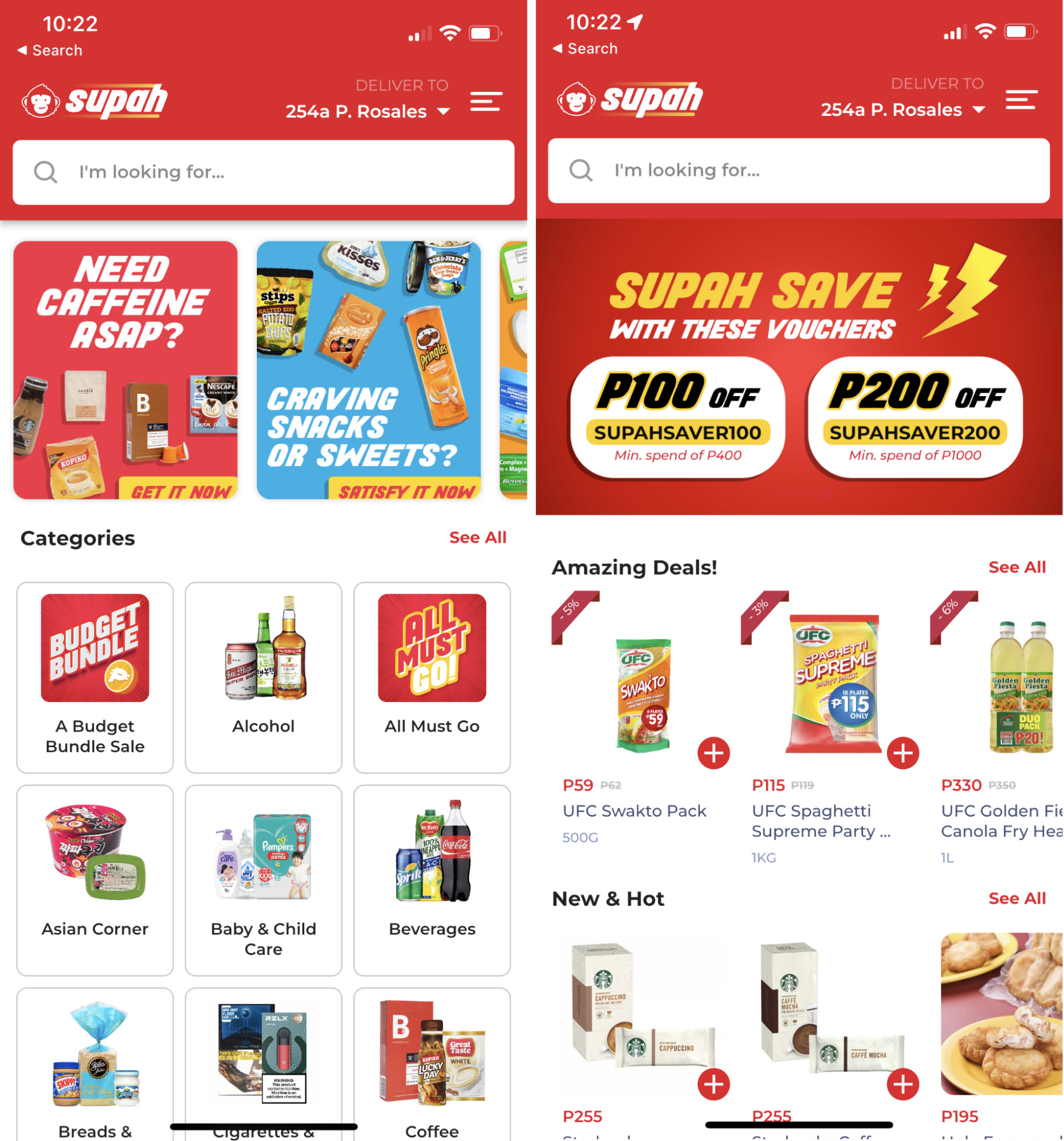 The app homepage (left) and vouchers (right). Offers are subject to future updates.
Image adapted from: Supah

If you're missing the ingredients to make these quick and fuss-free dishes, you can order them through the Supah mobile app – we checked! – where you can have everything delivered to your doorstep in just 15 minutes.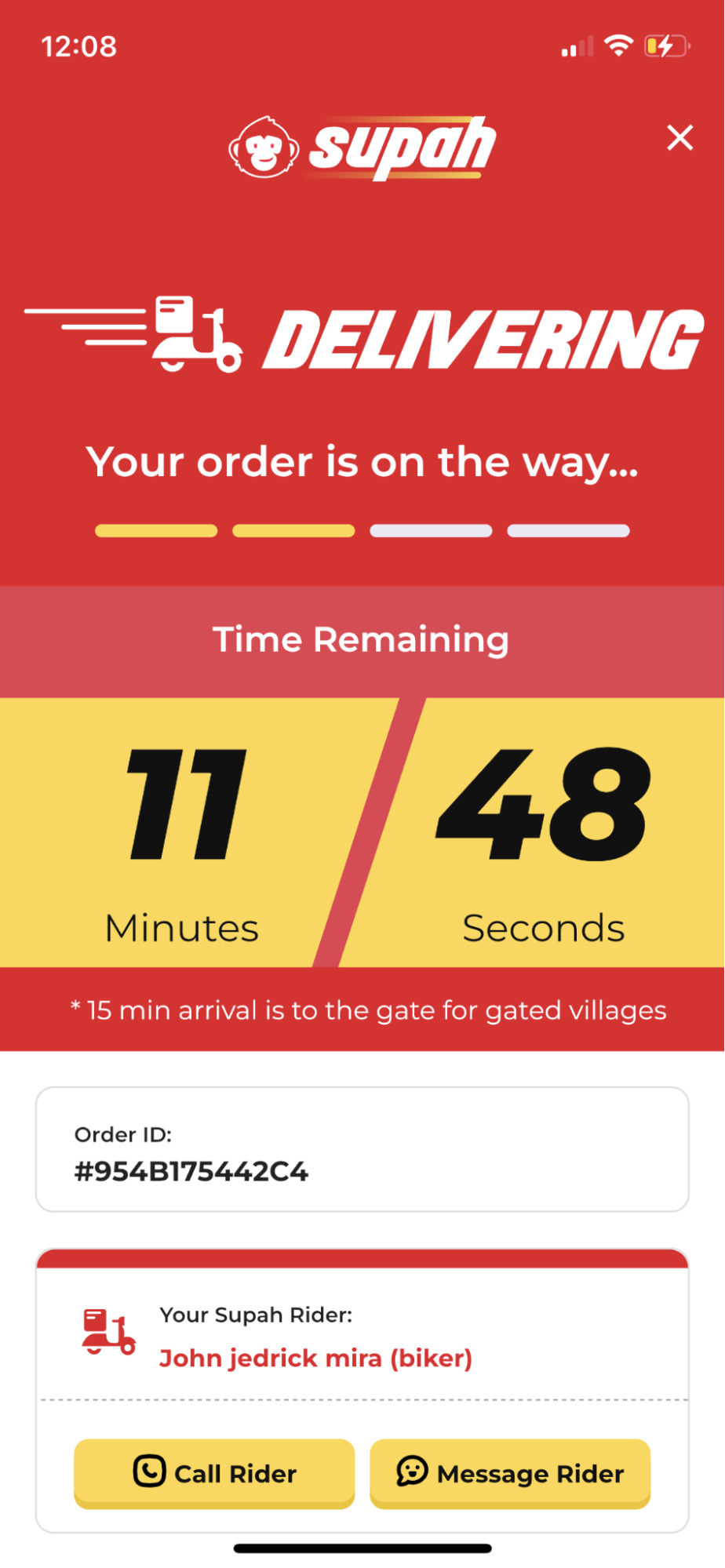 Second-by-second order tracking on the app.
Image credit: Supah
Besides fresh food and snacks, Supah offers various online shopping needs from household essentials to pet products and coffee capsules for coffee lovers. What's more, Supah has full-time riders at your service to fulfill their 15-minute delivery promise every time you order.
They also offer SUPAH SAVE vouchers on the app and price-drop sales regularly on their social media pages, as well as the app's Categories section.
The app operates from 7am to 2am and delivers to these selected areas: Makati City, Bonifacio Global City, Taguig, Pasig City, Mandaluyong City, San Juan City, Binondo District in Manila, and New Manila and Timog areas in Quezon City.
Supah is expanding into more areas, so download the app to be notified when it delivers to your neighborhood!
---
Quick and fuss-free dinner recipes for Titos and Titas
---
So if you want to impress your titos and titas with crowd-pleasing dishes for a last-minute meal, follow these quick and fuss-free dinner recipes for everyone to enjoy a festive night.
You'll be able to serve simple, quick, and delicious dishes that'll leave your visitors with a full stomach.
Also check out:
---
Cover image adapted from: Sly Seafood Catering Company, @cooking.master.boy, and Javier Somoza/Wikipedia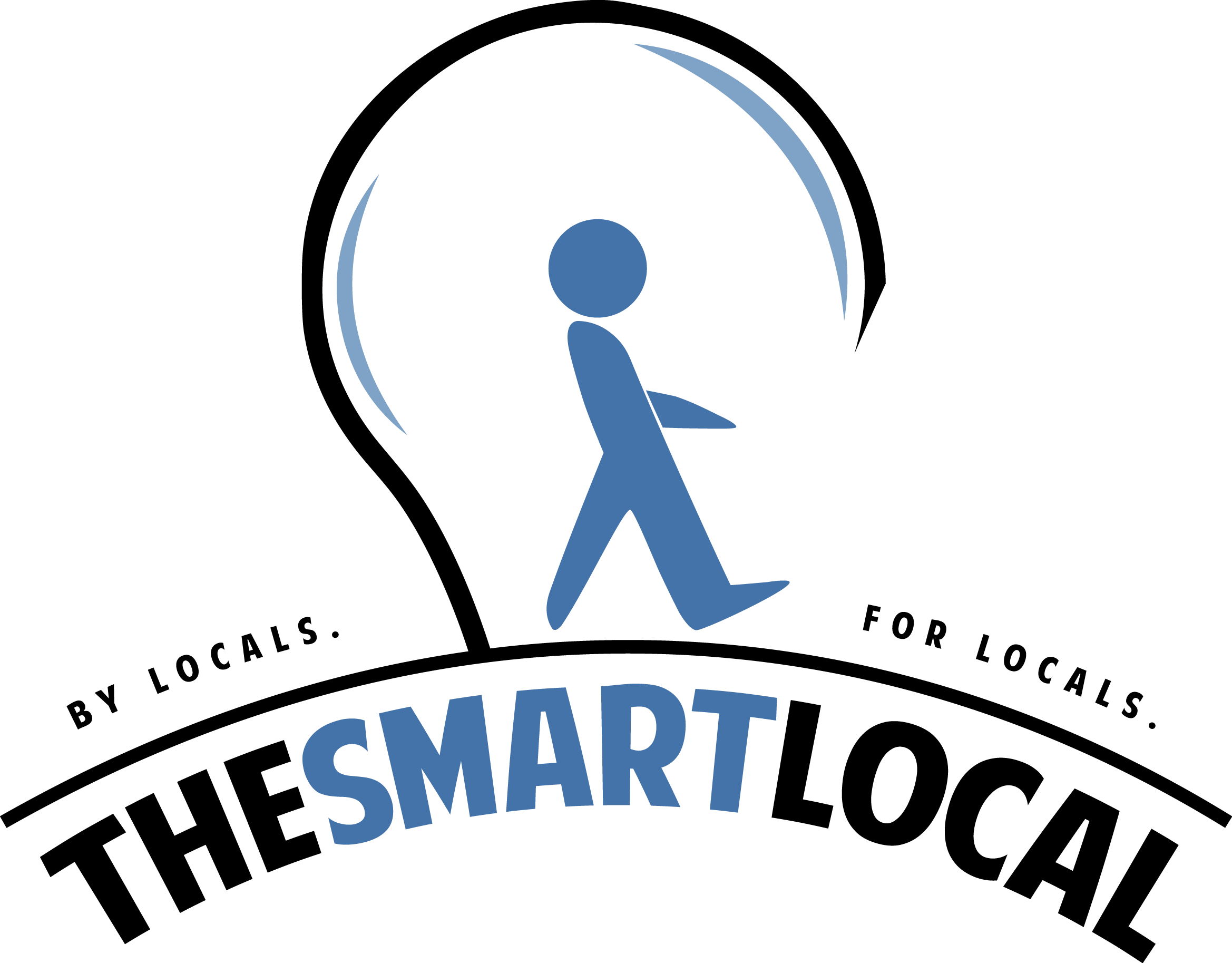 Drop us your email so you won't miss the latest news.