PATAFA to remove EJ Obiena from the national team
---
Filipino Olympic pole vaulter EJ Obiena will soon be dropped by the Philippine Athletics Track and Field Association (PATAFA) from the national team, the organization revealed 4th January. This was announced alongside the results of PATAFA's investigation following their accusations of Obiena not paying his coach, Vitaly Petrov, and falsifying his liquidation documents.
The news came as a shock to Filipino sports fans as the news came out just after Obiena ranked no. 3 in World Athletics' 2021 men's pole vault rankings.
---
Results of PATAFA's investigation
---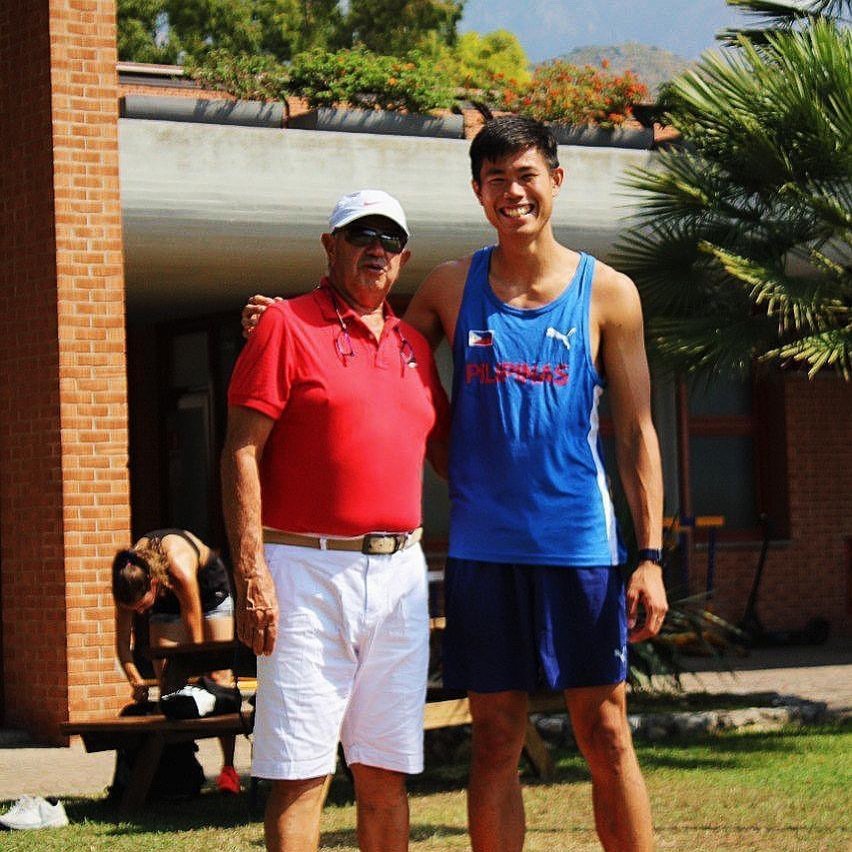 EJ Obiena and coach Vitaly Petrov
Image credit: @ernestobienapv
According to PATAFA, Obiena misappropriated P3,661,608 (~USD71,339.51) worth of funds given to him by the organization and the Philippine Sports Commission (PSC) which was supposed to be payment for his coach Petrov.
Obiena's mother and former PATAFA auditor Jeanette Obiena was also said to have embezzled P624,116.76 (~USD12,159.74) from the PSC which she reportedly filed as reimbursement for Petrov's coaching fee.
These findings led PATAFA to recommend Obiena's removal from the national team, a decision that is to take effect immediately.
---
PATAFA's recommendations
---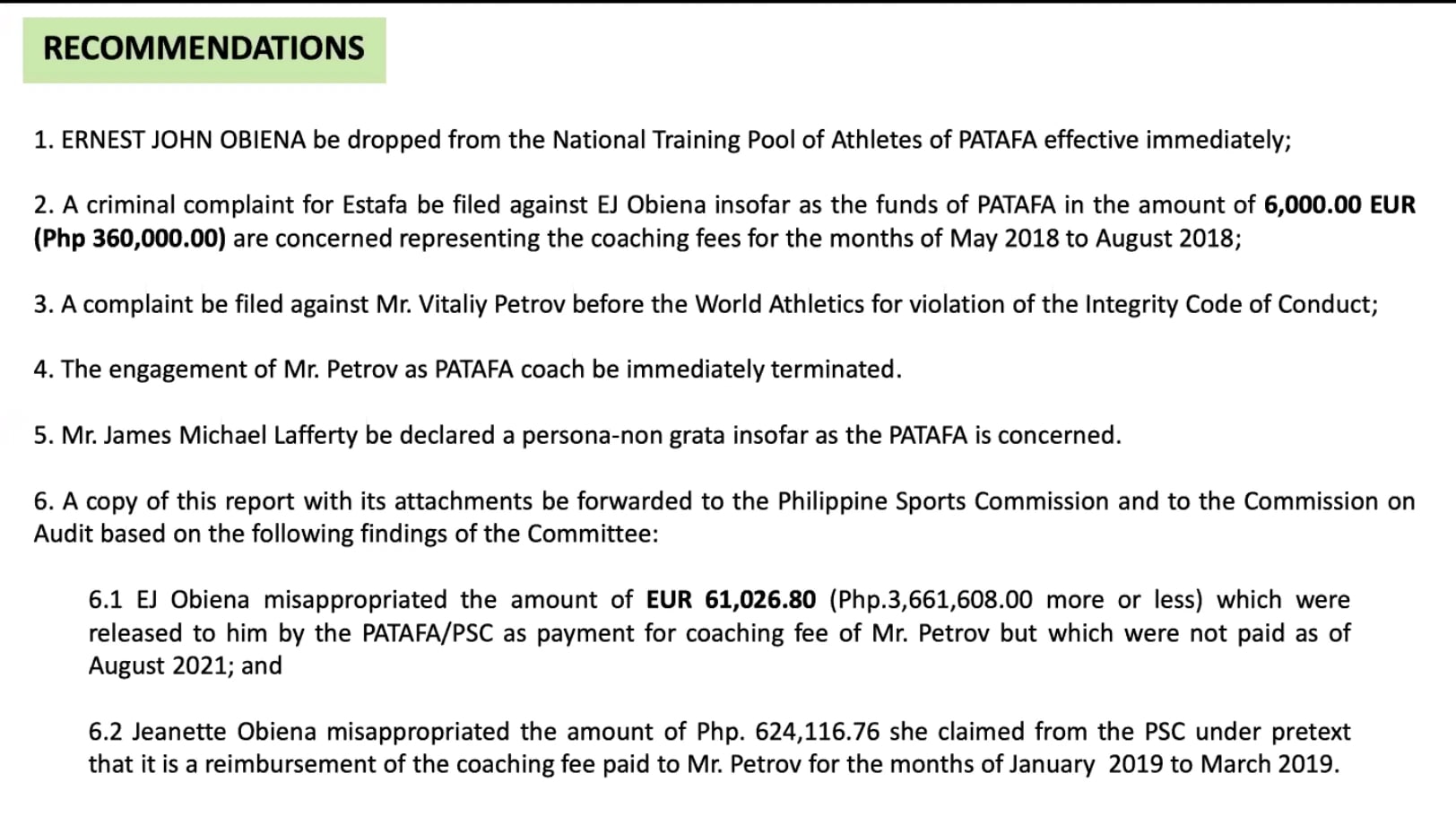 PATAFA's recommendations
Image credit: ABS-CBN News
Besides dropping Obiena from the national team, PATAFA is also set to file a case of estafa against the Olympic pole vaulter. Estafa is a criminal case filed against people who defraud others financially, including misappropriating money.
PATAFA also wants Petrov to be terminated as a coach. A complaint will also be filed to the World Athletics against Petrov for allegedly violating their Integrity Code of Conduct.
Obiena's adviser, James Lafferty is also to be declared persona non grata.
PATAFA's Board of Trustees has approved of these recommendations.
---
The Obiena vs. PATAFA dispute
---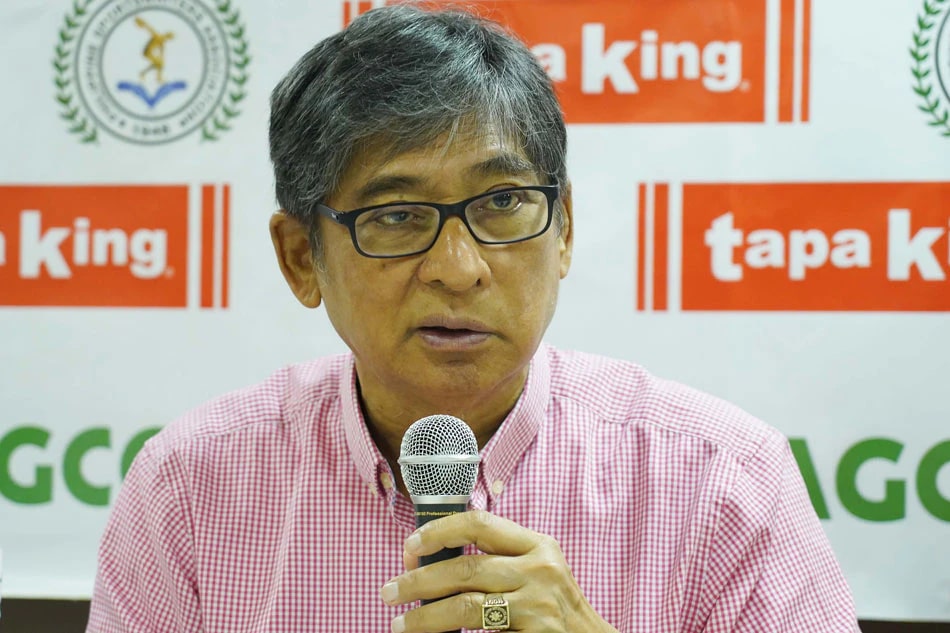 PATAFA President Philip Juico
Image credit: ABS-CBN News
Obiena and PATAFA's dispute began in November 2021 when PATAFA's letter to Obiena containing accusations of the athlete not paying his coach and falsifying liquidations was made public. However, Obiena denied this and Petrov said he has received payment from the Olympian.
This led PATAFA President Philip Juico to be declared persona non grata by the Philippine Olympic Committee, who claimed that the federation president harassed Obiena by making "malicious public accusations." This means that Juico is no longer allowed to represent PATAFA as president during committee gatherings.
As a response, Juico said that PATAFA will fight POC's decision to declare him persona non grata.
---
Netizens urge EJ Obiena to represent another country
---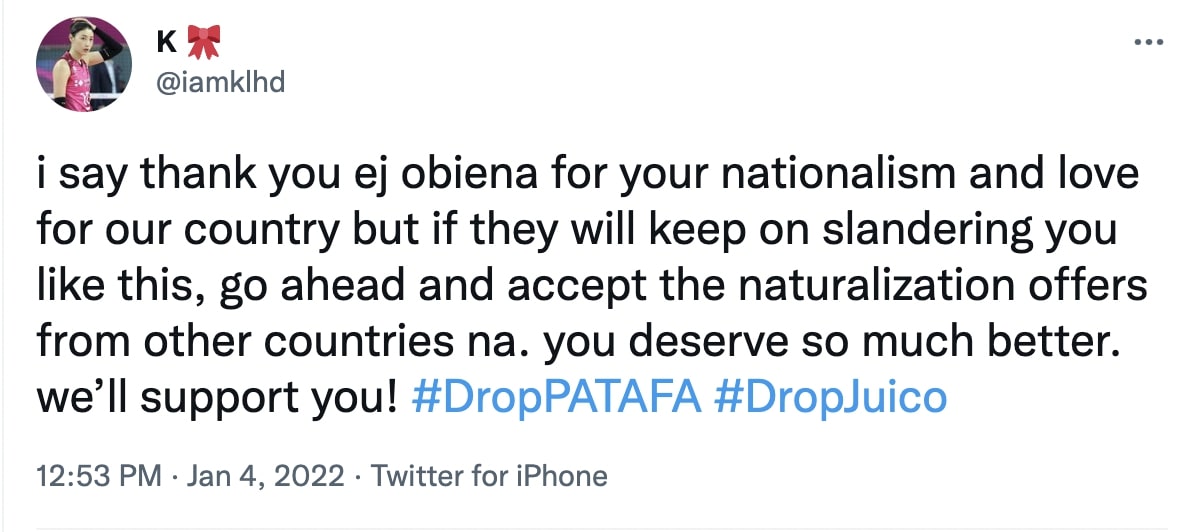 Image adapted from: @iamklhd
As the issue trended online, Filipino netizens – who mostly side with Obiena – began to urge the athlete to represent another country as he is a high-ranking pole vaulter.


Some netizens think that Obiena should follow the path of naturalized US chess grandmaster Wesley So
Image adapted from: @crammry
According to them, Obiena would be better off playing for another country that would support his Olympic career than staying in the Philippines.
---
EJ Obiuena ranked Top 3 in world's pole vault
---
More than being one of our country's Olympic representatives, 26-year old EJ Obiena is also known to be a record-breaker in pole vaulting. Most recently, he broke his personal record, national record, and the meet record at the 17th Golden Roof Challenge in Austria on 11th September 2021.
Given that Obiena is a valuable asset in Philippine sports, we hope that his party and PATAFA will reach an amicable resolution as soon as possible so the pole vaulter can continue to represent the Philippines in the competitions he is set to join this year.
Also check out:
---
Cover image adapted from: @ernestobienapv and @ernestobienapv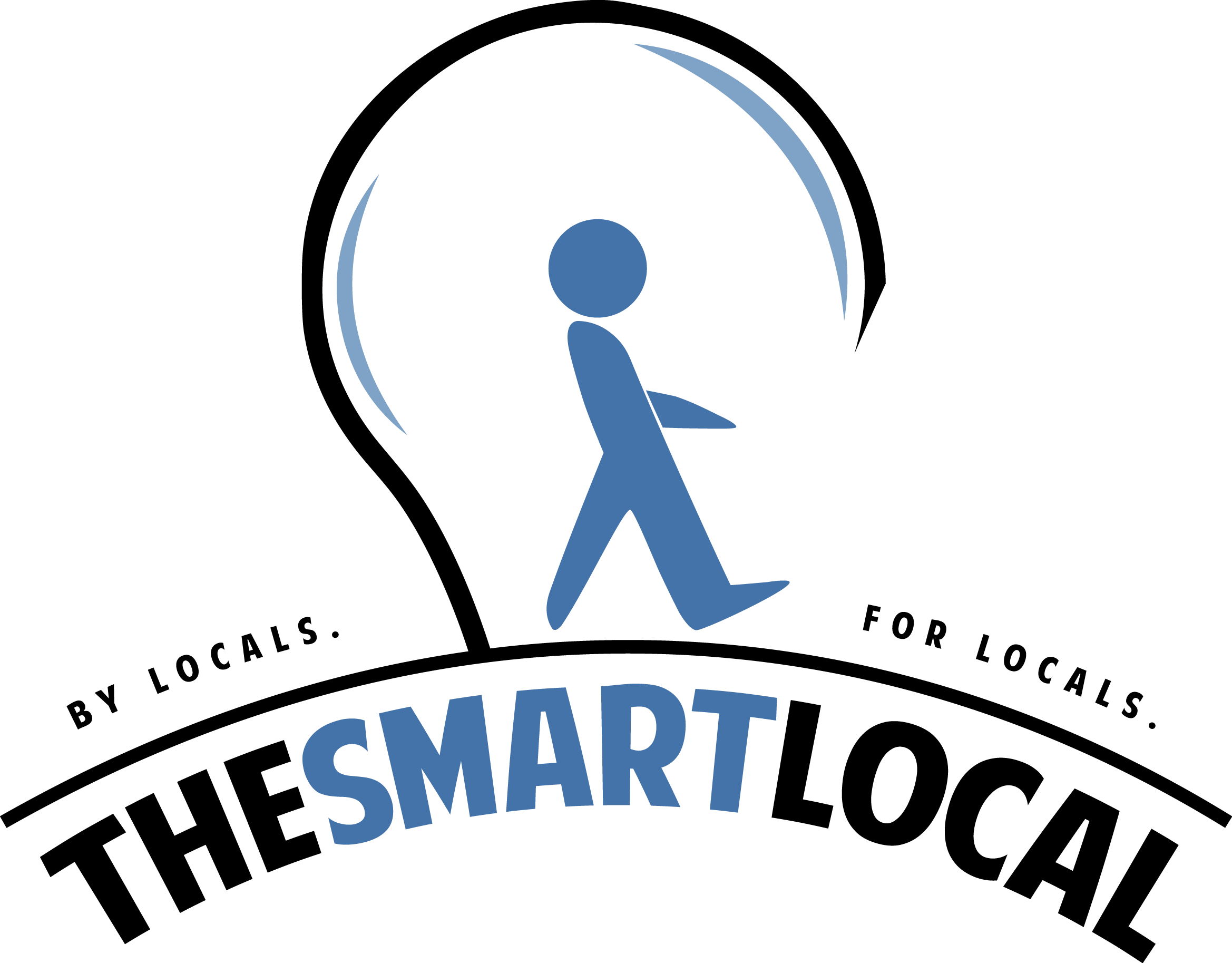 Drop us your email so you won't miss the latest news.