Filipino Paralympians at the 2020 Summer Paralympics in Tokyo
---
Sports for the able-bodied often get more attention than paralympic sports events. This rings true even at a global level as the 2020 Tokyo Olympics has gotten more coverage than the 2020 Tokyo Paralympics running from 25 August to 5 September.
Unknown to many, our Filipino Paralympians will now attempt to bring home medals from the biggest paralympic sporting event in the world. Get to know our 5 Paralympians who are aiming to bring pride to our country and to their fellow persons with disabilities in the list below.
---
1. Ernie Gawilan – survived an abortion and became a swimming gold medalist
---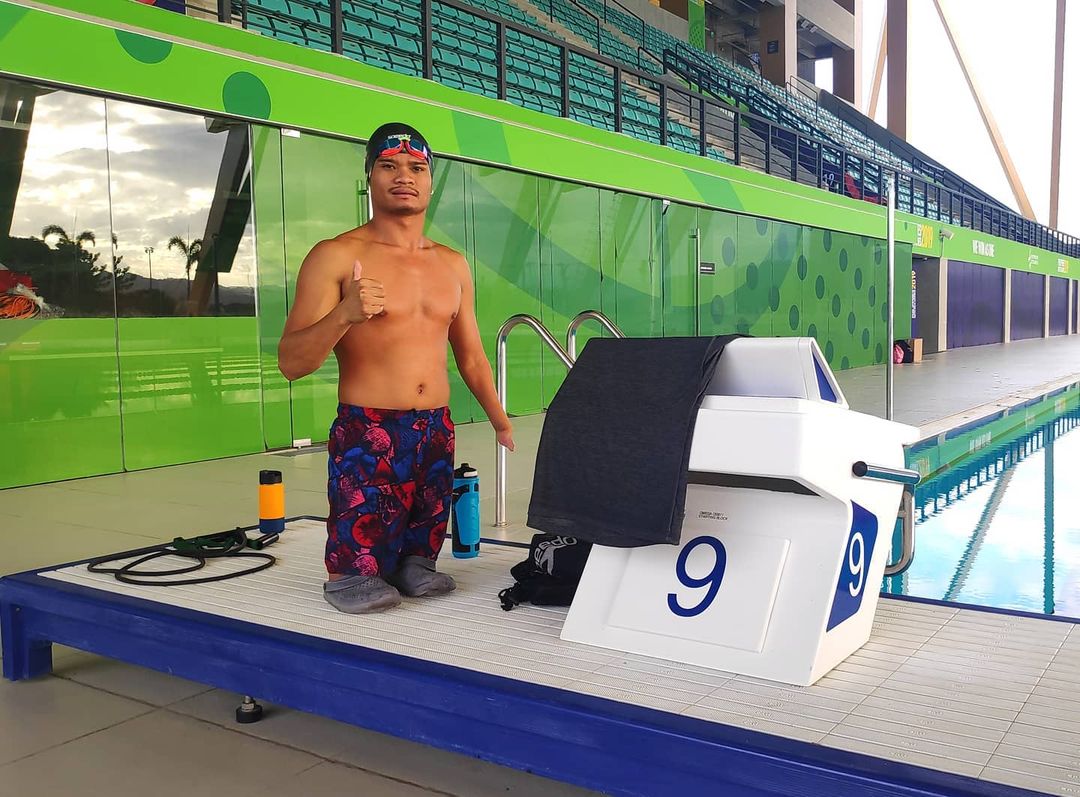 Gawilan during swimming training in 2020
Image credit: @ernie.gawilan
Paralympic swimmer Ernie Gawilan (b. 1991) had faced the toughest things in life even before his birth. Due to his mother's abortion attempt, he was born without a right leg and an underdeveloped left limb in a remote town in Davao. Shortly after his birth, his mother also died of cholera, leaving him in the care of his grandfather.
At age 9, he was sent to a home for handicapped youth in Davao City where he was taken care of by nuns. In 2000, he was transferred to Samal Island where he fell in love with water. In an interview with Spin.ph, Gawilan said he felt normal whenever he was in the water.
He joined his first swimming competition in 2008 but was almost disqualified because he didn't have swimming trunks. After begging officials to let him compete, he did so wearing cargo shorts that held him back in the water.
Nonetheless, he emerged in second place. Winning against national Paralympians despite it being his first race and with swimming attire that had him at a disadvantage, Gawilan was scouted into the national team.
Since then, Gawilan has competed in sporting events in various countries, including Indonesia, Singapore, Malaysia, Italy, and New Zealand. In 2018, he won the Philippines' first-ever gold at the Asian Para Games. It is his second time joining the Paralympics, having competed in Rio in 2016.
---
2. Gary Bejino – talented swimmer with one leg and one arm
---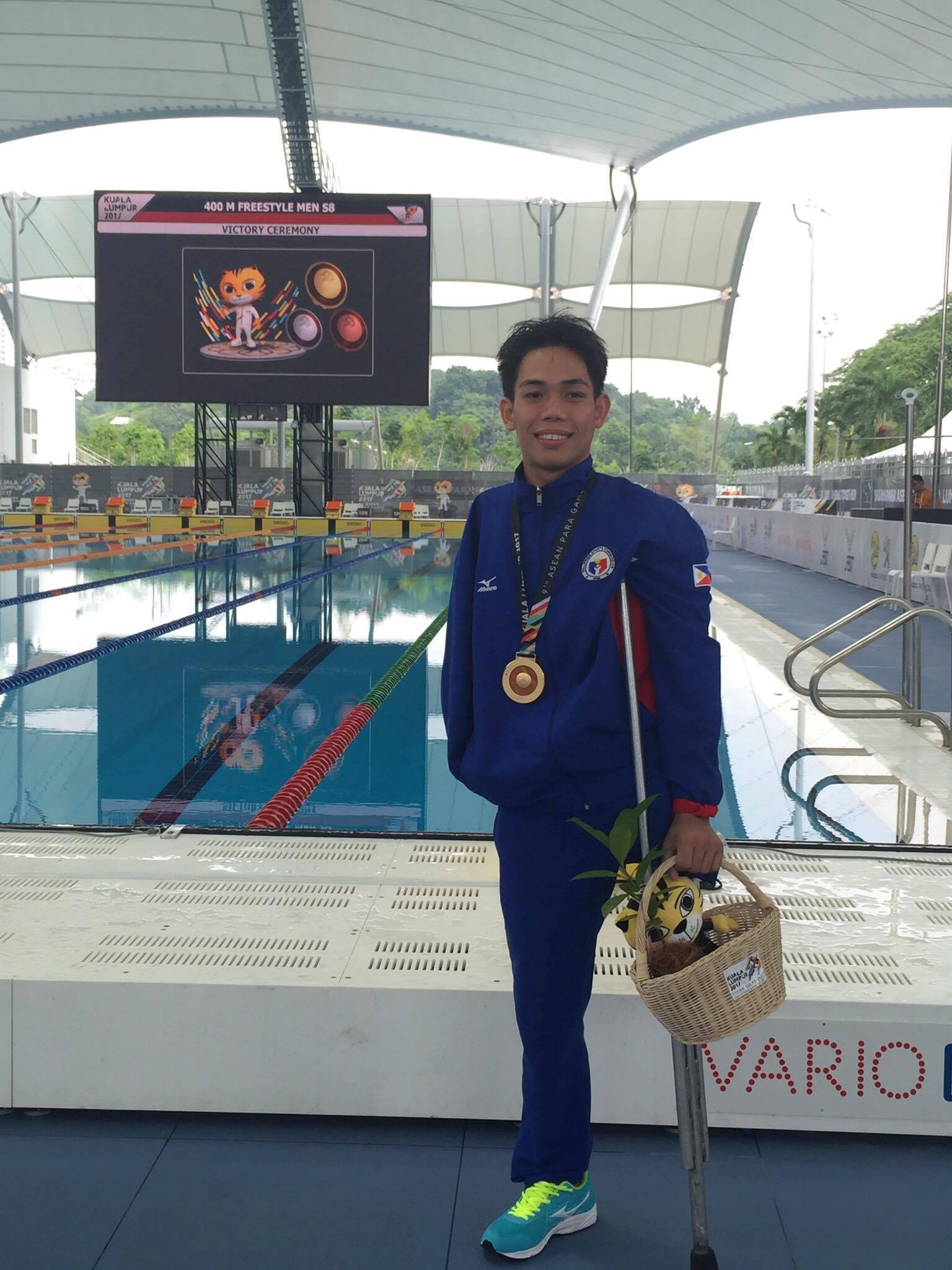 Bejino won a gold medal at the 2017 ASEAN Para Games
Image credit: PSC (Philippine Sports Commission)
Gary Bejino (b. 1995) had an arm and a leg amputated at the young age of 7, when he experienced an electric shock and suffered severe burns after holding onto a live wire.
The Albayanon's entry to the national para-swimming team happened when he represented the National Orthopedic Hospital – School for Crippled Children at the 2013 Palarong Pambansa in Dumaguete City, competing in the para-swimming event.
Winning 3 gold medals for the 50-meter butterfly, 100-meter backstroke and 200-meter individual medley, he caught the attention of Coach Tony Ong of the national para-swimming team. Coincidentally, Ong was looking for a para-swimmer for the 2013 Asian Youth Para Games at the time. 
Bejino has brought home gold medals from the 2015 and the 2017 ASEAN Para Games held in Singapore and Malaysia, respectively. Meanwhile, at the 2018 Asian Para Games in Indonesia, he won a silver and 2 bronzes. 
It's Bejino's first time competing at the Paralympics, but he will be joining 4 events, the most number of competitions within the national team for the 2020 Paralympics.
---
3. Allain Ganapin – taekwondo jin who used to fight his bullies
---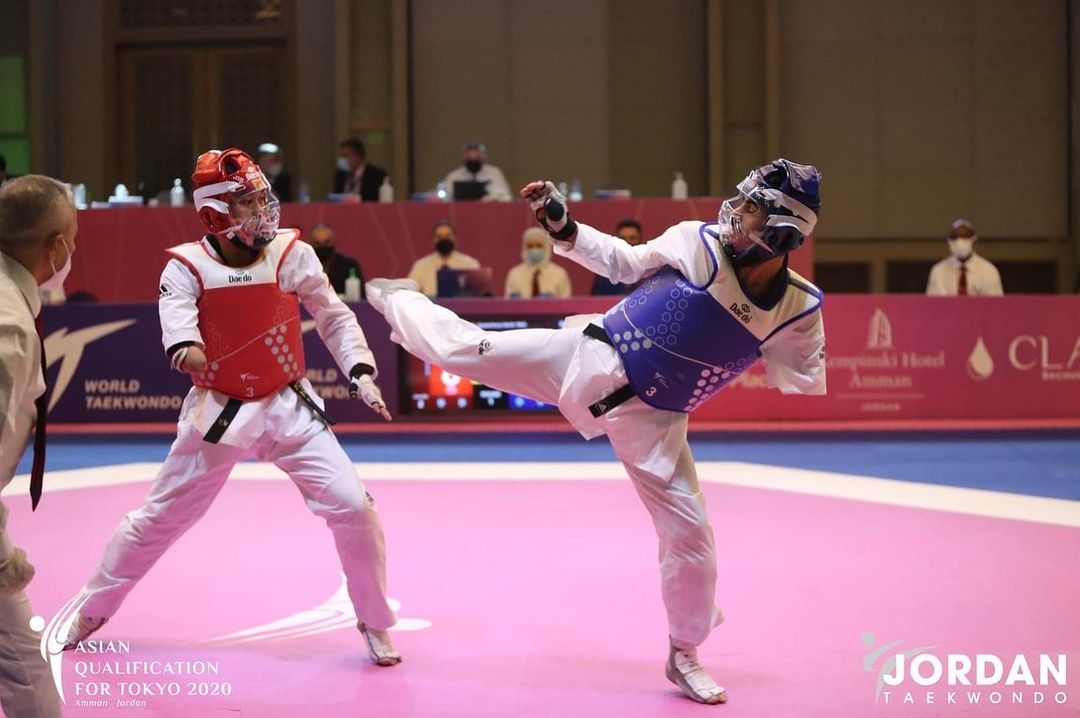 Ganapin during the 2021 Asian Olympic Qualifiers in Jordan
Image credit: @tkd_allainganapin, Jordan Taekwondo
Allain Ganapin (b. 1998) is the first-ever Philippine taekwondo athlete in the Paralympics as the sport makes its debut in the biggest sporting stage for the differently abled at the 2020 Summer Paralympics in Tokyo.
The 22-year old taekwondo jin (practitioner) had his right lower arm amputated at birth so he could live.
Ganapin shared in an interview with Rappler that his first experiences with fighting were against his bullies. Initially, he took up the Korean martial art so the bullies would stop bothering him.
However, his skill in the martial art earned him a spot in the national team which he had been a part of since 2016. Since then, he has won bronze medals from the 2017 Oceania Para Taekwondo Open in New Zealand and the 2021 Asian Olympic qualifiers in Jordan.
He was able to join the 2020 Tokyo Paralympics through a bi-partite invitation – which means he received an invitational qualification slot discretely given by the International Paralympic Committee – after narrowly missing the chance to get a direct qualification for the event when he placed third at the 2021 Asian Olympic Qualifiers.
---
4. Jeanette Aceveda – 50-year old discus thrower of 24 years in her first Paralympics stint
---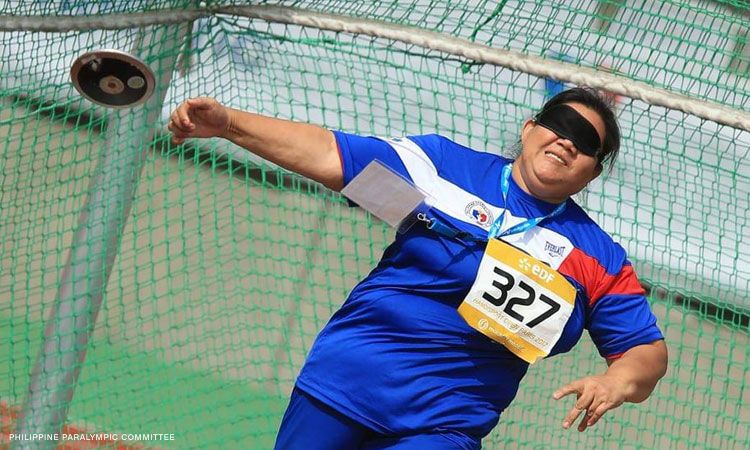 Aceveda during the 2017 Handisport Open in Paris
Image credit: Philippine Paralympic Committee
50-year old Jeanette Aceveda (b. 1971) is the Philippines' first-ever visually impaired Paralympian and has been part of the national para team since 1997.
She has long dreamed of competing in the Paralympics, but it remained elusive to her, although she's won many medals at different international sporting events. At the same time, her partial blindness – a condition she's had since birth – also continued to worsen through the years.
In 2010, Aceveda also encountered an accident. She was hit by a motorcycle and had to be on crutches. Despite this, she removed her crutches after only a month and showed up at the 2011 ASEAN Para Games in Indonesia where she brought home 2 bronzes.
She almost gave up her dream then, but she was able to bag 2 golds and a bronze at the 2014 ASEAN Para Games in Myanmar.
Aceveda finally qualified for the Paralympics after attaining the 18-meter qualifying standard in 2019 at a tournament in France. After 24 years in the national team and at 50 years old, the 2020 Tokyo Paralympics is her first Paralympics stint, a dream come true for the veteran discus thrower.
---
5. Jerrold Mangliwan – turned his limitation into a strength by being a wheelchair racer
---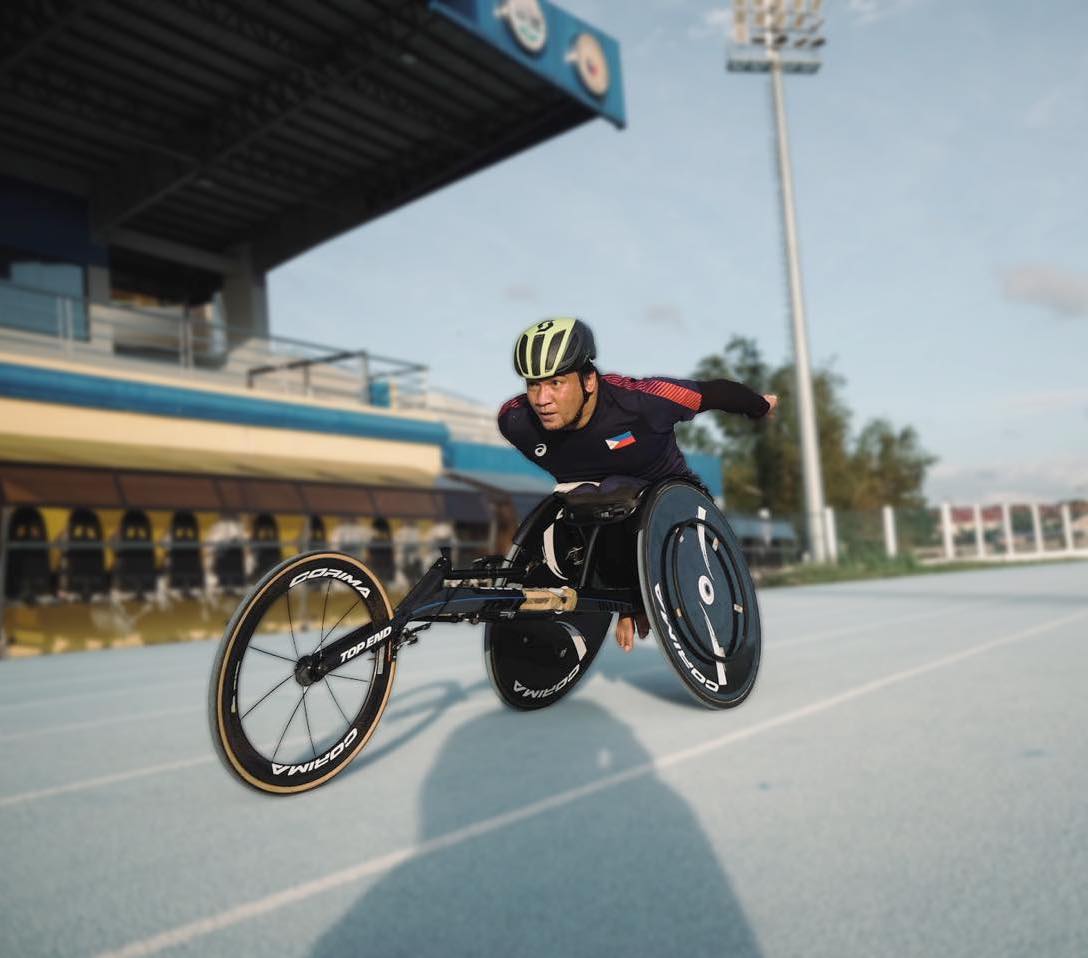 Mangliwan during wheelchair racing practice
Image adapted from: Emmanuel Maliksi
At 2 years old, Kalinga-born Jerrold Magliwan (b. 1979) got sick with polio which gave him paraplegia or paralysis of the lower body. This led him to be wheelchair-bound from a young age. However, he turned his limitation into a strength when he joined the national team as a wheelchair racer in 2005.
In his 15-year athletic career, he has brought home plenty of international wheelchair-racing medals, including 2 ASEAN Para Games golds.
At 41 years old, Mangliwan will be joining his second Paralympics after Rio 2016. He secured his 2020 Tokyo Paralympics slot through passing the minimum qualifying standard and the minimum entry slot imposed by the International Paralympic Committee. Mangliwan will be joining the Men's 400m T52, Men's 1500m T52, and Men's 100m T52 events.
The Filipino Paralympian shared in an interview with Spin.ph that he hopes to duplicate the abled Olympians' feat this year and bring home the Philippines' first Paralympics gold. Since joining the Paralympics for the first time in 1988, our country has only won 2 bronze medals.
---
Supporting Filipino Paralympians
---
There's still so much to change about how we as people view differently-abled individuals. Even in the world of sports, where they have to work several times harder than their abled counterparts, Filipino Paralympians and para athletes don't get the same recognition nor compensation as abled athletes.
While we're working on making way for equality for our Filipino Paralympians and other para athletes, we can start showing out support for them in little ways. This includes cheering for them just as we did to our Olympian athletes during the 2020 Tokyo Olympics.
Also check out:
---
Cover image adapted from: @ernie.gawilan,  Philippine Paralympic Committee, and Emmanuel Maliksi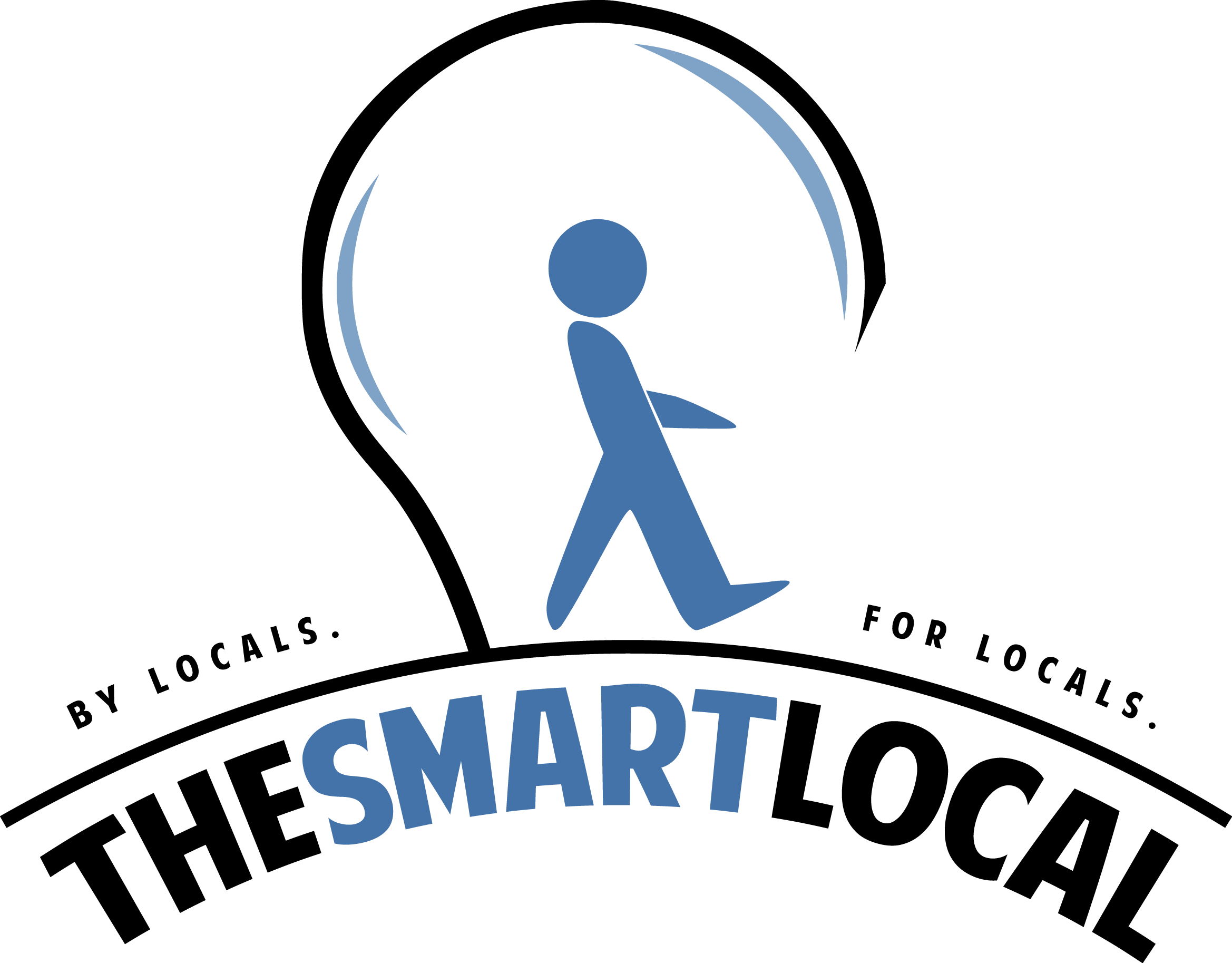 Drop us your email so you won't miss the latest news.