Filipino celeb-themed fast food meals
---
Since its launch on 18th June, the McDonald's BTS meal has been making its rounds on the internet. Viral posts vary from memes, non-fans selling the packaging to dedicated BTS fans or ARMYs, and even good deeds such as the ARMY fandom's donation to a supportive Foodpanda rider.
Many of the posts also include ARMYs collecting, framing, and showing off their limited edition BTS-themed packaging. Because of this, the meal has become a source of inspiration for many other fandoms -just like these Filipinos who have edited their own fast food meal combos for their favorite artists.
---
Fans edit Ben&Ben, Sarah G, and Regine Velasquez-themed packaging
---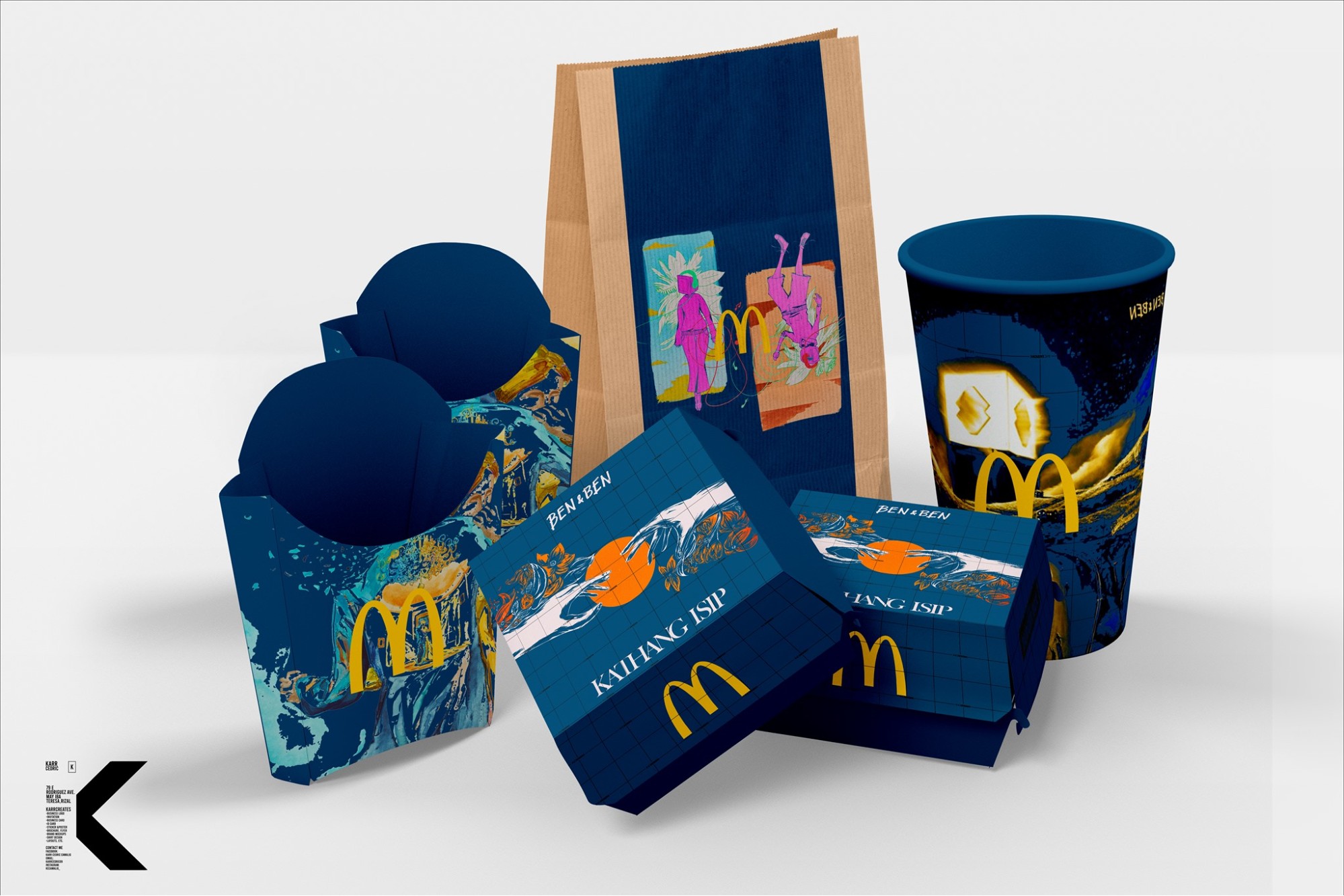 Ben&Ben X McDo meal
Image credit: Karr Cedric Camalig
Ben&Ben is one of the Philippines' most popular bands, with hits such as Lifetime and fans all over the world. As one of those fans, Grade 12 student Karr Cedric Camalig thought he'd have a go at designing a Ben&Ben x McDo meal.
Just like the BTS meal, this meal comes with chicken nuggets, fries, and a drink. The edited packaging comes in Ben&Ben's signature blue and yellow, with accents of the band's different album art designs.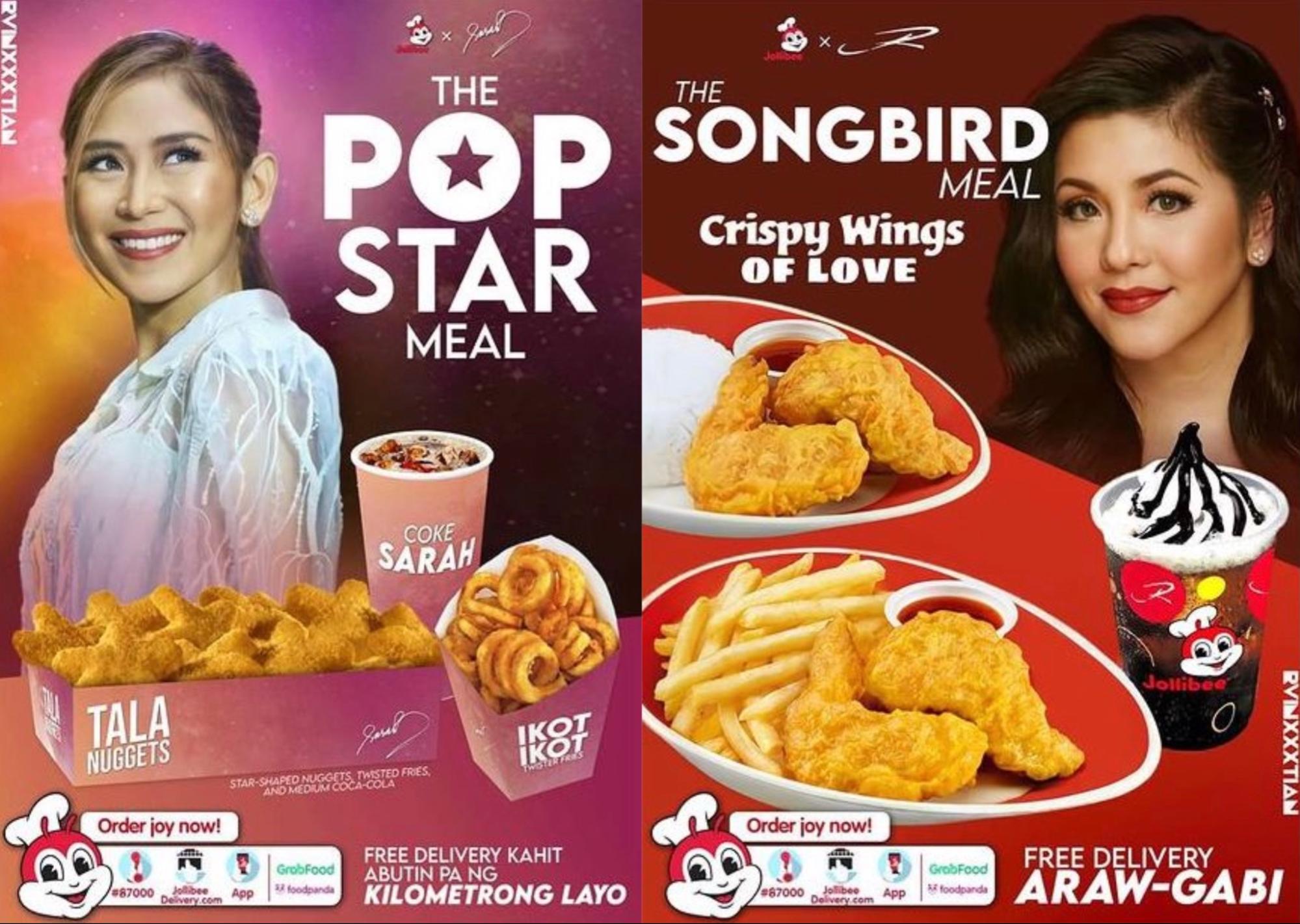 Sarah G and Regine Velasquez Jollibee meals
Images adapted from: @rvinxtian_edits, @rvinxtian_edits
While Ben&Ben has only recently dominated the OPM charts, there are some Filipino singers who've been doing so for decades. Pinoy Pop Star Sarah Geronimo and the Philippine Songbird Regine Velasquez are two household names whose songs are familiar to any karaoke-loving Filipino.
Local artist @rvinxtian_edits posted his own take on the fast-food celebrity meal on Instagram, but with Jollibee instead of McDonald's. He designed a poster with Tala nuggets and Ikot Ikot twister fries for the Pop Star Meal, named after Sarah G's biggest hits, and also another image of the Songbird Meal with Crispy Wings of Love, also a reference to Regine Velasquez's most popular song "On The Wings Of Love".
---
Fast food meal edits with international artists
---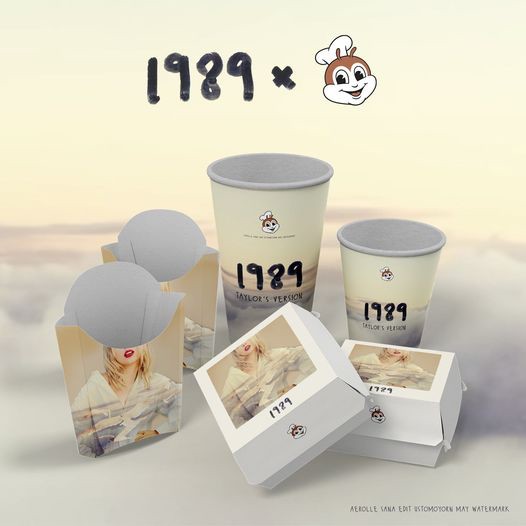 Taylor Swift's 1989 x Jollibee
Image credit: Aerolle Sana
Local artists aren't the only ones getting these edits. Filipinos have also edited themed fast food meal packaging for their international faves, such as Taylor Swift.
This 1989 x Jollibee meal designed by Aerolle Sana is a reference to the album that Taylor Swift is rumoured to be releasing next in her lineup of re-recorded albums. The edited Jollibee meal packaging dons the album's clean and aesthetically pleasing album art.

EXO x Jollibee
Image credit: Andrei Bautista via Reyster Ian Lazaro
Aside from Taylor Swift, other Korean boy groups are getting attention too. One of them is EXO, joining BTS as some of Korea's most popular groups ever. On this Jollibee meal composed of burger steak, fries, and a drink, you'll find EXO's logo printed all over the packaging alongside Jollibee's own logo.
---
Throwback to limited-edition celeb-and-fast-food collabs
---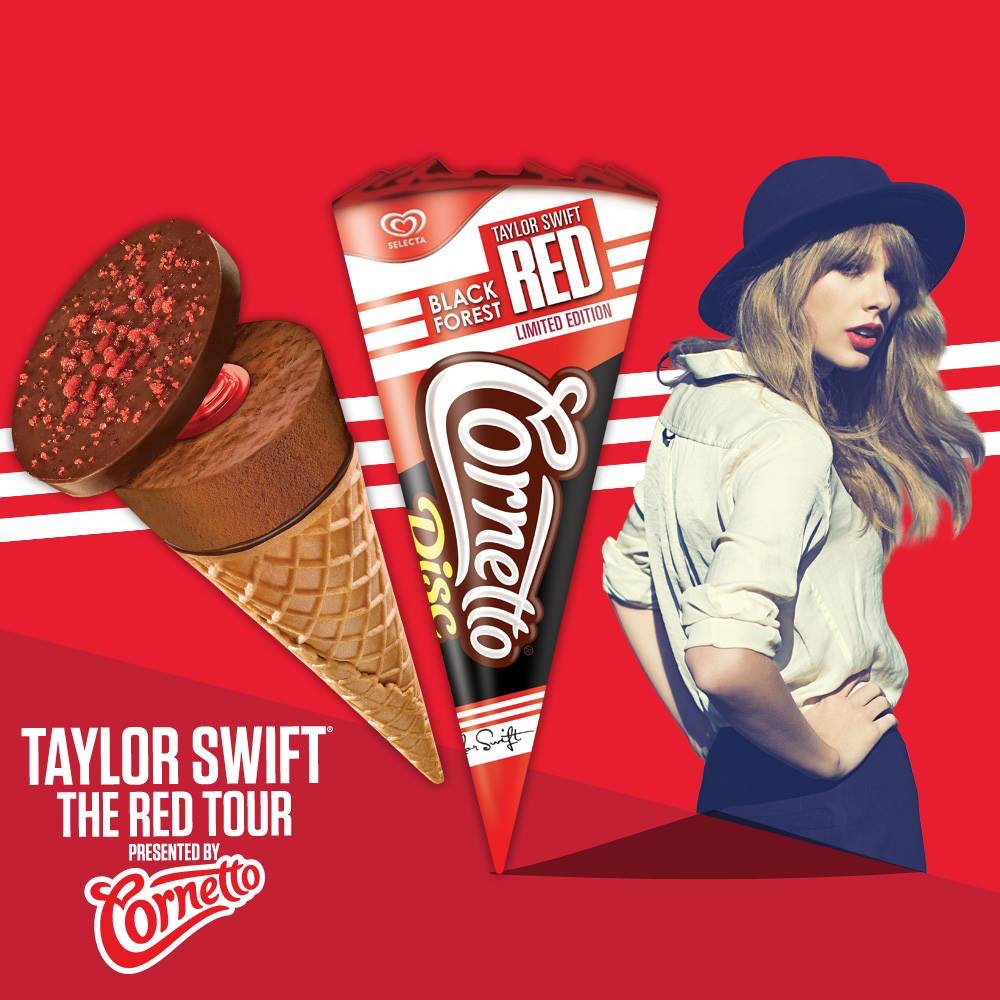 Taylor Swift and the Red Tour Cornetto
Image credit: Selecta Cornetto
The BTS meal may have been one of the first celebrity-themed fast-food meals to go viral, but that doesn't mean there weren't others that came before it.
During Taylor Swift's The Red Tour in 2014, local ice cream brand Cornetto dedicated an ice cream cone especially for the concert. The limited-edition cone was black forest-flavored, with a surprise – strawberry red sauce – in the center.
Cornetto even held a contest with the special product, where a lucky winner could win Red-themed prizes from a Taylor Swift-signed album to VIP concert tickets to the event itself.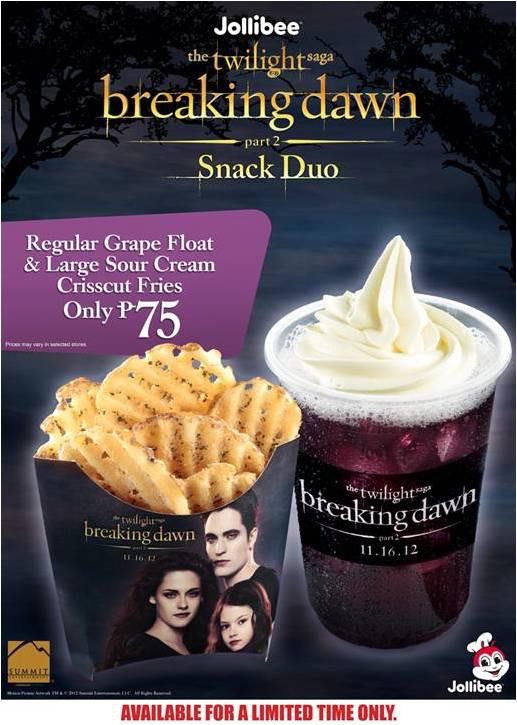 Jollibee's Breaking Dawn Part 2 Snack Duo
Image credit: Jollibee
Another example is the Twilight-themed Jollibee meal, released in 2012 during the saga's last movie, Breaking Dawn Part 2. The meal consisted of a Large Sour Cream Crisscut Fries and a Regular Grape Float that was purple, just like the movie's poster.
It cost P75 (~USD1.54) in total, a win for Twilight fans or Twihards who got to keep the packaging as a memento.
---
Let people enjoy things!
---
Different people have different hobbies and interests. For some, it could be a K-pop group they're willing to dedicate their lives to. For others, it could be a book series- turned-book franchise about a girl who fell in love with a vampire.
As long as they're not hurting or offending anyone, let's let each other enjoy the things that make us happy.
Also check out:
---
Cover image adapted from: Karr Cedric Camalig and @rvinxtian_edits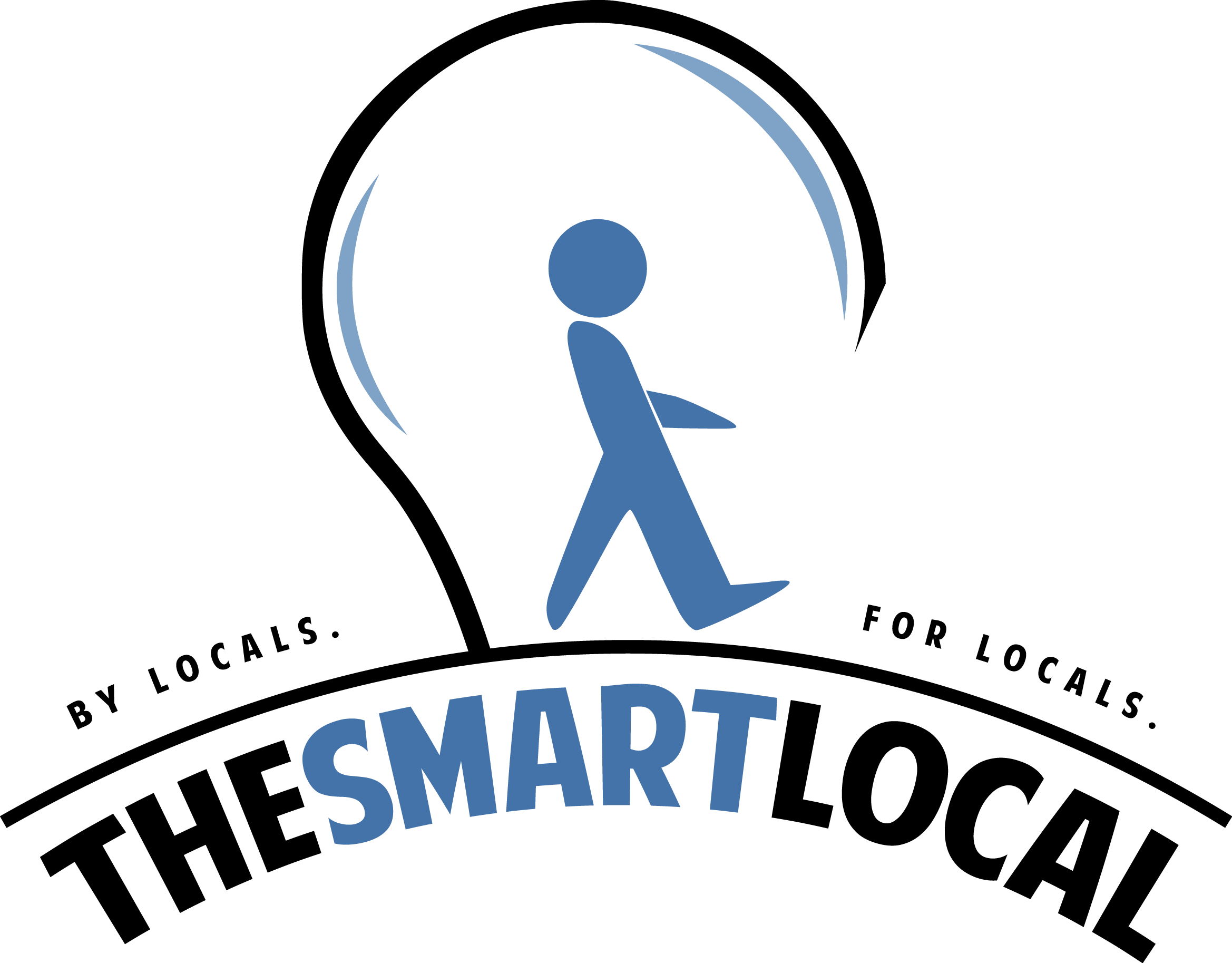 Drop us your email so you won't miss the latest news.