BTS-themed cafes
---
K-pop fans know how expensive it is to go to concerts and collect merch. But even if you've signed up for an EBBG (extreme buying ban game) to save up for concerts, there are ways to fangirl or fanboy locally and without breaking the bank.
For Filipino ARMYs, here are BTS-themed cafes in Metro Manila and beyond to cafe-hop with your fandom friends. These spots serve different aesthetics, from bright and colorful cafes to relaxing spaces where you can do some namjooning.
---
– Within Metro Manila –
---
1. Purple 7 Cafe – BTS-themed cafe spanning 4 floors
---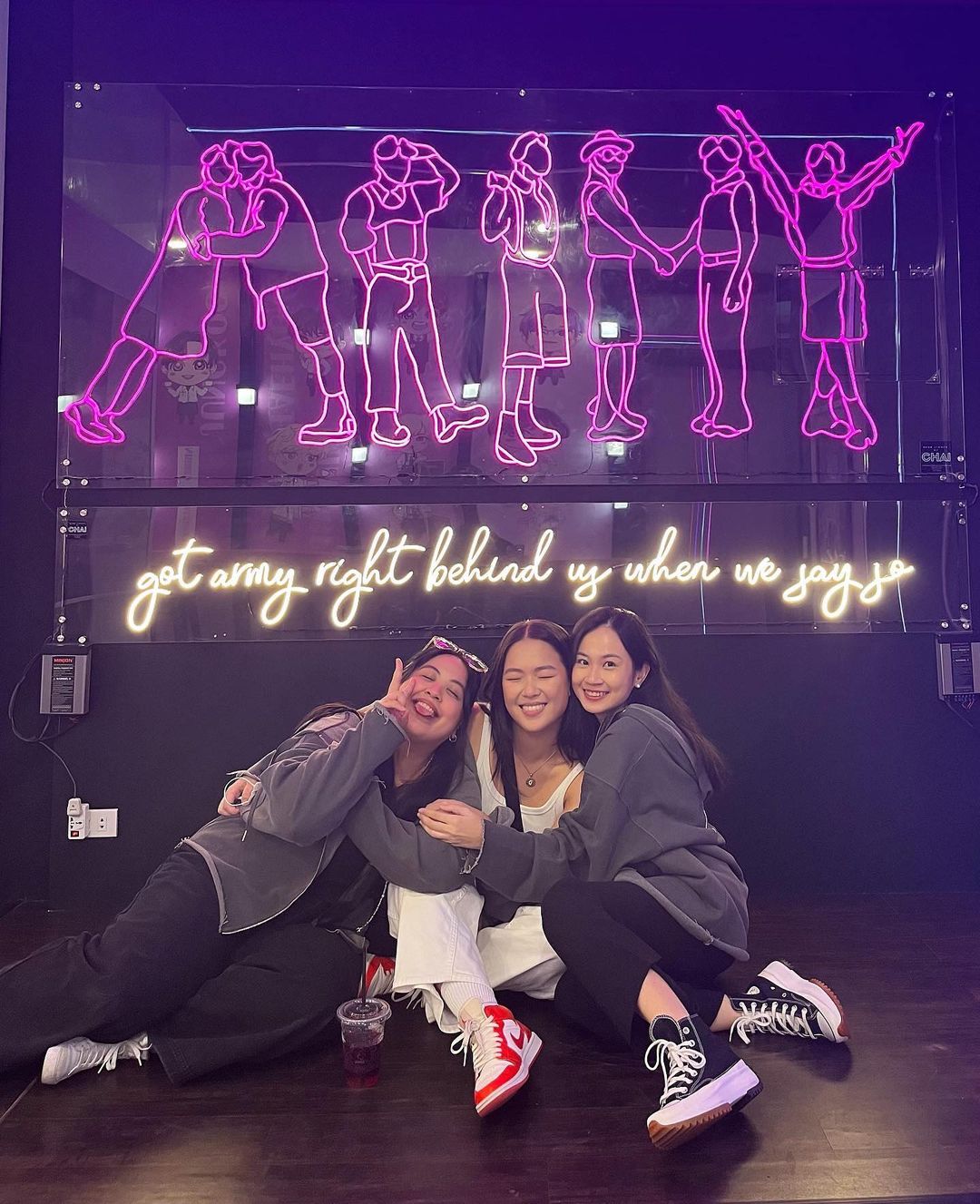 ARMY neon sign.
Image credit: @nikkiperalta
Purple 7 Cafe is a massive BTS-themed cafe in Quezon City that spans 4 floors, making for plenty of space for fangirling or fanboying over BTS.
It has many aesthetic spots where ARMYs can take photos, such as neon signs and polaroid and photocard walls. There are also wall artworks inspired by BTS songs, such as "We Are Bulletproof: The Eternal".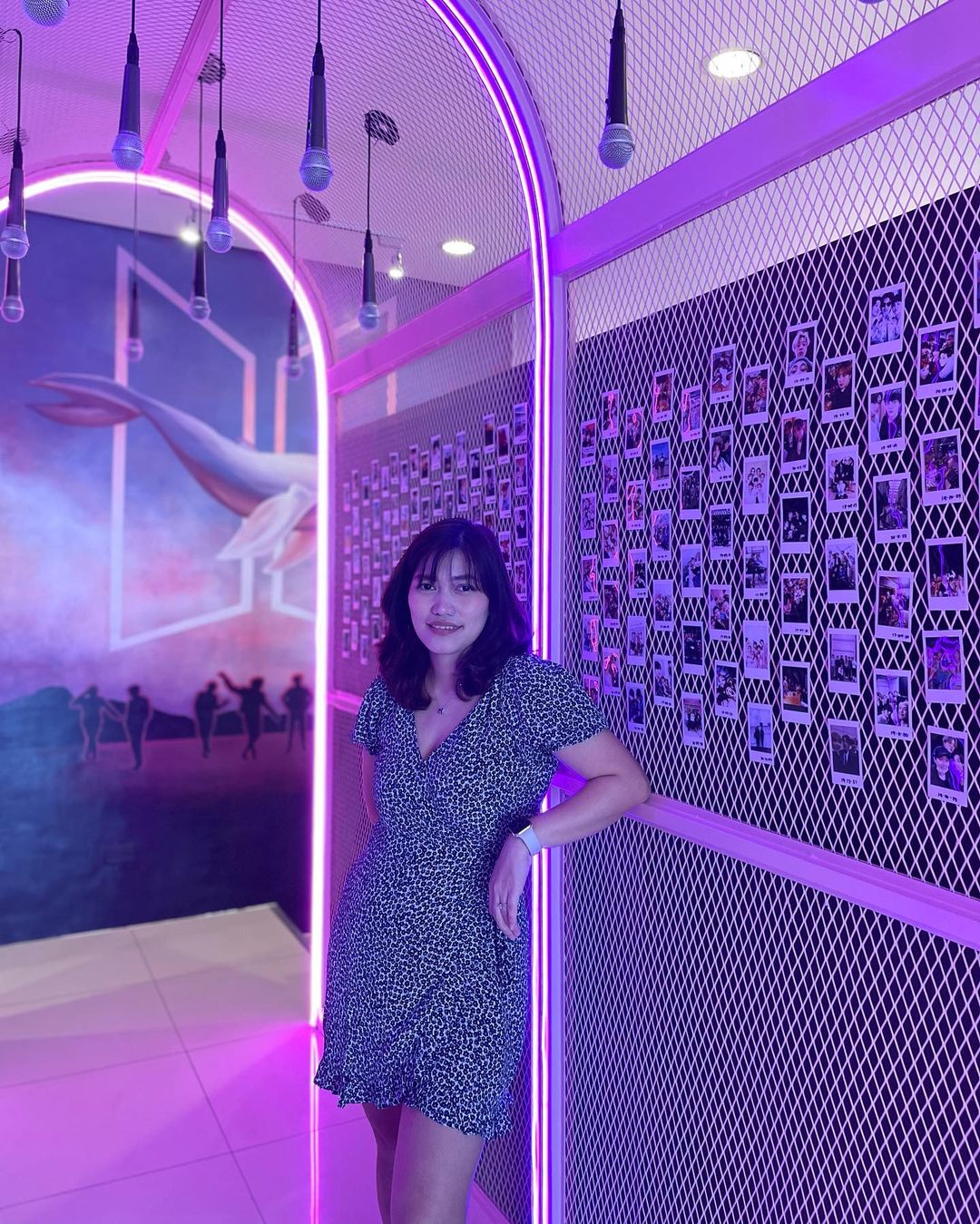 Polaroid wall.
Image credit: @fayefranciscoco
Besides their fixed interior designs, they create new photo spots for each member's birthday. Just recently, they had an installation that looks just like Jimin's BE album photoshoot background.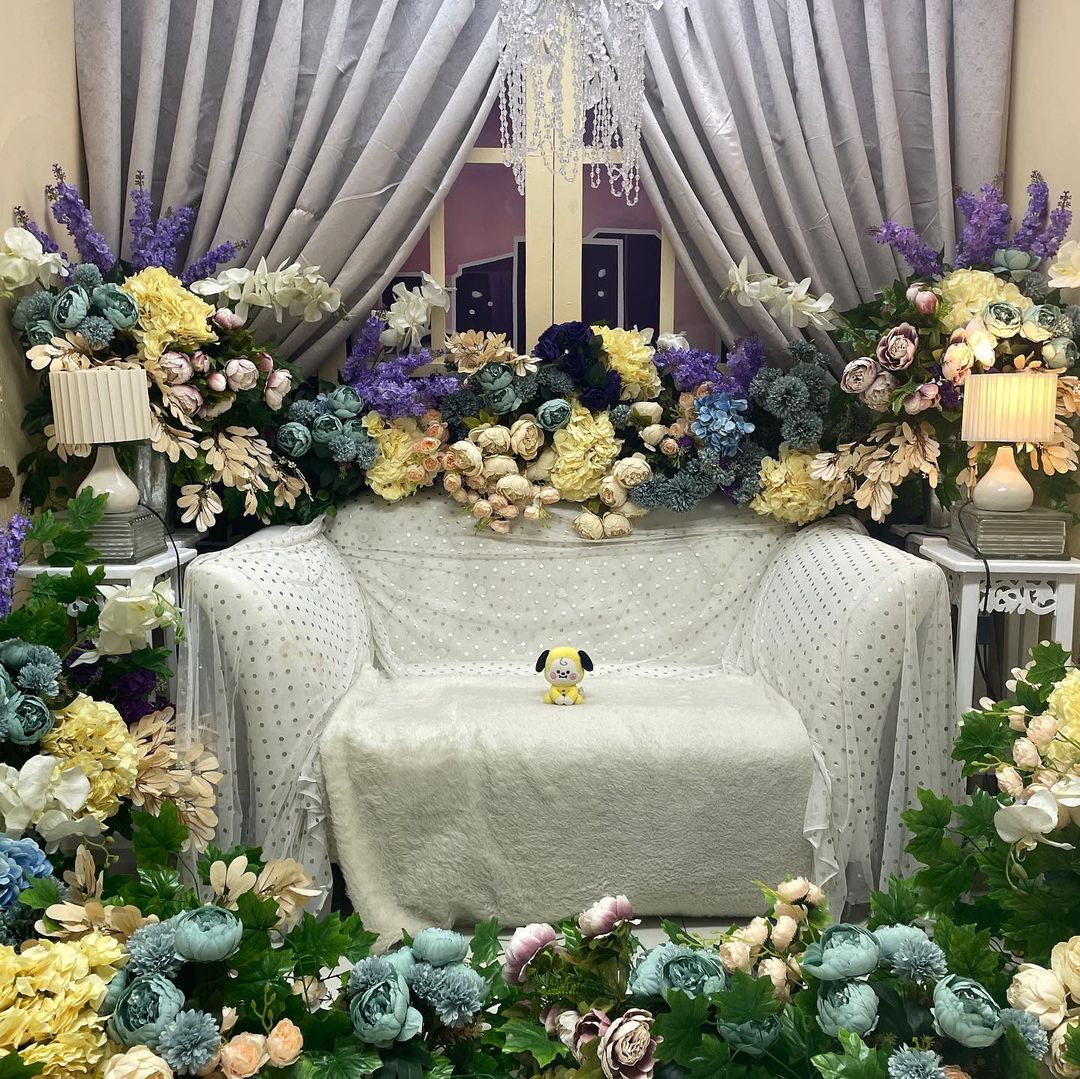 Installation for Jimin's birthday.
Image credit:@purpleparadiseph
Purple 7 Cafe's first floor is also a merch shop that sells fan-made and official BTS merch, including photocards, albums, concert DVDs, and magazines. The second floor is a gallery of signed posters of BTS. The cafe area is on the third and fourth floors of the building.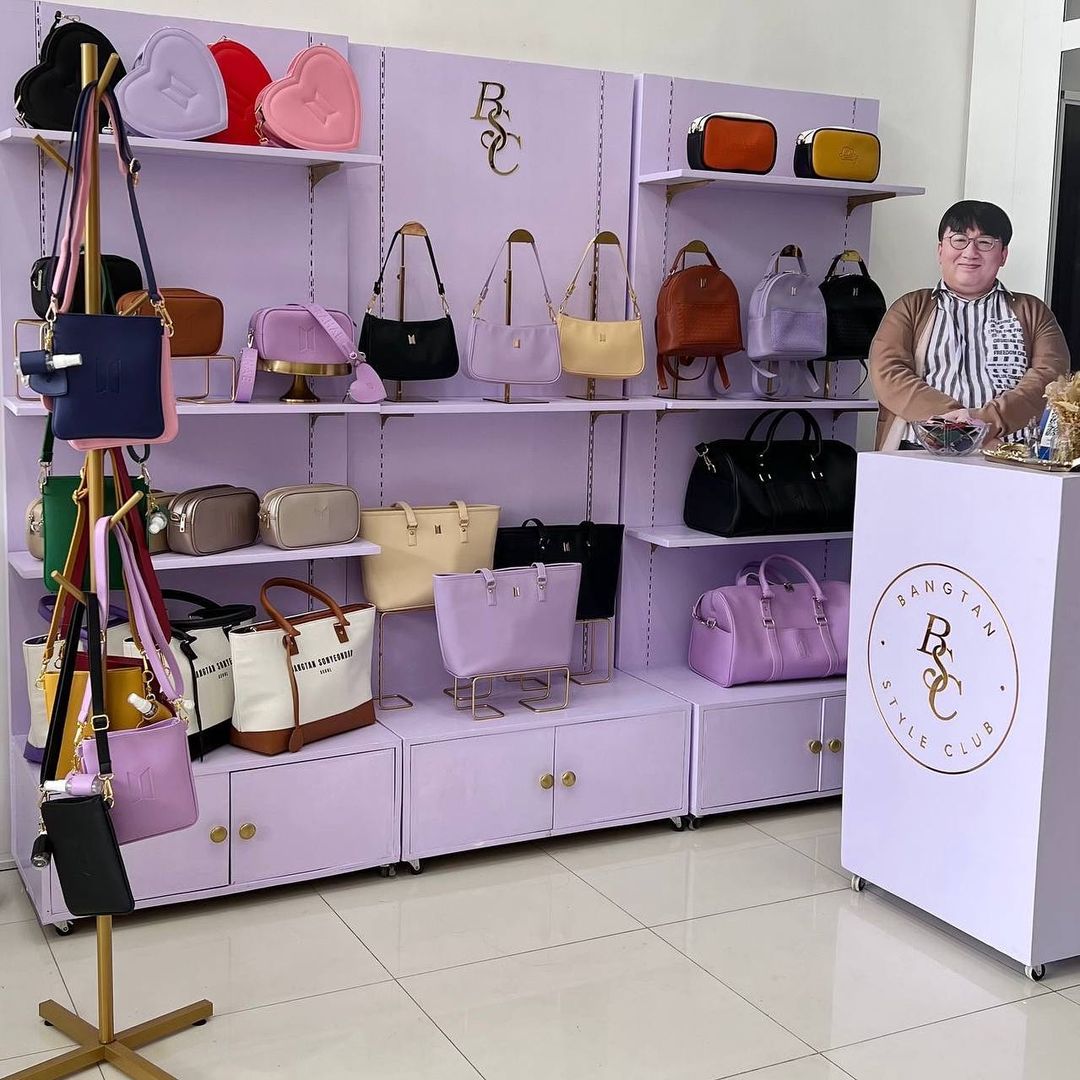 BTS-inspired bags.
Image credit: @purple7cafeph
Purple 7 Cafe is open for walk-ins, but weekends and members' birthdays are reservation-only.
Address: 37 Tomas Morato Avenue,  Quezon City, Metro Manila
Opening hours: Tue-Sun 11AM-7PM, Closed Mondays
Purple 7 Cafe's Facebook | Instagram
---
2. Haruman – cozy and minimalist BTS-themed cafe
---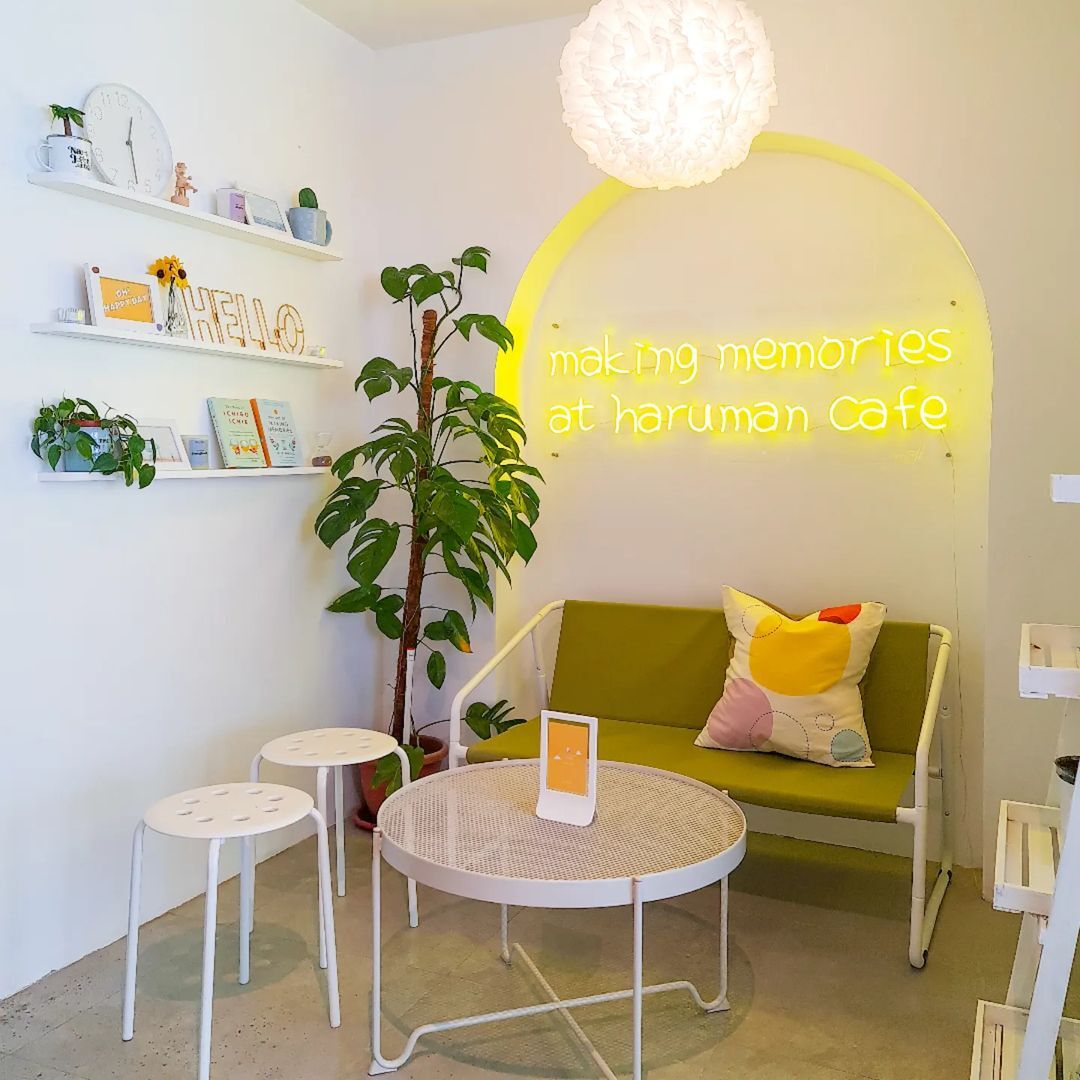 One of the areas at the cafe.
Image credit: @harumancafe
Haruman Cafe's name comes from BTS' song "Just One Day". However, its cozy interior borrows its splash of colors from the "Dynamite" music video.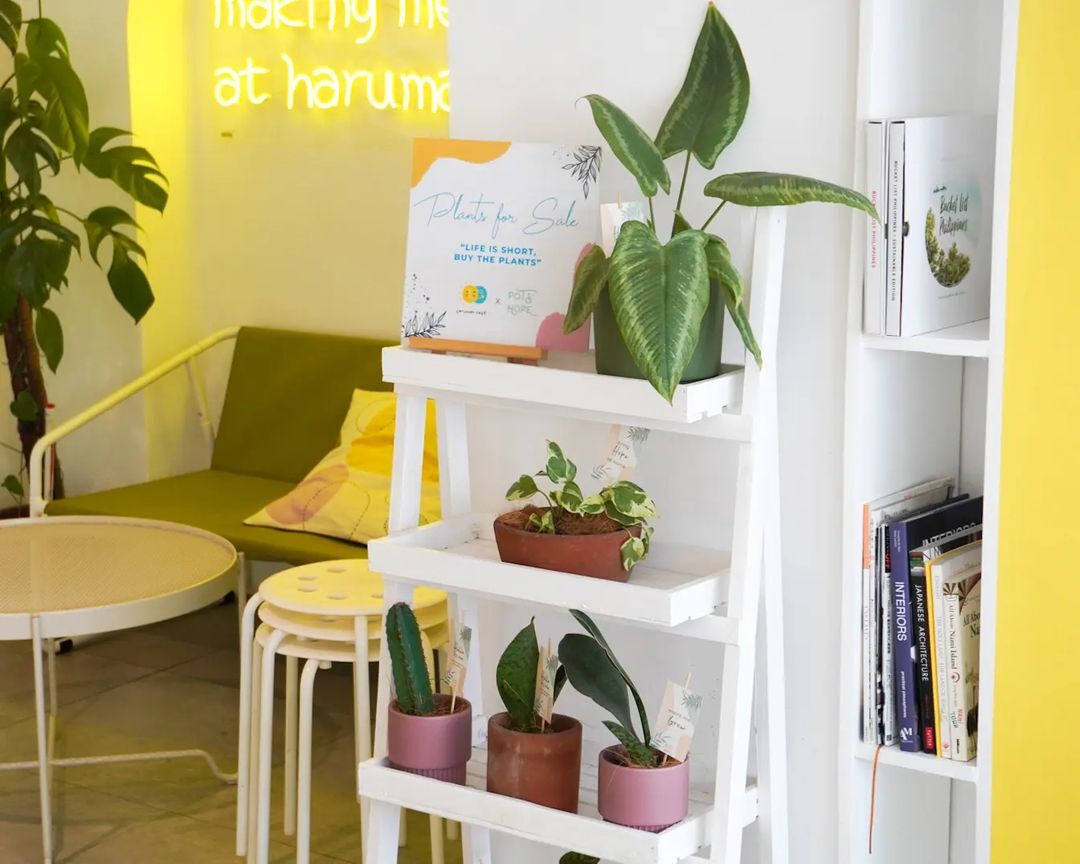 Plants and books on display.
Image credit: @harumancafe
The cafe gives off a relaxing vibe not just from its minimalist interiors but also because of the displayed books and plants. You can borrow these books while you're at the cafe or buy plants to bring home, so you can feel like you're BTS' well-read and nature-loving leader, RM.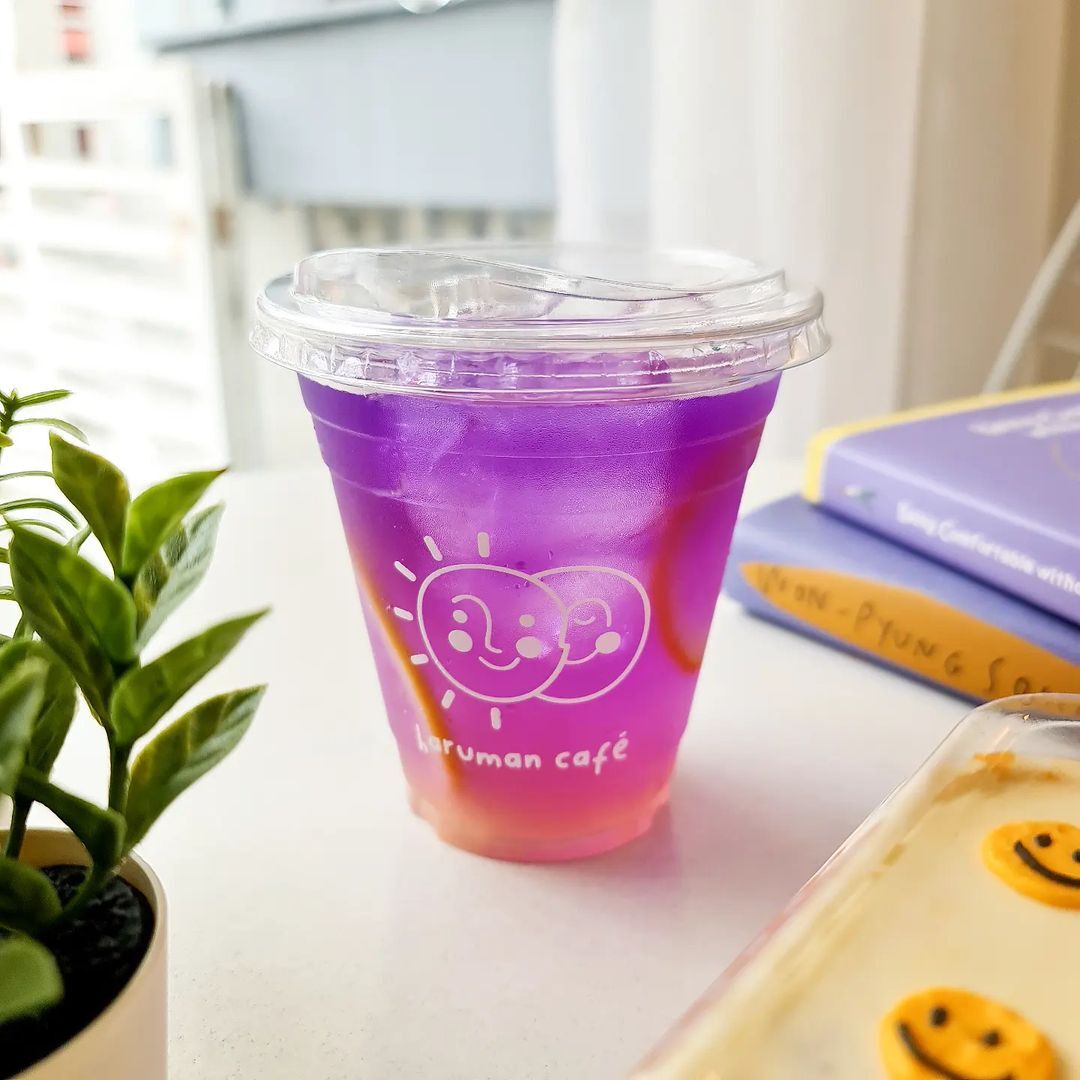 Galaxy lemonade.
Image credit: @harumancafe
Get their gradient Galaxy Lemonade or the Jollypong Crush latte – ice-blended espresso and ice cream topped with caramel and Korean Jollypong cereal. They also serve pastries and light snacks such as sandwiches and fries. You can even preorder customized bento cakes for special events such as your bias' birthday.
Haruman Cafe is also pet-friendly so you can feel more at home in this space. Puppuccinos are on the house!
Address: 403 D.V. Laurilla Street, Barangay Pitogo, Makati City, Metro Manila
Opening hours: Mon-Fri 12PM-8PM | Sat 10AM-6PM | Closed Sundays
Contact: 0961 705 7000
Haruman Cafe's Facebook | Instagram
---
3. Idol Cafe – exterior and interiors inspired by BTS' music videos
---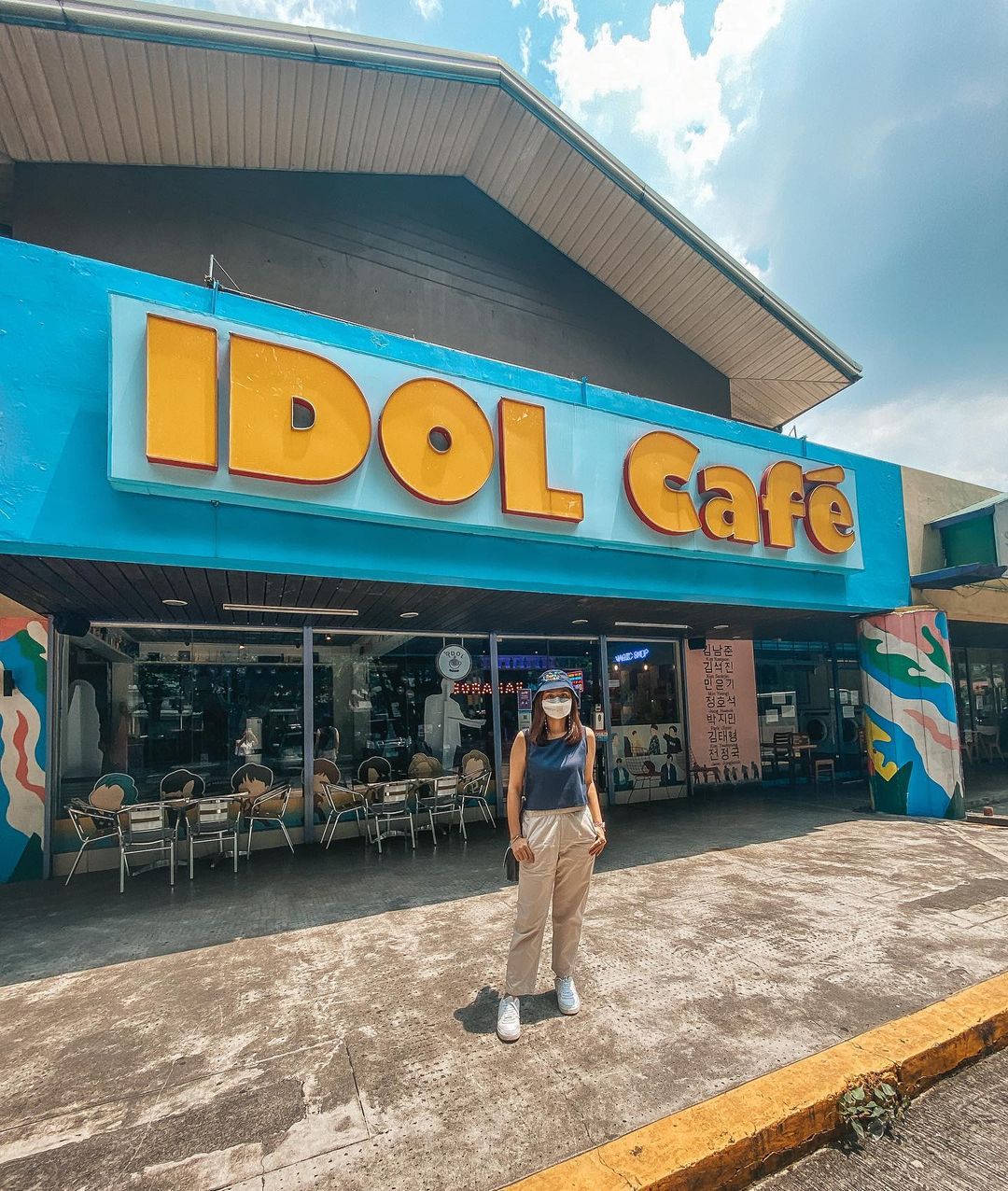 Idol Cafe's facade.
Image credit: @krissyuh
While Idol Cafe's facade looks like the iconic set from BTS' "Dynamite" music video, its decor represent the different "eras" of BTS.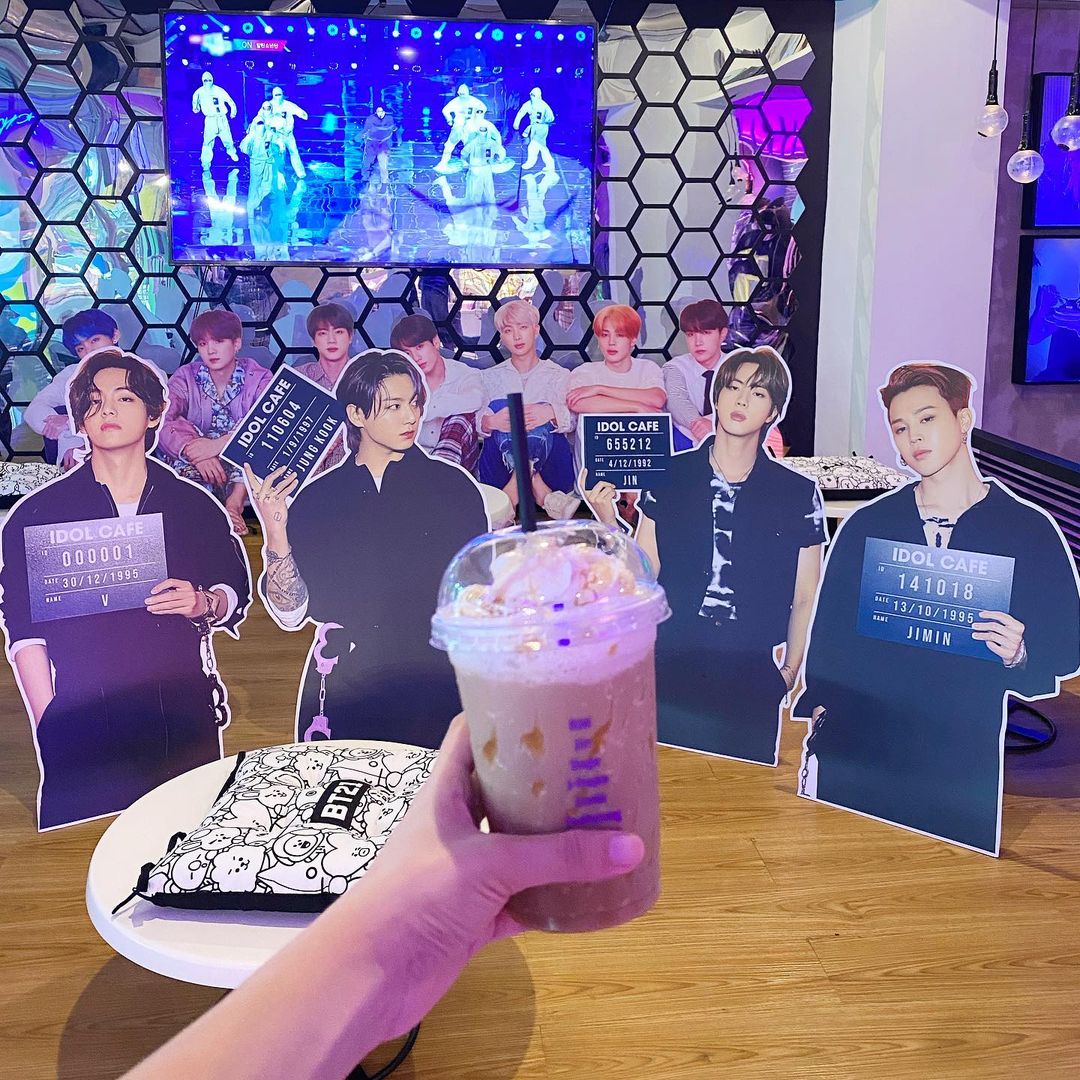 Love Yourself: Answer and Butter cutouts.
Image credit: @idolcafe.ph
They have a variety of cutouts of the members from different album photoshoots, from Love Yourself: Answer to Proof. They even have half-body cutouts you can put on the seat across you so you can pretend to be a date with your bias, and "kiss-your-bias" cups if you want to take the experience further.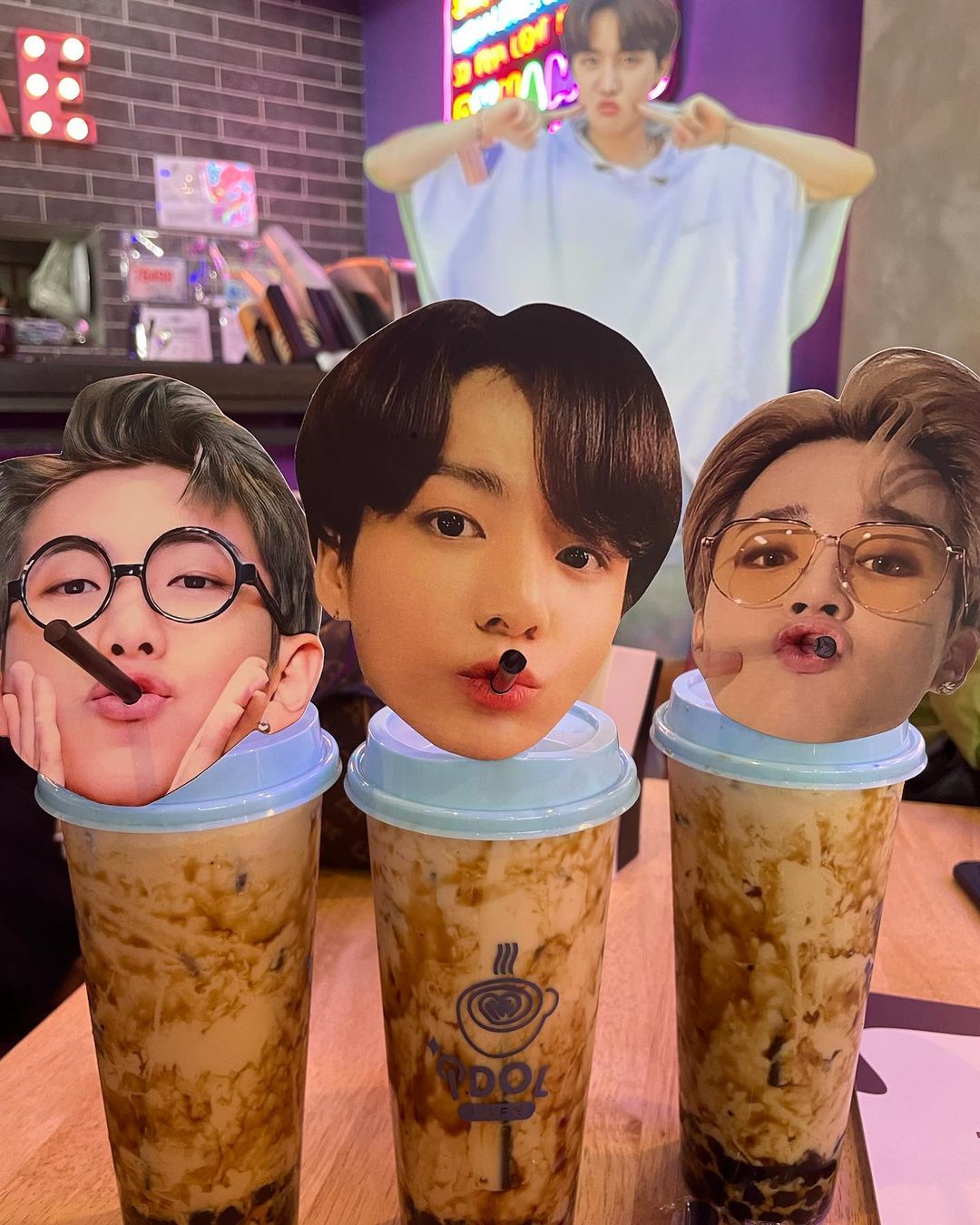 "Kiss-your-bias" cups.
Image credit: @laylatanjutco
The cafe has full-sized BTS -themed cakes as well as mini cakes and slices to celebrate your special days or the group's. They also have BTS merch for sale.
Walk-ins are usually allowed, but reservations are a must for parties of 5 and above and on days when there are events such as the group's comebacks and the members' birthdays.
Address: 41, 1113 Aurora Boulevard, Quezon City, Metro Manila
Opening hours: 11AM-8PM, Daily
Contact: 0906-408-7414
Idol Cafe's Facebook | Instagram
---
4. Rkive Cafe – inspired by BTS RM's studio and aesthetic
---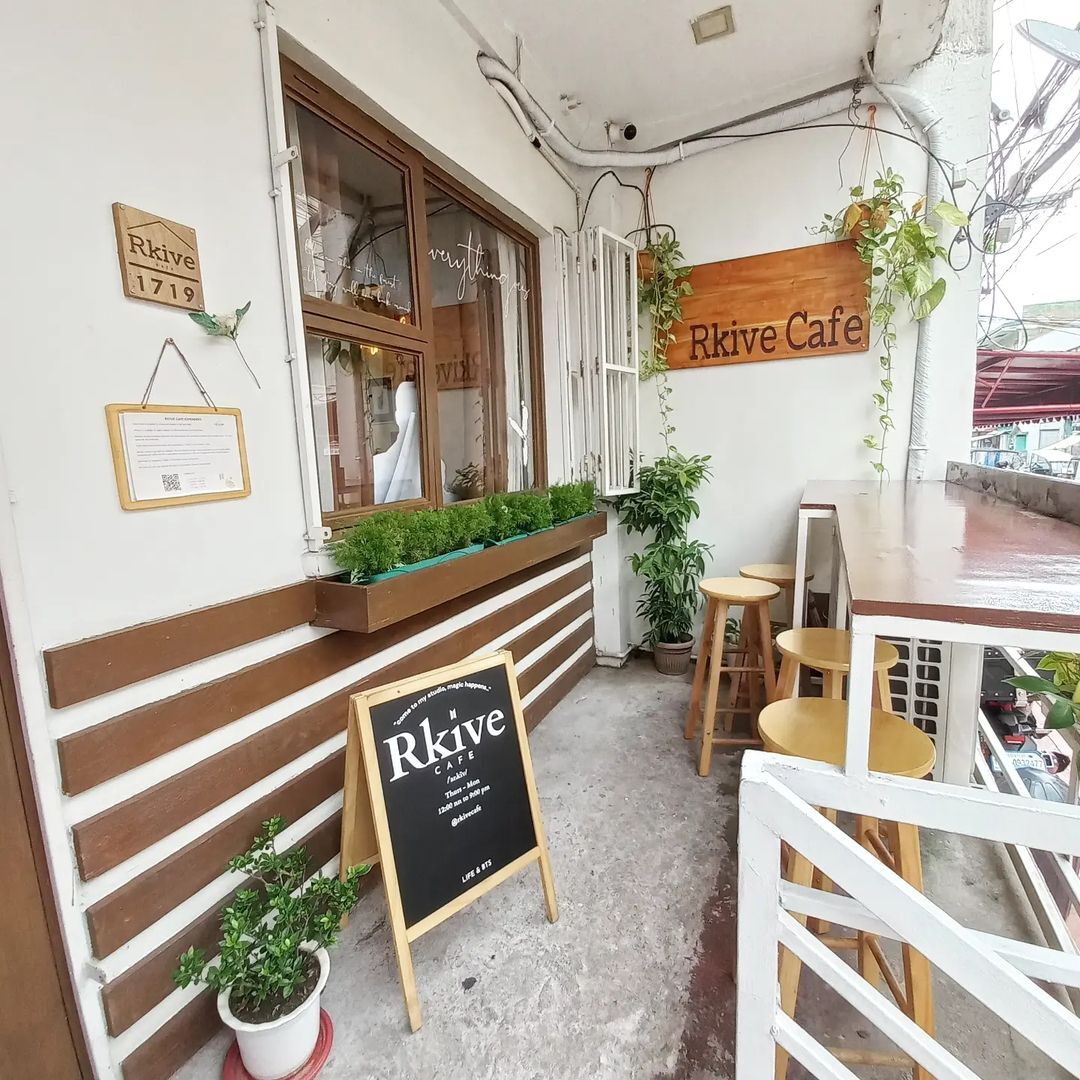 Rkive Cafe's facade.
Image credit: @rjnarceo
ARMYs looking for more BTS-themed cafes where they can have a relaxing day should go to Rkive Cafe, a small coffee shop in Makati inspired by BTS' RM's studio, Rkive.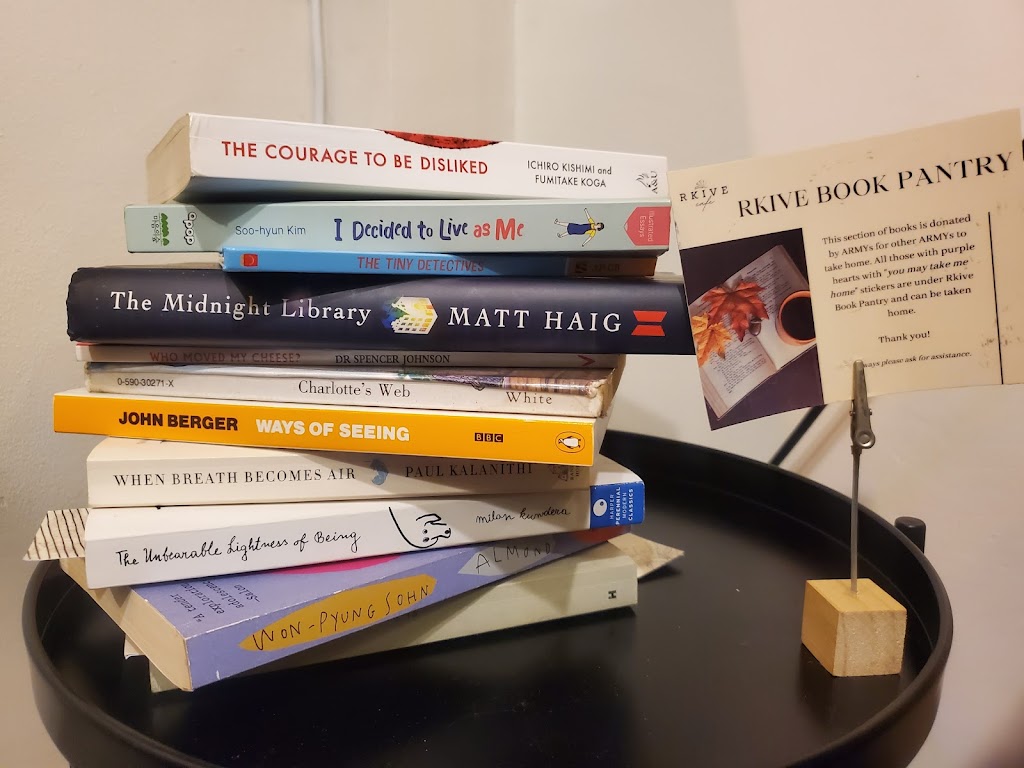 BTS-recommended books.
Image credit: Rozanne Marie Caparas
This cafe's calming aesthetic looks as if it's taken straight out of RM's Instagram feed. It reflects the BTS leader's interests, from art and nature to Pokemon. There are also BTS-recommended books for diners to read. Plus, you'll find photos of BTS on the cafe's walls.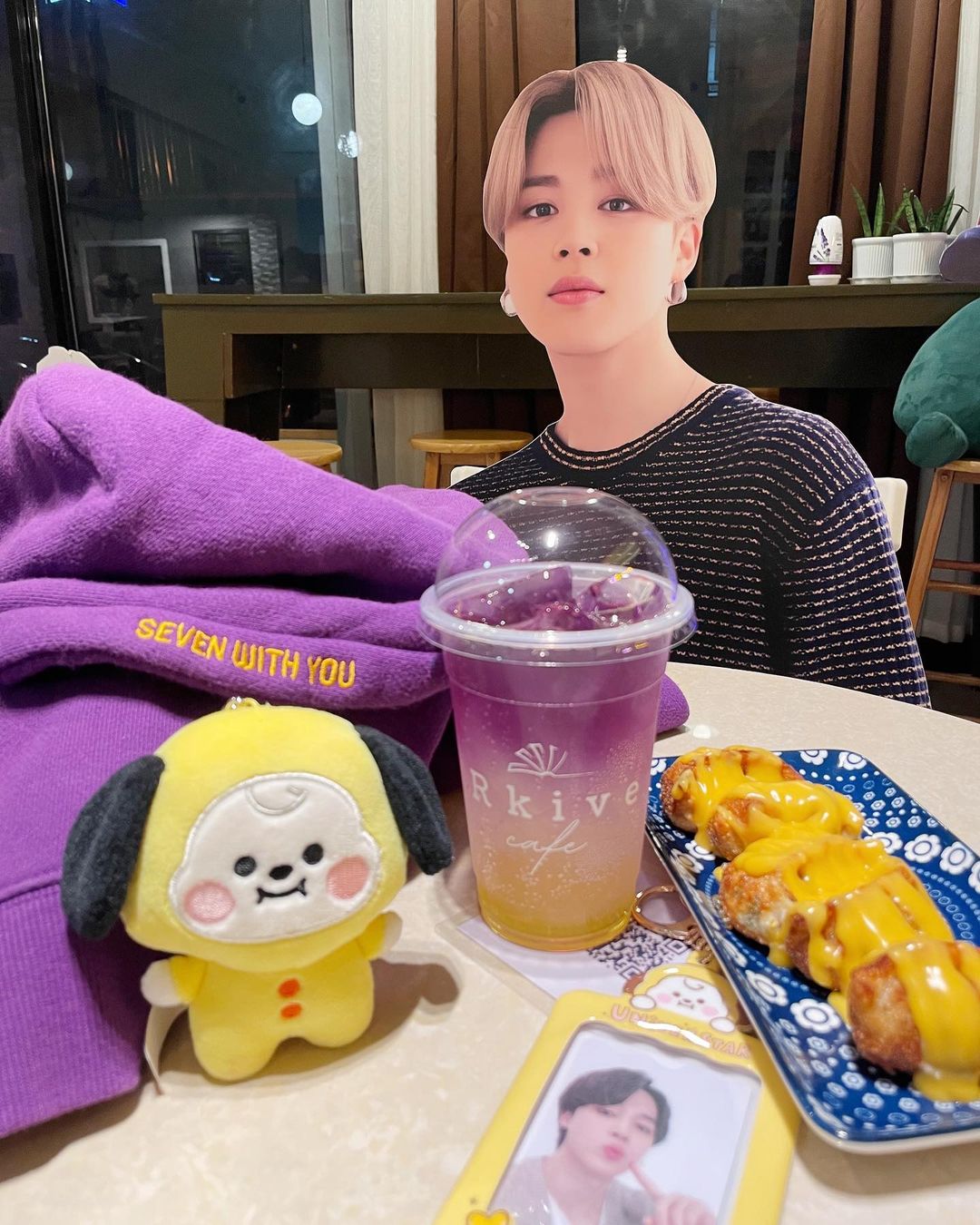 Purple Lemonade.
Image credit: @rkivecafe
Don't miss out on Rkive Cafe's beautiful gradient drinks such as Purple Lemonade inspired by a drink from Magnate, a cafe in Busan owned by BTS Jimin's dad. Pair this with buggeoppang or sweet, fish-shaped bread which the BTS members also love.
As the cafe is nearly always at full capacity, remember to book a reservation before visiting Rkive Cafe.
Address: 1266 A. Apolinario Street, Barangay Bangkal, Makati City, Metro Manila
Opening hours: Tue-Sun 12PM-9PM | Closed Mondays
Rkive Cafe's Facebook | Instagram
---
– Outside Metro Manila –
---
5. Zero O' Clock Cafe – minimalist cafe offering cute fan-made merch
---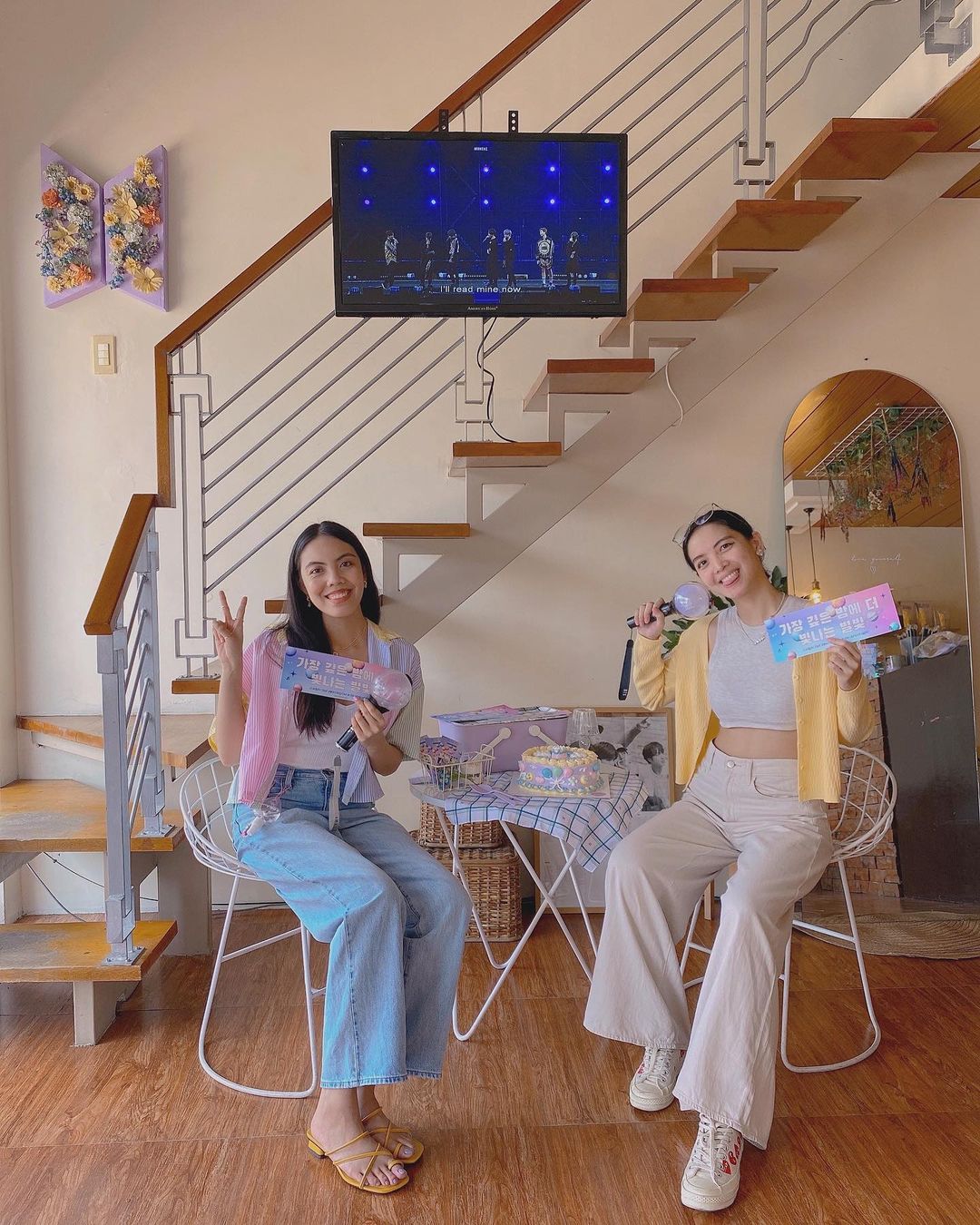 Subtle BTS decor.
Image credit: @zerooclockcafe
Zero O'Clock Cafe is a quaint, minimalist cafe in Pampanga inspired by the BTS song "Zero O' Clock". It's for lowkey ARMYs, with subtle BTS decor such as lyrics from the song and just a few photos of the group.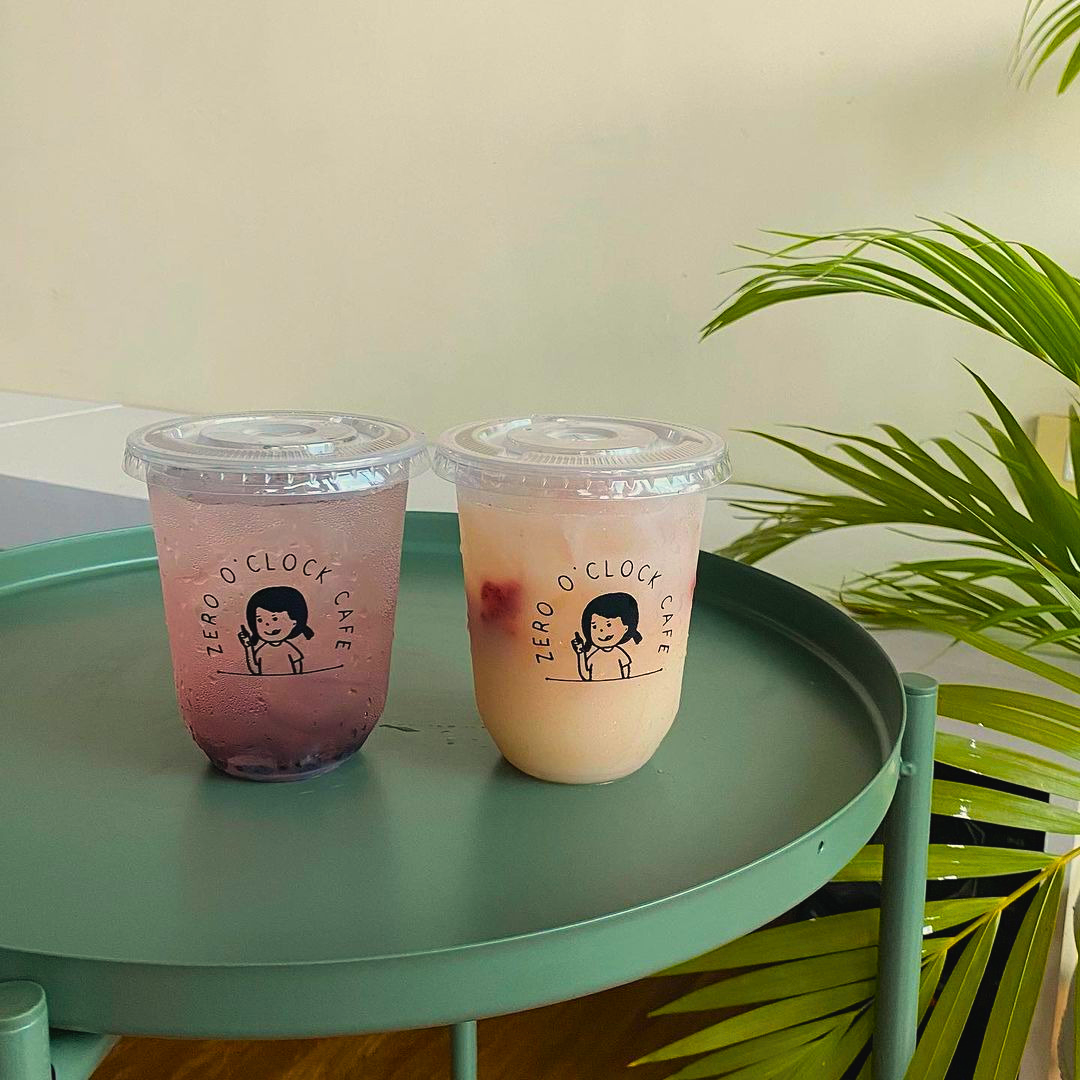 Specialty drinks with the cafe's old logo.
Image adapted from: @zerooclockcafe 
They serve BTS-inspired specialty drinks named after songs such as "Spring Day", "Stay Gold", and "Mikrokosmos". These come in a cute cup that features a whale, which is a special symbol for BTS.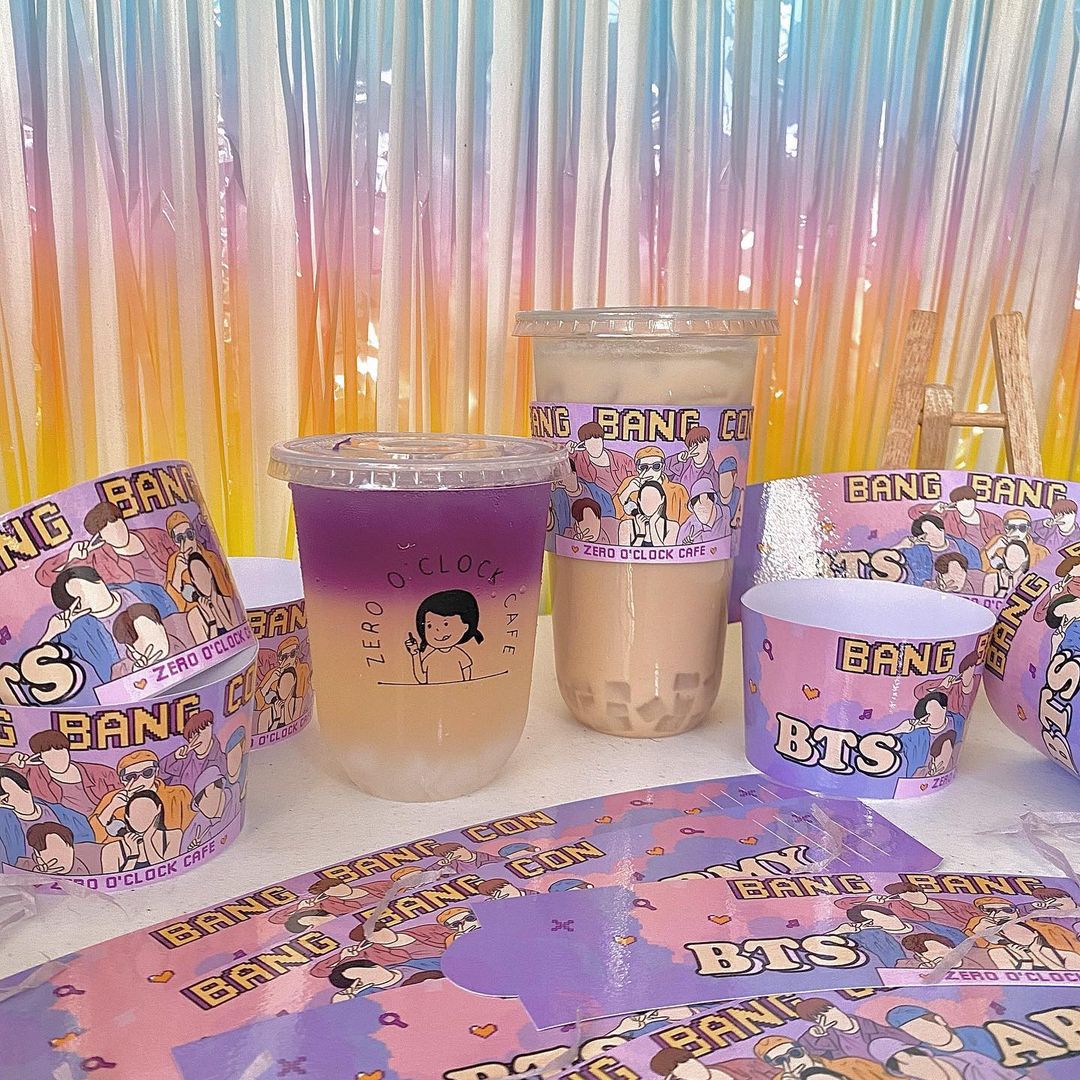 Cupsleeves for the 2021 Bang Bang Con.
Image credit: @zerooclockcafe
A great time to visit this cafe is on special events such as Christmas and BTS members' birthdays as they give away a free fanmade cupsleeve and photocard with every purchase. They also occasionally sell sets of fan-made merch, so check them out on social media if you love to collect cute, BTS-themed things.
Address: 078 Gonzales Avenue, Barangay San Juan, Apalit, Pampanga
Opening hours: 1oAM-7PM, Daily
Contact: 0917 805 4944
Zero O'Clock Cafe's Facebook | Instagram
---
6. OT7 Purple Cafe – variety of BTS wall displays and standees
---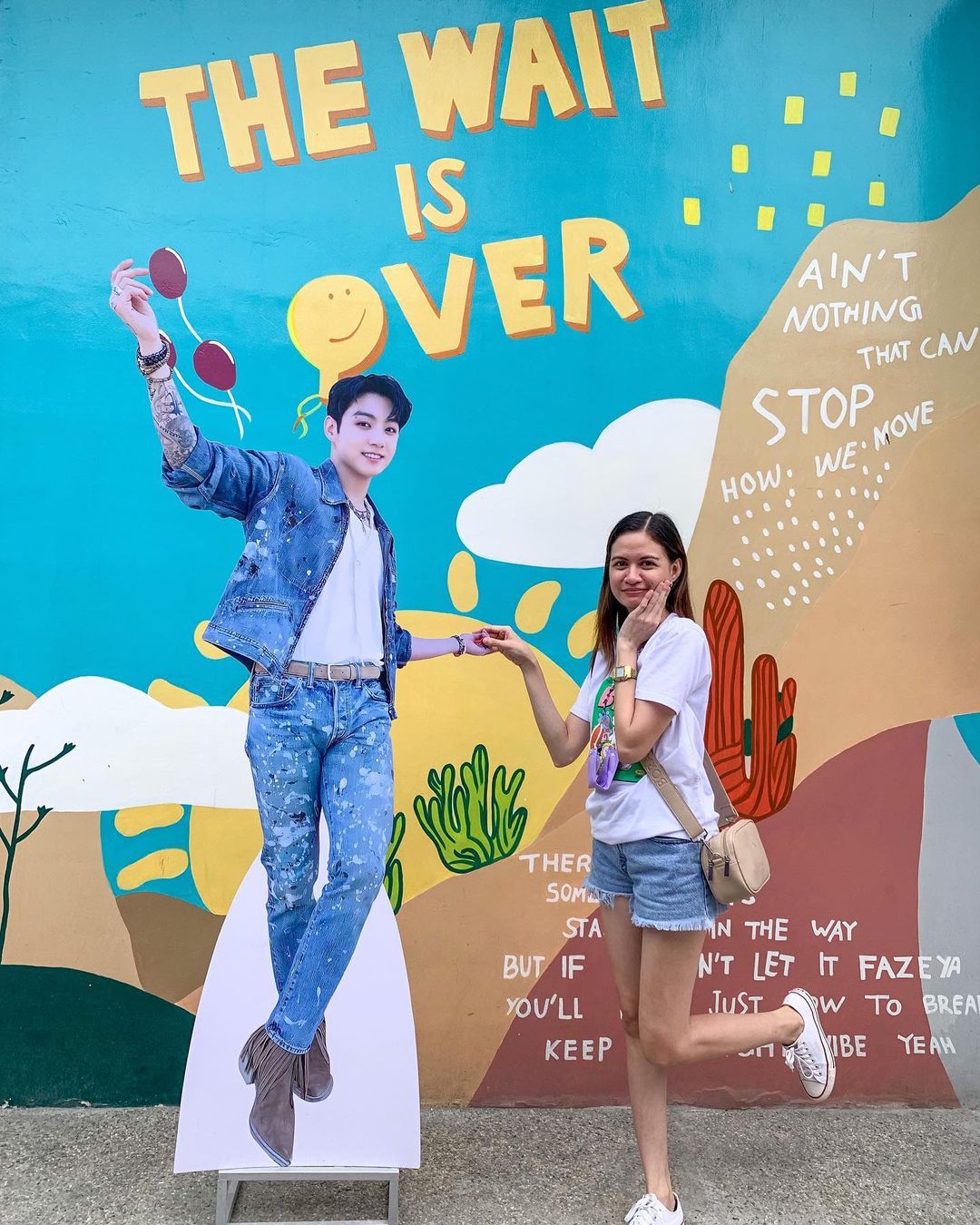 A fan poses with a mural and a Jungkook standee from the "Permission To Dance" era.
Image credit: @mommavenizza
OT7 Purple Cafe is another must-visit BTS-themed cafe in Pampanga. Its decor are representative of the group's discography and projects that it could well be a museum for BTS.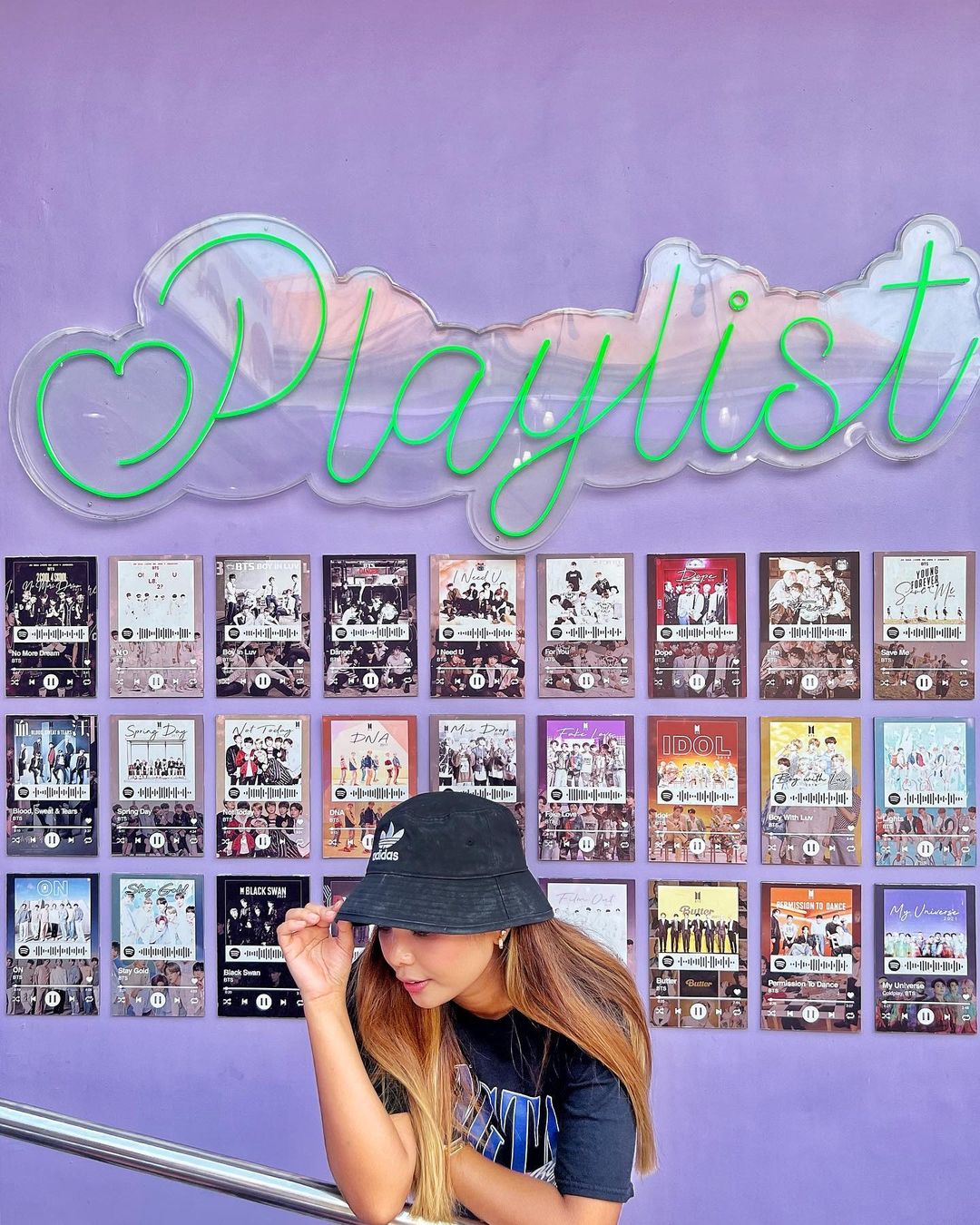 A wall featuring BTS' songs.
Image credit: @ohishadelrosario
ARMYs can take photos at different BTS-themed walls and with standees of the members from different eras. There are also TinyTan standees and a BT21 neon sign wall installation for those who can't get enough of BTS' animated characters.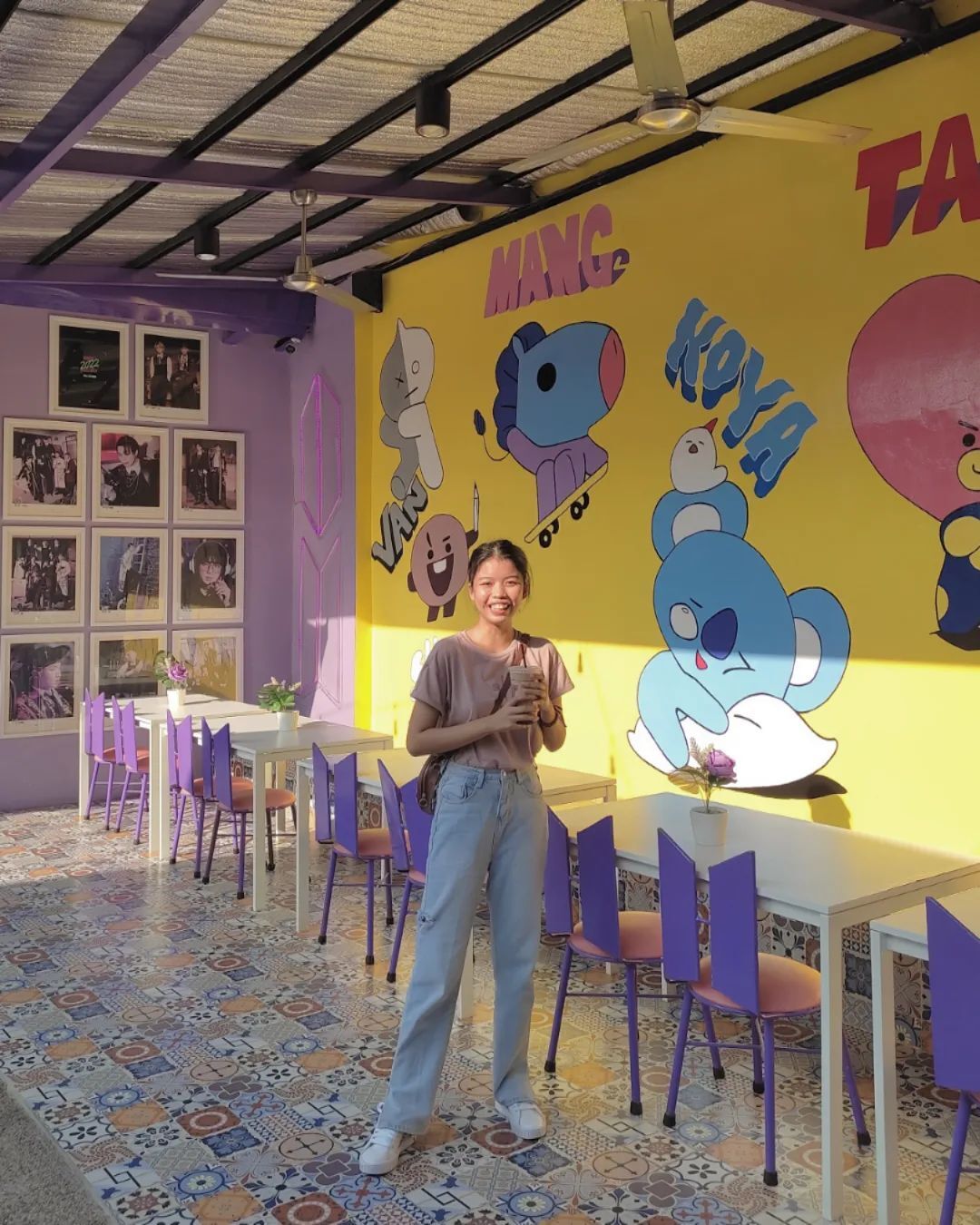 BTS-themed chairs.
Image credit: @krz.siah
Even the backrests of OT7 Purple Cafe's chairs are customized with the BTS logo so everything's on-theme.
Merch collectors can also buy official and fanmade BTS merch at the cafe's adjacent Magic Shop.
Address: Santo Entierro Street, Barangay Santo Cristo, Angeles City, Pampanga
Opening hours: 11AM-10PM, Daily
Contact: 0917 514 4037
OT7 Purple Cafe's Facebook | Instagram
---
7. 7 With You Cafe – BTS-, BT21-, and TinyTan-themed cafe
---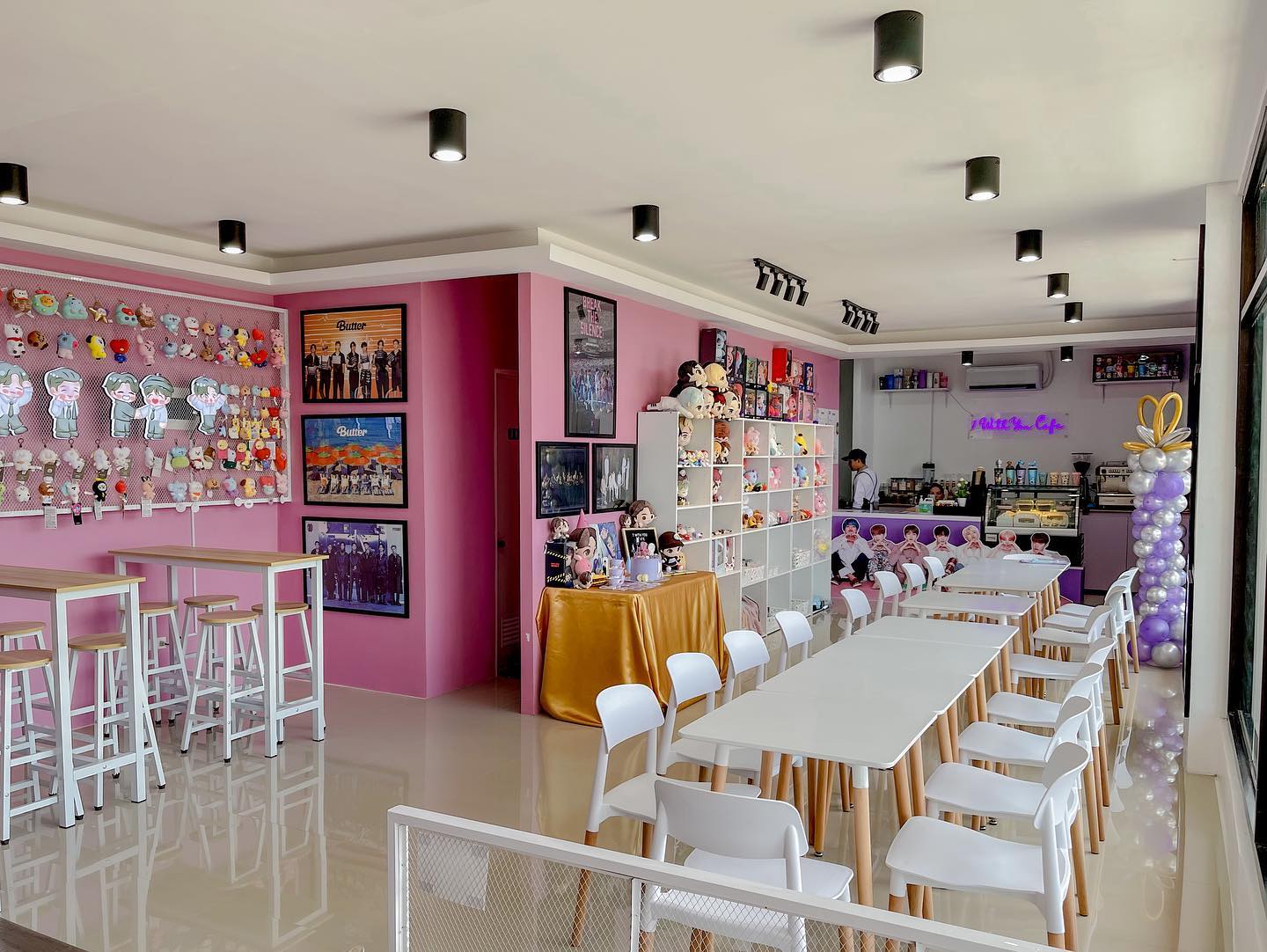 The cafe's interior.
Image credit: 7 With You Cafe
If you love BT21 and TinyTan just as you love the BTS members, visit 7 With You Cafe in Batangas. This recently opened dining spot is BTS-, BT21-, and TinyTan-themed.
It's decorated with BTS and TinyTan standees. There's also an impressive collection of BT21 and TinyTan that ARMY collectors will surely want to cop.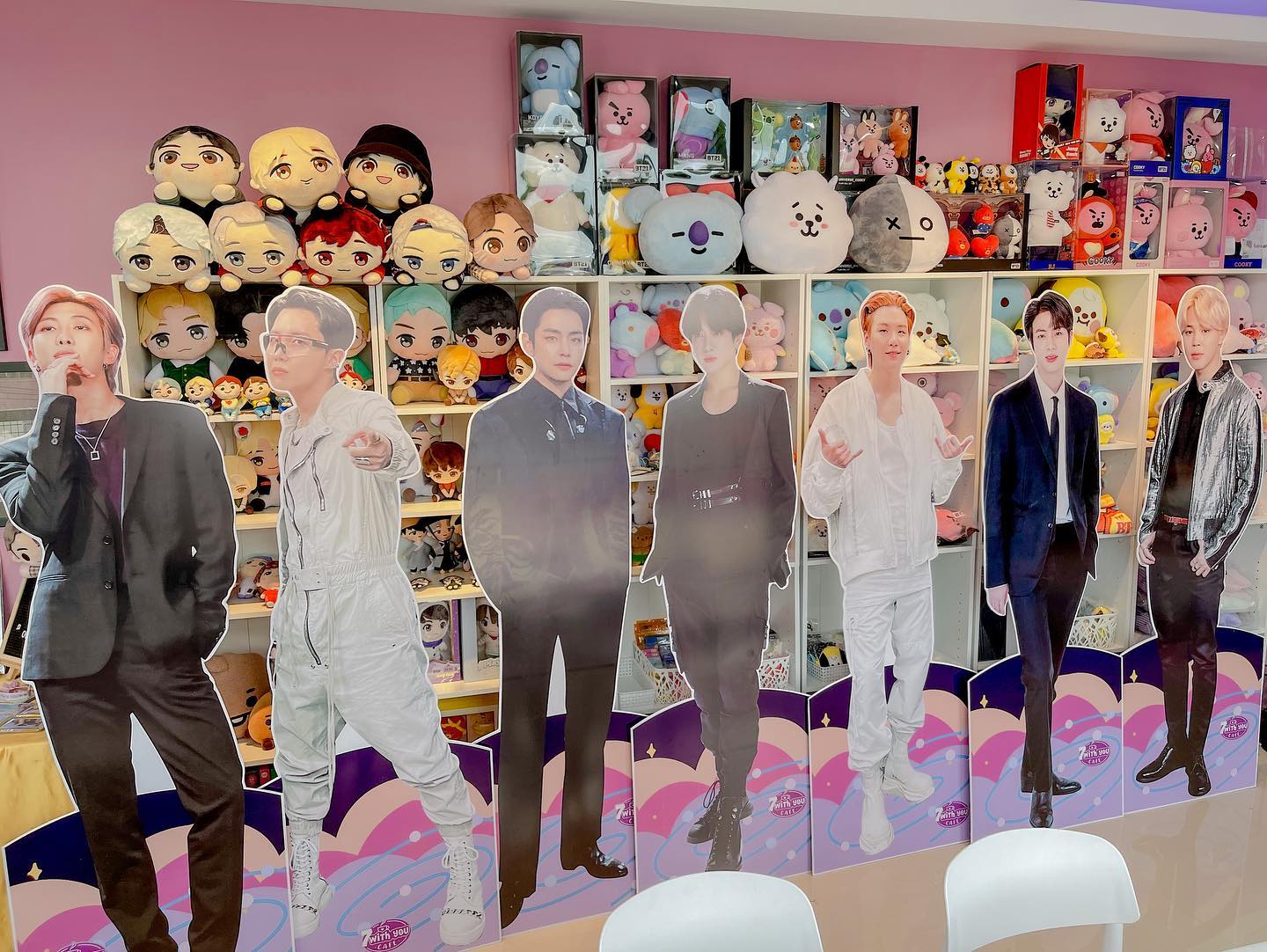 BTS standees.
Image credit: 7 With You Cafe
ARMYs can get the magical Galaxy Soda with edible glitter and waffles with your favorite BT21 character printed on it.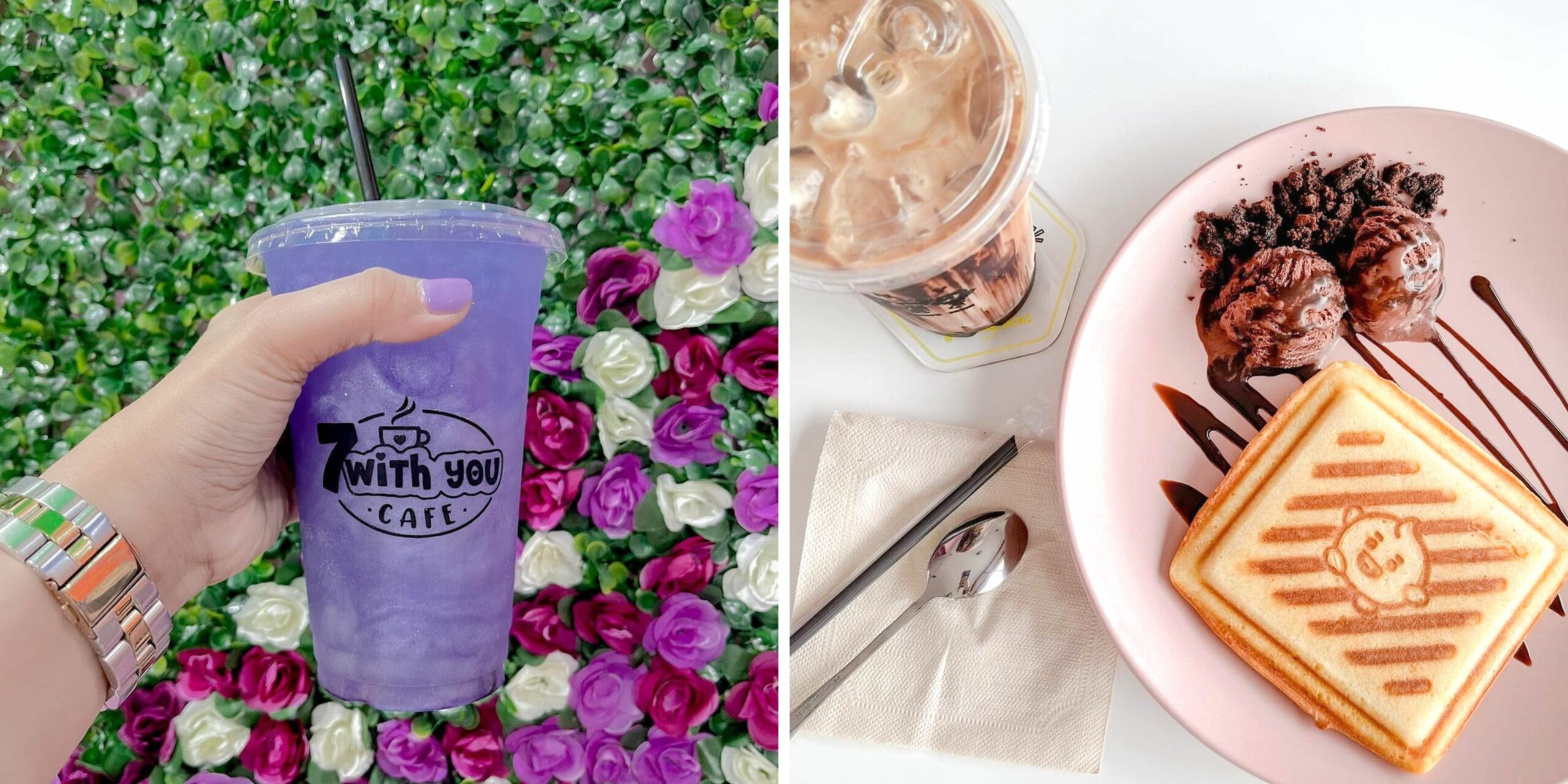 Galaxy Soda and BT21 waffle.
Image adapted from: @7withyoucafe, @7withyoucafe
The cafe is open to walk-in guests but it's reservation-only for certain days such as the BTS members' birthdays, and fan events such as concert livestreams.
Address: 2nd Floor Bughaw Business Center, Purok 1, Barangay Banay-Banay, Lipa City, Batangas
Opening hours: Tue-Sun 12PM-8PM | Closed Mondays
Contact: 0956 823 1782
7 With You Cafe's Facebook | Instagram
---
Cafe-hopping spots for Filipino ARMYs
---
Although ARMYs won't be able to see all of the members in one concert for a short while, there is still so much to do to enjoy fangirling or fanboying over BTS.
One of them is visiting these local BTS-themed cafes and other businesses so you can support fellow ARMYs who create spaces for their fellow fans.
Related reads:
---
Cover image adapted from: @rkivecafe, @mommavenizza, and @harumancafe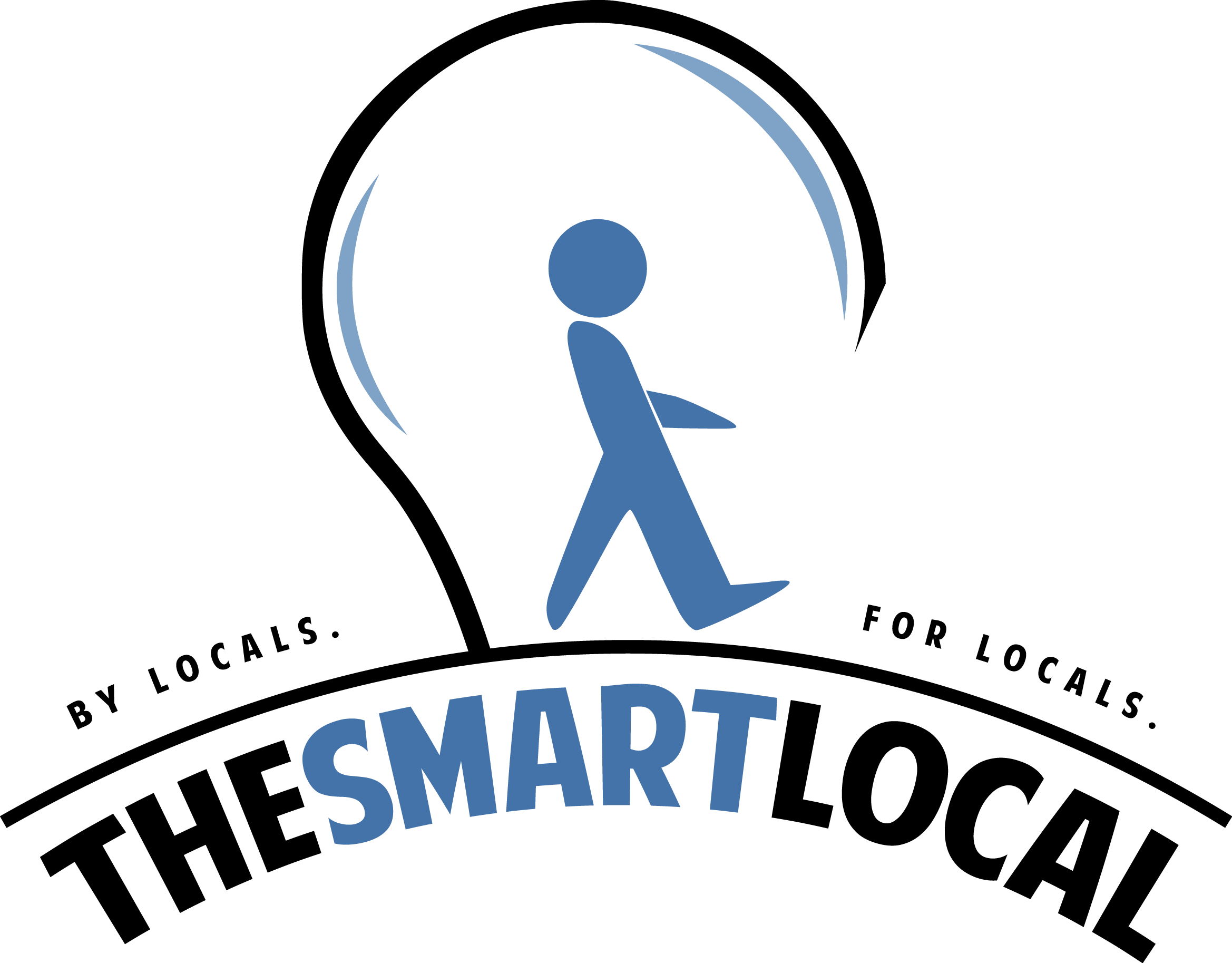 Drop us your email so you won't miss the latest news.