Unique sushi creations available for delivery
---
Sushi delivery services let us satisfy our cravings even as we are stuck at home. With Umami PH, you can even get exciting sushi variants you can't find anywhere else.
The Japanese food delivery service based in San Mateo, Rizal offers wacky sushi creations such as their sushi tacos, sushi burritos, and sushi hotdogs as well as traditional sushi, rice bowls, and platters. You can have their food offerings delivered to areas in Rizal Province and Metro Manila.
---
Umami PH's wacky sushi menu
---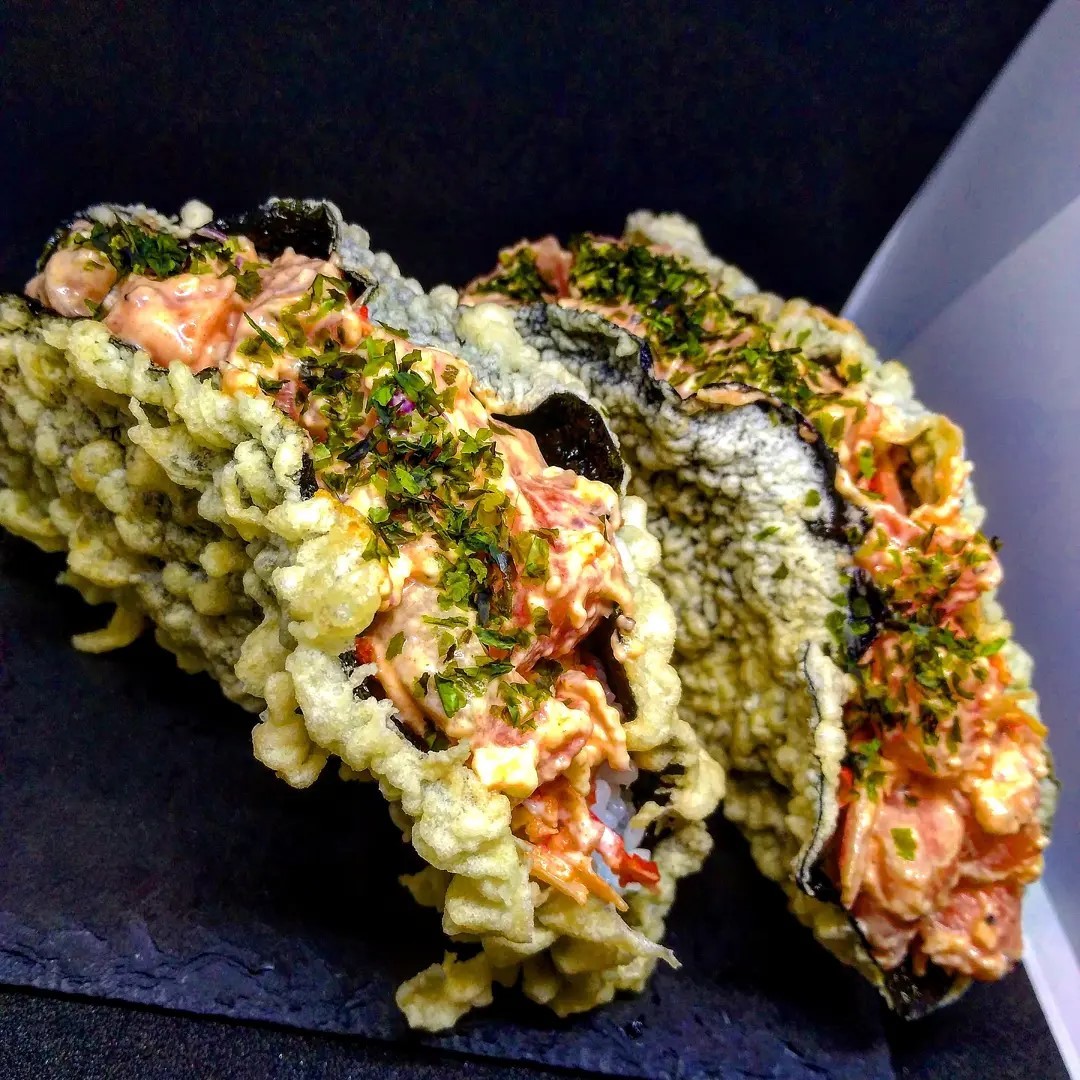 Tempura-fried sushi tacos
Image credit: Umami_ph
To start off the shop's creative menu, there're tempura-fried sushi tacos – a crispy, fried nori (seaweed) shell packed with salmon tartare, mayo crab, masago (capelin fish roe), sesame seeds, cream cheese, and aonori (dried seaweed) – sold at P260 (~USD5.21).
For people who want a filling lunch, they also offer oversized sushi burritos for P350 (~USD7.02) each. It's maki filled with salmon, crab, onions, tomatoes, cucumber, bell pepper, avocado, and masago with cream cheese rolled in panko then fried.
If you want something more convenient to eat, you can get a Cheetos sushi hotdog – fried maki with salmon, spicy crab, cucumber, avocado, and masago rolled in Cheetos crumbs – for P300 (~USD6.01).
Umami PH also sells sushi burgers for P330 (~USD6.62) and sushi crunch wraps for P370 (~USD7.42).
---
Maki mixers, sushi platters, and hot trays
---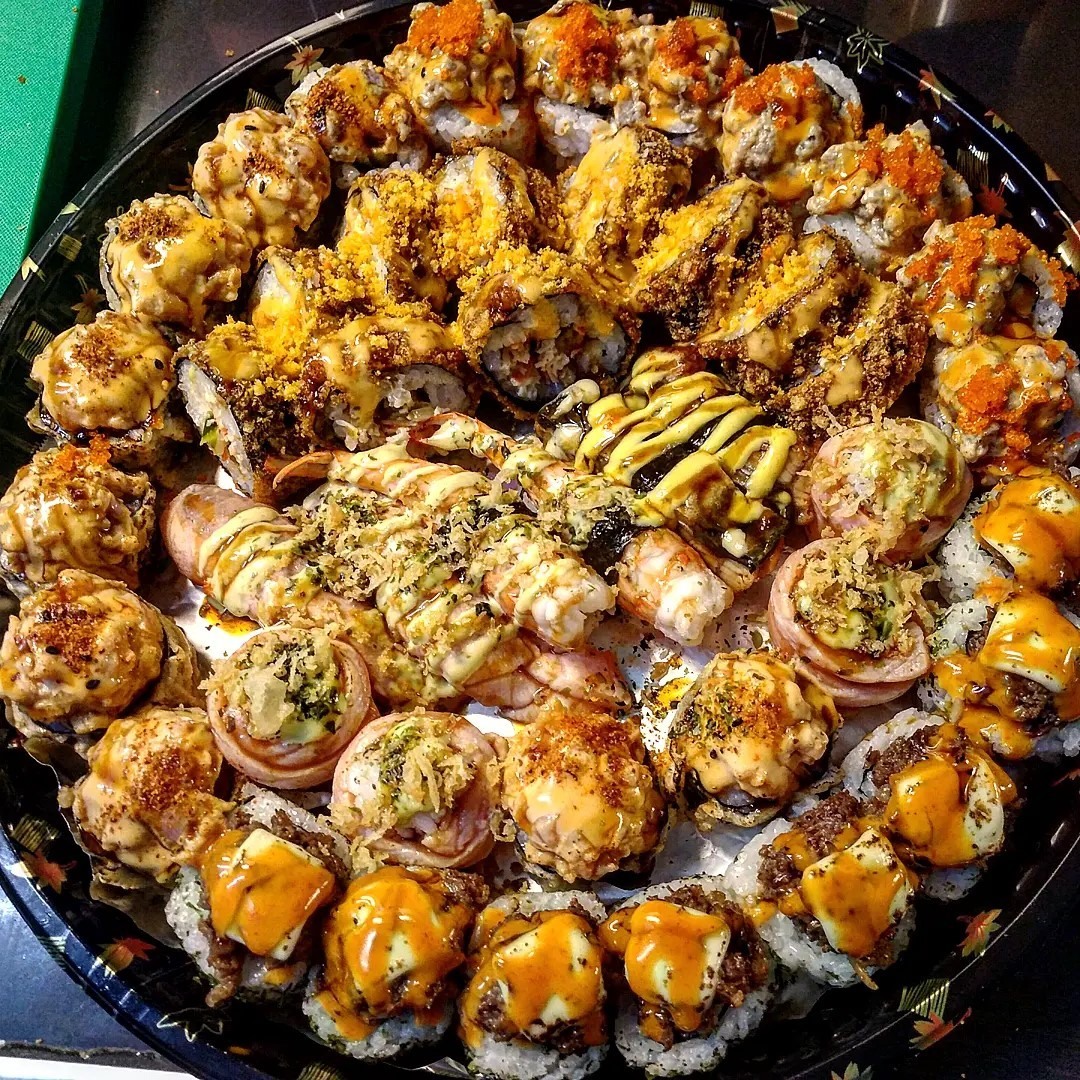 The supreme platter has the most variety with 8 types of sushi
Image credit: Umami_ph
If you're buying food for a small group, you can get 24 to 28 pieces of assorted sushi from Umami PH. There are 3 variants that go from P600 to P700 (~USD12.03-USD14.03).
They also have 40-, 48-, and 56-piece sushi platters for bigger groups. Their 40-piece supreme platter offers the most variety with 2-cheese gyuniku, salmon tartare fried maki, tuna tartare aburi maki, and 5 other kinds of sushi. This platter sells for P1,500 (~USD30.07).
For variety, the shop also sells other Japanese food items in trays. These are the tori karaage (soy dashi garlic fried chicken thigh), tori katsu (breaded chicken), rosu katsu (breaded pork), menchikatsu (breaded beef), and ebi tempura (breaded shrimp). You can also opt to get a tray of assorted katsu.
---
Traditional sushi offerings
---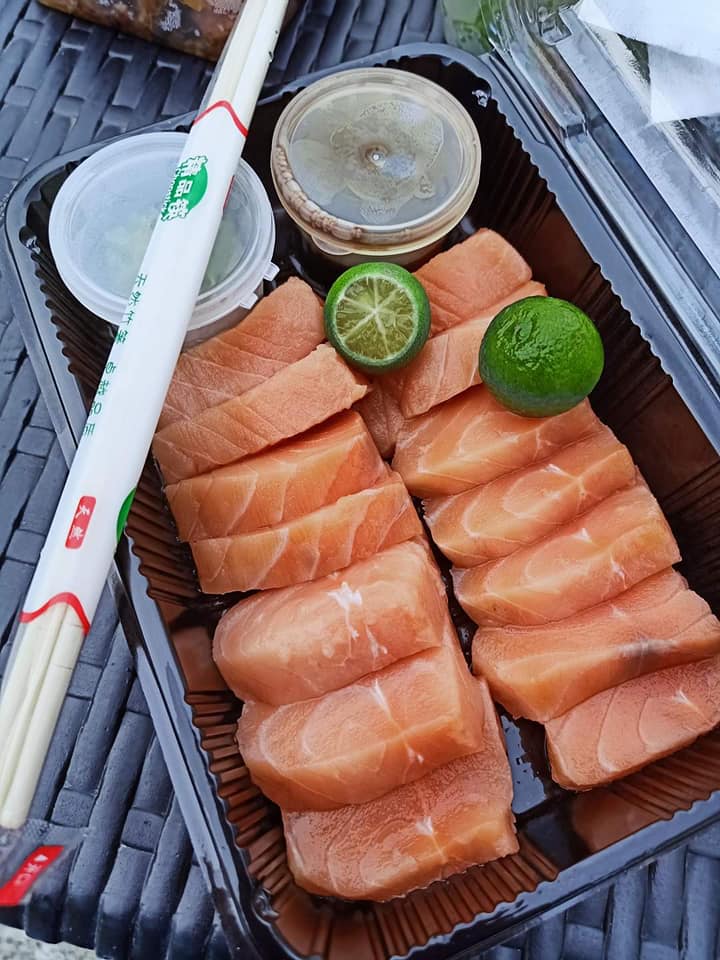 Salmon sashimi
Image credit: Princess Grace
Umami PH also sells traditional Japanese food. Among their traditional sushi, they have salmon sashimi and 4 types of nigiri, which are salmon, shrimp, crab, and eel.
Plus, the Japanese food delivery service also offers 13 variants of uramaki. These range from the more conventional California maki to agemono Cheetos unagi or fried maki with unagi (eel), mayo crab, and cream cheese rolled in Cheetos crumbs and topped with sriracha aioli.
Besides donburi (rice bowl) options for their hot tray offerings, they also have kani furai – breaded crabstick with tonkatsu mayo on steamed rice – and mouthwatering salmon teriyaki, which is pan-fried salmon cubes in teriyaki sauce on steamed rice and cabbage.
---
Delivery to Metro Manila & Rizal Province
---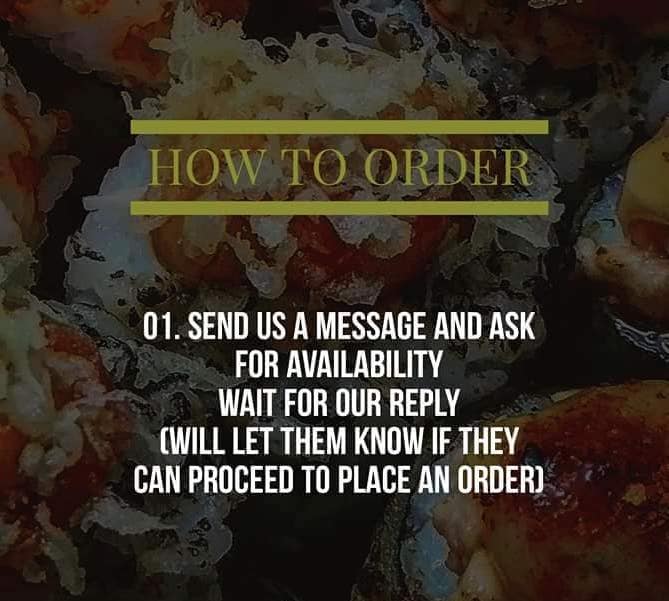 Customers should check in with the shop first to make sure that their orders can be delivered to their area
Image adapted from: Umami_ph
Umami PH's wacky sushi creations and platters are available for pre-order and can be delivered as soon as the following day. Meanwhile, same-day delivery is possible for their traditional sushi, uramaki, and donburi rice bowl offerings.
While the shop has delivered in various areas in Metro Manila and Rizal Province, they ask potential customers to check with them on Facebook first to make sure if they can ship their sushi offerings to you safely. Customers also have to book a third-party courier themselves and shoulder the transport fee.
---
Umami PH's unique sushi selections
---
We have definitely seen a rise in the number of food delivery services since the beginning of the pandemic lockdowns. Thanks to them, we can satisfy our cravings for different cuisines while being in the safety of our homes.
Creative food businesses such as Umami PH even take their food products to the next level by offering new versions of well-loved food, definitely adding excitement to our day-to-day quarantine life.
Also check out:
---
Cover image adapted from: Umami_ph and Gerard Bajada
Get more stories like this!
Drop us your email so you won't miss the latest news.