Filipino street foods
---
If there's one thing that tourists love about the Philippines aside from its world-renowned beaches, it's probably Filipino street foods.
There's isaw, grilled chicken or pork intestines, and banana cue, bananas coated with brown sugar, and a lot more. So if you're visiting the Philippines soon, start off with this listicle of 10 Filipino street foods locals rave about.
---
– Tusok-Tusok – deep-fried, skewered street foods –
---
---
1. Isaw – cleaned chicken or pork intestines
---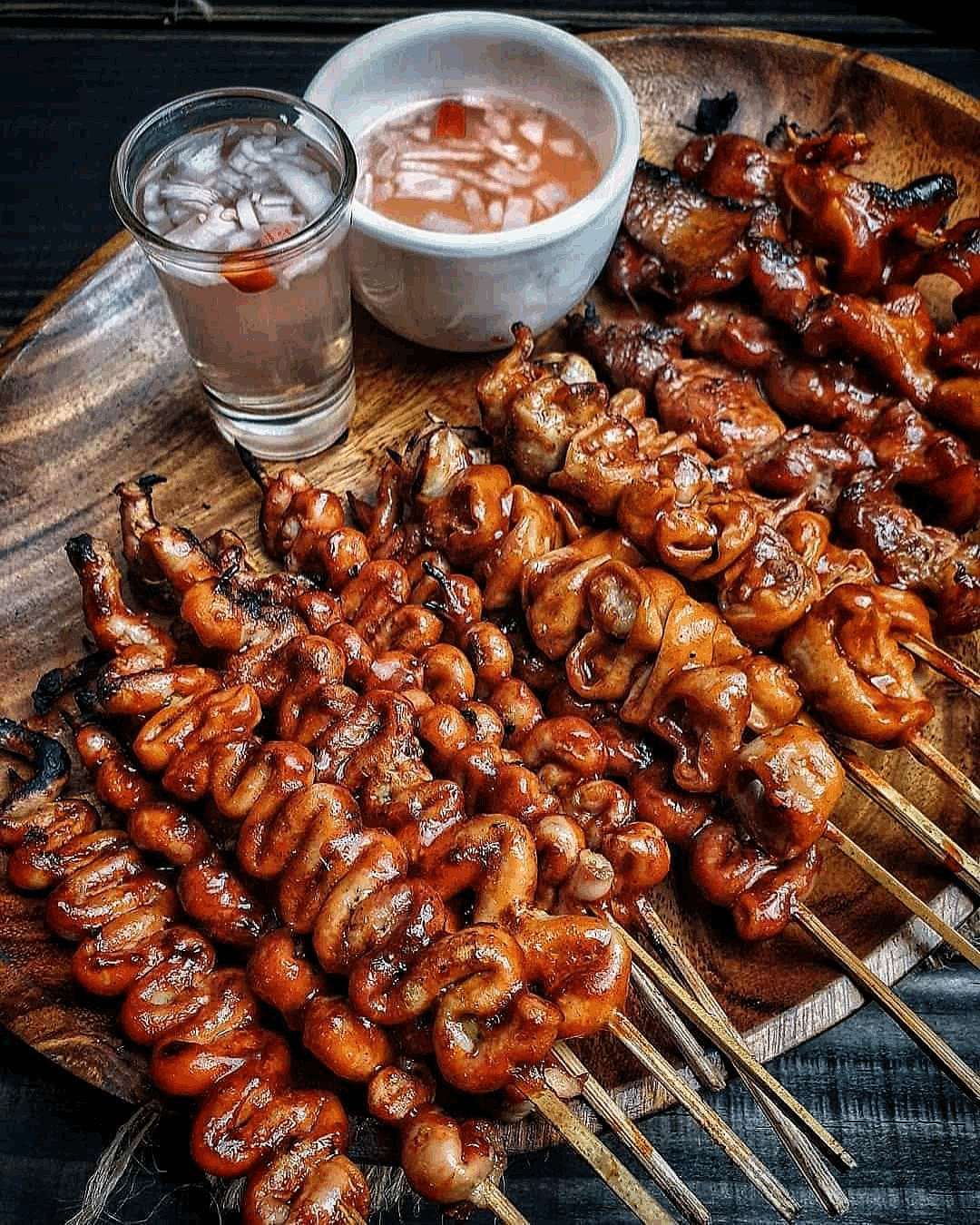 Image credit: @ysca_po_21 
You can't visit the Philippines without trying out the infamous isaw. It's a cleaned, coiled chicken or pork's intestine on a skewer that's grilled till golden brown.
Don't be intimidated by its odd look – Filipinos absolutely love this soft and chewy street food. It's best enjoyed with chili onion vinegar sauce, but you can also try them plain.
It is so popular that it can be found in any city, on sidewalks, in universities, and in parks- one of the most popular stalls is Mang Larry's Isawan in UP Diliman. You can also find it in more commercialized areas such as Sarsa Kitchen + Bar restaurant in Bonifacio Global City.
---
2. Kwek-kwek – quail eggs coated in batter
---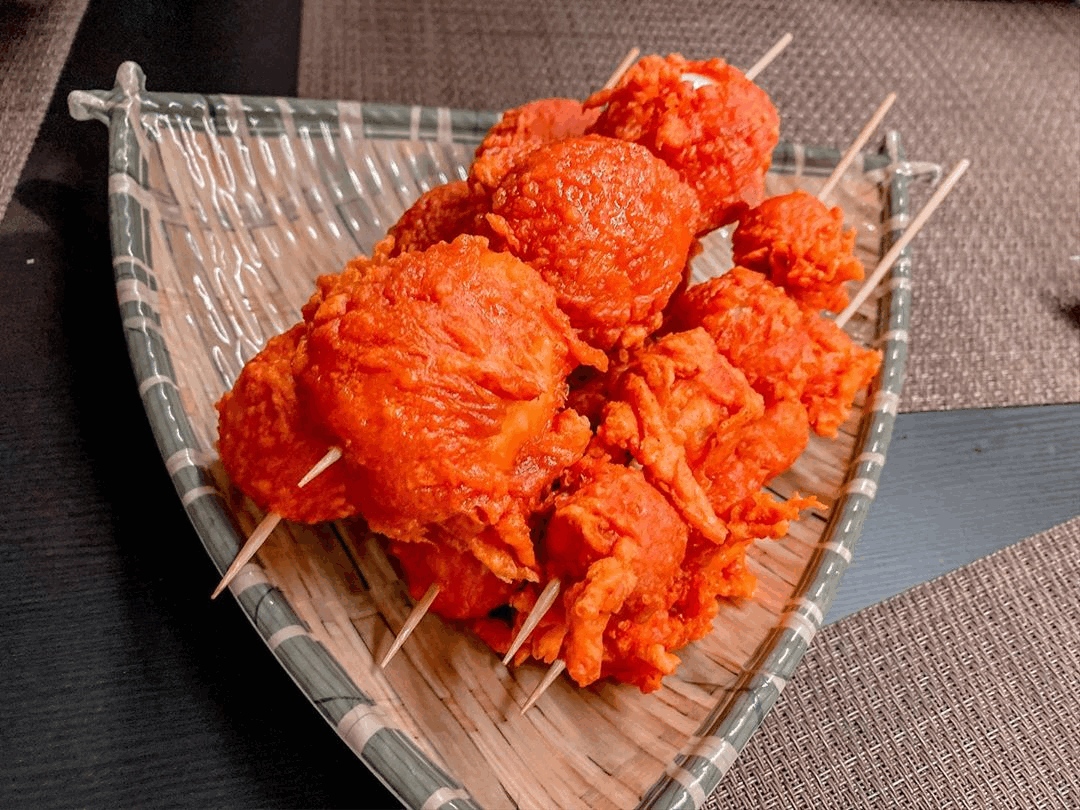 Image credit: @arthurtumpalan
To experience quail eggs coated in fried sunny orange batter, give your palate a bite of kwek-kwek. These striking balls of orange amidst the usual brown street food meats are best enjoyed dipped in two sauce flavors: the sweet brown and chili onion vinegar. 
Fun fact: they earned the name "kwek-kwek " supposedly to reference the sound that a bird makes. They are usually sold by vendors who also sell isaw.
---
3. Proben – chicken stomach parts coated with cornstarch
---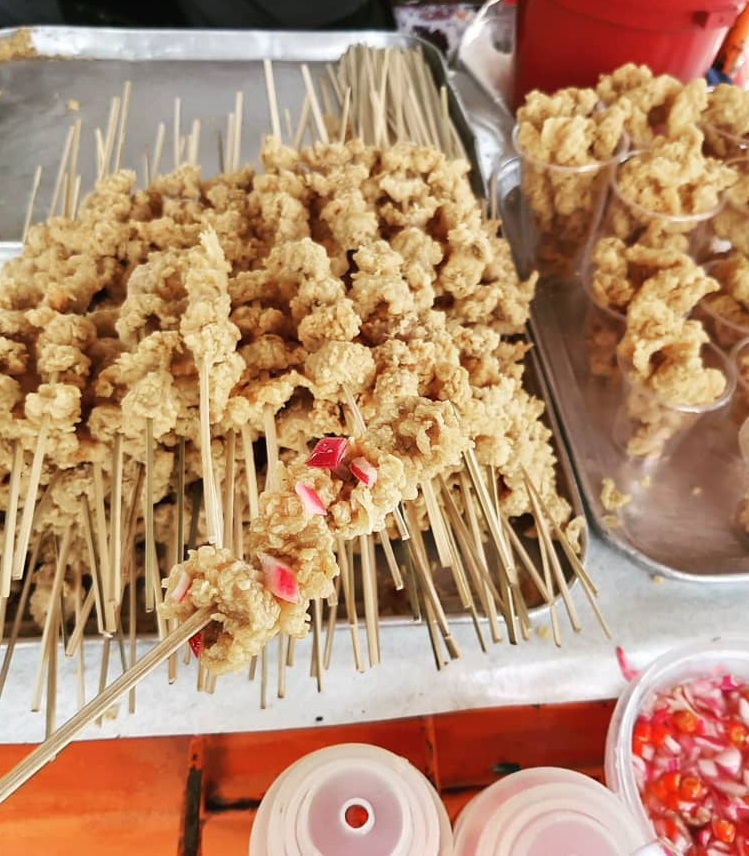 Image credit: @chef_rowell 
Filipinos indeed see gastronomic potential in every part of a chicken – aside from isaw, we have the popular proben for visitors to try. Proben is made from chicken proventriculus, or the glandular stomach of a chicken, coated in fried cornstarch. 
Before it's fried, it's soaked in salt and vinegar, coated with wet batter, and then flattened with powdered cornstarch. The result is a combination of crispiness and juiciness, like fried chicken thigh but chewier. 
Proben is usually found in university areas – after your visit to Rizal Park, stroll around the streets of Manila's university belt and you're sure to come across a vendor making batter for his proben. 
---
Finger food
---
---
4. Lumpiang Shanghai – Filipino version of the Fujian spring roll
---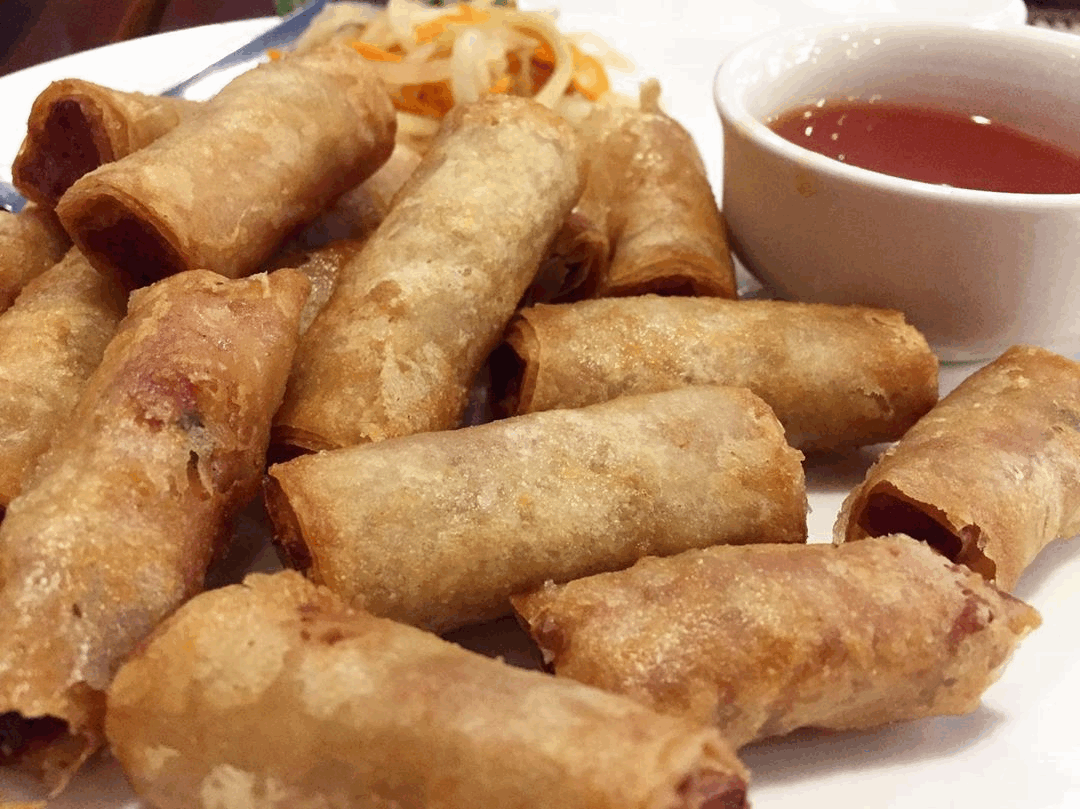 Image credit: @dale.xavi
This street food has nothing to do with the global city of Shanghai, China, but is a local version on a popular Chinese snack. The Lumpiang Shanghai, filled with pork or beef, carrots, onions, and sometimes shrimp, is a fried version of the Chinese popiah or Fujian spring roll. 
It's one of many Filipino variants of lumpia: lumpiang hubad, lumpiang sariwa, lumpiang gulay, and lumpiang ubad – and can be found across numerous street food stalls in the country, but is also available in popular Filipino fast food chains such as Jollibee and Chowking.
---
5. Ginabot – pork intestine cracklings
---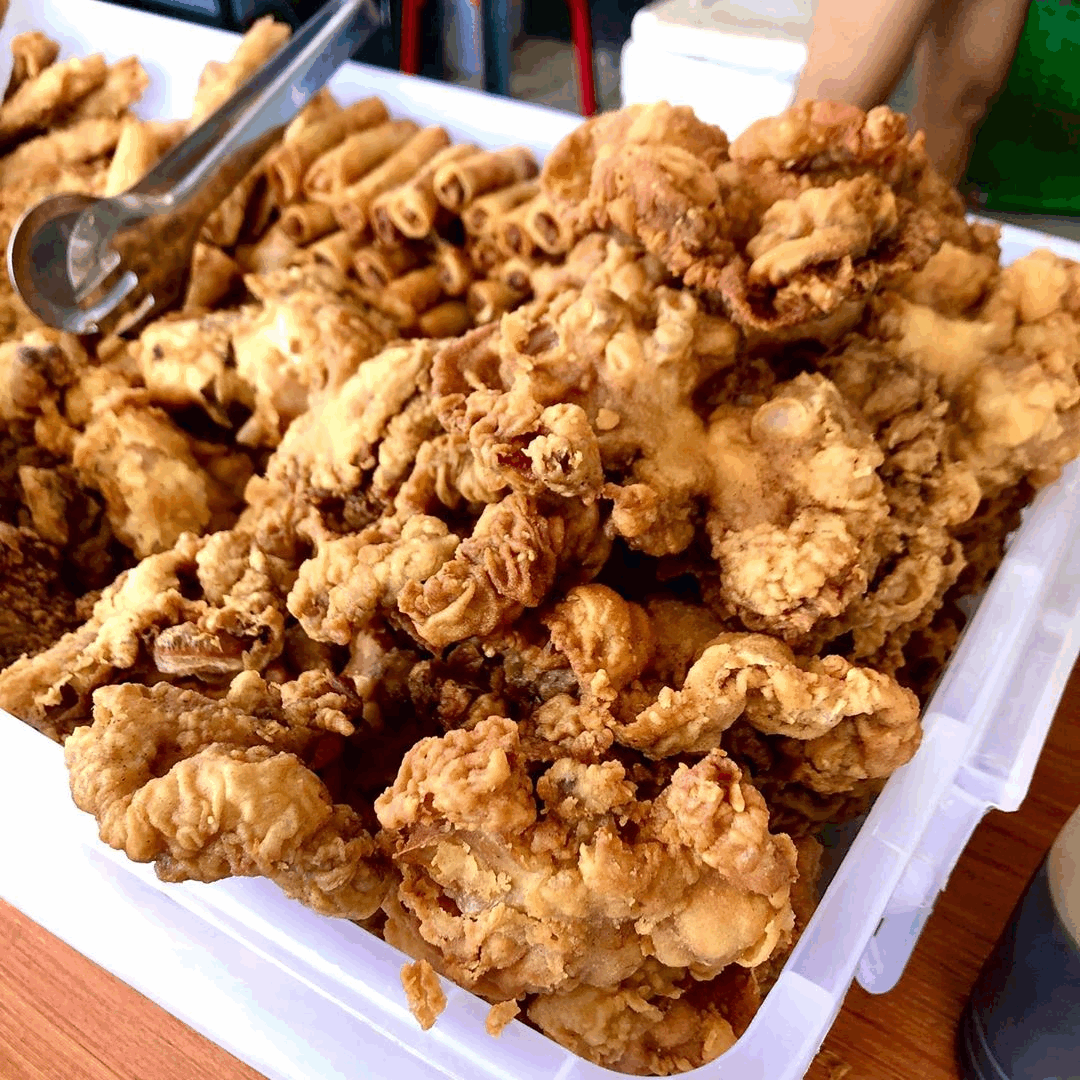 Image credit: @biyaherongbisaya 
If Cebu is part of the itinerary of your Philippine trip, you have to try the beloved Cebuano ginabot – or chicharon bulaklak as fondly called by the Tagalogs in Luzon. These are pork intestines that are salted, battered, and deep-fried with cornstarch to a golden brown. 
Ginabot can be found in the streets and eaten solely or enjoyed with puso, or hanging rice wrapped in coconut leaves. Locals even love to enjoy this snack as a pulutan dish along with alcoholic drinks. 
You can find them sold by sidewalk vendors around Cebu. The go-to place of Cebuanos for a bite of Ginabot is the Pungko-Pungko sa Fuente food court at Don Julio Llorente St in Cebu, recognized by Sunstar as the best Pungko-Pungko (street food) place in the city.
---
– Breakfast soups –
---
---
6. Arroz caldo – ginger-flavored rice porridge with chicken meat
---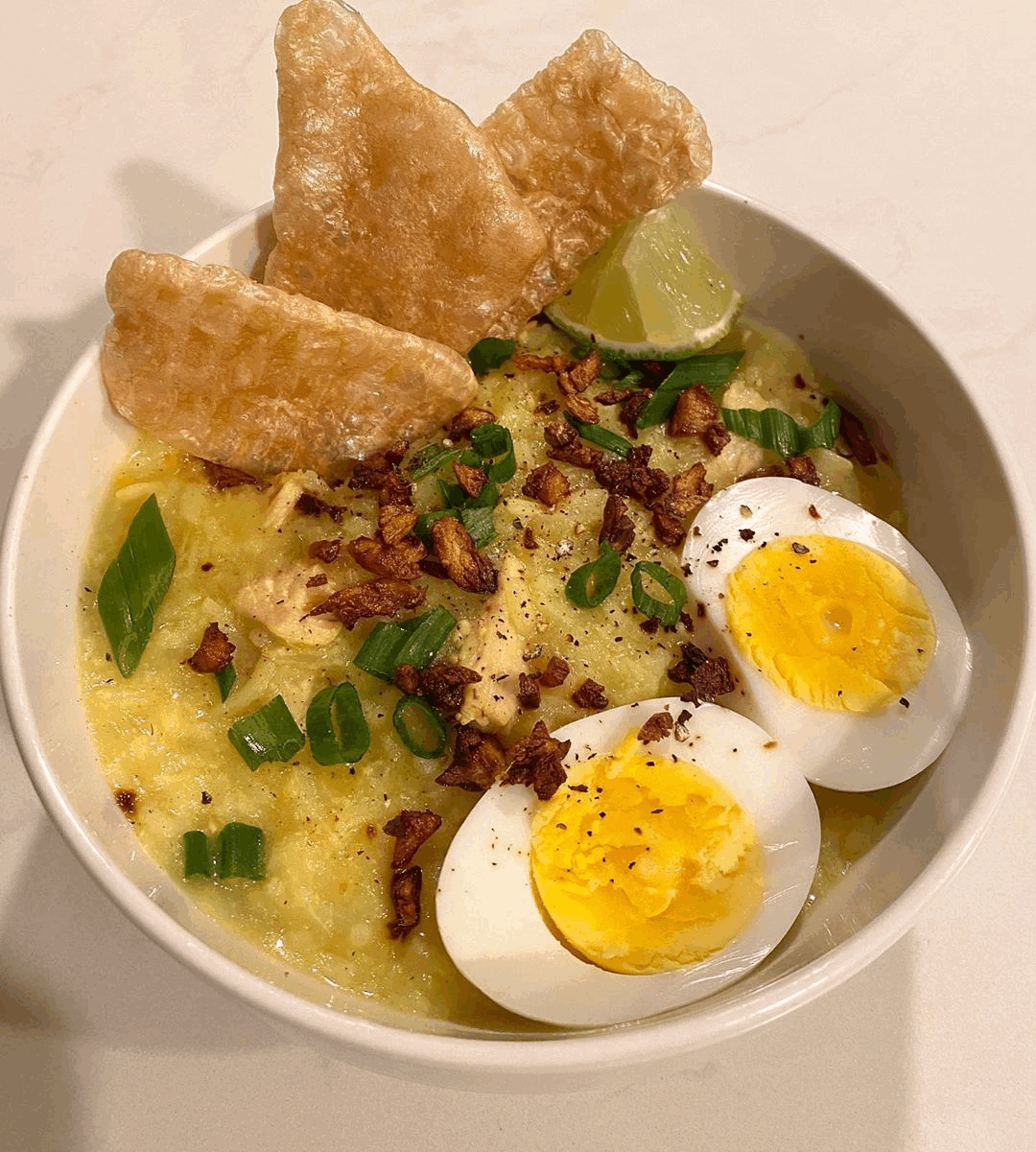 Image credit: @b_a_l_b_o_a 
During rainy days in the Philippines, locals love to warm up their stomachs with their favorite comfort food, rice porridge. There are three usual variants – lugaw, goto, and arroz caldo. 
Arroz caldo or hot rice in Spanish is basically a lugaw, or plain rice porridge, but richer in toppings. With a lugaw base, arroz caldo is topped with pieces of chicken meat and infused with the flavors of ginger. We recommend this for newcomers compared to the goto, which is lugaw with ox tripe, so it might not be easy to eat for everyone. 
Arroz caldo got its name from the Spanish colonizers of the Philippines who gave lugaw another name while adding ingredients according to their palates.
---
7. Sopas – macaroni chicken noodle soup
---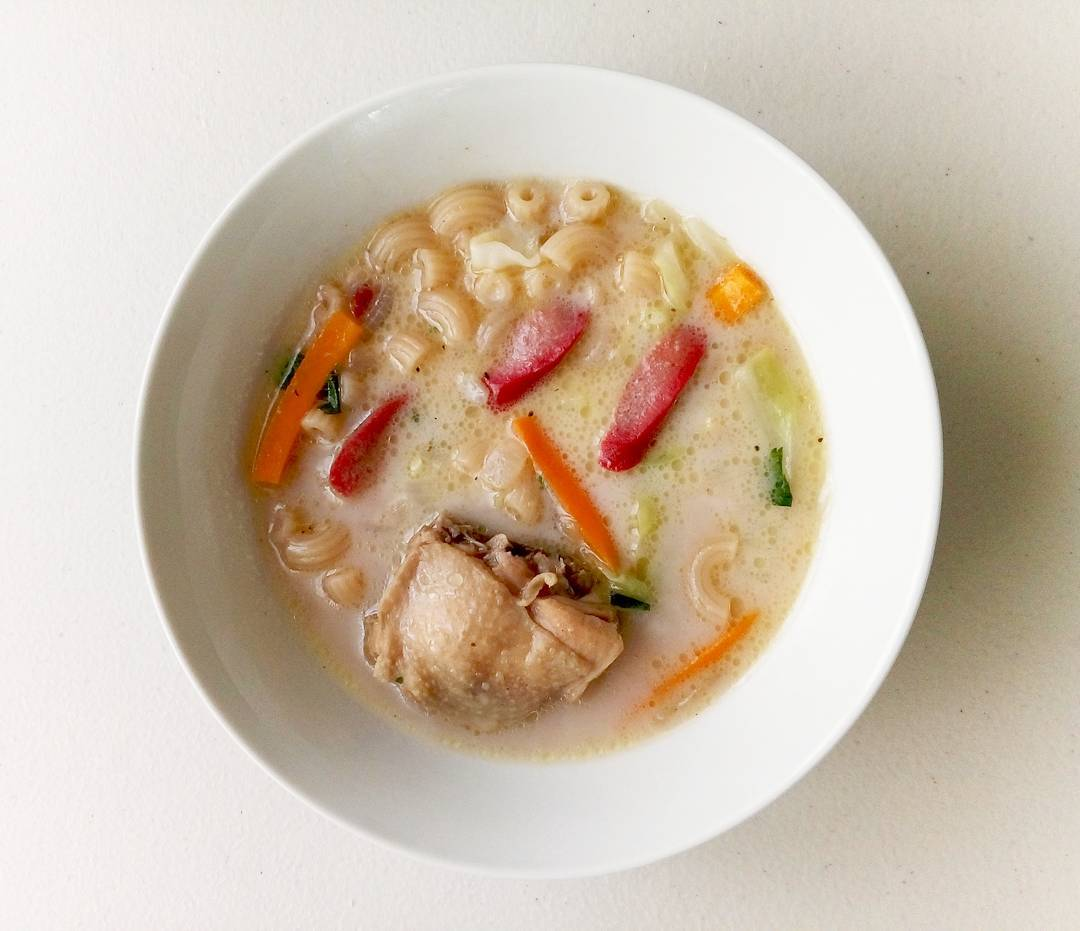 Image credit: @its.me.cah 
Sopas, or the Tagalog word for soup, is another Filipino comfort food. It's a macaroni soup of creamy milk-infused broth with slices of vegetables such as carrots, bell pepper, and cabbage. Balancing the greens are the slices of chicken and hotdog or Vienna sausage. Sopas has its roots from the US favorite chicken noodle soup, but the Philippine version has more macaroni and fewer vegetables. 
Wherever you are in the Philippines, the local palengke or public market will most likely have a sopas stall where you can get your fix.
---
Desserts
---
---
8. Halo-halo – crushed ice infused with evaporated milk and topped with various toppings
---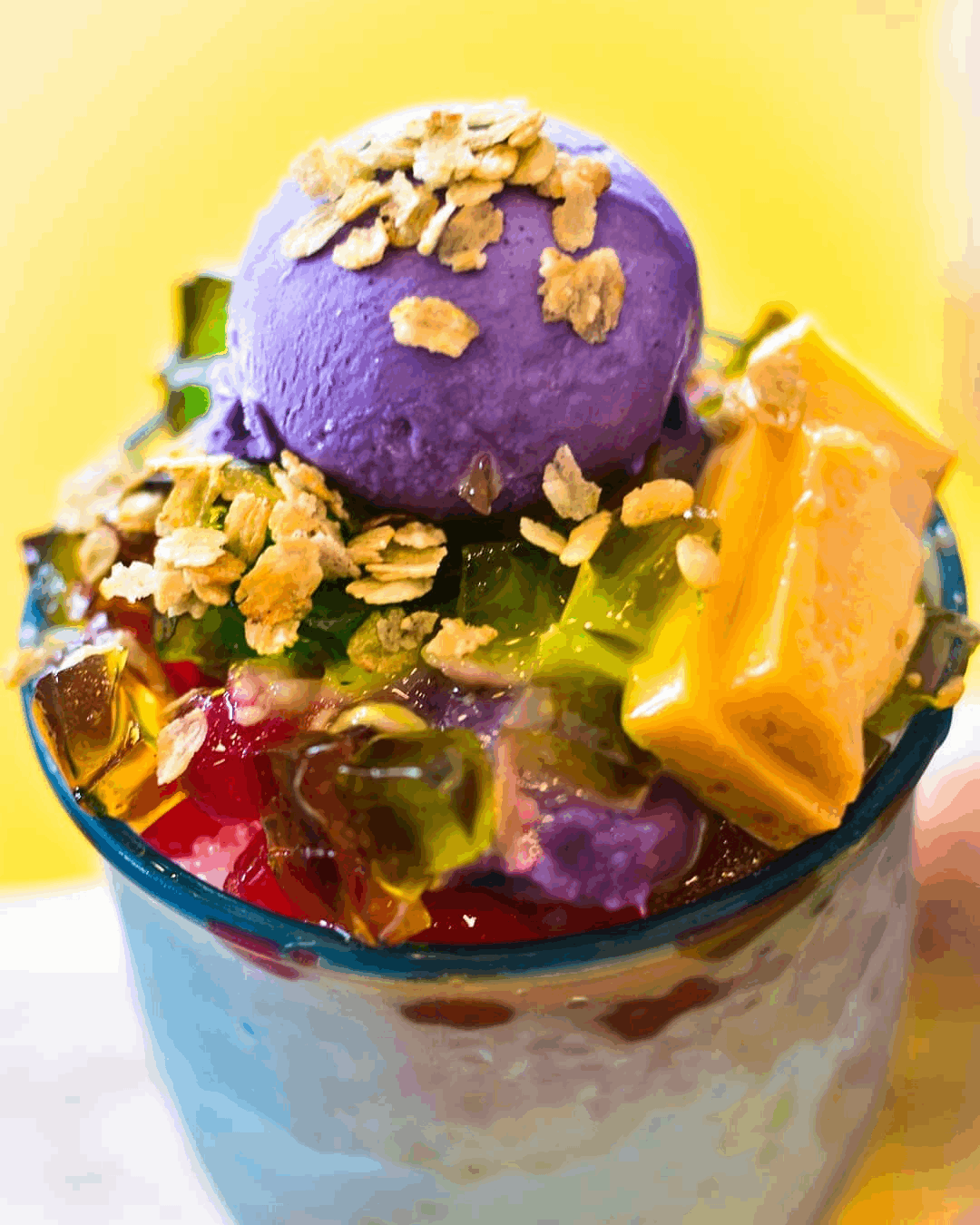 Image credit: @chowkingph
Perhaps the quintessential representative of the Filipino dessert, halo-halo, translating to 'mix-mix' in English, is a beloved indulgence of locals especially during the peak of summer in tropical Philippines. It's usually a heap of crushed ice infused with evaporated milk and topped with a feast of toppings such as gulaman or agar, nata de coco, banana slices, pinipig or flat toasted glutinous rice, ube or purple yam, leche flan or caramel custard, and sometimes ice cream. 
Historians trace the origin of this beloved local dessert to the Japanese colonial era in the country. Two Japanese desserts are said to have paved the way for the Filipino halo-halo: mitsuname and kakigori.
Mitsuname is composed of ice and monggo beans, while kakigori is initially an ice-shaved dessert with condensed milk that was later on called 'mong-ya' because of its added monggo or mung beans, red beans, and kidney beans. 
While it's available in many stalls in the streets, Chowking offers one of the best halo-halo in the PH.
For a list of Chowking branches, click here. 
---
9. Banana cue – fried bananas coated with brown sugar
---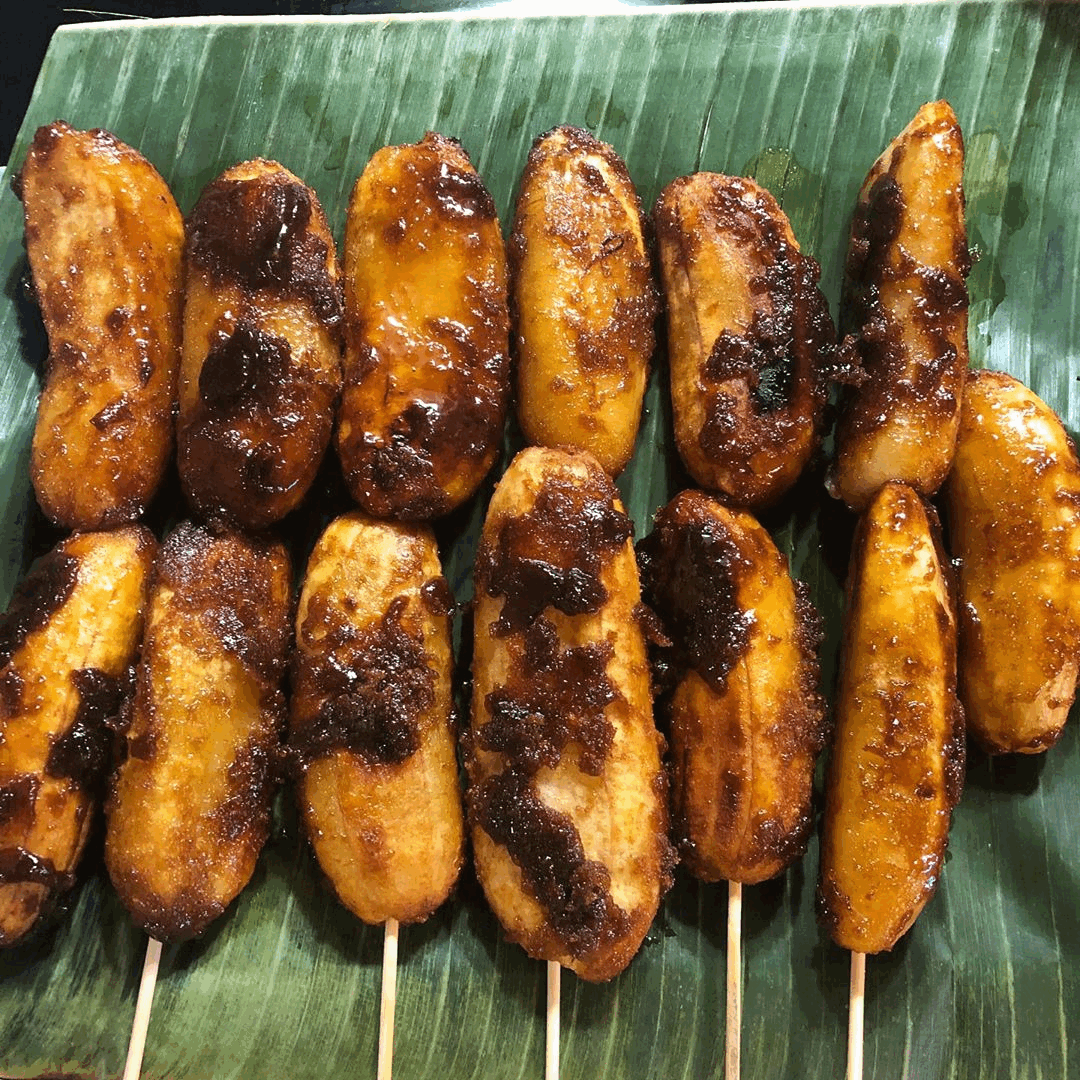 Image credit: @sweetsformysweets 
A favorite merienda or afternoon snack, banana cue is composed of fried bananas coated with brown sugar and skewered on wooden sticks. Its name is a combination of the words "banana" and "barbecue", as the snack has the burned look of barbecued food.
While it's not the most aesthetic food you can lay your eyes on, it's actually addictive – so be warned that you'll keep hunting for the banana cue with the most clumps of brown sugar after your first try.  This street food dessert is found in most city plazas, schools, universities, and offices across the Philippines.
---
10. Taho – white tofu drizzled with arnibal and topped with sago pearls
---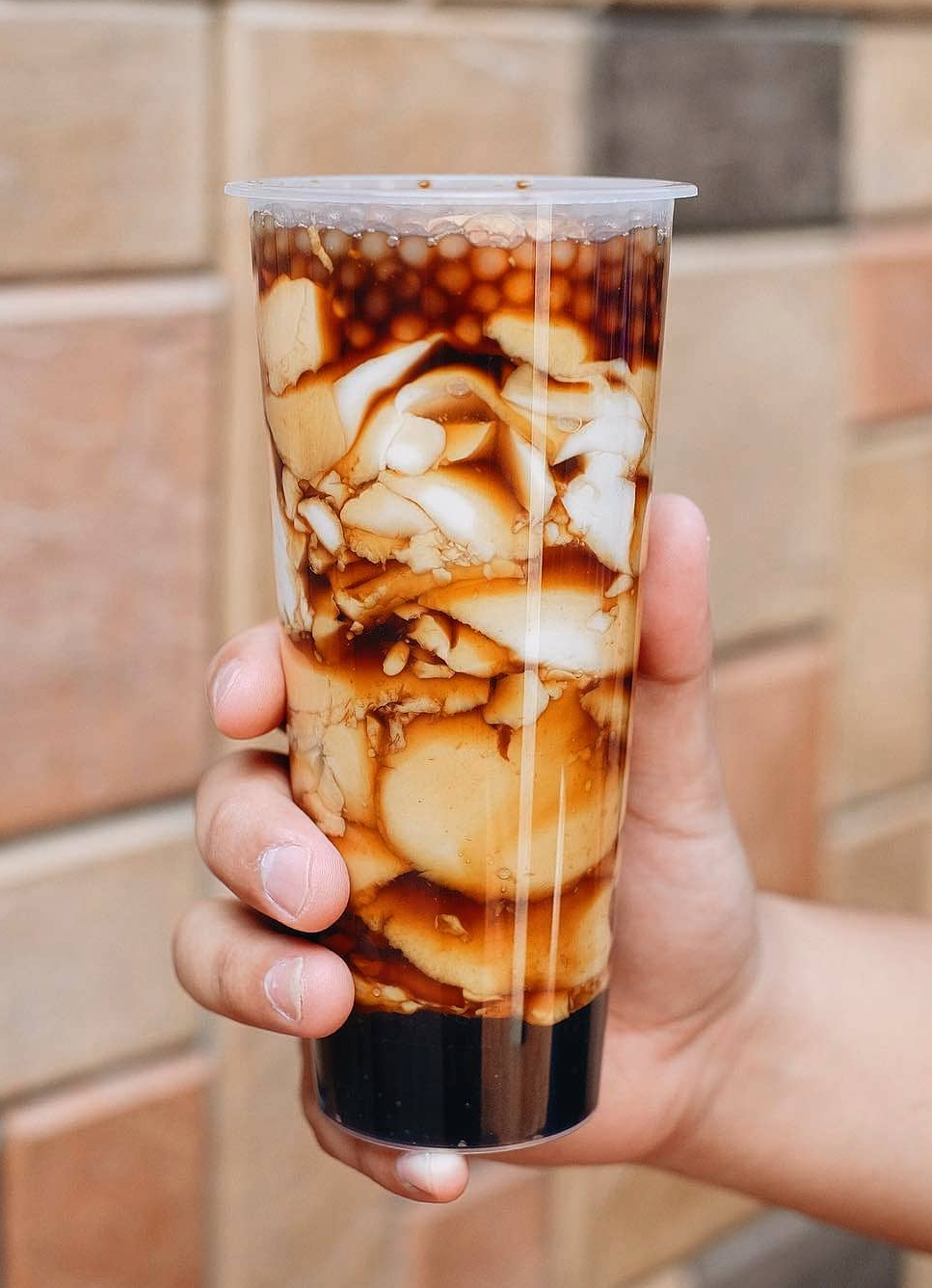 Image credit: @tourismphilippines 
Nothing warms the morning of Filipinos better than the beloved taho, or soft, silken tofu drizzled with sweet arnibal (brown syrup) and topped with sago pearls. It's so popular that locals have crafted various renditions of this dessert, from the strawberry taho in Baguio down to the pandan-flavored taho of the Visayas.
Most Philippine cities' residents are woken up every morning by their local taho vendor's shouts to churn up business, but taho has garnered enough of a cult following that it can also be found in touristic places such as Benguet and in malls.
Where to get it: La Trinidad Strawberry Farm, House of Taho branches
---
Filipino street foods for a truly local feast
---
Indeed, visiting tourist spots is only half of the experience in getting to know a country –  eating the local street food adds an important, delicious layer of experience of a country's history and culture. 
This is the case when visiting the Philippines, whose street food scene is as rich as its archipelago of thousands of islands. 
Also check out: 
---
Cover image adapted from: @ysca_po_21, @arthurtumpalan, @biyaherongbisaya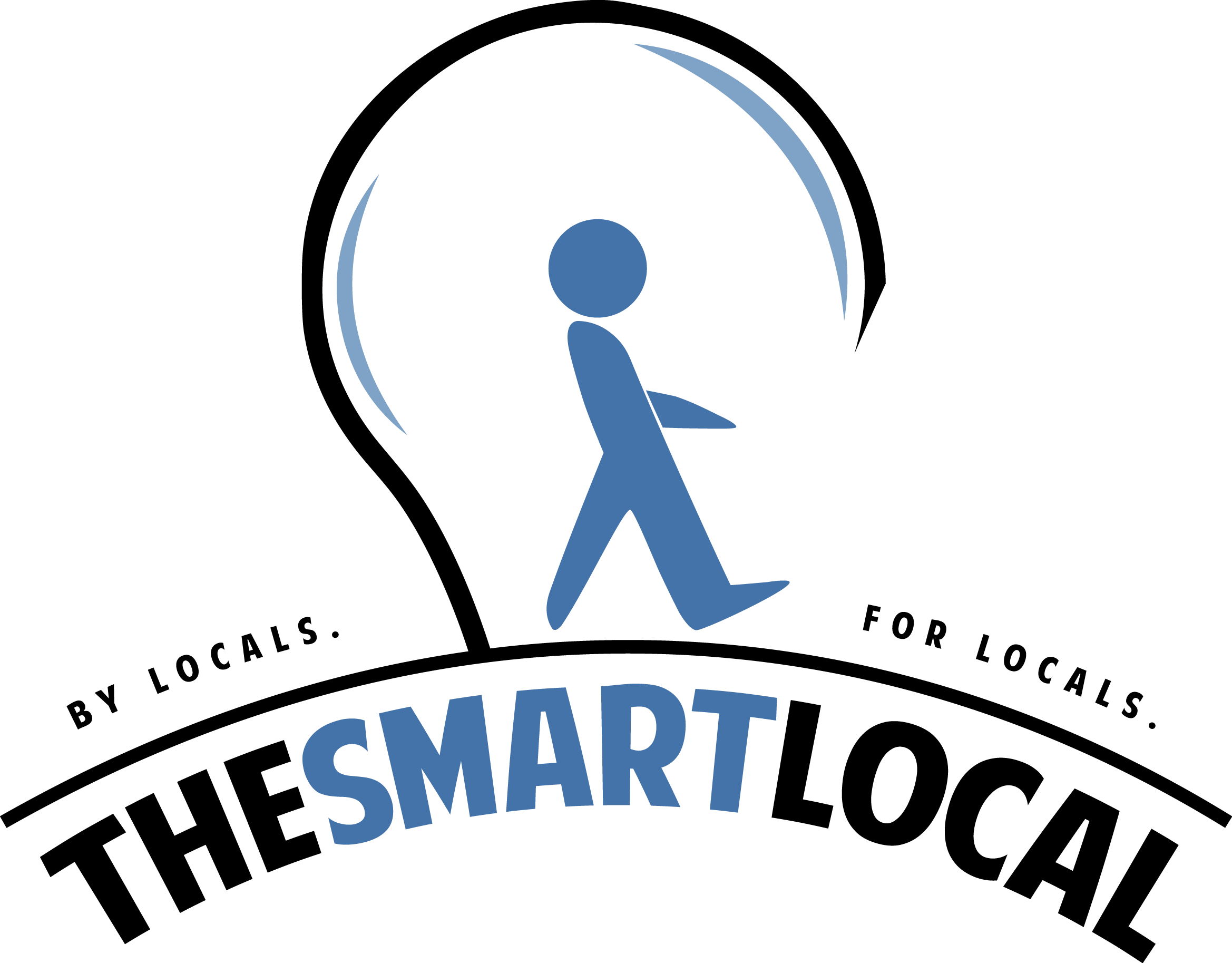 Drop us your email so you won't miss the latest news.