Korean restaurant with a 360-degree view
---
K-drama fans probably remember N.Grill, the restaurant at Namsan Tower where some My Love From the Star scenes were shot. If you wish to have your Cheon Song-yi or Do Min-joon moment, Seoul Sky Restaurant offers a similar experience.
The revolving restaurant in Quezon City allows customers to enjoy views of Metro Manila's skyscrapers, the Sierra Madre mountains, and more. Unlike N.Grill that serves French cuisine, though, they offer authentic Korean food so you can truly feel as if you were in South Korea.
---
Scenic view of Metro Manila's skyscrapers and more
---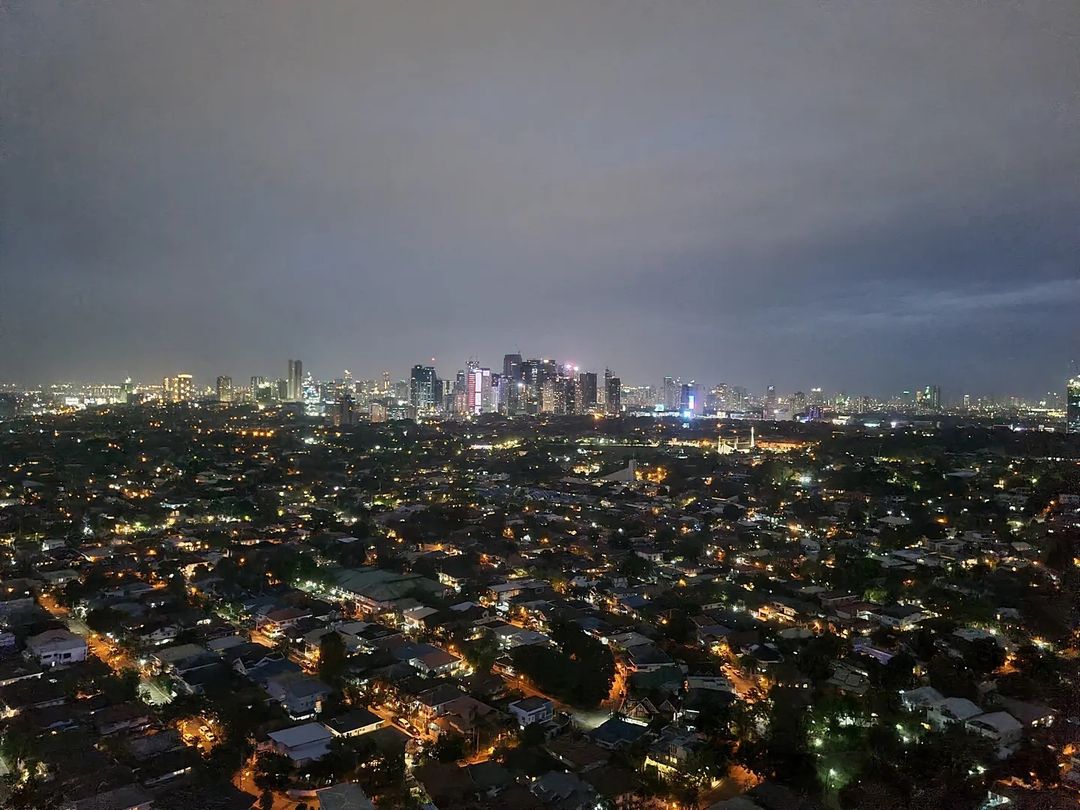 A view of the night sky from the revolving restaurant
Image credit: @paolosuarez11
Located on the 33rd floor of the MDC 100 building in Bagumbayan, Quezon City, Seoul Sky Restaurant boasts a spectacular view of Metro Manila's skyscrapers.
As the revolving restaurant slowly rotates, you'll also get to catch a view of the Sierra Madre mountain range in the east, Laguna Lake in the southeast, and Manila Bay in the southwest.
While you can enjoy the view at any time of the day, it's best to book your reservation for an early dinner as the restaurant is known to have an incredible sunset view.
---
Dine like royalty with bronze tableware
---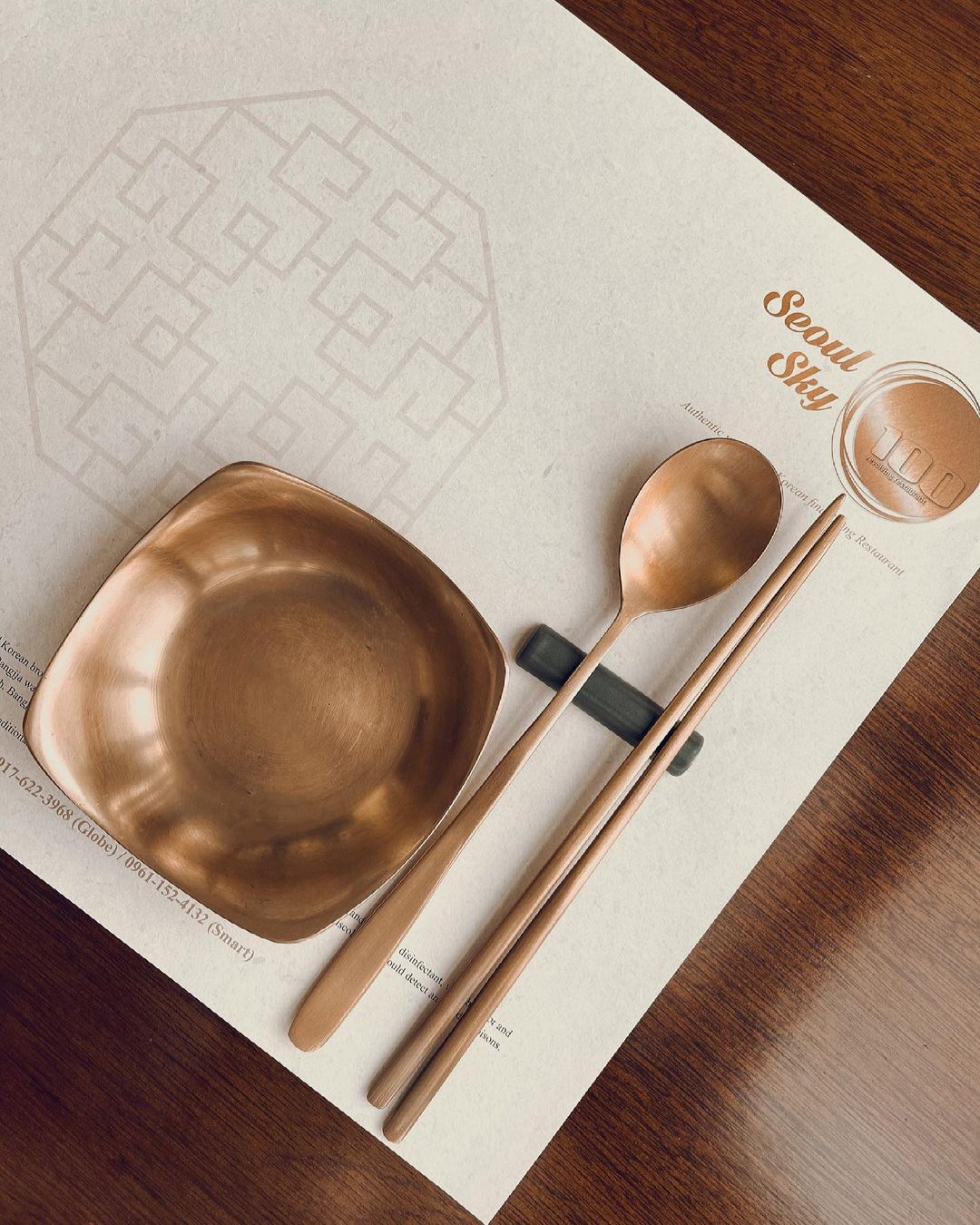 Seoul Sky Restaurant's bronze tableware
Image credit: @somewheredomtheroad
Seoul Sky Restaurant elevates the Korean fine dining experience even further as you'll get to eat authentic Korean food with genuine bronze cutlery identical to what you see in saeguk or Korean historical dramas.
They serve their dishes on and with yugi or bangjja – handmade bronzeware of the kind used as far back as the Silla dynasty (57 BCE–935 CE). These were traditionally used only by members of the royal family but have recently regained popularity with modern Koreans.
---
Authentic Korean dishes
---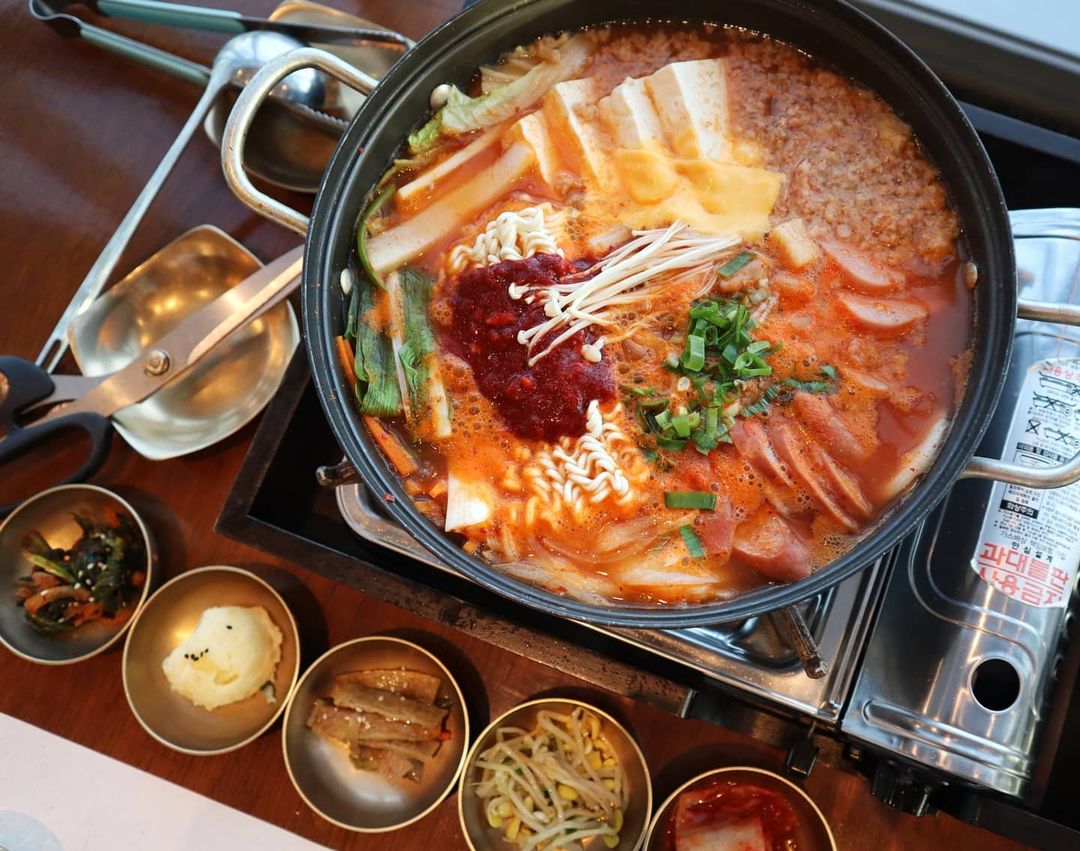 Budae jjigae is a spicy stew made with sausage, spam, and ramyeon noodles typically served in the army
Image credit: @elainemaeevasco
The restaurant serves hearty, authentic Korean dishes such as galbi-jjim (beef sparerib stew), samgyetang (ginseng chicken soup), and budae jjigae (spicy sausage stew). They also have different cuts of pork and beef for barbecue which they serve with a generous amount of banchan or Korean side dishes.
As for dessert, they have the Korean shaved ice dessert bingsu – including the classic patbingsu made with sweet red beans – and a variety of waffles.
You can enjoy Seoul Sky Restaurant's food with a wide range of drinks, including fruit juices, soda, smoothies, coffee, as well as Korean and Filipino alcohol. For a true fine dining experience, though, you can opt for red, white, or sparkling wine.
---
Premium Korean barbecue menus
---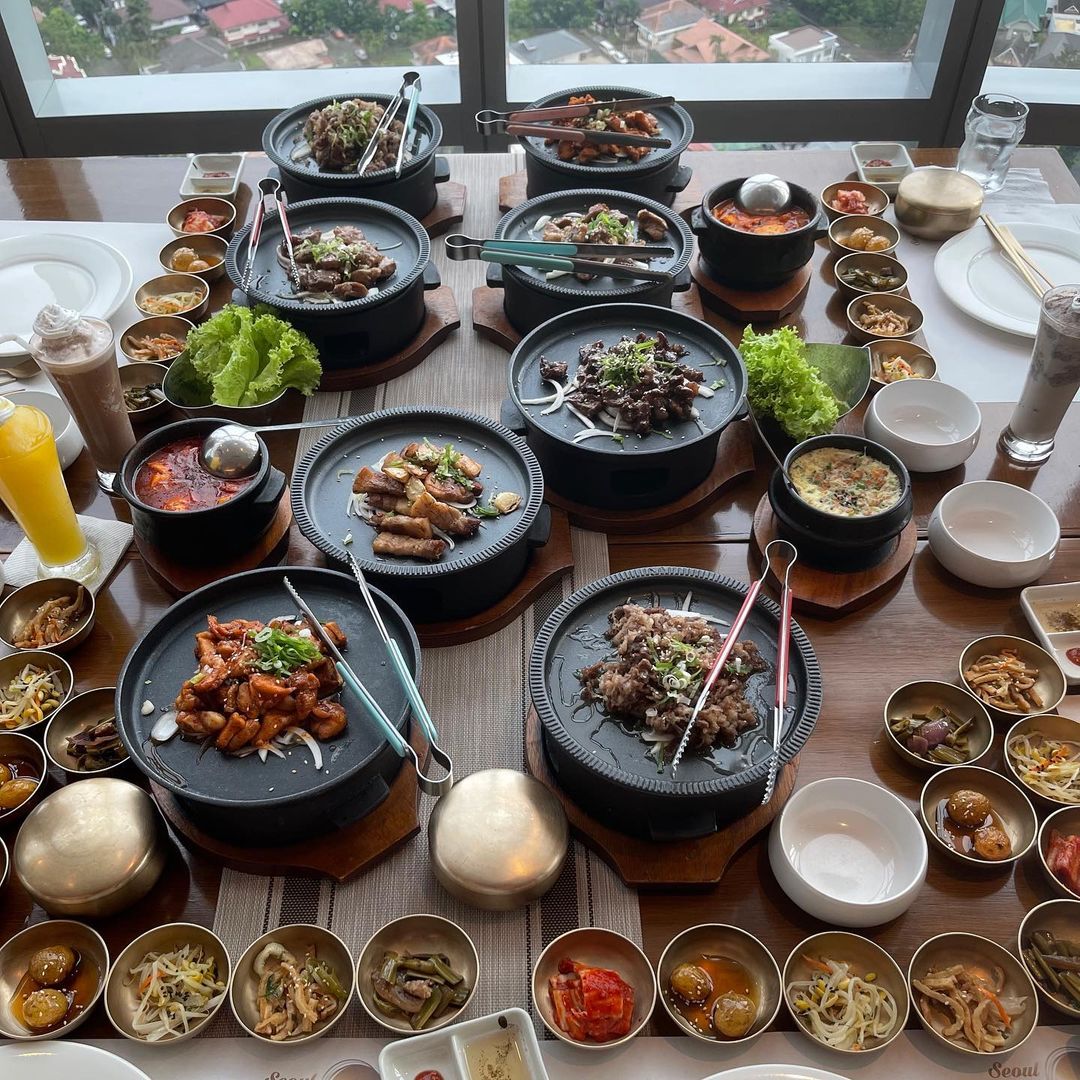 The restaurant's premium Korean barbecue sets come with a generous serving of side dishes
Image credit: @isangness
Seoul Sky Restaurant also offers a leveled-up samgyeopsal experience with 5 barbecue set menus ranging from P3,200 to P6,300 (~USD63.90 to USD125.81).
The cheapest set menu, Set D, can feed 4 people. It consists of marinated beef belly, aged premium pork, marinated pork spareribs, marinated chicken barbecue, kimchi jjigae (stew), and rice.
The most expensive first-class set is also good for 4 people. It has different types of beef cuts for barbecue – Wagyu beef striploin, Wagyu beef boneless ribeye, marinated beef short ribs – and galbitang or beef short rib soup.
The first-class set also includes aged premium pork belly for barbecue, spicy stir-fried prawns, seafood jeon (pancake), japchae (stir-fried Korean glass noodles), and rice. You also have the option to get coffee or bingsu for dessert.
---
Making a reservation at Seoul Sky Restaurant
---
Seoul Sky Restaurant operates on a reservation basis. To make a reservation, you can call or text 0917-622-3968, 0999-580-5311, or 8297-1961.
Due to lockdown restrictions, though, their opening schedule often changes. To stay updated on when the restaurant is open for dining, you can follow their Facebook page.
Address: 33rd Floor, MDC 100, Eastwood cor. E. Rodriguez Avenue, Barangay Bagumbayan, Quezon City, Metro Manila
Also check out:
---
Cover image adapted from: @purplishpinks and @elainemaeevasco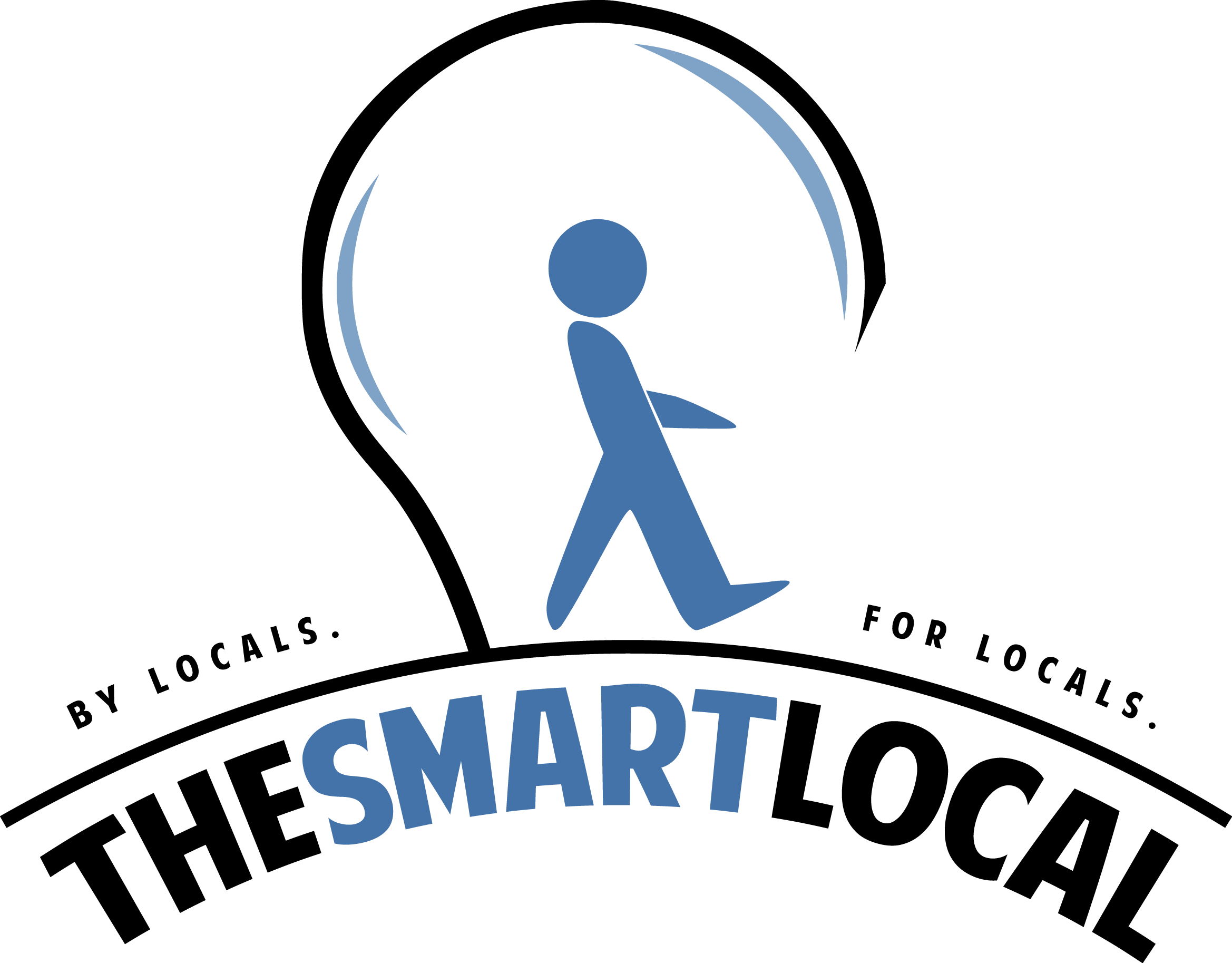 Drop us your email so you won't miss the latest news.