Things to do in Rizal
---
For folks living in the metro, taking a break away from the stresses of the city is a must – after all, a change of pace gives us a much-needed reset to help us power through busy days ahead. Fortunately, nearby Rizal has plenty to offer.
Brimming with art, history, cuisines, and natural wonders, these things to do in Rizal will give you a refreshing escape from the city. Rizal's also just one hour away from the metro, so your travel time won't eat into your weekdays or make you have to leave extra early to drive far.
---
How to get to Rizal
---
From Ortigas Avenue
Travel down Ortigas Avenue all the way to the Ortigas Avenue extension to reach the towns of Cainta and Taytay. At the end of Ortigas Avenue is Tikling Junction. From there, head down Manila East Road to access Angono, Cardona, Binangonan, Morong, Baras, and Pililla.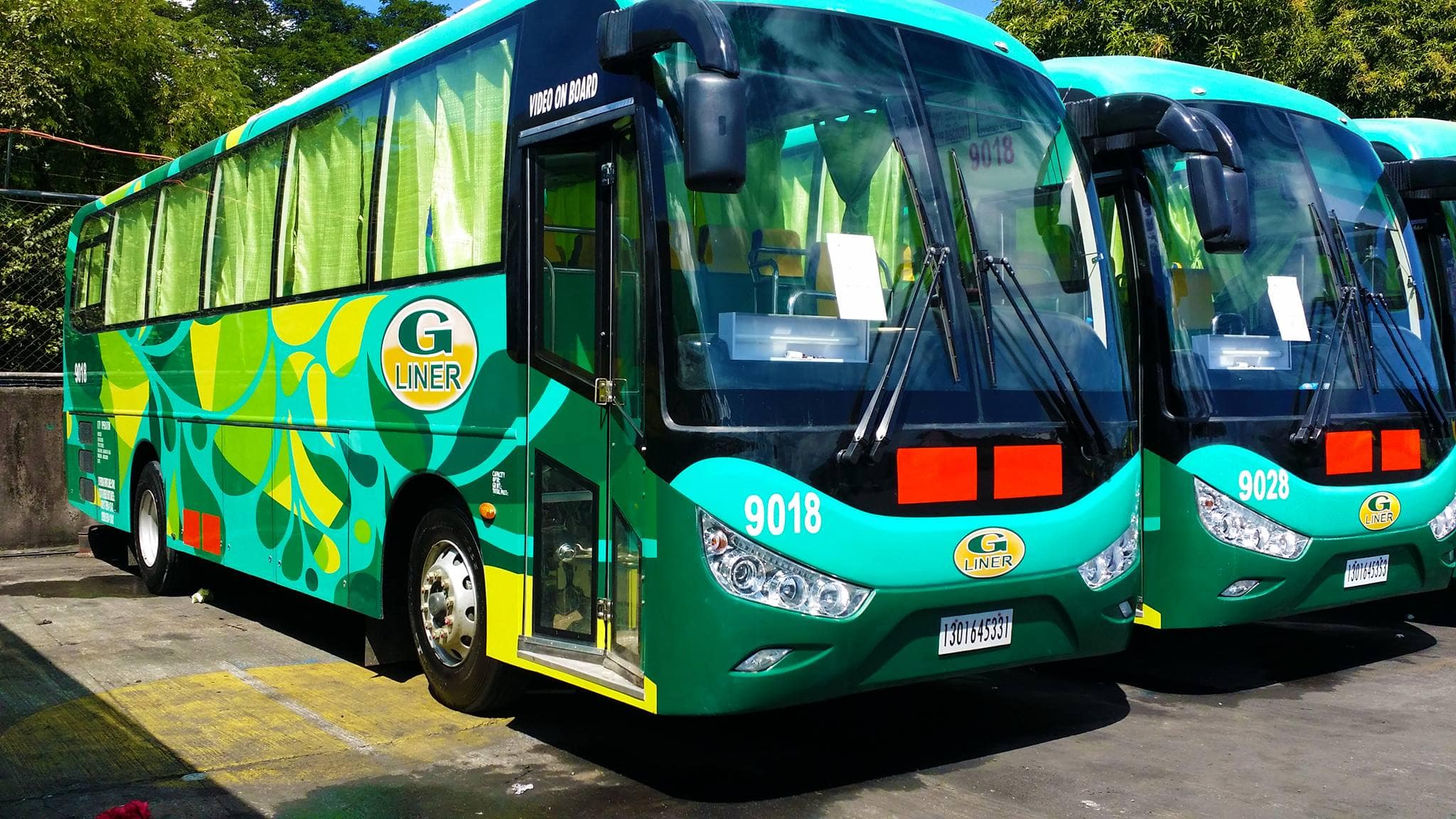 Image credit: G.Liner Bus Company
Buses such as RRCG and G-Liner bound for Cainta and Taytay are parked at Robinsons Galleria.
From Cubao
Take Aurora Boulevard and Marcos Highway to access Felix Avenue (Cainta), Ortigas Avenue Extension (Taytay), and Manila East Road. Jeepneys bound for Cainta, Angono, and Binangonan start at Aurora Boulevard.
From Commonwealth Avenue
Take Commonwealth Avenue and access Batasan-San Mateo Road to get to Rodriguez or San Mateo.
From Manila
The route of the buses bound for Cainta and Taytay starts at Philippine Normal University.
---
How to get around Rizal
---
---
Taxi/Grab
---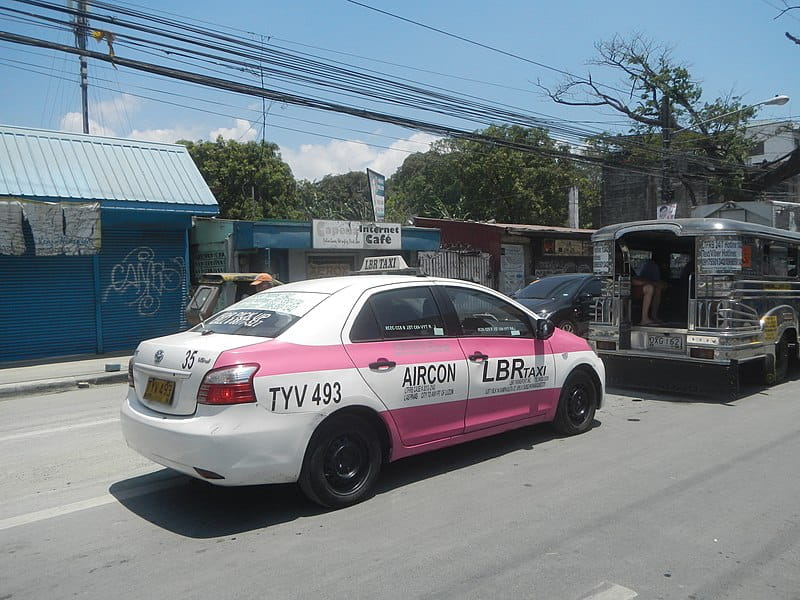 Image credit: Judgefloro/Wikimedia Commons
Hailing a taxi or booking a Grab ride is easy when you're just traveling within Cainta, Taytay, Angono, and San Mateo. Grab doesn't operate in the more rural towns, such as Baras, Pilillia, Binangonan, and Rodriguez.
---
Tricycle
---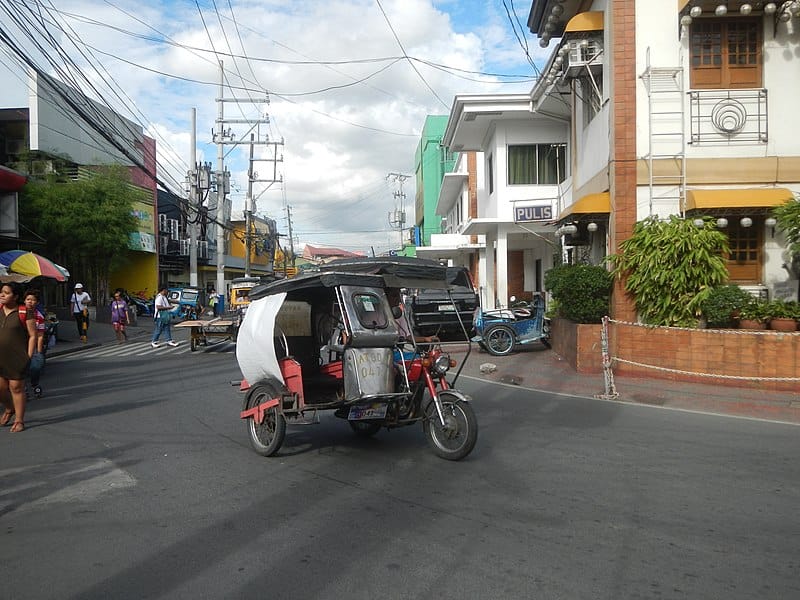 Image credit: Judgefloro/Wikimedia Commons
To hail a tricycle, just tell the driver where in town you're headed. The usual fare is P10 (~USD0.20) per person.
If it's not part of the driver's route, you may be asked to pay more and that will count as a special trip. Special trips range from P20-P70 (~USD0.40-USD1.38), depending on the distance.
---
Jeepney
---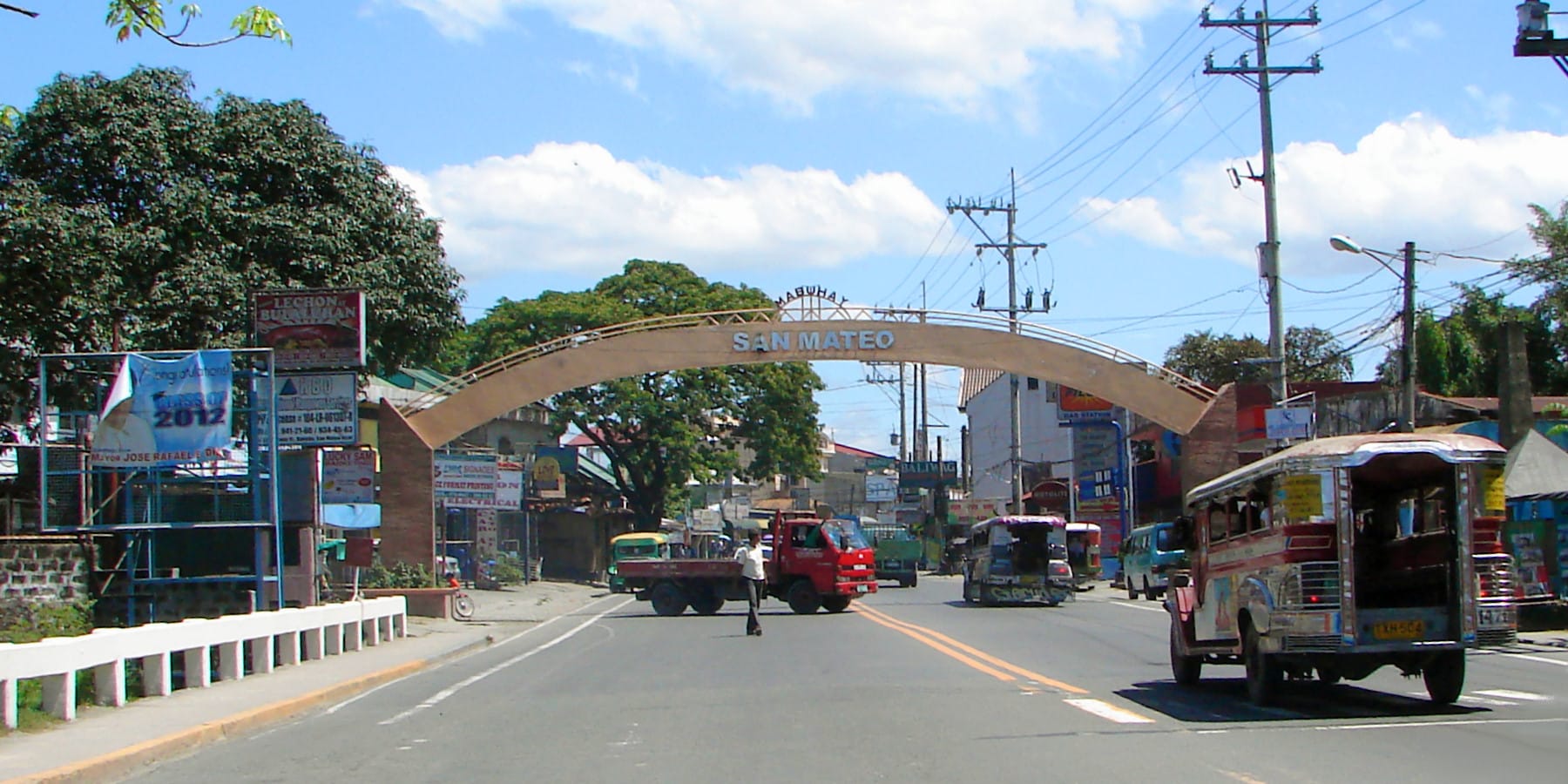 Image credit: P199/Wikimedia Commons
Jeepneys are the main mode of transportation in Rizal. Hail the jeep as you would in any other part of the country.
If you're unsure if the jeep will pass by your destination, just ask the driver who'll usually tell you the right jeepney to ride. The minimum fare is P9 (~USD0.18).
---
Bus
---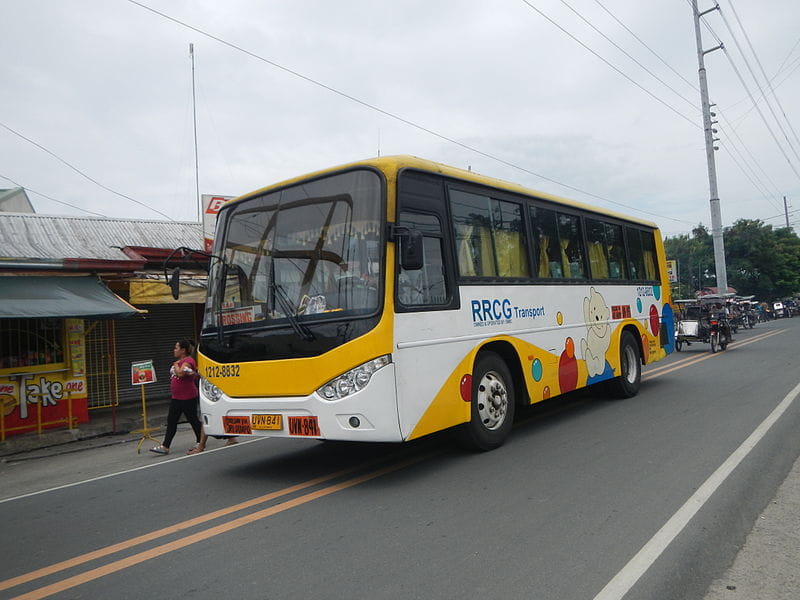 Image credit: Ramon FVelasquez/Wikimedia Commons
G-liner or RRCG buses pass through the towns of Cainta and Taytay. You can ride the bus even for short distances.
For example, a bus ride from Waltermart Taytay to Cainta Junction covers only less than 3 km and welcomes passengers.
---
1. Go hiking at Rodriguez, Tanay, and Talim Island
---
The country is blessed with hiking spots in many provinces, but Rizal probably has some of the most achievable day hikes for beginners. Try these easy to moderate climbs in Rodriguez, Tanay, and Talim Island in Binangonan.
---
Mount Pamitinan, Rodriguez – a doable hike to sharp karst peaks
---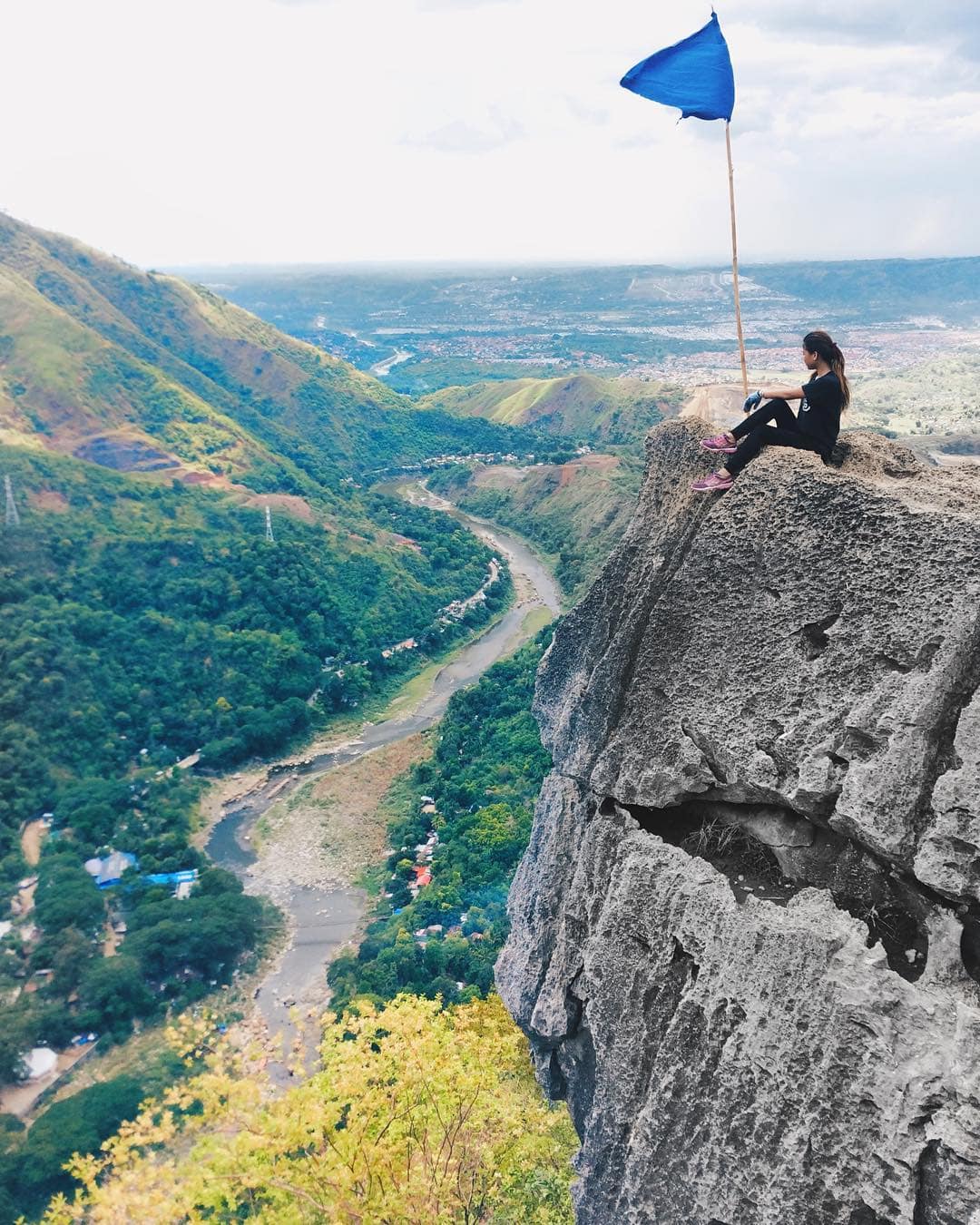 Image credit: @maryjoybinibini
Mount Pamitinan, a rocky mountain with a moderate difficulty climbing level, consists of sharp, scenic limestone formations. For beginners who want a challenge, hiking Mount Pamitinan is for you as the terrain ranges from leveled to muddy and rocky.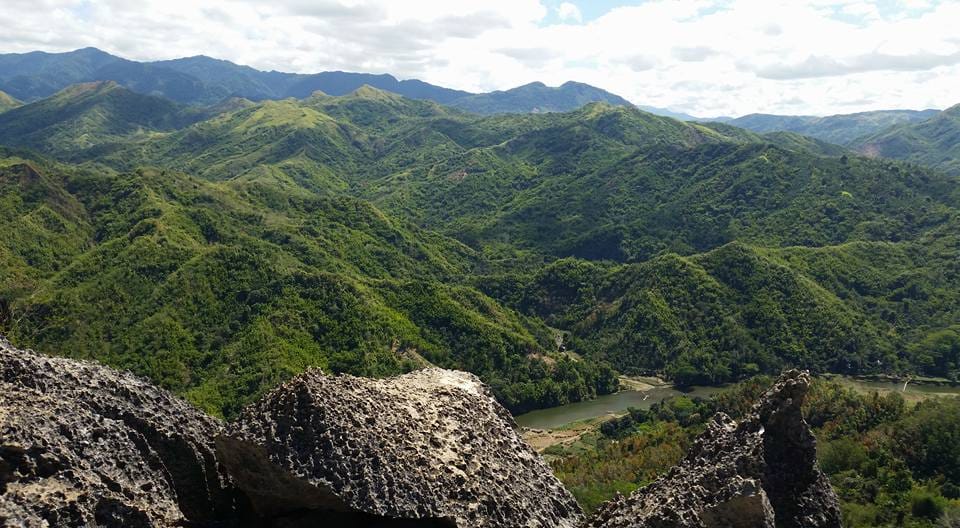 Image credit: Camillebea/Wikimedia Commons
Guides are available at the local Department of Environment and Natural Resources (DENR) office, and guide fees start at P80 (~USD1.57) per person, for five hikers. We recommend climbing on weekdays to avoid the weekend crowds, and to start your hike early for cooler temperatures.
Difficulty level: Moderate
Admission fee: P80 (~USD1.57)
Address: Sitio Nino, Rodriguez, 1860 Rizal
---
Mount Daraitan, Tanay – a more challenging but still manageable climb
---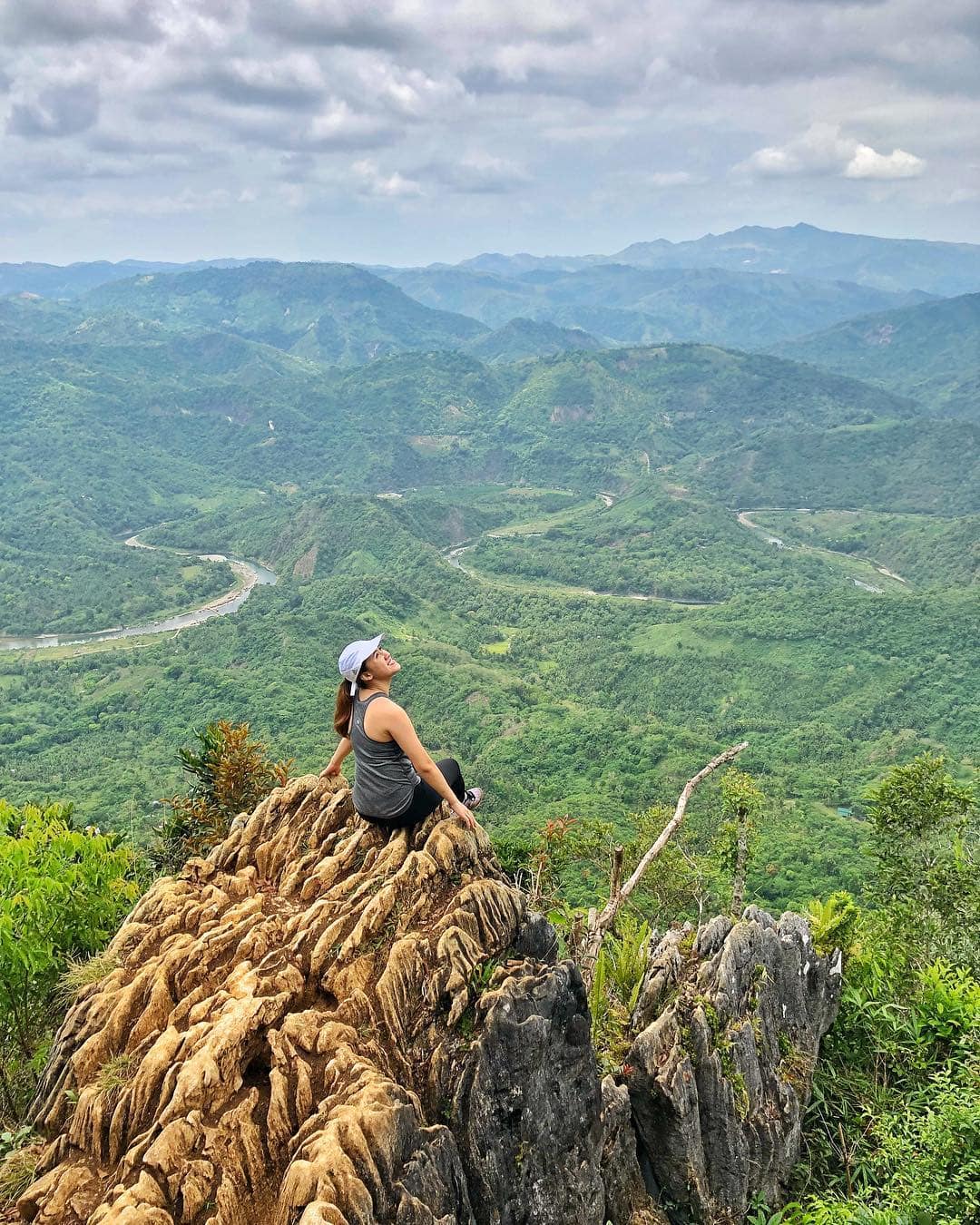 Image credit: @cheskasiasoyco
With a moderate difficulty level, 739m-tall Mount Daraitan is for those who've done minor climbs before but want to level up. The climb is a little steep, but this is balanced by its well-maintained trail.
The fee for a day hike is P500 (~USD9.80) and guides are available at the barangay hall. Hit up the Tinipak River for a cooling dip after your climb, and stay the night at campsites near the Daraitan Barangay Hall for a complete outdoor experience.
Difficulty level: Moderate
Admission fee: P500 (~USD9.80)
Address: Border of Tanay, Rizal and General Nakar, Quezon
---
Mount Tagapo, Talim Island – an easy hike to a green, grassy mountain
---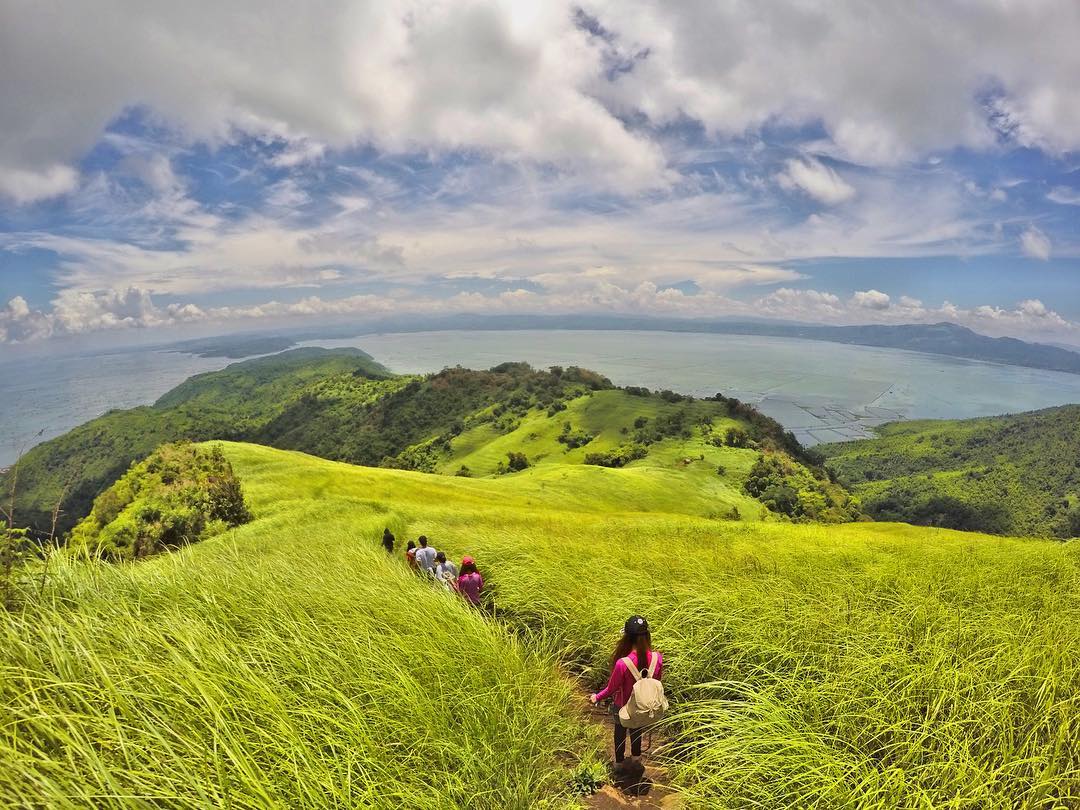 Image credit: @ivanvillee
For a 360-degree view of Laguna de Bay, Mount Tagapo's location smack in the middle of the lake is hard to beat.
Low on the difficulty scale, the 438m-tall mountain is ideal for those who are first-timers in hiking, and just want to see if hiking is for them. Hitch a 30-minute boat ride from Rizal's Binangonan port and log your visit at the Janosa barangay hall. From there, getting to the summit only takes less than 2 hours, and a huge part of the trail is grassy.
Difficulty level: Easy
Registration fee: P20 (~USD0.39)
Guide fee (sign up at barangay hall): P400 (~USD7.84) per five hikers
Address: Talim Island, Laguna de Bay, and Binangonan, Rizal  
---
2. Visit Rizal's natural wonders
---
Unlike most provinces in the country, Rizal doesn't have pristine beaches to boast about. What it has, though, are limestone landscapes and jaw-dropping waterscapes such as waterfalls and rivers.
---
Tinipak River – surrounded by cream-colored rocks and mountains
---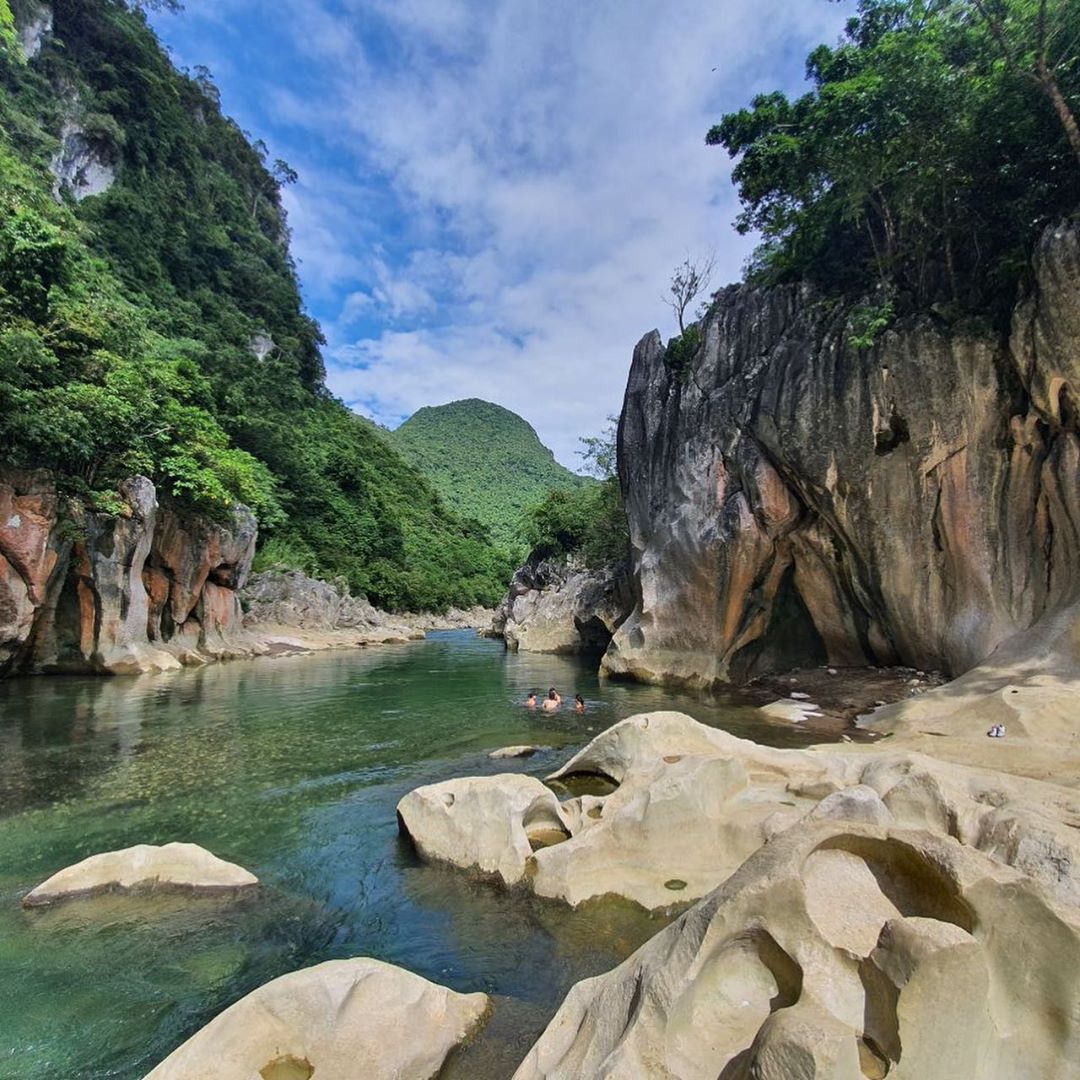 Image credit: @robyn_see
The huge boulders and stunning rock formations in and around Tinipak River make it not just a place for a refreshing dip after a trek but a perfect photo op spot as well. Some trekking in good climbing shoes is needed to get here, but the views are worth it.
Tour guides are mandatory and are available for P500 (~USD9.81) for a day tour. We suggest combining your trip here with a Mount Daraitan climb – see above.
Difficulty level: Moderate
Registration fee: P40 (~USD0.78) per head
Address: Daraitan, Tanay, Rizal
---
Masungi Georeserve – conquer limestone peaks in Baras
---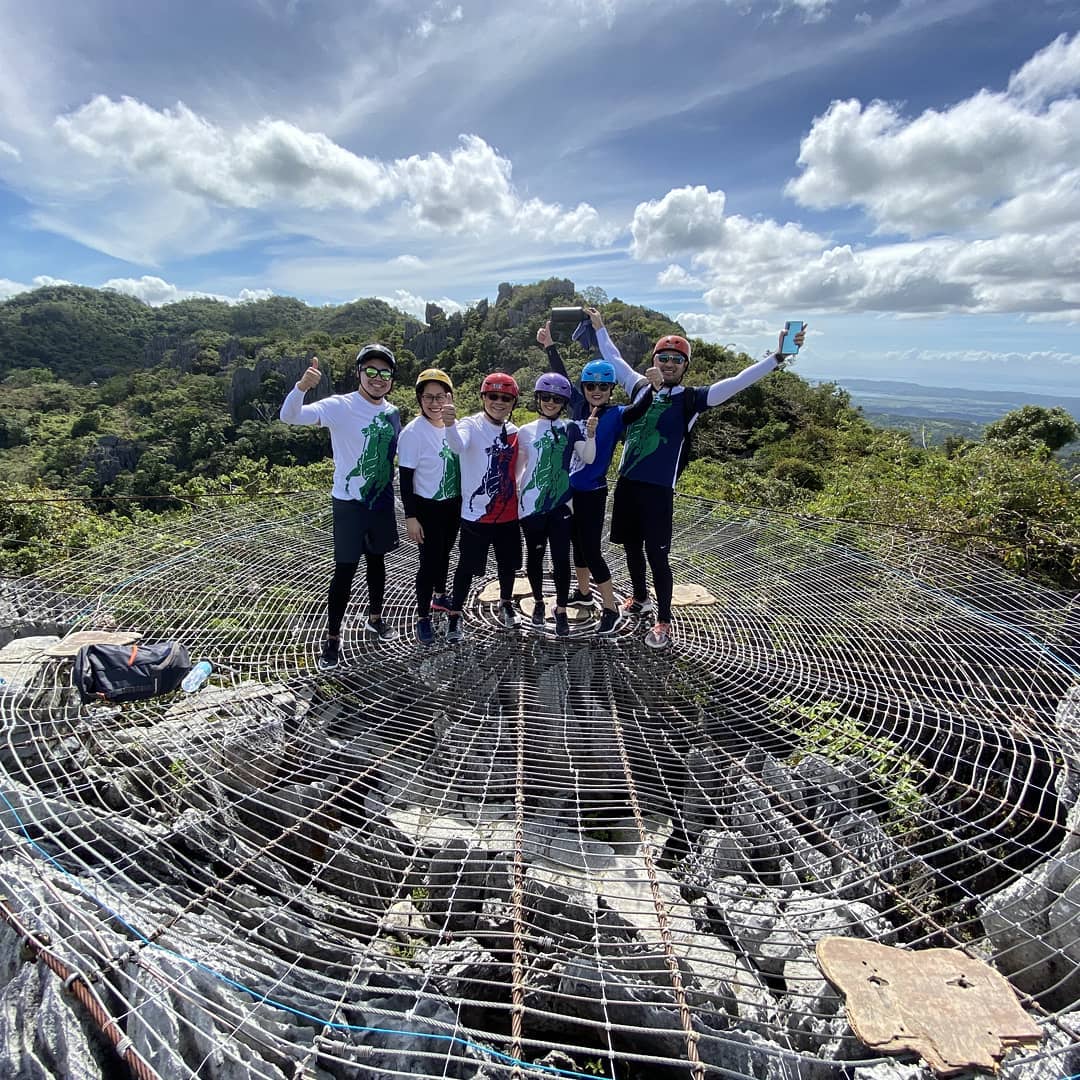 Image credit: @marktan612
Surround yourself with karst (or limestone) peaks and thriving forests at Masungi Georeserve, a protected area in Baras. You can choose trails that are easy or a bit challenging, depending on your fitness level.
Outdoorsy adventurers and beginners alike will find plenty to do at the reserve where two hiking trails and adventure courses are set up in this picturesque karst (limestone) landscape and forests in Baras. The Discovery Trail allows you to experience the karst terrain through the Sapot, the spider-web like metal net, a cave formation, and hanging bridges and ropeways. Meanwhile, the Legacy Trail is mostly grasslands where you'll take part in conservation projects such as tree planting.
As this is a protected area, trail visits are upon request, but it's worth the wait. It's not every day you get to tour a protected area that's unlike any other terrain in the country and participate in its reforestation efforts.
After a tiring but rewarding trail experience, Masungi Georeserve can prepare a buffet feast for you upon request. Just book a private dining setup for a minimum of 20 persons in your group in advance.
Using a private vehicle, drive down Marcos Highway and find the entrance of Masungi Georeserve at the right side of the road after seeing Garden Cottages, Foremost Farms, and Palo Alto markers. You can also book shuttle services to and from Masungi Georeserve with their travel partner, Tanlines Philippines.
Difficulty level: Easy to moderate trails available
Address: Kilometer 47, Marcos Highway, Baras, 1970 Rizal
Conservation fee: P1,500 (~USD29.39) per person (weekdays), P1,800 (~USD35.27) (weekends)
Mobile: 0908 888 70 02, 0995 186 99 11
Website
---
Daranak Falls – splash in the cool waters
---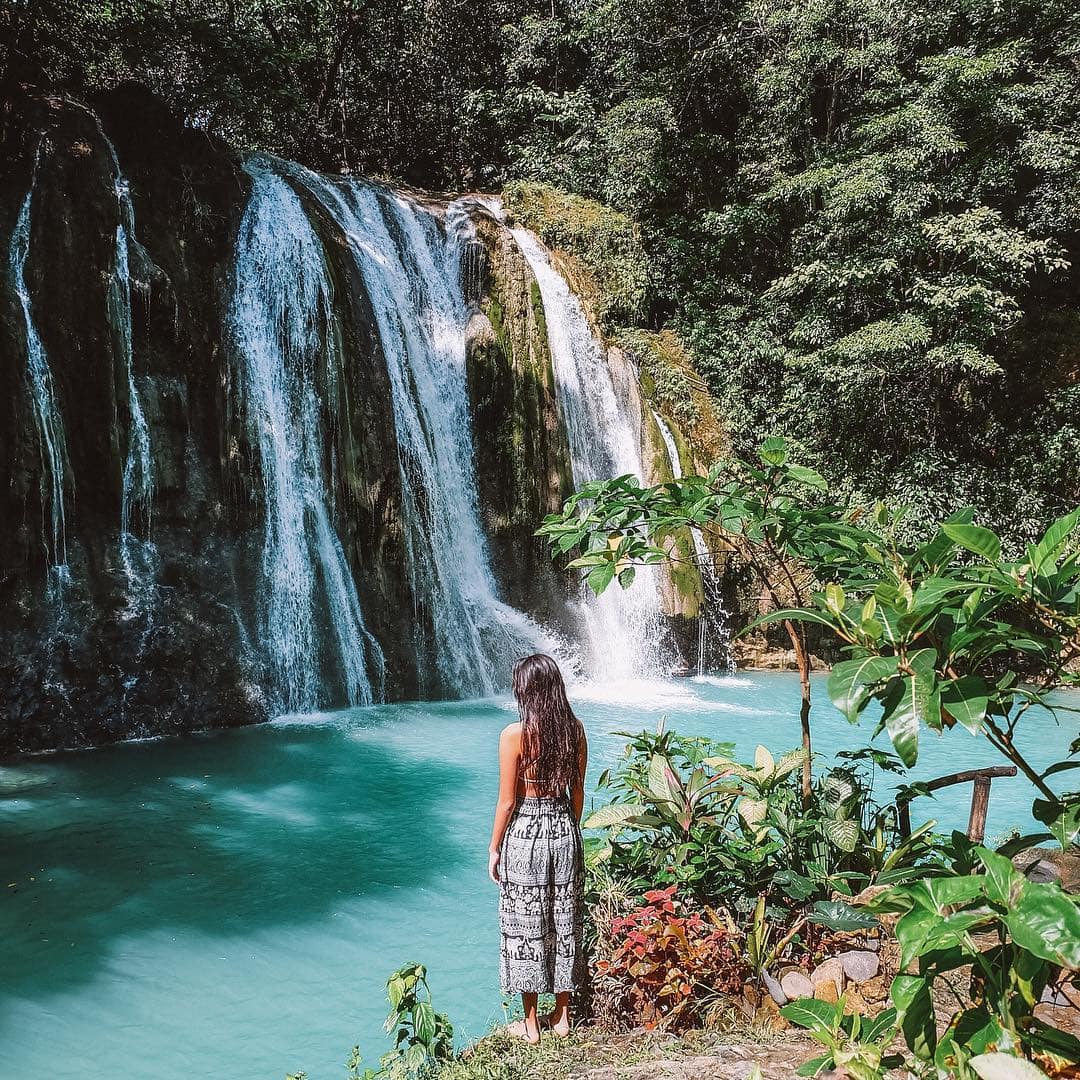 Image credit: @kelseaswim
Tanay has no shortage of natural wonders, and completing its list of must-visit sites is Daranak Falls. The falls is a popular destination for those who want to beat the city heat without breaking the bank.
Go swimming in the cool waters of Daranak Falls or take the plunge from a designated jump-off spot. To complete the outing experience, a picnic with the family or your group of friends is also recommended. Bring your own packed food and don't forget to dispose of your trash properly.
The pool is a bit deep so it's best to bring your own floaters. You can also rent a salbabida or life vest, each for P50 (~USD0.98).
Admission fee: P50 (~USD0.98)
Address: Tanay, Rizal
Opening hours: 8AM-5.30PM, Daily
Mobile: 0998 988 1590
---
3. Explore ancestral homes in Pililla and Rodriguez
---
Ancestral homes in Rizal are like time capsules, transporting spectators to the decades and centuries from way back.
Several ancestral homes still stand in the province today, but these two stand out for their history, as well as their well-preserved interiors and imposing exteriors.
---
Bahay na Bato heritage house – filming site for historical and horror flicks
---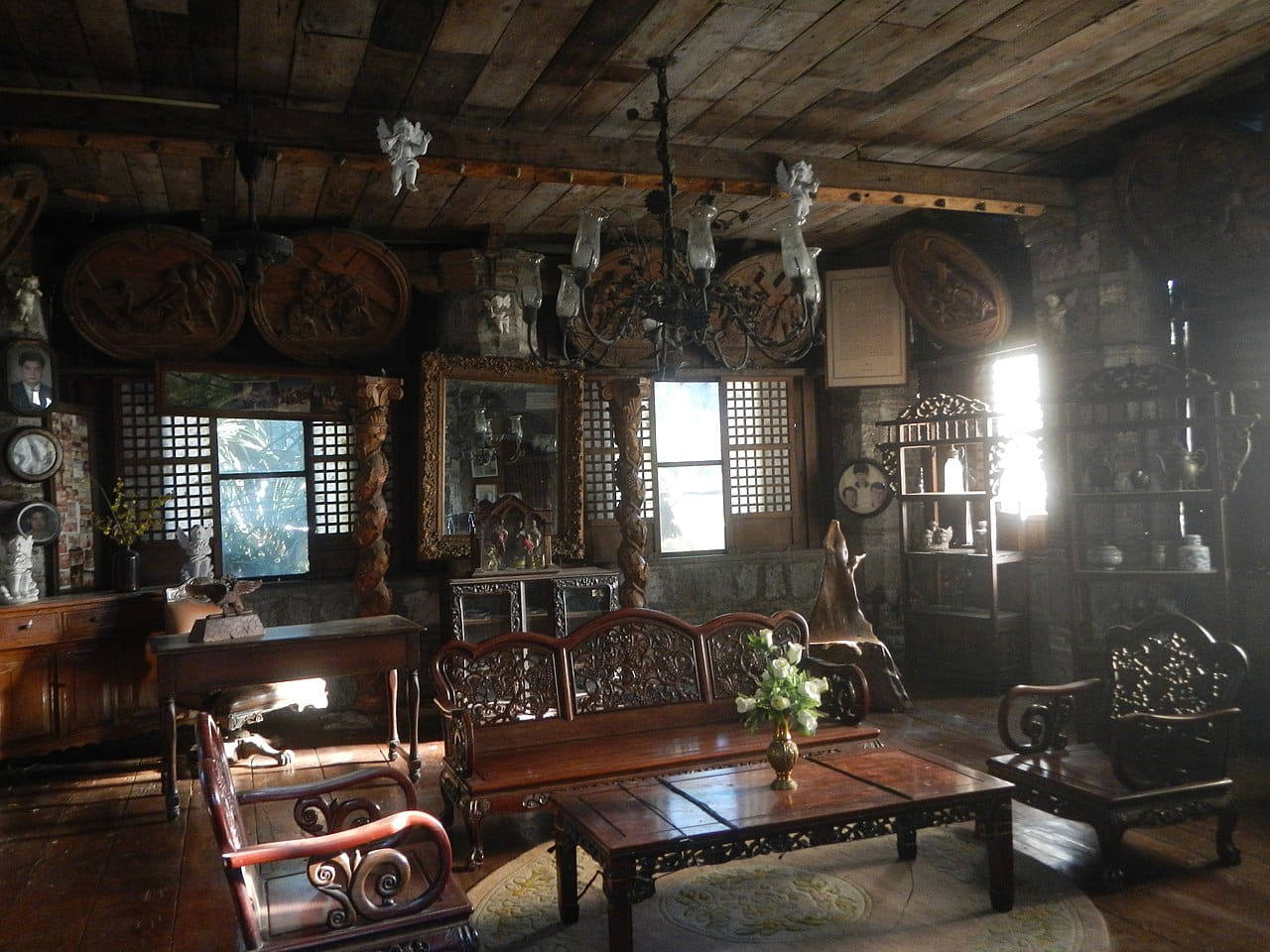 Image credit: Judgefloro
A remnant of the Spanish era in the Philippines, the Bahay na Bato heritage house in Pililla features stone walls, wood carvings, old furniture, and colonial decor that will transport you to the way of life centuries ago.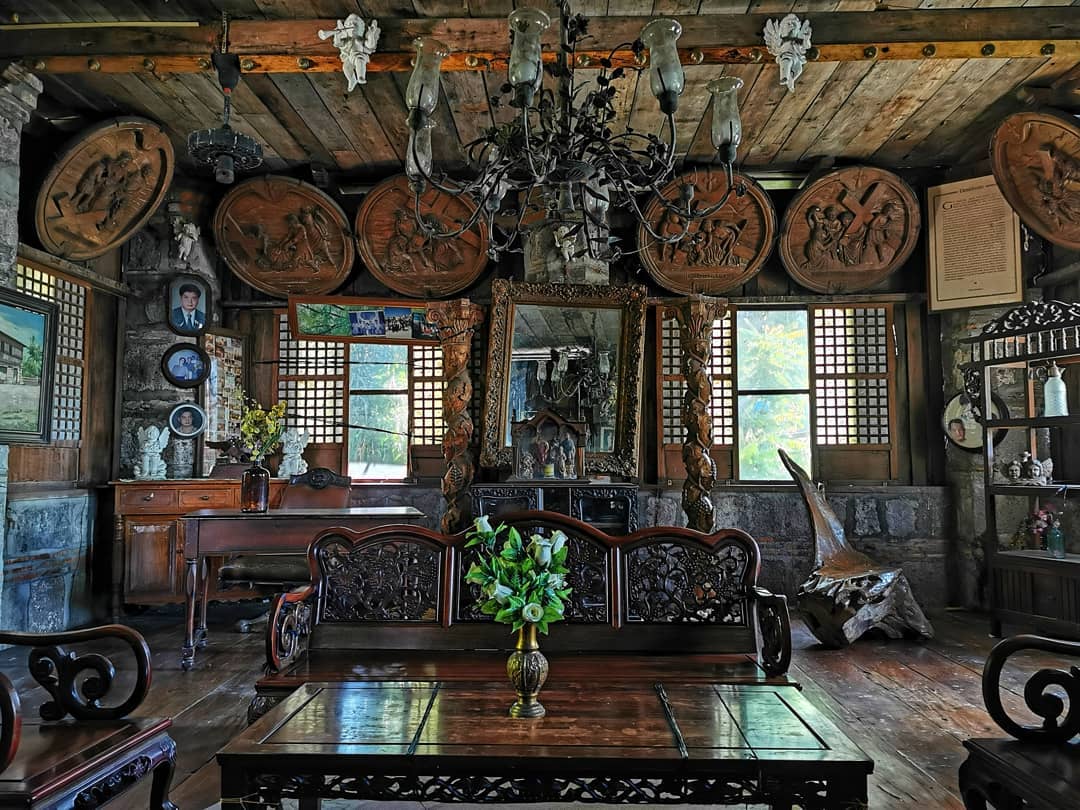 Image credit: @mcleoven
Said to be a former precidencia or government house during colonial rule, it is well-preserved and packed with antique pieces and carvings. A caretaker will be able to show you around upon arrival, but do enquire with the Imatong Barangay Hall in advance to arrange a visit.
Admission fee: Free, but donations are encouraged
Address: Pililia, 1910 Rizal
---
Eulogio "Amang" Rodriguez Ancestral House – the longest-serving Senate President's estate
---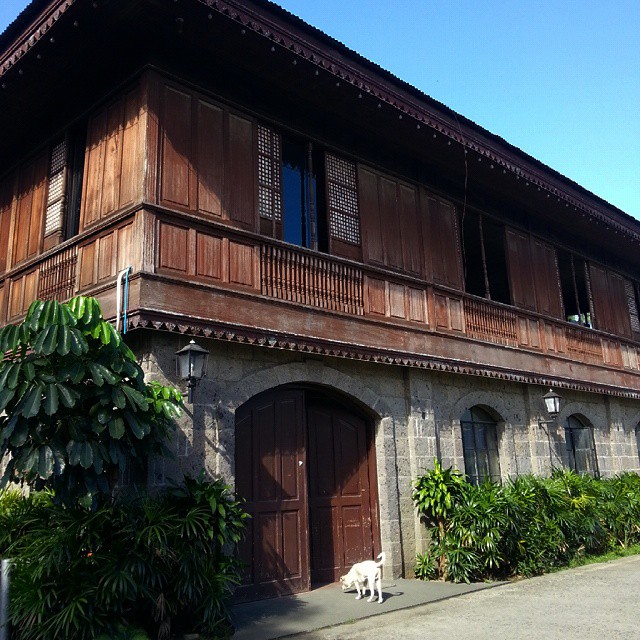 Image credit: @trinafrancesca
Eulogio "Amang" Rodriguez's ancestral home has been converted into a museum called the Eulogio "Amang" Rodriguez Ancestral House. Featuring the original furniture and decor of the house as well as memorabilia from his time as a public servant, it also offers a peek at his family's baston collection, vintage photographs, and commissioned paintings.
Rodriguez once served as Rizal province's governor and was the longest-serving Senate President in the history of the Philippines, serving for 10 years. During his time as a legislator, he pushed for the improvement of the lives of the masses.
Address: Rodriguez, 1860 Rizal
Admission fee: Free
Opening hours: Temporarily closed
---
4. Sample local food such as suman, cashew nuts, and bibingka
---
Each province in the Philippines has a delicacy or dish that represents their culture. If Cebu has lechon and Baguio has strawberries, Rizal takes pride in suman, cashew nuts, and bibingka as their leading pasalubong treats for foodies outside the province.
---
Suman and cashew nuts – favorite pasalubong for Antipolo Cathedral pilgrims
---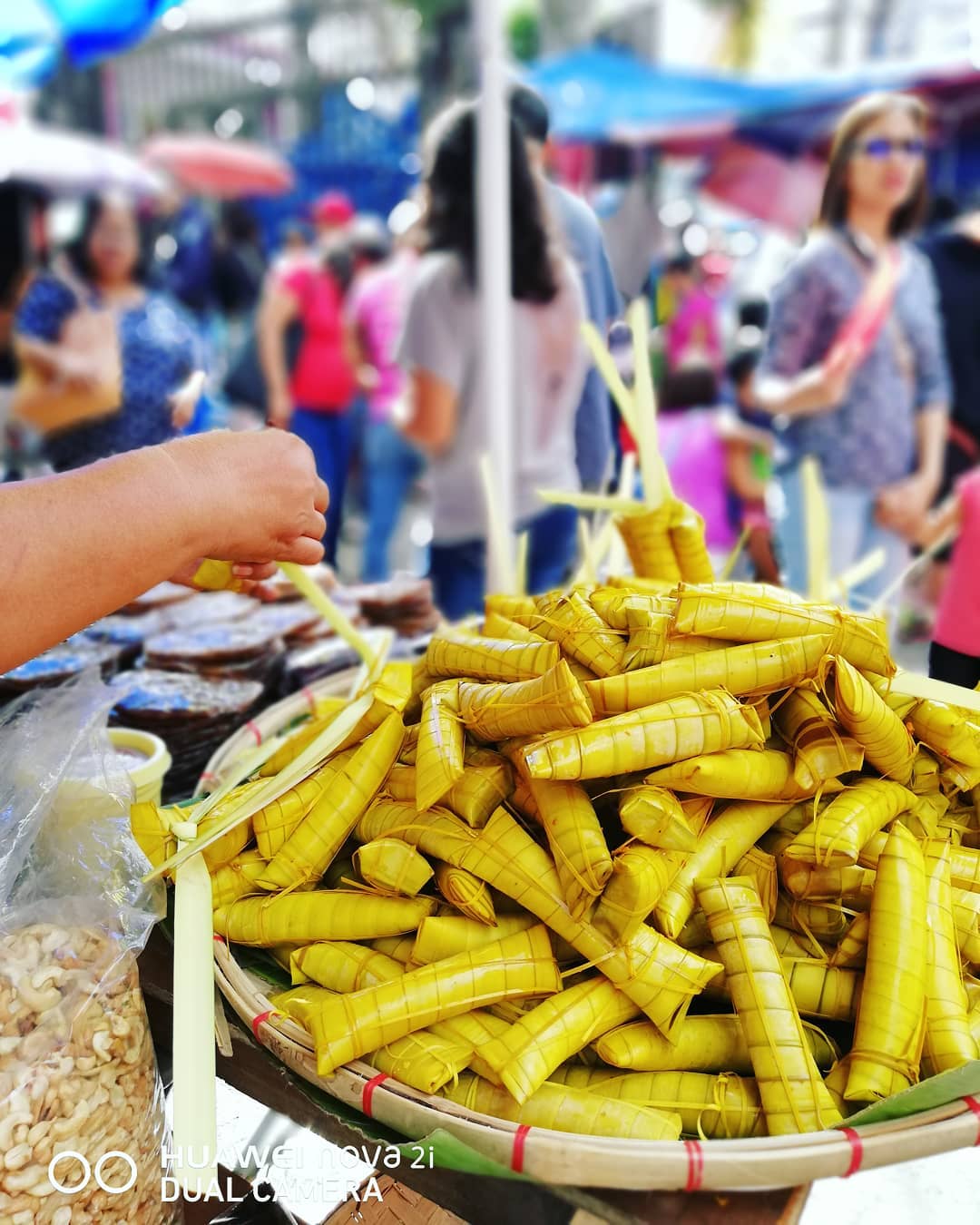 Suman, or glutinous rice cake wrapped in coconut leaves
Image credit: @quakyquake
After visiting or hearing mass at Antipolo Cathedral, don't forget to drop by the stalls selling suman and cashew nuts, popular pasalubongs from Antipolo, outside the church. The slightly salty, glutinous suman is best paired with hot chocolate, sugar, or latik (coconut crumbs) and usually costs around P120 (~USD2.36) per dozen. Cashew nuts, on the other hand, cost around P150 (~USD2.95) per 100 grams.
---
Bibingka, sapin-sapin, and other kakanin – take-home kakanin from Cainta's favorite pasalubong shop
---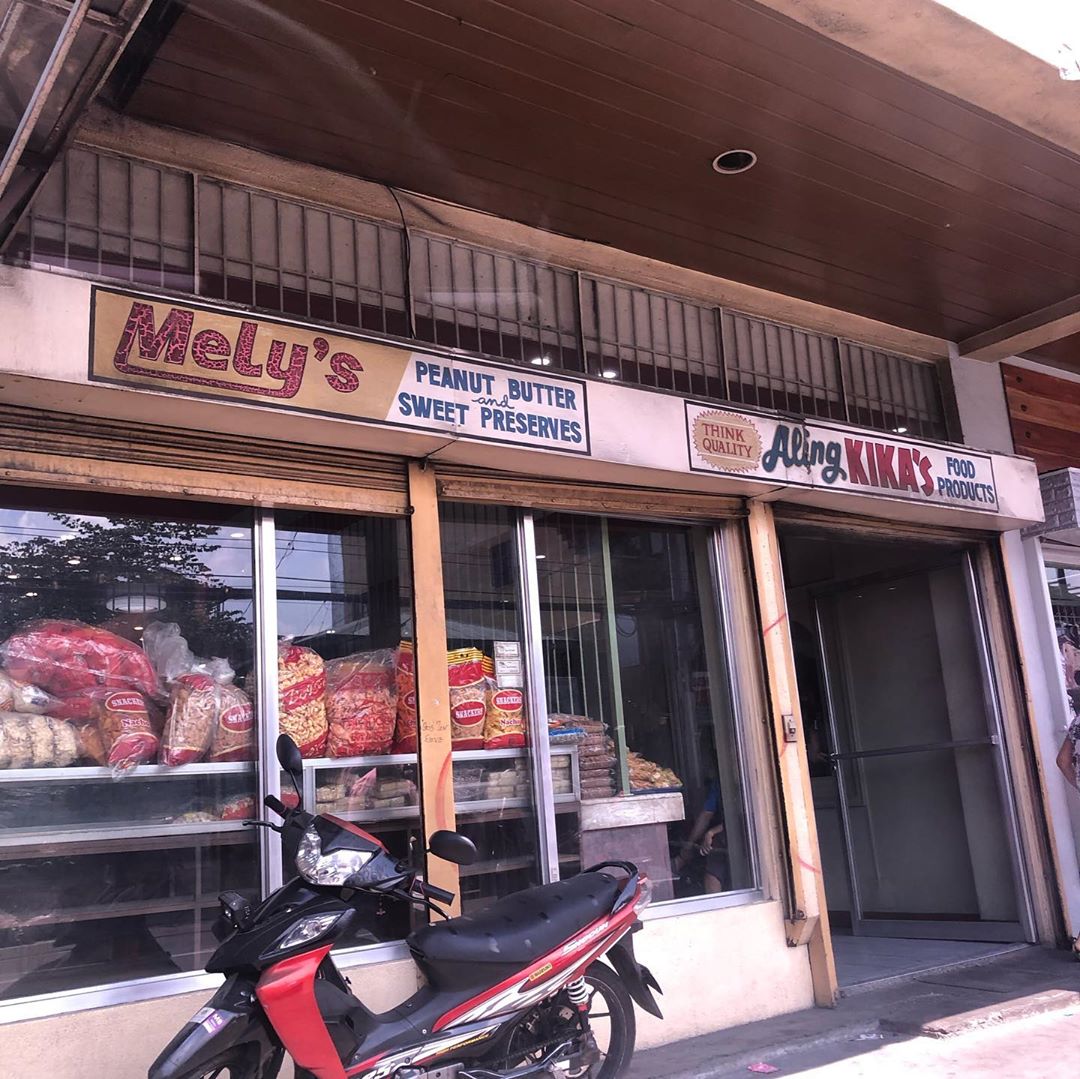 Aling Kika's Food Products
Image credit: @nanayzilla
Meanwhile in downtown Cainta, Aling Kika's Food Products sells bibingka (baked rice cakes), sapin-sapin (colorful layered glutinous rice cakes), and other types of kakanin (sticky rice desserts).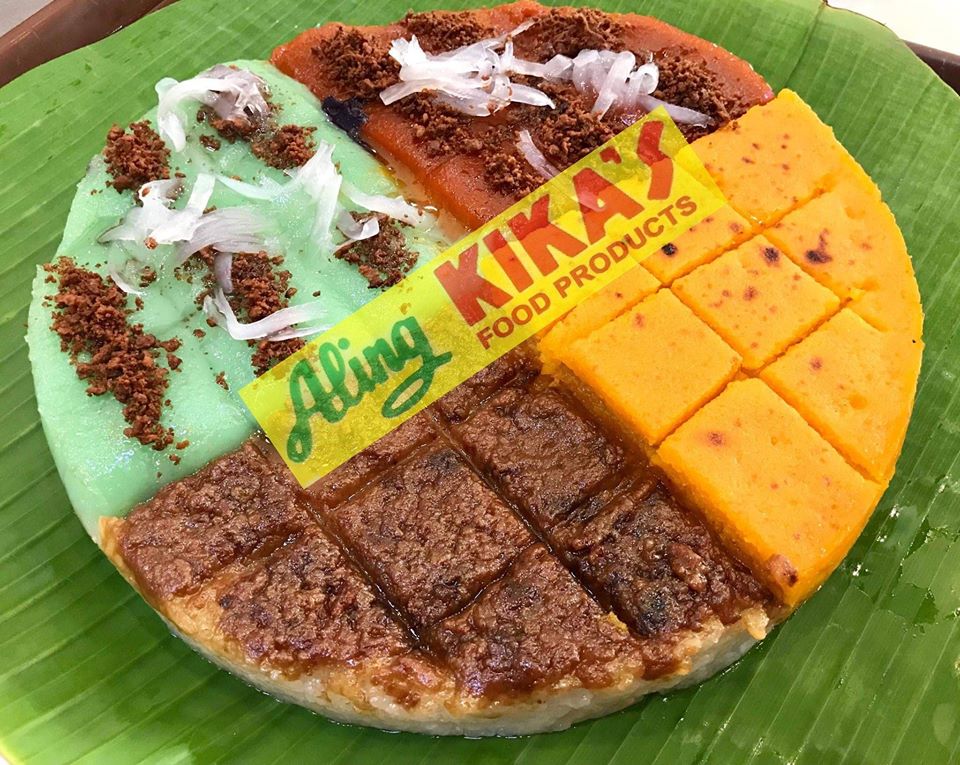 Assorted kakanin
Image credit: Aling Kika's Food Products
It is located a few meters away from the municipal hall. Lines can be long, but we suggest you don't skip buying from Aling Kika's as their kakanin products taste divine yet are easy on the pocket. Prices start at P170 (~USD3.33) for half a tray.
Address: 101 A. Bonifacio Avenue, Cainta, 1900 Rizal
Opening hours: 4AM-5.30PM, Daily
Telephone: (02) 655 0029
Aling Kika's Food Products' Facebook
---
Fried itik – adobo-style fried duck
---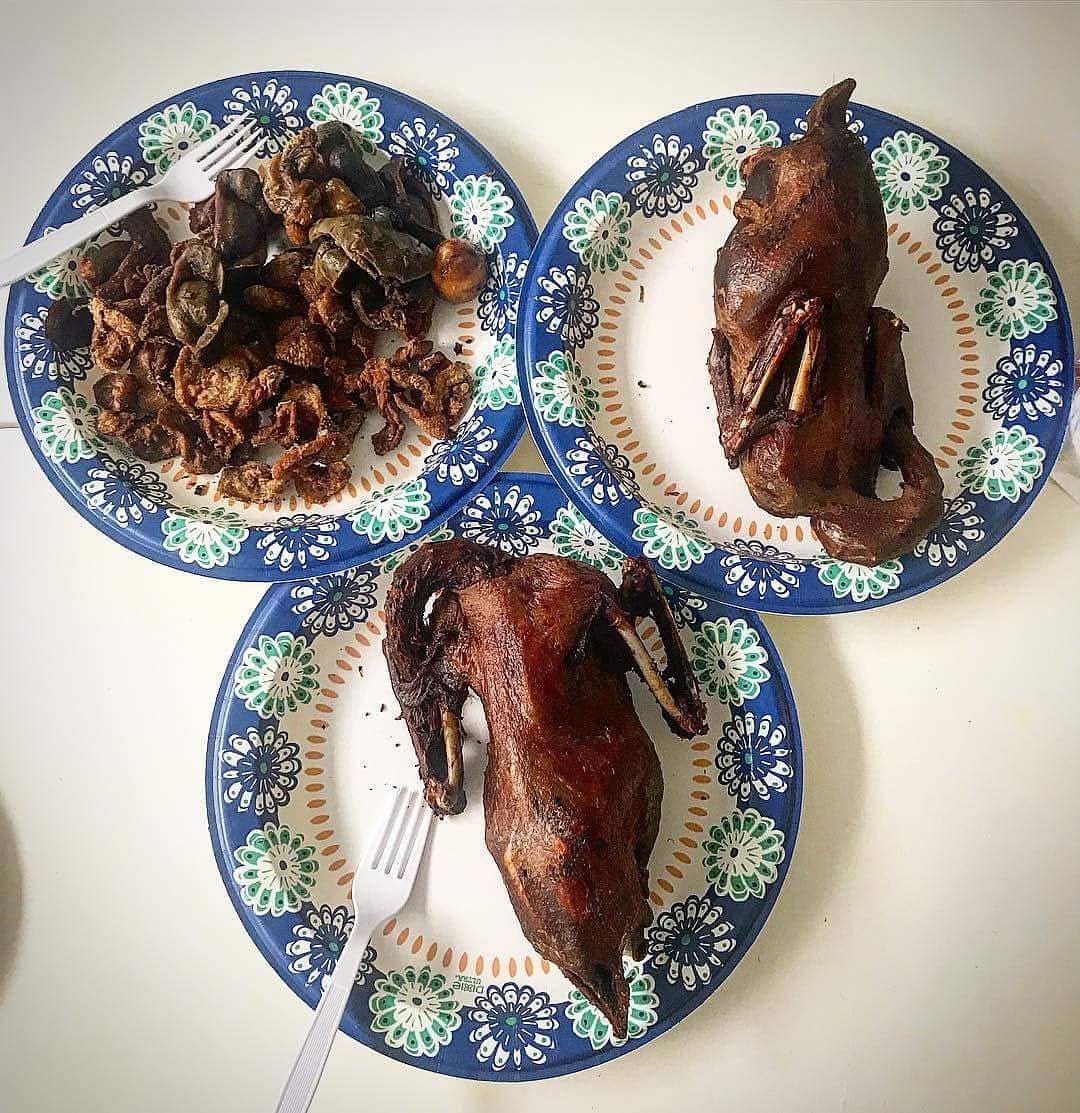 Image credit: Riva Reyes
Two towns away from Cainta is Angono, the art capital where itikans or duck farms are plenty. When in Angono, go directly to the Fried Itik Lane, an entire row of fried duck (itik) stalls, and buy fried itik for around P160 (~USD3.13).
Some stalls prepare fried itik as is, fried and dipped in sauce, while others serve kalderetang itik (itik in a tomato-based stew) or adobong itik sa gata (adobo-style duck in coconut milk).
However, to taste the original, head straight to Plonia's Fried Itik, the first stall to sell the delicacy in the 1970s. Aling Plonia cooks her fried itik adobo-style, tenderizing the duck first then frying it to make it juicier.
Address: E. Rodriguez Street, Angono, 1930 Rizal
Opening hours: 10AM-11PM, Daily
Mobile: 0920 634 9711
---
5. Try unusual fare such as beef testicles, deep-fried frogs, and fried crickets
---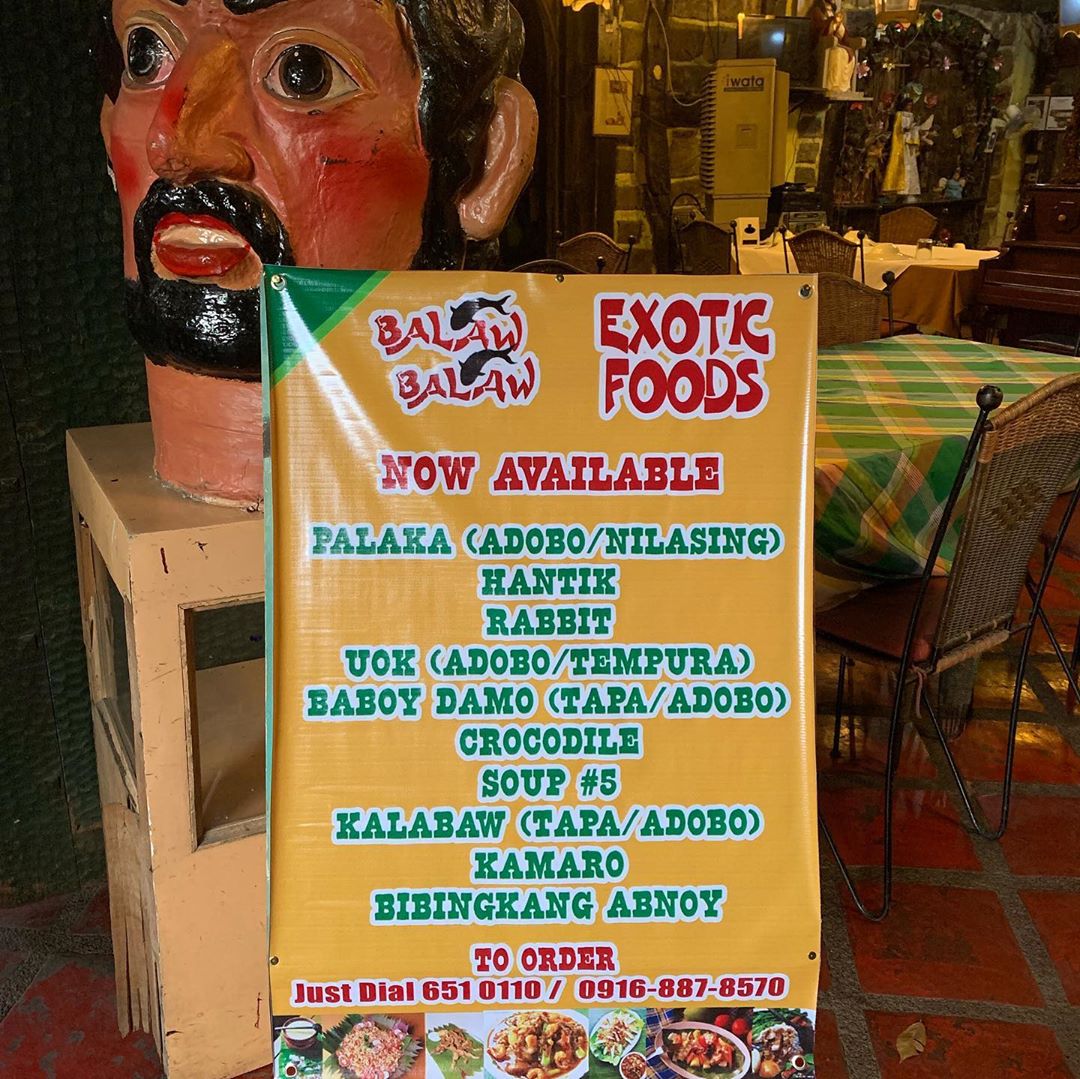 Image credit: @tinawankenobi
Foodies looking for something out of the ordinary can head to Balaw-Balaw Restaurant and Art Gallery, known for serving exotic dishes that might look weird to most, but actually taste good.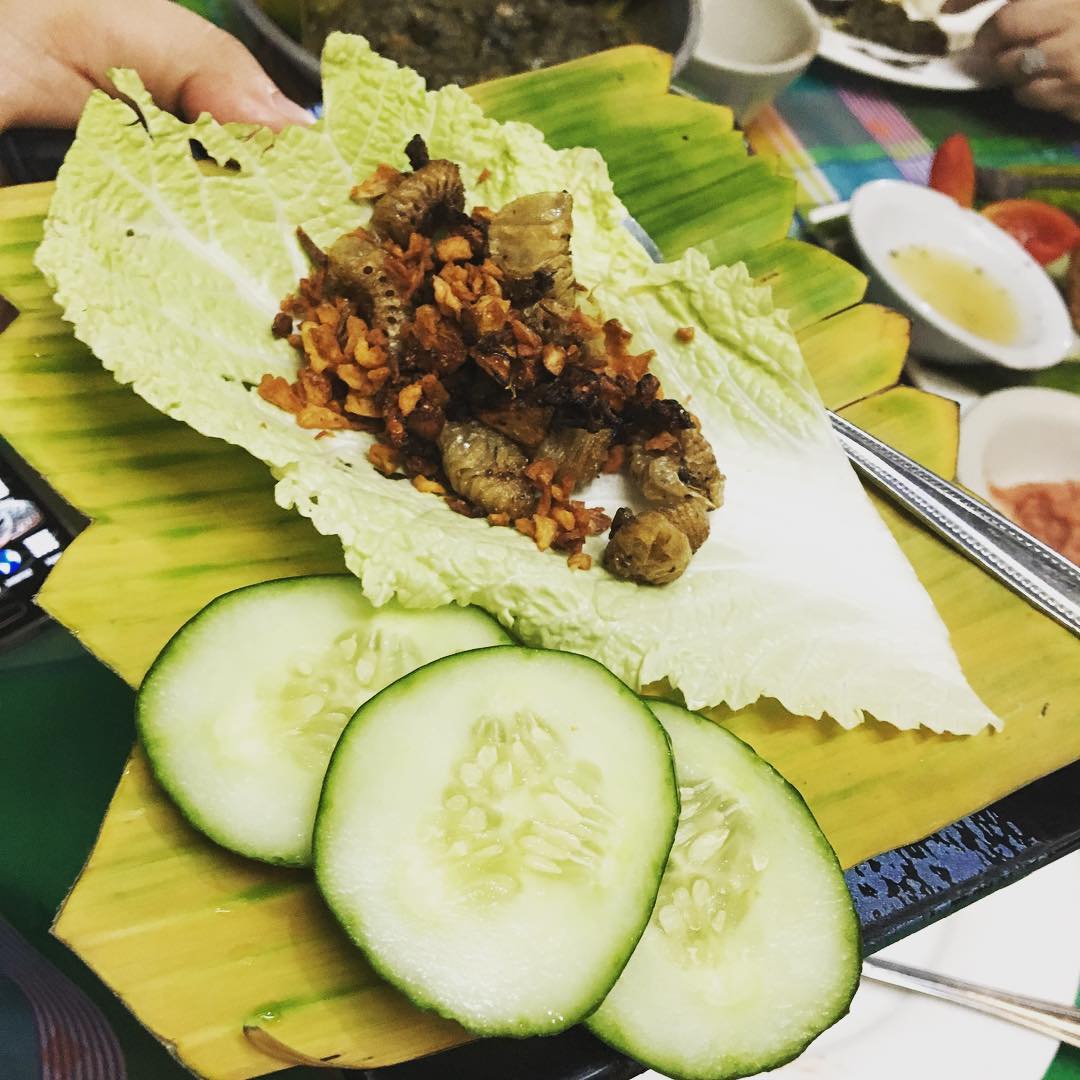 Uok or wood grubs
Image credit: @barbiguison
Interesting items on the menu include adobo-style Sizzling Butt and Balls (P300, ~USD5.92) or beef privates, Nilasing na Palaka or deep-fried frogs marinated in gin (P330, ~USD6.52), and kamaro (fried crickets) at P400 (~USD7.90).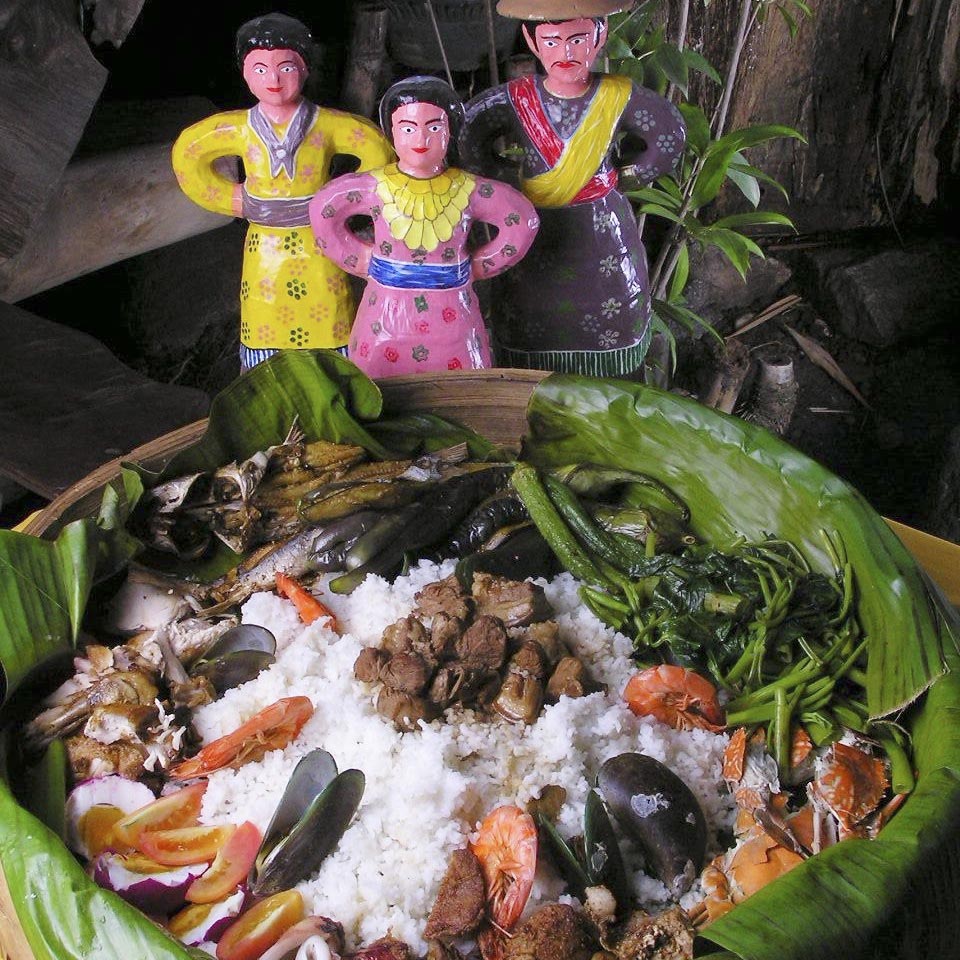 Minaluto
Image adapted from: Balaw Balaw Restaurant and Art Gallery
Less adventurous eaters who are tagging along can always stick to traditional Filipino dishes such as grilled meat and seafood dishes starting at P50 (~USD0.98) per gram, sides such as Sinigang na Hipon (shrimp in sour tamarind soup) at P290 (~USD5.69), and Bicol Express (P285, ~USD5.63).
A must-try is minaluto (from P330, ~USD6.52), composed of rice, different kinds of seafood, pork adobo, and salted egg – an affordable one-dish meal with assorted Filipino staples.
Stop by the restaurant's folk art gallery for some post-dinner art and heritage appreciation too.
Address: 11 Dona Aurora Street, Doña Justa Subd., Brgy San Roque, Angono, 1930 Rizal
Opening hours: 10AM-8.30PM, Daily
Telephone: (02) 651 0110
Balaw-Balaw Restaurant's Facebook
---
6. Celebrate with locals in their colorful fiestas
---
Festivals in Rizal may not be as popular as the mammoth fiestas of Dinagyang Festival, Ati-Atihan, or Panagbenga, but locals sure have their own ways of celebrating on the streets.
Join the party in these town fiestas in Taytay, Cainta, and Angono.
---
Hamaka Festival (main celebration on the 3rd week of February) – pageants, parades, and a variety show with celebrity guests
---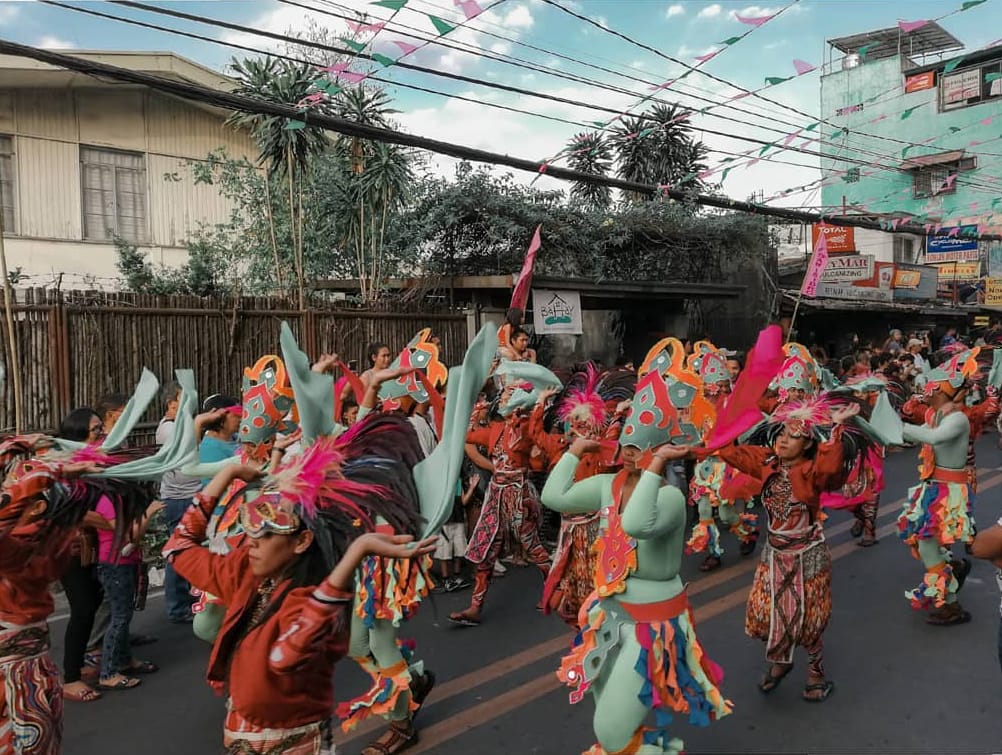 Image credit: @thejericgalvez
Hamaka Festival is Taytay's almost 2-week-long thanksgiving for their town's bountiful year owing to their woodwork and textile industry.
Mayor's Night and a variety show with celebrity guests, the festival's main events, are celebrated every 3rd Sunday of February. Kick-off activities include colorful parades, pageants, a sportsfest, singing contests, and boodle fights.
---
Higantes Festival (22-23rd November) – the festival of giants
---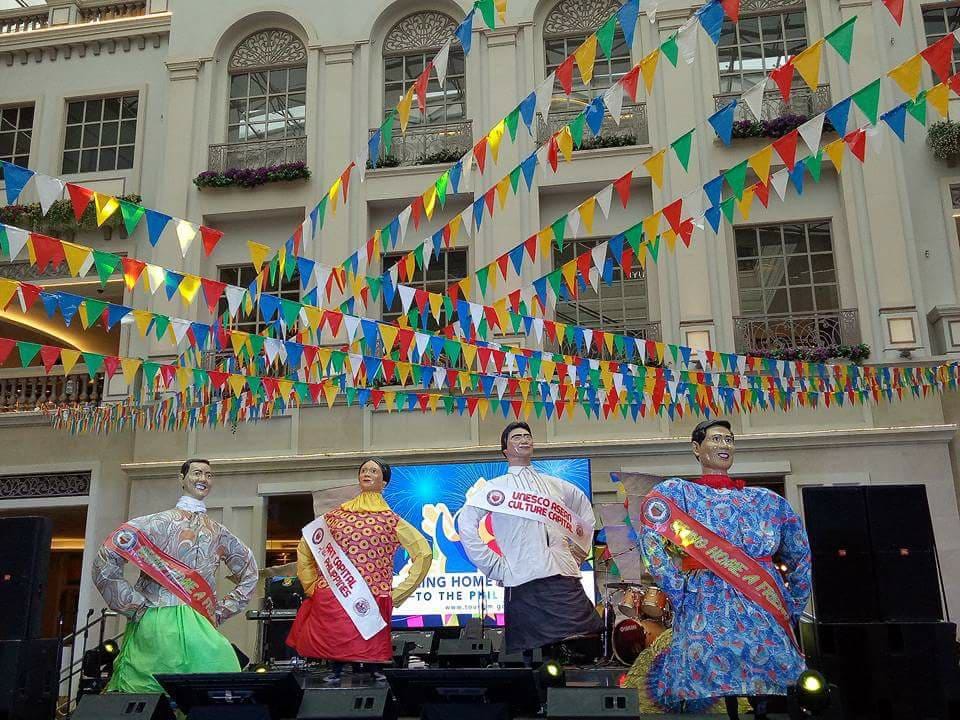 Image credit: Metro Manila Bazaars and Events
Higantes Festival is a parade of over 100 towering papier-mache giants representing the industry or unique characteristic of each administrative division, or barangay, in the town of Angono in Rizal. Higante versions of popular personalities also join the parade, from historical figures to even celebs such as a variety show host from Angono. The grand parade usually starts at SM Center Angono and ends at the municipal compound.
During the Spanish era, these giants were caricature-like depictions of hacienda (estate or plantation) owners that the locals didn't like, but now has become a celebration of local pride and icons. After the higantes are painstankingly constructed, two people wear the higantes, which are made up of a combination of bamboo, thin iron bars, and rattan.
The festival is celebrated on the 22nd and 23rd of November every year, and recent years' celebrations have featured Zumba fests, cosplay, and youth games, contests, and concerts.
---
SumBingTik Festival (1st December) – a festival of suman, bibingka, and latik
---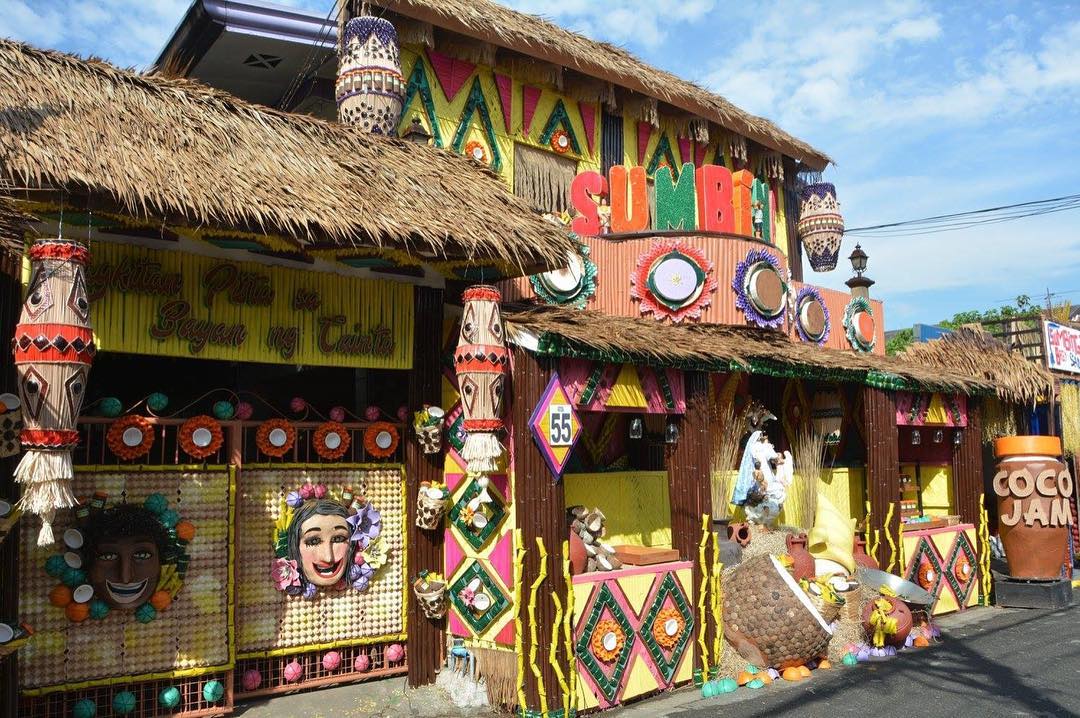 Image credit: @nicatolentinohmua
Every 1st December, the municipality of Cainta celebrates its founding anniversary and the feast of the Our Lady of Light. Houses are decorated with native materials and embellished with accents resembling various types of kakanin. SumBingTik is a portmanteau of suman, bibingka, and latik, the town's major delicacies.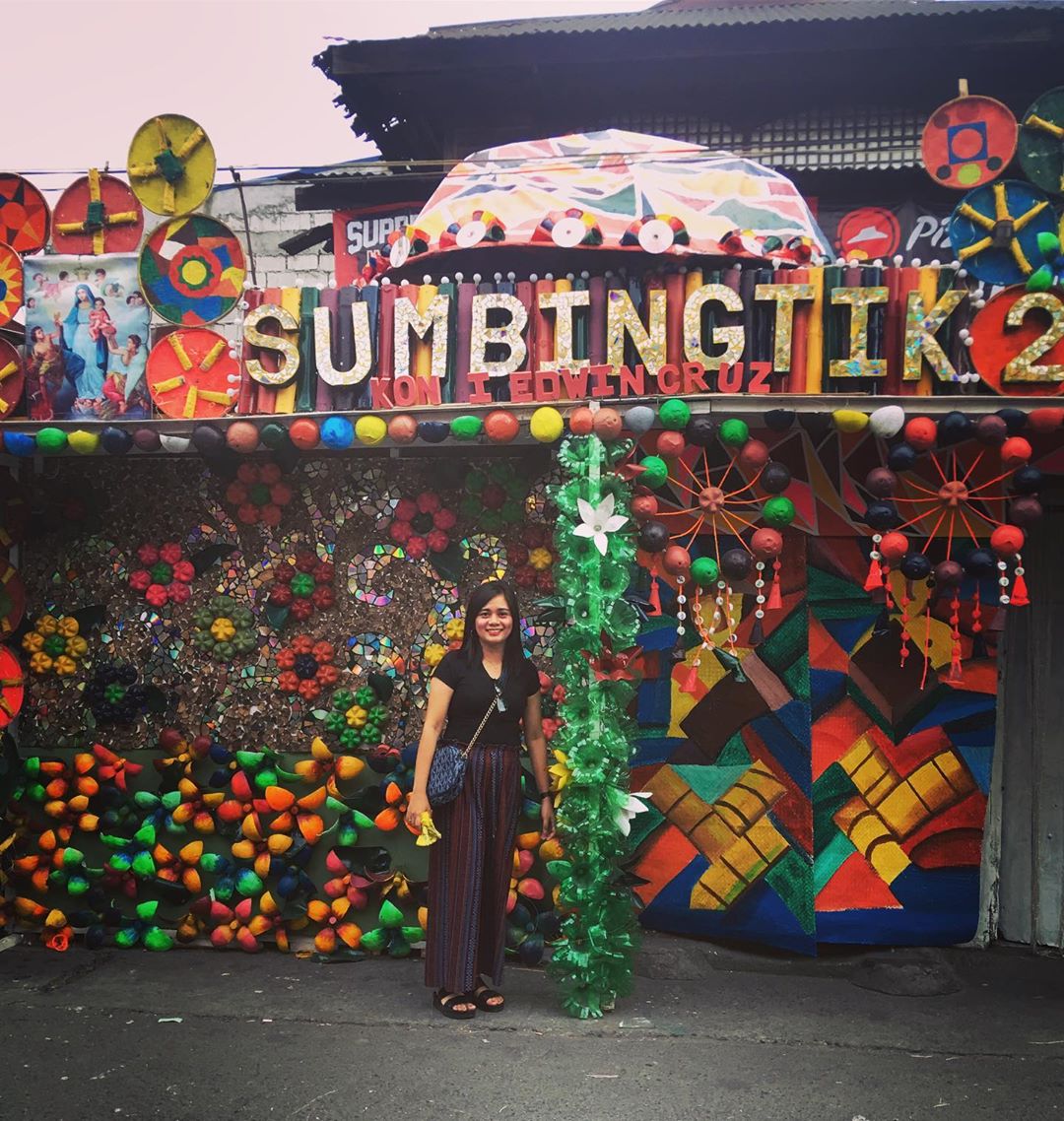 Image credit: @mary_anne_c
Join the party by sampling their kakanin and bringing some home. The best part is, during the festival, the kakanin are free for everyone.
---
7. Visit churches in Antipolo, Cainta, and Morong
---
 Most churches in the province were constructed during Spanish rule, so aside from featuring European architecture, they also serve as reminders of our colonial past.
When in Rizal, drop by these stunning places of worship, particularly these three in Antipolo, Cainta, and Morong.
---
Antipolo Cathedral – get a blessing any day of the year
---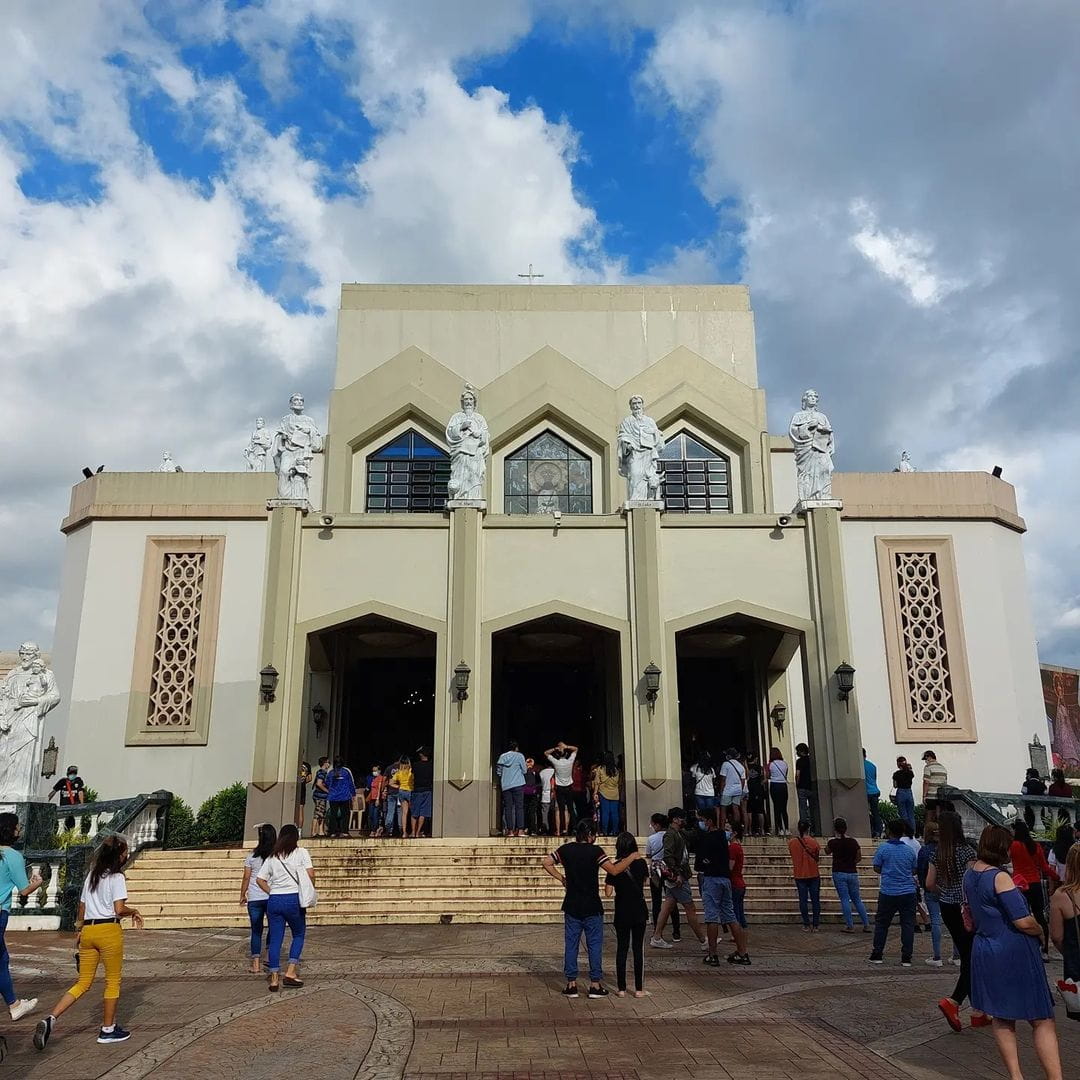 Image credit: @erap_bodino
The National Shrine Of Our Lady Of Peace And Good Voyage, more commonly known as Antipolo Cathedral, is a historical landmark in the city. Its image of the Virgin Mary is said to be miraculous for protecting ships from the tumultuous Pacific Ocean in the 1600s-1700s, when many ships were lost and had sunk.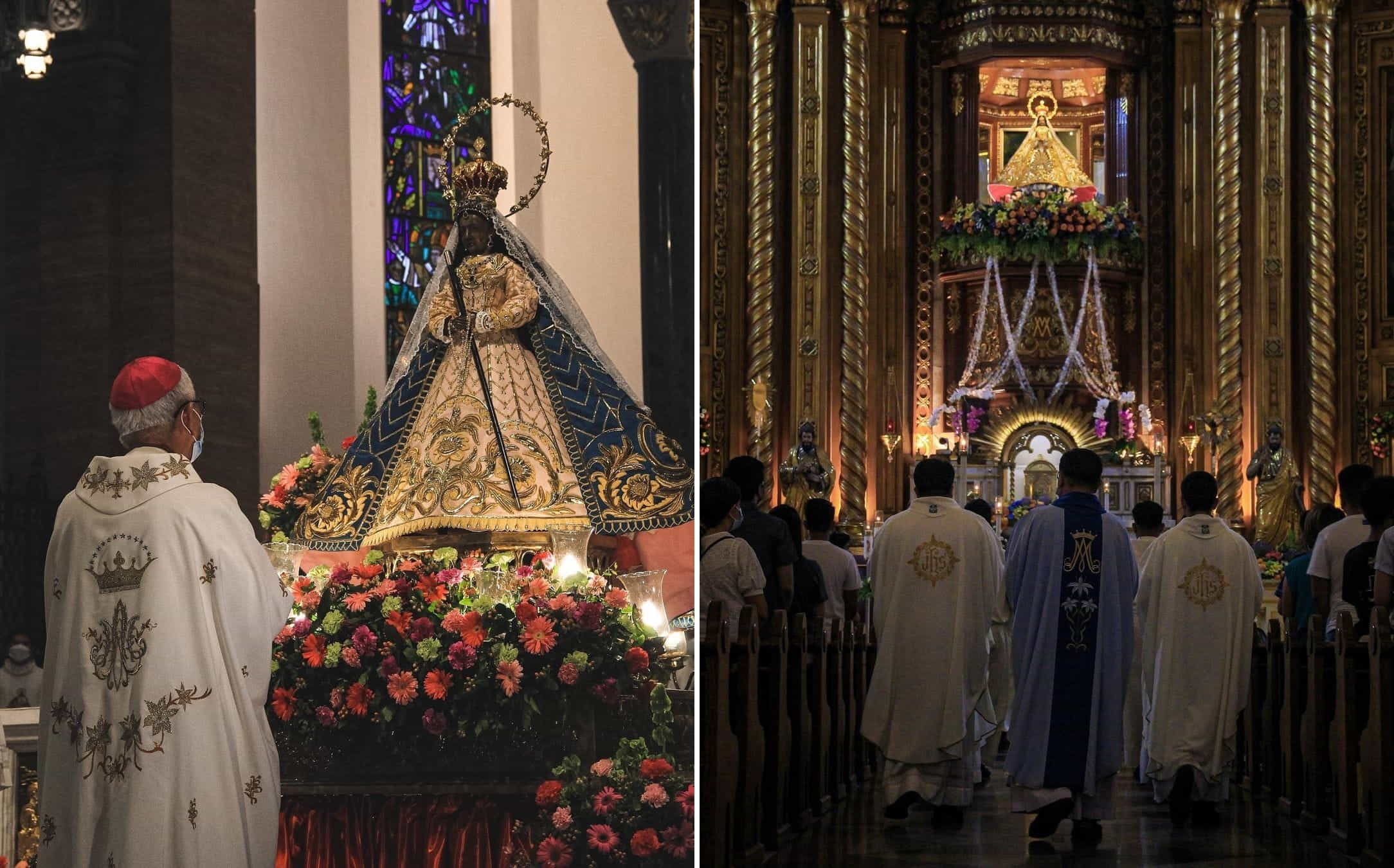 Image adapted from @_rnst.pz and @_rnst.pz
If you're going somewhere far away soon, you can pray for the Virgin Mary's guidance during your trip. Non-believers can also just dedicate a minute of silence while inside the church.
Every Maundy Thursday, many pilgrims go to the streets to join the alay lakad (procession) to Antipolo Cathedral. You can join the procession if you happen to be a Catholic, or even as a guest if you're curious about what goes on during alay lakad. You'll see volunteers setting up booths on the curbside and giving bottled water, snacks, and ready-to-eat meals to tired pilgrims.
Address: Dela Paz Street, Antipolo, 1870 Rizal
Mass schedule: Sun-Fri, various timings
---
Diocesan Shrine and Parish of Our Lady of Light – the mother parish of Cainta
---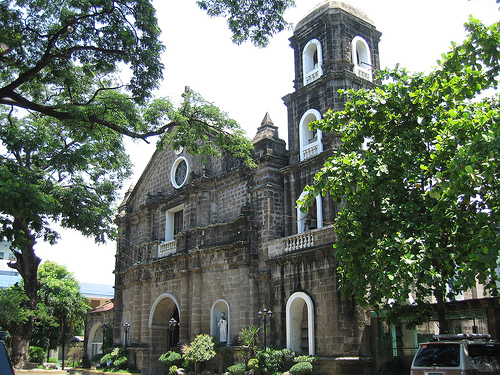 Image credit: Markapuso
Our Lady of Light is a Baroque-style church in Cainta that enshrines a venerated Marian image painting, the first pontifical artistic painting in the country, by National Artist Fernando Amorsolo. This means that the Pope himself has granted the addition of a crown or stellar halo on this Virgin Mary image.

Image credit: Jo Esguerra
Aside from attending mass or admiring the architecture, you can proceed to the back of the church and pray at the adoration chapel. Since the area is quiet and a little secluded, you can focus on reflecting and just having that much-needed peace.
Address: A. Bonifacio Avenue, Cainta, 1800 Rizal
Opening hours: 24 hours, Daily
---
St. Jerome Parish Church – a picturesque Catholic church in the sleepy town of Morong
---

Image credit: Municipality of Morong
Constructed by forced labor in the 1600s, St. Jerome Parish Church or Morong Church is one of the most-visited churches in Rizal. With its neo-Baroque architecture, featuring a mix of Chinese and European details, it's also a popular site for TV and film productions because of its beautiful facade.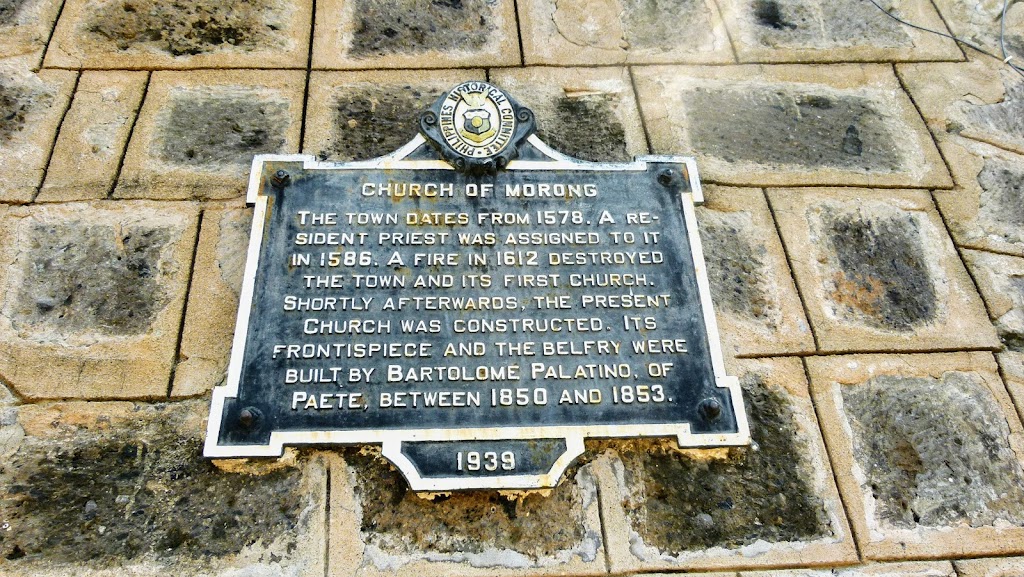 Image credit: Jeff Basina
Here, you can dedicate a few minutes to complete the 14 Stations of the Cross while admiring the paintings that depict each station.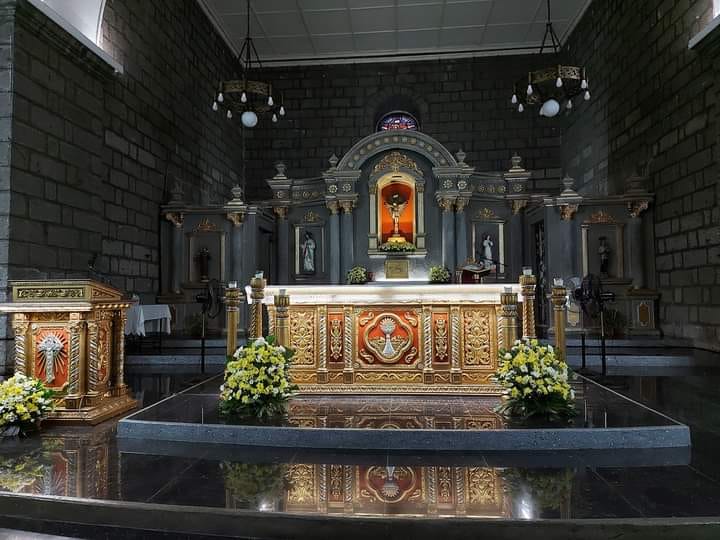 Image credit: Sam Benedict Copon
Address: Turentigue Street, Morong, 1960 Rizal
Opening hours: Daily
---
8. Immerse yourself in art at museums
---
Angono is regarded as the Art Capital of the Philippines, so you'll find lots of galleries, museums, and restaurants with artsy decor lining the municipality's roads. However, art enthusiasts should not limit their visits to just Angono, as Antipolo has a museum worthy of a day trip too.
---
Blanco Family Museum, Angono – over 400 paintings by the patriarch down to his grandchildren
---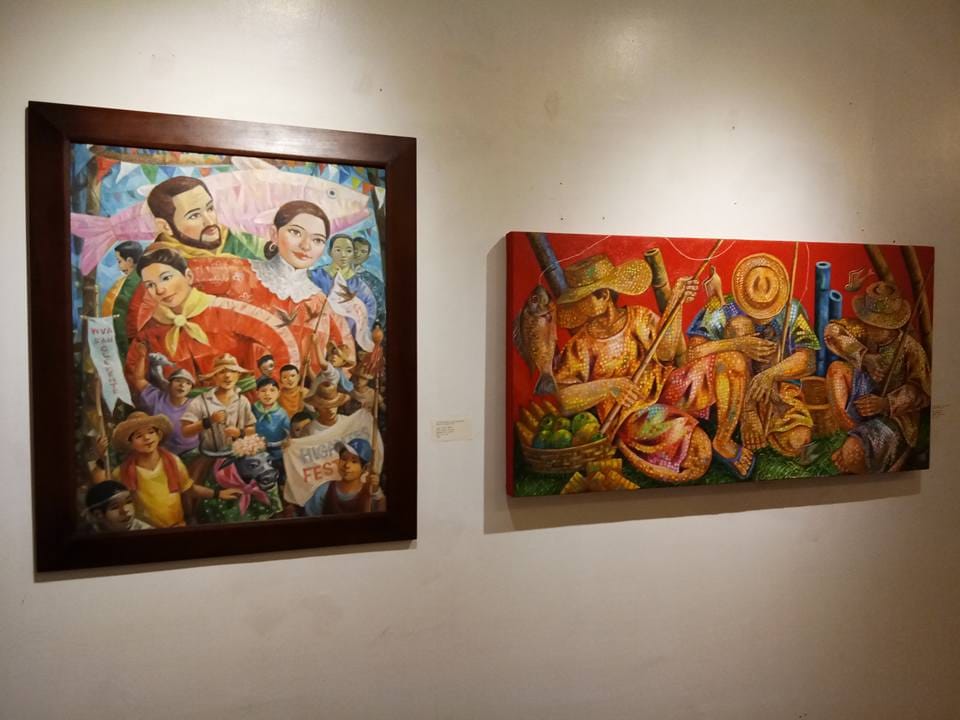 Image credit: The Blanco Family Museum
All 400 paintings inside Angono's Blanco Family Museum are created by Jose "Pitok" V. Blanco, his wife, their seven children, and now, their grandchildren. Jose "Pitok" V. Blanco is a National Artist nominee and known for his depictions of Filipino culture, everyday life, and history in his colorful artworks.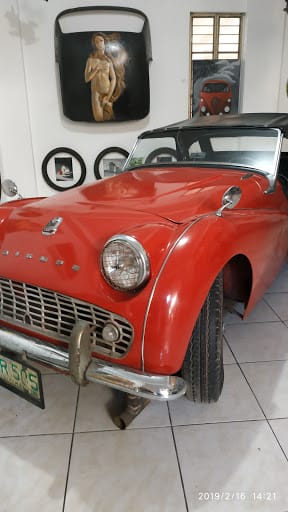 A vintage car exhibit
Image credit: NCS-CPCD Belle Dy
The museum contains the largest collection of paintings in the entire province.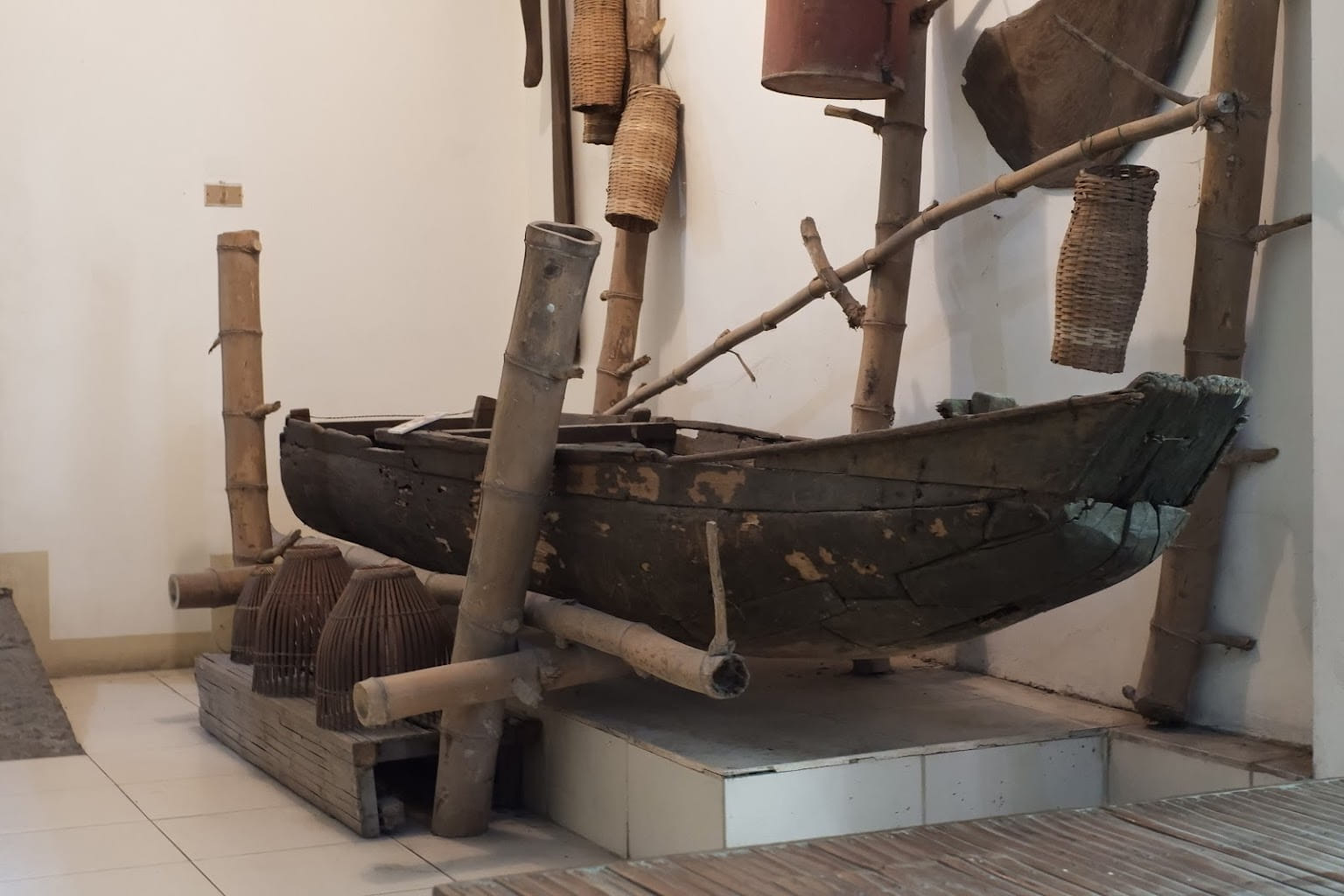 The eclectic collection includes fishing boats
Image credit: Wil Visuals
Admission fee: P100 (~USD1.96)
Address: 312, Ibanez Street, Angono, 1930 Rizal
Opening hours: Tue–Sun, 9AM-6PM (closed from 12PM-1PM)
Telephone: 8651-0048
Blanco Family Museum's Facebook
---
Nemiranda Arthouse and Gallery Cafe, Angono – an arthouse and restaurant in one
---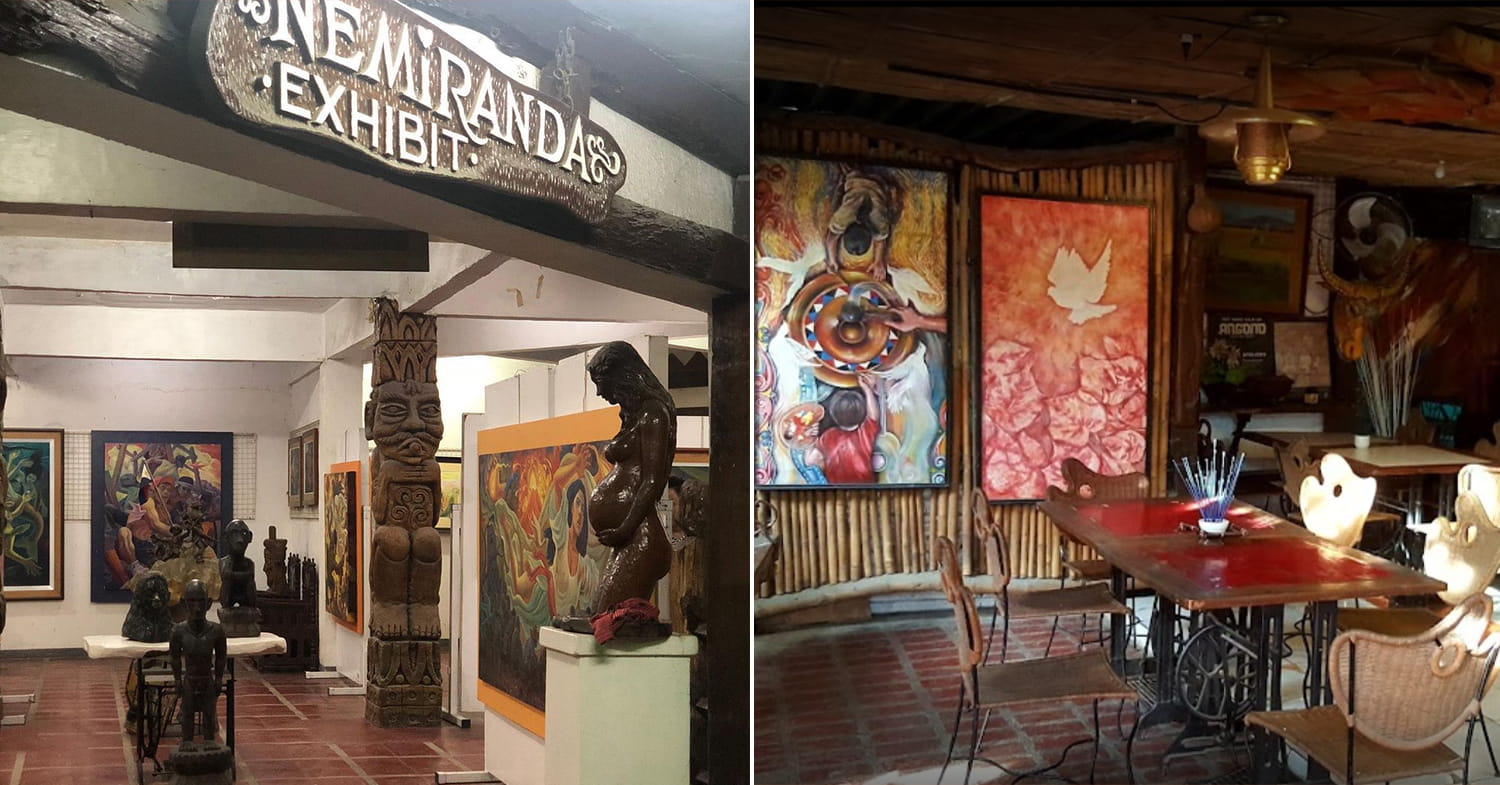 Image credit: @sirjpb24, Judy Robianes
Filipino folklore and local life are the usual themes of the paintings and wood carvings at Nemiranda Arthouse & Gallery. There's also a restaurant within the property, so if you dine at their place, entrance fee will be waived.
Filipino comfort foods are served here, including ensaladang pipino (cucumber salad), bulalo (beef shank and bone marrow soup), and binagoongang baboy (pork in fermented shrimp paste stew).
We suggest you order from the restaurant, take a tour of the gallery while your food's being prepped, and treat your eyes and tummy.
Admission fee: P50 (~USD0.99)
Address: Dona Elena, Angono, 1930 Rizal
Opening hours: Tue–Sun, 9AM-6PM
Telephone: 8727-9989
---
Botong Francisco Studio/The Second Gallery, Angono – a National Artist's studio
---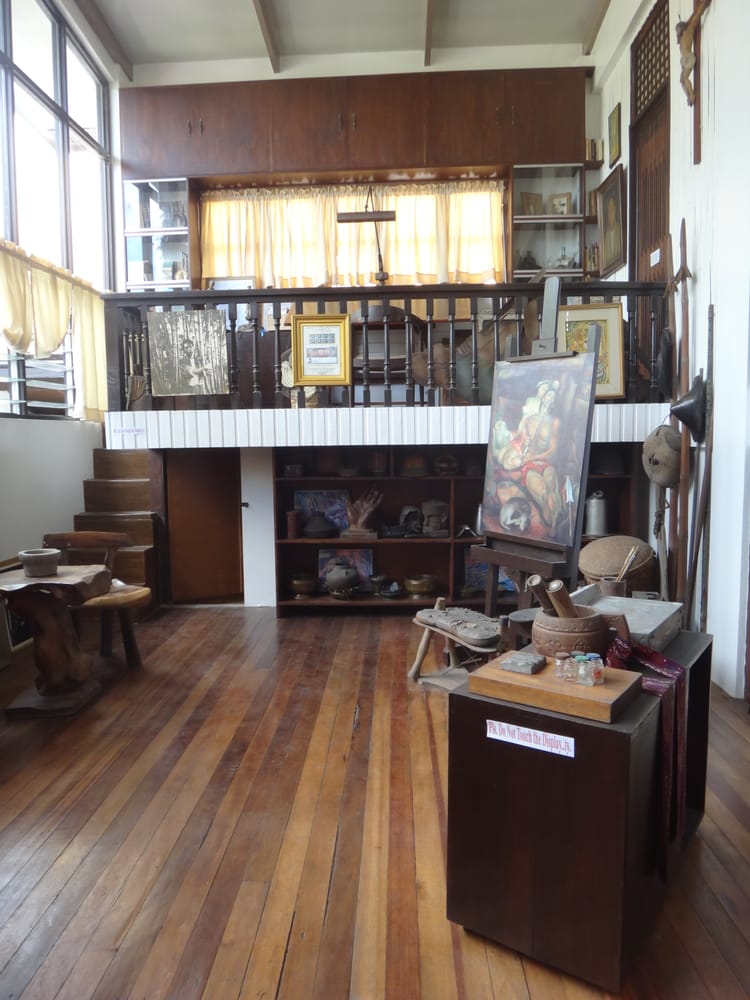 Image credit: Claire M.
Have a peek at a National Artist's home-turned-museum, Botong Francisco Studio/The Second Gallery, Angono. The late Carlos "Botong" Francisco is best known for his vibrant paintings which include his masterpiece "Bayanihan" which depicts the Filipino tradition of helping one another in trying times. This features people carrying a house to help their neighbor relocate.
Other notable pieces here are photographs and other memorabilia from his days in the production and costume design industry. You can also see his artist grandson Carlos "Totong" Francisco II's abstract paintings here – he also serves as a guide for people here to see his grandfather's work.
Address: 217 Dona Aurora St. Angono, 1930 Rizal
Admission fee: Free
Telephone: 661-0598
---
Pinto Art Museum, Antipolo – whitewashed museum surrounded by lush foliage
---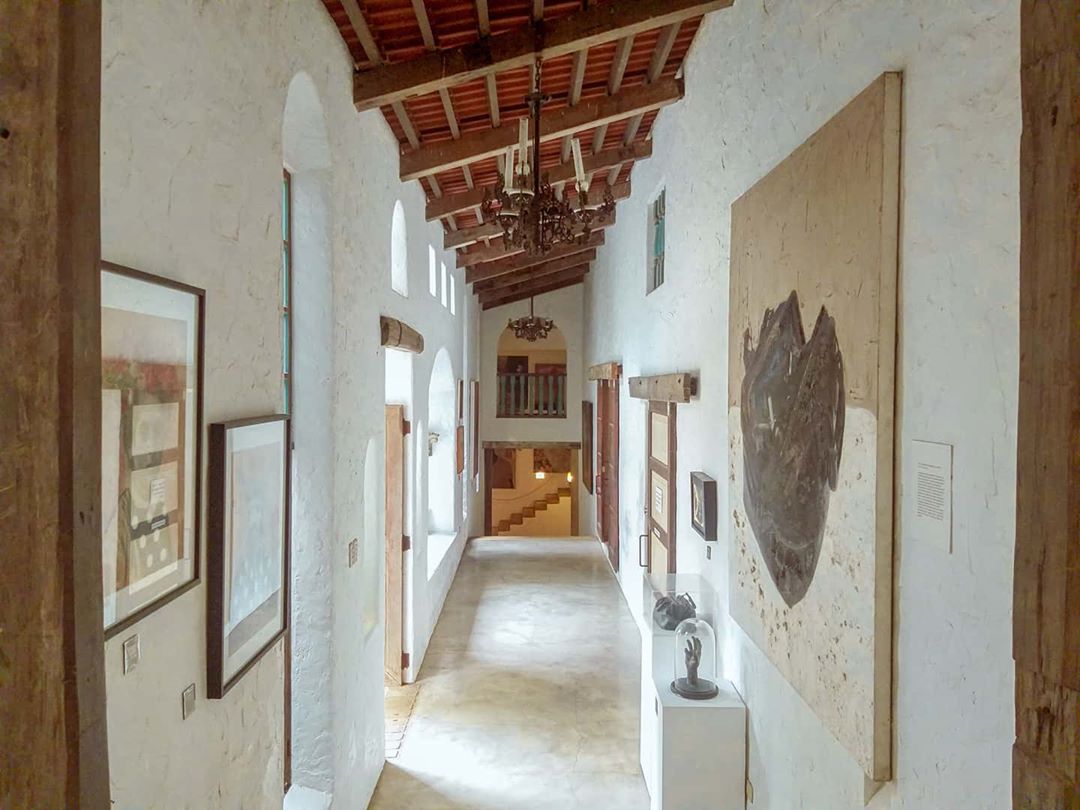 Image credit: @dyuniespitik
Housing galleries in mission-style architecture, Pinto Art Museum, Antipolo is a contemporary museum housing avant-garde sculptures, one-of-a-kind installations and paintings.
While most museums have rooms with four corners and concrete walls, this features galleries interconnected by gardens. In fact, these make the museum a favorite backdrop for pre-wedding shoots and even wedding ceremonies.
Drop by Cafe Rizal, the museum's in-house restaurant, for local and international dishes. If you want to bring home a souvenir, you can check out decor, shawls, chandeliers at the Museum Shop, with prices starting at P100 (~USD1.97). Paintings are also for sale, some of which have a P200,000 (~USD3,942.40) price tag.
Admission fee: P200 (~USD3.94)
Address: 1 Sierra Madre Street Grand Heights Subdivision, San Roque, Antipolo, 1800 Rizal
Opening hours: Tue–Sun, 9AM-6PM
Telephone: 697-1015
Pinto Art Museum's Facebook
---
9. Shop trendy clothing at Taytay Tiangge
---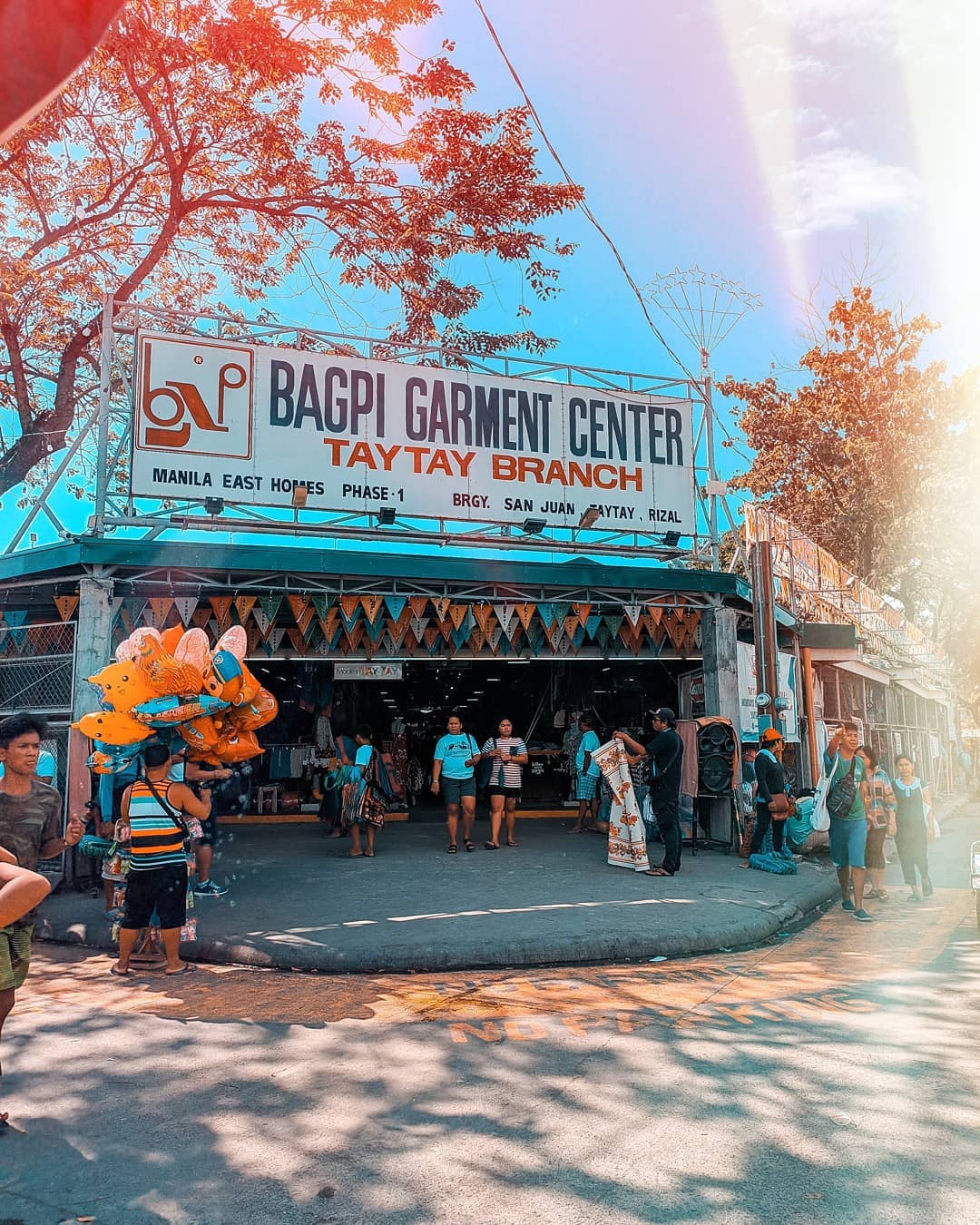 Image credit: @luckyangelorabosa
If you're planning to revamp your closet, Divisoria or Greenhills may be the first tiangge to cross your mind. But insiders say that some vendors from those bazaars source their items from Taytay Tiangge, so it doesn't hurt to head to the main supplier to score trendy pieces at the lowest possible price.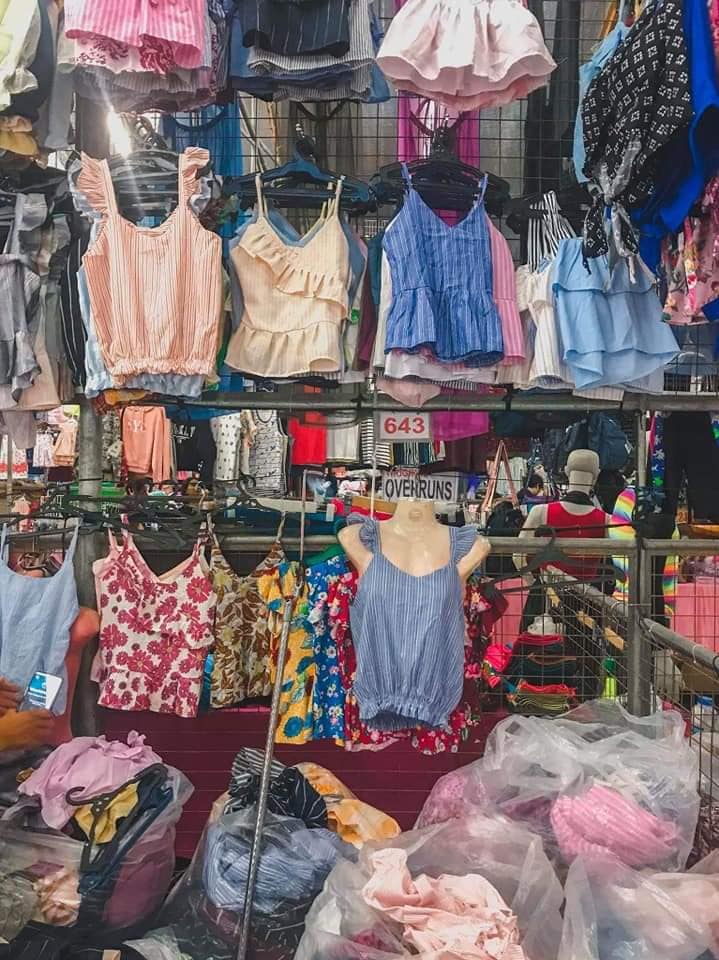 Image credit: Let's GO Taytay
Taytay is a major producer of textile and is home to many dressmaking shops, which is why the pieces sold at their tiangges are extremely low-priced. You can buy tops from P50, a skirt from P70, and a blazer-and-shorts set for P250.
But it's not just clothing that can be found in the stalls. Bedsheets, rugs, and tablecloths are also available in cute prints. If you're coming from Quezon City, Pasig, or Marikina, the drive to Taytay Tiangge can be under an hour, under normal traffic.
Address: Manila East Road, Taytay, 1870 Rizal
---
10. Discover the oldest known artworks in the Philippines
---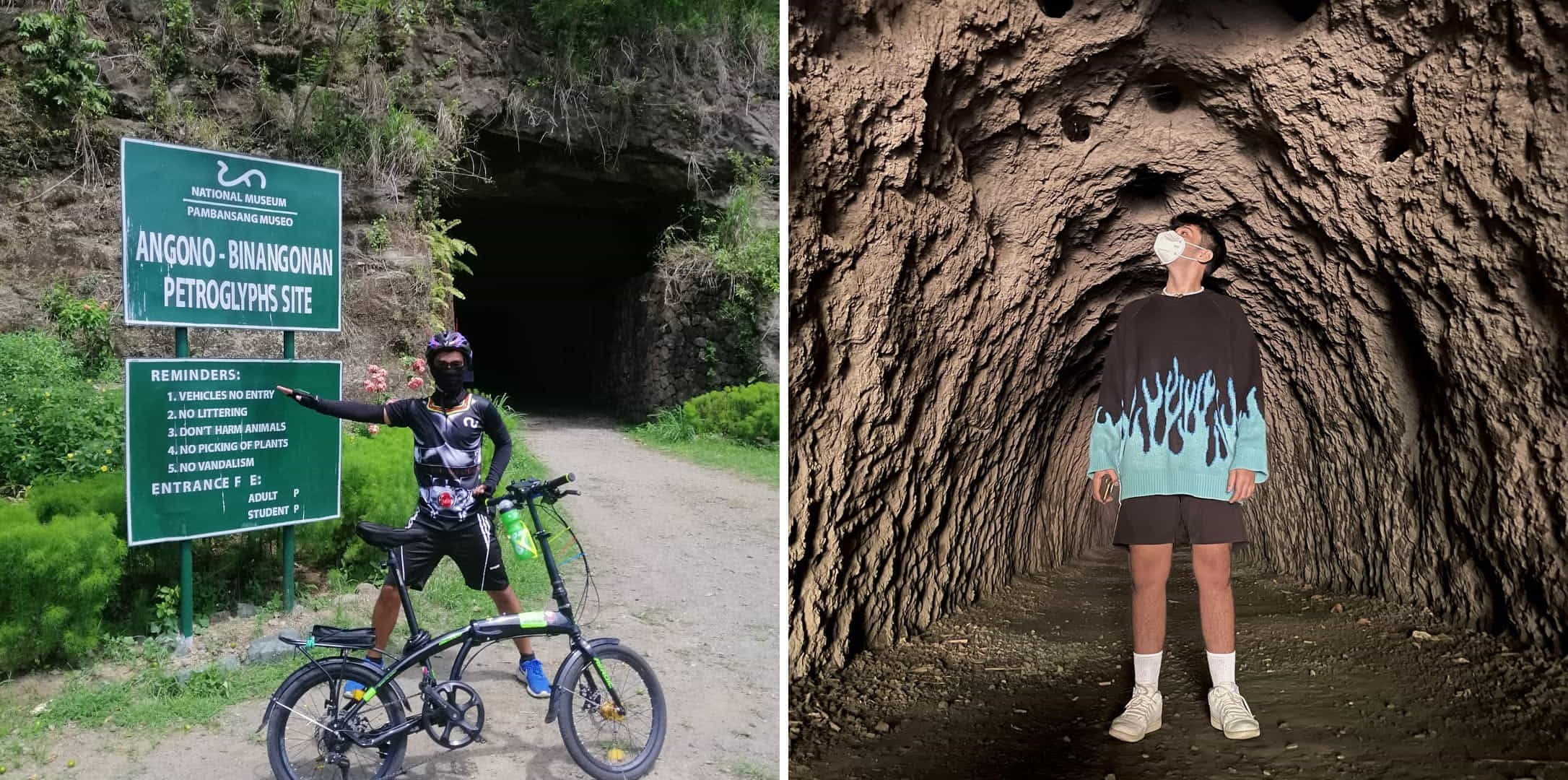 Image adapted from @dorinarms and @ameermazenn
Take a trip to the Angono-Binangonan Petroglyphs, said to be the oldest known artwork in the entire country. It dates back to as early as the 3rd millennium BC and was only discovered in 1965. Locals were already aware of the petroglyphs but didn't pay too much attention to them, thinking that they were merely drawings on rocks.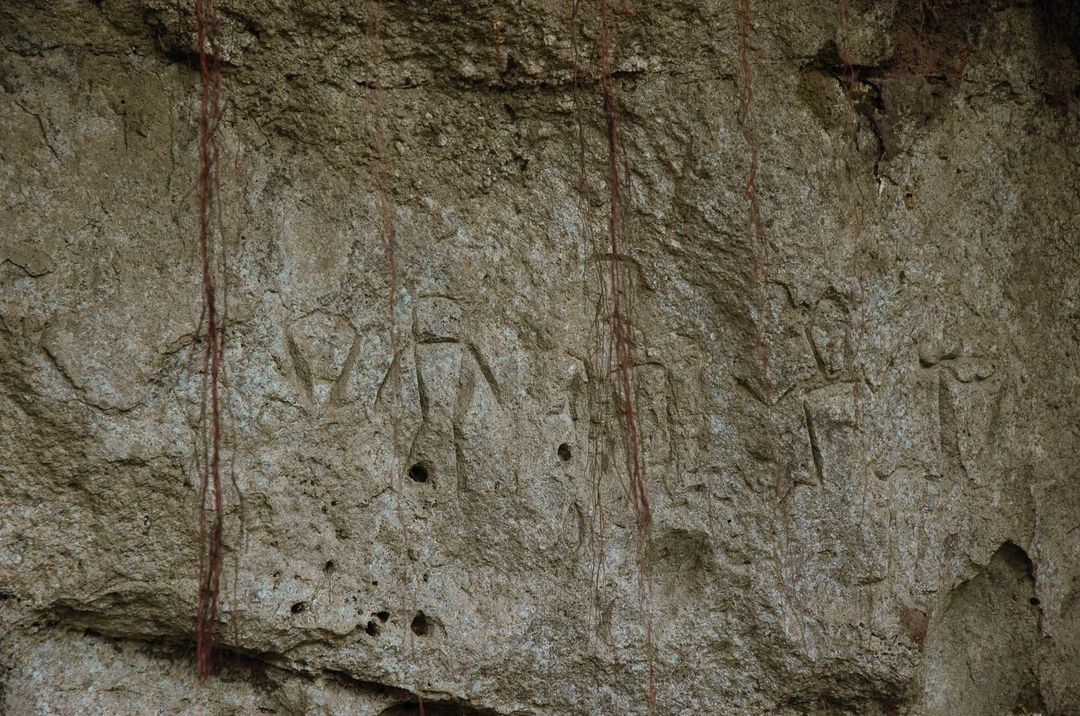 Image credit: @jeremyvestrella
From afar, the petroglyphs are simply boulders on the hillside part of Angono. Upon a closer look, you'll see stick drawings of animals such as turtles, frogs, and lizards, as well as images of humans.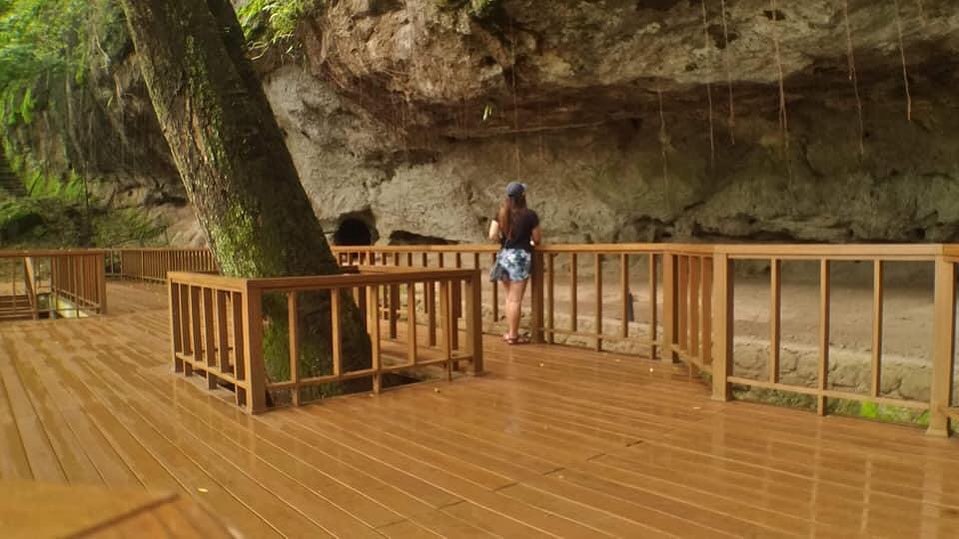 The viewing deck
Image credit: @itsmetherealhelen
A viewing deck and pathway were constructed to enable visitors to see the petroglyphs from a few meters away. These carvings are fragile, so touching the rocks may damage them. Although entrance is free, commuters have to take a tricycle from Angono, costing P200 one-way.
Address: Angono-Binangonan, Rizal
Admission fee: Free
Opening hours: 8AM-5PM, Daily 
---
Things to do in Rizal
---
More than just a province near Metro Manila, Rizal is beaming with natural wonders, vibrant festivals, art houses, and food to bring home or enjoy by yourself.
Take a day trip to Rizal province whenever you need a quick breather from your day-to-day tasks without traveling far.
Before planning your itinerary though, do look out for the latest travel advisories at the Rizal Provincial Government's Facebook page.
---
Cover image adapted from: @sirjpb24, @kelseaswim, and Balaw Balaw Restaurant and Art Gallery
Updated by Addie Pobre in October 2021.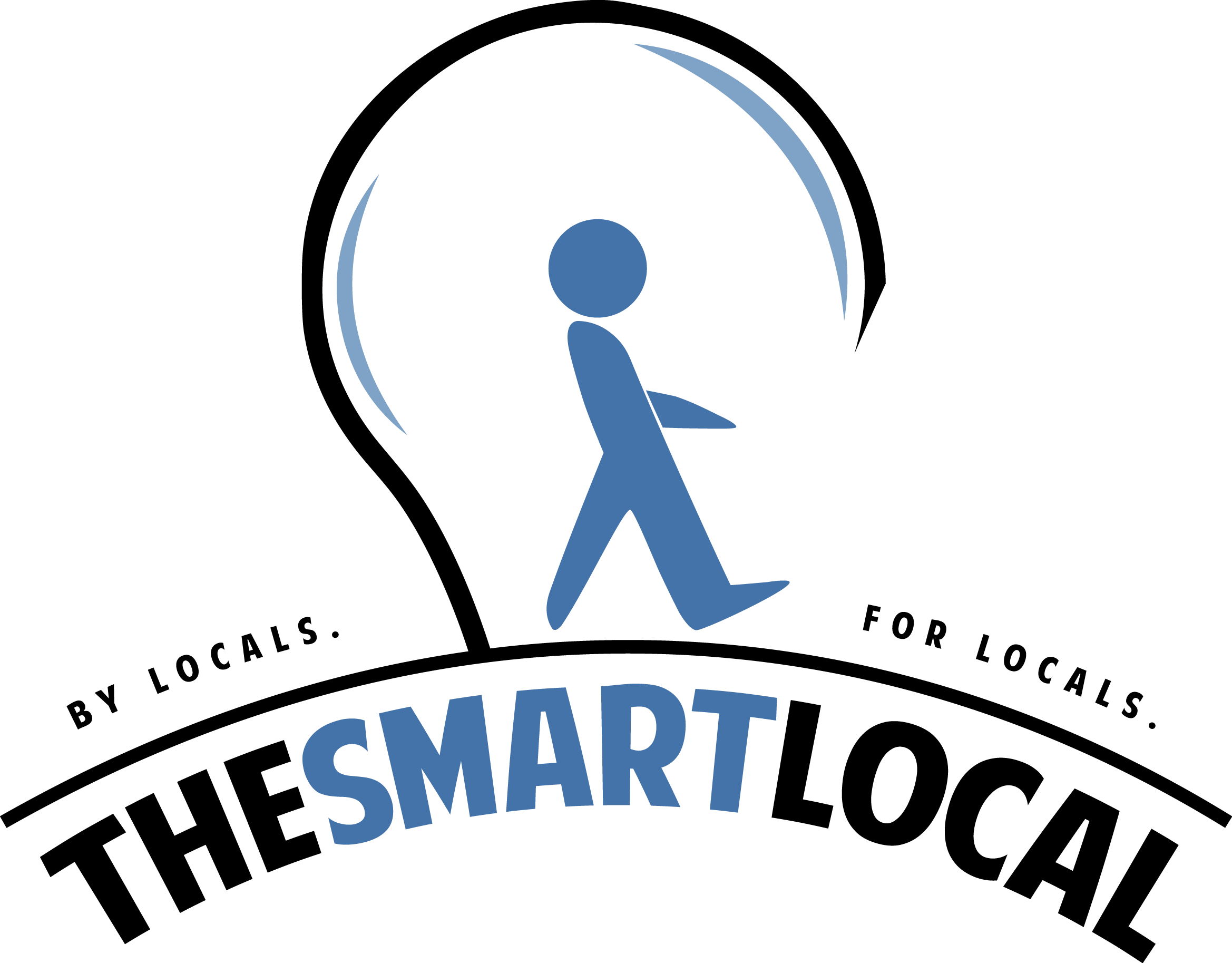 Drop us your email so you won't miss the latest news.