beabadoobee Facts
---
ICYMI, Filipino-British indie singer-songwriter beabadoobee is opening for Taylor Swift's The Eras Tour.
You may remember her as the girl behind the catchy TikTok anthem Coffee, which went viral while we were all cooped up in our houses at the height of the pandemic. But that's just the tip of the iceberg for this rising star.
Read on to know 8 beabadoobee facts and why she's gained the hearts of Gen-Z music lovers and even the queen herself, Taylor Swift.
---
1. Her real name is Beatrice Laus
---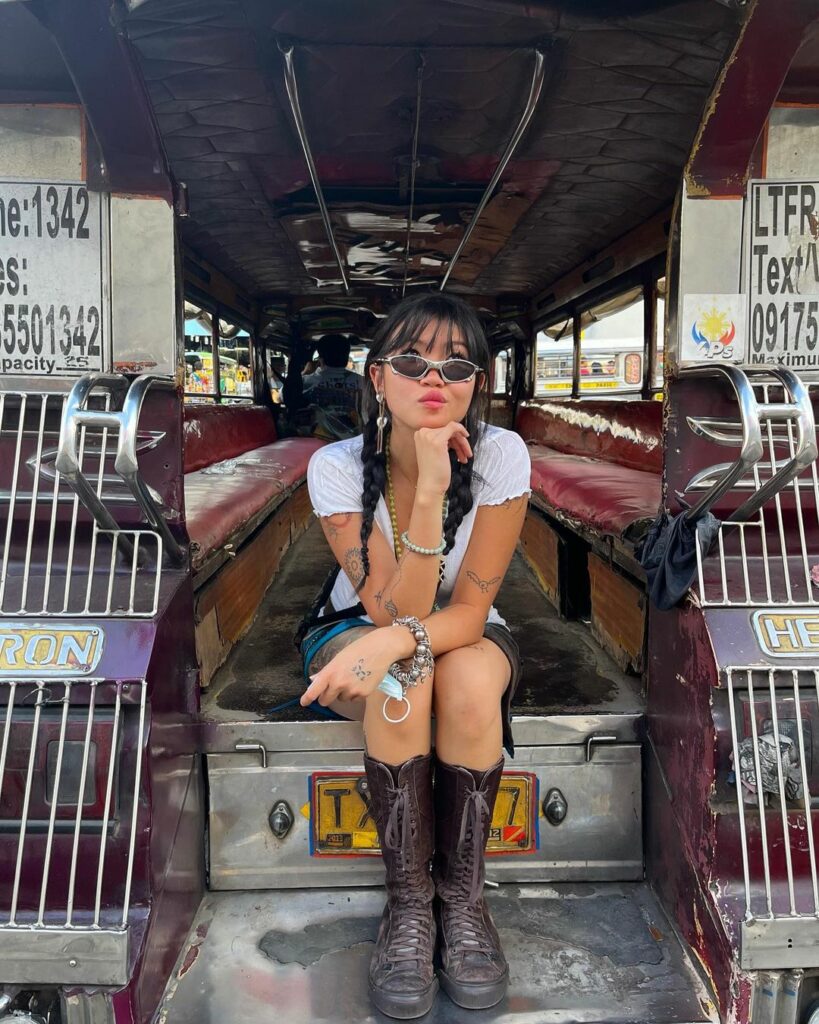 beabadoobe on a jeepney in Manila.
Image credit: @radvxz via Instagram
beabadoobee's actual name is Beatrice Kristi Ilejay Laus.
The nickname her family gave her when she was younger inspired her stage name. Her family calls her Bea or B. As a kid, her father would sing her the nursery rhyme, Baa Baa Black Sheep while replacing the words with "Bea Beadobee."
Fast-forward to today and it's what we all know her as. According to the singer, her stage name, beabadoobee, carries sentimental value and feels unique to her.
---
2. She was born in Iloilo
---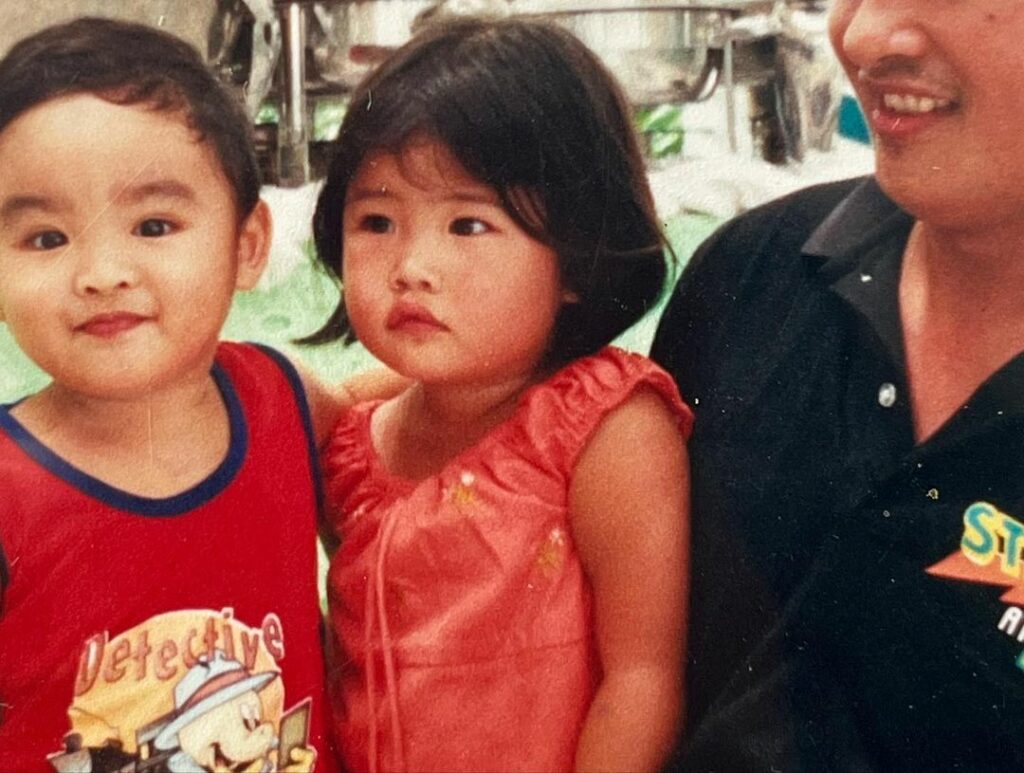 A baby picture of her in the Philippines.
Image credit: @radvxz via Instagram
beabadoobee is a Filipino-British born on 3rd June 2000 in Iloilo City, Philippines. She lived there until her family moved to West London when she was three.
She doesn't speak Tagalog much, but she understands it. "I can [speak]. Konti lang (just a little), but I can understand it fluently. So I can watch, like, teleseryes. I used to watch Maalaala Mo Kaya all the time," she quipped in one of her interviews.
---
3. She studied in an all-girls Catholic school
---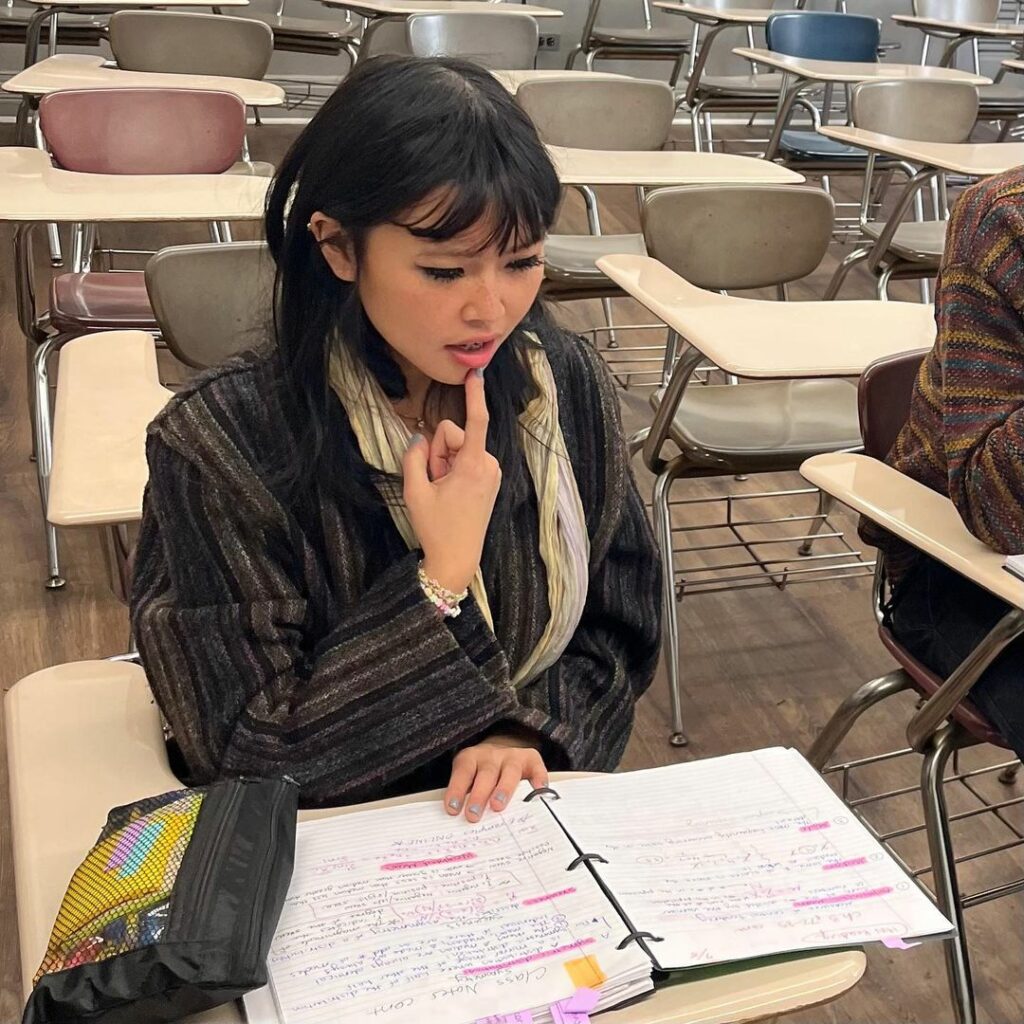 beabadoobee pretending to be a student.
Image credit: @radvxz via Instagram
beabadoobee studied in an all-girls Catholic school in Hammersmith, Sacred Heart College.
During Year 13, beabadoobee was charged with school misconduct and Sacred Heart College refused her admission.
This affected her mental health. During this time, she learned how to play the guitar that her father had given her. This was her first step into musical fandom. Despite the academic setback, she eventually got to finish her Year 13 at Hammersmith Academy.
---
4. She has a lot of OPM musical influences
---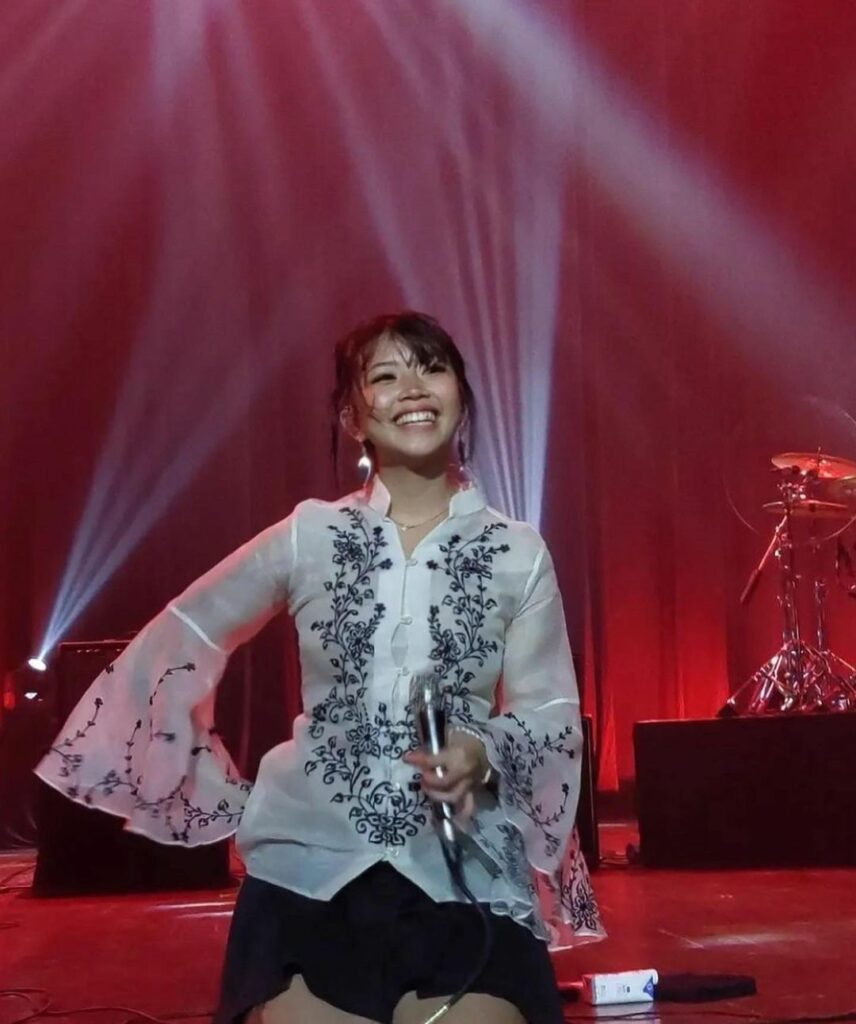 beabadoobee wearing a Filipiniana during her concert in Manila in 2022.
Image credit: @radvxz via Instagram
Growing up, her parents played a lot of OPM songs in their house, with classics such as APO Hiking Society and Itchyworms. Naturally, it made a significant impact on her music style and taste.
She has shared that Eraserheads, Rivermaya, and Up Dharma Down are some of her musical influences.
---
5. She's signed under the British independent label, Dirty Hit
---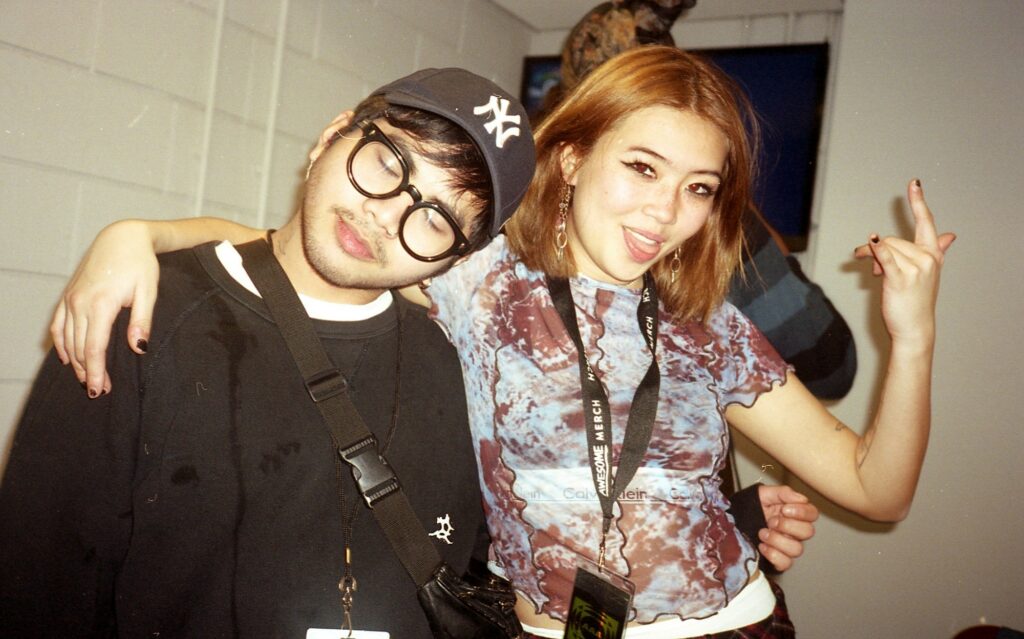 beabadoobee with label mate, No Rome.
Image credit: Jay Seba via Dazed
Being a musician was her first real job at age eighteen. She shared in her interview with i-D that she once went to Camden and asked every store if she could work for them, but none of them said yes.
Then in 2018, Dirty Hit discovered her on Spotify with the songs she had recorded in her bedroom. The rest, as they say, was history.
Her notable co-labels are pop rock band The 1975 and fellow Filipino London-based artist, No Rome.
---
6. Ube is one of her favorite Filipino food
---
beabadoobee with her band after a show.
Image credit: @radvxz via Instagram
In her interview with Zoë Rosal, she expressed that she eats ube as often as she can, even in London. Her bandmates have even tried ube cake, with her persuasion.
During her concert in Manila in September 2022, her bandmates got a taste of beabadoobee's Filipino culture through dishes such as bangus, pancit, and the classic adobo.
Naturally, Filipino food reserves a special place in her heart – and even in her music. If she were to compare her debut album, Beatopia, to a Filipino dish, beabadoobee noted that it would be halo-halo. She explained:  "Because it has loads of things in it. And it's all really random and all really bizarre. And it's at times [an] acquired taste, but at the end of the day, it all really tastes good together."
---
7. Glue Song's MV was shot in her hometown
---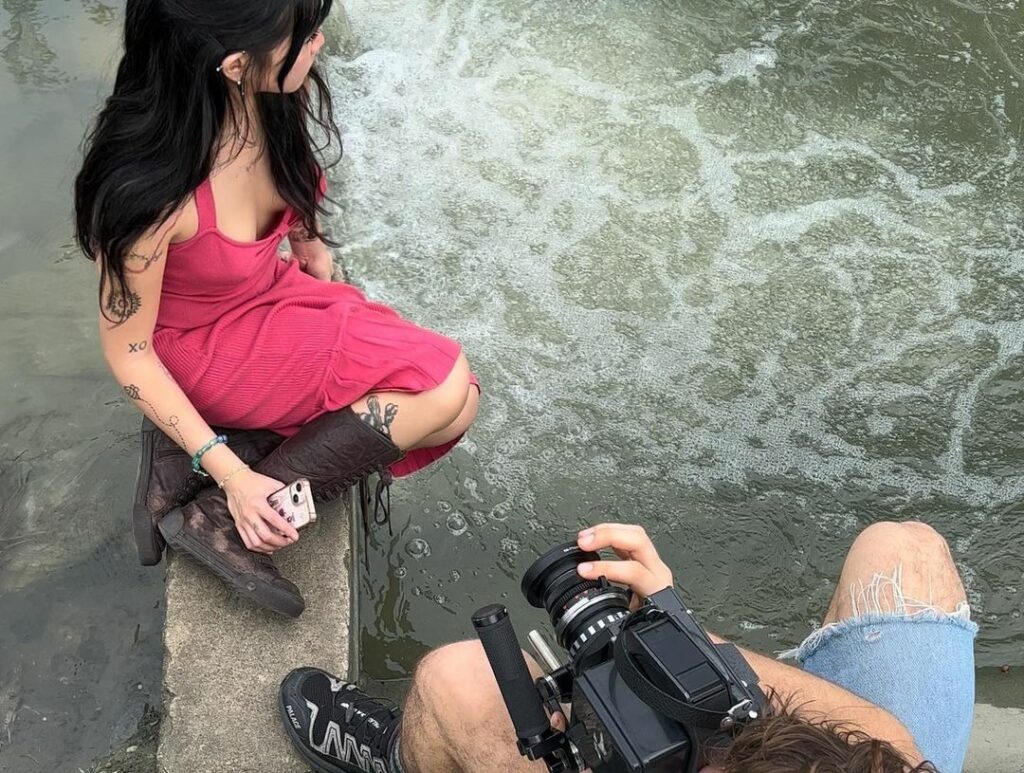 beabadoobee shooting in Iloilo for Glue Song's music video.
Image credit: @radvxz via Instagram
On 14 February 2023, she released her single Glue Song, which trended again, following Coffee and the perfect pair, on TikTok. They released it with a music video shot in Iloilo.
beabadoobee and her boyfriend, Jacob Erland, directed it together. In the video, people not only got a peek at her hometown but also at her grandmother and some of her relatives.
---
8. She's on tour as one of Taylor Swift's opening acts
---

beabadoobee with Taylor Swift.
Image credit: @jamieoborne via Instagram
Taylor Swift's sold-out The Eras Tour has kicked off in the US. As usual, she has several artists opening for her across her tour dates. beabadobee is one of them.
As much as this had surprised her, she also believed that she manifested going on tour with the famous pop star.
In her interview with CNN Philippines, she shared that Taylor Swift was the ultimate soundtrack of her childhood. She even had one of T-Swift's songs as her ringtone.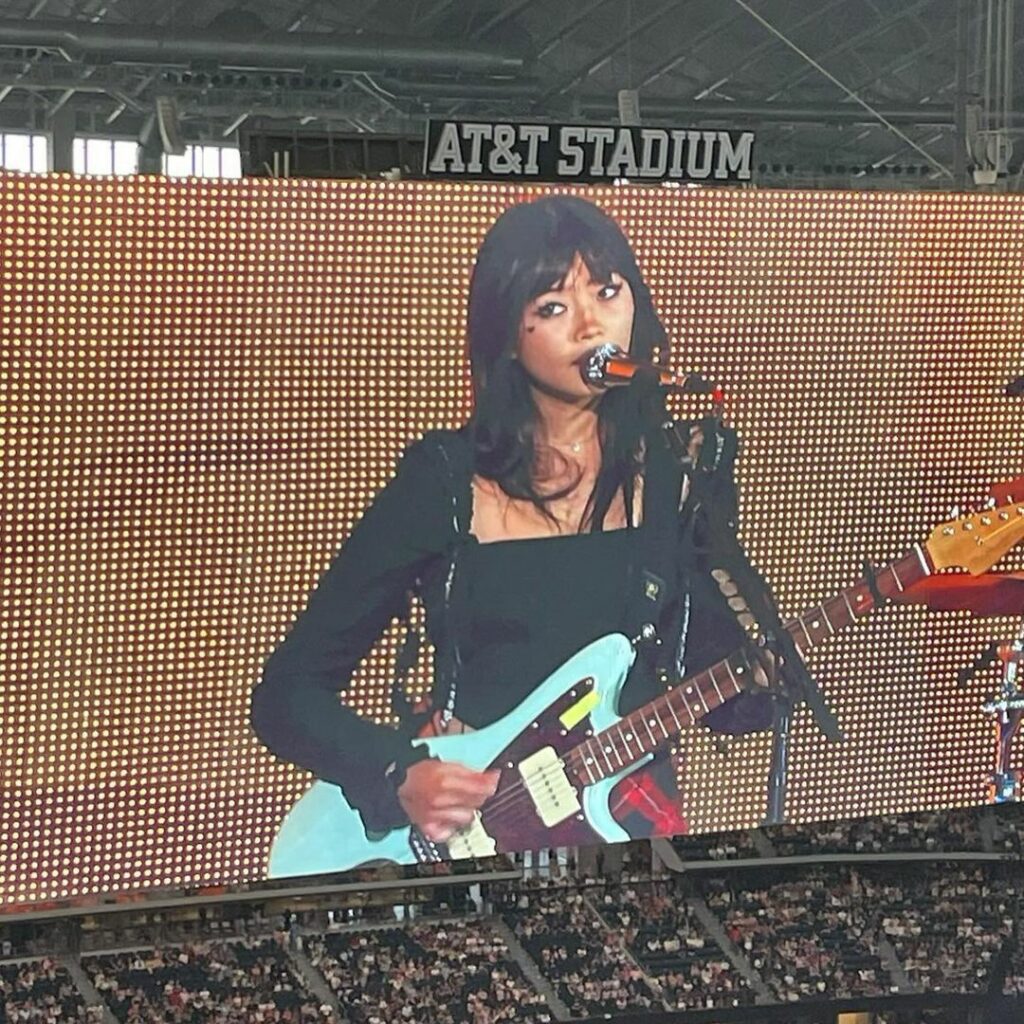 beabadoobee at The Eras Tour in Texas.
Image credit: @radvxz via Instagram
As if by fate, the queen Taylor herself came up to beabadoobee at the UK-based music magazine NME's yearly awards and told beabadoobee that she loves her music. This was the beginning of the road that led to now.
People can catch her and her band at The Eras Tour until 29 April 2023.
---
beabadoobee Facts –  trending global Filipina
---
Since being recognized at the NME Radar Awards in 2019, beabadoobee continues to draw fans and awards.
Her bedroom pop and indie rock music is quite hard to pin down into one genre, but that's what makes her musical style unique. She easily charms people with her dreamy vocals and honest and relatable lyrics. We can't wait to see what's more in store for her!
If you can't get enough of internationally recognized Filipino artists, you can check out why Bretman Rock is DA BADDEST social media star or delve deep into how Dolly de Leon went from playing small characters in Philippine television to being nominated for Best Supporting Actress at the Golden Globe Awards. You can also get to know the youngest Song Of The Year Grammy winner, Olivia Rodrigo.
---
Cover image adapted from: @radvxz via Instagram, @jamieoborne via Instagram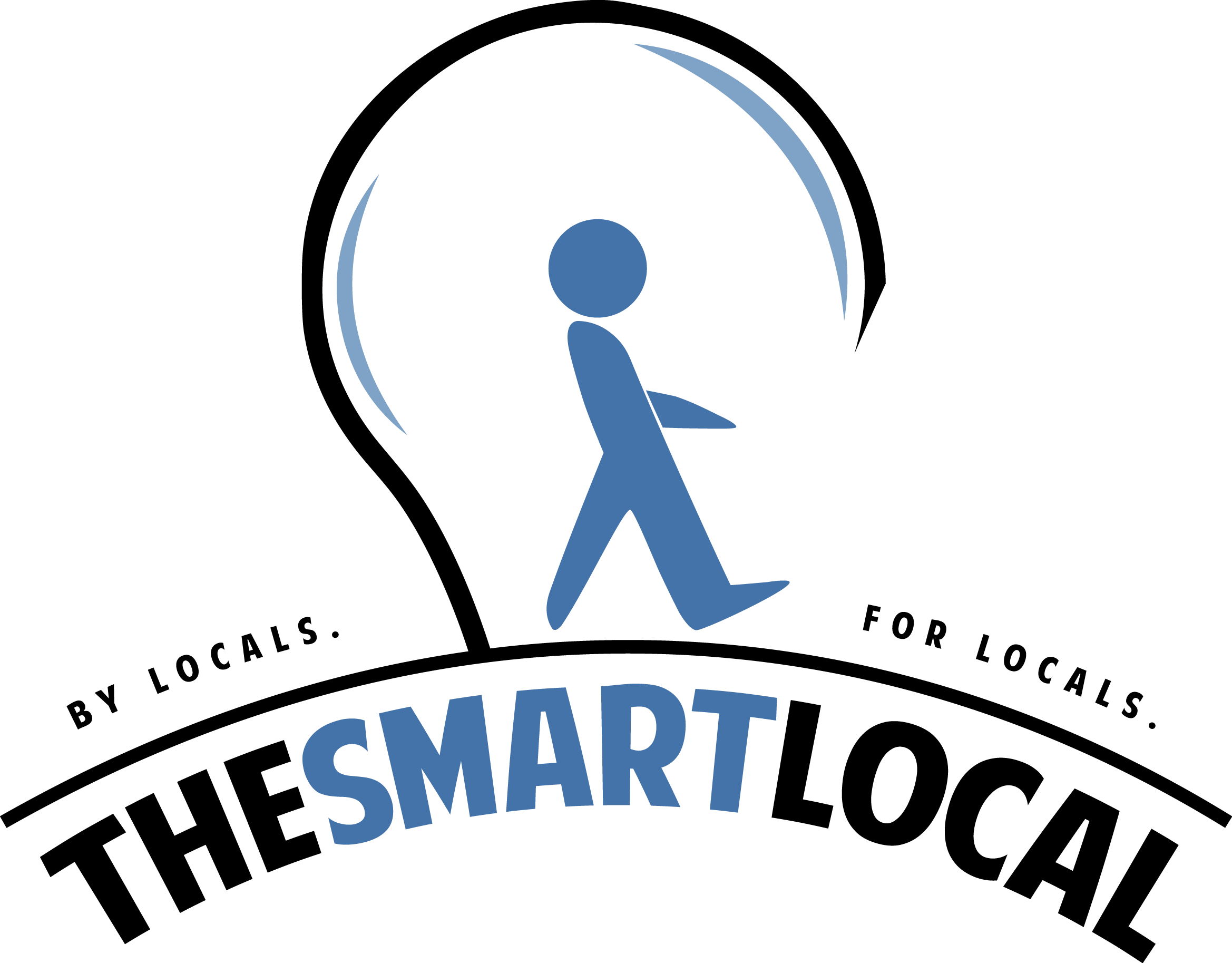 Drop us your email so you won't miss the latest news.